If you've read through this blog much at all, you'll know that it's FULL of extensive lists and guides for Maui that I've painstakingly compiled with reviews, comparisons, breakdowns, etc. Basically, while this blog obviously contains my recommendations, I try to keep it as objective as possible. Me telling you something is the "best" isn't as helpful as describing it in detail and laying out facts and scenarios to help you decide what's going to be best for YOU.
BUT…I get a lot of comments and messages from people telling me they think I have the best "taste" or they trust my judgement. Or figured if I liked something then they would too.
I once had a reader tell me that she felt like we were so similar that she completely trusted all of my recommendations and planned her whole trip around them! Does that make me an "influencer??!" ; )
So here's the deal…while I try to be objective (because I realize not everybody like to vacation the same way), I have spent a LOT of time on Maui (used to live there) and I have definitely developed certain "favorites."
RELATED: The BEST Maui Itinerary
For example, there are a lot of really great snorkel tour options on Maui. A lot! And I could go on and on about the pros and cons of them all and which ones are the best fit depending on your budget and where you're staying and where you want to snorkel, but guess what…I have an actual FAVORITE tour. Like, it's the one I take MY friends on when I bring them to Maui.
So on that note, I'm going to spill the tea on MY favorites on Maui. Some of these things are majorly popular and some are probably more unique to me. And if something isn't on this list, it doesn't mean it's not great or that you may not love it. But these are MY PERSONAL FAVORITES.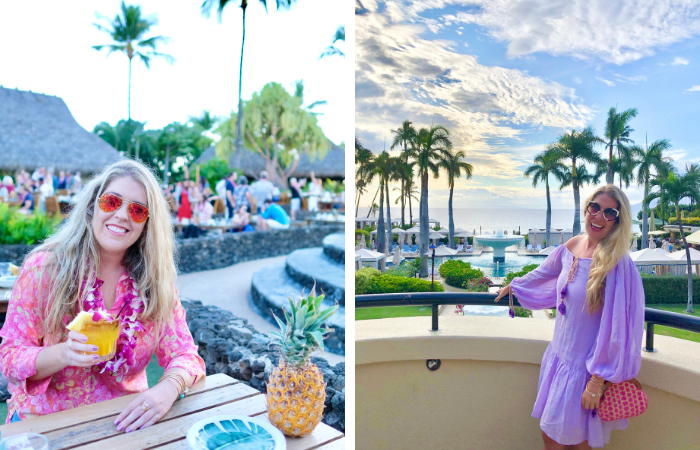 Before I get started…here's a quick rundown of my travel style:
I travel fairly frequently (it's my job after all). I've been to a lot of beach destinations around the world, but I primarily frequent Hawaii, Florida, and the Caribbean. No kids, but when I travel with family we often have kids in the group. I'm not a big party-er and tend to be drawn to a family friendly atmosphere (if not kid-centric).
I'll always pick a resort/hotel over a vacation rental/condo. I don't care about having a kitchen or doing laundry on vacation and I like the atmosphere of being around other people.
I also don't really buy into "traveling/staying like a local" (especially in Hawaii) because 1) everybody knows you're a tourist and you're not fooling anybody and 2) staying in Airbnbs in local neighborhoods (often illegal in Hawaii anyways) is a major contributor to the housing crisis. Native Hawaiians (and other locals) have sacrificed a lot of their culture, land, and way of life to tourism and to me it seems a bit disrespectful to want even more. Choosing accommodations in the areas that were built for visitors and taking advantage of guided tours when you can helps keep the extra stress of so many added people off of the (somewhat fragile) local infrastructure.
I like to stay at nice places and finding the perfect place to stay is usually about 80-90% of what makes an amazing trip for me. I'm not a "money is no object" traveler (I wish!), but I will splurge on a nice place to stay (for at least part of a trip). But that means I do my research before I go to make sure it's the best place (and I'm getting the best price).
I love food, but wouldn't really consider myself a foodie. If the food is reasonably decent, I'm usually more influenced by the "vibe" or a restaurant. I'm just as likely to have lunch at a $2 fish taco truck as I am dinner at a $100/person place. It's all fair game.
I can lay on a beach or at the pool and read absolutely all day long. But I also like to get out and really see a destination. I'm not one of those people that never leaves the resort. I also don't love cruises. Or places that seem like the kind of place a cruise ship would dock : )
OKAY…here we go!
Favorite Places to Stay
In a word…WAILEA. The big debate on Maui usually comes down to west side (Lahaina, Ka'anapali, Kapalua) vs south side (Kihei, Wailea, Makena). I much prefer staying in Wailea to anywhere else on the island. It's where the best resorts on the island are (think Four Seasons, Fairmont, Andaz, Marriott), it's warm and sunny pretty much all the time, it has an upscale feel but it's not overly crowded, and it's a little more centrally located than staying over on the west side. Hate to say it…but I don't like Kihei. For me, it's wall to wall condo complexes and strip malls and while the beaches are beautiful it always feels very crowded. There are a few restaurants I like that I will venture over to when I'm staying in Wailea, but otherwise I tend to avoid it. I do like Ka'anapali Beach on the west side though. It's a beautiful beach, has some good mid range resorts (think Sheraton, Westin, Hyatt), and it's all connected with a beachwalk and an outdoor shopping/dining area.
As far as specific places I like to stay: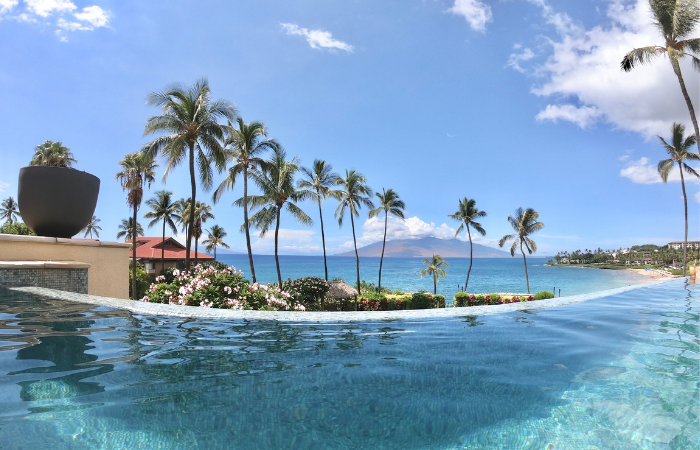 Four Seasons Maui: If I can stay anywhere, this is my #1 pick. It's luxurious and in the middle of Wailea, but mostly…nobody does service quite like the Four Seasons. Read my full review here. I'm also pretty happy to stay at the Andaz and the Wailea Beach Resort (Marriott) which are both in the area.
Westin Maui: On Ka'anapali Beach in West Maui, the Westin would be my pick. They just did an extensive renovation and added a new luxury tower. I love being next door to Whaler's Village (an outdoor shopping and dining area) and being able to take long walks on the beach (a lot of Maui beaches are more cove-like).
Paia Inn: When I'm going to be doing a fair amount of exploring, I like to spend the first few days of my trip on the north shore. Paia is my favorite town on Maui and it's a great basecamp for doing Haleakala, the road to Hana, and the north shore and upcountry. The Paia Inn is a small boutique hotel right in town but it still has beach access. I wouldn't spend my entire trip here, but it's a good spot to start it off.
The Full Lowdown:
50+ Best Condo Rentals on Maui (Many Under $100/Night!)
10 Best Luxury Resorts in Hawaii
12 Favorite Boutique Hotels in Hawaii
Side Note: If you're looking for a rental car for your trip, I LOVE Discount Hawaii Car Rentals. They're seriously the only company I ever use. They'll give you the very best prices, you don't have to reserve with a credit card or pay until you show up, you can cancel and re-book anytime if you find a better rate, and they usually have a special that adds additional drivers for no fee. It's a no brainer. Click here to check rates for your trip.
If you'd like to see things broken up by area on the island, check out these area specific guides that include places to stay, places to eat, and things to do:
Favorite Places to Eat on Maui
Monkeypod: I feel like all I do is talk about the Monkeypod sometimes ; ) But it's my favorite! I don't ever feel like I've really arrived on Maui until I've had a Monkeypod mai tai. The location in Wailea is the original and probably the one I frequent the most often (mostly because I'm usually in the area), but I LOVE the newer location at Whaler's Village on Ka'anapali Beach. It's right on the beach and the views are amazing. Monkeypod is pretty famous for their happy hour (there's an early one and a late one) where they have really good discounts on drinks and appetizers (including pizzas). There's also a location on Oahu in Ko'olina.
Mama's Fish House: This is the other place I always talk about. I rarely come to Maui without coming to Mama's. For me, a luau is a one and done, but I'll do dinner at Mama's every time. It's not cheap (easily $125+/person), but it's a whole experience. Make your reservations in advance (it's usually the first thing I do after I book flights and hotel). Read my full review here.
Favorite Spots for Acai/Smoothie Bowls: WowWow Lemonade (Kihei) for sure. The name implies it's a lemonade stand (it is!) but they also make some of my favorite smoothie bowls on the island. I love the blackberry lavender lemonade too. Paia Bowls is also a must stop. I usually hit it up on the morning I'm driving to Hana. Hands down the best smoothie bowl I've ever had in Hawaii is from Humbowl Wagon, but it can be a little harder to track down. It's a truck and sometimes they only do special events. Definitely worth tracking down on social media though to see if they'll be around during your trip.
Favorite Spots for Breakfast: Grandma's is always a must stop for me (I used to live right down the road). It's a good spot for post Haleakala sunrise breakfast. The waffles are amazing! Also, everything in the baked goods/dessert case. Kihei Caffe is my favorite "local dive" spot although it's very well frequented by visitors. Right across the street from the beach, they're cash only and the line can get long but it usually moves quickly.
Fish Fish Fish!: Everybody has their favorite spot for fish tacos, but the actual best place is Horhito's Taco Truck in Kihei ; ) Right across the street from Kalama Beach Park, I stumbled across this place the very first time I was in Maui (actually my first meal off the plane). Also I LOVE Paia Fish Market which used to be in…you guessed it, Paia but they now also have locations in Kihei and Lahaina. The food is amazing and I love that you can just order at the counter and it's not a big deal meal.
Front Street (Lahaina) Favorites: I have a love/hate relationship with Front Street in Lahaina. I love that it's right on the water and it's a nice place to walk, but I hate how cruise ship-y and touristy (and not in the way I like) it can be. I struggled for a LONG TIME to find a place to eat on Front Street that I like. Seriously, there have to be a hundred restaurants on this stretch and most are overpriced/mediocre/nothing to write home about. I have always liked Fleetwood's rooftop lounge though. Their drinks are good and the views around sunset can't be beat. And I've recently discovered Down the Hatch and it is the kind of restaurant I always needed to have in Lahaina. The food is GOOD, the atmosphere is lively, but it's pretty chill (you order at a counter and it's all open air). There's a full bar and a shave ice place and it's all right across the street from the famous banyan tree.
Random Other Places I Like: Leoda's in Olowalu (just south of Lahaina). Go for lunch (sandwiches, salads, etc.) and stay for the pie. Cafe des Amis in Paia. Crepes and curry seems like an unlikely combination, but it works.
More Restaurant Recommendations:
11 Best Fine Dining Restaurants on Maui
23 Favorite Restaurants on Maui
Favorite Things to Do in Maui
Old Lahaina Luau: I think this is the best luau in Hawaii (not just Maui). It's a first class event and manages to feel very authentic while still handling a large crowd very well logistically. Read my full review here. It does book up pretty far in advance, and if you can't get in I would also recommend Feast at Lele.
Kai Kanani Sunrise Sail: I'll admit I'm not a HUGE snorkeler, but I LOVE being out on the boat. Snorkeling Molokini Crater is a huge must do for a lot of visitors to Maui and my favorite way to do it is with Kai Kanani on their Sunrise Sail. Molokini is so popular that it can get really crowded. Kai Kanani has the closest launch point to Molokini (in Makena) so they're the first boat at the crater and they also do a bonus stop at Turtle Town. I also love the early start time (not super dramatic if you're traveling from the US mainland). I usually do this tour when I'm staying in nearby Wailea and last time I did it, we had a full morning of snorkeling adventures and were back soaking up the rays at the Four Seasons by 10AM. Read my full review of Kai Kanani here.
Maui Pineapple Tour: This is a new favorite of mine. I've been to the Dole Plantation on Oahu and didn't love it (100% tourist trap), but the tour of the Maui Gold farm in Haliimaile is AMAZING. Add on lunch at the Haliimailea General Store across the street. Read my full review here.
Upcountry: I love Maui's upcountry (I used to live there), but it's a part of the island that most visitors don't see too much of. If you're going up to Haleakala National Park, you'll pass through but it really deserves a bit more time! Read my full guide to the Maui upcountry here, but on the short list you'll want to visit the Ali'i Lavender Farm and Maui Wine.
Whale Watching: If you're visiting Maui between mid-December and mid-April, you've GOT to go out whale watching with the Pacific Whale Foundation. While you can usually see them from the shore from January to March, it's so incredible to see them close up. Read this post for all the details on my favorite whale watching excursion with Pac Whale.
Pipiwai Trail: Pretty much everybody knows that the "road to Hana" is a must do on Maui, but not very many people manage to hike the Pipiwai Trail on that day. It's easily my #1 thing to do on the road to Hana. A bamboo forest? A 400-foot waterfall? Sign me up! Read everything you need to know about the road to Hana (including how to manage your time so you can make it to the Pipiwai Trail) in this post.
Favorite Beaches: I've got all the major details in this post, but a few of my absolute favorites are Big Beach in Makena, Keawakapu Beach in Wailea, and Kapalua Bay on the west side.
Visit the Sea Turtles: If you can promise good behavior, I'll let you in on my secret. Everybody goes to Ho'okipa on the north shore to see the sea turtles, but the better spot is closer to Paia at Kuau Bay. Just east of town there's a small lot (you'll know you're in the right spot when you see the house with the blue tile roof). There are almost always turtles sunning themselves on the beach here. Give them space (at leaaaaaaast 10 feet)! This is also usually a good beach to swim at. Ho'okipa is still a good spot, but it's getting more and more crowded and the end of the beach where the turtles are is usually roped off so you're a good 50 ft+ away.
My Shopping Spots: If you're on the hunt for cheap souvenirs to take back to 30+ of your closest friends, I'm probably not the best person to ask (although you can never go wrong at an ABC Store), but I'll let you in on some of my favorite quality shops/boutiques. Paia (north shore) is a MUST STOP for shopping for me. Wings and Nuage Bleu are my favorite shops. Almost everything in Wings is made on Maui and Nuage Bleu also stocks a lot of great local artists as well as fun international beach brands. Makawao (upcountry) also has some great boutiques. I love Pink by Nature and Driftwood. For more mainstream shopping, check out the Shops at Wailea and Whaler's Village in Ka'anapali. At Whaler's Village there are several shops with Hawaii/Maui exclusives (Lilly Pulitzer, Alex and Ani, Pandora) plus I love Sand People (so many local brands/artists) and Olu Kai (local shoe brand). Both shopping centers also have a Lululemon which has a Hawaii exclusive line that you can customize.
More Things to Do on Maui:
Guide for Sunrise at Haleakala National Park
Top 20 Adventure Activities on Maui
15 Things to Do on a Maui Honeymoon
Save
Save
Sav
Save
Save
Save
Save