My Favorite Road to Hana Itinerary, Maui
Maui's Road to Hana is one of the most famous (or infamous) drives in the world and in my opinion is the #1 don't miss thing to do on Maui.
What makes this drive so special? The Road to Hana is over 50 miles along Maui's rugged north shore and east side with 600+ tight turns and about 50 one-lane bridges. Sounds fun? It is! While it has the reputation among many as being a hair-raisingly dangerous adventure, driving the Road to Hana is certainly a once in a lifetime adventure but not nearly as treacherous as many make it out to be.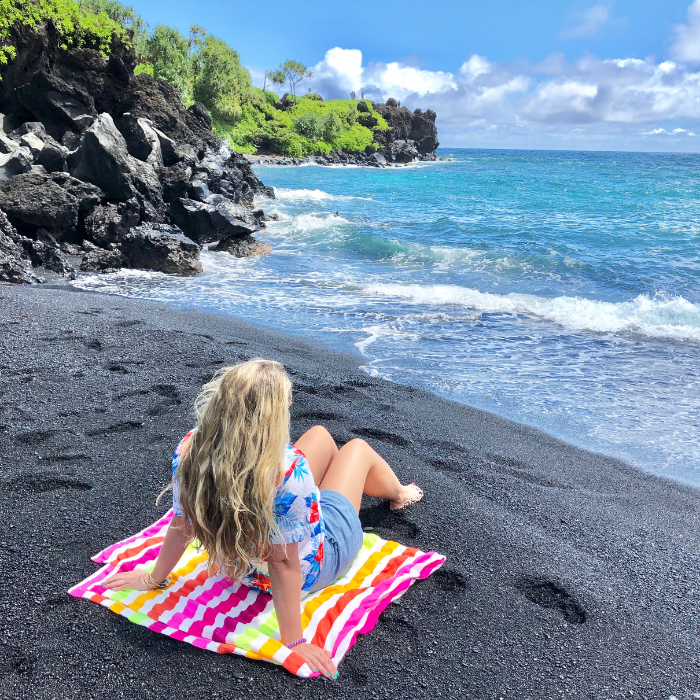 My Favorite Road to Hana Itinerary
I've driven the Road to Hana at least a half dozen times. I've done it by myself, with a car full (including a baby in a car seat!), in a Jeep, in a sedan, and even in a full sized pickup. I've even done the backside of the Road to Hana (the road past Hana) many times!
In this post, I'm going to share my favorite Road to Hana itinerary. There are soooo many things to stop and see and do along the Road to Hana that you can't possibly do it all, but I'm going to show you how to do the BEST stops on the Road to Hana in one easy day.
What to Expect Driving the Road to Hana
I've already mentioned the 600+ sharp turns and 50+ single lane bridges so you probably already have a pretty harrowing image in your head right? Don't worry, it's really not so bad! The entire road from Paia to Hana (and even beyond) is entirely paved and has two lanes. The bridges are not two lanes, however there's an understood rule of letting 6-7 cars on either side pass at a time. In general, while the road is very winding, it's relatively flat and there are plenty of guard rails and low walls to protect the road from the steep slopes.
What you can expect along the Road to Hana is plenty of beauty. You'll see colorful, lush vegetation, wide sweeping views and so many waterfalls. Perhaps the most important thing to understand about driving the Road to Hana is that it's about the journey, not the destination. While Hana is a charming and quiet little town, there isn't much going on. So this drive is less about "hurry up and get to Hana" and more about enjoying the adventure.
Now, on to the good stuff.
The Road to Hana officially begins in Paia (a cute little town on the north shore), but the day I do Hana is NOT the day that I spend time at spots on the north shore. Save Paia town, Mama's Fish House, seeing the turtles at Ho'okipa, and even Twin Falls for another day. Getting to the north shore from Kihei/Wailea or Lahaina/Ka'anapali isn't all that far so plan to spend a separate day on your trip exploring the north shore, upcountry, and Haleakala.
You'll need the FULL day to see all of the highlights on the Hana side of the island and not be rushed.
Paia: I like to fill up the tank in Paia, grab breakfast and be on the road by 8AM. I like Paia Bowls for a light breakfast, but the Kuau Store is also a good place to stop to get breakfast and snacks to go.
WARNING: If you've read many blog posts or done much research about the Road to Hana, you'll know that there are about 6709 must see stops out there. I swear blogs compete with each other to see who can suggest the most stops. So….I'm kind of the opposite of that. I like to keep it simple. For me, driving the Road to Hana is about the actual drive–it's seriously one of the greatest drives you'll ever do without even getting out of the car–and I like to make as few stops as possible. I don't know about you but NOTHING wears me out quicker than being in and out and in and out and in and out and in and out of the car all day.
So this is a very streamlined list of stops along the Road to Hana. The best of the best if you will. Also, I'm perfectly fine just "driving by" a lot of stuff. The Road to Hana is not the Autobahn. You're not flying along at 100 miles per hour. You're going slow enough to soak it all in. I realize this is not everyone's travel philosophy, but bear with me.
But I will say, I do like pulling over at overlooks or anywhere it looks like there's a good view. I just don't feel the need to go down every little hiking trail or try to park and scamper down some rocks to get 10 feet closer to a waterfall.
Without further adieu, here are my favorite stops and sites I always look out for:
Rainbow Eucalyptus Trees: Between mile marker 6 and 7, you'll find a grove of rainbow eucalyptus trees. I love these guys! Parking is pretty tricky so this is usually just a drive by for me (and if you want to get out and see them up close, you'll need to park past them and walk back). But there's a much easier place to see them. Further down the road at the Keanae Arboretum there's a grove of them. There's parking across the street (not much though) and it's a short walk back to the arboretum. There's no charge. I will say that since this little grove of trees is so accessible, I've been really disappointed to see that they've been really vandalized and the bottom five feet or so are pretty carved up with people's names (seriously???).
Keanae Peninsula: This peninsula (you'll take a left to drive down to the water between mile marker 16 and 17) is home to some quaint little town (village really). It's one of the more popular stops along the Road to Hana because it's very accessible, but the view at the bottom is so lovely. It feels like old Hawaii. Stop at Aunty Sandy's roadside stand for some fresh fruit or banana bread.
Halfway to Hana: If you didn't stop at Aunty Sandy's, you've got to stop at this roadside stand just past the Keanae Peninsula. Sadly, I have developed a banana allergy as an adult so I don't usually stop, but if I wasn't allergic you can bet I would be stopping and sampling banana bread pretty much everywhere.
***Want to get FREE flights to Hawaii? My favorite travel hack is cashing in points to score free flights to Hawaii. My go-to airline is Southwest (seriously, I ONLY fly Southwest) so I use this Southwest Rapid Rewards card to rack up points every time I fly. If you pay for your monthly expenses on the card and are responsible about paying it off every month, the points add up really fast. Plus, if you sign up through my link, you'll get 50,000 bonus points to use which depending on where you're flying from and when, that could be TWO FREE TICKETS TO HAWAII. If I could sign up twice, I would ; )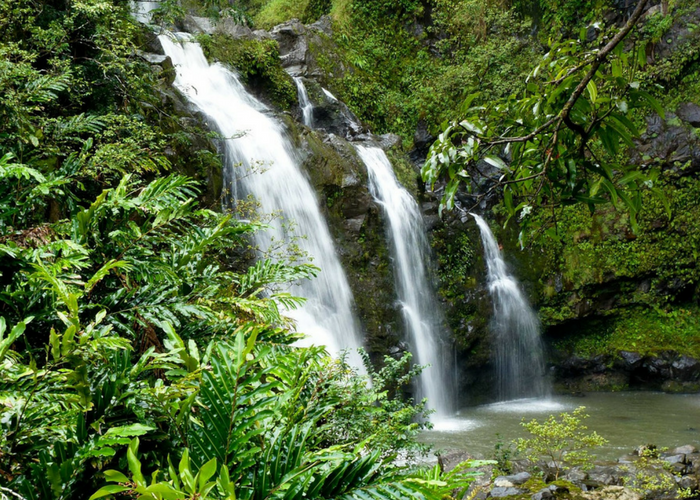 Upper Waikani Falls (Three Bears Falls): These falls at mile marker 19.5 are some of my favorites. It's a "drive by waterfall" meaning you can see it from the road but you can also park past it and walk back for a longer look (although you're just walking down the road-it's not protected). You can also climb down under the bridge and make your way to the pool at the bottom but I would probably just settle for a look and keep going.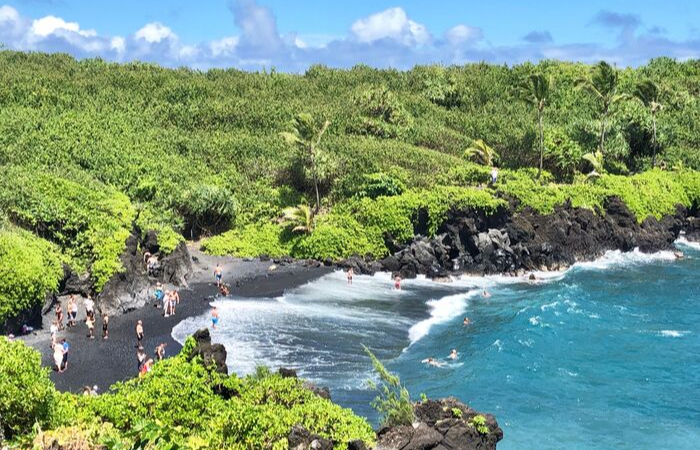 Waianapanapa State Park (aka the black sand beach): This dramatic black sand beach is STUNNING and it's easily the #1 don't miss stop along the Road to Hana. As you near Hana, this is the first "epic" stop you'll make and besides the beach, don't miss the blowhole, sea cave, and overlook spots. And of course you've got to feel that sand between your toes.
Update: Starting 3/1/21 reservations are required to visit the beach (in an effort to cut back on overcrowding in recent years).
You can make reservations 14 in advance (and no later than the day before) here. Parking is $10/vehicle and there's a $5/person entry fee that all has to be registered and paid for when you make your reservation. You'll make your reservation for one of four time slots: 7AM-10AM, 10AM-12:30PM, 12:30PM-3PM, and 3PM-6PM. They are strict with the entry and exit times. The two time slots in the middle of the day are the ones that sell out first. I would probably make my reservations for the first time slot since I don't make a ton of stops between Paia and Waianapanapa and could easily make it there by 11, but if you're not sure about your timing, the second time slot is probably more conservative.
Hana Town: You've made it! There's not much in Hana (you might find a gift shop or two-if they're open), but be sure to stop in Hasegawa's General Store for a cold drink. It's my don't miss spot. There are also two food truck courts (one before you reach Waianapanapa and one in Hana town) that are great for lunch.
Side Note: If you're looking for a rental car for your trip, I LOVE Discount Hawaii Car Rentals. They're seriously the only company I ever use. They'll give you the very best prices, you don't have to reserve with a credit card or pay until you show up, you can cancel and re-book anytime if you find a better rate, and they usually have a special that adds additional drivers for no fee. It's a no brainer. Click here to check rates for your trip.
Red Sand Beach: For me, I love the red sand beach even more than the black sand beach, and it's mostly because of how you have to get there. As you're coming into Hana town, take a left on Hauoli road (you'll pass a church and some tennis courts) and then turn right when the road dead ends at the Hana Community Center. Park along this street and walk across the open lawn of the Community Center. You should be able to pick up a trail through the bushes. Depending on how overgrown the vegetation is sometimes it's easier to find than others. If this sounds downright crazy to you, you might be better off to wait for people who look like they know where they're going and follow them!
You'll go down the trail for a bit towards the water before you have to make a choice…you can either take a left and go across the high part of the trail (it's a little quicker and more straight forward, but it's kind of high and when it's covered in pine needles it can be slick) or keep going down to the water.
Whichever you decide to do, just remember that after your initial descent down to the trail, keep going to the left. There will be a narrow beach of rock and red sand below you and a lot of people stop here but keep going. I like to go all the way down to the water and pick my way along the rocks until you start climbing up the rock formation and make your way up and over into the cove. You'll know it when you see it. You will be floored.
A bit about the technicalities: hiking to the red sand beach in Hana is pretty controversial. A lot of locals don't want hoards of tourists visiting it (they consider it a special place and rightly so), so in an effort to steer visitors away, you'll hear a lot of negatives about it. To clear some things up…the beach IS on private property but the owners have made it accessible to the public under a law that releases them from liability. So, go at your own risk (like anywhere). Whether or not the trail is too dangerous is also a contentious topic (again, you're going AT YOUR OWN RISK). First of all, you absolutely should only do this trail if you're wearing shoes that are strapped onto your feet. I've never felt like I need hiking boots or closed toe shoes, but I like to wear Tevas, Keens, etc.
Also, while you can eliminate some of the risk by walking along the shoreline instead of taking the high trail (like I mentioned above), you reach a point where the only way into the cove is down a trail that's probably three feet wide with the mountain on one side and a pretty steep drop off on the other. When wearing appropriate shoes, going slowly, and being very aware of my surroundings (namely other people), I've never felt uncomfortable doing this trail. But that's not to say that that's the case for everyone. Part of the reason I discuss the red sand beach so much in this post is because I know people are going to hear about it and go and I just want to make sure that you have the best information possible to decide if it's a good idea for your group and then be prepared if you do decide to go.
Wailua Falls: As you leave Hana and head towards the National Park ( the Seven Sacred Pools and Pipiwai Trail), you'll pass Maui's most photographed waterfall. You can't miss it as it's right by the side of the road. And there's plenty of parking here. Watch out for crowds as it's a popular stop with the tour buses. For me, I'm ok just doing the drive by because I know what's ahead…
Kipahulu District at Haleakala National Park: This is it. For me doing the "Road to Hana" is about the drive, the black sand beach, the red sand beach, and this spot. This is a separate entrance from the summit of Haleakala National Park (where people go for sunrise and sunset), but if you pay the entrance fee ($30/vehicle), your receipt is good at BOTH locations for three days. Kipahulu is home to two of the most popular stops on the Road to Hana: Oheo Gulch (the Seven Sacred Pools) and the Pipiwai Trail.
Kipahulu is about 10 miles past Hana town (about a 30 minute drive) and the road gets interesting but it's all paved (the tour buses come back here y'all so it can't be that bad!). Read my post about driving on the backside of the Road to Hana here.
Once you make it to the National Park, here's what you're dealing with…
Oheo Gulch: Famously known as the Seven Sacred Pools, these cascading pools go all the way to the ocean and became famous as a spot to swim. But they haven't actually allowed swimming in the pools for years for various reasons. If this is a big thing on your bucket list, check the conditions before you go. They're still really cool to see even when you can't swim and the trail from the parking lot is about half a mile round trip, but I think the best view is from the bridge above them.
On Another Note: If you're looking for a condo or vacation rental for your trip, I always book with Vrbo. They've got the largest selection of rentals you'll find anywhere and you can easily filter to find exactly what you're looking for. Need a specific number of bedrooms and bathrooms? Narrowed it down to a certain location? Want flexible cancellation terms? Need to stay under a fixed budget? Click here to search for Maui vacation rentals for your trip.
Pipiwai Trail: THIS is why I blow through a lot of the stops more towards the beginning of the Road to Hana…so I have time to hike the Pipiwai Trail. It's a four mile round trip hike that takes you through Hana's famed bamboo forest and ends at the spectacular 400 foot Waimoku Falls. Yes, I will trade all of those cute drive by waterfalls to be able to stand at the bottom of this bad boy. It's not a particularly difficult trail (it's super well maintained), but it's humid and it always pushes me. The hike itself probably takes about 2 hours if you're not stopping too much, (but plan at least 3 hours in the park in general and maybe more if you're going to hike down to the Oheo pools).
Once you've come to the falls, you'll reach a point on the trail where there's a sign posted not to go any closer. A lot of people go past it, but honestly there's not much to see if you do. These falls don't break into a pool (they just break over rocks) so there's no swimming and honestly they're so tall that when you get super close you can't really see as well.
This trail is a truly stunning experience and if you are at all able bodied, I 100% recommend that you put forth the effort to do this hike.
But remember, it takes good time management throughout the day to make sure that you'll make it all the way to the National Park and have time for the hike.
Bold statement here…if you're not going to hike the Pipiwai Trail, I'm not sure I'd spend the time driving out (10 miles/35 minutes past Hana) just to see the pools. If you've got plenty of time, give it a go, but remember it costs $30/car and if you're going to reverse course and drive back through Hana anyways, it adds quite a bit of time to the day.
This is the point where most people turn back towards Hana and retrace their route to Paia, but if you continue clockwise around the island, you'll officially be on the "backside" of the Road to Hana. Read my full post about what it's like to drive the backside including whether it's safe here.
Find my best tips about driving the Road to Hana here and info about where to stay in Hana (if you decide you want to spend the night) here.
Want to read more? Don't miss some of my most popular (and favorite) posts about Maui: My Favorite Hotels on Maui | Wailea vs Ka'anapali | All of the Wailea Resorts Ranked | Maui Travel Tips | Things You Can ONLY Do on Maui | Where to Find Maui's Best Condos and Vacation Rentals | My Favorite Road to Hana Itinerary | Road to Hana Tips | Should You Drive the Backside of the Road to Hana? | 10 Day Maui Itinerary | Best Snorkeling Beaches on Maui | Snorkeling Molokini Crater | Old Lahaina Luau Review | Is Mama's Fish House Worth It? | Tips for Sunrise at Haleakala National Park | Things to Do in Wailea | Things to Do on the North Shore | Things to Do Upcountry | Where to See Turtles on Maui | Whale Watching on Maui | Maui Pineapple Tour | Where to Stay in Hana | Where to Stay in Kihei | Where to Stay in Lahaina & Ka'anapali | Best Beaches in Wailea & Kihei | Fine Dining on Maui | Best Restaurants in Wailea | Best Restaurants in Lahaina | Grand Wailea Luau Review | Maui vs Kauai | Four Seasons Maui Review | Andaz Maui Review | Fairmont Kea Lani Review | Wailea Beach Resort Review | Four Seasons vs Andaz Maui | Andaz Maui vs Wailea Beach Resort | Best Breakfast in Wailea
Save
Save
Save
Save
Save
Save
Save
Save
P.S. Thanks for sticking around and reading this whole post! If you have ANY questions about planning your trip to Hawaii, you can join my free Facebook group here. I'm there answering questions every day and there are 7500+ other friends who have a ton of Hawaii information to share!
Also, if you want to follow along on my travel adventures in real time, you can follow me on Instagram (@caitylincoln). My post captions are full of travel tips and I have a ton of story highlights and videos with great info. And please share my account with your friends that are headed to Hawaii! Your support really helps me keep this blog running!