Where to Stay on Maui: My Favorite Maui Hotels & Resorts
While all of the Hawaiian Islands are pretty spectacular, Maui will always be my favorite. Maybe it's because I used to live there and got to spend so much time really exploring, or maybe it's just because it's the best ; ) Not only does Maui have beautiful beaches, world class snorkeling, waterfalls, jungles, and more adventures than you can imagine, but Maui also has some of the best beach resorts IN THE WORLD.
Yep, there are so many great places that it can actually be kind of overwhelming trying to figure out where to stay on Maui.
Well don't worry friend, I'm going to break down my favorite places to stay on Maui by category so you can find the perfect spot for your vacation.
This post may contain some affiliate links, which means I'll make a little money on anything you choose to purchase. But of course, I only recommend my absolute favorites to you. Thank you for supporting the brands that make Hulaland possible.
Where to Stay in Maui
First up…Maui is a pretty big island (like 10-12 hours to drive all the way around) and while there's two major areas where visitors stay, the island is divided into four main regions:
West Maui: Majestic and rugged, West Maui's mountains yield to beautiful white-sand beaches where you'll find Maui's oldest resort areas. Ka'anapali, Lahaina, Kapalua, and Napili are all in the same general area, but all have very different vibes. The west side is the most developed part of Maui and it's a big draw for visitors.
South Maui: Maui's other major resort area is on the south side where the beaches tend to be flatter and wider than on the west side and the weather tends to be a bit hotter and drier. This is where the resort areas of Ma'alaea, Kihei, Wailea, and Makena are located.
One of the biggest questions I get asked about where to stay on Maui is whether to stay on the west side or the south side (Ka'anapali vs Wailea) and it's a pretty nuanced answer so you can read a full post about that question here.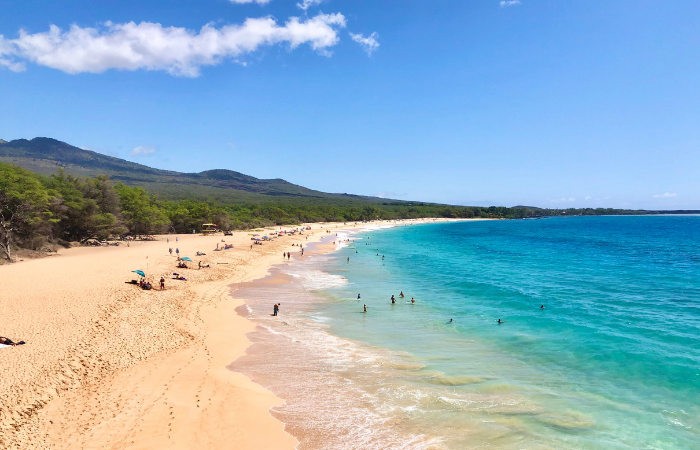 East Maui/Hana: The most remote side of the island, East Maui is mostly referred to as Hana, as in the destination at the end of the Road to Hana. While this is arguably the most beautiful part of Maui, not many people stay here. This could be because it's super remote (you have to drive the Road to Hana just to get there). As you might expect, there aren't many places to stay around Hana. There also isn't much to do. You know, apart from hiking to hidden waterfalls and what not. Read more about Hana here.
North Shore/Upcountry: This is my FAVORITE part of Maui. The north shore has a funky hippy vibe with real community. Paia is a great town and the neighborhoods around it have some pretty cool beach rentals. The beaches are beautiful on the north shore (really some of the prettiest on Maui) but they can get pretty windy and rough. And while this is my favorite part of Maui, it's not what most people are probably looking for in a Maui vacation. Read more about the north shore here and the upcountry here.
Wherever you decide to stay, you'll fly into Kahului Airport (OGG), which is located on the north side of the island in the valley between the two mountains (Haleakala to the east and the West Maui Mountains to the west). This is where Wal-Mart, Target, Costco, and Whole Foods are located, but you likely won't spend much time in Kahului once you pick up your rental car and groceries.
Okay…onto the good stuff. In this post, I'm going to tell you my favorite hotels and resorts on Maui…all 15 of them!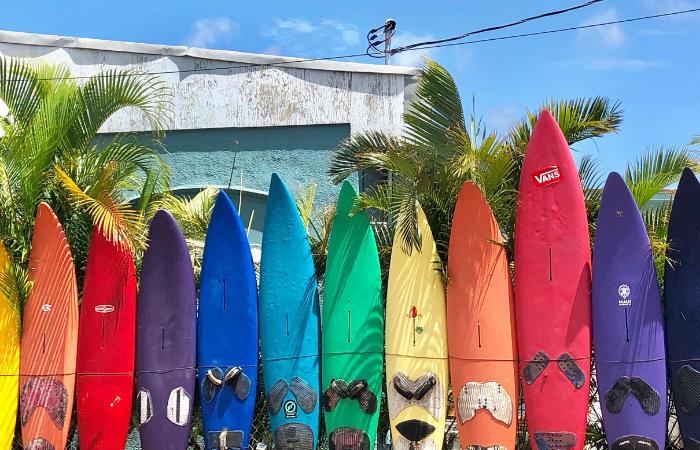 Now here's the deal…I am not going to recommend every single resort on Maui to you. It won't be helpful. There are a lot of good places to stay and your budget and circumstances may make you lean in a certain direction. So if you have your eye on a certain place and I don't recommend it here, it's not necessarily a bad place to stay. I'm just really picky about where I like to stay and what I recommend.
Also, my specific recommendations in this post are for HOTELS AND RESORTS only. If you're looking for a condo (even a condo-tel/condo resort), you want this post.
Final Note (and a big favor to ask): If you find my blog and info AT ALL helpful, the absolute best thing you can do to help me out is to click through the links in this post to book your hotels. I make a small commission on your bookings and if you're going to book a hotel anyways, it's a WIN WIN. Thanks so much!
Now, here's the info you really want…
My Favorite Hotels on Maui
I'm going to break this down by category so you can find exactly what you're looking for…

Where to Stay in Maui – Luxury Hotels & Resorts
Four Seasons Maui
The Four Seasons is pretty much unparalleled in my book and definitely my #1 pick for a luxurious Maui vacation. Read my full review of the Four Seasons Maui here.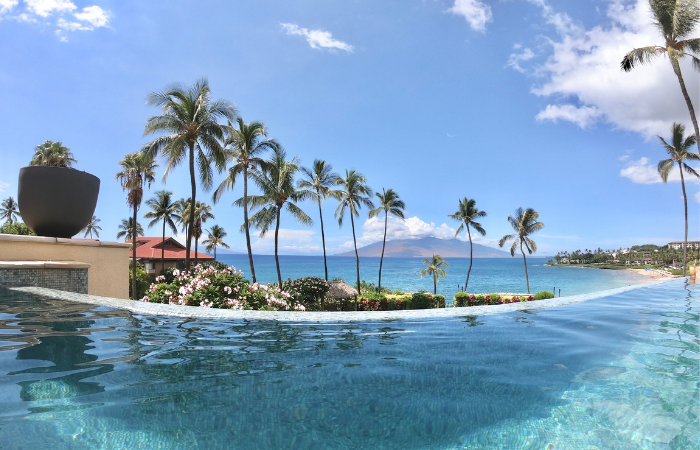 Location & Vibe
The Four Seasons is located in Wailea, an upscale resort area south of Kihei on Maui's south side. It's known for its luxury hotels, high end shopping areas, upscale restaurants, endless amenities like golf, tennis, and spas plus some of the most gorgeous beaches on Maui. And the Four Seasons Maui is king of it all in Wailea.
The Four Seasons Maui isn't stuffy at all, but rather pretty relaxed and easy going. It's a classic Hawaiian resort with a beach vibe, but the service is what takes it over the top. You'll probably never experience service anywhere like you will at the Four Seasons.
Resort Highlights & Amenities
There are three pool areas at the Four Seasons: the main pool is family friendly with a large fountain in the middle and complimentary cabanas surrounding. There's a small children's pool off to the side (think preschoolers) with a small slide and waterfall, and then the adults only serenity pool. You come for the serenity pool. The infinity pool overlooking the ocean is pretty iconic and it's definitely my favorite spot in all of Wailea.
The restaurants at the Four Seasons Maui are also awesome. I love the lobby lounge for drinks and appetizers in the evening and DUO and Ferraro's are top notch spots as well.
The spa isn't the most impressive in the area, but the fitness center and game rooms are pretty fabulous.
The Four Seasons Maui also has the best onsite tennis facilities in Wailea.
Why I Love It
The property is pretty much the definition of luxury, but it's the service that really sets the Four Seasons apart from other places in Wailea. And that adults only infinity pool.
Booking Details
Check pricing and read reviews here.
Ritz Carlton Kapalua
The Ritz Carlton Kapalua exudes luxury (just like you'd expect) and a big bonus for this property is how secluded it is.
Location & Vibe
Nestled in the private resort/golf community of Kapalua on the far west side of Maui, you'll feel worlds away from the crowds in nearby Ka'anapali and Lahaina. Kapalua feels secluded and exclusive.
Here's the downside: the Ritz's Kapalua setting, though beautiful, tends to get the most wind and rain of all of Maui's resort areas. It's not terrible, but it's definitely noticeable.
Resort Highlights & Amenities
Kapalua is a golfer's paradise, but the Ritz also boasts a spa, six restaurants, and a gorgeous pool.
Everything mostly revolves around the resort's stunning three-level, 10,000-square-foot pool. The views from the large pool deck of the Kapalua coast and D.T. Fleming Beach are pretty spectacular.
The rooms at the Ritz are luxurious like you would expect, even if they're a tad smaller than those at other luxury resorts on the island. The rooms are decked out nicely with flashy amenities like minibars (and you can order items like chocolate-covered strawberries) and bath sets. There's also a pillow menu, Frette linens on the beds, turndown service at night…you get the picture.
The hotel's six restaurants offer a little bit of everything. The Ritz is most famous for its signature restaurant, the Banyan Tree (where guests dine in an open-air setting on beautiful tropical grounds), but it also has a more casual option, 'Olu Café.
Kapalua has two championship golf courses. There are also trails for hiking and biking, a spa, tennis, surfing lessons, kayaking, snorkeling…the list goes on.
Why I Love It
While some of Maui's other "best resorts" get quite a bit of foot traffic because of their location (along popular beach walks in Ka'anapali or Wailea), the Ritz feels pretty secluded (without being too far out of the way) and it's mostly just people actually staying there hanging around.
Booking Details
Book your stay at the Ritz Carlton Kapalua here.
Andaz Maui
The Andaz Maui has become one of the hippest luxury hotels on the island. If you're planning an adults only trip, this place should be high on your list.
Location & Vibe
The Andaz Maui sits on Mokapu Beach at the far north end of Wailea so it gets less foot traffic than the Four Seasons and Grand Wailea.
Andaz is Hyatt's high end boutique line and so the demographic tends to skew towards young and hip and the vibe is sleek and minimalist, but like everywhere in Hawaii it's fairly laid back and unpretentious.
Resort Highlights & Amenities
The Andaz Maui has some truly spectacular amenities. The pool area is spread out across one main level and a lower deck (it's terraced) so there are a lot of different areas to choose where you want to set up camp for the day from, depending on what you're looking for (privacy, sun, shade, ocean view, etc.).
The Andaz Spa is one of the best in Wailea. It's a full service spa and the treatment rooms are on a kind of mezzanine level so while you're getting pampered you can look out over the pool area and ocean beyond.
There are quite a few onsite dining options at the Andaz too including Morimoto and the Bumbye Beach Bar which is a more casual spot with great lunch options and lounge seating.
The Andaz rooms are sleek, modern, and minimalist.
Why I Love It
I love the terraced pool area, the overall minimalist vibe and the beach. Mokapu is a great spot for snorkeling and scuba diving.
Booking Details
Check pricing and read reviews here.
Montage Kapalua
Quite possibly Maui's most luxurious resort, the Montage is a sprawling property, but it manages to feel quiet and secluded (like, you might feel like you're the only ones there).
Location & Vibe
Located near Kapalua Bay, one of Maui's best beaches, this 5-star resort only has about 50 rooms so it feels more like a private villa, except it also has sprawling luxurious grounds.
The Montage is situated on 24 oceanside acres in the heart of Kapalua, surrounded by lush vegetation and waterfalls that cascade into pools throughout the property. It's truly a world class property.
Resort Highlights & Amenities
The pool area at the Montage Kapalua is pretty expansive and includes an infinity edge pool looking directly over the ocean.
The hotel also has a luxury spa, a high end restaurant, beach bar, and kids club. Resort guests can also take advantage of the excellent golf and tennis facilities in the Kapalua Resort area.
The rooms at the Montage Kapalua are some of the best in Hawaii. There are 45 suites (featuring different room layouts) and 4 private villas.
Why I Love It
If you want some extra space (1-3 bedrooms), but still a true resort experience, this is the best spot on Maui. It's true luxury, but removed from all of the hustle and bustle that's in nearby Ka'anapali.
Booking Details
Check pricing and read reviews here.
Side Note: If you're looking for a rental car for your trip, I LOVE Discount Hawaii Car Rentals. They're seriously the only company I ever use. They'll give you the very best prices, you don't have to reserve with a credit card or pay until you show up, you can cancel and re-book anytime if you find a better rate, and they usually have a special that adds additional drivers for no fee. It's a no brainer. Click here to check rates for your trip.
Where to Stay in Maui – High End Hotels & Resorts
Wailea Beach Resort
The Wailea Beach Resort is one of the most popular Marriott properties in the WORLD and it's easy to see why. It's pretty much an easy recommendation no matter what your travel party looks like (kids? Yes. honeymoon? yes.) especially since it's often quite a bit cheaper to similar resorts in Wailea.
Location & Vibe
The Wailea Beach Resort sits on the water in South Maui in between Wailea Beach and Ulua Beach. While it's not directly on the beach, it makes good use of its cliffside location with long stretches of infinity pools with ocean views.
The property is pretty spread out, and activities, common spaces, etc. often feel less centralized than some of the other large resorts in the area (i.e. there's not a jaw dropping lobby you enter through and there's a lot of meandering paths so you feel like you kind of have to know where you're going). But overall, the Wailea Beach Resort delivers luxury in a really laid back way.
Resort Highlights & Amenities
A $100 million complete renovation in 2016 has left the Wailea Beach Resort (a Marriott resort) in fabulous shape.
The Wailea Beach Resort has five pools in three distinct areas including the Ohi pools which are surrounded by lounge chairs and umbrellas, as well as a top notch kids area at the Nalu Adventure pool.
The 547 guest rooms are pretty sleek (think big flatscreen TVs, Nespresso machines, etc.) and they're spread out around the property in lowrise bungalow style units instead of a huge high rise.
The resort has great amenities like the Mandara Spa, a fitness center, a game room with pool tables and arcade games, a movie theater showing different films each night for free, and the super yummy Humble Market Kitchin.
Why I Love It
I LOVE the excess of oceanfront infinity pool spots. The lobby/entry is VERY Instagram friendly, the Shops of Wailea (including the Island Gourmet Market) are easily walkable, and there's a huge pool/slide complex for kids. I also love its location on the Wailea Beach walk which connects pretty much everything in the Wailea area.
Booking Details
Check pricing and read reviews here.
Grand Wailea
If you've got kids, this is hands down the best place to stay on Maui.
Location & Vibe
Sitting on Wailea Beach in South Maui, the Grand Wailea is a world class resort with the most impressive list of amenities in Maui. It's truly a "mega resort." It has a stunning open air lobby that packs a powerful punch on the first impressions front and it has all around impressive scale architectural features. This is one of those places that you stand in awe with your mouth open while you take it in.
While a lot of resorts on Maui are kid-friendly, I would say the Grand Wailea is kid-centric. If you're traveling without kids and looking for a more adult experience, this is probably not your spot. If you love Disney and aren't bothered by kids, it's still a good spot for adults. I will say…while pricewise it's on par with neighboring resorts like the Four Seasons and Andaz, it's not on their level service-wise. It's a step above Westin/Sheraton,Hyatt in terms of personalized service, but I wouldn't call it full blown luxury.
Resort Highlights & Amenities
The Grand Wailea has one of the best pool complexes on Maui (probably anywhere really). The nine different pools include tons of water slides (they actually just opened a new "lava slide", a rope swing area, a rapid river, water elevator, hot tubs, a swim up bar, and an adults only pool. It's impressive.
The Grand Wailea also has a kids club, a teen club, a gaming lounge, and a ton of cultural activities to participate in. If you like to "go go go," you'll love it here.
There are four different restaurants and a handful of bar and snack options. It's truly a place you feel like you never have to leave.
The spa facilities are probably the best on the island. It feels like a whole resort in itself.
There are also four boutiques offering island lifestyle items, resort wear, sundries, souvenirs, and gifts.
And the Grand Wailea hosts a full blown luau most nights that's one of the best options in the area.
Why I Love It
This is the best overall "mega resort" on the island. While Hawaii is different than places like Mexico where you don't ever leave your resort…the Grand Wailea does make you feel like you never need to leave. The resort facilities and amenities are so top notch and then add on stunning Wailea Beach and its location on the Wailea Beach Walk and you've got a winner.
Booking Details
Check pricing and read reviews here.
Fairmont Kea Lani
Often overshadowed by other powerhouse resorts in Wailea, the Fairmont Kea Lani is one of my all time favorites. It offers more refined and personalized service than some of the other mega resorts while being a family friendly spot (but not overran with kids). Read all about my stay at the Fairmont Kea Lani here.
Location & Vibe
Sitting on Polo Beach towards the south end of Wailea, the Fairmont Kea Lani features a dreamy architectural style. Kea Lani means "heavenly white" in Hawaiian and the charming white style of the buildings is reminiscent of a plumeria.
The Fairmont Kea Lani is a pretty grand resort but still feels very relaxed. It's not as crowded as some of the larger resorts on Wailea Beach, but it's still a full service resort with all of the amenities you would want.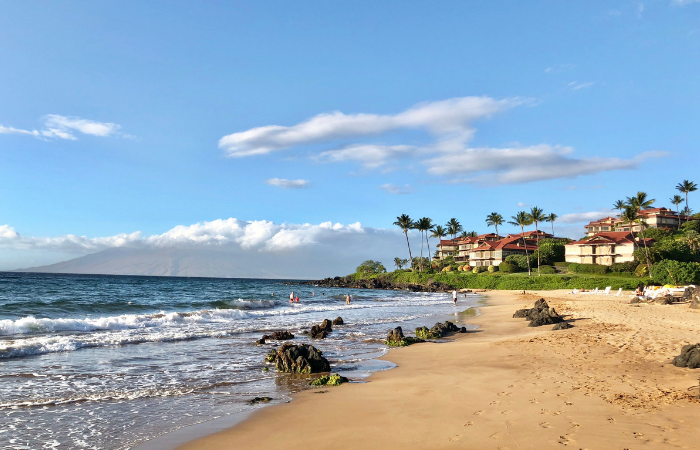 Resort Highlights & Amenities
At the Fairmont Kea Lani you will find a long list of top notch amenities. The highlights list features 3 gorgeous pools (including an adults only pool, a swim up bar, a pretty long waterslide, and a children's water play area), multiple restaurants and bars, and a full service spa that regularly wins awards.
The rooms at the Fairmont Kea Lani are definitely some of my favorites that I've stayed in on Maui. The rooms are spacious and feature nice touches like a dressing area, private lanais with daybeds, and gorgeous bathrooms, but most importantly, they're ALL ocean facing SUITES. Yep, an entry level room at the Fairmont Kea Lani will get you an ocean view and a one bedroom suite with a mini bar. That's not something that any other resort on Maui offers.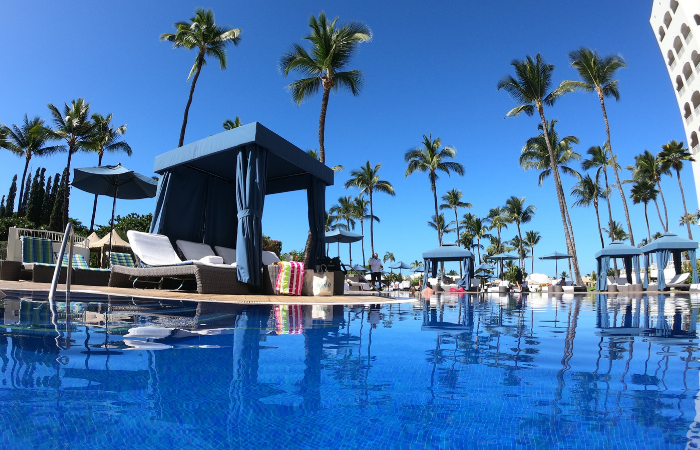 Why I Love It
It's hardly a "secret," but I feel like the Fairmont gets talked about less than the other Wailea resorts. It's the only resort on Maui that is exclusively oceanfront suites (!!!). It's also usually a little lower on the price spectrum than some of the other resorts in the area which means that for less money you're guaranteed to get 1) an oceanfront room and 2) a separate bedroom/bathroom and a living room with a pullout bed and minibar. Those are big perks for me! Throw in the awesome pool area (including a waterslide) and it's a serious contender.
Booking Details
Check pricing and read reviews here.
Where to Stay in Maui – Mid Range Hotels & Resorts
Westin Maui Resort & Spa
My #1 pick on Ka'anapali Beach and probably the west side in general. It's kid friendly, but not kid-centric with a great location and a brand new luxury tower (the first luxury property in the area).
Location & Vibe
Located on one of the most popular stretches of beach on Maui, the Westin Maui on Ka'anapali Beach is home to some fantastic amenities and activities. With its $120 million renovation recently completed, the Westin Maui has become one of the best places to stay on Maui if you're looking for a beachfront mega-resort that's a notch below the most high end luxury options.
While the Westin Maui can feel a little busy and crowded, especially during peak travel times, it's a great choice for those looking for a full resort experience. The beach here is very long and wide so there's plenty of space to spread out.
Resort Highlights & Amenities
The pool area is a real highlight of the resort. It's basically a waterpark. The Westin has five different pools including two water slides, a family pool/splash pad, waterfalls, an adults only pool and of course a pool bar.
Overall, the resort has a gorgeous layout with lots of trees, pools and lagoons, views, etc and it's even better since the renovation.
The 770 guest rooms at the Westin Maui are spread out between two towers and while they're nothing spectacular, they're nice enough. Every room has a balcony with either garden or ocean view.
A full service spa and fitness center that has recently been updated as part of the huge renovation. There are a couple of onsite restaurants (nothing to write home about) and snack options.
There are two golf courses right next to the Westin Maui in the Ka'anapali Resort area.
Why I Love It
With the recent renovation came the unveiling of the new luxury Hokupa'a Tower. It's a separate part of the resort that has exclusive luxury amenities like a private lanai with a covered pool, private bar and lounge, breakfast each morning, and oceanfront rooms with balconies. It's the first "luxury" property on Ka'anapali (something you previously had to go to Wailea or Kapalua for) and it's a stunner.
While I just love Ka'anapali Beach in general, I like that the Westin is right next door to Whalers Village (awesome outdoor shopping/dining complex) but down a little ways from Black Rock where crowds tend to gather for snorkeling.
Booking Details
Check pricing and read reviews here.
Sheraton Maui
One of Ka'anapali's original resorts from an era gone by, the Sheraton Maui offers up retro vibes while delivering all the modern amenities.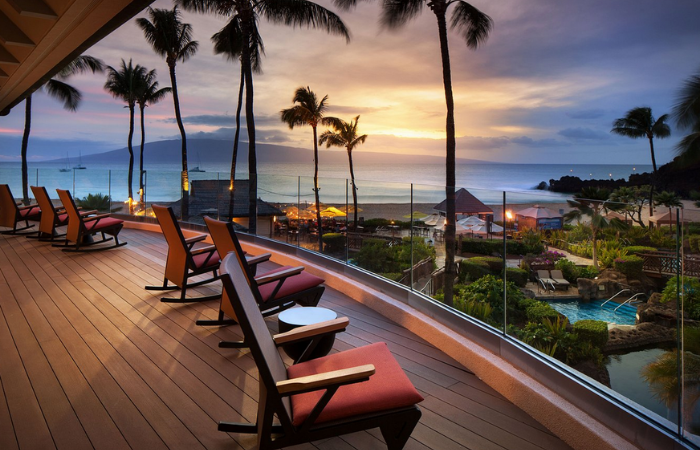 Location & Vibe
The Sheraton Maui sits on the north end of Ka'anapali Beach right on Black Rock (West Maui), which is one of the most popular snorkeling spots on Maui. It's also a short walk down the beach path to Whalers Village where there are a ton of shopping and dining options.
The Sheraton Maui on Ka'anapali Beach is a lovely resort and while it's an updated and modern hotel, I've always found that it feels a little vintage. Originally built in 1963, for me this is the closest I've come to finding Elvis' "Blue Hawaii" vibes on Maui.
Resort Highlights & Amenities
The pool complex is pretty neat with a lazy river that connects the different pools, some waterfalls, and a small waterslide.
The beach in front of the Sheraton is fantastic. The water tends to be calmer here than other places along the beach. You can also snorkel right off shore or paddleboard, kayak, etc. (the resort has rentals available).
While jumping off Black Rock has become a must do for visitors and locals alike, there's a cliff diving and torch lighting ceremony that takes place daily near sunset that's been happening since the resort opened in 1963.
The spa and fitness center are both great and include an outdoor hot tub.
The hotel offers a variety of dining options including a signature restaurant, more casual fare, a coffee shop, and one of my favorite pool bars on Ka'anapali.
Why I Love It
My favorite thing about this resort is probably the vintage vibe. I love a place that's reminiscent of what visiting Hawaii in the 60s would've been like (while still offering all of the best modern amenities).
Being able to walk right out in front of the hotel and snorkel at Black Rock is a big plus too.
Booking Details
Check pricing and read reviews here.
Hyatt Regency Maui
This should be your go to pick if you want the full resort experience (every amenity you can imagine) but in a quieter area with fewer crowds than a lot of nearby options. Still all of the perks of being on the main drag of Ka'anapali Beach!
Location & Vibe
Located at the quiet end of Ka'anapali Beach, almost a miles stroll to Whalers Village, the Hyatt is the quietest of the mega resorts in Ka'anapali…a lot more relaxed than many of its bustling neighbors.
The resort is massive (like 800+ rooms) and the grounds are phenomenal, but the beach isn't as great as other spots further north on Ka'anapali Beach. The other resorts on Ka'anapali Beach and Whalers Village are walkable via the beach walk but it's at least a solid 1/2 mile+.
Resort Highlights & Amenities
Amenities-wise, this is probably the most top-notch resort on Ka'anapali Beach. The pool area is enormous and sits right on the ocean. There's a huge kid area complete with water slides, a lazy river, and a rope bridge plus a lagoon pool and a grotto swim up bar.
There's a full blown luau on site (other luaus in the area are more luau-lite) plus 5 restaurants (including the only sushi restaurant on Ka'anapali Beach) and a shopping area that stocks locally made goods.
The guest rooms are large and modern but not super fancy, although all of the rooms on the top floors have fantastic views.
The spa is phenomenal with many of the treatment rooms featuring ocean views. and the two nearby 18-hole golf courses in the Ka'anapali Resort are super popular.
Why I Love It
Besides the size of the resort and the amenities offered and it's out of the way location, there's one thing that I LOVE about this resort…the penguins, the penguins, the penguins! DID I MENTION THE PENGUINS??? Penguins are great anywhere, but in Hawaii they make me particularly happy. Seven African black-footed penguins have taken up residence in the hotel's atrium lobby and they're a sight to see! They have feedings every day. Stop by and check them out if you're in the Ka'anapali area even if you don't stay here.
Booking Details
Check pricing and read reviews here.
Where to Stay in Maui – Budget Hotels & Resorts
Ka'anapali Beach Hotel
Advertised as the "most Hawaiian hotel" this family owned beachfront hotel is a great affordable option right on Ka'anapali Beach.
Location & Vibe
Right in the center of Ka'anapali Beach, the Ka'anapali Beach Hotel is a short walk to the Whalers Village shopping complex and close to Black Rock, a popular snorkeling spot.
The vibe here is relaxed Hawaiian charm with fun activities offered throughout the day that promote Hawaiian culture and the aloha spirit. It's not the fanciest place, but it's very well maintained.
Resort Highlights & Amenities
Even though I would consider this place a budget hotel (by Maui standards) it's not short on amenities. There's a great hula show, an oceanfront pool with water slide, firepits near the beach at night, Hawaiian entertainment every evening, and free daily activities that promote local traditions like lei-making.
The best part of this resort is that it has one of the most beautiful beaches in Maui right outside your door! The Ka'anapali Beach Hotel has a prime location right in the center of Ka'anapali Beach so you can take advantage of everything the area has to offer: snorkeling, swimming, walking along the 4-mile long beach, paddleboarding, kayaking, etc.
Why I Love It
I LOVE staying on Ka'anapali Beach because there's so much going on, but a lot of the big mega resorts can be $$$. The Ka'anapali Beach Hotel is the perfect spot if you want to be in the middle of the action, but you're a bit more budget driven.
Booking Details
Check pricing and read reviews here.
Royal Lahaina Resort
The first resort built in the Ka'anapali area, the Royal Lahaina Resort is a great affordable option offering many of the same amenities at neighboring properties.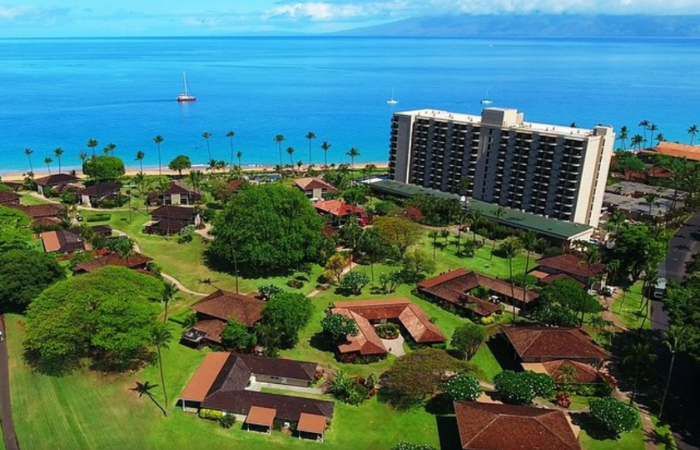 Location & Vibe
Located on a 25-acre oceanfront site on Kahekili Beach (north Ka'anapali Beach), it's just north of Black Rock, the popular snorkeling spot and within walking distance of Whalers Village.
It's not flashy and fancy, but it's well maintained and has a vintage vibe to it.
Resort Highlights & Amenities
The large property features 350 rooms, two pools, 11 tennis courts, and an open-air restaurant that has live entertainment several nights per week. There's also a luau on property.
Why I Love It
The resort's tennis ranch is one of the best tennis facilities on the island. It's been used for pro events in the past and it's one of surprisingly few spots to play in the Ka'anapali Resort area.
Also, unlike most places in Hawaii, the Royal Lahaina doesn't have a daily resort fee!
Booking Details
Check pricing and read reviews here.
Want to read more? Don't miss some of my most popular (and favorite) posts about Maui: my Maui favorites, the best Maui itinerary, how many days to spend on Maui, Maui vs Kauai, where to see turtles on Maui, my favorite road to Hana itinerary, guide for sunrise at Haleakala National Park, how to bike down Maui's volcano, my review of the Maui Pineapple Tour, 20 of the best adventure activities on Maui, 5 Maui day trips, and the best things to do on a Maui honeymoon.
Where to Stay in Maui – Boutique Hotels
Hotel Wailea
Hotel Wailea is the only "adults only" hotel on Maui, so if your honeymoon is during the busy summer or holiday season, this is a great option.
Location & Vibe
The Hotel Wailea is located (unsurprisingly) in Wailea, but it's not beachfront. It's nestled on the slopes of Haleakala with great views of the island. It's a luxury property but it's a small boutique so it's not as crowded as the neighboring resorts in Wailea. But it's still super close to the beach and everything else in the Wailea Resort area.
The vibe is laid back and relaxing – perfect for honeymoons. It's quiet and romantic since it's adults only (and intimately designed), but there are plenty of activities nearby to take advantage of.
Resort Highlights & Amenities
Even though the resort is tucked away in the hills, they offer a private shuttle service down to Wailea Beach where they do chair and umbrella set up.
The pool area is quite and relaxed and the Cabanas pool bar is a great place to grab drinks.
Guests can dine al fresco at The Restaurant at Hotel Wailea (considered one of the most romantic spots on Maui), which has a chef's table and uses organic ingredients.
The resort has 72 one-bedroom suites with private outdoor spaces and some have distant ocean views.
Why I Love It
It's close to everything in Wailea, but removed from the hustle and bustle. If you're on your honeymoon or an adults only trip, this spot feels like a true getaway.
Booking Details
Check pricing and read reviews here.
Paia Inn
This charming little inn on the north shore of Maui is the perfect location for exploring sites on the whole eastern side of the island (Road to Hana, Haleakala, upcountry, north shore, etc.).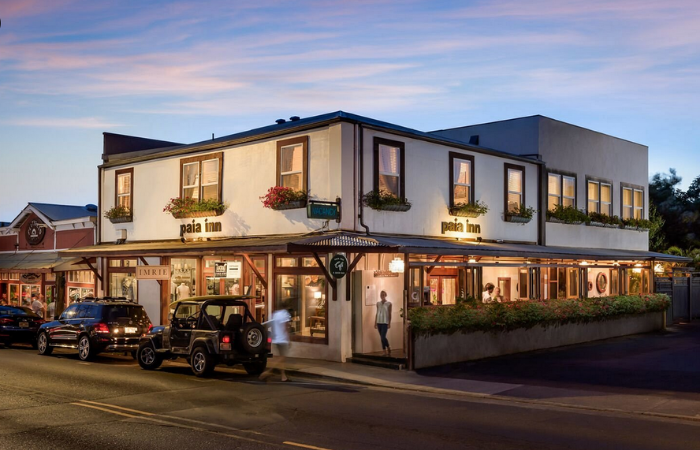 Location & Vibe
The Paia Inn is conveniently located right in Maui's cute north shore surf town, Paia. Paia has become a major destination with locals and tourists in the know who flock to its restaurants, boutiques, and art galleries. But what's great about Paia is that it still manages to feel like an actual town. Don't miss the small town grocery store and local surf beach.
The Paia Inn sits right on the Hana Highways in the middle of town so it's perfectly situated for doing everything in town. There's even beach access and chairs set up on the lawn out back.
Resort Highlights & Amenities
The Paia Inn isn't a full service resort or hotel. It's small with just a few rooms, but it's well maintained and the access to the beach is a huge perk.
Why I Love It
This is my go to spot for when I want to spend a few days doing a LOT of exploring on the island before transferring to a fancy beach resort in Wailea. The prices are reasonable, it's got a GREAT location, and I prefer staying in a small inn instead of an unknown (possibly illegal) Airbnb.
Booking Details
Check pricing and read reviews here.
Hana-Maui Resort
For vacationers wanting to get off the grid and truly escape for a while, you'll definitely want to check into the only resort in Hana.
Location & Vibe
Located on the secluded Hana side of the island, the Hana-Maui Resort is a boutique hotel that overlooks Hana Bay. Recently acquired by Hyatt, the Hana-Maui Resort is expected to undergo extensive renovations in the next few years.
The Hana-Maui Resort delivers rustic luxury and all-inclusive packages in the middle of Maui's lush, secluded east coast.
Resort Highlights & Amenities
Rooms at the feel off the grid with no televisions or internet (although they're available in the bungalows).
Unwind at the spa with Hawaiian inspired treatments, go horseback riding on the beach, or go for a hike on one of the trails that lead to waterfalls.
They say Hana is "where time stands still," and it's easy to see why when you're overlooking the wild ocean from the resort's pool.
Travelers that book at least three nights on one of the resort's packages get complimentary flights from the main airport in Maui (Kahului) to nearby Hana Airport although driving the legendary Road to Hana is half the fun.
Why I Love It
While I don't recommend staying overnight in Hana for just one night if you're driving the famous Road to Hana (it's too much hassle plus what do you do with your luggage if you stop along the road), if you're looking to really get off the grid for a few nights and explore the most authentic part of Maui, a stay at the Hana-Maui Resort is a must do.
Booking Details
Check pricing and read reivews here.
Where I Like to Stay on Maui
For luxury: Four Seasons Maui or Andaz Maui
Luxury for less: Wailea Beach Resort or Westin Maui
On a budget: Royal Lahaina or Ka'anapali Beach Hotel
Maui Vacation Rentals & Condos
If a resort/hotel isn't what you're looking for, you want more amenities, or you're not finding anything in your price range, YOU MUST READ THIS POST. It is a truly prolific ; ) roundup of the best condo complexes on Maui (seriously…I've got details on 50+ complexes) that's well organized so you can find exactly what you're looking for.
Maui Hotel Reviews
For waaaaay more details on some of the places I've stayed on Maui, keep reading for full resort reviews:
Want to read more about where to stay on Maui? I've written a ton of posts that will help. I'd start with my 15 favorite resorts and hotels on Maui. Also, you're going to want to decide between staying on the south side or the west side so this post about Wailea vs Ka'anapali is golden. Read about my favorite luxury resorts, boutique hotels, honeymoon resorts, family friendly resorts, and condos (many under $100/night!). If you've narrowed down the area of the island you want to stay, but need help picking a specific hotel, read these posts about where to stay in Wailea, Kihei, Ka'anapali, Lahaina and Kapalua, and Hana. And if you just want more details (more! More! more!), read my reviews of staying at the Four Seasons and the Fairmont Kea Lani.
Save
P.S. Thanks for sticking around and reading this whole post! If you have ANY questions about planning your trip to Hawaii, you can join my free Facebook group here. I'm there answering questions every day and there are 7500+ other friends who have a ton of Hawaii information to share!
Also, if you want to follow along on my travel adventures in real time, you can follow me on Instagram (@caitylincoln). My post captions are full of travel tips and I have a ton of story highlights and videos with great info. And please share my account with your friends that are headed to Hawaii! Your support really helps me keep this blog running!