This post may contain some affiliate links, which means I'll make a little money on anything you choose to purchase. But of course, I only recommend my absolute favorites to you. Thank you for supporting the brands that make Hulaland possible.
If you're planning a trip to Maui and wondering where to stay, this post is for you! If you've never been before, you might be overwhelmed…what is the best area to stay in Maui? Are some beaches better than others? Are those fancy resorts really worth the money and which are the best resorts in Maui? Will a condo save you big bucks? I'm going to let you in on everything you need to know!
Lay of the Land, Maui Style
Maui is kind of a big island (we're talking 10-12 hours of solid driving to go all the way around, which is just a point of reference because NOBODY drives around the entire island in a day) so don't underestimate its size when you're planning your trip. It's divided into four main regions (West Maui, South Maui, East Maui, and the North Shore/Upcountry area) but only has two resort areas (on the west and south shores).
You'll fly into Kahului Airport (OGG), which is located on the north shore in the valley between the two mountains (Haleakala to the east and the West Maui Mountains to the west). This is where Wal-Mart, Target, Costco, and Whole Foods are located, but you likely won't spend much time in Kahului once you pick up your rental car and groceries.
Ka'anapali vs Wailea
West Maui: West Maui was originally developed in the 1960s and remains the most popular place to stay on Maui. The old whaling village of Lahaina anchors this area and the Ka'anapali resort area is home to the majority of dining and accommodation options on this side of the island. Drive time from the Kahului airport (OGG) to the Lahaina area is about 45 minutes.
Most people stay in West Maui, if for no other reason than it's where the majority of the resorts and condos are. West Maui is home to Maui's original resort areas, and it's still where most of the tourists flock today. West Maui is usually sunny and dry, making it perfect beach weather. Also, there's a wide range of accommodation options so whether you're looking to splurge on a beachfront resort or save on a condo, you can find it in West Maui.
There's also a lot development, so if you're the type that likes to be in the middle of the action, West Maui is where it's going on. Lahaina (an old whaling village turned tourist hot spot) is where many choose to spend their evenings. Front Street is packed with shops and restaurants (many offering ocean views) and has a nice vibe that makes it a "hang out" spot for people in the evenings. The docks in Lahaina are also where a lot of the water excursions leave from (whale watching, glass bottomed boats, submarines, and ferries to Lanai) so if you're planning to do much of that, it's nice to be staying nearby.
Maui's famous Ka'anapali Beach is also in West Maui (just north of Lahaina) and although it comes nowhere near it in terms of crowds, I would call it the Waikiki of Maui. Fronting it are the Sheraton, Westin, Marriot, and Hyatt to name a few. There's also an outdoor mall with plenty of shopping and dining right on the beach. The three-mile beachfront promenade makes it easy to get around and it seems like there's always something to do. Catamarans pull right up to the beach to take passengers out on snorkeling excursions and there's good snorkeling at the far north end at Black Rock.
If you're looking for something quieter, Napili Bay and Kapalua Bay to the north might float your boat. Napili Bay (a great beach) is surrounded by older condos and small inns or resorts that although they're showing their age are still pretty charming (and you can't beat the location)! For more of a luxury resort feel, try Kapalua (the name of a beach, but also a resort area). It's centered around golfing, but the Montage and the Ritz Carlton are some of the swankiest places around and although you're not far from Lahaina and Ka'anapali, you'll feel a world away. There are also a bunch of fancy-schmancy condos in Kapalua.
West Maui is actually one of the prettiest parts of Maui, with the West Maui Mountains rising up in the background offering some amazing hiking trails, it has some of the best beaches on the island (if you don't mind the crowds) and you're close to the famous Honolua Bay and all that's going on in Lahaina and Ka'anapali.
Alas, even though West Maui is pretty great, it's not perfect. I hinted before at the crowds, but to me, that's the biggest downside about the West side. Some of the most popular beaches (AKA the most beautiful) like Ka'anapali, Kapalua, and Napili can be crowded with limited parking. Also, while there's a lot to do on the West side, that means it's pretty built up. Which can be good and bad. Unfortunately, the bad can be tacky tourist shops and plenty of strip malls. All of that aside, a major consideration for me is how far the West side is from everything else. Doing Haleakala? It's a hike. Road to Hana? Same thing. Anything on the north shore or upcountry? You'll have to drive a ways. The good news…Maui is beautiful, so you may not mind the drive.
Read my complete Ka'anapali guide here.
Best Hotels in Maui (West Side):
Montage Kapalua: One of Maui's most luxurious resorts is located in the quiet resort community of Kapalua on the west side of Maui. This 5-star resort only has about 50 rooms so it never feels crowded and it's located right on one of Maui's most beautiful beaches. Pricing starts at $750/night. Click here to check pricing and availability during your stay.
Ritz Carlton Kapalua: The Ritz exudes luxury and a big bonus for this property is how secluded it is. Nestled in the private resort/golf community of Kapalua on west Maui, you'll feel worlds away from the crowds in nearby Ka'anapali and Lahaina. Kapalua is a golfer's paradise, but the Ritz also boasts a spa, six restaurants, and a gorgeous pool. Beach access is at D.T. Fleming beach. Pricing starts at $499/night. Click here to check pricing and availability during your stay.
Westin Maui Resort & Spa: The Westin is located right on Ka'anapali Beach (which is great for swimming and snorkeling) next door to the Whaler's Village, which has a lot of shopping and dining options. There are also snorkel catamarans that pick up right on the beach. The resort has a huge "aquatic complex" with five pools (one for adults only) and a great waterslide. There are parrots and flamingos on the grounds and there's a kid's club as well. Pricing starts at $250/night. Click here to check pricing and availability during your stay.
Sheraton Maui: It's located on Ka'anapali Beach (just a few doors down from the Westin) right in front of Black Rock (one of Maui's most popular snorkeling spots). It has a nice pool area and several dining options. You can also walk down the bike path to the Whaler's Village for shopping and dining. Pricing starts at $240/night. Click here to check pricing and availability during your stay.
Hyatt Regency Maui Resort: This recently renovated resort also sits on Ka'anapali Beach (the opposite end of the Sheraton) and has a lovely pool area and kids club. The real selling point of this resort though are the penguins! Seven African black-footed penguins have taken up residence in the hotel's atrium lobby and they're a sight to see! They have feedings every day. Stop by and check them out if you're in the Ka'anapali area. Pricing starts at $250/night. Click here to check pricing and availability during your stay.
Ka'anapali Beach Hotel: Located right on bustling Ka'anapali Beach, the Ka'anapali Beach Hotel is the perfect place to stay on Maui's west side. Located on the Ka'anapali beach walk nearby the Sheraton, Westin, and Hyatt, you'll enjoy being in west Maui's gorgeous resort area at a fraction of the price. This charming "old Hawaii" hotel starts at $149/night. Click here to check pricing for your dates.
The Mauian Hotel: This small vintage Hawaiian style hotel has a prime spot on Napili Bay (one of Maui's best beaches). The rooms are modern (all with at least a small fridge and microwave), but no phone or TV. A complimentary continental breakfast is served every morning. Pricing starts at $209/night. Click here to check pricing for your dates.
Royal Lahaina Resort: This 25-acre resort right on Kahekili beach (north Ka'anapali beach) has three outdoor pools, two hot tubs, tennis courts, a full service restaurant, and even a luau. Pricing starts at $195/night. Click here to check pricing for your dates.
Honua Kai Resort & Spa: If you want to be in the Ka'anapali area but slightly removed from the crowds (or the prices) try the Honua Kai Resort and Spa. It's just north of Black Rock but still technically in the Ka'anapali resort area. Click here to check pricing for your dates.
South Maui: Well hello, South Maui! While not as popular or well known as the West side, the South shores of Maui are pretty darn great. This side of the island stays even drier and sunnier than the West side (hence why they've starting building it up more). The beaches in South Maui are way less crowded and quite a bit more accessible than those on the West side (more parking and better marked). Most of the beaches in Kihei you can see from the road! I think South Maui has it all. Drive time from the Kahului airport (OGG) to the Kihei/Wailea area is about 20-30 minutes.
Kihei is a sizable beach town with plenty of places to eat and things to do (this is the hub of Maui surf lessons) and it's not very expensive. Most of your accommodation options in Kihei will be condos (some not super new) and while most aren't right on the beach, the steep price break can be worth a quick walk across the street to get to the beach.
Read my complete Kihei guide here.
If you can swing it, Wailea is THE place to stay. Wailea is a resort community just south of Kihei that includes several mega beachfront resorts, some nice condo complexes, good restaurants, and an upscale outdoor mall. The whole area is super lush and manicured and looks like the Hawaii of your dreams. When I've driven people down to Wailea after seeing other parts of the island, they've said "now THIS is what I thought Maui would look like." To me, the epitome of luxury is staying at the Four Seasons in Wailea. In my semi professional opinion, the best resorts in Maui are in Wailea.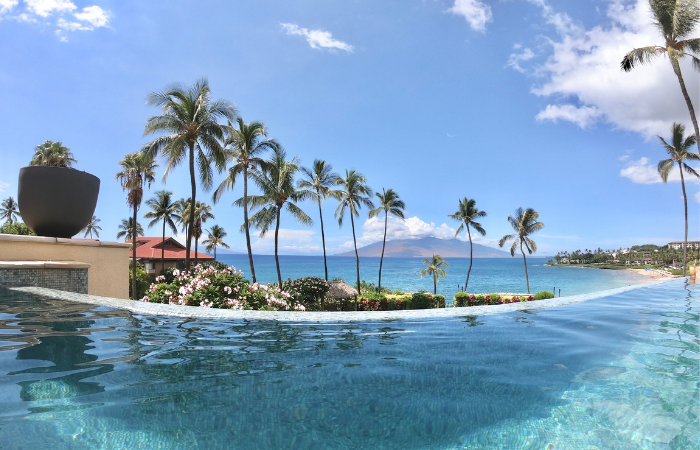 Just like the West side, the South side isn't perfect. Kihei can feel a bit "spring breakish" to me. There are plenty of tacky shops, less than desirable eateries, and the beaches can definitely get crowded (especially Kam I, II, and III). Wailea is picturesque but expensive (unless you're in a condo off the beach) and there's honestly not a lot going on. Everything is more upscale but there's less of it. There are a few companies that offer snorkeling excursions out of Kihei (one out of Makena) but otherwise you'll have to drive up to Ma'alaea Harbor. And although Haleakala looks super close (you can practically reach out and touch it) there's no road that connects with the elusive backside of the Road to Hana (it look so close on a map!!) so you still have to drive up through Kahului to get to the North Shore, Upcountry, and Road to Hana.
Read my complete Wailea guide here.
Best Hotels in Maui (South Side):
Four Seasons Maui: The Four Seasons is the granddaddy of them all and definitely my #1 pick for a luxurious Maui vacation. The resort is super luxurious and it's located in Wailea which is much quieter (and more upscale) than the west side. The spa, the pools, the restaurants, and the beach…they're all phenomenal. The only problem with staying here is you probably won't ever want to leave the resort. Pricing starts at $450/night. Read my full review of the Four Seasons Maui here. Click here to check pricing and availability during your stay.
Andaz Maui: This boutique property by Hyatt is located on one of my favorite beaches on Maui and has a very young, hip vibe. The whole property is very luxe with Asian influences and the pool area especially feels very trendy and posh. If beach and pool time are at the top of your must do list, you'll love the Andaz. Pricing starts at $450/night. Click here to check pricing and availability during your stay.
Hotel Wailea: Hotel Wailea is the only "adults only" hotel on Maui, so if your honeymoon is during the busy summer or holiday season, this is a great option. It's nestled in Wailea on the slopes of Haleakala (great views but not beachfront). While there is a luxury shuttle service to take you down to the beach, you may not want to leave the quiet and luxurious pool area. Pricing starts at $320/night. Click here to check pricing and availability during your stay.
Grand Wailea: This is my number one hotel recommendation for families visiting Maui. This is your best south side option. While this is a world class resort for anyone (gorgeous open air lobby, plenty of shops, dynamite spa, amazing dining, and one of the island's best beaches), it's especially great for families. The Grand Wailea has one of the best pool complexes on Maui (probably anywhere really). The nine different pools include tons of water slides (they actually just opened a new "lava slide", a rope swing area, a rapid river, water elevator, hot tubs, a swim up bar, and an adults only pool. The Grand Wailea also has a kids club, a teen club, a gaming lounge, and a ton of cultural activities to participate in. Pricing starts at $350/night. Click here to check pricing and availability during your stay.
Wailea Beach Marriott: Marriott's around the world are known for being family friendly, but the one in Wailea (south Maui) is something special. It somehow manages to be perfect for both families AND honeymooners. Sitting between Ulua and Wailea Beach, the Marriott has some super swanky pools including four pretty big waterslides as well as a few shorter slides and some gorgeous places to sit and watch the ocean. Pricing starts at $350/night. Click here to check pricing and availability during your stay.
Fairmont Kea Lani: The Fairmont Kea Lani is the only resort on Maui that is exclusively suites so you'll get quite a bit of space for a pretty penny which is great for traveling with kids or if you just want more space. It's located on beautiful Polo Beach, which is connected to Wailea beach and Ulua beach via a walkway and they've got three different pools plus an awesome waterslide. Read all about my stay at the Fairmont Kea Lani here. Pricing starts at $299/night. Click here to check pricing and availability.
East Maui: The most remote side of the island, East Maui is mostly referred to as Hana, as in the destination at the end of the Road to Hana. While this is arguably the most beautiful part of Maui, not many people stay here. This could be because it's super remote (you have to drive the Road to Hana just to get there). As you might expect, there aren't many places to stay around Hana. There also isn't much to do. You know, apart from hiking to hidden waterfalls and what not.
I actually don't recommend staying overnight in Hana to 99% of visitors. For most people, a daytrip is plenty of time to experience this part of the island, but if you're on the adventurous side (or under the impression that Hawaii is too tourist, developed, and crowded), you might want to consider staying overnight in Hana.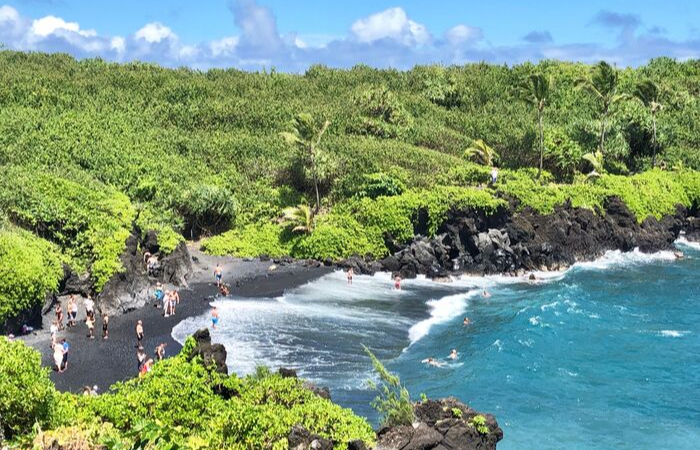 Most people visiting Maui will drive the Road to Hana and spend the day climbing in and out of their jeep to check out whatever roadside attractions they come across before whizzing through Hana town and doing a 180 to make it back to Ka'anapali for dinner. If that doesn't sound like fun, or you really want to see and experience the jungles of East Maui more thoroughly (hey, who isn't into waterfalls, bamboo forests, rainbow eucalyptus trees, and black and red sand beaches??) then consider spending the night somewhere near Hana so you're able to break the trip up over two days. Read more about the road to Hana here.
Best Hotels in Maui (Hana):
Travaasa Hana: For vacationers wanting to get off the gird and truly escaped for a while, you'll definitely want to check into the Travaasa in Hana. Located on the secluded Hana side of the island, the rooms here don't have clocks or televisions, leaving you focused on connecting with each other and Hawaii. The spa is amazing and the resort offers a lot of experiences like guided nature walks and cultural activities. Pricing starts at $350/night. Click here to check pricing and availability during your stay.
North Shore/Upcountry: If you're looking to get away from the crowds and experience a more local/real Hawaii, but Hana seems a little too remote, then you should definitely consider the north shore or upcountry. This is my FAVORITE part of Maui. The north shore has a funky hippy vibe with real community. Paia is a great town (it has a little inn) and the neighborhoods around have some pretty cool beach rentals. The beaches are beautiful on the north shore (really some of the prettiest on Maui) but they can get pretty windy and rough. Actually, Maui's north shore is famous for kite and wind surfing.
The north shore (Paia & Haiku) and upcountry (Makawao & Kula) have quite a few "retreat" type places to stay so if you're looking for a yoga retreat on Maui or something like that, this is the area it will be in. Here's something to keep in mind if you're looking to rent a house on this part of the island: the farther up the mountain you go the better the views are but the farther you are from the beach! Read more about these areas in my north shore guide and my upcountry guide.
Best Hotels in Maui (North Shore):
Paia Inn: This charming little inn on the north shore of Maui is the perfect location for exploring the whole eastern side of the island. It's conveniently located right in Paia so you won't have to worry about parking and you'll have soooo many restaurant options within walking distance. It also has beach access! Click here to check pricing for your dates.
RELATED: 15 Totally Awesome Things to Do on Maui
Best Maui Snorkeling Spots (+Where to Find Sea Turtles)
20 Adventure Activities on Maui
15 Things to Do on a Maui Honeymoon
Side Note: If you're looking for a rental car for your trip, I LOVE Discount Hawaii Car Rentals. They're seriously the only company I ever use. They'll give you the very best prices, you don't have to reserve with a credit card or pay until you show up, you can cancel and re-book anytime if you find a better rate, and they usually have a special that adds additional drivers for no fee. It's a no brainer. Click here to check rates for your trip.
My Favorite Places to Stay in Maui

Everybody has different opinions and different things work for different people, but here's what I think (and this is what I tell my friends who are thinking about a trip to Maui):
Most people talk about the west side vs. the south side and which is better, but it's a bit more nuanced than that. For example, I prefer the south side because I like WAILEA, but if my budget prohibits that then I'd pick Ka'anapali on the west side before I'd stay in Kihei on the south side. So your choice between the south and west side may come down to exactly what place/area you can afford (if you're looking for a resort, they'll be cheaper on the west side, but if you're looking for a condo the deals in Kihei are hard to beat).
If you're looking for luxury, the best are the resorts in Wailea (Four Seasons, Andaz, Fairmont Kea Lani, Wailea Beach Resort, Hotel Wailea, Grand Wailea). I prefer this area to the luxury resorts at Kapalua on the west side (Ritz Carlton and Montage), because it's generally sunnier and it's a lot less isolated.
If you're looking for the best place to stay with kids, I'd pick the Grand Wailea (south side) or Westin Maui (west side), although pretty much every resort in Hawaii is extremely kid friendly.
As a general rule, I dislike staying in Kihei unless my budget makes it by far the best option. I just find it to be crowded and not the vibe that I'm looking for on vacation, but so many people LOVE it so this really depends what you're looking for. If I am staying in Kihei, I like the properties on the south side (Kihei Surfside Resort, Mana Kai Maui, and Hale Hui Kai) near Keawakapu Beach.
If you're looking at resorts and condos in the Ka'anapali Resort area (west Maui), be aware between the difference of the main Ka'anapali Beach (south of Black Rock), and North Ka'anapali Beach (the beach that stretches from Black Rock north to Honokowai Beach Park. Ka'anapali Beach is the main area of beach (about 1.5 miles) that runs from the Sheraton to the Hyatt. There's a beach walk and a high end outdoor shopping mall with some great restaurants that connects all of the resorts making it feel like more of a community.  The properties along North Ka'anapali Beach are mostly condo-tels so there's generally fewer amenities and less going on. There's not a designated beach walk along north Ka'anapali Beach (like there is south of Black Rock), but the beach is wide and sandy and once you get to the Royal Lahaina Resort (the resort just north of Black Rock), there is a pathway around to the Sheraton and you then can walk on to Whaler's Village. But depending on how far north you're staying, this could be quite a walk.
In the Ka'anapali area, I would pick the Westin, Sheraton, Hyatt, or Honua Kai as my first choices although there are a lot of good picks in that area.
Manage your expectations if you're staying in an older condo on the West Side (especially around Honokowai, Kahana, and Napili Bay).  They're a little older and shabbier (not necessarily in a bad way, but they can definitely be worn) than many expect. Also, a lot of complexes in that area on the water don't have a beach.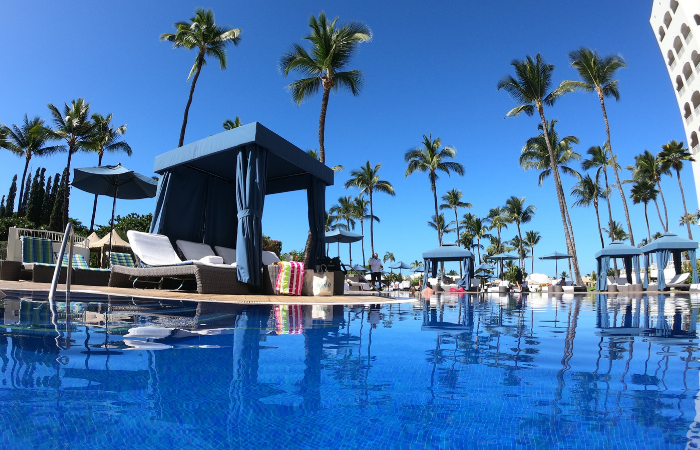 I don't usually recommend splitting your stay among different parts of the island (especially the south side and west side) for the sake of trying to save time driving to do activities. A lot of people ask if I would recommend staying on the west side to do the things over there and then moving to the south side so they're closer to Haleakala, Hana, and the north shore. But I don't. These two areas are both touristy, beachy areas so just pick one place and stay there to whole time even if it means an additional 30-minute drive going places. It'll be less of a hassle than moving. Besides, even if you're staying on the south side, it's still not that close to the east side of the island.
Here's when I do recommend a split stay: if you're wanting to experience a high-end luxury resort, but you can't swing the bill for your whole stay. If you have a week, and you want to do a fair bit of exploring the island, but also enjoy a stay at a luxury resort where you never leave the beach/pool, I would suggest splitting your stay 3 nights at affordable/central accommodations and 4 nights at a nice resort.
On my last trip to Maui, I stayed the first three nights at a rental in Paia (you could also stay at the Paia Inn) and did sunrise at Haleakala, toured Maui Wine and the upcountry, hung out on the north shore with some turtles, explored Paia and Makawao, drove to Hana, had dinner at Mama's Fish House, and swung by the Iao Valley before checking into the Four Seasons in Wailea for 3 nights and doing NOTHING.
Doing your trip this way means you hit the ground running and go, go, go but it also means you don't have to pay for a full week at a luxury resort when you'll be out exploring. Something to think about!
More Places to Stay in Maui
Now that you know the lay of the is(land), take a look at these posts:
Best Family Friendly Resorts on Maui
Resort Reviews for:
Thanks for sticking around and reading this whole post! It's always my goal to provide a TON of value to YOU. To that end, lately I've been packing my Instagram (@hula.land) FULL of content and adventures that you might want to check out. A lot of my post captions are like mini blog posts with travel info, I've got IGTV review videos for luaus and excursions, and helpful story highlights like grocery store prices and hotel reviews. Not to mention that my feed is pretty much the ultimate tropical eye candy! You can follow me here and share my account with your friends! Your support really helps me to keep this blog running!
Also, if you have ANY questions about planning your trip to Hawaii, you can join my free Facebook group here. I'm in there answering questions every day and there are 5000+ other friends who have a ton of Hawaii information to share!
Feeling a little overwhelmed with trying to plan the perfect Hawaii itinerary? I've got just the thing for you!
Hawaii Bound! I've put together the BEST Hawaii itineraries you'll find anywhere! These are the itineraries I use on my trips to Hawaii (plus a few tweaks because hindsight is 20/20 right?) and they're perfect for first time and repeat visitors who want to see the very best of each of the Hawaiian Islands.
Check it out here.
I've included everything from the best snorkeling spots, beaches, and excursions and it's all broken down by each part of the island so you won't waste any time backtracking.
So what exactly do you get? With Hawaii Bound, you'll get 10-15 different DAILY itineraries for each of the four main islands (Maui, Oahu, Kauai and the Big Island).
These aren't week long itineraries, but daily itineraries so you can pick and choose what works best for your trip. If you're the go-go-go type, then pick 6 different daily itineraries and string them together into one adventure packed trip. If you're staying at a nice beach resort and wanting to take advantage of the amenities, then pick 2-3 daily itineraries and spend the rest of the week chilling at the resort/beach. If you're going on an island hopping extravaganza trip, use the daily itineraries to figure out how many days to spend on each island and what to do!
This is basically vacation in a box, friend! Just add a bit of salt water and you're in for the trip of a lifetime.
Click here to grab the Hawaii Bound itinerary bundle.
Save
Save
Save
Save
Save
Sa
Save
Save
Save
Save
Save
Save