10 Unique Things to Do on Maui: You Can ONLY Find These on Maui
This post may contain some affiliate links, which means I'll make a little money on anything you choose to purchase. But of course, I only recommend my absolute favorites to you. Thank you for supporting the brands that make the Lincoln Travel Co possible.
**This post was updated October 2023.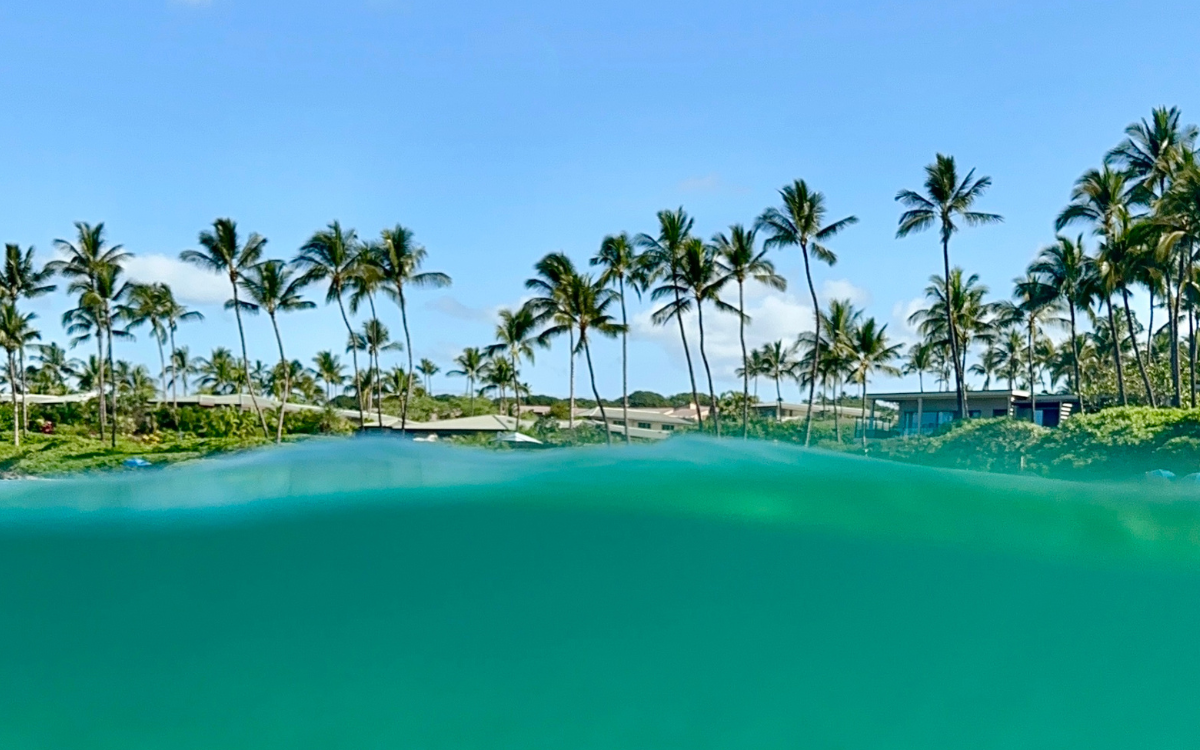 I could give you a list of 100 things you absolutely don't want to miss on Maui (and believe me I have on this blog), but I'm going to keep it short and sweet here. You can go to ANY Hawaiian island and find beautiful beaches and fun adventures like snorkeling, surfing, paddleboarding, horseback riding, tennis, golf, zipline, etc. You get the drill.
There are a lot of things that while 100% amazing, you'll find some version of it on every island.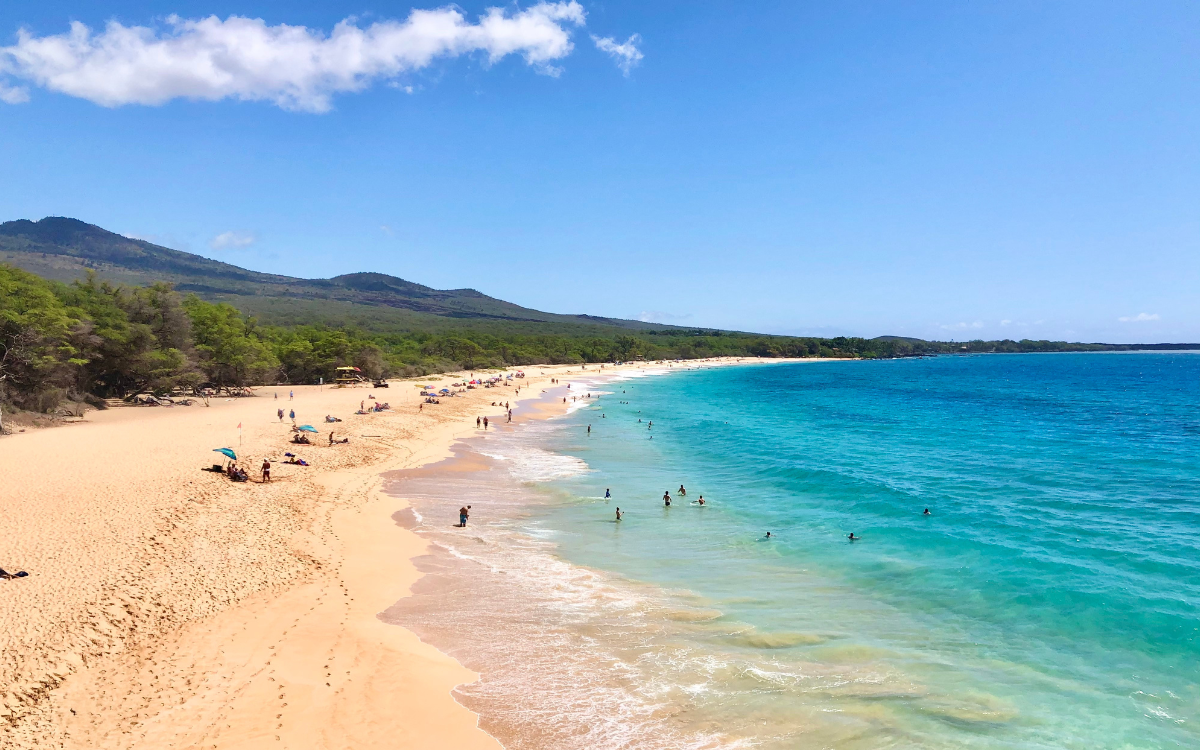 Unique Things to Do on Maui
So this post is all about things that you can ONLY do on Maui. This is what makes the island unique and hopefully it'll help you put together an itinerary whether you're coming for three days or three weeks (or if you're just starting your vacation research and trying to decide which island is perfect for you).
Here's a quick "table of contents" for what's in this post:
Drive the Road to Hana (Waterfalls, Bamboo Forests & Black Sand Beaches)
Haleakala National Park
Snorkel Molokini Crater
Whale Watching
Bike the Volcano
Dinner at Mama's Fish House
Spend Time Upcountry
Iao Valley
Day Trip to Lanai
Old Lahaina Luau
Drive the Road to Hana
Maui's most epic adventure is driving the famed "Road to Hana." Hana is a tiny town in the Eastern jungles of Maui, but it's not about Hana itself, it's about the journey to get there.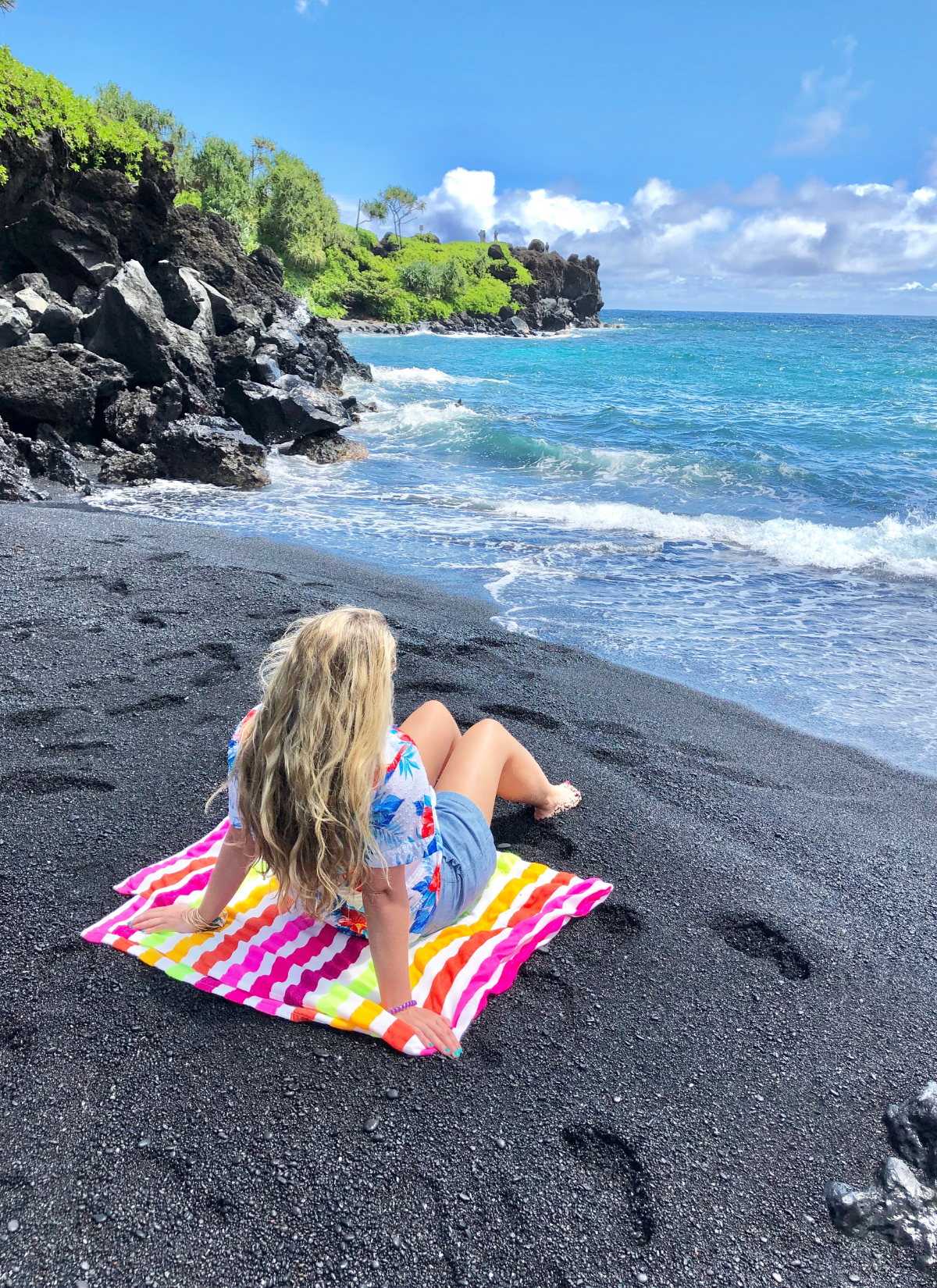 Tales of the harrowing drive along narrow and windy roads along cliffs, through jungles, and past waterfalls have only built up the folklore surrounding Hawaii's most popular drive.
And taking part is practically a right of passage when visiting Maui. Set out early, stopping to grab breakfast in Paia town and see all the sights along the way.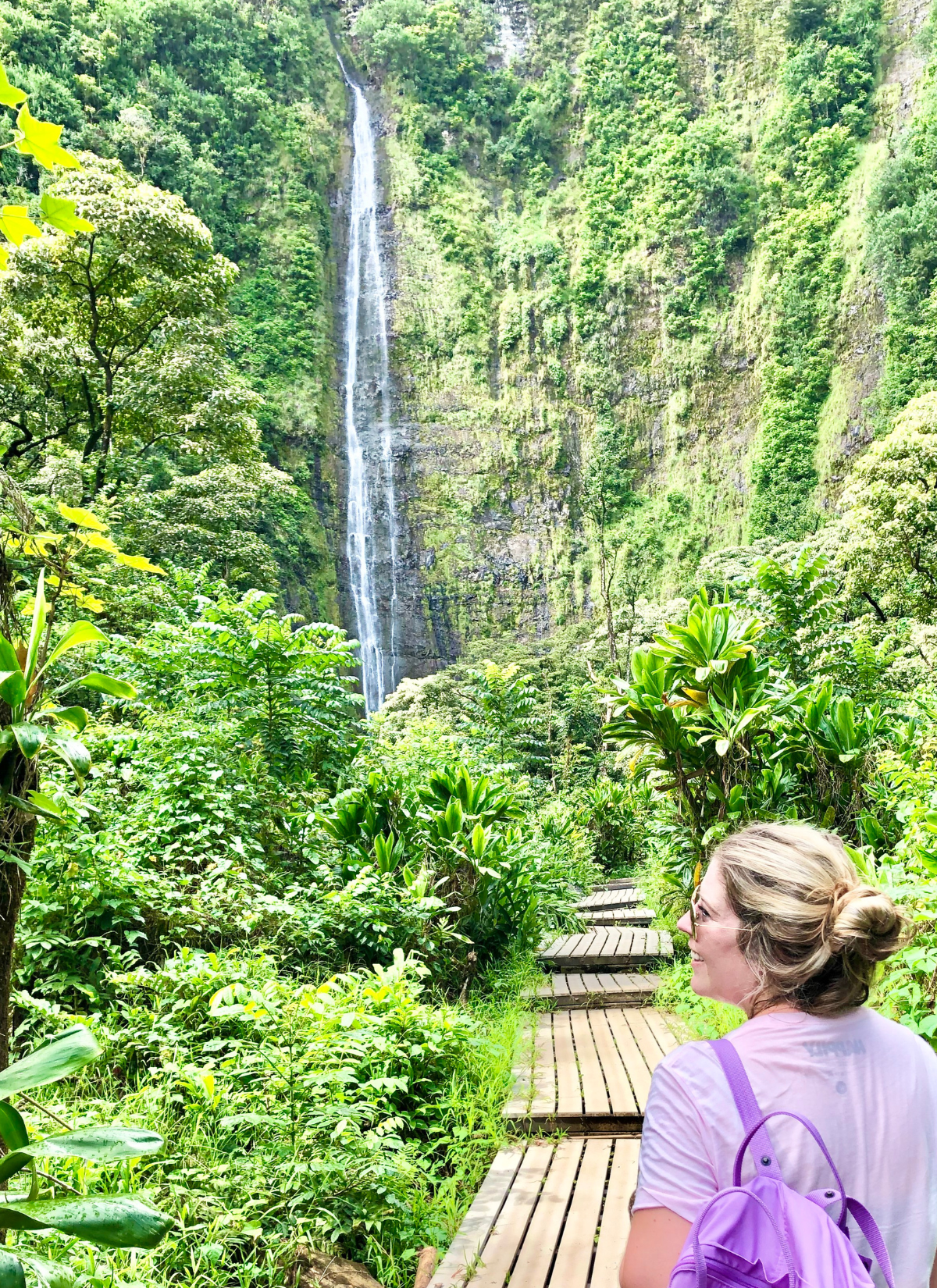 Your journey past rainbow eucalyptus trees, bamboo forests, black and red sand beaches, 400 foot waterfalls, and Hana town itself will give you a taste of the real Hawaii. Old Hawaii.
Of all the things to do in Maui, you really shouldn't miss this one.
I've written a few posts about the road to Hana:
My Favorite Road to Hana Itinerary
Tips for Driving the Road to Hana
Should You Drive the "Backside" of the Road to Hana?
Haleakala National Park
There aren't many places in the world where you can stand on top of a 10,000 ft tall volcano in the middle of the ocean and watch the sun begin to awaken.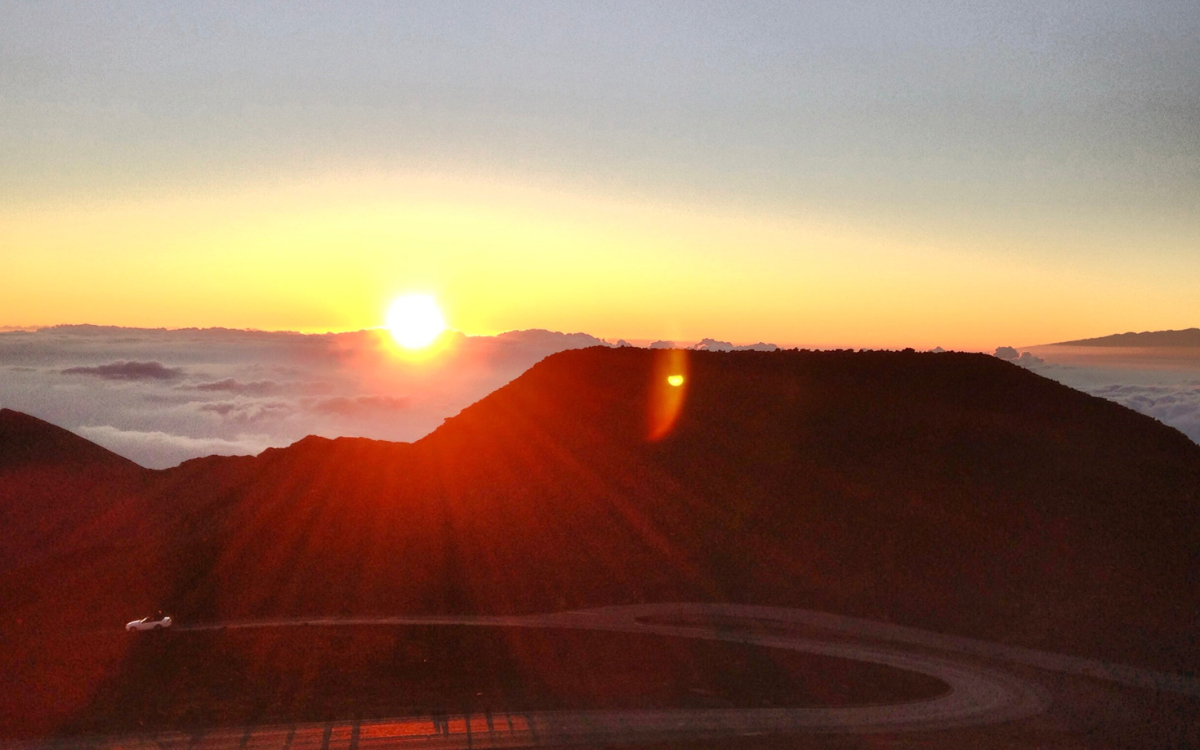 It's become a pilgrimage of sorts, with bleary eyed tourists waking up in the middle of the night and donning coats and hats to make the long and windy drive up the mountain to Haleakala's summit where they stake out spots and wait for a glimpse of those first sights of peachy orange hues peaking through the cloud canopy.
It's been called magical and that's all you can really say about it. You're unlikely to experience this kind of phenomenon anywhere else in the world.
If you're making the trek up to Haleakala for sunrise (entering the park between 3AM and 7AM), you'll need a reservation through the National Park service. You can make reservations 60 days in advance and they cost $1 (plus the $30 park admission/vehicle upon arrival).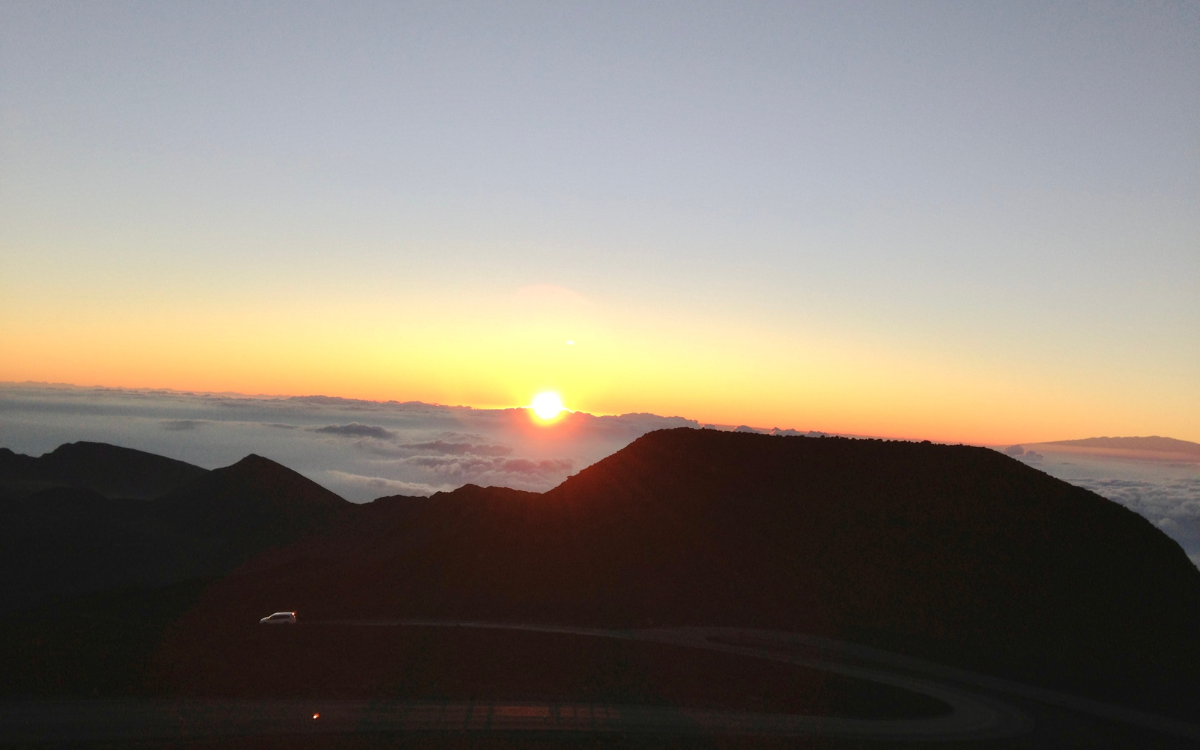 Read everything you need to know about sunrise and sunset at Haleakala here.
But there's more to Haleakala National Park than just the sunrise. If you're an avid hiker, you'll want to put hiking down into the crater on your list.
And if the extreme weather (and wake up call) for sunrise is a little off putting, it's still 100% worth going up to Haleakala during the day.
Snorkel Molokini Crater
Located three miles off Maui's southern shore, Molokini Crater has long been Maui's (and possibly Hawaii's) most popular snorkeling and diving destination and it's easy to see why.
The partially submerged volcanic crater with its famous crescent shape is not only home to an extensive coral reef with 250+ species of tropical fish, but it also has an incredible quality of water that boasts up to 150 feet of visibility.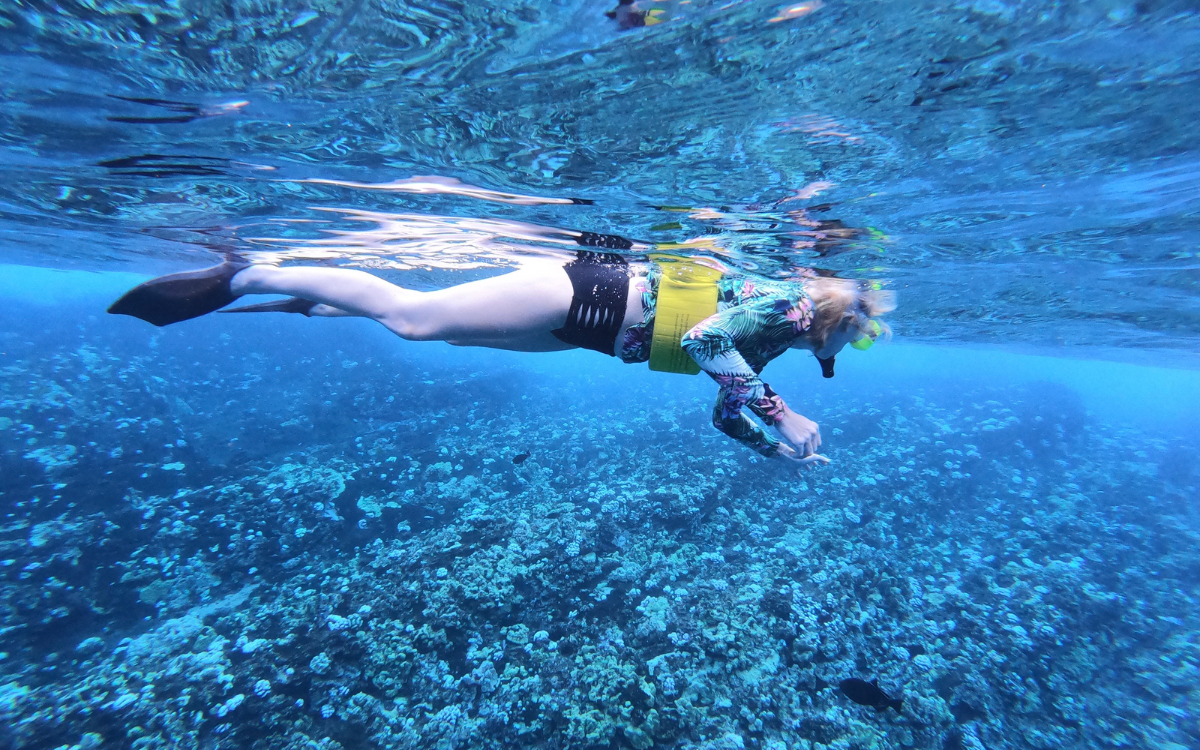 There are some amazing snorkeling spots on Maui that can be accessed by beach or even by boat, but Molokini is completely unique. Because the crater is volcanic rock and it's miles off shore, there's not a trace of sand or soil in the water. This is what gives the incredible clarity that's unprecedented in Hawaii.
Sounds pretty great, right? So what's the downside? The downside is the number of boats that take snorkelers out to the crater that can make it CROWDED, and many tour providers operate under conditions that can make the experience less than ideal. Not that it's ever bad, but when you're paying a premium, you want the best experience possible.
Showing up to Molokini mid morning with a dozen other boats (some with as many as 150 people!) after an hour boat ride just isn't magical. But don't worry-I've got the scoop on how to see Molokini the best way. Uncrowded.
My favorite way to snorkel Molokini is with Kai Kanani on their Sunrise Deluxe Snorkel.
Here's what I love about Kai Kanani's Sunrise Deluxe Snorkel Tour: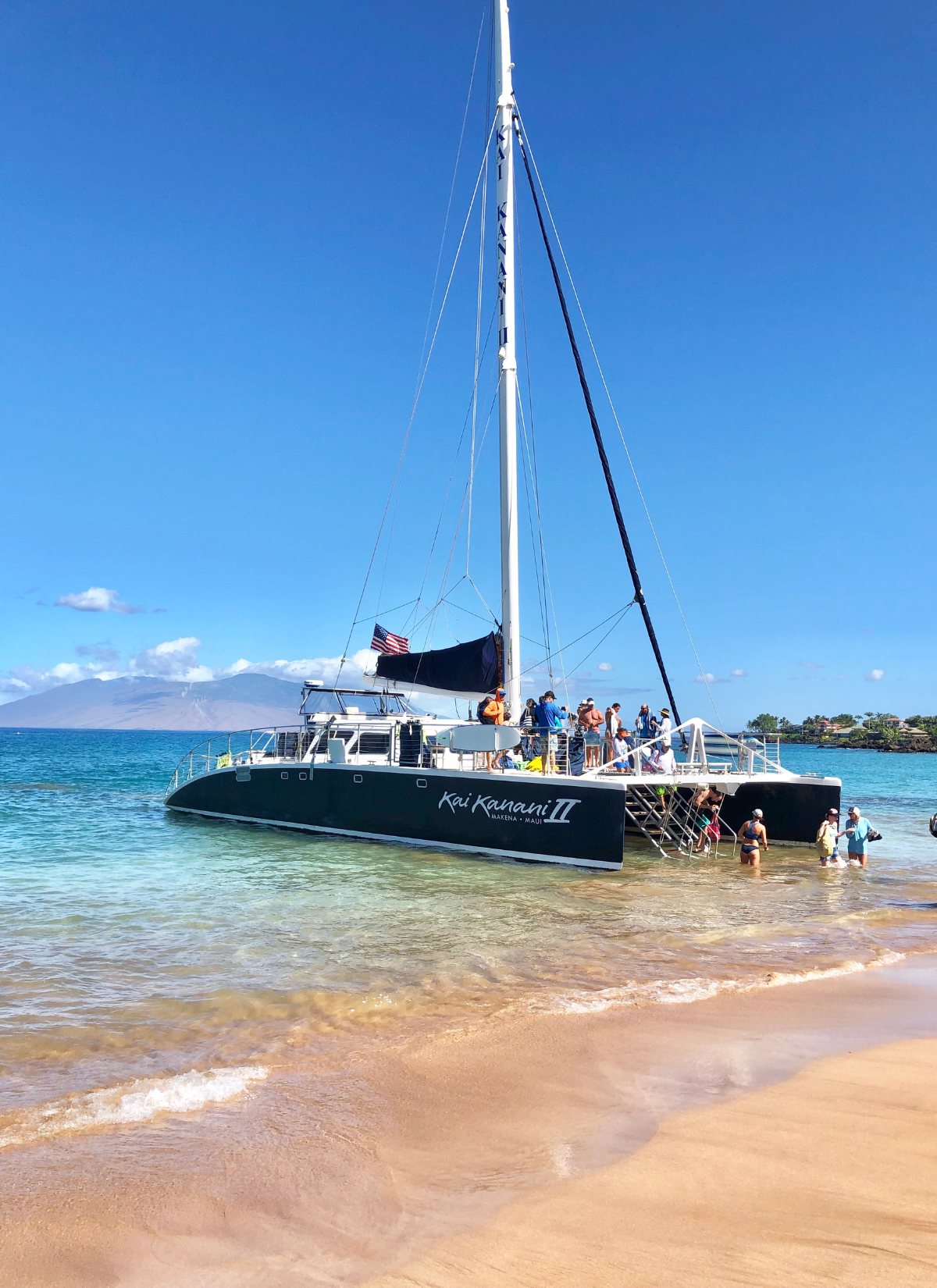 The majority of Molokini snorkel tours leave from Ma'alaea Harbor (some even from Lahaina), which is a long way from Molokini (at least nine miles through the water). Kai Kanani is the only catamaran tour that leaves from Makena, which is just three miles from the crater.
They're also one of the only companies to offer a sunrise tour (6:15 AM departure when I went in September).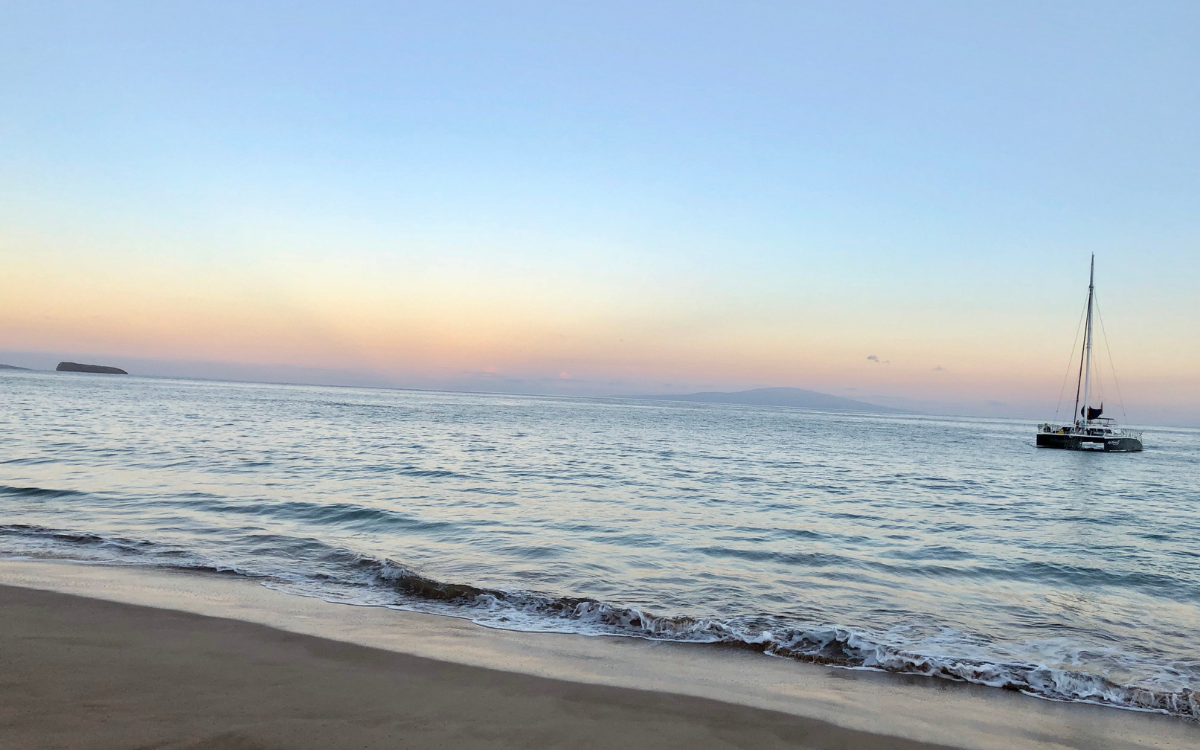 All of this means that the 40 people on our spacious catamaran were the only people snorkeling at Molokini. That's pretty cool. Also, being the first boat there allows the crew to scope out the best spot for daily conditions. A random (and rare!) swarm of jellyfish hanging out in pockets at the west end of the crater? No problem! We'll head to the east end and snorkel without the little devils (not easy to do when there are more than a dozen boats there all vying for a spot).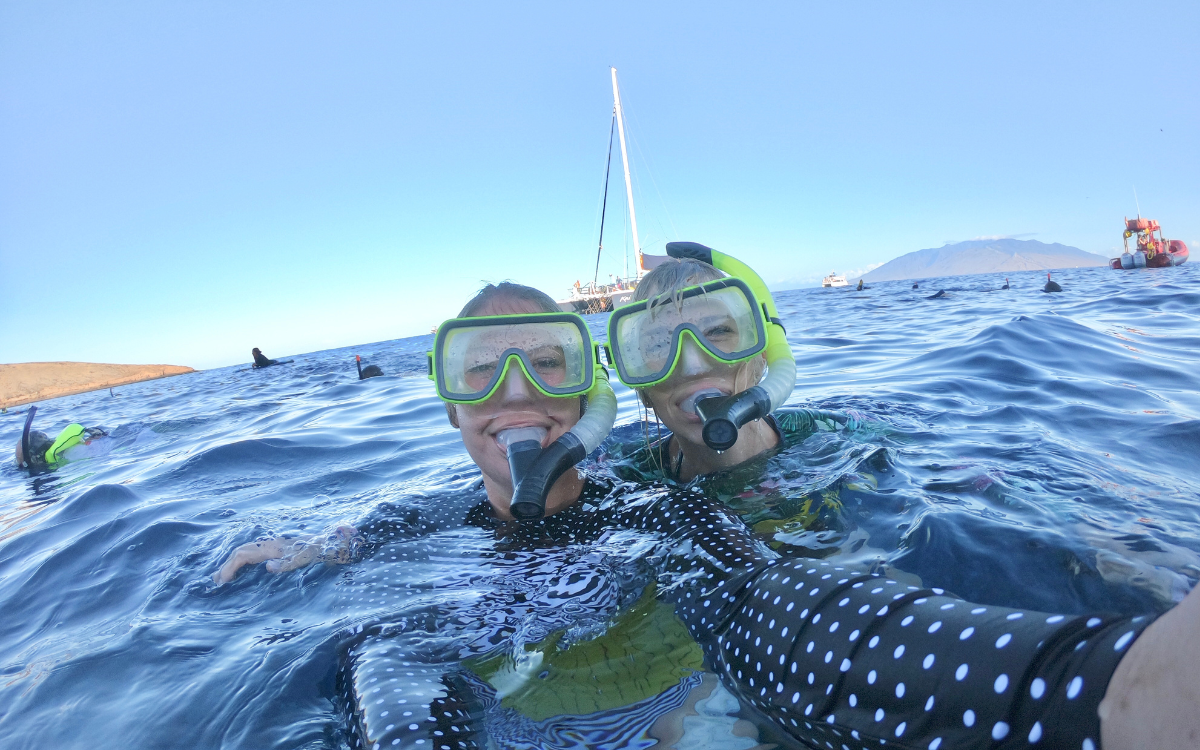 A few more details about this particular excursion:
The rendezvous point in Makena is about 10 minutes from Wailea, and they also offer complimentary pick up from the Wailea resorts. Yes…it's an early wake up call for the sunrise tour, but if you're worried about it, schedule it towards the beginning of your trip before your body gets adjusted to the time zone change. You'll be awake before the chickens anyways ; )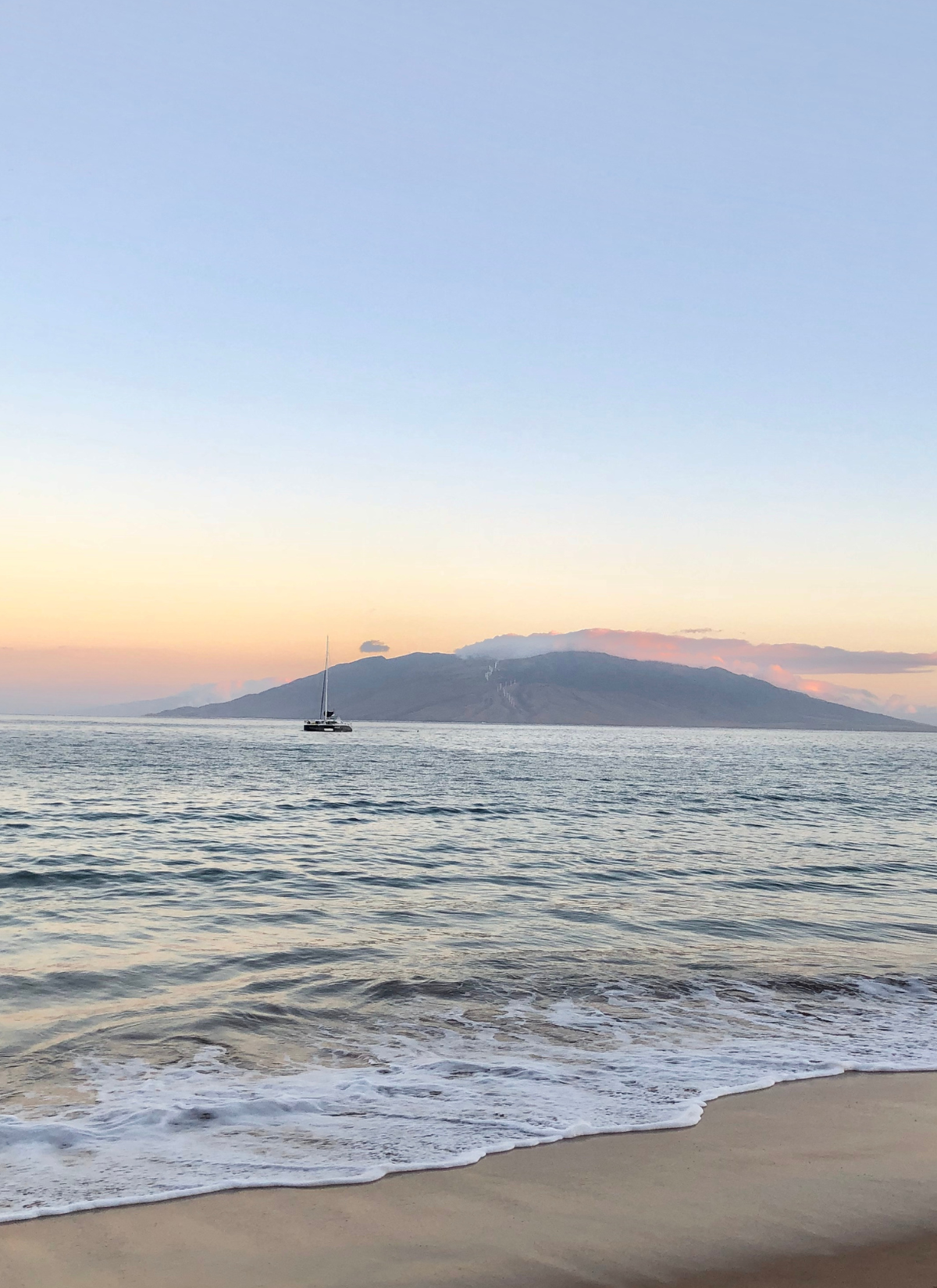 The catamaran loads from the beach instead of a dock. It's a little wet (I'd suggest taking off your shorts and holding your bag up a bit), but the instructions are clear and it only takes them a few minutes to get everyone on board.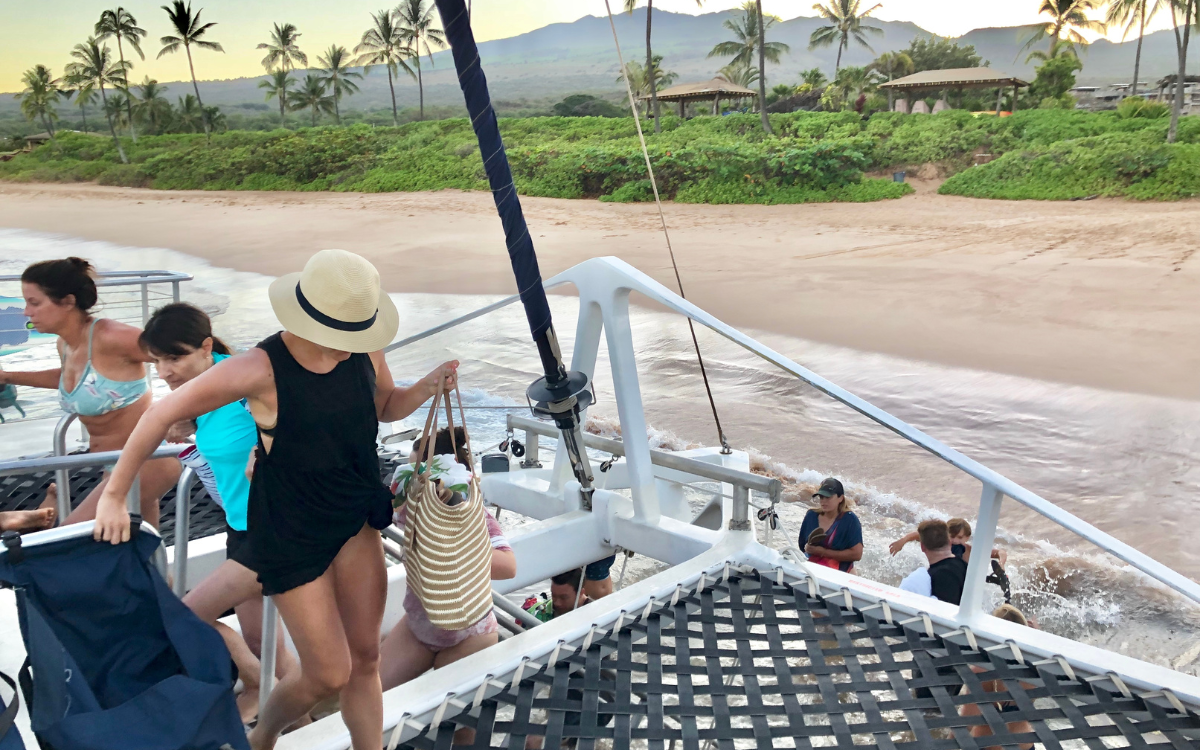 They have cinnamon rolls, fruit, and coffee set up in the galley as soon as you board and it's about a 30 minute ride over to Molokini.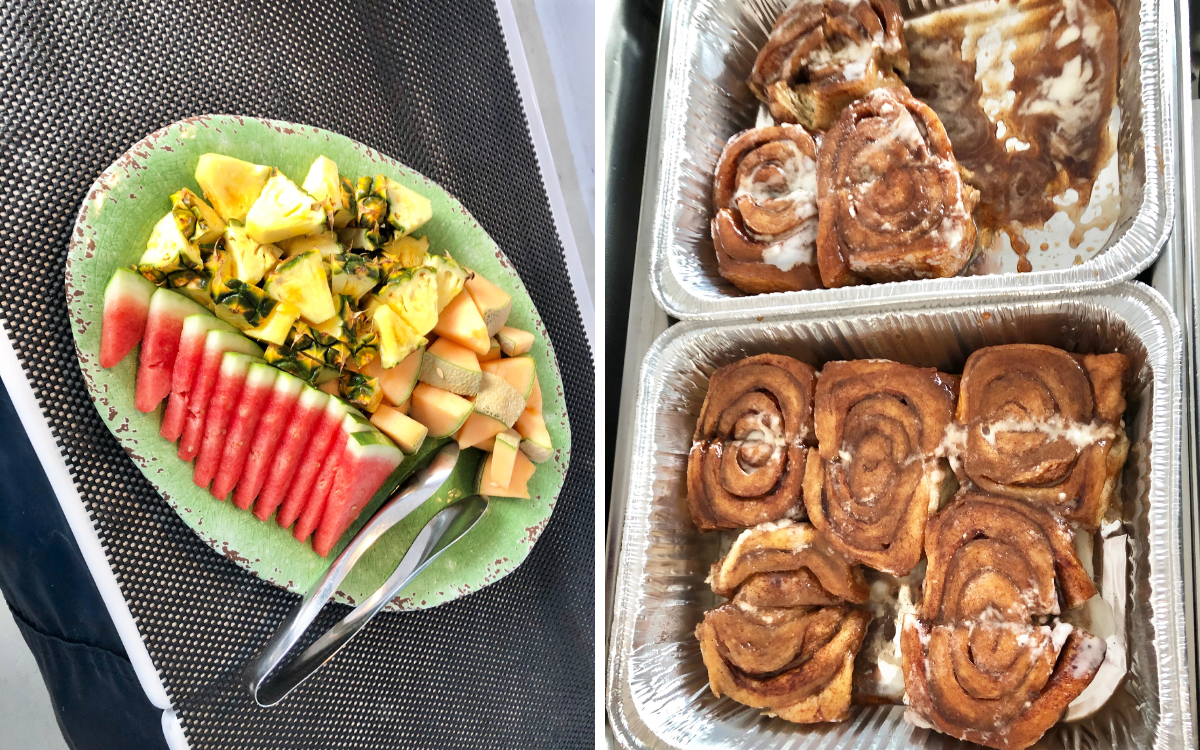 They'll pick a spot in the crater and you have about 45-60 minutes to snorkel. If the conditions are just right (it rarely happens), they'll take you to the backside of Molokini to snorkel (it's considered one of the best wall dives in Hawaii). It's a totally different experience and the water is SO DEEP when you get out of the boat that it's completely black. I'm not going to lie…I didn't love it but I'm still glad that I got to experience it on one of my trips.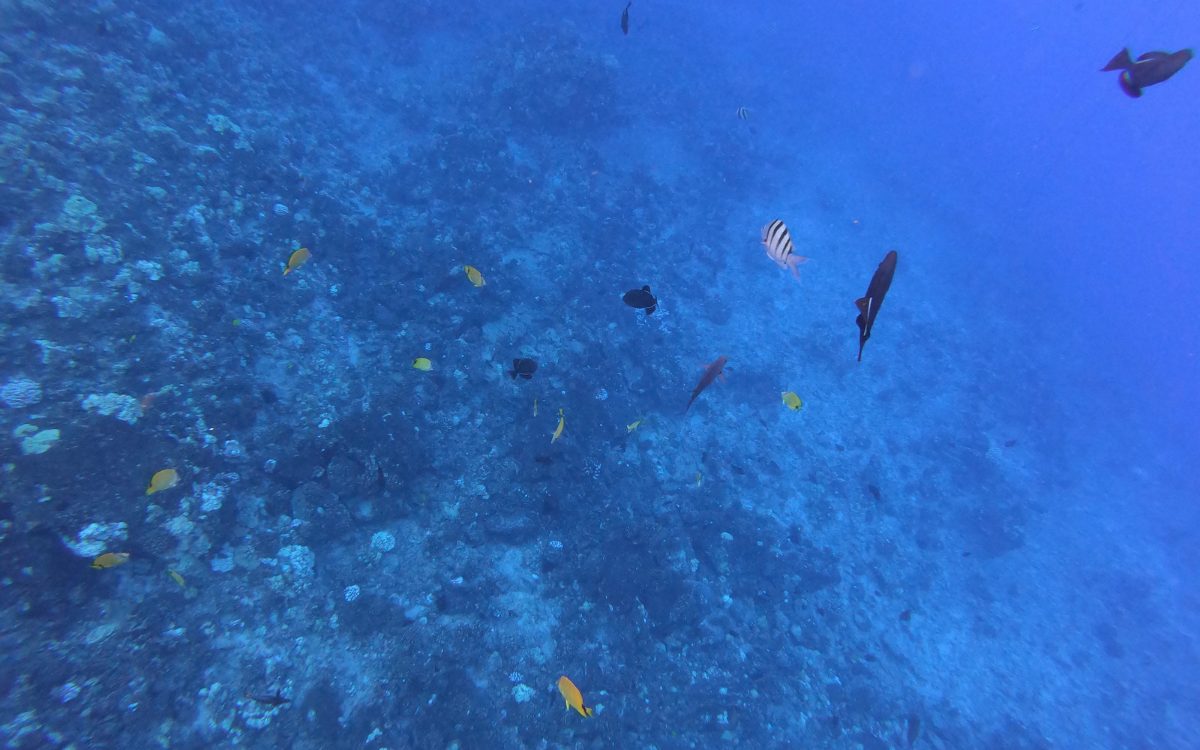 After you leave Molokini, the boat heads back towards Maui and stops at Turtle Town where you're pretty much guaranteed some turtle sightings. The snorkeling conditions here are nowhere as good as Molokini, but…TURTLES!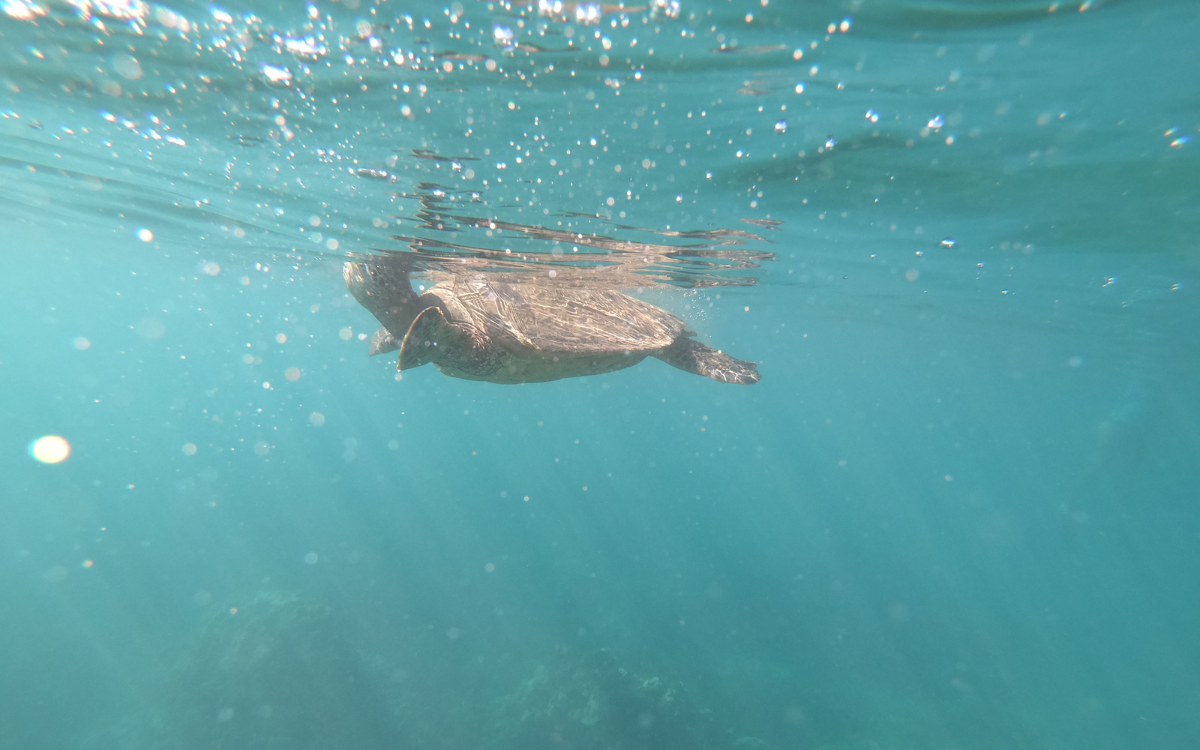 And after that it's time for BRUNCH. The captain takes the boat back offshore and you'll float around as you feast on a pretty fair spread. They also open the bar after you leave Turtle Town and the mai tais and mimosas were plentiful.
You'll be unloaded back at the beach by about 9:45 AM!
Besides the advantages of snorkeling with Kai Kanani that I already mentioned (location, low crowds, etc.), I think having such a grand adventure (bucket list experience!) and being back at your hotel by 10 AM is a pretty big deal. Especially if you're trying to take advantage of the pool and beach to relax.
What to Bring
Sun shirt/rash guard: These are great for anytime you're in the ocean. They decrease the amount of sunscreen you need, and add an extra layer of protection from rogue jellies (so rare!). Also maybe I'm crazy, but I always feel a little warmer when I'm wearing one in the water.
Towels: If you're staying at a hotel, you can grab them from the pool or if there's a valet stand they'll usually have towels there specifically for this purpose.
Dry clothes: If you're anything like me, I get soooo chilly sitting in the wind after I've been in the water. In between snorkeling at Molokini and Turtle Town, not only was I wrapped up in my towel, but also my large beach blanket that I take everywhere. And after you're done snorkeling (during brunch), it's nice to have a dry shirt to put on.
Reef safe sunscreen: Kai Kanani provides plenty of sunscreen, but if you want your own make sure it's reef safe.
Seasick medication: If you're so inclined, make sure you have whatever you need with you.
Cash: Tip the crew! They work hard!
Waterproof pouch: A dry place to put your phone and keys is always good. You don't need a fancy bag though, reusing a plastic baggie works fine.
GoPro or waterproof phone case: I've abandoned my GoPro lately in favor of this waterproof phone case.
Is Molokini Worth It?
I'll answer this question here because I've seen it asked a lot lately. The conditions are unlike any other place you'll likely experience. The water clarity/visibility alone is worth going to see.
Is the reef what it used to be? Probably not. Unfortunately, sunscreen and pollution are taking a toll on reefs around the world and Hawaii is not exempt. However, recently I've been getting a surprising number of questions about whether Molokini is worth it since people have heard that it has "gone gray."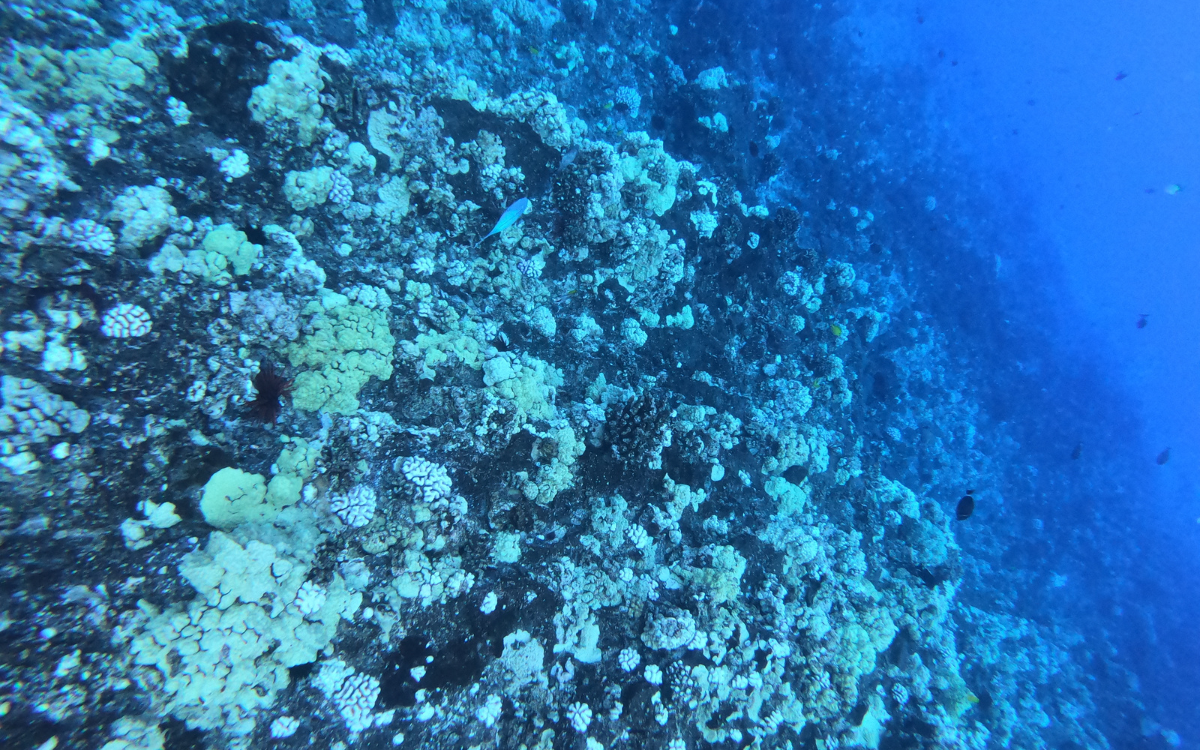 While the health of the ocean's reefs is an increasing topic of concern (for very legitimate reasons), I think most of the misinformation about Molokini stems from reports/reviews from people who are unfamiliar with snorkeling in Hawaii and are comparing it to other places in the world.
While spots in the Caribbean and South Pacific are known for brightly colored coral (even with fans and other incredible features), Hawaii is home to entirely different species of coral that just happen to look different. Species common to Hawaii tend towards gray, brown, and gold with pops of lavender. So it's possible that some snorkelers just see the color difference and assume it's dead, setting off a panic among vacation planners trying to see the "best" of Hawaii and hearing that Molokini isn't it. Rest assured, it's just as "worth it" as it's ever been.
That being said, Hawaii's reefs and the ocean DO need to be protected and the best way you can do that is by only using REEF SAFE SUNSCREEN. That's mostly going to mean something that's mineral based (no aerosols!). You don't need to worry about this though if you're going with Kai Kanani as they have PLENTY of reef safe sunscreen available at the check in point and on the boat for your use. I'd also recommend snorkeling in a sun shirt/rash guard which can alleviate the need for sunscreen while in the water entirely (especially on the early morning tour).
***Want to save major $$$ on a fancy beach resort? My favorite travel hack is cashing in points to score free nights at some of the island's most high end resorts. My go to hotel brand is Marriott so I use this Marriott Bonvoy Boundless card to rack up points for a lot of my trips to Hawaii. If you pay for your monthly expenses on the card and are responsible about paying it off every month, the points add up really fast. Plus, if you sign up through my link, you'll get THREE bonus free nights to use. On Maui, use your points at some of my favorite Marriott properties like the Wailea Beach Resort, Ritz Carlton Kapalua, Westin Maui, and Sheraton Maui.
Whale Watching
Humpback whales migrate from the cold waters of Alaska to the warm waters of Hawaii each year to mate, give birth, and raise their young. The whales can be seen in season around all of the Hawaiian Islands, but if this is a bucket list experience for you, you're going to want to visit Maui in February. It's PEAK whale season and they are EVERYWHERE.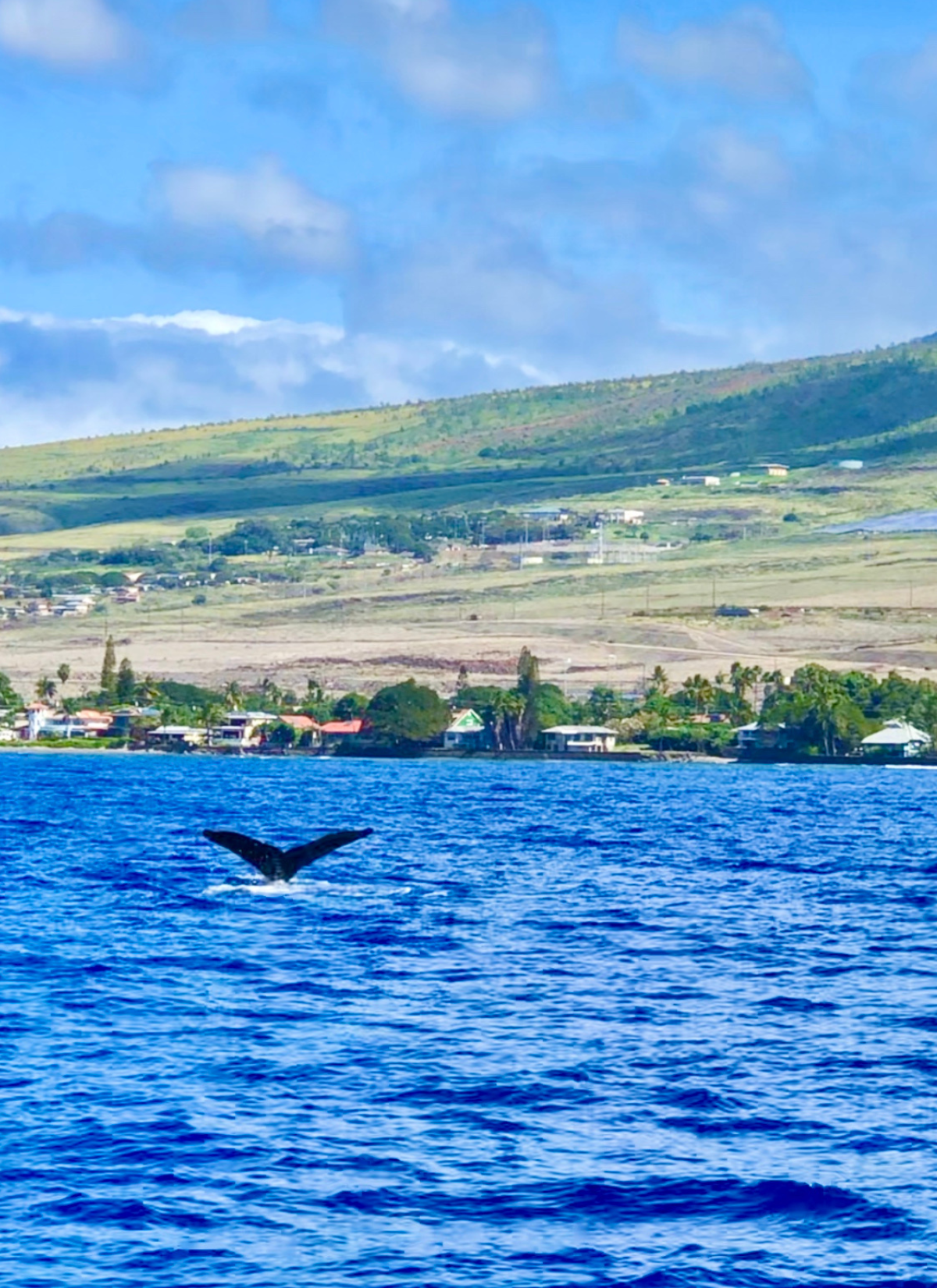 Here are all of the details:
Whale season usually stretches from mid December through mid April. Of course the whales aren't quite aware of the thousands of tourists in Hawaii waiting for their arrival, so they come when they want to. The first arrivals could start showing up as early as late October, but they're few and far between. The end of December through January is when they reallllly start to arrive. February is PEAK whale season. In prime areas, you can sit on the beach and watch them play all day long. By mid April, the majority have already started their migration back to Alaska (where they feed), but there could be a few stragglers that hang around into May.
In peak season, the whales can be seen throughout all of the Hawaiian Islands, but they're undoubtedly the most concentrated around Maui. The channels between Molokai, Lanai, and Maui are especially shallow and warm so they're super attractive to whales with babies in tow (BABY WHALES!!!). If your main priority in coming to Hawaii is to see whales, Maui is your best bet. If you're just casually interested in seeing the whales, any of the islands are fine.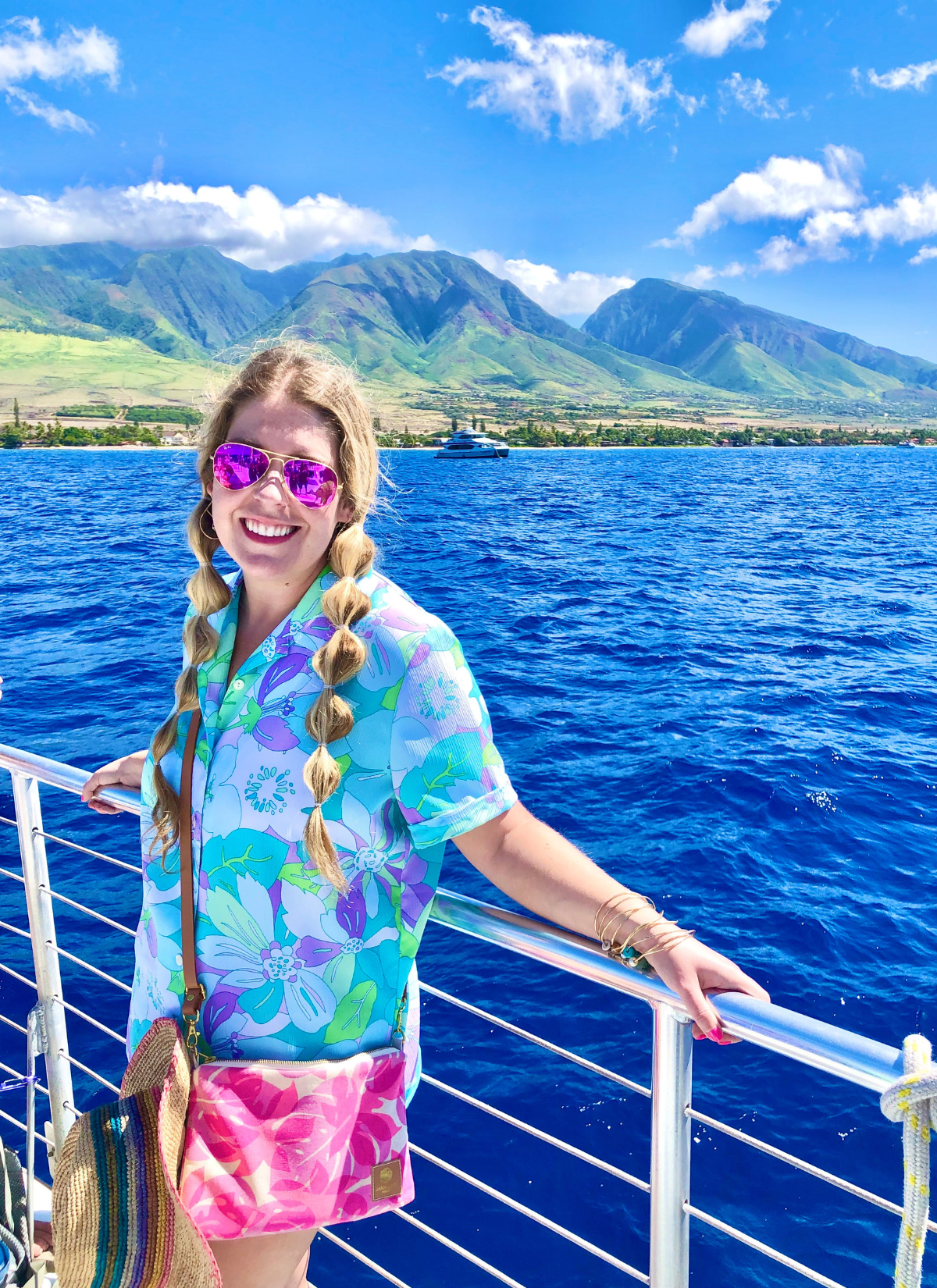 During peak season (January/February), there are many beaches where you can see them from the shore. My friend has even seen whales breach from the AIRPLANE before. Your chances of seeing whales from any beach of the island aren't the same though. Generally, whales prefer calm, warm water (kind of like people!) so they're definitely more attracted to certain parts of each island. On Maui, the south side beaches (Kihei and Wailea) and west side (especially Kapalua) are the best areas to see them. Sometimes the whales come close to shore (let's say 100 yards), but most of the time you'll be seeing them from a distance.
There are a TON of companies that take visitors (and locals alike!) out on boats to get a closer look at the whales. Humpback whales are protected in Hawaii so all boats are required to stay 100 yards away from whales (unless the whale approaches the boat), but (despite extremely rare circumstances) that's MUCH closer than you'll be if you're viewing them from the beach.
Personally, my favorite way to go whale watching is on a catamaran. It's a sizable enough boat that it feels very stable and "safe" while offering all of the creature comforts (bathroom, galley, snacks and drinks, etc.) yet there are not so many people onboard that it feels crowded.
There are a lot of great commercial companies offering whale excursions, but I personally feel like there's one stand out choice on Maui: PacWhale Eco-Adventures. PacWhale's ocean ecotours include snorkel trips, sunset cruises, and of course, WHALE WATCHING. The best part is all of the profits of their tours go straight to the Pacific Whale Foundation. And each cruise has a certified Marine Naturalist so you're sure to get an education along with your entertainment. My favorite cruise is the Whale Watch Sail that departs from Ma'alaea in the morning.
Here's my #1 tip for whale watching: CHECK YOUR EXPECTATIONS. Whales are wild animals and while they can be somewhat predictable, they still have a mind of their own. While many companies will guarantee whale sightings (or let you come back for free), it is impossible for them to guarantee spotting any kind of specific behavior. Spotting a breach (where the whale jumps out of the water) is the holy grail and while it does happen frequently, it's also possible that you may not see one during the two hours that you're out on the boat. This isn't the fault of the crew or captain, it's just what makes whale watching so exciting.
So before you go, check your expectations. Remember…the whales are just out there doing their whale thing. They are unaware of your once in a lifetime vacation and your bucket list. If your vacation is going to be ruined if you don't get to look a baby whale in the eye, you're probably going to go home disappointed. But that doesn't stop me from having "staring contest with a baby humpback whale" on my bucket list ; )
Bike the Volcano
While many people ascend to the summit of Haleakala each morning to watch the sunrise, the adventurous ones follow it up with a downhill bike ride from summit to sea.
In my opinion, seeing sunrise at the summit and then biking down the slopes of Haleakala is one of the best ways to experience the crater and Upcountry Maui while getting a little dose of excitement (van tours can be sooooo boring!).
You don't even need to be in great shape to do the bike ride…it's all downhill! When I've done it, I probably pedaled less than about 10 rotations the entire time.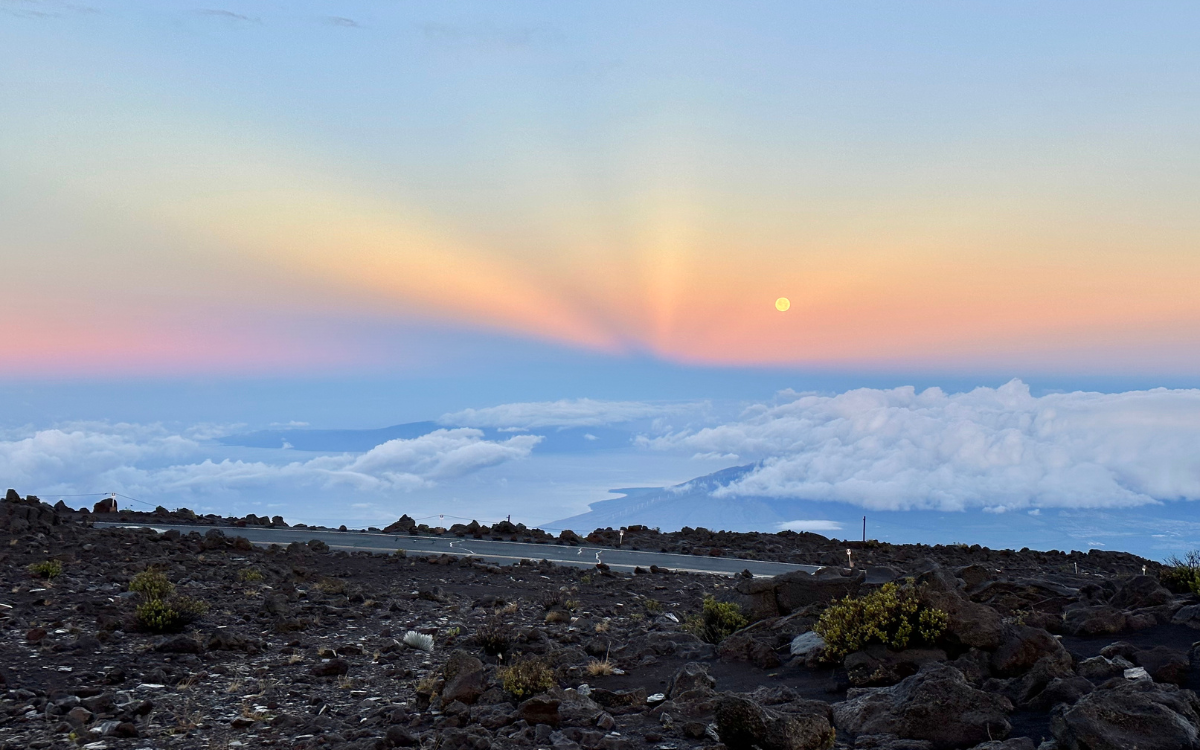 There are a lot of different tour options with different companies (some that include sunrise at the summit and some that just include the bike portion), but I've personally done this tour with Maui Sunriders with my family and we had a blast!
It was actually a little different when I did it (you rode the whole way down by yourself), but now they pick you up and drive you in the van through a more congested/highway portion so it's even safer.
Dinner at Mama's Fish House
When asked for my list of must dos on Maui, I can provide you with endless things to do, see, and places to eat. But the list you really want is my "short" list. Not necessarily the list I throw out to every reader or traveler who asks for tips. This is my "if I only get one day on Maui, how would I spend it list."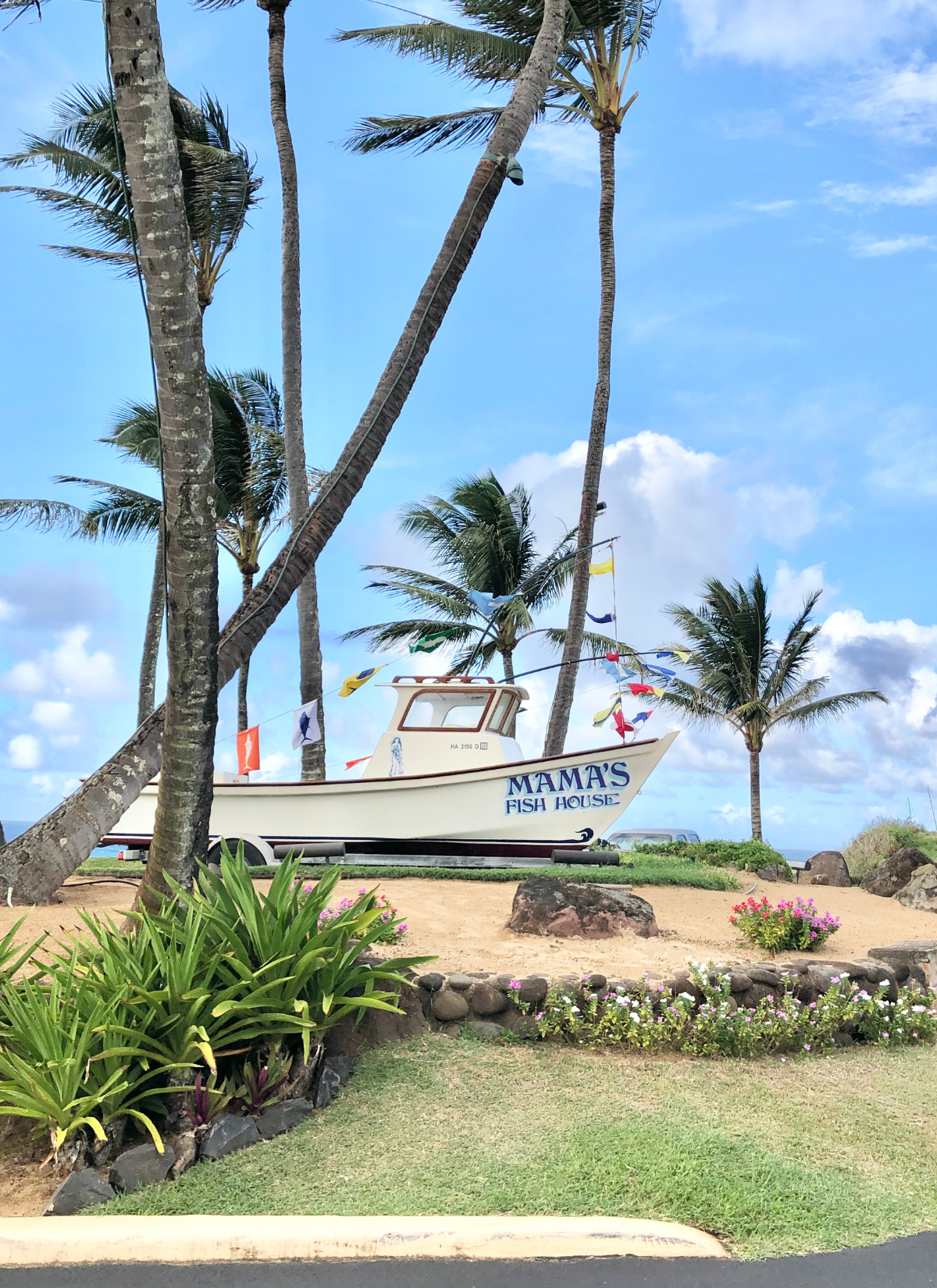 And at the top of that list has always been dinner at Mama's Fish House. It's easily the most recommendable special occasion restaurant on the island. In ALL OF HAWAII.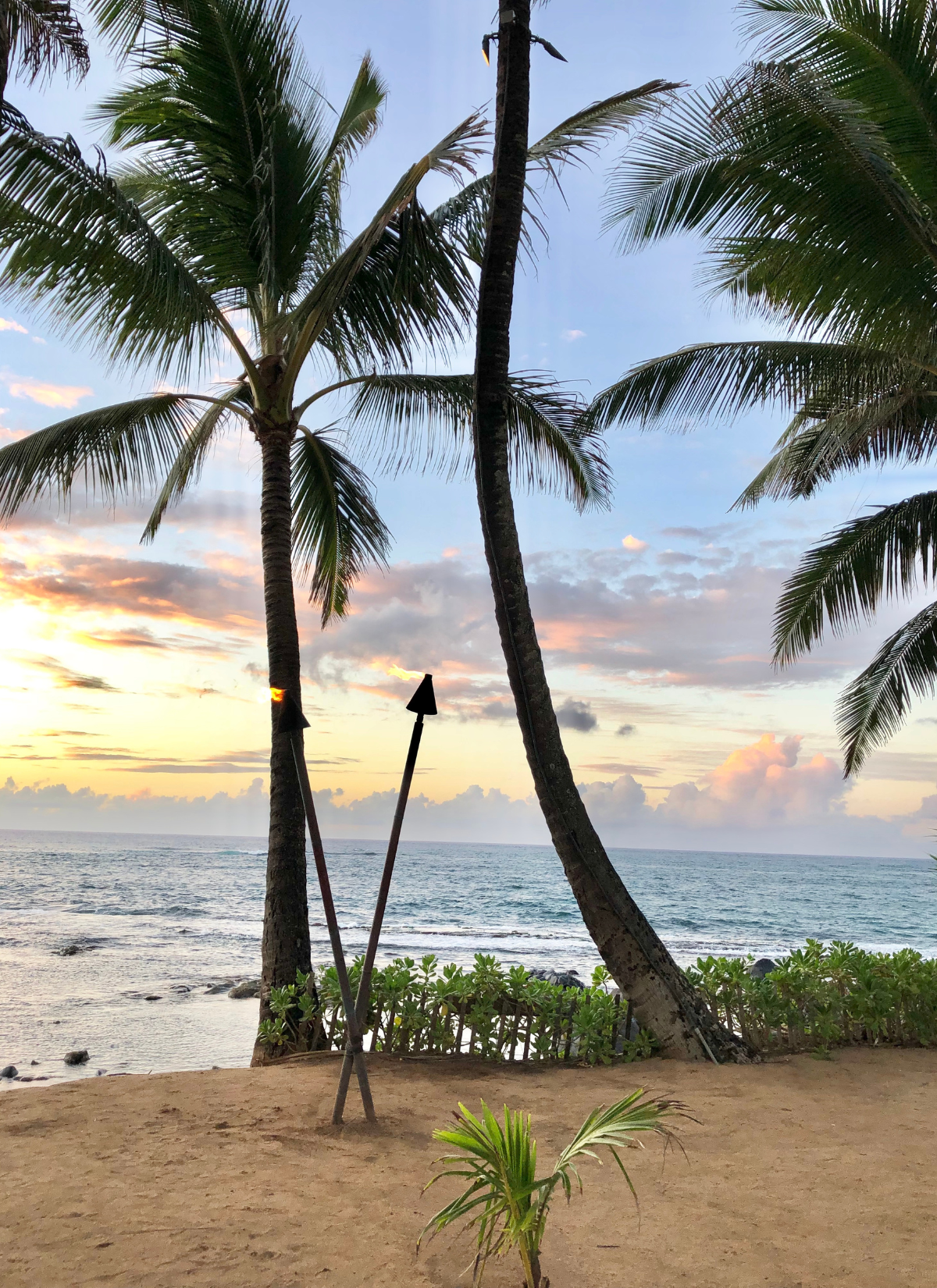 Tell 100 people who've been to Maui before that you're going to Maui and 95 of them will ask "are you going to Mama's?"
It's not a "hidden gem" or an out of the way place that nobody knows about. But it's the best.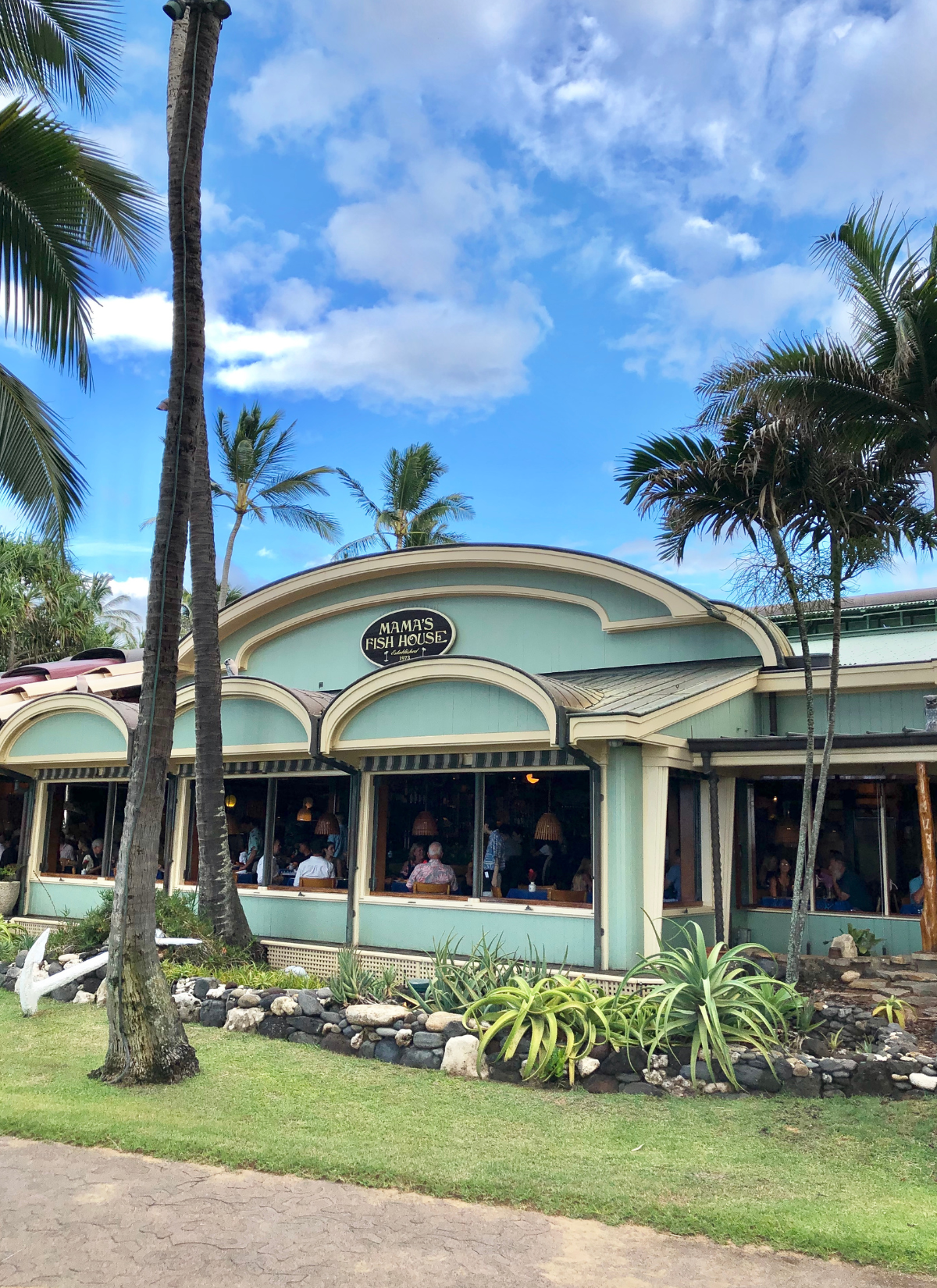 Since it's such a hot spot, you NEED a reservation. They take reservations about 18 months in advance, and honestly they're usually pretty booked up for dinner at the six month mark. So reserve early!
You'll want to check the time of sunset during your trip, I recommend making your reservation about thirty minutes before so it's still light when you arrive and you can hang out on the beach while you wait. The waves on the north shore are so impressive, plus you've got to take a picture at the picture tree.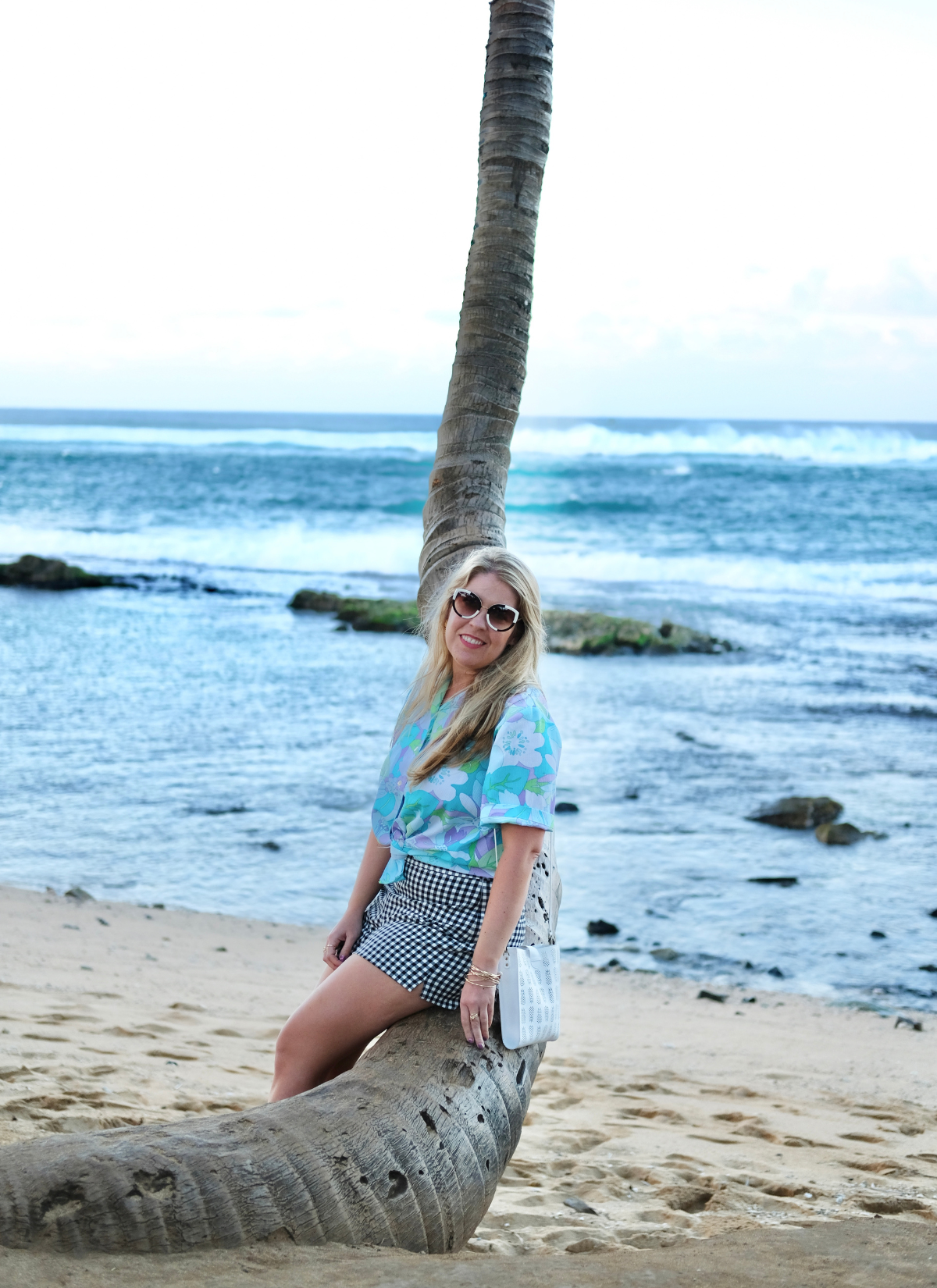 The only way to describe the ambiance of the actual restaurant is as a luxurious beach shack. I call this place "Gilligan's Island meets fine dining." The inside of the restaurant is layered and welcoming while still being impressive. Like maybe you're eating in someone's home or family restaurant. It feels very Hawaiian too. But not snobby. It's not modern, trendy, or uppity at all.
Request a table with a window view if you're dining early, but after dark (which is as early as 5:30 or 6 sometimes during the year), it doesn't really matter where you sit. Since the restaurant is located on the north shore, you're not going to see the sunset and some people complain about that. "Why pay all that money when you don't even get a sunset view." Trust me, you won't miss it at Mama's. There's plenty else to impress you.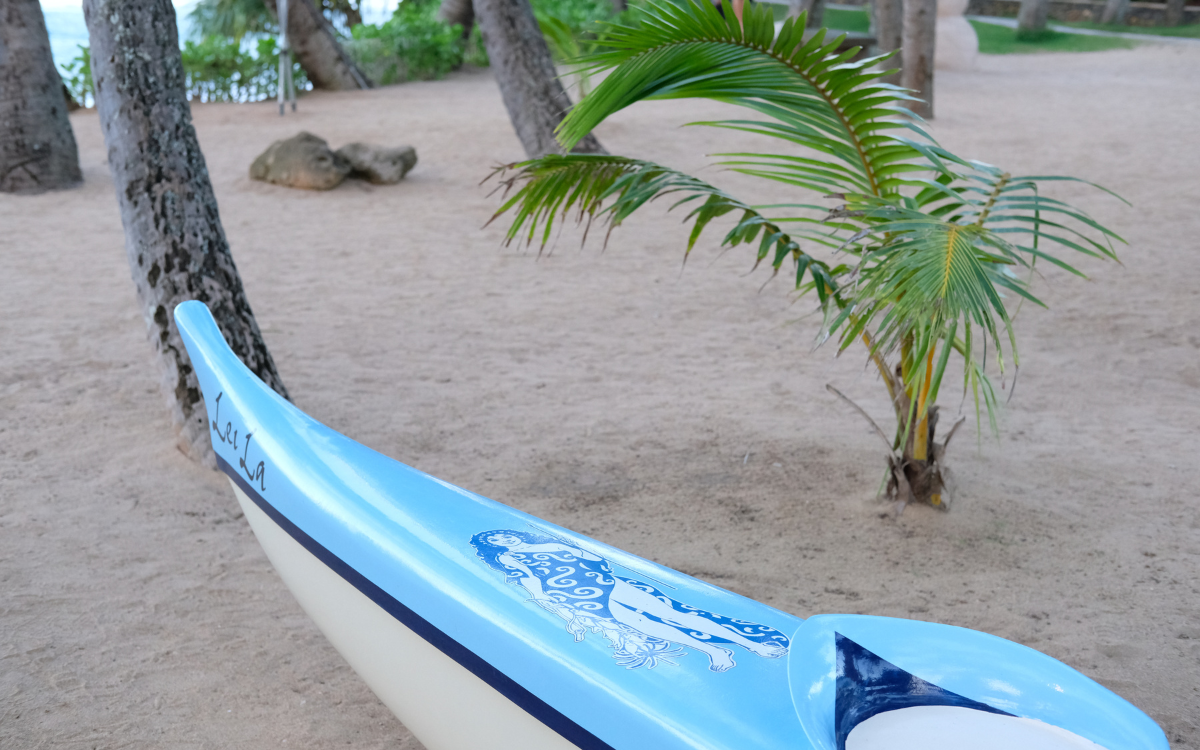 One of my favorite parts is that the menu is printed fresh everyday so they can list not only which fish they're using in each dish, but where on the island it was caught and the name of the fisherman. I've never seen anything like that anywhere else.
My Usual Order: I must confess, I get the exact same thing EVERY time I'm at Mama's. I mean, when I'm paying this much for a meal and I find something outstanding, I just don't like to mix it up.
Drink: Guava Fizz
Appetizer: Crispy shrimp wontons.
Entree: Mac nut crusted mahi mahi (stuffed with lobster and crab)
Dessert: The Pearl (Honestly, I'm usually too stuffed for dessert but this is their signature)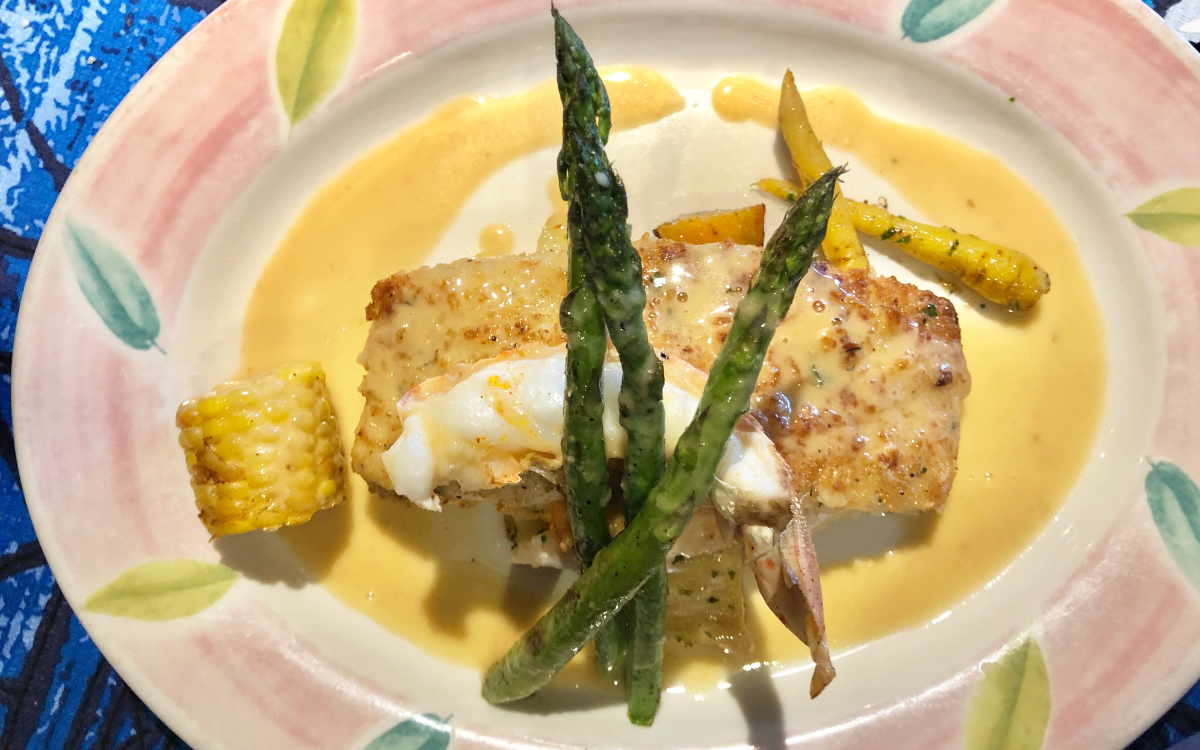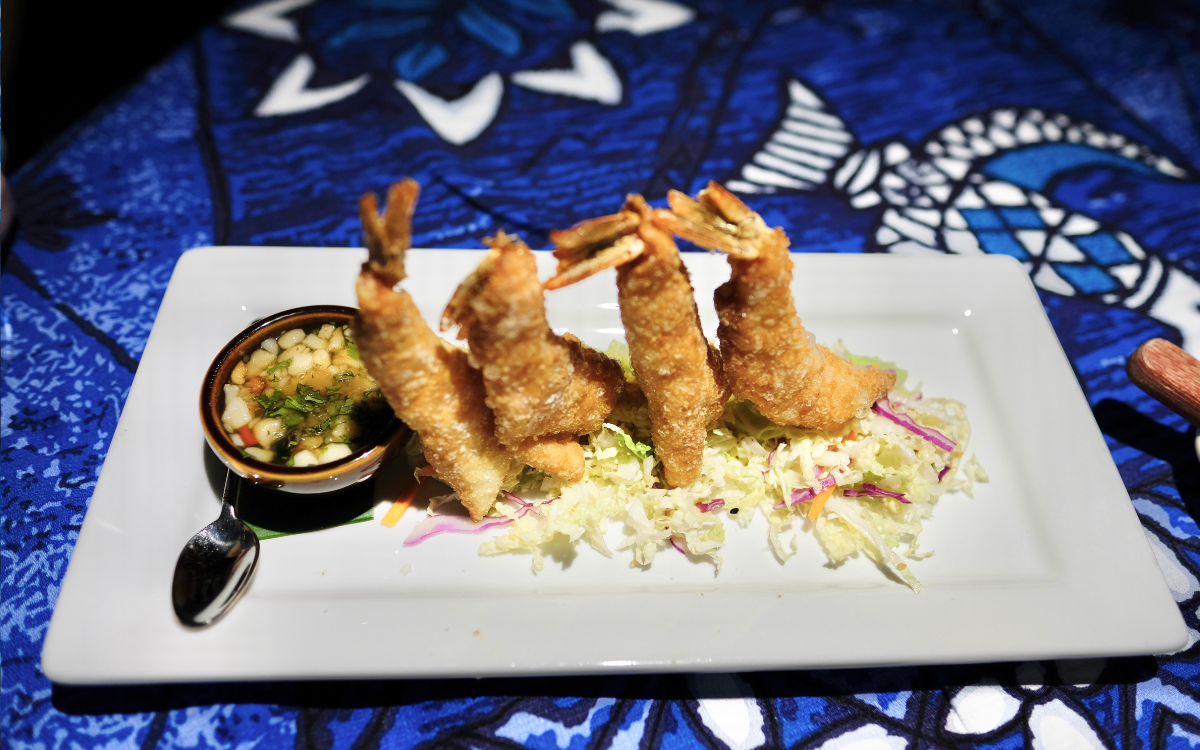 It's not cheap, but it never disappoints. And it really is an EXPERIENCE. Read more about it here.
Side Note: If you're looking for a rental car for your trip, I LOVE Discount Hawaii Car Rentals. They're seriously the only company I ever use. They'll give you the very best prices, you don't have to reserve with a credit card or pay until you show up, you can cancel and re-book anytime if you find a better rate, and they usually have a special that adds additional drivers for no fee. It's a no brainer. Click here to check rates for your trip.
Spend Time Upcountry
The slopes of Haleakala are home to an area called the "upcountry." It's by far the largest area of Maui, it's a predominantly local area, and if you couldn't look out and see the ocean you'd probably think you were in the Texas Hill Country or Colorado high meadows instead of Hawaii.
The lava rock has created super fertile soil and that combined with the moderate climate make for spectacular agricultural conditions.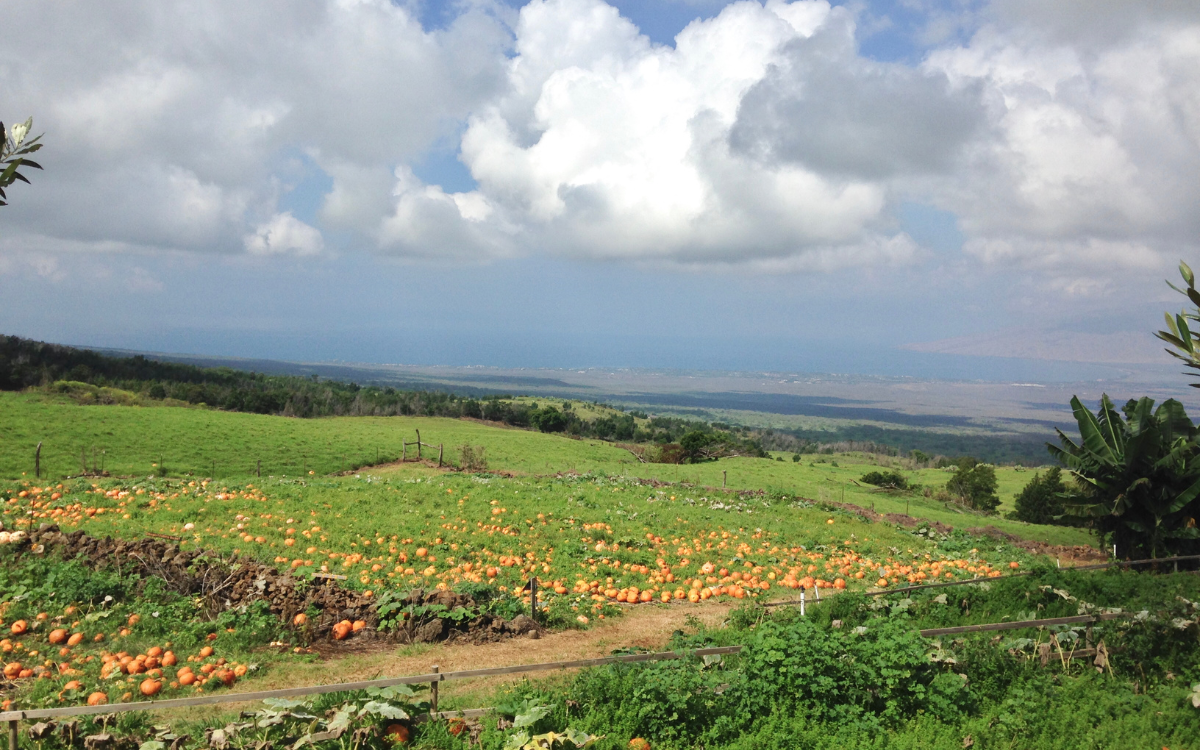 You'll find every type of farm tour you can think of here.
On my "don't miss" list is the Ali'i Lavender Farm, Maui Wine, and Maui Pineapple Tour.
The lavender farm has beautiful gardens, a quaint gift shop, and a nice café but the views of the island are what makes this a do not miss attraction. They have activities you can sign up for every week, like making wreaths out of succulents and there's also a scavenger hunt through their gardens.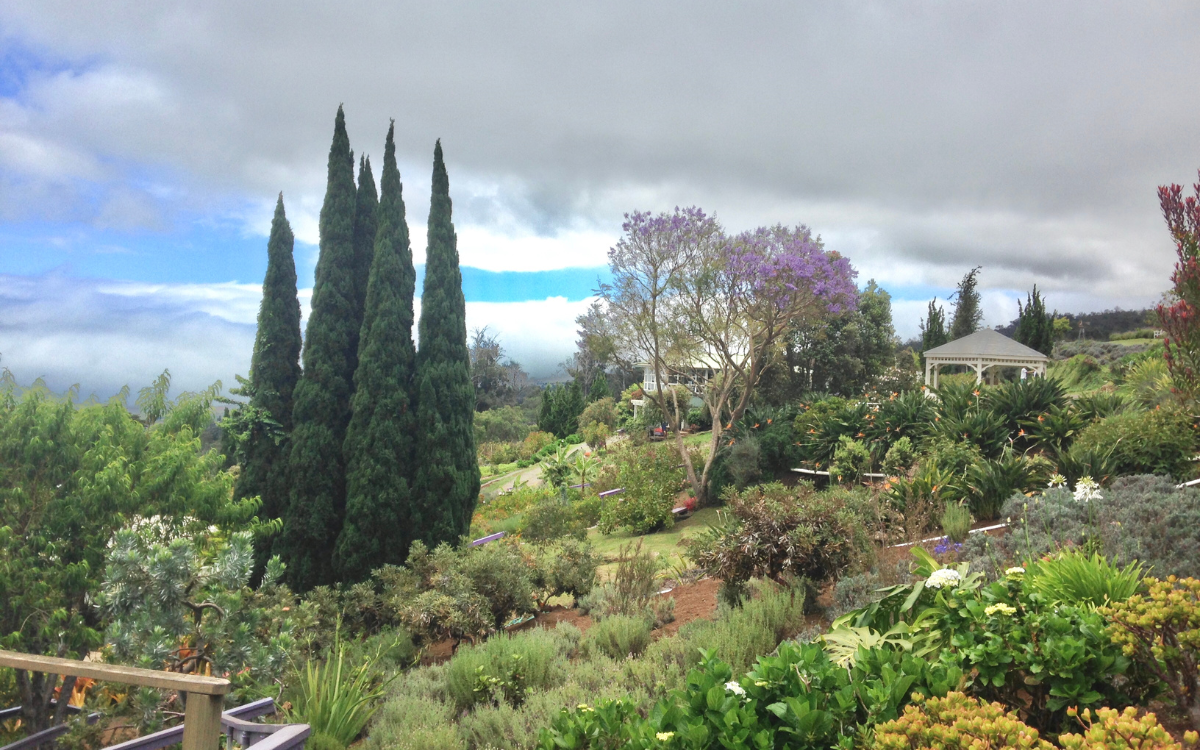 My other favorite is Maui Wine. The drive is reason enough to go, but the tasting room on the charming property and unique pineapple wine make Maui Wine a truly unique experience. Buy a few bottles to take back to friends or walk across the street to the ranch store for an elk burger and some souvenir shopping. There are a couple of free tours offered daily.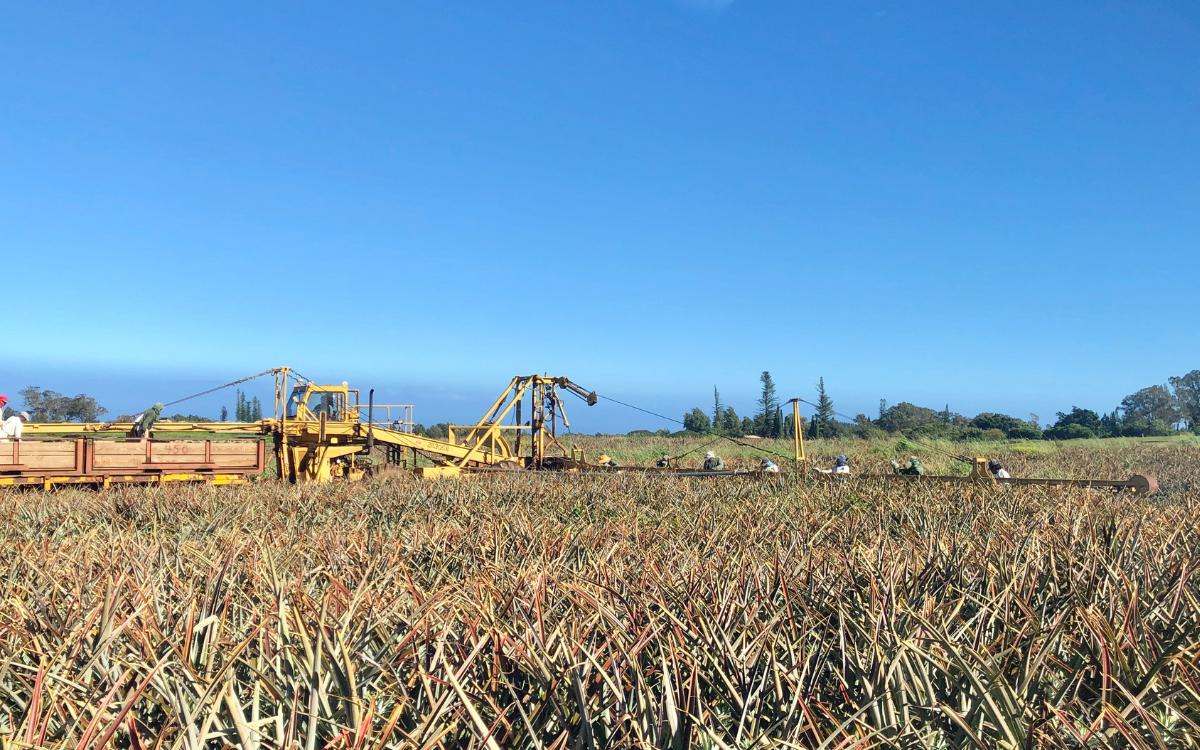 And I'm going to go out on a limb and say that the Maui Pineapple Tour is the most underrated experience on Maui. Everybody talks about the Dole Plantation on Oahu (it's just a big tourist trap), but this tour takes you behind a working pineapple farm. You'll see the whole process of growing Maui Gold pineapple from start to finish…from planting to harvesting to packaging! You'll get to sample plenty of pineapple plus take one home with you! You can book the tour here.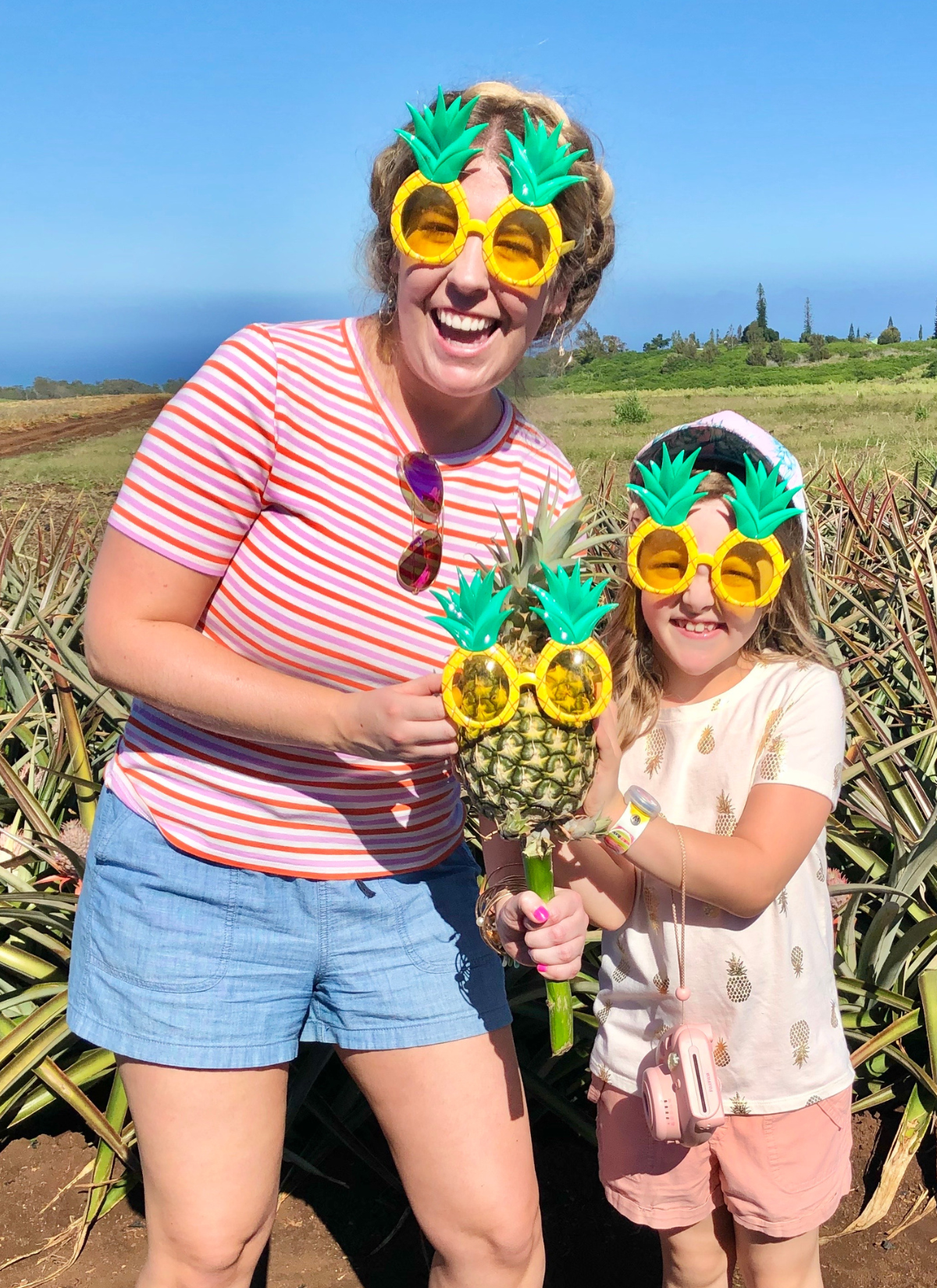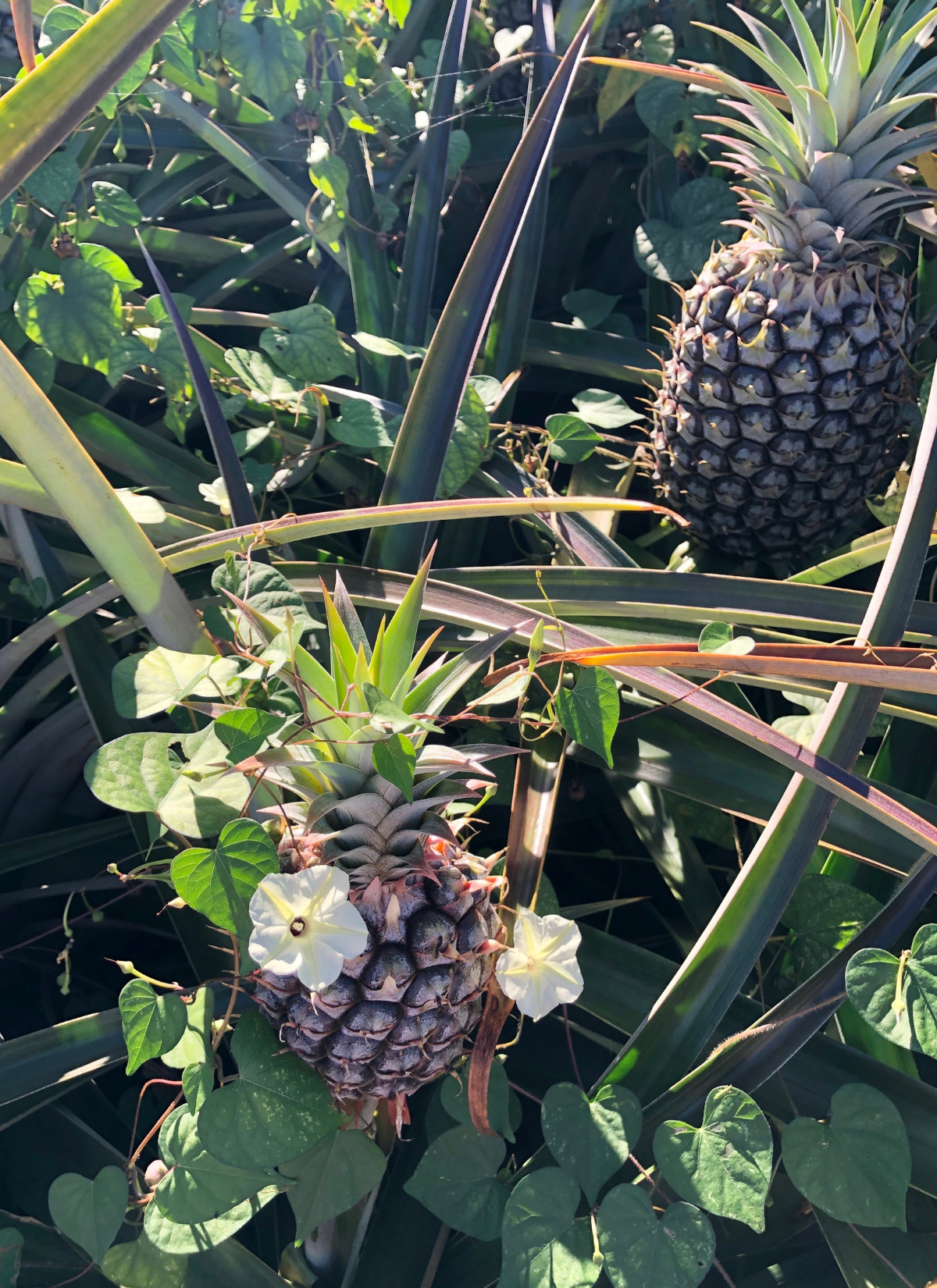 Also O'o Farms has a farm to table experience that's super cool and if you have kids they'll love the Surfing Goat Dairy Farm.
Read more about the upcountry here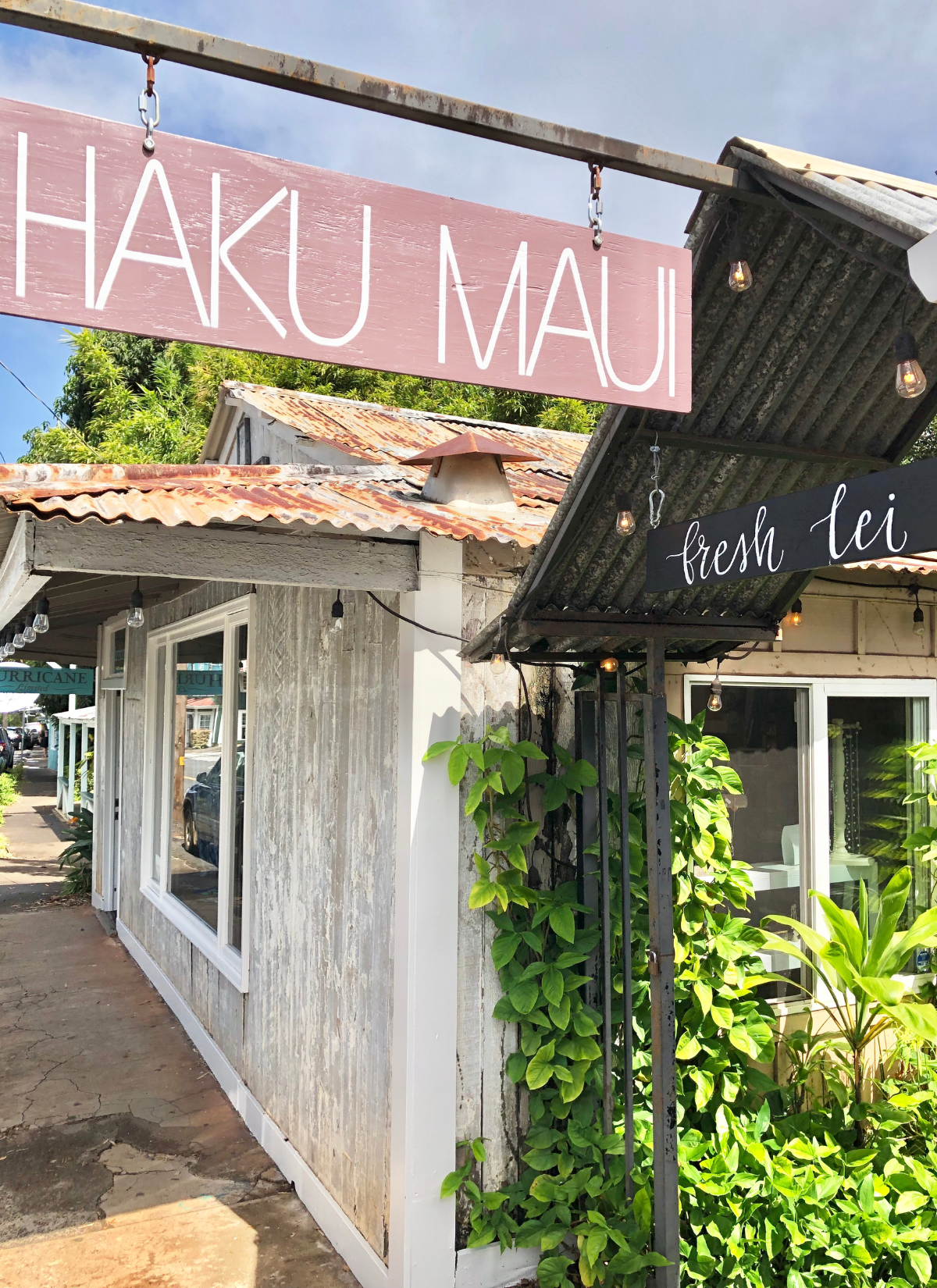 Iao Valley
Maui's Iao Valley is where you're going to want to go to get those "Jurassic Park vibes." Jagged, green mountains are the backdrop to a lush jungle that seems like it could be home to a spare dino or two. In terms of actual history, this is the site where King Kamehameha I defeated Maui's army and united the Hawaiian Islands.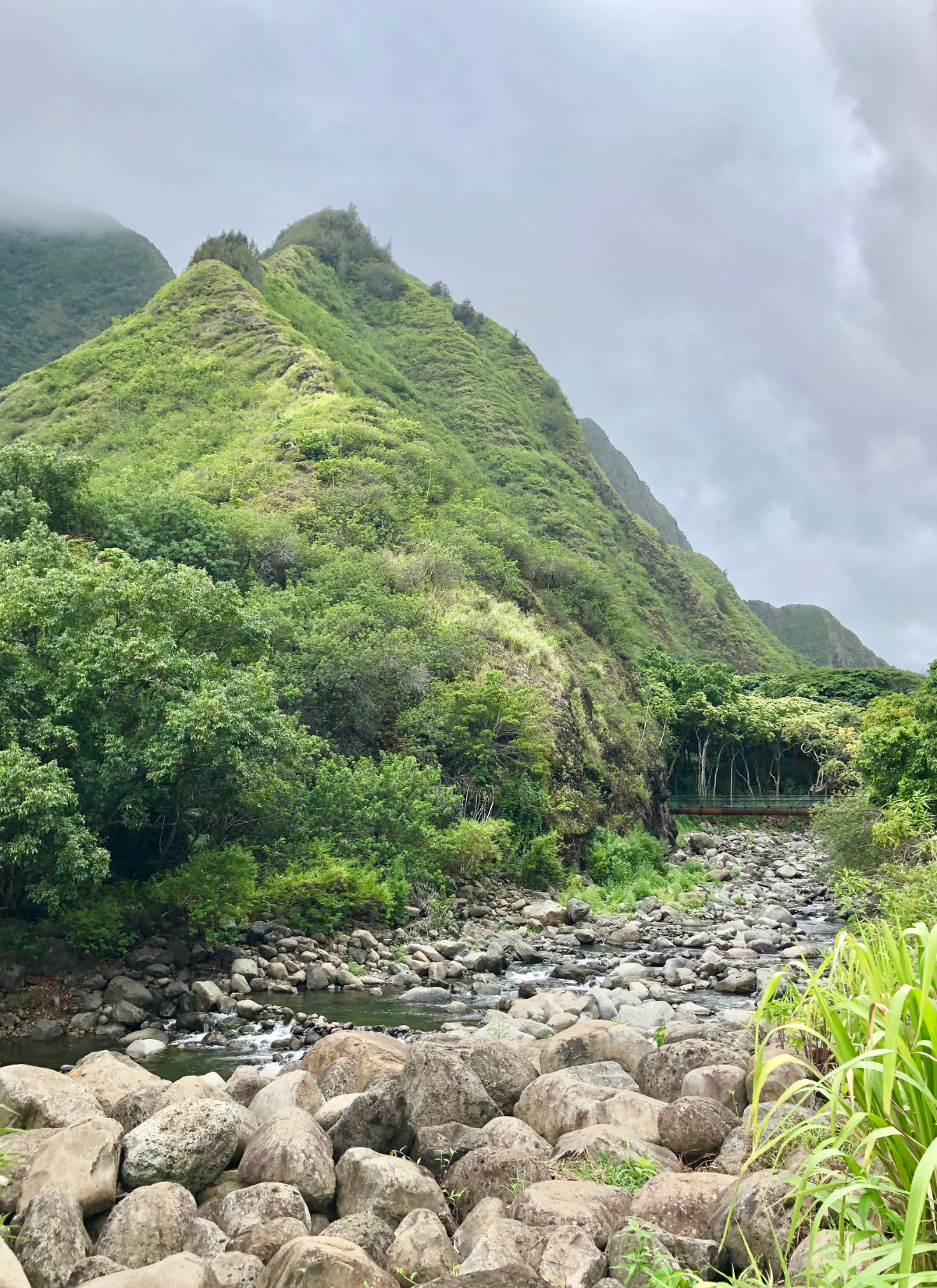 You'll need to do a little light hiking to get the best views, but it's a great easy hike on Maui. There's a 0.6 mile paved walkway that leads to an overlook of the Iao Needle. There's also a small botanical garden where you can learn about the plants brought to the valley by the Hawaiians who first settled there.
Iao Valley State Park closed in August 2022 (with an expected reopening date of April 2023) to do some major improvements so check its status before your trip.
Parking is $10 plus a $5/person entrance fee.
Day Trip to Lanai
I know a lot of people are interested in island hopping during their trip and I get asked a lot of questions about taking ferries instead of planes…well Maui and Lanai are the only two Hawaiian Islands that are currently connected via ferry.
You've got two options here:
Take the public ferry from Lahaina (Maui) to Manele (Lanai). Roundtrip tickets are $60/adult, $40/child and there's a handful of departure and return times to choose from. The ferry ride takes about an hour and you'll dock in Lanai within walking distance to a pretty great beach. But if you want to see much of the island, you'll either need to book a tour/excursion or at least a taxi/shuttle into town.
Book a boat trip with a company like Trilogy that includes snorkeling and a beach BBQ on the island.
Lanai is a beautiful island, but nowadays it's largely privately owned and a playground for the rich and famous (there are two Four Seasons resorts on the tiny island). There's a cat sanctuary that interests some people but 4×4 rentals/tours are the main draw. But really…unless you're going to stay at the resort, I feel like most people go to Lanai for the day just to check it off their Hawaii island list. It's a great day trip, but unless you're been to Maui before (or you're spending more than a week on Maui), I would probably skip it and just spend the day on Maui.
On Another Note: If you're looking for a condo or vacation rental for your trip, I always book with Vrbo. They've got the largest selection of rentals you'll find anywhere and you can easily filter to find exactly what you're looking for. Need a specific number of bedrooms and bathrooms? Narrowed it down to a certain location? Want flexible cancellation terms? Need to stay under a fixed budget? Click here to search for Maui vacation rentals for your trip.
Old Lahaina Luau
Ok yes, there are luaus on every Hawaiian Island, but I strongly believe that the Old Lahaina Luau is the best luau in all of Hawaii. Maybe a bold statement, but I've been to a lot of luaus in Hawaii and I know when I'm impressed. And I'm impressed. So if you're doing a multi island trip and you're trying to decide where to do your luau, pick this one.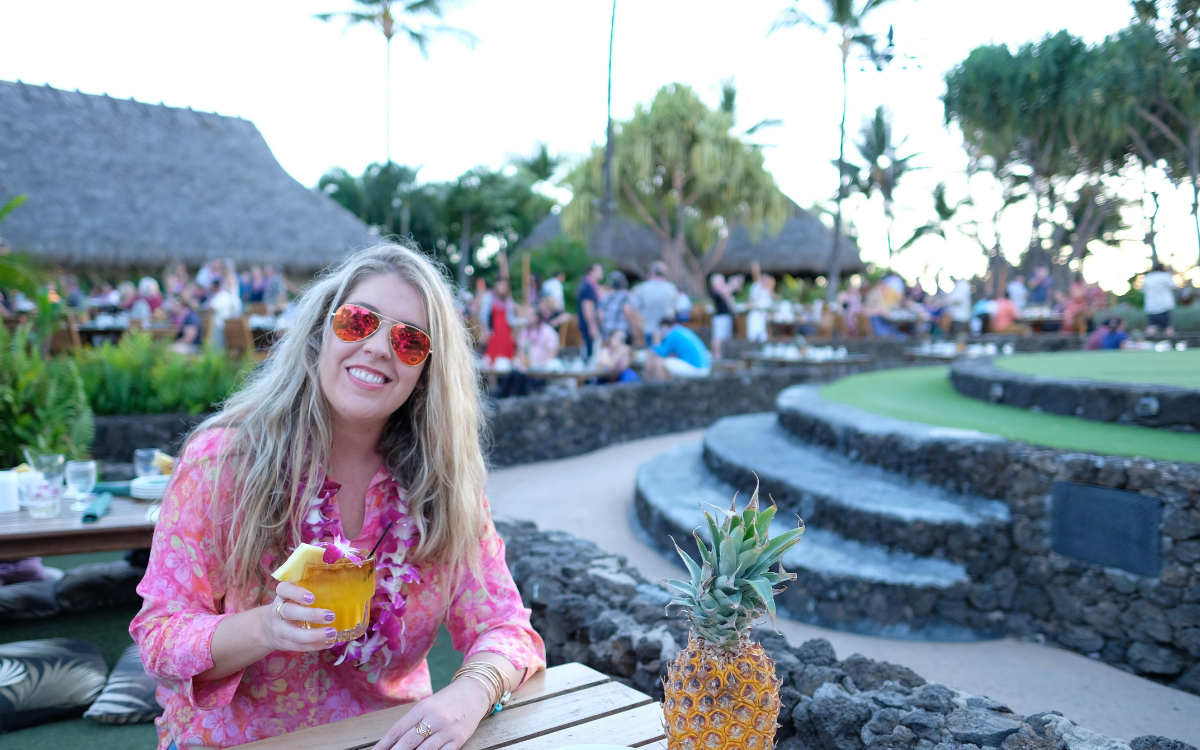 The Old Lahaina Luau does absolutely everything right (this is a rave review if you couldn't already tell), but the biggest first impression is the setting. Located right on the water at the end of Front Street in Lahaina, this is an independent luau (it's not at a resort) so the venue is custom built to host a high end luau and you can tell. It's not a small luau (capacity of 500 or so), but it FEELS intimate because of the way everything is laid out and designed.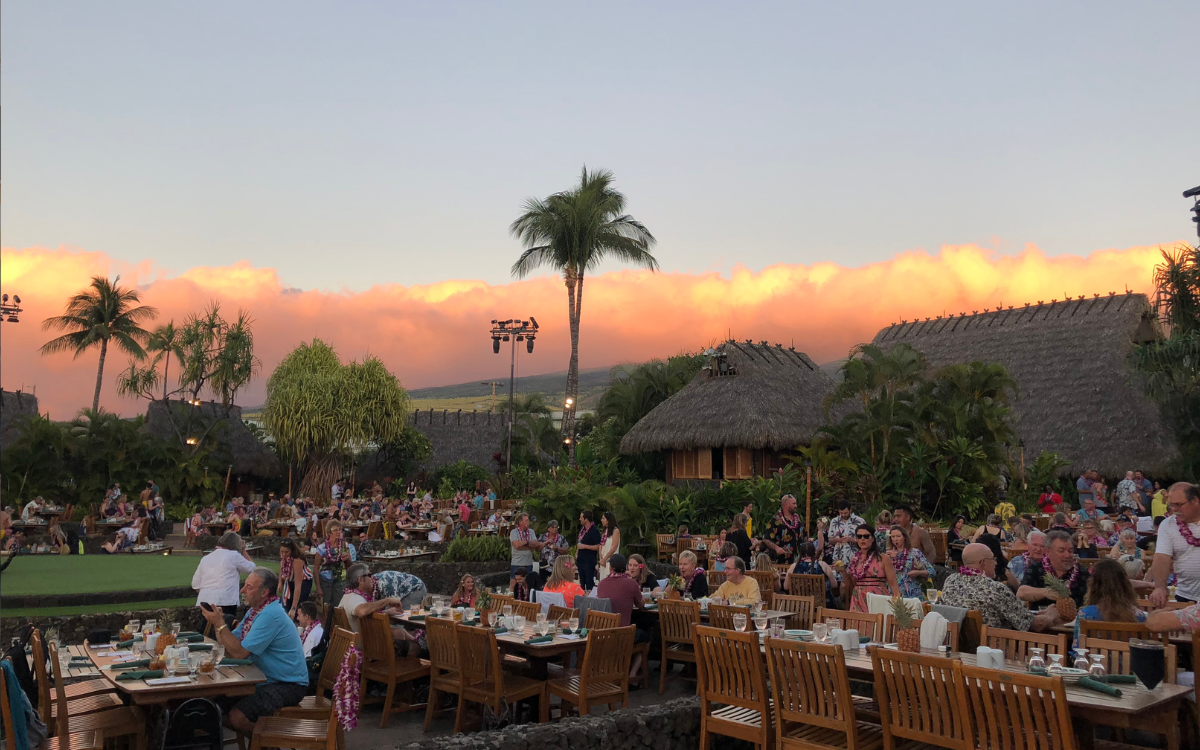 The tables are arranged in a tiered semi circle around the stage and everything overlooks the ocean. The bottom tiers feature traditional seating on cushions at low tables while the upper tiers have tables and chairs. You choose your seating category at the time of booking, but your spot within that category is assigned based on a first come first serve method (when you book).
As the sun sets and the hula begins, the silhouette of the dancers against the palm trees is SO PRETTY.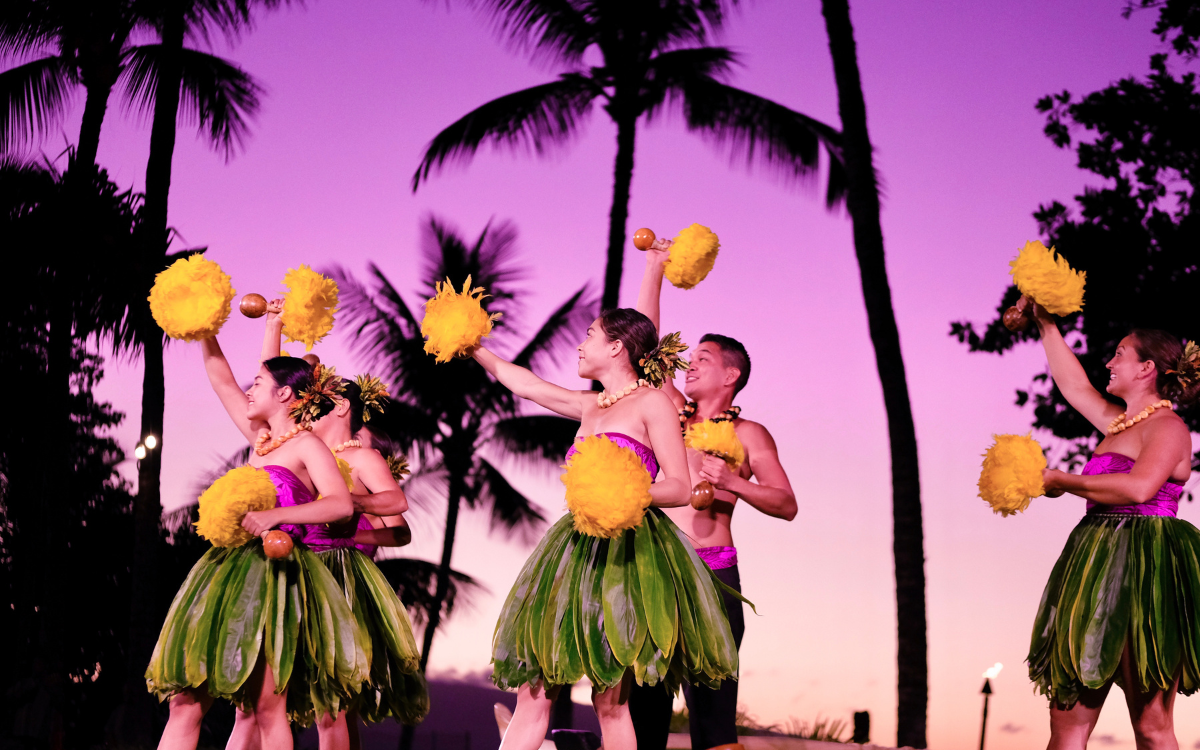 Another high point about this luau is the arrival experience. You're greeted with fresh flower leis and mai tais, which made a great first impression. A lot of other luaus just give you a shell lei (or have to pay to upgrade to a flower lei) so this is a nice touch. It's also worth mentioning that the mai tai (which had plenty of rum in it) was served in an actual glass (imagine!) with a pineapple slice and orchid on top. Every other luau I've been to in Hawaii (including some of the "best") usually just hands you some sort of fruit punch in a tiny plastic cup so this sets the stage for a nice evening. Plus the open bar includes high quality drinks on par with what you'd get at a nice restaurant.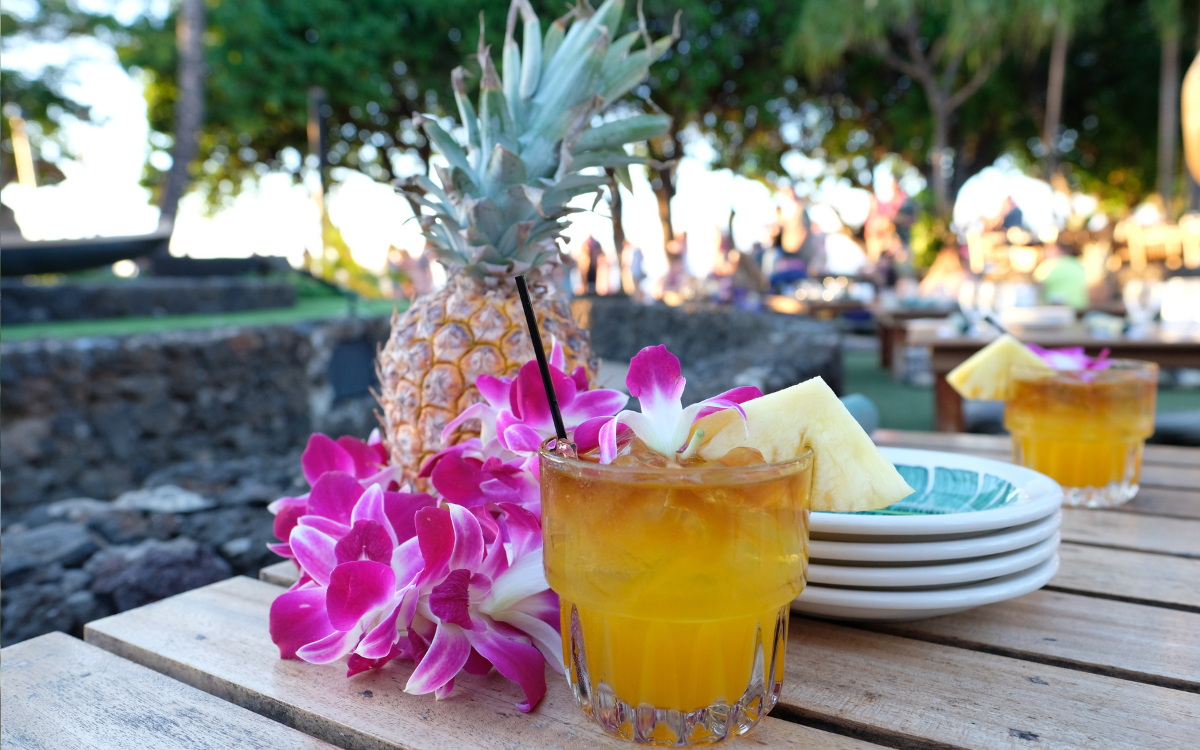 The food is very traditional and you'll find all of the classic luau staples present (kalua pork, teriyaki chicken, mahi mahi, poi, lau lau, an assortment of poke and cold salads as well as mashed purple sweet potatoes. I've heard locals talk about how much they enjoy the food at this luau, which I take as high praise. And I will say, it's by far the best traditional food I've had at a luau. I do think you have to temper your expectations here though, because while it is the "best," it's still a buffet, so don't expect a gourmet meal.
About the show…I've never seen such beautiful hula in such a wide range of styles. And last time I visited, I was sitting so close to the stage there were times it felt like I could've reached out and touched the dancers. The show truly is the best I've ever seen at any luau by a long shot. There is some narration that tells the story of the evolution of hula, but it never feels overly produced. The focus truly is on the dances. The pacing is great and I never feel bored at all (and I'll admit I have a somewhat short attention span when it comes to live shows).
It's worth noting that since this is a traditional luau, it's only the hula that's performed (traditional dances from the Hawaiian Islands) so there is no Samoan fire dancer as there often is at other luaus where it's a celebration of dance styles from different Polynesian islands. I didn't miss that part of the show, but there was a little boy at our table who was pretty bummed that there was no fire dancer.
Well I'm not sure what else I can say. I've been to a LOT of luaus and honestly most of them kind of run together, but this one is special. Besides everything I've already told you, I guess the best way to sum it up is…while a lot of luaus feel like a production or a list of experiences to check off (Imu ceremony, check…hula lesson, check…taste poi, check) the Old Lahaina Luau feels more like a pleasant evening spent with friends enjoying good food and entertainment. Which at the end of the day, is what makes it feel so authentic.
One thing we do need to talk about is the price…Old Lahaina Luau (like a LOT of experiences in Hawaii) has increased by about $100/person since I first went in 2018.
The current price is $230/adult and $140/child (3-12) which is…a lot. Unfortunately it's not out of bounds with what a lot of (if not most) luaus cost nowadays. If you're going to go to a luau, this is 100% the one I recommend.
Since this luau is the most popular one on Maui (in all of Hawaii really), it often books up months in advance, so I recommend making reservations as soon as you know your travel dates. Last time I visited, I booked our tickets about 3 months in advance and we had great seats (your seating assignments are made in the order that tickets are reserved).
Also I've got to drop a disclaimer about the authenticity level of this luau. I get a lot of requests for the "most authentic luau" so here it is: Any commercial luau (one that you pay to attend) is NOT going to be authentic. A luau in Hawaiian culture is similar to a backyard BBQ. Friends and family gathering to eat a big meal, hang out and visit, play games, sing songs (whatever you do at your family get togethers) and just spend time together.
Commercial luaus have combined some special elements of Hawaiian culture (including hula dancing and a feasting on certain foods among others) into an event but the very fact that you're paying to attend means it's not authentic.
That being said…the Old Lahaina Luau is regularly regarded as "the most authentic" luau in Hawaii. And as far as commercial luaus go, it is. There is not an ounce of "corny" at this luau. Everything from the setting to the food to the show is done as first class as possible. The level of service and hospitality at this luau is unparalleled and the way everyone involved shows aloha makes it feel very "authentic."
Still Looking for a Place to Stay?
Here's one more really important thing you need to know before your Hawaii trip…
Reservations You Need to Make BEFORE Your Hawaii Trip
You've got your airfare, hotel, rental car and your big activities booked, so you should be good to go, right? Wrong!
Travel is BOOMING in Hawaii so a lot of state and national parks used the closure and reopening to institute reservation systems at some of the island's most popular spots to make things a little more sustainable.
That means that there are now over half a dozen sites (beaches, trailheads, etc.) that require advance reservations. And some sell out well before you arrive on the island so you really need to have some sort of a plan.
I recently saw somebody in a Hawaii travel group post in a panic that they didn't know they had to make reservations for things in advance…they thought they could just show up and "go with the flow." I was tempted to say, well, "as long as the flow doesn't take you somewhere that requires reservations, you can!" ; )
But I don't want YOU to be that person, so I've pulled together a list of all the places you need to reserve entry in advance (plus all the details on booking windows, price, links, etc.) and a handful of popular tourist hotspots that book out really far in advance too.
Haleakala National Park (Maui)
To visit Haleakala National Park for sunrise at the summit, you must make reservations in advance here.
Reservations are required to enter the park gates between 3AM and 7AM (sunrise hours).
Online reservations are $1 per reservation/vehicle PLUS you'll pay the park entrance fee of $30/vehicle when you arrive (National Park annual passes are also accepted at the gate).
The reservation booking window opens 60 days in advance at 7AM HST. There are also a limited number of tickets released two days before.
You can make one reservation every three days with the same account. So if you want to make reservations for back to back days (in case of weather/conditions), you'll need to do so with separate accounts (email addresses).
If you can't get reservations for sunrise, you can enter the park anytime after 7AM without reservations. The summit is spectacular during the day and you don't need reservations for sunset.
I strongly recommend creating an account before and making sure you're logged in at 7AM HST because it's not uncommon for reservations to sell out quickly.
Waianapanapa State Park (Maui)
To visit Maui's famous black sand beach at Waianapanapa State Park on the Road to Hana, you must make reservations in advance here.
Reservations are required to visit the beach and are distributed in windows from 7AM-10AM, 10AM-12:30PM, 12:30PM-3PM, and 3PM-6PM. And they are pretty strict about exiting by the end of your window time (you can arrive anytime within your window).
It's $5/person to enter plus $10/vehicle to park and those fees are paid when you book your time slot.
Reservations open up 30 days in advance.
Iao Valley State Park (Maui)
To visit the lush, green mountains and hike at Iao Valley State Park, you must make reservations in advance here.
Reservations are offered for 90 minute time slots beginning at 7AM and ending at 6PM. They ask that you arrive within the first 30 minutes of your time slot.
Entry is $5/person plus $10/vehicle to park.
Reservations open up 30 days in advance.
Diamond Head (Oahu)
To hike to the top of Waikiki's famous Diamond Head, you must make reservations in advance here.
Reservations are offered in two hour increments beginning at 6AM (6AM-8AM, 8AM-10AM, etc.) and ending at 6PM. If you're parking onsite, they ask that you arrive within the first 30 minutes of your reservation window.
Entry is $5/person plus $10/vehicle to park.
Reservations open up 30 days in advance.
Tip: I recommend booking one of the first two time slots because there isn't much shade on this hike and it gets pretty hot.
Hanauma Bay (Oahu)
To snorkel at Oahu's pristine Hanauma Bay, you must make reservations in advance here.
Entry times are staggered in 10 minute increments from 7AM to 1:20PM with roughly 1000 slots being assigned in advance every day.
Reservations can be made two days in advance and they open at 7AM HST. They're usually gone in minutes (if not seconds).
If you're unable to get an advanced reservation, you can try for a day of, walk in ticket. They open at 6:45AM and they only have a limited number available. Everyone in your group needs to be present when you purchase your tickets in person.
There are no reservations for parking and it's first come, first serve. $3/vehicle.
It's $25/person to snorkel at Hanauma Bay (12 and under, active military, and locals with HI ID are free).
The Hanauma Bay Nature Preserve is open Wednesday through Sunday (CLOSED MONDAY AND TUESDAY) from 6:45AM-4PM. Last entry is at 1:30PM, the beach is cleared at 3:15PM and you have to leave the facility by 4PM.
Jellyfish patterns can also affect whether or not the bay is open so double check the day before/day of.
USS Arizona at Pearl Harbor (Oahu)
If you want to take the boat tour at Pearl Harbor out to the USS Arizona, it's recommended to make advance reservations here.
Online reservations are guaranteed a specific boarding time to go out to the USS Arizona. If you're unable to get an advance reservation, you can wait standby when you arrive. The line could be short (15 minutes or so) or long (hours) and it just depends on the day (if they're having problems with the loading dock sometimes they don't take many from the standby line) and the time of day.
Reservations are supposed to open up 60 days in advance, but keep an eye on your exact dates, because lately they've actually been opening up about 57ish days in advance???
They also release a small batch of tickets the day before.
The boat ride out to the USS Arizona is free, but it's $1 to make the reservations online.
They recently started charging $7/vehicle for parking at Pearl Harbor.
Haena State Park / Kalalau Trail (Kauai)
If you want to hike Kauai's famous Kalalau Trail, you must make advance reservations here.
You've got three options here:
1) Parking & Entry: This is the most flexible option and also the most limited. THESE RESERVATIONS SELL OUT IN LESS THAN A MINUTE. There are three time slots available: 6:30AM-12:30PM, 12:30PM-5:30PM and 4:30PM to sunset. You can purchase multiple time slots if you want to stay longer. It's $10/timeslot (parking) plus $5/person and you have to reserve every person when you initially book. Everybody has to arrive in the same car and your ID needs to match the reservation.
2) Shuttle & Entry: If you can't get parking at the trailhead, there's also a shuttle option. Shuttle reservations are $35/person (16+), $25/person (ages 4-15), 3 and under can ride free. The shuttle runs every 20 minutes 6:20AM to 6:40PM.
3) Entry Only: If you're a Hawaiian resident (with HI ID) or someone WITH a Hawaiian resident, you can purchase entry only for $5/person with no advance reservations. Also, if you're walking or biking to the trailhead you can do this option. But there is NOWHERE to park in the area to walk in. So this really only works for those with bikes or who are staying close enough to walk. They will tow your car if you park outside the designated areas.
The reservation window opens 30 days in advance at 12AM HST. The parking & entry option usually sells out in a minute, but the shuttle availability will last longer.
There are a TON of FAQs here including the possibility of snagging a canceled reservation.
Other Things to Book in Advance
Hawaii is a busy place these days! Besides the state and national parks above, here's a handful of miscellaneous things you should make reservations for in advance (if they're on your radar):
Mama's Fish House (Maui): The iconic spot is the most popular restaurant in Hawaii and they've been opening reservations (and selling out) 4-6 months in advance. You can call and get on the waitlist for one day or you can set notifications on OpenTable to alert you for cancellations every day of your trip. Most people have pretty good success on OpenTable.
Old Lahaina Luau (Maui): Honestly, any luau you're planning to attend you should book early, but most people are usually shocked how far out the Old Lahaina Luau books out. Book it as soon as you know your dates (I think they open at the six month window). They also have a waitlist.
Kualoa Ranch UTV Tour (Oahu): Everybody loves Jurassic Park so getting to ride UTVs where they filmed the movies is very popular. The ranch offers a lot of different tours but the UTV tours usually book out a couple of months in advance.
Spa Reservations: If you're staying at a resort with a spa (or planning on visiting one), don't wait until you arrive to make your reservations. I'd make them at least a month in advance.
Tee Times: Same for golf, reserve your tee times well in advance.
Dining Reservations: Any "fancy" or resort restaurant is likely to be booked up these days so if you like having a nice dinner every night, make your plans in advance.
Want to read more? Don't miss some of my most popular (and favorite) posts about Maui: My Favorite Hotels on Maui | Wailea vs Ka'anapali | All of the Wailea Resorts Ranked | Maui Travel Tips | Things You Can ONLY Do on Maui | Where to Find Maui's Best Condos and Vacation Rentals | My Favorite Road to Hana Itinerary | Road to Hana Tips | Should You Drive the Backside of the Road to Hana? | 4 Day Maui Itinerary | Is Mama's Fish House Worth It? | Tips for Sunrise at Haleakala National Park | Things to Do Upcountry | Best Beaches in Wailea & Kihei | Best Restaurants in Wailea | Maui vs Kauai | Four Seasons Maui Review | Andaz Maui Review | Fairmont Kea Lani Review | Wailea Beach Resort Review | Four Seasons vs Andaz Maui | Andaz Maui vs Wailea Beach Resort
Save
Save
Save
Save
Save
Save
Save
Save
Save
Save
Save
Save
Save
Save
Save
P.S. Thanks for sticking around and reading this whole post! If you have ANY questions about planning your trip to Hawaii, you can join my free Facebook group here. I'm there answering questions every day and there are 7500+ other friends who have a ton of Hawaii information to share!
Also, if you want to follow along on my travel adventures in real time, you can follow me on Instagram (@caitylincoln). My post captions are full of travel tips and I have a ton of story highlights and videos with great info. And please share my account with your friends that are headed to Hawaii! Your support really helps me keep this blog running!