28 Things to Do on the Big Island (That You Can't Do Anywhere Else in Hawaii)
This post may contain some affiliate links, which means I'll make a little money on anything you choose to purchase. But of course, I only recommend my absolute favorites to you. Thank you for supporting the brands that make the Lincoln Travel Co possible.
Heading to the Big Island? I'm so jealous! While I absolutely adore every single Hawaiian Island, I really do think the Big Island has the most impressive collection of "things to do" and unique experiences.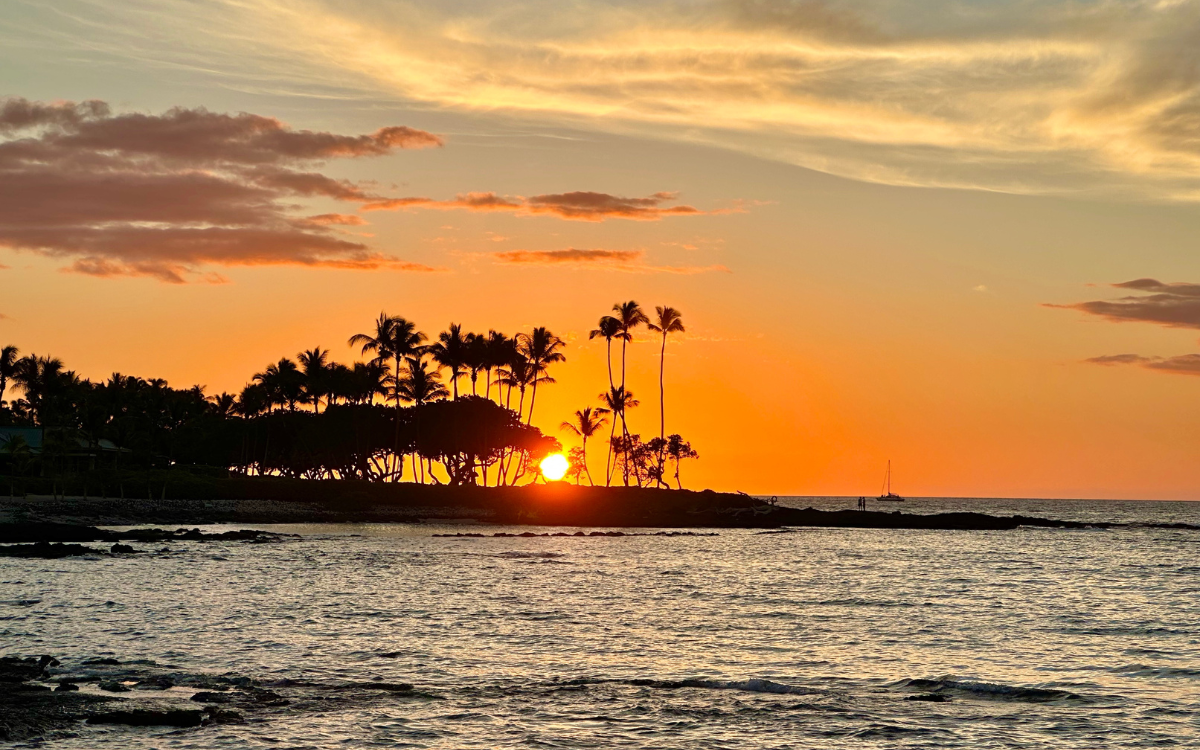 While the Big Island has all of those dreamy, iconic things that people like to do in Hawaii (beaches, snorkeling, palm trees, mai tais, hiking, waterfalls, luaus, etc.) this post is going to focus on things to do on the Big Island that you can ONLY do on the Big Island.
This is what makes it unique from every other Hawaiian Island. So this post should be helpful whether you're planning out your itinerary or trying to figure out if the Big Island is right for you…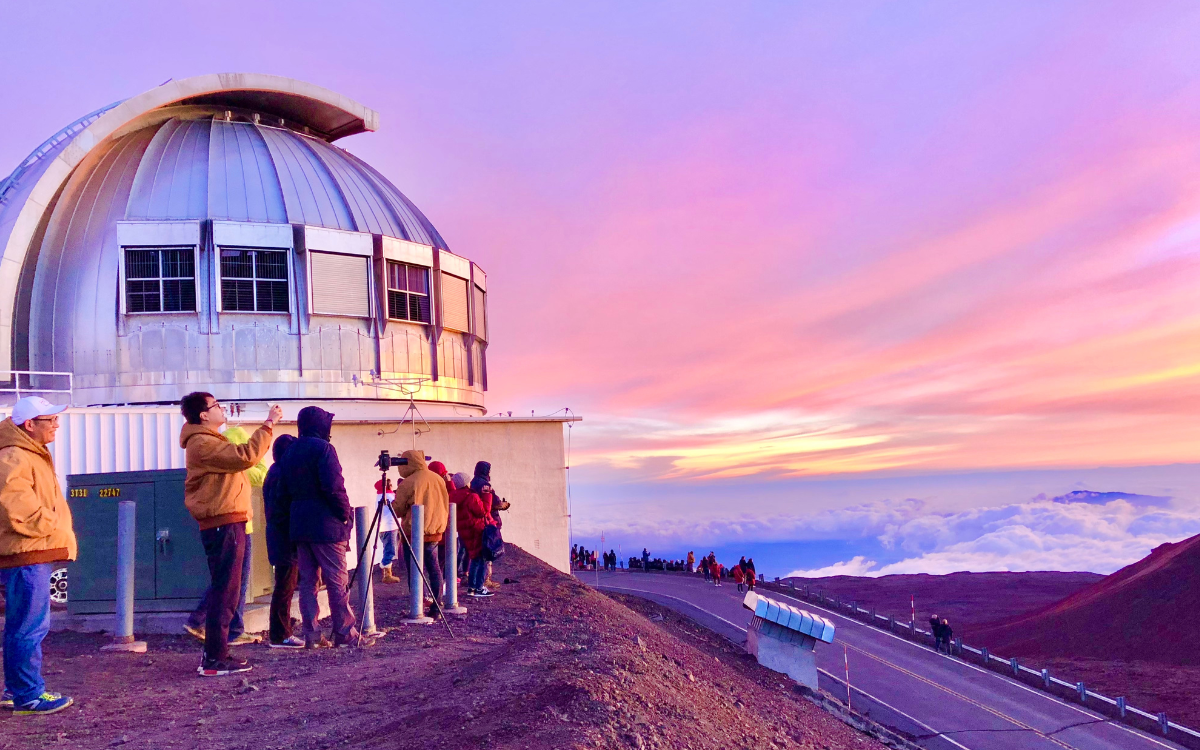 The Best Things to Do on the Big Island (That You Can't Do Anywhere Else in Hawaii)
So without further adieu…here are 28 things to do on the Big Island of Hawaii that you definitely shouldn't miss:
Here's a quick "table of contents" for what's in this post:
Visit Hawaii Volcanoes National Park
See Lava
Snorkel or Dive with Manta Rays AFTER DARK
Sunset & Stargazing at the Summit of Mauna Kea
Spot Turtles at a Black Sand Beach
Hold a Seahorse
Play at Mauna Kea Beach
Tour a Coffee Farm in Kona
Snorkel Kealakekua Bay (Captain Cook Monument)
Green Sand Beach
Visit Historic Hilo Town
Visit THREE National Historical Parks
Tour the World's First Octopus Farm
Cruise Ali'i Drive in Historic Downtown Kona
Waipio Valley Overlook & Fruit Stand
Kona Brewing Co
Hike to Akaka Falls
Play Tennis at Hawaii's Best Tennis Resorts
Visit the Southernmost Point in the US
Tour Hulihe'e Palace
Zipline Over a Waterfall
Hawaii Tropical Botanical Garden
Mochi at Two Ladies Kitchen
Hike into the Pololu Valley
Snorkel at Two Step
Hapuna Beach
Go to a Luau
Have a Sunset Dinner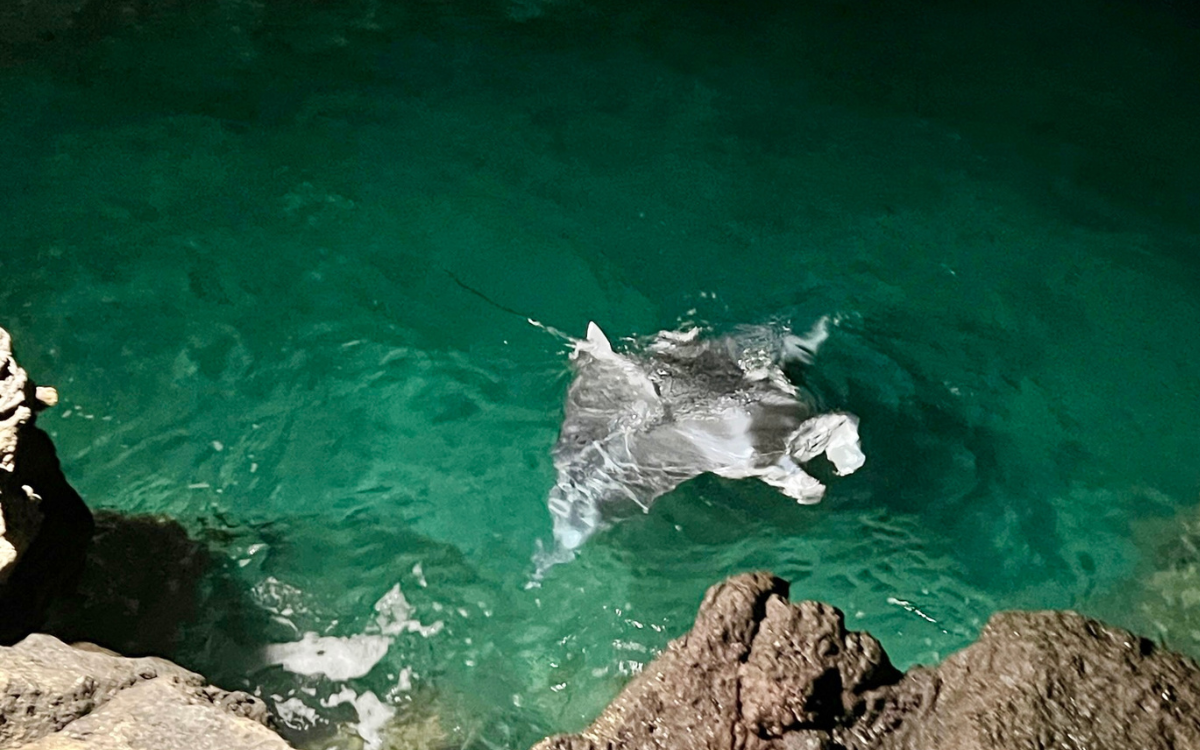 #1 Visit Hawaii Volcanoes National Park
This is easily the #1 MUST DO on the Big Island, and it brings a lot of visitors to the island. Nature enthusiasts, National Park junkies, volcano lovers, etc.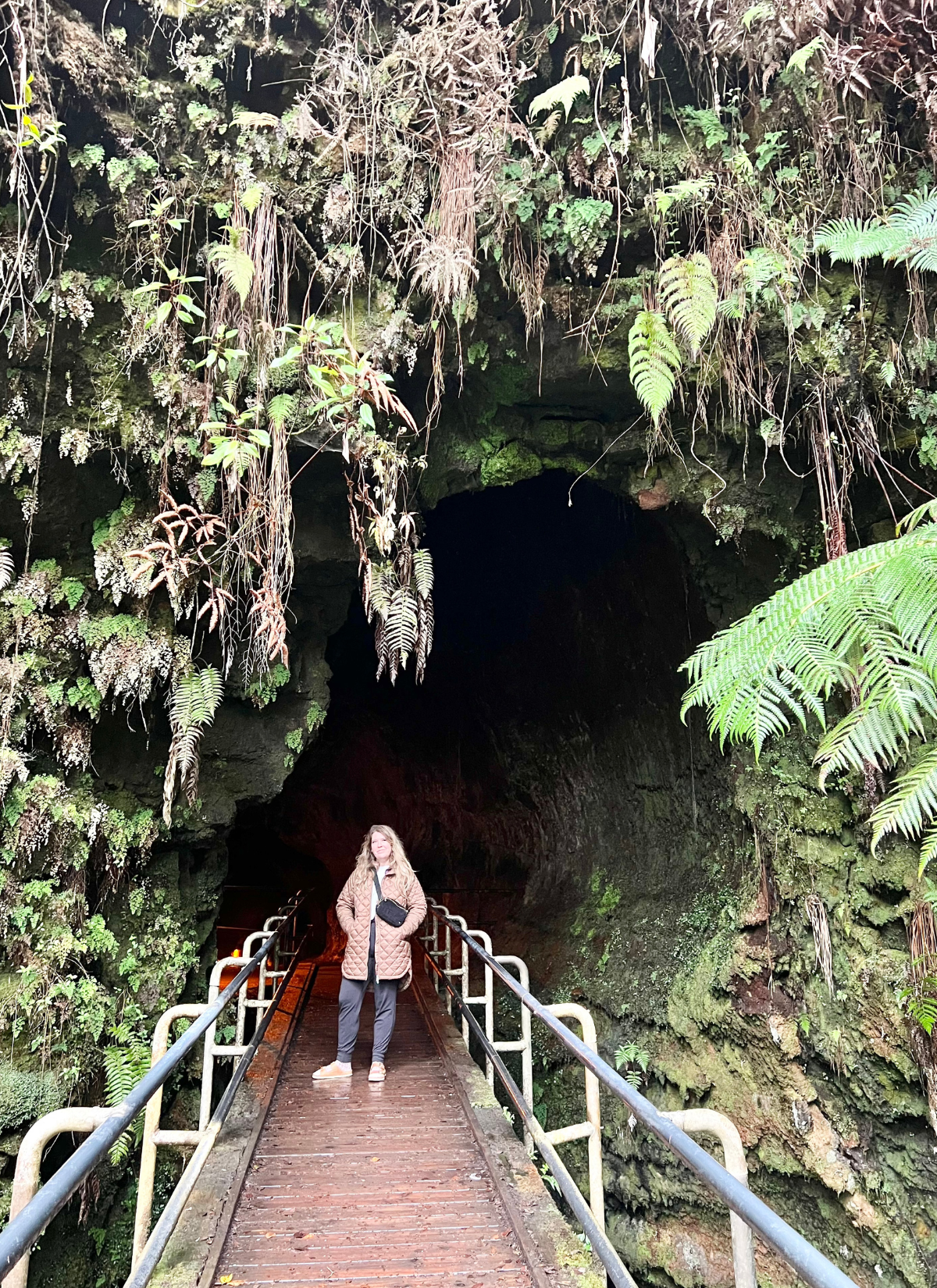 But I will warn you, if your idea of a volcano = lava then you may be disappointed. It IS possible to see lava on the Big Island (or at least a fiery glow after dark), but it's been hit or miss lately.
Update: There is currently not an active lava flow on the Big Island. But Kilauea has a lava lake visible in the National Park. Both volcanoes are still active though and that can change at any time.
But regardless of what's going on with Kilauea and Mauna Loa (the island's two active volcanoes), Hawaii Volcanoes National Parks is 100% worth visiting all year long.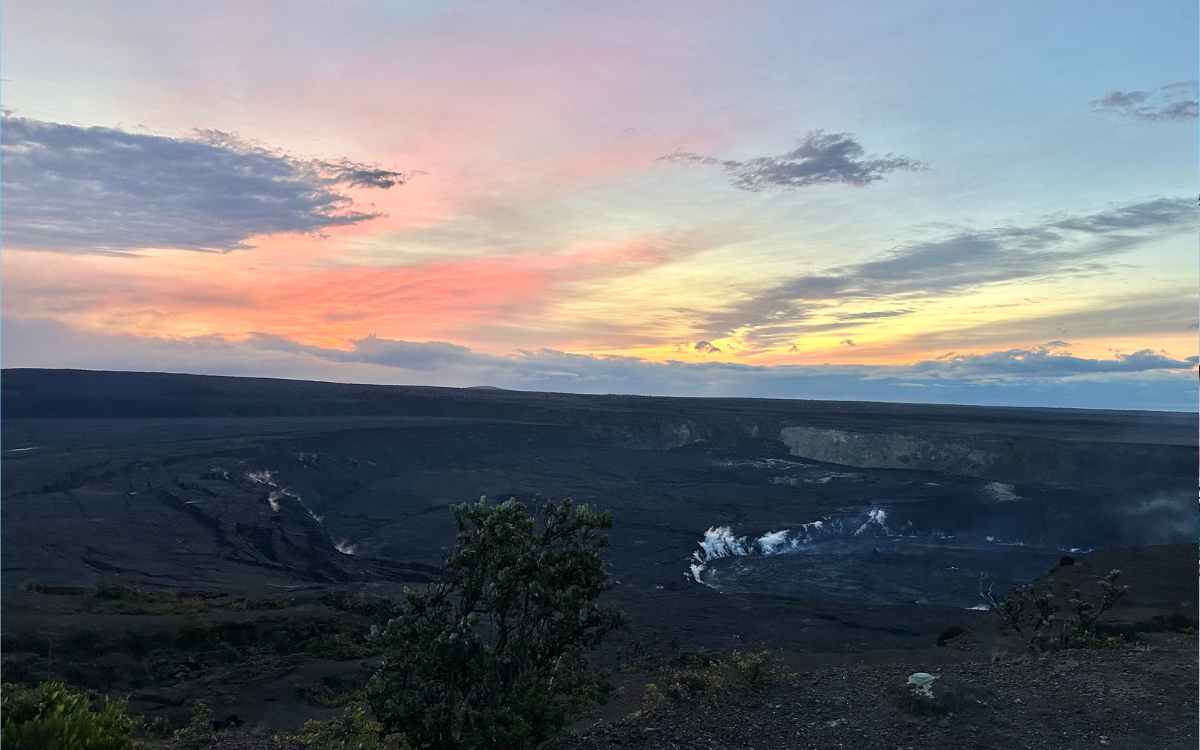 There is a LOT to see and do at the National Park. You could spend anywhere from 2 hours to 2 days there. On my last trip I spent about 5 hours and we saw and did pretty much everything we wanted to.
While there are a lot of hiking options, overall, the park is pretty accessible to see via car, overlooks, and very short hikes/walks.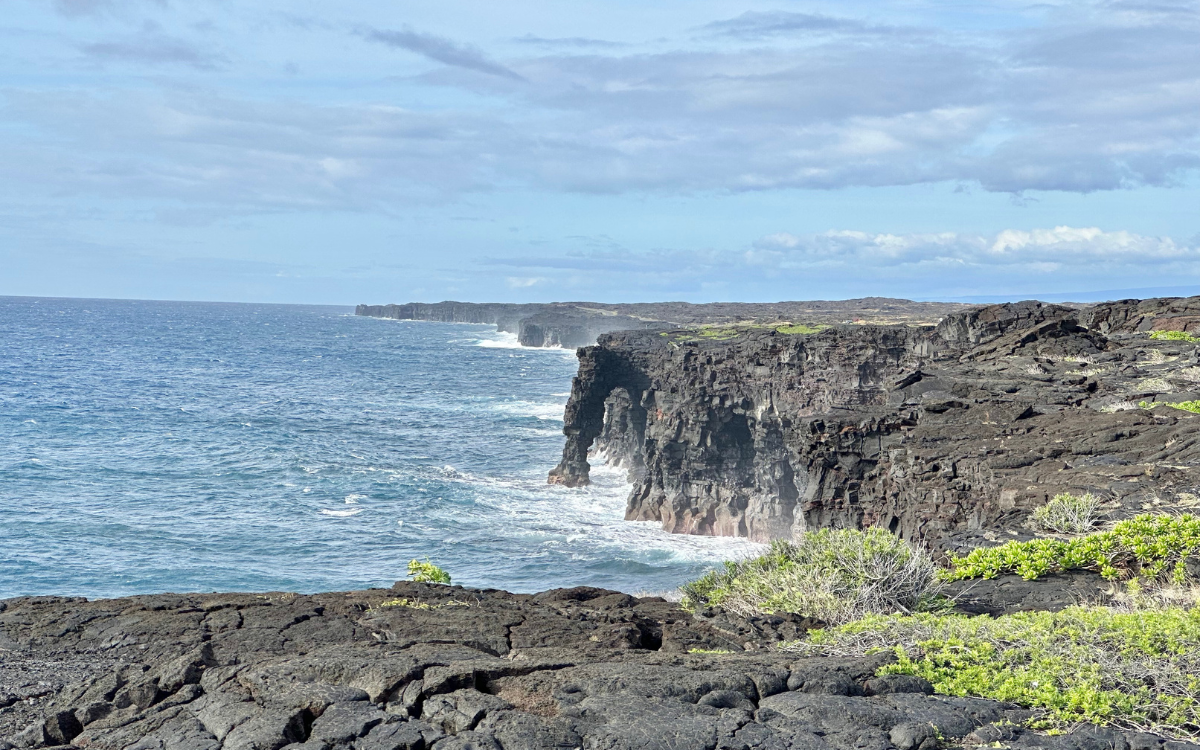 Start out on Crater Rim Drive (the main part of the park where you'll find the visitors center, lava tubes, Kilauea overlook, etc) and if you have time take Chain of Craters Road all the way down to the ocean.
Read my full post about Hawaii Volcanoes National Park here.
#2 See Lava!!!
Update: Both Mauna Loa and Kilauea have officially stopped erupting but there's still a lot of activity at Kilauea. The National Park is the best source for current conditions, and I follow them on Instagram to get real time updates.
The Big Island is one of the only places in the world where you can see an active volcano up close (in relative safety) and it's a sight you don't want to miss!
From 1984 to 2018 there was a fairly continuous (and predictable) flow of lava coming out of Kilauea and into the ocean which made for pretty marvelous sightings and honestly, we got pretty spoiled.
You could hike to it, take a boat to see where it spilled into the ocean, and take a helicopter tour right over the top of it. Since 2018, the volcanoes have been less predictable. Sometimes it's SPECTACULAR and sometimes there's not much going on on the surface.
Kilauea hasn't had much surface flow since 2018 although there's been a consistent fiery glow coming from the crater if you're there after dark and Mauna Loa's long expected eruption was pretty spectacular in Nov 2022.
Per my update above…they're both "resting" right now but there's still a lot of lava pumping underground so it could make an appearance any time.
I will add a note here for the next eruption though…while it seems so dramatic (and it is SPECTACULAR), these aren't the kind of volcanoes that spew dangerous volumes of ash and lava in the air and reign down destruction. I mean, yes, there is usually ash and lava and sometimes destruction, but it's a little more predictable and confined to a specific area.
So if you've got a trip scheduled and a new eruption starts, don't panic! Instead of scrambling to cancel your trip, I'd be making plans to see the lava flow while you're on the island.
Now, it's always a good idea to watch the news and advisory warning and be smart, but during Mauna Loa's most recent eruption, so many people were panicking about canceling their trips because they just didn't understand what kind of an eruption it was.
It is a BIG island and historically the volcanic activity has been a LONG way from the resort and tourist areas.
#3 Snorkel or Dive with Manta Rays AFTER DARK
Diving with manta rays is an experience that's unique to the Big Island (none of the other Hawaiian Islands have this phenomenon). It only happens at night (mantas are most active at night when there's more plankton to feed on), but it's not seasonal so you can catch them all year long.
I'll admit…I haven't quite worked up the nerve to do this yet (being in the ocean at night seems a little scary haha), but here's the scoop on where to go.
There are two main spots where the mantas hang out at night…
"Manta Village" at Keauhou Bay (near the Sheraton) and "Manta Heaven" near the airport.
Manta Heaven has more mantas but is more crowded with boats. Manta Village statistically has fewer mantas showing up every night, but also fewer boats. I think it all evens out. And here's the thing…the mantas are very social and curious (plus they're eating) so they pretty much stay in the area and swoop and circle the entire time. So even if there's just ONE manta, you're going to be seeing it pretty much continuously.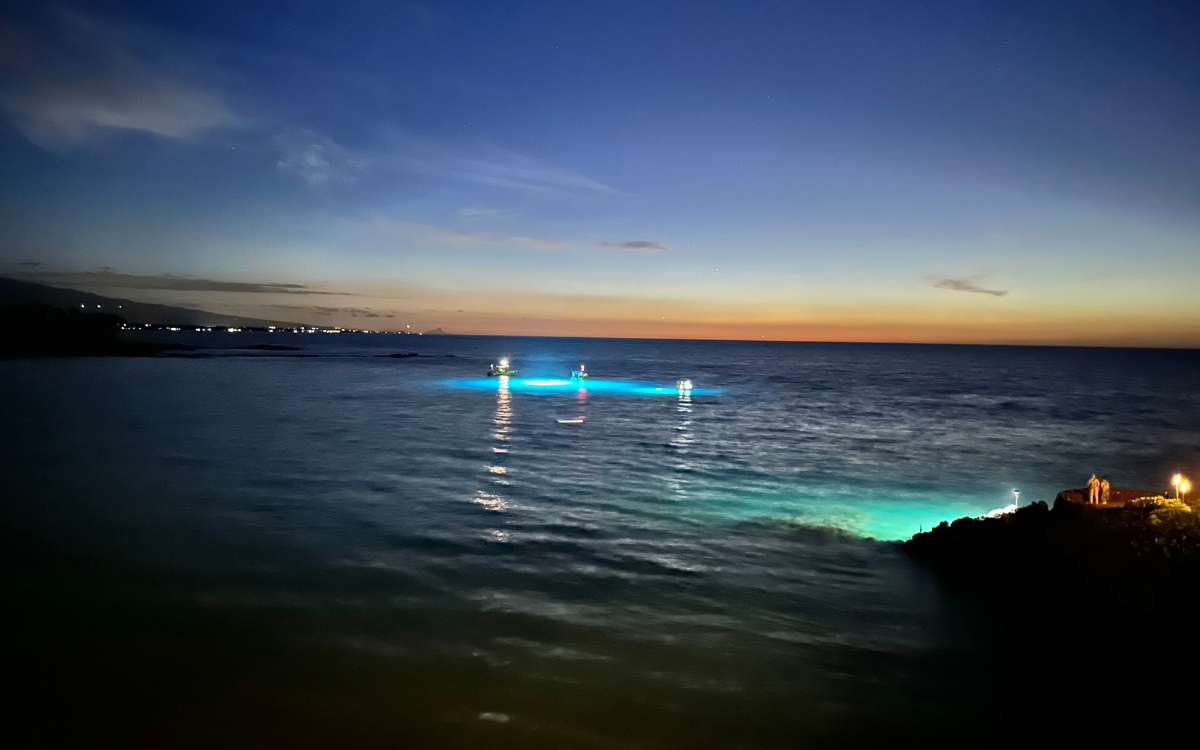 NOW…if and when I do this, I will go with Manta Ray Advocates on their "Moonlight Swim with the Mantas." This is the only (that I've found) company that departs from the beach to a private manta location.
They leave from the beach at the Mauna Kea Hotel and swim (not too far) to a spot that's rigged with a permanent light to attract the mantas.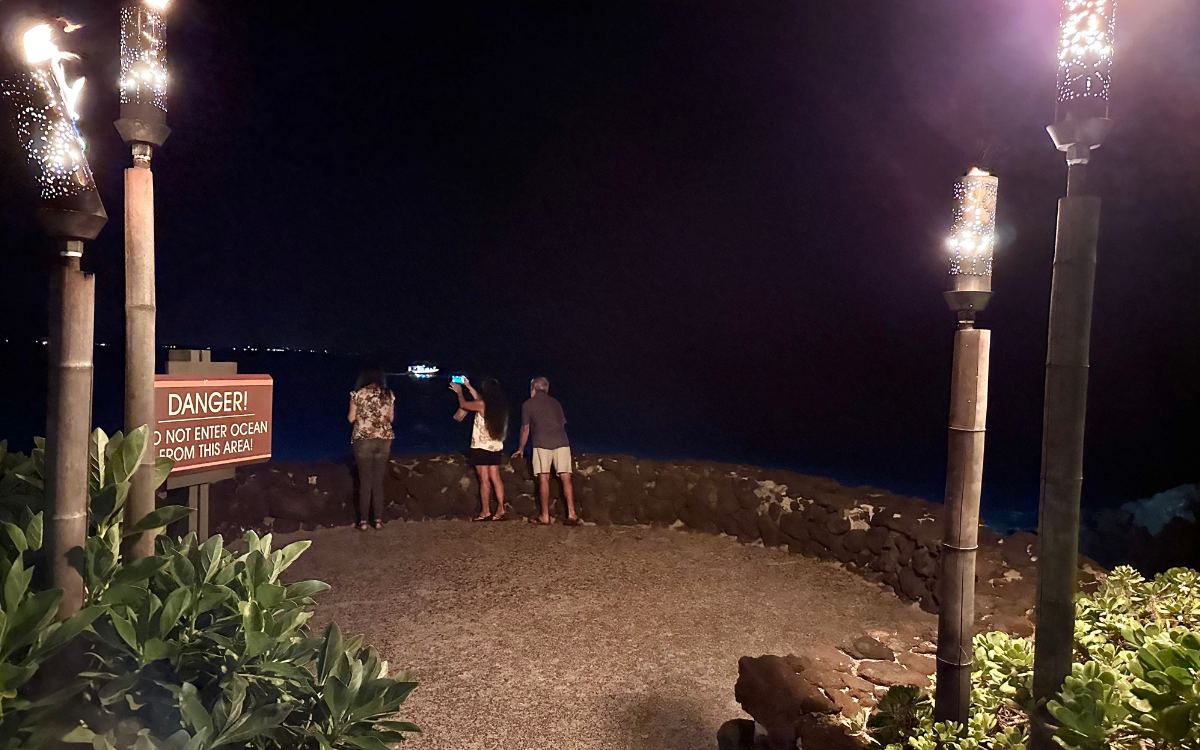 It's in a small group of about six and it seems like the way to go. I actually watched the whole thing from the Mauna Kea Beach Hotel and I was really impressed.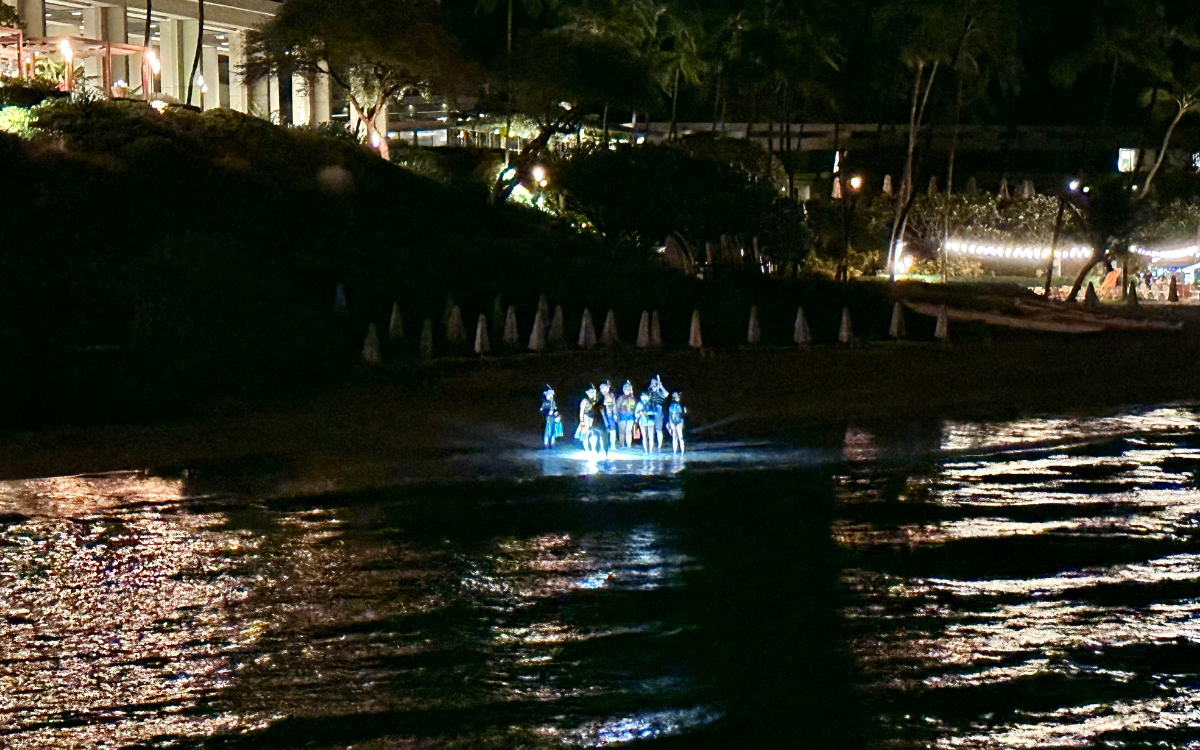 Which brings me to…if you're anything like me and swimming in the ocean at night sounds like…the last thing you want to do, there's a place where you can see it all happen FROM DRY LAND.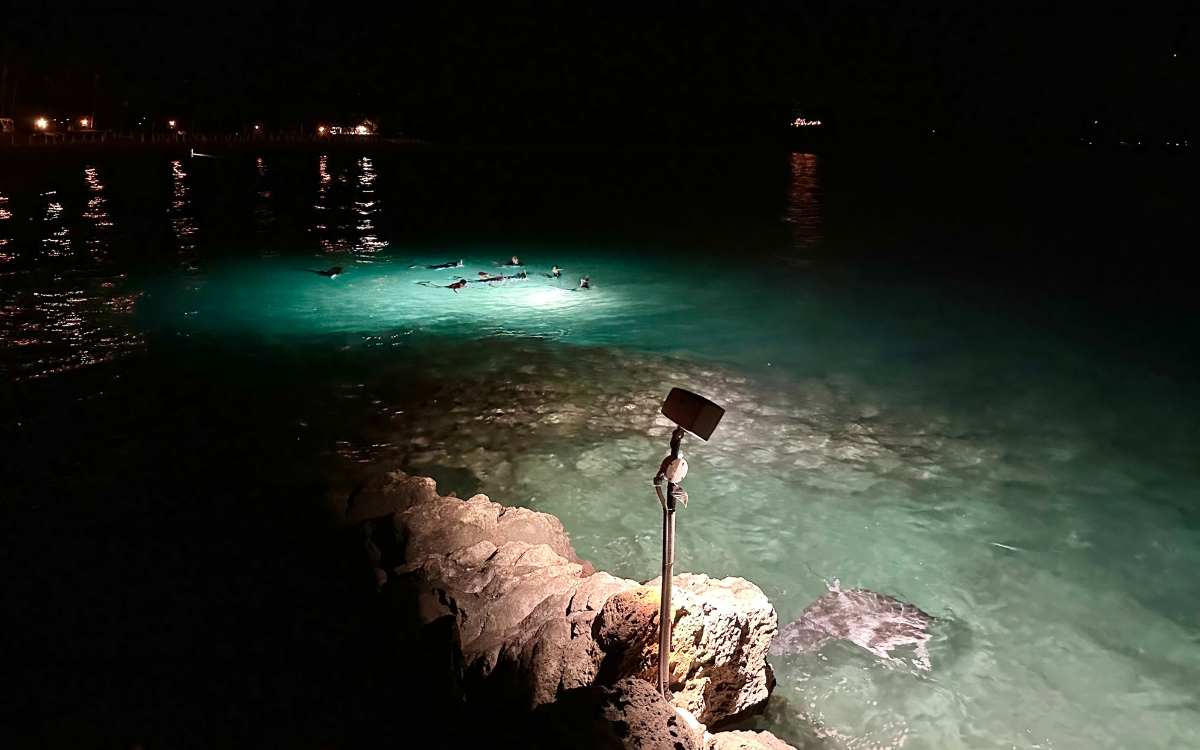 The Mauna Kea Hotel has a private light set up over a manta feeding station that you can view from a platform above.
The first time I came here, I stood for almost an hour and watched them and it was PHENOMENAL. One of my favorite things I've seen in Hawaii. They are so close to where you stand and they just loop back and forth constantly. And it's even fun to watch the snorkelers come out from the beach.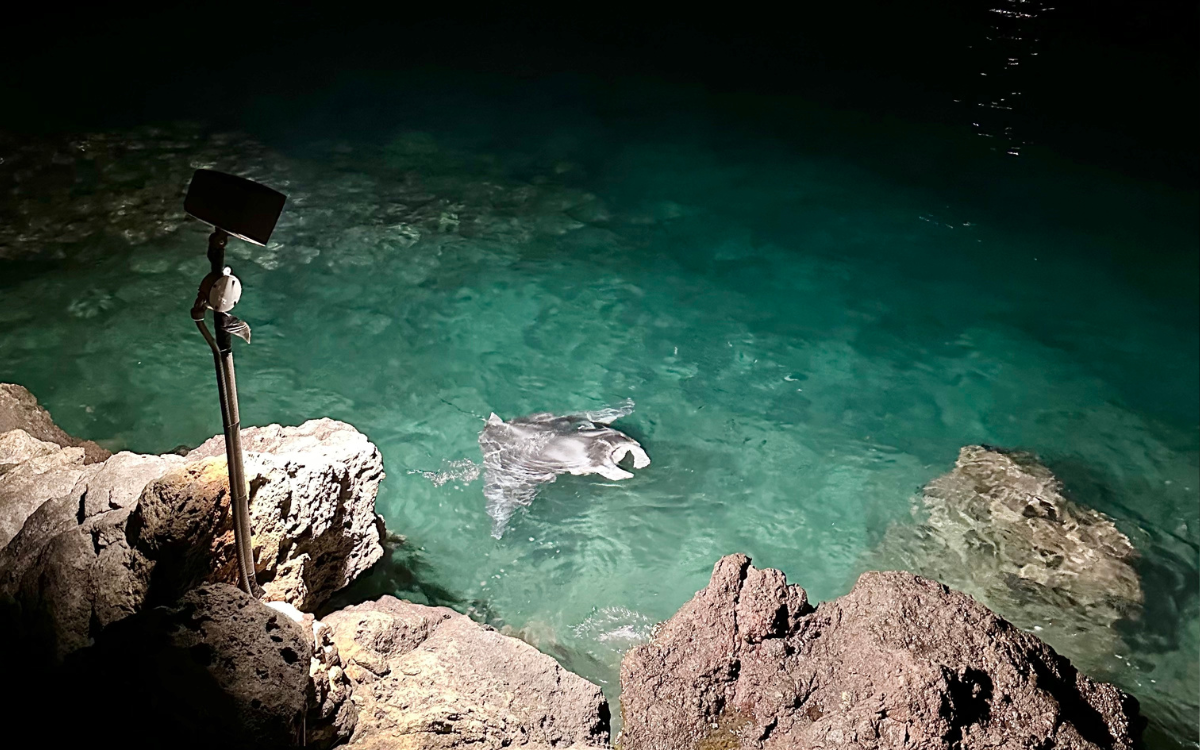 If you're not staying at the hotel, I recommend making dinner reservations at Manta, the hotel's signature restaurant, and making an evening out of it.
***Want to save major $$$ on a fancy beach resort? My favorite travel hack is cashing in points to score free nights at some of the island's most high end resorts. My go to hotel brand is Marriott so I use this Marriott Bonvoy Boundless card to rack up points for a lot of my trips to Hawaii. If you pay for your monthly expenses on the card and are responsible about paying it off every month, the points add up really fast. Plus, if you sign up through my link, you'll get THREE bonus free nights to use. On the Big Island, use your points at some of my favorite Marriott properties like the Mauna Kea Hotel, Westin Hapuna Beach, and the Waikoloa Beach Marriott.
#4 Stargazing at the Summit of Mauna Kea
I think the summit of Mauna Kea is one of the most unexpected surprises in Hawaii. Sure, you expect beaches, palm trees, and jungles, but the summit of Mauna Kea (14,000 ft elevation) actually sees SNOW sometimes.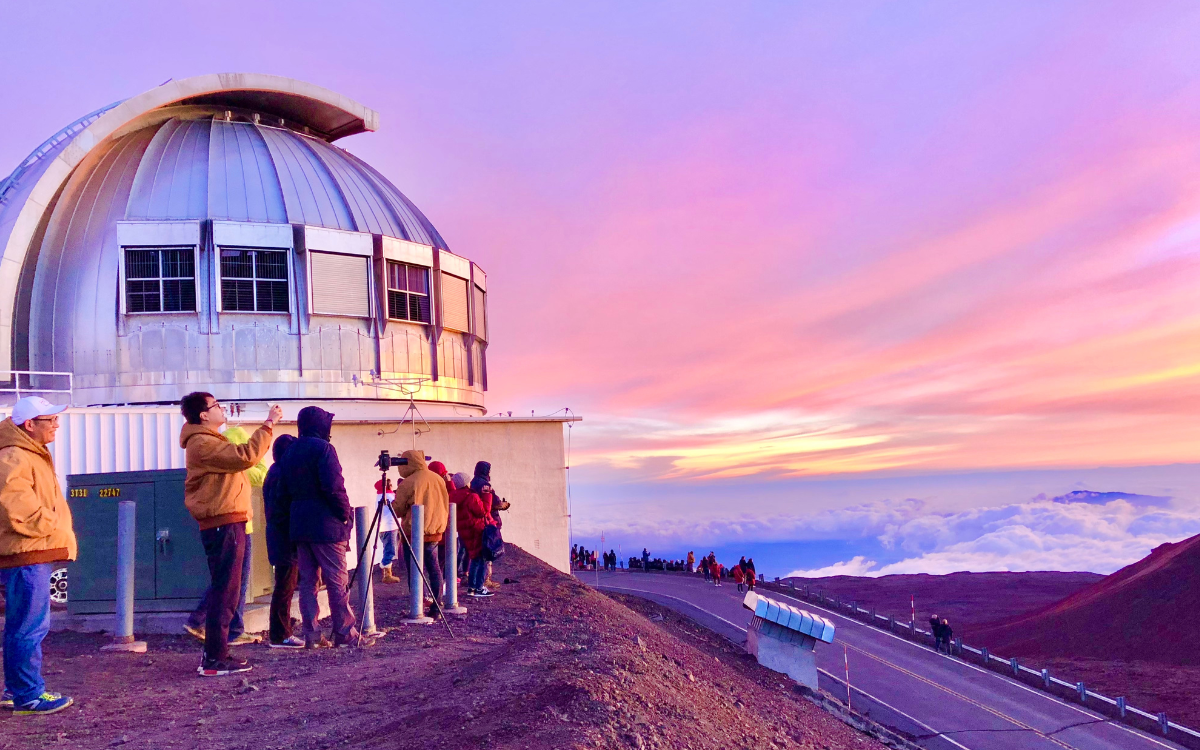 Mauna Kea is also home to some of the biggest and best observatories in the world. And going up to the summit for sunset and a little stargazing is completely spectacular. It's almost otherworldly.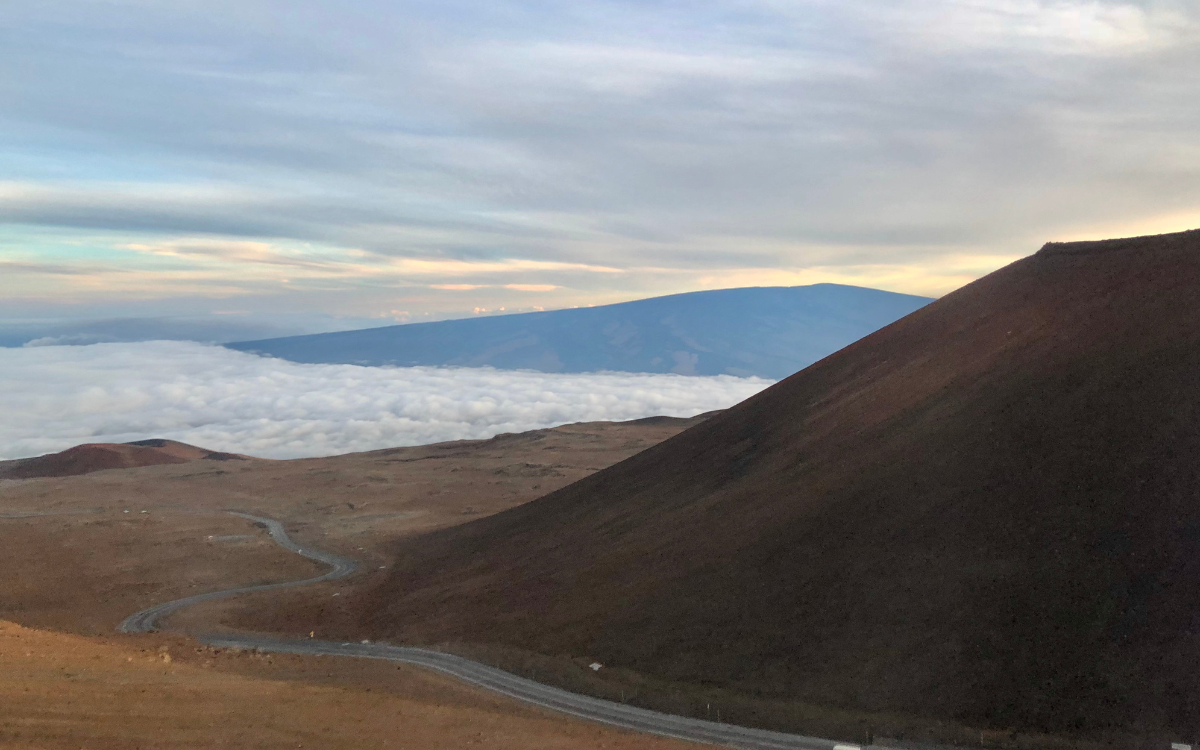 It's easy enough to go up to the visitor's center (10,000 ft elevation) on your own, but to go all the way to the summit, you'll either need 4WD (and a rental from a company that allows it) or to go on a tour.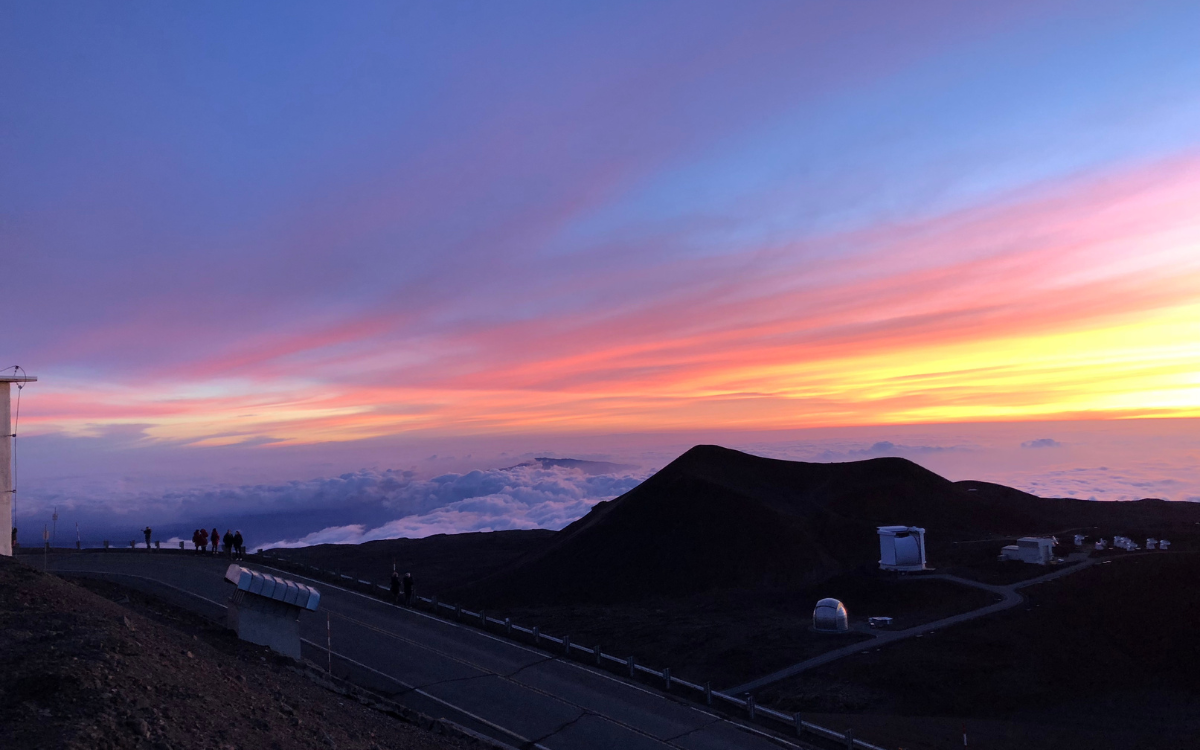 I strongly suggest the tour. I did a tour with Mauna Kea Summit Adventures back in 2018 and to this date it's been one of the coolest things I've done anywhere (not just Hawaii).
Besides providing the transportation and commentary, they'll also outfit you with parkas and mittens, serve dinner, set up a telescope for stargazing, and pass out hot cocoa to keep you warm.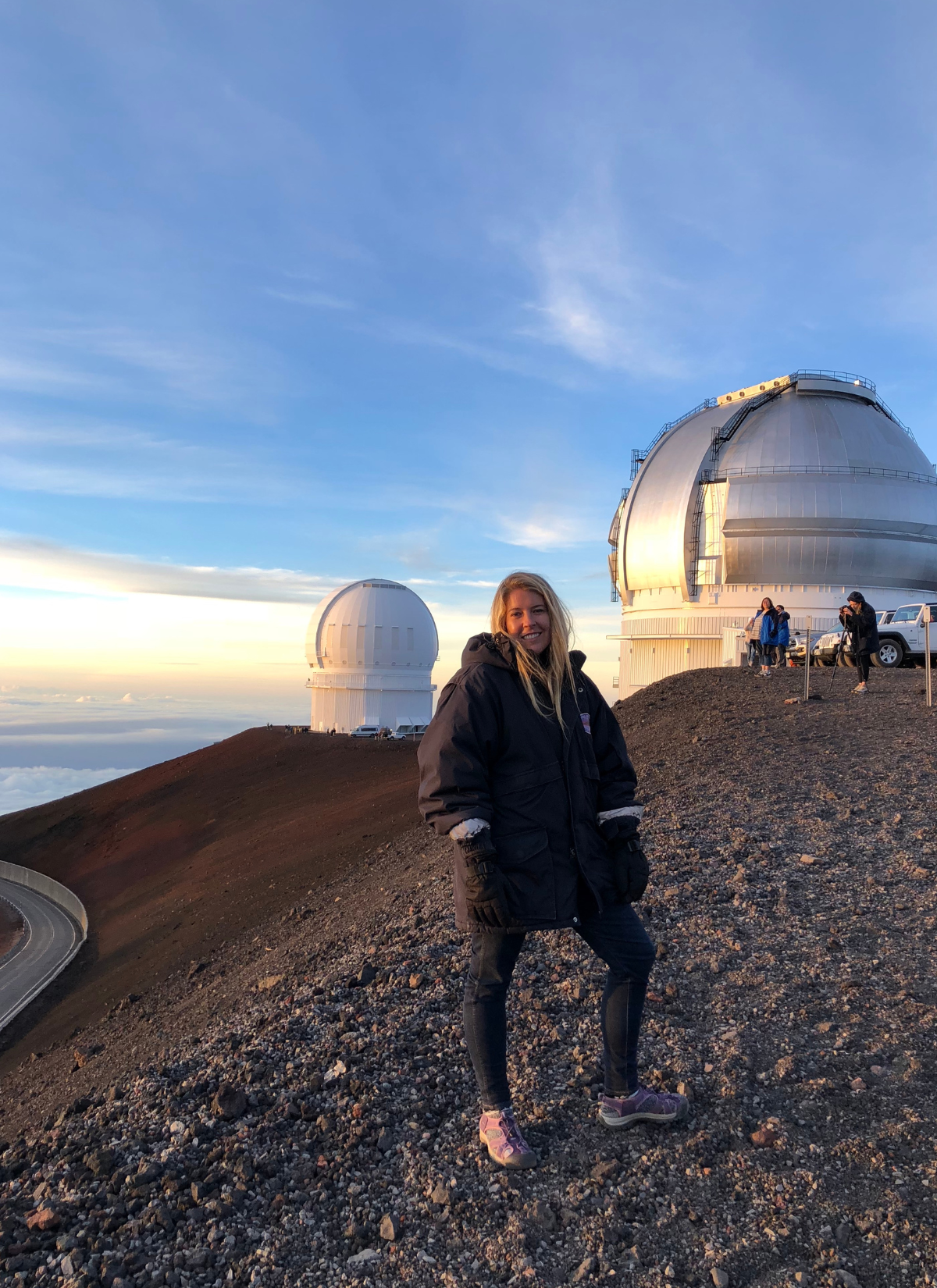 Read all about my experience at Mauna Kea summit here.
#5 Spot Turtles at a Black Sand Beach
Hawaii has a couple of iconic black sand beaches, but I think the one on the Big Island is my favorite because you're almost guaranteed a turtle sighting!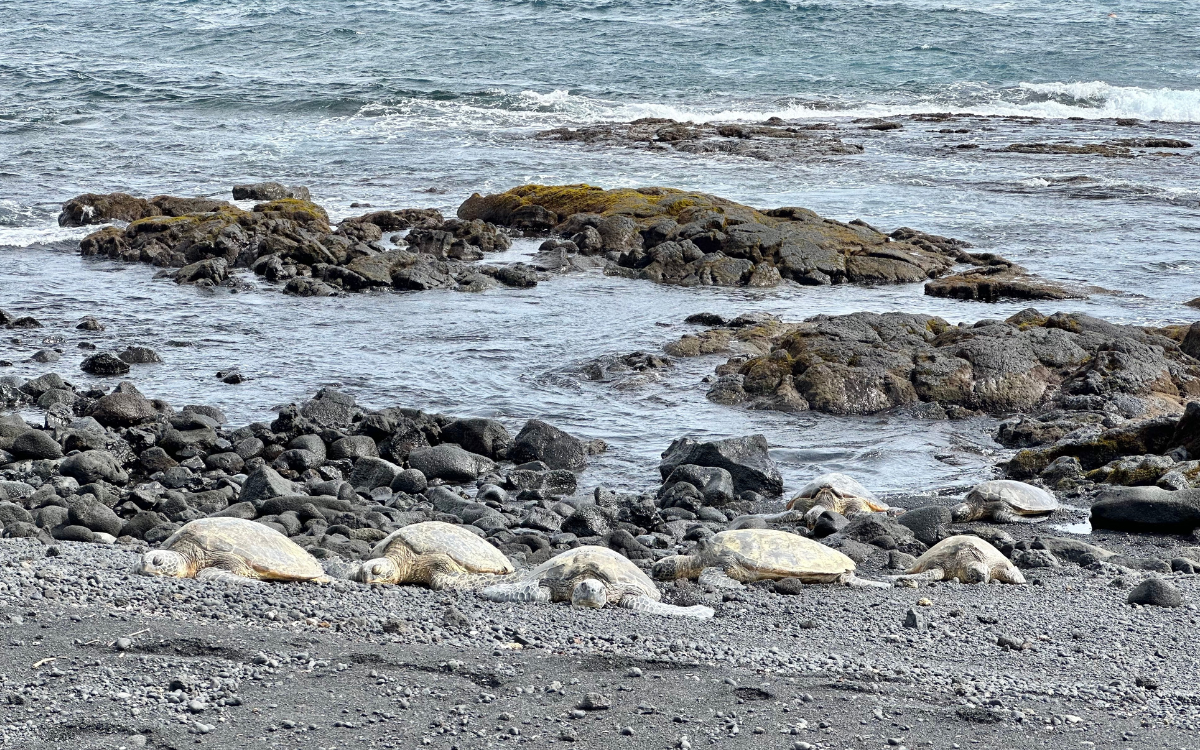 Black sand beaches are created when molten lava meets the cool ocean water. The lava shatters on impact creating the black sand. Don't tell Maui (I love her so much), but I think the sand at this beach is better than the one at Waianapanapa State Park in Hana. It's a little less pebbly and more like actual sand.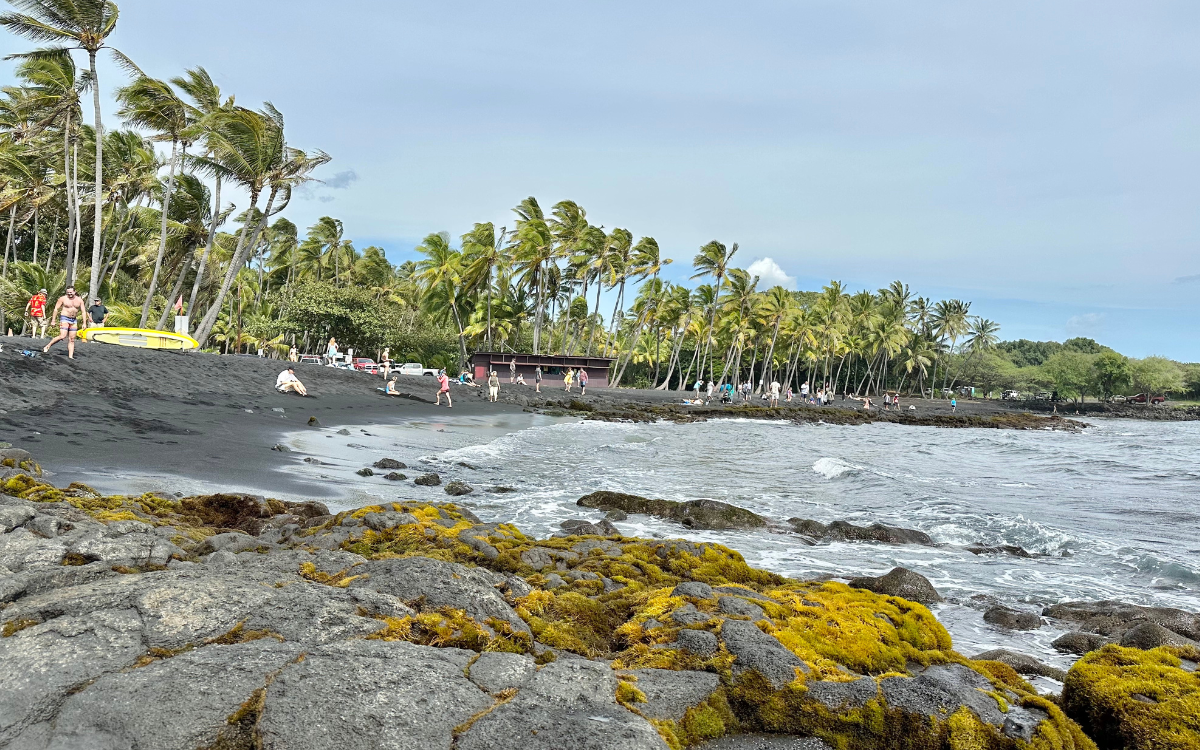 Pair a stop here with a day at Hawaii Volcanoes National Park because it's not too far away.
#6 Let a Seahorse Wrap Itself around Your Little Finger
This is one of my FAVORITE things in Hawaii. It's not everyday that you get to hold a seahorse!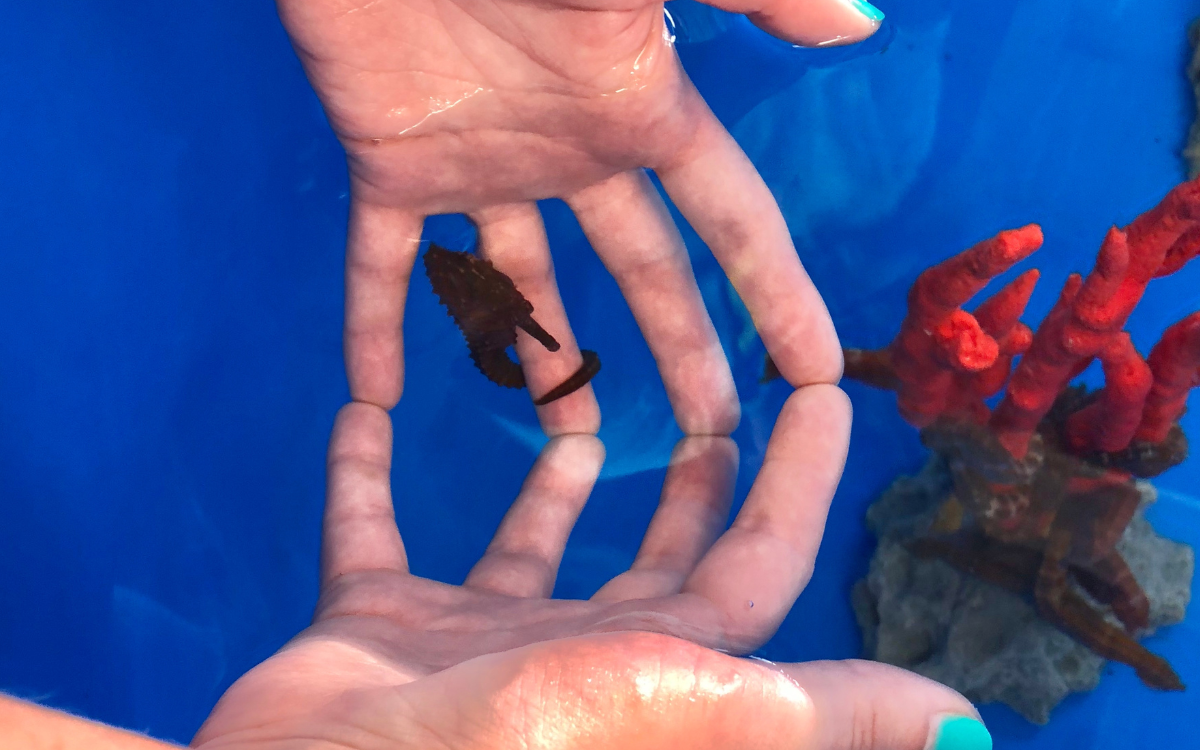 The Ocean Rider Seahorse Farm in Kona breeds seahorses (to discourage aquariums from pulling them from the ocean since they mate for life) and is making great strides in their conservation efforts.
The fee you pay to tour their facilities goes towards research and conservation and not only do you get to see lots of species of seahorses, but at the end of the tour you submerge your hands into a tank and let one of the seahorses wrap around your finger.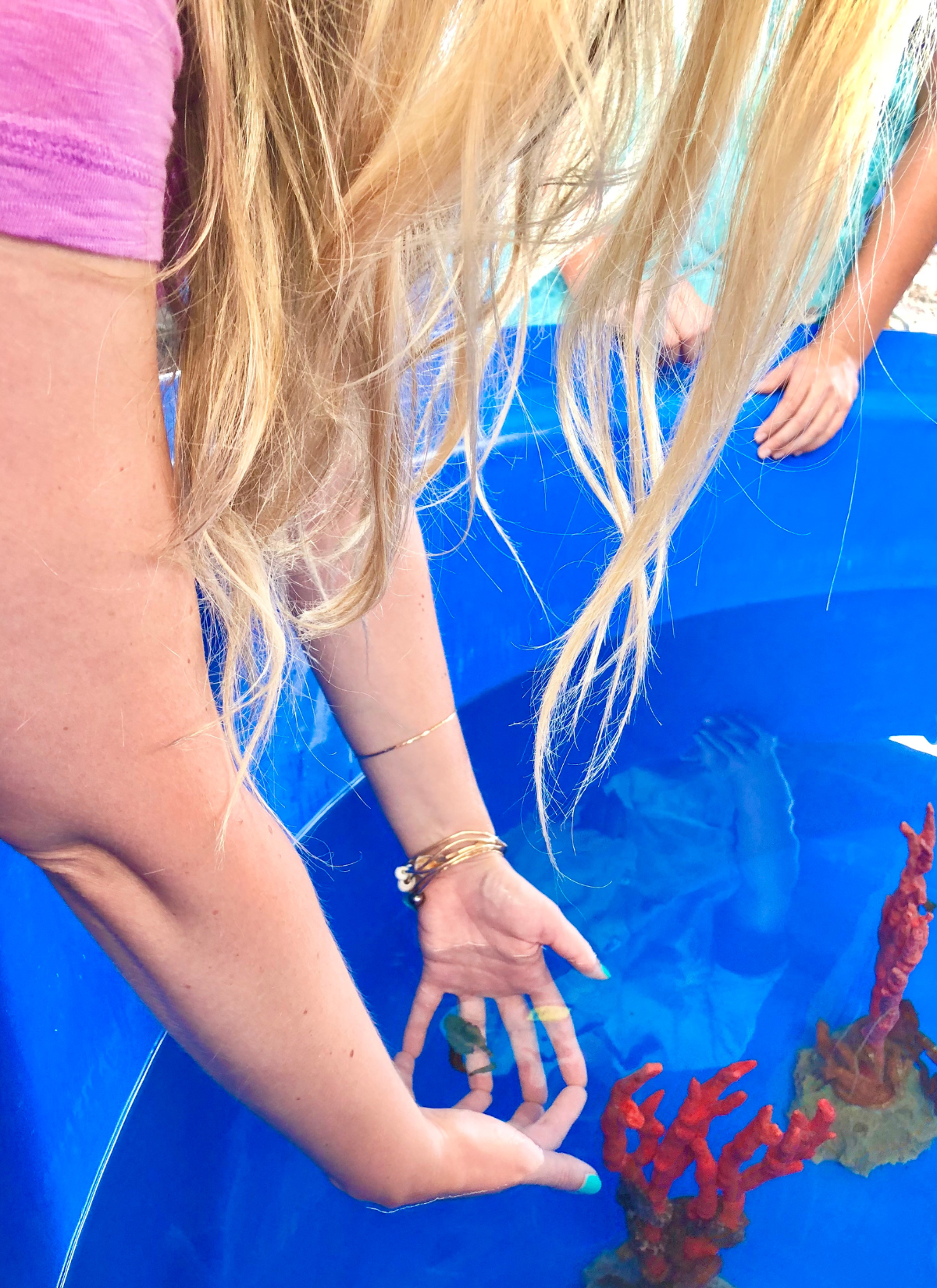 I've done this tour twice and it's seriously always a trip highlight.
**Update: I've done this tour twice in the past and it cost $25/person which I always felt was WELL worth it. It's now $69/adult and $59/child (5-10) which is…steep. I still think it's an amazing thing to do, but this knocks it down from "recommendable to everyone" to "recommendable to those with a big interest in marine life/seahorses/conservation and extra cash."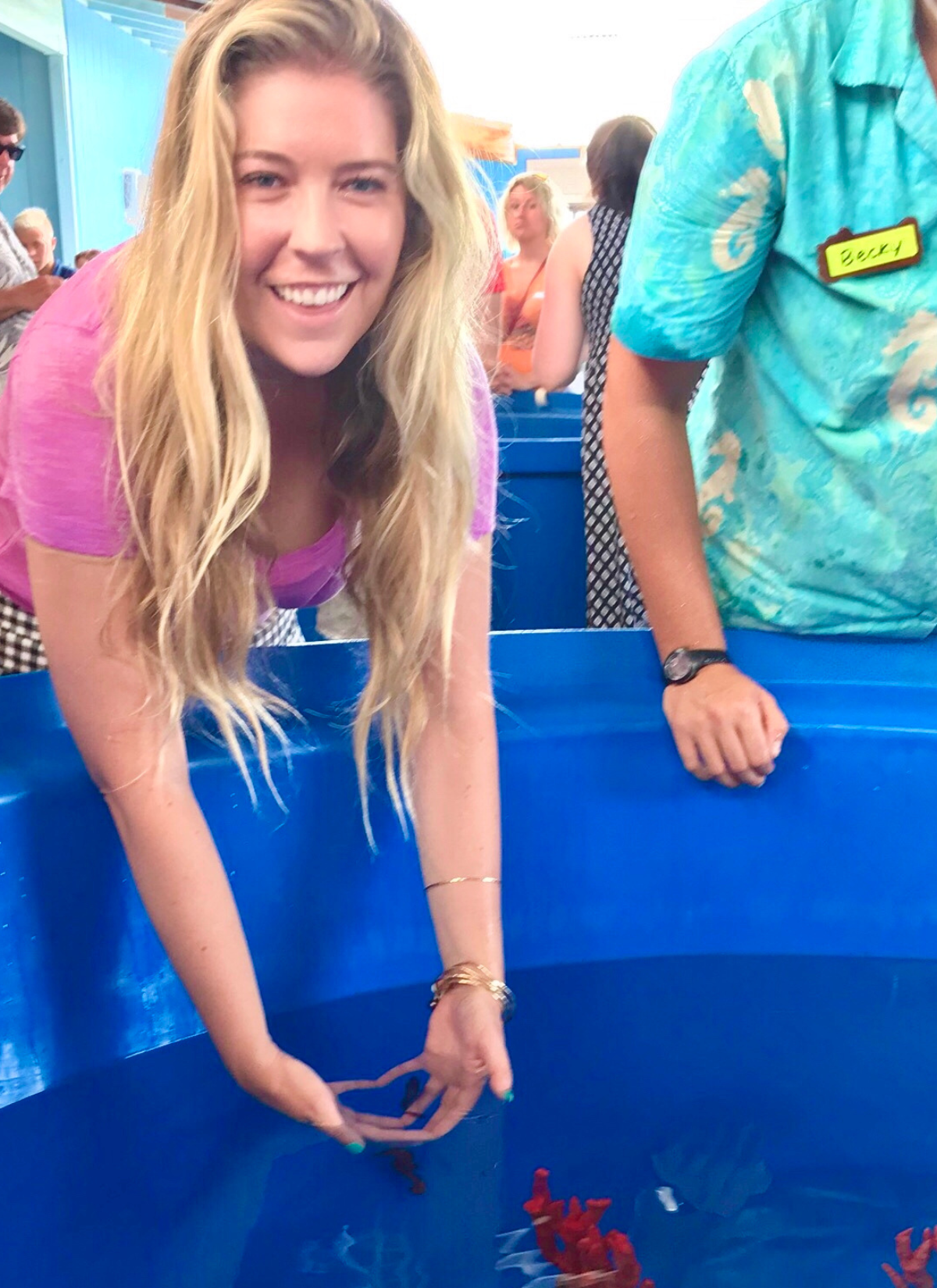 Find more info here.
#7 Play at Mauna Kea Beach
I'm going to go out on a limb and say that I think this is the overall best beach in Hawaii.
It's a gorgeous white sand beach with gentle, lapping waves, and decent snorkeling. I love it so much that the Mauna Kea Beach Hotel, which sits up on a bluff above the beach, is my favorite place to stay on the Big Island just because of the beach.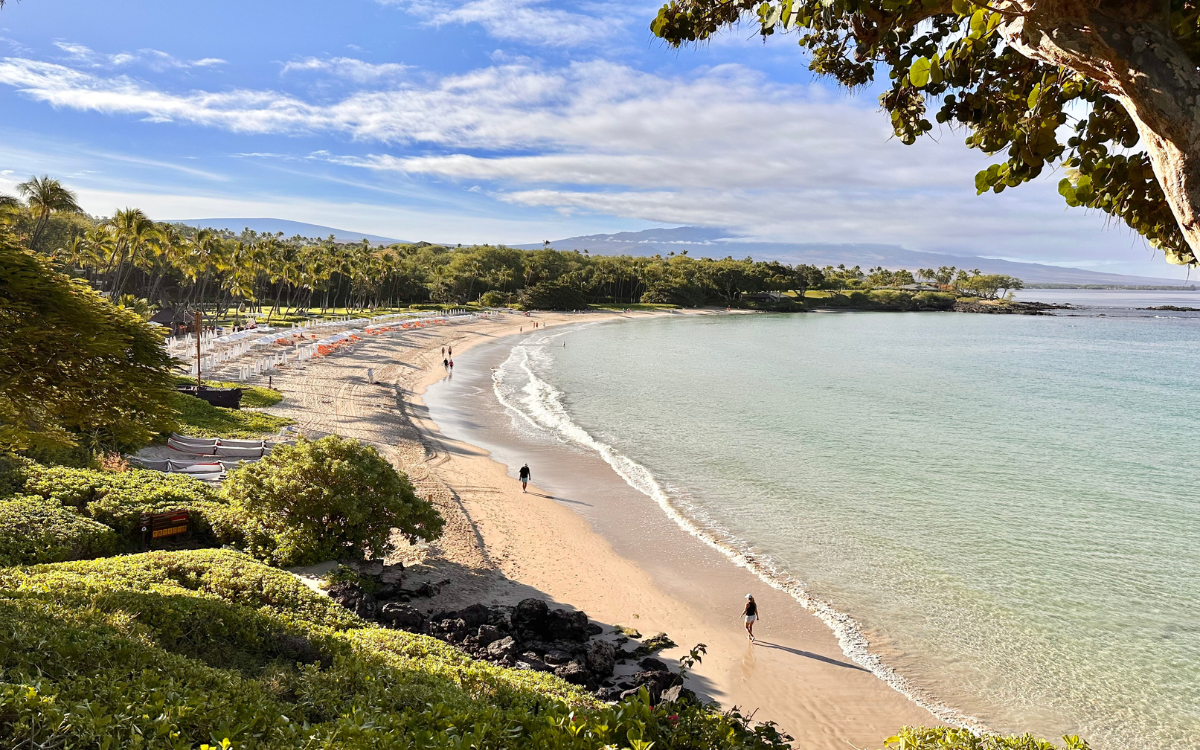 I've stayed at (and visited) pretty much all of the top beach resorts in Hawaii and while the Mauna Kea Beach Hotel definitely isn't the most luxurious, it's in my top 2 for best setting (the other is the 1 Hotel Hanalei Bay on Kauai – previously the St Regis).
This is one of the most picturesque spots in all of Hawaii. The calm water early in the mornings (the beach is a bit of a protected bay) just BEG for you to get out and snorkel or take a long swim and honestly, I've seen as many and varied tropical fish here as I have at any of the top snorkeling spots in Hawaii.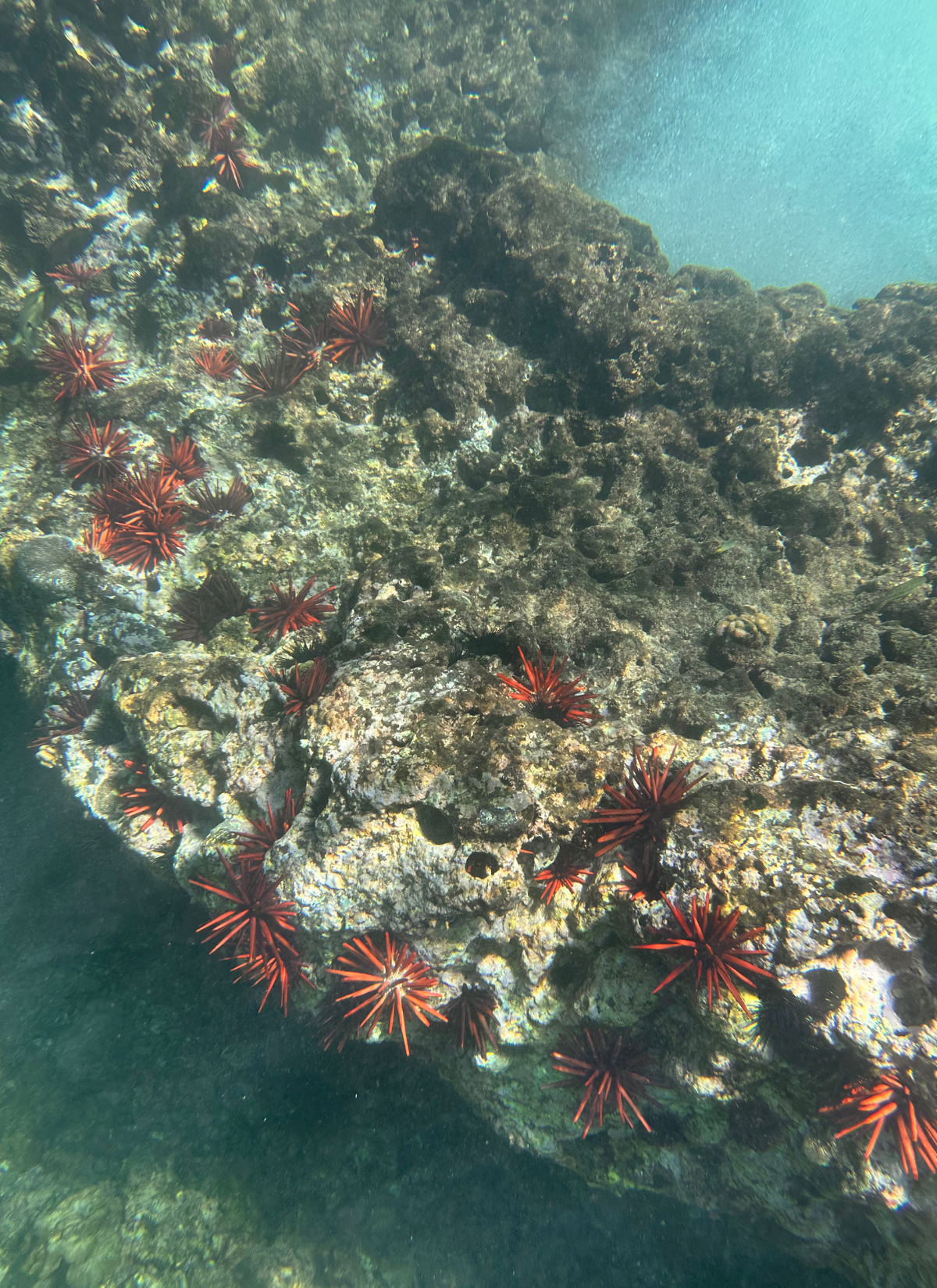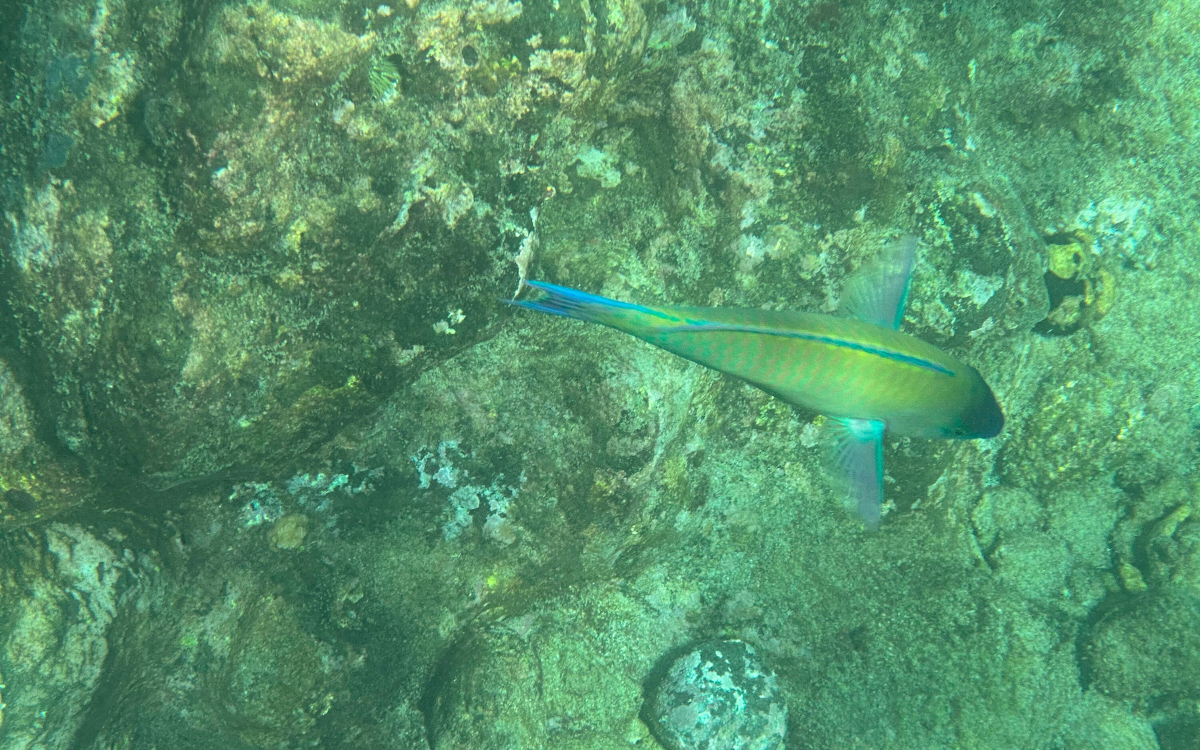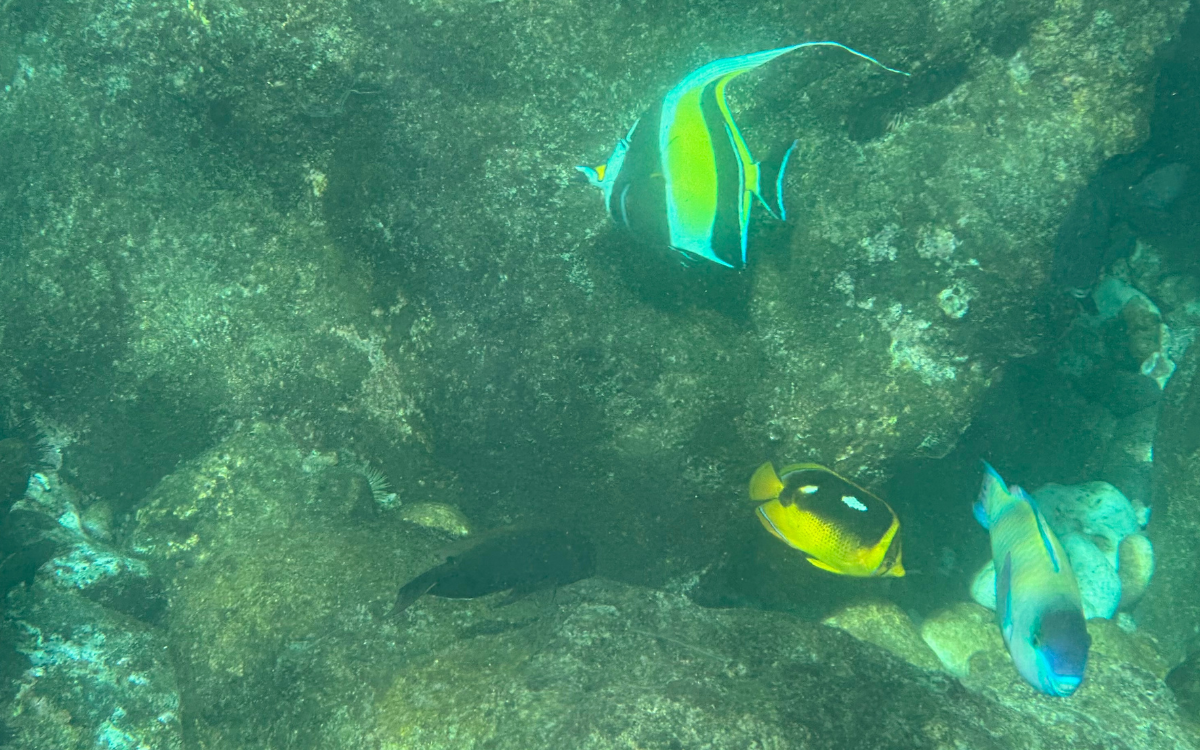 Now like I said, I like to stay at the hotel here for the best beach access, and while all beaches in Hawaii are public, this one can be a little tricky to access if you're not staying here.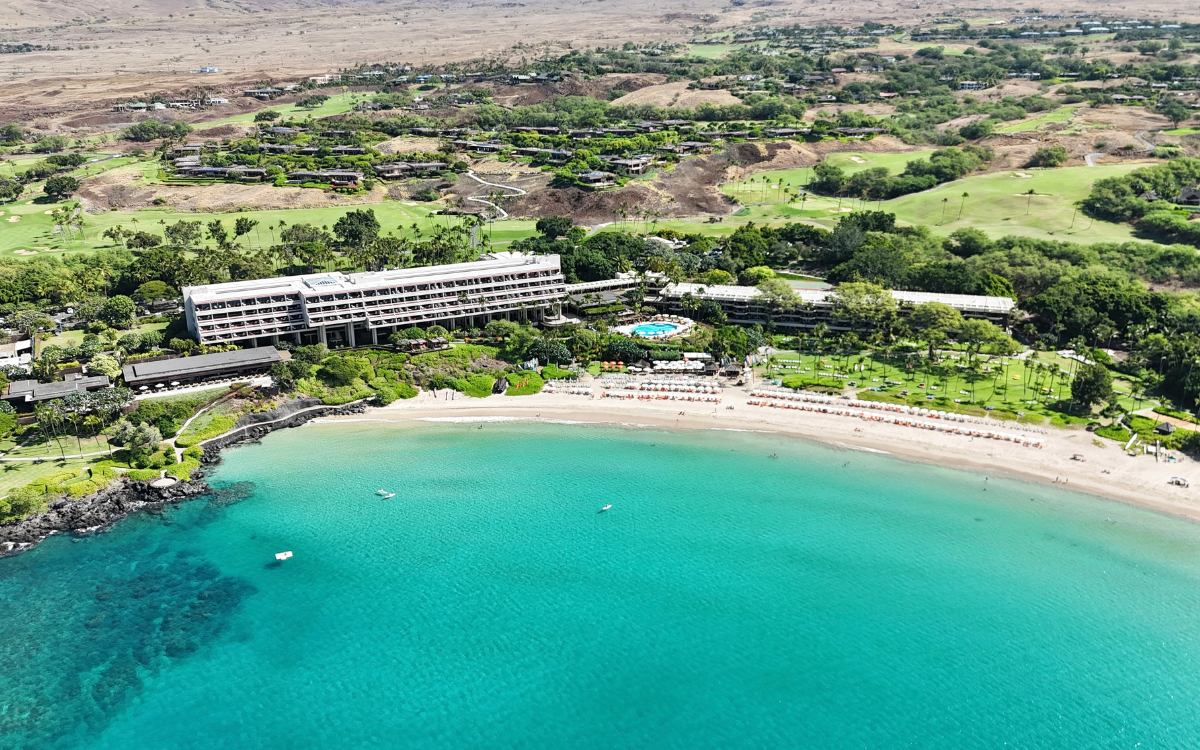 The hotel provides about 40 free parking spots (check in at the guard shack when you pull up) which for a beach this size is honestly not nearly enough.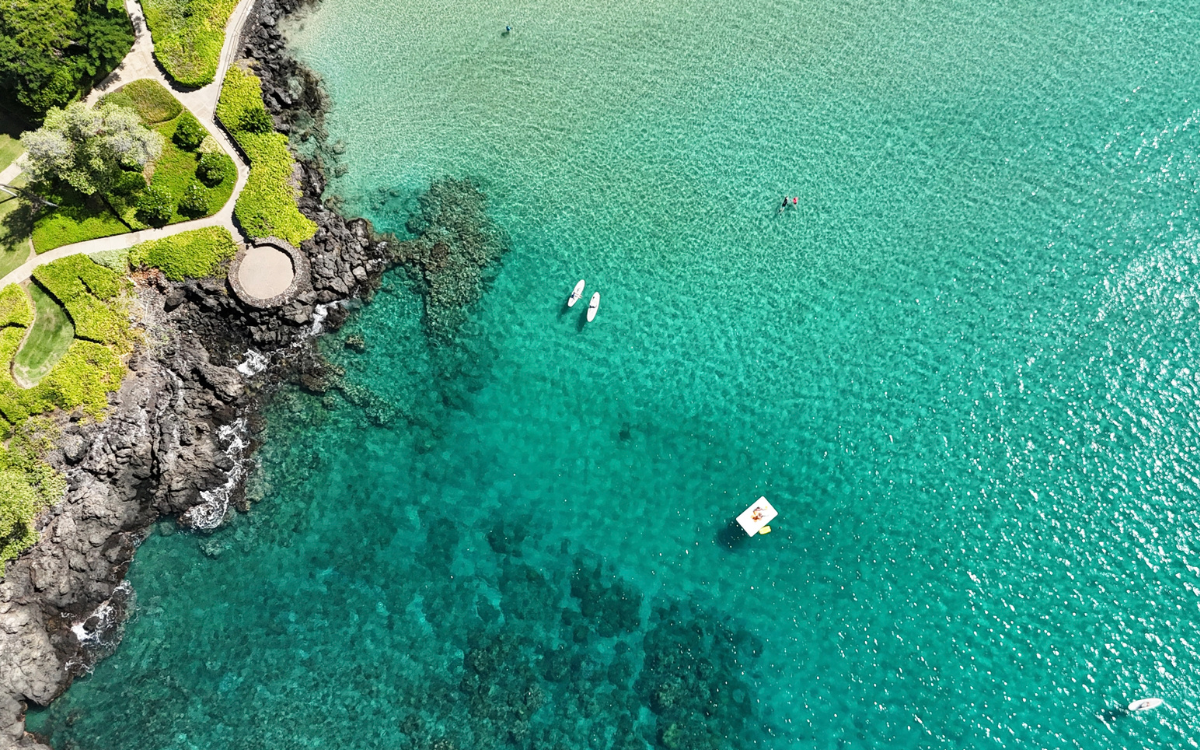 Spots are usually gone pretty early in the morning so either arrive early (like before 8 AM) or you can pay for valet parking at the resort.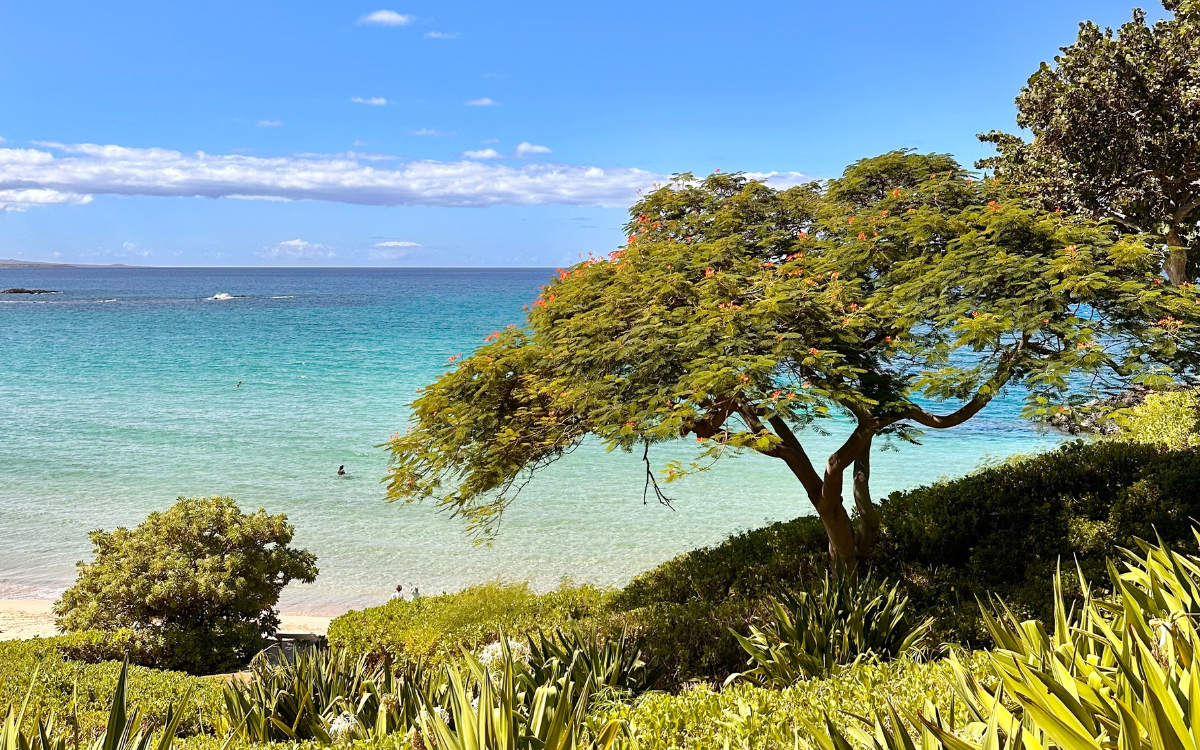 Resort parking is $40 and I've heard they'll validate half with a purchase. Hau Tree Beach Bar is right down by the beach and it's a great spot for either lunch or drinks so if you can't get a free spot, I would pay for parking, grab some drinks and write it off as part of the experience.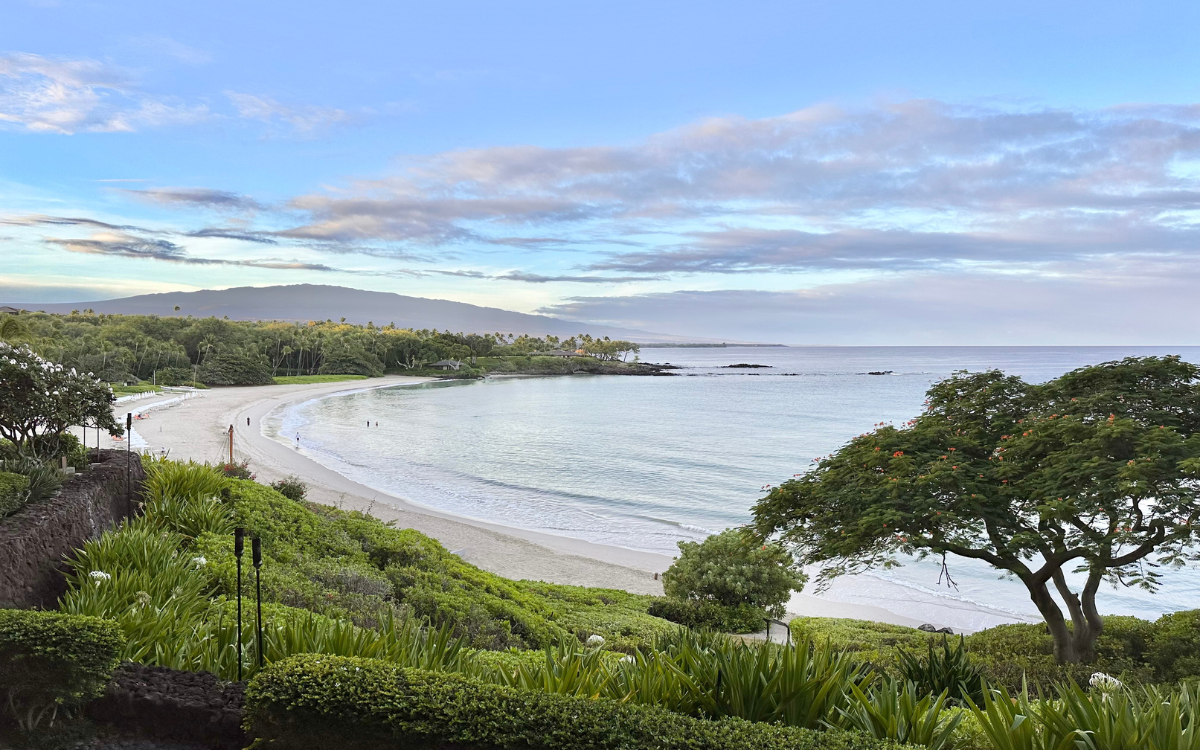 #8 Tour a Coffee Plantation in Kona
Hawaii is famous for their Kona coffee. With almost 1000 coffee growers on the island and a history of growing coffee here since the 1820s, touring a Kona coffee farm has to be on your Hawaii bucket list.
Most of the coffee farms on the Big Island are located south of Kona, and there are PLENTY to choose from. A lot of people visit coffee farms in Kona like they visit wineries in Napa. They'll pick several and do a "crawl" from one to another tasting and buying product as they go.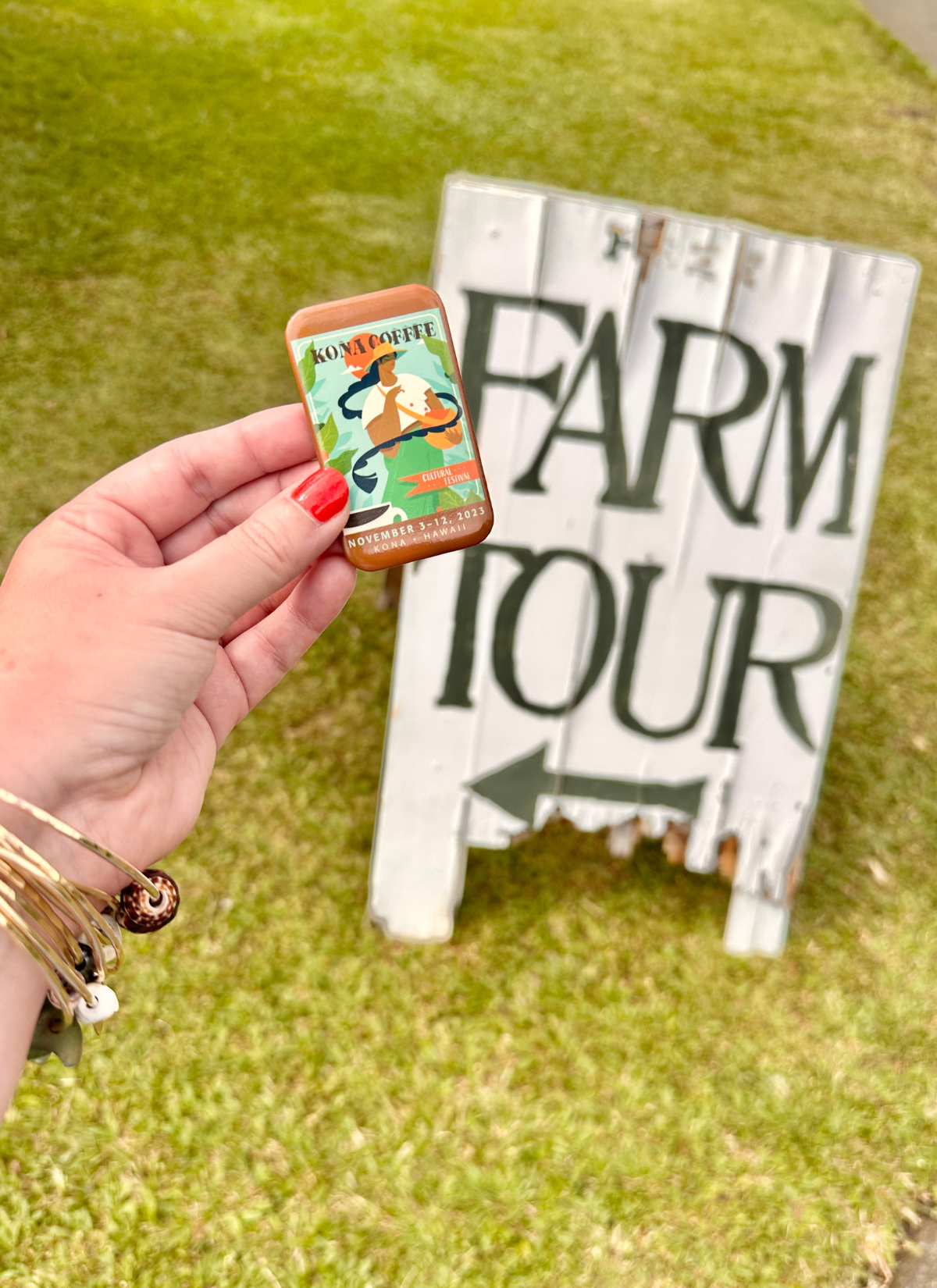 I'll confess…I'm not a huge coffee drinker or coffee connoisseur so trust me when I tell you that this is something you should do even if you're just casually interested.
There are 20 or so different farms and roasters that offer tours on the island so (I think) it's a little overwhelming to narrow it down. A lot of places have free tours and some charge for a more premium tasting experience.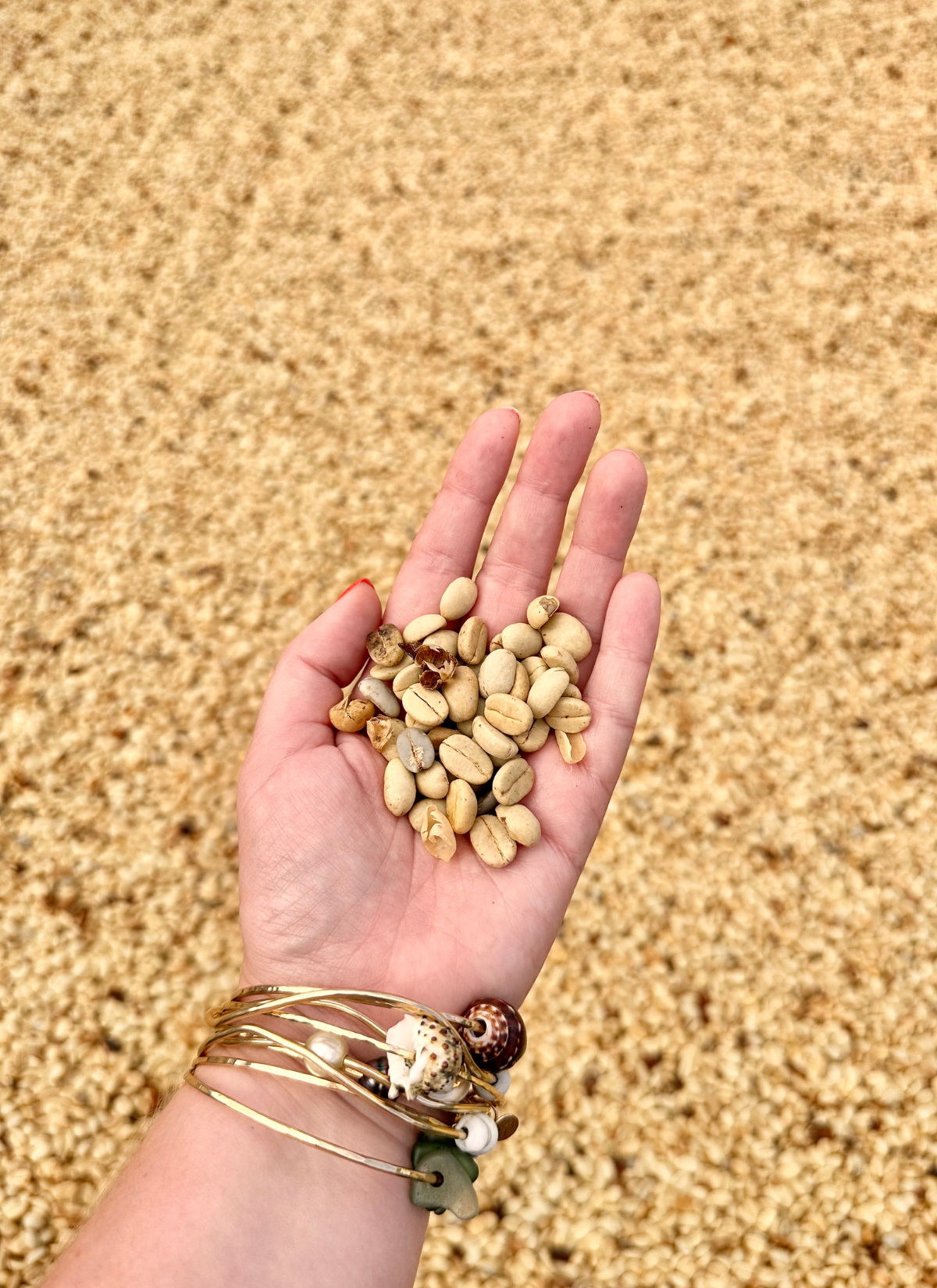 I just did the free tour at Greenwell Farm and I was really impressed. The tours are supposed to be 45-55 minutes, but ours ended up being almost 90 minutes because people had so many questions. We saw a lot more than I thought we would, and our tour guide was exceptional. I've done paid tours in Costa Rica that weren't as good.
Tours are offered daily (at 9:00AM, 10:00AM, 10:30AM, 11:00AM, 11:30AM, 12:00PM, 12:30PM, 1:00PM, 1:30PM, 2:00PM, 2:30PM, and 3:00PM) and no reservations are required. They have plenty of coffee varieties set up for tastings all day and people onsite to answer questions.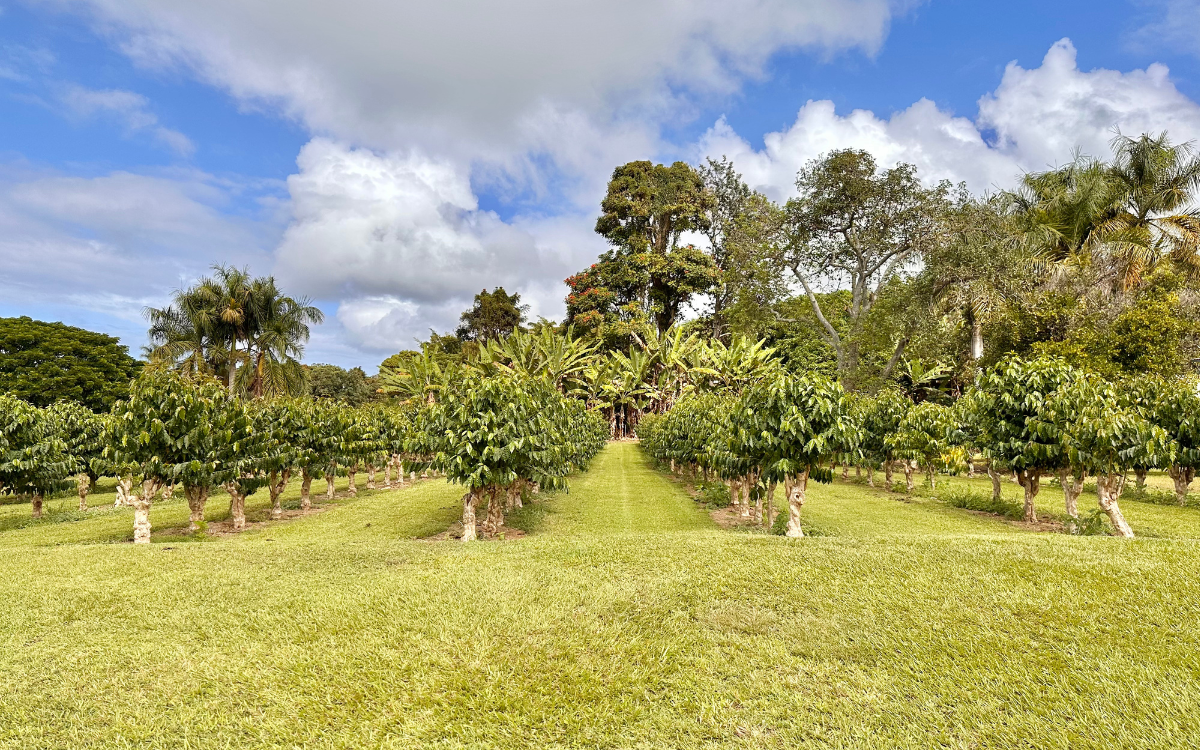 Greenwell Farm is a 5th generation family owned coffee farm that's been operating since 1850. They have 200,000 coffee trees on their property and they've been leading the efforts to graft a species of coffee tree that will thrive against growing beetle and fungus problems in Hawaii.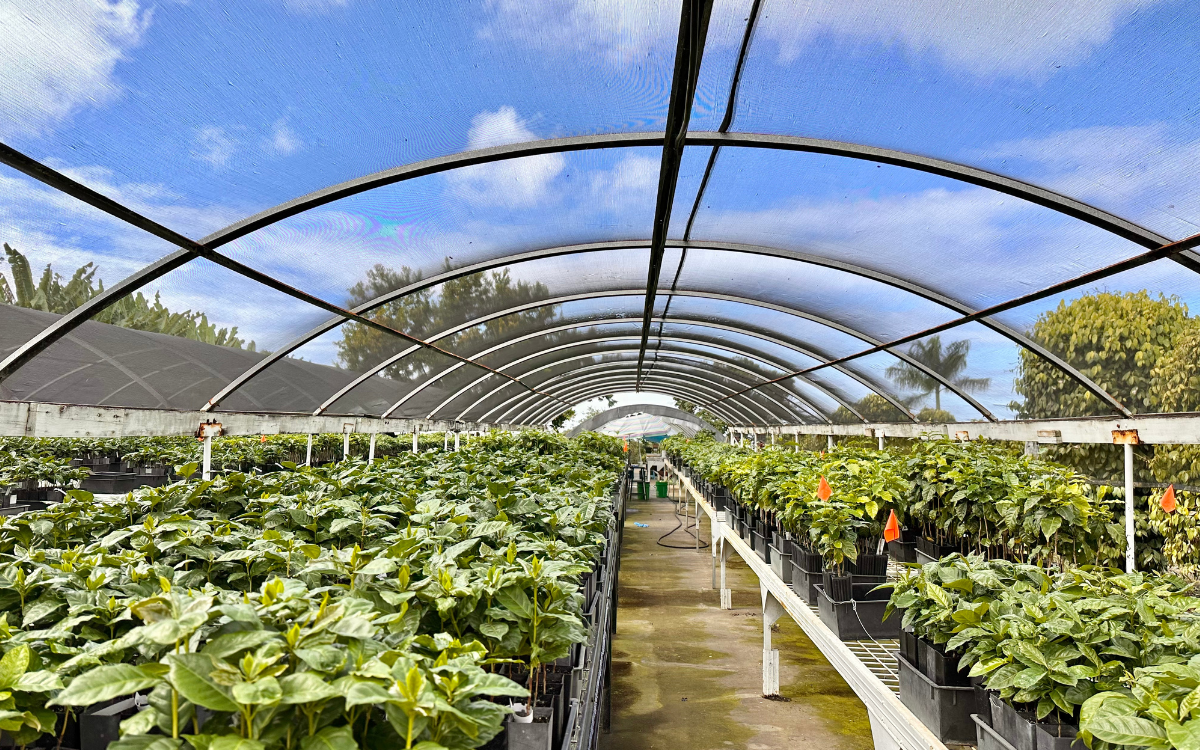 When I toured Greenwell (early November) there wasn't much to see on the coffee trees (no blooms or cherries), but there was still a LOT to see on the property. We saw the wet mill facility, several rows of coffee trees, the nursery, and even some other crops like bananas and black pepper.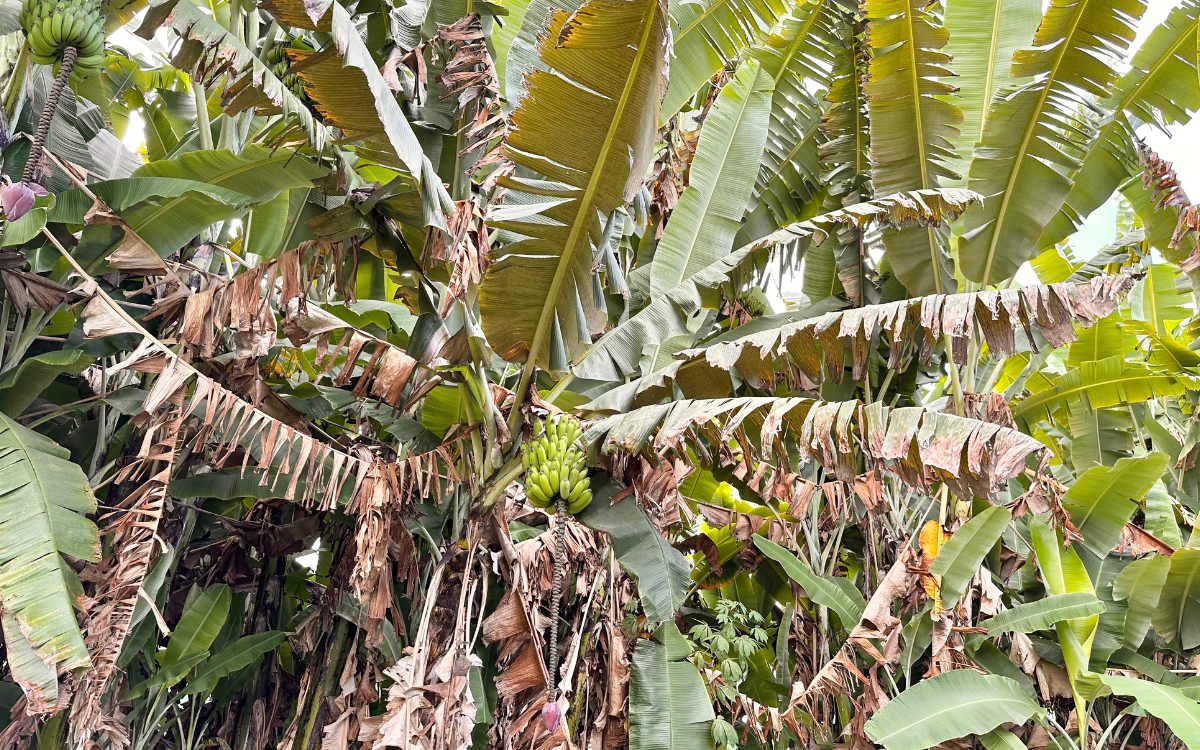 Greenwell offers a paid private tour that includes the cupping room, roasting room, wet mill, farm, nursery and dry mill plus a guided coffee tasting.
I'm sure if you're really interested in coffee it's the way to go, but I was plenty impressed with the free tour. I honestly thought we'd just be standing in an orchard looking at some trees and it goes so far beyond that.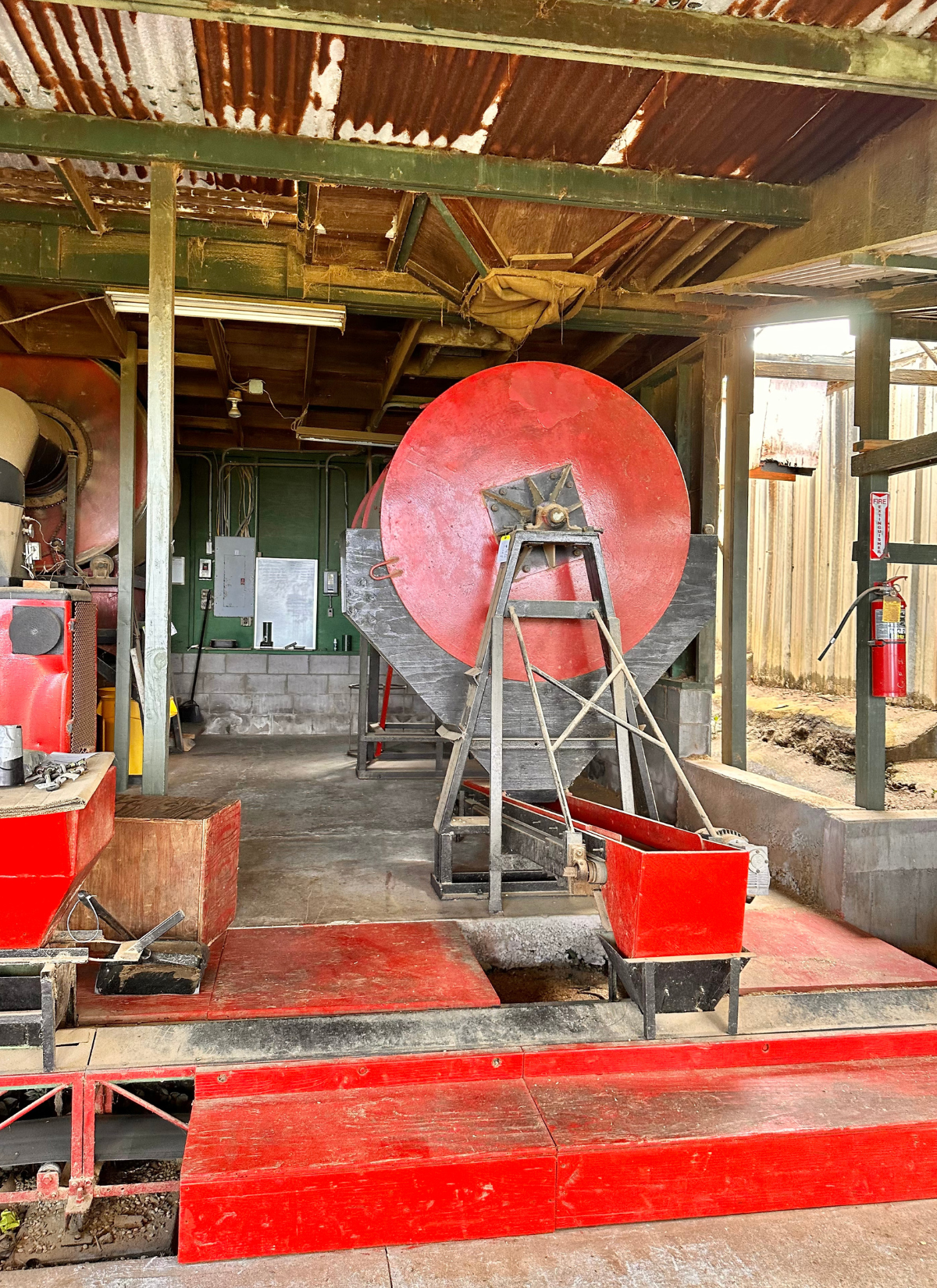 The other thing I would recommend is a visit to the Kona Coffee Living History Farm operated by the Kona Historical Society.
They're only open on Tuesday and Friday from 10AM – 2PM. It's $20/adult and $10/student (6 and under are free) and reservations aren't required but I would suggest going early because they have pretty limited parking.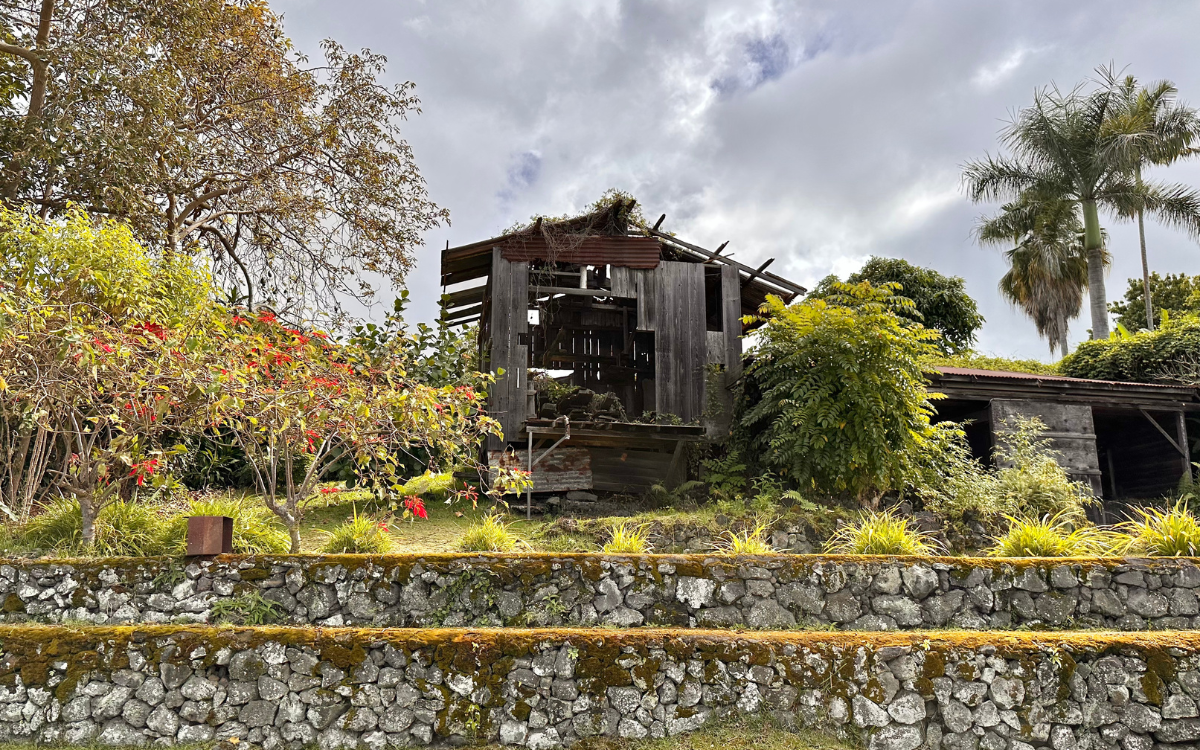 The farm is set up exactly like a coffee farm would have been in Kona in the early 20th century with costumed interpreters to watch and interact with (think Williamsburg but coffee).
If you decide to visit, use this address: 82-6199 Mamalahoa Hwy, Captain Cook, HI 96704
If you put in "Kona Historical Society" in your GPS/Google Map it will probably take you to a different location where the historical society bakes and sells bread from a Portuguese stone oven on Thursdays. Coincidentally, this is how I ended up doing the Greenwell Farm tour ; )
But the Kona Historical Society runs several interesting programs that are worth taking a look at here.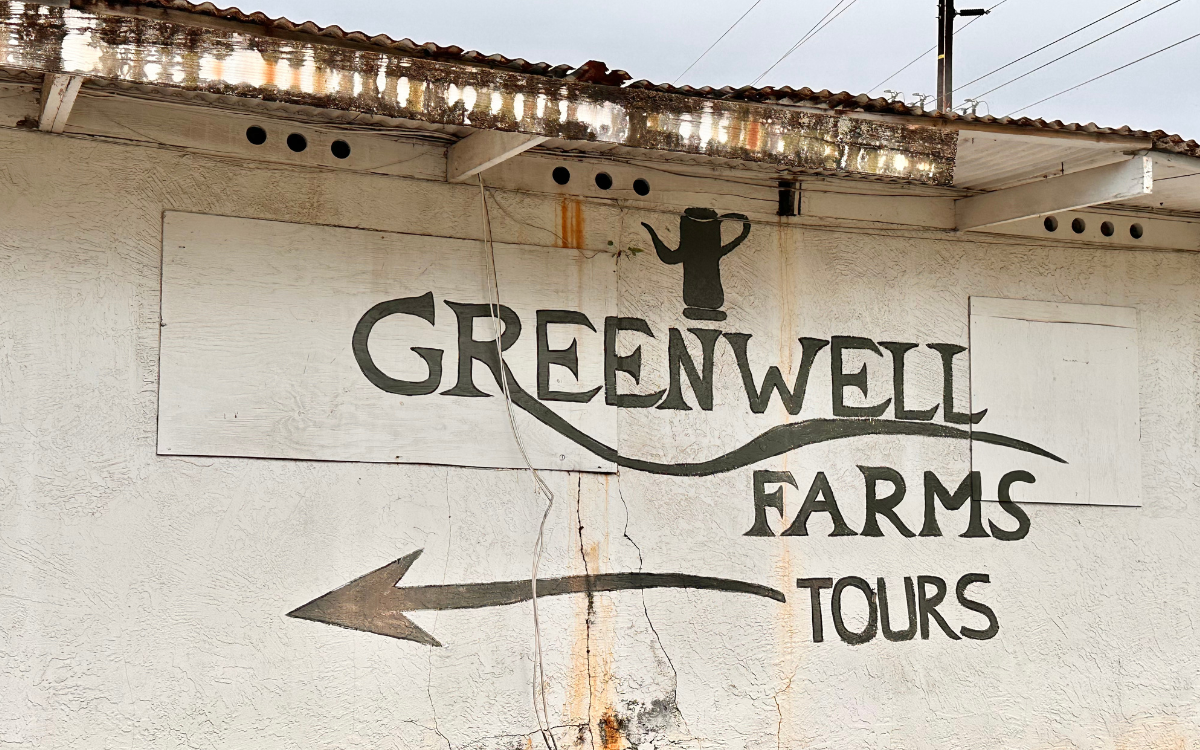 #9 Snorkel at Kealakekua Bay (Where Captain Cook First Landed in Hawaii)
Kealakekua Bay is widely regarded as the best snorkeling in Hawaii. It's a very deep but well protected bay, which makes it a safe haven for larger marine life (whale and dolphin sightings are common) as well as plenty of tropical fish.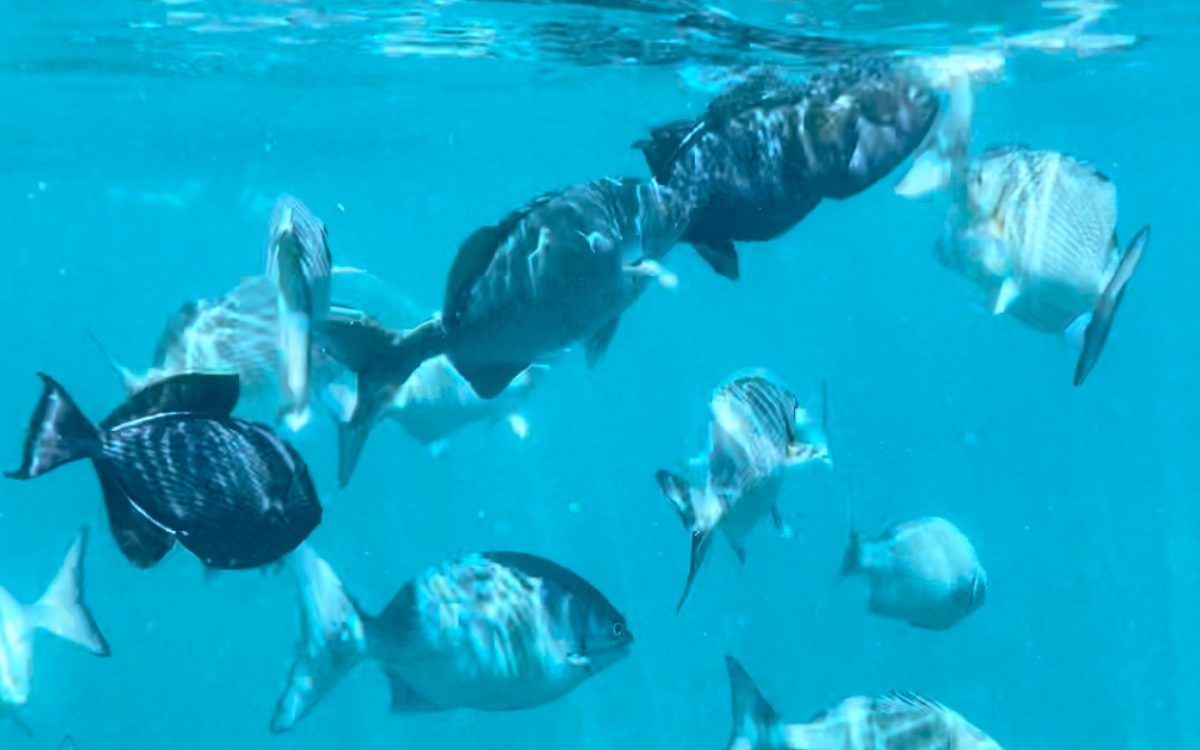 This is also the spot where Captain Cook first landed in Hawaii and his monument stands at the north end of the bay where the best snorkeling is. This spot isn't the easiest to reach through. You can hike down to the monument, but it's a 3.8-mile round trip hike in direct sunlight.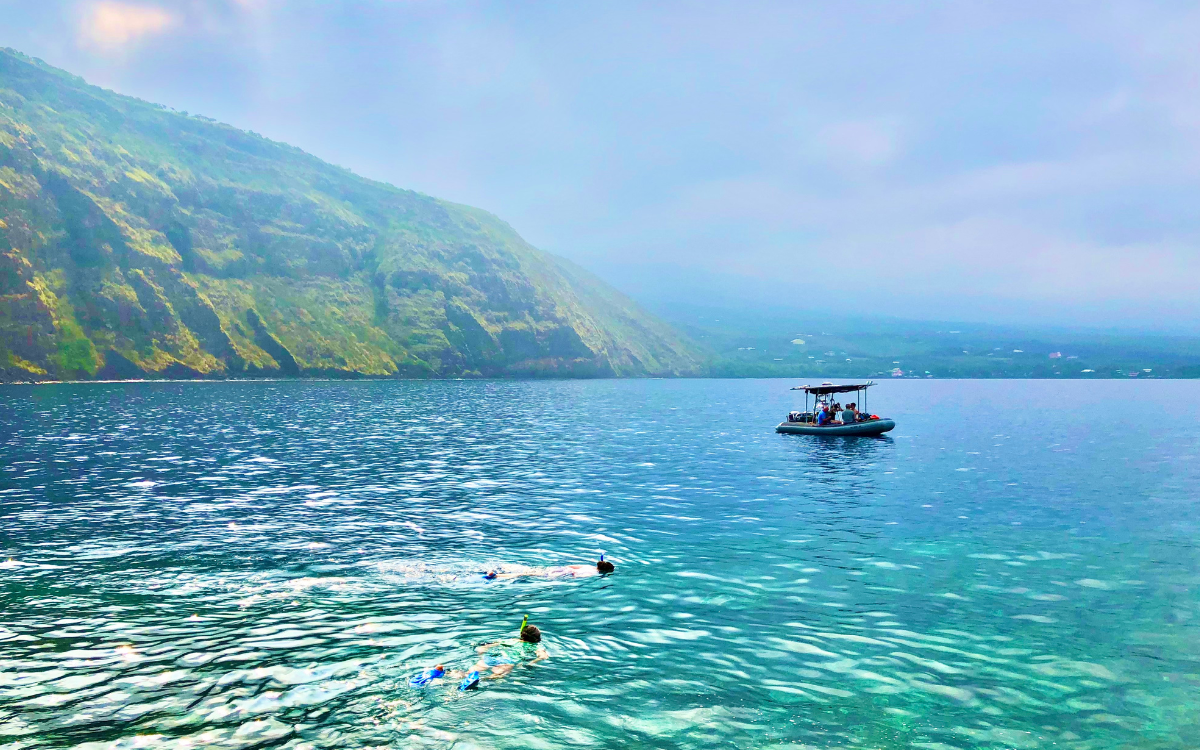 Of course, the hike back up from the monument is much harder than the hike down. Most people reach the bay by boat, either on small vessels or large snorkeling "party boats." Boats can't land at the monument so you're just snorkeling off the boat.
Also, the boats all start rolling in by about 9:30-10AM and there are HUNDREDS of snorkelers in the bay at this point.
In my opinion, the best way to snorkel Kealakekua Bay is as part of a kayak excursion. You can rent kayaks from a couple of companies that have permits to land then, but the launching and landing process from the pier is kind of tricky so that's why I recommend a tour.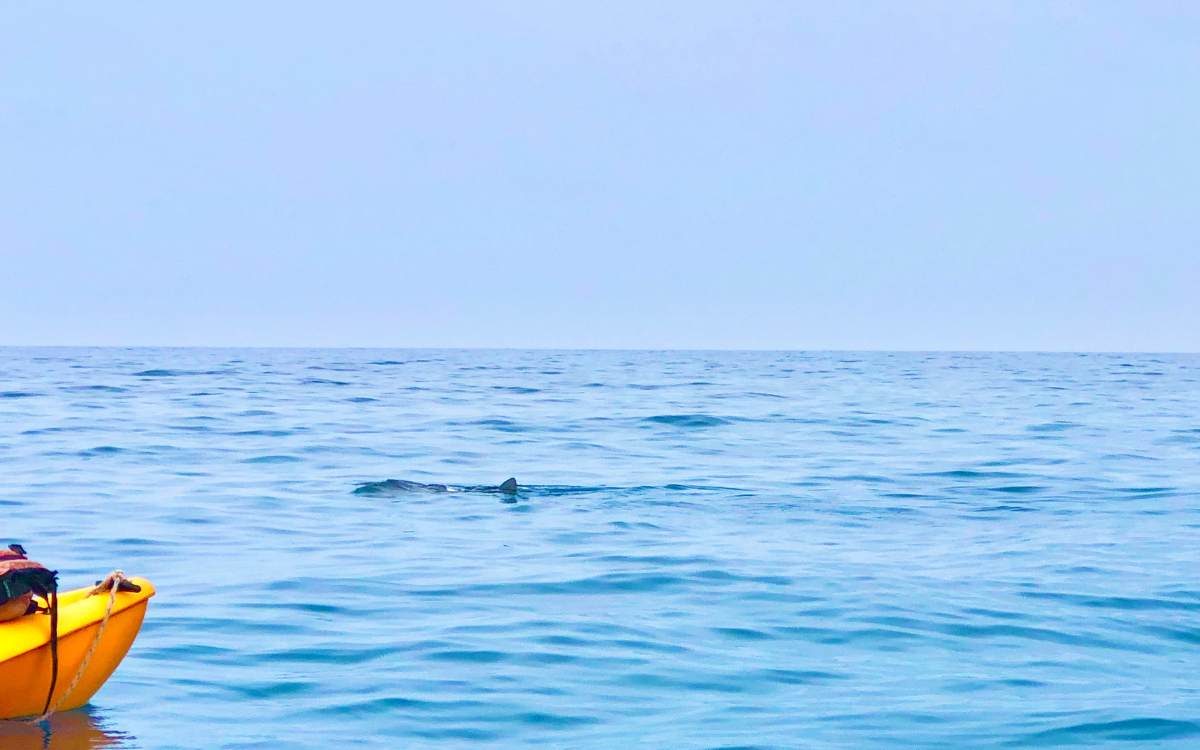 I recommend booking with Adventures in Paradise as they have permits to land and have a much better price than the most popular tour operator, Kona Boys. Kona Boys is the most popular tour provider but their four hour tour runs $200/person while Adventures in Paradise is just $100 for the exact same tour. What do you get for an extra $100? As far as I can tell, you meet at their shop and then they take you to the launch point instead of you having to find it yourself (we were provided with precise directions and had no problems finding it) and you get a sandwich.
Now a bit about my experience with Adventures in Paradise…we met at the launch point (which is the other side of the bay from Captain Cook's monument), got outfitted with our snorkel gear and double seater kayaks and then loaded up to paddle across the bay. It's about a mile across the bay and it took us about an hour with stops to watch a manta ray and take a rest/listen to the guide talk about the bay.
We landed at the monument (again, there are only 2-3 companies with permits to do this) and got in to snorkel. We were the only people there besides about half a dozen hikers (12 people in our group plus two guides). We had about 90 minutes in the water and at the monument to have snacks, swim, and snorkel.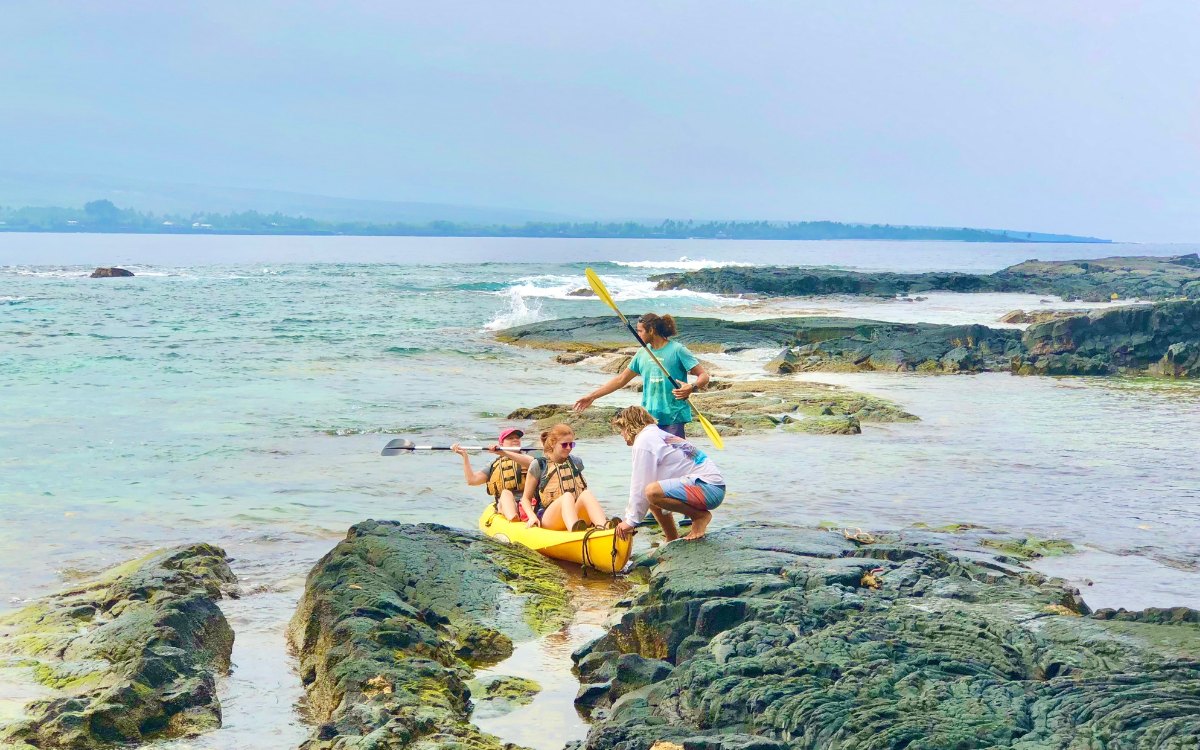 By the time we were getting out to dry off and have snacks, quite a few boats were pulling up with snorkelers and by the time we left to paddle back across the bay (about 10AM) there were HUNDREDS of snorkelers in the water.
Our tour ran 7AM-11AM and it took about an hour and 15 minutes to get there from Waikoloa, but having the bay all to ourselves was definitely worth the early wake up call. The kayaking was not strenuous at all and our two guides had the launch and unload process at the meetup site and the monument down very smooth.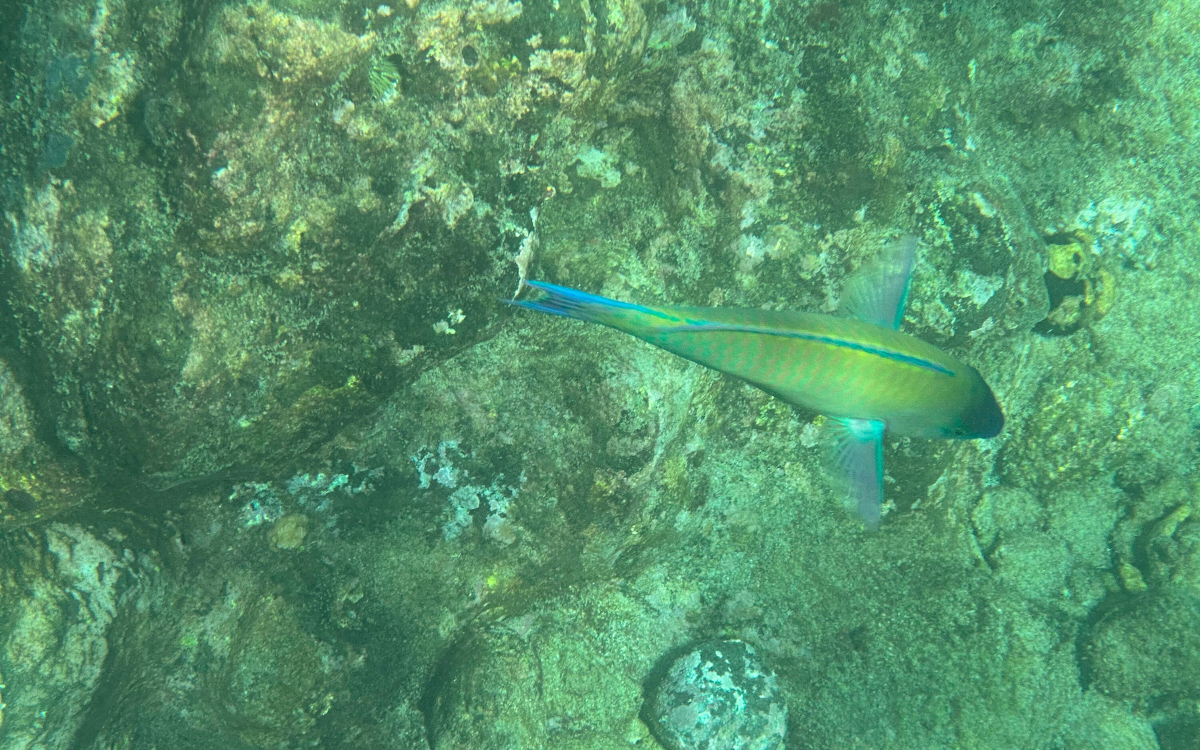 If a 7AM meet up time sounds a bit harsh on vacation, I suggest doing it the first morning of your trip. You won't be adjusted to the time change so it really won't seem all that early. You can book the kayak/snorkel excursion here.
#10 See One of Only FOUR Green Sand Beaches in the Entire World
There are only a handful of green sand beaches in the world (Guam, Norway, Galapagos Islands, and HAWAII) so this really is one unique beach.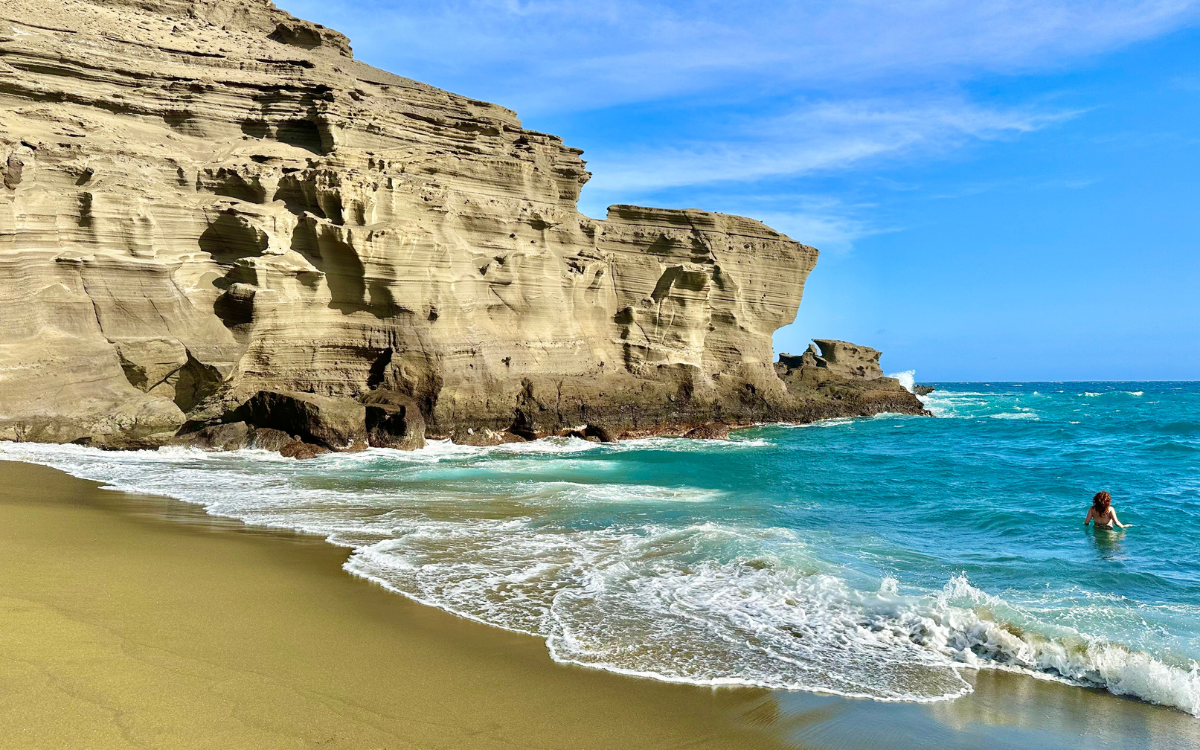 And it's an adventure to get to it! Located down at South Point (the southernmost point on the Big Island AND the US), you'll either need to do a long, dusty, hot hike along the coast or pay for the "local shuttle" at the trailhead.
If you do the hike, be prepared for about 6 miles round trip in extremely windy and hot conditions. There is NO shade (even at the beach) and while it's not much of an incline, I would take a gallon of water per person and big shade hats.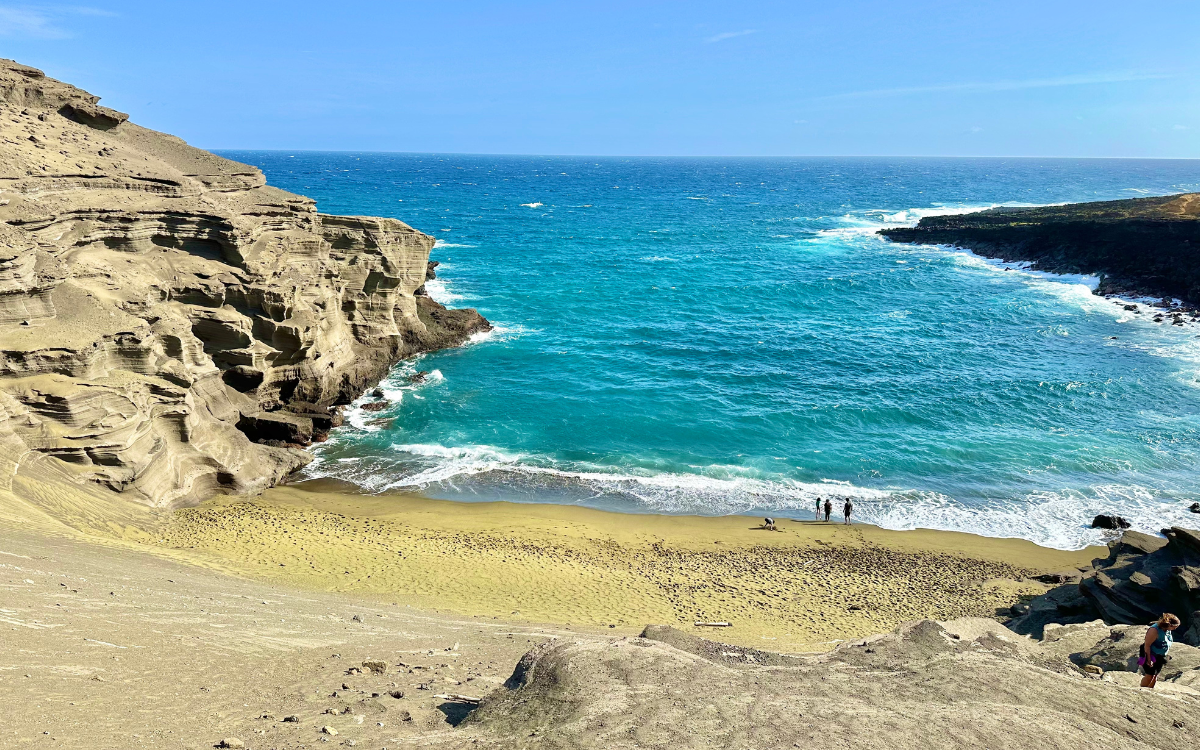 Here's the deal about the shuttle…it's controversial. It's technically illegal, but it's allowed to operate. The land is owned by the Department of Hawaiian Homelands so the guys who run the shuttles (all native Hawaiian) feel like they have the right to do what they're doing. It's controversial because all the offroading has torn up the land and many feel that it has "desecrated" an important Hawaiian cultural site.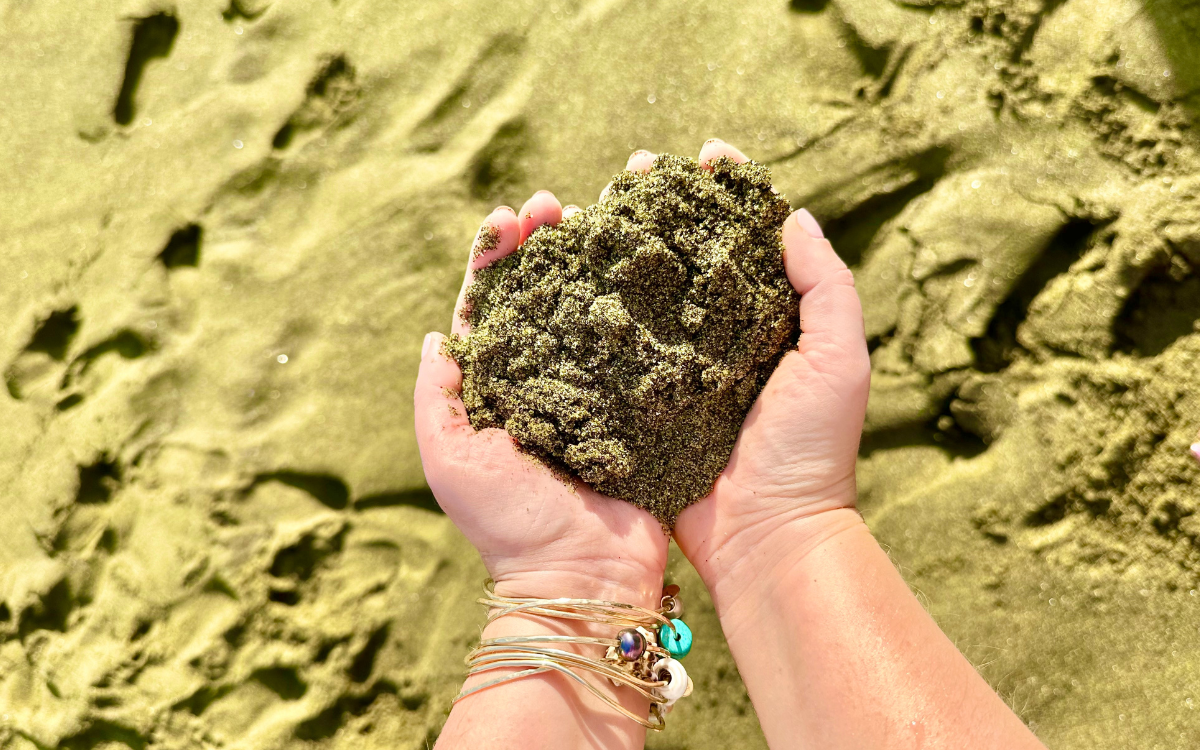 Whatever you decide…it's $20/person and the driver takes you out and waits for about an hour and brings you back. It takes about 30 minutes each way to drive. And of course, it's completely uninsured ; )
However you do it, once you get there, it's pretty spectacular. The beach is down in a caldera and you have to climb a little bit to get down to the sand.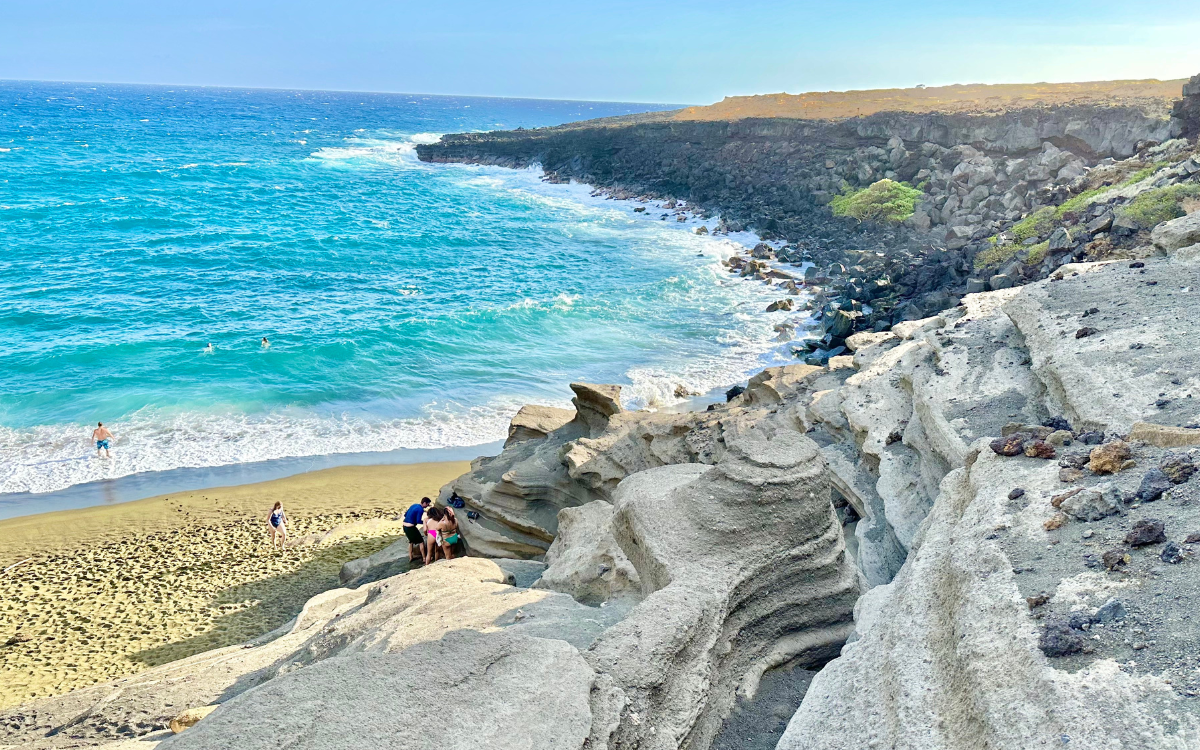 I go back and forth between whether the sand looks green or not. It definitely depends on how the light hits it. And while it's not bright LIME green, it for sure has green undertones and kind of sparkles.
And unlike the black sand beach at Punalu'u or the black and red sand beaches on Maui which all have a thick, coarse sand (almost like really tiny pebbles), the sand at Papakolea is so smooth and soft under your feet.
Side Note: If you're looking for a rental car for your trip, I LOVE Discount Hawaii Car Rentals. They're seriously the only company I ever use. They'll give you the very best prices, you don't have to reserve with a credit card or pay until you show up, you can cancel and re-book anytime if you find a better rate, and they usually have a special that adds additional drivers for no fee. It's a no brainer. Click here to check rates for your trip.
#11 Visit Historic Hilo Town
Hilo is one of Hawaii's prettiest towns and if it weren't for all the rain it gets it might have rivaled Honolulu for the state's capital.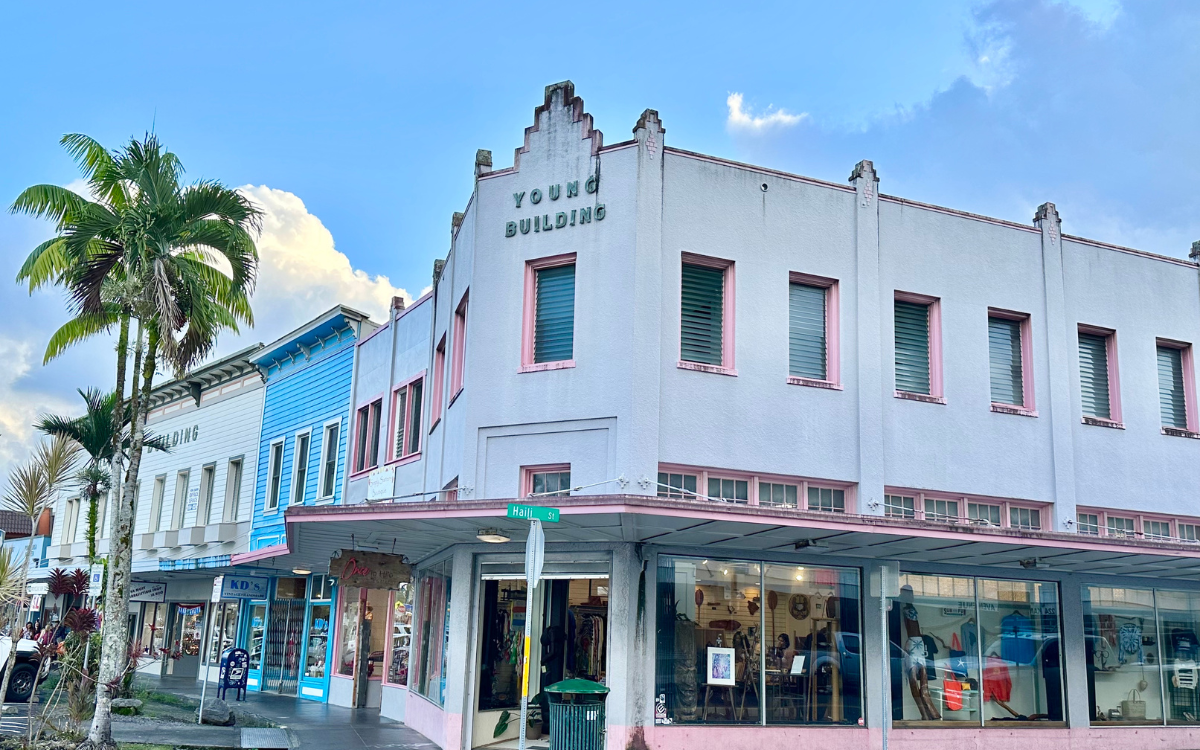 The historic downtown sits right on the water and it's the perfect size to spend an afternoon exploring. I would recommend going on a Wednesday or Saturday when the farmer's market is going on because it adds a lot of life to the town. Stop by Two Ladies Kitchen to order some mochi (go when you get to town, place your order and then go back later to pick it up to avoid the wait) and then have lunch at Pineapples.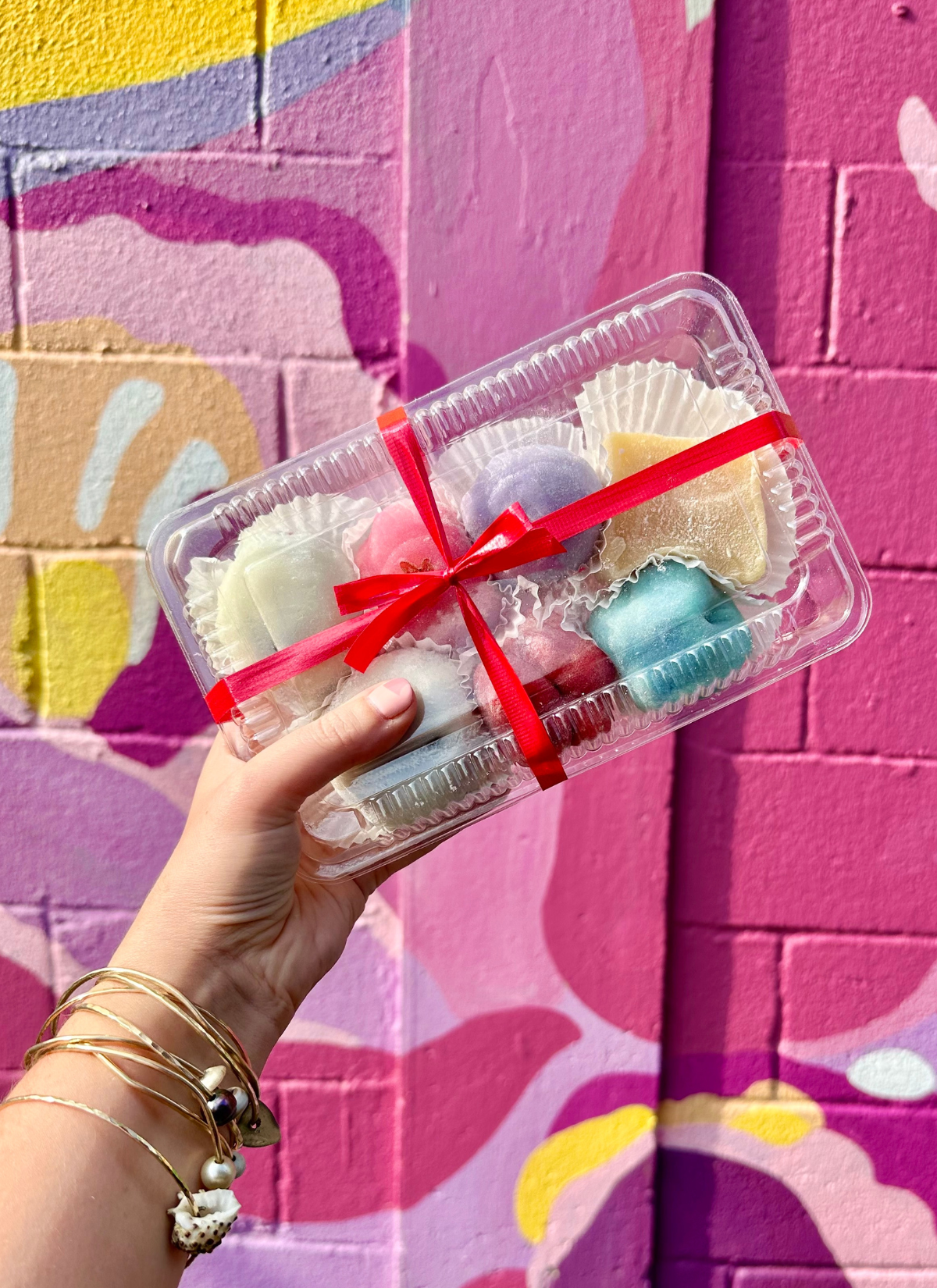 Akaka Falls and Rainbow Falls are both pretty impressive and Hawaii Tropical Botanical Garden is a great place to spend a couple of hours.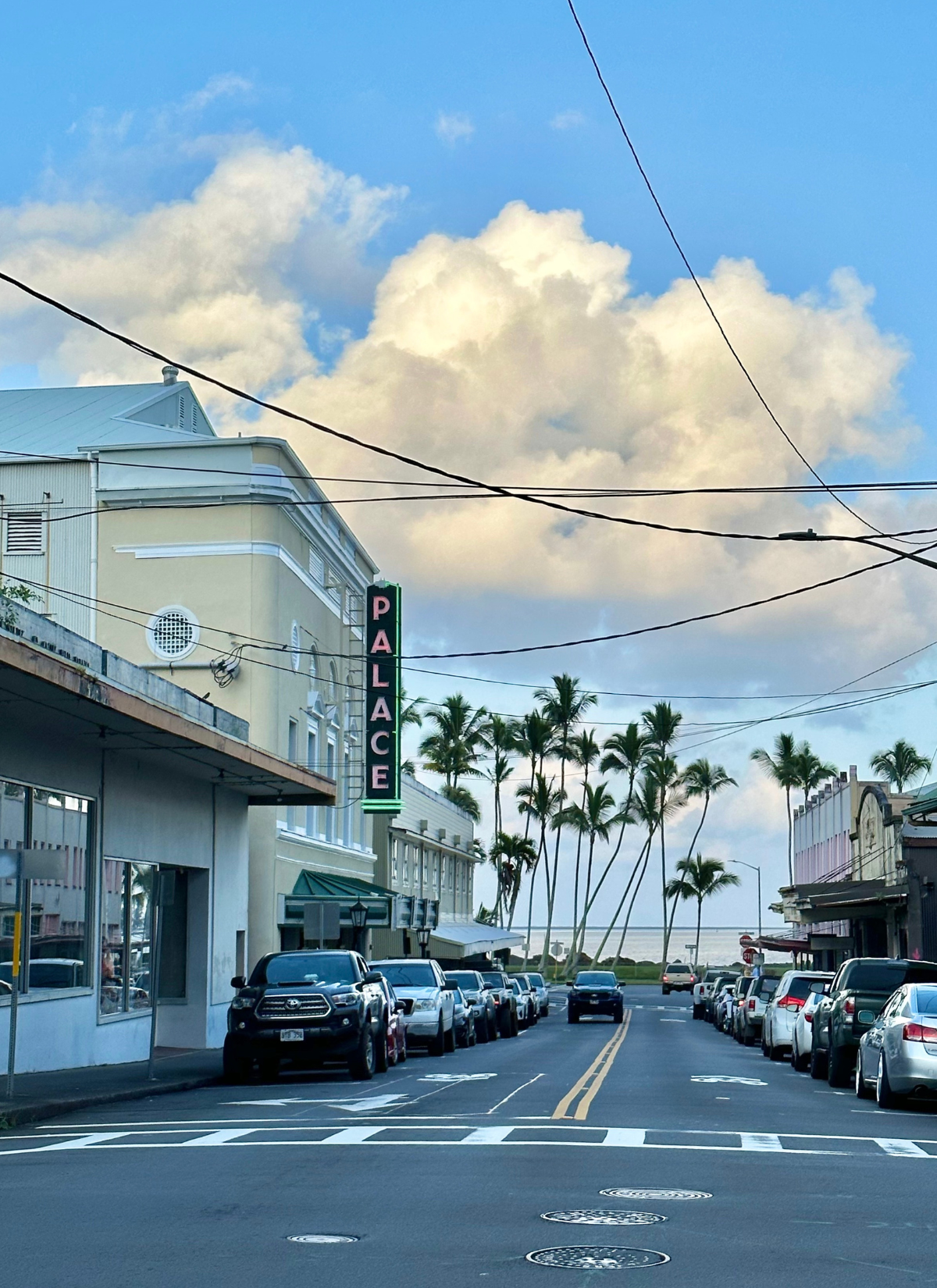 Check out this post >>> One Day in Hilo Itinerary
#12 Check Out THREE National Historical Parks that Preserve Ancient Hawaiian Culture
If you're a National Park junkie like me and you go out of your way to visit National Parks, National Monuments and National Historical Sites wherever you go (gotta get those passport stamps!), then you're going to LOVE Hawaii's Big Island.
You already know about Hawaii Volcanoes National Park…but the Big Island is also home to THREE other National Historical Parks that preserve and celebrate ancient Hawaiian culture and history.
Here's everything you need to know if you're visiting the Big Island and trying to collect all of your stamps…
Kaloko-Honokohau National Historical Park
Kaloko-Honokohau is located just north of downtown Kona and they have a perfectly preserved fish pond.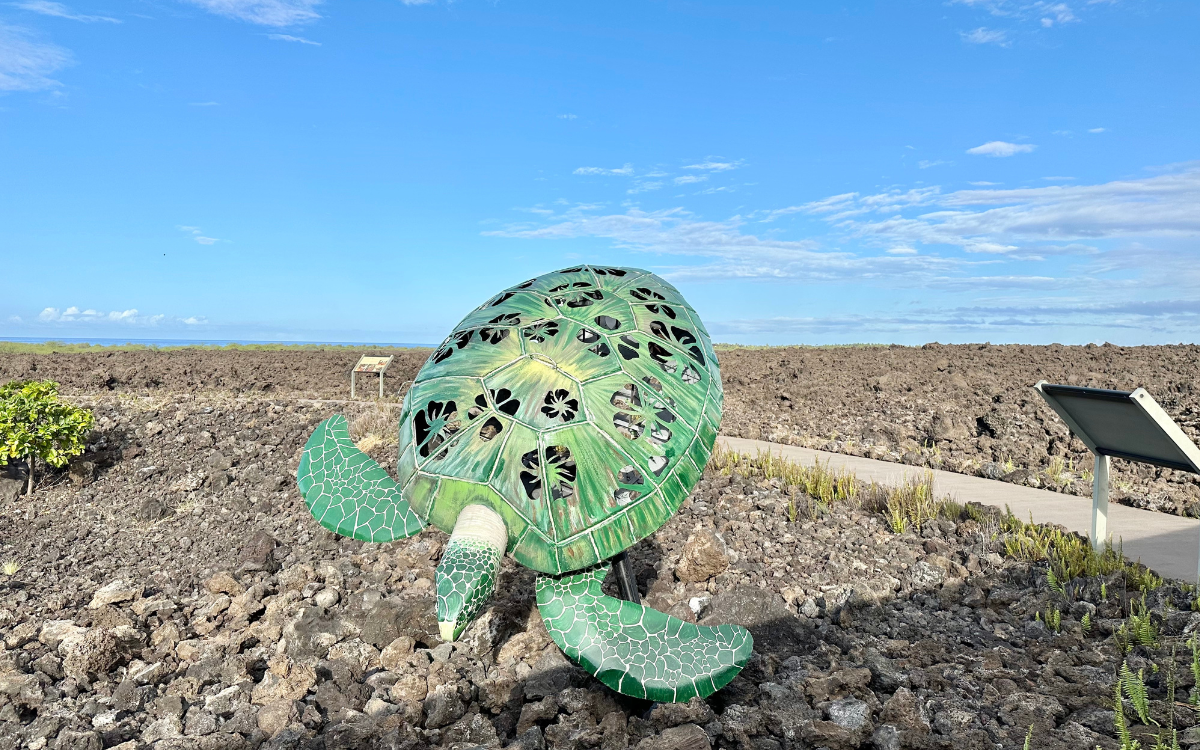 At the visitor center you can learn all about water cycles and how sacred water was to the Hawaiian people.
From the visitor center, you'll have to hike to see the fishpond (there's actually not much to see at the visitor center, but it's where you'll get your national park passport stamped).
If you park at Honokohau Beach (by the small boat harbor), you'll shave about a mile off of the hike. From the parking lot, it's a short hike to the first fishpond and then there's another one farther down.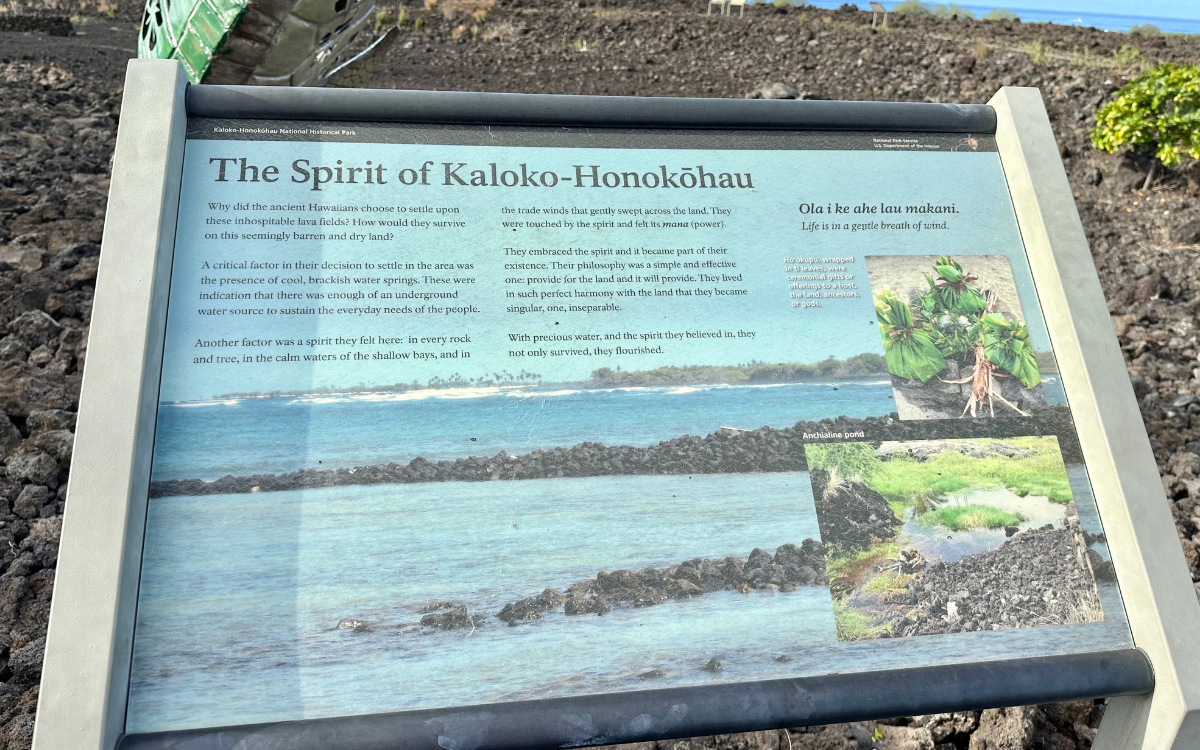 I haven't had time to do the hike yet, but it's on my list for my next trip. I will say though…if you don't hike out to the fish ponds, there's really not much to see here besides the gift shop, getting your passport stamped, and talking with the park rangers.
Pu'ukohala Heiau National Historical Park
This one is all the way up north of Kona in Kohala. If you're staying at the big resorts in Waikoloa and Kohala (Mauna Kea Beach Hotel, Westin Hapuna Beach, Fairmont Orchid, Mauna Lani, Hilton Waikoloa Village, etc.) this is pretty close by.
The heiau (temple) was built in 1790 right before Kamehameha the Great set out to conquer the neighboring islands.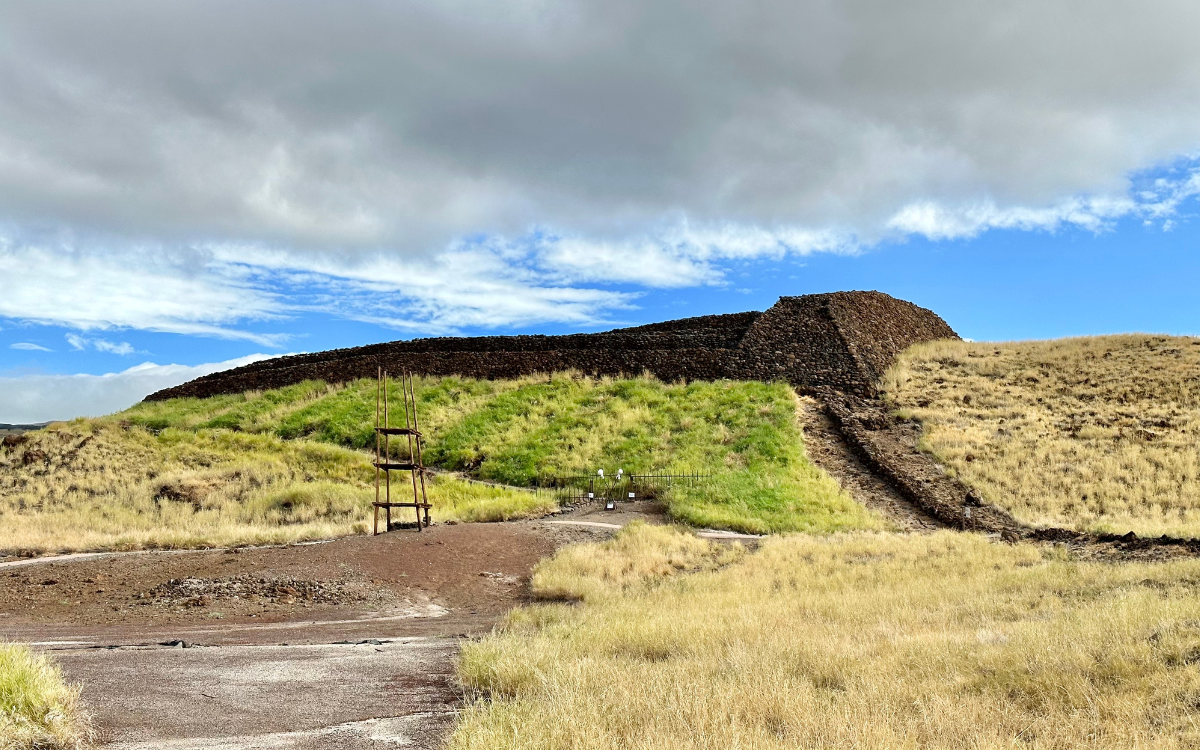 The education at the site focuses mostly on King Kamehameha, four Hawaiian prophecies that he was believed to have fulfilled, his ascension to power, and the political climate in Hawaii at the time.
There is a lot to read here and the exhibits are pretty well done. You can walk down a path towards the heiau, but you can't get very close to it.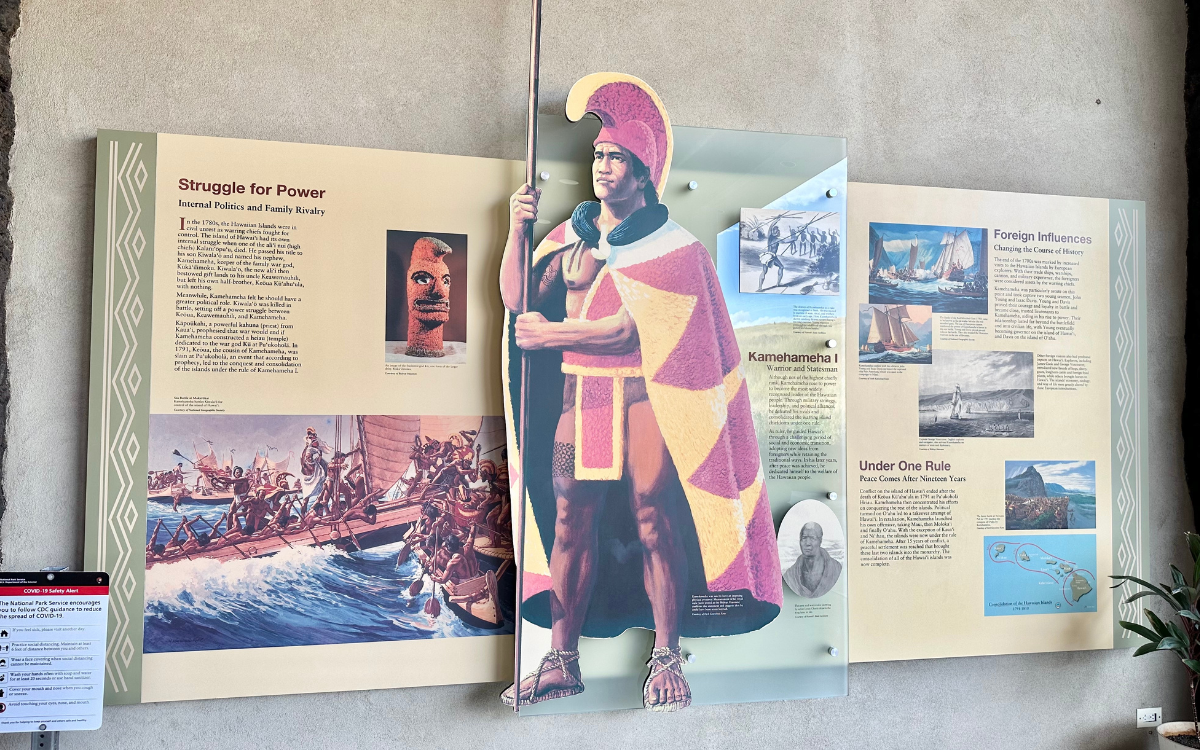 If you've traveled up this way and you're not staying in the area, pair a visit here with a hike at Pololu Valley (or just go to the overlook) and mai tais at Seafood Bar and Grill or even a half day trip over to Waimea.
Pu'uhonua O Honaunau National Historical Park
While all three National Historical Parks on the Big Island have really important cultural significance, this is my personal favorite.
And I have to say, if you only have time to visit one, make it this one.
Not only is there so much to learn, but it is absolutely BEAUTIFUL.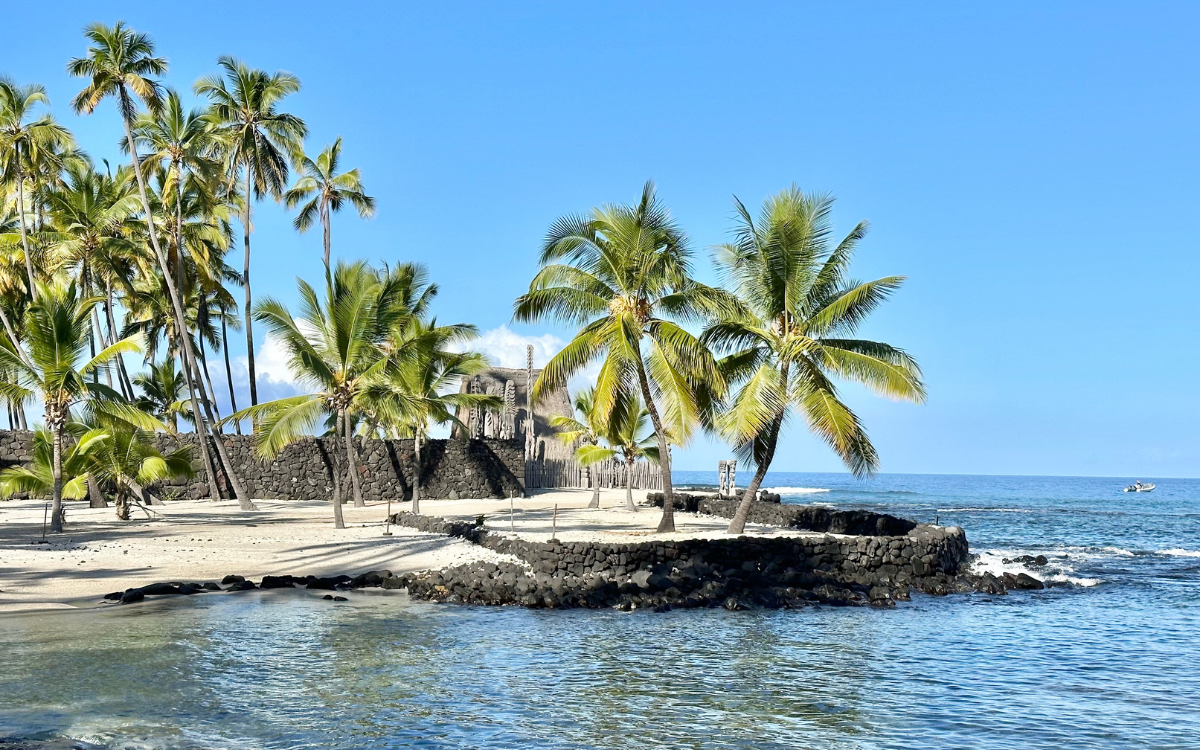 The site is right on the water and it's just completely dreamy with palm trees everywhere you look and white sand beaches.
Here's a bit about the cultural significance of Pu'uhonua O Honaunau: The Pu'uhonua was a place of refuge for those who had broken the law (and faced a punishment of death), defeated warriors, and sometimes even civilians during times of war.
Once refuge seekers reached the Pu'uhonua, they were protected. Hawaiians believe the Pu'uhonua was/is protected by Lono, the God of Life.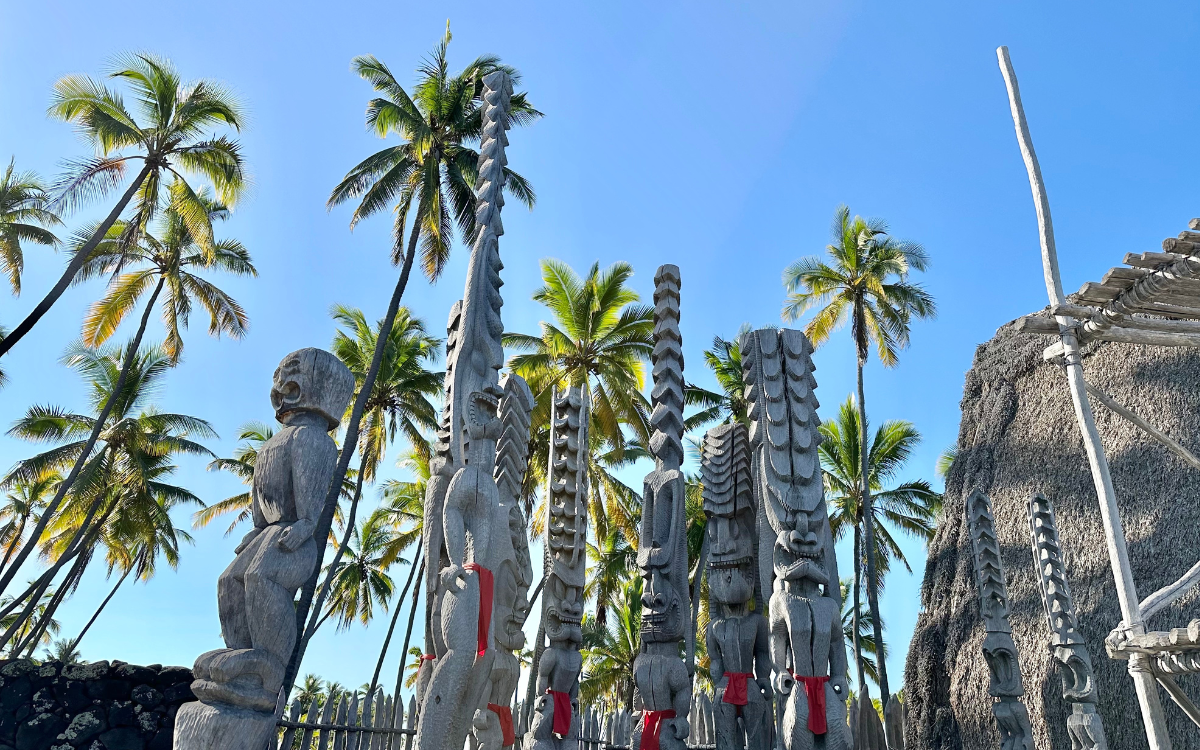 The Pu'uhonua is still considered an active religious site by Native Hawaiians (kanaka maoli) and while the National Park Service maintains the temple (heiau), descendants of the ancient Hawaiians continue to practice traditions there today making it a modern religious site.
It's $20/vehicle to enter the park (it's covered by the annual American the Beautiful pass) and the site has a video presentation and some exhibits to explain the significance to visitors.
Since it's considered a sacred site, be sure to be on your best behavior! No swimming from the beach, sunbathing, running around, etc.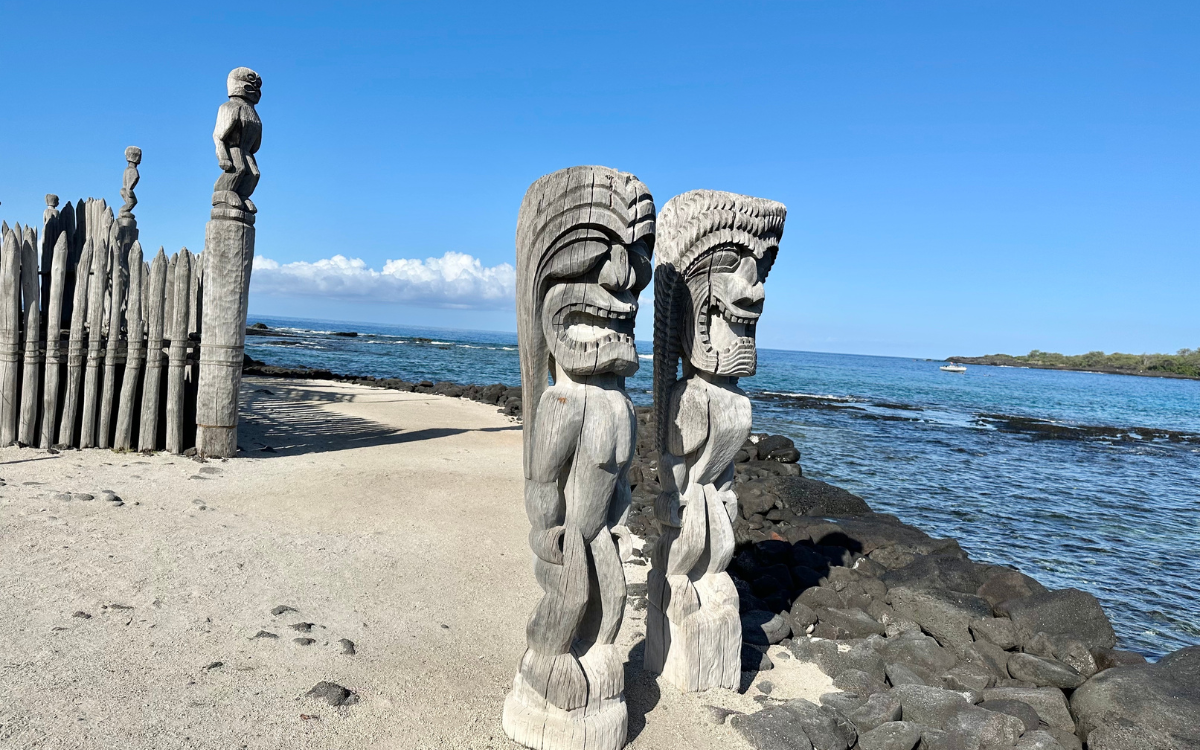 This one is about 35 minutes south of downtown Kona. It's just south of Kealakekua Bay (Captain Cook) so you could pair it with a snorkeling trip there if you're doing the hike or the super popular snorkeling spot Two Step is also just north of the park (you can see it from the park).
As far as places to eat nearby, try Teshima's Restaurant for Japanese comfort food.
#13 Tour the World's First Octopus Farm
If you thought the seahorse farm sounded cool, just wait until you hear about THIS. Kanaloa Octopus is the world's first octopus farm and they're a "conservation-minded cephalopod aquaculture research facility."
Their mission is to study and understand how cephalopods grow from the paralarvae stage to maturity so they can raise octopus in an eco conscious way that will help drastically decrease how many species are taken wild from the ocean.
It's an interesting field of science and you can read more about it here.
I haven't toured the farm yet, but it's at the top of my list of things to do on my next trip. One hour tours are $60/adult and $40/child (6 and under). Find out more here.
#14 Cruise Ali'i Drive in Downtown Historic Kona
The bustling tourist hub of Kona is its waterfront historic district. It's the kind of place where the cruise ship shuttles people to if you get my drift. If you've been to Maui, it's a bit like Lahaina (was)…but not quite as nice.
Anyways, Ali'i Drive is the main drag right on the water and it's lined with shops and restaurants.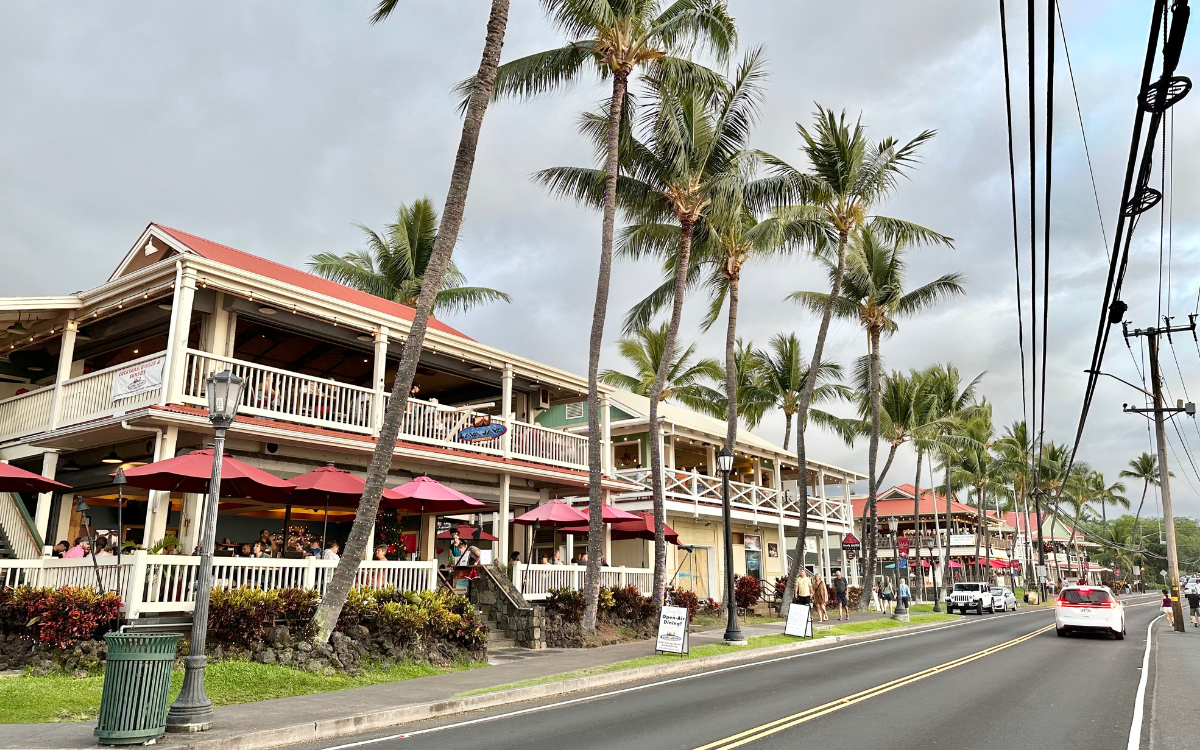 If you happen to be on island for the Kokua Kailua Monthly Stroll, I think it's the best way to experience this area. They close the street and hundreds of vendors show up plus there's usually live music and plenty to eat. It's one Sunday a month (usually the third Sunday but double check the schedule online).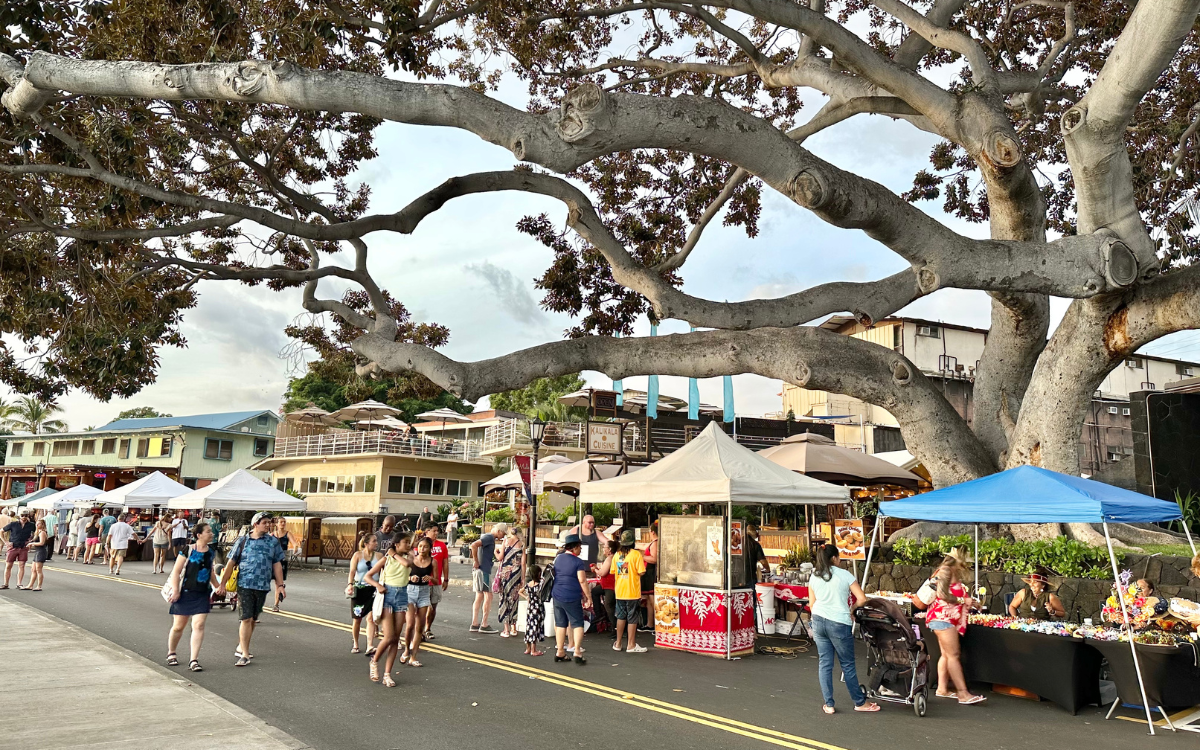 It's a great place to have a sunset dinner overlooking the water. Huggo's on the Rocks is pretty popular (owned by the same company as my beloved Lava Lava Beach Club in Waikoloa) and the kalua pork nachos are supposed to be the thing to get. I LOVE Island Lava Java for breakfast, but I'm sure dinner is great too. Foster's Kitchen has good food and drinks and Fish Hopper is well reviewed plus Gertrude's Jazz Bar looks fun.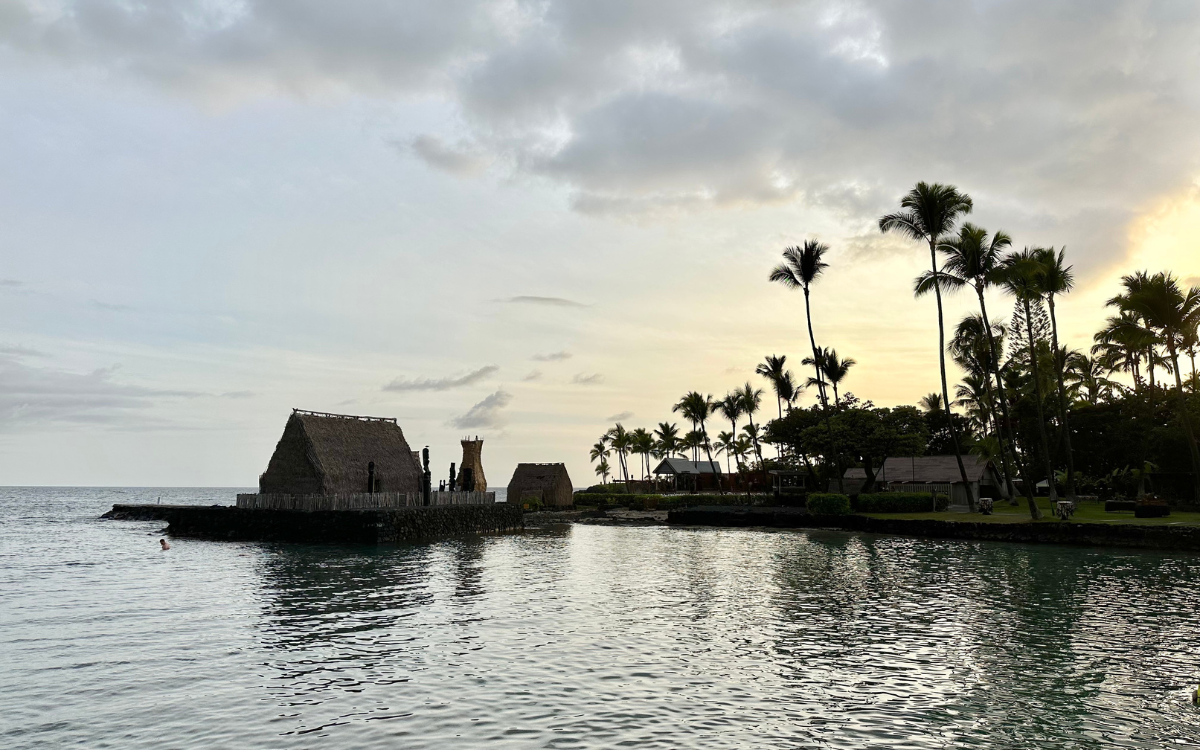 #15 See the Waipio Valley Overlook & Fruit Stand
Lush and tropical, Waipio Valley is one of the prettiest spots on the Big Island. The hike down into the valley is SUPER STEEP and there's not a lot to see at the bottom (mostly private property) unless you're on a guided tour.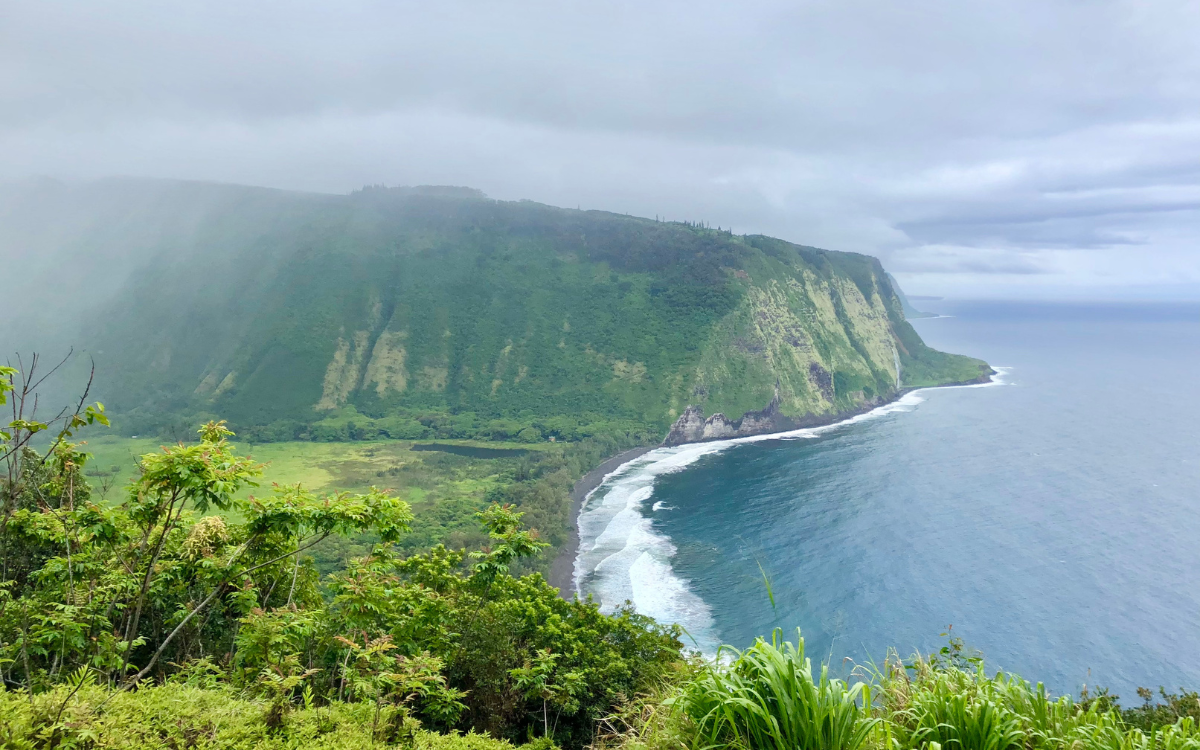 Since February 2022 the valley has been closed to visitors (on tours and individual hikers) because of safety concerns on the road, so for now you'll have to settle for the overlook.
After you leave the overlook, be sure to stop at the Waipio Fruit Shack…you can't miss it!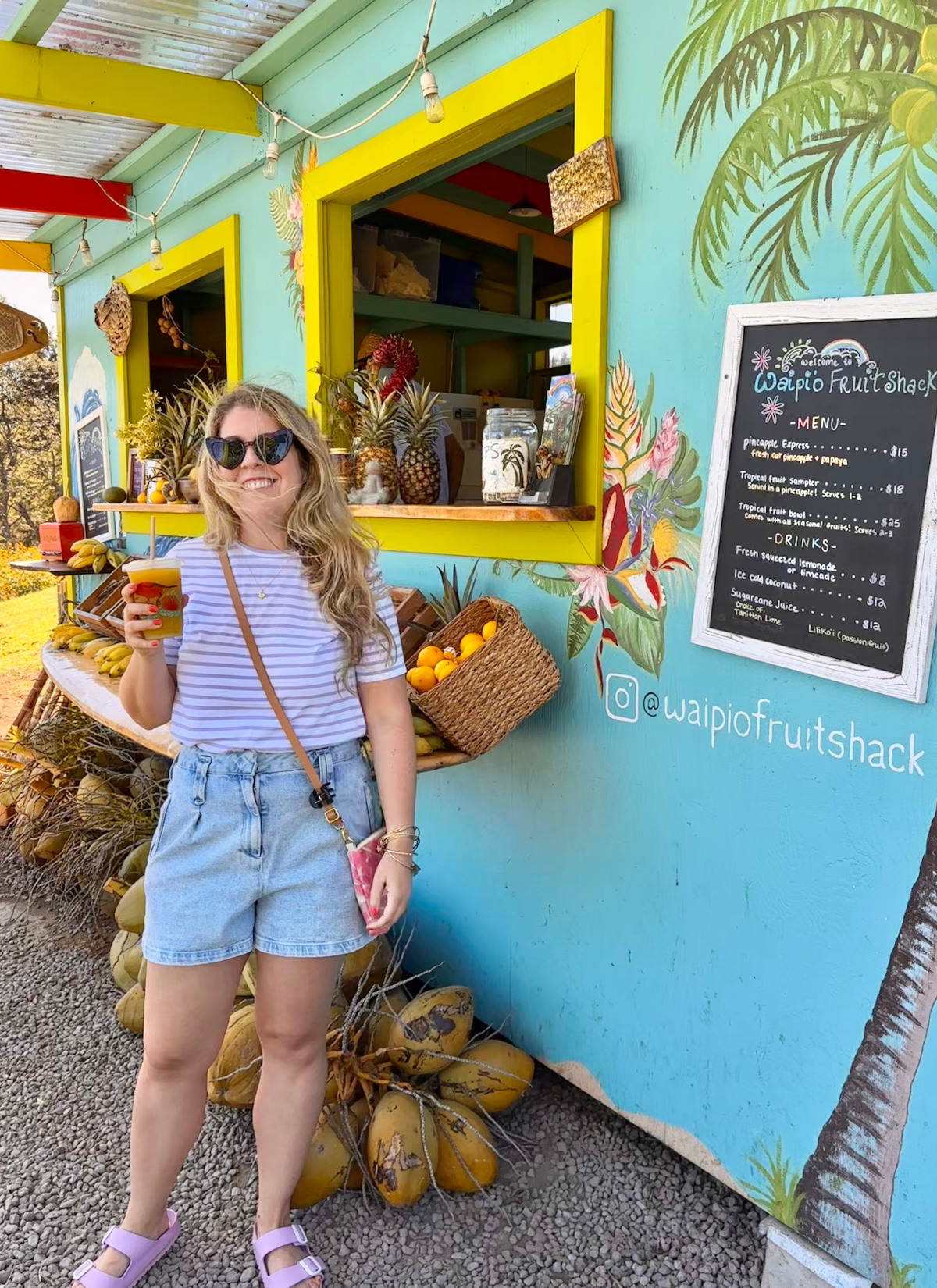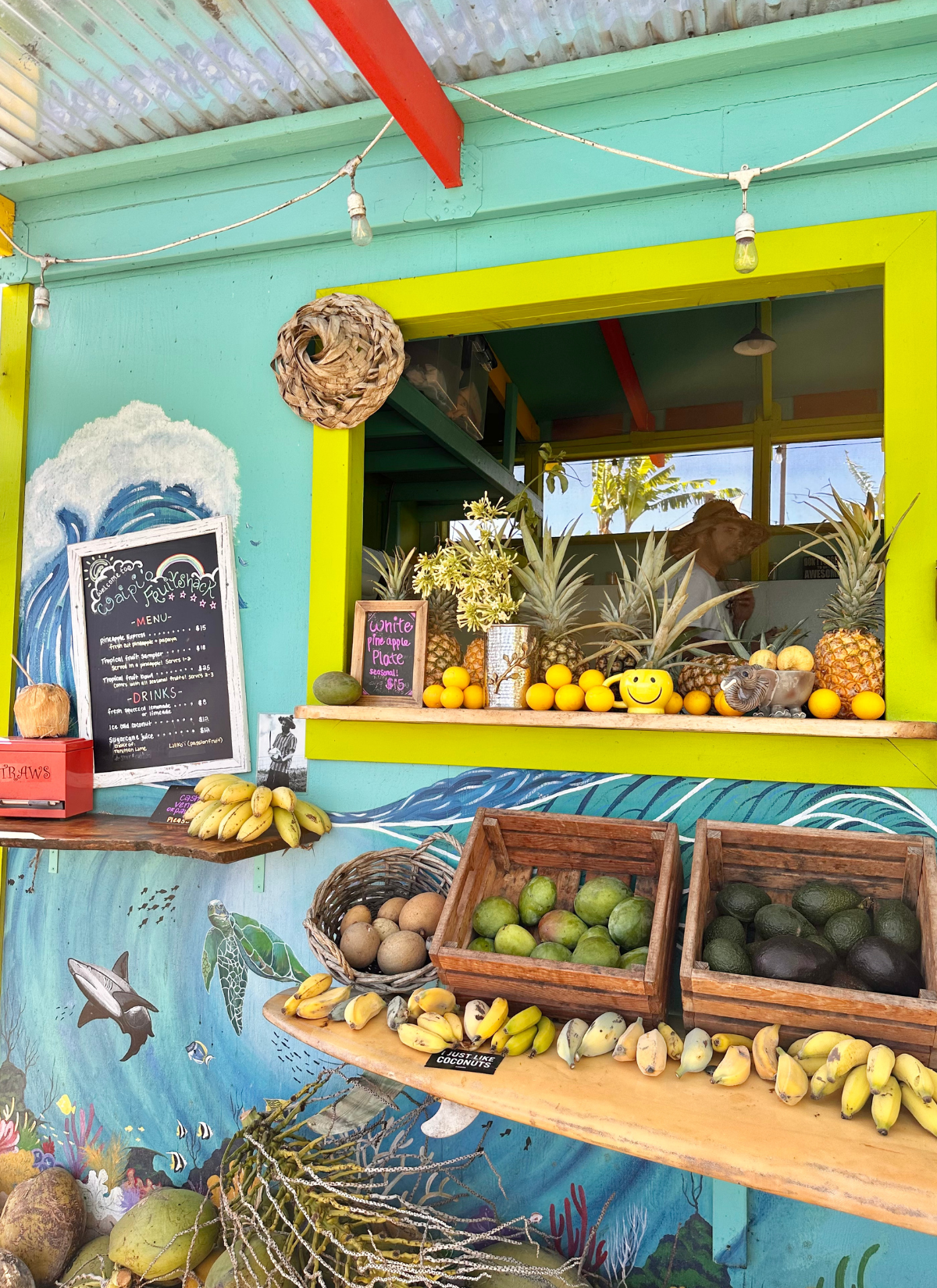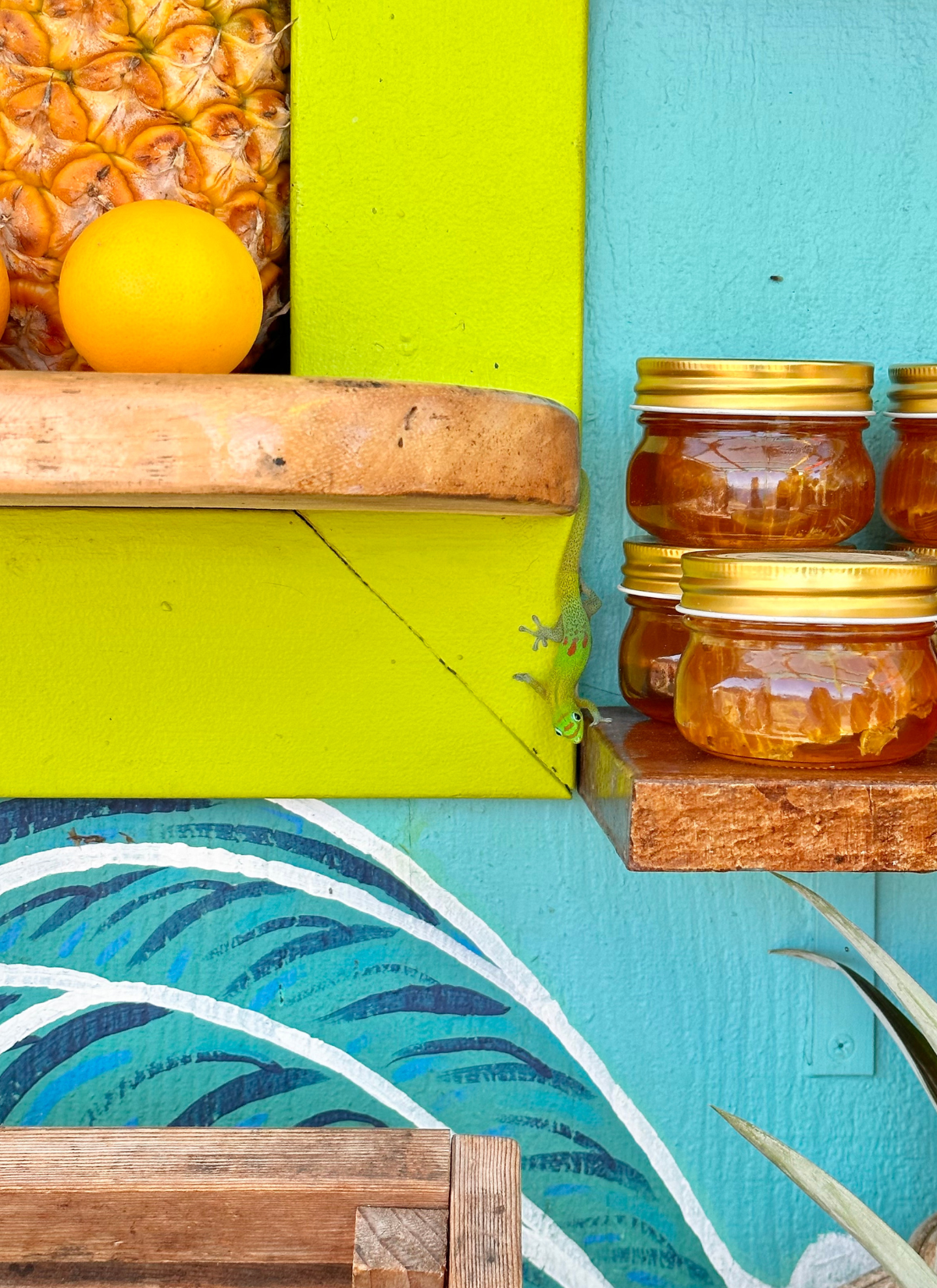 And on the drive back, stop in the cute town of Honoka'a and take a look around. There are some great shops here but I would definitely avoid visiting on a Sunday or Monday because a lot of them are closed.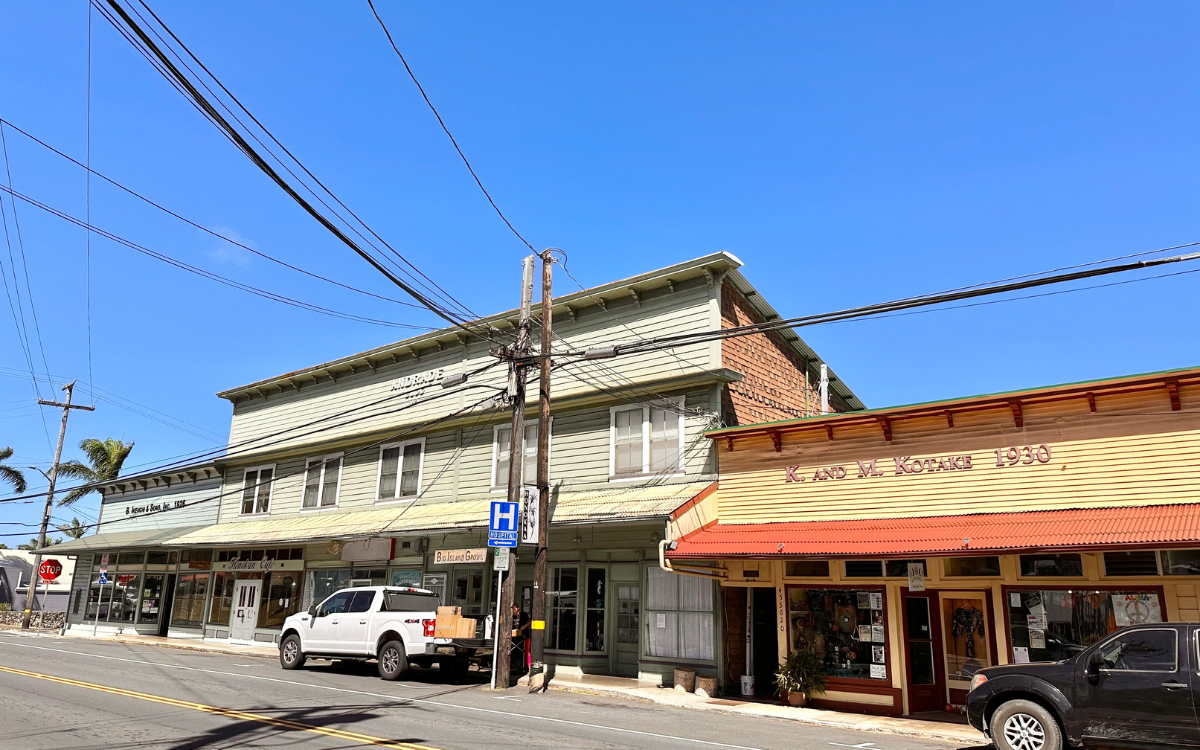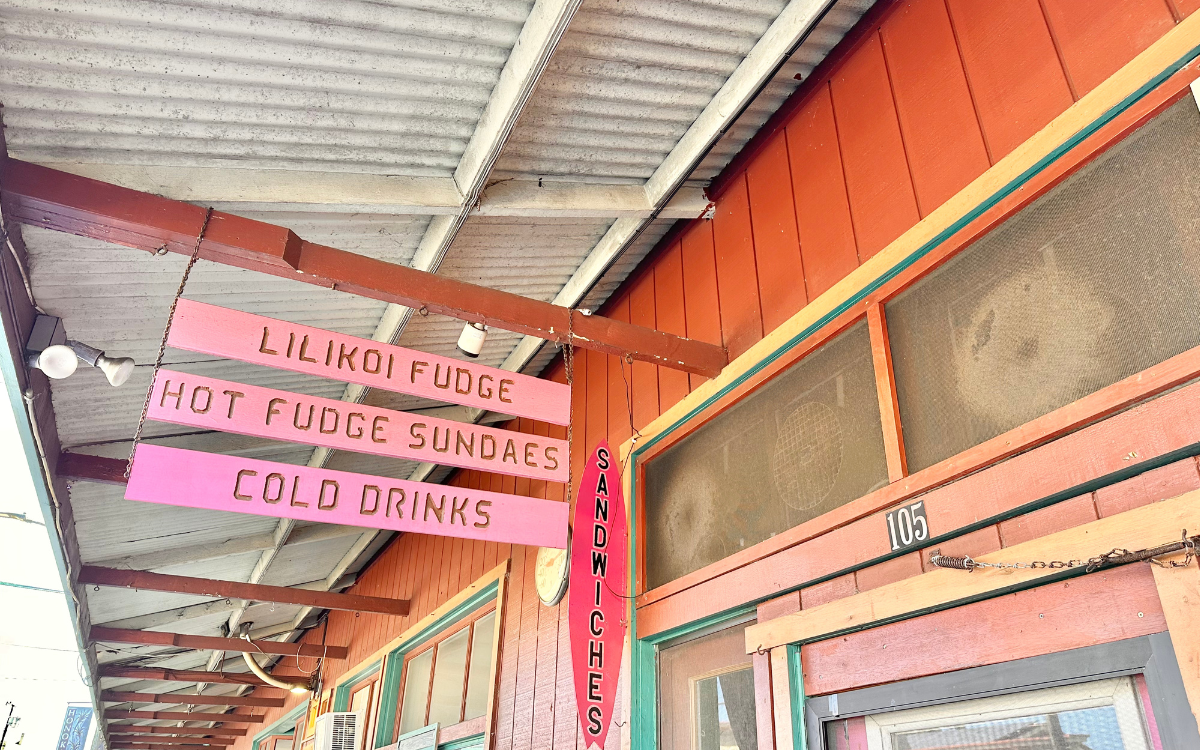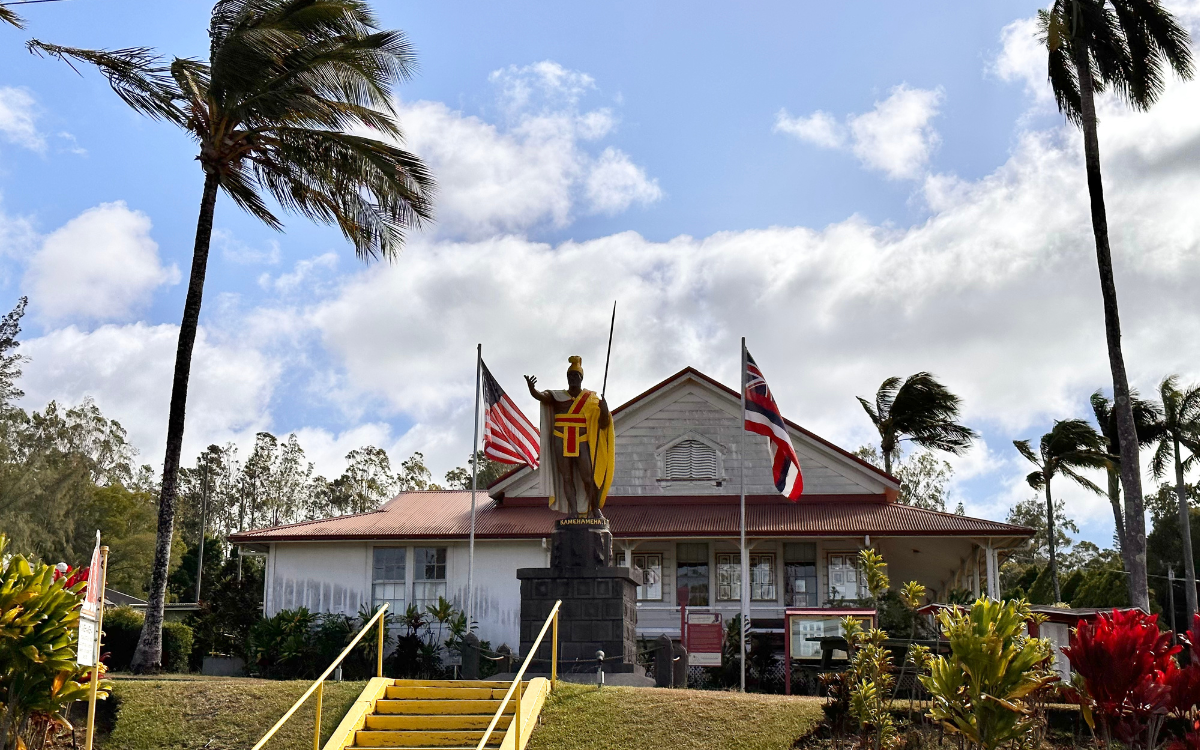 #16 Try Local Brews at Kona Brewing Co.
Kona Brewing Co is one of the most popular craft beer brands in the world and I think that means that you practically must visit their headquarters. It's close to downtown Kona in a more revitalized area. They've got great food, their whole collection of beers on tap, and an overall really nice facility complete with a merch stand.

You can do a one hour brewery tour several times a day. $20/person (15 and up only). Tour includes four 4 oz samples for guests 21+. More info here.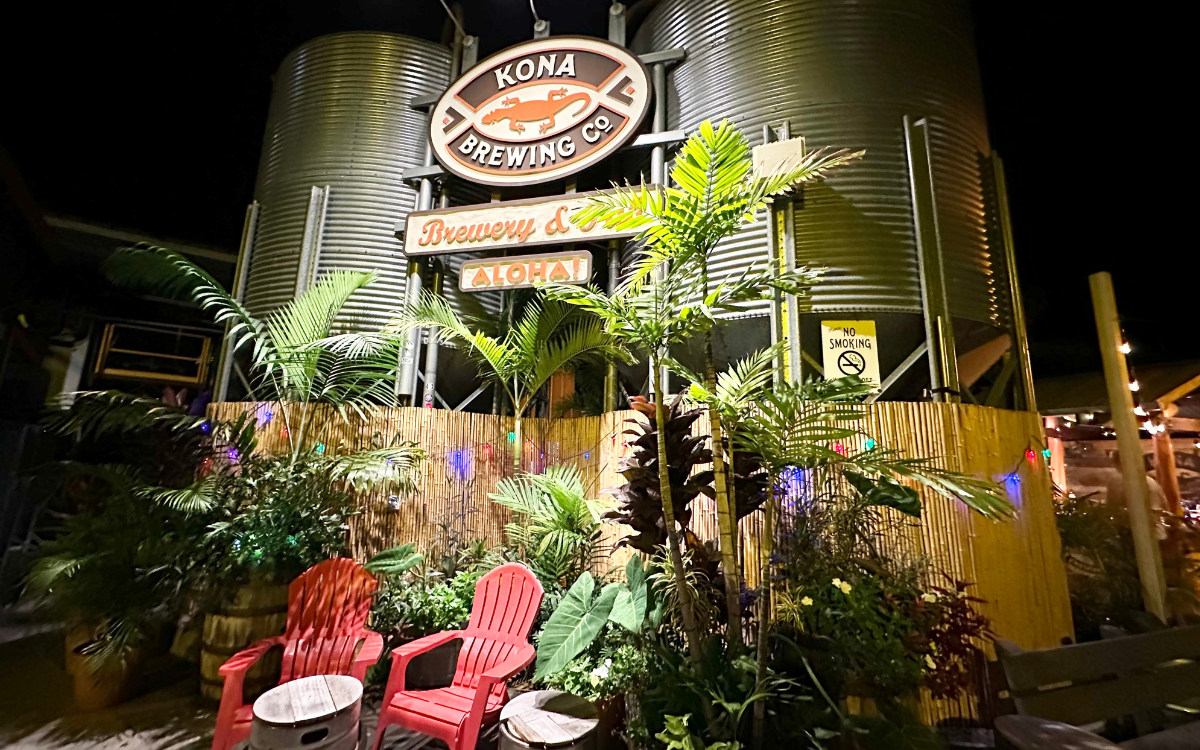 #17 Hike to Akaka Falls
Hawaii's most famous waterfall is about 11 miles north of Hilo and it's a DO NOT MISS.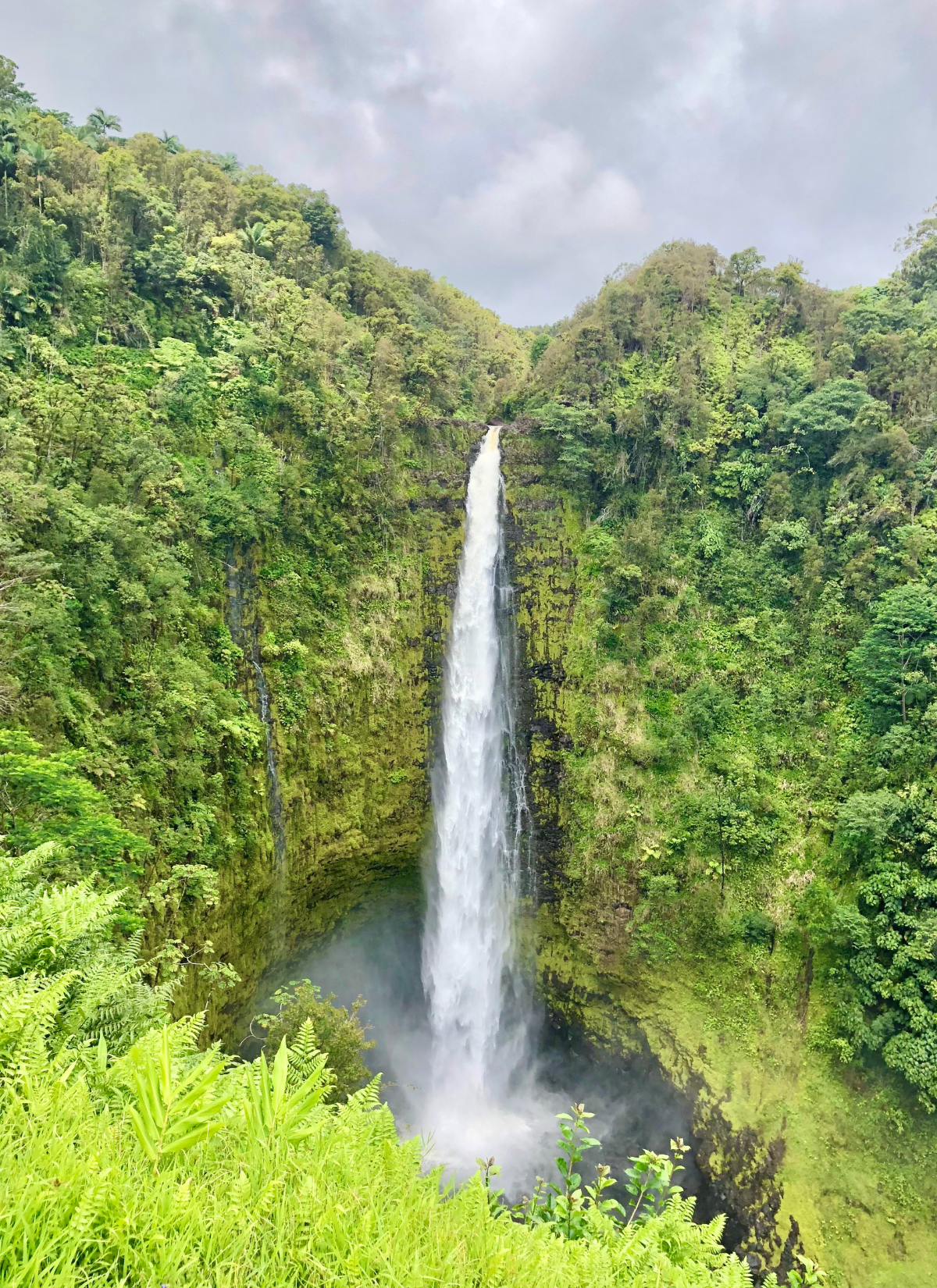 Akaka Falls is over 400 feet tall and accessible via an easy half-mile hike through a lush jungle.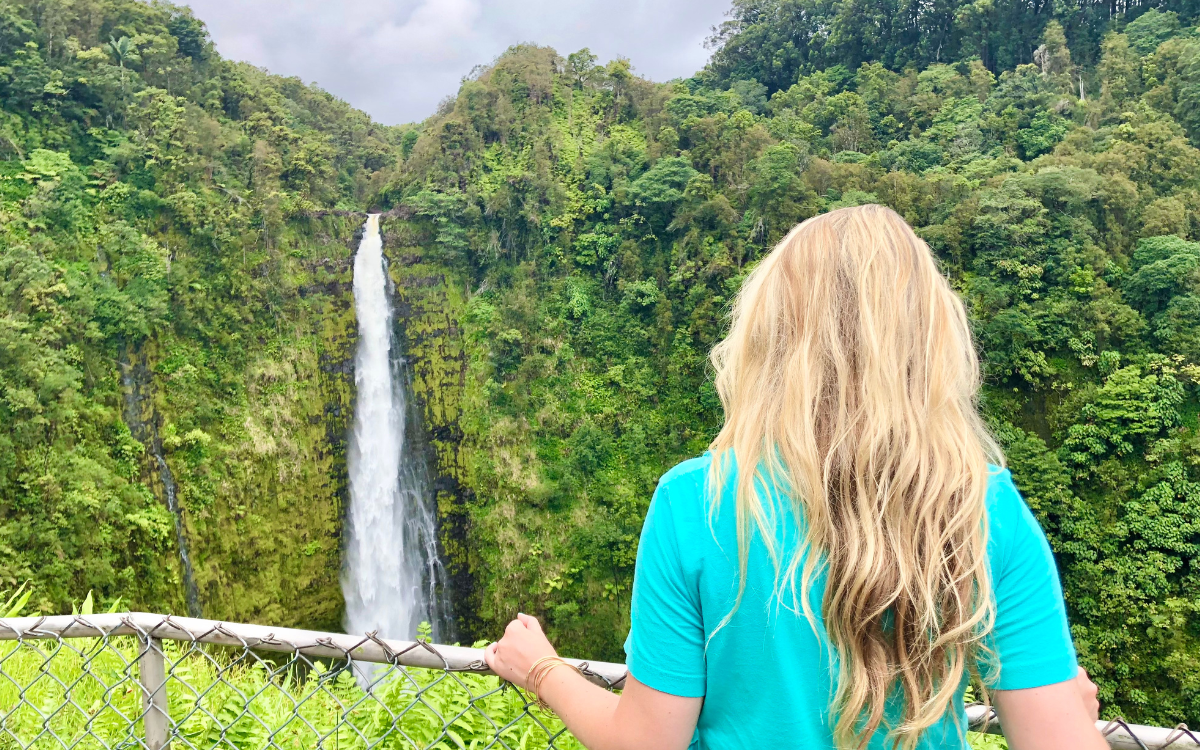 $5 entrance fee per person plus $10 parking per vehicle.
#18 Play Tennis at Hawaii's Best Tennis Resorts
Surprisingly, Hawaii doesn't have a huge tennis culture like other sunshine-y places like Florida, California, or Arizona and the courts, clubs, and programs on Kauai, Maui, and Oahu range from decent to meh.
But the Big Island is where you'll find all of Hawaii's best tennis clubs.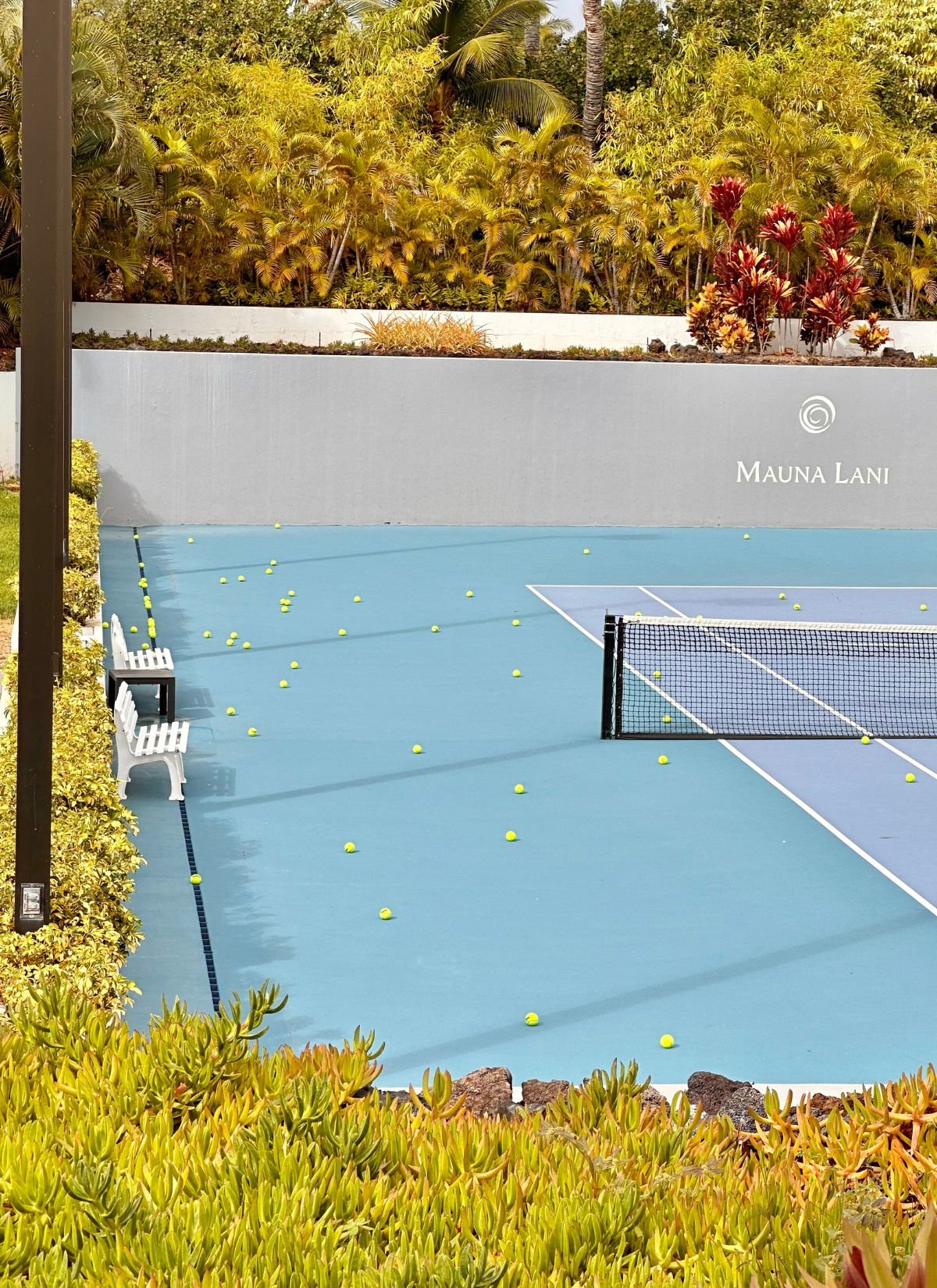 The Fairmont Orchid, Mauna Lani Resort, and Four Seasons Hualalai all have top notch tennis clubs with regular schedules for daily drills, lessons, match play, etc. but the real star here is the Seaside Tennis Club at the Mauna Kea Beach Hotel.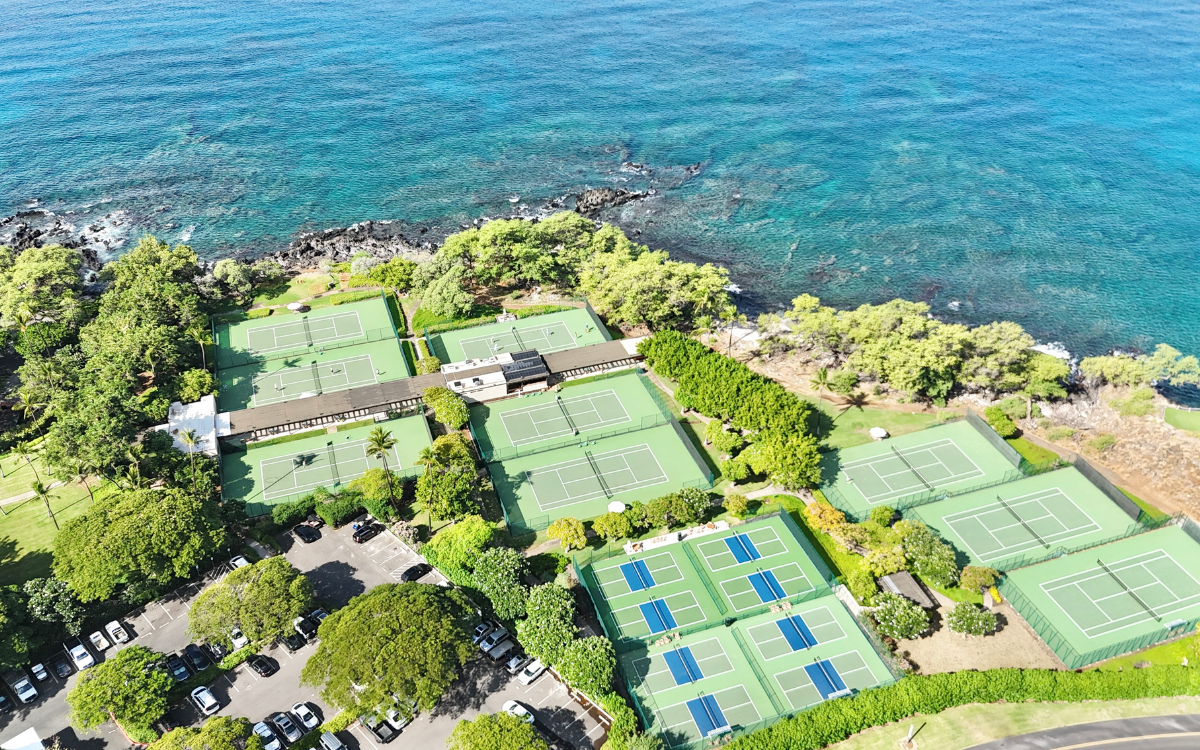 I mean REALLY. These have to be some of the dreamiest tennis courts in the world.
I did an hour long tennis lesson and I could hear the waves the entire time.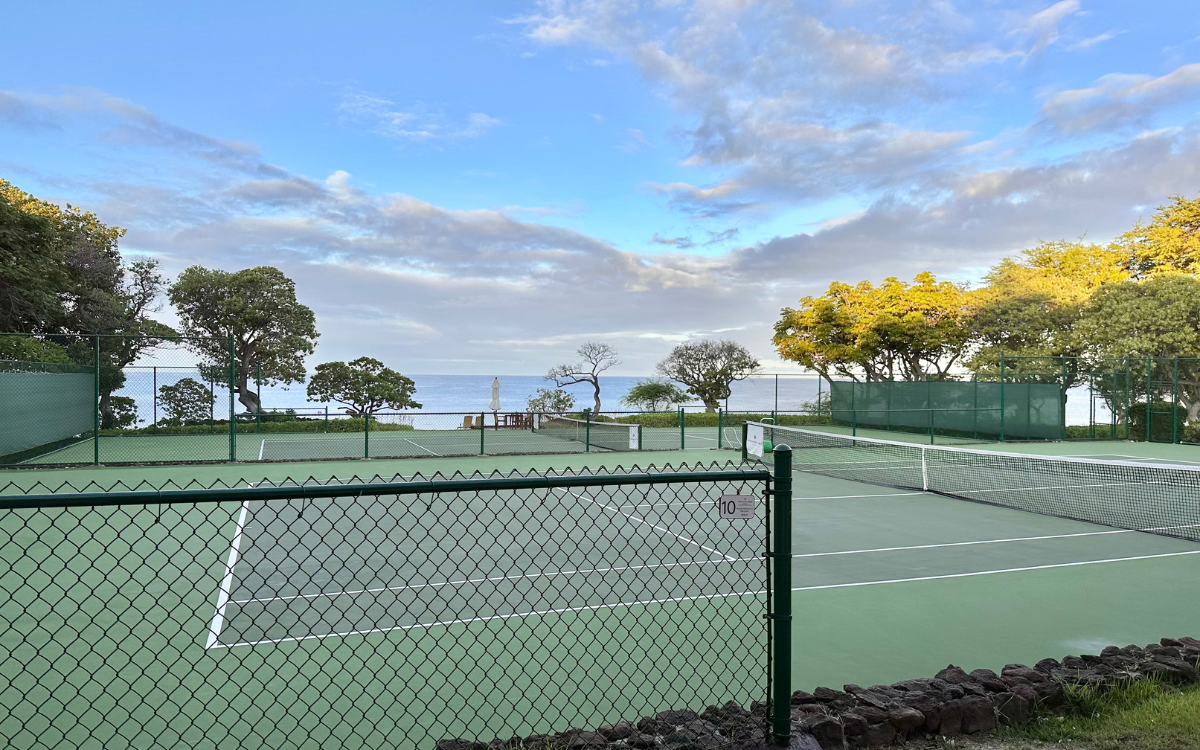 They also do pickleball lessons (our whole travel party did this and it was SO FUN) plus they have great merch in the pro shop!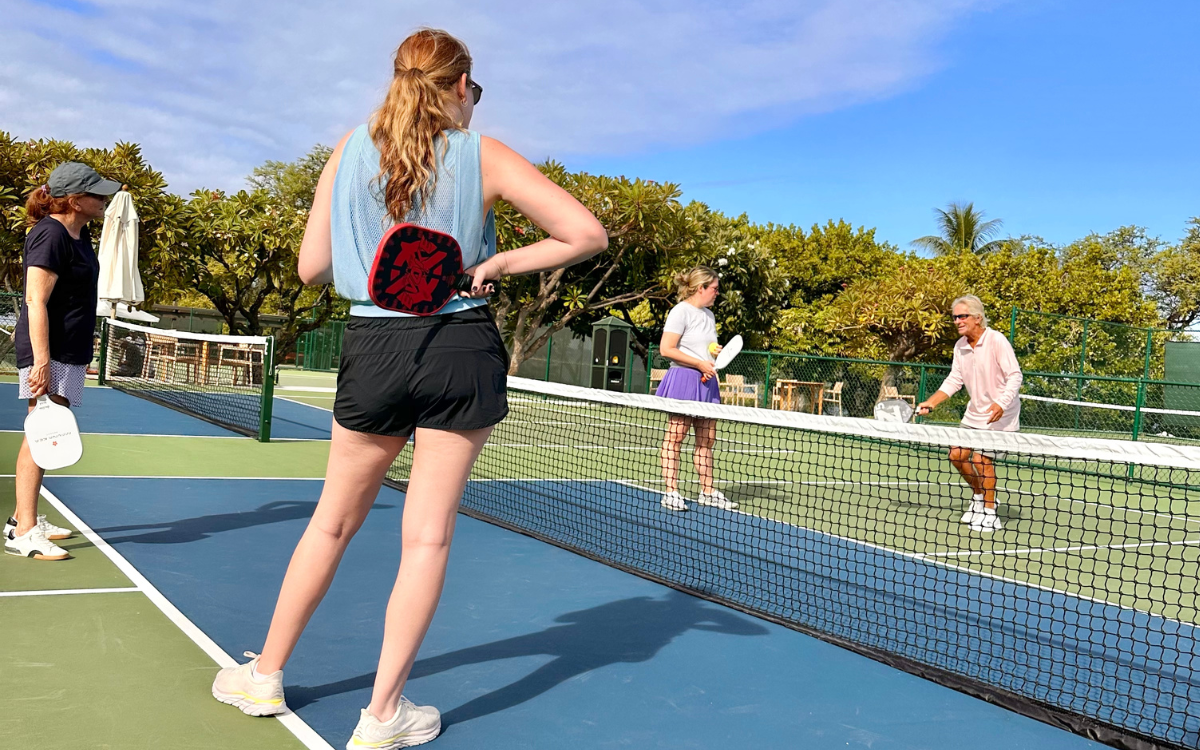 On Another Note: If you're looking for a condo or vacation rental for your trip, I always book with Vrbo. They've got the largest selection of rentals you'll find anywhere and you can easily filter to find exactly what you're looking for. Need a specific number of bedrooms and bathrooms? Narrowed it down to a certain location? Want flexible cancellation terms? Need to stay under a fixed budget? Click here to search for Big Island vacation rentals for your trip.
#19 Visit the Southernmost Point in the US
The southernmost point in the US honestly feels kind of like a party spot, but you may want to stop for a photo. It's not super well marked once you turn off the main road, but as you're presented with choices when the road forks, go right both times.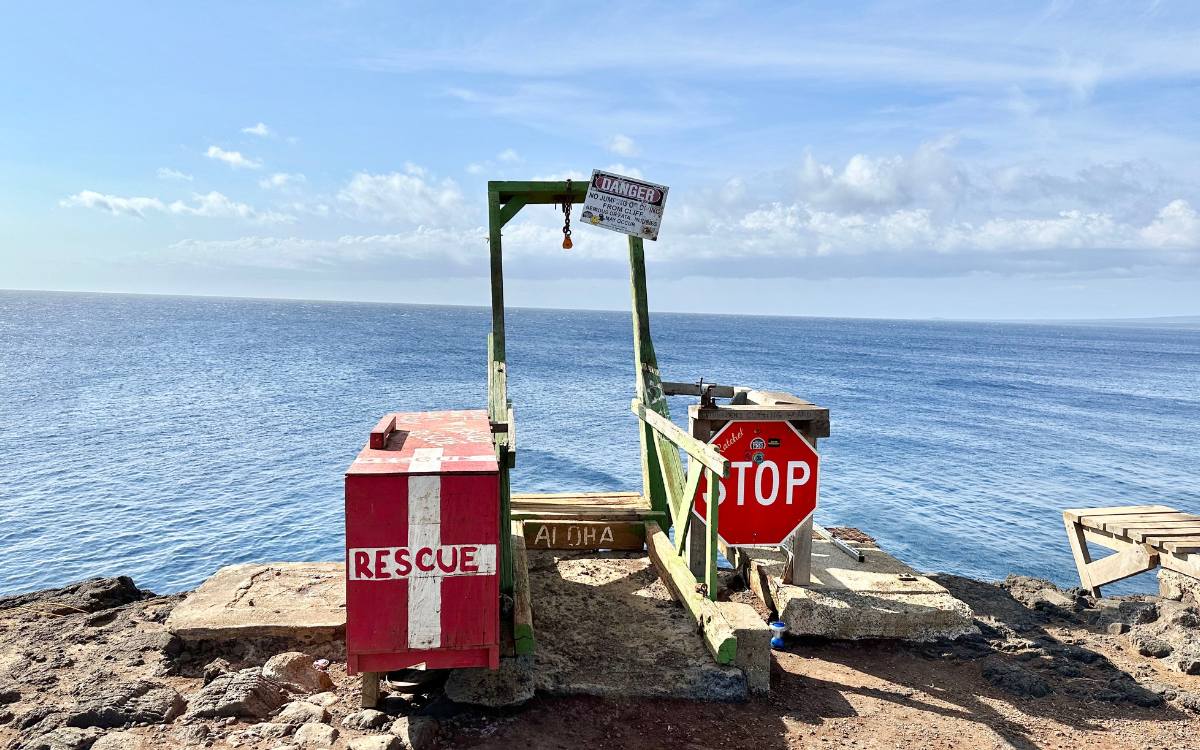 #20 Hulihe'e Palace
A former vacation home for Hawaiian royalty, the palace is now operated by the Daughters of Hawaii and they run docent guided tours by reservation Wednesday through Friday and self guided tours on Saturdays.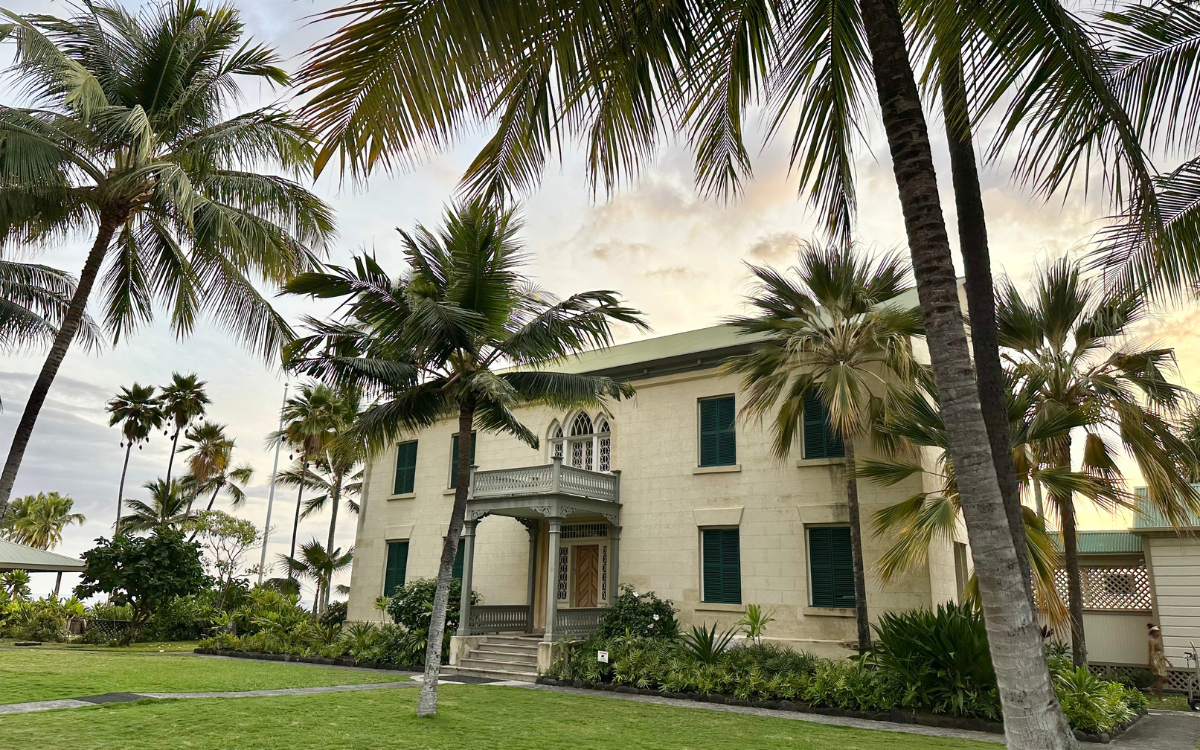 I haven't been inside, but it's lovely on the outside. Find out more here.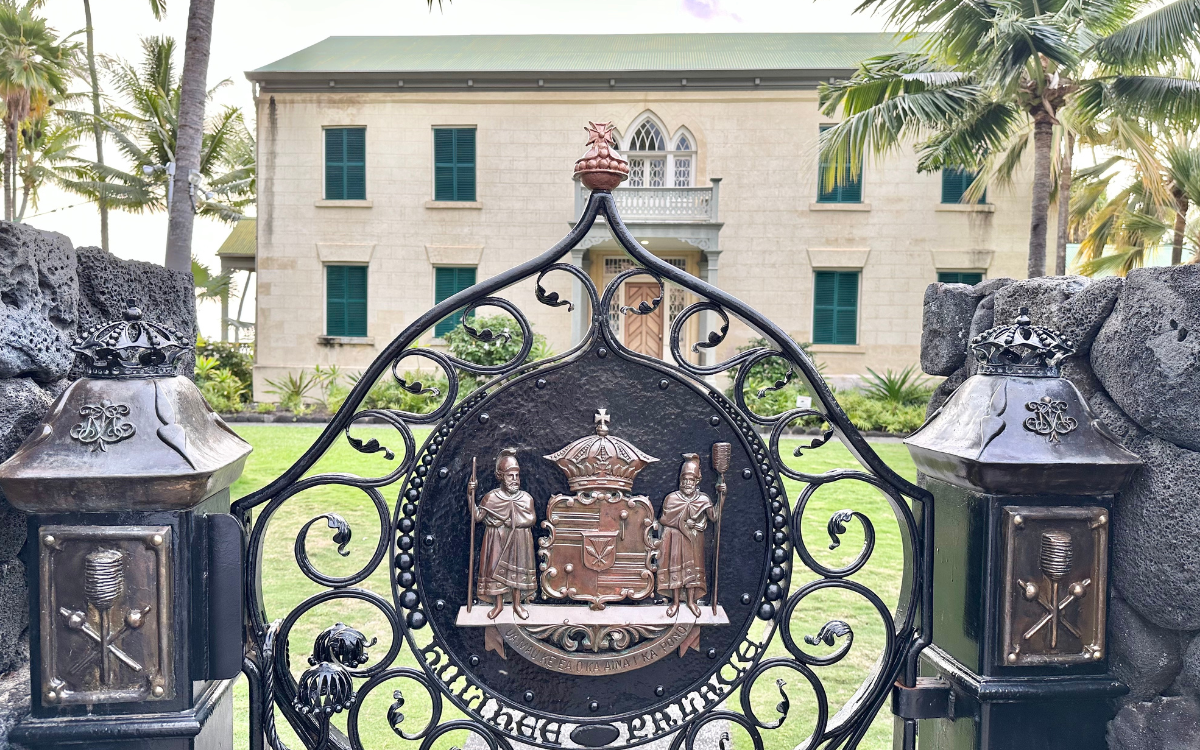 #21 Zipline Over a Waterfall
If ziplining through the jungle and seeing countless waterfalls is on your bucket list, this is the place to make it happen. There are a handful of companies that operate ziplines on this part of the island, but I would book with Umauma which flies over 9 lines and 14 different waterfalls. Umauma also has combo ATV tours.
#22 Visit Hawaii Tropical Botanical Garden
Just 7 miles north of Hilo, these botanical gardens are generally said to be the most beautiful in Hawaii. Well, I haven't been to every botanical garden in Hawaii so I couldn't say for sure, but I have been here and WOWZER.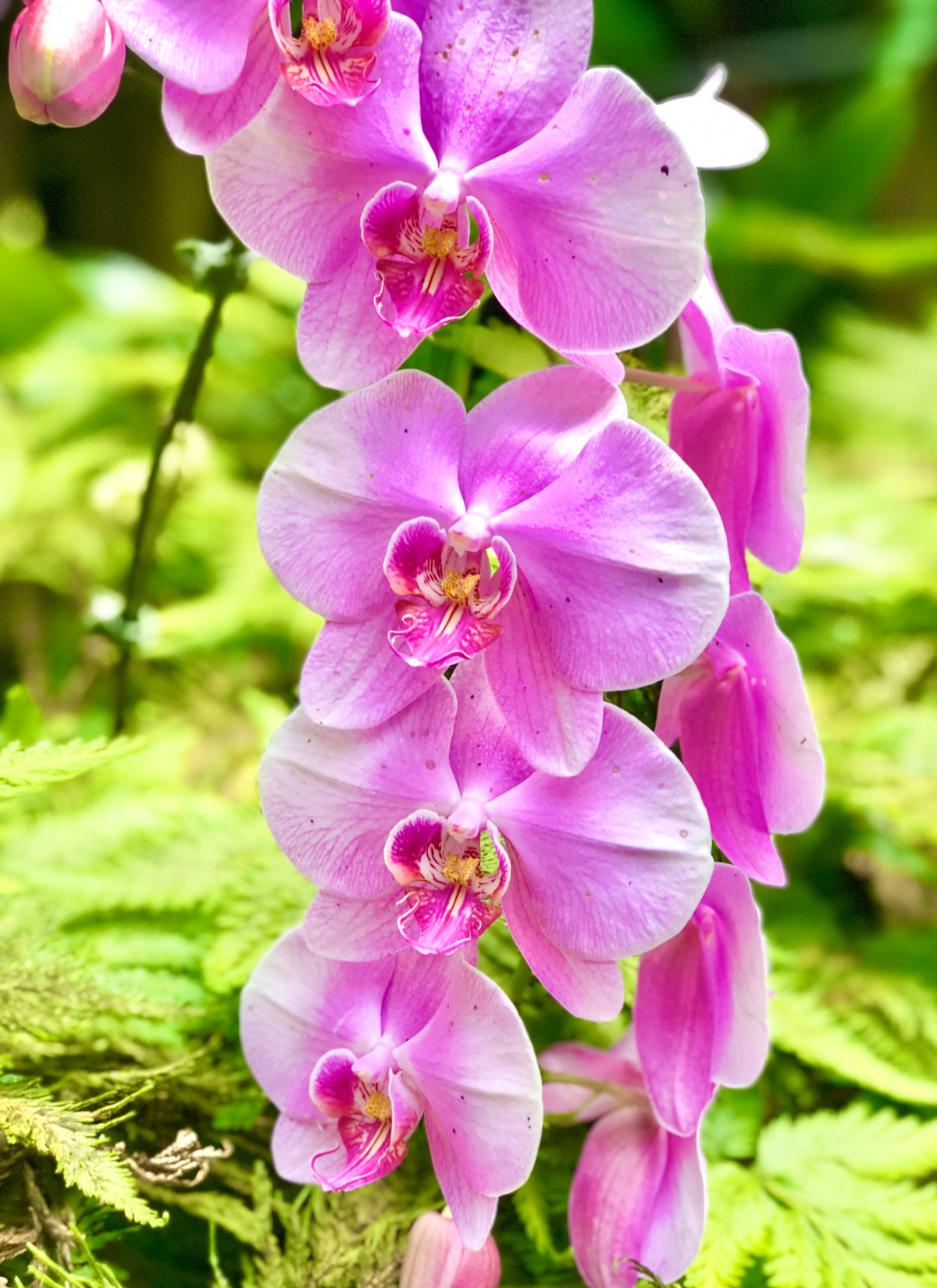 I'd say this is a don't miss attraction in Hilo and even if you're not the type to generally enjoy a botanical garden, I think you'll like it. It's more like walking through a jungle that just happens to have a wide variety of tropical flowers EVERYWHERE. Plus the location right next to the ocean makes for a magnificent view. Admission is $25/adult, $12/child (6-16), 6 and under are free.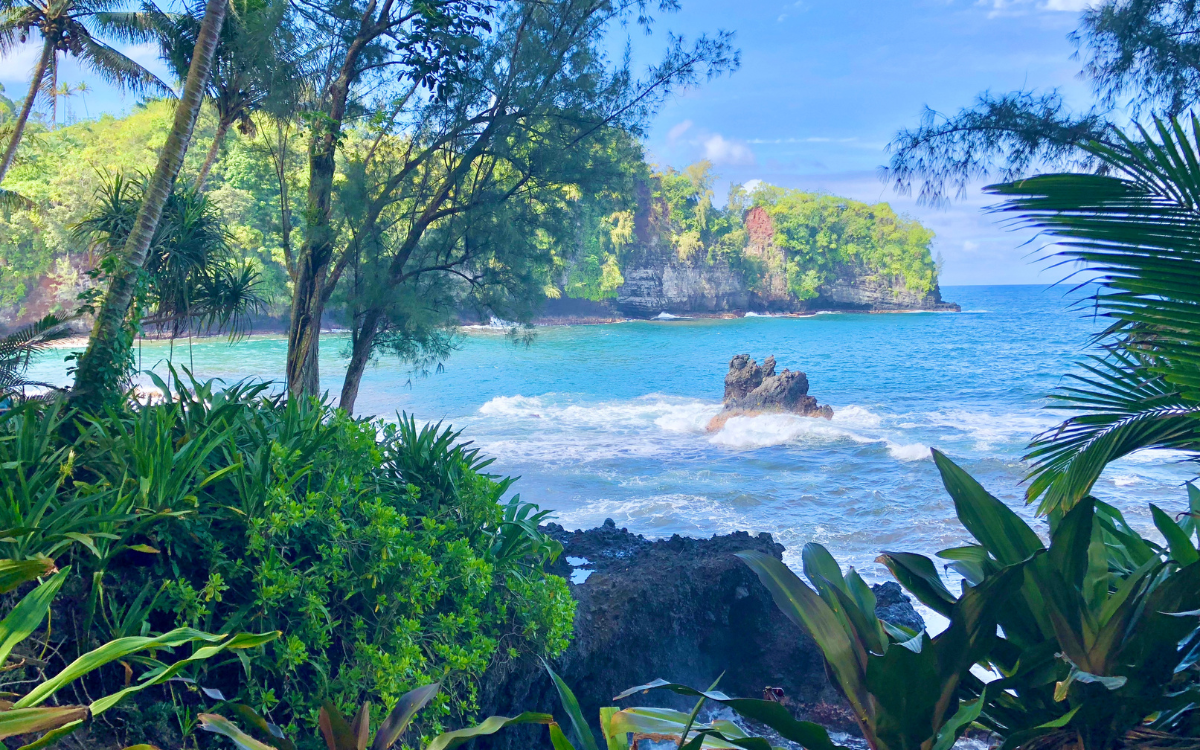 #23 Get Mochi at Two Ladies Kitchen
You've got to have at least one foodie adventure, and on the Big Island I think that needs to be getting mochi at Two Ladies Kitchen in Hilo.
This small family run shop has been making mochi (a Japanese confection with a Hawaiian twist) for over 20 years and it's incredibly popular with locals and visitors alike.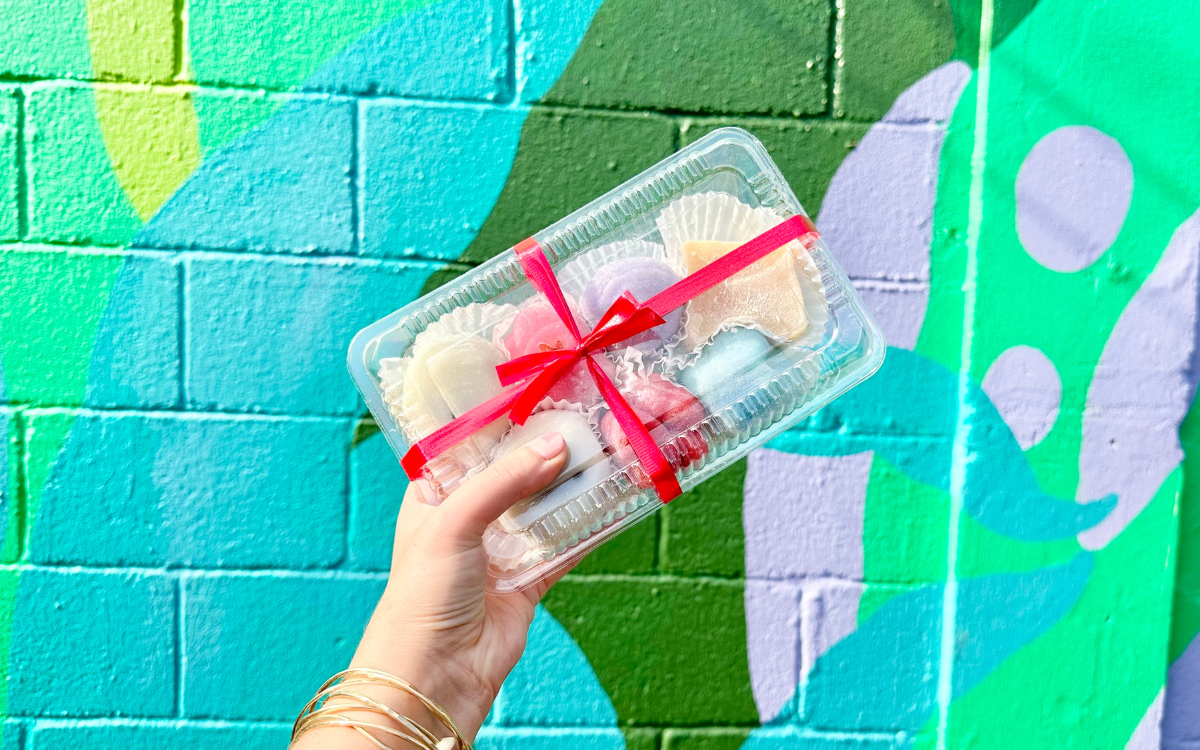 The shop is pretty unassuming, but you know it's something special from the line out front. It's a good mix of tourists and locals (mostly from other islands, because the Hilo locals know to call their orders ahead of time to avoid the line).
They have a wide selection of mochi and you can do a custom order, selecting every piece or grab a pre assorted box from the counter. Whichever way you go, your mochi is pretty much guaranteed to be made within the last hour.
They're most famous for their strawberry mochi (it has a whole strawberry inside), but they've got an impressive selection of traditional mochi and modern mochi. You can see their menu online here, but in the store they do a really good job of explaining exactly what everything is with extensive menus, definitions and pictures.
Like I mentioned, the line here gets pretty long. It usually moves pretty quickly to order, but then you have to wait a while for them to fill your order. So I would order when you get to town, go have lunch and then come back.
Two Ladies Kitchen is open 10AM to 4PM and closed on Sunday and Monday.
#24 Hike to the Pololu Valley & Shop in Hawi
Drive up the Kohala Coast as far as the road goes and you'll be rewarded with one of the best scenic lookouts on the island.
If you're up for a sweat, make the short (but steep!) hike down to the black sand beach at the bottom.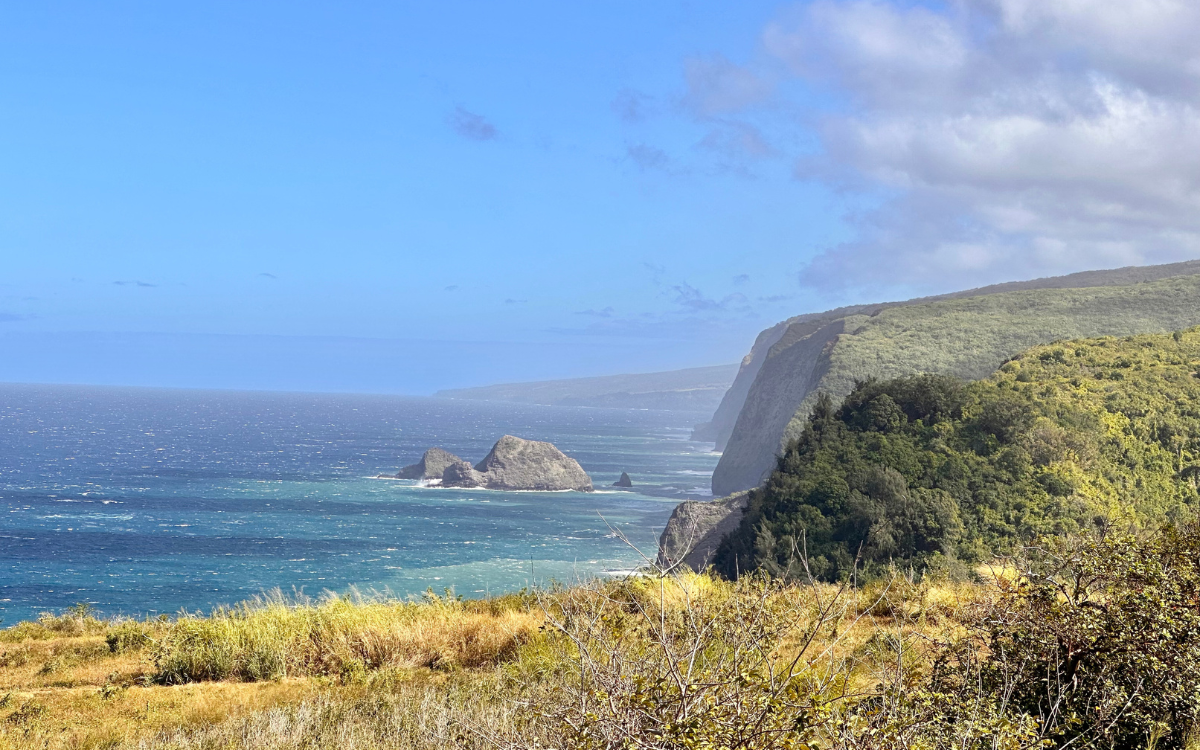 On the drive there (or back), stop in the cute town of Hawi and take a look around.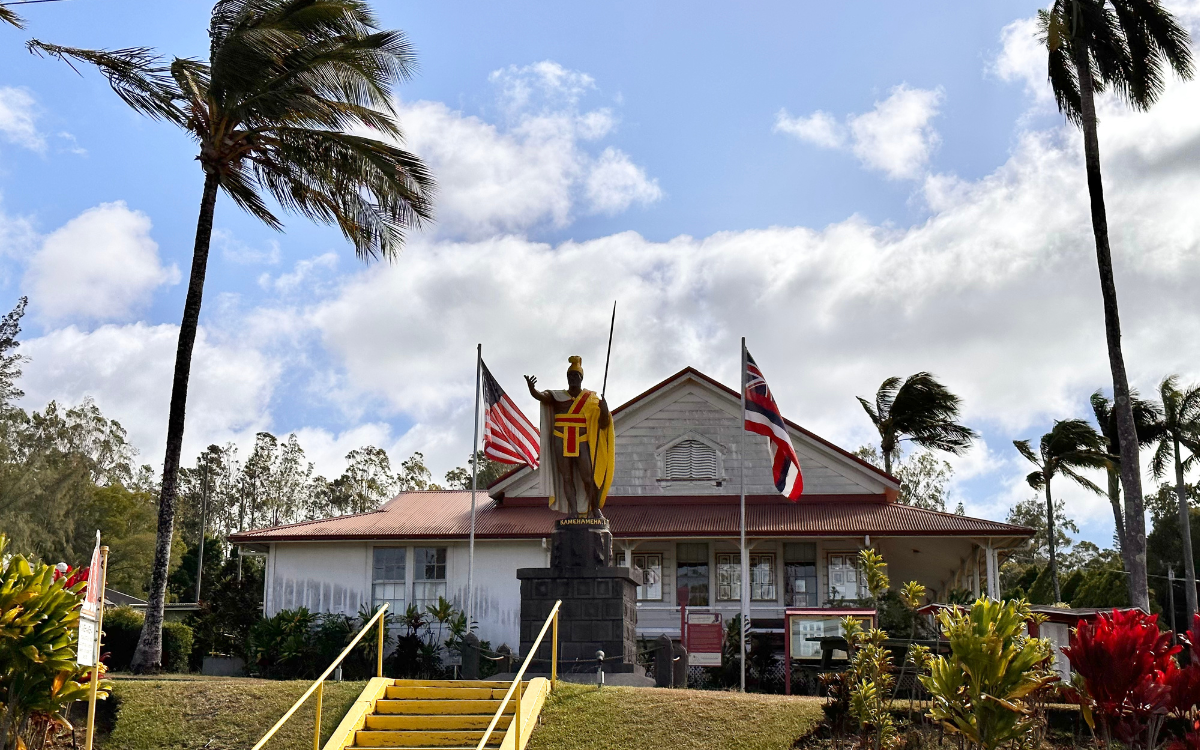 #25 Snorkel at Two Step
If you're looking for excellent snorkeling that's easily accessible by land, this is your spot. Located just north of Pu'uhonua O Honaunau National Historical Park, Two Step is a great spot to swim among bright coral reefs and tropical fish as well as possibly dolphins and turtles.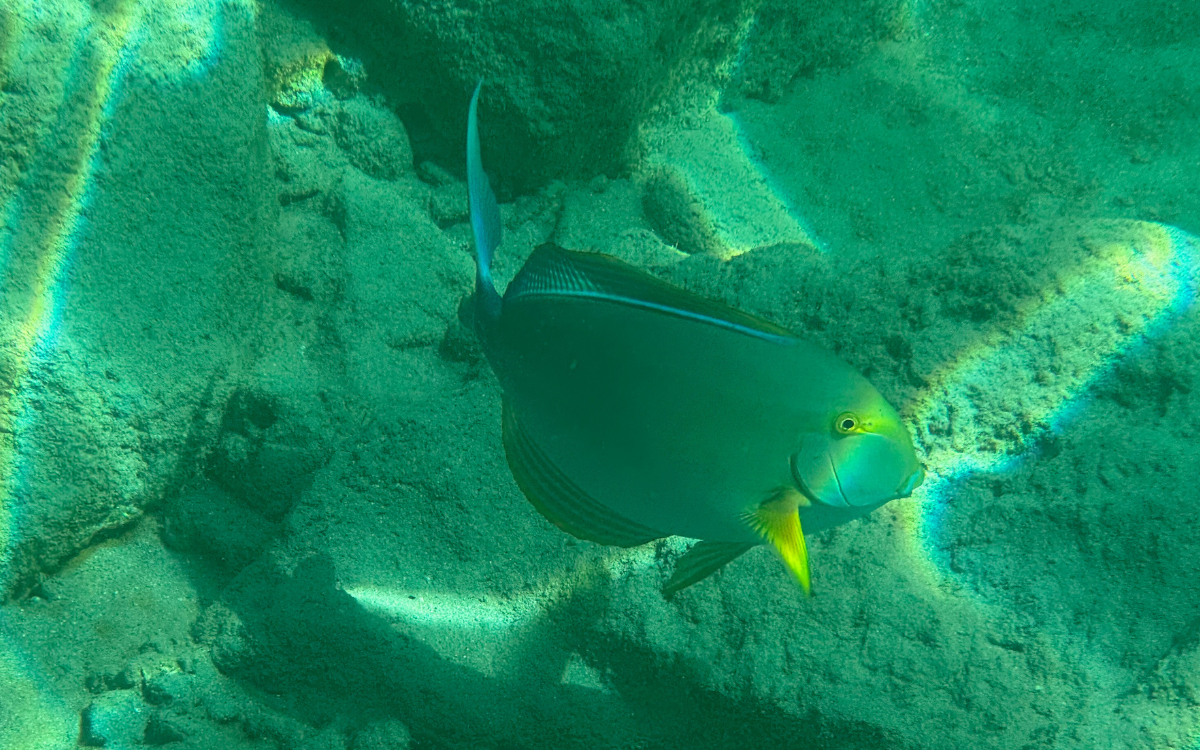 To get here, turn into the entrance of the national park but instead of actually driving all the way in, take a right turn. Hang right until you reach the parking lot. The entry point is all smooth lava rock but you'll still want to take your shoes right to the edge with you.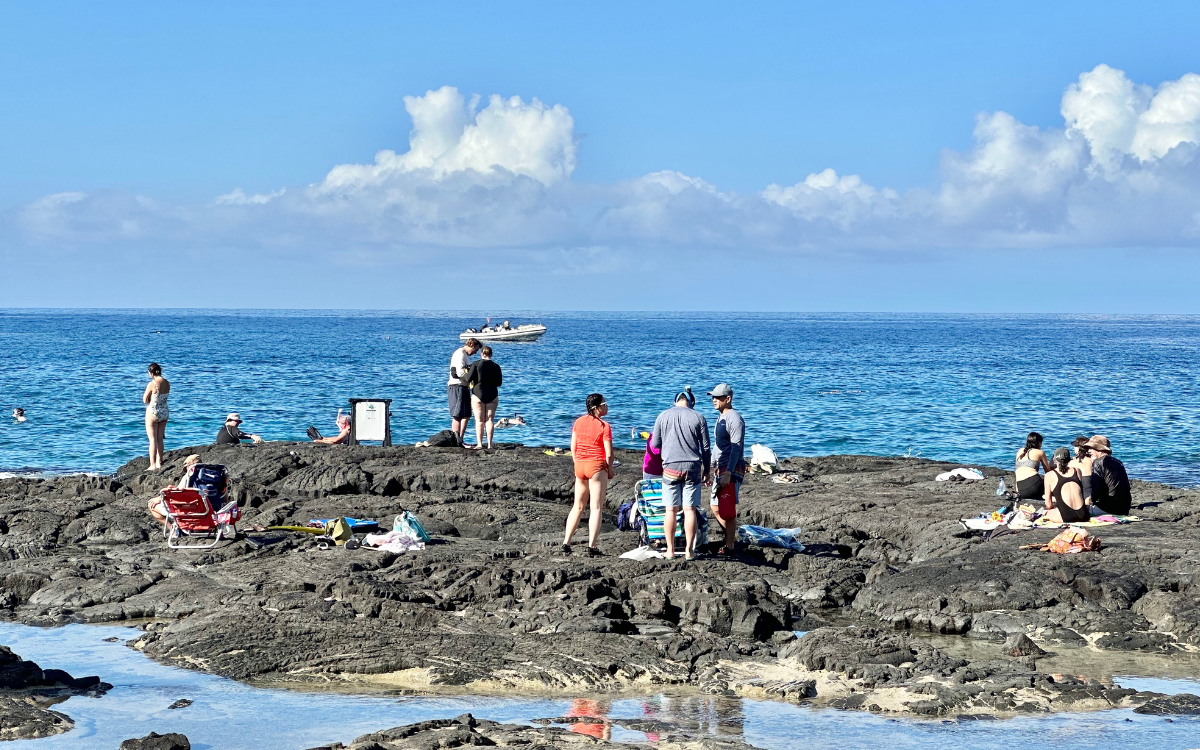 The best entry point is the farthest point of lava rock jutting out into the ocean. There are two natural little steps formed here (hence the name) that makes for easy access. If you can't find it, just hang back and watch where everybody else is going.
#26 Soak up the Sun at Hapuna Beach
Besides Mauna Kea Beach, this is hands down my favorite beach on the Big Island (and if you can't get a parking spot at nearby Mauna Kea, this is a really solid backup plan).
It's a state park so there's a $10 fee per vehicle to enter.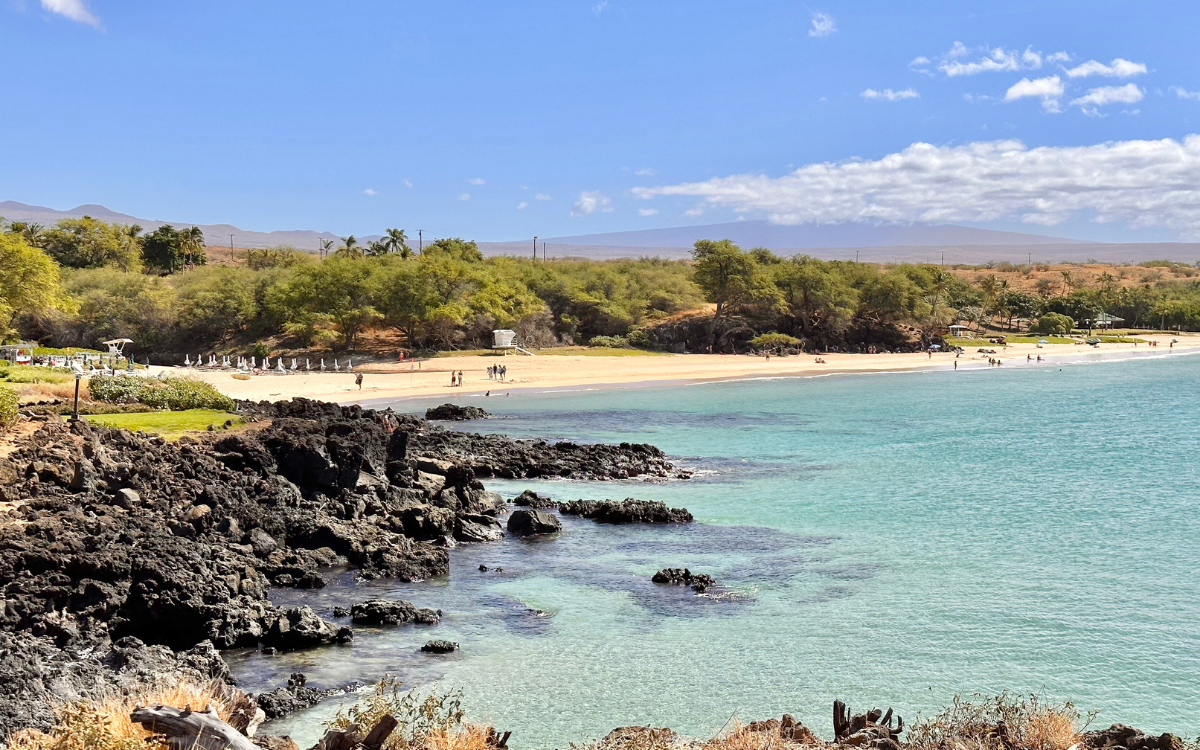 It's large, stunningly beautiful, and perfect for swimming. There's also a decent amount of shade to be found which is rare at a lot of beaches.
And the Westin Hapuna Beach Resort sits at one end of the beach if you find yourself in need of a tropical cocktail.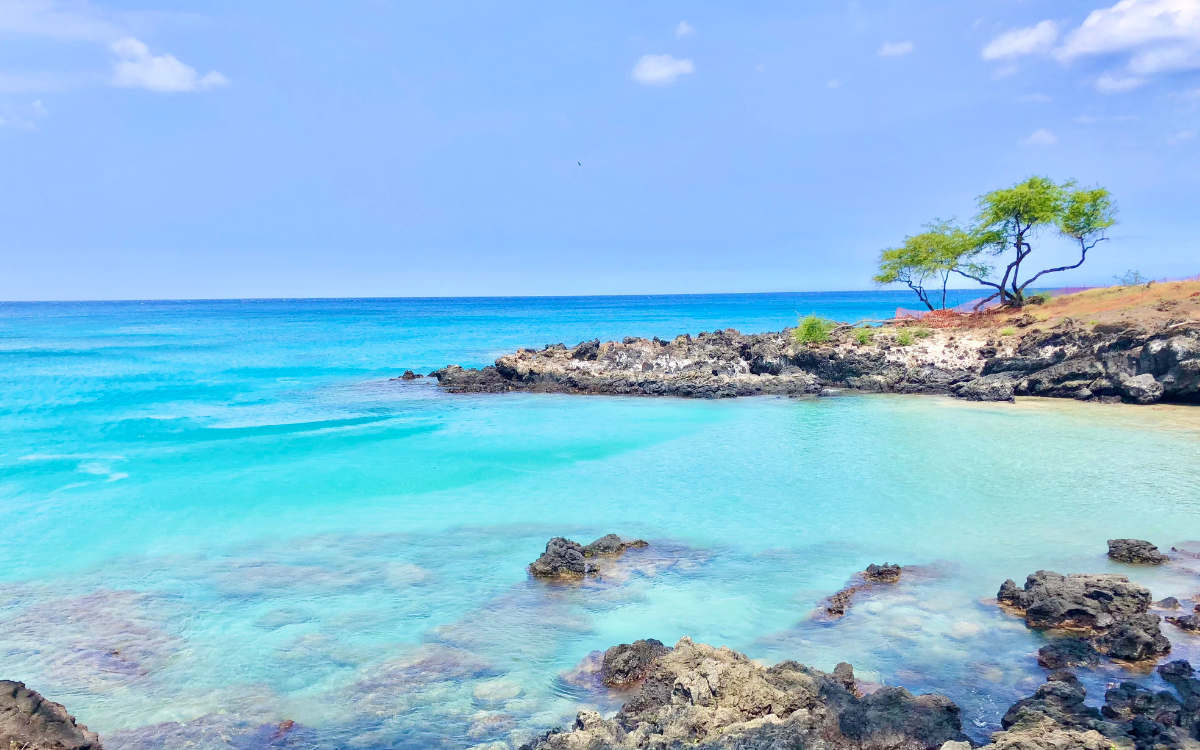 #27 Go to a Luau
For most people, attending a luau is a must do Hawaiian experience and you've got plenty of options on the Big Island.
My #1 choice would be the luau at the Mauna Kea Hotel. It is so well done and the setting is really lovely. Plus you can check out the manta rays after!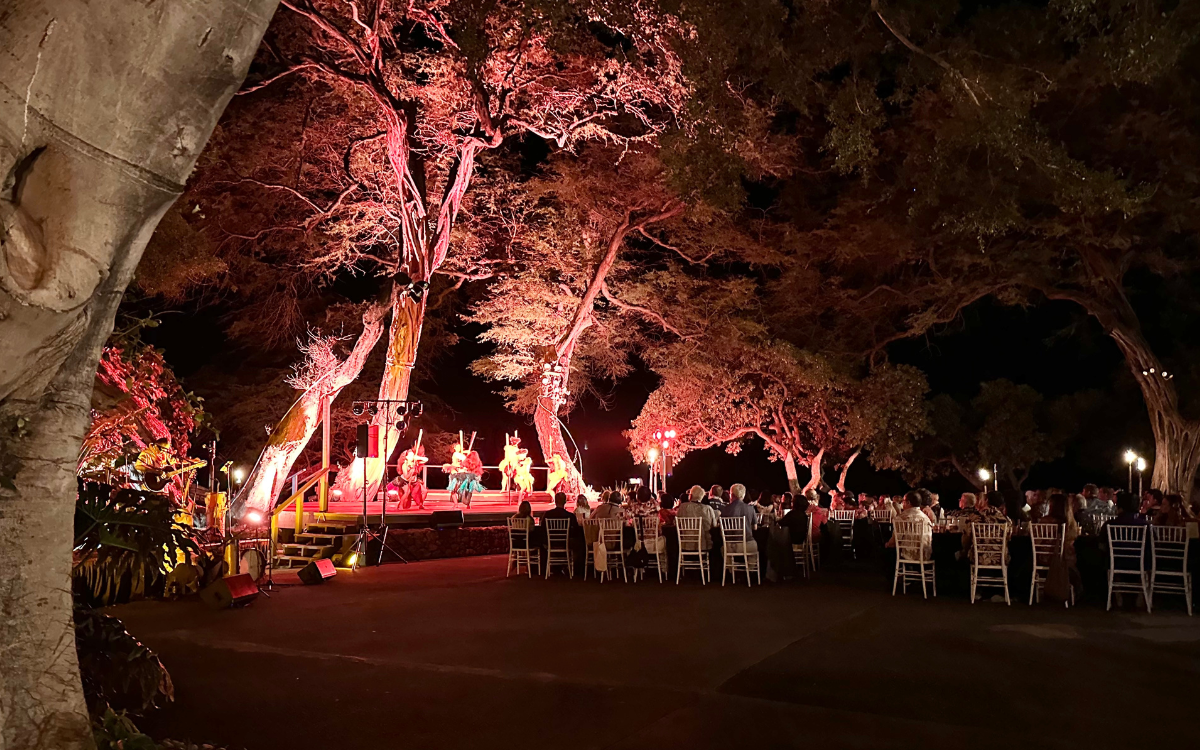 If you're wanting to stay closer to Kona, the Island Breeze Luau at the Courtyard Marriott King Kamehameha's Kona Beach Hotel is definitely a favorite on the island. Its location right on Kona Bay makes it not only picturesque but also super convenient.
#28 Have a Sunset Dinner
Downtown Kona is the perfect place to have a sunset dinner overlooking the water.
Huggo's on the Rocks (get the kalua pork nachos), Island Lava Java (also open for breakfast), and Foster's Kitchen are all great spots.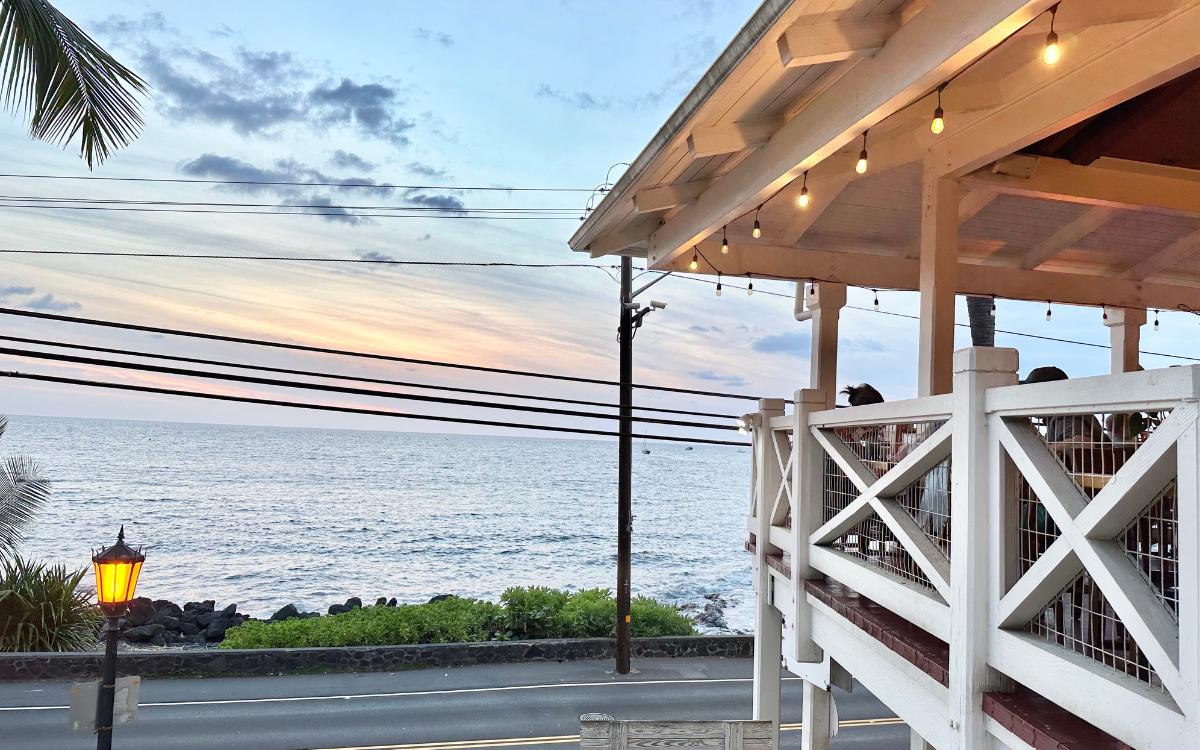 For options farther up the Kohala Coast in the resort areas, my #1 favorite spot is Lava Lava Beach Club in Waikoloa. It's a laid back place with the best views you'll find anywhere.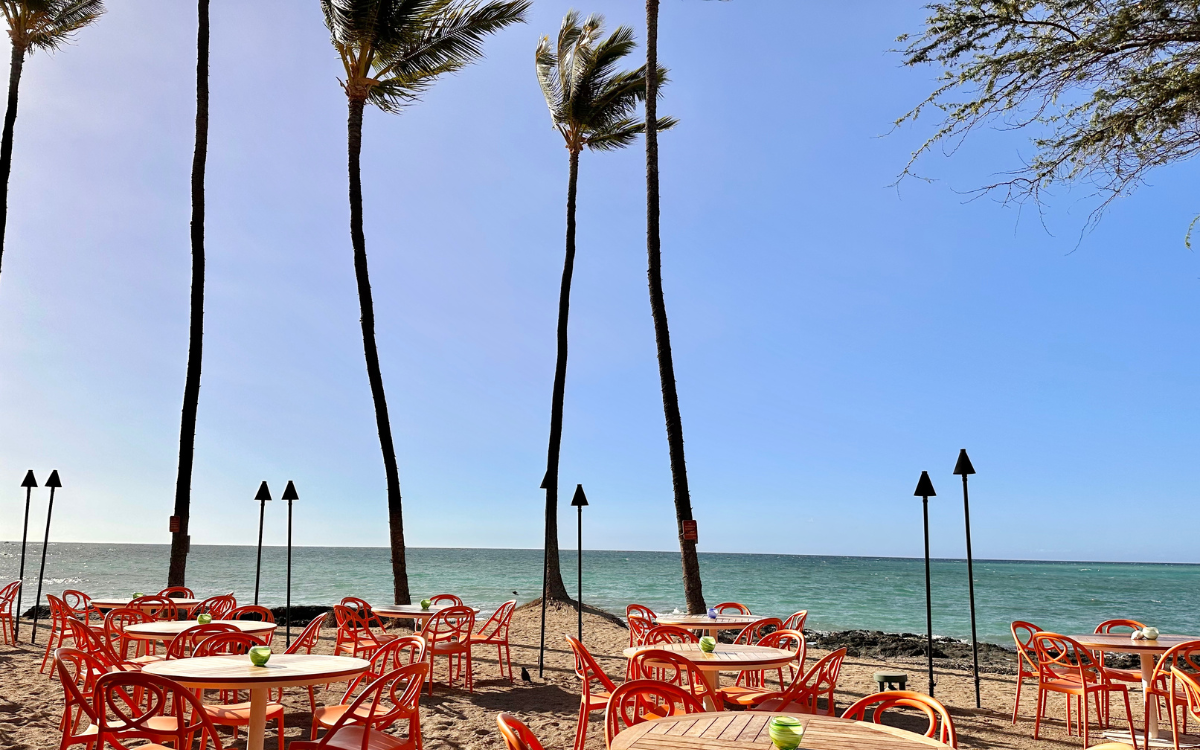 ULU Ocean Grill at the Four Seasons Hualalai is such a nice spot, and I will forever be telling people about Manta at the Mauna Kea Beach Hotel. Nice dinner + MANTA RAYS = must do.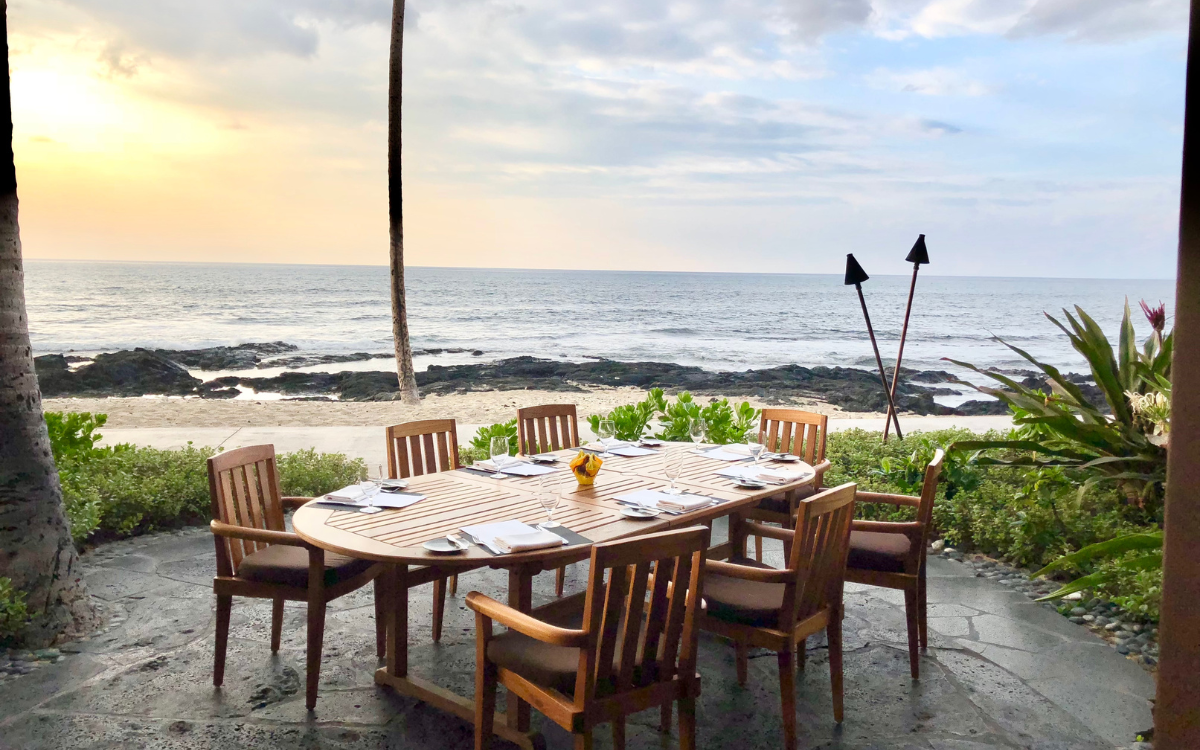 Still Looking for a Place to Stay?
Here's one more really important thing you need to know before your Hawaii trip…
Reservations You Need to Make BEFORE Your Hawaii Trip
You've got your airfare, hotel, rental car and your big activities booked, so you should be good to go, right? Wrong!
Travel is BOOMING in Hawaii so a lot of state and national parks used the closure and reopening to institute reservation systems at some of the island's most popular spots to make things a little more sustainable.
That means that there are now over half a dozen sites (beaches, trailheads, etc.) that require advance reservations. And some sell out well before you arrive on the island so you really need to have some sort of a plan.
I recently saw somebody in a Hawaii travel group post in a panic that they didn't know they had to make reservations for things in advance…they thought they could just show up and "go with the flow." I was tempted to say, well, "as long as the flow doesn't take you somewhere that requires reservations, you can!" ; )
But I don't want YOU to be that person, so I've pulled together a list of all the places you need to reserve entry in advance (plus all the details on booking windows, price, links, etc.) and a handful of popular tourist hotspots that book out really far in advance too.
Haleakala National Park (Maui)
To visit Haleakala National Park for sunrise at the summit, you must make reservations in advance here.
Reservations are required to enter the park gates between 3AM and 7AM (sunrise hours).
Online reservations are $1 per reservation/vehicle PLUS you'll pay the park entrance fee of $30/vehicle when you arrive (National Park annual passes are also accepted at the gate).
The reservation booking window opens 60 days in advance at 7AM HST. There are also a limited number of tickets released two days before.
You can make one reservation every three days with the same account. So if you want to make reservations for back to back days (in case of weather/conditions), you'll need to do so with separate accounts (email addresses).
If you can't get reservations for sunrise, you can enter the park anytime after 7AM without reservations. The summit is spectacular during the day and you don't need reservations for sunset.
I strongly recommend creating an account before and making sure you're logged in at 7AM HST because it's not uncommon for reservations to sell out quickly.
Waianapanapa State Park (Maui)
To visit Maui's famous black sand beach at Waianapanapa State Park on the Road to Hana, you must make reservations in advance here.
Reservations are required to visit the beach and are distributed in windows from 7AM-10AM, 10AM-12:30PM, 12:30PM-3PM, and 3PM-6PM. And they are pretty strict about exiting by the end of your window time (you can arrive anytime within your window).
It's $5/person to enter plus $10/vehicle to park and those fees are paid when you book your time slot.
Reservations open up 30 days in advance.
Iao Valley State Park (Maui)
To visit the lush, green mountains and hike at Iao Valley State Park, you must make reservations in advance here.
Reservations are offered for 90 minute time slots beginning at 7AM and ending at 6PM. They ask that you arrive within the first 30 minutes of your time slot.
Entry is $5/person plus $10/vehicle to park.
Reservations open up 30 days in advance.
Diamond Head (Oahu)
To hike to the top of Waikiki's famous Diamond Head, you must make reservations in advance here.
Reservations are offered in two hour increments beginning at 6AM (6AM-8AM, 8AM-10AM, etc.) and ending at 6PM. If you're parking onsite, they ask that you arrive within the first 30 minutes of your reservation window.
Entry is $5/person plus $10/vehicle to park.
Reservations open up 30 days in advance.
Tip: I recommend booking one of the first two time slots because there isn't much shade on this hike and it gets pretty hot.
Hanauma Bay (Oahu)
To snorkel at Oahu's pristine Hanauma Bay, you must make reservations in advance here.
Entry times are staggered in 10 minute increments from 7AM to 1:20PM with roughly 1000 slots being assigned in advance every day.
Reservations can be made two days in advance and they open at 7AM HST. They're usually gone in minutes (if not seconds).
If you're unable to get an advanced reservation, you can try for a day of, walk in ticket. They open at 6:45AM and they only have a limited number available. Everyone in your group needs to be present when you purchase your tickets in person.
There are no reservations for parking and it's first come, first serve. $3/vehicle.
It's $25/person to snorkel at Hanauma Bay (12 and under, active military, and locals with HI ID are free).
The Hanauma Bay Nature Preserve is open Wednesday through Sunday (CLOSED MONDAY AND TUESDAY) from 6:45AM-4PM. Last entry is at 1:30PM, the beach is cleared at 3:15PM and you have to leave the facility by 4PM.
Jellyfish patterns can also affect whether or not the bay is open so double check the day before/day of.
USS Arizona at Pearl Harbor (Oahu)
If you want to take the boat tour at Pearl Harbor out to the USS Arizona, it's recommended to make advance reservations here.
Online reservations are guaranteed a specific boarding time to go out to the USS Arizona. If you're unable to get an advance reservation, you can wait standby when you arrive. The line could be short (15 minutes or so) or long (hours) and it just depends on the day (if they're having problems with the loading dock sometimes they don't take many from the standby line) and the time of day.
Reservations are supposed to open up 60 days in advance, but keep an eye on your exact dates, because lately they've actually been opening up about 57ish days in advance???
They also release a small batch of tickets the day before.
The boat ride out to the USS Arizona is free, but it's $1 to make the reservations online.
They recently started charging $7/vehicle for parking at Pearl Harbor.
Haena State Park / Kalalau Trail (Kauai)
If you want to hike Kauai's famous Kalalau Trail, you must make advance reservations here.
You've got three options here:
1) Parking & Entry: This is the most flexible option and also the most limited. THESE RESERVATIONS SELL OUT IN LESS THAN A MINUTE. There are three time slots available: 6:30AM-12:30PM, 12:30PM-5:30PM and 4:30PM to sunset. You can purchase multiple time slots if you want to stay longer. It's $10/timeslot (parking) plus $5/person and you have to reserve every person when you initially book. Everybody has to arrive in the same car and your ID needs to match the reservation.
2) Shuttle & Entry: If you can't get parking at the trailhead, there's also a shuttle option. Shuttle reservations are $35/person (16+), $25/person (ages 4-15), 3 and under can ride free. The shuttle runs every 20 minutes 6:20AM to 6:40PM.
3) Entry Only: If you're a Hawaiian resident (with HI ID) or someone WITH a Hawaiian resident, you can purchase entry only for $5/person with no advance reservations. Also, if you're walking or biking to the trailhead you can do this option. But there is NOWHERE to park in the area to walk in. So this really only works for those with bikes or who are staying close enough to walk. They will tow your car if you park outside the designated areas.
The reservation window opens 30 days in advance at 12AM HST. The parking & entry option usually sells out in a minute, but the shuttle availability will last longer.
There are a TON of FAQs here including the possibility of snagging a canceled reservation.
Other Things to Book in Advance
Hawaii is a busy place these days! Besides the state and national parks above, here's a handful of miscellaneous things you should make reservations for in advance (if they're on your radar):
Mama's Fish House (Maui): The iconic spot is the most popular restaurant in Hawaii and they've been opening reservations (and selling out) 4-6 months in advance. You can call and get on the waitlist for one day or you can set notifications on OpenTable to alert you for cancellations every day of your trip. Most people have pretty good success on OpenTable.
Old Lahaina Luau (Maui): Honestly, any luau you're planning to attend you should book early, but most people are usually shocked how far out the Old Lahaina Luau books out. Book it as soon as you know your dates (I think they open at the six month window). They also have a waitlist.
Kualoa Ranch UTV Tour (Oahu): Everybody loves Jurassic Park so getting to ride UTVs where they filmed the movies is very popular. The ranch offers a lot of different tours but the UTV tours usually book out a couple of months in advance.
Spa Reservations: If you're staying at a resort with a spa (or planning on visiting one), don't wait until you arrive to make your reservations. I'd make them at least a month in advance.
Tee Times: Same for golf, reserve your tee times well in advance.
Dining Reservations: Any "fancy" or resort restaurant is likely to be booked up these days so if you like having a nice dinner every night, make your plans in advance.
Want to read more? Don't miss some of my most popular (and favorite) posts about the Big Island: 28 things to do on the Big Island (that you can't do anywhere else in Hawaii), plus things to do in Kona and in Hilo, a breakdown of where to stay on the Big Island comparing Kona and Hilo, the Big Island's best beach resorts ranked, my favorite places to eat on the Big Island, my perfect 7 day Big Island itinerary, one day in Hilo, one day in Hawaii Volcanoes National Park, four National Parks on the Big Island, stargazing at Mauna Kea, snorkeling and kayaking at Kealakekua Bay, a roundup of the best condos on the Big Island, my best Big Island travel tips, and reviews of the Fairmont Orchid and the Hilton Waikoloa Village.
Save
Save
Save
Save
Save
Save
Save
Save
Save
Save
Save
Save
Save
Save
Save
P.S. Thanks for sticking around and reading this whole post! If you have ANY questions about planning your trip to Hawaii, you can join my free Facebook group here. I'm there answering questions every day and there are 7500+ other friends who have a ton of Hawaii information to share!
Also, if you want to follow along on my travel adventures in real time, you can follow me on Instagram (@caitylincoln). My post captions are full of travel tips and I have a ton of story highlights and videos with great info. And please share my account with your friends that are headed to Hawaii! Your support really helps me keep this blog running!