Kona vs Hilo: Beaches or Waterfalls? Here's What You Need to Know
This post may contain some affiliate links, which means I'll make a little money on anything you choose to purchase. But of course, I only recommend my absolute favorites to you. Thank you for supporting the brands that make the Lincoln Travel Co possible.
If you're planning a trip to the Big Island of Hawaii, you're in for a great time. It's not the island that most first time visitors to Hawaii choose to visit (most favor Oahu or Maui) and sometimes that's because visitors are intimidated by the island's size.
All of the other Hawaiian Islands could fit inside the Big Island TWO TIMES. This is of course why they call it the Big Island. And it makes it hard to really explore the entire island from one central location.
So yes, it requires a bit more planning, but the Big Island is home to some of the most spectacular sites in the world (the WORLD…not just Hawaii) so it's a shame to skip it just because the logistics are tougher to figure out.
The Big Island is definitely the most diverse Hawaiian island climate-wise. It has something like 12 out of the world's 14 unique climate zones. So there is a LOT to do on this island and depending on where you stay, your experience could vary a lot.
Kona vs Hilo
So here's the lowdown on the Big Island:
Generally, the island is divided into two sides: the Kona side and the Hilo side. There are airports in both towns (KOA for Kona and ITO for Hilo) but the majority of flights come in and out of Kona.
Kona is the dry side of the island (somewhat barren actually) and home to endless lava fields. But it's also where you'll find 99% of the island's beaches and visitor amenities (resorts, hotels, dining, shopping, etc.).
Hilo is the lush, wet side of the island and where you'll find the features that attract most people to the island (Hawaii Volcanoes National Park, the black and green sand beaches, waterfalls, etc.).
Even though the eastern side of the island (Hilo side) has a lot to offer, the vast majority of visitors stay on the Kona side (the west side). It's just way more suited for visitors.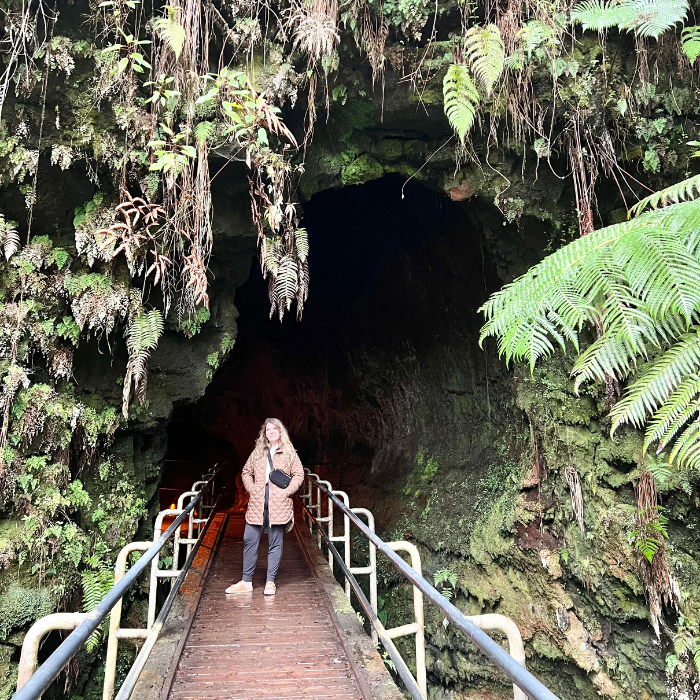 So it seems simple enough to say stay in Kona then right?? The thing is…most people underestimate the sheer size of the Big Island (even being aware of the name and size comparisons to other islands). So if you find a nice place to stay in Kona but you want to see Hawaii Volcanoes National Park, Hilo, the waterfalls, the black and green sand beaches, etc. then you're going to be spending a LOT of time in the car. It's a solid two hour drive one way from most of the resorts north of Kona to Hawaii Volcanoes National Park and there's so much to see on the Hilo side that you could easily fill 2-3 days.
So you may start to weigh whether staying in two different places is worth saving all of that time in the car.
That decision will likely be determined by exactly how much you want to see and experience around the Hilo side.
Now, here are the specifics…
Kona (& Waikoloa and Kohala)
The Kona side of the island refers to roughly the entire West side of the island, including the town of Kailua-Kona (usually referred to just as "Kona"). This is the drier side of the island (no lush jungles or rainforests here) and it is mostly barren lava fields as far as the eye can see. But no rain also means the best beaches (the vast majority on the Big Island are found on the Kona side) and therefore all of the resorts and condos.
I would consider the Kona "area" to include the actual town of Kailua-Kona south to Keauhou Bay and north up past Waikoloa to Kohala. That's over 40 miles of coast with HUNDREDS of places to stay!
Let's talk about actual Kona town. "Downtown" Kona is somewhat similar to Lahaina (Maui), but not quite as nice…waterfront, shops and restaurants with a smattering of small historically significant sites and generally a cruise ship port type vibe.
I'm not a huge fan of the area but a lot of people like it. It's fun to have dinner on the water one night but it's not where I'd want to spend my whole trip. There are a few beaches right around town and quite a few budget style accommodations.
If this area looks good to you, check out the Royal Kona Resort and King Kamehameha's Kona Beach Hotel (Courtyard Marriott).
Once you leave the downtown area, things start to get pretty spread out. There just aren't a lot of centralized areas on the Big Island where you'll find a clump of resorts/hotels and shops/restaurants plus departure points for activities. You'll pass one resort area and drive 10 minutes or so until you come to the next one.
There are a few resorts south of Kona town, but I think the best area on the island is north of Kona. Waikoloa and the Kohala Coast is where you'll find the best beaches on the Big Island.
Because it's one long stretch of resorts (but very spread out), you'll also find quite a few shops and restaurants. What you won't find a lot of are budget accommodations. Kohala is all about luxury. It has the same type of landscape you'll find all across the Kona side of the island (lava fields) but you'll be a little bit closer to spots on the north shore including the Kohala Forest, Waipio Valley, Pololu Valley, and Hamakua.
If you like a little bit of a resort area (not just one resort/hotel but a bit more built up), you're going to want to stay in Waikoloa. There are 3-4 large resorts in the area and two fairly good sized shopping centers. Because it's more concentrated, a lot of tours and excursions do pickups in Waikoloa.
And because it's more built up, you'll find more reasonably priced options.
Side Note: If you're looking for a rental car for your trip, I LOVE Discount Hawaii Car Rentals. They're seriously the only company I ever use. They'll give you the very best prices, you don't have to reserve with a credit card or pay until you show up, you can cancel and re-book anytime if you find a better rate, and they usually have a special that adds additional drivers for no fee. It's a no brainer. Click here to check rates for your trip.
Hilo (& Volcano)
The Hilo side of the island (roughly the eastern half of the Big Island) is as lush a place as you'll find anywhere in Hawaii. This side is all jungles and rainforests and it's green, green, green.
And it's that way because it rains a lot. Like, all the time. Which is why you'll find some of Hawaii's most spectacular waterfalls right outside of Hilo. But the rain situation is why most visitors forgo staying on the Hilo side and opt for sunnier Kona instead.
Hilo has some of the Big Island's absolutely must see spots so you HAVE to spend some time here.
Hilo town is one of the most charming towns in Hawaii. It was originally built to be the capital but because it rains all the time here, that honor went to Honolulu. Hilo is not nearly as touristy as Kona and you won't find any big resorts here but you will find plenty of budget options that make a great home base from which to explore this part of the island.
There aren't really many swimmable beaches near Hilo (but you will find the famous black sand and green sand beaches on this side of the island!).
If you decide to stay a couple of nights in Hilo (instead of doing a day trip or two), it's primarily to adventure and explore and not so much to relax.
While there are a few hotels in Hilo, things are a lot more primitive than on the Kona side.
The Hamakua Coast, Puna, and Punalu'u are also all beautiful regions of the Hilo side that are absolutely worth being explored but I would recommend hitting them as day trips from Hilo (or driving through from Kona) instead of trying to stay there as they're all pretty remote and lack many accommodation options.
The little town of Volcano is nestled right outside the gates of Hawaii Volcano National Park and is basically a basecamp for park explorations. This area is very lush and jungly (is that a word??) but pretty remote and not too convenient for anything other than exploring the park, which is a pretty major thing to do and could easily take a couple of days if you're super into it (most people spend half a day or so).
Volcano has a LOT of great vacation rental options (jungle tree houses, cottages, cabins, etc.) some of which could be called luxury so it's probably your best place to find a nice place to stay on this side of the island.
Where I Like to Stay on the Big Island
I always end up staying on the Kona side of the island and just making day trips over to Hilo and the National Park. And that's because the options for hotels are just 100X better in Kona. And I'm a hotel person. Although staying at the Volcano House in the National Park or in a luxury treehouse in Volcano could be a bucket list thing.
I've done a whole post here ranking the best beach resorts on the Big Island, but here's a quick summary.
If money is no object, stay at the Four Seasons Hualalai.
If the Four Seasons is a little too extravagant, but you can still splurge, I LOVE the Mauna Kea Beach Hotel. It was the first resort built on the island over 50 years ago by Laurance Rockefeller and it has dreamy vintage Hawaii vibes but completely modern rooms and amenities. They also have an onsite manta ray viewing location.
The Mauna Lani also does understated luxury like nobody's business.
A step down from those, the Fairmont Orchid is a great property that has most of the trappings, but is a little more lowkey (and usually less expensive) than the ones above.
The Westin Hapuna Beach Resort sits on what I think is the best beach on the Big Island and has great pools overlooking the ocean.
If the price was right, I would also consider the Waikoloa Beach Marriott. That area is nice if you like a little more going on and it's next door to one of my favorite spots on the island…Lava Lava Beach Club!
And if budget reigns supreme (the places mentioned above range from pricey but doable to downright absurd sometimes) and you want a more central location to get out and see the island, I would consider the Royal Kona Resort and the King Kamehameha's Kona Beach Hotel.
In Hilo, I would stay at the SCP Hilo or if you're a National Park junkie or visiting when there's some serious lava action, I would stay at the Volcano House in the National Park.
And if none of that suits you or is exactly what you're looking for, there are soooooo many condo and vacation rental options on the Big Island.
To Split or Not to Split
It's hard to say the perfect way to do the Big Island, but you've got two main options.
1) Stay somewhere on the Kona side for the whole week (I do NOT recommend less than a full week on the Big Island if you're trying to see and do much) and taking at least two separate days to do day trips to the other side of the island.
I would drive across the Hamakua Coast (north shore) to Hilo and back on Saddle Rd one day and then drive over on Saddle Rd and do Hawaii Volcanoes National Park, Punalu'u (black sand beach), the green sand beach and drive back along the south side to Kona on another day.
2) Split your trip and stay part of the time near Kona and part of the time near Hilo. If you go this route, I would do Hilo side first since it'll be mostly exploring and Kona side second to relax.
The planner/logistics specialist in my likes option 2. The vacationer in me likes option 1. It's a constant battle. What makes the decision a bit easier is that there's not a place in Hilo that I LOVE to stay.
However as a National Parks enthusiast, it is on my bucket list to stay at the Volcano House. Getting a reservation there is probably the only thing that would make me budge from staying in Kona the whole time. But also, I'm from the midwest so spending a couple of hours in the car to get somewhere isn't a dealbreaker for me.
Want to read more? Don't miss some of my most popular (and favorite) posts about the Big Island: 28 things to do on the Big Island (that you can't do anywhere else in Hawaii), plus things to do in Kona and in Hilo, a breakdown of where to stay on the Big Island comparing Kona and Hilo, the Big Island's best beach resorts ranked, my favorite places to eat on the Big Island, my perfect 7 day Big Island itinerary, one day in Hilo, one day in Hawaii Volcanoes National Park, four National Parks on the Big Island, stargazing at Mauna Kea, snorkeling and kayaking at Kealakekua Bay, a roundup of the best condos on the Big Island, my best Big Island travel tips, and reviews of the Fairmont Orchid and the Hilton Waikoloa Village.
P.S. Thanks for sticking around and reading this whole post! If you have ANY questions about planning your trip to Hawaii, you can join my free Facebook group here. I'm there answering questions every day and there are 7500+ other friends who have a ton of Hawaii information to share!
Also, if you want to follow along on my travel adventures in real time, you can follow me on Instagram (@caitylincoln). My post captions are full of travel tips and I have a ton of story highlights and videos with great info. And please share my account with your friends that are headed to Hawaii! Your support really helps me keep this blog running!