One Day in Hilo?: Here's What to Do in Hilo for the Day
Hilo is one of the prettiest towns in Hawaii and famous for its close proximity to some of the Big Island's most impressive sights. But because of its lack of beaches, nice resorts and how much it rains, most tourists stay over on the Kona side of the island instead.
But even if you're not staying on the Hilo side of the island, you HAVE to come over for at least a day trip.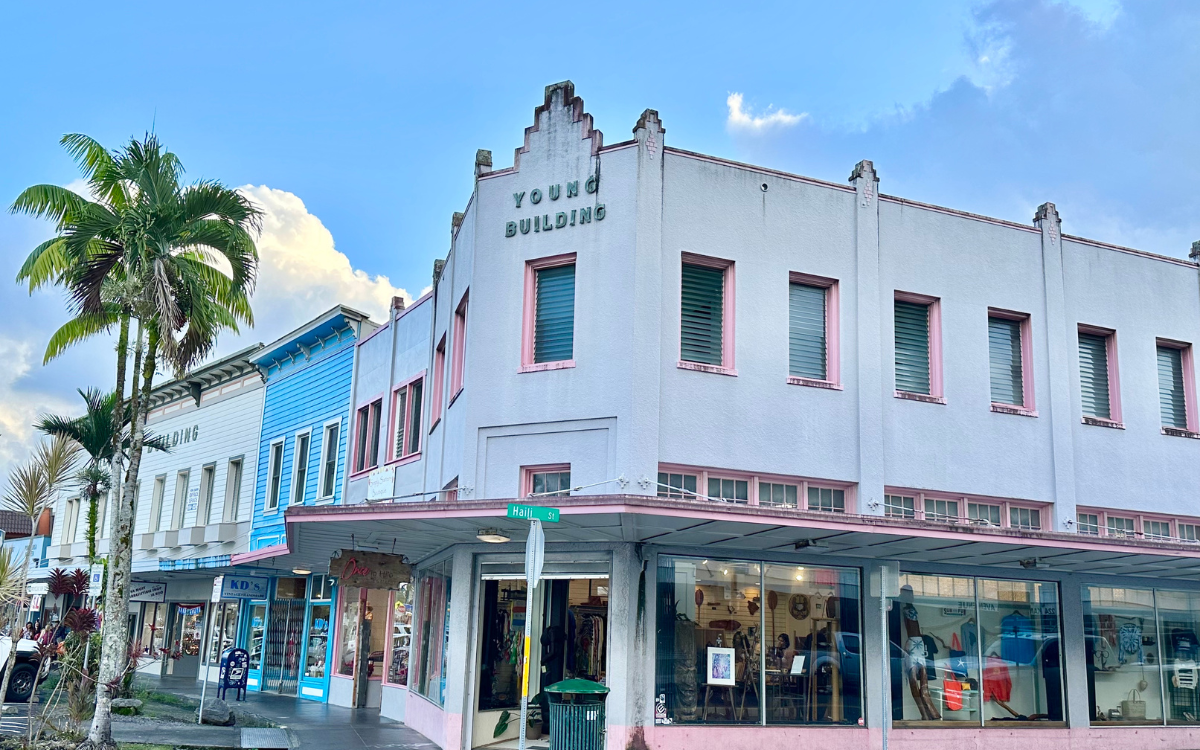 So if you're visiting Hilo as a day trip from Kona, here's what I would recommend:
One Day in Hilo: What to Do in Hilo for the Day

From the Kona side of the island, there are potentially three ways to get to Hilo. Across the top of the island, across the bottom, or straight through the middle.
Taking Saddle Road across the middle is by far the quickest and most efficient (it's basically a highway), but the north shore drive along the top of the island is so scenic that I recommend driving the north shore route TO Hilo and then take Saddle Road coming back FROM Hilo.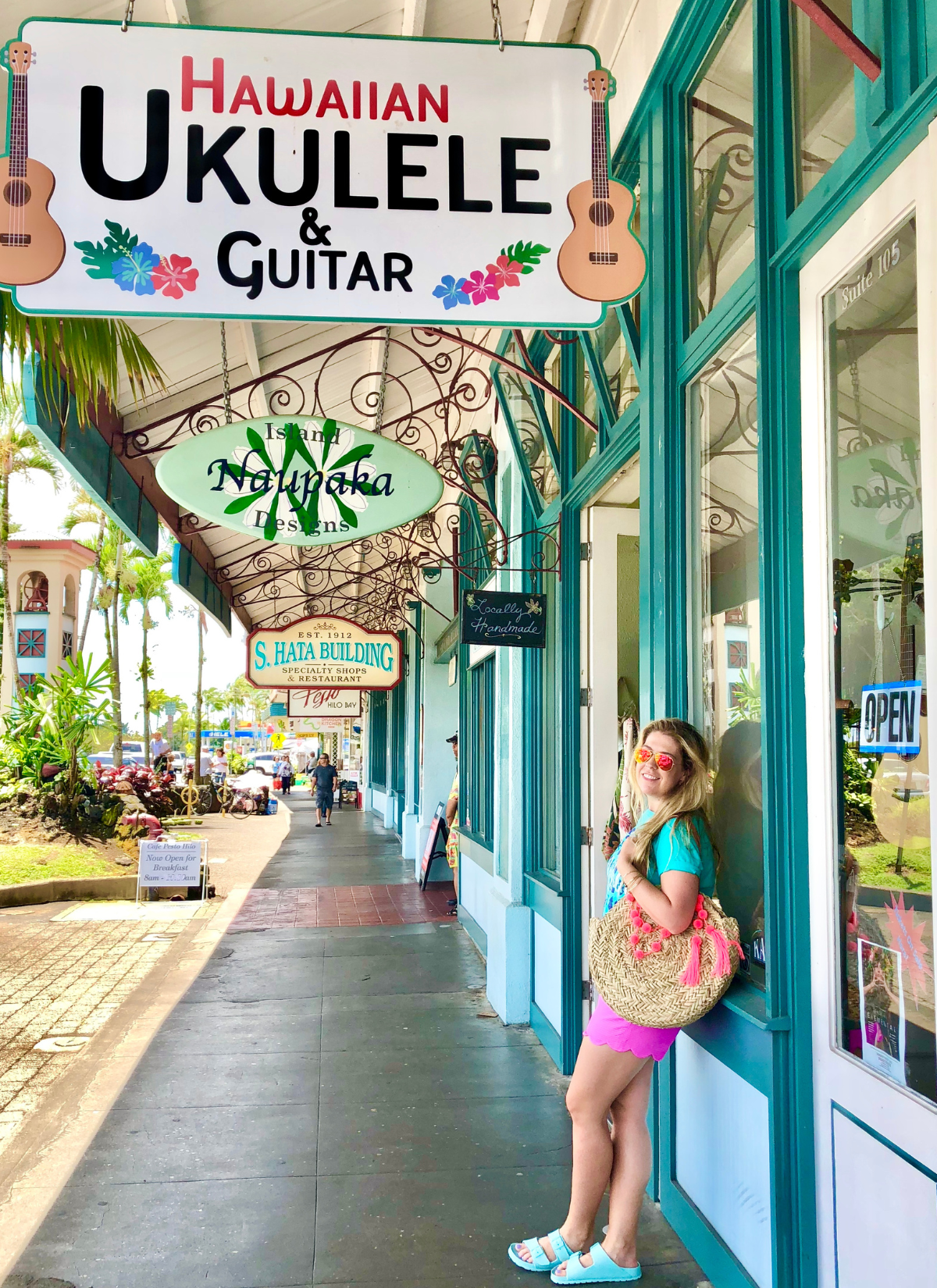 If you have multiple days to explore the Big Island, you could do a lot of the Hamakua Coast as a separate day, but if you're trying to maximize your time at the pool/beach/resort then I would do it on this day.
Here's a quick "table of contents" for what's in this post:
One Day in Hilo Itinerary

Breakfast at Arvo Cafe in Waimea
Waipio Valley Overlook
Akaka Falls State Park
Hawaii Tropical Botanical Garden
Two Ladies Kitchen
Hilo Farmers Market

More Things to Do in Hilo

Rainbow Falls
Liliuokalani Park
Panaewa Rainforest Zoo
Mauna Loa Macadamia Nut Visitor Center
Richardson Beach Park
Carlsmith Beach Park
Pacific Tsunami Museum
Historic Palace Theater
Lyman Museum and Mission House
Imiloa Astronomy Center
Zipline over a Waterfall
Take a Helicopter Tour

Can I Visit Hilo & Hawaii Volcanoes National Park on the Same Day?
Breakfast at Arvo Cafe in Waimea
Get an early start with breakfast in Waimea. I love Arvo Cafe. Their coffee is great, their avocado or nutella toasts are filling but still light and it's such a cute vibe.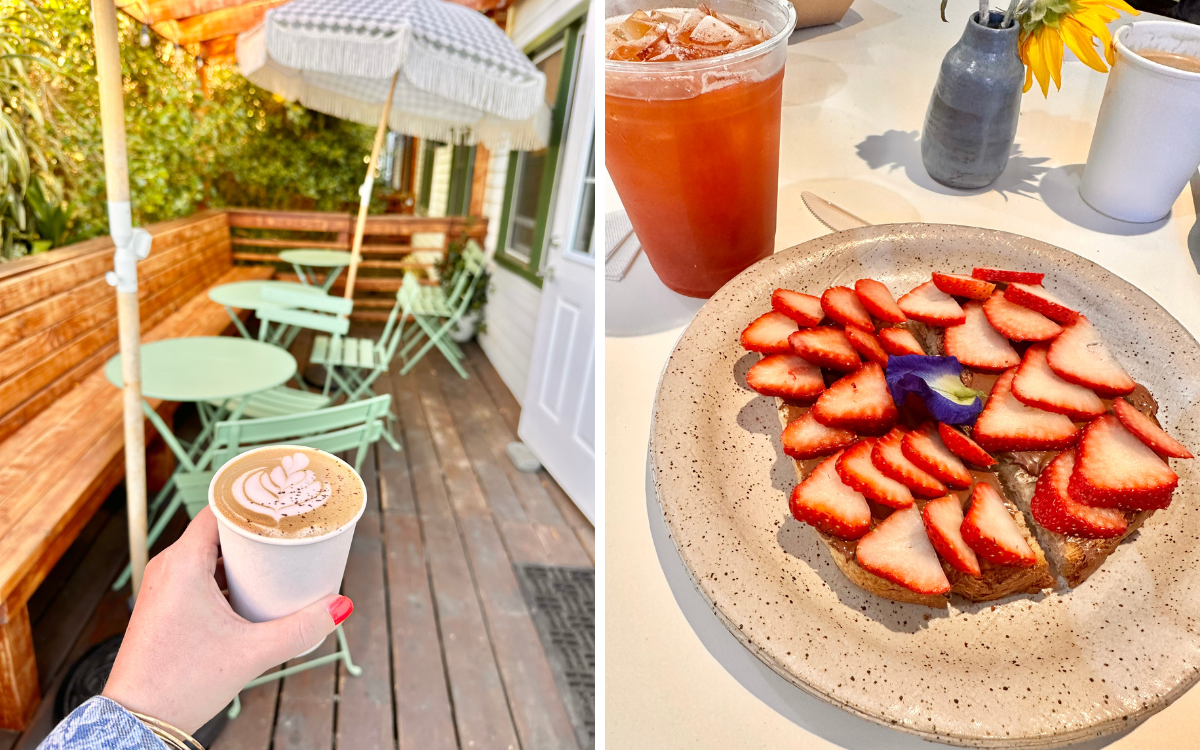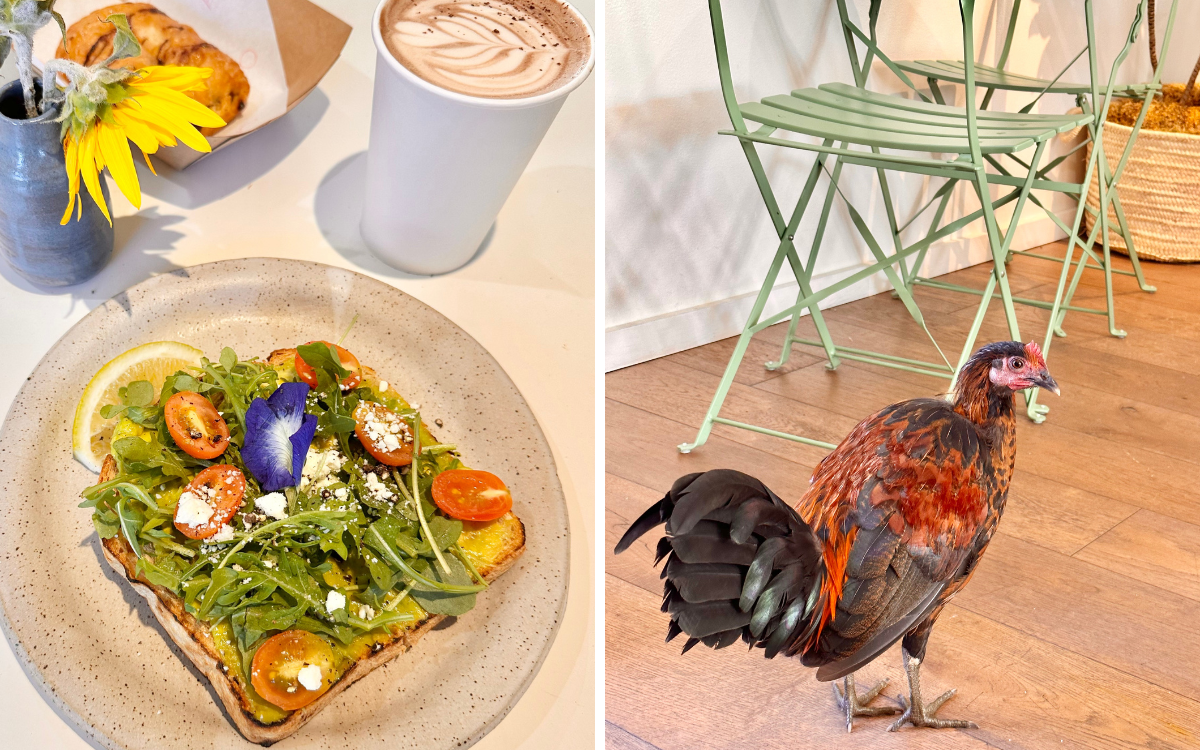 Waipio Valley Overlook
From there head up to the north shore of the island on Highway 19. In Honokaa, detour a bit to the west to check out the Waipio Valley Overlook.
Lush and tropical, Waipio Valley is one of the prettiest spots on the Big Island. The hike down into the valley is SUPER STEEP and there's not a lot to see at the bottom (mostly private property) unless you're on a guided tour. Since February 2022 the valley has been closed to visitors (on tours and individual hikers) because of safety concerns on the road, so for now you'll have to settle for the overlook.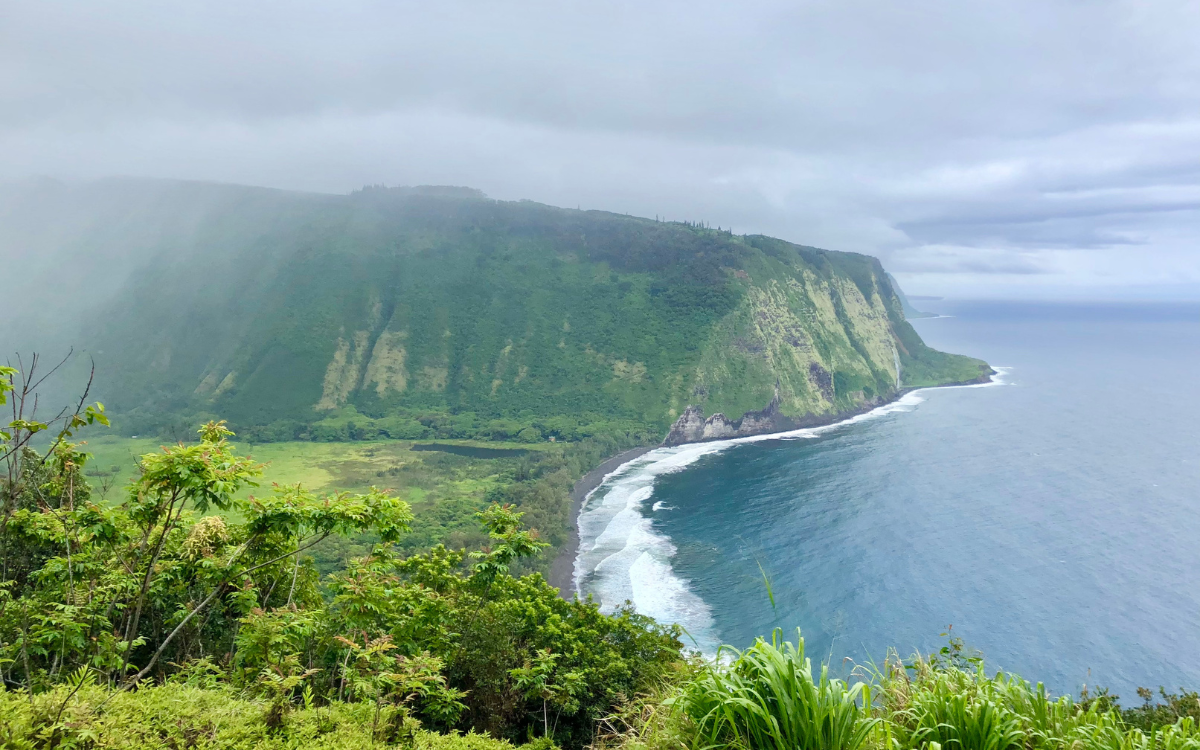 Back on Highway 19 (Hawaii Belt Road) heading east towards Hilo, just enjoy the drive and pullover at any spots where you want a bit longer to soak in the view.
If you've done the road to Hana on Maui, this stretch of road reminds me of that scenery a bit except for all the hairpin turns and traffic ; )
Akaka Falls State Park
Make Akaka Falls State Park your next stop.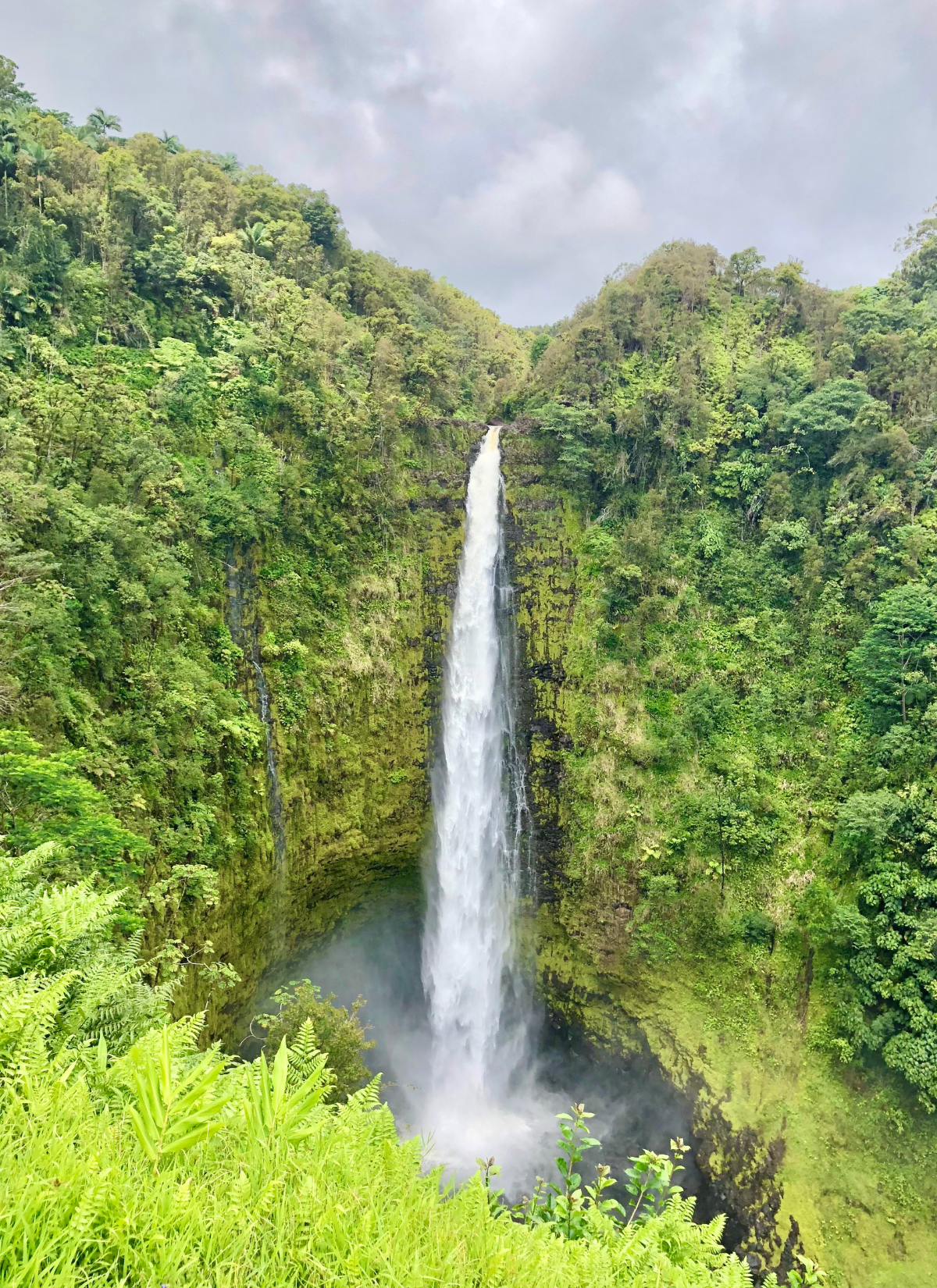 Hawaii's most famous waterfall is about 11 miles north of Hilo and it's a DO NOT MISS. I think Akaka Falls has a perfect setting. It's not quite a parking lot waterfall (where you literally drive up to the parking lot and get out of the car to see it) but it also doesn't require a 3-5 mile hike either.
The 400 foot tall falls are accessible via an easy half-mile hike through a lush jungle.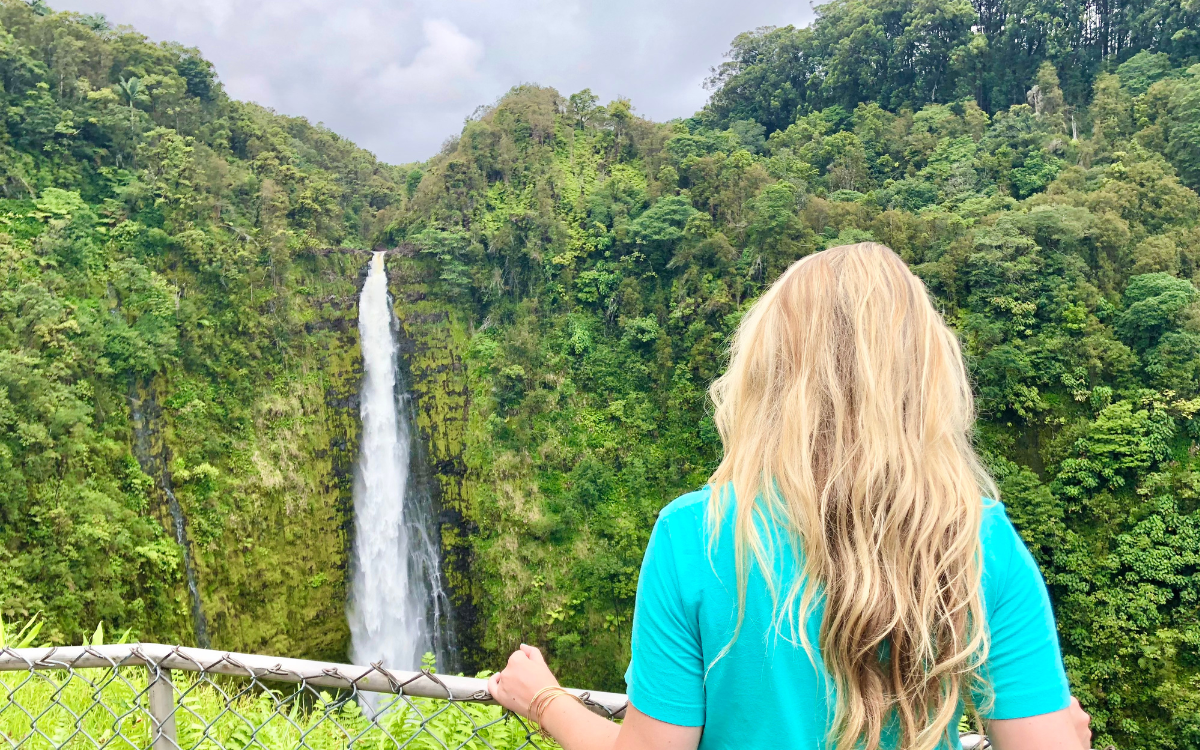 The state park has a $5 entrance fee per person plus $10 parking per vehicle.
***Want to save major $$$ on a fancy beach resort? My favorite travel hack is cashing in points to score free nights at some of the island's most high end resorts. My go to hotel brand is Marriott so I use this Marriott Bonvoy Boundless card to rack up points for a lot of my trips to Hawaii. If you pay for your monthly expenses on the card and are responsible about paying it off every month, the points add up really fast. Plus, if you sign up through my link, you'll get THREE bonus free nights to use. On the Big Island, use your points at some of my favorite Marriott properties like the Mauna Kea Hotel, Westin Hapuna Beach, and the Waikoloa Beach Marriott.
Hawaii Tropical Botanical Garden
On the way into Hilo stop by Hawaii Tropical Botanical Garden. Just 7 miles north of Hilo, these botanical gardens are generally said to be the most beautiful in Hawaii.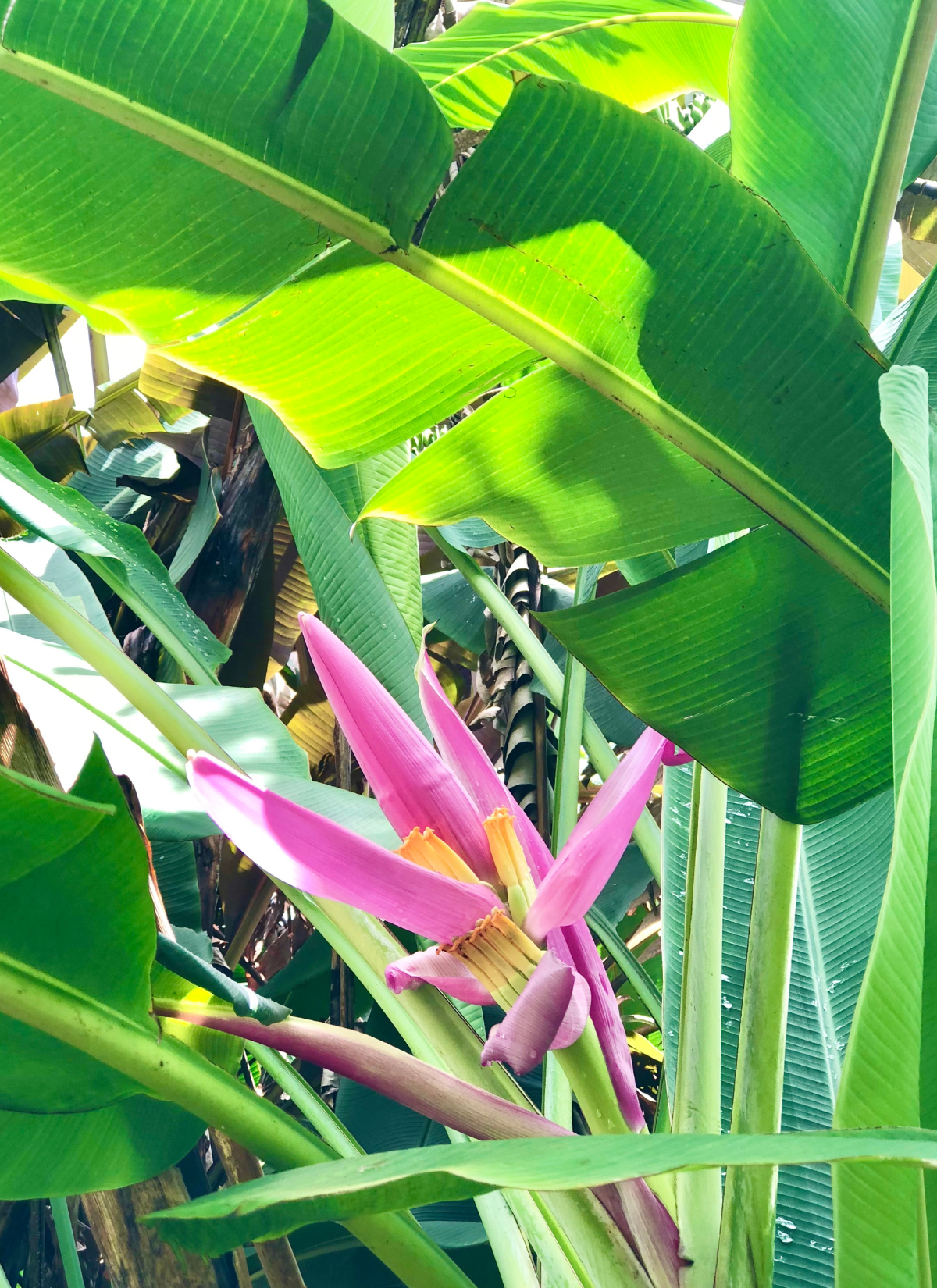 Well, I haven't been to every botanical garden in Hawaii so I couldn't say for sure, but I have been here and WOWZER.
I'd say this is a don't miss attraction in Hilo and even if you're not the type to generally enjoy a botanical garden, I think you'll like it. It's such a pretty place and really more of a hike through a rainforest down to the ocean that just happens to have hundreds of kinds of tropical plants and flowers everywhere.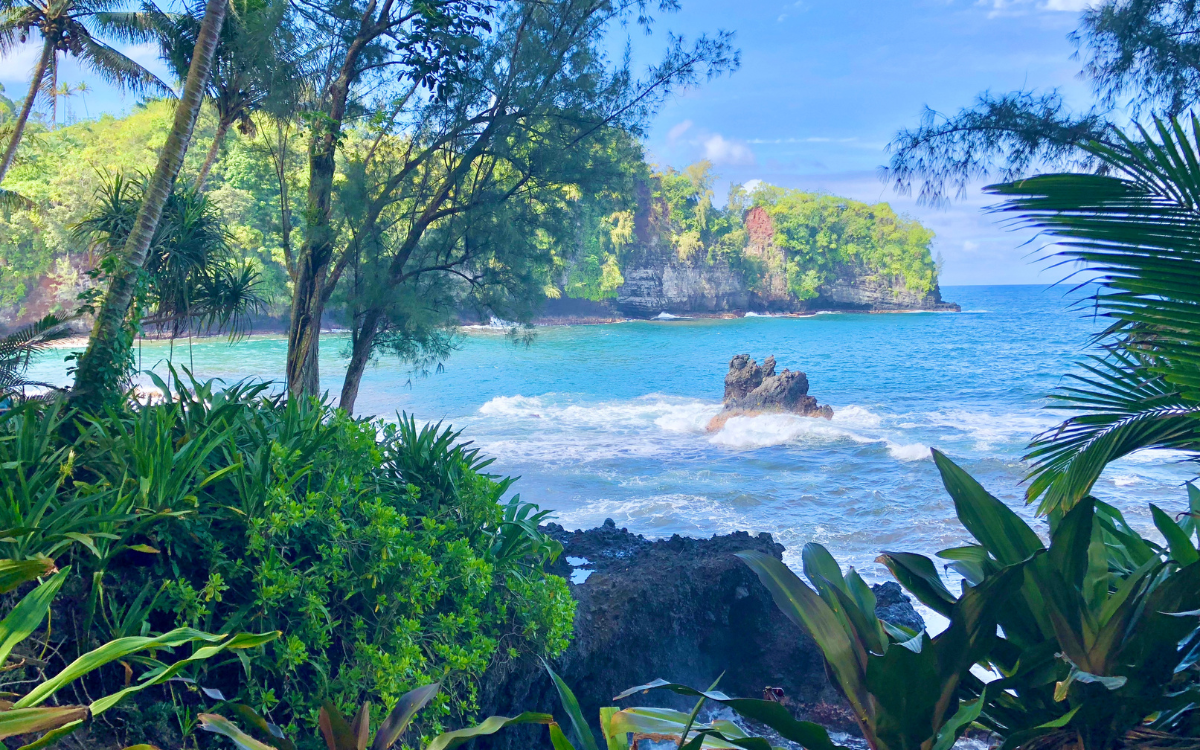 The walk down is pretty steep (all paved though), but I believe they also have a tram if you'd rather ride.
Admission is $25/adult, $12/child (6-16), 6 and under are free.
Two Ladies Kitchen
Head on into Hilo and go straight to Two Ladies Kitchen to put your mochi order in.
Since almost ⅓ of the population of Hilo is Asian, it's a great place to have a unique cultural experience that's likely very different from anything you have at home. And Two Ladies Kitchen is the place to do it.
This small family run shop has been making mochi (a Japanese confection with a Hawaiian twist) for over 20 years and it's incredibly popular with locals and visitors alike.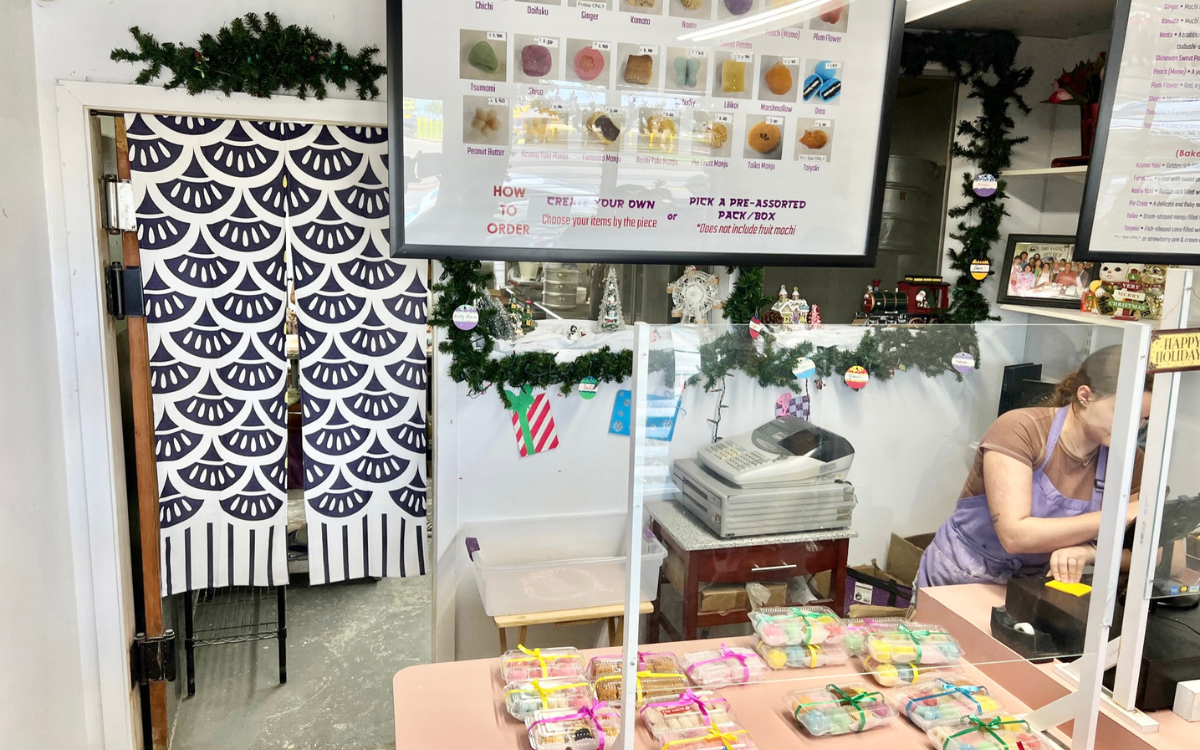 The shop is pretty unassuming, but you know it's something special from the line out front. It's a good mix of tourists and locals (mostly from other islands, because the Hilo locals know to call their orders ahead of time to avoid the line).
They have a wide selection of mochi and you can do a custom order, selecting every piece or grab a pre assorted box from the counter. Whichever way you go, your mochi is pretty much guaranteed to be made within the last hour.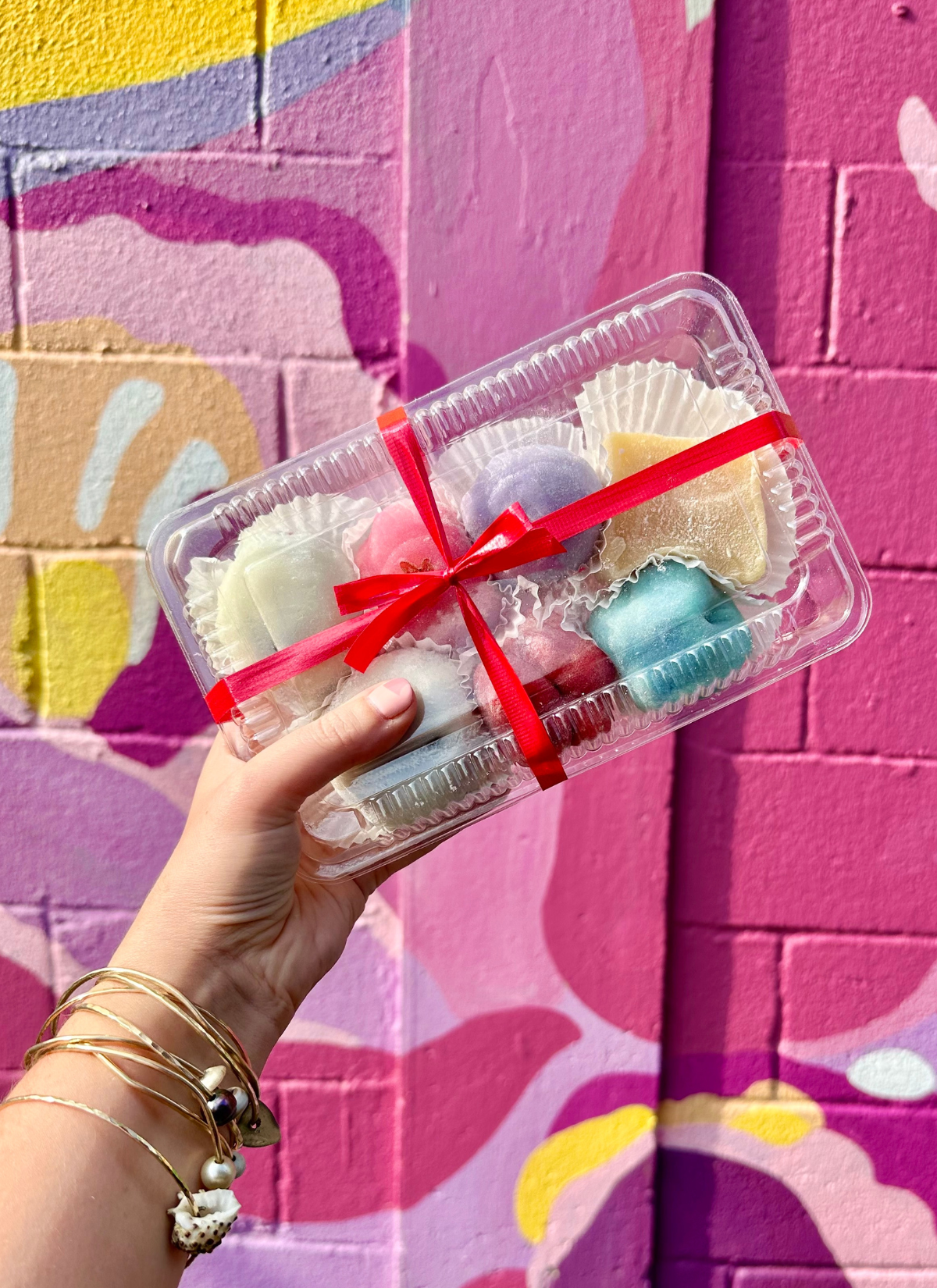 They're most famous for their strawberry mochi (it has a whole strawberry inside), but they've got an impressive selection of traditional mochi and modern mochi. You can see their menu online here, but in the store they do a really good job of explaining exactly what everything is with extensive menus, definitions and pictures.
I selected six different mochi (strawberry, brownie, lilikoi, butterfly, plum flower, and Okinawan sweet potato). The strawberry and brownie were by far my favorites, but it was fun sampling them all.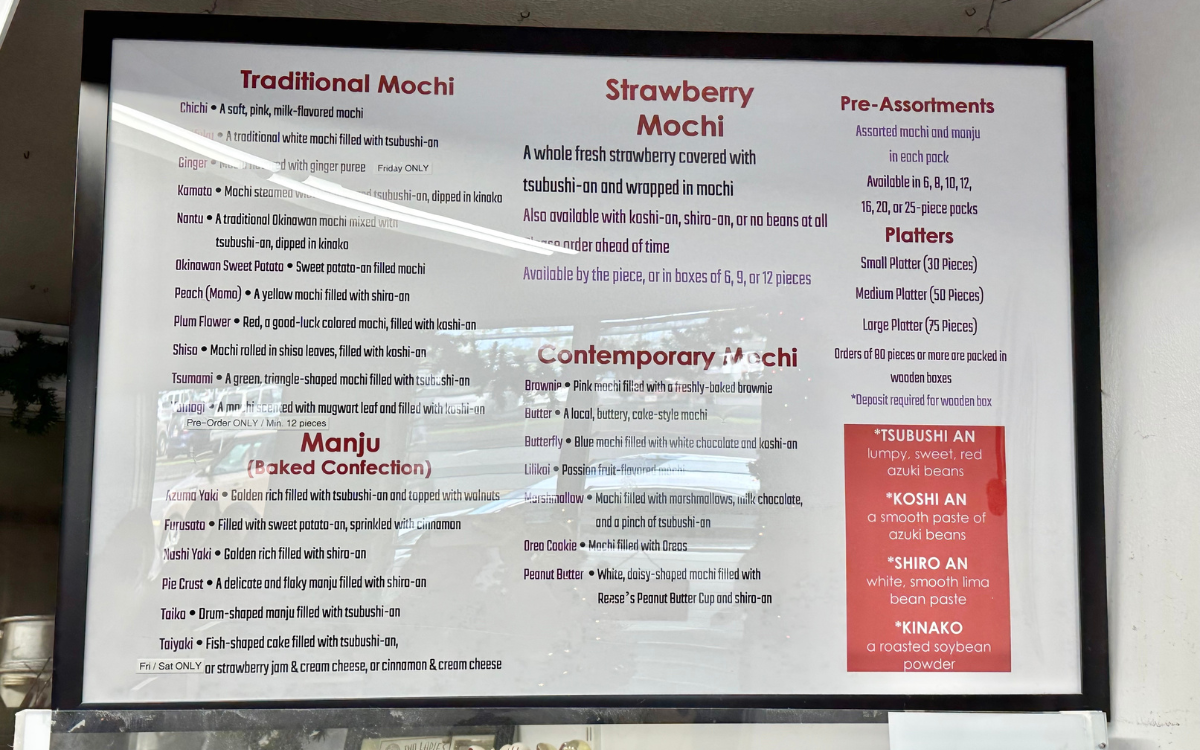 Like I mentioned, the line here gets pretty long. It usually moves pretty quickly to order, but then you have to wait a while for them to fill your order. So I would order when you get to town, go have lunch and then come back.
Tip: If you're flying interisland or to the mainland on Southwest Airlines and hoping to take your mochi, you'll have to check the fresh fruit mochi in your luggage instead of carry on.
Two Ladies Kitchen is open 10AM to 4PM and closed on Sunday and Monday.
Hilo Farmers Market
If it's a day when the Hilo Farmers Market is open (Wednesday and Saturday), head over there and walk around a little. The main part is all produce, but there are a lot of arts and crafts set up across the street. They've also got a super cool mural!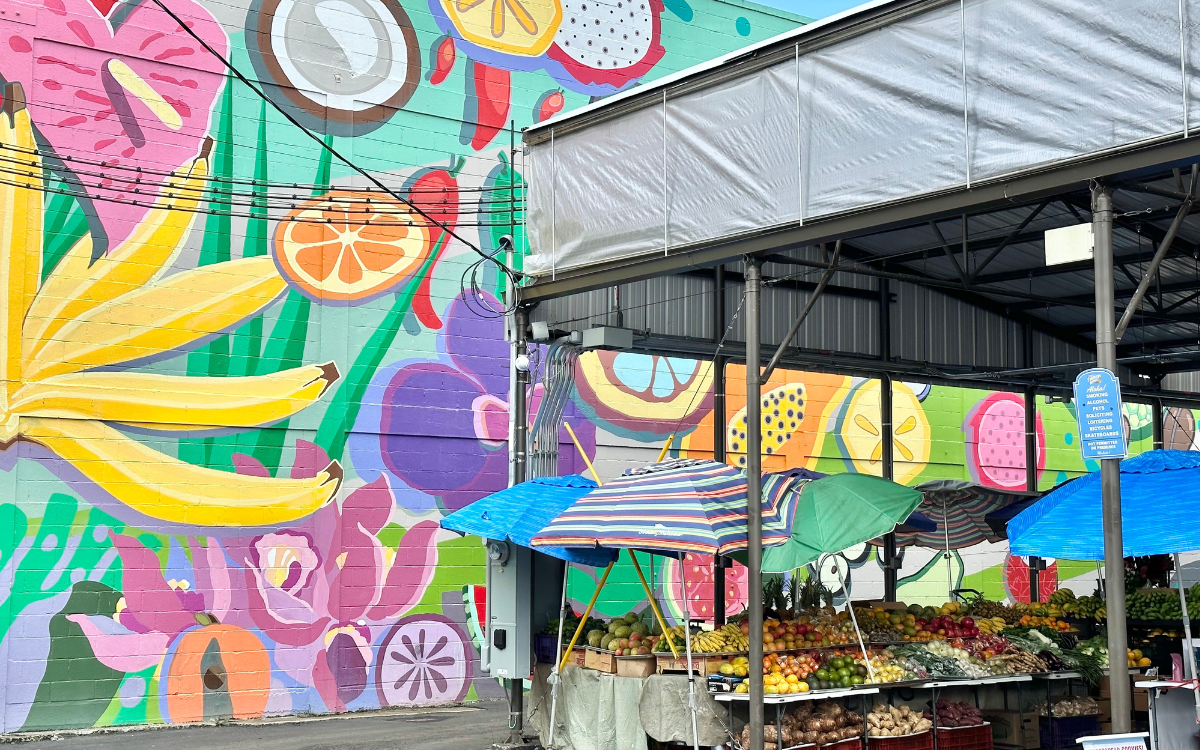 I strongly strongly recommend planning your day trip to Hilo when 1) the farmers market is going on and 2) Two Ladies Kitchen is open so your best bet is on a Wednesday or Saturday.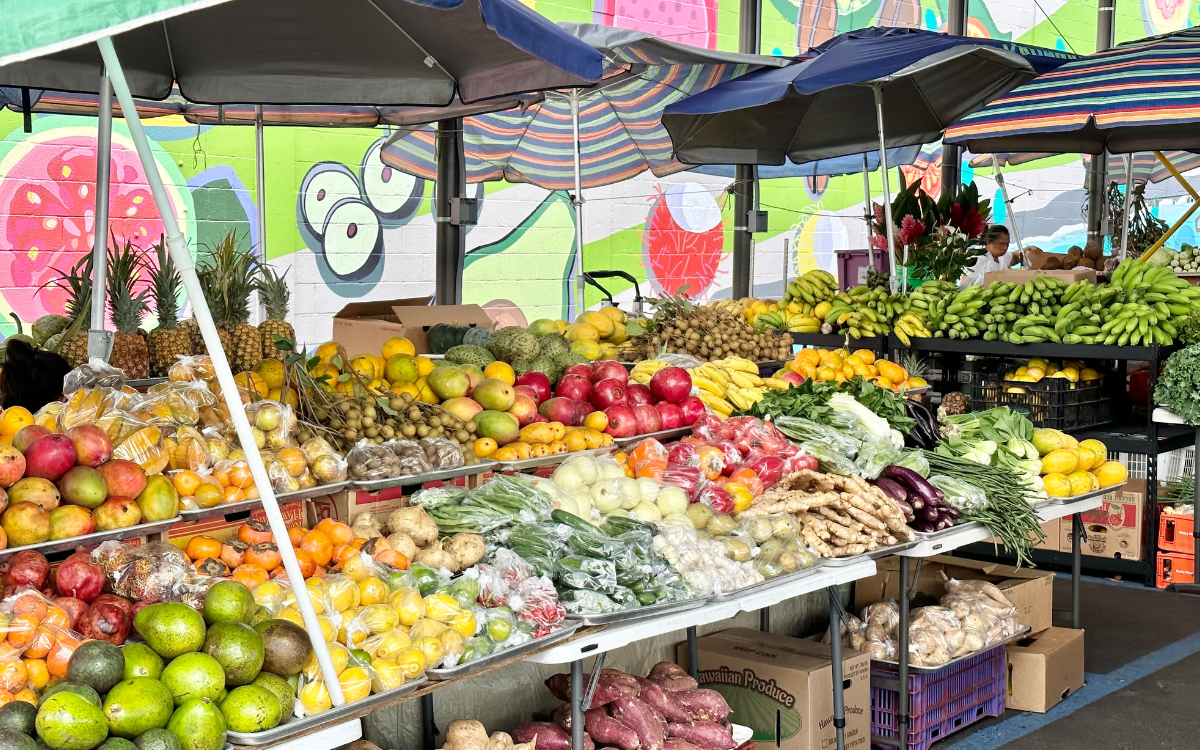 After (or before) you walk through the farmer's market, I would stop for lunch at Pineapples or Jackie Rey's Ohana Grill.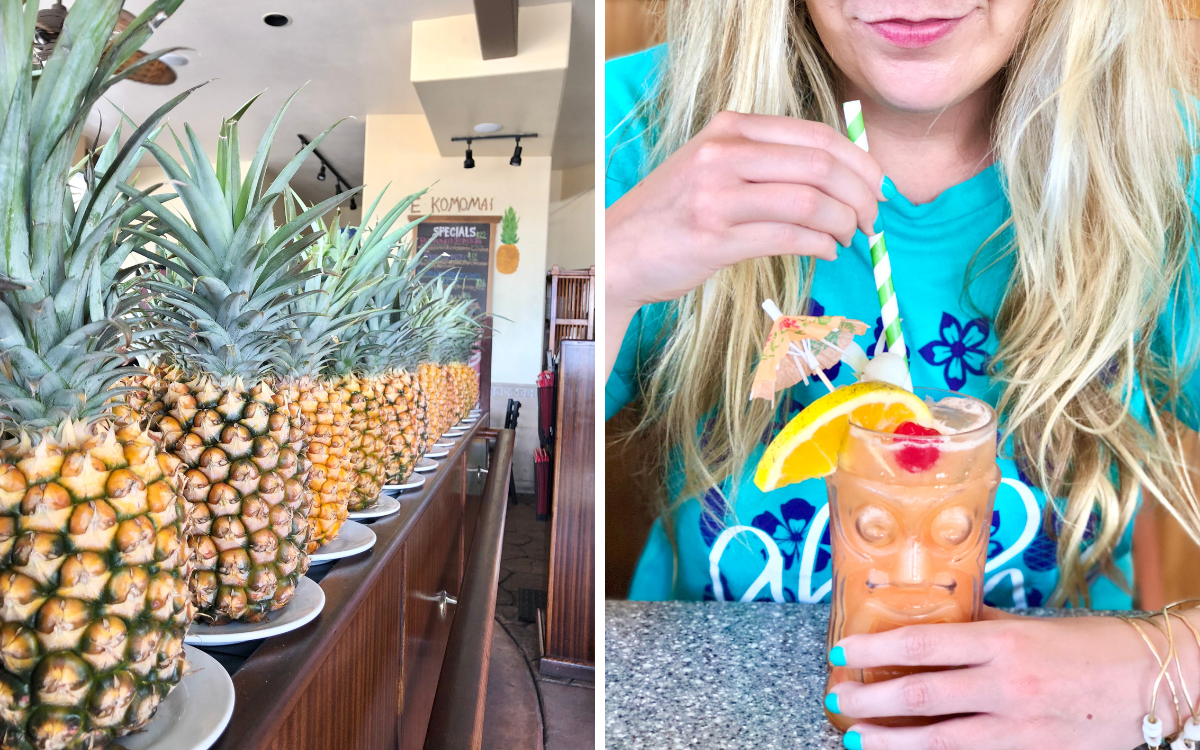 There are a lot of food trucks/stands set up near the farmer's market (Poke n Sides is good), but on a long day, I like to have a sit down lunch planned. Pineapples is right in the middle of Two Ladies Kitchen and the farmers market and Jackie Rey's isn't far away either.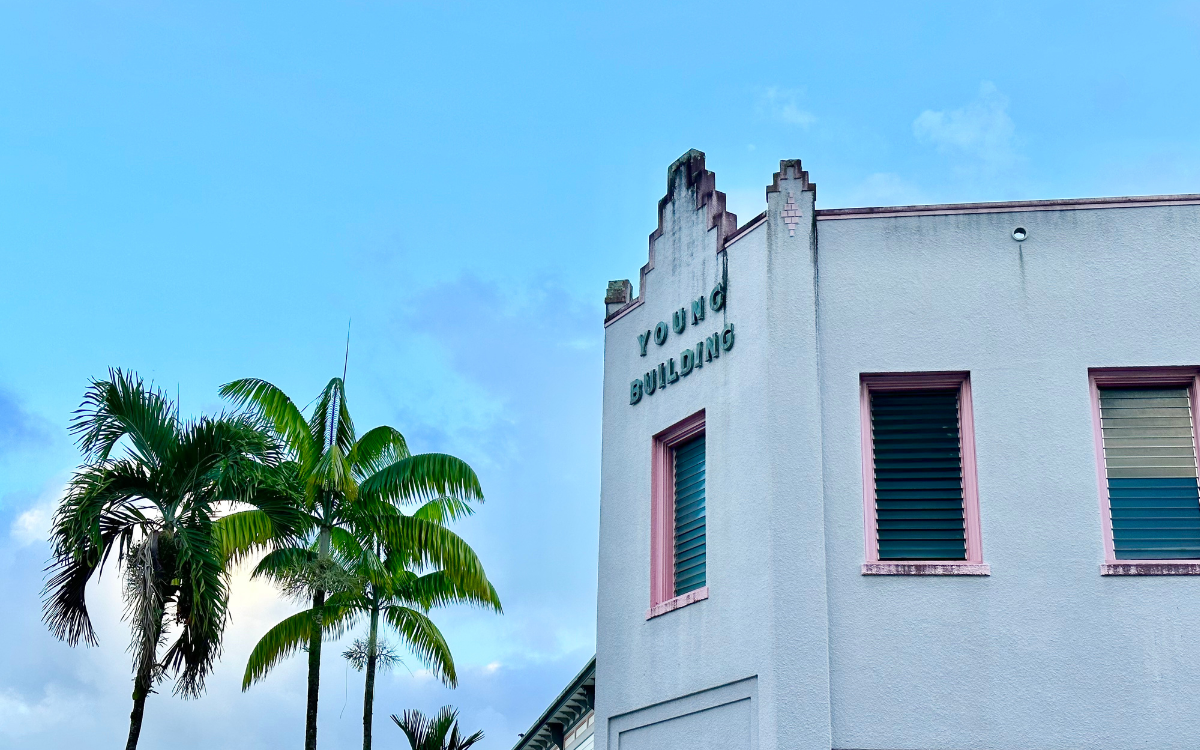 Spend a bit of time walking through downtown Hilo and visiting some of the shops before you go back to pick up your mochi.
When you're finished downtown, you've got some options…
Rainbow Falls: Located right in Hilo town, this 80 foot waterfall is best seen in the early morning (on a sunny day) when you'll have the best chance of seeing a rainbow. But it's beautiful any time of day really. It's also very accessible. You can park and walk right up to it.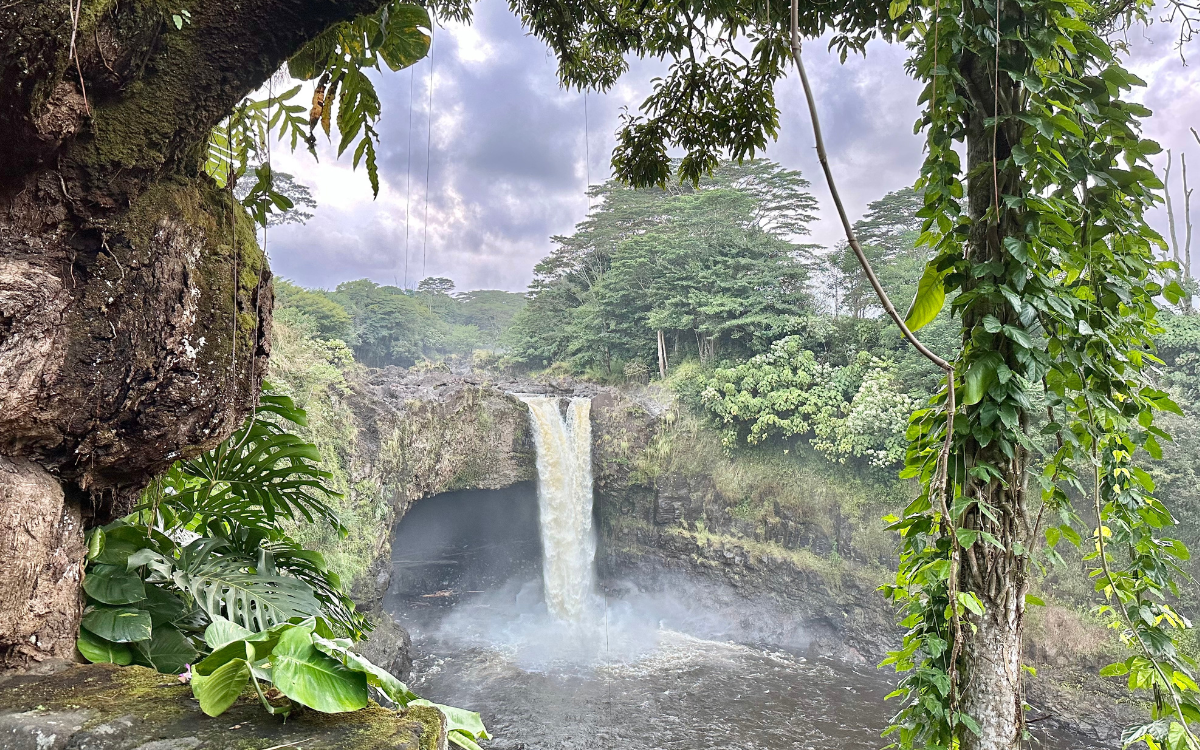 Liliuokalani Park: This lovely garden is the largest authentic ornamental Japanese garden outside of Japan and is free to the public. It's right on the water and it would be a nice place to eat a picnic lunch.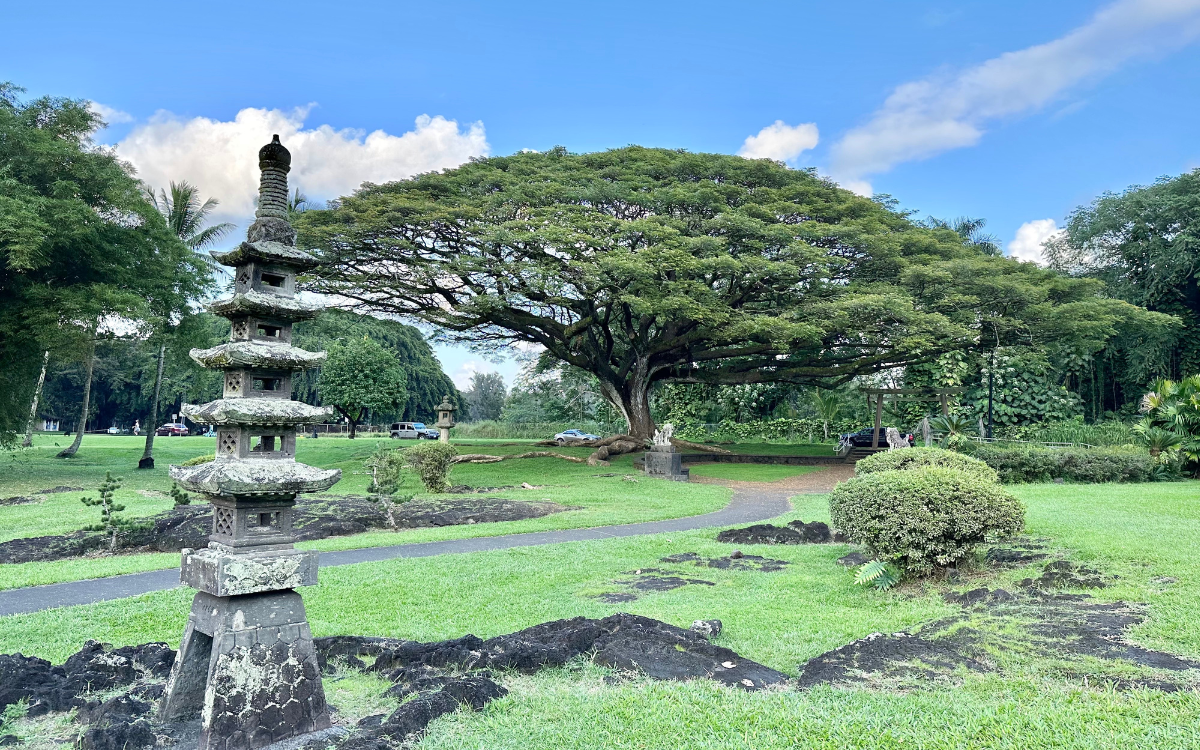 Panaewa Rainforest Zoo: This small zoo is the only zoo in the US actually situated in a rainforest and it's supposed to be pretty quaint and charming. I haven't visited yet because they have pretty limited hours (10AM to 3PM). Admission is free and the zoo can easily be explored in an hour or two. Besides a zoo, it's also a botanical garden so it's supposed to be a pretty place to walk around.
Mauna Loa Macadamia Nut Visitor Center: Just a few miles south of Hilo is the Mauna Loa Macadamia Nut Farm and Factory. It's the biggest (and most famous) mac nut farm in Hawaii and they have a self guided tour (mostly just some signs to read and a few trees planted in a garden), but it's really mostly just a gift shop.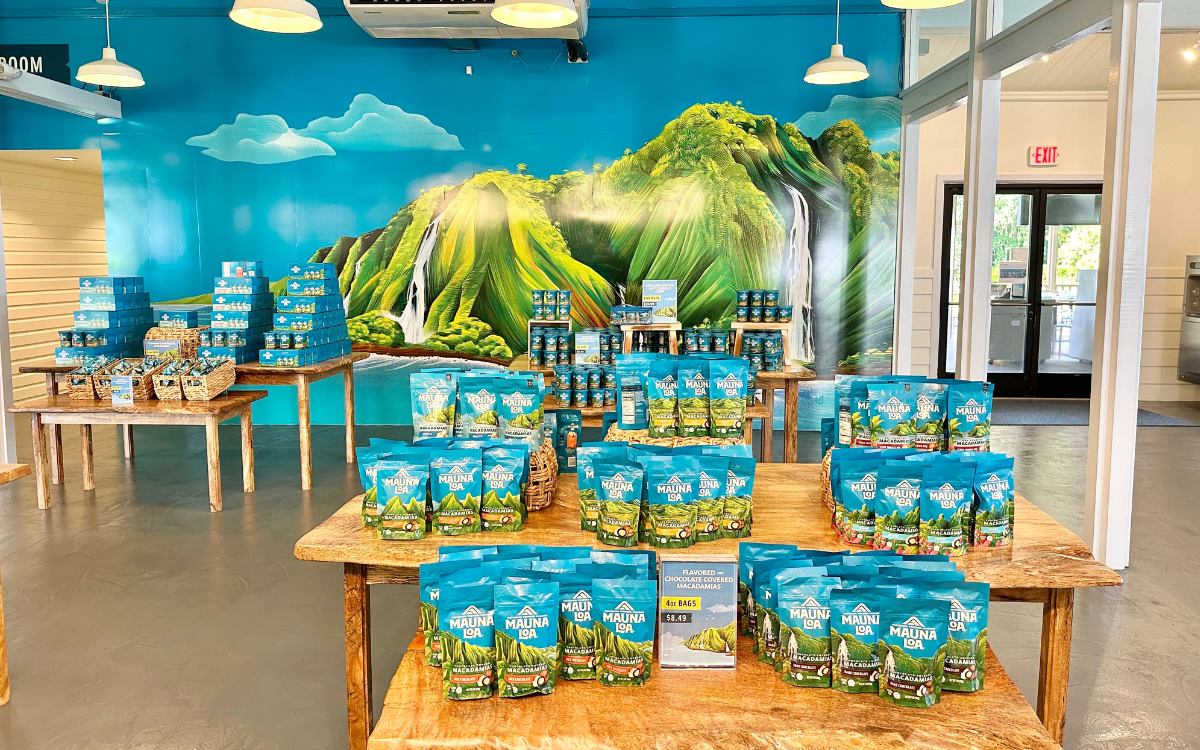 It's a great gift shop though! They have pretty much everything from the Mauna Loa and Hawaiian Host lines. It's honestly mostly stuff you can find at ABC Stores (or even Costco), but it's pretty impressive seeing it all together.
If you want the full mac nut farm tour experience, I'd go elsewhere, but if you're just casually interested and you're in the area, it might be worth popping in. It's free to walk around and they're pretty generous with the samples.
Moon and Turtle for Dinner
If you time your day right (and can get a reservation), go to Moon and Turtle for dinner. It's a small (and very popular) Asian/Hawaiian fusion restaurant and probably at the top of the "don't miss restaurants in Hilo" list. If you're a foodie, you'll love it.
When you're finished in the area, take Saddle Road back across the island towards Kona.
More Things to Do in Hilo
If you're looking for more ideas to fill up your time in Hilo, here are some more options:
Richardson Beach Park: While there aren't many beaches on the Hilo side of the island, Richardson's is your best bet for swimming and snorkeling. It's a black sand beach but it does have tiny flecks of green (olivine) in it.
Carlsmith Beach Park: There's no sand (there is a nice grassy lawn to lay out on) but the lava rocks and reef create a nice little protected swimming area that's good for snorkeling.
Pacific Tsunami Museum: Dedicated to the 1946 and 1960 tsunamis that devastated Hilo, the small museum is worth an hour or two of your time.
Historic Palace Theater: Built in 1925, the Palace Theater screens indie movies and also hosts concerts and other events.
Lyman Museum and Mission House: The Lyman Museum is affiliated with the Smithsonian and is a world-class museum cataloging the history and culture of the Hawaiian people. Admission to the museum ($10) also includes access to the mission house next door built in the 1830s.
Imiloa Astronomy Center: The world's largest collection of astronomical observatories are housed at Mauna Kea, which is a huge nod to the correlation between ancient Hawaiian culture and astronomy. You'll find educational and cultural exhibits as well as a planetarium at the center. Admission is $17.50.
Zipline over a Waterfall: If ziplining through the jungle and seeing countless waterfalls is on your bucket list, this is the place to make it happen. There are a handful of companies that operate ziplines on this part of the island, but I would book with Umauma which flies over 9 lines and 14 different waterfalls. Umauma also has combo ATV tours.
Take a Helicopter Tour: The most popular helicopter tours on the Big Island depart from Hilo and include a fly over of the volcano (the easiest way to see lava if there's a flow on the ground!) before circling back towards Hilo for a tour of the jungle and waterfalls. My favorite flight is this one with Blue Hawaiian.
Can I Do Hilo AND Hawaii Volcanoes National Park on the Same Day?
This itinerary just focused on Hilo and the Hamakua Coast and ideally you should do what I mentioned above as one day and a separate day for Hawaii Volcanoes National Park, Punalu'u (black sand beach), and the green sand beach and the southern road along the island.
BUT if you're set on only going to the Hilo side of the island for ONE day and want to see as much as possible, then yes, it is possible to do both in the same day.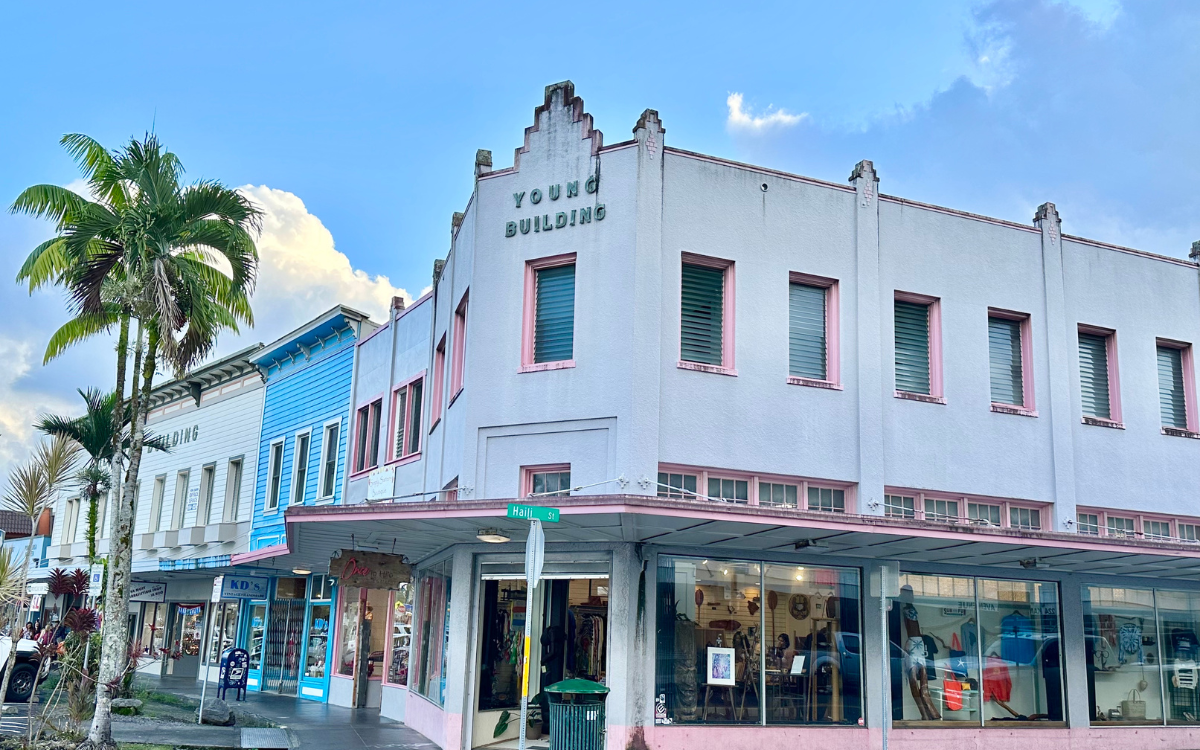 To make the most of your day, get an early start and head to Hawaii Volcanoes National Park first thing in the morning. If there's a glow coming off Kilauea Crater (find out before you go), then you may want to time it so you arrive at the crater before sunrise.
Since you'll be leaving Kona in the dark, drive Saddle Road across the middle of the island and drop down to the National Park from there.
If there's no glow in the crater, then you don't need to arrive in the dark but I would still go early. And I would still take Saddle Road since it's an easier drive.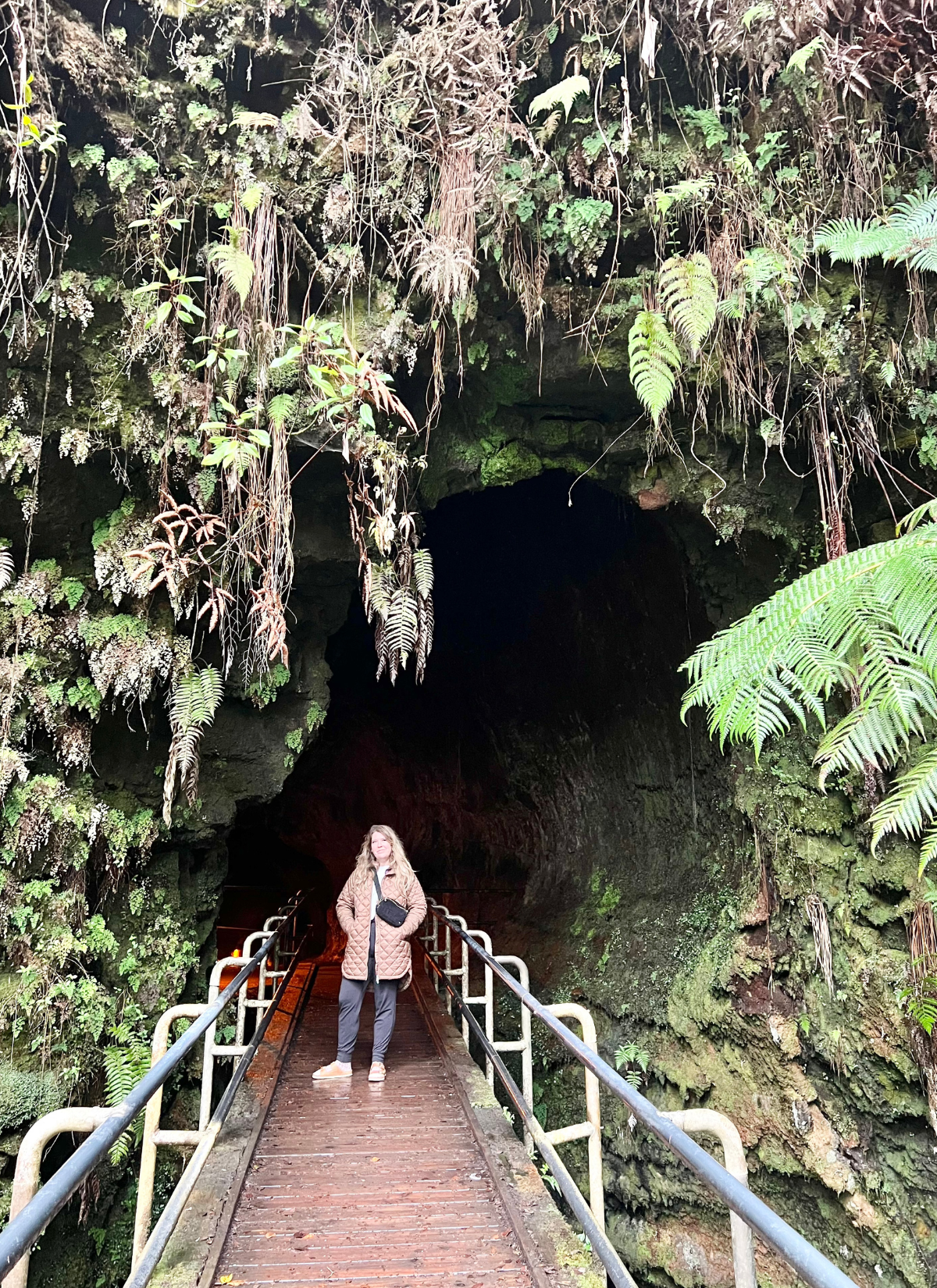 Spend a few hours in the park seeing Kilauea Crater, the lava tubes, and driving Chain of Craters Road to the ocean. Don't forget to stop in the visitors center to get your National Parks Passport stamped and do a little shopping.
Head south to Punalu'u to see the black sand beach.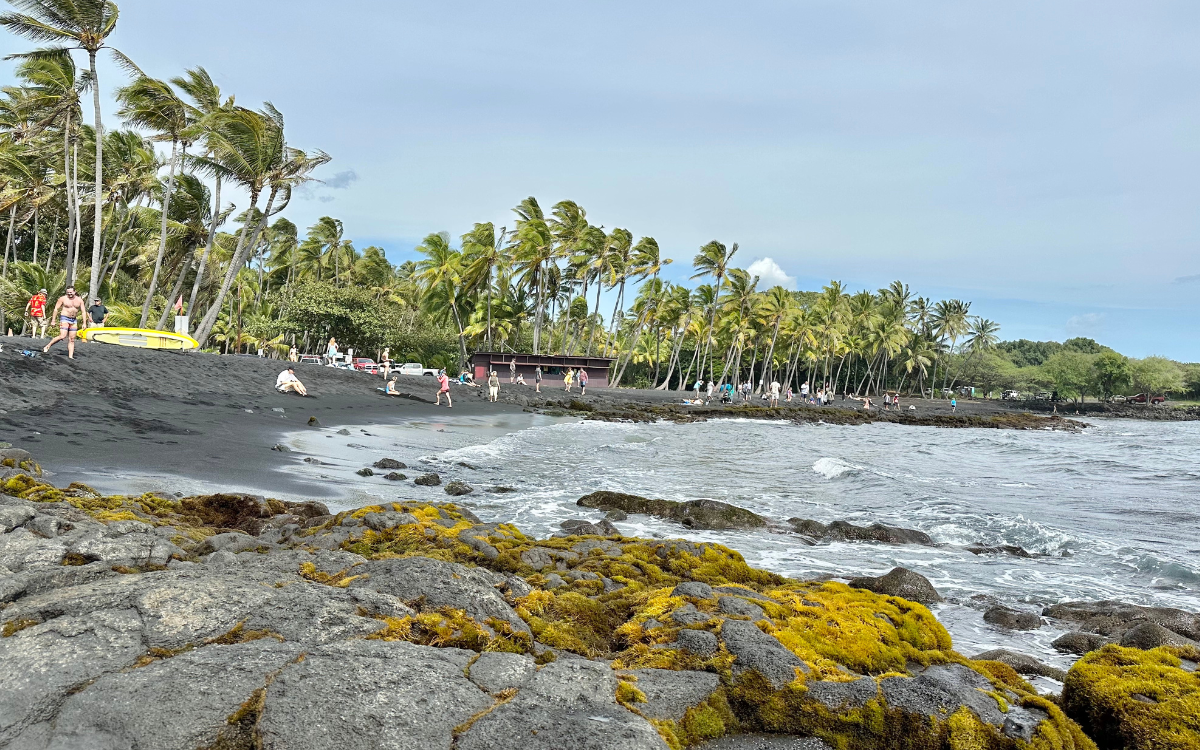 Then backtrack back north past the National Park and towards Hilo.
Stop in downtown Hilo for lunch and shopping. Put in your mochi order at Two Ladies Kitchen, head to lunch at Pineapples, walk around town and bit and then go back to pick up your mochi.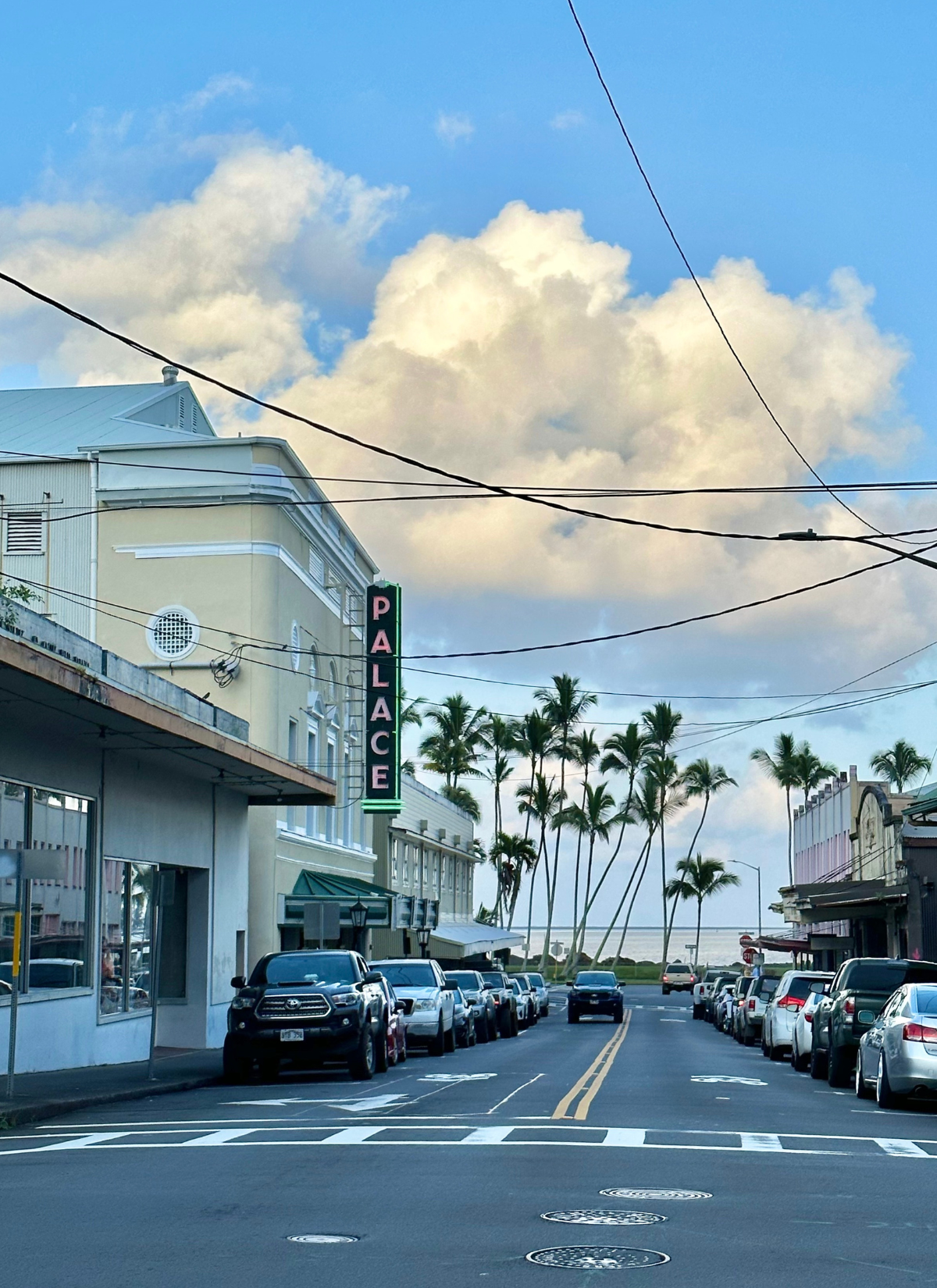 Depending on how you've managed your time up to this point, you may have more or less time, but here's how I would prioritize what you have left:
Don't miss Akaka Falls State Park. 30 minutes to an hour.
Rainbow Falls in Hilo is a QUICK stop.
Hawaii Tropical Botanical Garden (but only if you have two hours or so). You have to pay to get in so I would probably skip if you're going to be in a rush.
Time it so you can drive at least most of the way back to the Kona side in the daylight because the Hamakua Coast (north shore road) is so beautiful.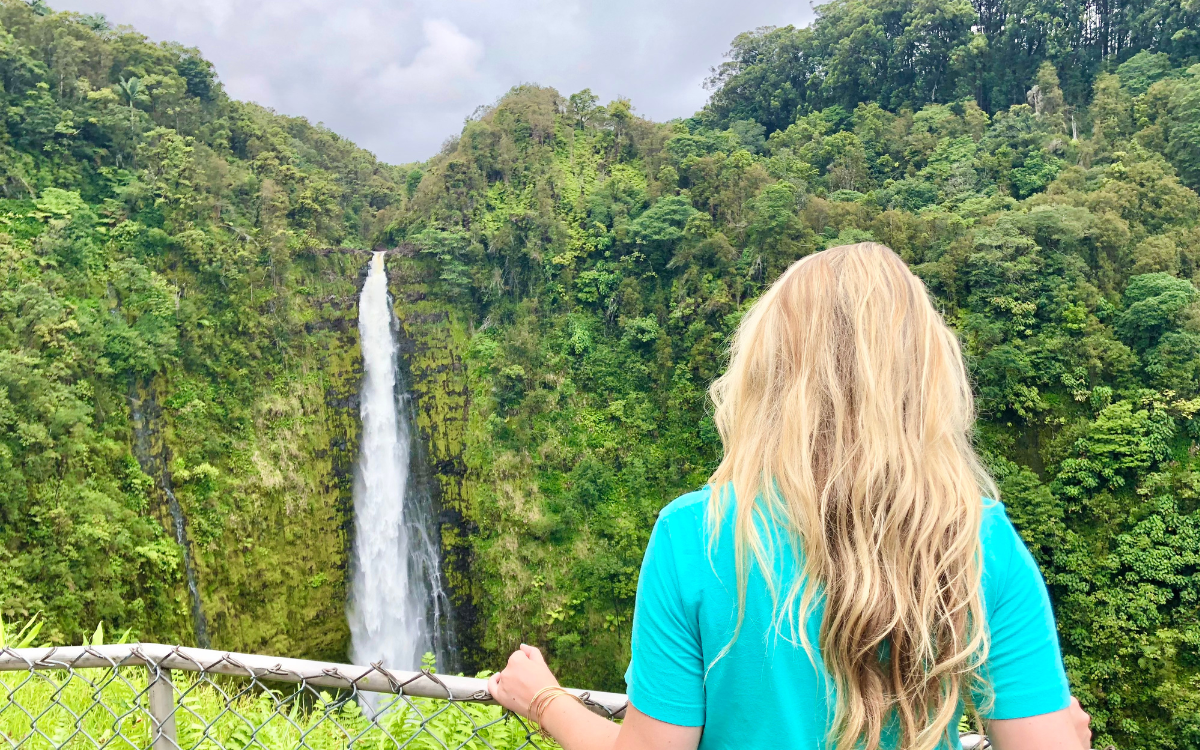 It's a big day and I would strongly recommend two days, but if you're wanting to see it all in one day, make sure you hit:
Hawaii Volcanoes National Park
Punalu'u Black Sand Beach
Lunch in downtown Hilo
Akaka Falls State Park
Still Looking for a Place to Stay?
Here's one more really important thing you need to know before your Hawaii trip…
Reservations You Need to Make BEFORE Your Hawaii Trip
You've got your airfare, hotel, rental car and your big activities booked, so you should be good to go, right? Wrong!
Travel is BOOMING in Hawaii so a lot of state and national parks used the closure and reopening to institute reservation systems at some of the island's most popular spots to make things a little more sustainable.
That means that there are now over half a dozen sites (beaches, trailheads, etc.) that require advance reservations. And some sell out well before you arrive on the island so you really need to have some sort of a plan.
I recently saw somebody in a Hawaii travel group post in a panic that they didn't know they had to make reservations for things in advance…they thought they could just show up and "go with the flow." I was tempted to say, well, "as long as the flow doesn't take you somewhere that requires reservations, you can!" ; )
But I don't want YOU to be that person, so I've pulled together a list of all the places you need to reserve entry in advance (plus all the details on booking windows, price, links, etc.) and a handful of popular tourist hotspots that book out really far in advance too.
Haleakala National Park (Maui)
To visit Haleakala National Park for sunrise at the summit, you must make reservations in advance here.
Reservations are required to enter the park gates between 3AM and 7AM (sunrise hours).
Online reservations are $1 per reservation/vehicle PLUS you'll pay the park entrance fee of $30/vehicle when you arrive (National Park annual passes are also accepted at the gate).
The reservation booking window opens 60 days in advance at 7AM HST. There are also a limited number of tickets released two days before.
You can make one reservation every three days with the same account. So if you want to make reservations for back to back days (in case of weather/conditions), you'll need to do so with separate accounts (email addresses).
If you can't get reservations for sunrise, you can enter the park anytime after 7AM without reservations. The summit is spectacular during the day and you don't need reservations for sunset.
I strongly recommend creating an account before and making sure you're logged in at 7AM HST because it's not uncommon for reservations to sell out quickly.
Waianapanapa State Park (Maui)
To visit Maui's famous black sand beach at Waianapanapa State Park on the Road to Hana, you must make reservations in advance here.
Reservations are required to visit the beach and are distributed in windows from 7AM-10AM, 10AM-12:30PM, 12:30PM-3PM, and 3PM-6PM. And they are pretty strict about exiting by the end of your window time (you can arrive anytime within your window).
It's $5/person to enter plus $10/vehicle to park and those fees are paid when you book your time slot.
Reservations open up 30 days in advance.
Iao Valley State Park (Maui)
To visit the lush, green mountains and hike at Iao Valley State Park, you must make reservations in advance here.
Reservations are offered for 90 minute time slots beginning at 7AM and ending at 6PM. They ask that you arrive within the first 30 minutes of your time slot.
Entry is $5/person plus $10/vehicle to park.
Reservations open up 30 days in advance.
Diamond Head (Oahu)
To hike to the top of Waikiki's famous Diamond Head, you must make reservations in advance here.
Reservations are offered in two hour increments beginning at 6AM (6AM-8AM, 8AM-10AM, etc.) and ending at 6PM. If you're parking onsite, they ask that you arrive within the first 30 minutes of your reservation window.
Entry is $5/person plus $10/vehicle to park.
Reservations open up 30 days in advance.
Tip: I recommend booking one of the first two time slots because there isn't much shade on this hike and it gets pretty hot.
Hanauma Bay (Oahu)
To snorkel at Oahu's pristine Hanauma Bay, you must make reservations in advance here.
Entry times are staggered in 10 minute increments from 7AM to 1:20PM with roughly 1000 slots being assigned in advance every day.
Reservations can be made two days in advance and they open at 7AM HST. They're usually gone in minutes (if not seconds).
If you're unable to get an advanced reservation, you can try for a day of, walk in ticket. They open at 6:45AM and they only have a limited number available. Everyone in your group needs to be present when you purchase your tickets in person.
There are no reservations for parking and it's first come, first serve. $3/vehicle.
It's $25/person to snorkel at Hanauma Bay (12 and under, active military, and locals with HI ID are free).
The Hanauma Bay Nature Preserve is open Wednesday through Sunday (CLOSED MONDAY AND TUESDAY) from 6:45AM-4PM. Last entry is at 1:30PM, the beach is cleared at 3:15PM and you have to leave the facility by 4PM.
Jellyfish patterns can also affect whether or not the bay is open so double check the day before/day of.
USS Arizona at Pearl Harbor (Oahu)
If you want to take the boat tour at Pearl Harbor out to the USS Arizona, it's recommended to make advance reservations here.
Online reservations are guaranteed a specific boarding time to go out to the USS Arizona. If you're unable to get an advance reservation, you can wait standby when you arrive. The line could be short (15 minutes or so) or long (hours) and it just depends on the day (if they're having problems with the loading dock sometimes they don't take many from the standby line) and the time of day.
Reservations are supposed to open up 60 days in advance, but keep an eye on your exact dates, because lately they've actually been opening up about 57ish days in advance???
They also release a small batch of tickets the day before.
The boat ride out to the USS Arizona is free, but it's $1 to make the reservations online.
They recently started charging $7/vehicle for parking at Pearl Harbor.
Haena State Park / Kalalau Trail (Kauai)
If you want to hike Kauai's famous Kalalau Trail, you must make advance reservations here.
You've got three options here:
1) Parking & Entry: This is the most flexible option and also the most limited. THESE RESERVATIONS SELL OUT IN LESS THAN A MINUTE. There are three time slots available: 6:30AM-12:30PM, 12:30PM-5:30PM and 4:30PM to sunset. You can purchase multiple time slots if you want to stay longer. It's $10/timeslot (parking) plus $5/person and you have to reserve every person when you initially book. Everybody has to arrive in the same car and your ID needs to match the reservation.
2) Shuttle & Entry: If you can't get parking at the trailhead, there's also a shuttle option. Shuttle reservations are $35/person (16+), $25/person (ages 4-15), 3 and under can ride free. The shuttle runs every 20 minutes 6:20AM to 6:40PM.
3) Entry Only: If you're a Hawaiian resident (with HI ID) or someone WITH a Hawaiian resident, you can purchase entry only for $5/person with no advance reservations. Also, if you're walking or biking to the trailhead you can do this option. But there is NOWHERE to park in the area to walk in. So this really only works for those with bikes or who are staying close enough to walk. They will tow your car if you park outside the designated areas.
The reservation window opens 30 days in advance at 12AM HST. The parking & entry option usually sells out in a minute, but the shuttle availability will last longer.
There are a TON of FAQs here including the possibility of snagging a canceled reservation.
Other Things to Book in Advance
Hawaii is a busy place these days! Besides the state and national parks above, here's a handful of miscellaneous things you should make reservations for in advance (if they're on your radar):
Mama's Fish House (Maui): The iconic spot is the most popular restaurant in Hawaii and they've been opening reservations (and selling out) 4-6 months in advance. You can call and get on the waitlist for one day or you can set notifications on OpenTable to alert you for cancellations every day of your trip. Most people have pretty good success on OpenTable.
Old Lahaina Luau (Maui): Honestly, any luau you're planning to attend you should book early, but most people are usually shocked how far out the Old Lahaina Luau books out. Book it as soon as you know your dates (I think they open at the six month window). They also have a waitlist.
Kualoa Ranch UTV Tour (Oahu): Everybody loves Jurassic Park so getting to ride UTVs where they filmed the movies is very popular. The ranch offers a lot of different tours but the UTV tours usually book out a couple of months in advance.
Spa Reservations: If you're staying at a resort with a spa (or planning on visiting one), don't wait until you arrive to make your reservations. I'd make them at least a month in advance.
Tee Times: Same for golf, reserve your tee times well in advance.
Dining Reservations: Any "fancy" or resort restaurant is likely to be booked up these days so if you like having a nice dinner every night, make your plans in advance.
Want to read more? Don't miss some of my most popular (and favorite) posts about the Big Island: 28 things to do on the Big Island (that you can't do anywhere else in Hawaii), plus things to do in Kona and in Hilo, a breakdown of where to stay on the Big Island comparing Kona and Hilo, the Big Island's best beach resorts ranked, my favorite places to eat on the Big Island, my perfect 7 day Big Island itinerary, one day in Hilo, one day in Hawaii Volcanoes National Park, four National Parks on the Big Island, stargazing at Mauna Kea, snorkeling and kayaking at Kealakekua Bay, a roundup of the best condos on the Big Island, my best Big Island travel tips, and reviews of the Fairmont Orchid and the Hilton Waikoloa Village.
P.S. Thanks for sticking around and reading this whole post! If you have ANY questions about planning your trip to Hawaii, you can join my free Facebook group here. I'm there answering questions every day and there are 7500+ other friends who have a ton of Hawaii information to share!
Also, if you want to follow along on my travel adventures in real time, you can follow me on Instagram (@caitylincoln). My post captions are full of travel tips and I have a ton of story highlights and videos with great info. And please share my account with your friends that are headed to Hawaii! Your support really helps me keep this blog running!