Hawaii Packing List: 26 Things You Don't Want to Forget!
This post may contain some affiliate links. This means I may make a little money on anything you choose to purchase, but as always I only share my absolute favorite things with you. Thank you for supporting the brands that make Hulaland possible.
If you're anything like me, you're always trying to improve your packing game. And by improve I mean avoiding situations where you're throwing random things in your suitcase at midnight before your 6AM flight and then thinking of everything you forgot during the drive to the airport. Oh wait…that's only me? Well then.
A quick Google search (hey maybe that's how you got here!) will pull up endless Hawaii packing checklists with every little thing you could possibly need for your trip. But this isn't a comprehensive Hawaii packing list (I'm sure you don't need someone to remind you to pack your underwear and deodorant ; ) but here are 26 somewhat specific things that you'll definitely want for your trip to Hawaii: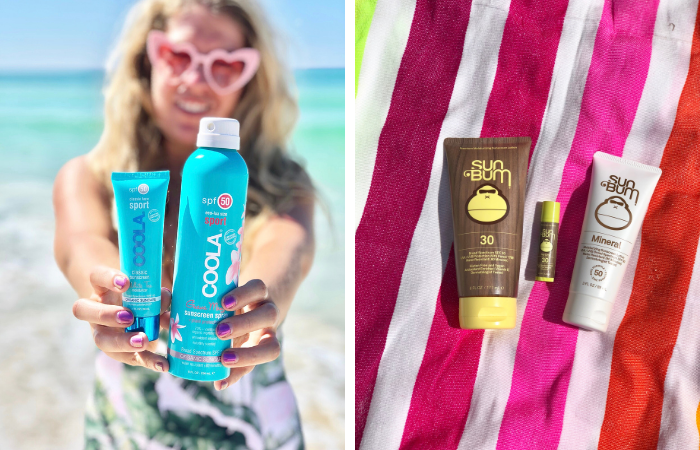 Starting Jan 1, 2021 Hawaii became the first state to ban the sale of sunscreen containing the chemicals oxybenzone and octinoxate. Read this post for a full rundown of my favorite reef safe and reef friendly sunscreens. Here's the basic difference between reef safe and reef friendly sunscreen. Reef friendly is any sunscreen that doesn't contain oxybenzone and octinoxate. Reef safe sunscreen eliminates a lot more harmful chemicals and is basically anything mineral based. My favorite reef friendly sunscreen (flat out my favorite sunscreen EVERY) is this spray, but for something completely reef safe, go with either this lotion or this one.
Hawaii isn't like a lot of island destinations where the mosquitoes are super bad, but there are a few places where they can be more prevalent. You won't see them at all around any resort areas or beaches, but if you get off the beaten path in the jungle or rainforest, sometimes they like to come out and play. If you're planning to drive to Hana (on Maui), it's a good idea to have some bug spray with you (especially if you're going to do any hiking). To give some perspective…I've never been bothered by mosquitoes (I honestly don't think I've ever even seen any) hiking in the jungle around Hana, but I also rarely ever get bit by mosquitoes. HOWEVER, I have friends who have been EATEN UP after just a few minutes of hiking near the car so it's good to be prepared. Take the traditional spray, or try these bands.
I've come to realize that a lot of the "must do" activities in Hawaii are challenging if you're prone to motion sickness. Obviously you'd be prepared for anything on a boat, but also things like driving the road to Hana or going up to Haleakala (both on Maui) can cause major motion sickness for some. Be prepared before you arrive (nothing is worse than looking for meds when you need them!) with medication or wristbands.
Snorkeling, hiking, playing at the beach, adventuring…you're on the go quite a bit in Hawaii so it's not a bad idea to have a basic first aid kit in your bag (or at least in the car or at your hotel). Put together some essentials in a zip lock bag before you go, or grab one of these pre made kits.
This is probably the #1 thing I recommend taking with you to Hawaii! It's nice to have on the airplane plus it'll save you from having to buy a case of bottled water and throwing away all of that plastic. I love my Hydroflask and Yeti and both keep ice cold all day long!
Did you know Hawaii has banned plastic bags? Most grocery stores have paper bags, but stores like Target and Walmart don't provide bags at all (they have reusable ones that you can buy at the check out). I like to pack a couple of tote bags and I'm always surprised how much I end up using them. They're especially good for toting stuff to the pool or beach. If you don't already have 50,000 tote bags laying around, these are some good ones.
Plastic Bags/Ziploc Bags
As mentioned above, you won't find plastic bags in Hawaii and sometimes they're handy to have around. I always like to have one in my beach bag to either bundle up a wet swimsuit or for collecting trash. Plus a few ziploc bags are always convenient to have around.
Hawaii is becoming a more and more environmentally friendly destination and one of the most effective swaps you can make is cutting out single use plastic straws. More and more places don't have straws or have made the switch to paper straws. Yuck. If you're picky about straws like I am, it's nice to have your own. I like these.
Using packing cubes has completely changed my packing game. It's amazing how much more you can fit in your suitcase when you use them and it keeps everything so much more organized. Get a set like this that comes in a variety of sizes and colors.
Everybody always asks me what's the best camera to take to Hawaii and the answer is…the one you have with you! And 99% of the time that's your phone. I take ALL of my photos on my iPhone (it's just so hard to beat the quality for the convenience), but being around all of that sand and water I do like to make sure it's a little more protected than usual. These Lifeproof cases are my favorite.
So many of your vacation memories in Hawaii will happen in and around the water so investing in a decent underwater camera is a smart move. It's not so much about having the camera to get pictures of fish or coral while you're snorkeling, but more so you can have photos and videos of the family while you're snorkeling, while you're out on the boat, while you're playing in the waves, while you're going down the pool slide, etc. You spend so much time in the water in Hawaii and it's a shame to miss out on capturing all of those memories just because you don't want to risk getting your phone wet. This is the GoPro I use.
Along with your underwater camera (or waterproof phone), I strongly suggest having a flotation strap you can attach to it. The water is so clear in Hawaii that it's easy to forget how deep it is and if you drop your GoPro down at 20 feet, that's going to be tricky to get it back. Try one of these straps.
This just might be the most obscure thing on this list, but if you're planning on doing any hikes before sunrise (Lanikai Pillbox or Kokohead on Oahu are popular ones) this is a MUST. Some people don't realize that hiking up somewhere to watch sunrise means you'll be hiking in the dark ; )
This is always the thing I'm scrambling around for at the last minute. I like to have an extra long cord for the hotel room because you never know where the outlets will be plus an extra USB/charger for the car.
Besides being able to charge your phone in the car, sometimes you need a little extra battery juice while you're out and about (not to mention on that long plane ride over). If you're using your GPS a lot or running island driving tour apps, they'll DRAIN your battery. Try this battery pack and make sure you have the right cords/attachments with you. BONUS: I have used my battery pack to charge my GoPro on more than one occasion.
You don't need to be a fancy photographer to get good use out of a tripod. They're great for grabbing photos with the whole family in them, especially if you're in a spot where there's not somebody else around to stop and ask to take a photo of your group. Try a tiny tripod like this that's flexible enough to pop up wherever you need it.
Side Note: If you're looking for a rental car for your trip, I LOVE Discount Hawaii Car Rentals. They're seriously the only company I ever use. They'll give you the very best prices, you don't have to reserve with a credit card or pay until you show up, you can cancel and re-book anytime if you find a better rate, and they usually have a special that adds additional drivers for no fee. It's a no brainer. Click here to check rates for your trip.
Guidebook
If you're reading this blog, you obviously like to do your research before a trip. While I would argue that this blog is all you need to plan your trip ; ) it's nice to have a physical book with you especially on days that you're out adventuring around the island. My favorites are the Hawaii Revealed series (Maui, Oahu, Kauai, Big Island). They're the best "on the ground" guidebooks. I think you'll find better info on picking the right island, choosing accommodations, and picking tours/restaurants elsewhere, but these books are solid for when you're in the car driving around the island. Their directions for finding trailheads, beaches, waterfalls, etc really can't be beat.
Books & Magazines
Excessive amounts of reading is probably the #1 thing I like to do on vacation and I'm 100% a fan of physical books so I always take a stack with me. There's a surprising lack of places to find books in Hawaii (Target is about the best place you'll find) so definitely plan on taking whatever you want to read with you even if that's your Kindle/e-reader. Add this book to your reading list either before you go or during your trip.
This seems like an obvious suggestion, but it's something that so many people forget (especially if you're traveling during the winter months. These are my favorite sunglasses.
You don't need to take your own snorkeling gear to Hawaii (it's easy enough to rent or buy there), but a small pair of goggles or a mask (especially if you have a prescription or a nice one) is easy enough to throw in your suitcase.
Workout Gear
I can't say that I'm the type that likes to work out on vacation, but if you are then you'll definitely want to pack your gear. If you have access to a washer and dryer you can get away with taking less, but if you're staying at a resort be sure to pack enough to last through your trip.
At Least Two Swimsuits
Pack at least two swimsuits so you'll always have a dry one to put on!
You don't see those famous rainbows without a little rain and depending on the time of year you're traveling you may see a few showers. It rains more often in the winter months and while the resort areas of most islands (usually built on the dry side of each island) don't see as much rain, if you're going to be venturing off into the jungles and rainforests it's always a good idea to pack a lightweight rain jacket. I don't really do subtle, so of course my rain jacket is hot pink with dalmatians on it ; ) Here's the brand I like.
Unless you're planning on doing some heavy duty hiking, I don't think most people need hiking boots for Hawaii. 90% of the most popular hikes you'll do are more muddy than anything (or will require wading through a few streams) so I prefer to have a water shoe/sandal like Chacos, Keens, or Tevas that straps onto my feet instead of hiking or athletic shoes. You'll also get good use of them if you're at any rocky beaches. And if you get a type that doesn't have a piece between your toes, you can wear them with a thick pair of socks for going up to Haleakala or Mauna Kea summit (what a lewk I know ; )
Layers
Speaking of Haleakala and Mauna Kea, if you're planning on going up for sunrise or sunset, be prepared for COLD temperatures. Most people think that means "cold for Hawaii" but it just means cold. It's usually in the 30s and is pretty windy so it feels even colder. Wear long pants for sure and layer up on top (you'll want a fleece jacket at LEAST). I always pack a hat and gloves and warm socks plus take a beach blanket to wrap around myself to cut the wind. I know this probably sounds overly dramatic, but here's the deal: 1) when you get in your car at your resort it'll be in the 80s and when you get out of your car at the summit it'll be in the 30s. Yikes. 2) It's usually pretty windy so it feels much colder than the actual air temperature. 3) You're not in and out of the car quickly. You'll arrive at the summit when it's still dark and you'll have to wait 30-60 minutes for sunrise to start. 4) You're not moving around-no hiking required-you're just standing still. Here's my pro tip: pack hand warmers. Also, even if you're not going to a cold weather area, it's always a good idea to have a lightweight sweater or layer for the evenings when the breeze picks up off the water.
A lot of day trips or adventures seem to require a lot of "stuff" and a lightweight backpack is usually the best way to tote everything around. This is my favorite backpack for Hawaii and it comes in pretty much every color you can think of.
Save
Save
Save
Save
Save
Save
Save
Save
Save
Save
P.S. Thanks for sticking around and reading this whole post! If you have ANY questions about planning your trip to Hawaii, you can join my free Facebook group here. I'm there answering questions every day and there are 7500+ other friends who have a ton of Hawaii information to share!
Also, if you want to follow along on my travel adventures in real time, you can follow me on Instagram (@caitylincoln). My post captions are full of travel tips and I have a ton of story highlights and videos with great info. And please share my account with your friends that are headed to Hawaii! Your support really helps me keep this blog running!