Which Hawaiian Island to Visit?
If you've never been to Hawaii before, planning a trip there can be completely overwhelming. And the first big decision you'll have to make is which Hawaiian Island to visit.
In this post I'm going to give you the lay of the land (or the islands : ) so you'll be able to make that decision and choose the best Hawaiian Island to visit.
Before I start, I feel like I should clarify: there is no "best" Hawaiian Island to visit. All of the islands are very unique and appeal to travelers for different reasons. In my opinion, all of the Hawaiian Islands are pretty fabulous. But depending on how you like to vacation, and what you expect to see in Hawaii, there may very well be a "best" island for YOU.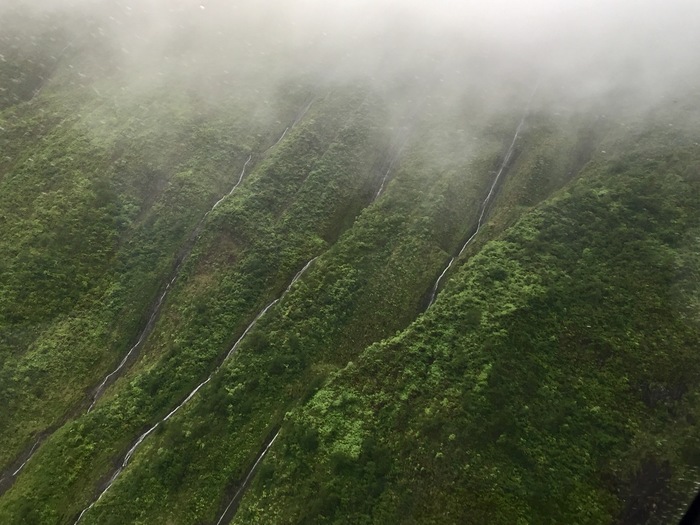 There are six main inhabited Hawaiian Islands, but I like to think of it as four main islands plus two small bonus islands:
Oahu: This is the most visited of the Hawaiian Islands. This is where the capital, Honolulu, is located as well as world famous Waikiki Beach. Pearl Harbor is also on Oahu as well as the north shore surf scene with big breaks like the Bonzai Pipeline and Waimea Bay.
Maui: Maui is known as the "honeymooner's isle" and draws many celebrities looking for peaceful seclusion. Maui is famous for its beautiful beaches, winding Road to Hana, and gorgeous sunrises from the summit of Haleakala. It's also the best island for whale spotting.
Kauai: Kauai is the oldest of the Hawaiian Islands and also the smallest. It's most famous sites are the Napali Coast and Waimea Canyon. Kauai is very "country" and feels less developed and spoiled than some of the other islands.
Big Island: The Big Island (also just called "Hawaii") is…you guessed it…the biggest of the islands. It's also the newest. Many people mistakenly think that Oahu is the Big Island but we're talking about two separate islands. This is where you'll find Hawaii Volcano National Park, the only active volcano in Hawaii.
Lanai: Lanai is a small island off the coast of Maui and is easily accessible as a day trip. You'll find two Four Seasons on the island but little else. It's known for its rugged beauty.
Molokai: Molokai is also right off the coast of Maui. Molokai is probably the most "Hawaiian" of all the islands. It's also the least visited. Its major attraction is Kalaupapa National Historical Park, which was originally established as a leprosy settlement in 1866.
Side Note: If you're looking for a rental car for your trip, I LOVE Discount Hawaii Car Rentals. They're seriously the only company I ever use. They'll give you the very best prices, you don't have to reserve with a credit card or pay until you show up, you can cancel and re-book anytime if you find a better rate, and they usually have a special that adds additional drivers for no fee. It's a no brainer. Click here to check rates for your trip.
RELATED: Where to Stay on Oahu
Where to Stay on the Big Island
The four main islands are all easily accessible from the US mainland. While the majority of direct flights are to Oahu and Maui, there are plenty of direct flights to Kauai and the Big Island. There are also hundreds of interisland flights between the four main islands daily (plus Lanai and Molokai). Most flights only take 30-40 minutes. You can reach Lanai via ferry from Maui. Here are the cities you'll fly into on each island:
Oahu: Honolulu (HNL)
Maui: Kahului (OGG)
Kauai: Lihue (LIH)
Big Island: Kona (KOA) or Hilo (ITO)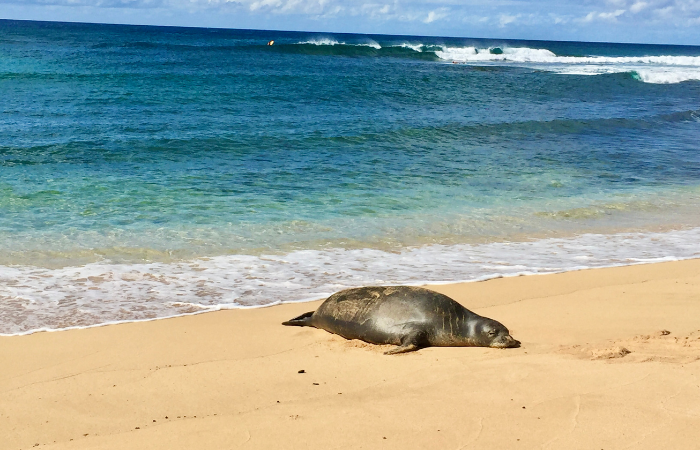 Now that you have the lay of the land and a brief description of each island, I'll break down the four main islands more in depth to help you decide which one is best for you. If you're traveling on a budget, a major factor in lowering the price of your trip will be which island you choose to visit. Some Hawaiian islands are much more accessible (many more flights daily from the mainland), which makes them cheaper to fly into.
Generally speaking, Oahu and Maui are usually the cheapest islands to fly to because they have so many more direct flights than Kauai and the Big Island. But depending on the type of accommodation options you're looking for, some islands may be better suited to it than others. But here's a breakdown of each island:
RELATED: When is the Best Time to Go to Hawaii?
How Much Does a Trip to Hawaii Cost?
How to Save $1000 on a Trip to Hawaii
Oahu
Oahu is called the "gathering place" because of its diversity and big city feel. More than any of the other islands, Oahu really feels like two islands in one. You have city (or "town" as the locals call it) and country. Most people expect the city part of Oahu so I'll start there. Honolulu has a very international feel. World famous Waikiki Beach is where most of the visitors to Oahu settle. It's the hub of tourism on Oahu and where about 90% of the hotel rooms on the island are located. This is where you'll find the famous "pink palace by the sea"-the Royal Hawaiian-as well as Diamond Head crater. Waikiki is also one of the most popular places in Hawaii to take surf lessons.
Waikiki is great if you want to be in the center of the action and you like hustle and bustle. So much shopping, dining, and nightlife!
Once you get away from Waikiki, Oahu feels a lot more "country" and similar to the other islands. The north shore and the windward side of the island (around Kailua) will give you great-more local-experiences. In these areas you'll find some of the prettiest beaches in Hawaii and gorgeous jagged green mountain backdrops. In these parts you'll find long beautiful drives with views of epic beaches, plenty of fruit stands, and or course, chickens.
The big downside of Oahu is the traffic. Even when you're away from Waikiki, expect traffic when traveling from one part of the island to another.
Oahu is perfect if you like to be "busy" on vacation. While you can stay on the north shore or in Kailua (not many hotels, you'll need to stay in a vacation rental), most first time visitors to Hawaii want to see the sites so plan on plenty of time getting around the island, and dealing with crowds. All of Oahu's notable sites are usually packed with tourists-think big tour buses (more so than the other islands).
Oahu by far has the most "things to do and see" if you're the type that likes to keep your days full. Popular things to do on Oahu include: Waikiki Beach (shopping, dining, beach activities), hiking (or driving) Diamond Head, snorkeling Hanauma Bay, Lanikai Beach, Pearl Harbor, Iolani Palace, Polynesian Cultural Center, Dole Plantation, and north shore surf spots.
Flights & Accommodations: Honolulu International Airport (HNL) is the busiest airport in Hawaii and has by far the most options for direct flights from the US mainland (as well as international flights). You'll usually always find airfare to Oahu to be much cheaper than the other islands. Oahu has by far the most accommodation options you'll find anywhere in Hawaii. Waikiki alone is home to more resorts than you can count and many are very reasonably priced. If you want to stay in a resort on or near the beach and you don't mind the crowds, Waikiki is a great budget option. Oahu also has a lot of vacation rentals in the form of houses and apartments. What Oahu lacks is many options away from Waikiki. This is definitely one of the cheapest islands to stay on.
Read my 15 things not to miss on Oahu here.
Maui
Maui is called the "valley isle" or the "honeymooner's isle" because of its laidback feel and unparalleled natural beauty. Maui is quite developed for tourism (nice resort areas and plenty of shopping and dining), but it never feels crowded. It also has plenty of undeveloped areas perfect for exploring and quite a few picturesque local towns where you'll get a taste of "real Hawaii."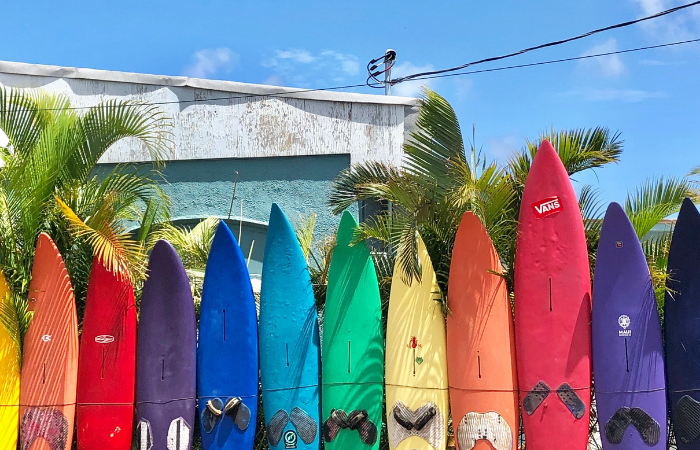 Overall, I would say if you've never been to Hawaii before and you'll only be visiting one island, Maui will give you the best all around experience. It's such a great island because there is something for everyone. With beautiful golden beaches and fabulous beach resorts, you can easily wile away an entire vacation just soaking up the sun. But Maui has plenty of activities to keep you busy.
The famous winding Road to Hana is not to be missed (plan an entire day for it) and seeing sunrise from the summit of Haleakala is a life changing experience for many people. A trip out to snorkel in Molokini Crater is also a Maui must do. Maui has so many beaches, snorkel spots, hikes (and golf courses!) that you'll easily stay busy.
What makes Maui different from the other Hawaiian Islands (besides the Big Island) is its "upcountry." While famous for its beaches, the majority of Maui is actually farm and ranch land. Upcountry you'll find the cowboy town of Makawao, a winery in Ulupalakua, and gorgeous views of the entire island in Kula. Many tourists don't venture up here, but I think it's one of Maui's best gems.
Maui is perfect if you like a laid back vacation (plenty of beach towns), but still ike to be active (snorkeling, hiking, biking, etc.). It also caters to all vacation styles, whether you prefer a nice beach resort in a resort area or a quaint Airbnb in the country. You'll also find both ends of the spectrum covered when it comes to shopping and dining.
Popular things to do on Maui include: The Road to Hana (black and red sand beaches, rainbow eucalyptus trees, bamboo forests, waterfalls), Haleakala National park, snorkeling Molokini and Turtle Town, biking down Haleakala, Ali'i Lavender Farm, Maui Winery, Iao Valley, Ka'anapali Beach, and dinner at Mama's Fish House.
Flights & Accommodations: Maui is such a popular destination in Hawaii that airlines are quickly adding non-stop routes form major US cities to Kahului (OGG), Maui's main airport. Airfare prices to Maui often rival airfare prices to Oahu, especially if you're flying out of a hub on the west coast. Maui is famous for its beach resorts (every major luxury chain is represented here) but if you're on a budget, those may not be for you. If you're a member of a hotel loyalty rewards program though (Starwood, Hilton, Hyatt, Marriott, etc.), there are plenty of places to cash in your points on Maui. What Maui has a lot of are condos (many of them beachfront) so if that interests you, Maui can be very budget friendly. The areas around Ka'anapali and Kihei are particularly thick with reasonably priced condos.
Read my 15 things not to miss on Maui here.
Kauai
Also know as the "garden isle," Kauai may be the pretties island of them all. Famous for being the backdrop for movies like Jurassic Park and Indiana Jones, Kauai is stunningly beautiful. Its jagged green mountains an dlush valleys are the stuff Hawaii dreams are made of. Despite its popularity with nature lovers, Kauai is largely undeveloped and unspoiled. It has a resort area in the north (Princeville) and south (Poipu), but other than that it's mostly "country." So country, in fact, that you'll see chickens everywhere!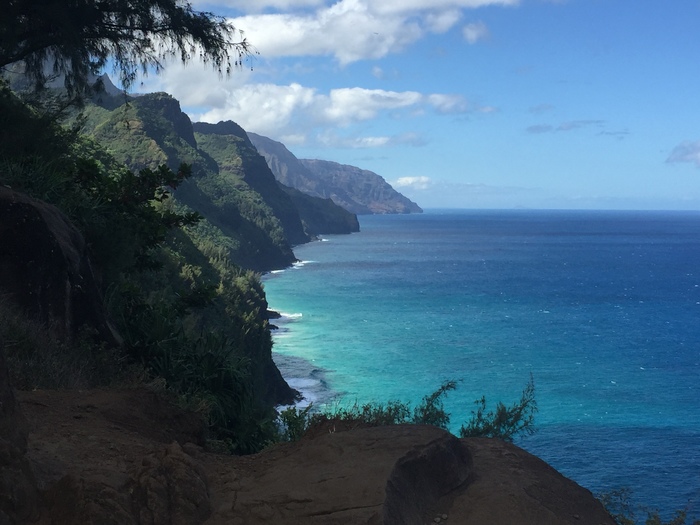 Kauai's north shore is its most gorgous part and where most of its highlights are. The two major sites on Kauai are the Napali Coast and the Waimea Canyon. Th Napali Coast (the western edge of the island) is so remote and rugged that it can only be seen by boat or air (a helicopter tour of Kauai is a must!) or a trail along it. The Waimea Canyon (called the Grand Canyon of the Pacific) can be reached by car and has several outlooks, but also plenty of hiking trails for a closer look.
Kauai is a much slower and more "country" island than the others and appeals most to those who like to get lost in nature and don't need all the trimmings of a fancy resort vacation (although the St. Regis Princeville and Grand Hyatt Kauai are mighty nice). Just don't expect fancy shopping centers and much nightlife.
Kauai is perfect if you like to hike, snorkel, and do other "adventurous" activities (helicopter tour, boat ride down the coast, tubing through old sugar can irrigation ditches, etc.).
The only drawback of Kauai is how much it rains (especially on the north shore during the winter-roughly October through April). The rain is what makes it so beautiful (lush and green with a bazillion waterfalls), but it's a bummer when it washes out your vacation. I recommend Kauai during the summer. Also, even though it's a small island, there's pretty much only one road so it can take a WHILE to get around, but you'll only ever run into traffic around Kapa'a.
Popular things to do on Kauai include: Napali Coast boat tour, Kalalau trail, Waimea Canyon, helicopter tour, Koloa tree tunnel, surfing in Hanalei Bay, north shore beaches, fern grotto, kayak the Wailua River, spot monk seals on Poipu beach.
Flights & Accommodations: Airlines have added several direct routes to Lihue (LIH) in the last couple of years, but unless you're flying out of LAX or a hub for Alaska Airlines, you'll likely have to connect through Honolulu. Flights to Kauai aren't usually much more than to Maui or Oahu, but if you're really pinching pennies, it'll likely be cheaper to vacation on one of those islands. Kauai has a wide range of accommodation options from big beach resorts to condos so you'll be able to find it all, but what I love about Kauai are how many budget hotels and small inns you can find. Especially on the east shore, or Coconut Coast (around Kapa'a and Lihue) it's easy to snag a hotel room (often right on the beach) at a small hotel for between $100-$150/night. There are also plenty of reasonable condos on the south shore around Po'ipu.
Read my 15 things not to miss on Kauai here.
Big Island
The Big Island (also just called Hawaii) is probably the most unique of the Hawaiian Islands. It's also, as you might have guessed, the biggest. In fact, all of the other Hawaiian Islands could fit inside the Big Island with plenty of room left over. It's also the newest island and it's still growing. That's because it's the only island with an active volcano!
The Big Island is split into two parts-Kona side (west side) and Hilo side (east side). Driving from one side to the other will take almost four hours so if you want to see the entire island, you'll need to plan on staying in two places. Kona side is where most of the islands beaches are, and there are some beautiful ones! It's also very dry and arid and made up mostly of lava fields. Hilo side is where you'll find Hawaii Volcano National Park, the jungle, and all of the waterfalls.
The Big Island is perfect if you want an adventurous vacation and you're willing to get out and explore. You'll see sights on the Big Island that you likely won't see anywhere else in the world, and you'll find plenty of hiking that will lead you to gorgeous views. You can spend several days just exploring Hawaii Volcano National Park not to mention Hilo's amazing jungles and waterfalls and the valleys on the north shore. You'll be able to see a black sand beach and one of the few green sand beaches in the world. On the Kona side of the island you'll find a more traditional Hawaii vacation experience with beautiful beaches, great snorkeling, and more developed resort areas.
Like Maui, the Big Island has an "upcountry" which includes cattle country and has a more western feel. The summit of Mauna Kea also shouldn't be missed. Did you know you'll find 10 of the world's 14 climate zones on the Big Island? If you spend each day on a different part of the island, you'll feel like you've been around the world!
The only drawback to the Big Island is its size. To see it all you'll need to stay in both Hilo and Kona. You won't be able to have one central base unless you want to spend your entire vacation in the car.
While it is possible to see it in a week (3 days in Hilo/4 days in Kona), I recommend two weeks on the Big Island to be able to see the highlights AND still feel like you've had a vacation.
Popular things to do on the Big Island include: Hawaii Volcano National Park, Waipo Valley, green sand beach, black sand beach, Kona beaches, stargazing from Mauna Kea, touring coffee plantations, touring macadamia nut plantations, and scuba diving.
Flights & Accommodations: The Big Island (called "Hawaii") seems less visited than the other island but, because of its sheer size actually has two airports: Kona (KOA) and Hilo (ITO). There are actually a handful of airlines that fly direct from the mainland to the Big Island (mostly to Kona although United has one direct flight out of LAX to Hilo). Flights to the Big Island are usually $100-$200 more (on average) than to the other islands. Despite being more expensive to get to, the Big Island has some of the most reasonable accommodation prices you'll find on any of the islands. There are plenty of small budget hotels and inns around Hilo, which is perfect for vising Hawaii Volcano National Park. The Kona side of the island has some affordable beach resorts as well as plenty of condos. It's easy to score a bargain on accommodations on the Big Island.
Read my 15 things not to miss on the Big Island here.
So there you have it! You should have a general idea now of which island(s) is the best pick for your vacation. Whatever you choose, there is no way to go wrong here. Trust me. Struggling to choose the best island for your Hawaiian vacation is a good problem to have, am I right?
Island Recommendations
If you're still not sure which island is for you, here are some recommendations:
First Trip: Maui. Maui pretty much has it all…gorgeous beaches, big adventures, beautiful resort areas, local hideaways, etc. and the vie is what most people expect of Hawaii.
For culture/history: Oahu. If you want to see history, iconic Hawaii, and Polynesian culture, you'll get the best bang for your buck on Oahu. Pearl Harbor, Iolani Palace, the Bishop Museum, Waikiki, and the Polynesian Cultural Center will keep you plenty busy.
For honeymooners: Maui. If gorgeous beaches, posh resorts, plenty of nice restaurants, spas, adventurous activities (plus everything else that makes a Hawaiian vacation great) are your idea of a great honeymoon, then Maui is perfect.
For hiking: Kauai. Kauai is all about nature, being outdoors, adventures, etc. While all of the islands offer this, Kauai by far has the best and most varied hiking while feeling like you're truly off the grid.
For kids: Maui. All of the Hawaiian islands are extremely kid friendly, but I think Maui makes it easy to get out and have adventures while still finding plenty of calm beaches and great places to stay.
For the ultimate Hawaiian adventure: Big Island. If you're up for plenty of exploring (including time spent in the car driving), the Big Island is where you'll find some of Hawaii's best adventures. Obviously Hawaii Volcano National Park is tremendous. You could spend several days exploring it. The majestic green and black sand beaches are must sees as well as the stunning north shore. Unfortunately, they're not all the easiest sites to see as you'll often find yourself driving, hiking (or even paying for an excursion) often. The Kona side of the island has the beaches and some spectacular beach resort, and you'll also find four National Historic Sites on the island.
Island Hopping
Instead of narrowing it down to one island, many people choose to island hop and see as much as possible. Is that a good strategy? How much can you reasonably see on your vacation?
First things first, it is pretty easy to travel between the Hawaiian Islands once you get there, but easy doesn't always mean cheap! The major mode of transportation for island hopping is flying (the only ferries are between Maui and Lanai and Molokai). There are HUNDREDS of flights between the islands each day and you don't usually have to connect through Honolulu because it's easy to find flights between all of the islands. Most flights are operated by Hawaiian Airlines and I generally budget about $100-200 (round trip) for interisland travel.
But how many islands can you realistically visit on one trip? My general rule of thumb is no less than one week per island. Trying to do an island in less time than 5 days is doable, but you'll likely be spending all of your time driving/exploring/adventuring and not much time relaxing. And if you're planning to just beach bum on the second island, you might as well just extend your time on the first island and use the savings on flights on a nice dinner out or another excursion.
My exception to the one-week rule is the Big Island. While it can be done in a week, you'll probably be exhausted from all of the driving and have very little time for laying around on the beach.
I wouldn't do the Big Island in fewer than 10 days (14 is preferable) unless you're just going to see Hawaii Volcano National Park/Hilo side OR the Kona side.
So if you're doing an extended trip (2+ weeks), or you're hell bent on island hopping, which islands pair well together? Well, like I said before, don't try to squeeze the Big Island into a shorter trip UNLESS you're just going to see the volcano. Otherwise, the other three islands (Maui, Oahu, and Kauai) are much more doable. If it's your first trip and you're looking for the complete Hawaiian experience, I would do a week on Oahu (to see everything Hawaii is famous for…Pearl Harbor, Waikiki, Diamond Head, the north shore, etc.) and then a week on Maui to unwind and actually have a beach vacation. If you want to see the prettiest parts of Hawaii, I would do a week on Kauai and a week on Maui. And if you're CRAZY ; ) and trying to do 3 islands in 2 weeks, I would do 3 or 4 days on Oahu, 4 or 5 days on Kauai, and the rest on Maui.
RELATED: Maui vs. Kauai
Save
Save
Save
Save
Save