Where to Stay on the Big Island: Hawaii Island's Best Resorts Ranked
This post may contain some affiliate links, which means I'll make a little money on anything you choose to purchase. But of course, I only recommend my absolute favorites to you. Thank you for supporting the brands that make the Lincoln Travel Co possible.
The Big Island doesn't get the love that Maui or even Kauai get, but let me tell you…the Big Island has some of the BEST beach resorts in all of Hawaii.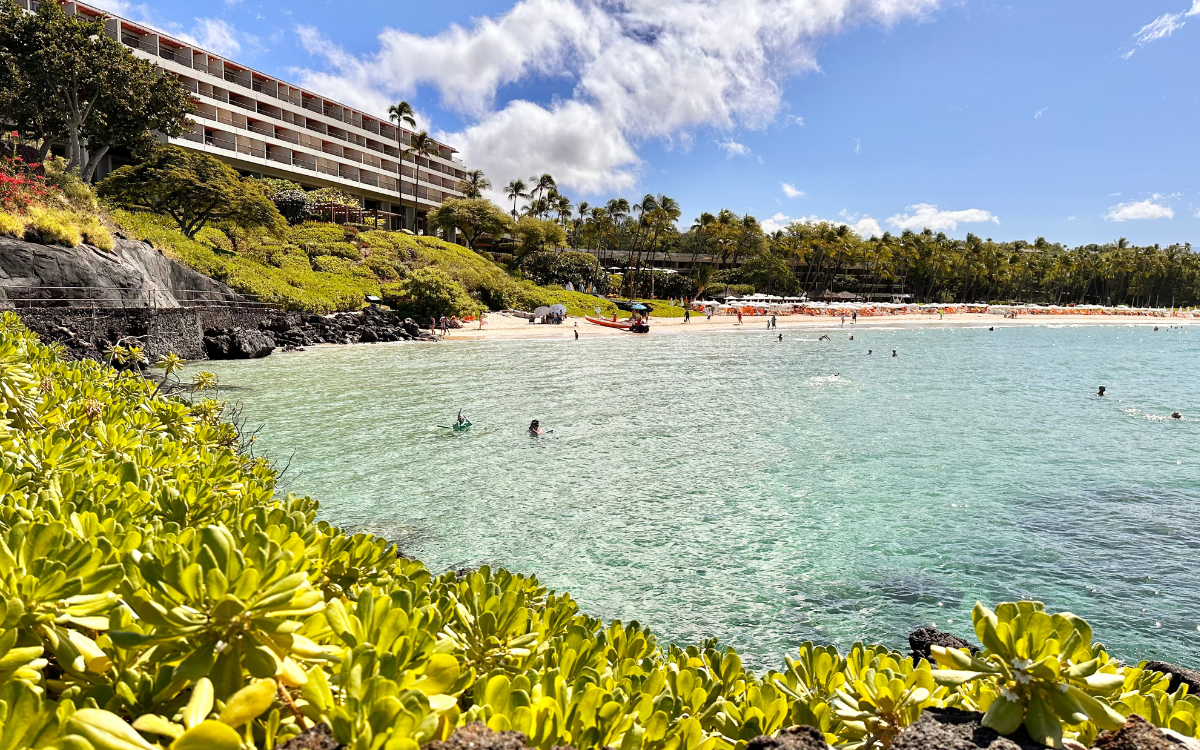 The Big Island's resort areas aren't nearly as splashy as Wailea on Maui or Princeville on Kauai, or even Ko Olina on Oahu, BUT…the Big Island has one huge thing going for it that the other Hawaiian islands don't have…space.
And that means space to spread out and build some truly expansive resort properties that you will not. want. to. leave.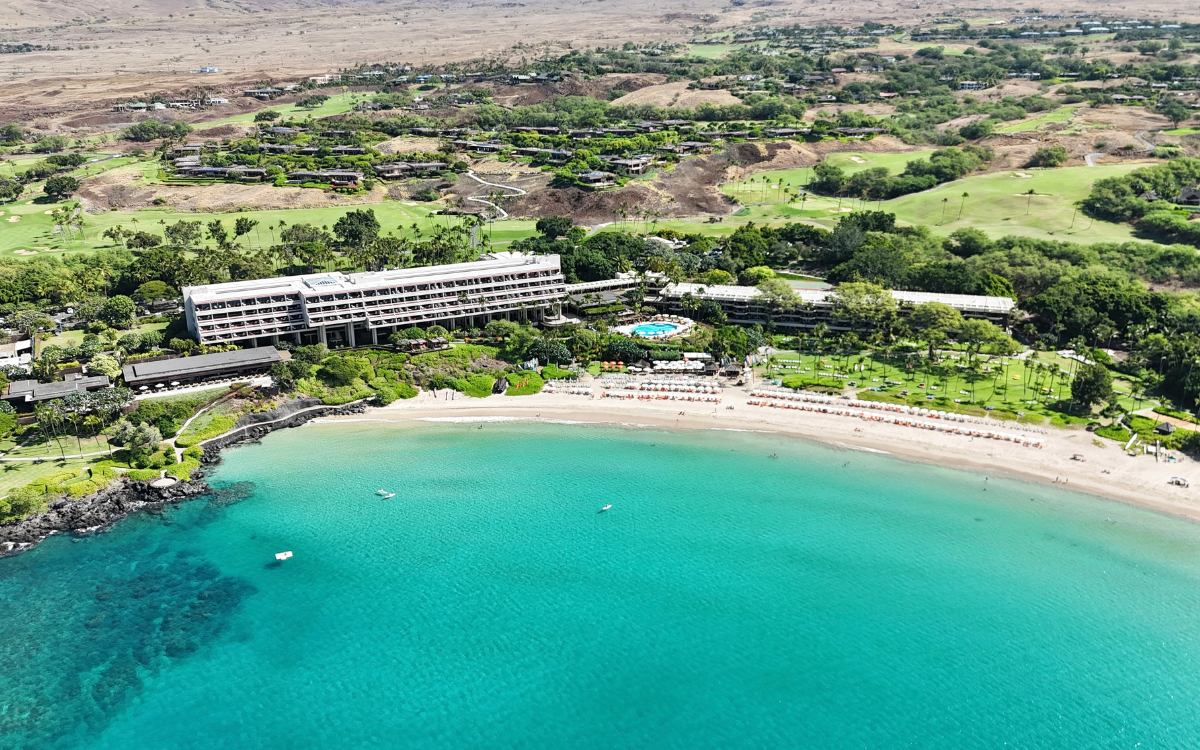 Seriously…you've got some really great options here. This post is primarily going to focus on what I would say are the best of the best. Mostly luxury and high end beach resorts, but I'll throw in some more budget friendly options too : )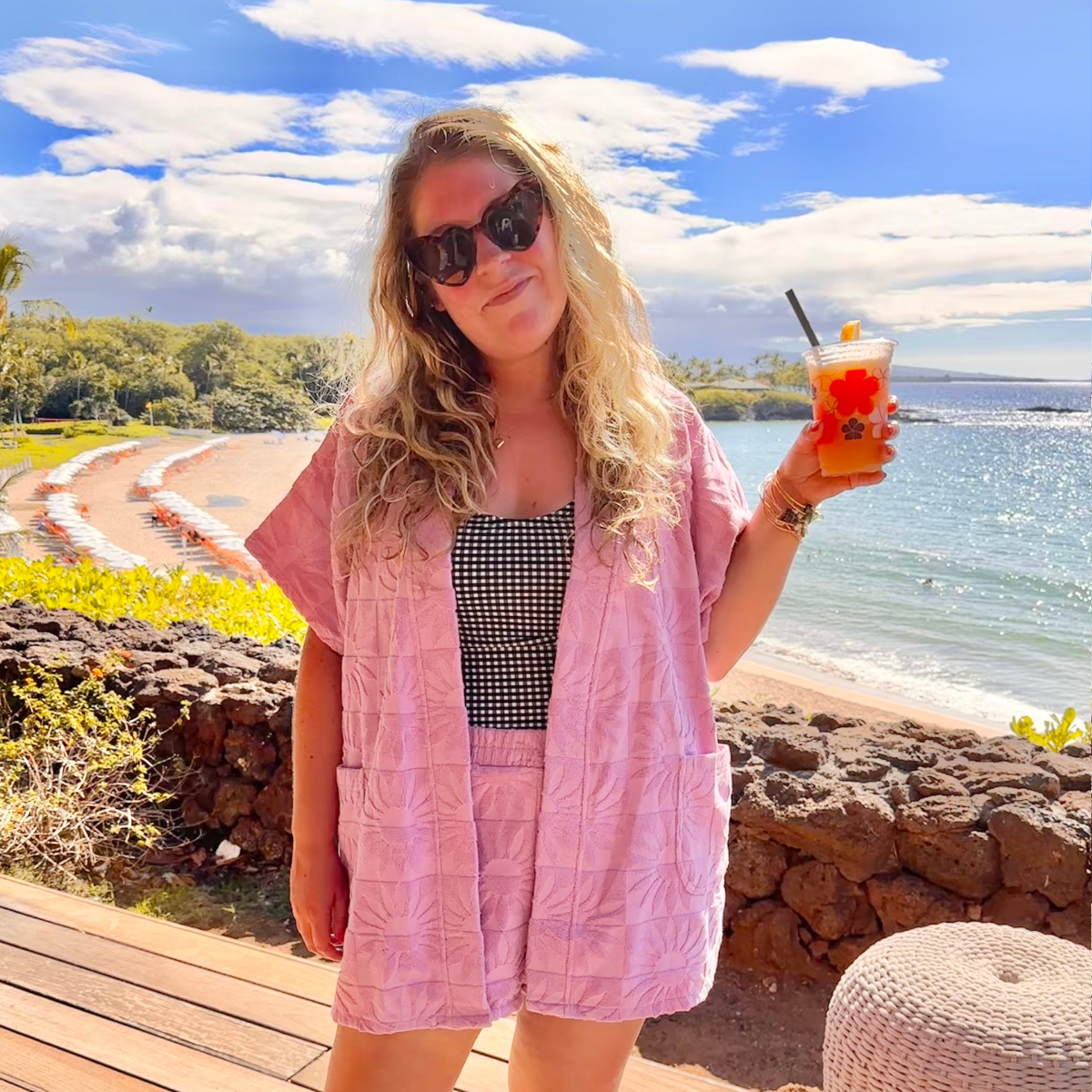 This post may contain some affiliate links, which means I'll make a little money on anything you choose to purchase. But of course, I only recommend my absolute favorites to you. Thank you for supporting the brands that make the Lincoln Travel Co possible.
Where to Stay on the Big Island
Here's a quick "table of contents" for what's in this post:
Lay of the (Is)land (Kona vs Hilo)
My Favorite Beach Resorts on the Big Island

Four Seasons Hualalai
Mauna Lani
Mauna Kea Beach Hotel
Fairmont Orchid
Hapuna Beach Westin
Waikoloa Marriott

Where NOT to Stay: Hilton Waikoloa Village
Places to Stay in Kona on a Budget
Where to Stay in Hilo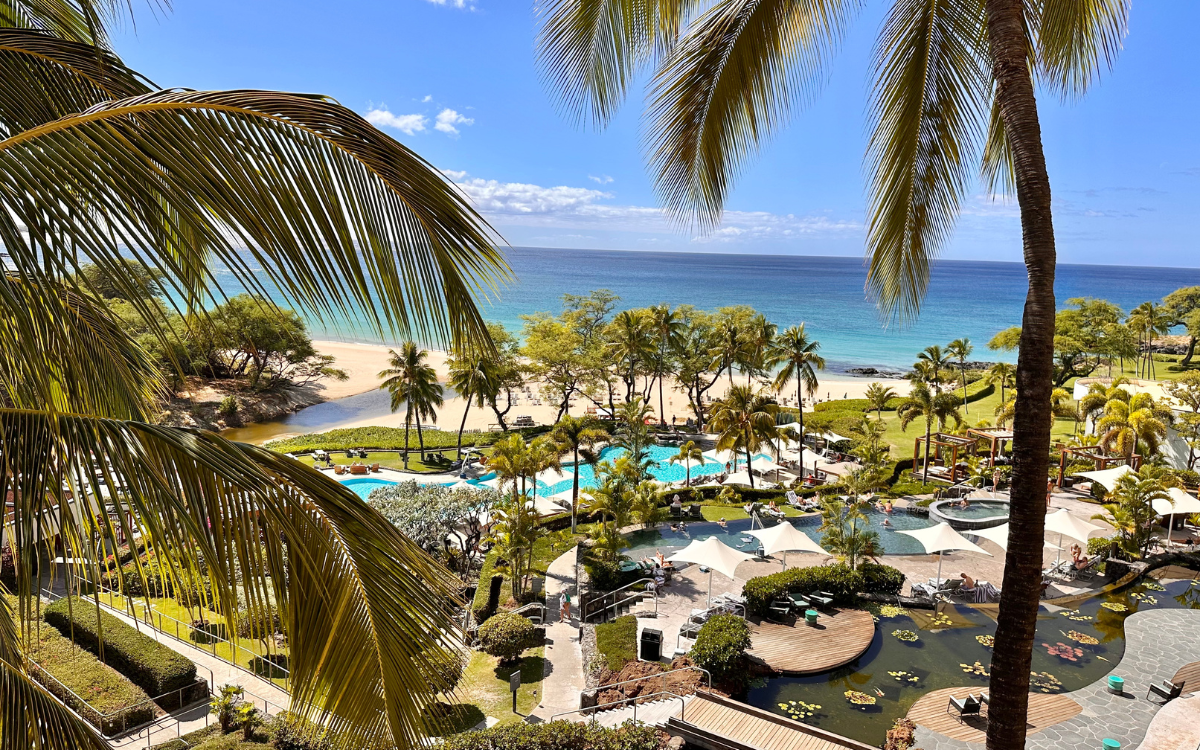 First up…the Big Island is, as the name implies, a BIG island. Waaaay bigger than the other Hawaiian islands. Actually, all of the other islands could fit inside the Big Island. With room left over!
The Big Island is divided into two primary areas: the Kona side (west) and the Hilo side (east).
I've done a whole post about Kona vs Hilo with all of the specifics and details, but basically…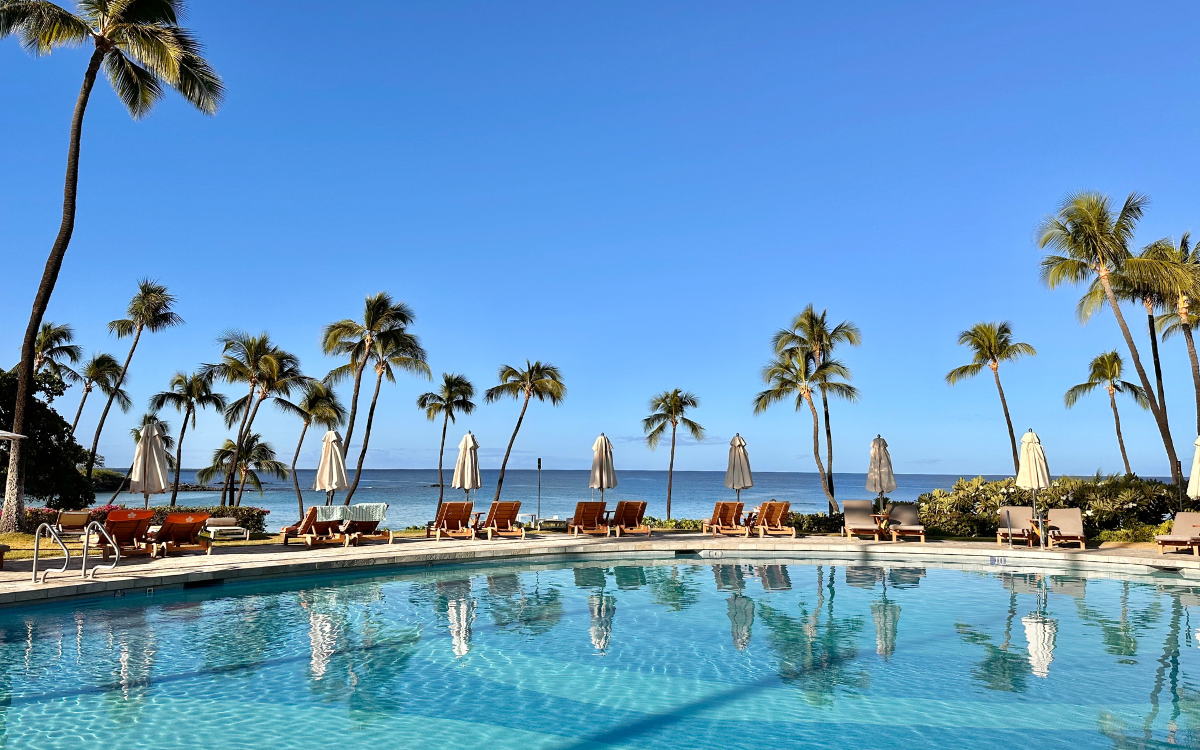 Kona
The Kona side of the island (roughly the western half) is the more tourist friendly side. It's sunny, dry, and where all of the best beaches are hence…all of the best resorts. At all budget levels, probably 90% of accommodations on the Big Island are on the Kona side.
The town of Kona is mostly older hotels and condos and a lot of vacation rentals while the nicer (and bigger/more spread out resorts and condo complexes) stretch along the coast north of Kona in areas like Waikoloa and Kohala.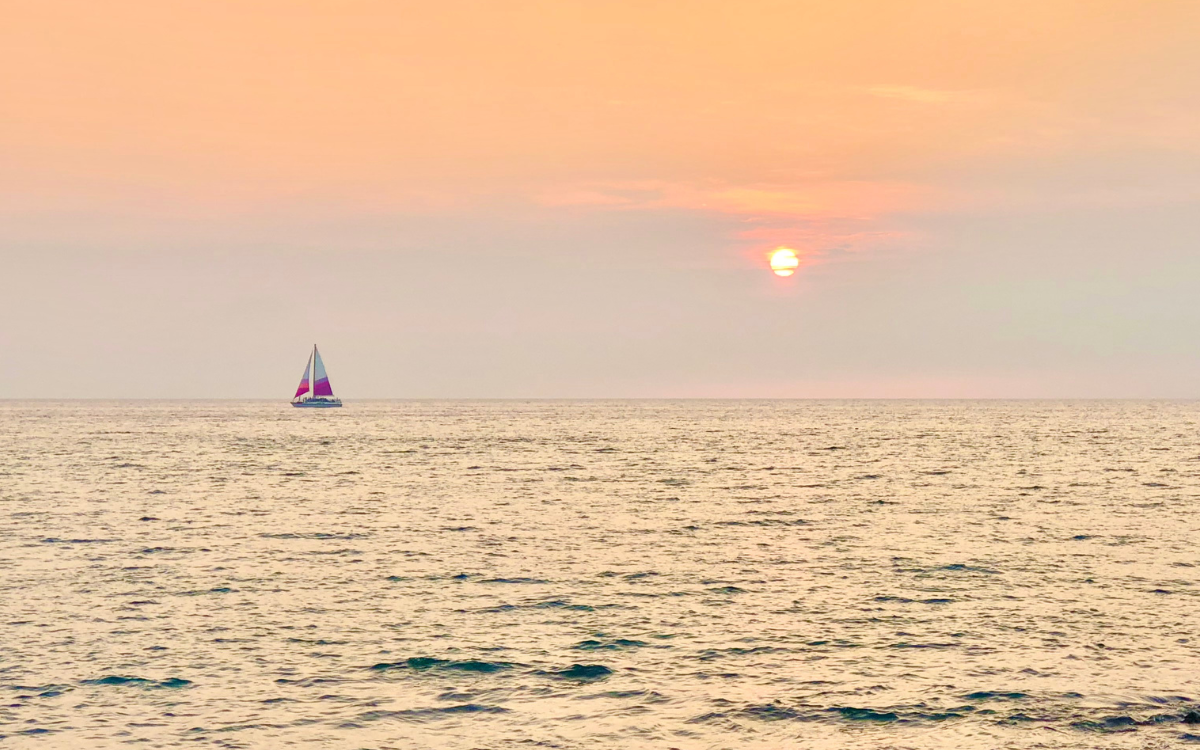 Hilo
The Hilo side of the island (roughly the eastern half) is way more local and has seen less tourism development. That's because it rains…a lot. But hey, it's a rainforest! So it's lush and dreamy and probably what you imagine Hawaii to be like. Waterfalls, jungle hikes, volcanoes, black sand beaches, etc. But they're short on places to stay in general and even shorter on nice places to stay.
The town of Hilo has a few traditional hotels, but most people who stay on this side of the island opt to stay in vacation rentals south of Hilo in Volcano. This is where you'll find the jungle tree houses, cute cottages, cabins, etc.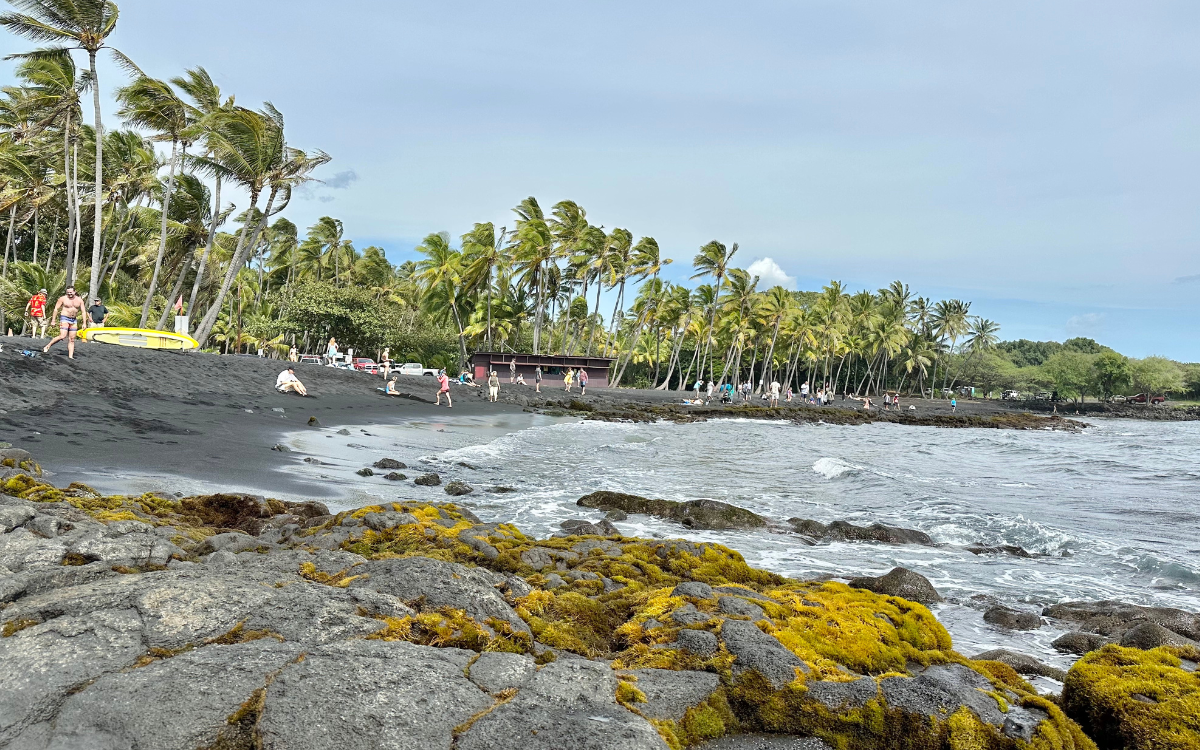 Getting to the Big Island
If you're flying into the Big Island from the mainland, you'll most likely be flying into the Kona International Airport (KOA), although if you're flying inter island from Oahu or Maui and staying on the Hilo side, you could also fly into the Hilo International Airport (ITO).
The Big Island's Best Beach Resorts RANKED
Okay, here's the deal…we're talking the best of the best here. Basically, if you're looking at any of these places you're going to have a great trip. But I like to get knit picky and really dive into the details.
So I'm not going to rank every single resort on the Big Island. That would just be overwhelming. This is a pretty edited list of places that I've either personally stayed at or WOULD stay at. There may be other places that you're considering that aren't on this list that are perfectly fine…I'm just really picky about where I like to stay and what I recommend.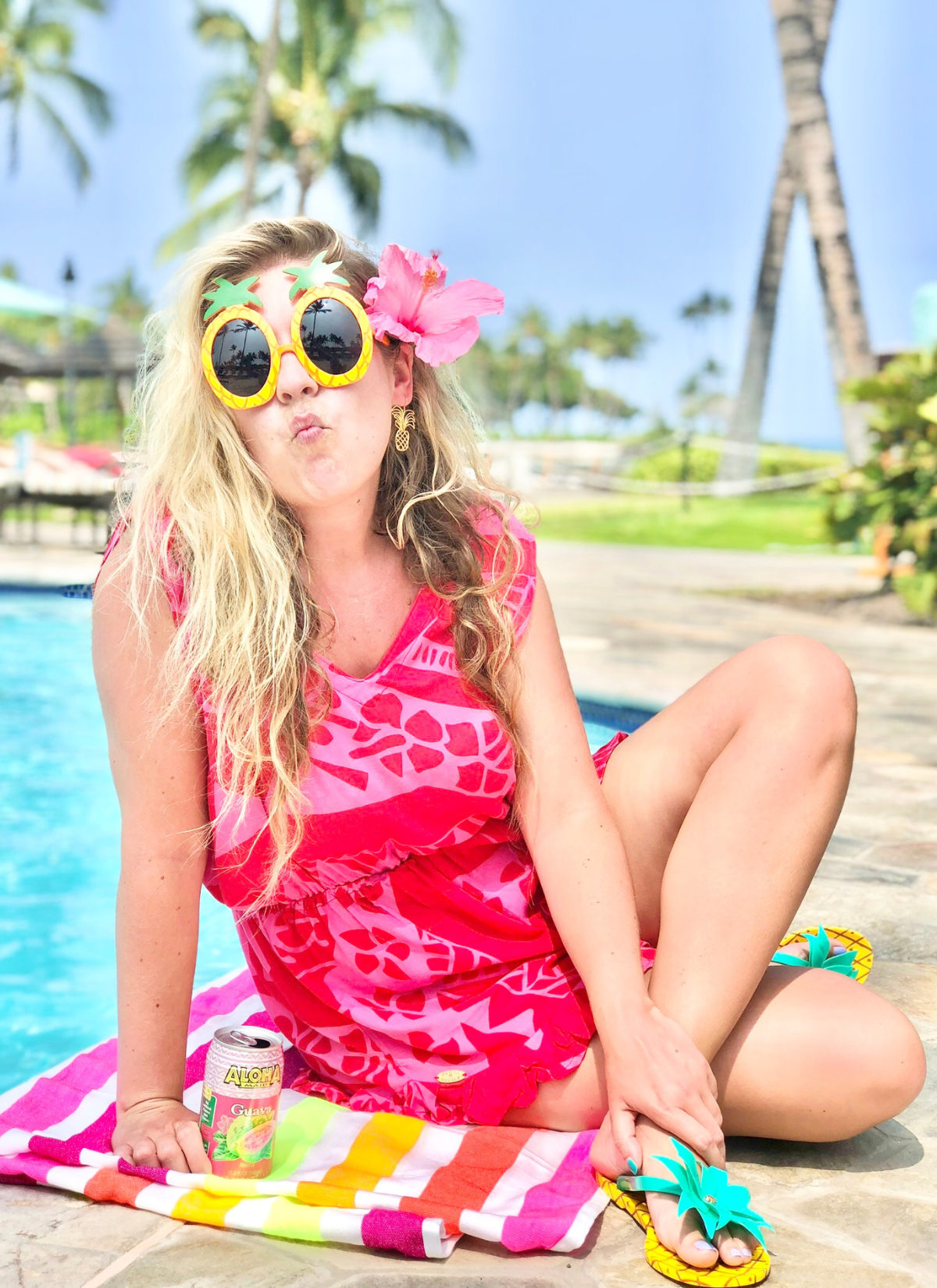 Final Note (and a big favor to ask): If you find my blog and info AT ALL helpful, the absolute best thing you can do to help me out is to click through the links in this post to book your hotels. I make a small commission on your bookings and if you're going to book a hotel anyways, it's a WIN WIN. Thanks so much!
Okay, on with the show!
Four Seasons Hualalai just might be the most extravagantly luxurious resort in Hawaii hands down (even more so than the other Four Seasons resorts). It has such a relaxed and laid back vibe and the property and amenities are so vast and wonderful that you'll never want to leave!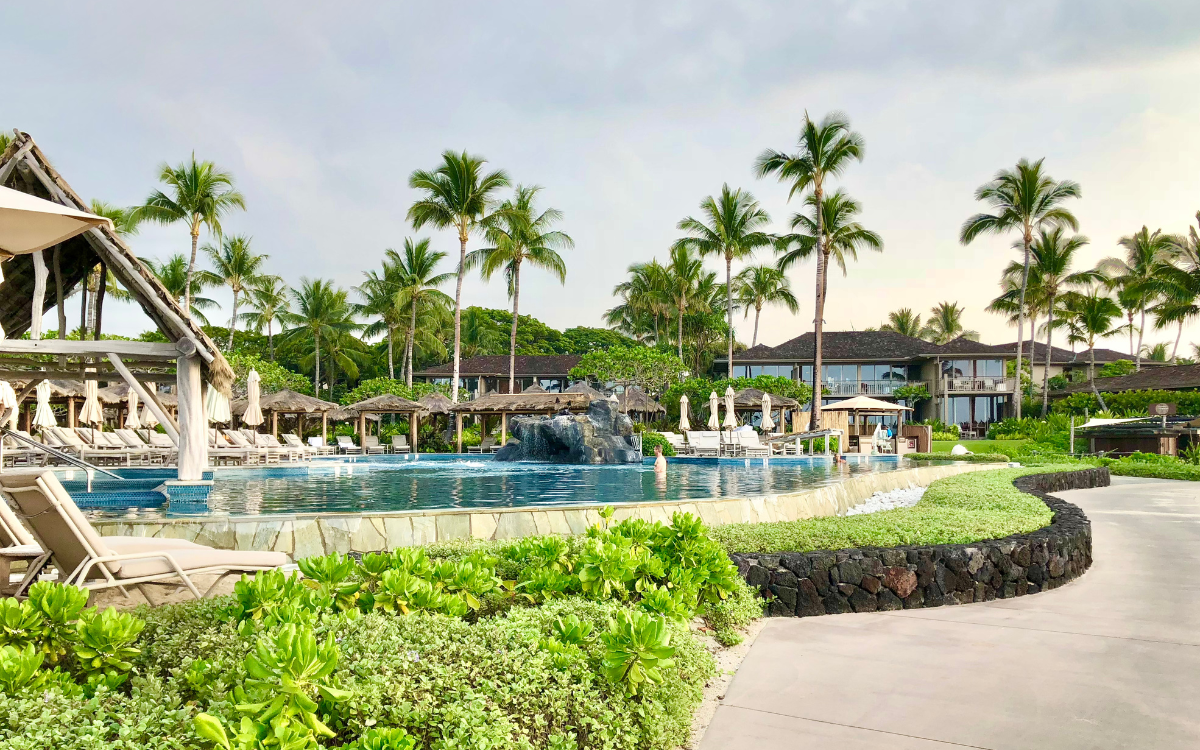 The beach here is a long winding ribbon that fronts the whole property and connects the different pools and common spaces. The beach is wide enough in several places for chairs and umbrellas plus there's a protected walled off lagoon for swimming.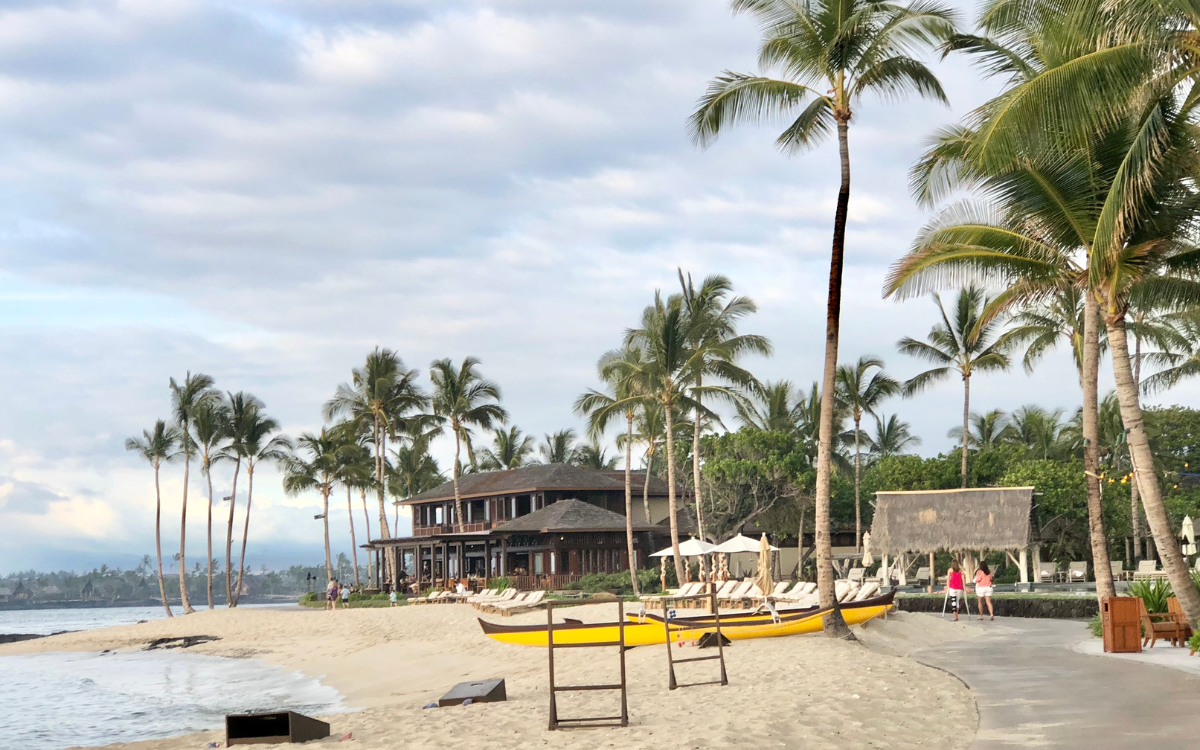 The property has an adults only oceanfront pool with a swim up bar and a family pool with an infinity edge, but the crown jewel is the King's Pond.
The giant swimmable aquarium features a sand bottom, thousands of tropical fish, an eagle ray, and now an infinity pool that overlooks it.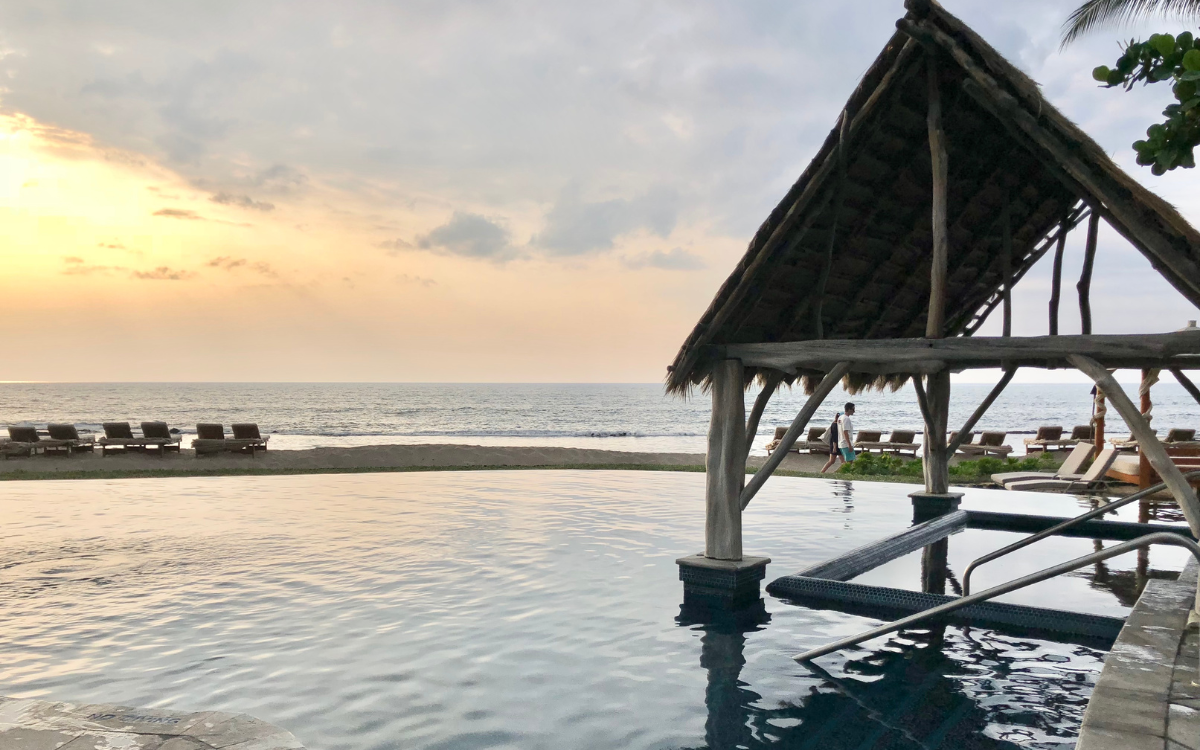 The resort has a couple of really top notch restaurants, a spa, onsite tennis, etc. It's all here, but the resort feels a little tucked away, and more spread out and less centralized than some resorts.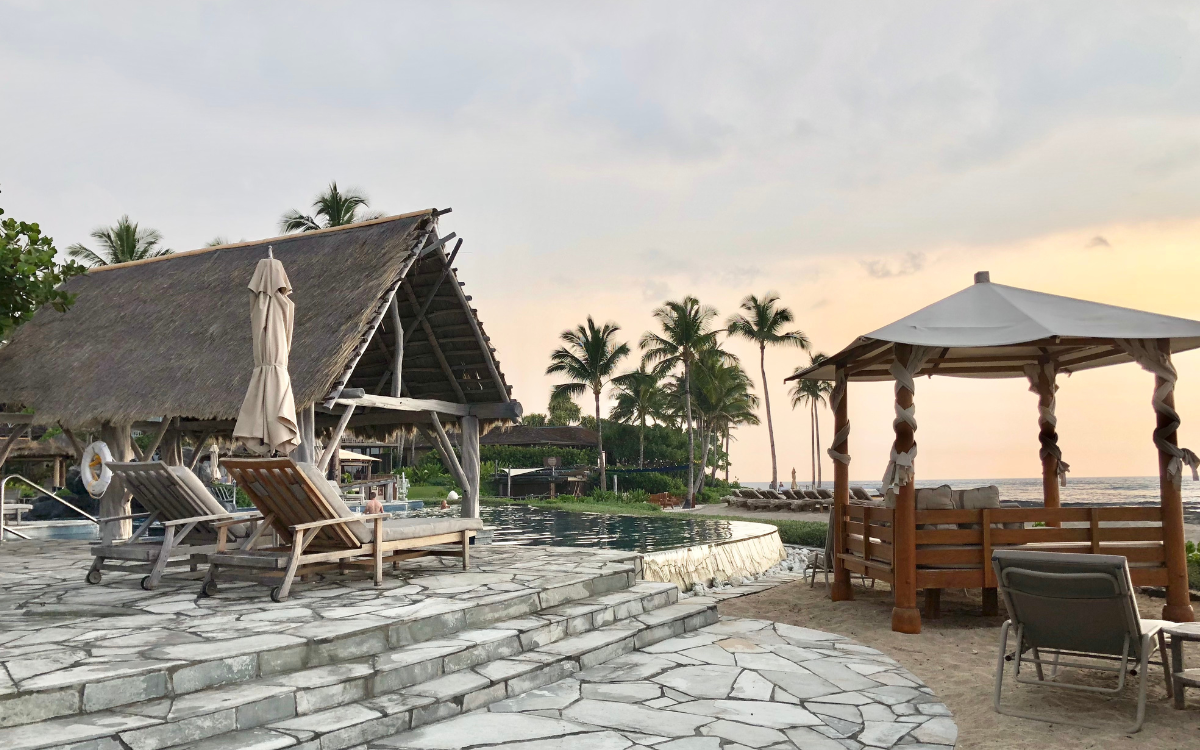 The Four Seasons is a lot closer to Kona than the other resorts on this list (besides Kona Village which is next door). Being closer to the airport isn't much of a factor since you only come and go twice, but there are a LOT more dining options in Kona than there are farther up the coast (that's one of the only things I don't love about the Waikoloa/Kohala area).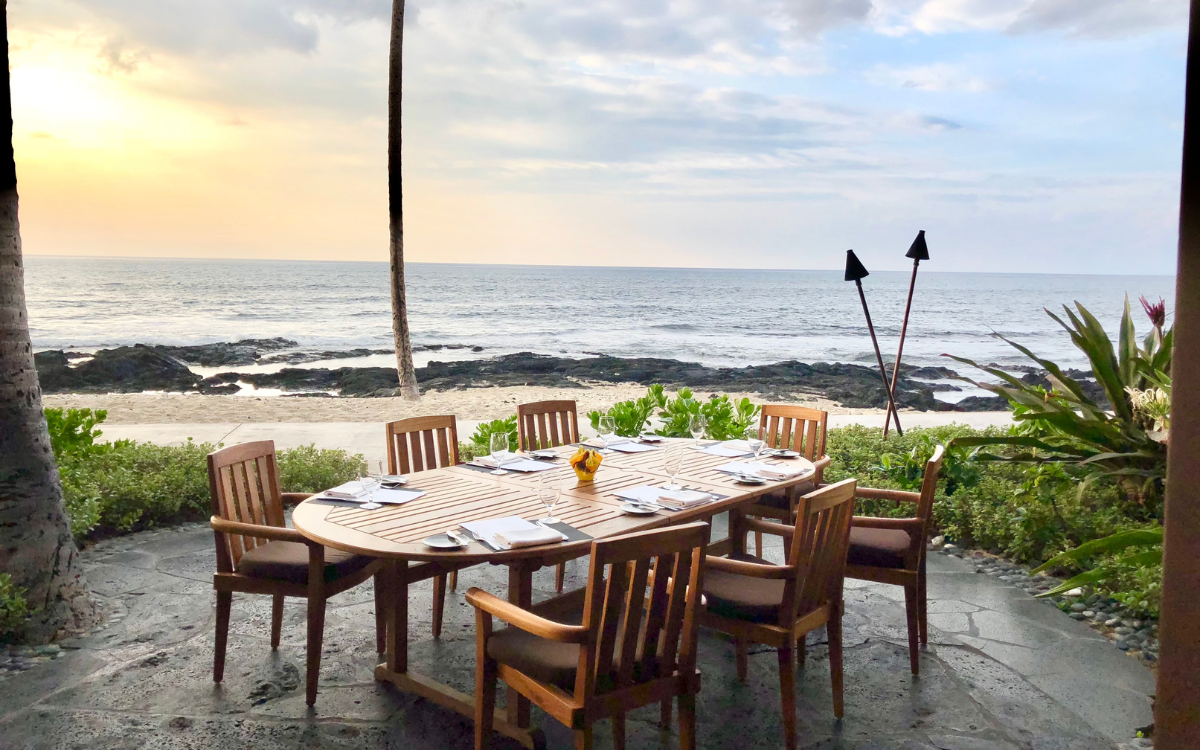 Click here to check availability and prices at the Four Seasons Hualalai.
I'm sliding the Kona Village in here as an "honorable mention." Partly because I haven't stayed here (or even visited the property) and partly because it's kind of in a category of its own.
Opened in the 1960s, the Kona Village Resort became a low key hideaway where families returned year after year to build decades-long traditions. The property was completely destroyed by a tsunami in 2011 and it sat untouched until the Rosewood Hotel Group came in and rebuilt the place from the ground up.
It still has the low key hideaway vibe but it's been transformed into an extremely exclusive and luxurious destination. Which means…expensive. When it first opened (earlier this year), it was reported that rates would start at $2500/night which makes even the Four Seasons look like a bargain ; )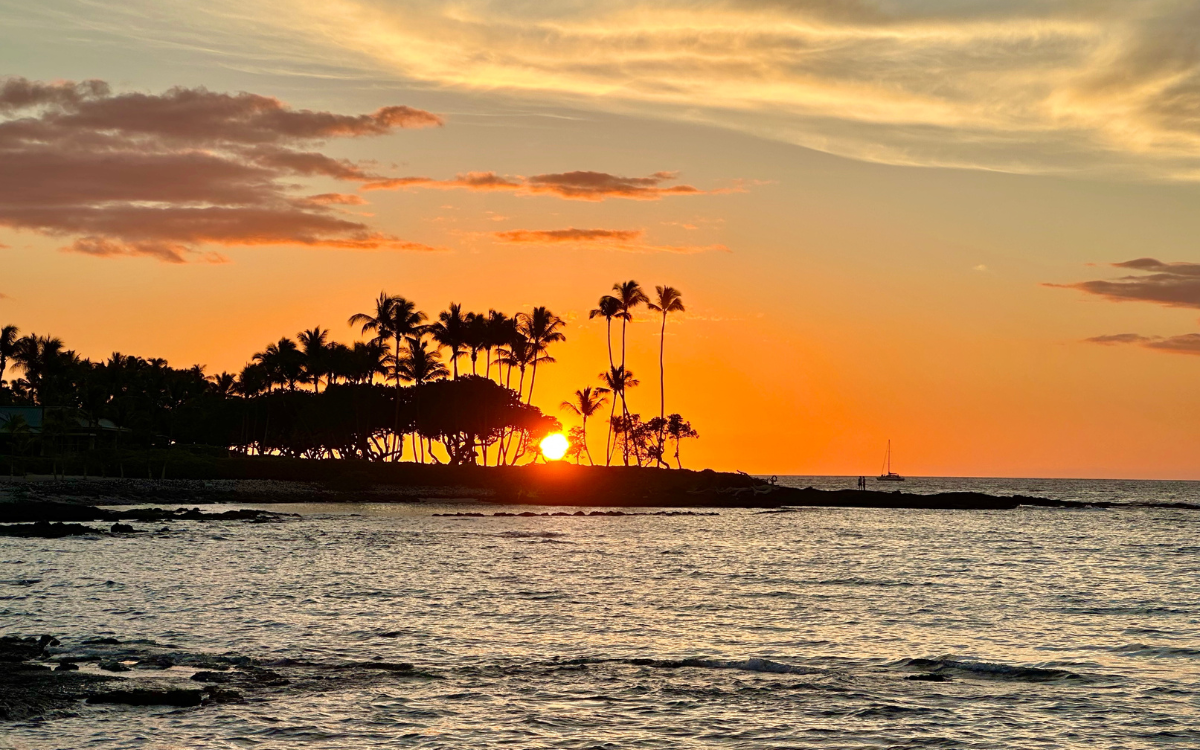 Prices may settle a bit and dip lower during shoulder season or for last minute bookings, but it's looking like it's generally going to average out between $2000-3000/night.
Even for Hawaii, that's in a different (new) tier than other luxury resorts.
Click here to check availability and prices at the Kona Village.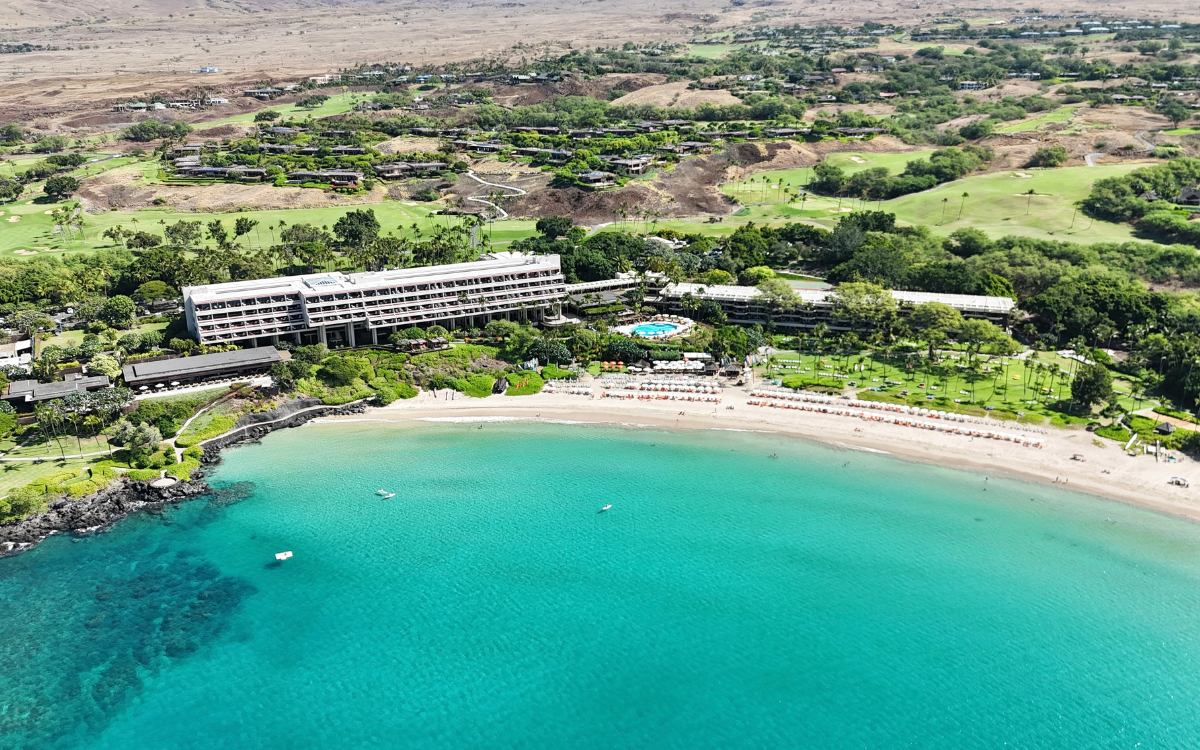 Opened in 1965, Laurance Rockefeller's Mauna Kea Beach Hotel was the first resort development on the Big Island and almost 60 years later it's still delivering the kind of vintage Hawaiian vibes that are getting hard to find.
Honestly, after my last trip, I'm pretty obsessed with this place. It manages to feel like a step back in time and a modern luxury resort all at once.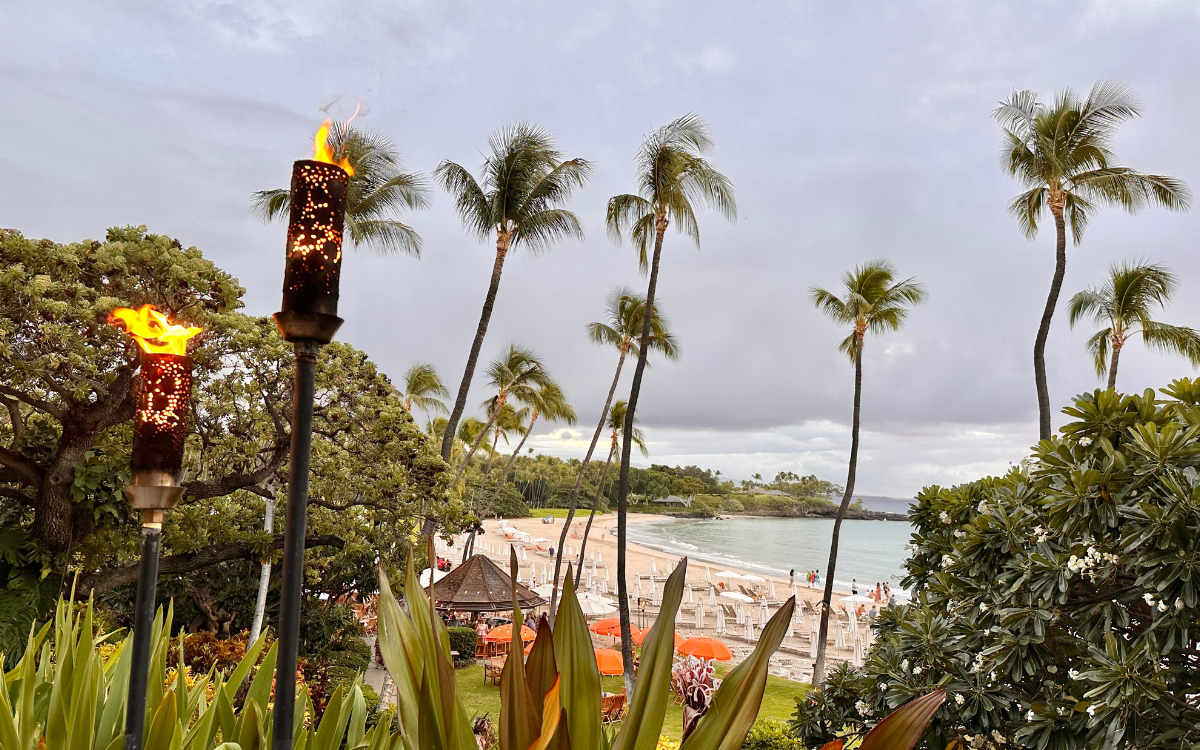 But the real showstopper here is the beach. I think Mauna Kea Beach (Kauna'oa Beach) is the best beach on the Big Island and the way the hotel sits up on the bluff above the beach is absolutely stunning.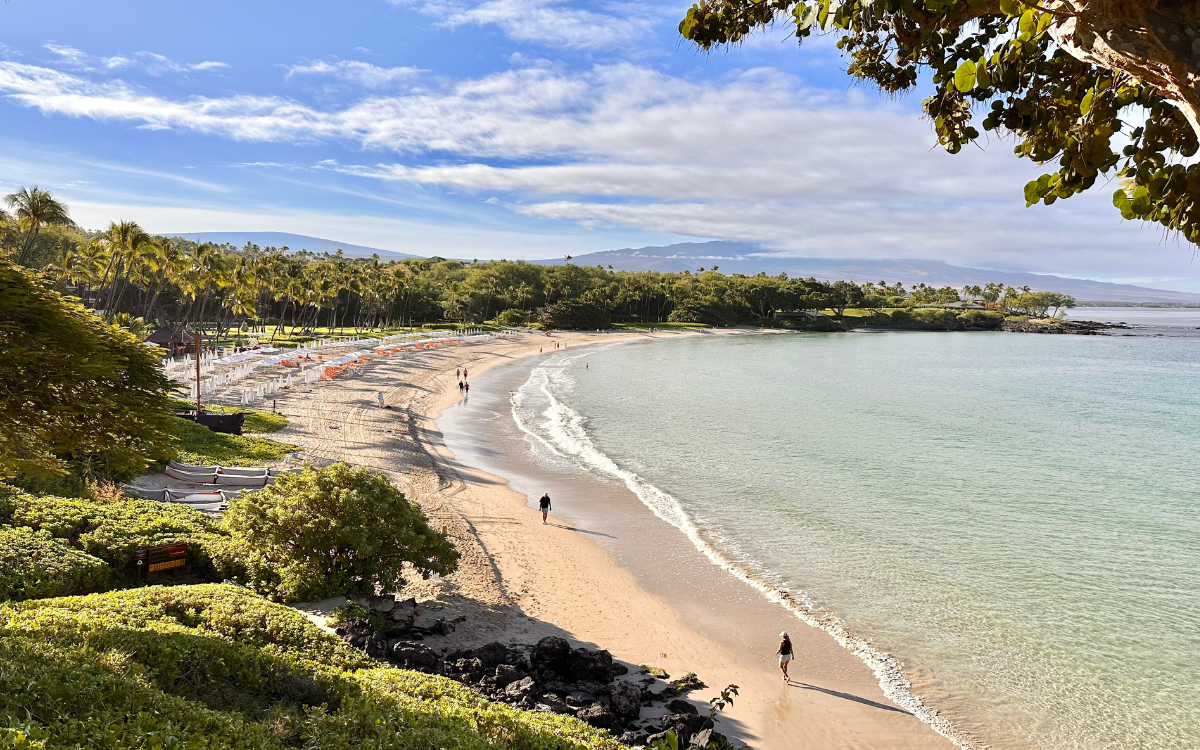 Supposedly, Rockefeller spent months scouting the Hawaiian Islands with a team of people looking for the perfect setting to build a hotel before setting on Kauna'oa Bay. Well, what a spot!
I've stayed at (and visited) most of the top resorts in Hawaii and the setting for the Mauna Kea Beach Hotel is easily in my top two (I also love the 1 Hotel Hanalei Bay – formerly the St Regis/Princeville Resort on Kauai).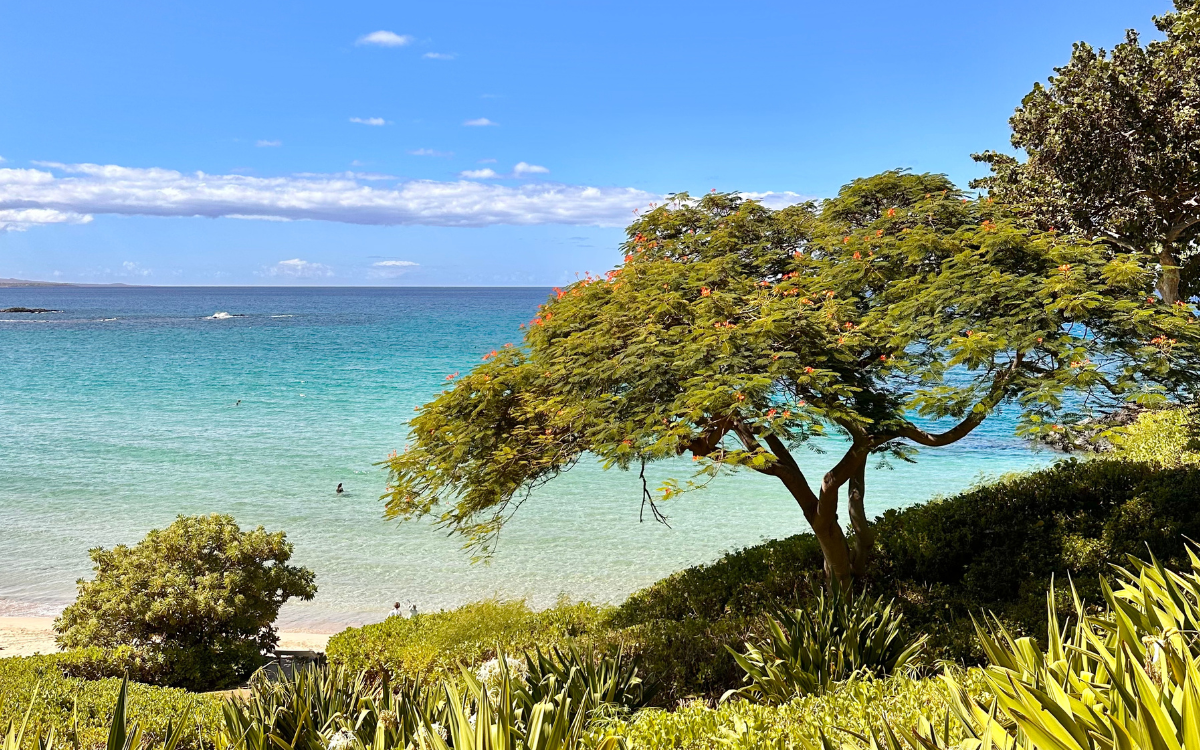 Eating breakfast at Manta while looking out over the bay is about as good as it gets. In the mornings, the water in the bay is like a swimming pool just begging for a snorkel session or long swim.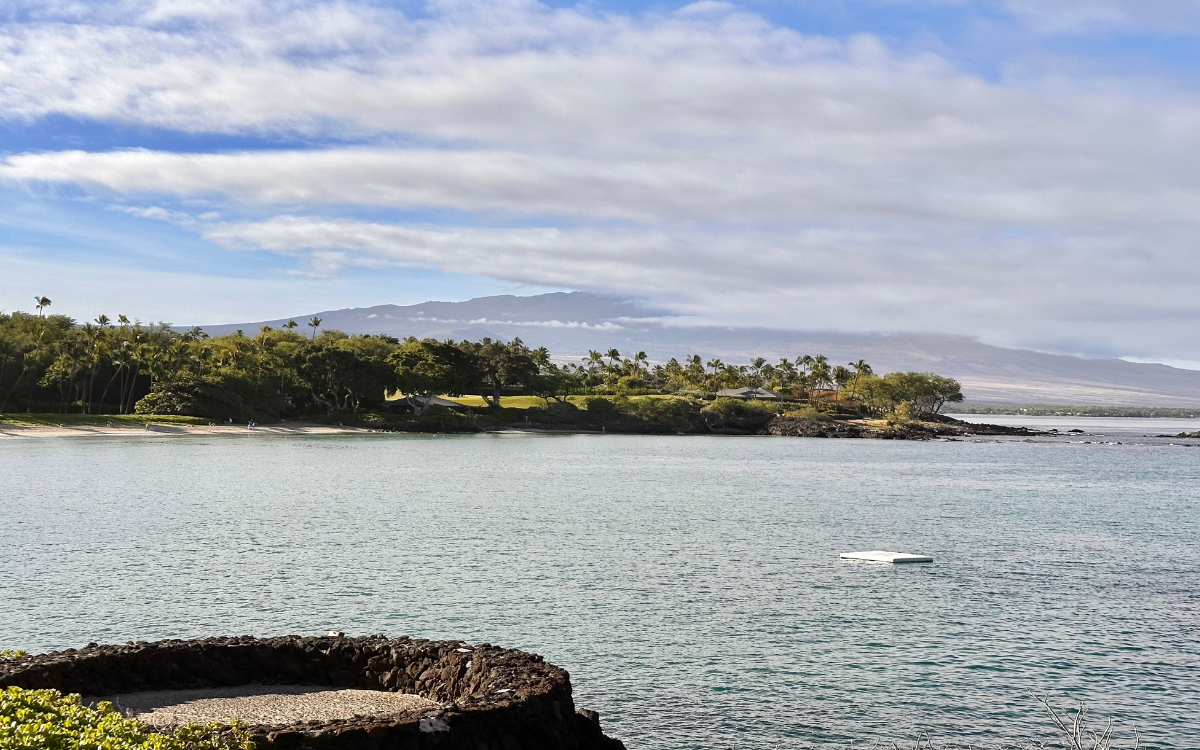 Now admittedly, the hotel does feel a bit dated, but honestly that's part of its vintage charm. Everything has been updated really well (and they're slated for another major renovation in 2024/2025), but the property still has some quirks.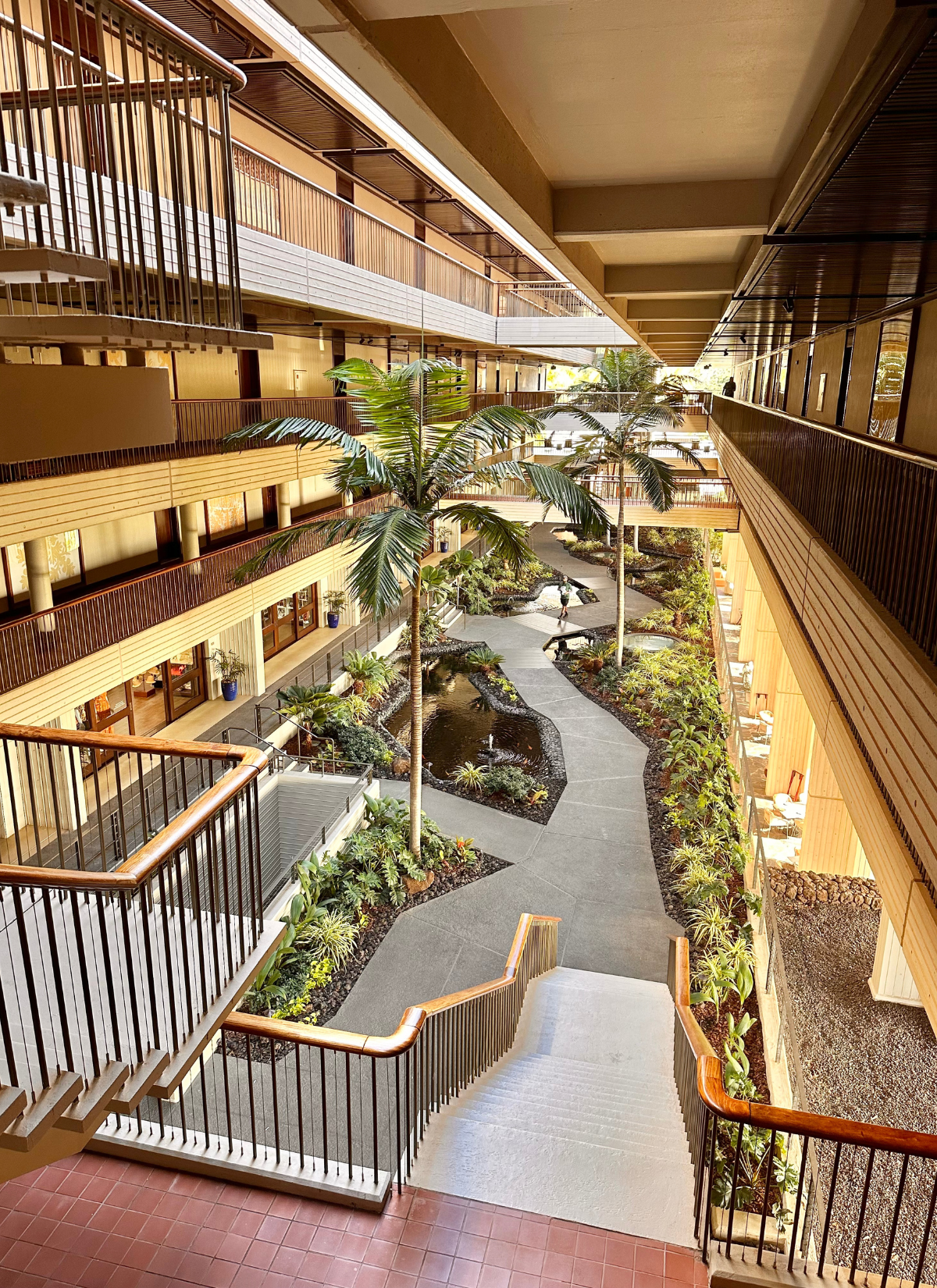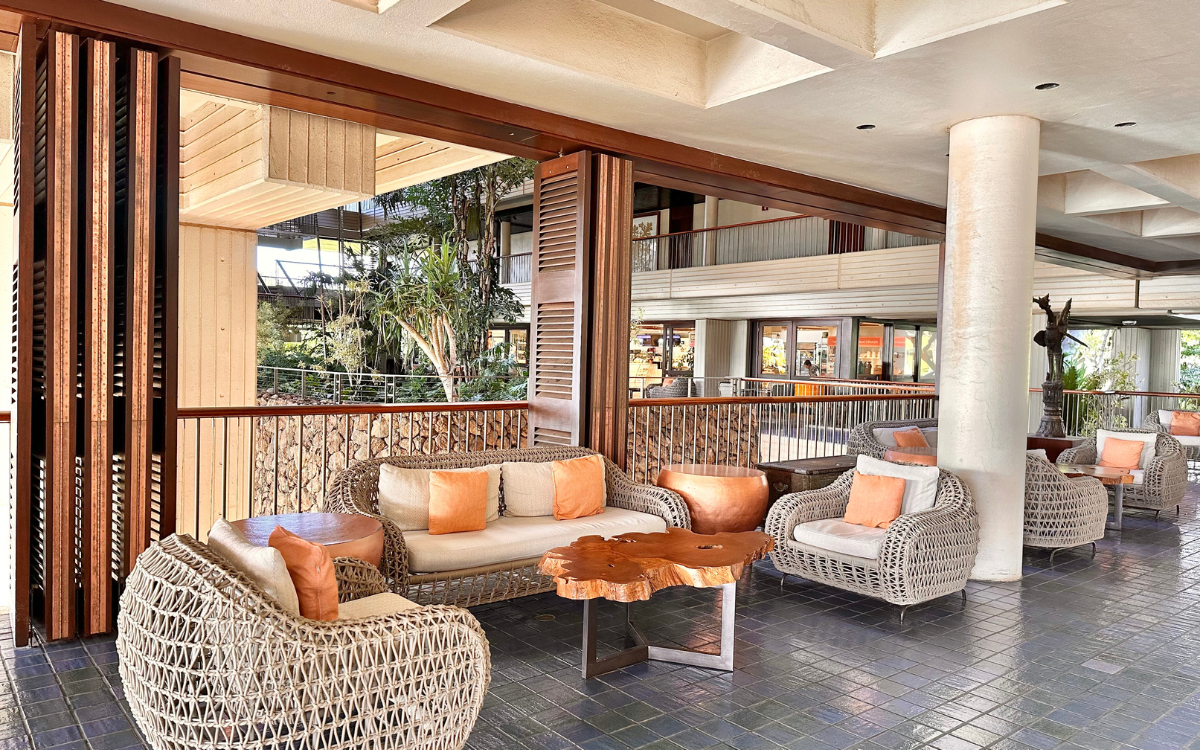 For example, the rooms are really large but laid out in an interesting way. The bedroom is only big enough for two double beds (not unusual for the time it was built), but there's an enormous walk-in closet, huge double vanities, and a large wet room.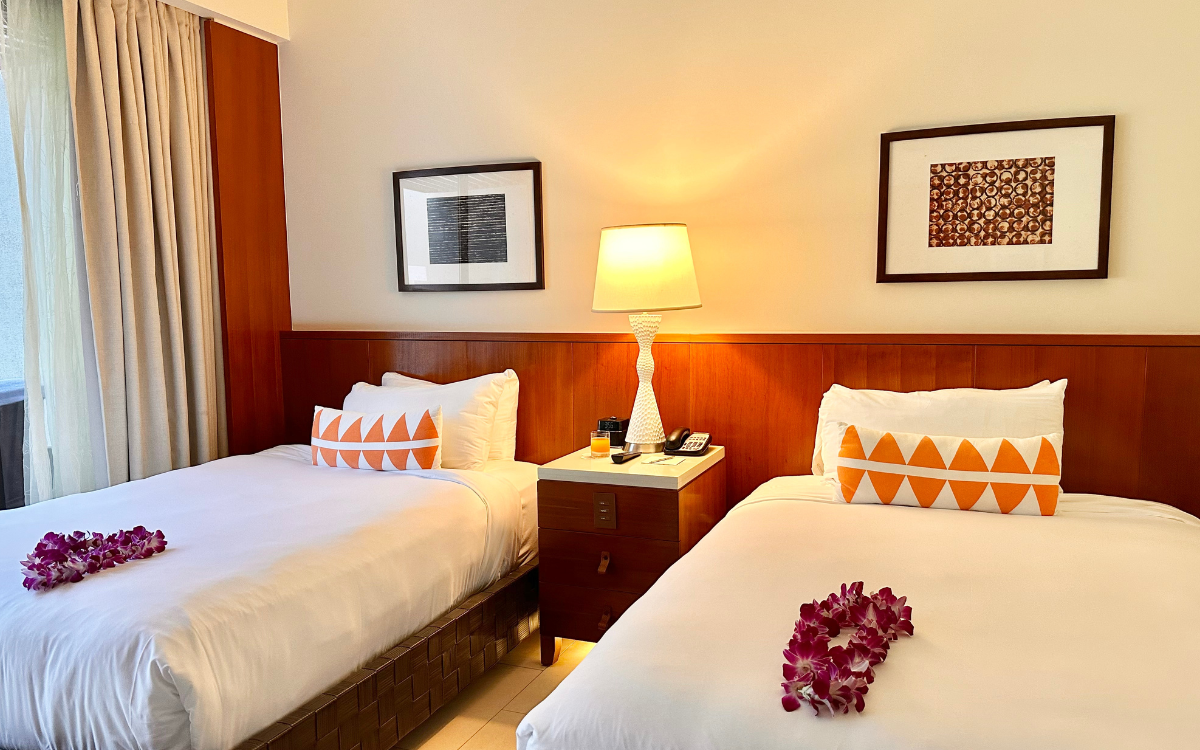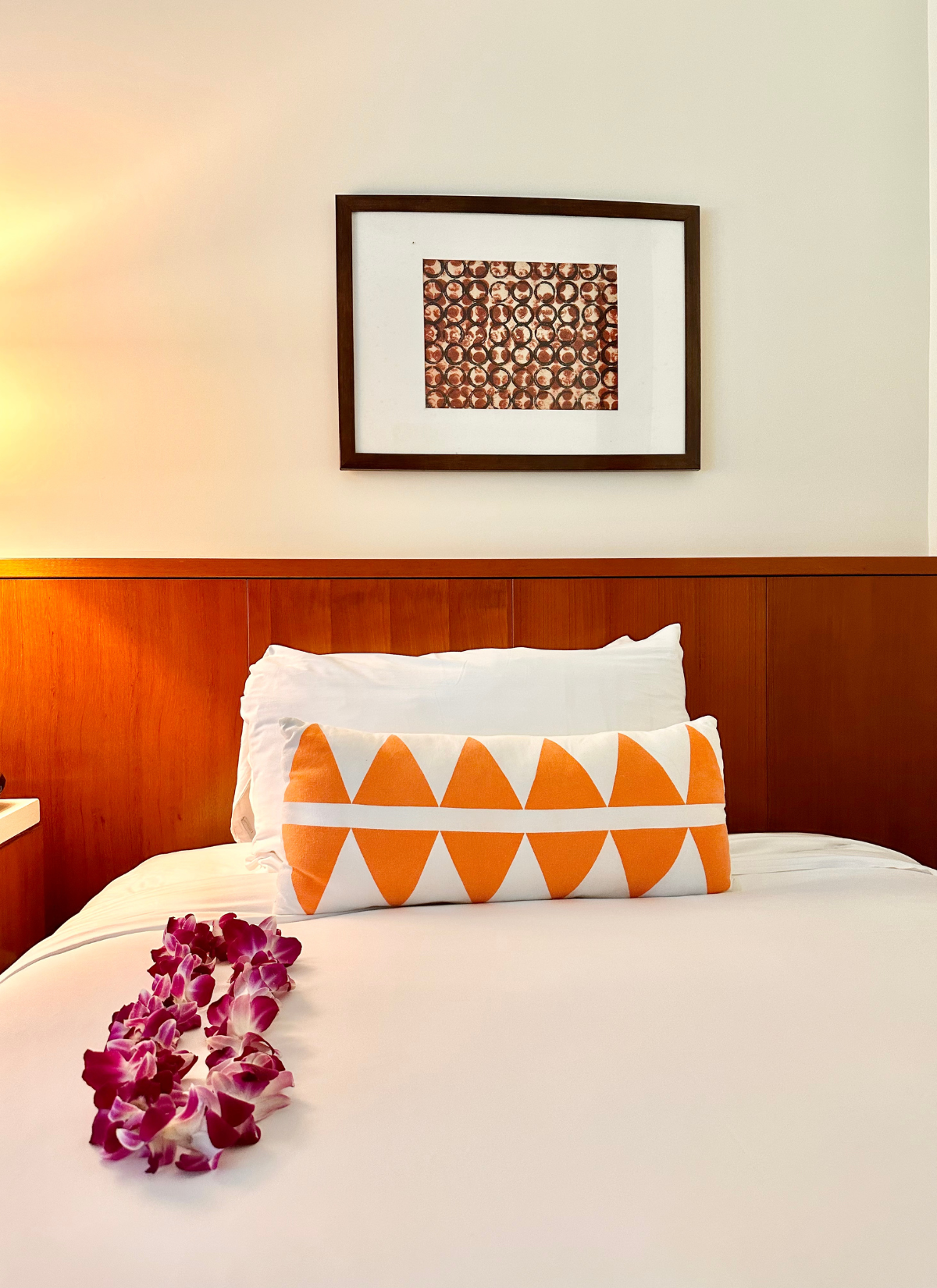 I'll be interested to see if the room renovation includes an updated layout or just a surface upgrade.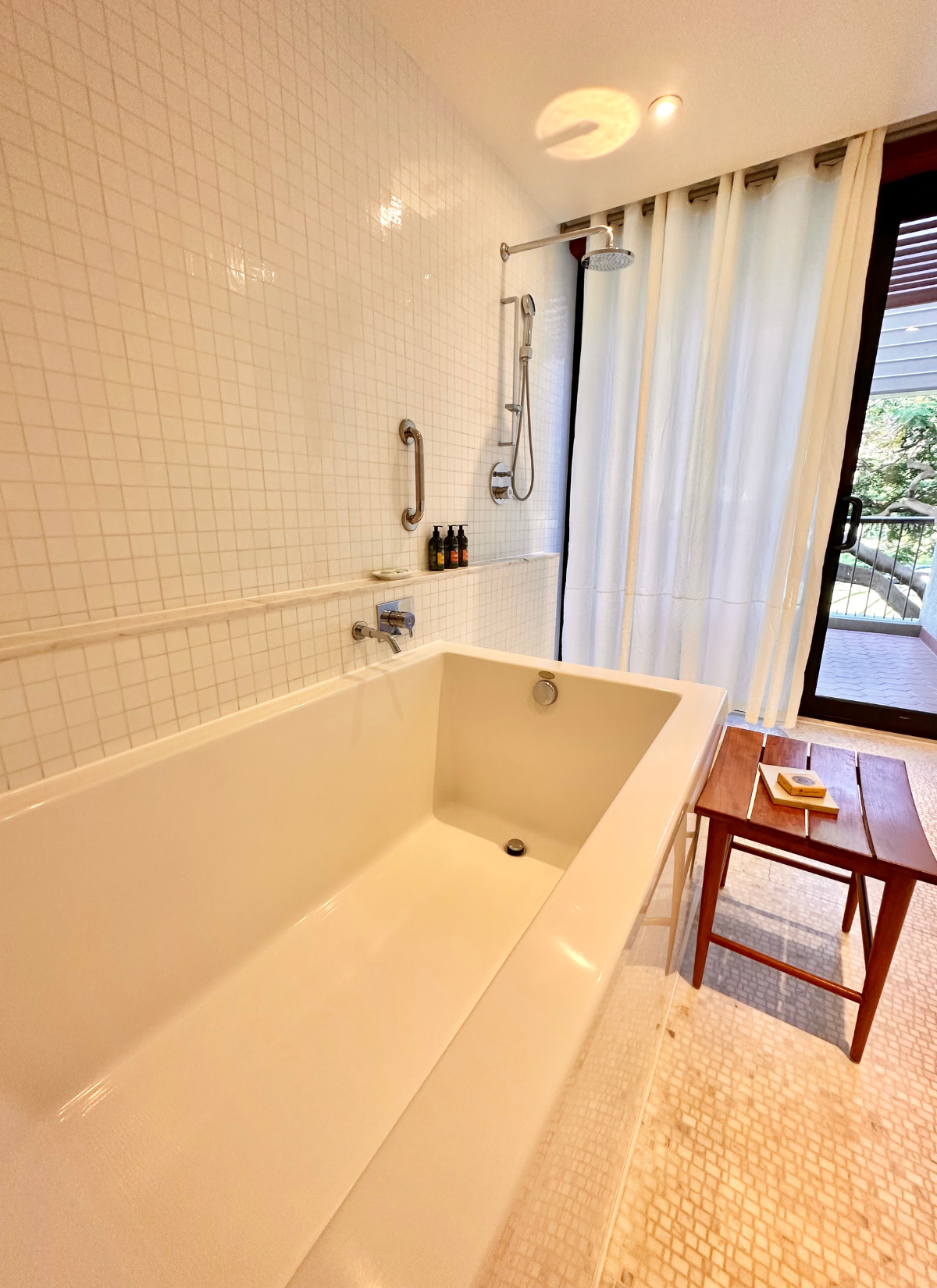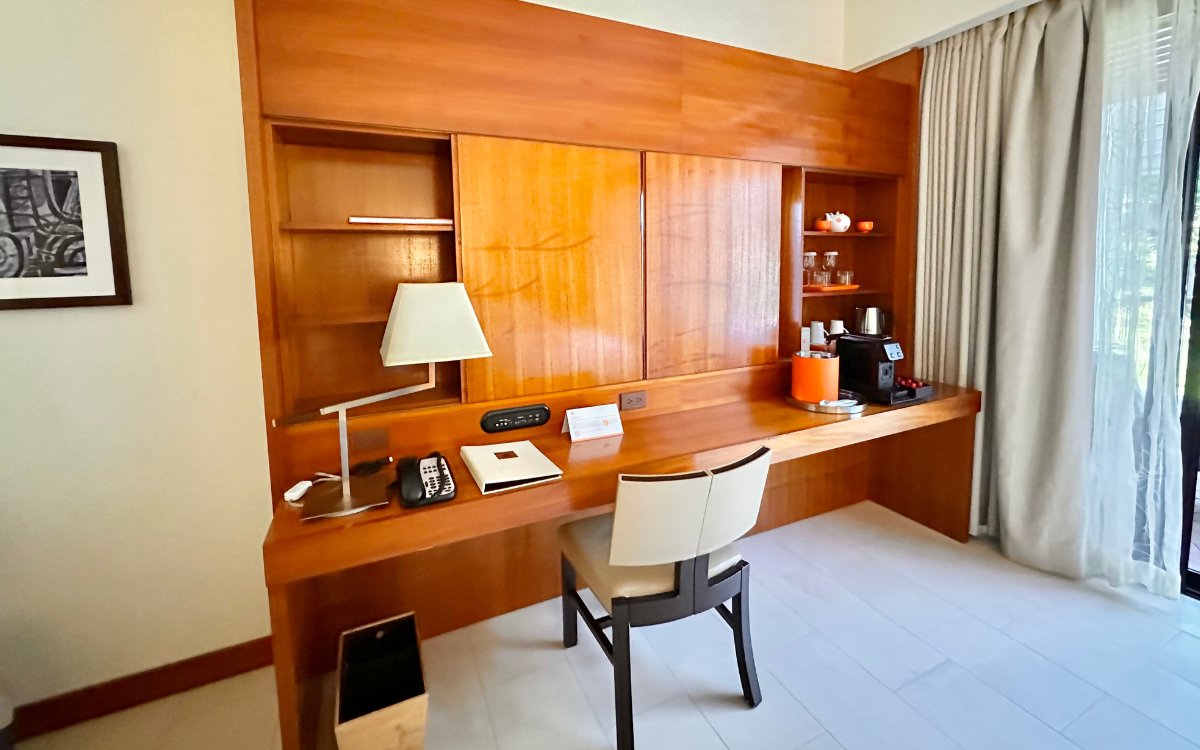 The other thing I don't love about the resort is that the pool area is pretty small and dated, but if you can get a chair (hard in high season), the view out over the beach is amazing.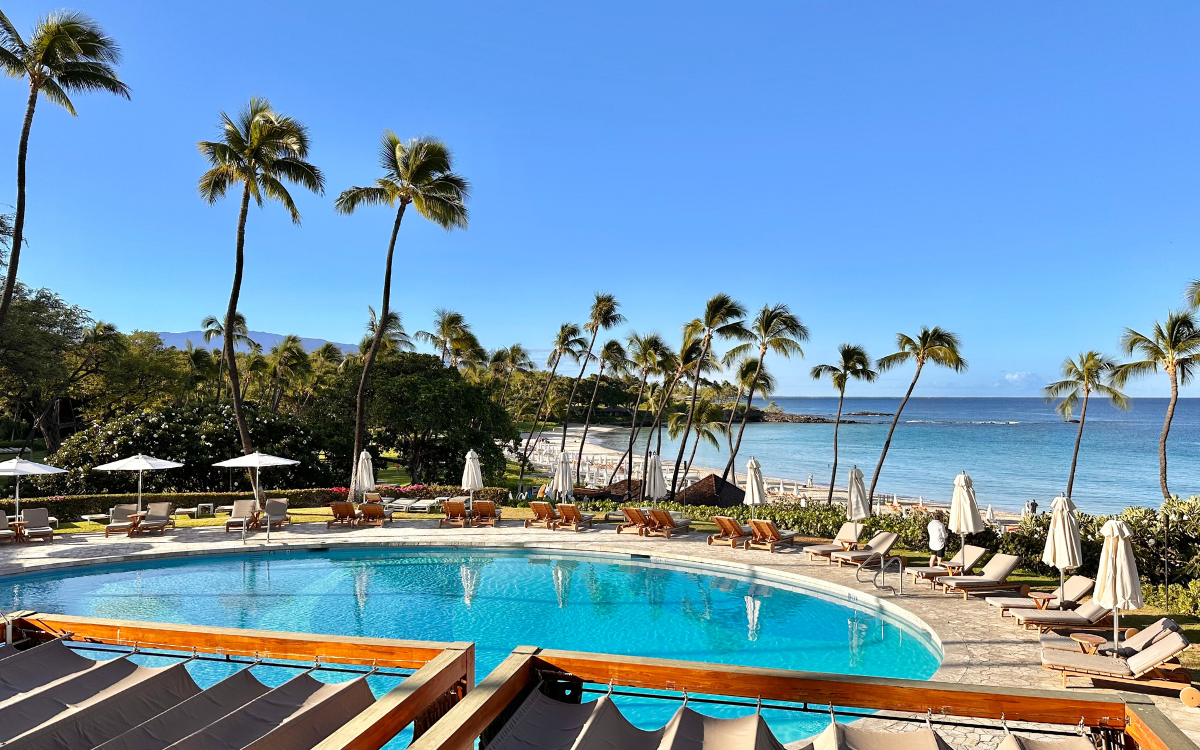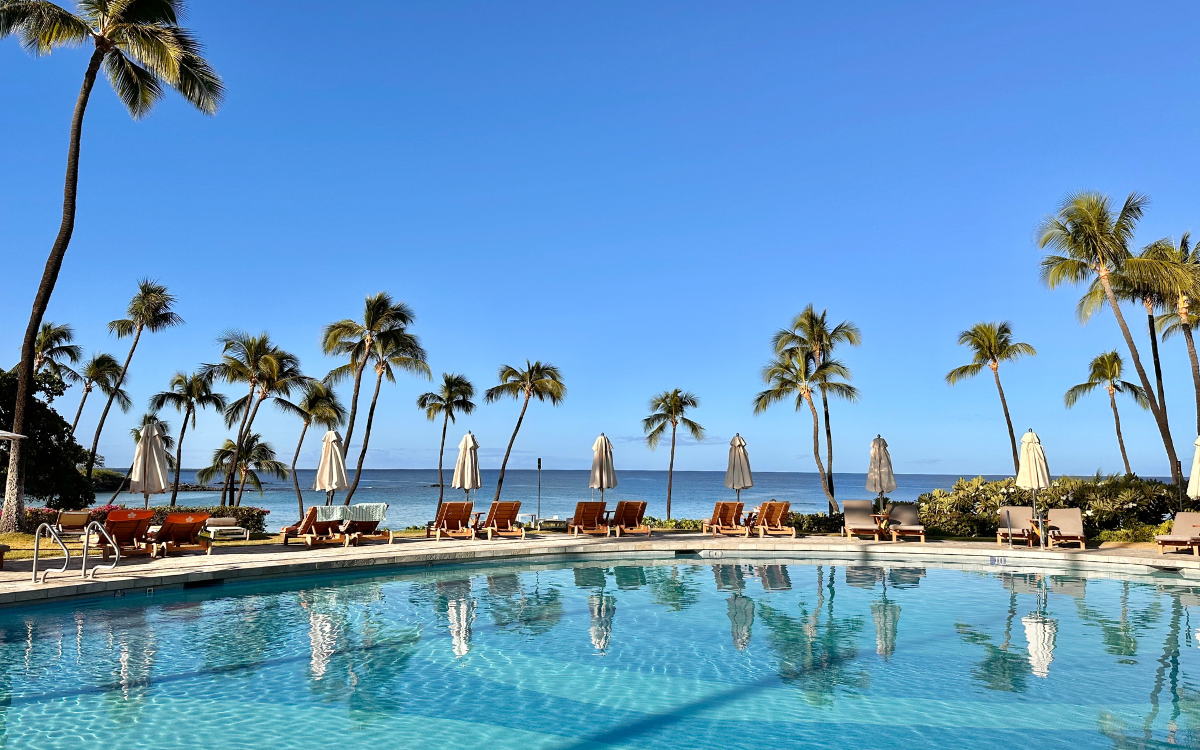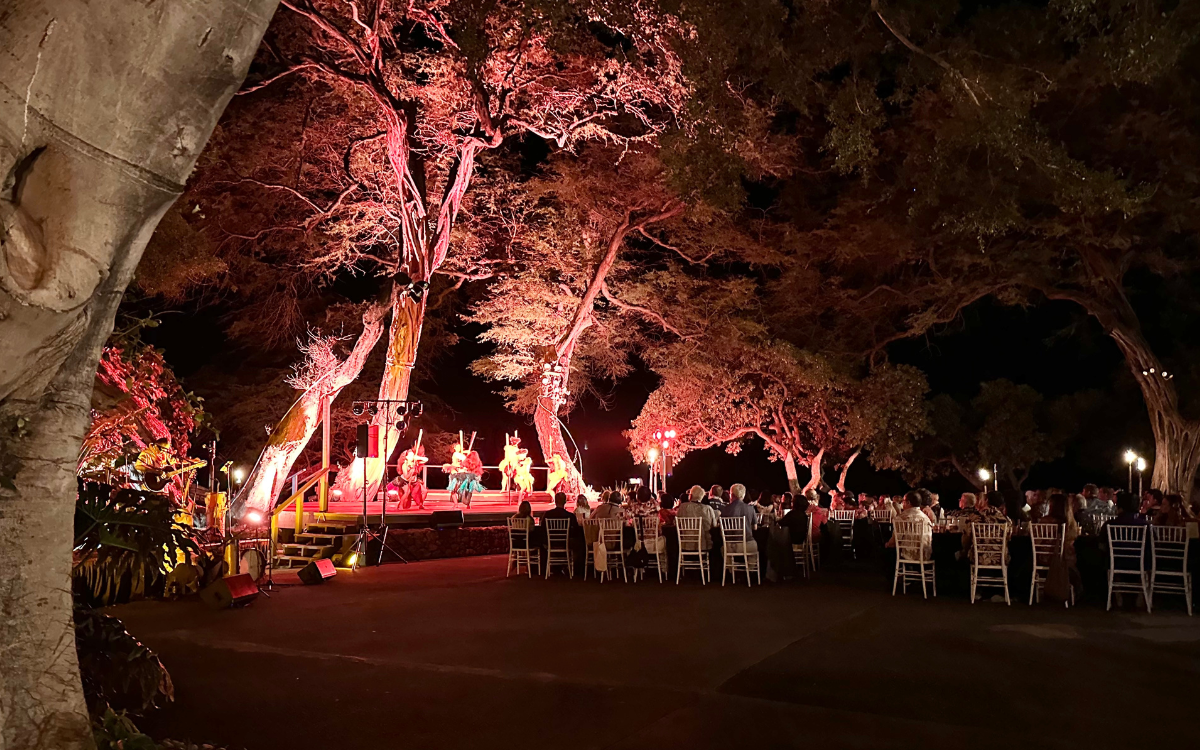 They've got a first class luau onsite, but the real attraction here are the mantas. Snorkeling or diving with manta rays at night is one of the most special (and popular) things to do on the Big Island and while most people have to go out on a boat (not to mention get in the ocean AT NIGHT), the Mauna Kea has a private manta ray location set up with a viewing platform where you can watch them swoop and soar to your heart's delight.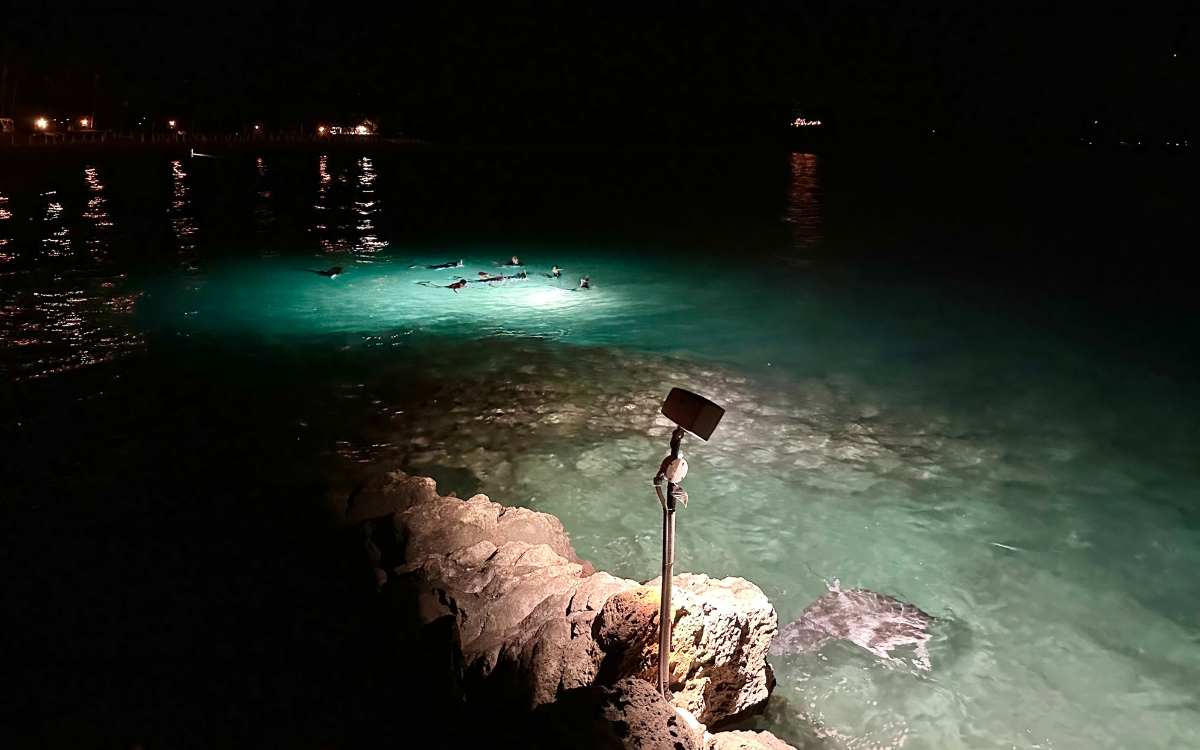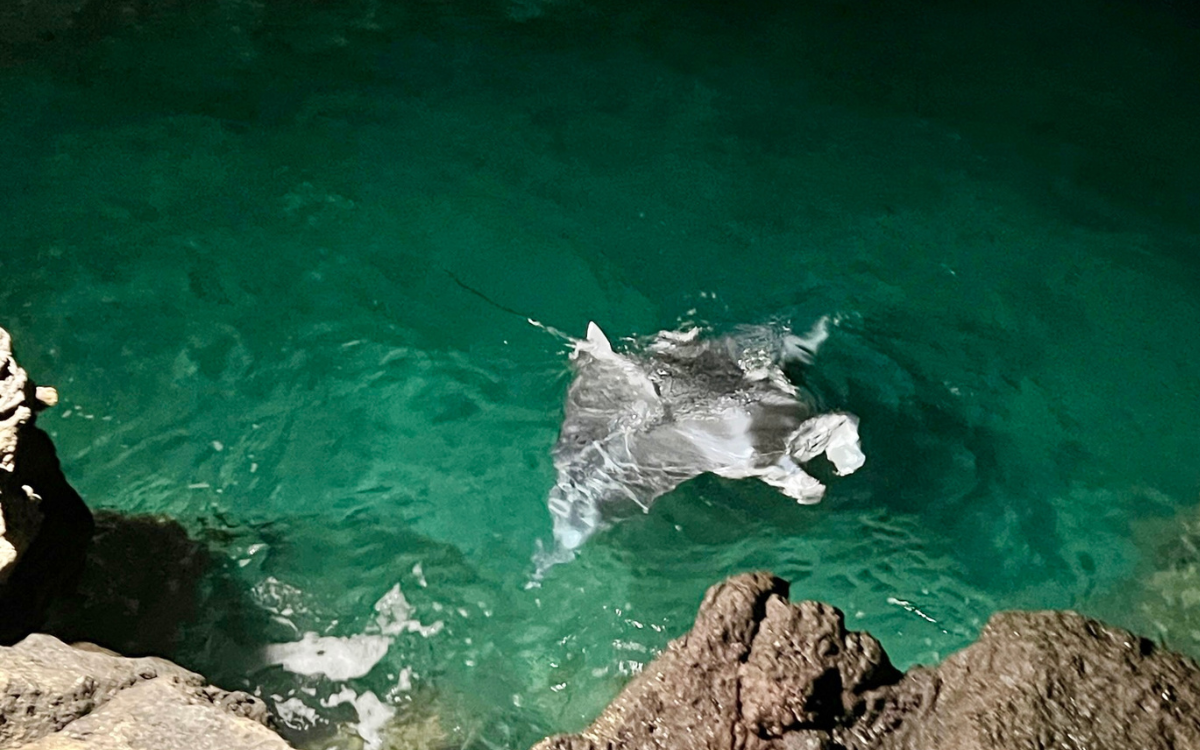 They also have a private snorkeling tour that leaves from the beach.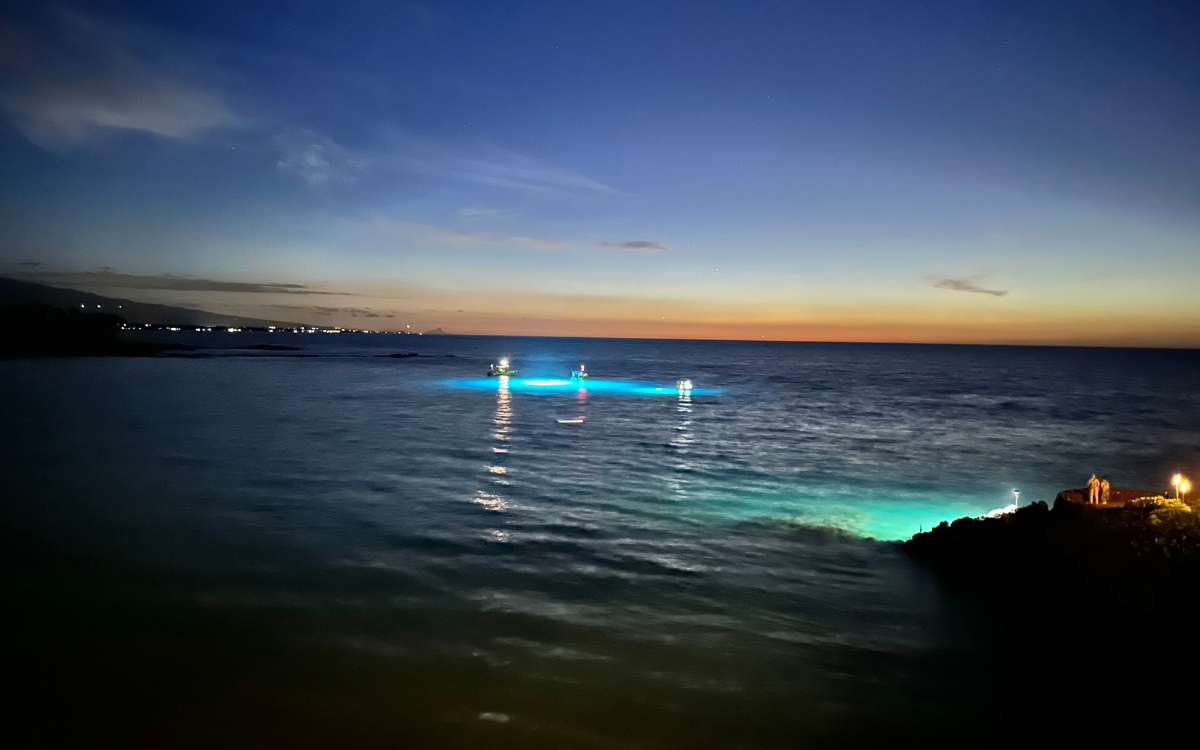 And in addition to one of the world's top rated golf courses, they also have one of the best tennis clubs in the world.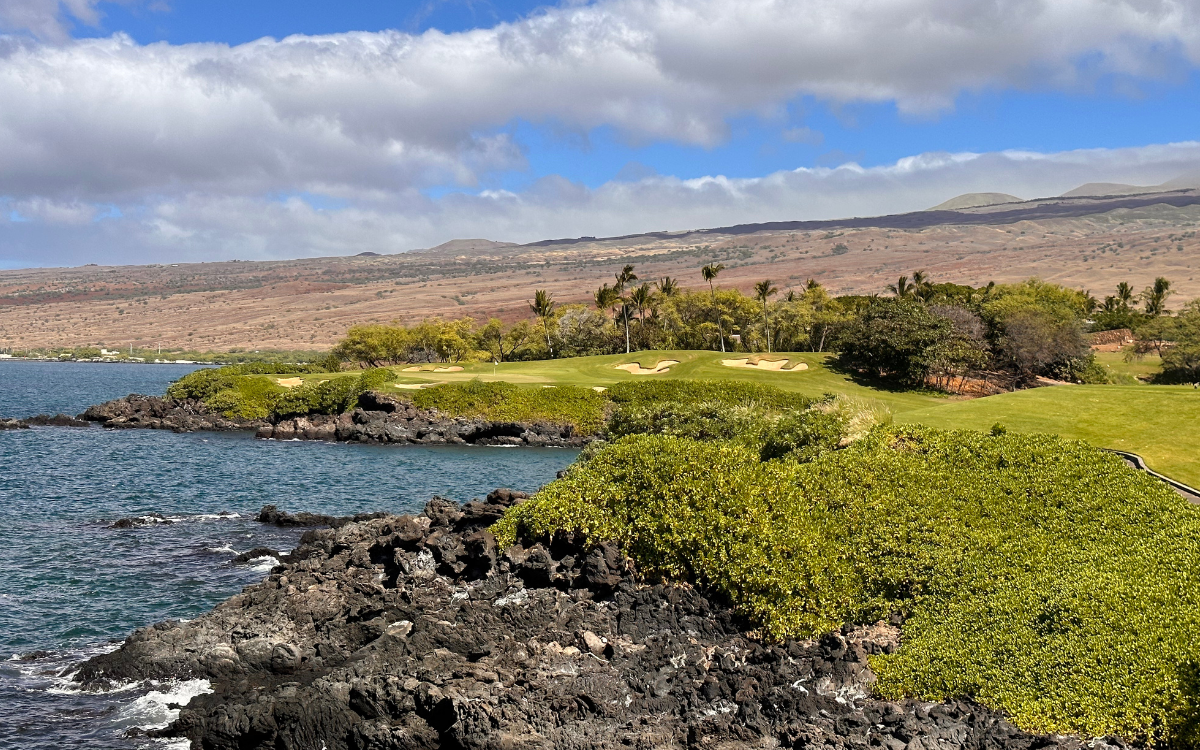 The Seaside Tennis Club is a phenomenal tennis facility with ocean views. I took a tennis lesson and a pickleball lesson and could hear the waves crashing the whole time.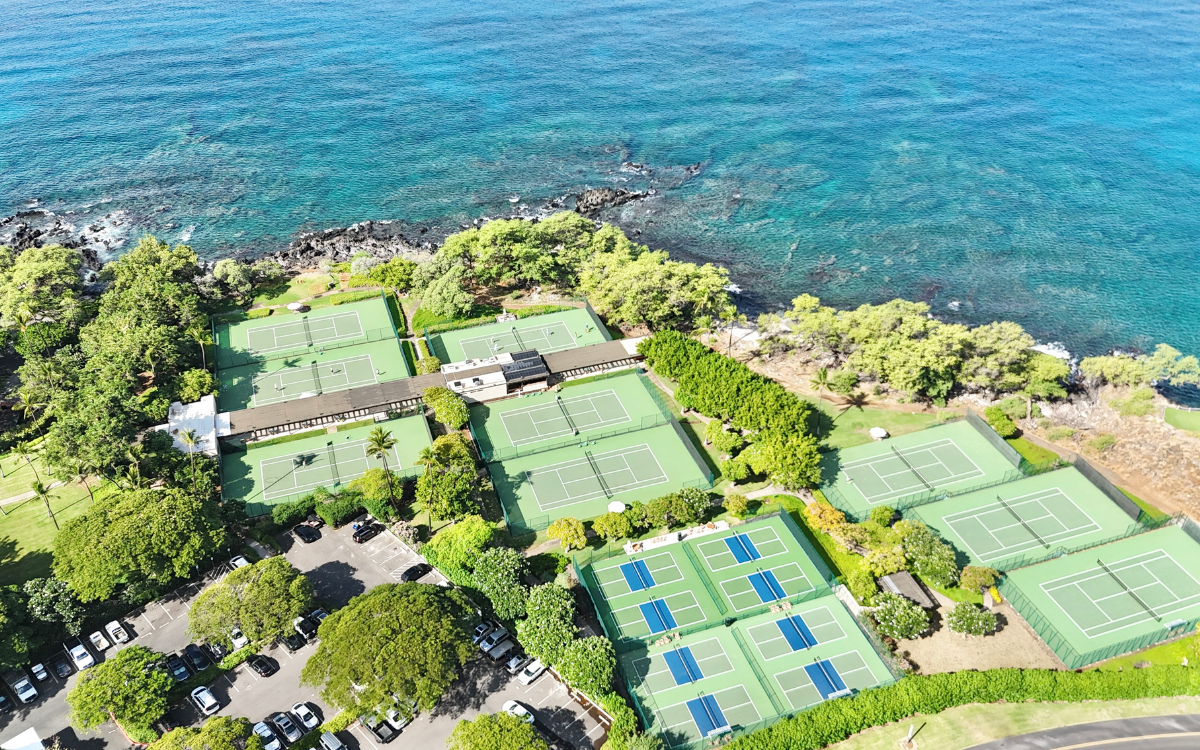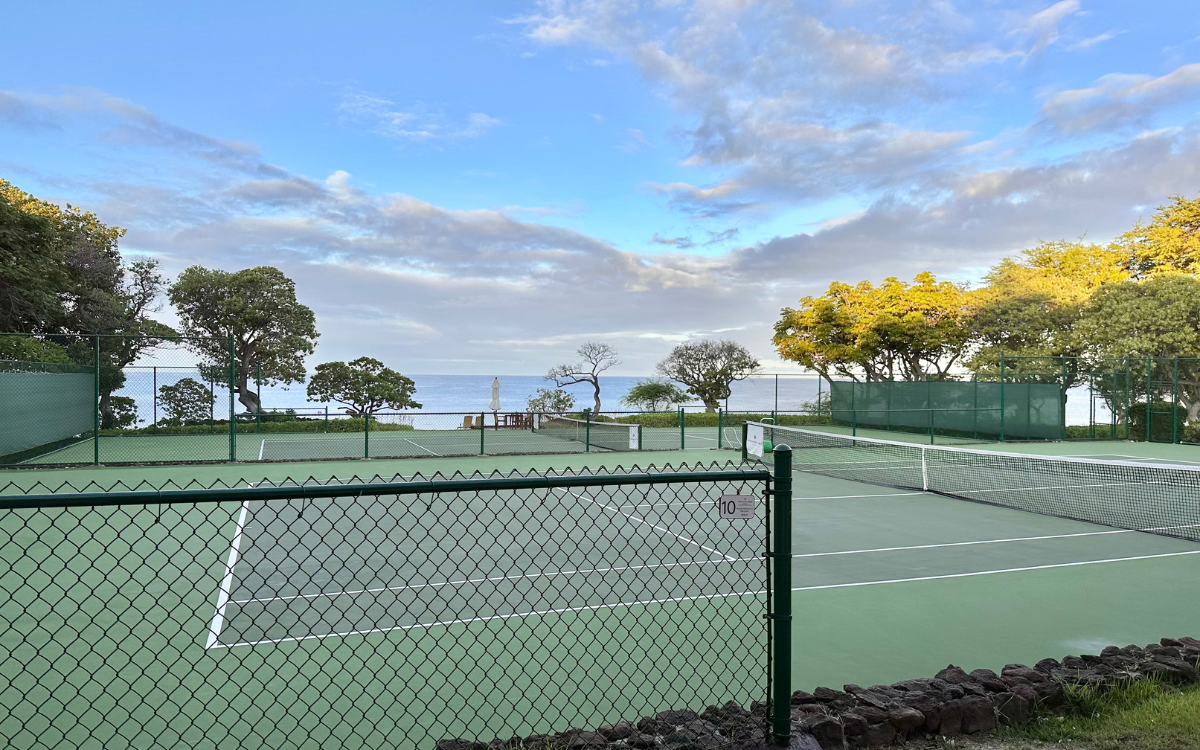 If you're a Marriott Bonvoy member, this should be on your shortlist of places to redeem points for a stay. Remember…book four nights on points and get the fifth free!
Click here to check availability and prices at the Mauna Kea Beach Hotel.
***Want to save major $$$ on a fancy beach resort? My favorite travel hack is cashing in points to score free nights at some of the island's most high end resorts. My go to hotel brand is Marriott so I use this Marriott Bonvoy Boundless card to rack up points for a lot of my trips to Hawaii. If you pay for your monthly expenses on the card and are responsible about paying it off every month, the points add up really fast. Plus, if you sign up through my link, you'll get THREE bonus free nights to use. On the Big Island, use your points at some of my favorite Marriott properties like the Mauna Kea Hotel, Westin Hapuna Beach, and the Waikoloa Beach Marriott.
I think the new Mauna Lani just might win my award for most stylish resort on the Big Island. It's pretty dreamy.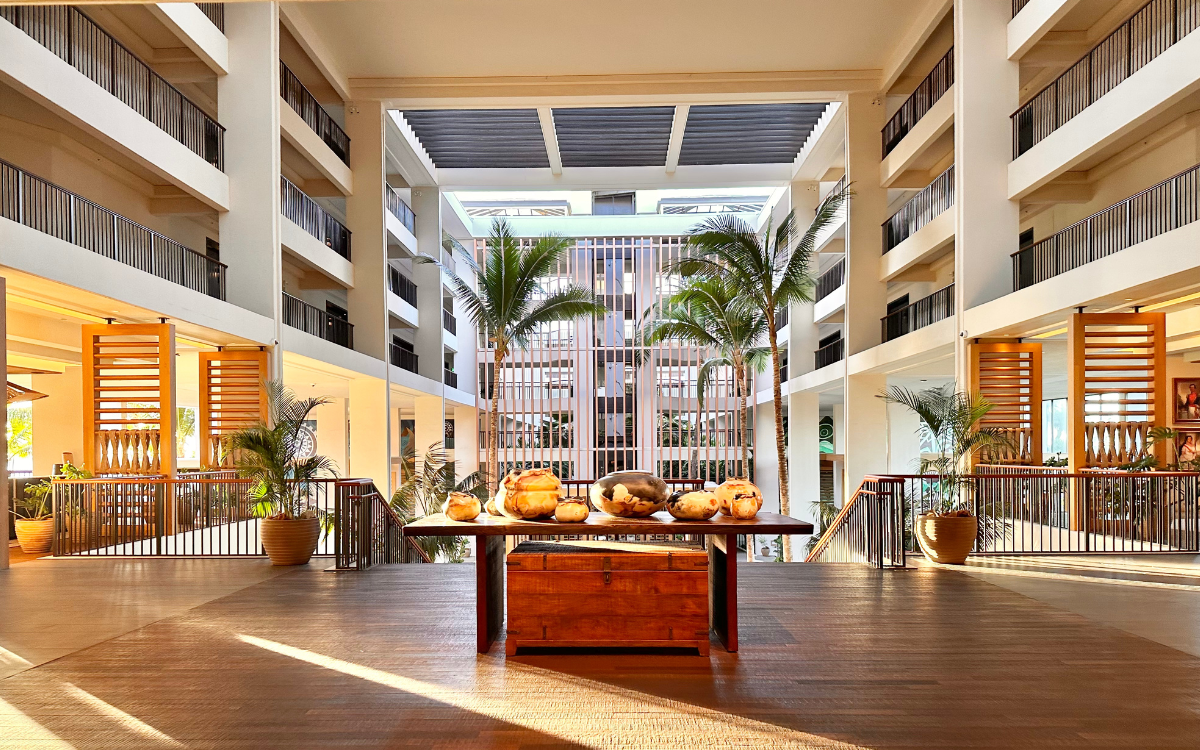 Originally opened in 1983, the property closed in 2018 and underwent a $200 million renovation. It opened in early 2020 (bad timing!) as part of the Auberge Resort Collection and it is SO CHIC.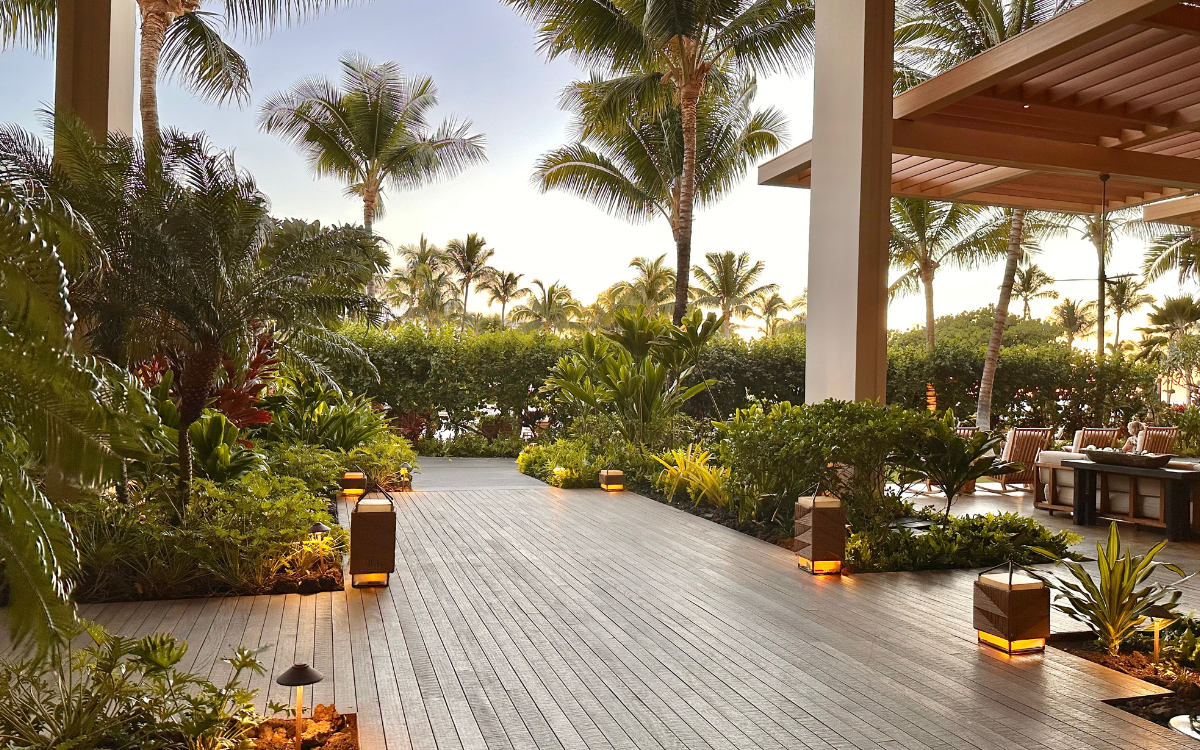 The property is open, inviting, and very design focused while still maintaining that classic welcoming aloha vibe.
The oceanfront pool has a really luxe, upscale vibe plus there's another adults only infinity pool.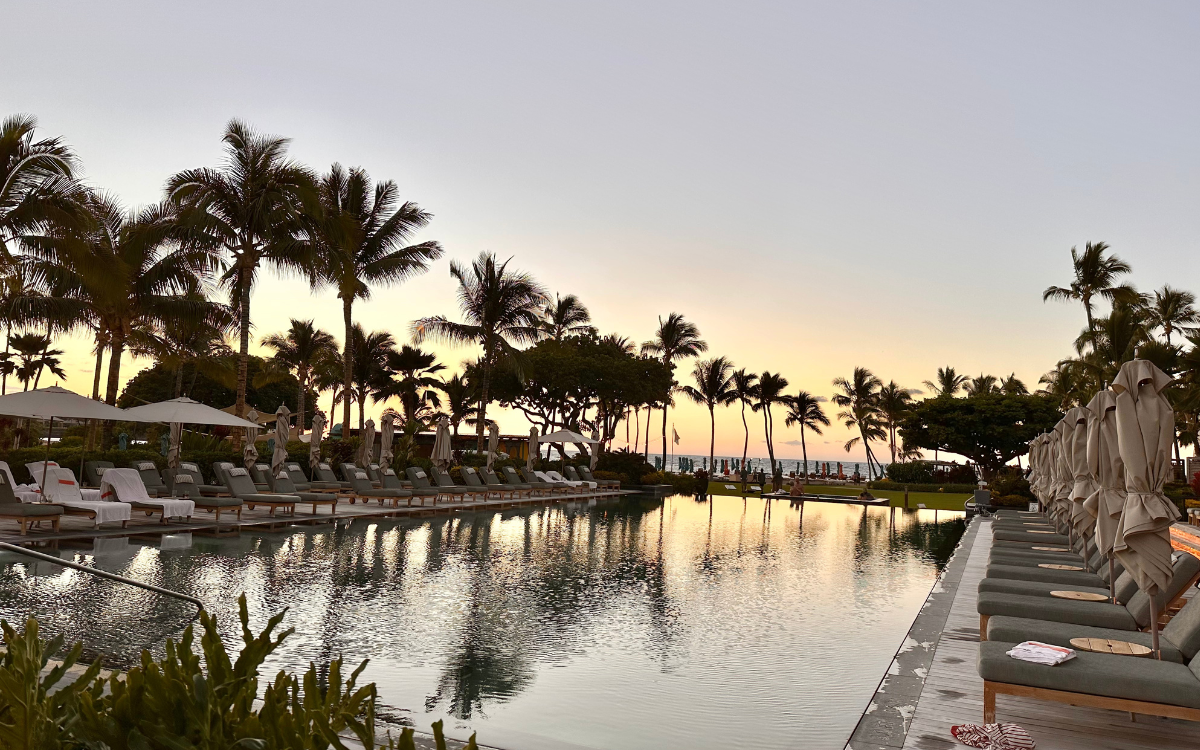 Every part of this resort makes you just want to find a place to sit and put your feet up while you sip a mai tai and take it all in.
Click here to check availability and prices at the Mauna Lani.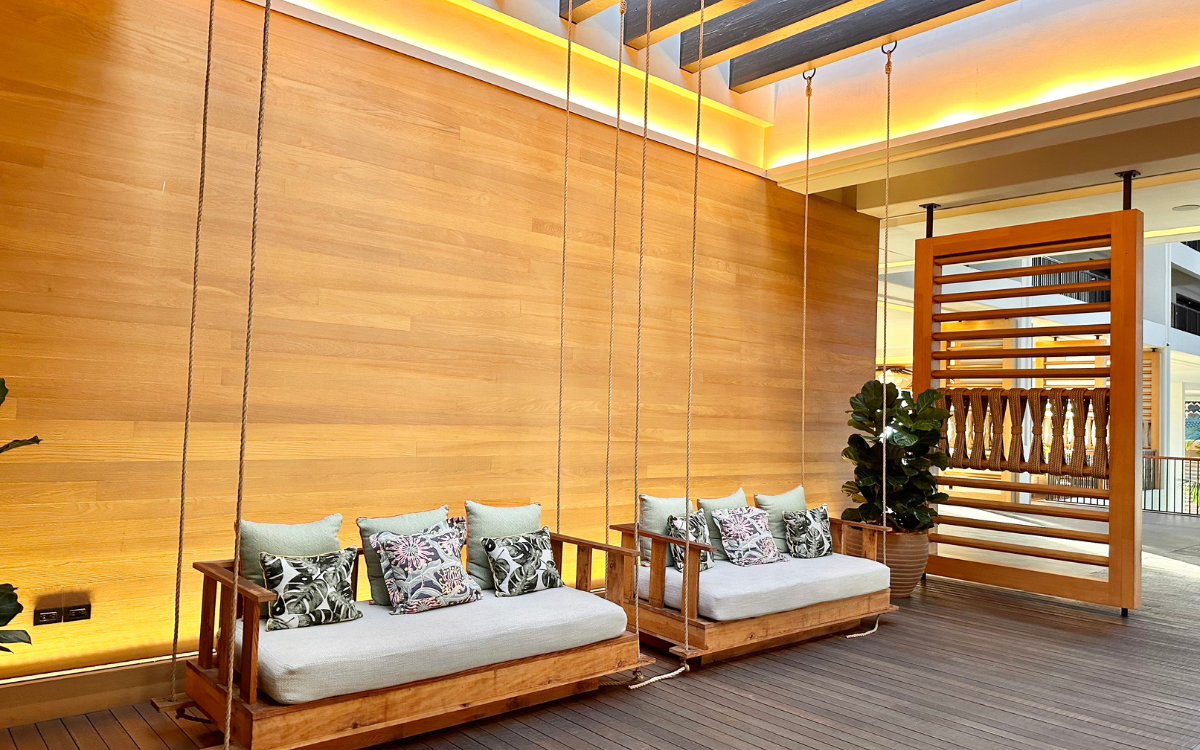 Mauna Lani vs Mauna Kea
Yes yes, I ranked Mauna Kea above Mauna Lani but the difference is pretty nuanced so I'll hash it out a little bit more.
Mauna Lani is undoubtedly the more luxurious of the two resorts. Mauna Kea is set to undergo a pretty extensive refurbishment starting in 2024 so we'll have to wait until that's done but the Mauna Lani property is just on another level.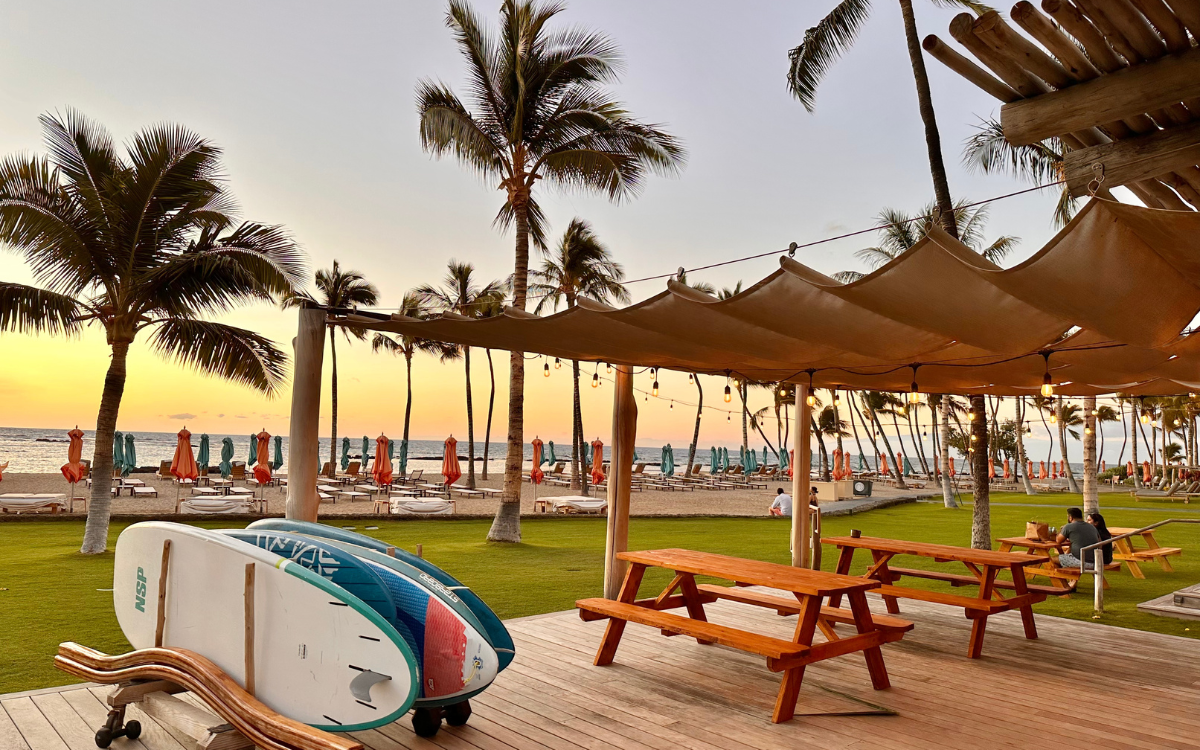 The rooms also get the edge at Mauna Lani. They're just all around more luxurious, more updated, and more comfortable. (I really hate that Mauna Kea has double beds and not queens).
So why did I bump Mauna Lani up a little higher than Mauna Kea?? THE BEACH. Here's the deal…yes, there are much more luxurious resorts on the Big Island than the Mauna Kea Beach Hotel, but none of them have a beach or a setting like it. It takes the cake.
It's not that the beach at Mauna Lani is bad…it's actually really nice. But it's not a stand out feature.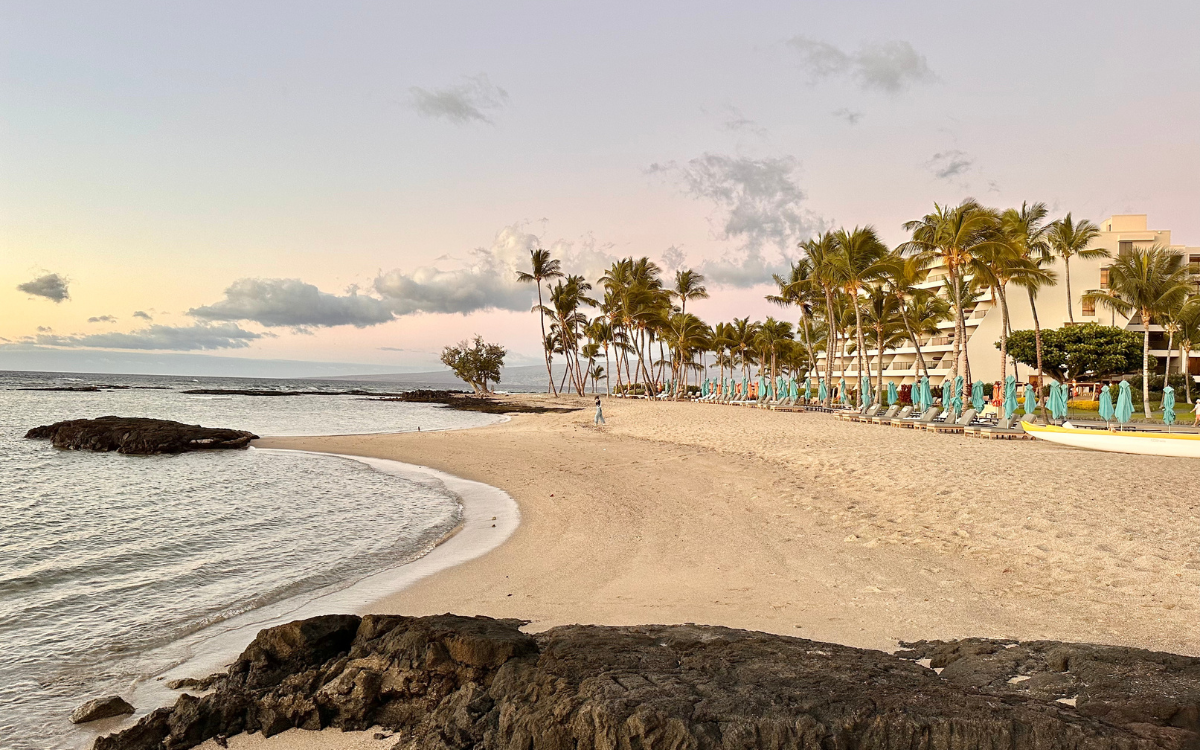 So depending on what YOU value in a resort (more luxurious or better beach), that's going to determine how you would rank these two resorts.
A few more things to mention…
Location is a draw between the two. The Mauna Lani resort area is about 7 miles south of the Mauna Kea resort area and they're both fairly isolated and pretty far north of Kona.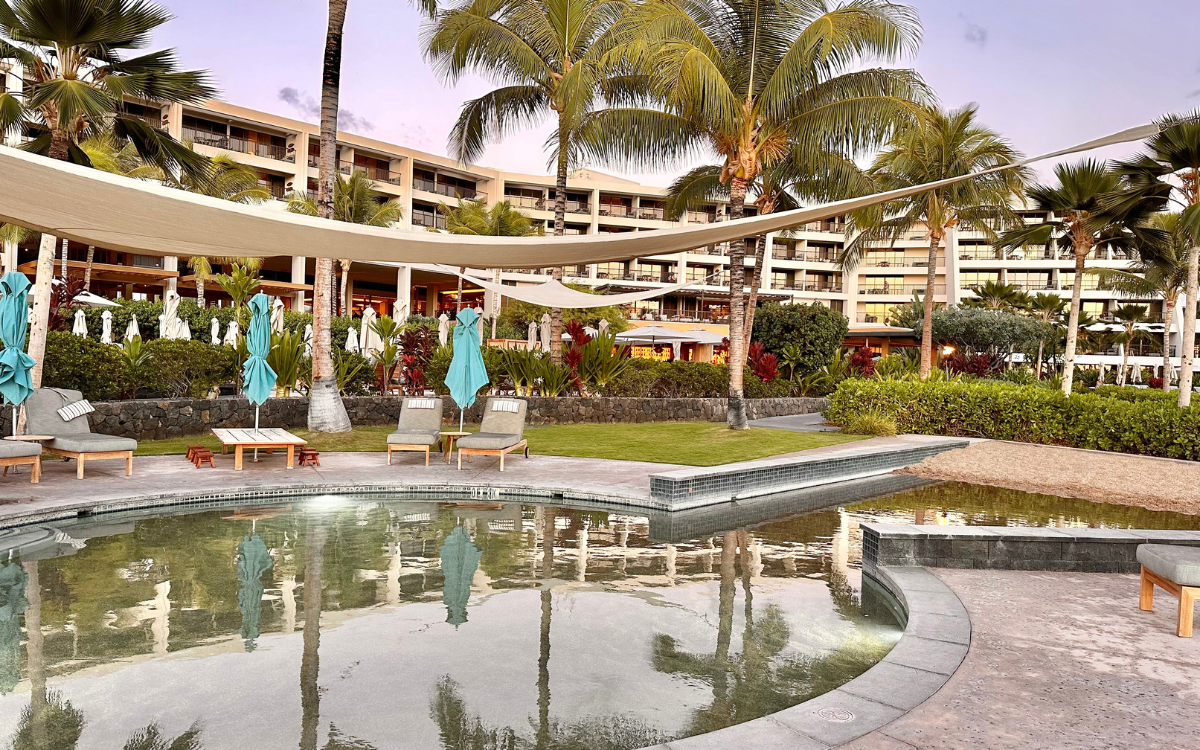 Mauna Kea has better tennis facilities. The Seaside Tennis Club is right onsite at Mauna Kea and it is OCEANFRONT. It makes the Mauna Kea one of the best tennis resorts in the country. The Mauna Lani has access to the Mauna Lani Sports & Fitness Center but it's a short drive from the hotel (still in the Mauna Lani resort area).
Also, Mauna Lani probably skews towards a younger crowd (with more young families) whereas Mauna Kea has a more established (loyal) multi generational clientele.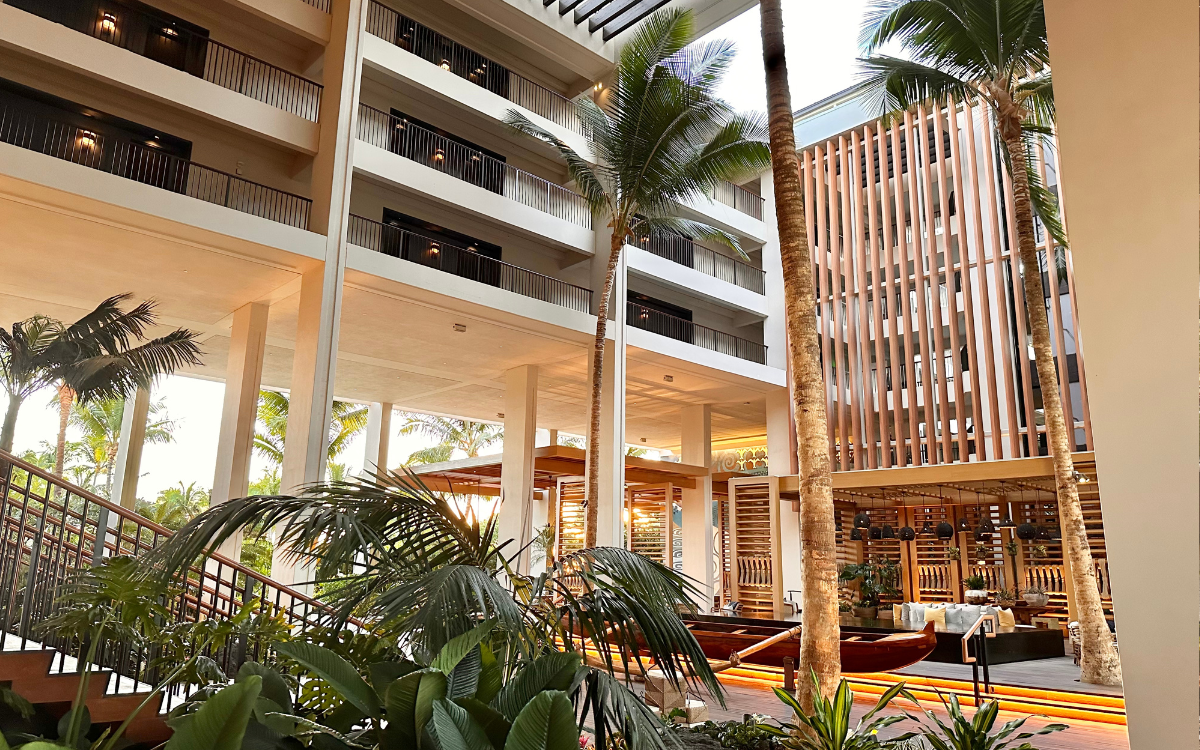 One last thing to consider…the Mauna Kea Beach Hotel is part of Marriott's Autograph Collection so if you have Bonvoy status or you want to collect points towards a future stay, that's a pretty big perk.
I think the Fairmont resorts in Hawaii sometimes get lost among the dazzling lineup of the competition, but the Fairmont Orchid on the Big Island and the Fairmont Kea Lani on Maui are SOLID beach resorts.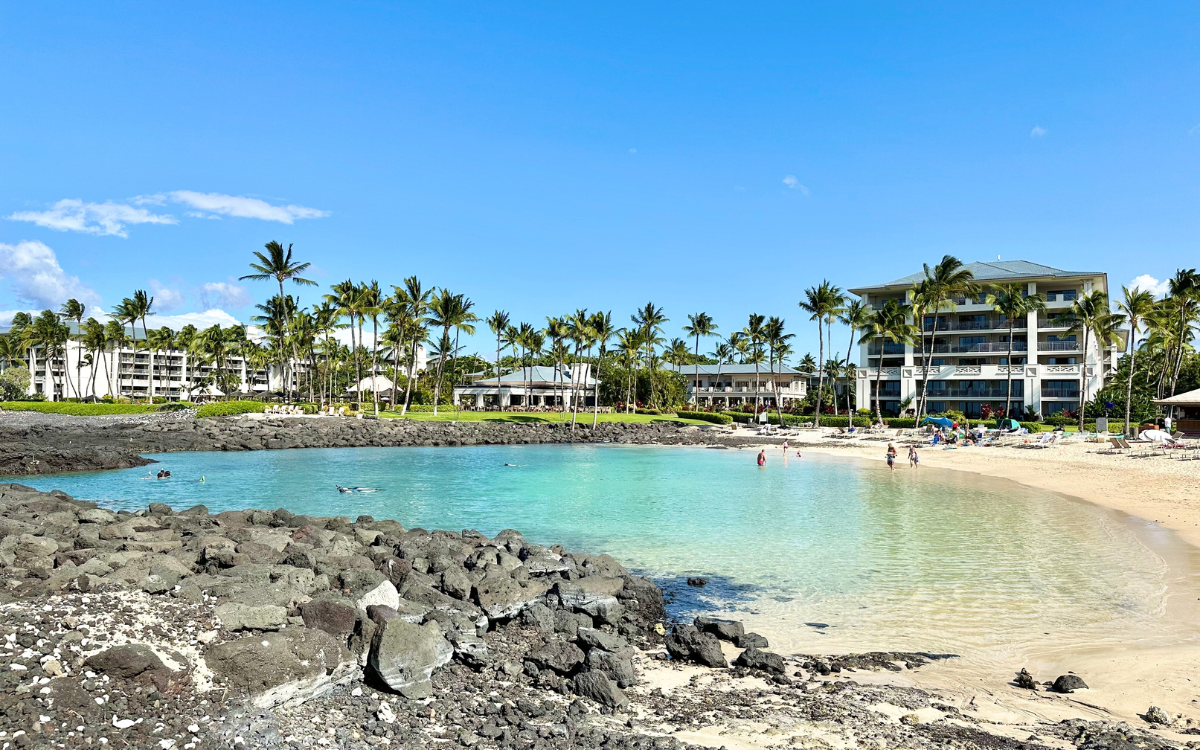 The Fairmont Orchid is a relaxed five star resort situated on 32 oceanfront acres about 20 miles north of the Kona airport. With plenty of amenities including a pristine pool complex, golf, tennis, a spa, a sandy beach with good snorkeling, resident sea turtles, a handful of restaurants, and numerous cultural activities, it's possible to be "busy" just taking advantage of everything the resort has to offer.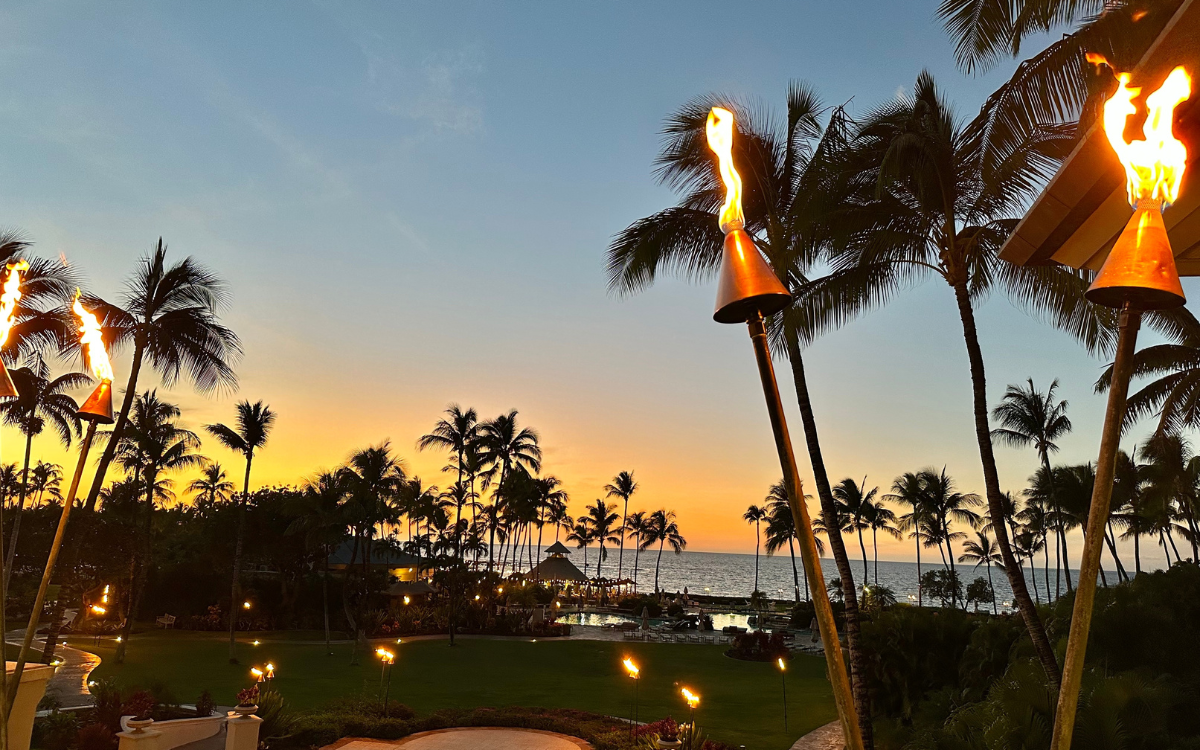 The Fairmont Orchid is in the Mauna Lani Resort area (near the Mauna Lani Hotel) where you'll have easy access to the Shops at Mauna Lani (a small shopping center with a few restaurants and a grocery store), the Mauna Lani Tennis Center, and two golf courses (a championship course and a par three).
The Fairmont has everything you could want in a beach resort…plenty of dining, golf, spa, tennis, etc. But it's often a bit less expensive than other comparable resorts in the area.
I really love the way the pool area is situated here. It's pretty large for the size of the resort with plenty of chairs (and cabanas and shade loungers) scattered around. The way it sits on the property, it feels wide open to the ocean which is something I really like.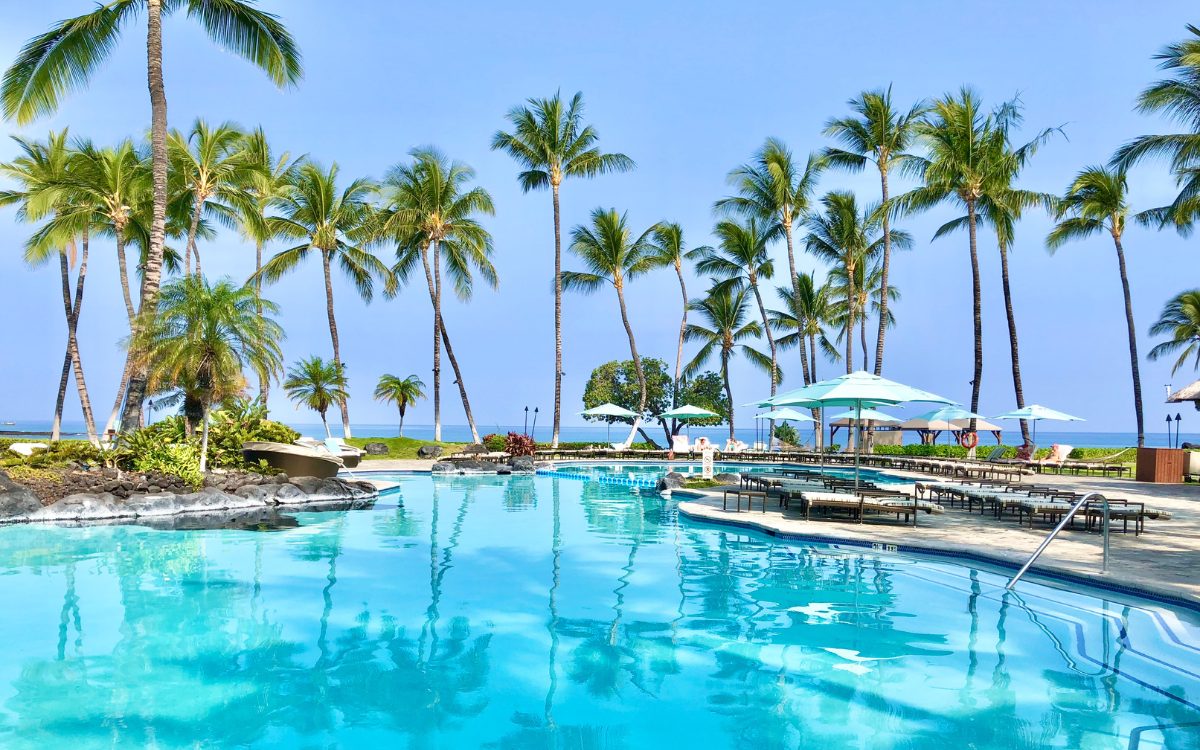 There's no pool slide at the Fairmont Orchid, but there are usually different lawn games scattered around for kids and also some inflatables.
The beach at the Fairmont Orchid is a small crescent little cove that's a little ways off from the pool area. The pool area is open to the ocean, but the shore is rocky. It's a super popular spot for sea turtles to hang out though! The beach feels a little tucked away, but there's a walkway and there's chairs and umbrellas set up on the beach. There's a little hut by the beach where you can rent snorkeling gear, paddleboards, etc.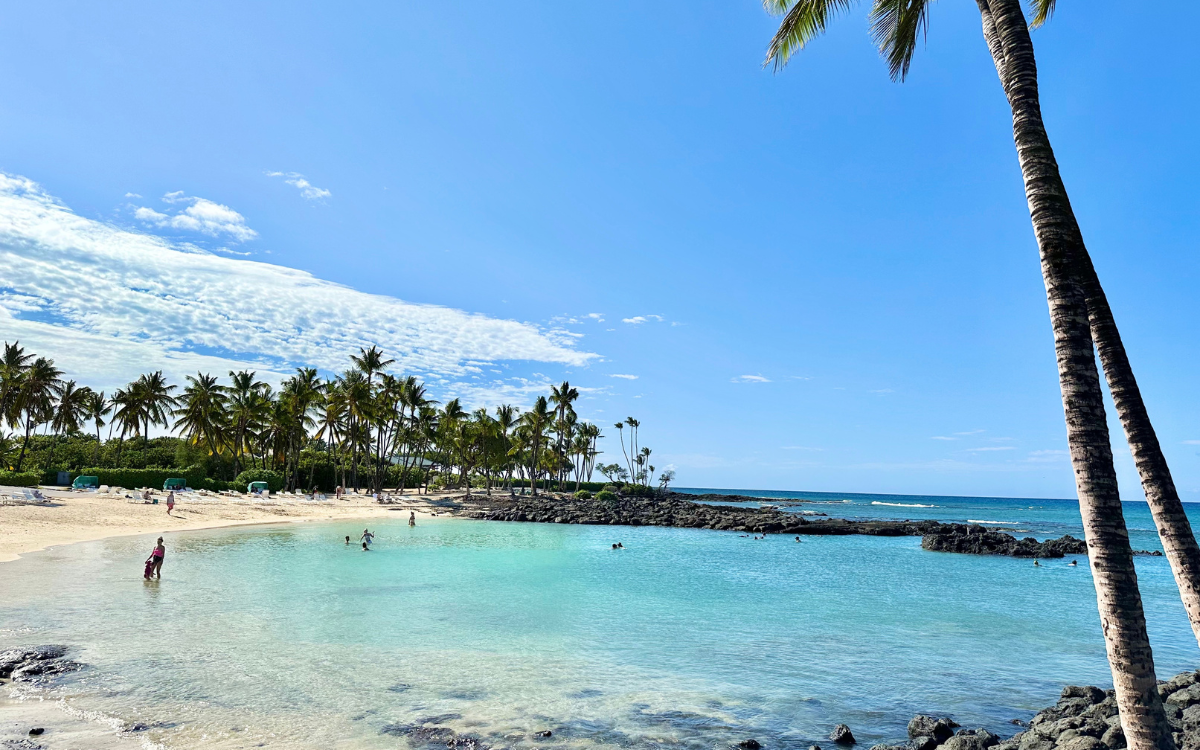 There's pretty decent snorkeling right around the beach. You can either pick up a complimentary snorkel set and head out on your own or you can go on a guided adventure with a Hui Holokai Ambassador. There's also an intro to snorkeling and reef etiquette class offered on certain mornings.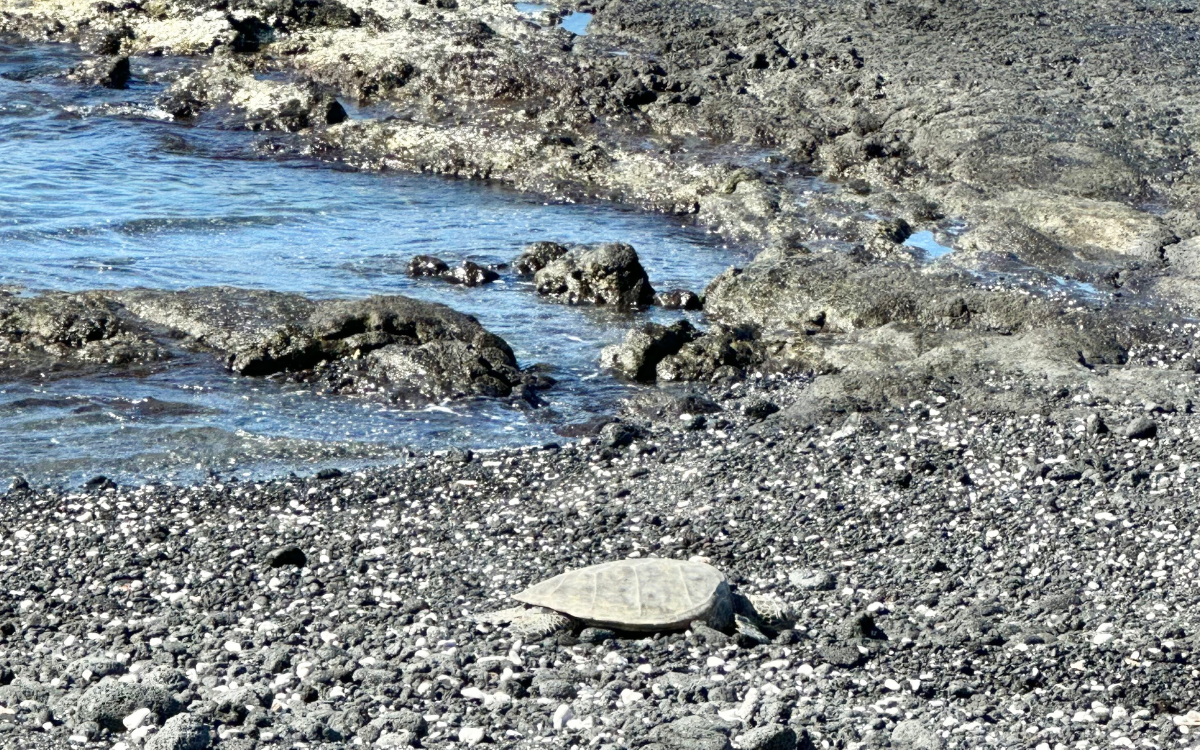 Overall, I would say that the beach (while nice) isn't a major selling point/feature of this resort. The sand is great and the swimming conditions are very good but it's not overly impressive.
The food situation here is similar to the other resorts on this list. Brown's Beach House is a solid fine dining restaurant, Hale Kai is a good casual poolside restaurant and Brown's Deli is a great quick service/grab and go spot with a perfect location right by the pool.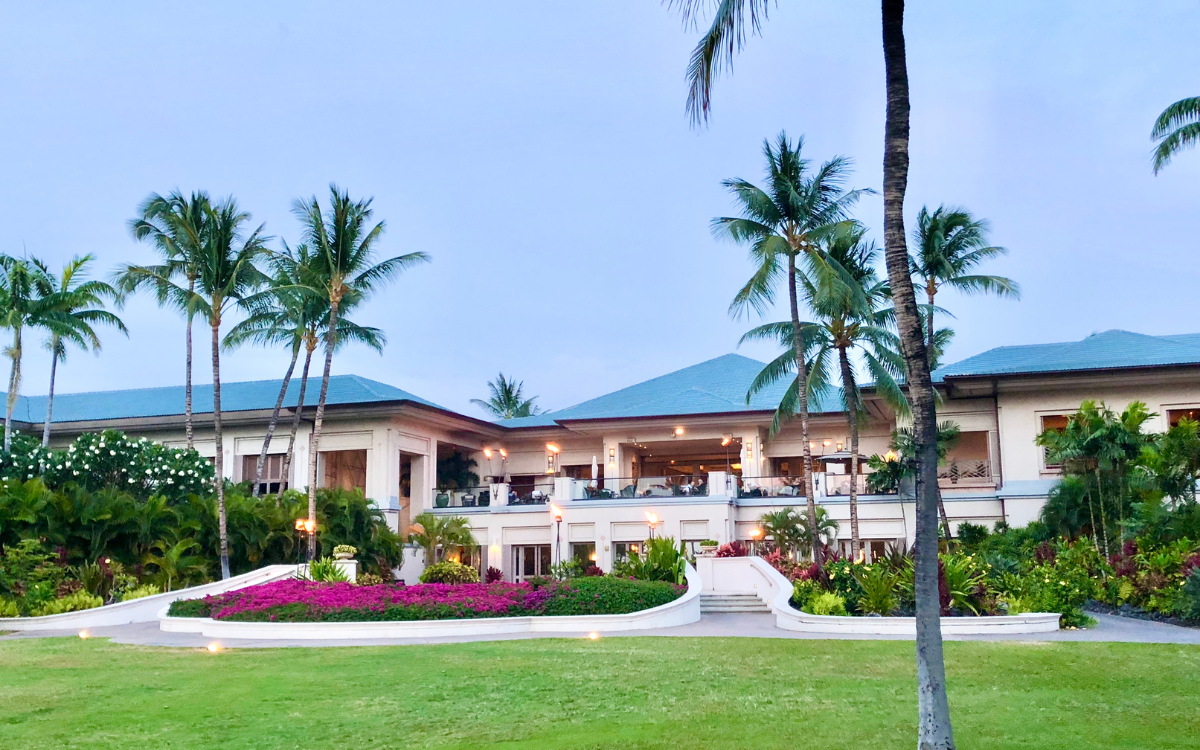 To Sum It Up: The Fairmont Orchid usually competes pretty well on price. I would say it's "in the club" with the Four Seasons Hualalai, Mauna Lani, and Mauna Kea Beach Hotel and while I'd put it more towards the bottom, that's also usually where it sits price wise. But it's definitely in the luxury category above places like the Westin Hapuna Beach and Waikoloa Marriott.
Click here to check availability and prices at the Fairmont Orchid.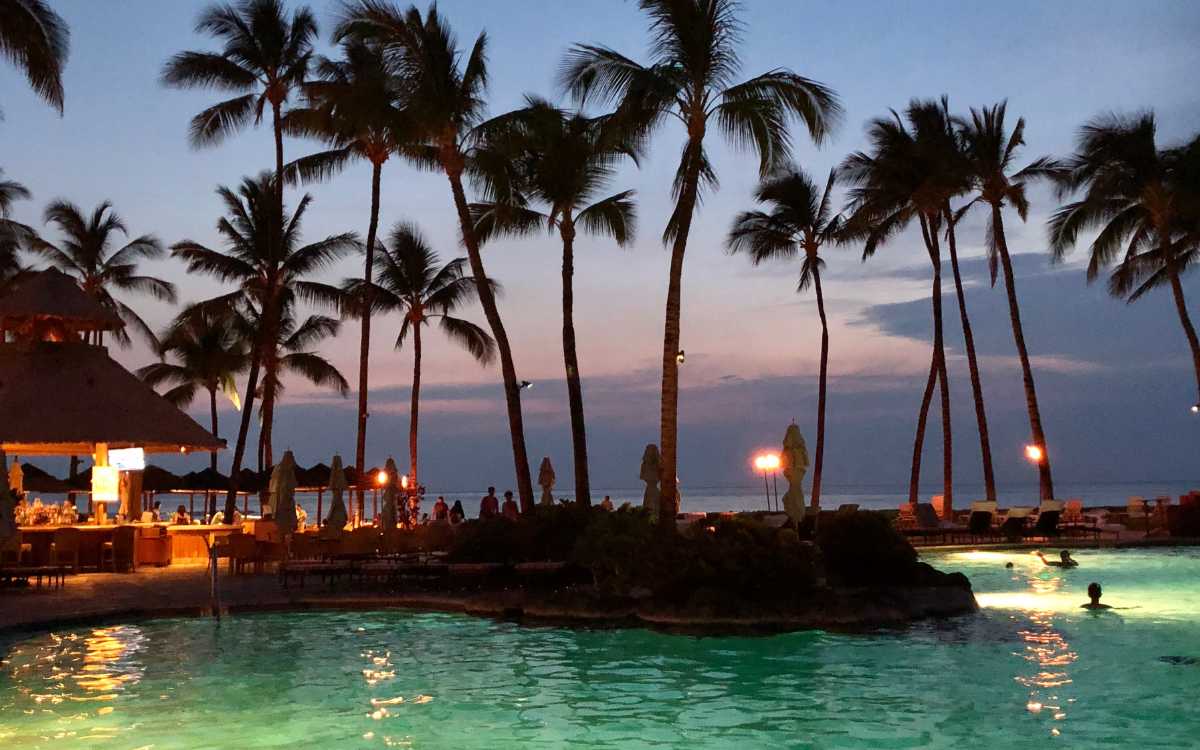 Obviously, a Westin isn't on the same level in terms of luxury as the resorts mentioned above, but it's still a great option and you might find most of what you're looking for here at a much lower price point.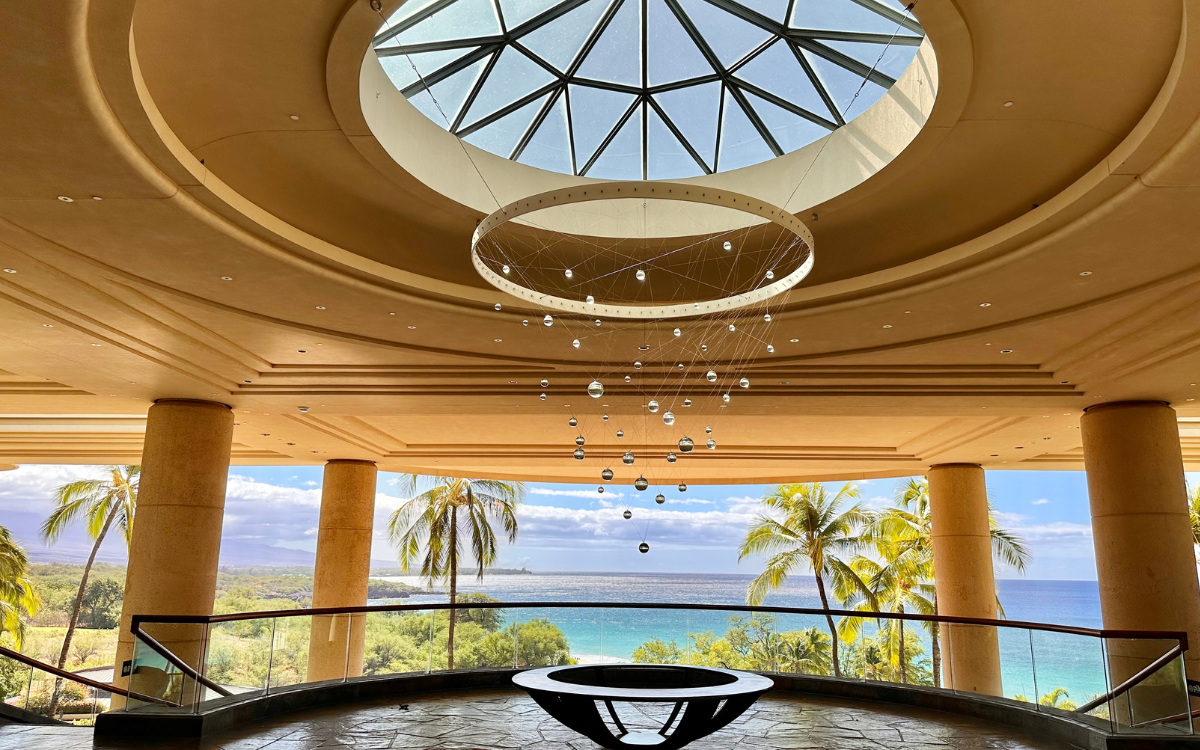 For starters, the Westin sits on one of the best beaches on the Big Island. Hapuna Beach is a state park and it's perfect for swimming, boogie boarding, snorkeling, and long walks in the white sand.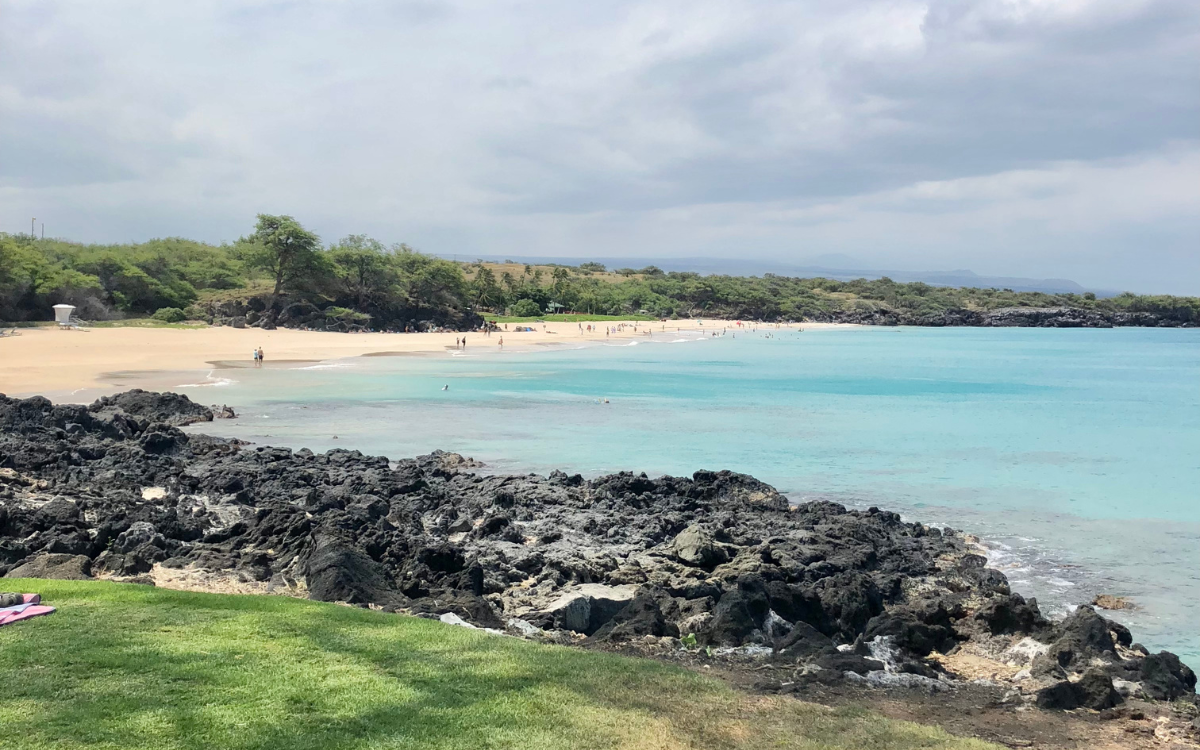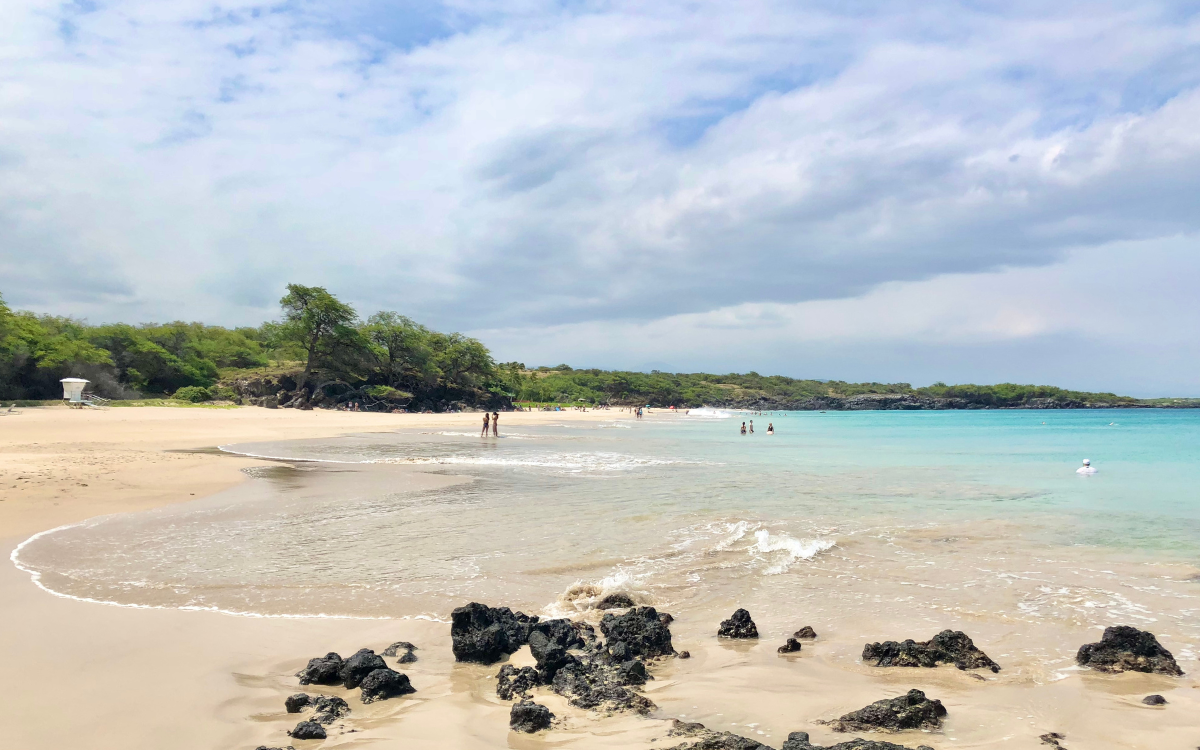 Besides Mauna Kea Beach, Hapuna Beach is my favorite beach on the Big Island so that's a big "pro" for staying at the Westin.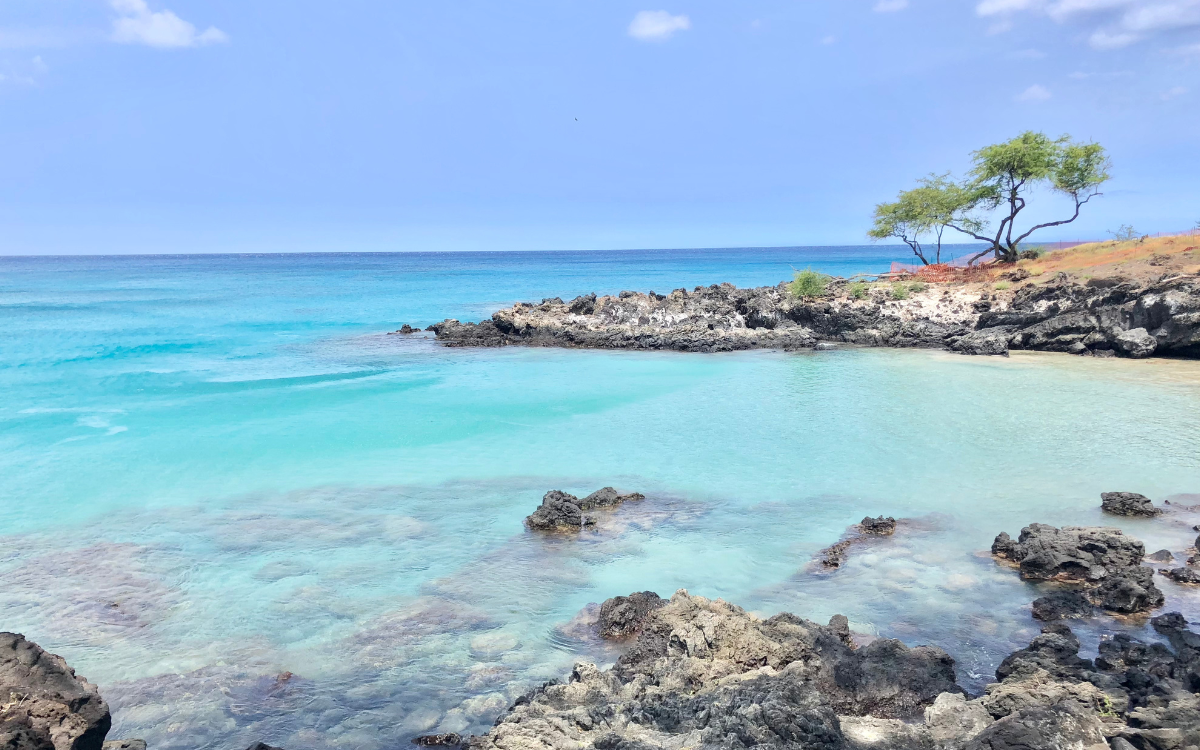 Formerly the Hapuna Beach Prince Resort, when ownership changed to the Westin (hello Marriott Bonvoy!) several years ago, the property underwent a HUGE renovation and it looks pretty great.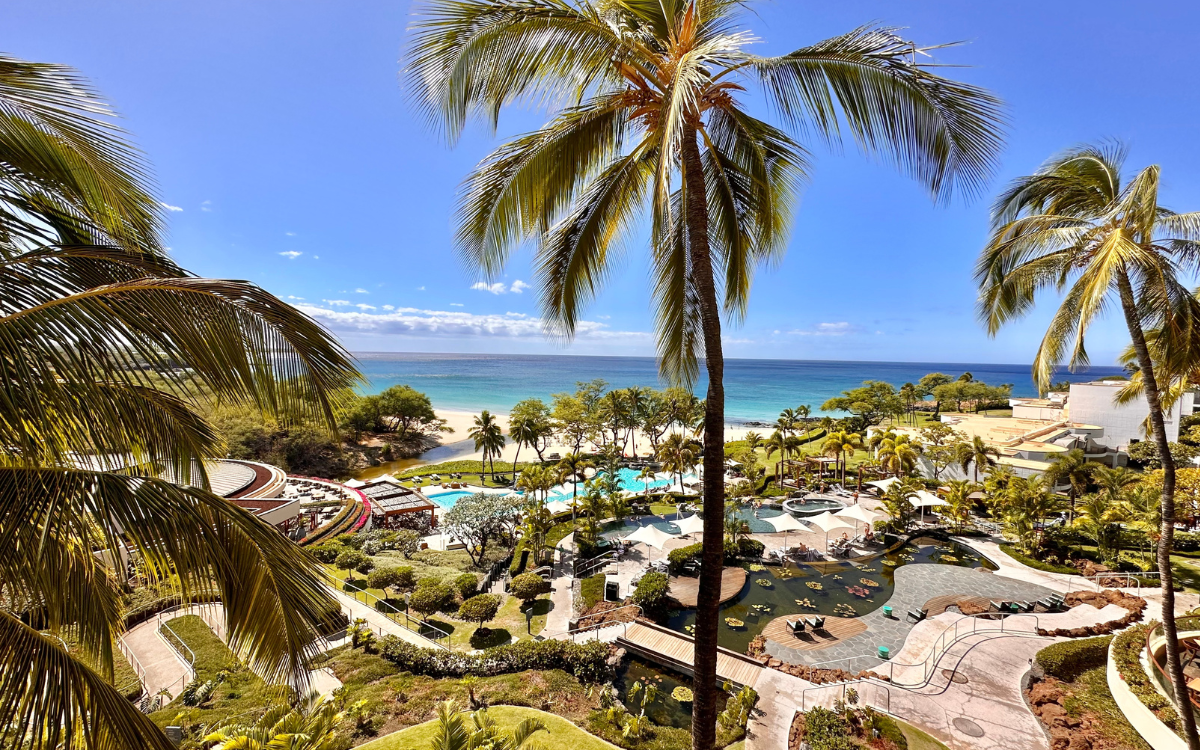 The property has a grand, wide open feeling with sweeping views everywhere you look and there are several different pool areas that cater to different crowds (adults only infinity pool, kids pool, etc.).
Click here to check availability and prices at the Westin Hapuna Beach.
Mauna Kea Beach Hotel vs Westin Hapuna
Since the Westin Hapuna Beach Resort and the Mauna Kea Beach Hotel are both in the Marriott portfolio and they're right next to each other (they're sister resorts), I get a lot of questions comparing the two.
The Westin is usually a better point/cash value than the Mauna Kea because it's a notch (or two or three) below in terms of luxury.
There's a shuttle that runs between the two resorts in the evenings so you can take advantage of the restaurants at both no matter where you're staying. There is a walking path, but it's a little far and I wouldn't do it at night.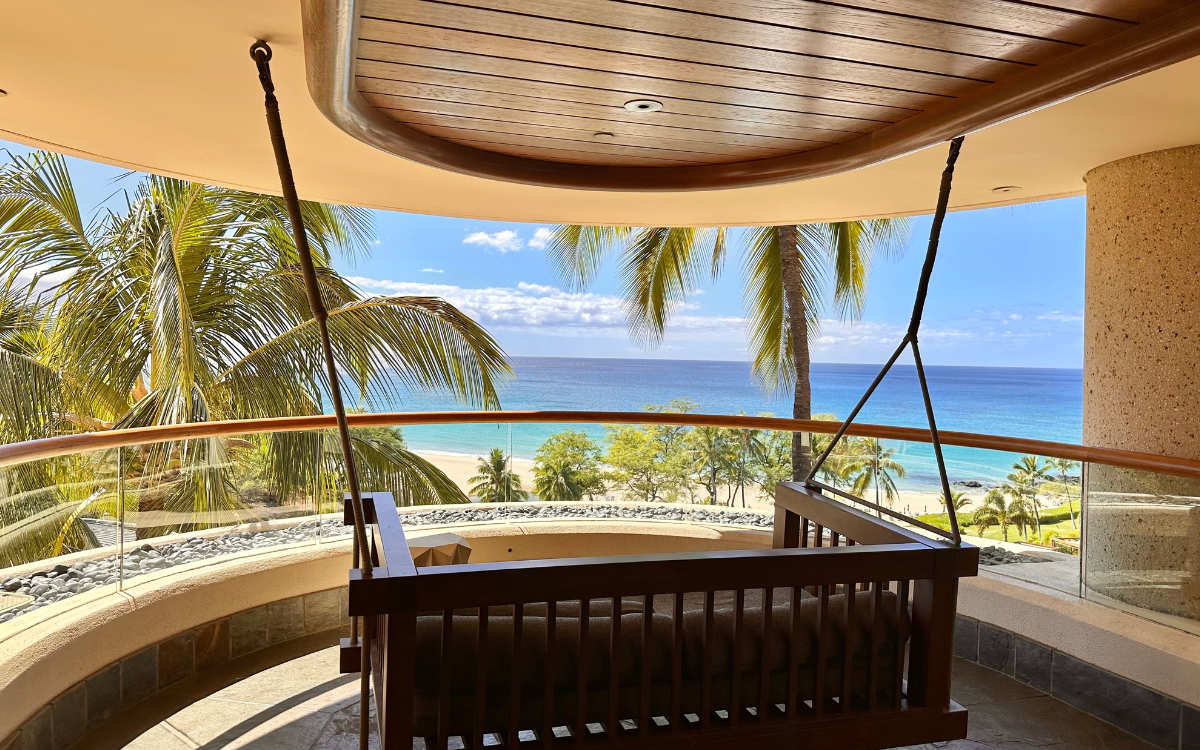 In terms of the beaches, Mauna Kea and Hapuna are probably my top 2 beaches on the Big Island so you won't be disappointed either way, but I definitely love the beach at Mauna Kea better. The hotel sits up above it and I think it's one of the most idyllic resort settings anywhere in Hawaii. Basically, the Westin's beach situation is fantastic, but the Mauna Kea's is exceptional.
If the pool is important to you, the Westin definitely wins there. They've got a whole pool complex with different pool areas for different groups (adults only luxury/infinity pool, kids pool, etc.). The pool at the Mauna Kea is kind of a low point of the property (in my opinion). Although it has SPECTACULAR views (I love nothing more than looking out over the ocean while sitting at the pool), it's pretty small for the size of the resort and chairs are few and far between during high season. It's definitely all about the beach at the Mauna Kea.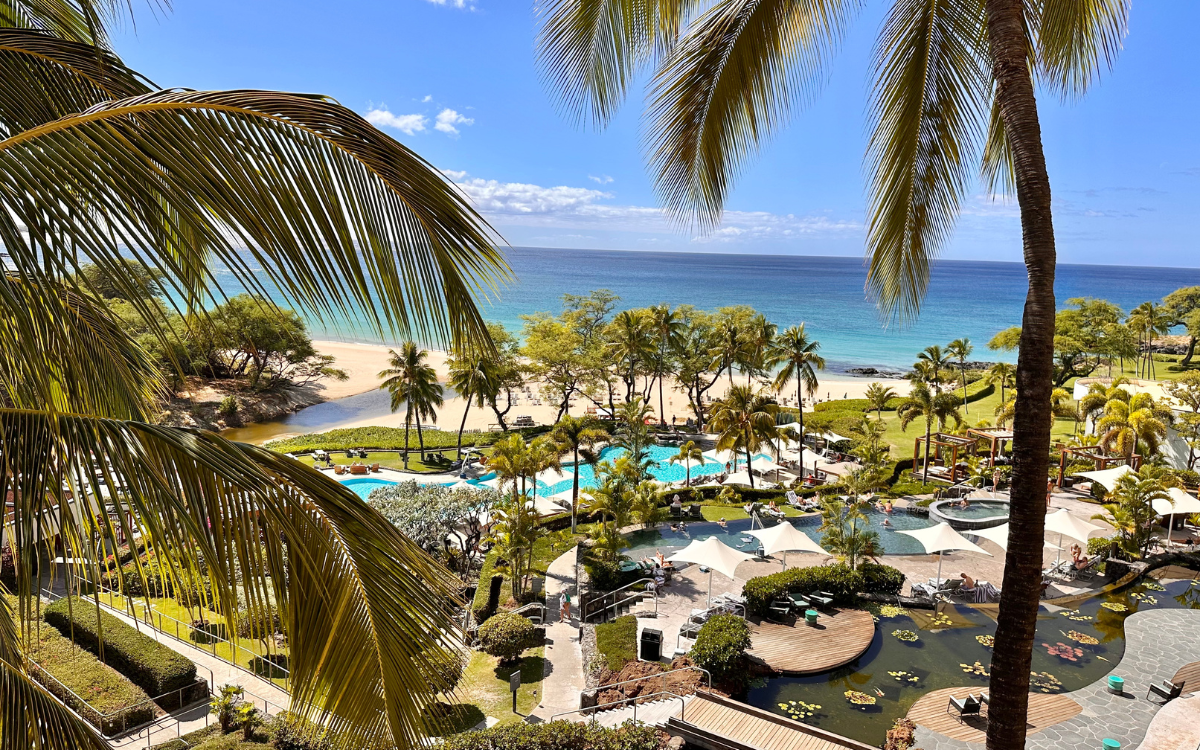 Rooms at the Westin have the option of a king bed or two queens while the Mauna Kea has kings or two doubles.
Now let's talk about the vibe. The Mauna Kea Beach Hotel was built in 1965 by Laurence Rockefeller and it has a strong vintage 60s Hawaiiana vibe. Like you'd expect Don Draper or Elvis to sit down in a beach chair next to you. The hotel is built up on a bluff and all of the common spaces just cascade beautifully down to the beach.
The hotel has their branding down just right too which makes it feel much more like a boutique hotel than a mega beach resort. There's just an old school swankiness that makes the place feel really special.
On the other hand…the Westin has great features but it very much feels like a resort that was built in the mid 90s. A little dated in form (despite extensive renovations), but not from an era that's old enough to feel charming (yet? ; )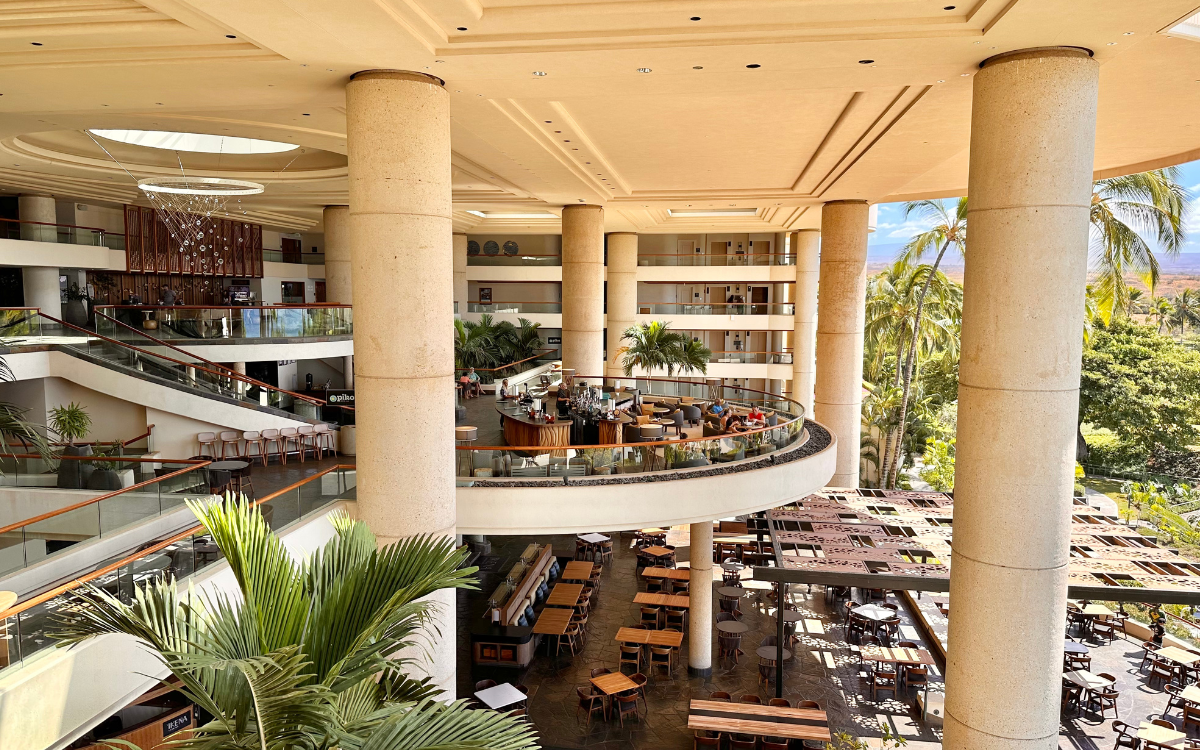 Personally, the Mauna Kea Beach Hotel will always be my first choice, but I wouldn't ever be sad about staying at the Westin.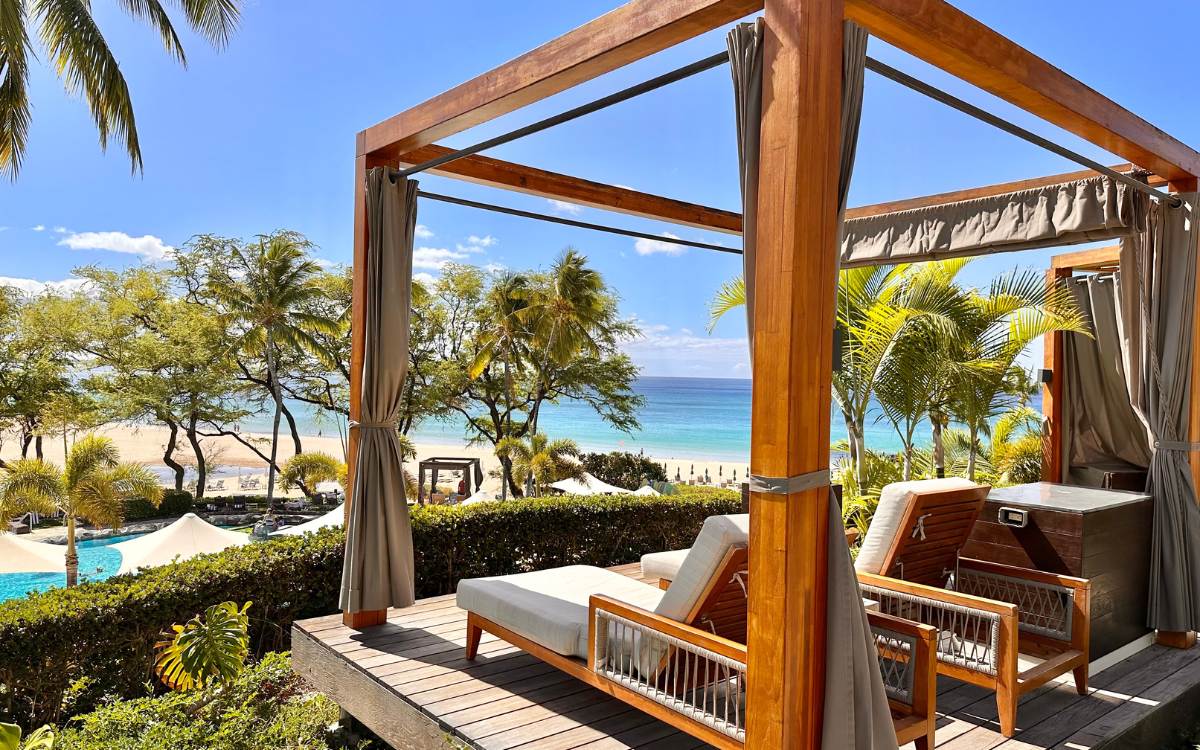 **The Mauna Kea Beach Hotel is set for a huge renovation starting in Q2 of 2024 which is supposed to last through 2025 so if you're planning your trip during that time frame, construction could definitely be a factor. But it could also mean a pretty good price.
I think there's a big leap between this place and the places above, but I love a good Marriott (Bonvoy Titanium status!) and this one has a prime location. Waikoloa is the most "resort-like" area on the Big Island (there's a cluster of resorts, shopping centers, and restaurants) and the Marriott sits on lovely Anaehoomalu Bay which is a great swimmable beach. But my favorite part is how close it is to Lava Lava Beach Club-one of my favorite places to hang out ANYWHERE in Hawaii.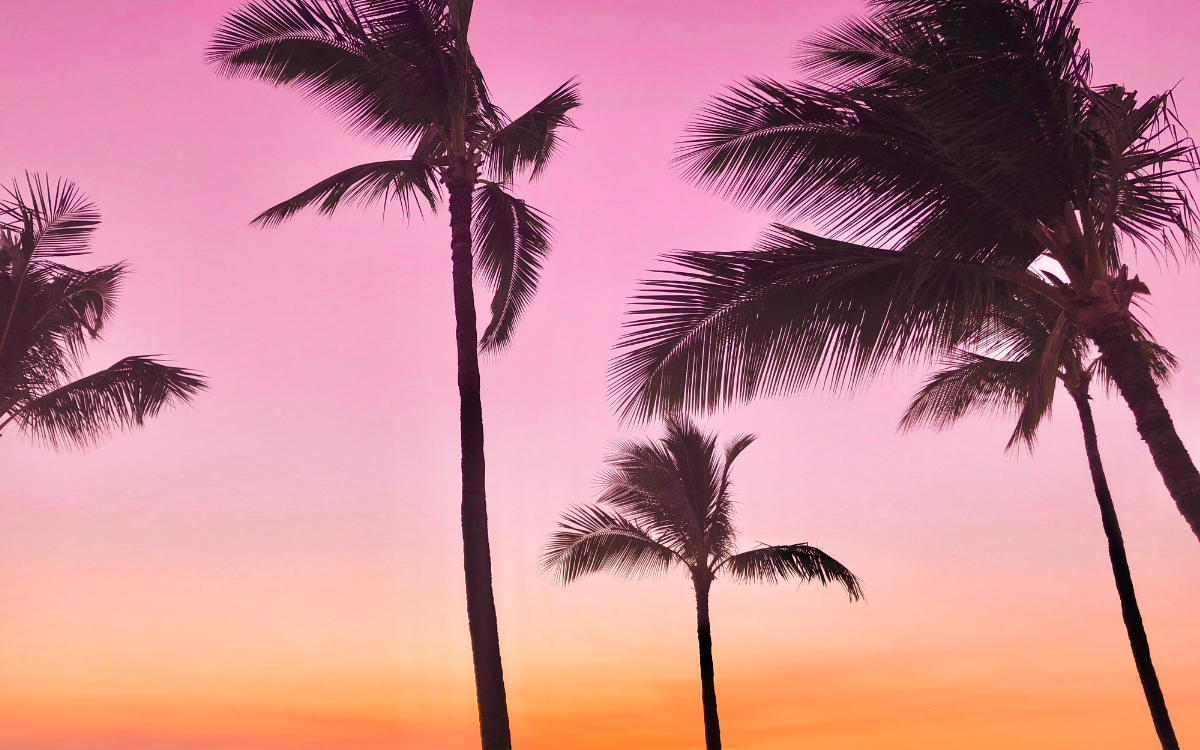 The resort itself isn't anywhere in the same league as the places ranked above, but I think it's a great option if you're looking for 1) a Marriott property and 2) something in Waikoloa.
Click here to check availability and prices at the Waikoloa Beach Marriott.
Side Note: If you're looking for a rental car for your trip, I LOVE Discount Hawaii Car Rentals. They're seriously the only company I ever use. They'll give you the very best prices, you don't have to reserve with a credit card or pay until you show up, you can cancel and re-book anytime if you find a better rate, and they usually have a special that adds additional drivers for no fee. It's a no brainer. Click here to check rates for your trip.
My Least Favorite Resort on the Big Island: Hilton Waikoloa Village
Ah controversy…hello old friend ; )
Ask a group of people on the internet about the best place to stay on the Big Island and you'll inevitably get a LOT of people telling you that it's without a doubt the Hilton Waikoloa Village.
Well, for me…it's the #1 place I try to avoid ; )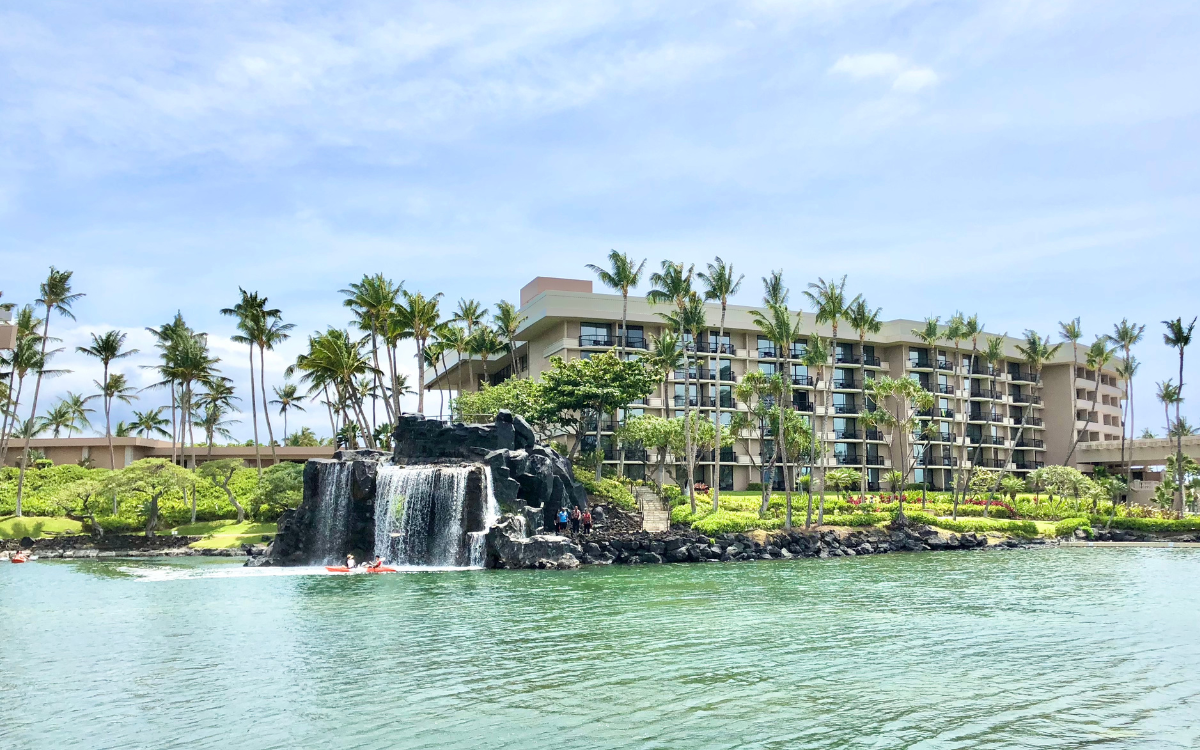 Here's a quick rundown in case you're not familiar…The Hilton Waikoloa Village is in the Waikoloa resort development about 20 miles north of the Kona airport.
It's a sprawling 62-acre ocean front property with an impressive list of amenities. 3+ pools, 3 separate accommodation towers, a full service spa, two golf courses, tennis courts, more than a dozen restaurants, a dolphin encounter experience, a protected snorkel lagoon with a sandy beach, plus boat and tram transportation. It's the kind of place that's designed to have everything you could ever want on vacation so you never have to leave the resort.
To preface, I'm not entirely opposed to this concept (although I think Hawaii needs to be explored and a trip there without leaving the resort and actually seeing Hawaii is a bit of a waste!). I've spent plenty of days just bumming around some of Hawaii's best beach resorts.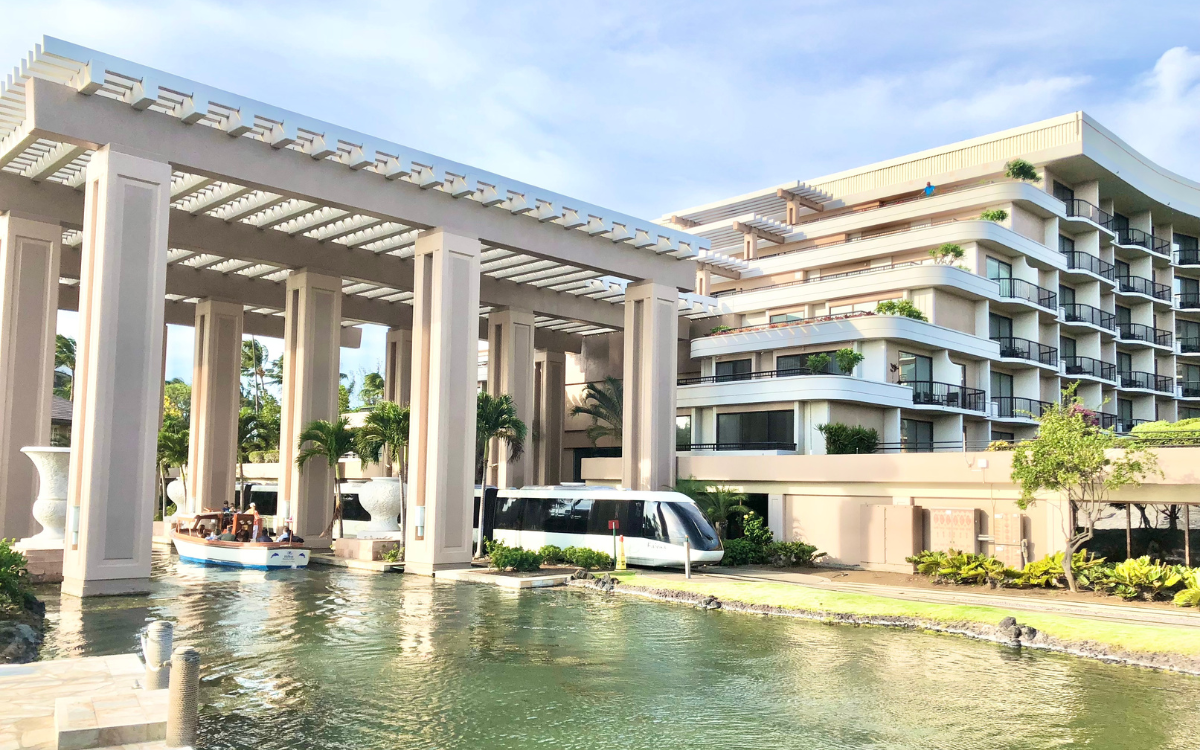 Also, although I don't have kids, I've traveled with them quite a bit and am honestly pretty much a kid myself. So "family friendly" resorts are not a deterrent to me, and I'm not bothered by a lot of kids running around a resort.
All of this being said, my overall impressions of this resort are…I'm not very impressed.
Now to be fair, here's what I DO like about the Hilton Waikoloa Village:
It's in a great location. Being up in Waikoloa (as opposed to in Kona) feels slower and a little nicer.
Waikoloa has a couple of little centers with restaurants, shops, markets, and a gas station so there are some conveniences without having to drive all the way into Kona. Waikoloa Village is also pretty close by.
It's beautifully landscaped. The grounds of the resort are lovely. There are a ton of bridges and waterways plus so much flora and fauna. The resort also has an incredibly large Asian art collection that's displayed throughout.
It's a Hilton. My five night stay racked up almost 30,000 Hilton Honors points.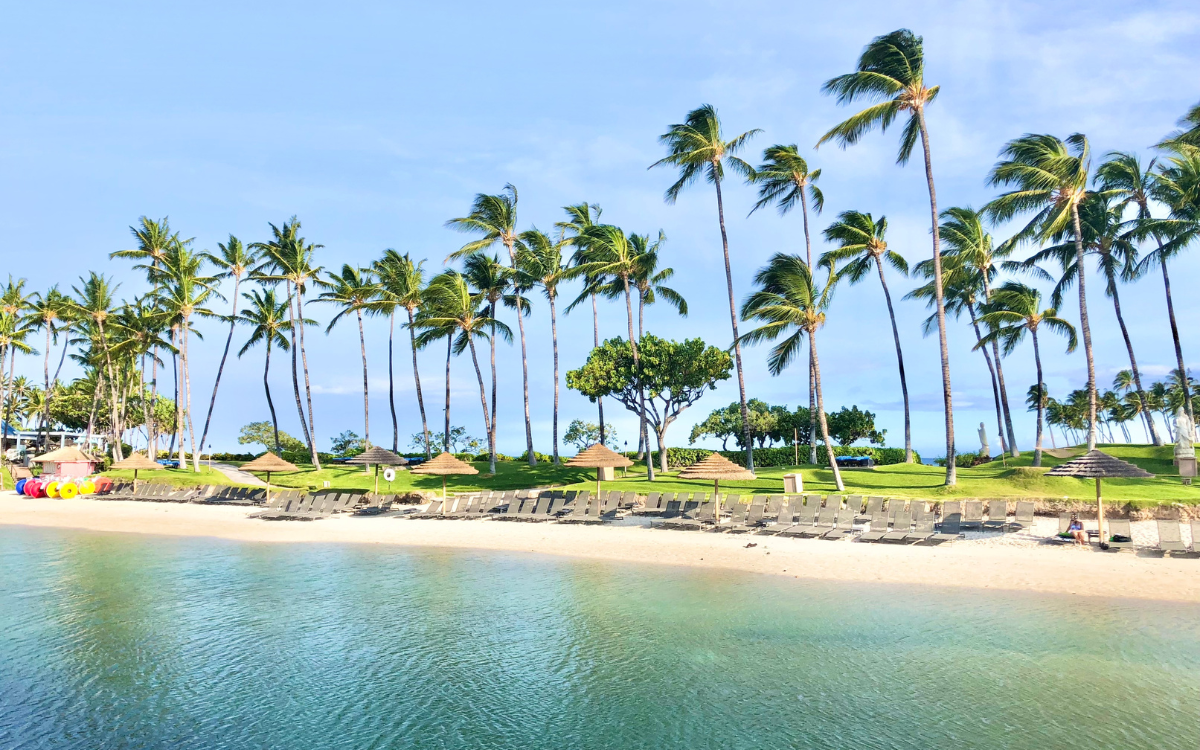 And…that's honestly about it.
So, let's get into it. Here's what I do NOT like about this resort:
This resort has no beach. Yes, they've created a man made snorkel lagoon that feeds into the ocean (so it's possible to see turtles and fish) with a tiny sandy beach, but that's it. The whole shoreline is rocky.
This is not a service oriented property. In the 5 days I spent here, besides housekeeping I saw very, very few people who worked here. It was actually kind of remarkable. The resort has definitely taken steps towards automation to minimize service/interaction with guests (towels checked out of a machine, etc.). I don't expect chair service to come around every 10 minutes to see if I want a drink at a place like this, but being at one of the main pools and having to walk around and search for 10-15 minutes to find water (to buy!!!) is pretty ridiculous.
It is a HUGE resort. Like…too big. It was a solid 15 minute walk from the lobby to our room (not even on the edge of the property) and while there is boat/tram transportation, it's not super regular and it takes almost as long as walking.
There are a lot of restaurants on site, but none of them are very good. They're pricey though.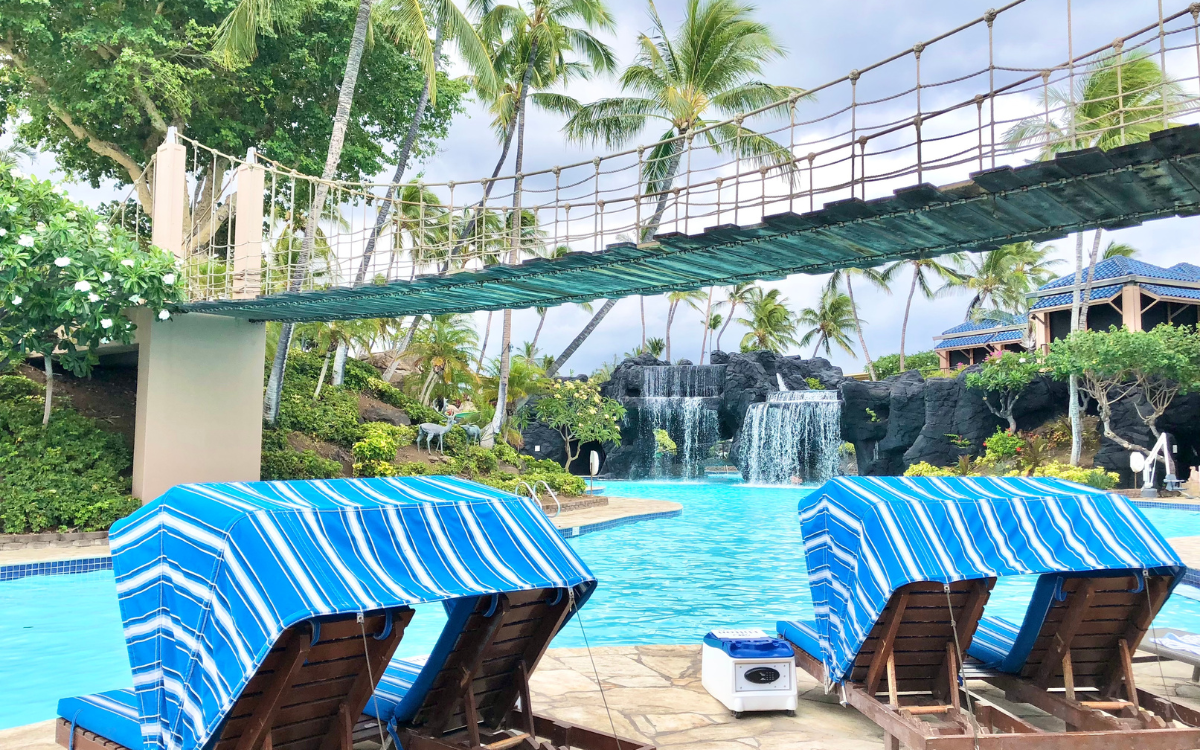 Is it the worst thing to stay here? Of course not, I actually had a great time! The sun was shining the whole time, the palm trees were blowing in the breeze, and the sunsets were beautiful.
But here's the thing…you have a LOT of choices in Hawaii. This is not the only resort in Hawaii. So when I'm forking over serious money for a "nice" place to stay, I like to make sure that I'm getting the best bang for my buck.
And this place is not inexpensive. By the time they hit you with all the fees and hidden charges, it's usually in the ballpark of some of the island's nicer resorts.
So just don't fall into the trap of thinking that this place being "big" means it's super nice. And if anything, the size of this place just ends up being mostly inconvenient.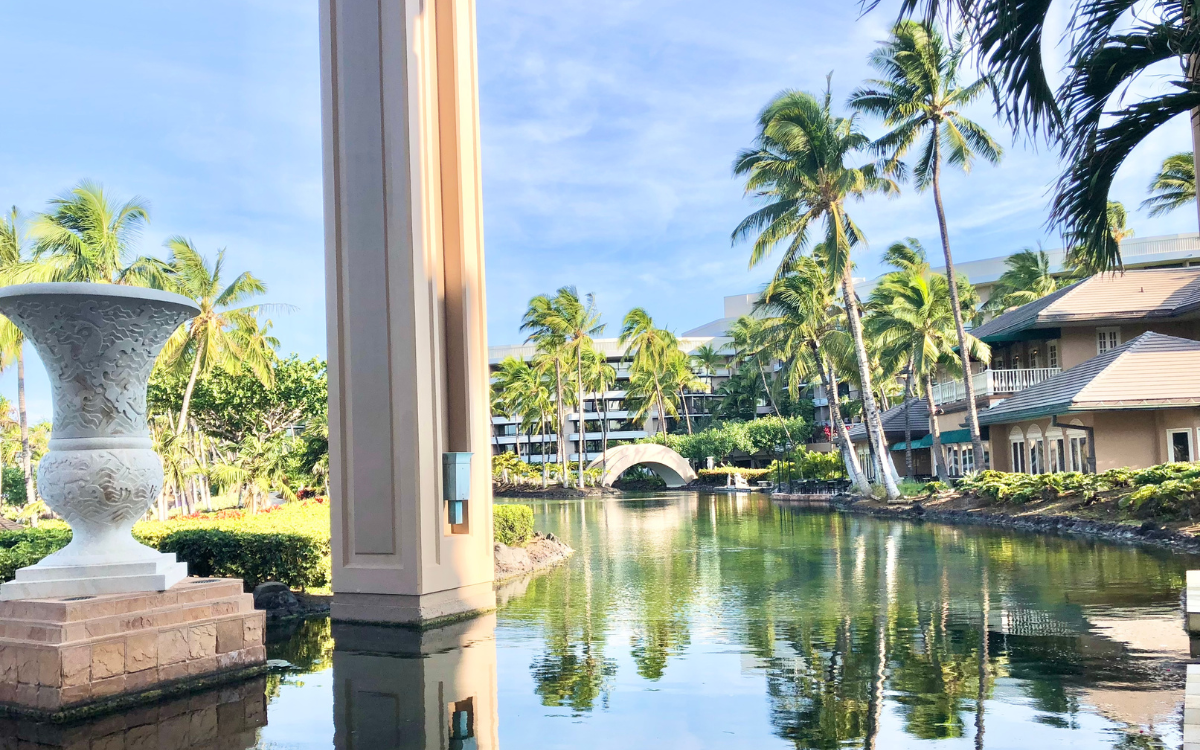 THE ONLY CAVEAT HERE: If you've got kids of a certain age, you may have to give it a second look. This is one of the only resorts on the island that caters to kids with water slides, activity pools, and a ton of rentals (like riding those big water bikes in the lagoon, etc.).
Now don't get me wrong, every other resort on this list is very kid friendly and probably caters to small kids and teens just fine, but if you've go grade school/pre teen kids that want a huge pool complex and things to DO DO DO all the time, this is kind of it.
Click here to check availability and prices at the Hilton Waikoloa Village.
Places to Stay in Kona on a Budget
A fancy beach resort isn't always in the budget, but you don't have to miss out! I think the Big Island has the best selection of affordable accommodations of any island. There's just way more real estate here which means more options.
King Kamehameha's Kona Beach Resort (Courtyard by Marriott)
I just recently stayed here and while it's not flashy and fancy like every other place I've mentioned up to this point…it serves its purpose. I stayed here on a trip when I was going to be doing a lot of sightseeing and adventuring everyday and not spending much time at the hotel. I wanted something with a more central location (I didn't want to be all the way up the Kohala Coast), with a lot of dining options nearby, and something that wouldn't break the bank.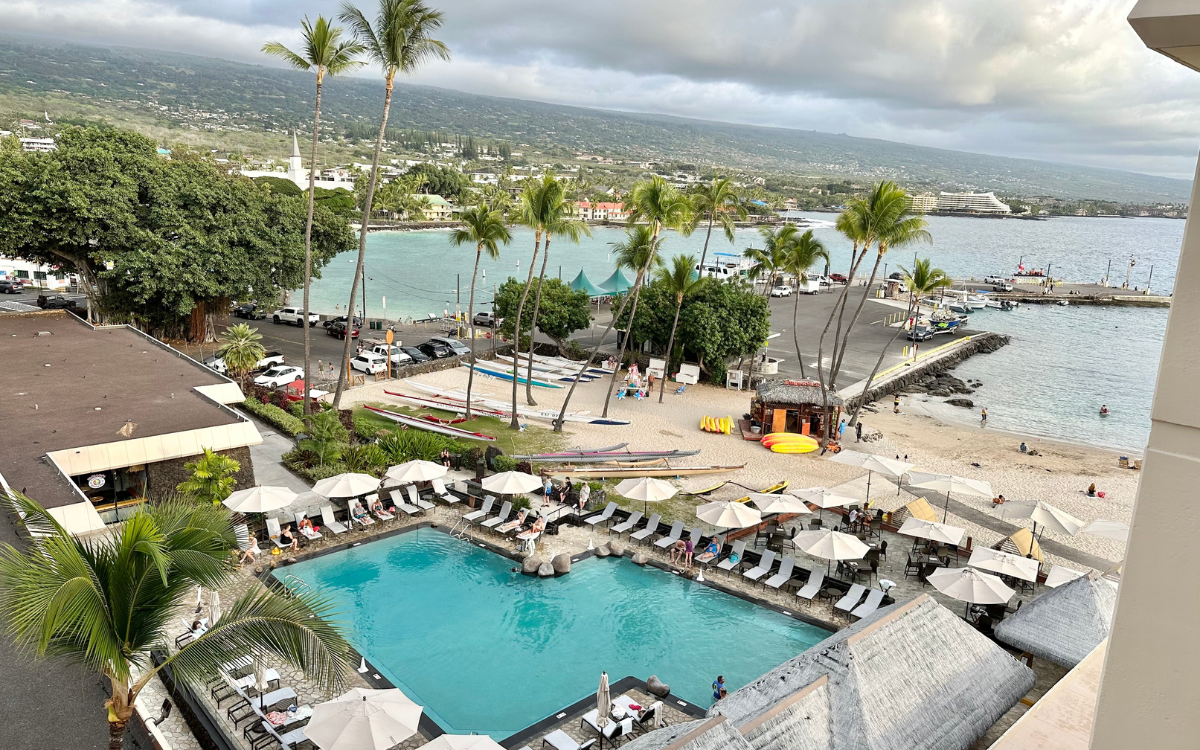 And it delivered! It's a full blown resort with all of the amenities, but with a location right on the water in downtown historic Kona.
The hotel has a pool and small beach with an activity desk, beach bar, and even a luau so it's definitely the kind of place you could hang out and relax, but it's also a really good basecamp if you're going to be out and about every day.
There's an ABC Store and coffee shop onsite and it's within walking distance to a ton of restaurants along the water on Ali'i Drive.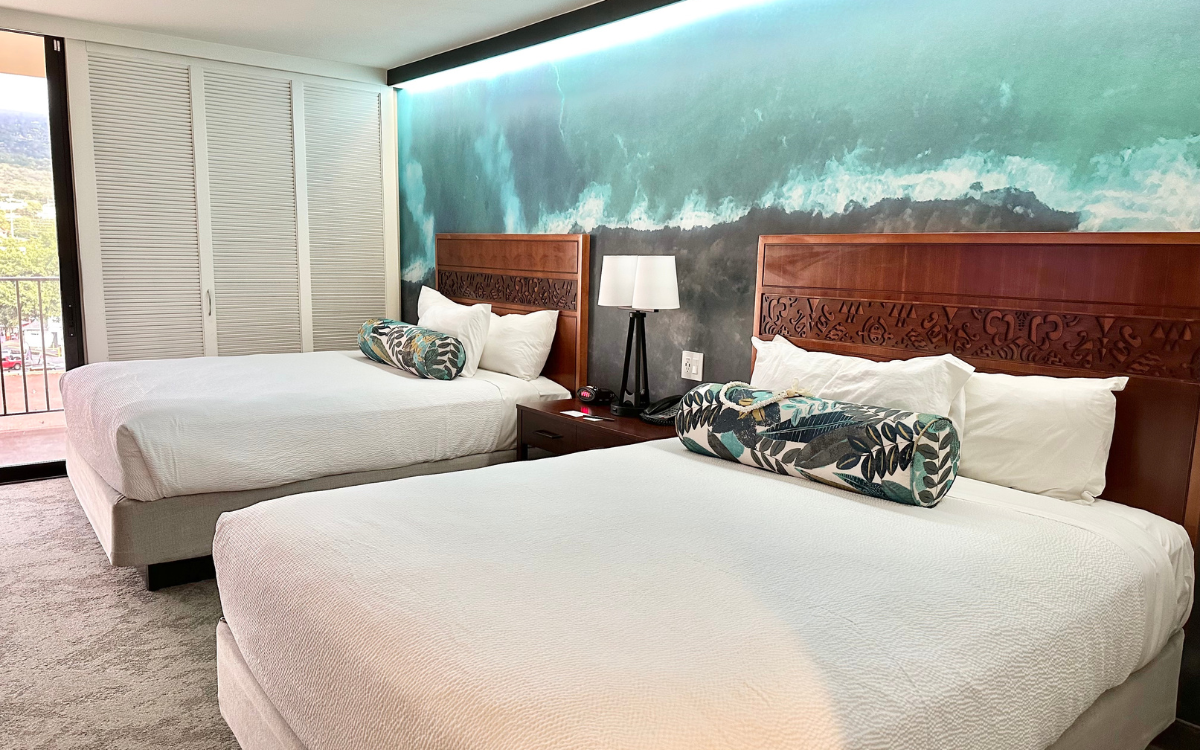 Plus the price is right. Now, it's not $100/night. But it's half to a third of the prices of the big beach resorts up further north.
And it's currently branded as a Marriott Courtyard (the hotel has been around for a long time and seen many different ownerships) so you can stay on points, use free night certificates, or at least get points for your stay.
Titanium status got me an upgraded oceanview room, a reduced parking rate ($15 instead of $25), two rounds (for two people) of welcome drinks at the beach bar, plus gorgeous shell leis.
Click here to check availability and prices at the King Kamehameha Kona Beach Resort.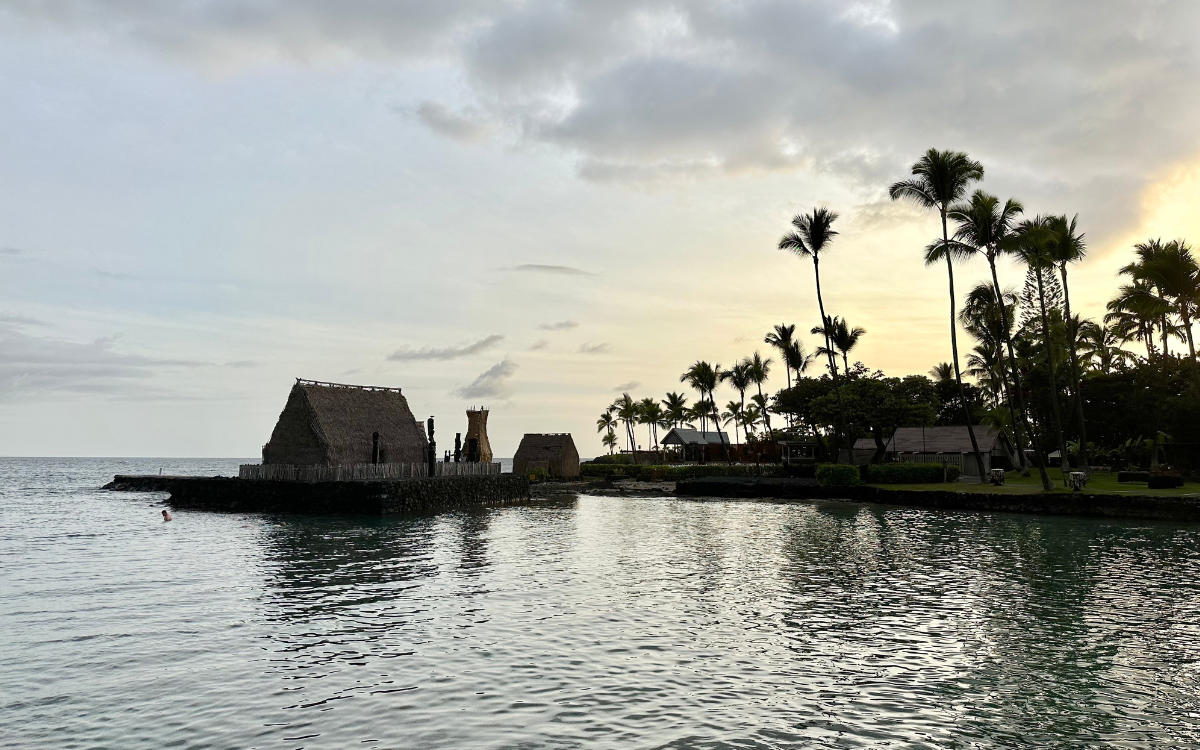 The Royal Kona is one of the oldest resorts on the Big Island and it's a great place to get the whole shebang resort experience on a budget. Again, it's not a $100/night place, but it's a real bargain compared to the big luxury places.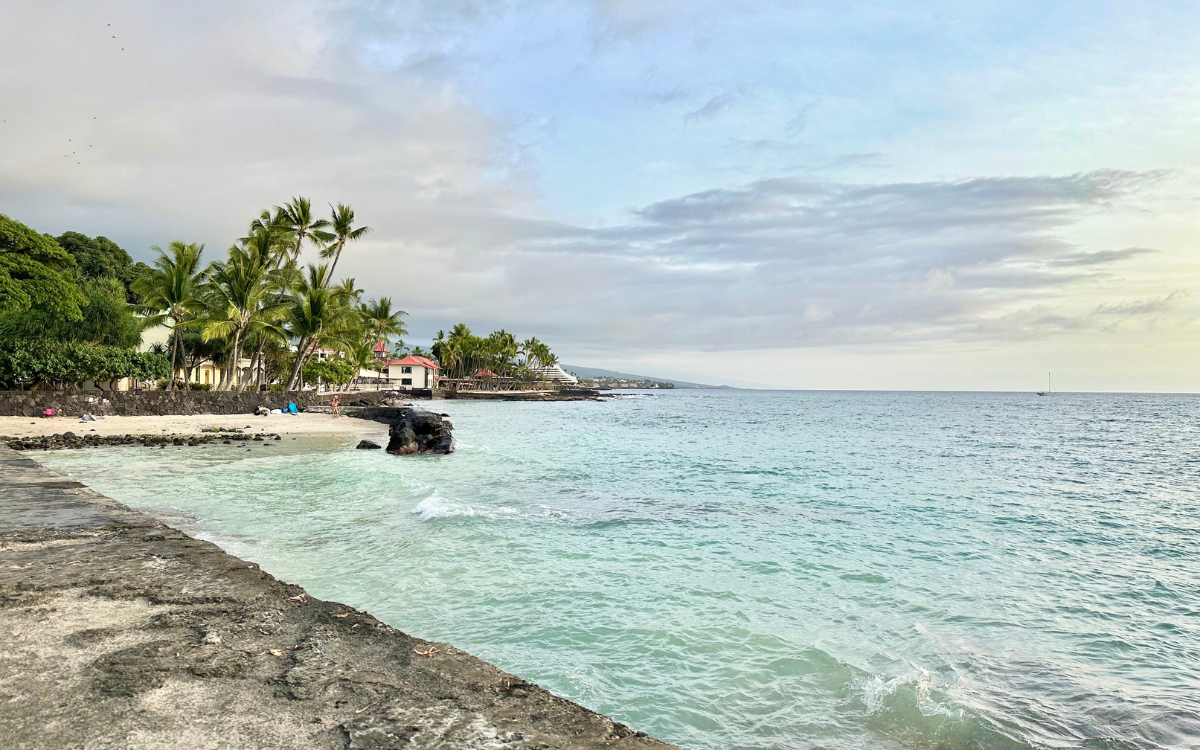 It's also waterfront on Ali'i Drive in the historic downtown area of Kona, but on the opposite end from King Kamehameha's. These two hotels/resorts kind of bookend the major tourist area in Kona, although I think Royal Kona is at the better end. Most of the restaurants that I would go to (Huggo's, On the Rocks, Island Lava Java, Foster's Kitchen, etc.) are within a block or so.
There's a small sandy beach, but the property stretches out along the rocky coast and the pool area and common spaces are pretty nice. There's also a luau onsite. Overall, I would give an edge to the Royal Kona over the King Kamehameha.
Click here to check availability and prices at the Royal Kona.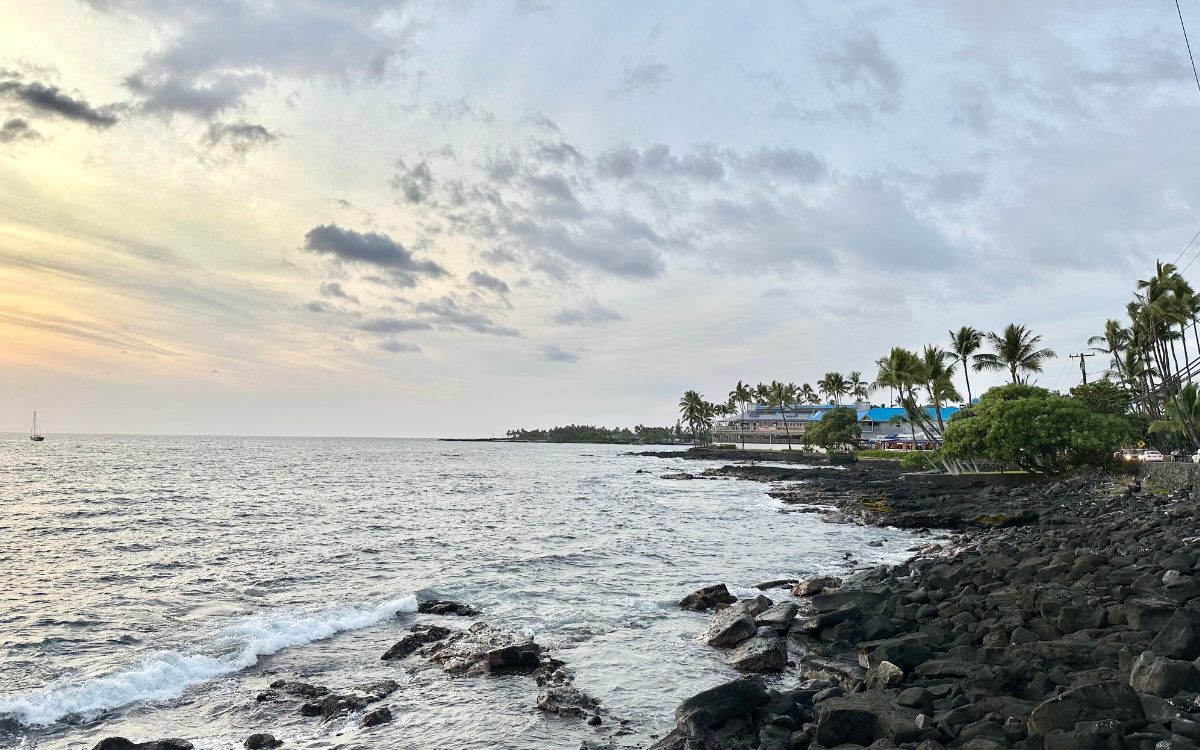 If budget is the primary deciding factor, or you just want something where you can really spread out with multiple bedrooms, a kitchen, etc. then your best option is going to be a condo or vacation rental. You'll find the whole gamut from $100/night budget condos to luxury villas with resort amenities that span the coast around Kona and up towards Kohala.
Search for Kona condos and vacation rentals here.
Where to Stay in Hilo (& Volcano)
If you're the type that likes to adventure and explore on vacation, you're not big on laying around on the beach, or you're just wanting to experience the very best of the Big Island, then you'll want to spend at least a couple of nights in the Hilo/Volcano area. Especially if there's lava flowing!
An eco-concious boutique hotel in Hilo. If I were going to stay in the Hilo area for a few days, this is probably where I would stay.
Click here to check rates and availability during your stay.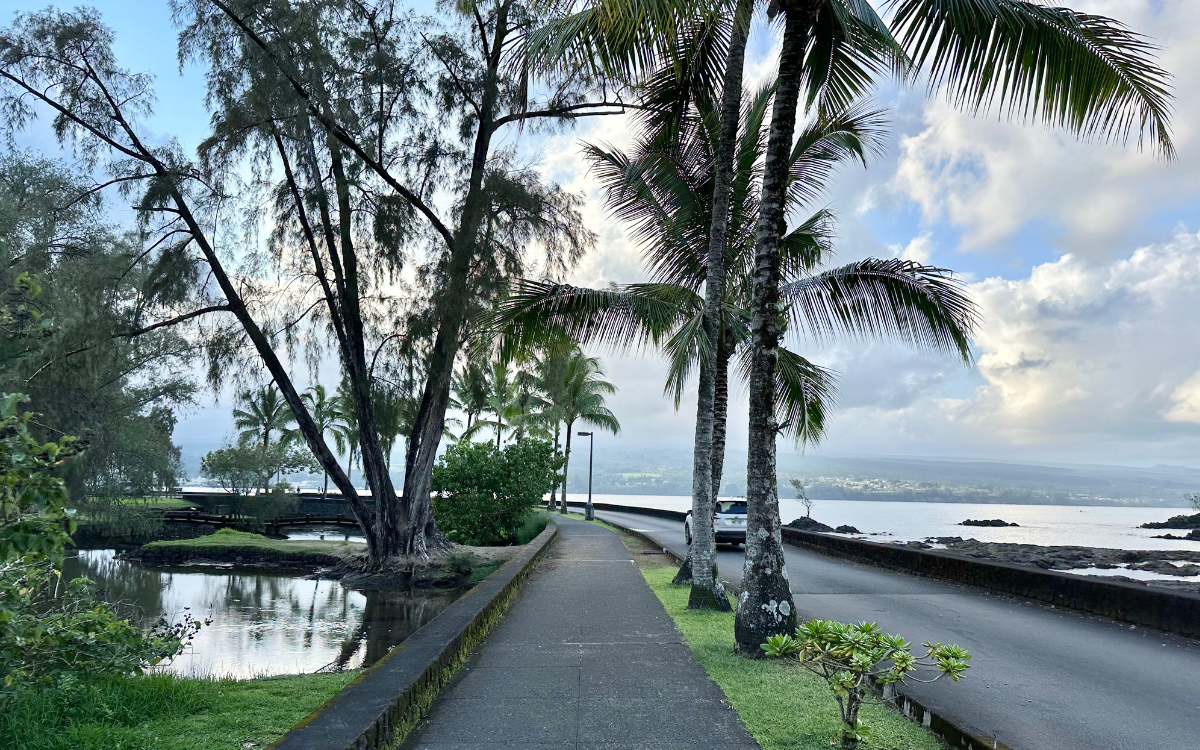 This has been considered the "nicest" place to stay in Hilo for a long time. It's a DoubleTree and it's probably the best option if you want a traditional hotel.
Click here to check rates and availability during your stay.
If you're a National Park junkie, you'll definitely want to stay here. It's a little dated but pretty charming. The original Volcano House (literally a grass hut) was built on its location in 1846 but the property as you see it today was cobbled together over the years with a pretty extensive overhaul in 2013. You can probably find nicer places to stay in Volcano, but none with this history and certainly none with this view. When Kilauea's crater is glowing with lava, you can see it from your room!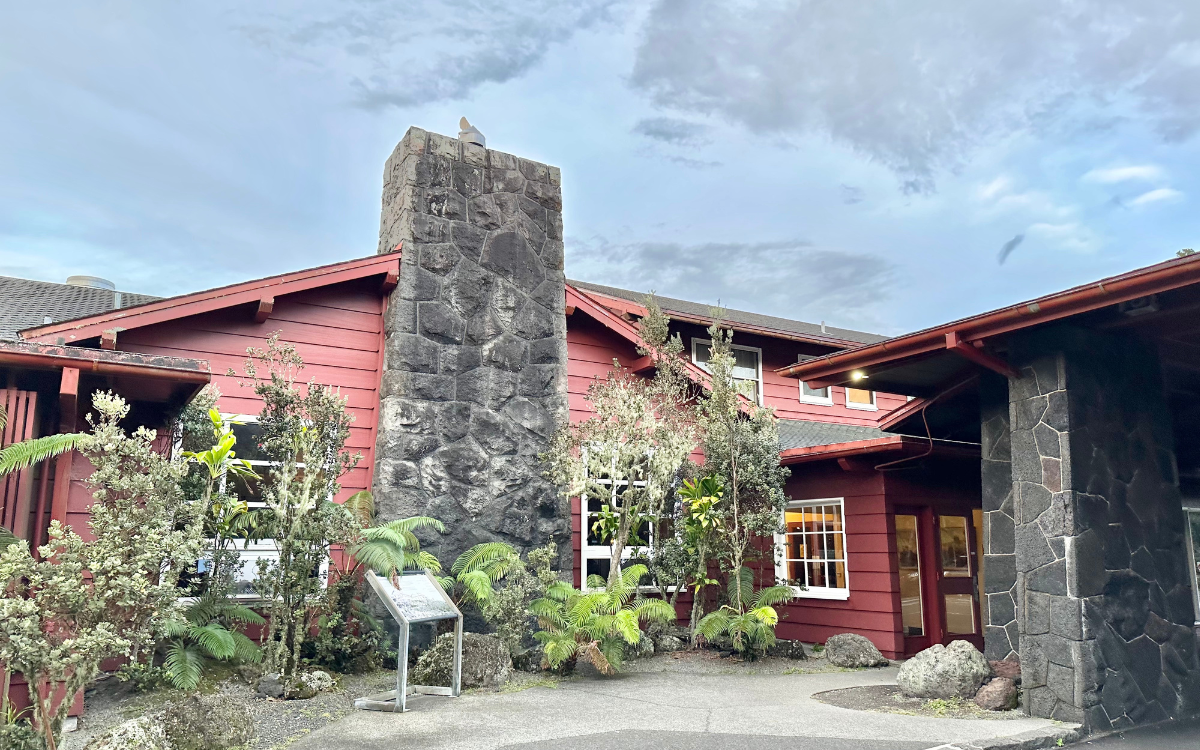 Click here to check rates and availability during your stay.
Vrbo & Airbnb Options in Volcano
The tiny town of Volcano is packed with Vrbo and Airbnb options like luxury tree houses, cottages, and cabins. This is your best option for a "nice" place to stay in the area (including Hilo).
Still Looking for a Place to Stay?
Here's one more really important thing you need to know before your Hawaii trip…
Reservations You Need to Make BEFORE Your Hawaii Trip
You've got your airfare, hotel, rental car and your big activities booked, so you should be good to go, right? Wrong!
Travel is BOOMING in Hawaii so a lot of state and national parks used the closure and reopening to institute reservation systems at some of the island's most popular spots to make things a little more sustainable.
That means that there are now over half a dozen sites (beaches, trailheads, etc.) that require advance reservations. And some sell out well before you arrive on the island so you really need to have some sort of a plan.
I recently saw somebody in a Hawaii travel group post in a panic that they didn't know they had to make reservations for things in advance…they thought they could just show up and "go with the flow." I was tempted to say, well, "as long as the flow doesn't take you somewhere that requires reservations, you can!" ; )
But I don't want YOU to be that person, so I've pulled together a list of all the places you need to reserve entry in advance (plus all the details on booking windows, price, links, etc.) and a handful of popular tourist hotspots that book out really far in advance too.
Haleakala National Park (Maui)
To visit Haleakala National Park for sunrise at the summit, you must make reservations in advance here.
Reservations are required to enter the park gates between 3AM and 7AM (sunrise hours).
Online reservations are $1 per reservation/vehicle PLUS you'll pay the park entrance fee of $30/vehicle when you arrive (National Park annual passes are also accepted at the gate).
The reservation booking window opens 60 days in advance at 7AM HST. There are also a limited number of tickets released two days before.
You can make one reservation every three days with the same account. So if you want to make reservations for back to back days (in case of weather/conditions), you'll need to do so with separate accounts (email addresses).
If you can't get reservations for sunrise, you can enter the park anytime after 7AM without reservations. The summit is spectacular during the day and you don't need reservations for sunset.
I strongly recommend creating an account before and making sure you're logged in at 7AM HST because it's not uncommon for reservations to sell out quickly.
Waianapanapa State Park (Maui)
To visit Maui's famous black sand beach at Waianapanapa State Park on the Road to Hana, you must make reservations in advance here.
Reservations are required to visit the beach and are distributed in windows from 7AM-10AM, 10AM-12:30PM, 12:30PM-3PM, and 3PM-6PM. And they are pretty strict about exiting by the end of your window time (you can arrive anytime within your window).
It's $5/person to enter plus $10/vehicle to park and those fees are paid when you book your time slot.
Reservations open up 30 days in advance.
Iao Valley State Park (Maui)
To visit the lush, green mountains and hike at Iao Valley State Park, you must make reservations in advance here.
Reservations are offered for 90 minute time slots beginning at 7AM and ending at 6PM. They ask that you arrive within the first 30 minutes of your time slot.
Entry is $5/person plus $10/vehicle to park.
Reservations open up 30 days in advance.
Diamond Head (Oahu)
To hike to the top of Waikiki's famous Diamond Head, you must make reservations in advance here.
Reservations are offered in two hour increments beginning at 6AM (6AM-8AM, 8AM-10AM, etc.) and ending at 6PM. If you're parking onsite, they ask that you arrive within the first 30 minutes of your reservation window.
Entry is $5/person plus $10/vehicle to park.
Reservations open up 30 days in advance.
Tip: I recommend booking one of the first two time slots because there isn't much shade on this hike and it gets pretty hot.
Hanauma Bay (Oahu)
To snorkel at Oahu's pristine Hanauma Bay, you must make reservations in advance here.
Entry times are staggered in 10 minute increments from 7AM to 1:20PM with roughly 1000 slots being assigned in advance every day.
Reservations can be made two days in advance and they open at 7AM HST. They're usually gone in minutes (if not seconds).
If you're unable to get an advanced reservation, you can try for a day of, walk in ticket. They open at 6:45AM and they only have a limited number available. Everyone in your group needs to be present when you purchase your tickets in person.
There are no reservations for parking and it's first come, first serve. $3/vehicle.
It's $25/person to snorkel at Hanauma Bay (12 and under, active military, and locals with HI ID are free).
The Hanauma Bay Nature Preserve is open Wednesday through Sunday (CLOSED MONDAY AND TUESDAY) from 6:45AM-4PM. Last entry is at 1:30PM, the beach is cleared at 3:15PM and you have to leave the facility by 4PM.
Jellyfish patterns can also affect whether or not the bay is open so double check the day before/day of.
USS Arizona at Pearl Harbor (Oahu)
If you want to take the boat tour at Pearl Harbor out to the USS Arizona, it's recommended to make advance reservations here.
Online reservations are guaranteed a specific boarding time to go out to the USS Arizona. If you're unable to get an advance reservation, you can wait standby when you arrive. The line could be short (15 minutes or so) or long (hours) and it just depends on the day (if they're having problems with the loading dock sometimes they don't take many from the standby line) and the time of day.
Reservations are supposed to open up 60 days in advance, but keep an eye on your exact dates, because lately they've actually been opening up about 57ish days in advance???
They also release a small batch of tickets the day before.
The boat ride out to the USS Arizona is free, but it's $1 to make the reservations online.
They recently started charging $7/vehicle for parking at Pearl Harbor.
Haena State Park / Kalalau Trail (Kauai)
If you want to hike Kauai's famous Kalalau Trail, you must make advance reservations here.
You've got three options here:
1) Parking & Entry: This is the most flexible option and also the most limited. THESE RESERVATIONS SELL OUT IN LESS THAN A MINUTE. There are three time slots available: 6:30AM-12:30PM, 12:30PM-5:30PM and 4:30PM to sunset. You can purchase multiple time slots if you want to stay longer. It's $10/timeslot (parking) plus $5/person and you have to reserve every person when you initially book. Everybody has to arrive in the same car and your ID needs to match the reservation.
2) Shuttle & Entry: If you can't get parking at the trailhead, there's also a shuttle option. Shuttle reservations are $35/person (16+), $25/person (ages 4-15), 3 and under can ride free. The shuttle runs every 20 minutes 6:20AM to 6:40PM.
3) Entry Only: If you're a Hawaiian resident (with HI ID) or someone WITH a Hawaiian resident, you can purchase entry only for $5/person with no advance reservations. Also, if you're walking or biking to the trailhead you can do this option. But there is NOWHERE to park in the area to walk in. So this really only works for those with bikes or who are staying close enough to walk. They will tow your car if you park outside the designated areas.
The reservation window opens 30 days in advance at 12AM HST. The parking & entry option usually sells out in a minute, but the shuttle availability will last longer.
There are a TON of FAQs here including the possibility of snagging a canceled reservation.
Other Things to Book in Advance
Hawaii is a busy place these days! Besides the state and national parks above, here's a handful of miscellaneous things you should make reservations for in advance (if they're on your radar):
Mama's Fish House (Maui): The iconic spot is the most popular restaurant in Hawaii and they've been opening reservations (and selling out) 4-6 months in advance. You can call and get on the waitlist for one day or you can set notifications on OpenTable to alert you for cancellations every day of your trip. Most people have pretty good success on OpenTable.
Old Lahaina Luau (Maui): Honestly, any luau you're planning to attend you should book early, but most people are usually shocked how far out the Old Lahaina Luau books out. Book it as soon as you know your dates (I think they open at the six month window). They also have a waitlist.
Kualoa Ranch UTV Tour (Oahu): Everybody loves Jurassic Park so getting to ride UTVs where they filmed the movies is very popular. The ranch offers a lot of different tours but the UTV tours usually book out a couple of months in advance.
Spa Reservations: If you're staying at a resort with a spa (or planning on visiting one), don't wait until you arrive to make your reservations. I'd make them at least a month in advance.
Tee Times: Same for golf, reserve your tee times well in advance.
Dining Reservations: Any "fancy" or resort restaurant is likely to be booked up these days so if you like having a nice dinner every night, make your plans in advance.
Want to read more? Don't miss some of my most popular (and favorite) posts about the Big Island: 28 things to do on the Big Island (that you can't do anywhere else in Hawaii), plus things to do in Kona and in Hilo, a breakdown of where to stay on the Big Island comparing Kona and Hilo, the Big Island's best beach resorts ranked, my favorite places to eat on the Big Island, my perfect 7 day Big Island itinerary, one day in Hilo, one day in Hawaii Volcanoes National Park, four National Parks on the Big Island, stargazing at Mauna Kea, snorkeling and kayaking at Kealakekua Bay, a roundup of the best condos on the Big Island, my best Big Island travel tips, and reviews of the Fairmont Orchid and the Hilton Waikoloa Village.
Save
Save
Save
Save
Save
Save
Save
Save
Save
Save
Save
Save
Save
P.S. Thanks for sticking around and reading this whole post! If you have ANY questions about planning your trip to Hawaii, you can join my free Facebook group here. I'm there answering questions every day and there are 7500+ other friends who have a ton of Hawaii information to share!
Also, if you want to follow along on my travel adventures in real time, you can follow me on Instagram (@caitylincoln). My post captions are full of travel tips and I have a ton of story highlights and videos with great info. And please share my account with your friends that are headed to Hawaii! Your support really helps me keep this blog running!