7 Day Big Island Itinerary: Here's How *I* Would Spend a Week on the Big Island 
My job is pretty much creating itineraries, and I've got to tell ya…I struggle with putting together one for Hawaii's Big Island.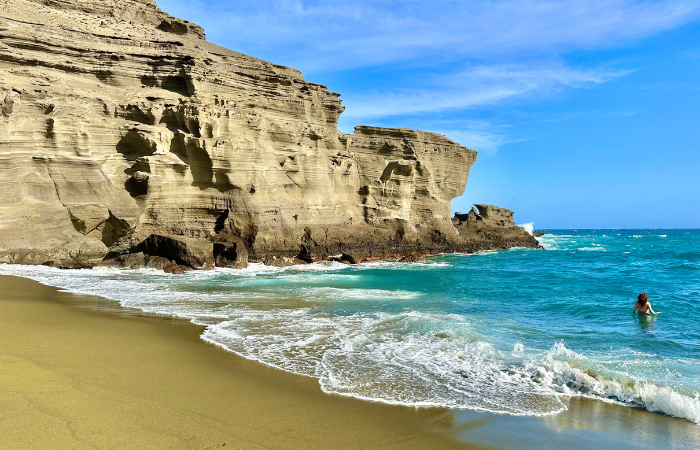 There is soooooo much to see and do on the Big Island (I'll go out on a limb and say more than any other Hawaiian Island) that you could spend a solid week with a hardcore itinerary just going, going, and going.
But…this is Hawaii. And I think enjoying the beaches, ocean breezes, sunshine, mai tais, and the resort infinity pool is…essential.
So how do you mix the two? Well, you can do it, but it depends on a LOT of factors.
Where are you staying? What's your budget? What do you like to do? What do you NOT like to do? What's your tolerance for being in the car?
And it's just hard to put together a one stop shop itinerary to recommend to every single person that's planning a trip to the Big Island.
So here's what I've decided…
This post is going to be MY perfect 7 Day Big Island Itinerary.
7 Day Big Island Itinerary
If we have similar travel styles, you're going to be set. And if we don't, you'll probably still walk away with some useful info.
So here's what we're working with…
This itinerary is for 7 FULL days (not including your arrival or departure day).
This itinerary assumes that you're staying somewhere north of Kona in Waikoloa or the Kohala Coast either at a resort or condo with nice amenities where you'll want to spend a fair amount of time "vacationing."
This isn't an "only go back to the budget hotel to shower and sleep" kind of itinerary that's jam packed from dawn till dusk. Some days will be busier than others but the goal is an equal balance between sightseeing, adventures, and relaxing.
I'll make recommendations for specific tours and excursions, but also DIY options PLUS the places I would eat along the way.
Also, I've written a LOT on this blog about day trip itineraries to different parts of the island so instead of rehashing it all here, I'll link you over to detailed posts in those sections.
Day 1: Beach Day and Manta Ray Snorkel
Spend your first day on the island just getting the lay of the land around where you're staying, but get ready because come sunset you're going to partake in one of the Big Island's most unique adventures!
Swimming with manta rays is an experience that's unique to the Big Island (none of the other Hawaiian Islands have this phenomenon). It only happens at night (mantas are most active at night when there's more plankton to feed on), but it's not seasonal so you can catch them all year long.
I'll admit…I haven't quite worked up the nerve to do this yet (being in the ocean at night seems a little scary haha), but here's the scoop on where to go…
If and when I do this, I will go with Manta Ray Advocates on their "Moonlight Swim with the Mantas." This is the only (that I've found) company that departs from the beach to a private manta location.
They leave from the beach at the Mauna Kea Hotel and swim (not too far) to a spot that's rigged with a permanent light to attract the mantas.
It's in a small group of about six and it seems like the way to go. I actually watched the whole thing from the Mauna Kea Beach Hotel and I was really impressed.
Which brings me to…if you're anything like me and swimming in the ocean at night sounds like…the last thing you want to do, there's a place where you can see it all happen FROM DRY LAND.
The Mauna Kea Hotel has a private light set up over a manta feeding station that you can view from a platform above.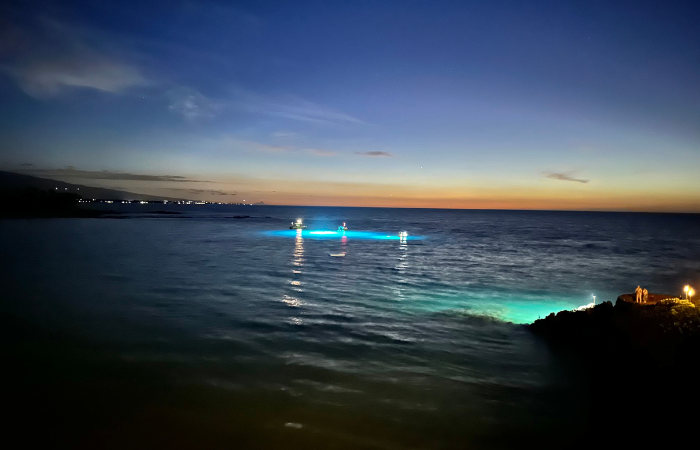 We stood for almost an hour and watched them and it was PHENOMENAL. One of my favorite things I've seen in Hawaii. They were so close and they just looped back and forth constantly. And it was even fun to watch the snorkelers come out from the beach.
If you're not staying at the hotel, I recommend making dinner reservations at Manta, the hotel's signature restaurant, and making an evening out of it.
Day 2: Hawaii Volcanoes National Park and Black & Green Sand Beaches
Today you're going to see the Big Island's most impressive sites, an active volcano plus a dramatic black sand beach AND one of the world's only green sand beaches!
This is going to be a BIG day, but totally worth it.
Follow my Hawaii Volcanoes National Park one day itinerary here.
Here's a tip for logistics…you'll have plenty of time to do the National Park and Punalu'u (the black sand beach) in the same day, but if you're also wanting to stop by the green sand beach, you'll probably only be able to do it if you take the "local shuttle." It's $20/person and you can hop on in the trailhead parking lot.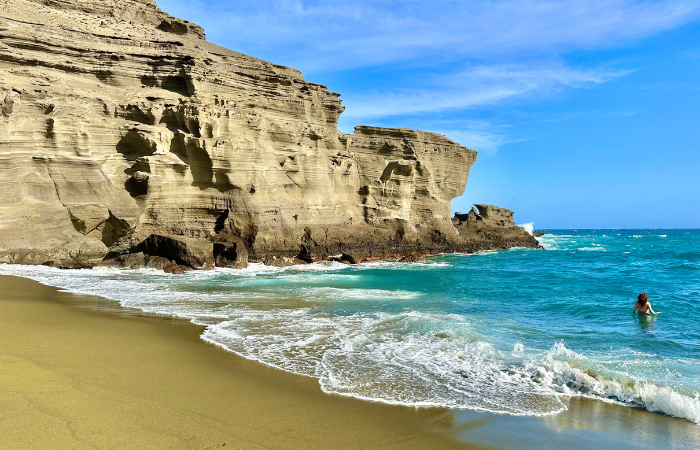 If you're not comfortable with that (they, I don't blame you) and you want to hike instead, you'll probably need to do it on a separate day. It's almost a six mile round trip hike.
Head to dinner at one of my favorite places in Hawaii…Lava Lava Beach Club.
***Want to save major $$$ on a fancy beach resort? My favorite travel hack is cashing in points to score free nights at some of the island's most high end resorts. My go to hotel brand is Marriott so I use this Marriott Bonvoy Boundless card to rack up points for a lot of my trips to Hawaii. If you pay for your monthly expenses on the card and are responsible about paying it off every month, the points add up really fast. Plus, if you sign up through my link, you'll get THREE bonus free nights to use. On the Big Island, use your points at some of my favorite Marriott properties like the Mauna Kea Hotel, Westin Hapuna Beach, and the Waikoloa Beach Marriott.
Day 3: Downtown Kona
Rest up from your big day yesterday and spend some time just chilling at the resort pool or beach.
Book an afternoon tour at the Oceanrider Seahorse Farm.
The Ocean Rider Seahorse Farm in Kona breeds seahorses (to discourage aquariums from pulling them from the ocean since they mate for life) and is making great strides in their conservation efforts.
The fee you pay to tour their facilities goes towards research and conservation and not only do you get to see lots of species of seahorses, but at the end of the tour you submerge your hands into a tank and let one of the seahorses wrap around your finger.
I've done this tour twice and it's seriously always a trip highlight.
Now I'll warn you…it's not super cheap (when I've done it in the past it was $25/person which I always felt was WELL worth it). It's now $78/adult and $73/child (5-10) which is…steep. But if it's in the budget, I still think it's an amazing thing to do.
Find more info here.
Make your way down to Ali'i Drive along Kona's historic waterfront. It's a great place for a stroll.
If you're interested in Hawaiian history, the Daughters of Hawaii do docent led tours of the Hulihe'e Palace by appointment on Wednesday through Friday and self guided tours on Saturdays.
Have sunset mai tais and dinner at one of the restaurants on the water. I would recommend Huggo's on the Rocks or Island Lava Java.
Side Note: If you're looking for a rental car for your trip, I LOVE Discount Hawaii Car Rentals. They're seriously the only company I ever use. They'll give you the very best prices, you don't have to reserve with a credit card or pay until you show up, you can cancel and re-book anytime if you find a better rate, and they usually have a special that adds additional drivers for no fee. It's a no brainer. Click here to check rates for your trip.
Day 4: Snorkeling Kealakekua Bay & Pu'uhonua Honaunau
Sure, there are plenty of semi decent places to snorkel near the beaches up at the resorts, but when I snorkel in Hawaii, I like to go on a snorkel tour. You don't have to worry about gear, ocean conditions, or keeping an eye out for, uh…creatures.
Anyways, Kealakekua Bay (the place where Captain Cook first landed in Hawaii) is one of the BEST places to snorkel in Hawaii.
And the best way to see Kealakekua Bay (and Captain Cook's monument) really is with a guided tour since it requires a permit to land at the monument.
If you'd like to do a kayak tour (including snorkeling, a stop at Captain Cook's, and snacks and drinks), I suggest booking with Big Island Kayaks on their Deluxe Kayak Kealakekua Bay and Snorkel Tour. The 3.5 hour tour runs from 8:30AM-11:30AM (conditions are better in the morning) and costs $99.95/person. If you're more comfortable in a boat than a kayak, they also do boat snorkel tours.
Read more about snorkeling Kealakekua Bay and the kayak tour here.
If you're more adventurous (or on a budget), it's a 3.8 mile round trip hike down to Captain Cook's monument where the snorkeling is good. The hike isn't particularly challenging, but it is a pretty good ascent coming back in direct sunlight so it may feel harder/longer than it is. It's about 45 minutes going down, but will probably take longer going back up.
You'll find the trailhead on Napo'opo'o Road (mile marker 111) off highway 11. Park about 500 feet down the road near telephone pole #4. You'll find an old road to the right of #4. That's the trail. If you're going to hike and snorkel, do it early. By 10AM the bay is filled with tour boats and snorkelers. And of course, if you do the hike, you'll need to bring your own snorkel gear.
You'll find plenty of boat tours that do snorkel tours to Kealakekua Bay (and some other kayak tours), but most don't have a permit to actually land at the monument so you'll just see it from a distance and hop in the water.
After your tour, there are quite a few good places to grab lunch in the area:
Rebel Kitchen: Cozy restaurant with nice outdoor seating. Features an inventive menu of Hawaiian favorites blended with Southern home style cooking.
Manago Hotel Restaurant: Local style restaurant with inexpensive food. Atmosphere like you'll only find in Hawaii.
Teshima's Restaurant: This long time Kona diner serves up traditional Japanese comfort food and it's beloved by both tourists and locals alike. It's a must do if you're looking for a memorable "foodie" experience on the Big Island.
Ka'aloa's Super J's: Located south of Kona near Captain Cook, this is the place to go for authentic Hawaiian food. Well known for the laulau.
After lunch, keep heading south to Pu'uhonua o Honaunau.
This is one of three National Historical Parks on the Big Island that preserve ancient Hawaiian culture and history. The site is right on the water and it's just completely dreamy with palm trees everywhere you look and white sand beaches.
The Pu'uhonua was a place of refuge for those who had broken the law (and faced a punishment of death), defeated warriors, and sometimes even civilians during times of war. Once refuge seekers reached the Pu'uhonua, they were protected. Hawaiians believe the Pu'uhonua was/is protected by Lono, the God of Life.
The Pu'uhonua is still considered an active religious site by Native Hawaiians (kanaka maoli) and while the National Park Service maintains the temple (heiau), descendants of the ancient Hawaiians continue to practice traditions there today making it a modern religious site.
It's $20/vehicle to enter.
If you're crazy about snorkeling and you have your own gear, while you're in the area you may want to take advantage of one of the best snorkeling spots on the Big Island…Two Step. Here's how to get there: turn into the entrance of the national park but instead of actually driving all the way in, take a right turn. Hang right until you reach the parking lot.
The entry point is all smooth lava rock but you'll still want to take your shoes right to the edge with you. The best entry point is the farthest point of lava rock jutting out into the ocean. There are two natural little steps formed here (hence the name) that makes for easy access. If you can't find it, just hang back and watch where everybody else is going.
If you want to do a luau, this is a great night for it and my top pick would be the Luau at the Mauna Kea Beach Hotel.
Day 5: Hamakua Coast & Hilo
This is another big day, but you definitely don't want to miss this part of the island. It's so lush and tropical.
Read my full post about a day trip to Hilo from Kona here.
But here are the highlights:
Waipio Valley Overlook
Akaka Falls State Park
Hawaii Tropical Botanical Garden
Mochi from Two Ladies Kitchen
Lunch in Downtown Hilo
Hilo Farmers Market
Rainbow Falls
Panaewa Rainforest Zoo
Mauna Loa Macadamia Nut Visitor Center
Day 6: Beach Day and Mauna Kea evening
After a whirlwind day exploring Hilo, take most of the day to relax and bum around the resort and beach.
But rest up, because you're in for a BIG adventure tonight! Sunset and stargazing at the summit of Mauna Kea is one of the coolest things I've ever done ANYWHERE, not just Hawaii.
There are a couple of ways to do this.
If you want to do an organized tour to Mauna Kea for sunset and stargazing, this tour lasts 7-8 hours and picks up mid-afternoon. You'll have dinner at the Mauna Kea Visitor Center while you acclimate to the altitude (the summit is 13,000+ feet), learn all about the astronomers and get outfitted with snow parkas and gloves for the drive up to the summit. The summit is only accessible via a steep, gravel, 4WD road.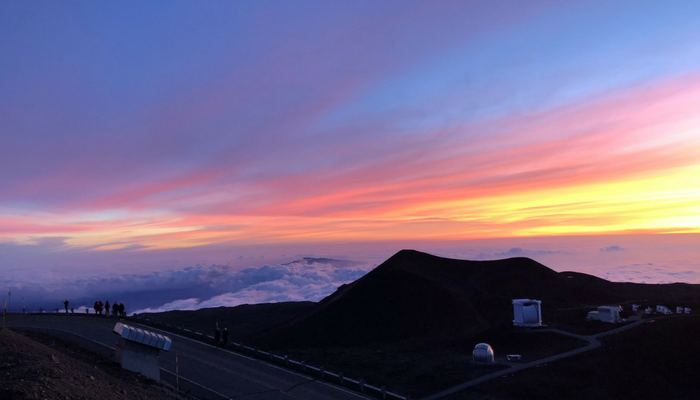 At the summit, you'll see the observatories open and rotate as the sunsets. You'll learn about the famous observatories located here before descending back down to the visitor's center for stargazing. A guide will set up telescopes and explain what you're looking at and you'll also get cookies and cocoa. This really is a once in a lifetime experience. I recommend booking with Mauna Kea Summit Adventures.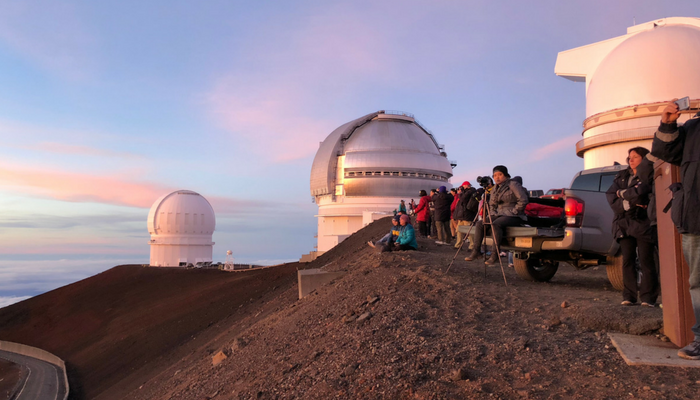 If you're not up for the tour, but still want to experience stargazing, local volunteers set up telescopes for visitors on Tuesday, Wednesday, Friday, and Saturday. Depending on how your trip falls, you may have to shuffle days around to accommodate this. Parking at the visitor center is first come first serve and there's only 115 spots so it gets pretty crowded around sunset. You'll also want to check on updates to the star gazing set up at the visitor center as your date nears because it frequently changes due to construction/funding/COVID.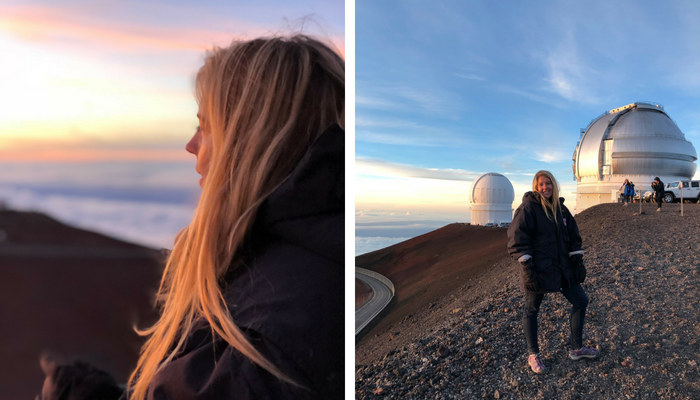 Read more about stargazing at Mauna Kea here.
Day 7: Waimea
Spend the morning at the beach and make your way upcountry to Waimea by early afternoon.
I think this is one of the most unexpectedly beautiful parts of the island.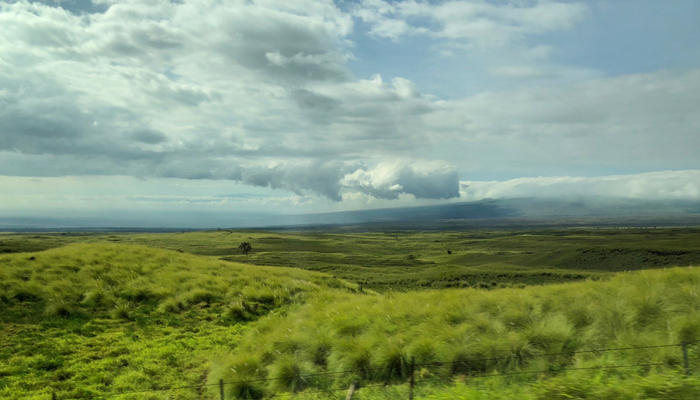 Waimea is cowboy country (that's paniolo in Hawaiian) and home to the legendary Parker Ranch. Parker Ranch is one of the oldest cattle ranches in the US and at its peak, the ranch was 500,000 acres (almost half of the island). Currently, the ranch is about 130,000 acres and is among the top 10 largest cattle ranches in the US.
You can do a self guided tour of two of the ranch's historic homes (book in advance here) or a tour of Anna Ranch Heritage Center right in town.
Whatever you decide to do, make reservations for dinner at Merriman's. Chef Peter Merriman owns and operates some of Hawaii's most beloved farm to table restaurants in Hawaii (hello Monkeypod), but it all started in Waimea at the original Merriman's.
Still Looking for a Place to Stay?
Here's one more really important thing you need to know before your Hawaii trip…
Reservations You Need to Make BEFORE Your Hawaii Trip
You've got your airfare, hotel, rental car and your big activities booked, so you should be good to go, right? Wrong!
Travel is BOOMING in Hawaii so a lot of state and national parks used the closure and reopening to institute reservation systems at some of the island's most popular spots to make things a little more sustainable.
That means that there are now over half a dozen sites (beaches, trailheads, etc.) that require advance reservations. And some sell out well before you arrive on the island so you really need to have some sort of a plan.
I recently saw somebody in a Hawaii travel group post in a panic that they didn't know they had to make reservations for things in advance…they thought they could just show up and "go with the flow." I was tempted to say, well, "as long as the flow doesn't take you somewhere that requires reservations, you can!" ; )
But I don't want YOU to be that person, so I've pulled together a list of all the places you need to reserve entry in advance (plus all the details on booking windows, price, links, etc.) and a handful of popular tourist hotspots that book out really far in advance too.
Haleakala National Park (Maui)
To visit Haleakala National Park for sunrise at the summit, you must make reservations in advance here.
Reservations are required to enter the park gates between 3AM and 7AM (sunrise hours).
Online reservations are $1 per reservation/vehicle PLUS you'll pay the park entrance fee of $30/vehicle when you arrive (National Park annual passes are also accepted at the gate).
The reservation booking window opens 60 days in advance at 7AM HST. There are also a limited number of tickets released two days before.
You can make one reservation every three days with the same account. So if you want to make reservations for back to back days (in case of weather/conditions), you'll need to do so with separate accounts (email addresses).
If you can't get reservations for sunrise, you can enter the park anytime after 7AM without reservations. The summit is spectacular during the day and you don't need reservations for sunset.
I strongly recommend creating an account before and making sure you're logged in at 7AM HST because it's not uncommon for reservations to sell out quickly.
Waianapanapa State Park (Maui)
To visit Maui's famous black sand beach at Waianapanapa State Park on the Road to Hana, you must make reservations in advance here.
Reservations are required to visit the beach and are distributed in windows from 7AM-10AM, 10AM-12:30PM, 12:30PM-3PM, and 3PM-6PM. And they are pretty strict about exiting by the end of your window time (you can arrive anytime within your window).
It's $5/person to enter plus $10/vehicle to park and those fees are paid when you book your time slot.
Reservations open up 30 days in advance.
Iao Valley State Park (Maui)
To visit the lush, green mountains and hike at Iao Valley State Park, you must make reservations in advance here.
Reservations are offered for 90 minute time slots beginning at 7AM and ending at 6PM. They ask that you arrive within the first 30 minutes of your time slot.
Entry is $5/person plus $10/vehicle to park.
Reservations open up 30 days in advance.
Diamond Head (Oahu)
To hike to the top of Waikiki's famous Diamond Head, you must make reservations in advance here.
Reservations are offered in two hour increments beginning at 6AM (6AM-8AM, 8AM-10AM, etc.) and ending at 6PM. If you're parking onsite, they ask that you arrive within the first 30 minutes of your reservation window.
Entry is $5/person plus $10/vehicle to park.
Reservations open up 30 days in advance.
Tip: I recommend booking one of the first two time slots because there isn't much shade on this hike and it gets pretty hot.
Hanauma Bay (Oahu)
To snorkel at Oahu's pristine Hanauma Bay, you must make reservations in advance here.
Entry times are staggered in 10 minute increments from 7AM to 1:20PM with roughly 1000 slots being assigned in advance every day.
Reservations can be made two days in advance and they open at 7AM HST. They're usually gone in minutes (if not seconds).
If you're unable to get an advanced reservation, you can try for a day of, walk in ticket. They open at 6:45AM and they only have a limited number available. Everyone in your group needs to be present when you purchase your tickets in person.
There are no reservations for parking and it's first come, first serve. $3/vehicle.
It's $25/person to snorkel at Hanauma Bay (12 and under, active military, and locals with HI ID are free).
The Hanauma Bay Nature Preserve is open Wednesday through Sunday (CLOSED MONDAY AND TUESDAY) from 6:45AM-4PM. Last entry is at 1:30PM, the beach is cleared at 3:15PM and you have to leave the facility by 4PM.
Jellyfish patterns can also affect whether or not the bay is open so double check the day before/day of.
USS Arizona at Pearl Harbor (Oahu)
If you want to take the boat tour at Pearl Harbor out to the USS Arizona, it's recommended to make advance reservations here.
Online reservations are guaranteed a specific boarding time to go out to the USS Arizona. If you're unable to get an advance reservation, you can wait standby when you arrive. The line could be short (15 minutes or so) or long (hours) and it just depends on the day (if they're having problems with the loading dock sometimes they don't take many from the standby line) and the time of day.
Reservations are supposed to open up 60 days in advance, but keep an eye on your exact dates, because lately they've actually been opening up about 57ish days in advance???
They also release a small batch of tickets the day before.
The boat ride out to the USS Arizona is free, but it's $1 to make the reservations online.
They recently started charging $7/vehicle for parking at Pearl Harbor.
Haena State Park / Kalalau Trail (Kauai)
If you want to hike Kauai's famous Kalalau Trail, you must make advance reservations here.
You've got three options here:
1) Parking & Entry: This is the most flexible option and also the most limited. THESE RESERVATIONS SELL OUT IN LESS THAN A MINUTE. There are three time slots available: 6:30AM-12:30PM, 12:30PM-5:30PM and 4:30PM to sunset. You can purchase multiple time slots if you want to stay longer. It's $10/timeslot (parking) plus $5/person and you have to reserve every person when you initially book. Everybody has to arrive in the same car and your ID needs to match the reservation.
2) Shuttle & Entry: If you can't get parking at the trailhead, there's also a shuttle option. Shuttle reservations are $35/person (16+), $25/person (ages 4-15), 3 and under can ride free. The shuttle runs every 20 minutes 6:20AM to 6:40PM.
3) Entry Only: If you're a Hawaiian resident (with HI ID) or someone WITH a Hawaiian resident, you can purchase entry only for $5/person with no advance reservations. Also, if you're walking or biking to the trailhead you can do this option. But there is NOWHERE to park in the area to walk in. So this really only works for those with bikes or who are staying close enough to walk. They will tow your car if you park outside the designated areas.
The reservation window opens 30 days in advance at 12AM HST. The parking & entry option usually sells out in a minute, but the shuttle availability will last longer.
There are a TON of FAQs here including the possibility of snagging a canceled reservation.
Other Things to Book in Advance
Hawaii is a busy place these days! Besides the state and national parks above, here's a handful of miscellaneous things you should make reservations for in advance (if they're on your radar):
Mama's Fish House (Maui): The iconic spot is the most popular restaurant in Hawaii and they've been opening reservations (and selling out) 4-6 months in advance. You can call and get on the waitlist for one day or you can set notifications on OpenTable to alert you for cancellations every day of your trip. Most people have pretty good success on OpenTable.
Old Lahaina Luau (Maui): Honestly, any luau you're planning to attend you should book early, but most people are usually shocked how far out the Old Lahaina Luau books out. Book it as soon as you know your dates (I think they open at the six month window). They also have a waitlist.
Kualoa Ranch UTV Tour (Oahu): Everybody loves Jurassic Park so getting to ride UTVs where they filmed the movies is very popular. The ranch offers a lot of different tours but the UTV tours usually book out a couple of months in advance.
Spa Reservations: If you're staying at a resort with a spa (or planning on visiting one), don't wait until you arrive to make your reservations. I'd make them at least a month in advance.
Tee Times: Same for golf, reserve your tee times well in advance.
Dining Reservations: Any "fancy" or resort restaurant is likely to be booked up these days so if you like having a nice dinner every night, make your plans in advance.
Want to read more? Don't miss some of my most popular (and favorite) posts about the Big Island: 28 things to do on the Big Island (that you can't do anywhere else in Hawaii), plus things to do in Kona and in Hilo, a breakdown of where to stay on the Big Island comparing Kona and Hilo, the Big Island's best beach resorts ranked, my favorite places to eat on the Big Island, my perfect 7 day Big Island itinerary, one day in Hilo, one day in Hawaii Volcanoes National Park, four National Parks on the Big Island, stargazing at Mauna Kea, snorkeling and kayaking at Kealakekua Bay, a roundup of the best condos on the Big Island, my best Big Island travel tips, and reviews of the Fairmont Orchid and the Hilton Waikoloa Village.
P.S. Thanks for sticking around and reading this whole post! If you have ANY questions about planning your trip to Hawaii, you can join my free Facebook group here. I'm there answering questions every day and there are 7500+ other friends who have a ton of Hawaii information to share!
Also, if you want to follow along on my travel adventures in real time, you can follow me on Instagram (@caitylincoln). My post captions are full of travel tips and I have a ton of story highlights and videos with great info. And please share my account with your friends that are headed to Hawaii! Your support really helps me keep this blog running!