Planning a trip to Maui? You're going to love it! It's one of the most diverse Hawaiian Islands meaning whatever you're looking for, you'll find it on Maui. Maui is a huge island and some people get overwhelmed by the sheer amount of incredible things there are to do. You could stay busy for weeks exploring every part of this island, so I've narrowed this list down to 15 things to do in Maui.
This is by no means a comprehensive list of everything to do on Maui, but it's a pretty good overview of some "don't miss" experiences! Also, I know different people like to vacation different ways so while a lot of things on this list you can do on your own (nothing is more fun than renting a car and taking off exploring!), I've also included options for people who gravitate more towards organized tours and excursions (there's a lot you miss when you're just driving around on your own : ).
This post may contain some affiliate links, which means I'll make a little money on anything you choose to purchase. But of course, I only recommend my absolute favorites to you. Thank you for supporting the brands that make Hulaland possible.
What are the best things to do in Maui?
So let's get on with it…here are 15 things to do in Maui that you definitely shouldn't miss:
1.Snorkel at Molokini. Molokini Crater is Maui's famed snorkeling spot and a short boat ride away from South Maui. This crescent shaped crater creates a protected refuge and ideal spot for snorkeling with countless species of fish and some of the most impressive coral formations in Hawaii. Boat trips out of South or West Maui will usually include stops at a couple of other great snorkeling spots and going with a guided excursion will give you the best chance at swimming with turtles and maybe even getting to see an octopus or two. Read all about my experience snorkeling at Molokini here and book your own Molokini snorkel trip here.
2.Drive the Road to Hana. Tales of the harrowing drive along narrow and windy roads along cliffs, through jungles, and past waterfalls have only built up the folklore surrounding Hawaii's most popular drive, the Road to Hana. And taking part is practically a right of passage when visiting Maui. Set out early, stopping to grab a picnic lunch in Paia town and see all the sights along the way. Your journey past rainbow eucalyptus trees, bamboo forests, black and red sand beaches, 400 foot waterfalls, and Hana town itself will give you a taste of the real Hawaii. Old Hawaii. Of all the things to do in Maui, you really shouldn't miss this one. Read this post about my favorite stops on the Road to Hana. If making the trip on your own seems a little overwhelming, book this small group tour.
3.See sunrise atop Haleakala. There aren't many places in the world where you can stand on top of a 10,000 ft tall volcano in the middle of the ocean and watch the sun begin to awaken. It's become a pilgrimage of sorts, with bleary eyed tourists waking up in the middle of the night and donning coats and hats to make the long and windy drive up the mountain to Haleakala's summit where they stake out spots and wait for a glimpse of those first sights of peachy orange hues peaking through the cloud canopy. It's been called magical and that's all you can really say about it. You're unlikely to experience this kind of phenomenon anywhere else in the world. If you're making the trek up to Haleakala for sunrise on your own, you'll need a reservation through the National Park service. You can make reservations 60 days in advance and they cost $1.50 (plus the $30 park admission upon arrival). If you'd rather be picked up at your resort, shuttled to the top of the mountain, and have a full tour with breakfast, check out this tour. Read all of my tips for doing sunrise at Haleakala in this post.
On Another Note: If you're looking for a condo or vacation rental for your trip, I always book with Vrbo. They've got the largest selection of rentals you'll find anywhere and you can easily filter to find exactly what you're looking for. Need a specific number of bedrooms and bathrooms? Narrowed it down to a certain location? Want flexible cancellation terms? Need to stay under a fixed budget? Click here to search for Maui vacation rentals for your trip.
4.Take a whale-watching excursion. If you're visiting Maui anytime between December and April, you're almost guaranteed some whale sightings. While you'll likely be lucky enough to see a breach or two from shore, nothing beats being out on a boat and watching them play in the water right alongside. Spending a couple of hours out on a catamaran with a marine biologist will ensure that you not only get an up close encounter with these amazing creatures but find out plenty about their behaviors and personalities. Book a tour with Pacific Whale Foundation here. Read more about whale watching here.
5.Bike down a dormant volcano. Biking down Haleakala is one of my favorite things I've done on Maui. You can coast over 20 miles without having to pedal at all! Plus most of the trip is through Maui's scenic upcountry that a lot of tourists miss entirely. This tour includes sunrise at the summit of Haleakala (a great way to kill two birds with one stone!) and then a bike ride down. Book this tour if you just want to do the bike ride.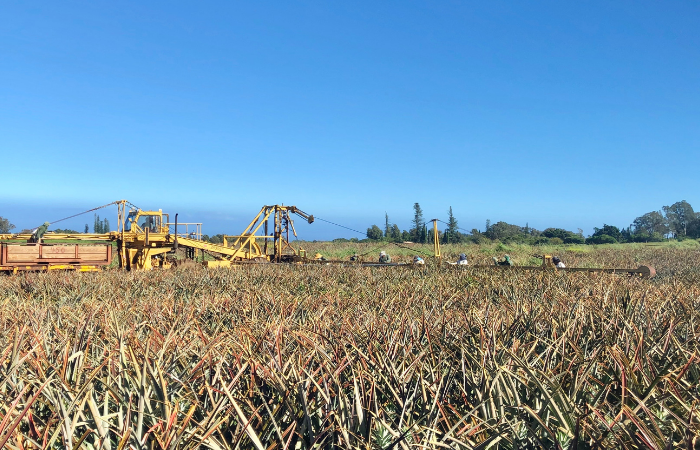 6.Maui Pineapple Tour. I'm going to go out on a limb and say this is the most underrated experience on Maui. Everybody talks about the Dole Plantation on Oahu (it's just a big tourist trap), but this tour takes you behind a working pineapple farm. You'll see the whole process of growing Maui Gold pineapple from start to finish…from planting to harvesting to packaging! You'll get to sample plenty of pineapple plus take one home with you! Read my full review of this tour here. And you can book your own tour here.
7.Kayak and swim with sea turtles. Sounds pretty dreamy right? Seeing a Hawaiian Green Sea Turtle is high on most people's bucket list when visiting Hawaii. While seeing animals in the wild is never a sure thing, kayaking out to "Turtle Town" is a pretty guaranteed way to see them. Book this clear kayak tour that takes you to an offshore hangout spot for turtles and lets you snorkel. Read more about snorkeling on Maui here and here.
Side Note: If you're looking for a rental car for your trip, I LOVE Discount Hawaii Car Rentals. They're seriously the only company I ever use. They'll give you the very best prices, you don't have to reserve with a credit card or pay until you show up, you can cancel and re-book anytime if you find a better rate, and they usually have a special that adds additional drivers for no fee. It's a no brainer. Click here to check rates for your trip.
8.Horseback riding through the West Maui Mountains. The luscious, green West Maui Mountains are one of the prettiest parts of Maui and there's no cooler way to see them than on horseback. Bonus: on this tour you'll also get to see some hidden waterfalls that you won't see from the coast!
9.Take surf lessons. Home of modern day surfing, there's no better place to try surfing than in Hawaii! Book surf lessons here.
10.Zipline through the jungle. There are quite a few zipline courses on Maui, but this one that runs through the jungle on the north shore is a great one. Book the tour here and read this post for more to do close by on the north shore.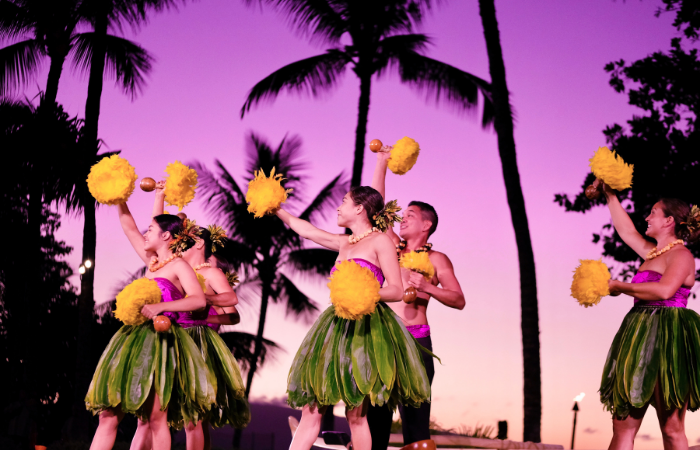 11.Go to a luau: Nothing says Hawaii like a luau right? There are so many to choose from and they're definitely not all created equal. My favorite on the island (actually anywhere in Hawaii) is the Old Lahaina Luau. Read my full review here. If you're staying on the south side (Wailea or Kihei) and want to try one that's closer, this is a great one too. And read my review of the Grand Wailea luau here.
12.Do a Maui Farm Tour: Most people think of beaches, snorkeling, and palm trees when they think of Hawaii, but the volcanic soil and year round blissful weather make the islands an agricultural oasis. There are some really amazing farms on Maui and a lot of them welcome visitors. Don't miss the Ali'i Lavender Farm upcountry. The lavender farm offers beautiful gardens, a quaint gift shop, and a nice café but the views of the island are what makes this a do not miss attraction. They have activities you can sign up for every week, like making wreaths out of succulents and there's also a scavenger hunt through their gardens. My other favorite is Maui Wine. The drive is reason enough to go, but the tasting room on the charming property and unique pineapple wine make Maui Wine a truly unique experience. Buy a few bottles to take back to friends or walk across the street to the ranch store for an elk burger and some souvenir shopping. There are a couple of free tours offered daily. O'o Farms has a farm to table experience that's super cool and if you have kids they'll love the Surfing Goat Dairy Farm. All of these are located roughly in the same area of Maui called the upcountry. Read this post for a lot more information on things to do and see upcountry.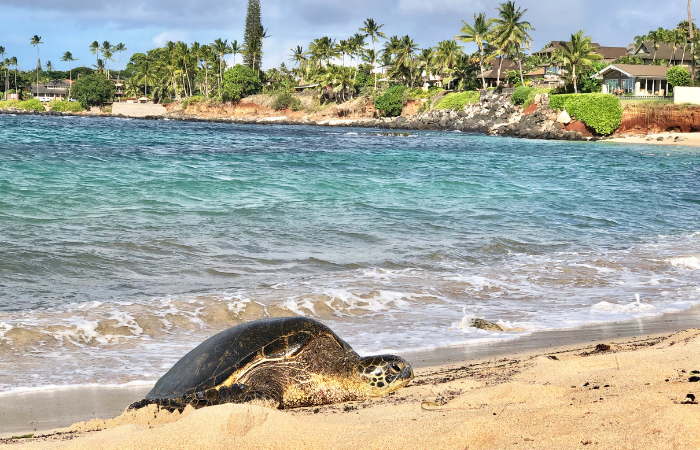 13.Bum around the beach: You come to Hawaii for the beaches right? And in my opinion, Maui has the best of any island. There are more swimmable beaches on Maui than the other islands and for the most part they're all pretty accessible (parking) and easy to find. Besides some of the all around favorites like Ka'anapali Beach on the west side and Big Beach on the south side, there are black and red sand beaches on the Hana side of the island. Read this post for the full rundown of the best beaches on Maui.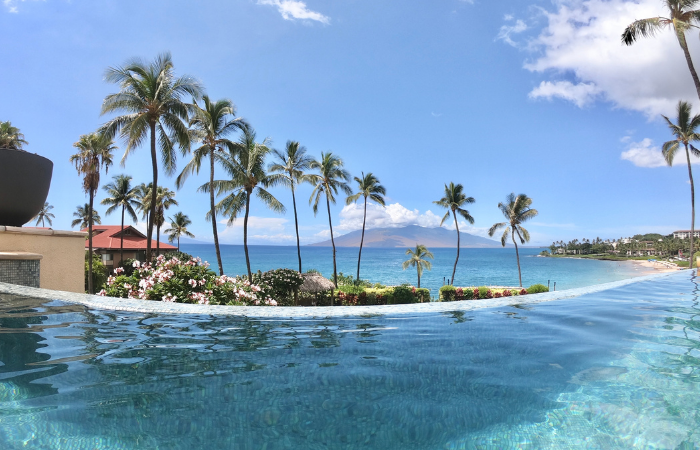 14.Indulge in a little luxury: All of the Hawaiian islands are spectacular, but none of them do luxury quite like Maui. Maui's high end resort area is Wailea (on the south side), but Kapalua (on the west side) has some spectacular properties as well (Ritz Carlton and Montage). Maui has some of the nicest resorts in the world, but even if you're not staying there you can still have dinner or drinks or even book a spa treatment. The Four Seasons is one of my very favorite places to sit and have a drink plus the beachfront walkway that connects the beaches in Wailea is a super nice place for a sunset stroll. Check out these posts if you're wanting to add a little luxury to your trip: where to stay on Maui, my review of the Four Seasons, the best fine dining restaurants, things to do on a Maui honeymoon.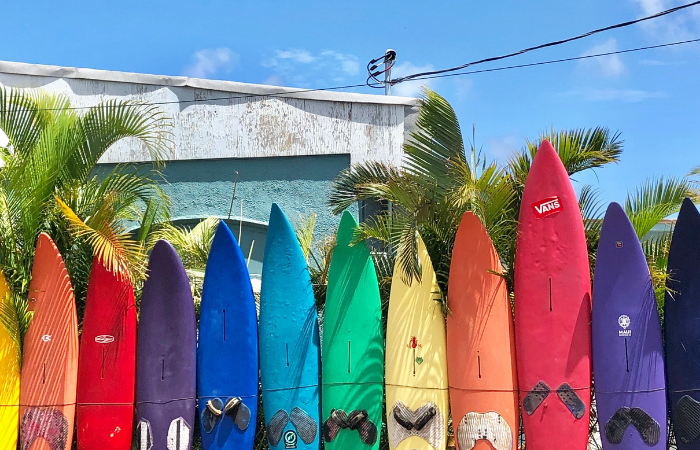 15.Explore some local towns: Most people visiting Maui stay in the resort areas on the south and west sides, but you should definitely make time to explore some of the local towns. Old plantation towns like Paia and Makawao have been revitalized in a big way and their charming mainstreets are chock full of boutiques, restaurants, and art galleries. Wailuku is an up and coming town (they have the coolest street art scene!) and it's definitely worth a stop if you're in the area to see the Iao Valley. Read this post on the north shore and this post on upcountry for more information about the more local areas of Maui.
BEST PLACES TO STAY ON MAUI
Luxury Lovers: Four Seasons & Andaz Maui
Family Friendly: Grand Wailea & Westin Maui
Budget (& Beachfront): Ka'anapali Beach Hotel & Royal Lahaina
WHERE TO EAT ON MAUI
16 Best Breakfast Spots on Maui
11 Best Fine Dining Restaurants on Maui
23 Best Local Restaurants on Maui
Want to read more? Don't miss some of my most popular (and favorite) posts about Maui: my Maui favorites, the best Maui itinerary, how many days to spend on Maui, Maui vs Kauai, where to see turtles on Maui, my favorite road to Hana itinerary, guide for sunrise at Haleakala National Park, how to bike down Maui's volcano, my review of the Maui Pineapple Tour, 20 of the best adventure activities on Maui, 5 Maui day trips, and the best things to do on a Maui honeymoon.
More posts about where to stay on Maui: Trying to figure out where to stay on Maui? I've written a ton of posts that will help. I'd start with my 15 favorite resorts and hotels on Maui. Also, you're going to want to decide between staying on the south side or the west side so this post about Wailea vs Ka'anapali is golden. Read about my favorite luxury resorts, boutique hotels, honeymoon resorts, family friendly resorts, and condos (many under $100/night!). If you've narrowed down the area of the island you want to stay, but need help picking a specific hotel, read these posts about where to stay in Wailea, Kihei, Ka'anapali, Lahaina and Kapalua, and Hana. And if you just want more details (more! More! more!), read my reviews of staying at the Four Seasons and the Fairmont Kea Lani.
Save
Save
Save
Save
Save
Save
Save
Save
Save
Save
Save
Save
Save
Save
Save
P.S. Thanks for sticking around and reading this whole post! If you have ANY questions about planning your trip to Hawaii, you can join my free Facebook group here. I'm there answering questions every day and there are 7500+ other friends who have a ton of Hawaii information to share!
Also, if you want to follow along on my travel adventures in real time, you can follow me on Instagram (@caitylincoln). My post captions are full of travel tips and I have a ton of story highlights and videos with great info. And please share my account with your friends that are headed to Hawaii! Your support really helps me keep this blog running!