Four Seasons Maui: Maui's Best Luxury Resort
This post was written before devastating wildfires swept through the historic town of Lahaina in early August 2023.
Here's what you need to know: 1) Lahaina is almost completely gone and the area is 100% off limits to visitors. 2) The resort areas of West Maui north of Lahaina (Ka'anapali, Napili & Kapalua) are undamaged from the fires and are scheduled to fully reopen to tourism on October 8, 2023. 3) The rest (majority) of the island is unaffected and open to visitors. 4) Locals on the island (both those personally affected and not) are grieving this tragedy and likely will be for a long time to come. Even though the return of tourism for the economy is largely necessary, your compassion and kindness during your interactions go a long way.
I'll keep this updated as the situation progresses. As of now, all of the info in this post should be unaffected.
On my latest trip to Maui, (a girl's trip with my friend who had never been before) I scheduled a lot of spectacular activities like driving the road to Hana and going up for sunrise at Haleakala. Spectacular, but exhausting. After all of that adventuring, we knew we wanted some time at the end of our trip to unwind with a little luxury. Nobody does luxury like the Four Seasons, so we booked a three-night stay at the Four Seasons Maui in Wailea.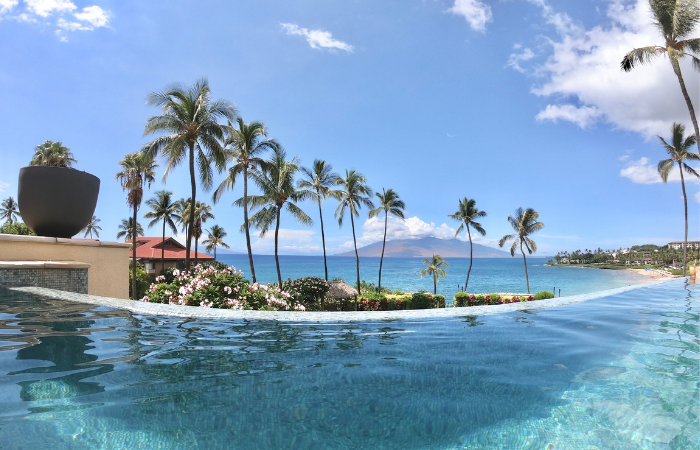 This post may contain some affiliate links, which means I'll make a little money on anything you choose to purchase. But of course, I only recommend my absolute favorites to you. Thank you for supporting the brands that make the Lincoln Travel Co possible.
Four Seasons Maui Review
The Four Seasons Maui is located on Wailea Beach in south Maui. Beautiful, sun drenched Wailea is home to some of the best high-end resorts on Maui and with that comes excellent shopping and dining.
Check-In & The Aloha Suite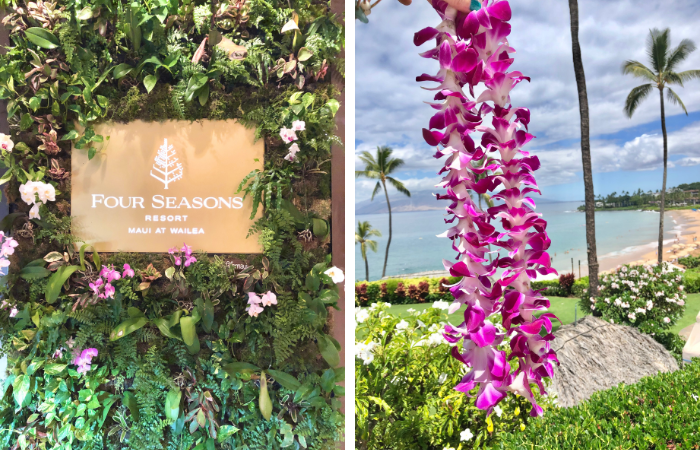 We checked into the Four Seasons on a Monday morning, but the Four Seasons experience really begins before check in. Once we booked, we downloaded the Four Seasons app, and a concierge team member was in communication regarding our stay…mostly to know when we'd be arriving and offering to set up transportation.
Since we were already on island and just changing accommodations, we checked in about 10:30 and were greeted with fresh flower leis, ginger mint lemonade, and chilled lavender towels.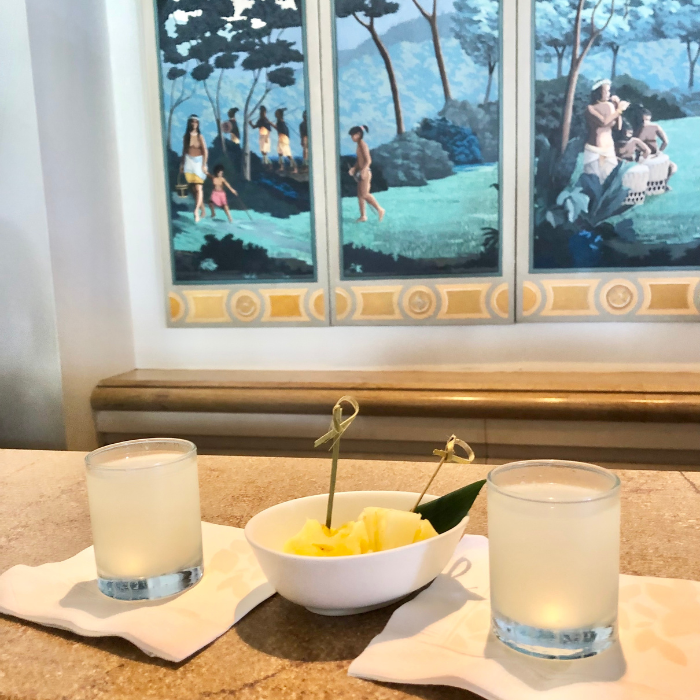 Our room wasn't quite ready, which we expected, and we had already discussed how to jockey bags so we could find a place to change into suits and hit the pool. But the Four Seasons had a plan for that. They whisked all of our bags away to the "Aloha Suite," a full suite with showers, lockers, changing rooms, a lounge, a fridge with bottled water, and plenty of charging stations.
In less than 15 minutes, we had changed, packed away our clothes, and dug out the beach bags and what we wanted to take with us for the day. We called the bellman back (they had showed us how to reach them on the house phone), and we headed to the pool. Having only been on property for about 30 minutes at this point, I felt like I was already experiencing the world class service the Four Seasons is famous for.
What a way to start a trip!
The Room
Our room wasn't ready since we checked in so early, but it wasn't long before they texted and let us know our room number. Wow. Since September is a slow time of year, we got upgraded and our room was HUGE. Like, we could have brought an extra 6 people with us. Besides the general enormity and luxury of the room, here were some of the highlights: the best bed I've ever slept in, a complimentary e-reader loaded with magazines and newspapers, swanky toiletries (seriously everything you could think of including cotton balls and q-tips), a full mini bar, cozy robes and slippers, and a music system in the bathroom. The room would've been ocean view if it was two floors higher, but as it was our lanai (complete with a couch and chairs) opened up onto a grassy area that we could walk out onto and see out over the whole resort and ocean. Overall, very impressed with the room.
The Pool
Since we'd done soooo much exploring on the front end of this trip, we knew we wanted to spend most of our time at the resort just laying around the pool. On the first day, we settled at the adults only "Serenity Pool" which has got to be one of the best infinity pools on Maui. By 11 AM it was hopping and we could only find a place in the sun. Well let me rephrase that. The attendant only had spots available in the sun. Because one doesn't search for a chair at a Four Seasons pool, you check in with an attendant and they get you all settled in. It's nice.
Feeling like we'd had enough sun for the day, after grabbing some lunch we settled at the main pool (family pool) in a cabana and whiled away the afternoon reading, sleeping, and swimming. As one does at a luxury resort in Hawaii.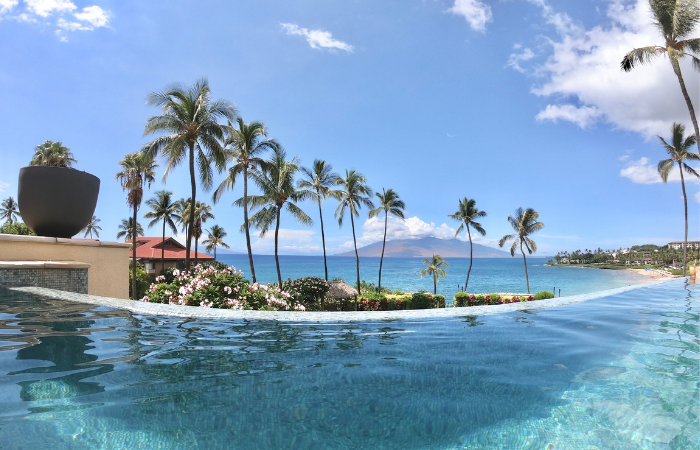 This kind of became the pattern for the trip. Spending the morning at the Serenity Pool, and then moving over to the main pool into a cabana. I will say, the service at the main pool was almost better than at the infinity pool. Because there weren't many kids around (I literally saw five over the course of four days), the main pool/family pool seemed to be less crowded than the adults pool. I'm not exaggerating, when I was sitting at the main pool, EVERY TIME I took a sip of water, somebody came by to fill my cup up. It took them like four sips to fill my cup up at the adults pool ; )
Also, most of the cabanas around the pools are free and first come, first serve (there are a few ocean facing luxury cabanas that can be reserved for a fee) so that's a pretty big perk. And like I said above (at least in September), we never had a problem finding one midday.
Besides the odd tennis, spa, or snorkeling appointment, we literally just spent THREE DAYS lounging at the pool. What a life. If you can't tell already, when I'm staying at a nice resort, I prefer the pool to the beach, especially when you can SEE the beach from the pool (the infinity pool is the place to be!).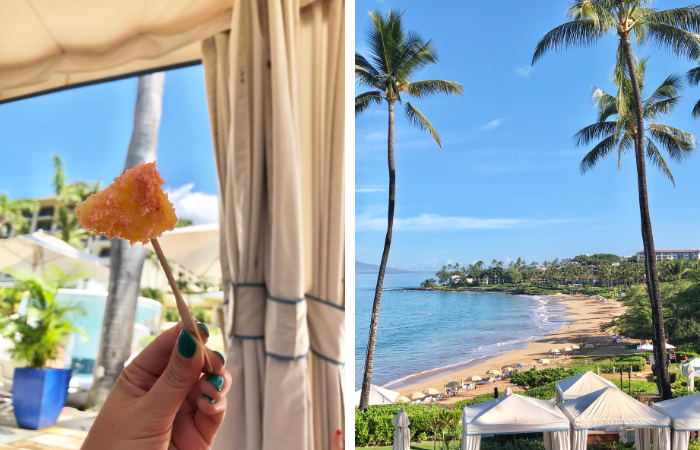 On our last day at the Four Seasons (our flight was at 6 PM), we got serious and decided to be at the Serenity Pool when it opened to get the best chairs. You know…the ones on the front line were you can see out over the beach and ocean from your chair. Haha. We showed up at 6:50 AM (which is crazy) and there were a DOZEN people already waiting for the gate to open. So we got good seats, but not the BEST seats.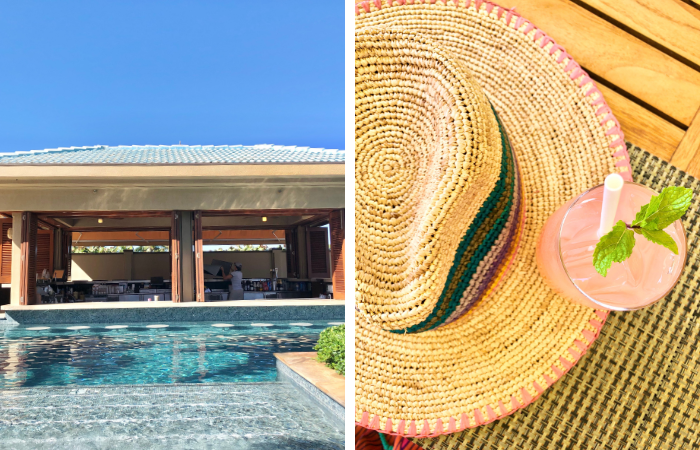 So here's the rundown on that…
Chairs go FAST! If you've ever been to a beach resort, you know the drill about staking out a spot for the day. The Four Seasons Maui is no different. The most sought after spots at the pool (usually a good combo or a view and shade) go quickly. Getting a spot at the beach isn't usually a problem, but if you want to take advantage of the pool, here's the situation. There are three pools, but two of them are right next to each other (the main/family pool and the kid's pool). This is the biggest pool area and if you're a family, it's where you'll be hanging out. Showing up midday, we never had a problem finding a place in the shade or even a cabana.
The other pool area is the Serenity Pool (adults only) and it's by far the hardest to get a seat at. The views from the Serenity Pool (the infinity pool) are amazing and getting a spot at the "front line" where you have uninterrupted views of the ocean and beach is pretty much a sport. In September, the pool opens at 7 AM and although there are two entrances, you can only enter from the entrance past the valet desk from 7-7:30 AM. People line up at that gate before 7 AM (at 6:50 AM one morning there were at least a dozen people already in line) to try and get the most coveted chairs. To be clear, there are a lot of chairs at the pool, but a lot of them are in the sun, and some are tucked around a corner where you don't have a view out over the beach from your seat. There also aren't any complimentary cabanas at the Serenity Pool.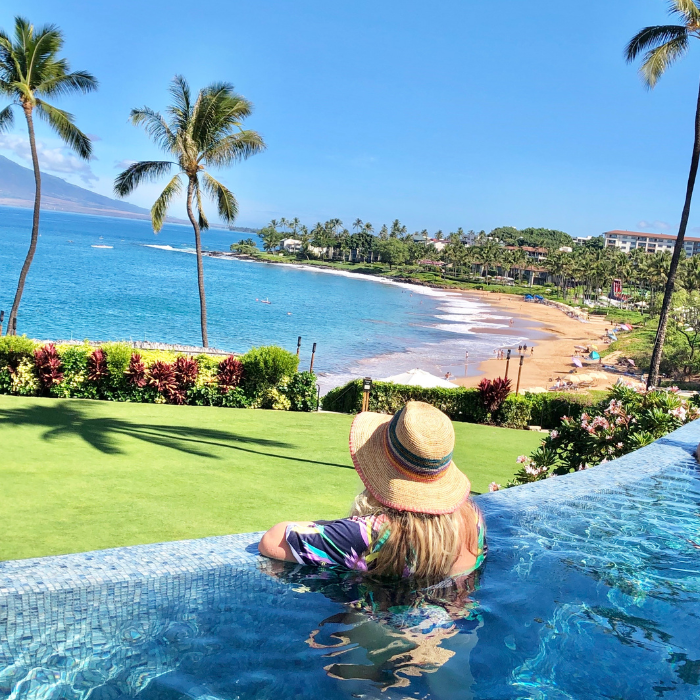 The nice thing about the pools at the Four Seasons is that the service is EXCEPTIONAL. You don't have to show up and struggle to find a seat. You check in with the attendant at the desk, and they know exactly what seats they have available and what's in the sun or shade and how long it'll be in the sun or shade. There's also a waiting list so if you show up and there are no seats or not the kind of seat you like, they'll take your name and message you through the app when it becomes available. They also monitor chairs that aren't being used so they can be made available for guests.
The official policy is that before 11 AM they will hold chairs for 20 minutes while you are absent before removing your belongings and after 11 AM, they'll hold them for 90 minutes. This doesn't apply if you're anywhere around the pool area (actually in the pool or at the bar or counter), but only if you leave the pool area. I'm sure this rule of thumb is enforced more when the resort is crowded and people are waiting and enforced less when it's not as busy. But as a courtesy, it's nice to inform the attendant if you're leaving and not coming back so they can release those chairs to someone else right away instead of holding them.
I will say, this might sound crazy when you're reading this. Who would get up at 6 AM on vacation to go get a chair at the pool??? But remember with the time change coming from the mainland, that may actually feel like 10 or 11 AM which is probably what feeds this culture of staking out a spot a bit.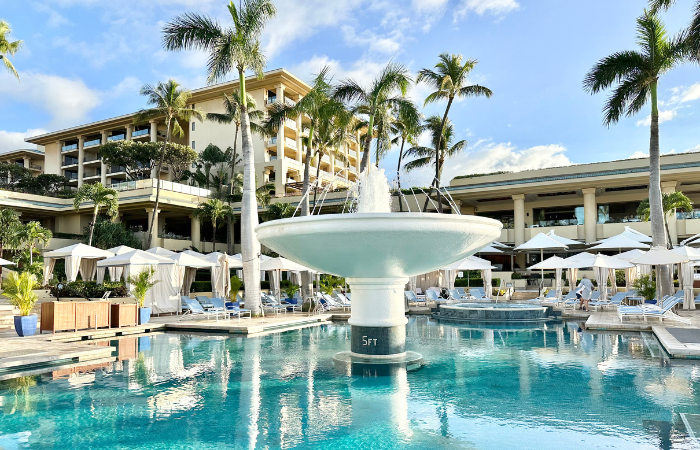 Side Note: If you're looking for a rental car for your trip, I LOVE Discount Hawaii Car Rentals. They're seriously the only company I ever use. They'll give you the very best prices, you don't have to reserve with a credit card or pay until you show up, you can cancel and re-book anytime if you find a better rate, and they usually have a special that adds additional drivers for no fee. It's a no brainer. Click here to check rates for your trip.
The Beach
This is why you came to Hawaii!
The Four Seasons shares Wailea Beach with the Grand Wailea (the Wailea Beach Resort also has beach access here) so the beach is pretty hopping, but it's fairly large so it never feels overly crowded. The waves aren't usually wild here (conditions are ALWAYS changing though so pay attention), but they're usually big enough to make boogie boarding plenty of fun.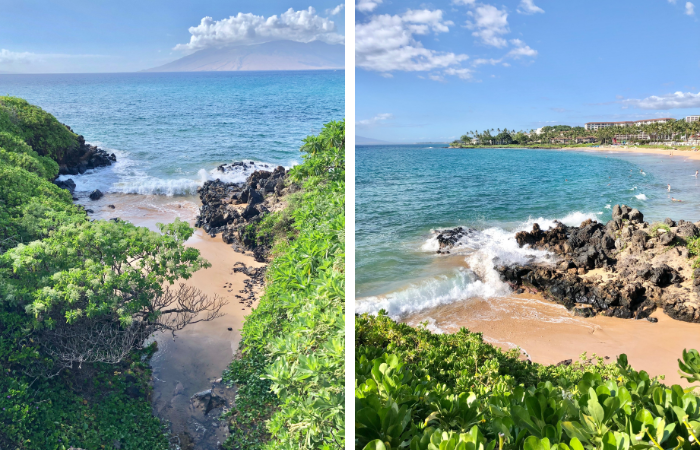 Beach Concierge: Snorkeling, boogie boarding, paddleboarding, outrigger canoe rides…they can all be arranged. The beachside concierge can set it up for you. Some things are included with your room and some may be an additional cost. Here's a tip: when you walk up to the concierge desk at the beach, you'll notice that there are actually two small podiums. One has the Four Seasons logo and the other one has a different logo (although in the same Four Seasons style). The second one is actually an independent company so if you're setting up something that costs extra, they may have a better price.
The Beachwalk: One of my absolute favorite things about staying in Wailea is the beachwalk. This beachfront pathway stretches 1.5 miles from Polo Beach (Fairmont Kea Lani) past Wailea Beach (Four Seasons and Grand Wailea) to Mokapu Beach (Andaz). It's a beautiful walkway and it has some of the best views you'll find anywhere!
The Food
There are quite a few restaurants at the Four Seasons and while we didn't do any big dinners this trip, I've done most of the restaurants here at other times. Duo is probably my favorite. It's a high end steak and seafood place right by the main pool deck. It's also the only restaurant on property that serves breakfast. They do a huge buffet but you can also get things ala carte.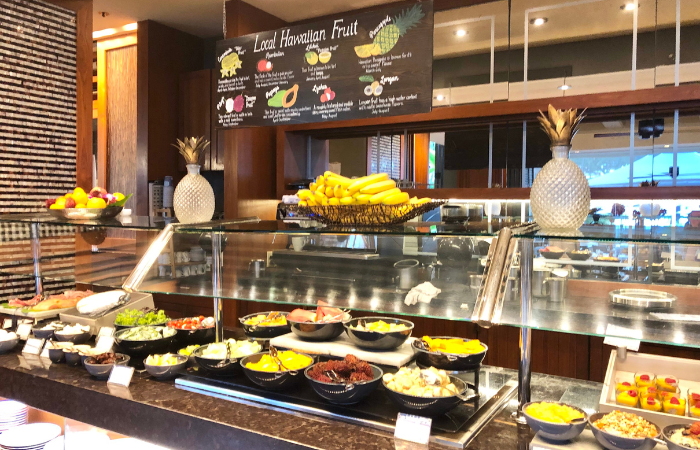 Ferraro's is a nice Italian dinner spot (also on the pool deck) but they also do a casual lunch. "Casual lunch" can mean many things, but in Wailea it generally means $30+ per person. But it also means you can enjoy your lunch in your cover up and flip flops with wet hair. The margherita pizza was great and the guava lemonade was fun. Albeit probably not fun enough for the $8 price tag.
If you're at the pool or beach midday, your best option for lunch (besides poolside service) is the Beachwalk Cafe. They have great grab and go sandwiches as well as drinks, chips, candy, etc. It's so easy to run down there and grab a sandwich to take back to the pool. They also have yogurt parfaits and breakfast sandwiches in the morning.
Buying Groceries: Besides just a money saving tip, a big convenience tip (you just don't always want to be scrounging around for food!) is to grab some groceries/snacks to have in the room. Since rooms have a mini fridge, it's nice to have some easy grab and go items for breakfast, snacks, or even a light lunch. The nearby Island Gourmet Market at the Shops at Wailea (walkable) has plenty of groceries and prepared items. The prices are going to be higher than what you're used to at home, but sooooo much cheaper than ordering poolside or sitting down to a full breakfast everyday. Being able to grab a muffin or some pineapple before going down to the pool/beach is pretty nice some mornings.
The lounge in the lobby is also a great place to hangout in the evenings. There's usually live music and sometimes a hula dancer. Besides great drinks, they have a pretty good variety of pupus (appetizers).
Want to read more? Don't miss some of my most popular (and favorite) posts about Maui: my Maui favorites, the best Maui itinerary, how many days to spend on Maui, Maui vs Kauai, where to see turtles on Maui, my favorite road to Hana itinerary, guide for sunrise at Haleakala National Park, how to bike down Maui's volcano, my review of the Maui Pineapple Tour, 20 of the best adventure activities on Maui, 5 Maui day trips, and the best things to do on a Maui honeymoon.
Tennis
I didn't know much about it before I showed up, but when I saw there was a tennis program at the Four Seasons I knew I wanted to try it out. Turns out, the Four Seasons is actually one of the only resorts in Wailea with tennis courts (The Wailea Tennis Club is also in the area). So if you're a tennis player (or just wanting to take a lesson on vacation), the Four Seasons is the place to go.
While located on the sixth floor of the Four Seasons (above the parking garage), the tennis program is actually operated by the Zerbe Tennis Group. Coach to the pros, Darrin Zerbe retired to Hawaii after running a tennis academy in south Florida for many years and now you can participate in one of his clinics while you're on vacation. And if you're like me, a lesson here may be your first time playing on turf! Every day is a different theme- some clinics are targeted towards beginners and some designed for intermediate and advanced players- but you can also book a private lesson if you have something specific you'd like to work on.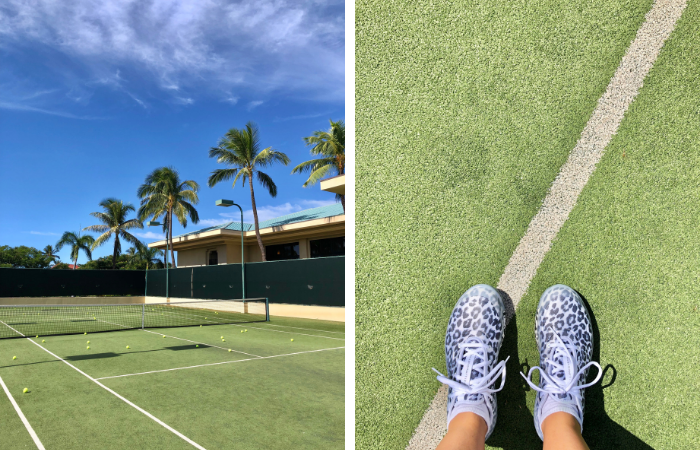 Daily clinics are $50 and can be charged to the room. At the end of September, there were only three of us that showed up for the daily clinic, but Thanksgiving through the winter season, clinics and courts (there are only two) book up far in advance.
More info on the tennis program here including prices and schedule.
The Spa
There's nothing more luxurious than spending time at the spa and the Four Season's spa offers a wide variety of treatments. There's also the option to get your massage Oceanside. But here's a tip: you don't have to book a treatment to use the spa facilities (if you're staying at the resort). And the eucalyptus steam room is pretty amazing. Bonus tip: a perk of staying in Wailea is that amenities at the other resorts are pretty convenient. If you're looking for fabulous spa facilities, you might also want to check out Spa Grande at the Grand Wailea next door.
If you can't quite justify the cost of the spa, check Groupon for a great deal. There's usually one available for the Four Seasons spa. During my trip dates, the offer was $149 for either a facial or a massage, or $299 for a couples massage in a beachfront cabana. This will save you a decent amount of money. However, I do recommend calling the spa directly before you purchase the Groupon to make sure that they have availability. Just because you purchase the Groupon doesn't mean you're guaranteed a treatment time.
Here's how it went at the spa: upon arrival, we were shown to the women's lounge. Robes and slippers were provided as well as a locker for belongings. It's good to know that they had plastic bags for wet swimsuits as well as spinner machines to wring the extra water out.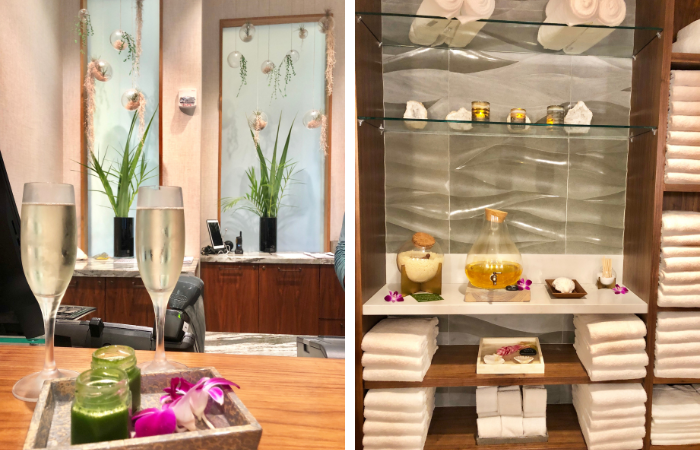 The facial available through Groupon is called the "Wailea Facial" but it's not listed as an option on the spa menu. Valued at $300 (Groupon for $150), most of the other facials start at about $200. It was a nice facial with all the usual trappings (hot towels, massage, steam, blue light, etc.) but it also included a scalp, hand, and foot massage and she offered the add-on of an oxygen facial. Overall, it was a good experience, but I wasn't completely blown away. I get facials at home pretty regularly so it wasn't a novel experience and while the spa facilities are very nice, they're not a showstopper. It's located entirely inside and while there are some nice, quiet spaces, there aren't any pools or views or anything. Next time, I would try the spa at the Grand Wailea next door as I've heard that their facility is pretty "grand."
We wrapped things up at the spa with a shot of green juice and a glass of champagne. What a combo!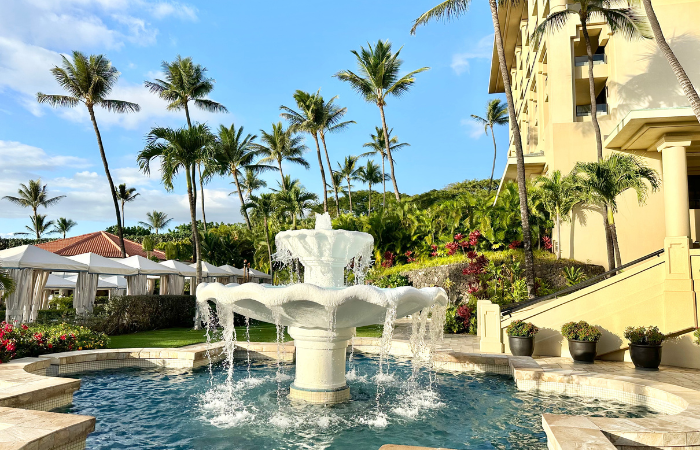 Take Advantage of All the Complimentary Extras
What? Free?? At the Four Seasons??? Surprisingly, the Four Seasons has more complimentary "extras" than pretty much any other resort in Hawaii. Chalk it up to that five star service. This means that when you're looking at the price tag of the room, that may include a lot of elements that other resorts "add on" for. So make sure your numbers are all there before deciding if it's worth it.
The most notable "freebie" at the Four Seasons is that there's no resort fee. Which is really as it should be because I think resort fees are pretty silly (just build it into the price!), but you'll be hard pressed to find a resort in Hawaii that doesn't add on an extra $30-$40 per night for this ambiguous fee.
The Four Seasons also has 64 cabanas that are FREE on a first come, first serve basis. That's probably way more than most resorts have for a fee. That alone is going to save you $200-500/day.
Also, after some deep internet digging, I found this comprehensive list of complimentary amenities at the Four Seasons Maui. Here are some highlights:
Ice water, chilled towels, Evian spritz, and sunscreen at the pool
Food amenities served four times daily at the pool (I experienced pineapple, jelly candies, cookies, pina colada shots and more during my stay).
A full game room (pool, ping pong, shuffleboard, fuseball, etc.) with a video game station including PlayStation 3, Xbox 360 & Nintendo Wii.
Court times and racket rentals at the onsite tennis courts.
Daily fitness classes (including yoga paddleboard)
A pretty sweet gym with Peloton bikes
Snorkel gear rentals
Golf putting green and croquet
Introductory daily scuba clinic
Hawaiian outrigger canoe excursion
Daily bottled water for two in the room (you can always get it from the valet as well)
Towels provided at the valet for excursions (snorkeling, etc.)
Children's programs/camp
Electronic Kindle-like device in the room that's loaded with magazines and newspapers
Aloha Suite to use on check in and check out day
And MORE!
Check Out & The Aloha Suite
We planned to leave the resort at 3 PM to head to the airport so we decided to leave the pool around 2 PM to get ready to go. That meant we spent SEVEN hours at the pool and beach on our checkout day, which is pretty much my favorite thing about a red eye flight. We definitely got our money's worth out of the last night.
Check-out day worked just like check-in. We went back to our room at noon (check-out time) and called the bellman to come get our bags). And then when we went to the Aloha Suite to get ready at 2, they brought us our bags and we were able to shower, change, and head off to the airport.
WHAT A TRIP.
I seriously cannot recommend the Four Seasons Maui enough. Maui is such a special place to begin with and mixing it with a Four Seasons really just puts it over the top. Unfortunately, I think I've now ruined myself for staying anywhere else.
If you're planning a once in a lifetime trip to Maui to celebrate a honeymoon, anniversary, special occasion, or you simply like staying at "the best," you should seriously consider staying at the Four Seasons Maui.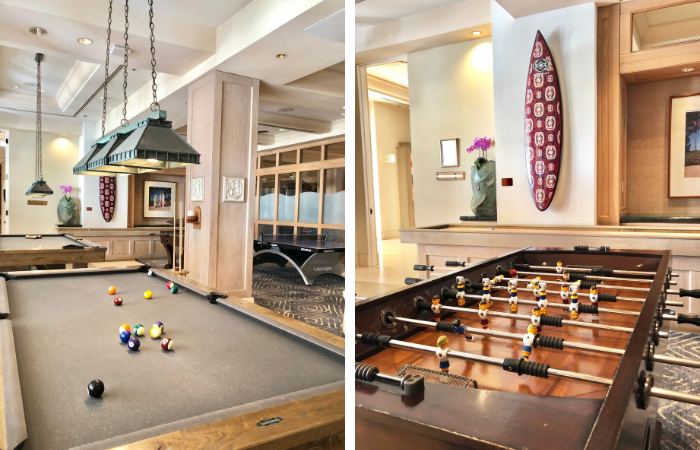 Book your stay at the Four Seasons Maui here.
Still Looking for a Place to Stay?
Here's one more really important thing you need to know before your Hawaii trip…
Reservations You Need to Make BEFORE Your Hawaii Trip
You've got your airfare, hotel, rental car and your big activities booked, so you should be good to go, right? Wrong!
Travel is BOOMING in Hawaii so a lot of state and national parks used the closure and reopening to institute reservation systems at some of the island's most popular spots to make things a little more sustainable.
That means that there are now over half a dozen sites (beaches, trailheads, etc.) that require advance reservations. And some sell out well before you arrive on the island so you really need to have some sort of a plan.
I recently saw somebody in a Hawaii travel group post in a panic that they didn't know they had to make reservations for things in advance…they thought they could just show up and "go with the flow." I was tempted to say, well, "as long as the flow doesn't take you somewhere that requires reservations, you can!" ; )
But I don't want YOU to be that person, so I've pulled together a list of all the places you need to reserve entry in advance (plus all the details on booking windows, price, links, etc.) and a handful of popular tourist hotspots that book out really far in advance too.
Haleakala National Park (Maui)
To visit Haleakala National Park for sunrise at the summit, you must make reservations in advance here.
Reservations are required to enter the park gates between 3AM and 7AM (sunrise hours).
Online reservations are $1 per reservation/vehicle PLUS you'll pay the park entrance fee of $30/vehicle when you arrive (National Park annual passes are also accepted at the gate).
The reservation booking window opens 60 days in advance at 7AM HST. There are also a limited number of tickets released two days before.
You can make one reservation every three days with the same account. So if you want to make reservations for back to back days (in case of weather/conditions), you'll need to do so with separate accounts (email addresses).
If you can't get reservations for sunrise, you can enter the park anytime after 7AM without reservations. The summit is spectacular during the day and you don't need reservations for sunset.
I strongly recommend creating an account before and making sure you're logged in at 7AM HST because it's not uncommon for reservations to sell out quickly.
Waianapanapa State Park (Maui)
To visit Maui's famous black sand beach at Waianapanapa State Park on the Road to Hana, you must make reservations in advance here.
Reservations are required to visit the beach and are distributed in windows from 7AM-10AM, 10AM-12:30PM, 12:30PM-3PM, and 3PM-6PM. And they are pretty strict about exiting by the end of your window time (you can arrive anytime within your window).
It's $5/person to enter plus $10/vehicle to park and those fees are paid when you book your time slot.
Reservations open up 30 days in advance.
Iao Valley State Park (Maui)
To visit the lush, green mountains and hike at Iao Valley State Park, you must make reservations in advance here.
Reservations are offered for 90 minute time slots beginning at 7AM and ending at 6PM. They ask that you arrive within the first 30 minutes of your time slot.
Entry is $5/person plus $10/vehicle to park.
Reservations open up 30 days in advance.
Diamond Head (Oahu)
To hike to the top of Waikiki's famous Diamond Head, you must make reservations in advance here.
Reservations are offered in two hour increments beginning at 6AM (6AM-8AM, 8AM-10AM, etc.) and ending at 6PM. If you're parking onsite, they ask that you arrive within the first 30 minutes of your reservation window.
Entry is $5/person plus $10/vehicle to park.
Reservations open up 30 days in advance.
Tip: I recommend booking one of the first two time slots because there isn't much shade on this hike and it gets pretty hot.
Hanauma Bay (Oahu)
To snorkel at Oahu's pristine Hanauma Bay, you must make reservations in advance here.
Entry times are staggered in 10 minute increments from 7AM to 1:20PM with roughly 1000 slots being assigned in advance every day.
Reservations can be made two days in advance and they open at 7AM HST. They're usually gone in minutes (if not seconds).
If you're unable to get an advanced reservation, you can try for a day of, walk in ticket. They open at 6:45AM and they only have a limited number available. Everyone in your group needs to be present when you purchase your tickets in person.
There are no reservations for parking and it's first come, first serve. $3/vehicle.
It's $25/person to snorkel at Hanauma Bay (12 and under, active military, and locals with HI ID are free).
The Hanauma Bay Nature Preserve is open Wednesday through Sunday (CLOSED MONDAY AND TUESDAY) from 6:45AM-4PM. Last entry is at 1:30PM, the beach is cleared at 3:15PM and you have to leave the facility by 4PM.
Jellyfish patterns can also affect whether or not the bay is open so double check the day before/day of.
USS Arizona at Pearl Harbor (Oahu)
If you want to take the boat tour at Pearl Harbor out to the USS Arizona, it's recommended to make advance reservations here.
Online reservations are guaranteed a specific boarding time to go out to the USS Arizona. If you're unable to get an advance reservation, you can wait standby when you arrive. The line could be short (15 minutes or so) or long (hours) and it just depends on the day (if they're having problems with the loading dock sometimes they don't take many from the standby line) and the time of day.
Reservations are supposed to open up 60 days in advance, but keep an eye on your exact dates, because lately they've actually been opening up about 57ish days in advance???
They also release a small batch of tickets the day before.
The boat ride out to the USS Arizona is free, but it's $1 to make the reservations online.
They recently started charging $7/vehicle for parking at Pearl Harbor.
Haena State Park / Kalalau Trail (Kauai)
If you want to hike Kauai's famous Kalalau Trail, you must make advance reservations here.
You've got three options here:
1) Parking & Entry: This is the most flexible option and also the most limited. THESE RESERVATIONS SELL OUT IN LESS THAN A MINUTE. There are three time slots available: 6:30AM-12:30PM, 12:30PM-5:30PM and 4:30PM to sunset. You can purchase multiple time slots if you want to stay longer. It's $10/timeslot (parking) plus $5/person and you have to reserve every person when you initially book. Everybody has to arrive in the same car and your ID needs to match the reservation.
2) Shuttle & Entry: If you can't get parking at the trailhead, there's also a shuttle option. Shuttle reservations are $35/person (16+), $25/person (ages 4-15), 3 and under can ride free. The shuttle runs every 20 minutes 6:20AM to 6:40PM.
3) Entry Only: If you're a Hawaiian resident (with HI ID) or someone WITH a Hawaiian resident, you can purchase entry only for $5/person with no advance reservations. Also, if you're walking or biking to the trailhead you can do this option. But there is NOWHERE to park in the area to walk in. So this really only works for those with bikes or who are staying close enough to walk. They will tow your car if you park outside the designated areas.
The reservation window opens 30 days in advance at 12AM HST. The parking & entry option usually sells out in a minute, but the shuttle availability will last longer.
There are a TON of FAQs here including the possibility of snagging a canceled reservation.
Other Things to Book in Advance
Hawaii is a busy place these days! Besides the state and national parks above, here's a handful of miscellaneous things you should make reservations for in advance (if they're on your radar):
Mama's Fish House (Maui): The iconic spot is the most popular restaurant in Hawaii and they've been opening reservations (and selling out) 4-6 months in advance. You can call and get on the waitlist for one day or you can set notifications on OpenTable to alert you for cancellations every day of your trip. Most people have pretty good success on OpenTable.
Old Lahaina Luau (Maui): Honestly, any luau you're planning to attend you should book early, but most people are usually shocked how far out the Old Lahaina Luau books out. Book it as soon as you know your dates (I think they open at the six month window). They also have a waitlist.
Kualoa Ranch UTV Tour (Oahu): Everybody loves Jurassic Park so getting to ride UTVs where they filmed the movies is very popular. The ranch offers a lot of different tours but the UTV tours usually book out a couple of months in advance.
Spa Reservations: If you're staying at a resort with a spa (or planning on visiting one), don't wait until you arrive to make your reservations. I'd make them at least a month in advance.
Tee Times: Same for golf, reserve your tee times well in advance.
Dining Reservations: Any "fancy" or resort restaurant is likely to be booked up these days so if you like having a nice dinner every night, make your plans in advance.
Want to read more? Don't miss some of my most popular (and favorite) posts about Maui: My Favorite Hotels on Maui | Wailea vs Ka'anapali | All of the Wailea Resorts Ranked | Maui Travel Tips | Things You Can ONLY Do on Maui | Where to Find Maui's Best Condos and Vacation Rentals | My Favorite Road to Hana Itinerary | Road to Hana Tips | Should You Drive the Backside of the Road to Hana? | 10 Day Maui Itinerary | Best Snorkeling Beaches on Maui | Snorkeling Molokini Crater | Old Lahaina Luau Review | Is Mama's Fish House Worth It? | Tips for Sunrise at Haleakala National Park | Things to Do in Wailea | Things to Do on the North Shore | Things to Do Upcountry | Where to See Turtles on Maui | Whale Watching on Maui | Maui Pineapple Tour | Where to Stay in Hana | Where to Stay in Kihei | Where to Stay in Lahaina & Ka'anapali | Best Beaches in Wailea & Kihei | Fine Dining on Maui | Best Restaurants in Wailea | Best Restaurants in Lahaina | Grand Wailea Luau Review | Maui vs Kauai | Four Seasons Maui Review | Andaz Maui Review | Fairmont Kea Lani Review | Wailea Beach Resort Review | Four Seasons vs Andaz Maui | Andaz Maui vs Wailea Beach Resort | Best Breakfast in Wailea
P.S. Thanks for sticking around and reading this whole post! If you have ANY questions about planning your trip to Hawaii, you can join my free Facebook group here. I'm there answering questions every day and there are 7500+ other friends who have a ton of Hawaii information to share!
Also, if you want to follow along on my travel adventures in real time, you can follow me on Instagram (@caitylincoln). My post captions are full of travel tips and I have a ton of story highlights and videos with great info. And please share my account with your friends that are headed to Hawaii! Your support really helps me keep this blog running!