On my latest trip to Maui, (a girl's trip with my friend who had never been before) I scheduled a lot of spectacular activities like driving the road to Hana and going up for sunrise at Haleakala. Spectacular, but exhausting. After all of that adventuring, we knew we wanted some time at the end of our trip to unwind with a little luxury. Nobody does luxury like the Four Seasons, so we booked a three-night stay at the Four Seasons Maui in Wailea.
This post may contain some affiliate links, which means I'll make a little money on anything you choose to purchase. But of course, I only recommend my absolute favorites to you. Thank you for supporting the brands that make Hulaland possible.
In this post, I'm going to share a travelogue of my stay at the Four Seasons Maui, give you a list of things to do there, and finish up with tips for enjoying your stay.
Four Seasons Maui Review
The Four Seasons Maui is located on Wailea Beach in south Maui. Beautiful, sun drenched Wailea is home to some of the best high-end resorts on Maui and with that comes excellent shopping and dining.
We checked into the Four Seasons on a Monday morning, but the Four Seasons experience really begins before check in. Once we booked, we downloaded the Four Seasons app, and a concierge team member was in communication regarding our stay…mostly to know when we'd be arriving and offering to set up transportation.
Since we were already on island and just changing accommodations, we checked in about 10:30 and were greeted with fresh flower leis, ginger mint lemonade, and chilled lavender towels.
Our room wasn't quite ready, which we expected, and we had already discussed how to jockey bags so we could find a place to change into suits and hit the pool. But the Four Seasons had a plan for that. They whisked all of our bags away to the "Aloha Suite," a full suite with showers, lockers, changing rooms, a lounge, a fridge with bottled water, and plenty of charging stations. In less than 15 minutes, we had changed, packed away our clothes, and dug out the beach bags and what we wanted to take with us for the day. We called the bellman back (they had showed us how to reach them on the house phone), and we headed to the pool. Having only been on property for about 30 minutes at this point, I felt like I was already experiencing the world class service the Four Seasons is famous for.
With coverups and hats on and beach bags in hand, we headed out to explore the property and stake out a spot for the afternoon. We settled at the adults only "Serenity Pool" which has got to be one of the best infinity pools on Maui. By 11 AM it was hopping and we could only find a place in the sun. Well let me rephrase that. The attendant only had spots available in the sun. Because one doesn't search for a chair at a Four Seasons pool, you check in with an attendant and they get you all settled in. It's nice.
We read, swam, and generally just ogled at our surroundings until we got hungry and instead of ordering poolside and eating in the sun, we packed up and headed to Ferraro's for a casual lunch. "Casual lunch" can mean many things, but in Wailea is generally means $30+ per person. But it also means you can enjoy your lunch in your cover up and flip flops with wet hair. The margherita pizza was great and the guava lemonade was fun. Albeit probably not fun enough for the $8 price tag.
Feeling like we'd had enough sun for the day, after lunch we settled at the main pool (family pool) in a cabana and whiled away the afternoon reading, sleeping, and swimming. As one does at a luxury resort in Hawaii.
RELATED: Not very familiar with Maui? Read up on the lay of the is(land) and where to stay and my favorite condos, luxury resorts, and boutique hotels plus my area specific guides (including where to stay, eat, and things to do) for Wailea, Ka'anapali, the north shore, and upcountry.
After a late afternoon stroll along Wailea Beach (the waves were HUGE for this time of year), we headed to our room (we'd been notified on the app when it was ready). Wow. Since September is a slow time of year, we got upgraded and our room was HUGE. Like, we could have brought an extra 6 people with us. Besides the general enormity and luxury of the room, here were some of the highlights: the best bed I've ever slept in, a complimentary e-reader loaded with magazines and newspapers, swanky toiletries (seriously everything you could think of including cotton balls and q-tips), a full mini bar, cozy robes and slippers, and a music system in the bathroom. The room would've been ocean view if it was two floors higher, but as it was our lanai (complete with a couch and chairs) opened up onto a grassy area that we could walk out onto and see out over the whole resort and ocean.
Not in the mood for a super swanky dinner, we drove to the Monkeypod (note to my future self…it's not walkable. I tend to underestimate distances and driving times : ) which is one of my favorite spots on Maui. Their happy hour has become legendary (there's an early one from 3:00-5:30 and a later one from 9-11) and with half price appetizers and pizzas as well as a $10 mai tai that's the best in Hawaii it's easy to see why. The locally sourced farm to table menu appeals to foodies looking for a good meal that's a bit of a break from the steep resort prices, but the laid back aloha atmosphere is very welcoming for families. It gets LOUD. Every night literally feels like a party at the Monkeypod. It's cemented its status as Wailea's go to watering hole and even during the off season when the resorts and restaurants feel empty, the Monkypod is always busy.
Our second day was a bit more activity packed (if you can really call tennis and the spa activities). After getting stuck in the sun at the Serenity Pool the day before, we got there earlier the next day and although we didn't get a primo-spot we at least had some shade.
This was the day I'd picked out to attend one of the daily tennis clinics at the resort. I didn't know much about it before I showed up, but when I saw there was a tennis program at the Four Seasons I knew I wanted to try it out. Turns out, the Four Seasons is actually the only resort in Wailea with tennis courts. The Wailea Tennis Club (a free standing tennis center) used to be a going concern, but it recently sold and is slated for demolition. So if you're a tennis player (or just wanting to take a lesson on vacation), the Four Seasons is the place to go.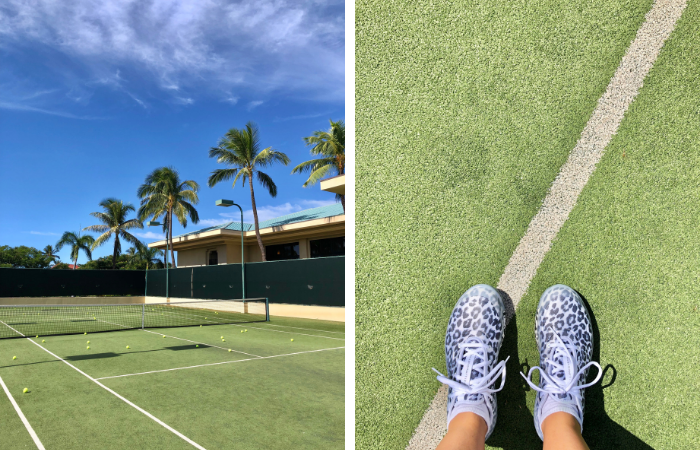 While located on the sixth floor of the Four Seasons (above the parking garage), the tennis program is actually operated by the Zerbe Tennis Group. Coach to the pros, Darrin Zerbe retired to Hawaii after running a tennis academy in south Florida for many years and now you can participate in one of his clinics while you're on vacation. And if you're like me, a lesson here may be your first time playing on turf! Every day is a different theme- some clinics are targeted towards beginners and some designed for intermediate and advanced players- but you can also book a private lesson if you have something specific you'd like to work on. Daily clinics are $50 and can be charged to the room. At the end of September, there were only three of us that showed up for the daily clinic, but Thanksgiving through the winter season, clinics and courts (there are only two) book up far in advance.
After I worked up a sweat on the courts, I made it back to the Serenity Pool for some swimming and lounging before the next activity of the day…the SPA!
Before I left for Maui, I found a Groupon for the spa at the Four Seasons. A little odd, but $149 for a facial at a luxury spa seemed like a pretty good deal (there was also an option for a massage or a couples massage at a beachside cabana) and there were plenty of booking spots available during my stay (always check if there's actually availability before you book Groupons. Just because you have a coupon doesn't mean you'll be able to use it!).
The spa is located on the lower level of the resort near the main pool, restaurants, shops, and fitness center. Upon arrival, we were shown to the women's lounge. Robes and slippers were provided as well as a locker for belongings. It's good to know that they had plastic bags for wet swim suits as well as spinner machines to wring the extra water out.
The facial available through Groupon is called the "Wailea Facial" but it's not listed as an option on the spa menu. Valued at $300 (Groupon for $150), most of the other facials start at about $200. It was a nice facial with all the usual trappings (hot towels, massage, steam, blue light, etc.) but it also included a scalp, hand, and foot massage and she offered the add-on of an oxygen facial. Overall, it was a good experience, but I wasn't completely blown away. I get facials at home pretty regularly so it wasn't a novel experience and while the spa facilities are very nice, they're not a showstopper. It's located entirely inside and while there are some nice, quiet spaces, there aren't any pools or views or anything. Next time, I would try the spa at the Grand Wailea next door as I've heard that their facility is pretty "grand."
We wrapped things up at the spa with a shot of green juice and a glass of champagne. What a combo! By early afternoon, our chairs at the Serenity Pool had come into the sun, so we moved over to the main pool into a cabana. I will say, the service at the main pool was almost better than at the infinity pool. Because there weren't many kids around (I literally saw five over the course of four days), the main pool/family pool seemed to be less crowded than the adults pool. I'm not exaggerating, when I was sitting at the main pool, EVERY TIME I took a sip of water, somebody came by to fill my cup up. It took them like four sips to fill my cup up at the adults pool ; )
We planned to hit happy hour so we didn't want to do a big lunch and ended up ordering snacks poolside. In addition to chips and dips, the menu also has kids and teen options and at least when I was there they didn't seem to mind adults ordering from that.
For dinner we planned to go to Gannon's for their happy hour. It gets talked about a lot for the views and the length of the happy hour (a select menu is available pretty much all evening). It's just down the road from the Four Seasons up at the golf course and because it sets up on the mountain a bit, the views are phenomenal. That's about all I can say of it though. Maybe it was the time of year, but it was DEAD. And everyone who walked in said "whoa, where is everybody?" The food was okay, but not fantastic. The atmosphere was just ok (top forty music playing). I wouldn't go back again.
Since it was still pretty early at this time, we decided to do a little bit of shopping and headed over to the Shops at Wailea. While I don't love the Shops of Wailea as much as Whaler's Village on the west side (especially since it's undergoing some construction), but it has everything from super high end designer shops to surf shops to souvenir shops. If you love Lululemon, you've got to visit the store here because they have a Hawaii exclusive line. There's also an ABC Store and Whaler's General Store-both have souvenirs and light groceries. Whaler's Village is a bit higher end. There's also an Island Gourmet Market, which is a pretty decent sized grocery store (higher prices though) with a large prepared food section. We ended up buying snacks and things to have for breakfast to take back to the room since we had a mini fridge.
The next morning we were up bright and early for pretty much the only "activity" we planned while staying in Wailea…snorkeling Molokini!
I have a whole post about my experience snorkeling Molokini Crater with Kai Kanani here. There are a LOT of reasons why I recommend going with Kai Kanani, but one of the biggest is their location (in Makena right next to Wailea) and the fact that they do a sunrise sail. Which meant that we were up, on a catamaran snorkeling at Molokini and Turtle Town, having brunch on the boat, and back at the Four Seasons poolside by 10 AM.
And we just spent the WHOLE DAY lounging at the pool. What a life. If you can't tell already, when I'm staying at a nice resort, I prefer the pool to the beach, especially when you can SEE the beach from the pool.
We had planned to bum around the lobby bar for the evening, but last minute someone told me about the happy hour at Humble Market Kitchen at the Wailea Beach Resort (Marriott). It's a pretty good happy hour, and certainly much quieter than Monkeypod. It's also SUCH a nice walk down the beach walk to the Marriott. The Marriott is also one of the most Instagrammable resorts in Maui. It's where you'll find those big ALOHA letters. After happy hour, we walked back through the Shops at Wailea (right in front of the Marriott) and then headed back to the Four Seasons to enjoy the live music and malasadas (Portuguese donuts).
On our last day at the Four Seasons (our flight was at 6 PM), we got serious and decided to be at the Serenity Pool when it opened to get the best chairs. Haha. We showed up at 6:50 AM (which is crazy) and there were a DOZEN people already waiting for the gate to open. So we got good seats, but not the BEST seats. More about that in the tips section below.
We planned to leave the resort at 3 PM to head to the airport so we decided to leave the pool around 2 PM to get ready to go. That meant we spent SEVEN hours at the pool and beach on our checkout day, which is pretty much my favorite thing about a red eye flight. We definitely got our moneys worth out of the last night.
Check-out day worked just like check-in. We went back to our room at noon (check-out time) and called the bellman to come get our bags). And then when we went to the Aloha Suite to get ready at 2, they brought us our bags and we were able to shower, change, and head off to the airport.
WHAT A TRIP.
I seriously cannot recommend the Four Seasons Maui enough. Maui is such a special place to begin with and mixing it with a Four Seasons really just puts it over the top. Unfortunately, I think I've now ruined myself for staying anywhere else.
Things to Do at the Four Seasons
This list is things to do specifically at the Four Seasons resort, for a list of things to do in the Wailea area in general, read this post.
Wailea Beach Walk: Take a stroll past Wailea's fabulous beaches along a walkway that overlooks the ocean. It's a great place for spotting whales in season. Walk out the resort and to the left and the path takes you to Polo Beach (Fairmont Kea Lani) and to the right and it takes you past the Grand Wailea and Wailea Beach Resort (Wailea Beach) all the way past the Andaz (Ulua Beach).
Water Sports: This is why you came to Hawaii! Snorkeling, boogie boarding, paddleboarding, outrigger canoe rides…they can all be arranged. The beachside concierge can set it up for you. Some things are included with your room and some may be an additional cost. Here's a tip: when you walk up to the concierge desk at the beach, you'll notice that there are actually two small podiums. One has the Four Seasons logo and the other one has a different logo (although in the same Four Seasons style). The second one is actually an independent company so if you're setting up something that costs extra, they may have a better price.
Yoga Paddleboarding & Fitness Classes: The resort offers many complimentary and paid fitness classes including yoga paddleboarding. Check the schedule when you arrive for the most up to date information!
Fitness Center: If you're the type that like to work out on vacation, you're going to be very happy here. The gym has a great view and state of the art equipment including Peloton bikes.
Game Room: Pool, ping pong, shuffleboard, fuseball…there are so many game tables set up as well as a full gaming room.
Cultural Activities: Like most resorts, the Four Seasons offers hula lessons, ukulele lessons, lei making, and other cultural activities throughout the week. Check the schedule when you arrive for the most up to date information.
Seasonal Offerings: Different activities are offered during different parts of the year at the resort, so be sure to check the schedule when you arrive for the most up to date information. Some activities may be offered only during the holidays or during whale season. The resort also pulls out special offerings during "Couple's Season" (which they deem end of August up to Thanksgiving-when kids have gone back to school and families aren't traveling much) such as lei po'o (flower crown) workshops or photography excursions with an expert to neaby Makena.
Tennis: The tennis program at the Four Seasons (operated by the Zerbe Tennis Group) is the best in Maui (probably in Hawaii). So book a private lesson where the pros go (Serena Williams and Andre Agassi have both stopped by this year) or book a spot at one of the daily clinics. You don't have to be staying at the Four Seasons to play tennis there.
Spa: There's nothing more luxurious than spending time at the spa and the Four Season's spa offers a wide variety of treatments. There's also the option to get your massage Oceanside. Also, here's a tip: you don't have to book a treatment to use the spa facilities (if you're staying at the resort). And the eucalyptus steam room is pretty amazing. Bonus tip: a perk of staying in Wailea is that amenities at the other resorts are pretty convenient. If you're looking for fabulous spa facilities, you might also want to check out Spa Grande at the Grand Wailea next door.
Wailea Golf Club: Just a few minutes from the Four Seasons is the Wailea Golf Club. One of the nicest in Hawaii, the club is home to three championship courses and a large training facility where you can work on your swing.
Shops at Wailea: The nearby Shops at Wailea is THE place to do your shopping. You'll find everything from high end designer shops (Gucci, Louis Vuitton, YSL, etc.) to surf shops (Billabong, Roxy, RipCurl, etc.), to local boutiques and souvenir spots (there's an ABC Store and Whaler's General Store). You can walk there along the sidewalk of the main road, but if you'd rather take the beach walk, you can cut up to the Shops from the Wailea Beach Resort.
RELATED: 15 Things to Do on Maui
Complete Guide to Upcountry Maui
Where to Snorkel on Maui (and Find Sea Turtles)
Tips for Enjoying Your Stay
I've mentioned a few tips already throughout this post, but I'll compile all of them here plus add a few more:
Use the Spa Facilities: Any resort guest can use the spa facilities at the Four Seasons. You don't have to book a treatment to take advantage of them. I definitely recommend going to check out the eucalyptus steam room at least once.
Get a Groupon for the Spa: If you can't quite justify the cost of the spa, check Groupon for a great deal. There's usually one available for the Four Seasons spa. During my trip dates, the offer was $149 for either a facial or a massage, or $299 for a couples massage in a beachfront cabana. This will save you a decent amount of money. However, I do recommend calling the spa directly before you purchase the Groupon to make sure that they have availability. Just because you purchase the Groupon doesn't mean you're guaranteed a treatment time.
Beach Concierge: If you're arranging a beach activity (rentals or excursions) that costs extra money, make sure you get a price from BOTH concierge stands. They're right next to each other but one is the Four Seasons and one is an independent company.
Grab Lunch at the Beachwalk Café: If you're trying to save some money, or you just don't want to order a full meal, the Beachwalk Café has great grab and go sandwiches as well as drinks, chips, candy, etc. It's so easy to run down there and grab a sandwich to take back to the pool. They also have yogurt parfaits and breakfast sandwiches in the morning.
Buying Groceries: Another money saving tip is to grab groceries to have in the room. Since rooms have a mini fridge, it's nice to have some easy grab and go items for breakfast, snacks, or even a light lunch. The nearby Shops at Wailea (walkable) have plenty of groceries and prepared items. The prices are going to be higher than what you're used to at home, but sooooo much cheaper than ordering poolside or sitting down to a full breakfast everyday. Being able to grab a muffin or some pineapple before going down to the pool/beach is pretty nice some morning. s
Chairs go FAST!: If you've ever been to a beach resort, you know the drill about staking out a spot for the day. The Four Seasons Maui is no different. The most sought after spots at the pool (usually a good combo or a view and shade) go quickly. Getting a spot at the beach isn't usually a problem, but if you want to take advantage of the pool, here's the situation. There are three pools, but two of them are right next to each other (the main/family pool and the kid's pool). This is the biggest pool area and if you're a family, it's where you'll be hanging out. Showing up midday, we never had a problem finding a place in the shade or even a cabana.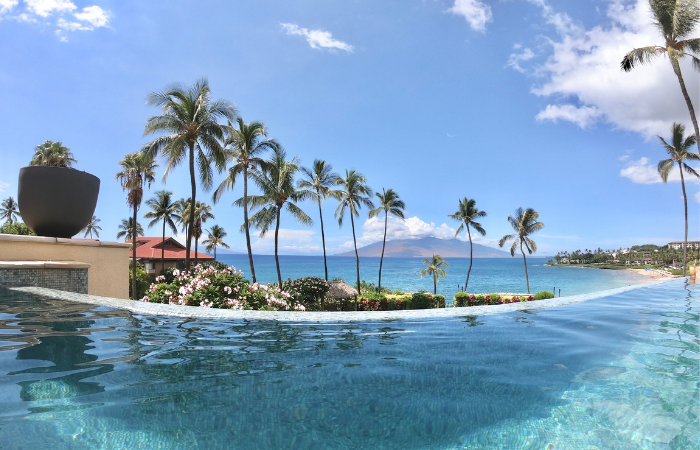 The other pool area is the Serenity Pool (adults only) and it's by far the hardest to get a seat at. The views from the Serenity Pool are amazing and getting a spot at the "front line" where you have uninterrupted views of the ocean and beach is pretty much a sport. In September, the pool opens at 7 AM and although there are two entrances, you can only enter from the entrance past the valet desk from 7-7:30 AM. People line up at that gate before 7 AM (at 6:50 AM one morning there were at least a dozen people already in line) to try and get the most coveted chairs. To be clear, there are a lot of chairs at the pool, but a lot of them are in the sun, and some are tucked around a corner where you don't have a view out over the beach from your seat. There also aren't any complimentary cabanas at the Serenity Pool.
The nice thing about the pools at the Four Seasons is that the service is EXCEPTIONAL. You don't have to show up and struggle to find a seat. You check in with the attendant at the desk, and they know exactly what seats they have available and what's in the sun or shade and how long it'll be in the sun or shade. There's also a waiting list so if you show up and there are no seats or not the kind of seat you like, they'll take your name and message you through the app when it becomes available. They also monitor chairs that aren't being used so they can be made available for guests. The official policy is that before 11 AM they will hold chairs for 20 minutes while you are absent before removing your belongings and after 11 AM, they'll hold them for 90 minutes. This doesn't apply if you're anywhere around the pool area (actually in the pool or at the bar or counter), but only if you leave the pool area. I'm sure this rule of thumb is enforced more when the resort is crowded and people are waiting and enforced less when it's not as busy. But as a courtesy, it's nice to inform the attendant if you're leaving and not coming back so they can release those chairs to someone else right away instead of holding them.
I will say, this might sound crazy when you're reading this. Who would get up at 6 AM on vacation to go get a chair at the pool??? But remember with the time change coming from the mainland, that may actually feel like 10 or 11 AM which is probably what feeds this culture of staking out a spot a bit.
Side Note: If you're looking for a rental car for your trip, I LOVE Discount Hawaii Car Rentals. They're seriously the only company I ever use. They'll give you the very best prices, you don't have to reserve with a credit card or pay until you show up, you can cancel and re-book anytime if you find a better rate, and they usually have a special that adds additional drivers for no fee. It's a no brainer. Click here to check rates for your trip.
How Do You Afford the Four Seasons???
I can already anticipate this question. Yes, it's expensive. In my experience, when luxury resorts come up, people fall into one of three categories 1) money is no object so it's not a decision factor. Let's book the best! 2) I would/could never in my life pay that much money to stay at a hotel. That's obscene and not possible for me. 3) Wow…that's a lot of money, but it's a once in a lifetime trip for us and we'd like to splurge on the best…so if this is really it then we'll book buuuuut how do we get the best deal and how do we stretch our dollar while we're there.
The next bit of this post is for those that fall into category 3 (categories 1 and 2 don't need any tips or explanations ; )
Split your stay: Most people that are traveling all the way to Hawaii, while wanting a beach vacation, also want to SEE Hawaii. If this is you, I suggest splitting your trip and spending the first part of your trip at more affordable accommodations while you do the majority of your activities and exploring. Do the Road to Hana, Haleakala, upcountry, north shore, and west side while staying somewhere else and then move to the Four Seasons for the end of your trip so you can spend several days just relaxing and laying around the resort and taking full advantage of the beach and pool and nearby activities. It's no fun being off trekking through the jungle, swimming under waterfalls while regretting how much money you're paying for a resort that you're NOT EVEN AT.
Pick your dates strategically: The price of any hotel can change pretty drastically throughout the month and even the week. While September is pretty much the cheapest you'll find rates at any resort in Hawaii, there's still a lot of variation at other times of the year. Here's my hack for finding pockets of days where the price is sometimes over HALF OFF:
Google the name of the property you're thinking about. Let's do "Four Seasons Maui." While there are a ton of results that come up, the one we're most interest in is the Google listing in the sidebar. You'll see a date box to check availability and pricing with different booking agents (directly with Four Seasons, Expedia, TripIt, etc.) and this will give you the cheapest price for those specific dates (there's not usually much variation), but it won't tell you the cheapest dates. Below those, click on "view more rates" and then click on the "check in date" box at the top. A monthly calendar will pop up with the average price EVERY NIGHT for many months into the future.
Clicking over to the month of January (several months from now), I can start to pick out which days would be cheapest. So if I'm interested in staying at the Four Seasons for 3 nights in January, choosing Jan 18-20 ($2,574) would save almost 50% from choosing January 26-28 ($4,745). That's probably the difference between a stay at the Four Seasons being doable or not. If you just put in random three night dates, the pricing may be so high that you decide you can't afford the Four Seasons when really you can't afford the Four Seasons during those dates.
So why does the price fluctuate so much? It could be demand pricing meaning dates around holidays or peak travel times are more expensive or it could mean that standard rooms are all booked for those nights and all that's available is a suite.
HERE'S A SECRET: You'll see those prices on the calendar dip down into the $500s in pockets of September (shhhh!) so if your dates are flexible you could save some BIG money.
Take advantage of all the complimentary extras: What? Free?? At the Four Seasons??? Surprisingly, the Four Seasons has more complimentary "extras" than pretty much any other resort in Hawaii. Chalk it up to that five star service. This means that when you're looking at the price tag of the room, that may include a lot of elements that other resorts "add on" for. So make sure your numbers are all there before deciding if it's worth it.
The most notable "freebie" at the Four Seasons is that there's no resort fee. Which is really as it should be because I think resort fees are pretty silly (just build it into the price!), but you'll be hard pressed to find a resort in Hawaii that doesn't add on an extra $30-$40 per night for this ambiguous fee.
The Four Seasons also has 64 cabanas that are FREE on a first come, first serve basis. That's probably way more than most resorts have for a fee. That alone is going to save you $200-500/day.
Also, after some deep internet digging, I found this comprehensive list of complimentary amenities at the Four Seasons Maui. Here are some highlights:
Ice water, chilled towls, Evian spritz, and sunscreen at the pool
Food amenities served four times daily at the pool (I experienced pineapple, jelly candies, cookies, pina colada shots and more during my stay).
A full game room with a video game station including PlayStation 3, Xbox 360 & Nintendo Wii.
Court times and racket rentals at the onsite tennis courts.
Daily fitness classes
Snorkel gear rentals
Golf putting green and croquet
Introductory daily scuba clinic
Hawaiian outrigger canoe excursion
Daily bottled water for two in the room (you can always get it from the valet as well)
Towels provided at the valet for excursions (snorkeling, etc.)
Children's programs/camp
Electronic Kindle-like device in the room that's loaded with magazines and newspapers
Aloha Suite to use on check in and check out day
And MORE!
If you're planning a once in a lifetime trip to Maui to celebrate a honeymoon, anniversary, special occasion, or you simply like staying at "the best," you should seriously consider staying at the Four Seasons Maui. Check rates and read reviews here.
Thanks for sticking around and reading this whole post! It's always my goal to provide a TON of value to YOU. To that end, lately I've been packing my Instagram (@hula.land) FULL of content and adventures that you might want to check out. A lot of my post captions are like mini blog posts with travel info, I've got IGTV review videos for luaus and excursions, and helpful story highlights like grocery store prices and hotel reviews. Not to mention that my feed is pretty much the ultimate tropical eye candy! You can follow me here and share my account with your friends! Your support really helps me to keep this blog running!
Also, if you have ANY questions about planning your trip to Hawaii, you can join my free Facebook group here. I'm in there answering questions every day and there are 5000+ other friends who have a ton of Hawaii information to share!