You probably think that after you book your flights, your accommodations, and your rental car, you've got it made in the shade, right? Not so fast. Surprisingly, many people find laying out a daily itinerary for their trip the trickiest part!
While Maui has some of the best beaches you'll find anywhere, it's too far to go and too expensive to just lay around and work on your tan the whole time (although I personally have no problem doing just that ; ) Most visitors want to get out and really explore the island. But how do you know how much you can you do in a day? What are the "don't miss" spots and what's overrated? Do you need to do organized tours or can you see everything on your own? And how can you see it all and still have time to lay on the beach (because you need to come home with a tan, right?)???
Don't panic! ; ) I'm going to break down everything you need to know so you can plan the perfect Maui itinerary! Let's start with a quick breakdown of the island…
Island Breakdown
You need to know a little bit about how Maui is laid out. Maui is the second largest Hawaiian Island and it's a lot bigger than most people think. It has a lot of unique geographical areas as well. It's divided into five areas:
West Side:
The west side is the largest (and oldest) resort area and includes the historic whaling town of Lahaina, the resort complex of Ka'anapali, and the planned golf resort community of Kapalua. This side has plenty of gorgeous beaches and so many shops and restaurants but can feel a little isolated from the rest of the island.
South Side: The south side is the driest and sunniest part of the island, and it's home to Kihei (an area with a boat load of affordable condos), and Wailea (Maui's most upscale resort area). This side has plenty of swimmable beaches and shops and restaurants, yet feels a bit quieter than the west side.
Central Maui: Most tourists don't see much of central Maui besides the airport and Costco (both in Kahului) since until recently the valley has mostly been used for sugar cane production. But the Iao Valley and and Waihee Ridge Trail are both remarkable spots to see those gorgeous West Maui Mountains up close.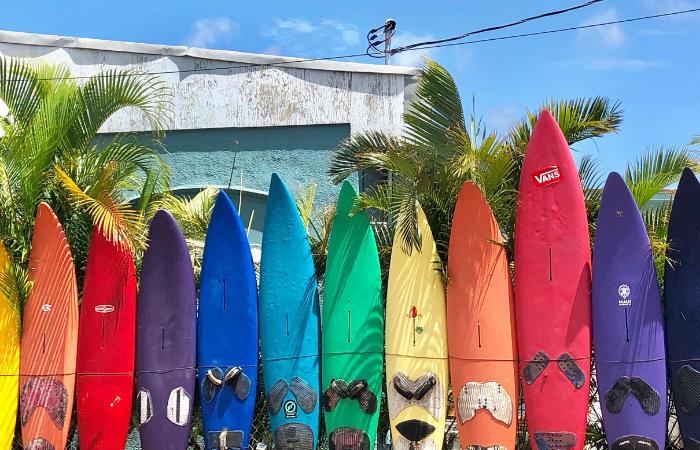 North Shore/Upcountry: Maui's north shore and upcountry towns (Paia, Makawao, Haiku, and Kula) feel very "local" but are a still a big draw for tourists wanting to see the "real Maui." These former plantation and ranch towns are full of restaurants, boutiques, and art galleries.
East Maui: Mostly jungles and waterfalls, east Maui is typically experienced via the Road to Hana. While some choose to stay overnight in Hana (or for a few days), it's very "off the grid" and most visitors see east Maui on a day trip.
RELATED: Trying to figure out where to stay on Maui? I've got you covered: read up on where to stay on Maui (breakdown of the island plus specific hotel recommendations), 50+ best condo rentals on Maui (many under $100/night!), 10 best luxury resorts in Hawaii, 12 favorite boutique hotels in Hawaii, area specific guides (including where to stay, eat, and things to do) for Wailea, Ka'anapali, Kihei, the north shore, upcountry, and Hana, plus my reviews of staying at the Four Seasons Maui and the Fairmont Kea Lani.
Before I get into what I would suggest for a Maui itinerary, I'll address a few common questions I get:
Maui FAQs
How many days on Maui? I rarely ever suggest spending less than one full week on any one Hawaiian island and Maui is no exception. If you're wanting to explore the island and still feel like you've had a relaxing vacation, you'll want at least 6 full days. And of course, more is always better ; )
Stay in one place or move around the island? Maui isn't exactly a tiny island and when people start mapping out the popular things to do on the island, a lot of people wonder if it's smarter to stay in two different places to save time driving around. Generally, I don't think it is. Most people are talking about splitting the time between staying on the west side (Lahaina, Ka'anapali, Kapalua) and the south side (Kihei, Wailea) and I don't think saving 30 minutes in the car is worth the time it takes to pack up and switch places to stay. Here's when I do recommend splitting your stay: if you want to stay at a nice beach resort for a little R&R, but it's not in the budget to spend your entire vacation there. One of my favorite ways to split a trip to Maui is by spending the first 3-4 nights in a vacation rental near Paia and spending those days doing sunrise at Haleakala, road to Hana, and exploring the north shore and upcountry and then moving to a resort in Wailea or Ka'anapali for 3-4 nights and doing ABSOLUTELY NOTHING. It's a good way to save money and also not feel guilty about spending $$$ on a resort while you're out exploring the island.
Spend the night in Hana? An extension of the last question…more and more people are wondering if they should split the epic adventure of driving to Hana into two days by spending the night in Hana. Generally, my answer is still no. Mostly this comes down to what are you going to do with your luggage? You can't leave anything in your car at any stop along the road to Hana that you don't mind never seeing again. Even if it's locked in your trunk. Petty theft is common in Hawaii and thieves know that cars parked at the side of the road in certain spots mean their owners are away hiking and swimming and not likely to be back quickly. Break ins happen in SECONDS. Also, rental cars are easy to spot. So either you have to drive straight to your place in Hana to drop off your luggage (which means you can't stop at all on your way there), or you have to book a double night while you're in Hana and leave your luggage at your hotel/condo on the other side of the island and just take an overnight bag (that you'll have to carry with you on your hikes). Also, unless you have 10+ full days on Maui, there is just soooo much else to see and do on Maui that I don't think an overnight in Hana is necessary. My exception: if you're 1) willing to double book accommodations and just travel with a backpack (leave everything in your other hotel room), 2) staying more than a week on Maui, and 3) a super avid hiker.
What about visiting multiple islands in one trip? Go for it! I still recommend at least one week per island, but there are some exceptions. If there's something you REALLY want to see or do (i.e. Pearl Harbor, the volcano, etc) you could justify spending only a couple days on that island in addition to another island, but usually when people try to spend 3-4 days per island and hop around a lot they end up seeing more of the airports or just the super touristy parts of each island.
South Maui vs West Maui? I've done a deep dive into that question here, but basically one side isn't necessarily better than the other…it just depends on what you prefer and also what you'll find in your budget.
Side Note: If you're looking for a rental car for your trip, I LOVE Discount Hawaii Car Rentals. They're seriously the only company I ever use. They'll give you the very best prices, you don't have to reserve with a credit card or pay until you show up, you can cancel and re-book anytime if you find a better rate, and they usually have a special that adds additional drivers for no fee. It's a no brainer. Click here to check rates for your trip.
What are the "must dos" on Maui?
I could give you a list of 100 things you absolutely don't want to miss on Maui (and believe me I have on this blog), but I'm going to keep it short and sweet here. You can go to ANY Hawaiian island and find beautiful beaches and fun adventures like snorkeling, surfing, paddleboarding, horseback riding, tennis, golf, zipling, etc. You get the drill. There are a lot of things that while 100% amazing, you'll find some version of it on every island. So here I'm going to sketch out things that are unique to Maui (the things to do that you're not going to be able to do on another island). This should help you out whether you're spending 7+ days on Maui or you've only got 3-4 days.
Road to Hana: Maui's most epic adventure is driving the famed "road to Hana." Hana is a tiny town in the Eastern jungles of Maui, but it's not about Hana itself, it's about the journey to get there. The road is incredible (cliffside switchbacks, driveby waterfalls, lush vegetation, single lane bridges, spectacular overlooks) but it's all about the stops. Rainbow eucalyptus trees? Black and red sand beaches? A hike to a 400 foot tall waterfall? A bamboo forest? If you've been to Maui and you haven't been to Hana…you haven't seen Maui. Read ALL about driving the road to Hana here.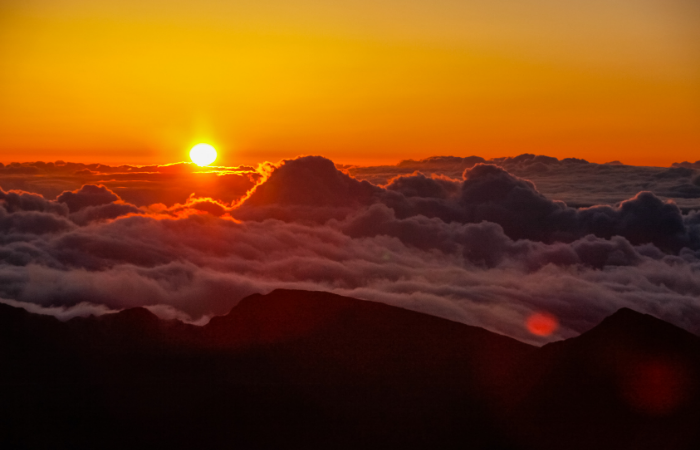 Haleakala National Park: Visiting Haleakala National Park is without a doubt the most unique experience you'll have on Maui. It's completely unexpected. When you're up at the summit/crater, you'll feel more like you're on Mars than Maui. Sunrise is by far the most popular time to visit the park and seeing the sun rise through the clouds at the summit of Haleakala is a moving experience for many people. Read all about sunrise and sunset at Haleakala here.
Whale Watching: While whales can be seen throughout all of the Hawaiian Islands in season (December through April), they're most prevalent in the shallow waters between Maui and Lanai and Molokai. All islands have some form or whale watching tours you can go on, but it seems like for every one whale you'll see on another island, you'll see 5-10 on Maui. So if you're visiting multiple islands, definitely go whale watching on Maui. Read all about my last experience whale watching with the Pacific Whale Foundation here.
Snorkeling at Molokini and Turtle Town: Snorkeling at Molokini Crater is a bucket list experience for many people (the visibility is phenomenal), but I think Turtle Town steals the show. Do a snorkeling excursion that stops at both. My favorite is Kai Kanani's Sunrise Sail. Read all about it here.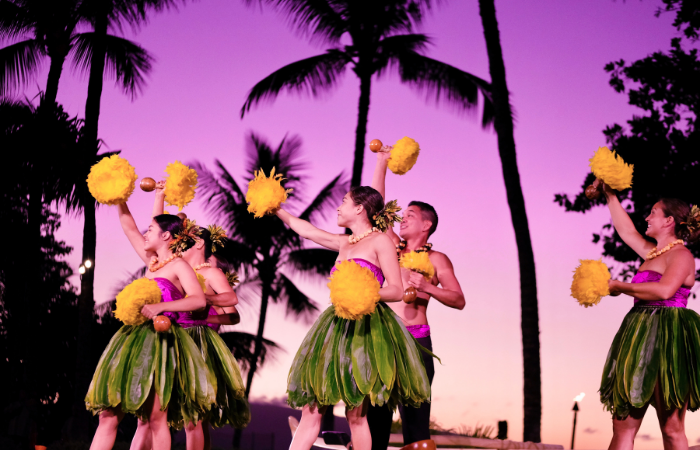 Old Lahaina Luau: Not only my favorite luau on Maui, but my favorite luau in HAWAII. While I don't think a luau is necessarily a don't miss item (you know whether or not it is for you), IF you're going to do one, this is the one to do. And if you're going to multiple islands and trying to decide which island to do the luau on, make it make and make it the Old Lahaina Luau. Read my full review here.
Upcountry: The slopes of Haleakala are home to an area called the "upcountry." It's by far the largest area of Maui, it's a predominantly local area, and if you couldn't look out and see the ocean you'd probably think you where in the Texas Hill Country or Colorado high meadows instead of Hawaii. The lava rock has created super fertile soil and that combined with the moderate climate make for spectacular agricultural conditions. You'll find every type of farm tour you can think of here. On my "don't miss" list is the Ali'i Lavender Farm, Maui Wine, and Maui Pineapple Tour. Read all about the upcountry here.
Dinner at Mama's Fish House: As funny as it sounds, this is pretty much the only thing I do EVERY TIME I'm on Maui ; ) By far the most popular restaurant in Hawaii, if you tell 10 people you're going to Maui that have been there before I bet the first thing 9 of them will tell you to do is make reservations at Mama's Fish House. It's not cheap, but it never disappoints. Read my full review here.
How to Plan the Best Maui Itinerary
So let's talk about planning YOUR perfect itinerary…
Know your vacation style. How you like to vacation will have a huge impact on how you plan your trip and how much you'll be able to see and do. So what exactly is a "vacation style?" Well, simply put, it's how you like to spend your vacation!
Are you the type that's up with the sun and out about adventuring all day only to return to your room to shower and sleep? Are you the type who enjoys spending the majority of your time hanging out at your beach resort? Or do you like a bit of both?
Everyone has a different idea of vacation so the first thing you'll have to do is decide which suits you best. Are you always on the go, do you spend most of your time beach bumming, or do you do a combo of both? Part of your decision will be based on your personality and likely part will be based on where you're staying.
For me personally, when I'm staying in a condo or budget hotel, I'm more likely to be out and about everyday, but when I'm staying at a nice beach resort, I'm more inclined to spend time lounging by the pool or on the beach. If you're the type who's always on the go, you'll be able to see a lot of the island. If you want beach time too, I recommend renting beach gear (chairs, umbrella, snorkels, cooler, etc.) for the length of your stay and throwing them in the car so you'll have them wherever you end up. If you're staying at a nice beach resort, I would suggest planning a different activity each morning and spending each afternoon at the resort. You may need to set aside an entire day for certain adventures like driving the road to Hana. Or you may decide to split your trip up like I mentioned earlier and do the bulk of your exploring while you're staying in a condo or vacation rental and then move to a nice beach resort when you're ready to just relax.
RELATED: 15 Things to Do on Maui
15 Things to Do on a Maui Honeymoon
Top 20 Adventure Activities on Maui
Come up with a game plan, but don't overplan! If I could only give you one piece of advice about planning your trip to Hawaii, this would be it. I know…it costs a lot of money to get to Hawaii (and it's so far away). For a lot of people, it's a once in a lifetime trip and of course you want to see absolutely EVERYTHING. But trying to cram it all into one trip will likely leave you feeling like you spent your whole trip in the car (or in airports) and now need a rest from your vacation upon returning home.
Here's how I always lay out my trips:
As I'm researching my destination (yes, I do a LOT of research), I keep a running list of things I want to do, places I want to visit, restaurants I want to eat at, shops I want to go to, etc. From my main list, I break it down into three categories:
A "don't miss" list: This could be anything from seeing sunset at Haleakala to driving the Road to Hana. These are the things that you ABSOLUTELY have to see/do or you'll return home heartbroken. Okay, that's a little dramatic, but you get my point.
A "nice to see" list: These are things that you really want to see and experience, but they might be a little more minor. For example, seeing the sea turtles at Ho'okipa beach or snorkeling at Black Rock. These are just examples, obviously, what might be a "nice to see" for somebody may be a "don't miss" for you.
An "if there's time" list: I think you can guess what this list is for. Things that you'd like to see or do if there's time, but won't be upset about if you miss.
As you lay out each day, plan ONE thing from your "don't miss" list each day. Combine it with one or two things from your "nice to see" list, and a smattering of things from your "if there's time" list. Prioritize your "don't miss" item every day (whether it's doing it first thing or making sure you have a reservation for it) and fill in the rest of the day with things from the other categories.
Get familiar with Google Maps. Once you have your lists of activities and things to do, the best way to sort them into days is by their location on the island. Many people underestimate how big Maui is and due to a lack of direct roads (plus traffic) it can take quite a while to get around. So don't waste time crisscrossing all over the island, and try to plan each day's activities on one part of the island.
My favorite way to start sorting activities and sites into days is by using a Google Maps. Plot all of your locations on a Google Map and then you'll be able to see which ones are near each other and start planning your days that way. Of course, this can also be done on a paper map, but on a Google Map, you can create layers for different days or different types of activities and sites and organize things that way.
While generally speaking, focusing your day on only one part of the island is the most efficient strategy, there are some times when this doesn't make sense. The major scenario where this doesn't work is when you're staying at a nice beach resort that you want to spend a lot of time at. In this case, I would plan a morning's worth of activities on one part of the island, return to your resort for an afternoon of playing on the beach or at the pool, and then don't be afraid to venture back out somewhere for dinner.
Be flexible. I think this tip is the secret to making a good vacation great! It's so simple, yet key to really having the best experience in Hawaii. I think that a good plan is essential, but you have to know when it's time to go to plan B. Or do something else entirely.
The major thing you'll have to be flexible about in Hawaii is the weather. While the temperature is always pretty balmy (unless you're in the upcountry area of Maui), a good rainstorm can change your plans pretty quick! A word of warning: it's not unusual for a 10-14 day forecast to predict rain everyday in Hawaii so don't panic and think your trip is going to be a total wash! It'll likely just be quick storms that roll in and roll out. But for days where the local forecast truly is predicting rain, you might have to mix things up! One good thing about the Hawaiian Islands is that they're pretty large so except in the case of a major storm system, the weather will likely be different on different sides of the island. Check the weather forecast the night before (or morning of) and you may decide to rearrange your days based on the weather. Obviously this may not work if you have activities or tours booked, but otherwise, don't be afraid to swap out days in your itinerary to go chasing the sunshine!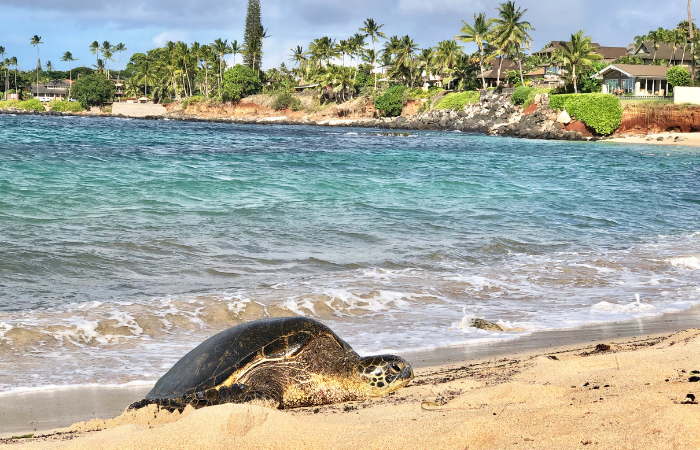 The Best Maui Itinerary
Okay, let's get to some recommendations…instead of putting together an entire 6+ day itinerary, I'm going to lay out a bunch of different daily itineraries so you can pick and choose what interests you and put together your own weekly itinerary (or however many days you have to spend). Here are a few guidelines though:
These days aren't listed in any particular order EXCEPT if you're going to do Haleakala sunrise, I strongly recommend doing it on your first morning because it'll be the easiest day to wake up early with the time change. Also, plan to do the road to Hana somewhere in the middle of your trip (so you have time to rest before and after) and any days that you're planning an excursion that's contingent on the weather (whale watching, snorkel trip, luau, etc.) I like to plan it for the first part of the trip or middle so if it gets cancelled you have room to reschedule.
There are 10 full days laid out here, but some can definitely be combined if you're shorter on time. Day 1 (Haleakala sunrise) can be combined with day 9 (upcountry). Day 4 (north shore) can be combined with day 9 (upcountry). Any of the west side days (2, 7, 8) or south side days (3, 5) can be combined and you could even merge day 8 (Kahekili Highway/West Maui) and 10 (hiking Central Maui).
RELATED: Maui vs Kauai
Maui Travel Tips: What to Know Before You Go
How to Survive the Long Flight to Hawaii
The Ultimate Hawaii Packing List
Also, if you're staying at a resort/hotel/condo on the south side (Wailea or Kihei) with a nice beach/pool setup, you may decide you don't care to venture over to the west side very much for beach time (since you'd have to take your own set up) and may just drive over for some late afternoon exploring and dinner on Front Street or Whaler's Village one day (and vice versa if you're staying on the west side and trying to decide how much time to spend on the south side). They're both tourist-centered areas with beautiful beaches and a lot of restaurants and while they're a bit different I wouldn't feel like you needed to spend a ton of time wherever you're not staying (especially if you're short on days).
Arrival Day
Most flights from the US mainland arrive midday which is great because you'll have plenty of time to get situated and have a good dinner, but I wouldn't make any big plans (air travel is so unreliable these days!).
If you're planning to stop for groceries or supplies, Costco and Target are right near the airport. From there it's about a 20-30 minute drive to south Maui (Kihei and Wailea) and a 30-45 minute drive to west Maui (Lahaina, Ka'anapali, and Kapalua).
Plan to check in, get settled, and spend whatever time is left in the day at the pool or beach near where you're staying. For a nice welcome dinner, I LOVE the Monkeypod (best mai tais on the island) and there's one in Wailea and Ka'anapali. Otherwise, check out these posts for places to eat on Maui: best breakfast spots, best fine dining, and best local places to eat.
Day 1: Haleakala Sunrise
One of Maui's top "do not miss" experiences is watching the sunrise from the summit of Haleakala. Haleakala (meaning "House of clouds") is Maui's dormant volcano. The summit has an elevation of 10,000 feet and watching the sunrise through the clouds is something you'll never forget! This experience takes some planning though! It can take up to two hours to reach the summit of Haleakala from some of Maui's resort areas so it's going to be an early morning. But this is why I recommend doing Haleakala on your first day in Maui. You won't be adjusted to the time change so a 2-3AM wake up call will feel much later for those traveling from the US mainland. Reservations are now required for a viewing spot at the summit (a parking spot really) so make sure you book in advance with the National Park Service (60 days in advance). Look up the sunrise time and plan to be at the summit well before (you want to be up there when it's still pitch black (not at first light) and then factor in the time traveling from your resort to the summit.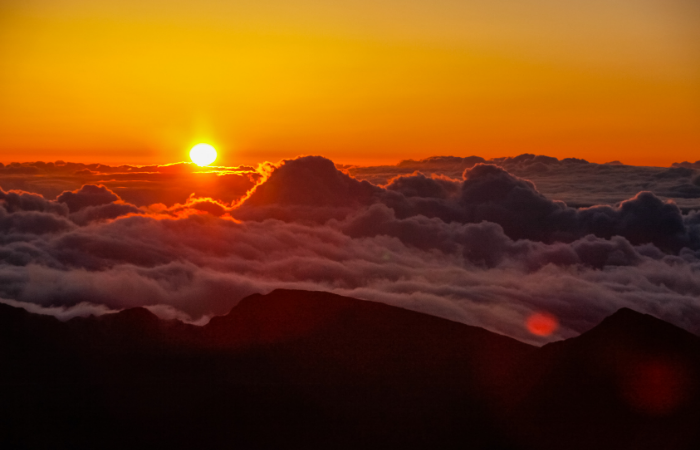 Here are some tips for surviving sunrise: give yourself plenty of time for travel. Pack motion sickness medication if you're prone to it. The drive up is very winding. Take snacks and drink plenty of water. You'll be driving from sea level to 10,000 feet in about 25 miles. The change in altitude is no joke! Pack super warm clothes! It's usually 20-30 degrees at the summit for sunrise. You'll want long pants and layers on top. Pack a hat, scarf, and gloves and bring blankets (or beach towels) if you can!
Read this post for absolutely everything you need to know about doing sunrise (and sunset) at Haleakala.
After sunrise, many people head back down the mountain but I suggest sticking around for a bit and doing a little hiking in the crater. It's a phenomenal sight (it looks like Mars-or so they say!). Sliding Sands is the most popular trail. It's 11-miles (a full day) and ends at Halemau'u. The park doesn't offer shuttles, but hitchhiking back to the visitors center is recommended by the park so unless weather is bad (or it's really late) it's pretty easy to get a ride. If you're not up for a full day hike (it's obviously not a hike to be taken lightly), at least hike the first half mile down into the crater which is where you'll get to the first overlook. Pack in your own food (not sold in the park) and plenty of water.
After your experience at Haleakala, you've got to partake in one of Maui's best traditions…stopping at Komoda Store and Bakery in Makawao for their famous stick donuts. Makawao is a charming cowboy town located in the upcountry (on your way down from Haleakala). Komoda has been around for decades and their donuts (and other baked goods are legendary). They sell out early and it's a popular spot for sunrise watchers. If you're looking for a more substantial breakfast spot, try Grandma's in Keokea. It's popular with the locals.
After breakfast (it could be 10 or 11 depending on how long you hike), you'll likely be exhausted from the early morning so I suggest heading back towards where you're staying for a nap or some beach time (or a nap on the beach!) and an early dinner.
Day 2: West Maui Beach Day
Start your day off right with breakfast at the Gazebo on Napili Bay. This tiny restaurant is hidden away in a small resort (Napili Shores) but it's very popular. It's right on the water (gorgeous views!) and they're famous for the banana macadamia nut pancakes. Be prepared to wait in line but it's worth it! Parking at Napili beach is tricky but the restaurant has parking. After breakfast take a stroll on the beach and watch for turtles (they usually frequent this area).
When you're ready to leave Napili, hop on over next door to Kapalua beach (better day parking and it's a wider beach) for a few hours of sun, sand, and relaxation. This is a great place to rent a paddle board (it's very calm and protected) and paddle around. The snorkeling is decent here. There are restrooms, showers, and picnic facilities here.
When you've had your fill of Kapalua (and who ever has??!) drive south down to Ka'anapali beach. This is the west side's major resort area so it's a hopping place. Public parking is in a tiny section of the parking garage shared with the Sheraton (you'll turn left into the garage before you get to the Sheraton). There's only 10 spots or so and it's a mega popular beach so if nothing is available, you can pay to park at the Sheraton for $20 for the entire day or park at the Whaler's Village where they'll validate parking with a minimum purchase (many shops and restaurants here). The Whaler's Village is a great shopping spot!
Ka'anapali beach is about 3 miles long and there's a beach walk that stretches from the Sheraton at one end to the Hyatt at the other. Black Rock (in front of the Sheraton) is one of Maui's most popular snorkeling spots so be sure to check it out while you're there. The Westin has flamingos and parrots on display for the tourists and you can check out the penguins at the Hyatt.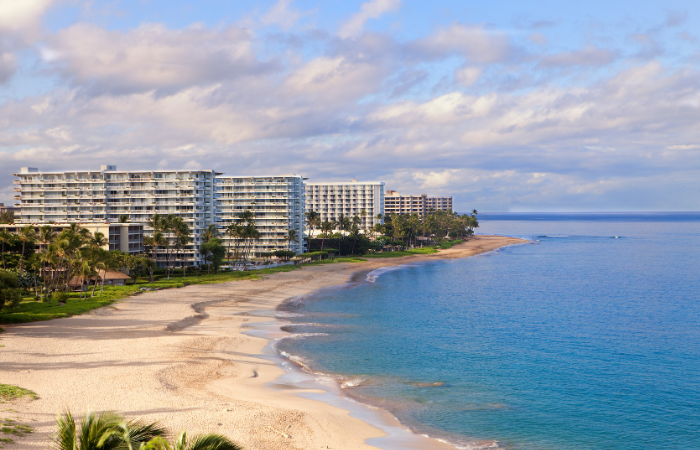 The waves can get big here and they break right on the shore so time your entry into the water accordingly. If you're in need of a tropical drink, the beach bar at the Sheraton has a swell happy hour.
Head on over to Lahaina (historic Front Street) for shopping, strolling, and dinner. I like sunset drinks at Fleetwood's rooftop bar.
Read my full Ka'anapali guide here.
Day 3: Molokini Snorkel Trip + Maui's Best Beach
Start your day with a snorkeling trip on a catamaran out to Molokini Crater and turtle town. I HIGHLY recommend going with Kai Kanani. It's a big catamaran that leaves out of Makena. Because it leaves out of the south, it's one of the first boats to get to Molokini, which can often get crowded later in the day. They also do a stop at turtle town, which is my favorite spot on Maui. During whale season (November to April), you'll see plenty of whales so I recommend doing a snorkel trip instead of just a whale-watching trip, because it's a great way to kill two birds with one stone. Read all about my trip with Kai Kanani here.
After your tour, drive down the road through Wailea and Makena as far as it goes. You'll end up at Le Perouse Bay and the drive there is just gorgeous (one of my favorites on Maui). It'll take you through a lava bed, which is pretty cool. A pod of spinner dolphin often frequents this bay so keep your eyes peeled! Pack your snorkel gear, because as you drive through the Ahihi-Kinau Nature Reserve, you'll see the most inviting snorkel spots just off the road.
On your way back towards Wailea, stop at Secret Beach (a shoreline access sign marks the entrance through a rock wall lined path). It takes a little climbing but the tiny beach is so perfect. (If you come back here a couple of hours before sunset, you'll see soooo many weddings!).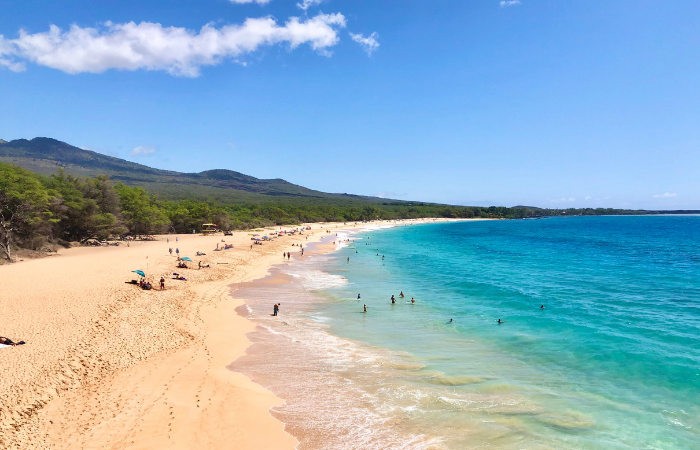 After you leave Secret Beach, set up camp on Big Beach for a while (also called Makena State Park). This beach is huge (as the name implies) and has three entrances (two with parking lots) and one where you'll park on the road and walk back through the trees. The waves are huge here and break right on the shore (the lifeguards will remind you often) so be careful when entering and exiting the water. There are very limited facilities here since it's a state park (only port-a-potties).
If you're hungry, there are usually a few food trucks around (either in the parking lot of the first entrance or out on the road).
Day 4: North Shore
Head to Paia Bowls for one of my favorite smoothie bowls on the island. Their little deck is the perfect place to start your morning.
Make reservations to tour the pineapple farm first thing. Maui Gold is an actual working pineapple plantation- not a tourist trap like the Dole Plantation on Oahu. Tours are 90 minutes and start at $65/adult. Plus you get a free pineapple! I would add on the option to have lunch at the Haliimaile General Store after the tour. That option is $90/adult. And for $100/adult you can add on touring the Haliimaile Distillery with tastings. I suggest booking the 9:30AM because it gets HOT out in the fields. Read all about the time I did the pineapple tour here.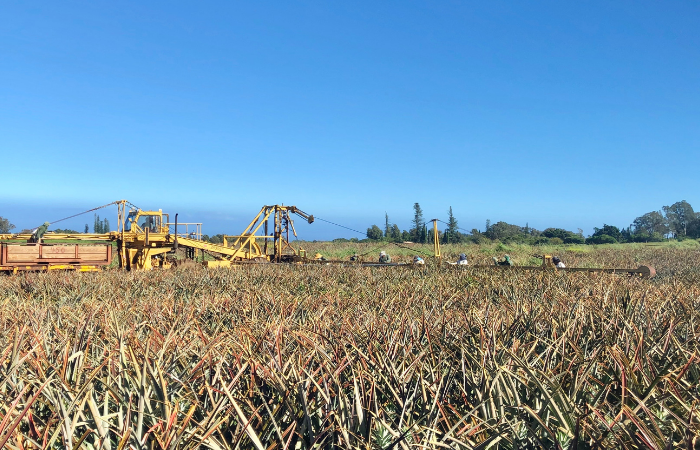 After lunch, drive down the north shore past Haiku to Twin Falls. Many people do Twin Falls as their first stop on the road to Hana, but it's so close to Paia that it makes more sense to do it on a separate day. The short hike is one of the best places to swim under a waterfall if that's on your bucket list. Take shoes that you don't mind getting muddy or wet.
On your way back from Twin Falls, stop at Ho'okipa or Tavares Bay to see the turtles. In these spots, they come up onto the beach to rest. Ho'okipa is the most famous place to see them. There's a nice overlook there as well. Because it's so popular, they keep the end where the turtles are roped off. It's a cool place to see, but it's a big time local surf beach so please be respectful of the people there. They're living their lives and aren't always up for dealing with oblivious tourists.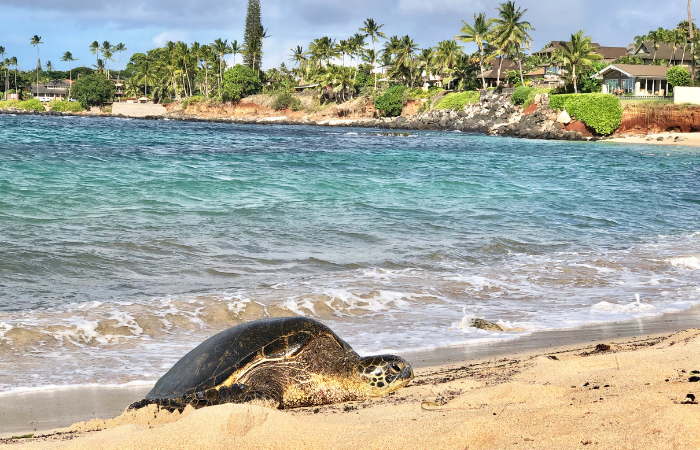 My favorite place to see the turtles is actually at Tavares Bay. It's truly a local spot and you won't find many people there at all and it's way more lowkey than Ho'okipa. Tavares (Kuau) Bay is just east of Paia town. There's a small parking lot and you'll know you're in the right spot when you see the big blue tile house. You're almost always guaranteed to see turtles here and they view isn't obstructed like it is at Ho'okipa. But keep your distance! Don't get closer than 10 feet from these turtles as they're protected by law.
If you want to swim and hit the beach, your best bet on the north shore is the far west end of Baldwin Beach (called Baby Beach). It's accessed through the neighborhood (or you can walk all the way to the left from the main parking lot at Baldwin Beach). It's popular with locals with kids as there's a natural shelf that's created a bit of a pool like swimming area.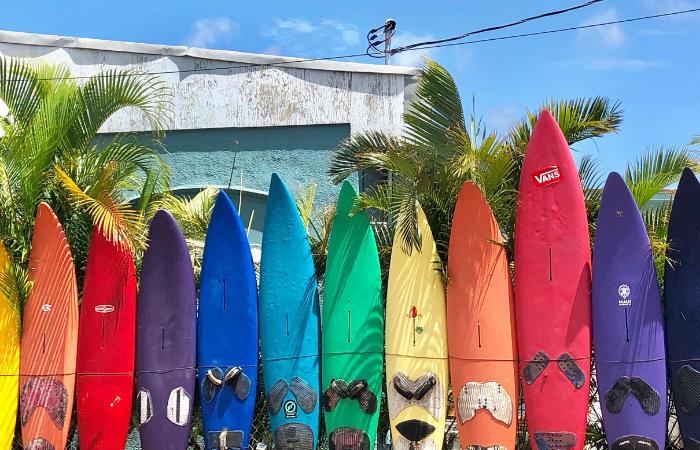 Spend the rest of the day knocking around Paia town. Try to park around Baldwin beach (it'll be way easier leaving if you're heading back to south or west Maui), but there is paid parking up Baldwin Ave past Mana Foods. There are some great local boutiques in town, quite a few awesome restaurants, and definitely duck into Mana Foods (the local grocery store) for a taste of what this side of the island is really like.
Read this post for more about the north shore.
Day 5: South Side Beach Day
Start the day off with breakfast at the Kihei Cafe. This little dive right on the beach serves up huge portions. You may have to wait in line for a bit but it's so worth it!
Then plan to check out some of my favorite Wailea beaches. One of my favorite things to do in this area is the beach walk that connects Polo, Wailea, and Ulua Beach. It's a BEAUTIFUL walk and a great way to see all of the different beaches and resorts.
There's good public parking at the Wailea beaches (the lot for Polo beach is right behind the Fairmont Kea Lani, the lot for Wailea beach is in between the Grand Wailea and the Four Seasons, and the lot for Ulua/Mokapu is near the Andaz. All have showers and bathrooms.
I would set up camp at Wailea or Ulua/Mokapu beach as Polo gets kind of windy.
I love poking around luxury resorts (even when I'm not staying there) so if you're the same, definitely stop by the Four Seasons, Andaz, Wailea Beach Resort, Fairmont Kea Lani, and Grand Wailea. All of them have shops, jaw dropping lobbies, lush landscaping, and an all around swanky atmosphere. If you like photo ops, don't miss the large ALOHA letters at the front of the Wailea Beach Resort.
For lunch, my favorite fish tacos on Maui are at Horhito's Taco Truck in Kihei across from Kalama Park (near where you had breakfast). You can also get a picnic lunch to go at the Island Gourmet Market at the Shops of Wailea if you want to eat on the beach.
Before sunset (and after getting cleaned up) head to the Four Seasons for drinks at the lobby bar. It's one of my favorite spots on Maui and the resort is just gorgeous. And the staff is very gracious to visitors.
For dinner, my favorite restaurant in south Maui is the Monkeypod. Located in the Gateway shopping center in Wailea, the Monkeypod is low-key enough to handle casual attire but still feels kind of upscale. And their mai tai is pretty legendary!
Read more about Wailea here.
Day 6: Road to Hana
This will be the biggest day of your trip! You'll see the most spectacular side of Maui, and spend the day driving a breathtaking road, hiking through bamboo forests, and swimming in waterfall pools.
You'll want to get an early start so you'll have plenty of time to explore and not be too rushed to get back before dark.
I recommend leaving Paia (on the north shore) no later than 8 or 8:30. If you arrive there early, try breakfast at Paia Bay Coffee or stop at the Kua Store (just outside of town) and put together a picnic for later. They have a good variety of snacks and ready to go items as well as sandwiches.
Bypass a few of the north shore stops that pull in the first wave of tourists (Ho'okipa Overlook and Twin Falls) and keep going…there's better stuff ahead!
Don't miss the rainbow eucalyptus trees between mile marker 6 and 7. Parking is a little tricky and if you want to get out and see them (instead of just doing a drive by), you'll need to park past them and walk back.
The Halfway to Hana roadside stand is a popular stop to stock up on banana bread!
The Upper Waikani Falls (Three Bears Falls) at mile marker 19.5 is one of my favorites. It's a "drive by waterfall" meaning you can see it from the road but you can also park past it and walk back for a longer look (although you're just walking down the road-it's not protected). You can also climb down under the bridge and make your way to the pool at the bottom but I would probably just settle for a look and keep going.
As you near Hana, Waianapanapu (black sand beach) is the first "epic" stop you'll make. While there is a black sand beach (albeit a little more grey) in south Maui, this one is over the top dramatic. You'll find it around mile marker 32 (you can't miss the signs). There's a large parking lot. Don't miss the blowhole, sea cave, and overlook spots. And of course you've got to feel that sand between your toes. Update: Starting 3/1/21 reservations are required to visit the beach (in an effort to cut back on overcrowding in recent years). You can make reservations two weeks in advance here. $5/person entry fee.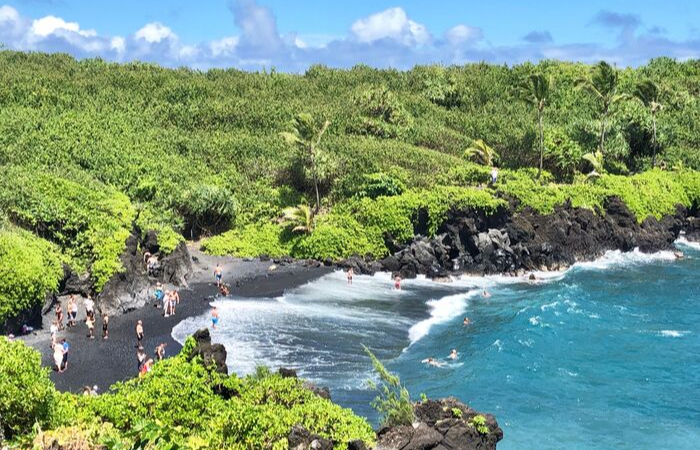 There's not much in Hana (you might find a gift shop or two-if they're open), but be sure to stop in Hasegawa's General Store for a cold drink. Also, if you didn't pack your lunch, I recommend the Braddah's BBQ Hut food truck. You'll find it just past Hana "town."
The red sand beach is probably my favorite stop on the Road to Hana. It's tricky to find and a bit of a hike but oh so worth it. As you're coming into Hana town, take a left on Hauoli road (you'll pass a church and some tennis courts) and then turn right when the road dead ends at the Hana Community Center. Park along this street and walk across the open lawn of the Community Center. You should be able to pick up a trail through the bushes (if this sounds downright crazy to you, you might be better off to wait for people who look like they know what they're doing to come along and follow them!). Whatever you decide to do, just remember that after your initial descent down to the trail, keep going to the left. There will be a narrow beach of rock and red sand below you and a lot of people stop here but keep going. You'll know it when you see it. You will be floored. This is a true highlight of Maui.
The last big stop on the Road to Hana (and the point where many turn around) is Oheo Gulch or the "Seven Sacred Pools." Part of Haleakala National Park (you'll pay $20 per vehicle unless you kept your receipt from Haleakala summit), Kipahulu is home to the famous Seven Sacred Pools (Oheo Gulch) and the spectacular Pipiwai Trail. Kipahulu is about 10 miles past Hana town and the road gets interesting but it's all paved (the tour buses come back here y'all so it can't be that bad!).
The Seven Sacred Pools are great for swimming (you'll want water shoes), but they can get crowded. You pick up the Pipiwai across the road from where you park (you'll see signs). About four miles round-trip (it always seems farther!), the trail takes about 2-3 hours to hike and winds up through a bamboo forest and ends at the spectacular 400 foot Waimoku Falls. The trail is a truly stunning experience but requires good time management on the front end of the day to make it here and still have time for the full hike.
Once you're done at Kipahulu, I recommend continuing on the "backside" road that continues to loop clockwise around the island and end up upcountry instead of turning around and retracing your steps. Either way, plan to be back to "civilization" before dark as the road is narrow and winding.
Read this post for absolutely everything you need to know about driving the Road to Hana.
Day 7: Whale Watching & Lahaina
If you're coming to Maui during the winter months (roughly mid December through mid April), you MUST go out on a whale watching excursion. While it's possible to see them from the beach (especially in February when the water is THICK with them), seeing them close up is spectacular. My favorite way to go is with Pacific Whale Foundation on a catamaran (it's a "sail" vs a "cruise" when booking on their website). I like the two hour sailings that leave in the morning (the earlier the better!) out of Lahaina. They offer these December through April. Read all about my last whale watching trip here.
Spend the afternoon on Front Street in Lahaina. Lunch at Down the Hatch is one of my very favorites. Stroll up and down Front Street going through the shops. Have a pineapple whip served in an actual pineapple at the Maui Pineapple Shop. Try shaved ice at Local Boys. Marvel at the banyan tree right on the water. There's plenty to keep you busy in Lahaina for the afternoon.
Day 8: Kahekili Highway (West Maui)
While the Road to Hana has the reputation for being a harrowing road, the Kahekili highway around West Maui puts it to shame. While not as tropical (although some parts are), this drive around the West Maui Mountains offers spectacular views and glimpses into remote Hawaiian villages that have been much secluded from Maui tourism. But be warned…this road (especially the end closest to Wailuku) is a single narrow lane with a steep drop off in many places.
Start your day off right with an early breakfast at the Gazebo on Napili Bay. This tiny restaurant is hidden away in a small resort (Napili Shores) but it's very popular. It's right on the water (gorgeous views!) and they're famous for the banana macadamia nut pancakes. Be prepared to wait in line but it's worth it! Parking at Napili beach is tricky but the restaurant has parking. After breakfast take a quick stroll on the beach and watch for turtles (they usually frequent this area).
From here start driving clockwise (towards Kapalua) around west Maui. Make Honolua Bay your first stop. There's a great overlook, but you'll park up top and take the trail down to the bay. Bring your own snorkel gear (one of the best snorkeling spots in Hawaii in the summer) and water shoes because you'll enter the water from a rocky beach. Even if you're not snorkeling, the short hike down to the beach is pretty incredible. It's heavily forested with some pretty large banyan trees.
Don't miss the Nakalele Blowhole (half a mile past mile marker 38). The trail down to the blowhole is pretty short, but be careful not to get too close! The famous heart shaped rock used to be nearby, but it was recently destroyed during some powerful storms.
You'll hit a county road, and the mile markers will start over at 16. In between the "end of state road" sign and mile marker 16, are the Olivine Pools. These natural swimming pools are so cool! Swimming conditions are more often than not calm, even when the ocean is roaring nearby. But of course, always be aware of ocean conditions and never get in the pools when the ocean seems threatening. Just use good judgment here.
There are also plenty of places to stop off at local fruit stands and even an art gallery on the route. If you're leery about the drive but want to see the blowhole, start in Kapalua, go clockwise, see the blowhole and then just reverse your route. The really scary part of the road is between the blowhole and Wailuku.
Finish up the most intense part of the drive by going slowly and being aware of oncoming traffic (there are some pullouts on the very narrow portions so use them wisely if you see vehicles coming to meet you). The advantage of driving this road clockwise is that you'll be on the inside lane of traffic.
RELATED: Which Hawaiian Island to Visit
How to Find Cheap Flights to Hawaii
Hawaii on a Budget: Money Saving Tips
How Much Does the Average Trip to Hawaii Cost?
Day 9: Upcountry (with Haleakala Sunset)
Start your day with breakfast at Grandma's in Keokea. Definitely get the waffles with fresh strawberries.
When you're done with breakfast, drive up Thompson Road (right across the street from Grandma's) and see if you can spot Oprah's House. It's a beautiful road.
When you're done in Keokea, back track down to Kula and visit the Ali'i Lavender Farm. Not only is it a beautiful farm with plenty to do and see, but it's also my favorite view of Maui. You can see almost the whole island from up there!
When you're done at the lavender farm, head back past Keokea and continue on to Ulupalakua to Maui Wine. The reason for backtracking here is that the winery doesn't open until 10AM. The drive out there is one of my favorites on the island. You'll be able to see Wailea and Makena below. Check out the winery (they have a tasting room plus they do several free tours each day). It's a lovely property. Stop by the Ranch Store across the street for a drink, a little shopping, and even an elk burger (grilled out on the porch!) if you're interested.
When you're ready for lunch, head back down the mountain and stop in either Makawao (cowboy town) or Paia (hippy beach town) for a bite. In Makawao, I recommend Casanova Deli (they do a great pasta plate lunch) and in Paia I like Paia Fish Market.
When you're finished with your tour of upcountry, head to the beach! If you want to stay on the north shore, pack your gear and head to Baldwin beach (the far west end is called Baby beach and it's great for swimming) or stop by Ho'okipa where the tide pools are great for beach combing. Otherwise, head back towards where you're staying.
Read my full upcountry guide here.
If you want to make a full day of it (or start this day in the afternoon after a morning at the beach), you could tag on sunset at Haleakala. This is a good option if you just can't stomach that 2AM wakeup call for sunrise on vacation or if you can't get a reservation.
You don't need a reservation to go up later in the day, and it's a little warmer. You could even pick up a picnic or snacks at the Ulupalakua Ranch Store (across the street from the winery).
You'll want to have some warm clothes or a blanket with you. It's not as cold as sunrise, but once the sun sets, the temperature will drop pretty quickly.
Day 10: Hiking in the West Maui Mountains & Wailuku
Get an early start on the Waihee Ridge Trail (past Wailuku). The turn off for the trail is across from Mendes Trail and then you'll find a sizable parking lot almost a mile up the road. It's a four mile out and back hike, and can be done in 2-3 hours depending on your pace. Earlier is better here as clouds often roll in mid morning. Also, be prepared for a muddy trail (hey, the rain is what makes all of those gorgeous waterfalls). It's a moderate hike, but not terribly strenuous.
Once you've finished that hike, you've earned your breakfast. Tasty Crust in Wailuku is a must do for classic local breakfast. For lighter fare, try Wailuku Coffee Company. Wailuku is a cute town worth checking out. Its street art scene is absolutely flourishing and my favorite thing to do is drive or walk around and check out all of the murals.
While you're on this part of the island, you've got to stop by one of Maui's most underrated beaches. Kanaha Beach Park is literally right by the airport and it has gorgeous turquoise water and a great view of those beautiful green West Maui mountains in the distance.
Mid to late afternoon, head over to the Iao Valley for a little light hiking. This is the best/easiest spot to gaze at Maui's jagged green mountains (the most Kauai like views you'll get), and it's gorgeous!
Parking is $10 ($5 for walk ins). This is the site where King Kamehameha I defeated Maui's army and united the Hawaiian Islands. There's a 0.6 mile paved walkway that leads to an overlook of the Iao Needle. There's also a small botanical garden where you can learn about the plants brought to the valley by the Hawaiians who first settled there.
Itinerary Add Ons
Don't forget to add in a luau if that's a must for you. I LOVE Old Lahaina Luau and Feast at Lele on the west side. On the south side, the luau at the Grand Wailea is great and the Andaz has a nice "luxury" luau. Also don't forget about getting reservations for Mama's Fish House. I didn't include it on the north shore day because I like to go straight from wherever I'm staying (I don't like showing up for fine dining a grubby sweaty mess ; ) Read my full reviews of Old Lahaina Luau and Mama's Fish House.
Thanks for sticking around and reading this whole post! It's always my goal to provide a TON of value to YOU. To that end, lately I've been packing my Instagram (@hula.land) FULL of content and adventures that you might want to check out. A lot of my post captions are like mini blog posts with travel info, I've got IGTV review videos for luaus and excursions, and helpful story highlights like grocery store prices and hotel reviews. Not to mention that my feed is pretty much the ultimate tropical eye candy! You can follow me here and share my account with your friends! Your support really helps me to keep this blog running!
Also, if you have ANY questions about planning your trip to Hawaii, you can join my free Facebook group here. I'm in there answering questions every day and there are 5000+ other friends who have a ton of Hawaii information to share!
Save
Save
Save
Save
Save
Save