Andaz Maui Review: Everything You Need to Know about Maui's Swankiest Resort
In my ongoing quest to stay at all the best beach resorts in Hawaii (somebody has to do it!), I decided to mark off the last big resort in Wailea from my list.
I've previously stayed at the Grand Wailea, Fairmont Kea Lani, Four Seasons, and Wailea Beach Resort, so that just leaves the Andaz to wrap things up in the area.
Let me tell you…I had pretty high hopes for the Andaz. I felt like it was going to be the perfect blend of everything I like in a beach resort and honestly…it didn't disappoint!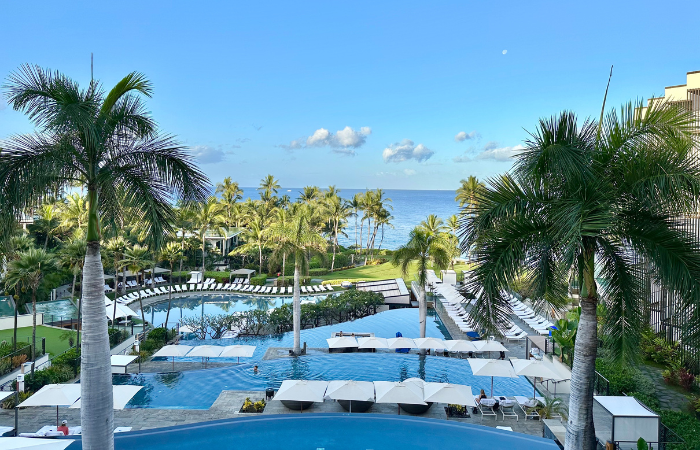 This post may contain some affiliate links, which means I'll make a little money on anything you choose to purchase. But of course, I only recommend my absolute favorites to you. Thank you for supporting the brands that make the Lincoln Travel Co possible.
Andaz Maui Review
Here's the lowdown on everything you need to know if you're thinking about booking a stay at Andaz Maui…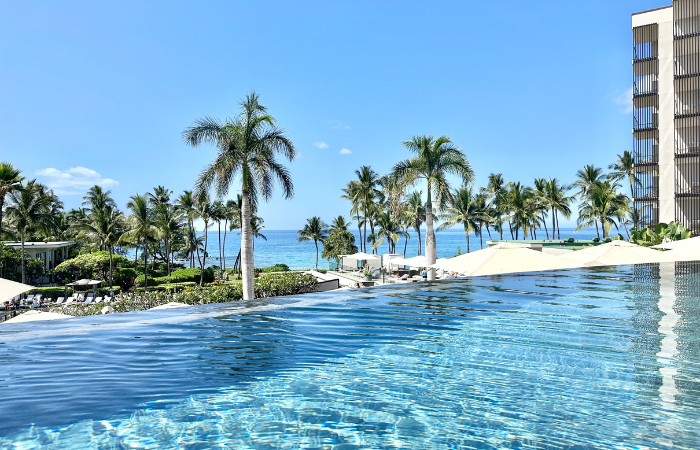 Location
The Andaz is located on the northern end of Wailea, a posh resort area in south Maui. Beyond the fact that the Andaz is generally located in my favorite resort area in Hawaii, I really love it's exact location (since I've stayed at all of these resorts I've gotten super picky ; )
The Andaz is the northernmost of the major beach resorts and it's connected to the whole area by the Wailea Beach Walk so it's convenient but still a bit removed from the hustle and bustle.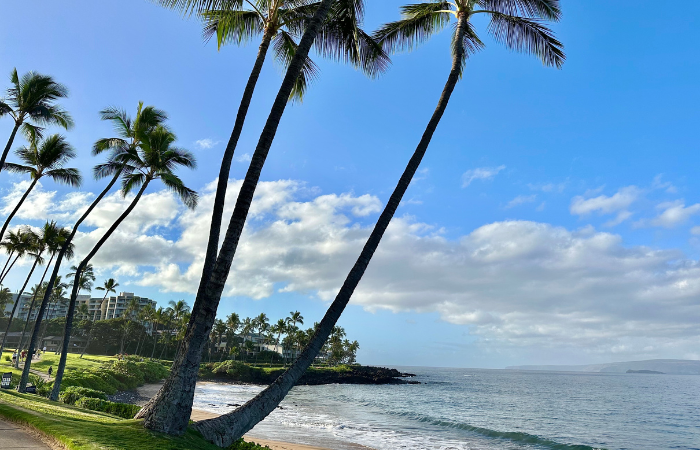 Sometimes the resorts in the middle of Wailea (Grand Wailea, Four Seasons, etc.) see a lot more foot traffic from the public beaches and people walking back and forth on the beach walk. But up at the Andaz there's generally just a lot less people.
But it's the perfect location if you like to WALK. Like I said, it's the northernmost point on the Wailea Beach Walk so you can walk south all the way to the Fairmont Kea Lani on Polo Beach and back. Plus it's on a great beach if you like to go for long walks on the beach (Mokapu Beach connects to Keawakapu Beach) which is actually kind of rare in Hawaii.
Lobby & Check In Experience
They really set the tone as soon as you arrive at the Andaz. It just feels…nice.
The valet and guys that help with the bags are top notch and super friendly and you'll get to experience one of my favorite things about a stay at the Andaz right away…the white orchid leis!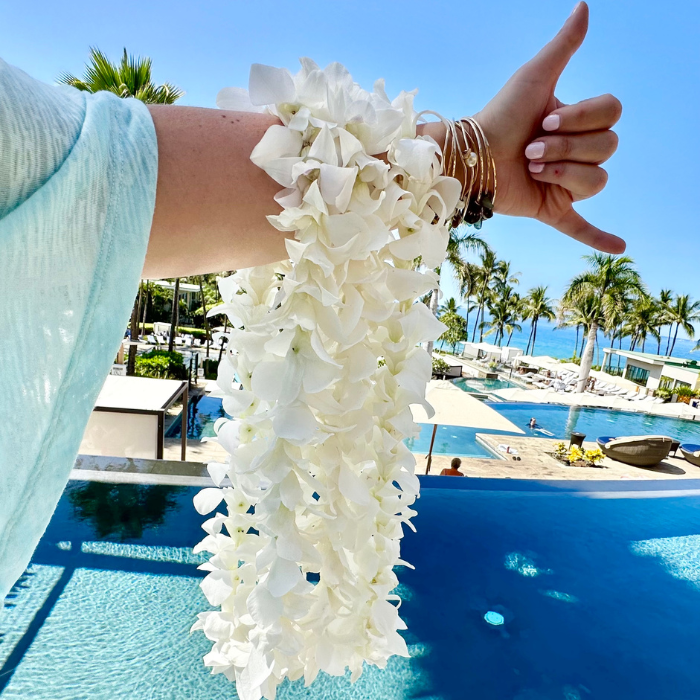 While most high end resorts in Hawaii greet you with fresh flower leis, I've only ever seen the normal purple orchid leis.
The white orchid leis (they smell better) here are a nice, elevated touch.
The resort itself really unfolds in a way that welcomes you and draws you in.
The long walkway from the portico to the lobby is a nice transition with its zen vibes and by the time you reach the open air lobby vacation mode is fully unlocked.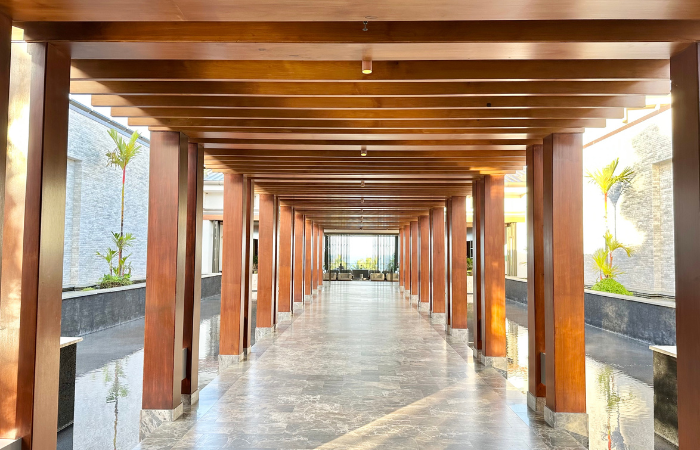 One of my favorite things about this resort is that it's terraced so pretty much wherever you are there's always an amazing view. Walking into the lobby and being able to see out over the whole resort really sets the tone!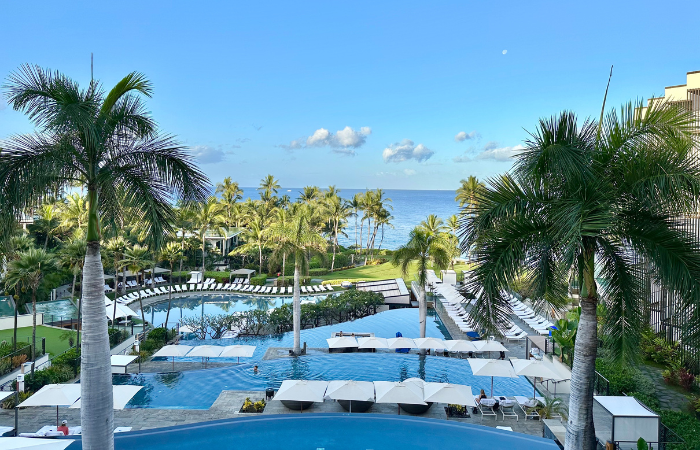 Check in was a breeze and they had our room ready even though we arrived pretty early!
Rooms
I love the rooms at the Andaz. They're bright, modern, and minimalist but still have personality and they're a nice change up from the traditional vibes that I'm used to seeing at places like the Four Seasons and Grand Wailea.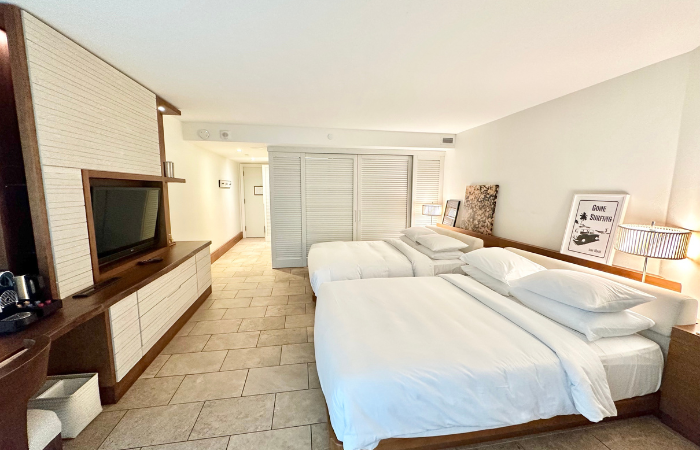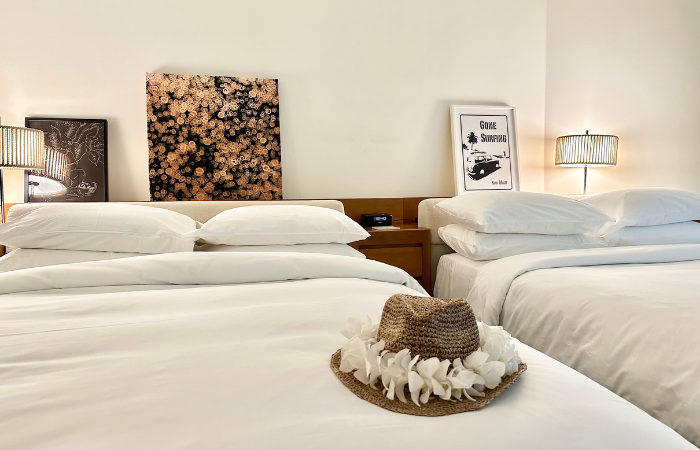 But honestly the bathroom is what steals the show here. I love a good walk in shower/wet room and the full size Malie bath products are a nice touch.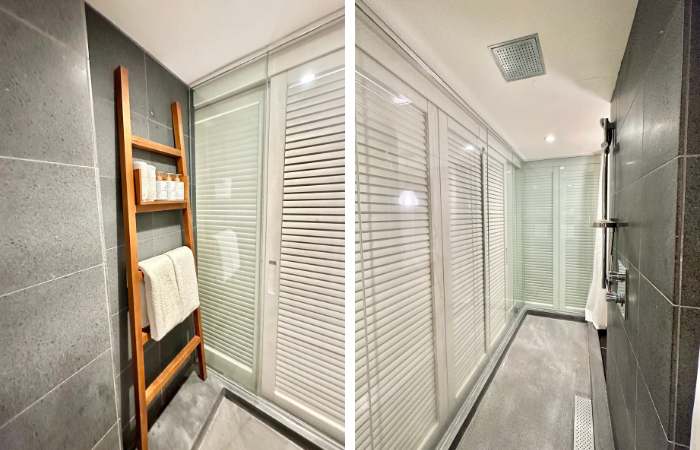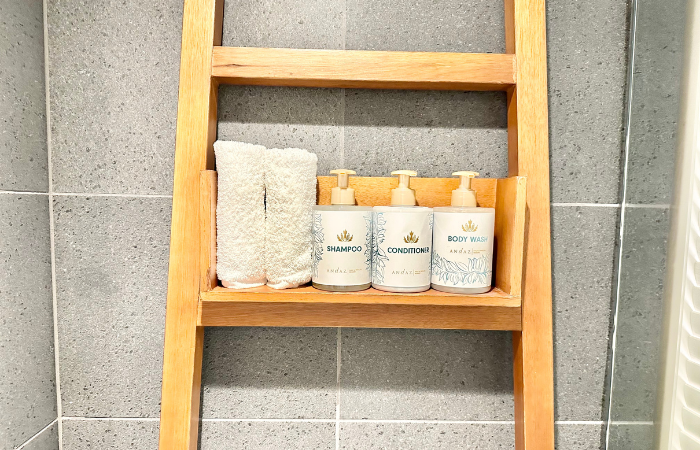 Plus the closet is actually in the bathroom (something I'm seeing more and more) which when you think about it is pretty brilliant.
And in an effort to be eco conscious (and just a good host), they also stock some goodies in the room like tote bags and refillable water bottles plus some snacks and drinks in the mini fridge.
Service
Since I really do consider the Andaz a luxury resort (I don't necessarily feel that way about all the big resorts in Wailea), we've gotta talk about the service, right?
For me, service is what distinguishes the "really nice" hotels from the best.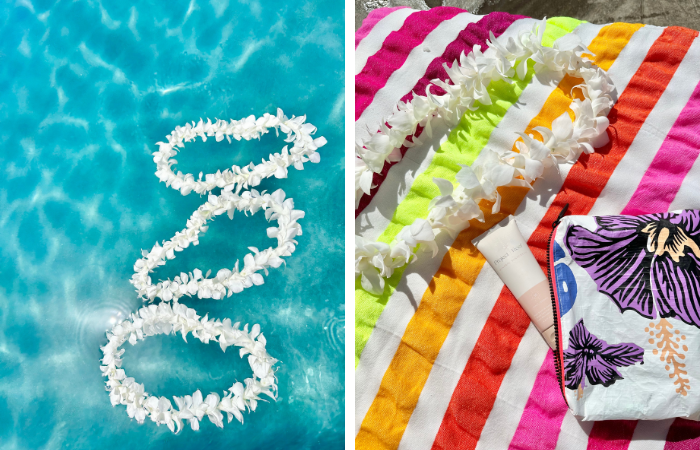 Every single interaction we had during our stay from the valet and bellhops to the front desk to the pool attendants to the restaurant servers was 10/10. We felt taken care of but never bothered and never once encountered any kind of a vibe that could be described as "snobby."
Now…because I like comparisons ; ) …in my experience the Andaz doesn't offer the same level of service as the Four Seasons down the street, but who does. If the Andaz is 10/10, the Four Seasons is 20/10 but you can't really take points away for that. Besides the Four Seasons, I think the Andaz is the best service oriented hotel in Wailea.
Here's a super nit picky sidenote: We had good pool service everywhere, but it was the BEST down at the bottom pool and I think that's just because it's closest to the Bumbye Beach Bar so the servers are always walking past your chairs as they come and go.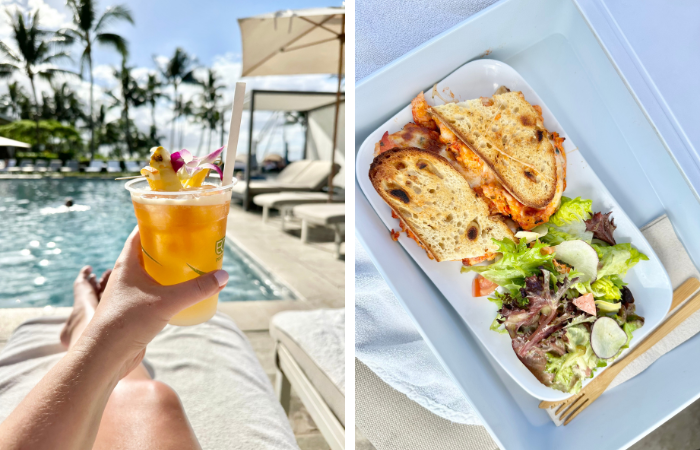 Dining
The Andaz is a pretty big resort so they've got quite a few food options.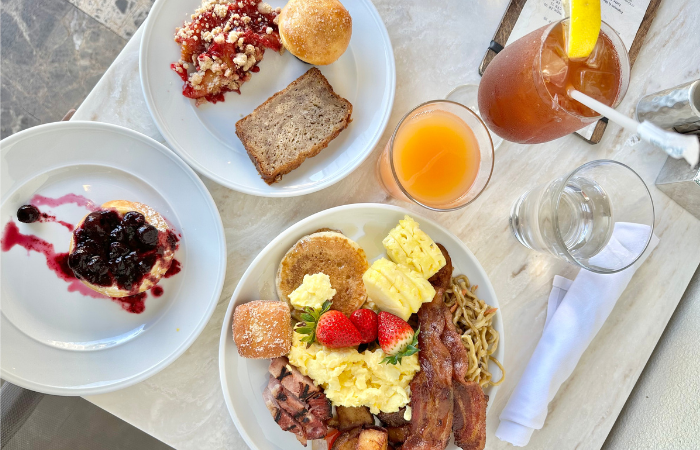 The daily breakfast buffet is at Ka'ana Kitchen and honestly I think it's a contender for best buffet in Wailea (and I've pretty much done them all). Things I love: 1) Omelets made to order eggs are ordered through your server at your table and they bring them to you so you don't have to stand in line and wait around for your eggs. 2) So much of the food is actually cooked in the middle of the restaurant and immediately transferred to the serving stations so you can pretty much always be guaranteed fresh waffles/pancakes etc and the staff is so good about bringing out fresh dishes constantly. 3) The selection is just wild. Seriously. Everything you never even knew you could possibly want.
We also had dinner at Ka'ana Kitchen which we really loved. It's a great sunset view and we were honestly a little over/underwhelmed with the menu but we just trusted it and ordered several different things and were NOT disappointed. We really enjoyed the butternut squash salad, the Waipoli mixed greens, and the butternut squash risotto, but my favorite was the big eye tuna and the strawberry cake.
I haven't tried it yet (I'm not a huge sushi person), but the resort's signature restaurant is Morimoto. People really rave about it plus the location is right on the beach.
We had lunch and drinks from the Bumbye Beach Bar for a few days and everything we had was super good. Their burger is solid and the lobster grilled cheese was phenomenal plus I couldn't get enough of the side salad they serve with it.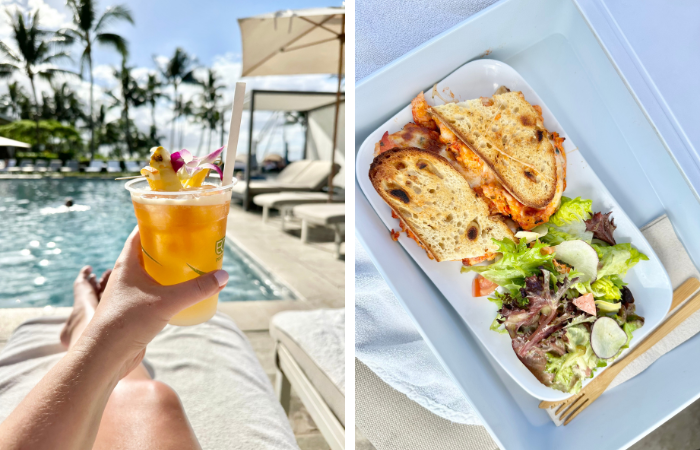 And their drinks are probably some of the best resort drinks I've had anywhere. The mai tai was POTENT and it's now one of my all time favorites. They do two versions (an original 1944 Trader Vic version that has a stronger rum taste plus citrus and a modern version that's got a more tropical pineapple flavor). I recommend the modern one.
There's a grab and go market/coffee shop (Mokapu Market) right off the lobby which is a nice option, but if you're wanting to stock up on drinks/snacks, etc. I'd probably make a trip to Island Gourmet Market or the ABC Store at Shops of Wailea to save a little $$.
The Andaz is also home to one of the three luaus in Wailea. The Feast at Mokapu used to be marketed as a "luxury luau" (plated meal served at your table, nicer setup, open bar, smaller audience, etc) and the price reflected that but honestly post COVID the prices of the other two luaus have skyrocketed so it's pretty much on par with everywhere else now.
If you've got your heart set on a luau and you want to stay close to the resort, it's a solid option (the best option is Old Lahaina Luau) but if you're on the fence about it I would 100% recommend just watching to whole thing from the upper pool deck (it's a great view) and having a nice dinner somewhere else.
Facilities & Amenities
Okay, let's get to the good stuff…the beach! The pools! The spa!
This is why I love the Andaz. I think overall, the Andaz has the best pool and beach situation in Wailea.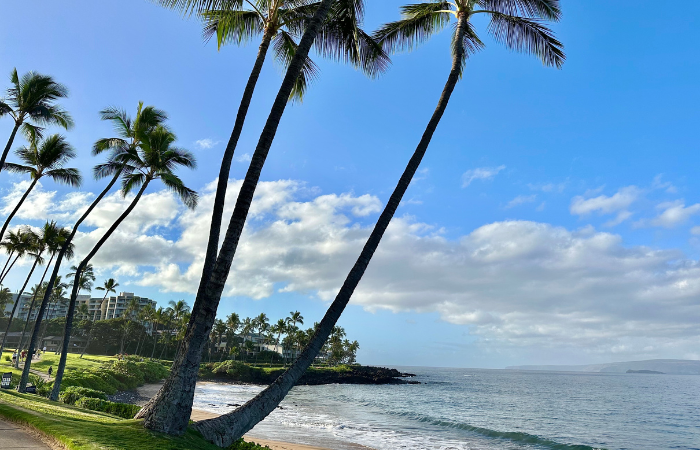 Let's start with the beach. The Andaz sits on Mokapu Beach which I think is one of the best in Wailea.
Here's why: Every beach in Hawaii is public and even if there's a resort on it, by law there has to be a public access point. And most of the beaches in Wailea have really good public parking available so these beaches are not deserted.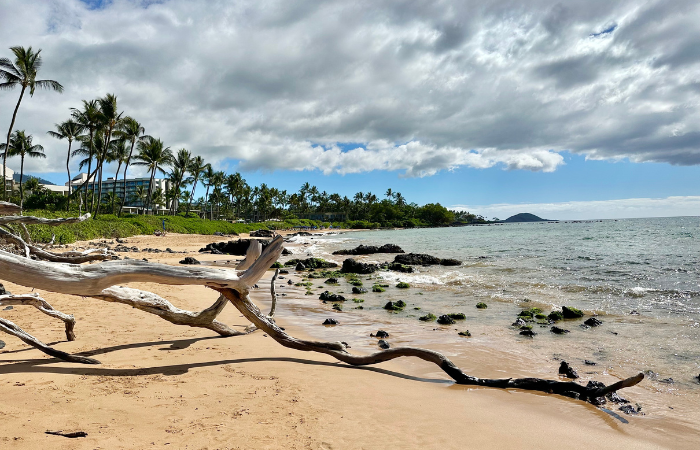 At nearby Wailea Beach, you've got the Four Seasons, Grand Wailea, and Wailea Beach Resort all providing chair service and access to their guests PLUS people coming through the public access.
But at Mokapu Beach, there are actually two beaches accessible from the public parking lot and access point. If you go to the left, there's Ulua Beach and if you go to the left, there's Mokapu Beach. Obviously people can go wherever they want to go but most people tend to set up on Ulua Beach because there's no resort or condo built on it. Which means that Mokapu Beach tends to see less public visitors than other beaches in the area plus the Andaz is the only resort that sets up chairs.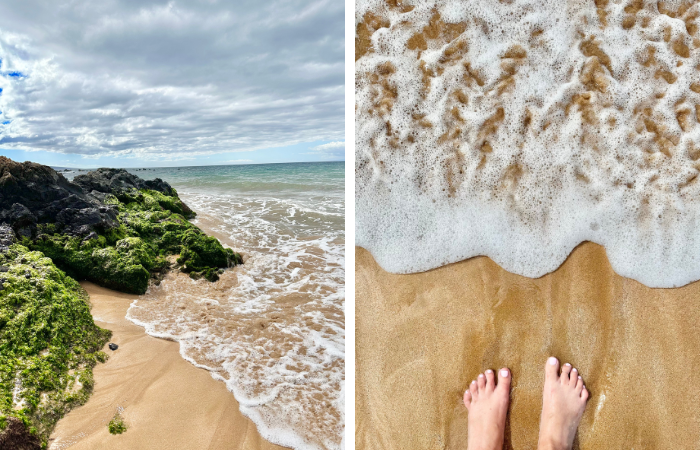 AND it's a fairly long beach which is great if you love to get out and go for a stroll. Most beaches in Hawaii are more cove-like so if you're used to places in Florida or wherever where you can literally walk miles and miles on the beach, some people are disappointed. But Mokapu Beach connects to Keawakapu Beach which is one of the best long walking beaches on Maui.
So even though it doesn't usually make the top of lists of "best beaches on Maui," practically speaking it has a lot going for it.
There's also really decent snorkeling right off Mokapu Beach in front of the resort. There's a reef that kind of hooks around the end of the beach and creates a bit of a protected area so you can literally swim right out from your beach chair and see all kinds of fish, coral, and sometimes even turtles.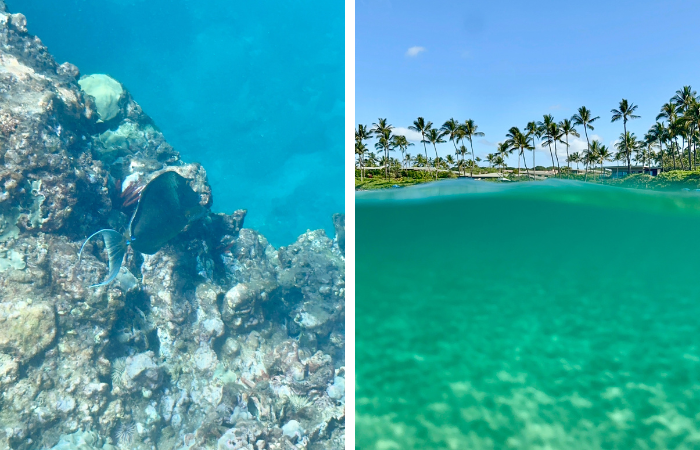 The resort has an activity hut set up down near the beach and besides SUP and kayak rentals, resort guests get free snorkel rentals so it couldn't be easier.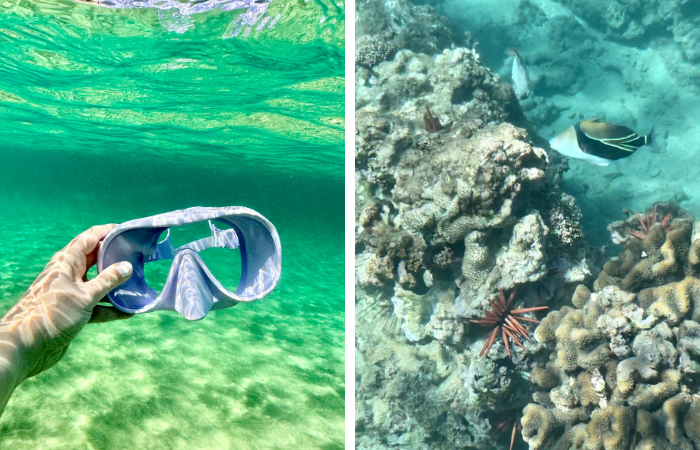 Definitely plan to go in the morning though (wrap it up by 11AM) because it gets choppy in the afternoons.
Okay, onto the pools…I love an oceanfront infinity pool more than pretty much anything and Andaz has like 3.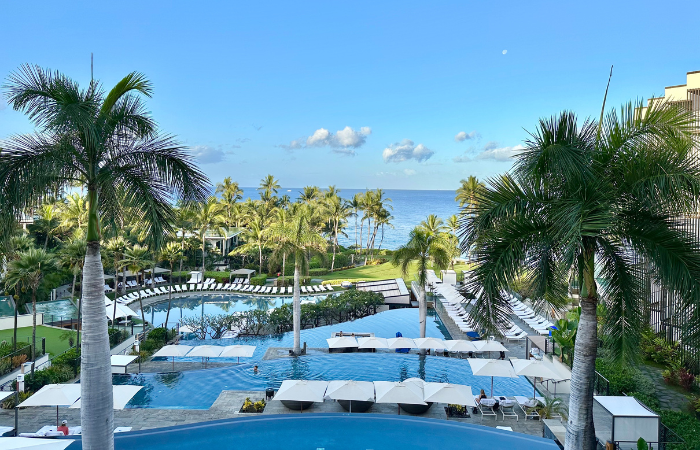 The main showpiece of the resort are the terraced infinity pools. They start at the Lehua Lounge up at the top and go down until you hit the lagoon pool at the bottom. There are three elevated infinity pools and they all have different temperatures.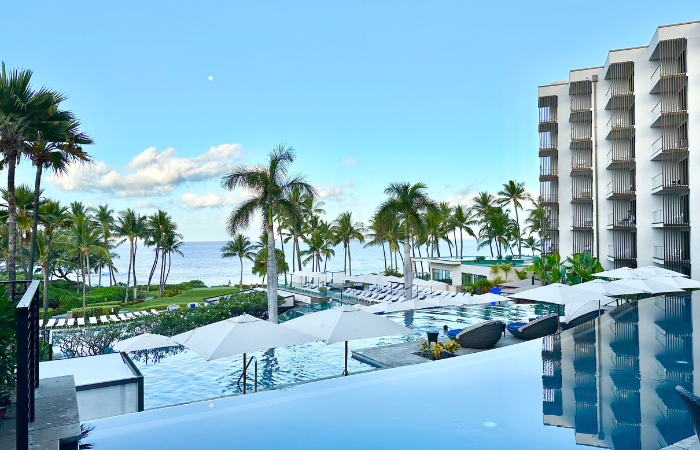 The top pool is honestly pretty chilly and there really aren't any chairs up there. It's mostly just restaurant seating. The second pool is a very swimmable temperature and I think it's probably the best spot. You're still high enough to see the beach and ocean. The third pool has a hot tub feature and the water is NICE. If you like warm water, which I do. But the view isn't the best. There's a row of trees planted that pretty much block the view.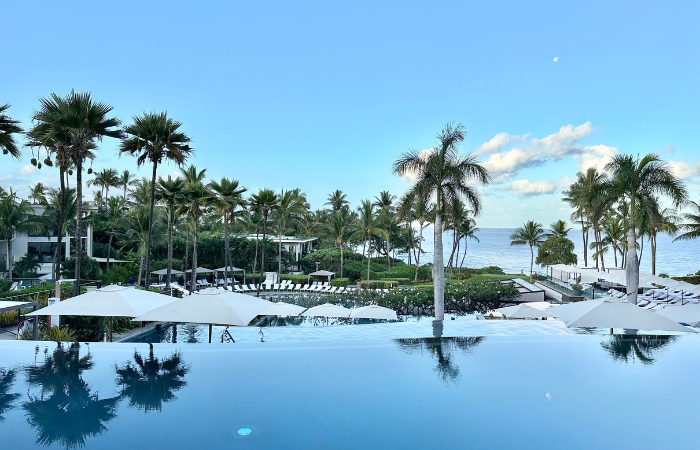 The lagoon pool at the bottom is the largest pool and it's got zero entry on one side plus quite a bit of seating. Kids are technically allowed at any of these pools, but most families tend to gravitate towards the lagoon pool.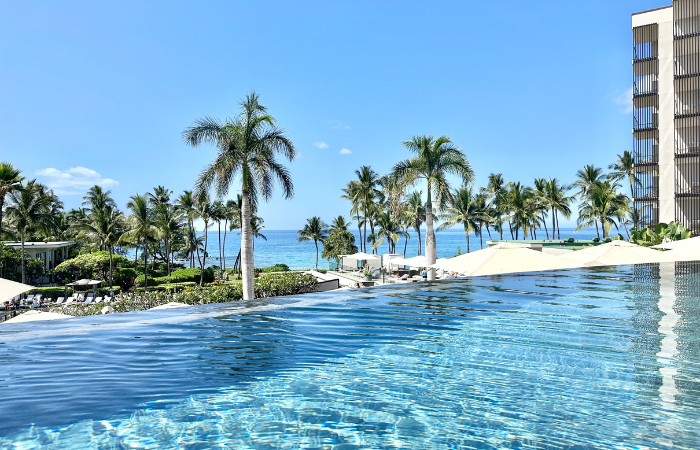 We had good poolside service everywhere we sat, but it was noticeably better when we sat at the lagoon pool (not on the zero entry side though) and I think it's because most of the servers are operating out of the Bumbye Beach Bar and proximity sometimes equals better service.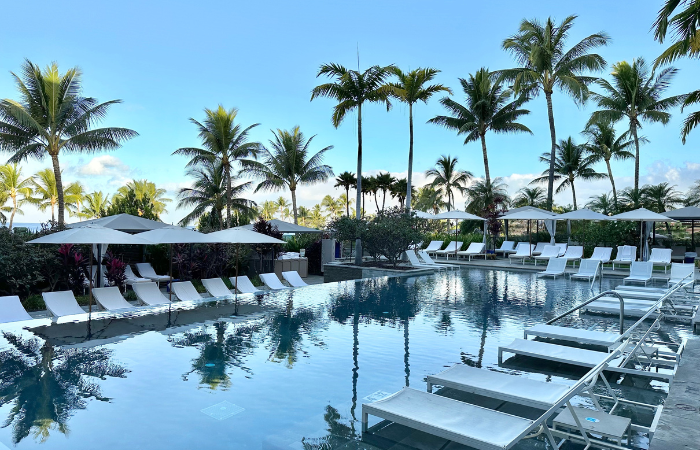 There's also an adults only pool that's technically more of the spa pool but it's open for anyone. It's a really nice area, but doesn't have much of a view. It's tucked up into the resort and honestly there aren't a ton of kids at the Andaz anyways so I don't think it's as much of an in demand feature as it is at other resorts in Wailea.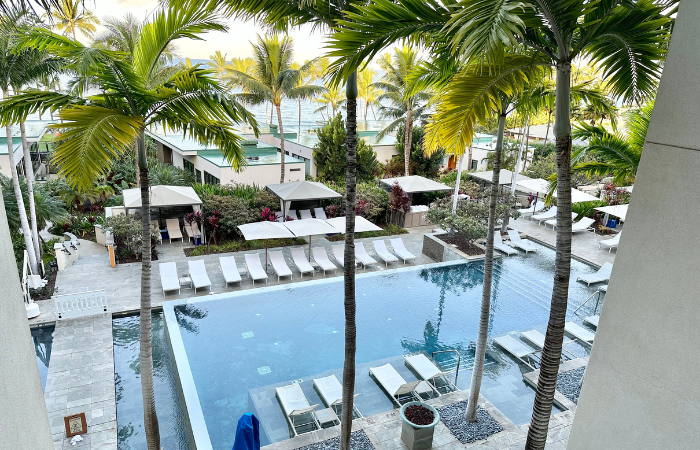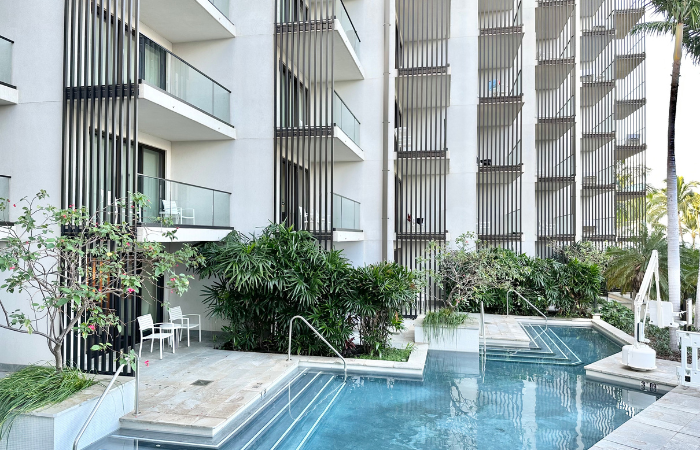 Speaking of the spa, I didn't get to try it on this trip because it was totally booked out by the time I arrived. So if you've got your heart set on a massage or facial, I strongly recommend booking your treatment well before your trip. But I've heard great things about the spa and everything I saw looked really nice.
Style
The Andaz is high on style and I think it's such a distinguishing feature of the hotel since it's pretty radically different from most other resorts in Hawaii (Wailea at least).
The name of the game here is sleek, modern and trendy. I would say that it's a design oriented hotel, but because it's very minimalist and ultimately still a very large scale beach resort, it doesn't feel like a boutique hotel.
I didn't ever feel like it was "sterile" or "stark," but I can see how if you don't like a modern or sleek aesthetic it could seem that way.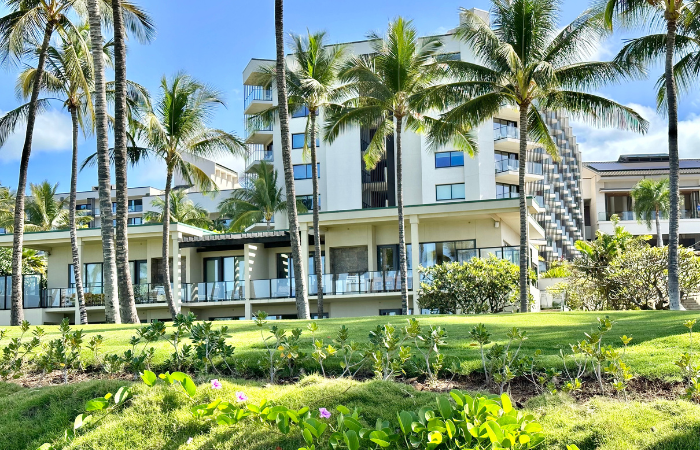 Value for the Money
It's hard to call any resort in this price range a bargain, but some places definitely have a better value for the money.
In terms of Wailea resorts, I think the Andaz just might have the highest value for the money.
It's usually about 20% less than the Four Seasons and the Grand Wailea but surprisingly on par with the Fairmont Kea Lani and the Wailea Beach Resort.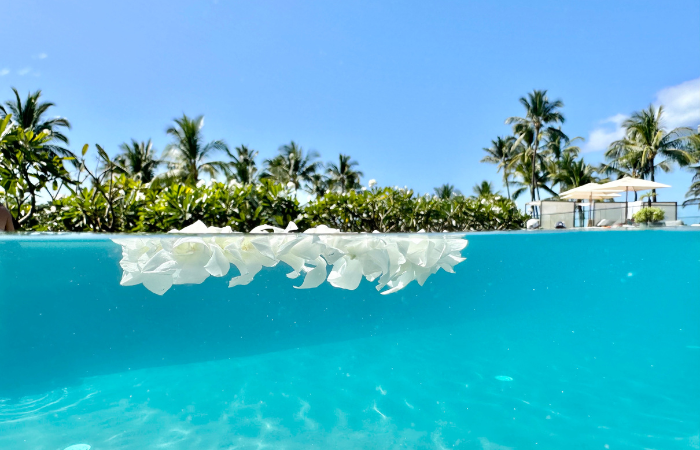 I get the price drop from the Four Seasons to the Andaz (the service at the Four Seasons is just so unmatched) and if it's not important to have someone remember your name when you show up at the pool and refill your water glass everytime you take a drink, etc. then that 20% discount is a pretty big value. Because the Andaz is every bit as luxurious as the Four Seasons if we're just talking about the actual resort.
But I do NOT get the Andaz usually being priced the same as the Fairmont Kea Lani and the Wailea Beach Resort. In my opinion, the Andaz is in a higher league than those resorts (by quite a bit) so if they're all priced similarly then I think that gives a LOT more value to the Andaz.
Basically, if the Andaz, the Fairmont Kea Lani and the Wailea Beach Resort are all priced comparably, there is no comparison and I'd pick the Andaz every time.
One more thing worth mentioning here is that the Andaz brand is part of Hyatt so if you have loyalty status with Hyatt, points to use, or you want to accumulate points on your stay then that is another big value add.
And even if you don't have status/loyalty with Hyatt, you'll probably want to sign up because you'll get a nice little bank of points if you're paying cash to stay here.
Overall
I couldn't have been happier with my stay at the Andaz and I have REALLY high expectations when it comes to resorts in Wailea. The Four Seasons is pretty much my favorite place I've ever stayed anywhere and the Andaz really gives it a run for its money.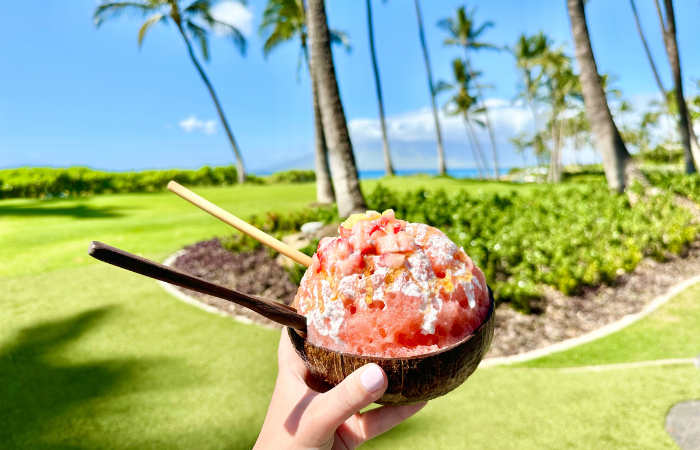 I enjoy the modern, trendy vibe, I think the beach and pool areas are top notch and the staff was everything they should be so I would DEFINITELY come back.
Where to Book
Here's my final note (and a big favor to ask): If you find my blog and info AT ALL helpful and I've convinced you about where to stay on your trip, the absolute best thing you can do to help me out is to click through the links in this post to book your stay. I make a small commission on your bookings and if you're going to book a hotel anyways, it's a WIN WIN. Thanks so much!
You can book the Andaz Maui here.
Want to read more? Don't miss some of my most popular (and favorite) posts about Maui: My Favorite Hotels on Maui | Wailea vs Ka'anapali | All of the Wailea Resorts Ranked | Maui Travel Tips | Things You Can ONLY Do on Maui | Where to Find Maui's Best Condos and Vacation Rentals | My Favorite Road to Hana Itinerary | Road to Hana Tips | Should You Drive the Backside of the Road to Hana? | 10 Day Maui Itinerary | Best Snorkeling Beaches on Maui | Snorkeling Molokini Crater | Old Lahaina Luau Review | Is Mama's Fish House Worth It? | Tips for Sunrise at Haleakala National Park | Things to Do in Wailea | Things to Do on the North Shore | Things to Do Upcountry | Where to See Turtles on Maui | Whale Watching on Maui | Maui Pineapple Tour | Where to Stay in Hana | Where to Stay in Kihei | Where to Stay in Lahaina & Ka'anapali | Best Beaches in Wailea & Kihei | Fine Dining on Maui | Best Restaurants in Wailea | Best Restaurants in Lahaina | Grand Wailea Luau Review | Maui vs Kauai | Four Seasons Maui Review | Andaz Maui Review | Fairmont Kea Lani Review | Wailea Beach Resort Review | Four Seasons vs Andaz Maui | Andaz Maui vs Wailea Beach Resort | Best Breakfast in Wailea
P.S. Thanks for sticking around and reading this whole post! If you have ANY questions about planning your trip to Hawaii, you can join my free Facebook group here. I'm there answering questions every day and there are 7500+ other friends who have a ton of Hawaii information to share!
Also, if you want to follow along on my travel adventures in real time, you can follow me on Instagram (@caitylincoln). My post captions are full of travel tips and I have a ton of story highlights and videos with great info. And please share my account with your friends that are headed to Hawaii! Your support really helps me keep this blog running!