My Best Road to Hana Tips: 13 Things to Know
Maui's famed Road to Hana isn't just one of the best drives on the island, it's one of the best drives in the world. The 50 miles from Paia to Hana (and beyond) are full of twists and turns, single lane bridges, jungles, gorges, panoramic ocean views, waterfalls, bamboo forests…everything your tropical dreams are made of. This iconic drive has become one of the most popular things to do on Maui, and it's definitely not something you want to go into without a plan.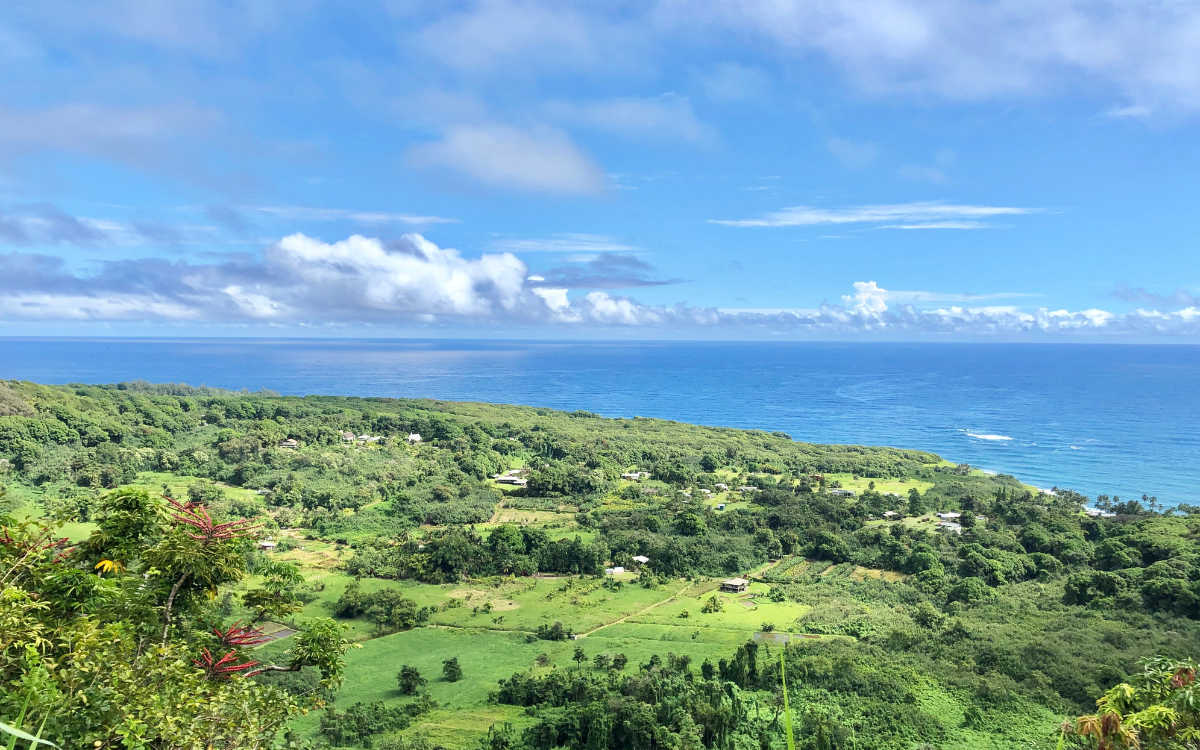 For my favorite 1 day Road to Hana itinerary, read this post.
This post here is a compilation of all of my best tips for driving the Road to Hana: when to go, what to wear, what to bring, how to not irritate the locals, where to eat, etc.
I'll also give you a rundown of whether or not you should drive the Road to Hana yourself or take a guided tour.
Plus some info on spending the night in Hana.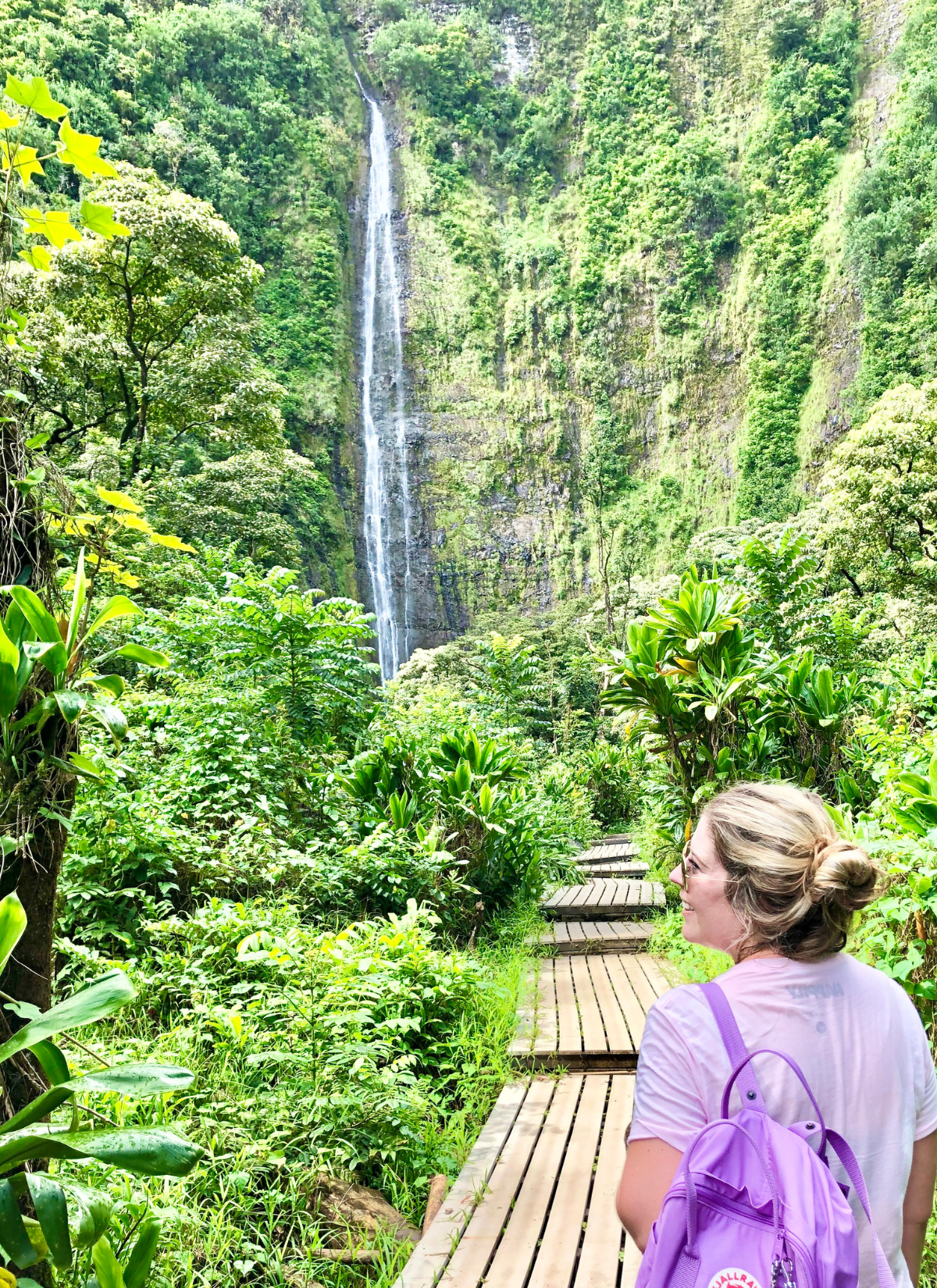 Road to Hana Tips
Keep reading for my best tips for driving the Road to Hana:
1. Be Considerate. First things first…Maui has been experiencing a surge in tourism since reopening from the pandemic shutdown. This has in turn resulted in higher than usual numbers of people driving the road to Hana everyday and it's putting a bit of a strain on the local community.
While driving along this BEAUTIFUL road is considered one of Maui's top attractions, it's still an actual road and there are people that live in these remote communities that use it everyday. They're driving to work, taking their kids to school, going to doctor appointments, etc. They're not on vacation. And while they're very welcoming, they're getting increasingly frustrated at the huge numbers of visitors coming to Maui (and the current infrastructure's inability to handle them).
So a few simple rules: Don't trespass on private property. Seems like common sense right? Even if you've read about a waterfall that you think you should be able to access or heard about a pond to swim in. If there's a sign and you have to climb around a gate, don't do it. Don't park illegally on the road. There are now MANY signs making it clear where you can't park. Don't stop in the middle of the road to take a picture of a waterfall, a rainbow eucalyptus tree, a gorge, an ocean view, a mongoose, a rainbow, or anything else. If you're driving slowly and there's a local behind you, pull over and let them pass. They have somewhere to be. Just be kind and aware of your surroundings and yield to the locals whenever possible. And remember, you are in their HOME so use those manners your mama taught you.
2. Get an early start. This is my #1 tip for having a pleasant day driving the Road to Hana. I wouldn't want to be leaving Paia any later than 8AM. Getting an early start will be the single biggest factor in having lower crowd levels at all of the stops along the drive.
3. Have a plan. Yes, the fun is in the adventure, but you are going to have such a better adventure if you have a plan for it. The road is long (50 miles just to reach Hana plus more if you go beyond) and chock full of overlooks and little sites to see, hikes, waterfalls, pools to swim in, beaches, roadside stands, botanical gardens, etc. If you stop everywhere, it would take you DAYS to do the whole thing and if you only have one day and you spend the first few hours lollygagging around the first few stops you come to, you'll probably end up missing out on the best stuff which is towards the end.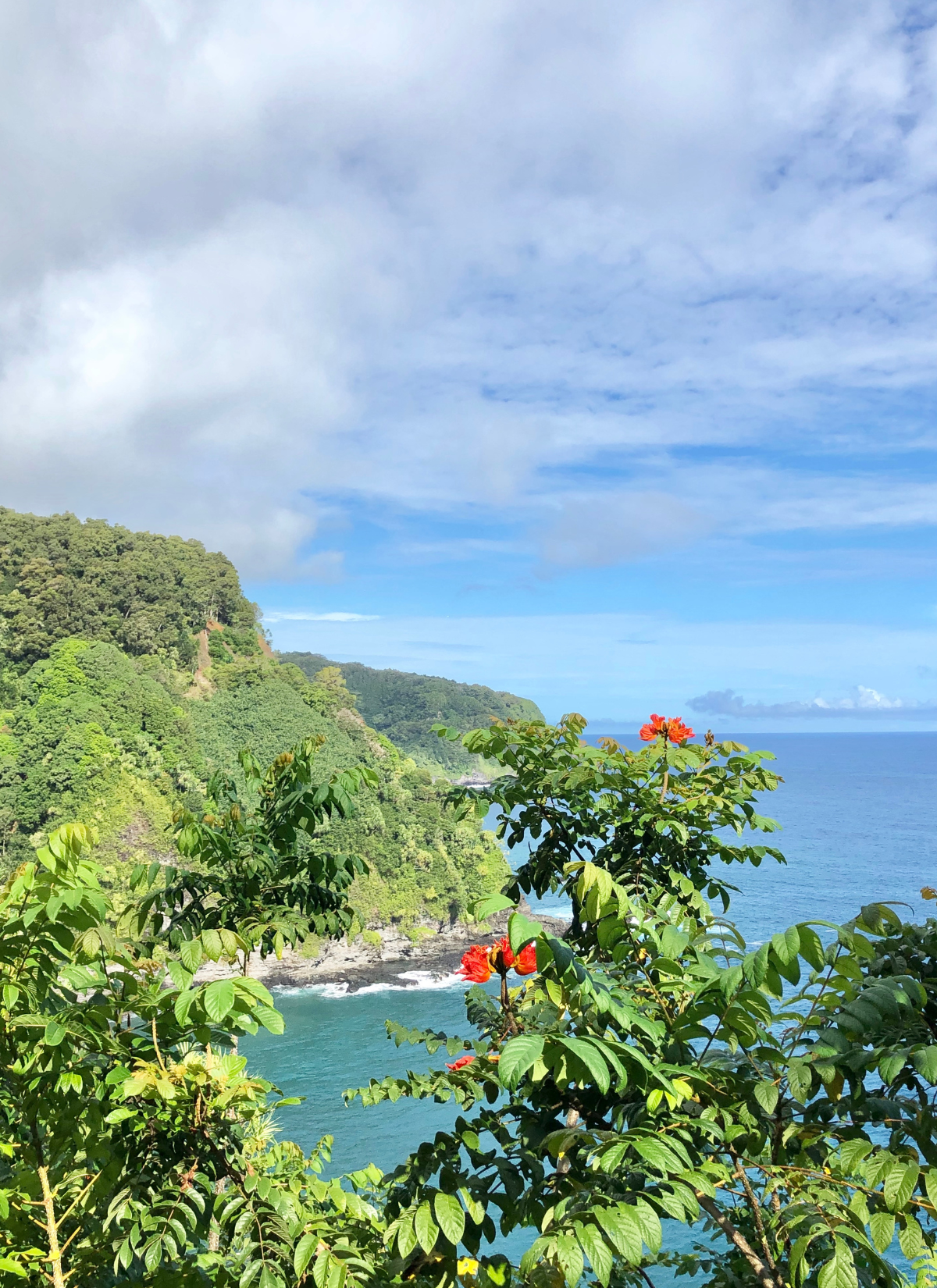 ***Want to save major $$$ on a fancy beach resort? My favorite travel hack is cashing in points to score free nights at some of the island's most high end resorts. My go to hotel brand is Marriott so I use this Marriott Bonvoy Boundless card to rack up points for a lot of my trips to Hawaii. If you pay for your monthly expenses on the card and are responsible about paying it off every month, the points add up really fast. Plus, if you sign up through my link, you'll get THREE bonus free nights to use. On Maui, use your points at some of my favorite Marriott properties like the Wailea Beach Resort, Ritz Carlton Kapalua, Westin Maui, and Sheraton Maui.
Even if you're using one of the GPS tour guide apps, you'll need to have a rough plan of where you're going to stop so you can budget your time. You don't want to get past Hana and find out there's a world class hike through a bamboo forest, but it's getting dark and you don't have time to do it because you spent too much time at Twin Falls at the beginning of the day.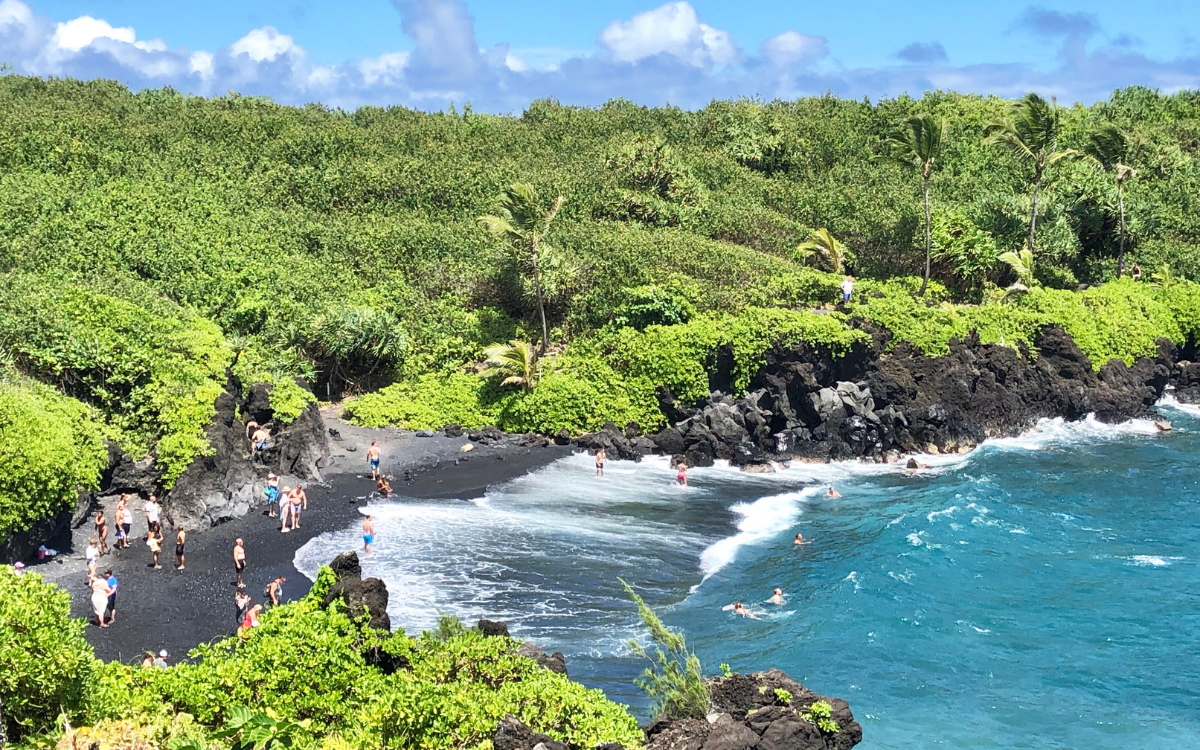 4. Make reservations for Waianapanapa State Park. Hey this is why it's good to have a plan! Imagine rolling up to Hana's spectacular black sand beach and finding out you can't see it because you didn't make a reservation. Womp womp. Starting March 2021, all non Hawaiian residents must have a reservation for parking and entrance to Waianapanapa State Park (the black sand beach). Reservations can be made 14 days in advance (and no later than the day before). Unlike reservations for sunrise at Haleakala, they don't seem to sell out 2 minutes after they become available, but you definitely don't want to sleep on it. You'll make your reservation for one of four time slots: 7AM-10AM, 10AM-12:30PM, 12:30PM-3PM, and 3PM-6PM. They are strict with the entry and exit times. The two time slots in the middle of the day are the ones that sell out first. It's $10/vehicle for parking and $5/person for entry and you have to pay for it all when you book the reservation.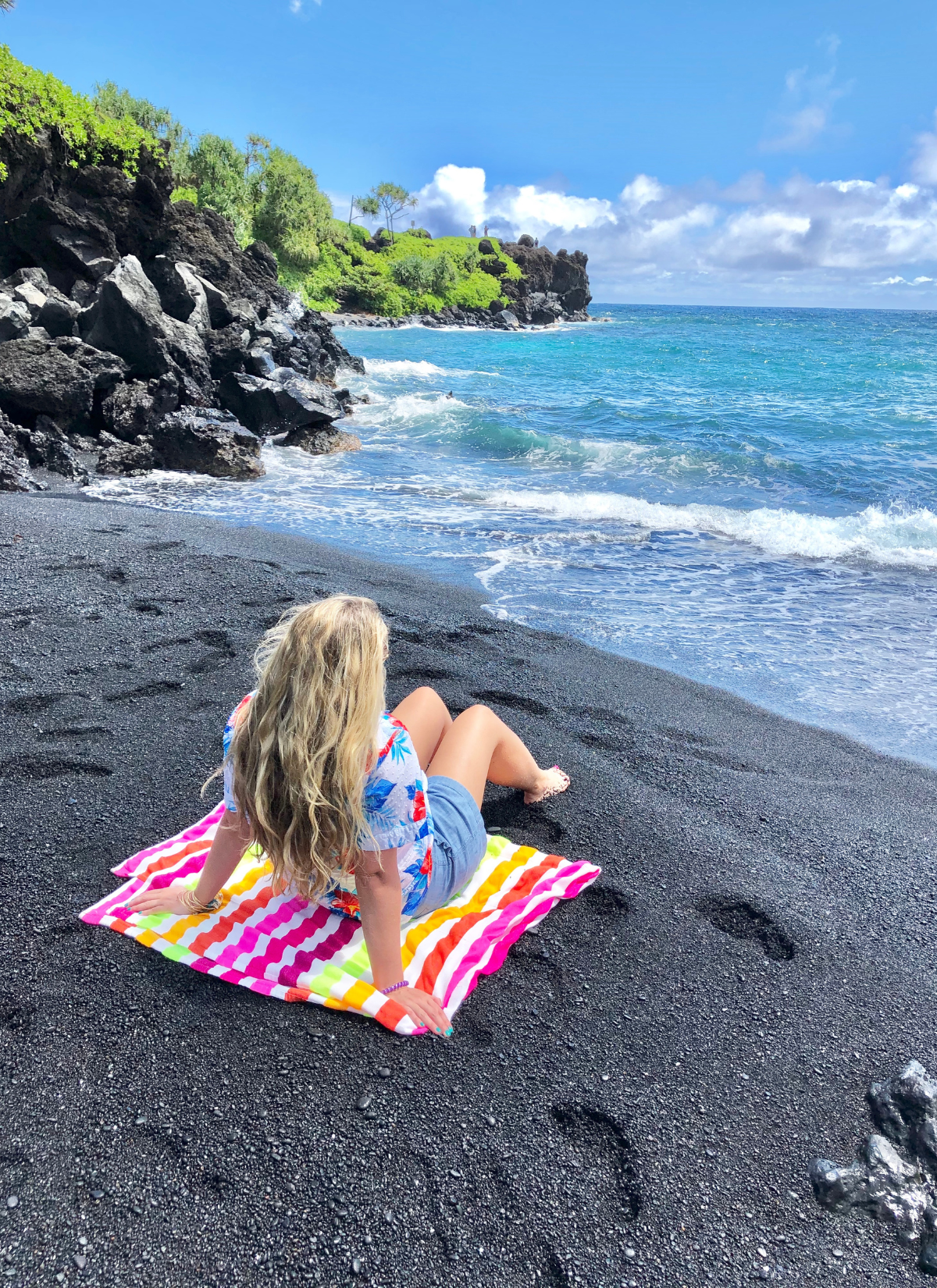 5. Fill up your tank. Make sure you have a full tank of gas when you leave Paia. There's a gas station in Hana (where it'll cost you quite a bit more), but that's it.
6. Plan for motion sickness. I've been blessed with an iron stomach, but people who struggle with motion sickness say the Road to Hana is brutal. In fact, if you get severe motion sickness, it could make driving to Hana a dealbreaker, but if it's mild to moderate for sure have medication (or arm bands or whatever you use) with you.
7. Take cash. You never know when you're going to need it. Many of the food trucks and spots in Hana take cards, but it's definitely not the kind of place you'd want to be without cash. A lot of the roadside stands will only take cash.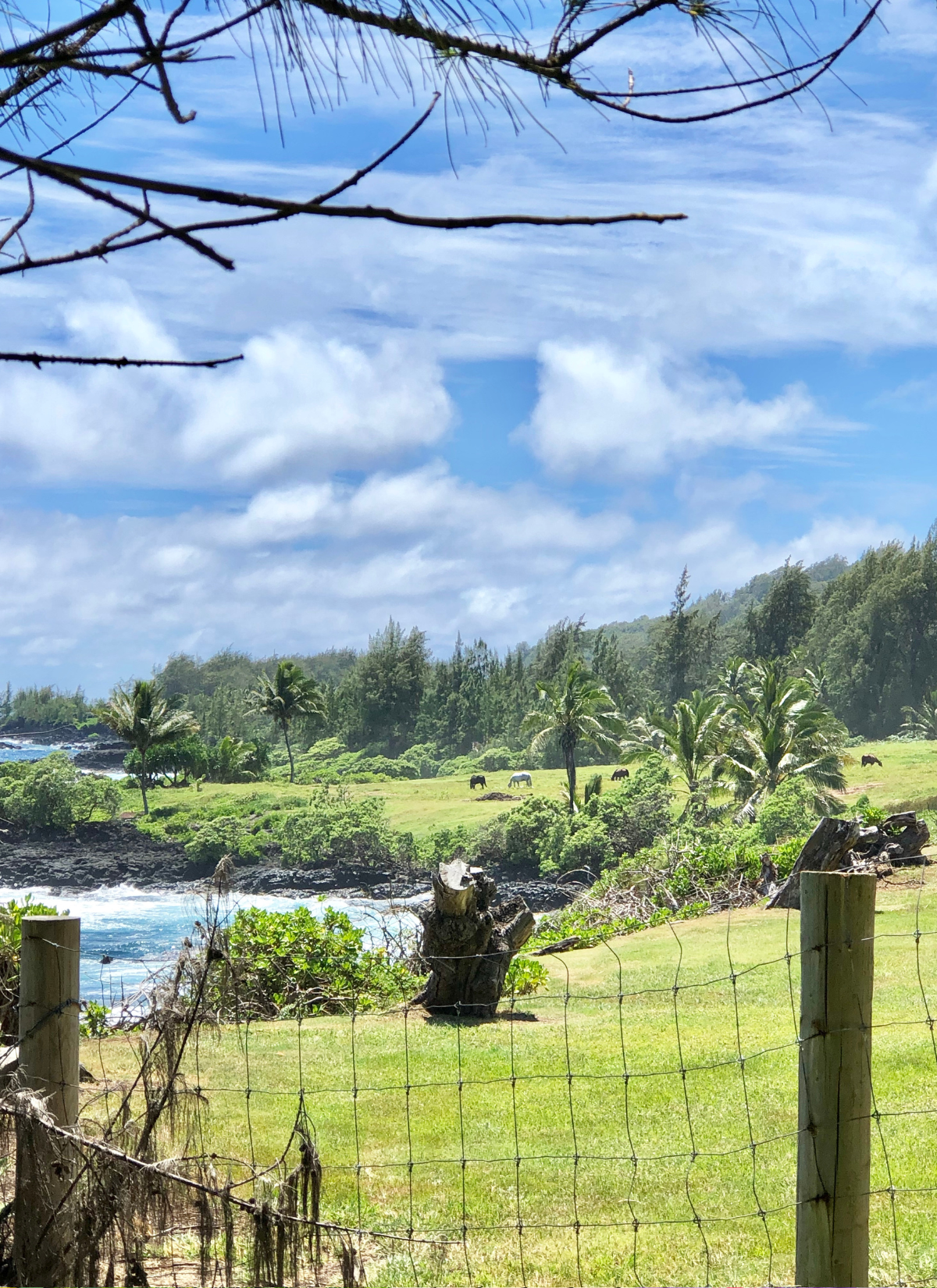 8. You don't need four wheel drive. The road from Paia to Hana is completely paved and even beyond Hana you won't need four wheel drive. Jeeps and Mustang convertibles are the most popular rentals with tourists, but I personally would not want to do this drive in a convertible. It rains too often and rockslides (even tiny ones) aren't terribly uncommon. A Jeep is fun, but not necessary. Smaller cars (shorter length) are preferable to bigger cars for negotiating tight spots (this pretty much goes for anywhere in Hawaii).
9. Prepare for no cell service. You'll have patchy cell service until you get to Hana, and no cell service on the backside past Hana. Download your Spotify playlists before you go, have a general sense of where the big spots you're stopping at are. If you're using a GPS app like Gypsy or Shaka, they won't require cell service to run, but they will DRAIN your phone battery so make sure you have a charger.
10. Wear the right clothes. I dress for hiking, getting in and out of the car a lot, and being generally pretty grubby. I don't dress for the beach. There are freshwater pools and ponds that people like to swim in (everybody wants to swim under a waterfall don't they?), but I can't think of many things more miserable than being in and out of the car all day in a wet swimsuit. I also don't get in the water at the black sand or red sand beaches in Hana (again I don't like being in the car in a wet swimsuit but they're also not good swimming beaches). So I usually wear a swimsuit under my clothes because you never know, but I'm not running around in a coverup and flip flops all day. The most important thing for me is sturdy shoes (they can be sandals, but they need to be strapped onto your feet) that you don't mind getting muddy and wet.
11. Pack a bit of everything. I do take towels or a beach blanket and you'll for sure want sunscreen and bug spray. I've actually never been bothered by mosquitos in Hana (they don't like me though), but I know people who have been absolutely eaten alive at different hiking spots. If you have a cooler, it's not a bad idea to bring water or snacks although there are plenty of places to stop (if you're going past Hana though you'll definitely want to stock up there). Hats, sunglasses, baby wipes, phone chargers, etc. I'd take a mix of hiking and "going to the beach" gear.
12. Get back before dark. I don't like being on the road after dark so that's why I always like to have a plan for where I'm going to stop and how long I'm going to spend at each place.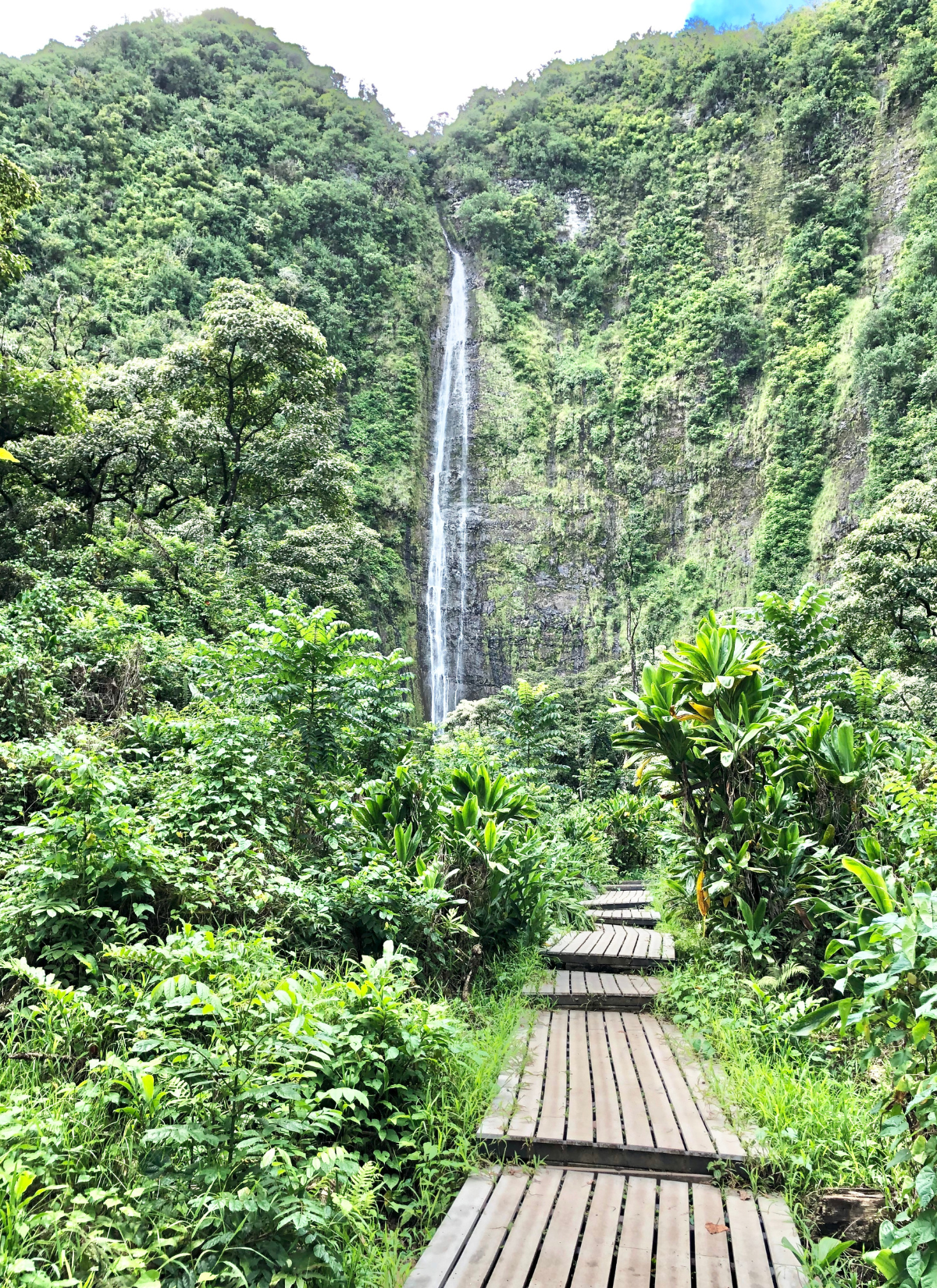 13. Don't geotag locations. So going back to my first point about being considerate to locals…this is their backyard. These spots and gems along the Road to Hana are places that they've been going to for generations. These are their family swimming holes, places they go camping when they have days off work, spots they've played at as kids and now take their kids to play. It's not a "world class attraction" to them. It's their home. They're not unwelcoming, but they don't want their special places overrun with tourists. So it's always best not to geotag (on social media) places that you might end up that are off the beaten path. There are pretty much only three things I will tag along the Road to Hana: 1) the black sand beach at Waianapanapa State Park because it's a state park and very well known, 2) the Kipahulu District of Haleakala National Park (Pipiwai Trail and Seven Sacred Pools) because again it's a national park and not a hidden gem, and 3) places in Hana like Hasegawa's General Store and the food trucks.
Side Note: If you're looking for a rental car for your trip, I LOVE Discount Hawaii Car Rentals. They're seriously the only company I ever use. They'll give you the very best prices, you don't have to reserve with a credit card or pay until you show up, you can cancel and re-book anytime if you find a better rate, and they usually have a special that adds additional drivers for no fee. It's a no brainer. Click here to check rates for your trip.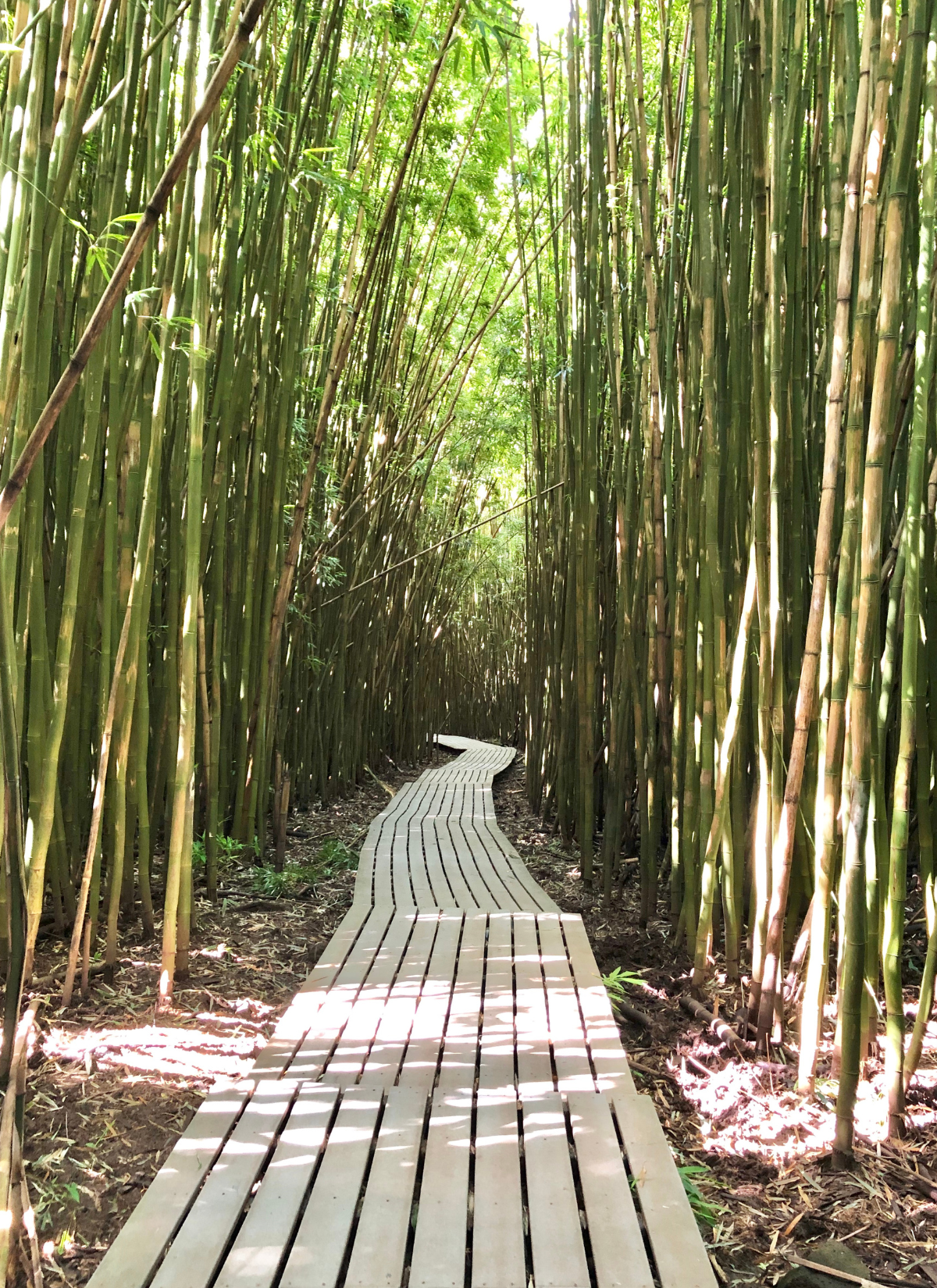 Road to Hana Tour or Drive Yourself?
I'm getting asked this question more often, especially since tourism has resumed since the shutdown. I've personally never done a Road to Hana tour, and I've driven this road a dozen or so times.
Some people are tour people and some people are not. The good news is that you can easily do the Road to Hana either way. If I were going to do a tour, I would book with Road to Hana Tours. They have a TON of options so you can find exactly what you're looking for whether it's a basic on/off bus tour of some of the major tourist sites or one that takes you hiking in the National Park.
If you want to do the drive yourself, but still have a bit of a tour guide, there are a couple of very popular GPS apps that you can download. Shaka Guide and Gypsy Guide are the two big ones.
They both work pretty much the same. The app will narrate your drive turn by turn, let you know when picture worthy vistas are just ahead, guide you to the best hidden waterfalls, and provide a lot of information about the island. I used the Shaka Guide app on my last drive to Hana, and it was interesting. I honestly didn't love it, but I can see how it would be helpful to people who haven't done any research.
You download the tour before you leave so you won't need cell service, but it will EAT your phone battery so you'll want a car charger as well as a USB or AUX connector if your car doesn't have Bluetooth (don't assume the rental will). It's a little clunky, and in my experience, the passenger has to spend a fair amount of time messing with it, but it does provide a lot of value.
However, I still don't think you can download the app and strike out without a plan. The narrator sometimes makes suggestions about whether or not you should stop depending on the time or what else you plan to do, but you could get in a jam where you spend all your time at the front end and don't have time for some of the best stuff at the end. So I recommend still knowing roughly where you want to stop and managing your time so you'll be able to fit everything into your day.
On Another Note: If you're looking for a condo or vacation rental for your trip, I always book with Vrbo. They've got the largest selection of rentals you'll find anywhere and you can easily filter to find exactly what you're looking for. Need a specific number of bedrooms and bathrooms? Narrowed it down to a certain location? Want flexible cancellation terms? Need to stay under a fixed budget? Click here to search for Maui vacation rentals for your trip.
Spending the Night in Hana
Most people visiting Maui will drive the Road to Hana and spend the day climbing in and out of their jeep to check out whatever roadside attractions they come across before whizzing through Hana town and doing a 180 to make it back to Ka'anapali or Wailea for dinner.
If that sounds a little stressful, or you really want to see and experience the jungles around Hana more thoroughly (hey, who isn't into waterfalls, bamboo forests, rainbow eucalyptus trees, and black and red sand beaches??) then you might want to consider staying in Hana so you're able to break all of the adventuring up over a few days.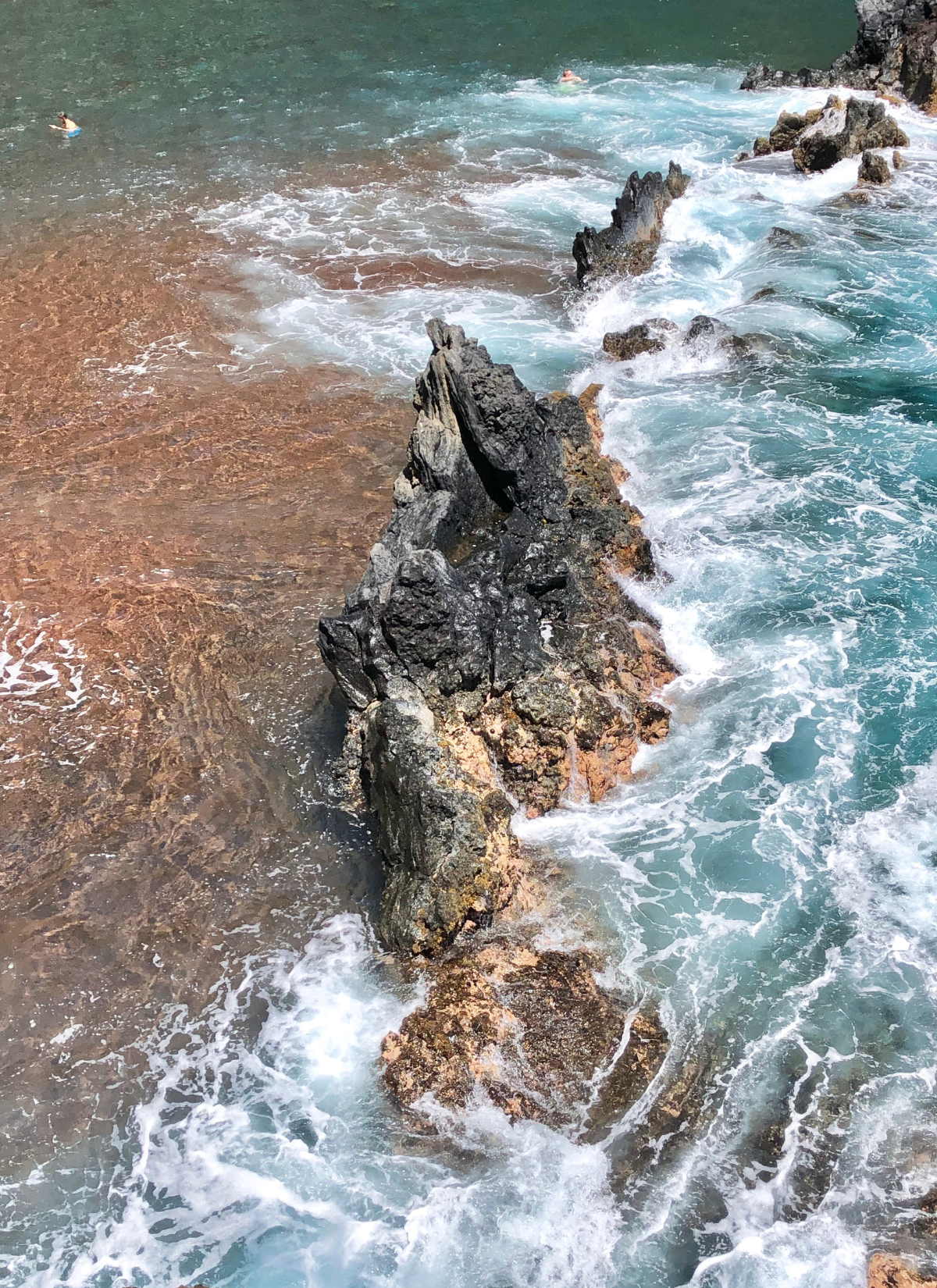 I say might because it's actually not something I would recommend to 90% of visitors.
For two reasons: 1) For most people, with some god planning a day trip is plenty of time to experience this part of the island. Yes, there is enough to do (hiking, swimming, adventuring, etc.) that you could for sure fill up two days with activities, but 2) It becomes kind of a logistical headache.
Here are some things to consider if you're thinking about spending the night: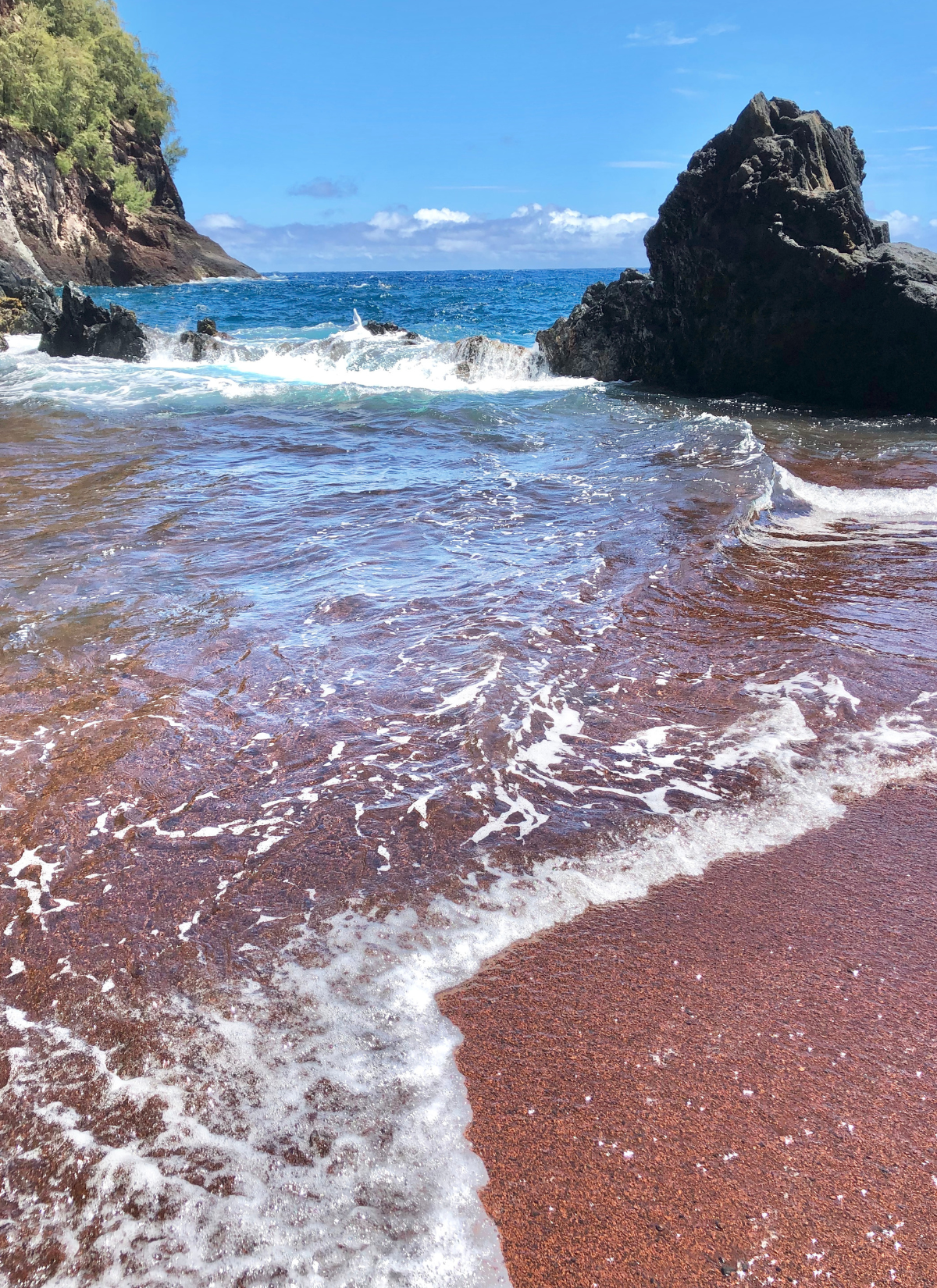 What are you going to do with your luggage? I NEVER leave anything in my car at any stop along the road to Hana that I don't mind never seeing again. Even if it's locked in the trunk. Petty theft is common in Hawaii and thieves know that cars parked at the side of the road in certain spots mean their owners are away hiking and swimming and not likely to be back quickly. Break ins happen in SECONDS. Also, rental cars are easy to spot.
I have a pretty low risk tolerance for having all of my stuff stolen (a lot of people don't even give the risk a second thought!) so I think it makes spending the night in Hana tricky. Especially since what you're doing all day is getting in and out of your car to hike/swim.
Now, there is a work around for this depending on your budget. If you're staying somewhere on Maui for the full week (or more), you could just book a duplicate night at a place in Hana and then you wouldn't need to move your luggage. For example, let's say you're staying at a condo in Kihei for 10 nights. You book your Kihei stay for all 10 nights and then the night you want to stay in Hana you book ON TOP OF that reservation. So for that one night you'll actually have two hotel rooms (you'll be paying for two rooms). You'll be able to leave all of your luggage and stuff at the place in Kihei and just pack a backpack and a change of clothes.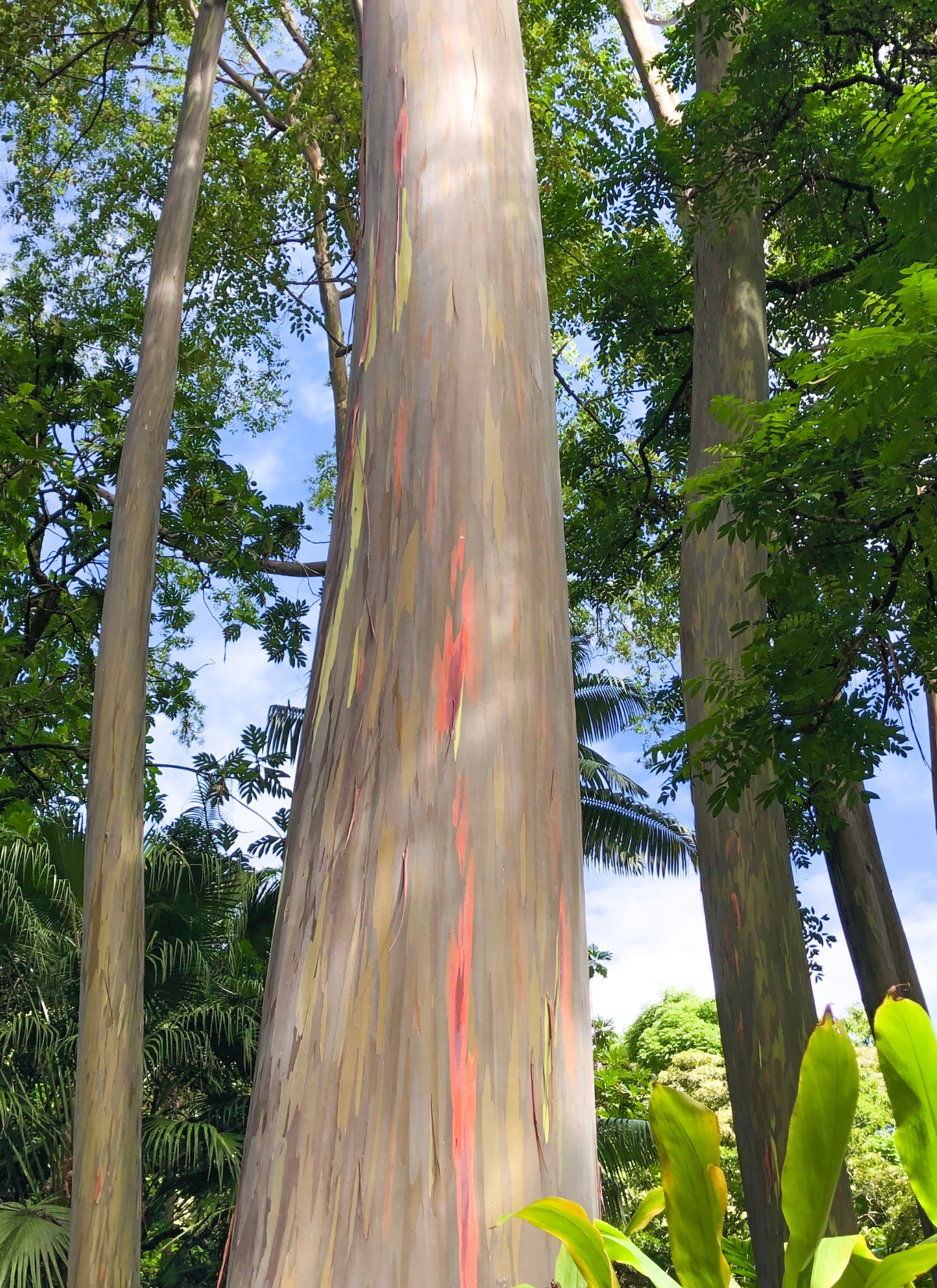 Most people don't want to pay for two hotel rooms, but it's by far the most stress free way to be able to spend the night in Hana without worrying about whether your stuff will get stolen while you're off swimming under a waterfall.
Besides the luggage issue, there's also the time issue. Unless you have 10+ full days on Maui, there is just soooo much else to see and do on Maui (besides just spending time relaxing at the beach/pool and having an actual vacation) that I don't think an overnight in Hana is necessary.
The exception to all of this may be if you're coming to Maui primarily to hike. A lot of the great hikes on Maui are on this side of the island, so if you're wanting to hit a bunch of them (more than you can do in a day) and don't mind spending a good part of your trip out in the jungle, then that may be the way to go.
Here's another option if you're worried you'll be short on time, but don't want to spend the night in Hana: Spend a separate day doing activities and seeing the sites on the north shore. A lot of people that are staying in West Maui (and sometimes even South Maui) will save things like Paia town and stops along the north shore for the Road to Hana day which is trying to cram a LOT into one day.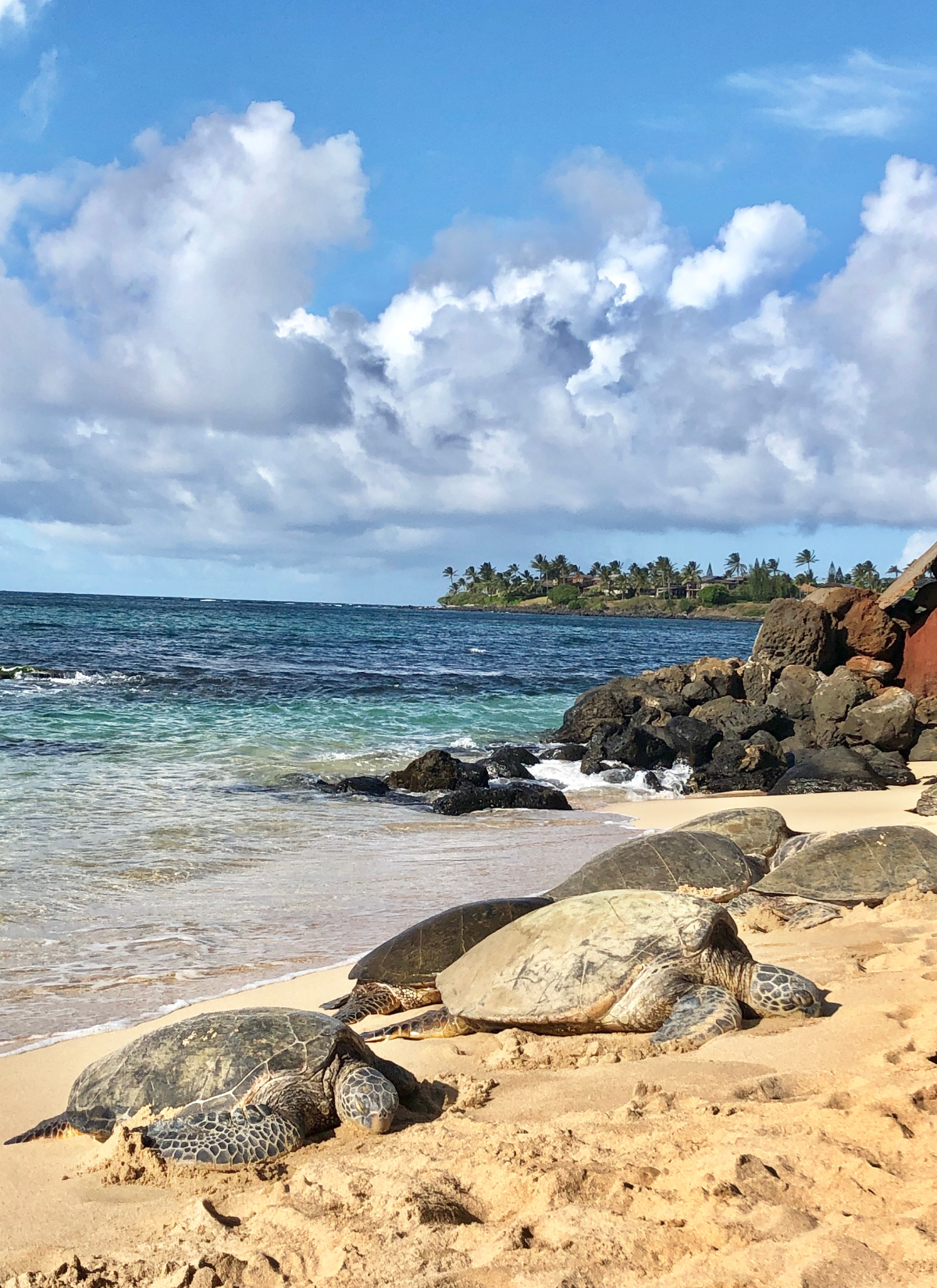 But getting to the north shore from Lahaina or Kihei/Wailea really isn't that far (30-45 minutes) so you could see Paia, see the turtles at Ho'okipa or Tavares Bay, and even do Twin Falls on a different day than the day you drive all the way to Hana. It would be easily combinable with a day doing Haleakala National Park or other stops upcountry.
Where to Stay in Hana
Okay, now that we've gotten through all of that…Hana really is a nice place to stay! If you're on the adventurous side and like to spend a lot of time hiking and swimming, or if you're just looking to spend some time off the grid in the "real Hawaii" where it's not as touristy, developed, or crowded, then you will love staying in Hana.
As you might expect, there aren't many places to stay around Hana.
There are pretty much three options: 1) The Hana-Maui Resort (previously the Travaasa and recently acquired by Hyatt), 2) the Hana Kai Maui, or 3) a vacation rental.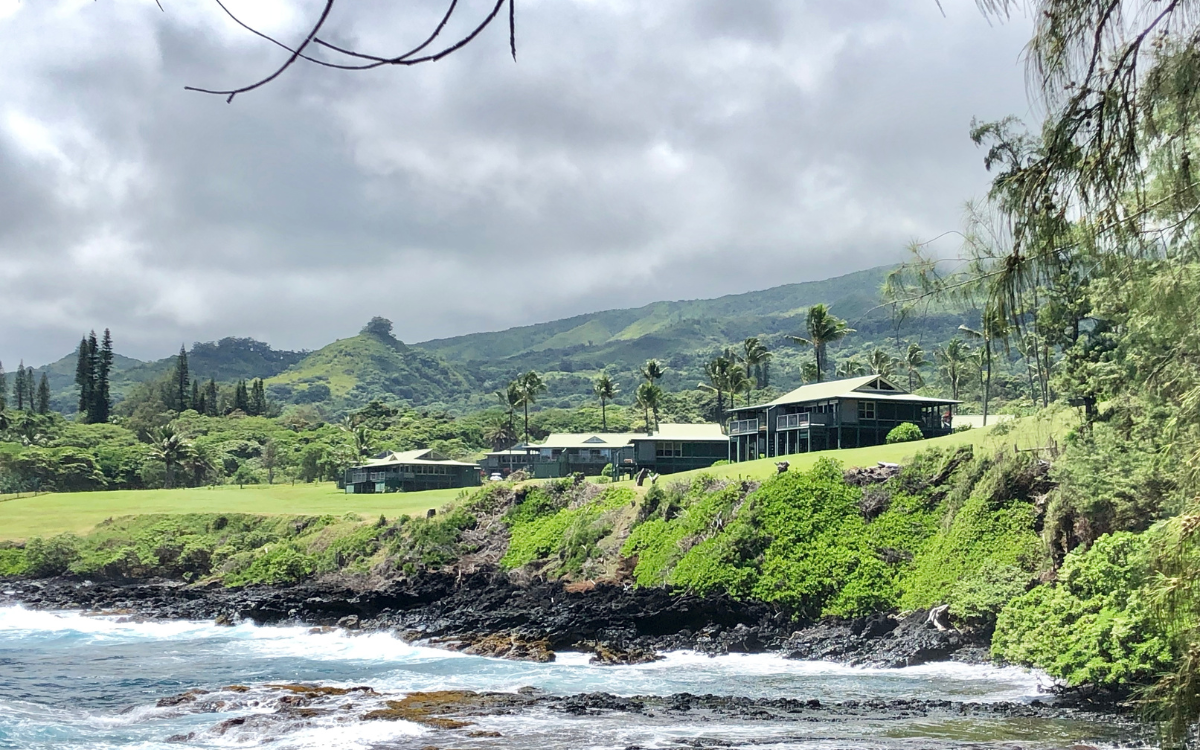 Hana-Maui Resort
For vacationers wanting to get off the grid and truly escape for a while, you'll definitely want to check into the only resort in Hana. Overlooking Hana Bay, the Hana-Maui Resort is a boutique hotel that was recently acquired by Hyatt and is expected to undergo extensive renovations in the next few years.
The Hana-Maui Resort delivers rustic luxury and all-inclusive packages in the middle of Maui's lush, secluded east coast. Rooms feel off the grid with no televisions or internet (although they're available in the bungalows).
Unwind at the spa with Hawaiian inspired treatments, go horseback riding on the beach, or go for a hike on one of the trails that lead to waterfalls. They say Hana is "where time stands still," and it's easy to see why when you're overlooking the wild ocean from the resort's pool.
From recent reviews, it seems like the Hana-Maui Resort maybe isn't quite as luxurious as it once was (probably why it's slated for renovations) and while everything people are griping about is somewhat minor, when you're paying luxury resort prices everything is magnified. If you can find this place in the $300-400ish/night range then I'd go for it. But that's hard to find these days.
But definitely keep your eye on the renovation schedule because once it's updated, this is going to be a real destination resort.
Book your stay at the Hana-Maui Resort here.
Hana Kai Maui
The Hana Kai Maui is a group of oceanfront condos, but it's run like a small hotel. If the Hana-Maui Resort isn't in your budget, this is the next best option. Book the Hana Kai here.
Hana Vacation Rentals
Besides those two places, everything else in Hana is going to be a vacation rental. I always book my rentals with Vrbo because I think they have the most options. Find the best options for your budget and travel party here.
Still Looking for a Place to Stay?
Here's one more really important thing you need to know before your Hawaii trip…
Reservations You Need to Make BEFORE Your Hawaii Trip
You've got your airfare, hotel, rental car and your big activities booked, so you should be good to go, right? Wrong!
Travel is BOOMING in Hawaii so a lot of state and national parks used the closure and reopening to institute reservation systems at some of the island's most popular spots to make things a little more sustainable.
That means that there are now over half a dozen sites (beaches, trailheads, etc.) that require advance reservations. And some sell out well before you arrive on the island so you really need to have some sort of a plan.
I recently saw somebody in a Hawaii travel group post in a panic that they didn't know they had to make reservations for things in advance…they thought they could just show up and "go with the flow." I was tempted to say, well, "as long as the flow doesn't take you somewhere that requires reservations, you can!" ; )
But I don't want YOU to be that person, so I've pulled together a list of all the places you need to reserve entry in advance (plus all the details on booking windows, price, links, etc.) and a handful of popular tourist hotspots that book out really far in advance too.
Haleakala National Park (Maui)
To visit Haleakala National Park for sunrise at the summit, you must make reservations in advance here.
Reservations are required to enter the park gates between 3AM and 7AM (sunrise hours).
Online reservations are $1 per reservation/vehicle PLUS you'll pay the park entrance fee of $30/vehicle when you arrive (National Park annual passes are also accepted at the gate).
The reservation booking window opens 60 days in advance at 7AM HST. There are also a limited number of tickets released two days before.
You can make one reservation every three days with the same account. So if you want to make reservations for back to back days (in case of weather/conditions), you'll need to do so with separate accounts (email addresses).
If you can't get reservations for sunrise, you can enter the park anytime after 7AM without reservations. The summit is spectacular during the day and you don't need reservations for sunset.
I strongly recommend creating an account before and making sure you're logged in at 7AM HST because it's not uncommon for reservations to sell out quickly.
Waianapanapa State Park (Maui)
To visit Maui's famous black sand beach at Waianapanapa State Park on the Road to Hana, you must make reservations in advance here.
Reservations are required to visit the beach and are distributed in windows from 7AM-10AM, 10AM-12:30PM, 12:30PM-3PM, and 3PM-6PM. And they are pretty strict about exiting by the end of your window time (you can arrive anytime within your window).
It's $5/person to enter plus $10/vehicle to park and those fees are paid when you book your time slot.
Reservations open up 30 days in advance.
Iao Valley State Park (Maui)
To visit the lush, green mountains and hike at Iao Valley State Park, you must make reservations in advance here.
Reservations are offered for 90 minute time slots beginning at 7AM and ending at 6PM. They ask that you arrive within the first 30 minutes of your time slot.
Entry is $5/person plus $10/vehicle to park.
Reservations open up 30 days in advance.
Diamond Head (Oahu)
To hike to the top of Waikiki's famous Diamond Head, you must make reservations in advance here.
Reservations are offered in two hour increments beginning at 6AM (6AM-8AM, 8AM-10AM, etc.) and ending at 6PM. If you're parking onsite, they ask that you arrive within the first 30 minutes of your reservation window.
Entry is $5/person plus $10/vehicle to park.
Reservations open up 30 days in advance.
Tip: I recommend booking one of the first two time slots because there isn't much shade on this hike and it gets pretty hot.
Hanauma Bay (Oahu)
To snorkel at Oahu's pristine Hanauma Bay, you must make reservations in advance here.
Entry times are staggered in 10 minute increments from 7AM to 1:20PM with roughly 1000 slots being assigned in advance every day.
Reservations can be made two days in advance and they open at 7AM HST. They're usually gone in minutes (if not seconds).
If you're unable to get an advanced reservation, you can try for a day of, walk in ticket. They open at 6:45AM and they only have a limited number available. Everyone in your group needs to be present when you purchase your tickets in person.
There are no reservations for parking and it's first come, first serve. $3/vehicle.
It's $25/person to snorkel at Hanauma Bay (12 and under, active military, and locals with HI ID are free).
The Hanauma Bay Nature Preserve is open Wednesday through Sunday (CLOSED MONDAY AND TUESDAY) from 6:45AM-4PM. Last entry is at 1:30PM, the beach is cleared at 3:15PM and you have to leave the facility by 4PM.
Jellyfish patterns can also affect whether or not the bay is open so double check the day before/day of.
USS Arizona at Pearl Harbor (Oahu)
If you want to take the boat tour at Pearl Harbor out to the USS Arizona, it's recommended to make advance reservations here.
Online reservations are guaranteed a specific boarding time to go out to the USS Arizona. If you're unable to get an advance reservation, you can wait standby when you arrive. The line could be short (15 minutes or so) or long (hours) and it just depends on the day (if they're having problems with the loading dock sometimes they don't take many from the standby line) and the time of day.
Reservations are supposed to open up 60 days in advance, but keep an eye on your exact dates, because lately they've actually been opening up about 57ish days in advance???
They also release a small batch of tickets the day before.
The boat ride out to the USS Arizona is free, but it's $1 to make the reservations online.
They recently started charging $7/vehicle for parking at Pearl Harbor.
Haena State Park / Kalalau Trail (Kauai)
If you want to hike Kauai's famous Kalalau Trail, you must make advance reservations here.
You've got three options here:
1) Parking & Entry: This is the most flexible option and also the most limited. THESE RESERVATIONS SELL OUT IN LESS THAN A MINUTE. There are three time slots available: 6:30AM-12:30PM, 12:30PM-5:30PM and 4:30PM to sunset. You can purchase multiple time slots if you want to stay longer. It's $10/timeslot (parking) plus $5/person and you have to reserve every person when you initially book. Everybody has to arrive in the same car and your ID needs to match the reservation.
2) Shuttle & Entry: If you can't get parking at the trailhead, there's also a shuttle option. Shuttle reservations are $35/person (16+), $25/person (ages 4-15), 3 and under can ride free. The shuttle runs every 20 minutes 6:20AM to 6:40PM.
3) Entry Only: If you're a Hawaiian resident (with HI ID) or someone WITH a Hawaiian resident, you can purchase entry only for $5/person with no advance reservations. Also, if you're walking or biking to the trailhead you can do this option. But there is NOWHERE to park in the area to walk in. So this really only works for those with bikes or who are staying close enough to walk. They will tow your car if you park outside the designated areas.
The reservation window opens 30 days in advance at 12AM HST. The parking & entry option usually sells out in a minute, but the shuttle availability will last longer.
There are a TON of FAQs here including the possibility of snagging a canceled reservation.
Other Things to Book in Advance
Hawaii is a busy place these days! Besides the state and national parks above, here's a handful of miscellaneous things you should make reservations for in advance (if they're on your radar):
Mama's Fish House (Maui): The iconic spot is the most popular restaurant in Hawaii and they've been opening reservations (and selling out) 4-6 months in advance. You can call and get on the waitlist for one day or you can set notifications on OpenTable to alert you for cancellations every day of your trip. Most people have pretty good success on OpenTable.
Old Lahaina Luau (Maui): Honestly, any luau you're planning to attend you should book early, but most people are usually shocked how far out the Old Lahaina Luau books out. Book it as soon as you know your dates (I think they open at the six month window). They also have a waitlist.
Kualoa Ranch UTV Tour (Oahu): Everybody loves Jurassic Park so getting to ride UTVs where they filmed the movies is very popular. The ranch offers a lot of different tours but the UTV tours usually book out a couple of months in advance.
Spa Reservations: If you're staying at a resort with a spa (or planning on visiting one), don't wait until you arrive to make your reservations. I'd make them at least a month in advance.
Tee Times: Same for golf, reserve your tee times well in advance.
Dining Reservations: Any "fancy" or resort restaurant is likely to be booked up these days so if you like having a nice dinner every night, make your plans in advance.
Want to read more? Don't miss some of my most popular (and favorite) posts about Maui: My Favorite Hotels on Maui | Wailea vs Ka'anapali | All of the Wailea Resorts Ranked | Maui Travel Tips | Things You Can ONLY Do on Maui | Where to Find Maui's Best Condos and Vacation Rentals | My Favorite Road to Hana Itinerary | Road to Hana Tips | Should You Drive the Backside of the Road to Hana? | 10 Day Maui Itinerary | Is Mama's Fish House Worth It? | Tips for Sunrise at Haleakala National Park | Things to Do in Wailea | Things to Do Upcountry | Where to Stay in Kihei | Where to Stay in Lahaina & Ka'anapali | Best Beaches in Wailea & Kihei | Best Restaurants in Wailea | Maui vs Kauai | Four Seasons Maui Review | Andaz Maui Review | Fairmont Kea Lani Review | Wailea Beach Resort Review | Four Seasons vs Andaz Maui | Andaz Maui vs Wailea Beach Resort
P.S. Thanks for sticking around and reading this whole post! If you have ANY questions about planning your trip to Hawaii, you can join my free Facebook group here. I'm there answering questions every day and there are 7500+ other friends who have a ton of Hawaii information to share!
Also, if you want to follow along on my travel adventures in real time, you can follow me on Instagram (@caitylincoln). My post captions are full of travel tips and I have a ton of story highlights and videos with great info. And please share my account with your friends that are headed to Hawaii! Your support really helps me keep this blog running!