My Best Road to Hana Tips: Here's What You Need to Know
Maui's famed Road to Hana isn't just one of the best drives on the island, it's one of the best drives in the world. The 50 miles from Paia to Hana (and beyond) are full of twists and turns, single lane bridges, jungles, gorges, panoramic ocean views, waterfalls, bamboo forests…everything your tropical dreams are made of. This iconic drive has become one of the most popular things to do on Maui, and it's definitely not something you want to go into without a plan.
Keep reading for my best tips for driving the Road to Hana:
Be Considerate. First things first…Maui has been experiencing a surge in tourism since reopening from the pandemic shutdown. This has in turn resulted in higher than usual numbers of people driving the road to Hana everyday and it's putting a bit of a strain on the local community.
While driving along this BEAUTIFUL road is considered one of Maui's top attractions, it's still an actual road and there are people that live in these remote communities that use it everyday. They're driving to work, taking their kids to school, going to doctor appointments, etc. They're not on vacation. And while they're very welcoming, they're getting increasingly frustrated at the huge numbers of visitors coming to Maui (and the current infrastructure's inability to handle them).
So a few simple rules: Don't trespass on private property. Seems like common sense right? Even if you've read about a waterfall that you think you should be able to access or heard about a pond to swim in. If there's a sign and you have to climb around a gate, don't do it. Don't park illegally on the road. There are now MANY signs making it clear where you can't park. Don't stop in the middle of the road to take a picture of a waterfall, a rainbow eucalyptus tree, a gorge, an ocean view, a mongoose, a rainbow, or anything else. If you're driving slowly and there's a local behind you, pull over and let them pass. They have somewhere to be. Just be kind and aware of your surroundings and yield to the locals whenever possible. And remember, you are in their HOME so use those manners your mama taught you.
Get an early start. This is my #1 tip for having a pleasant day driving the Road to Hana. I wouldn't want to be leaving Paia any later than 8AM. Getting an early start will be the single biggest factor in having lower crowd levels at all of the stops along the drive.
Have a plan. Yes, the fun is in the adventure, but you are going to have such a better adventure if you have a plan for it. The road is long (50 miles just to reach Hana plus more if you go beyond) and chock full of overlooks and little sites to see, hikes, waterfalls, pools to swim in, beaches, roadside stands, botanical gardens, etc. If you stop everywhere, it would take you DAYS to do the whole thing and if you only have one day and you spend the first few hours lollygagging around the first few stops you come to, you'll probably end up missing out on the best stuff which is towards the end.
Even if you're using one of the GPS tour guide apps, you'll need to have a rough plan of where you're going to stop so you can budget your time. You don't want to get past Hana and find out there's a world class hike through a bamboo forest, but it's getting dark and you don't have time to do it because you spent too much time at Twin Falls at the beginning of the day.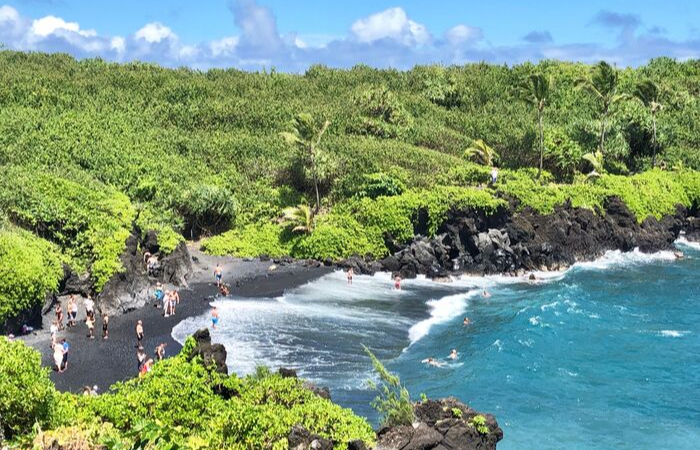 Make reservations for Waianapanapa State Park. Hey this is why it's good to have a plan! Imagine rolling up to Hana's spectacular black sand beach and finding out you can't see it because you didn't make a reservation. Womp womp. Starting March 2021, all non Hawaiian residents must have a reservation for parking and entrance to Waianapanapa State Park (the black sand beach). Reservations can be made 14 days in advance (and no later than the day before). Unlike reservations for sunrise at Haleakala, they don't seem to sell out 2 minutes after they become available, but you definitely don't want to sleep on it. You'll make your reservation for one of four time slots: 7AM-10AM, 10AM-12:30PM, 12:30PM-3PM, and 3PM-6PM. They are strict with the entry and exit times. The two time slots in the middle of the day are the ones that sell out first. It's $10/vehicle for parking and $5/person for entry and you have to pay for it all when you book the reservation.
Fill up your tank. Make sure you have a full tank of gas when you leave Paia. There's a gas station in Hana (where it'll cost you quite a bit more), but that's it.
Plan for motion sickness. I've been blessed with an iron stomach, but people who struggle with motion sickness say the Road to Hana is brutal. In fact, if you get severe motion sickness, it could make driving to Hana a dealbreaker, but if it's mild to moderate for sure have medication (or arm bands or whatever you use) with you.
Take cash. You never know when you're going to need it. Many of the food trucks and spots in Hana take cards, but it's definitely not the kind of place you'd want to be without cash. A lot of the roadside stands will only take cash.
On Another Note: If you're looking for a condo or vacation rental for your trip, I always book with Vrbo. They've got the largest selection of rentals you'll find anywhere and you can easily filter to find exactly what you're looking for. Need a specific number of bedrooms and bathrooms? Narrowed it down to a certain location? Want flexible cancellation terms? Need to stay under a fixed budget? Click here to search for Maui vacation rentals for your trip.
You don't need four wheel drive. The road from Paia to Hana is completely paved and even beyond Hana you won't need four wheel drive. Jeeps and Mustang convertibles are the most popular rentals with tourists, but I personally would not want to do this drive in a convertible. It rains too often and rockslides (even tiny ones) aren't terribly uncommon. A Jeep is fun, but not necessary. Smaller cars (shorter length) are preferable to bigger cars for negotiating tight spots (this pretty much goes for anywhere in Hawaii).
Prepare for no cell service. You'll have patchy cell service until you get to Hana, and no cell service on the backside past Hana. Download your Spotify playlists before you go, have a general sense of where the big spots you're stopping at are. If you're using a GPS app like Gypsy or Shaka, they won't require cell service to run, but they will DRAIN your phone battery so make sure you have a charger.
Wear the right clothes. I dress for hiking, getting in and out of the car a lot, and being generally pretty grubby. I don't dress for the beach. There are freshwater pools and ponds that people like to swim in (everybody wants to swim under a waterfall don't they?), but I can't think of many things more miserable than being in and out of the car all day in a wet swimsuit. I also don't get in the water at the black sand or red sand beaches in Hana (again I don't like being in the car in a wet swimsuit but they're also not good swimming beaches). So I usually wear a swimsuit under my clothes because you never know, but I'm not running around in a coverup and flip flops all day. The most important thing for me is sturdy shoes (they can be sandals, but they need to be strapped onto your feet) that you don't mind getting muddy and wet.
Side Note: If you're looking for a rental car for your trip, I LOVE Discount Hawaii Car Rentals. They're seriously the only company I ever use. They'll give you the very best prices, you don't have to reserve with a credit card or pay until you show up, you can cancel and re-book anytime if you find a better rate, and they usually have a special that adds additional drivers for no fee. It's a no brainer. Click here to check rates for your trip.
Pack a bit of everything. I do take towels or a beach blanket and you'll for sure want sunscreen and bug spray. I've actually never been bothered by mosquitos in Hana (they don't like me though), but I know people who have been absolutely eaten alive at different hiking spots. If you have a cooler, it's not a bad idea to bring water or snacks although there are plenty of places to stop (if you're going past Hana though you'll definitely want to stock up there). Hats, sunglasses, baby wipes, phone chargers, etc. I'd take a mix of hiking and "going to the beach" gear.
Get back before dark. I don't like being on the road after dark so that's why I always like to have a plan for where I'm going to stop and how long I'm going to spend at each place.
Don't geotag locations. So going back to my first point about being considerate to locals…this is their backyard. These spots and gems along the Road to Hana are places that they've been going to for generations. These are their family swimming holes, places they go camping when they have days off work, spots they've played at as kids and now take their kids to play. It's not a "world class attraction" to them. It's their home. They're not unwelcoming, but they don't want their special places overrun with tourists. So it's always best not to geotag (on social media) places that you might end up that are off the beaten path. There are pretty much only three things I will tag along the Road to Hana: 1) the black sand beach at Waianapanapa State Park because it's a state park and very well known, 2) the Kipahulu District of Haleakala National Park (Pipiwai Trail and Seven Sacred Pools) because again it's a national park and not a hidden gem, and 3) places in Hana like Hasegawa's General Store and the food trucks.
Need more Road to Hana info? I've got several posts to check out: MY favorite Road to Hana Itinerary, Should You Drive the Backside of the Road to Hana?, and Where to Stay in Hana.
Road to Hana Tour or Drive Yourself?
I'm getting asked this question more often, especially since tourism has resumed since the shutdown. I've personally never done a Road to Hana tour, and I've driven this road a dozen or so times.
Some people are tour people and some people are not. The good news is that you can easily do the Road to Hana either way. If I were going to do a tour, I would book with Road to Hana Tours. They have a TON of options so you can find exactly what you're looking for whether it's a basic on/off bus tour of some of the major tourist sites or one that takes you hiking in the National Park.
If you want to do the drive yourself, but still have a bit of a tour guide, there are a couple of very popular GPS apps that you can download. Shaka Guide and Gypsy Guide are the two big ones.
They both work pretty much the same. The app will narrate your drive turn by turn, let you know when picture worthy vistas are just ahead, guide you to the best hidden waterfalls, and provide a lot of information about the island. I used the Shaka Guide app on my last drive to Hana, and it was interesting. I honestly didn't love it, but I can see how it would be helpful to people who haven't done any research.
You download the tour before you leave so you won't need cell service, but it will EAT your phone battery so you'll want a car charger as well as a USB or AUX connector if your car doesn't have Bluetooth (don't assume the rental will). It's a little clunky, and in my experience, the passenger has to spend a fair amount of time messing with it, but it does provide a lot of value.
However, I still don't think you can download the app and strike out without a plan. The narrator sometimes makes suggestions about whether or not you should stop depending on the time or what else you plan to do, but you could get in a jam where you spend all your time at the front end and don't have time for some of the best stuff at the end. So I recommend still knowing roughly where you want to stop and managing your time so you'll be able to fit everything into your day.
Want to read more? Don't miss some of my most popular (and favorite) posts about Maui: my Maui favorites, the best Maui itinerary, how many days to spend on Maui, Maui vs Kauai, where to see turtles on Maui, guide for sunrise at Haleakala National Park, how to bike down Maui's volcano, my review of the Maui Pineapple Tour, 20 of the best adventure activities on Maui, 5 Maui day trips, and the best things to do on a Maui honeymoon.
More posts about where to stay on Maui: Trying to figure out where to stay on Maui? I've written a ton of posts that will help. I'd start with my 15 favorite resorts and hotels on Maui. Also, you're going to want to decide between staying on the south side or the west side so this post about Wailea vs Ka'anapali is golden. Read about my favorite luxury resorts, boutique hotels, honeymoon resorts, family friendly resorts, and condos (many under $100/night!). If you've narrowed down the area of the island you want to stay, but need help picking a specific hotel, read these posts about where to stay in Wailea, Kihei, Ka'anapali, Lahaina and Kapalua, and Hana. And if you just want more details (more! More! more!), read my reviews of staying at the Four Seasons and the Fairmont Kea Lani.
P.S. Thanks for sticking around and reading this whole post! If you have ANY questions about planning your trip to Hawaii, you can join my free Facebook group here. I'm there answering questions every day and there are 7500+ other friends who have a ton of Hawaii information to share!
Also, if you want to follow along on my travel adventures in real time, you can follow me on Instagram (@caitylincoln). My post captions are full of travel tips and I have a ton of story highlights and videos with great info. And please share my account with your friends that are headed to Hawaii! Your support really helps me keep this blog running!