Should You Drive the Backside of the Road to Hana?
Pretty much everybody and their dog knows about driving the Road to Hana on Maui. It's a must do! Don't miss it! It's so incredible it'll change your life! Well, you get the picture. And it truly is fabulous. I've written a whole slew of posts about the Road to Hana, but there's one question I get asked more than others…should I drive the backside of the road to Hana?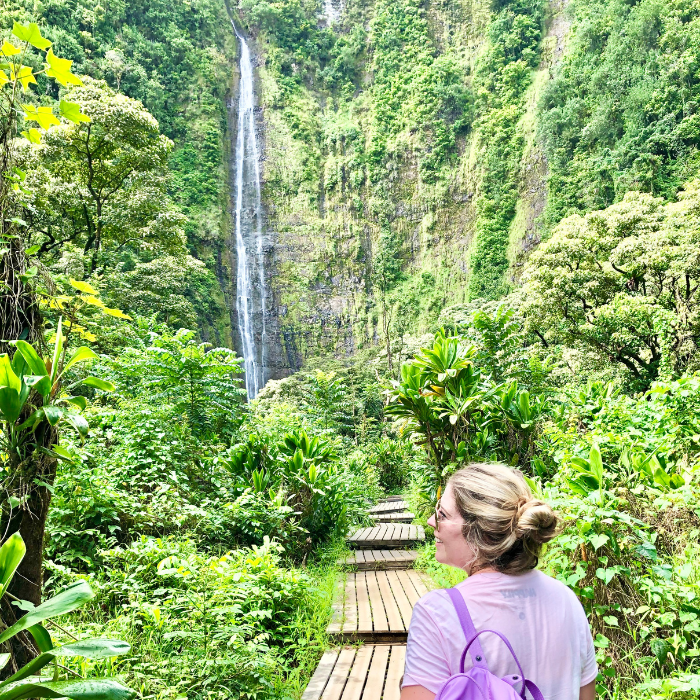 Should You Drive the Backside of the Road to Hana?
If you've just started your Hana research, here's how it works: the "Road to Hana" is considered to start in Paia on the north shore of Maui. From there it's about a two hour drive (with no stops) due east to the town of Hana. By far the majority of people turn around once they reach Hana and drive the same road back to Paia. An out and back drive if you will.
Quite a few people continue on past Hana to the Kipahulu District of Haleakala National Park where you'll find the Oheo Gulch (aka Seven Sacred Pools) and the Pipiwai Trailhead. Besides the black sand beach at Waianapanapa State Park, this really is the crown jewel of the Road to Hana. It's 11 miles past Hana town and takes a little over half an hour to reach with no stops.
People that make it all the way to Kipahulu are usually the ones that ask about turning back and retracing their path back through Hana and on to Paia or driving through (continuing clockwise around the island) the backside of the Road to Hana. If you continue on in the loop, you'll eventually come through Ulupalakua (where Maui Wine is) and Kula in upcountry Maui and can take the highway back down towards Paia and Kahului.
Before I go on…if you want to read my other Road to Hana posts, you can find them here: MY favorite Road to Hana itinerary, tips for driving the Road to Hana, and where to stay in Hana (in case you decide you want to spend the night).
Okay, so let's get on with the questions…
Is driving past Hana illegal?
There's a lot of hype about how "bad" the backside of the Road to Hana is. Mostly this stems from rumors (I like to call it an urban legend, hmm maybe I'll call it a "jungle legend" lol) about it being illegal to take rental cars back this way. Maybe at one point that was true, but I don't really think it is anymore. I've yet to see a current rental car contract that even mentions where you can or can't take the car on Maui (and I always read the fine print!). If you ask them directly, they'll hem and haw (they give you the strong impression that it's forbidden) but basically what it comes down to is "they won't come and get you if you have a problem."
Mmmmkay, If you think any rental car company is going to come get you if you have a problem ANYWHERE, you have more faith in them than me. It's possible that some companies offer roadside assistance coverage that you can purchase additionally and maybe this portion of the road isn't included in that. I carry AAA independently (plus my auto insurance and credit card cover this) so I always decline all extra insurance. Yes, it would not be fun to break down on the backside of the road to Hana or have a flat tire, but guess what? It wouldn't be fun to do that on the front side with all the traffic and narrow winding roads!
Bottom line: read the actual fine print of your contract and know YOUR situation with your personal insurance and don't just go on hearsay.
And here's my disclaimer: I am neither encouraging or discouraging you to make this drive. I'm just going to describe it as accurately as possible and relay my personal experiences so that you can make a decision that you're comfortable with. If you go, (just like anything you do), you do so at your own risk.
***Want to save major $$$ on a fancy beach resort? My favorite travel hack is cashing in points to score free nights at some of the island's most high end resorts. My go to hotel brand is Marriott so I use this Marriott Bonvoy Boundless card to rack up points for a lot of my trips to Hawaii. If you pay for your monthly expenses on the card and are responsible about paying it off every month, the points add up really fast. Plus, if you sign up through my link, you'll get THREE bonus free nights to use. On Maui, use your points at some of my favorite Marriott properties like the Wailea Beach Resort, Ritz Carlton Kapalua, Westin Maui, and Sheraton Maui.
So how bad exactly is the road?
So on to the practicalities of the road itself. The 3-5 miles just past Kipahulu (the National Park, AKA Seven Sacred Pools) are the worst, but it's not unlike the last few miles leading up to Kipahulu on the other side (past Hana coming into the National Park). There are literally signs posted telling you to honk as you go around the blind corners. It sounds a little more intense than it is. They are indeed blind corners (you can't see if anyone is coming around the other side), but it's not actually that scary.
The road is narrow (a generous one lane road with plenty of spots to pull over and let someone pass) and winding and there are quite a few blind corners, but generally speaking, the road also isn't very high up in these portions as it is on the front side. When the "drop off" is only 5-10 feet below, it's nowhere near as intense feeling as when it's several hundred feet along the north shore (even though it's two lanes).
The road is very comfortable for one car to drive on, the problem comes when you pass another car. You just have to keep your sight lines open and watch for cars coming in the other direction. In any one stretch of the road, there is a spot big enough for your car to pull over so the oncoming car can pass. So when you see a car coming, yield and pull over even if they're a ways away. It'll avoid the uncomfortable situation of figuring out how you're going to squeeze past (or backing up) once you're on them.
And if you're driving clockwise around the island, you will need to yield to them since they're on the outside lane (which means you have the inside lane and it feels MUCH safer).
I've written a lot here about this and I don't want it to sound scary, but I also want you to know EXACTLY what you're signing up for.
I grew up riding ATVs and driving on trails in Colorado (I also drive a Jeep and a 4Runner) so I consider this drive FUN and not at all scary, but I can definitely see how if you're not a confident driver or you've only ever driven in the city it could be stressful. I will say though, that while I have driven this in a Jeep, I've also driven it in a sedan and a full size pickup. Four wheel drive is 100% NOT necessary for driving the backside of Hana.
Side Note: If you're looking for a rental car for your trip, I LOVE Discount Hawaii Car Rentals. They're seriously the only company I ever use. They'll give you the very best prices, you don't have to reserve with a credit card or pay until you show up, you can cancel and re-book anytime if you find a better rate, and they usually have a special that adds additional drivers for no fee. It's a no brainer. Click here to check rates for your trip.
Here's my best tip for driving past Hana: always try to follow a car in front of you. While a lot of the guides/apps say to try to be the first car in a line while driving through the frontside so you don't have to watch their brake lights too closely while you're looking around, I think the opposite is true when you're driving past Hana. Driving in a caravan (even when you don't know the other people) takes away a LOT of the stress of creeping around blind corners plus the lead car has to sort out all of the passing issues with other cars ; )
Okay, once you pass this portion (the first 3-5 miles past Kipahulu), the road clears up nicely into a wide open terrain. It's mostly paved, but there are some portions that are gravel or a roughly graded cement. I will say, the paved road is still pretty narrow and even though there's no drop off on either side, if you see a local (anyone really) coming to meet you, pull over as far as you can and stop where there's a good place because they will come BLAZING through.
What is the terrain on the backside of Hana?
The backside road is VERY different from the front road and definitely worth experiencing. If the front side is lush and jungle-like, the backside is dry and desert-like (once you get past Kipahulu). While the frontside is super windy and you're in and out of jungles, the backside is flat, wide open, and you can see for MILES. It has an arid quality. If you couldn't look out and see the ocean, you'd probably think you were in parts of Texas or another western state.
On Another Note: If you're looking for a condo or vacation rental for your trip, I always book with Vrbo. They've got the largest selection of rentals you'll find anywhere and you can easily filter to find exactly what you're looking for. Need a specific number of bedrooms and bathrooms? Narrowed it down to a certain location? Want flexible cancellation terms? Need to stay under a fixed budget? Click here to search for Maui vacation rentals for your trip.
Where to Stop along the Backside of Road to Hana
Once you leave the National Park, there's not really a ton of places I recommend to stop. There are some spots that are popular with locals for camping and fishing, but I think those are best left unexplored by visitors unless you're taken there as a guest.
The next and last stop until you get to Ulupalakua (Maui Wine and the Ranch Store) is the Kaupo Store. It's the quintessential Hawaiian mom and pop shop and it's a great place to grab a cold drink and use the restroom. If they're open ; ) I'll note here that the National Park does NOT have water or snacks for sale so since the Kaupo Store is undependable, make sure you have everything you need once you leave Hana.
The Final Verdict
I say if you're brave enough to get to Hana and Kipahulu, you might as well go the whole way around! It's a completely different adventure than driving the front side. Also, once you're at the National Park, it's quicker to drive the back way instead of backtracking through Hana and around with all the traffic. Once you leave the National Park, it's less than an hour and a half drive to Kula (back to civilization). I personally don't like to be on the road after dark at all, but once I make it to Kula (really even Ulupalakau), it's fine driving back in the dark.
And to finish with my most solid argument…if a big tour bus can drive the backroad to Hana, so can you ; )
ALL OF THIS BEING SAID…if this makes you nervous, if you're not an easy driver, if you're not used to trail driving or driving outside of a city, if you have an overwhelming fear of heights or significant anxiety, or if you question the safety for ANY reason, it's always best not to go!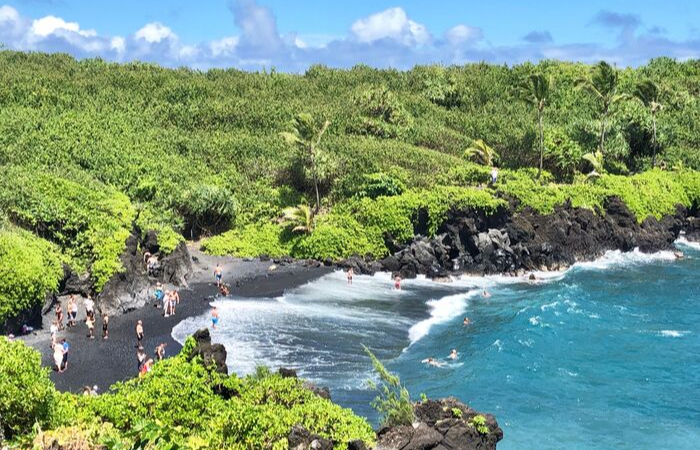 One Last Question: What about driving the Road to Hana in REVERSE?
Ahhh, the backwards Road to Hana. Who thinks of these things? I guess the Internet has opened up so much more information and opinions (hello blog!) that people are always looking for a headstart or a leg up. And yes, I have driven the Road to Hana in reverse, but really only because I used to live upcountry in Kula and it was the quicker way to get to Hana from my house.
So here's the scenario: people read about long lines of cars, limited parking spaces, and crowded hikes, waterfalls, etc. at stops along the Road to Hana and they wonder if they start in Kula and do a reverse loop around the island if they'll run into fewer crowds and get a head start on their must see list. I guess depending on what you're most interested in seeing/doing you could try this, but here are my thoughts:
I strongly recommend driving the Road to Hana the "right" way or clockwise from Paia for a couple of reasons: 1) you'll be on the inside lane the whole way around (no hugging the tight shoulder where there's a 200 foot drop off mere feet away from your tire) which is a bigger deal when you're driving on the road past Hana. 2) You'll experience the best part of the drive (what you're most expecting to see…crazy lush vegetation, wild jungles, waterfalls, etc) early in the day when you're still fresh and excited (and not 6-8 hours in when you're starting to run on fumes energy wise).
Besides that, I just don't think you're going to make that much of a difference on the crowd levels at each stop by doing it in reverse.
How to Avoid Crowds along the Road to Hana
The Road to Hana is not undiscovered anymore and there are just people everywhere. But here's the thing…it's still not really unpleasant unless you know what it used to be like before there was the surge in tourists. The average visitor is not going to think twice about the number of people they encounter along this road unless they were truly thinking they would be the ONLY ones driving to Hana. So just drive the route that's going to give you the best overall experience and don't be worried about trying to be too strategic.
I've also had a few people recently ask me about starting in Paia and driving ALL the way to Hana without stopping and then turning around and doing their stops on the way back. Their reasoning is that the popular sites closer to Hana would be less crowded by getting there earlier and then I guess they think that the crowds at the stops closer to Paia will have moved on towards Hana so by the time they retrace their steps they'll have all the popular spots to themselves.
Here's the thing…this isn't Disney World. You don't really need a touring plan for the order of how to hit all your must see spots. Yes, if you drive straight from Paia to Hana, you might see less people at the spots near Hana, but by the time you start working your way back to Paia those spots are still going to "crowded." So many people don't really plan their trip to Hana and end up starting out late in the day and just stopping wherever they see cars so those stops along the north shore are still going to have visitors all day long.
The #1 best thing you can do to avoid crowds along the Road to Hana BY FAR is just getting an early start. If you leave Paia by 8AM (and hey earlier is even better), I promise you that you'll be ahead of 90% of the people planning to drive to Hana that day. If you have a solid plan for where you want to stop and you just keep moving along, you'll stay in front of the "crowds" all day and you'll have a great time.
Still Looking for a Place to Stay?
Here's one more really important thing you need to know before your Hawaii trip…
Reservations You Need to Make BEFORE Your Hawaii Trip
You've got your airfare, hotel, rental car and your big activities booked, so you should be good to go, right? Wrong!
Travel is BOOMING in Hawaii so a lot of state and national parks used the closure and reopening to institute reservation systems at some of the island's most popular spots to make things a little more sustainable.
That means that there are now over half a dozen sites (beaches, trailheads, etc.) that require advance reservations. And some sell out well before you arrive on the island so you really need to have some sort of a plan.
I recently saw somebody in a Hawaii travel group post in a panic that they didn't know they had to make reservations for things in advance…they thought they could just show up and "go with the flow." I was tempted to say, well, "as long as the flow doesn't take you somewhere that requires reservations, you can!" ; )
But I don't want YOU to be that person, so I've pulled together a list of all the places you need to reserve entry in advance (plus all the details on booking windows, price, links, etc.) and a handful of popular tourist hotspots that book out really far in advance too.
Haleakala National Park (Maui)
To visit Haleakala National Park for sunrise at the summit, you must make reservations in advance here.
Reservations are required to enter the park gates between 3AM and 7AM (sunrise hours).
Online reservations are $1 per reservation/vehicle PLUS you'll pay the park entrance fee of $30/vehicle when you arrive (National Park annual passes are also accepted at the gate).
The reservation booking window opens 60 days in advance at 7AM HST. There are also a limited number of tickets released two days before.
You can make one reservation every three days with the same account. So if you want to make reservations for back to back days (in case of weather/conditions), you'll need to do so with separate accounts (email addresses).
If you can't get reservations for sunrise, you can enter the park anytime after 7AM without reservations. The summit is spectacular during the day and you don't need reservations for sunset.
I strongly recommend creating an account before and making sure you're logged in at 7AM HST because it's not uncommon for reservations to sell out quickly.
Waianapanapa State Park (Maui)
To visit Maui's famous black sand beach at Waianapanapa State Park on the Road to Hana, you must make reservations in advance here.
Reservations are required to visit the beach and are distributed in windows from 7AM-10AM, 10AM-12:30PM, 12:30PM-3PM, and 3PM-6PM. And they are pretty strict about exiting by the end of your window time (you can arrive anytime within your window).
It's $5/person to enter plus $10/vehicle to park and those fees are paid when you book your time slot.
Reservations open up 30 days in advance.
Iao Valley State Park (Maui)
To visit the lush, green mountains and hike at Iao Valley State Park, you must make reservations in advance here.
Reservations are offered for 90 minute time slots beginning at 7AM and ending at 6PM. They ask that you arrive within the first 30 minutes of your time slot.
Entry is $5/person plus $10/vehicle to park.
Reservations open up 30 days in advance.
Diamond Head (Oahu)
To hike to the top of Waikiki's famous Diamond Head, you must make reservations in advance here.
Reservations are offered in two hour increments beginning at 6AM (6AM-8AM, 8AM-10AM, etc.) and ending at 6PM. If you're parking onsite, they ask that you arrive within the first 30 minutes of your reservation window.
Entry is $5/person plus $10/vehicle to park.
Reservations open up 30 days in advance.
Tip: I recommend booking one of the first two time slots because there isn't much shade on this hike and it gets pretty hot.
Hanauma Bay (Oahu)
To snorkel at Oahu's pristine Hanauma Bay, you must make reservations in advance here.
Entry times are staggered in 10 minute increments from 7AM to 1:20PM with roughly 1000 slots being assigned in advance every day.
Reservations can be made two days in advance and they open at 7AM HST. They're usually gone in minutes (if not seconds).
If you're unable to get an advanced reservation, you can try for a day of, walk in ticket. They open at 6:45AM and they only have a limited number available. Everyone in your group needs to be present when you purchase your tickets in person.
There are no reservations for parking and it's first come, first serve. $3/vehicle.
It's $25/person to snorkel at Hanauma Bay (12 and under, active military, and locals with HI ID are free).
The Hanauma Bay Nature Preserve is open Wednesday through Sunday (CLOSED MONDAY AND TUESDAY) from 6:45AM-4PM. Last entry is at 1:30PM, the beach is cleared at 3:15PM and you have to leave the facility by 4PM.
Jellyfish patterns can also affect whether or not the bay is open so double check the day before/day of.
USS Arizona at Pearl Harbor (Oahu)
If you want to take the boat tour at Pearl Harbor out to the USS Arizona, it's recommended to make advance reservations here.
Online reservations are guaranteed a specific boarding time to go out to the USS Arizona. If you're unable to get an advance reservation, you can wait standby when you arrive. The line could be short (15 minutes or so) or long (hours) and it just depends on the day (if they're having problems with the loading dock sometimes they don't take many from the standby line) and the time of day.
Reservations are supposed to open up 60 days in advance, but keep an eye on your exact dates, because lately they've actually been opening up about 57ish days in advance???
They also release a small batch of tickets the day before.
The boat ride out to the USS Arizona is free, but it's $1 to make the reservations online.
They recently started charging $7/vehicle for parking at Pearl Harbor.
Haena State Park / Kalalau Trail (Kauai)
If you want to hike Kauai's famous Kalalau Trail, you must make advance reservations here.
You've got three options here:
1) Parking & Entry: This is the most flexible option and also the most limited. THESE RESERVATIONS SELL OUT IN LESS THAN A MINUTE. There are three time slots available: 6:30AM-12:30PM, 12:30PM-5:30PM and 4:30PM to sunset. You can purchase multiple time slots if you want to stay longer. It's $10/timeslot (parking) plus $5/person and you have to reserve every person when you initially book. Everybody has to arrive in the same car and your ID needs to match the reservation.
2) Shuttle & Entry: If you can't get parking at the trailhead, there's also a shuttle option. Shuttle reservations are $35/person (16+), $25/person (ages 4-15), 3 and under can ride free. The shuttle runs every 20 minutes 6:20AM to 6:40PM.
3) Entry Only: If you're a Hawaiian resident (with HI ID) or someone WITH a Hawaiian resident, you can purchase entry only for $5/person with no advance reservations. Also, if you're walking or biking to the trailhead you can do this option. But there is NOWHERE to park in the area to walk in. So this really only works for those with bikes or who are staying close enough to walk. They will tow your car if you park outside the designated areas.
The reservation window opens 30 days in advance at 12AM HST. The parking & entry option usually sells out in a minute, but the shuttle availability will last longer.
There are a TON of FAQs here including the possibility of snagging a canceled reservation.
Other Things to Book in Advance
Hawaii is a busy place these days! Besides the state and national parks above, here's a handful of miscellaneous things you should make reservations for in advance (if they're on your radar):
Mama's Fish House (Maui): The iconic spot is the most popular restaurant in Hawaii and they've been opening reservations (and selling out) 4-6 months in advance. You can call and get on the waitlist for one day or you can set notifications on OpenTable to alert you for cancellations every day of your trip. Most people have pretty good success on OpenTable.
Old Lahaina Luau (Maui): Honestly, any luau you're planning to attend you should book early, but most people are usually shocked how far out the Old Lahaina Luau books out. Book it as soon as you know your dates (I think they open at the six month window). They also have a waitlist.
Kualoa Ranch UTV Tour (Oahu): Everybody loves Jurassic Park so getting to ride UTVs where they filmed the movies is very popular. The ranch offers a lot of different tours but the UTV tours usually book out a couple of months in advance.
Spa Reservations: If you're staying at a resort with a spa (or planning on visiting one), don't wait until you arrive to make your reservations. I'd make them at least a month in advance.
Tee Times: Same for golf, reserve your tee times well in advance.
Dining Reservations: Any "fancy" or resort restaurant is likely to be booked up these days so if you like having a nice dinner every night, make your plans in advance.
Want to read more? Don't miss some of my most popular (and favorite) posts about Maui: My Favorite Hotels on Maui | Wailea vs Ka'anapali | All of the Wailea Resorts Ranked | Maui Travel Tips | Things You Can ONLY Do on Maui | My Favorite Road to Hana Itinerary | Road to Hana Tips | Should You Drive the Backside of the Road to Hana? | 4 Day Maui Itinerary | Is Mama's Fish House Worth It? | Tips for Sunrise at Haleakala National Park | Things to Do Upcountry | Best Beaches in Wailea & Kihei | Best Restaurants in Wailea | Maui vs Kauai | Four Seasons Maui Review | Andaz Maui Review | Fairmont Kea Lani Review | Wailea Beach Resort Review | Four Seasons vs Andaz Maui | Andaz Maui vs Wailea Beach Resort
P.S. Thanks for sticking around and reading this whole post! If you have ANY questions about planning your trip to Hawaii, you can join my free Facebook group here. I'm there answering questions every day and there are 7500+ other friends who have a ton of Hawaii information to share!
Also, if you want to follow along on my travel adventures in real time, you can follow me on Instagram (@caitylincoln). My post captions are full of travel tips and I have a ton of story highlights and videos with great info. And please share my account with your friends that are headed to Hawaii! Your support really helps me keep this blog running!