Best Restaurants in Wailea: Sunset Cocktails, Fancy Dinners, Breakfast Spots, Luaus & More
This post may contain some affiliate links, which means I'll make a little money on anything you choose to purchase. But of course, I only recommend my absolute favorites to you. Thank you for supporting the brands that make the Lincoln Travel Co possible.
**This post was updated October 2023.
Ahhh Wailea…welcome to the land of perfectly manicured palm trees, drinks by the pool, spa treatments, tee times, and long walks on the beach. This is resort life at its finest.
If you're heading to Wailea (lucky duck!) and you want to know all the best places to eat in the area, this post is for you.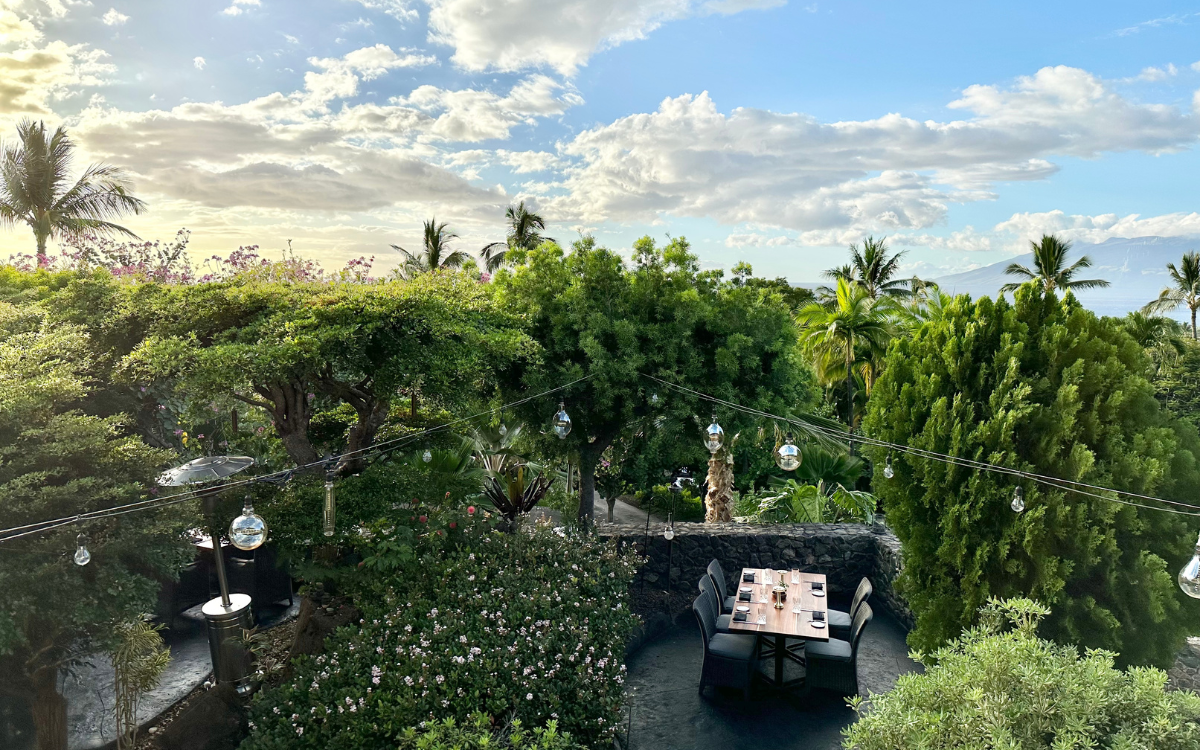 Now let me set your expectations, if you're looking for local dives with $10 plate lunch specials…this isn't that.
Just by nature, this post is going to focus mostly on fine (or at least nice-ish) dining because…that's what's abundant. Wailea is a resort area, not a town so most of the restaurants and food options are made to cater towards tourists. And while you should definitely get out and venture to other parts of the island to see the "real Maui," if you're planning a relaxing vacation where you spend quite a bit of time at the beach/pool/resort then you're going to want to know your best options in the area.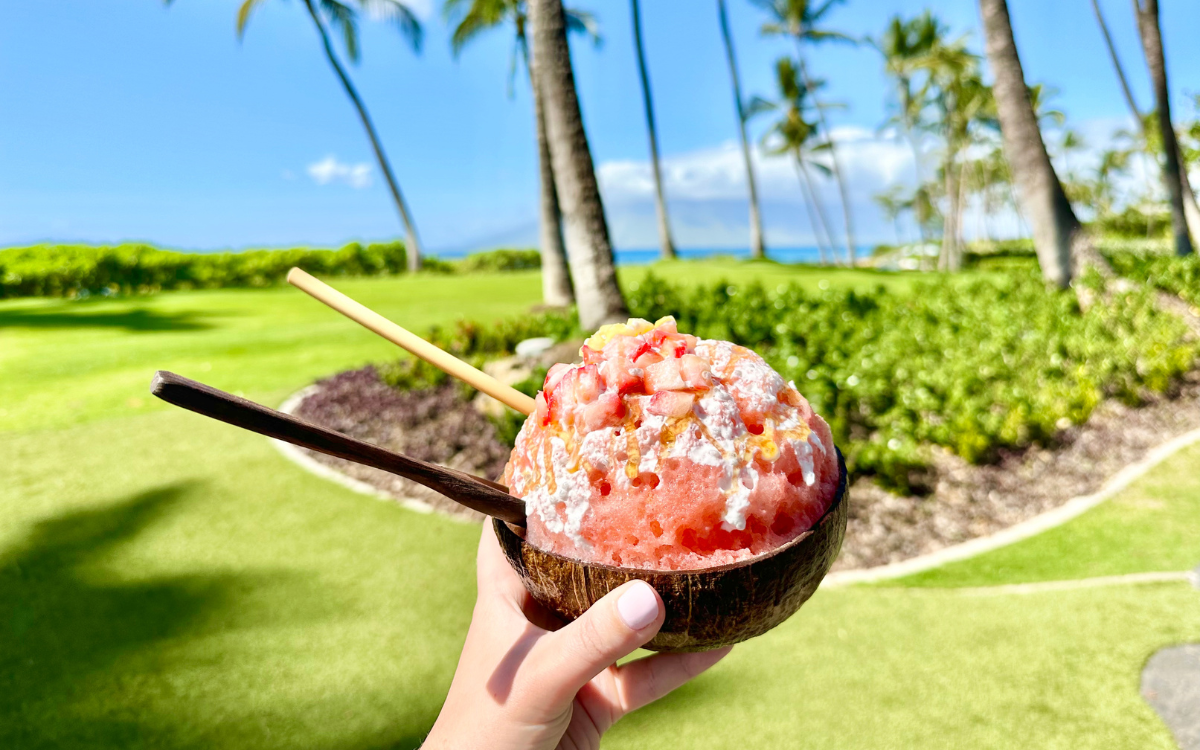 So I'll give you the lowdown on what spots are definitely worth the $$$ (because not all resort restaurants are created equal) plus my favorite spots for options for happy hour, quick lunches, etc.
If you're looking for breakfast options, scroll on down towards the end of this post where I'll break down the buffets at each resort plus more casual options in the area.
And I've even got luau recommendations plus places that I like nearby in Kihei.
Here's a quick "table of contents" for what's in this post:
My Favorite Wailea Spot
High End Dining
Best Places for Sunset Views
Lounges/Bars/Happy Hours
Casual Resort Meals
VERY Casual Resort Meals
Places Outside the Resorts
Luaus in Wailea
Breakfast Spots
Other Places to Know About
Places I Like in Nearby Kihei
Best Restaurants in Wailea
Okay, without further adieu, here's my roundup on the best restaurants in Wailea: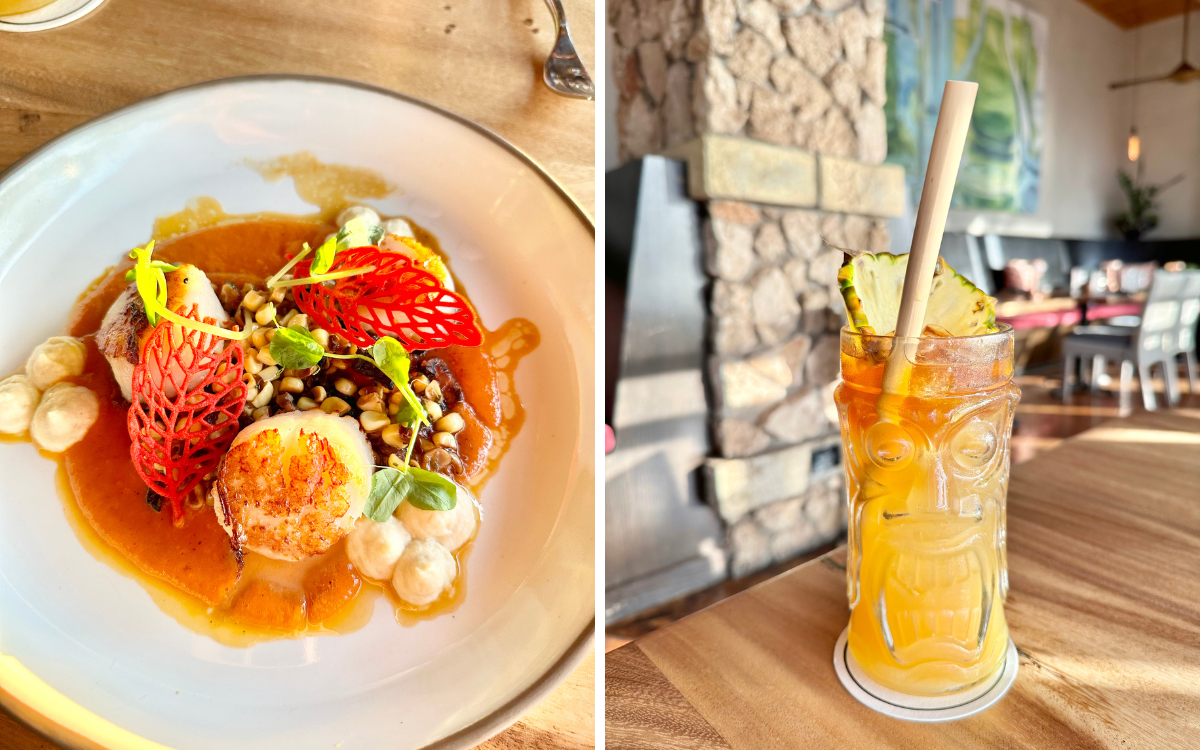 THE Place to Be in Wailea
The Monkeypod
This was one of my go to spots when I lived in Maui and for me, a return trip to Maui is never complete until I've had a Monkeypod Mai Tai.
Their happy hour is a don't miss because besides their impressive drink menu being discounted, they also do half price appetizers. When you're in a resort bubble, people take notice of that kind of a deal and that plus a fun atmosphere has kind of made the Monkeypod THE place to be in Wailea (heck all of South Maui) for tourists AND locals.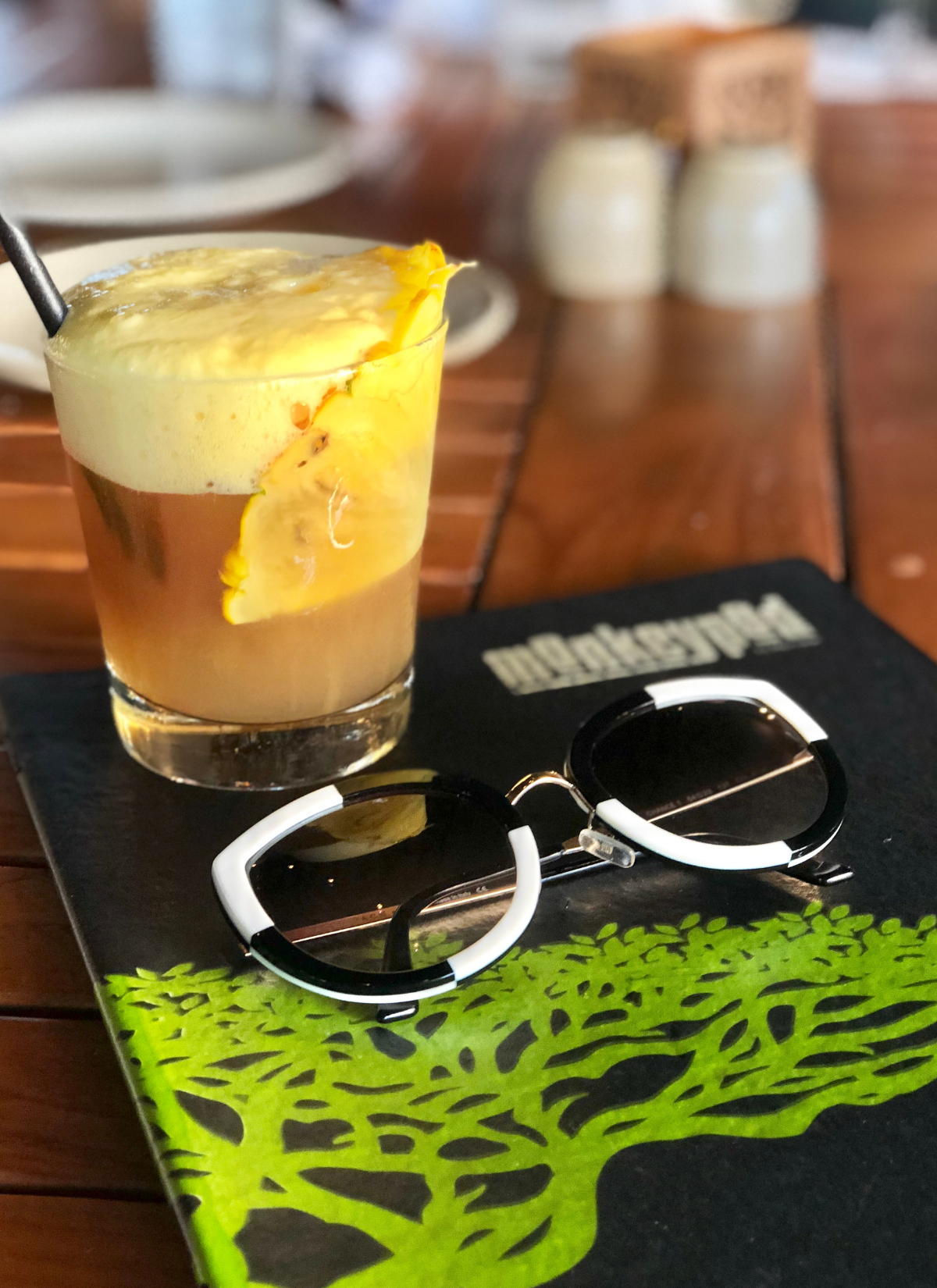 If you're familiar with Hawaii famous chef Peter Merriman (he has a range of restaurant concepts throughout the Hawaiian islands that all focus on local, fresh, farm to table ingredients), the Monkeypod serves the "bar menu" of the flagship Merriman's, and IT'S ALL GOOD.
The mai tai is what they're most famous for. They come with lilikoi foam on top, and I'd say they're probably the best in Hawaii (I've never had a better one at least).
The menu changes by location and sometimes by season, but their pizzas are always one of my go-tos and if there's any kind of dumpling on the menu those are hard to pass up. It's definitely a place where I tend to order more appetizers (pupus) and sides than main dishes.
Get dressed up or go casual, anything goes at the Monkeypod. It gets loud, it gets crowded, and it's not "undiscovered," but inevitably whenever I'm checking out another happy hour spot in Wailea, I always end up thinking "I wonder what's going on at the Monkeypod."
So the ambiance is definitely happening (totally family friendly though-hey, it's Hawaii), but the location isn't anything to write home about. It's in a shopping center up near the entrance to Wailea away from the beach. If you sit on the side patio, you might get a distant ocean view.
But here's the real scoop…they've opened a second Monkeypod in Ka'anapali on the west side and if you're only going to one, the one in Ka'anapali is definitely better. It's right on the beach so the views are A+. There's also one in Oahu in Ko Olina and they're getting ready to open one in Waikiki.
High End Dining Experiences
This is what you expect from resort life, right???
Restaurant at the Hotel Wailea
Okay, let's start this off with the holy grail of dining experiences in Wailea. Maaaaaybe even all of Maui. I can't in good conscience rank this place above Mama's Fish House on my list of best restaurants IN THE WORLD, but y'all…it is close. That's how impressed I was.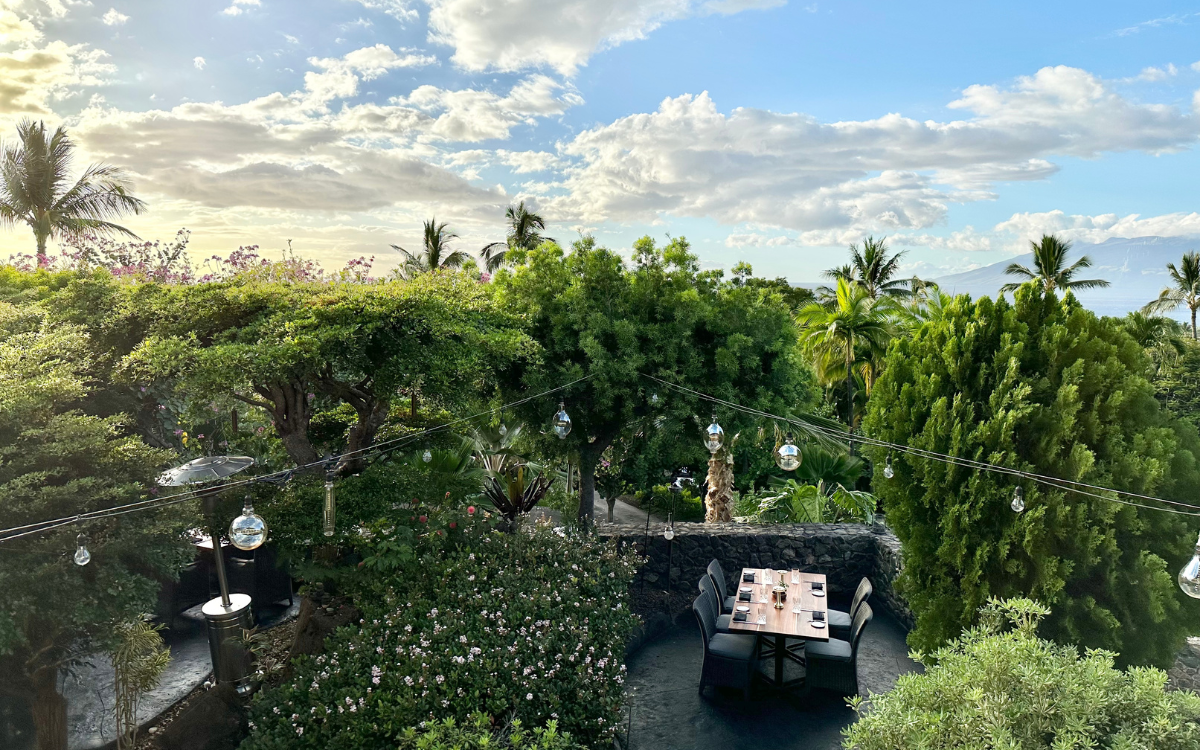 The Hotel Wailea is quickly becoming one of Wailea's swankiest spots (and that's saying something!). The hotel and the restaurant have been racking up all kinds of accolades lately so on my last trip to Maui it was time to finally check it out.
First things first, the Hotel Wailea is TOTALLY DREAMY and unlike the big beachfront resorts in Wailea that you can kind of stroll through even if you're not staying there, this place is pretty exclusive. Part of it's the location. It sits up on the slopes of Haleakala above Wailea so it's not right on the beach, but it's got GREAT views. It's also adults only and just has a very lowkey (but sophisticated) hideout vibe.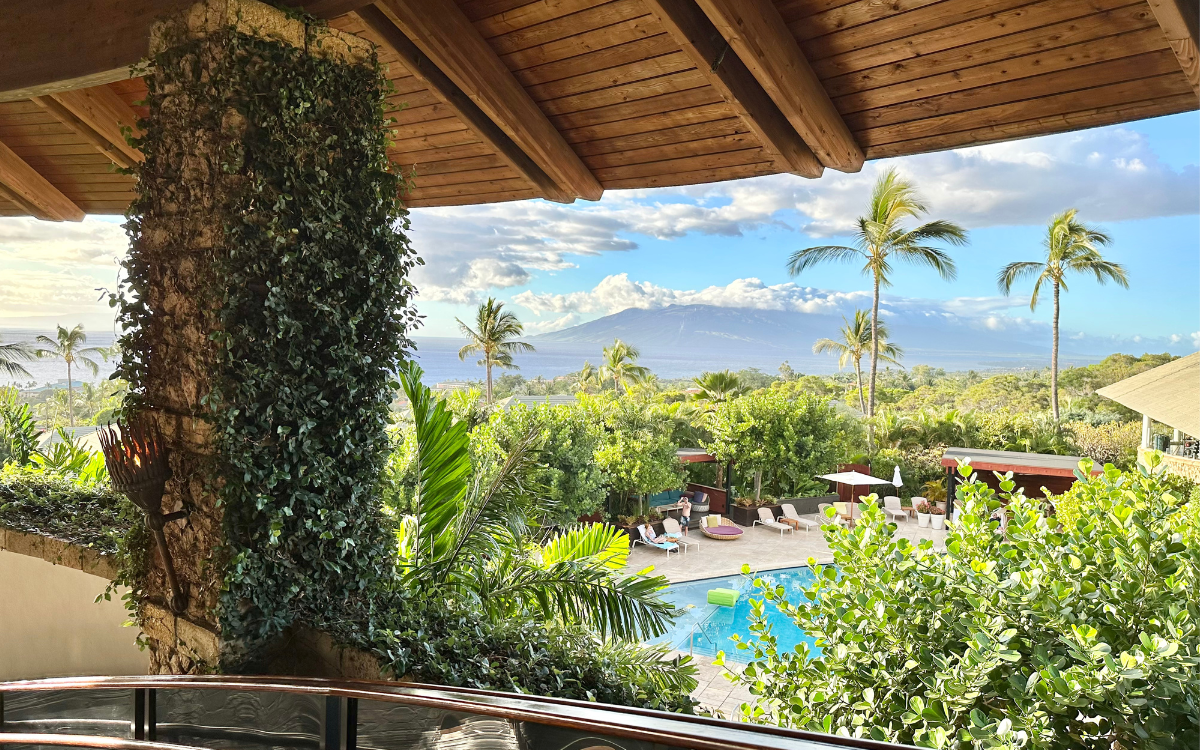 If you want the full blown experience, stop for drinks at the Birdcage first. Otherwise, plan your dinner reservation about 30 minutes before sunset.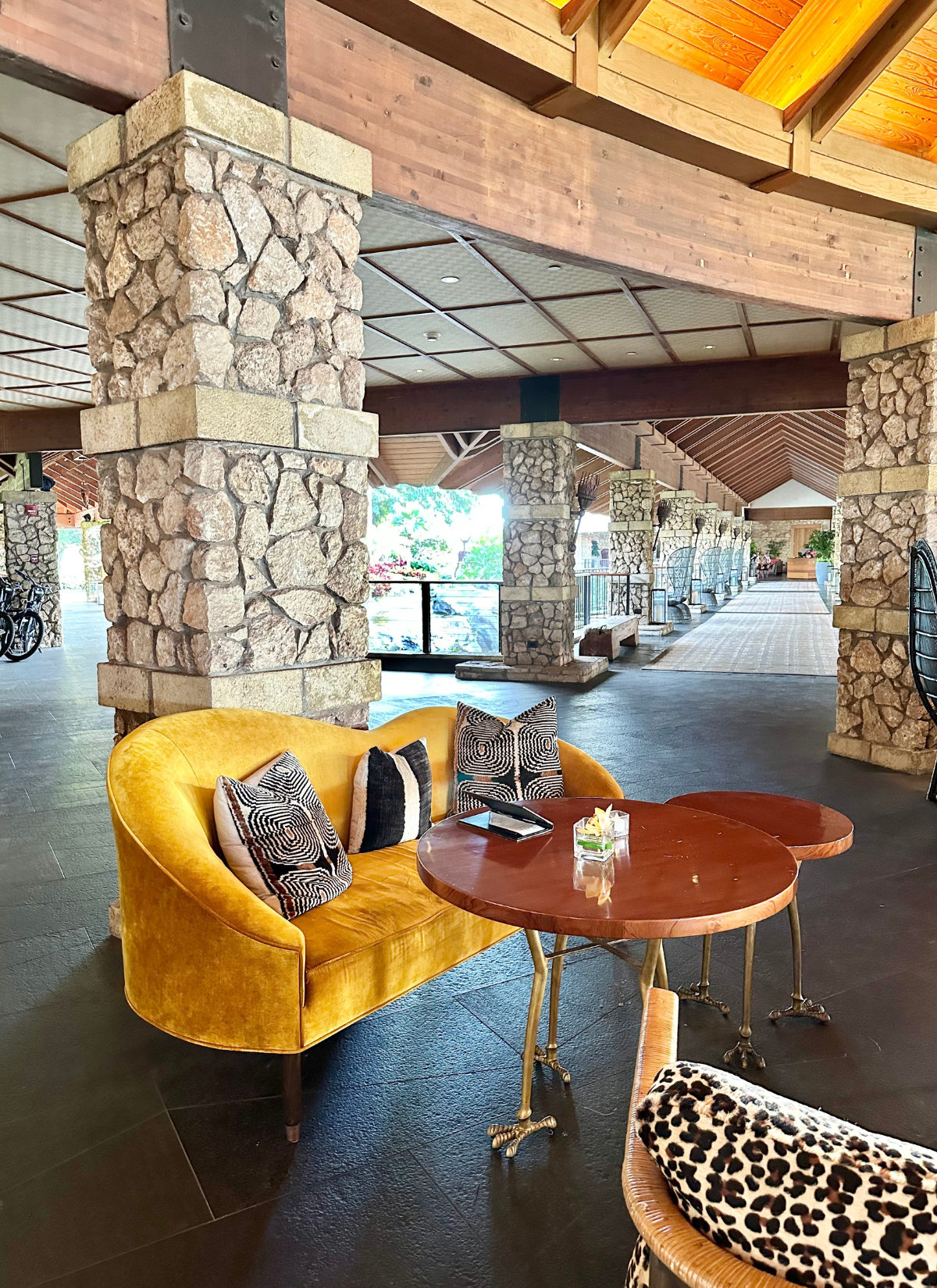 The setting of the restaurant is definitely romantic and enchanting and it almost has more of a European vibe than Hawaiian.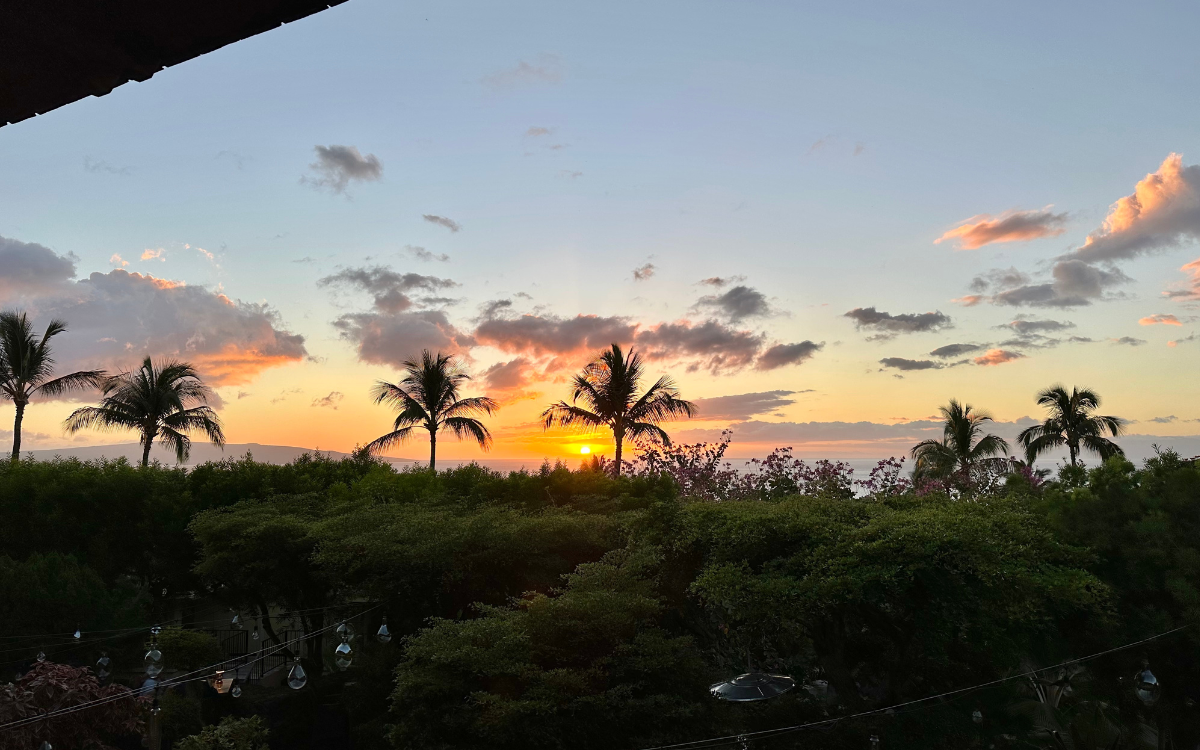 The menu is really elevated, but still accessible. If you're an adventurous foodie, or more of a plain jane…you're going to eat well here.
Here's how it works: the menu is a set $125/person for a first course, a main course, and a dessert.
And these aren't tiny little portions where you're going to leave wanting more. One of the things we like about this place the most was how much food we felk like we got to try. With three people, we felt like we were able to try a LOT of the menu and nobody went home hungry.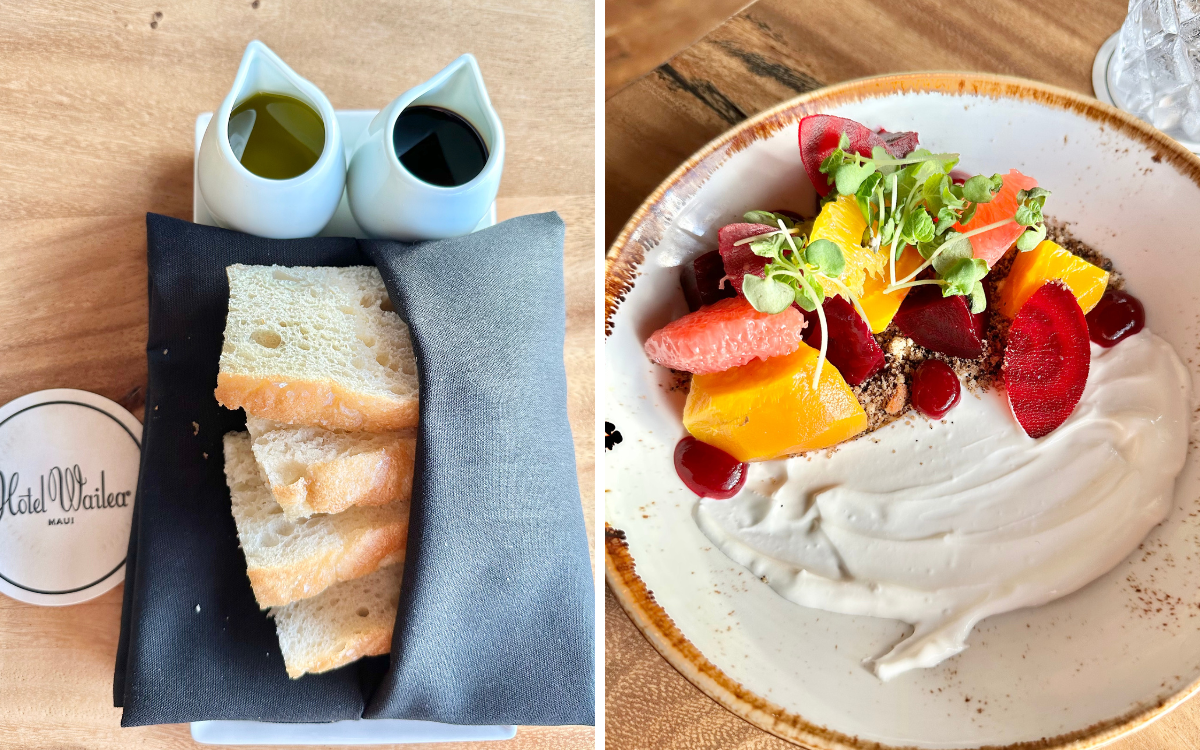 For first courses we had beet salad, risotto, and pork ribs.
For mains, we had the scallops, the wagyu ribeye, and the fettuccine with braised wagyu.
And for dessert, the chocolate mousse, tiramisu, and yuzu tapioca.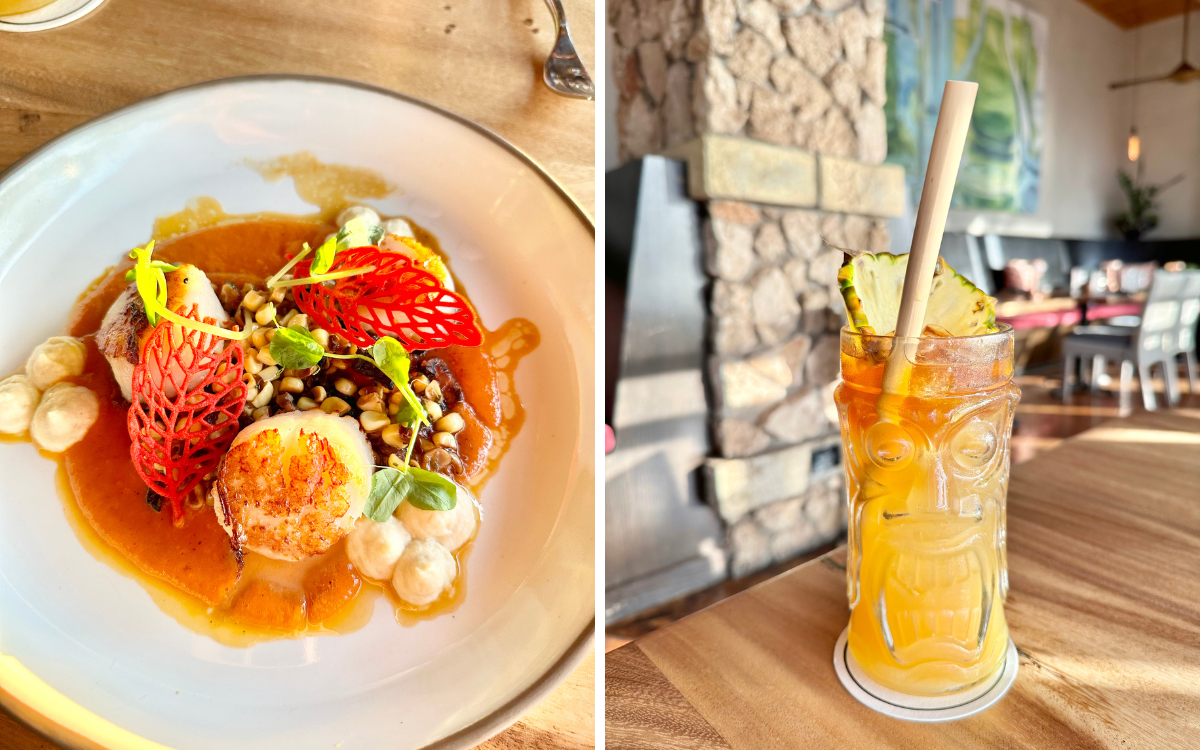 There wasn't anything that we didn't like. I would just base your choices on what you're most drawn to.
If you're looking for a true, special occasion spot in Wailea, this is it. I mentioned jokingly earlier that this place is a contender with Mama's for best restaurant on Maui.
Here's how I would break that down:
If it's in the budget to do both, DO BOTH.
If you're trying to just pick one…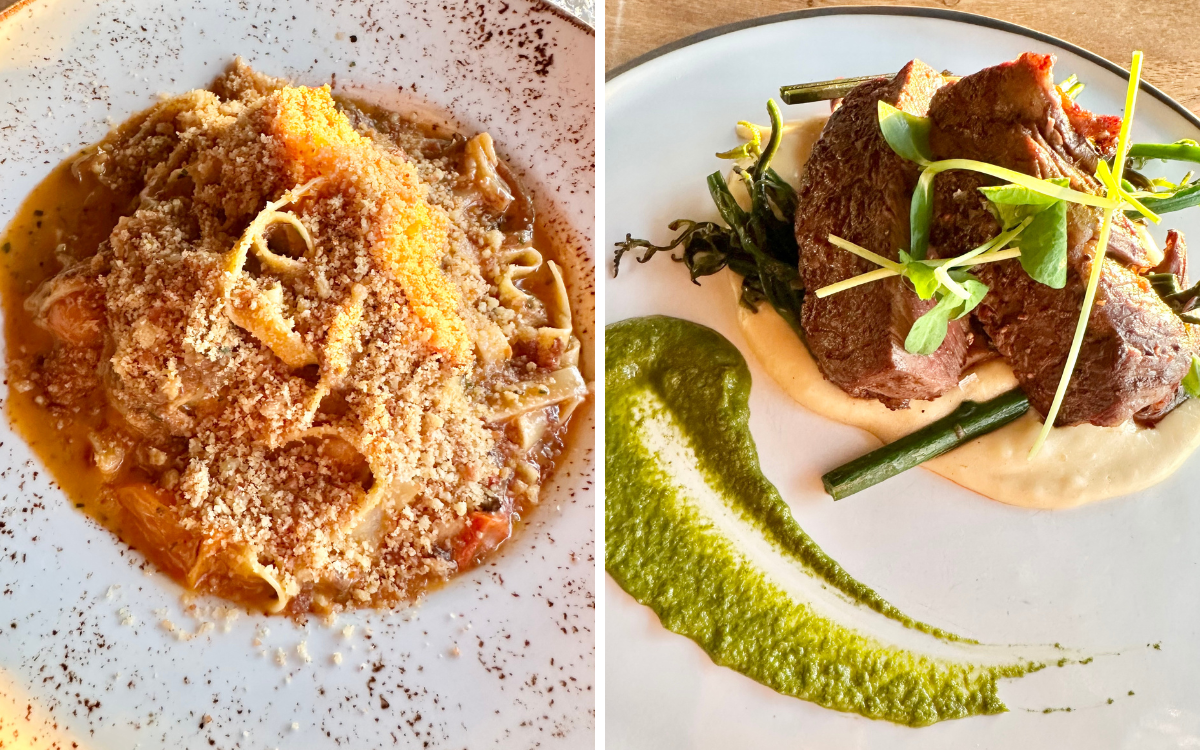 If it's your first (and only) trip to Maui, go to Mama's. It's truly over the top impressive with the beachfront setting, the warm aloha atmosphere, and super yummy food. There's really nothing like it.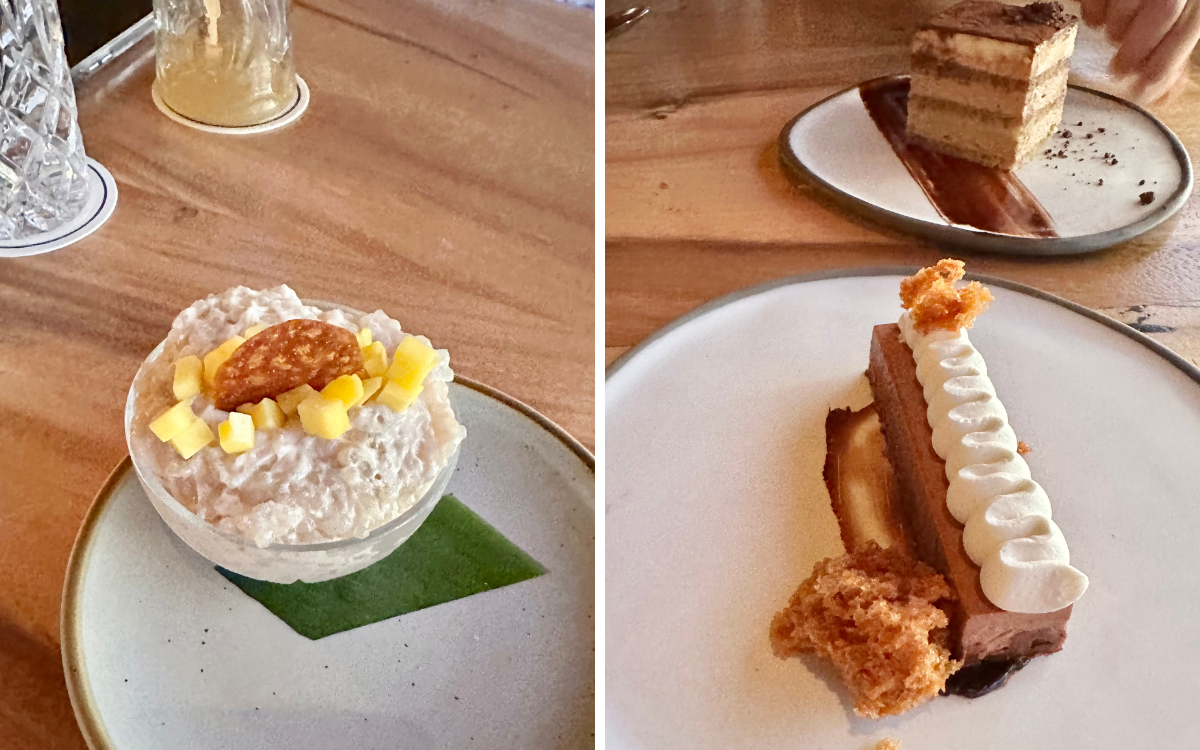 Once you've done Mama's, come to the Restaurant at the Hotel Wailea for a bit of a more refined setting and elevated menu. Seriously, it's good.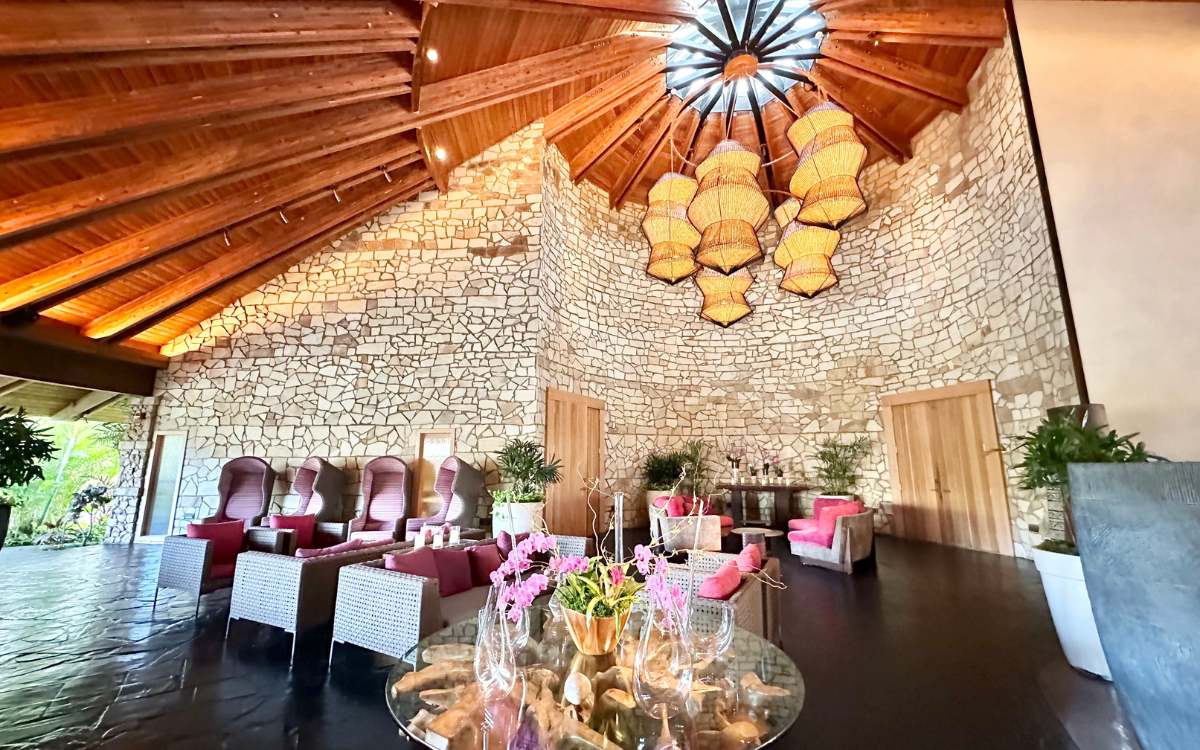 In general, I would say…if you're not used to spending $150+/person on a nice meal, Mama's is very accessible in making everyone feel very welcome. They're very used to hosting people who are coming there for a once in a lifetime meal. Whereas the Restaurant at the Hotel Wailea feels a bit more like a place that caters to people who just live this life. Not at all snobby or exclusive, but just on a different level. Does that make sense?
***Want to save major $$$ on a fancy beach resort? My favorite travel hack is cashing in points to score free nights at some of the island's most high end resorts. My go to hotel brand is Marriott so I use this Marriott Bonvoy Boundless card to rack up points for a lot of my trips to Hawaii. If you pay for your monthly expenses on the card and are responsible about paying it off every month, the points add up really fast. Plus, if you sign up through my link, you'll get THREE bonus free nights to use. On Maui, use your points at some of my favorite Marriott properties like the Wailea Beach Resort, Ritz Carlton Kapalua, Westin Maui, and Sheraton Maui.
DUO | Spago | Ferraro's
Basically, anywhere at the Four Seasons is worth your time (and $$). I haven't been to Spago yet, but friends really rave about it. And I LOVE Duo and Ferraro's.
Duo: This steak and seafood spot is upscale dining at its finest. You'll get the top notch service that the Four Seasons is known for as well as really good food served up right on the pool deck with epic views of swaying palms and gentle crashing waves. For me, this place wins for the best pool/beachside dining in Wailea. Duo is also where you'll find the resort's over the top breakfast buffet.
Ferraro's: This lovely Italian spot is located on the opposite side of the pool deck and it's terraced a bit more down towards the ocean. Overall, I would say it has a more romantic feel than Duo. Make reservations well before sunset because you'll want to see this place in the daylight. And you'll need to use the flashlight on your phone to see anything after dark haha! Ferraro's is also open for lunch.
Side Note: If you're looking for a rental car for your trip, I LOVE Discount Hawaii Car Rentals. They're seriously the only company I ever use. They'll give you the very best prices, you don't have to reserve with a credit card or pay until you show up, you can cancel and re-book anytime if you find a better rate, and they usually have a special that adds additional drivers for no fee. It's a no brainer. Click here to check rates for your trip.
Morimoto | Nick's Fish Market | Humuhumu
There are a handful of restaurants in Wailea that also fall into this category that I haven't tried yet.
Morimoto is a high end beachfront sushi restaurant at the Andaz. I'm not really a big sushi person and while I'm sure you can find other things on the menu, I just haven't prioritized it yet. But if you love sushi, it's probably a must do. The location alone is phenomenal.
There's also Nick's Fish Market at the Fairmont Kea Lani which just hasn't piqued my interest yet with all of the other options in the area, although it does win a lot of awards.
And Humuhumunukunukuapua'a at the Grand Wailea is also hyped up in the fine dining category. It's the Grand Wailea's signature restaurant. I'll try it someday, but from what I've seen of it, it kind of reminds me of Tidepools on Kauai (the scale of the restaurant is impressive and it goes after the romantic vibe, but the food may not be the showstopper).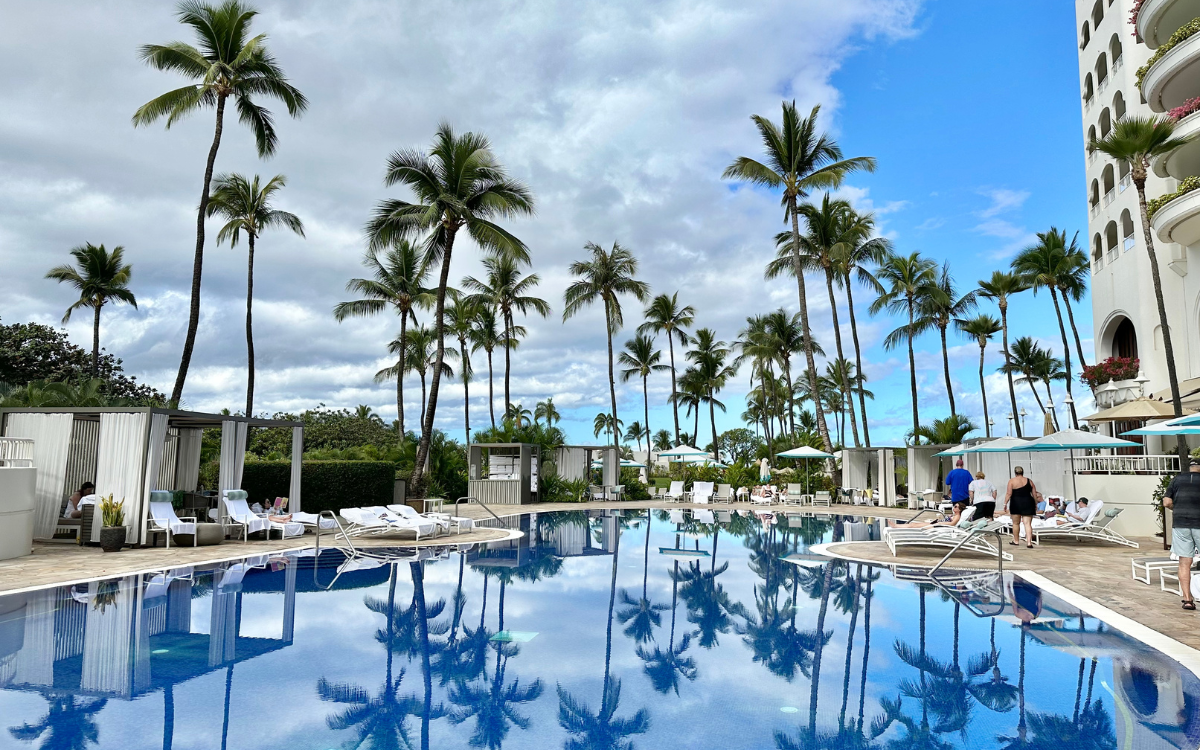 Ko
Ko isn't quite on the same level as these other restaurants, but I still want to mention it here.
Located by the adults only pool at the Fairmont Kea Lani, Ko (the word for sugar cane in Hawaiian) draws its inspiration from the ethnicities of Maui's sugar cane plantation days.
90% of the menu's ingredients are sourced locally, and the open air atmosphere of the restaurant makes for a nice evening. It's kind of tucked back in the resort so you won't get a big sunset/beach view, but it's still really nice.
If you're not very familiar with Hawaiian regional cuisine, the menu may seem a little exotic, but just go with it because it all works.
I would personally recommend:
The lilikoi margarita
The pork belly bao buns
The lobster tempura
For Sunset Views
Situated on Maui's south coast with a clear view across the west side of the island, Wailea is a GREAT spot for sunsets. A lot of restaurants have great sunset views (of the places I've mentioned so far, all of the Four Seasons restaurants have pretty prime locations and the Hotel Wailea has a great-but distance view), but I think these are some of the most noteworthy places (mostly because they sit up higher):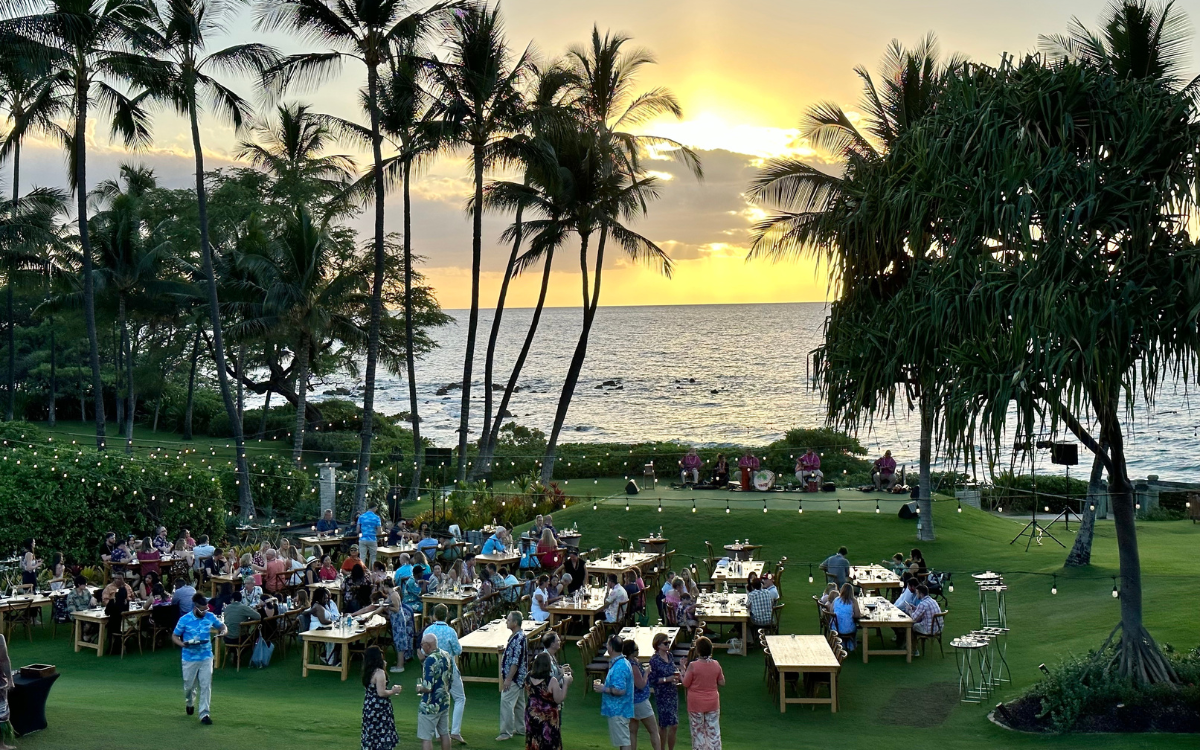 Ka'ana Kitchen
Ka'ana Kitchen at the Andaz is a farm to table style restaurant that serves dinner plus a daily lavish breakfast buffet. Most of the kitchen is actually in the middle of the restaurant, hence the name and it makes for a fun atmosphere.
The resort has a terraced layout and Ka'ana Kitchen sits perched up on an upper level so it has great sunset views.
The chefs really know what they're doing here and I think it's one of those restaurants where you just have to trust the menu. I'm not a terribly adventurous eater and you're not going to find a lot of plain jane dishes on the menu, but everything I've had here is GOOD.
We really enjoyed the butternut squash salad, the Waipoli mixed greens, and the butternut squash risotto, but my favorite was the big eye tuna and the strawberry cake.
If you're looking for something really special, you're a big foodie, and you have some extra $$$ to spend, book the chef's table in the middle of the restaurant.
Gannon's
Besides the Monkeypod, this is the other big recommendation for a non-resort dinner spot in Wailea. It's definitely worth the short drive up the hill.
The food is classic Hawaiian regional cuisine (Chef Bev Gannon is also the mastermind behind the popular Haliimaile General Store) and you'll be plenty impressed by it, but it's really the sweeping views of the ocean that you'll remember most.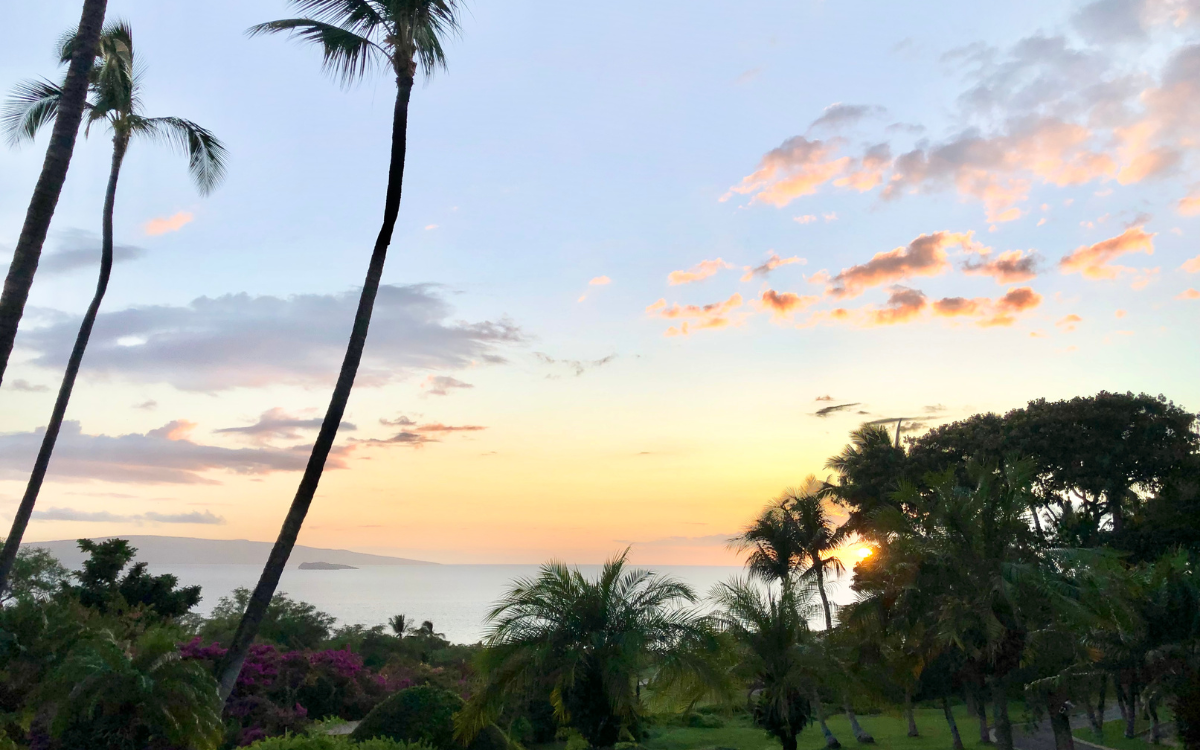 Since it sets up above Wailea a bit, it's definitely one of the best places for sunset on the south side.
Besides full dinner, they also do a good happy hour menu on the bar side (drinks and food), but they don't take reservations.
Humble Market Kitchin
Besides Monkeypod, Humble Market Kitchin is one of the most popular spots with locals for happy hour in Wailea. It's actually one of the few restaurants to offer specific happy hour specials.
I'd been for happy hour before and thought it was okay, but wasn't overly impressed. The drinks are good and they have a few food options, but the seating for the happy hour menu is kind of hit or miss. There are a few high top counters near the bar that are more in the middle of the restaurant, but most of it is on couches off to the side so you're not going to get the good views that are arguably the restaurant's best feature.
I stayed at the Wailea Beach Resort on my last trip so I decided to try the full blown dinner experience.
What we liked: ALL of the food was VERY good. The charred brussel sprouts and cauliflower (with pepitas, queso fresco, and cilantro aioli) were phenomenal and we talked a lot about how to recreate them at home. The potato crusted mahi mahi with creamy rissoto style couscous and charred carrot lobster sauce was GOOD. Rich, but good. We also had the herb seared mahi mahi with veggies, Okinawan sweet potatoes and yuzu piccata sauce. We loved everything, but I think next time I would try the Japanese style chicken and mochi waffles just because it sounds unique. And the chocolate lava cake was 10/10.
The view here is the real star of the show. The restaurant sits up a bit and faces the ocean and there are a LOT of palm trees. Sunset is a show here.
What we didn't love: This is the Wailea Beach Resort's "premier" restaurant, but it honestly doesn't feel all that special. The restaurant itself is pretty loud and just a generic "cool, modern hotel aesthetic." The service was nothing special…not awful but not anything to recommend.
Bottom line…the food was very good, but at the "resort" price point, the whole experience was nothing special. And if you miss sunset, it's even less of an experience. If you're only going to splurge on one "special occasion" dinner, I wouldn't pick this. If you're staying at the resort and you're doing big dinners every night, give it a go.
For a Civilized Drink
Looking for a place to grab a drink before dinner? There's no shortage of beach bars and restaurant lounges in Hawaii where you can try the house mai tai, but I would say all of the spots on this list are destinations in themselves.
Now let's be clear, these are not places where you're going to find happy hour deals…it costs what it costs (resort prices), but the atmosphere is "chef's kiss."
Pick one based on where you're having dinner or order heavy pupus/appetizers and call it a meal!
Lobby Lounge at the Four Seasons
This place doesn't even have a real name, it's just the "lobby lounge," but it's still one of the most popular places to be in Wailea starting mid afternoon and running through the evening.
It's a nice, "civilized" vibe, the drinks are good, and there are enough food options that you could make a meal of it. Most nights they have live music and a hula dancer.
Birdcage at the Hotel Wailea
The Hotel Wailea is one of my new favorite places on Maui and the restaurant here is a MUST DO. If you're looking to extend your evening before or after your meal (or you want to experience the place without committing $$$ to the restaurant), pop into the Birdcage. The atmosphere is just as stunning as the restaurant and the view is amazing at sunset.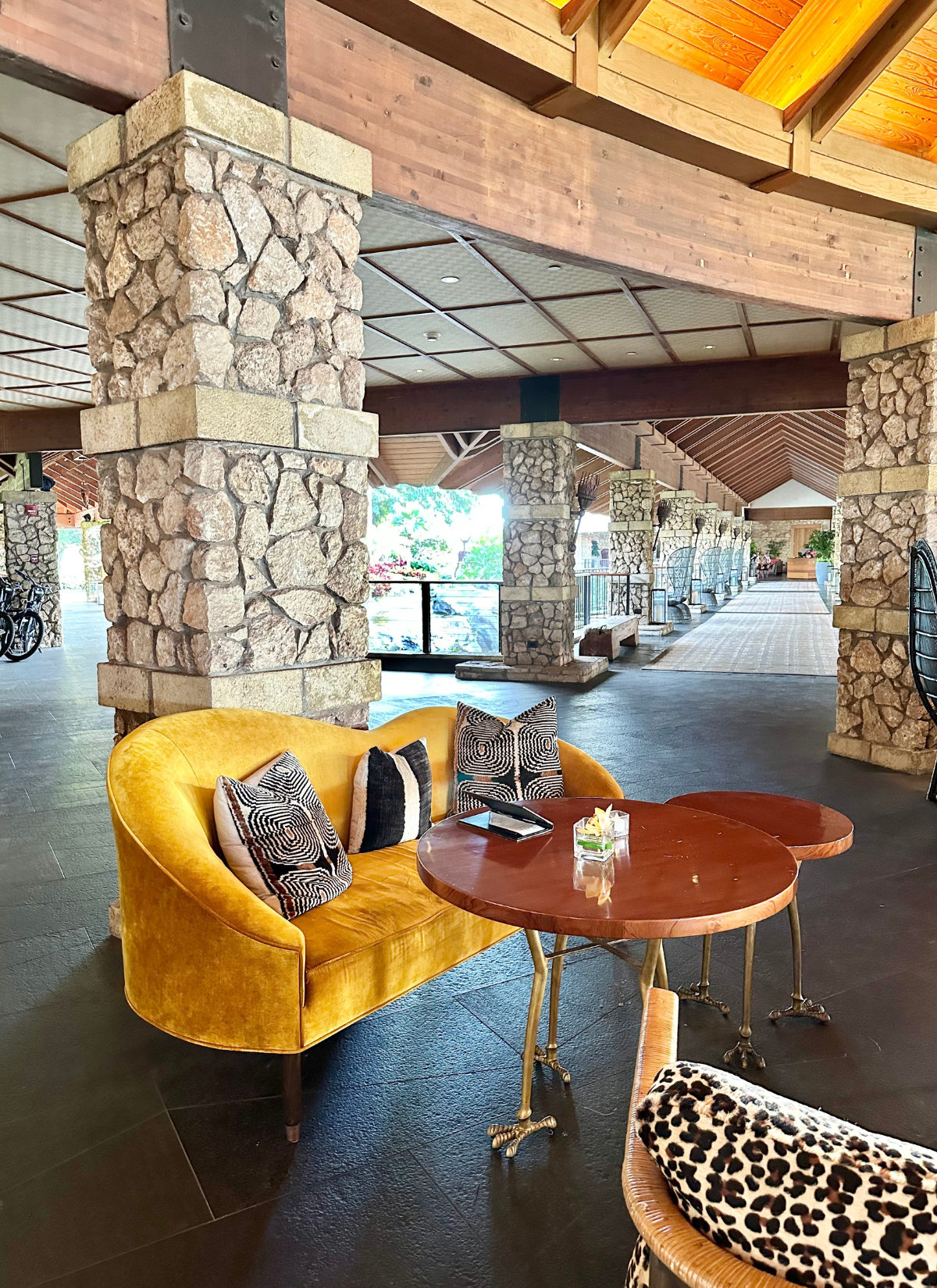 Bumbye Beach Bar or Lehua Lounge at the Andaz
The Andaz has a couple of great lounges to choose from depending on the time of day. The Bumbye Beach Bar sits on the bottom level of the main pool area and it's a pretty casual resort pool bar/cafe that I would recommend for lunch, but the Lehua Lounge is the real showstopper. It sits up on the top tier of the infinity pools so it has a great view (plus access to the uppermost pool). This is the place I would go for sunset.
Botero at the Grand Wailea
When you want something really grand, the best place to go is, of course, always the Grand Wailea. Botero is the lobby lounge and the place is just such a big scale that it's really impressive.
Casual Resort Meal
KAPA Bar & Grill
If you want a casual resort meal, I would head to KAPA at the Wailea Beach Resort. It's right off the main pool deck, open for lunch and dinner, and while it's not inexpensive by any means, with plenty of burger/taco/sandwich options in the $20 range that's about as close as you'll get in the resort bubble.
Very Casual Resort Meal
If you want something more lowkey/quick/easy than a table service restaurant, these two spots fit the bill. They're walkable if you're staying at the Wailea Beach Resort, Grand Wailea or Four Seasons (on Wailea Beach) and a bit farther from the Andaz (Ulua Beach) or Fairmont (Polo Beach) but still accessible via the Wailea Beach Walk:
Whale's Tale
This oceanfront kiosk is the best place in the area to grab coffee, breakfast, acai bowls, smoothies and juices, paninis, wraps, etc. Seating is casual with some chairs and umbrellas and there's also a firepit and lounge chairs in the area.
Aloha Trick Pony
Open daily from 11AM to 4PM this food truck in the Grand Wailea's "Surf Garden" is right on the beach and the perfect spot for a casual lunch. The menu is hearty (tacos, brisket nachos, wood-oven pizzas) which is just what you need when you're spending the day playing at the beach.
Places Away from the Resorts
Since Wailea's coastline is pretty much all dominated by resorts and condos, there aren't a ton of restaurants in the area that aren't part of the resort bubble. But there are some! Besides the Monkeypod and Gannon's (which I've already mentioned), here are a few that might fit the bill.
Matteo's Osteria
Everybody loves Italian food! It might not be what you automatically think of when you think of a meal on Maui, but sometimes after a week of mahi mahi and Hawaiian regional cuisine, Italian comfort food hits the spot.
Matteo's is regularly rated as one of the best restaurants in Wailea, so I decided to check it out on my last trip and we really enjoyed it.
It's tucked away a bit off the beaten path in a shopping center off the beach, and it's not going to win any awards for beachfront fancy schmancy resort atmosphere, but it manages to feel a lot like your neighborhood Italian restaurant.
We loved the limoncello spritz and saronno margarita plus G's meatballs for the antipasti.
For secondi, I had the chicken parmesan which was as good as I've had anywhere. And we were also pretty impressed with the Isola. Their signature dish is seared fresh catch (mahi mahi when we were there) and everybody thought it was some of the best mahi we had on the trip (and we had a LOT).
I wouldn't say this is a must do, but if you're looking for something different and you love Italian food then you won't be disappointed.
Mulligan's on the Green
The only authentic Irish pub on Maui, Mulligan's is a great casual place to go for food and drinks, live music, sunset views, etc. It's not fancy, but it's a nice change of pace from all the other spots in Wailea. Only open Friday through Sunday though!
Wailea Kitchen
I haven't been here yet, but it's at the top of my list for my next trip. The farm to table vibe and sunset views look pretty dreamy.
Lineage
Located in the Shops of Wailea, this spot features Filipino and Hawaiian favorites served family style. Plus they have a dim sum cart!
Pint & Cork
This has become a popular spot (even a bit of a local spot) for a lowkey dinner. It's inside the Shops of Wailea, and you'll find pub fare and craft brews as well as plenty of TVs for sports fans.
The Best Luaus in Wailea
I know attending a luau is a must do for a lot of people and while I personally think the best luau on Maui (heck, in Hawaii) is the Old Lahaina Luau (yes, I would drive up there from Wailea) if you're determined to enjoy something within walking distance of the Wailea resorts, you've got options.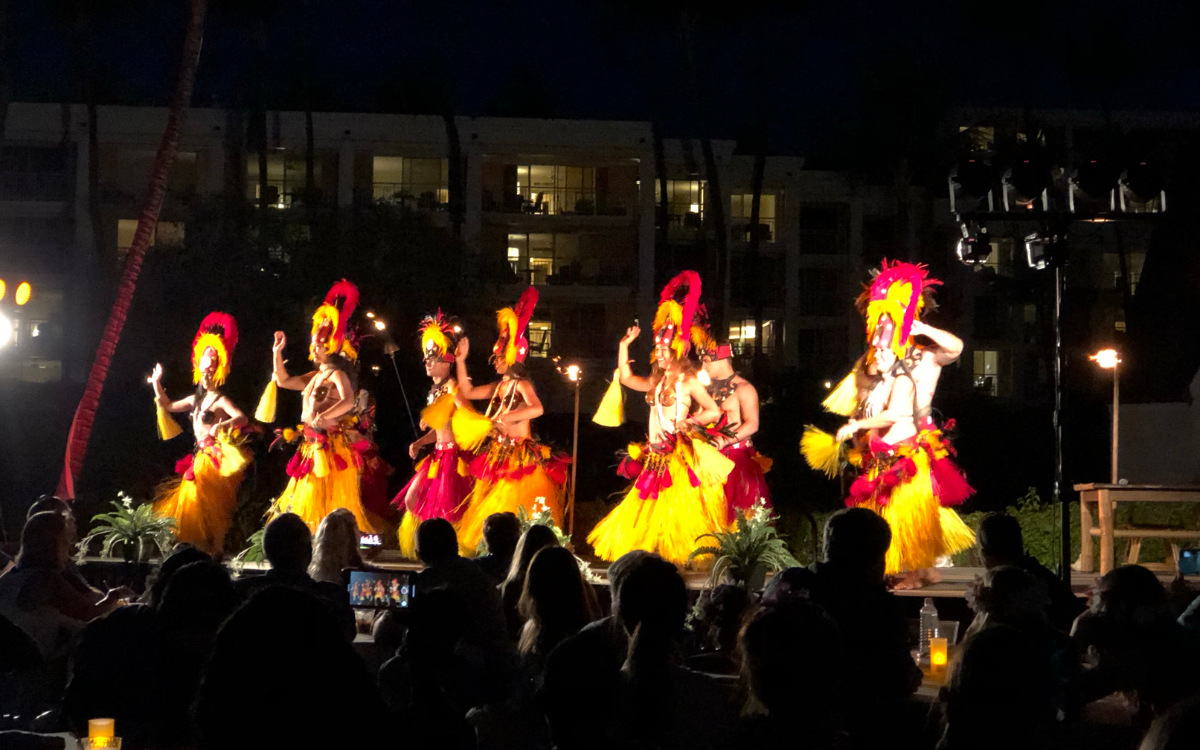 Three options to be precise.
There's a luau at the Grand Wailea, one at the Wailea Beach Resort (Te Au Moana Luau), and one at the Andaz (Feast at Mokapu).
I've attended the luau at the Grand Wailea and I've watched the other two from my hotel room balcony.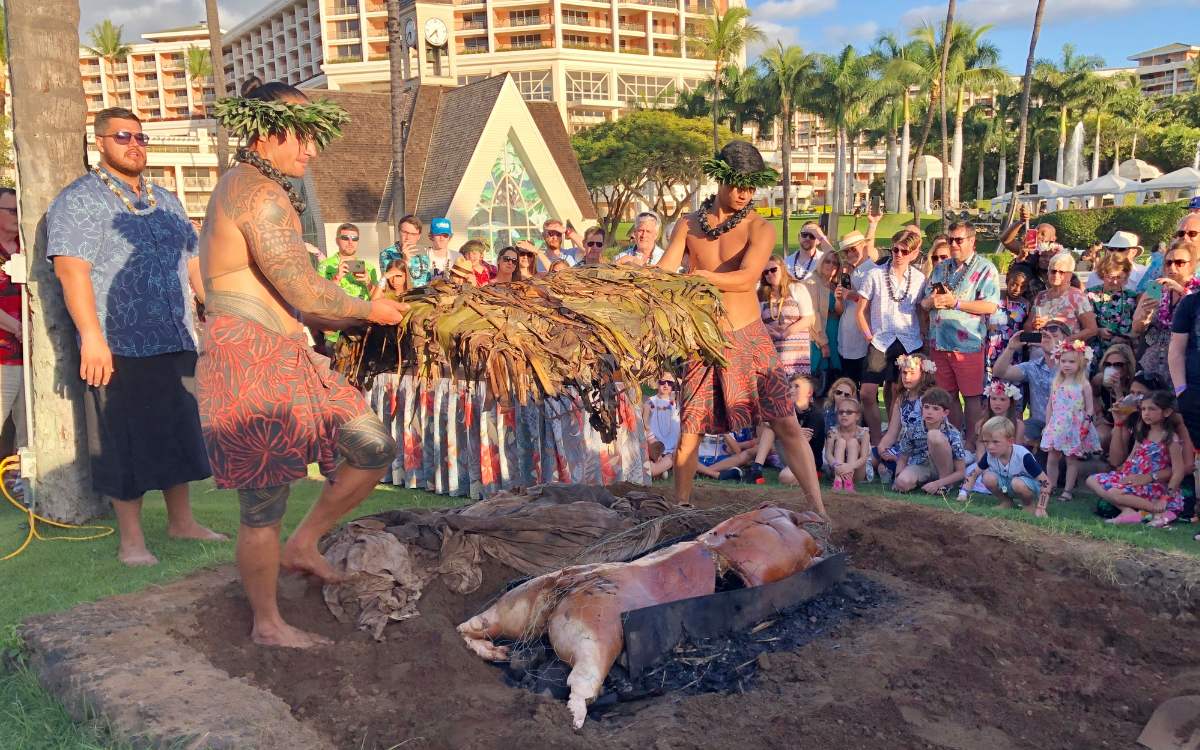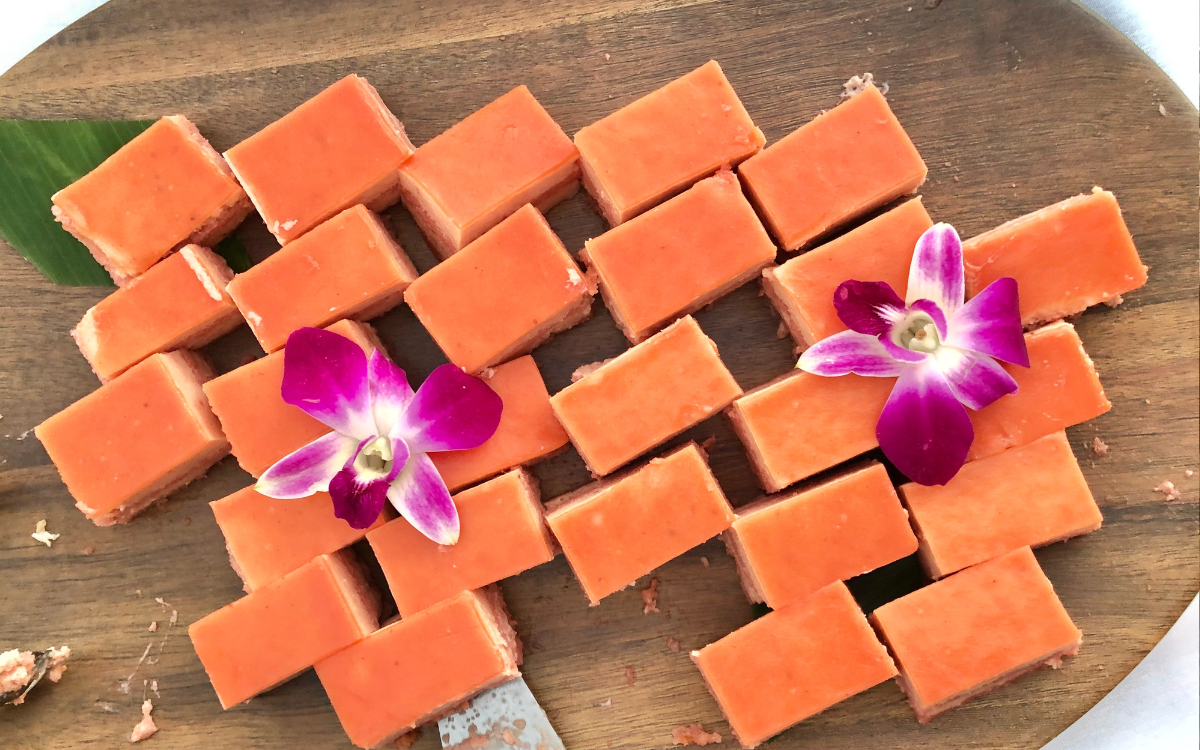 I would say the Grand Wailea Luau and the Te Au Moana Luau are comparable. Prices are similar, food is served family style at the table, drinks are included, settings are both oceanfront.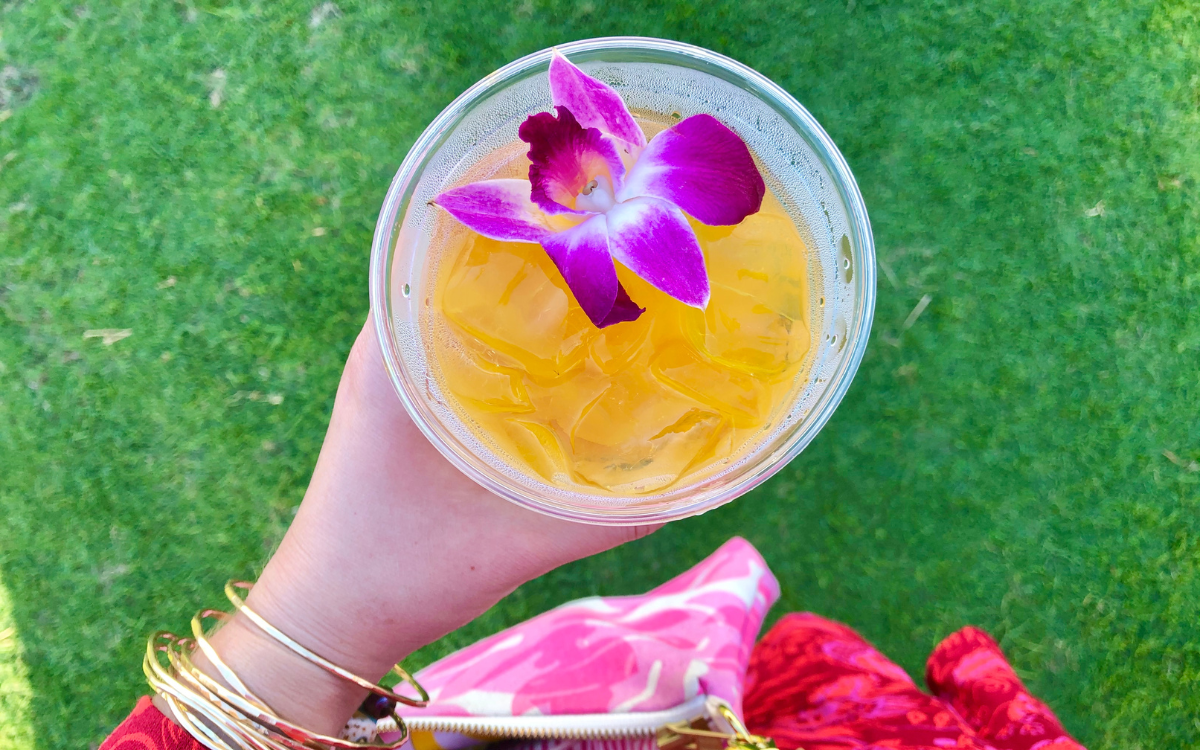 I think the show at the Grand Wailea is a little more unique though (they have an aerial silks dancer) and the fire dancing is top notch. Plus the Grand Wailea has recently built dedicated luau grounds so it feels like a more permanent set up than something they set up temporarily on the lawn.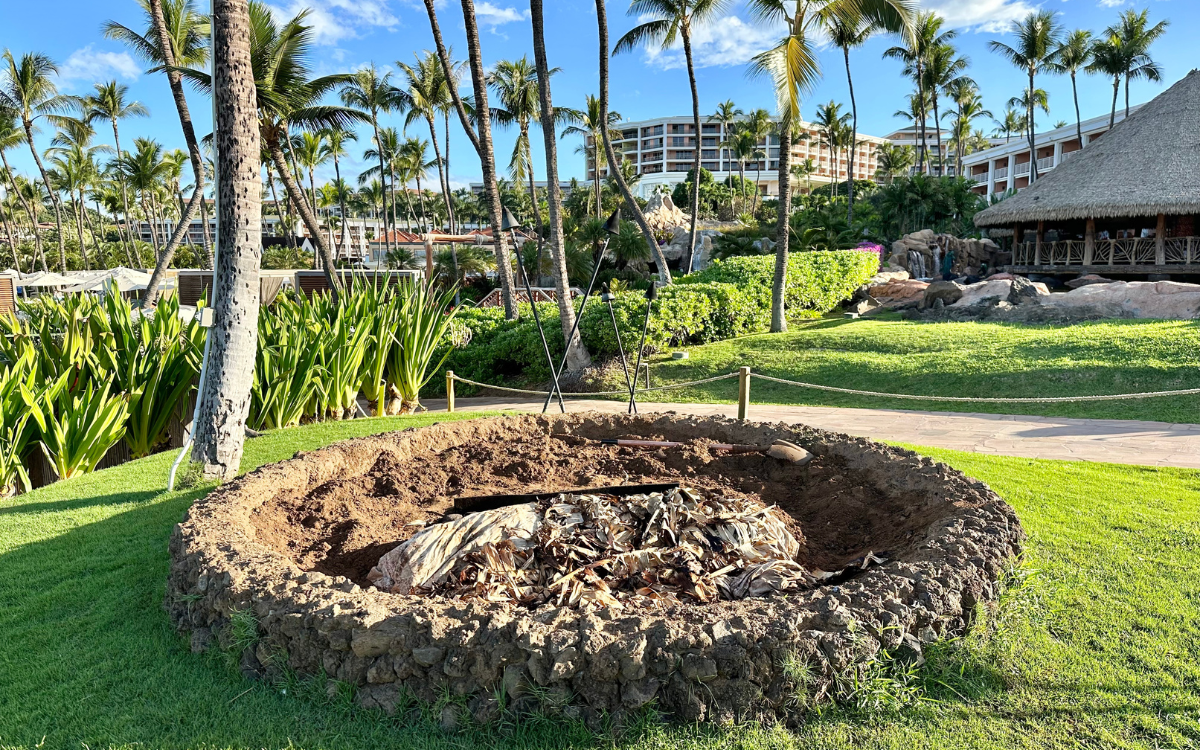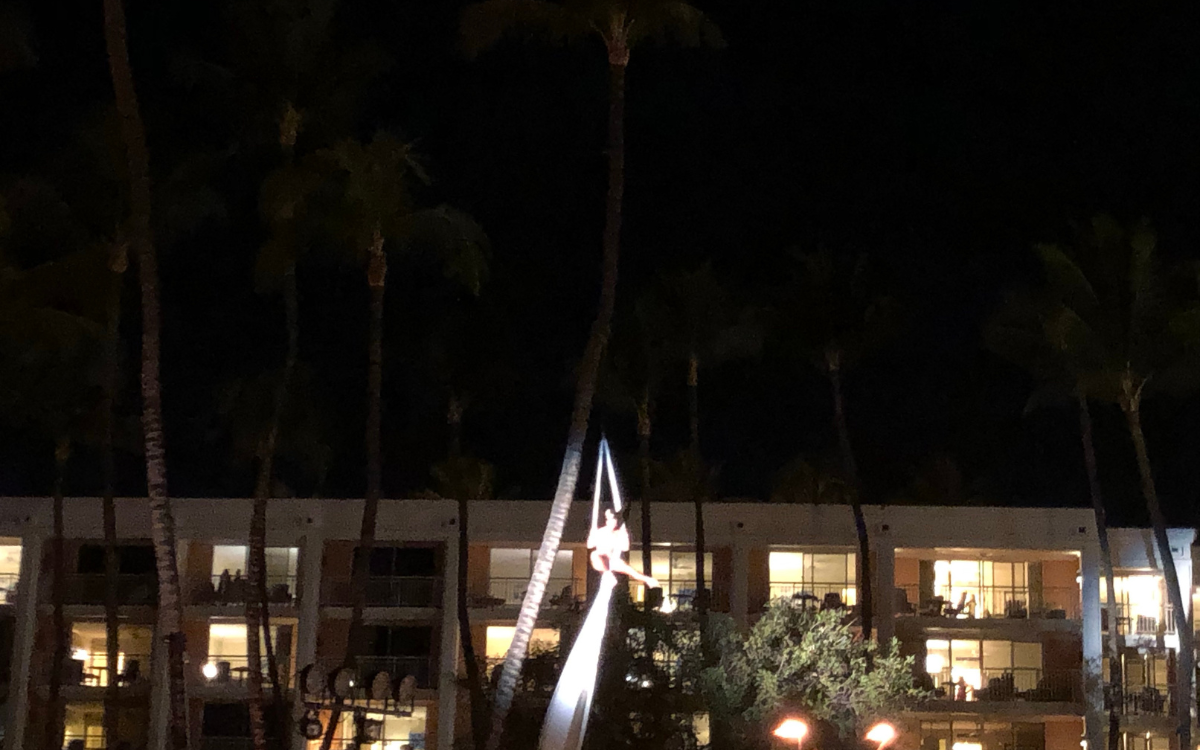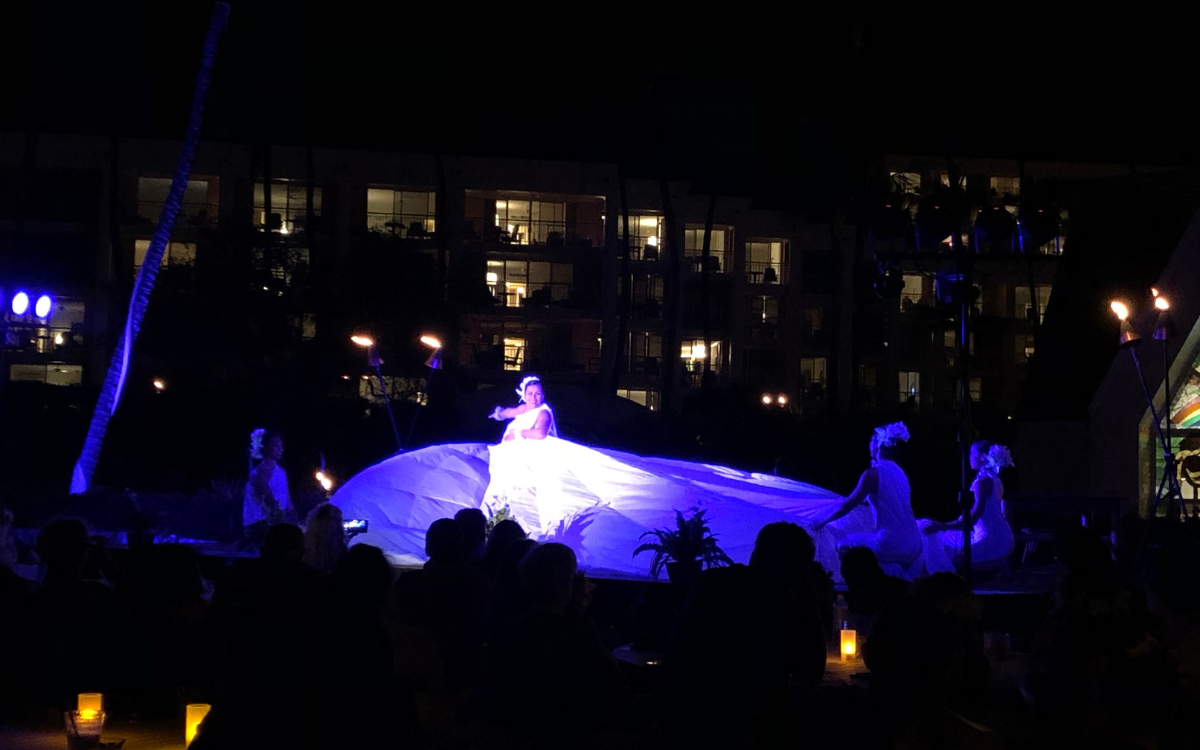 Here's the pricing: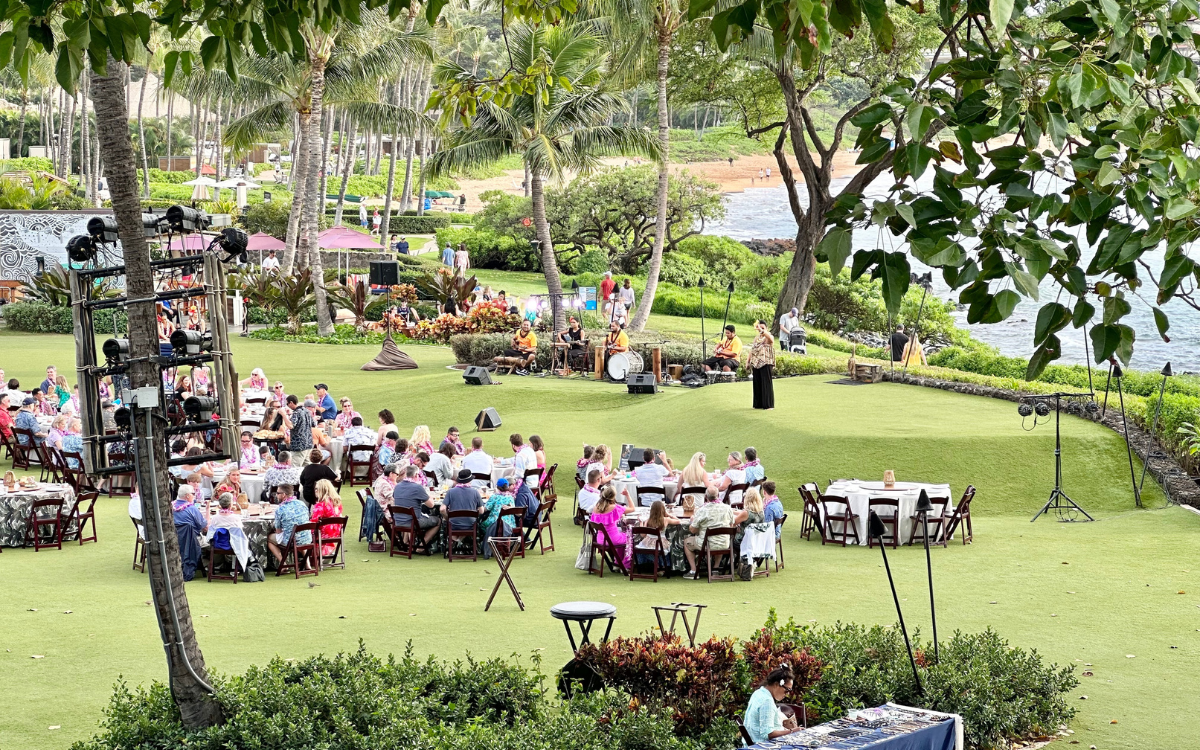 Te Au Moana Luau: $265/adult and $165/child (6-12), 5 and under are free. That's the "basic seating," there's a $30 upcharge for premium seating.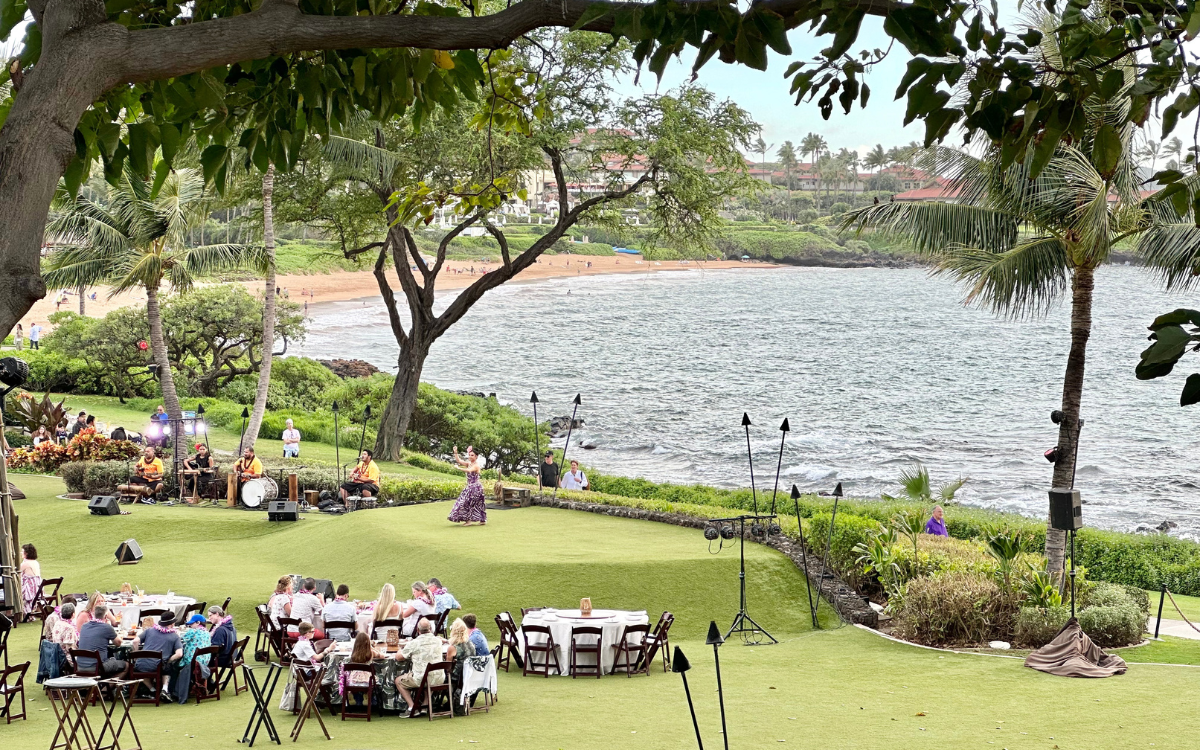 Grand Wailea Luau: $265/adult $200/child (12 and under) but $325 and $245 for premium seating. And if you have kids under 5 I would call to double check about the pricing. There's usually an age cut off where they're free but that could definitely be a factor in choosing between these two since the other luau 5 and under are free.
Also, each luau is NOT offered every night so availability may sway your decision.
The Feast at Mokapu (Andaz) used to be positioned as the only "luxury luau" on Maui and was priced accordingly, BUT the other luaus in Wailea have majorly upped their prices and the Andaz hasn't so that's more of a wash now.
Priced at $280/adult and $140/child for the standard seating and $340/adult and $180/child for premium seating, they're now within the same price range as the other two luaus.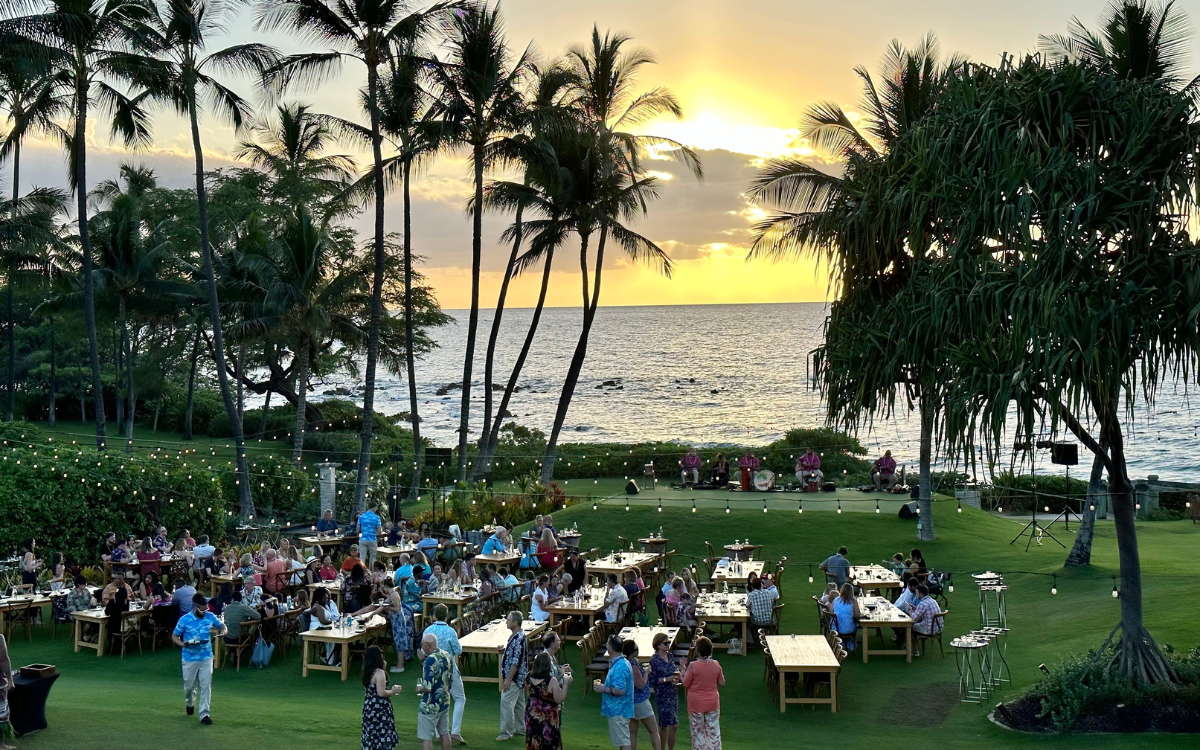 It is definitely a more elevated experience with a farm to table menu. Since the other two luaus have ditched the buffets in favor of family style service, it's not as much of a distinction anymore, but this is a much smaller luau than the Grand Wailea so food quality is higher even though the menu is similar.
I think the major drawback to this luau is the show. I would call it more "luau-lite." The dancing is good, but it's just nowhere near on the scale as the Grand Wailea. Example, they have one fire dancer and the Grand Wailea has like, five.
The Feast at Mokapu also runs on a pretty limited schedule with shows only two (sometimes three) days a week.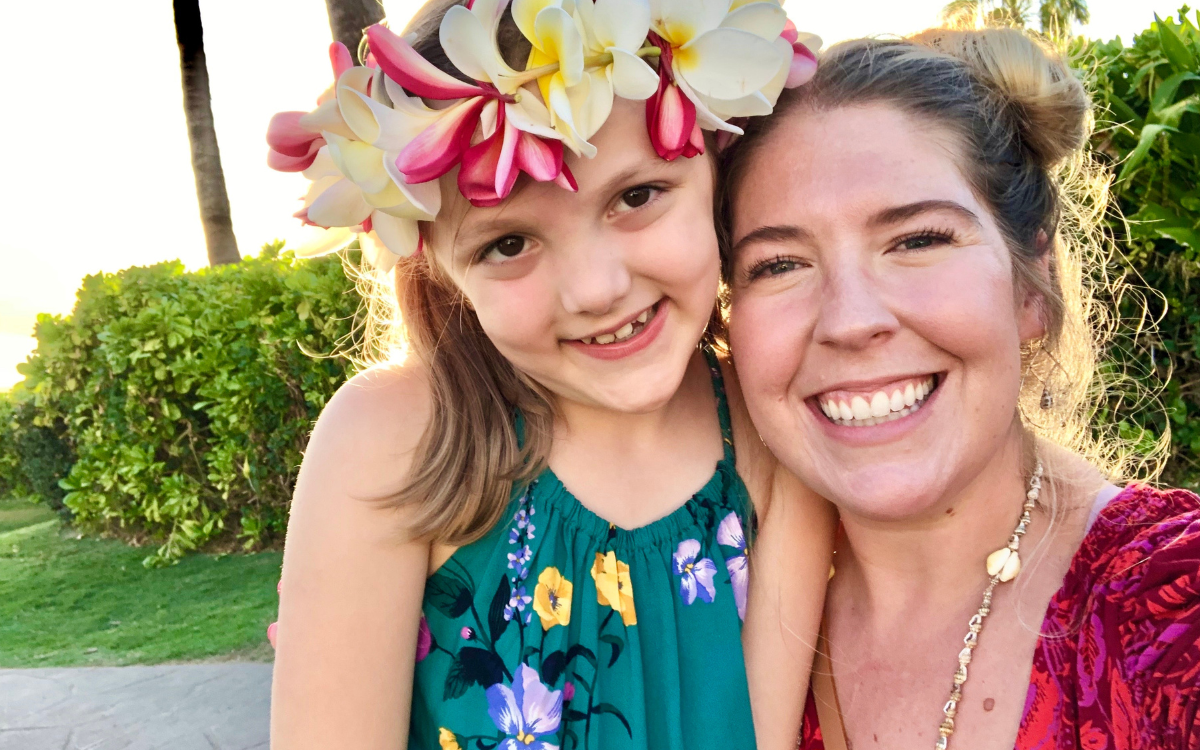 Best Breakfast in Wailea
So, here's where to find the best breakfast in Wailea…
Resort Breakfast Buffets
If you're all about living that lavish resort lifestyle, then you're quickly going to get familiar with the breakfast buffet. It's a staple at any high end beach resort and you've got OPTIONS in Wailea. Which is good, because you'd think one $50 breakfast buffet is as good as the next, but you'd be wrong. There's a surprisingly big variety among the big resorts in Wailea…most wonderful, but at least one that I would recommend avoiding…
Ka'ana Kitchen (Andaz)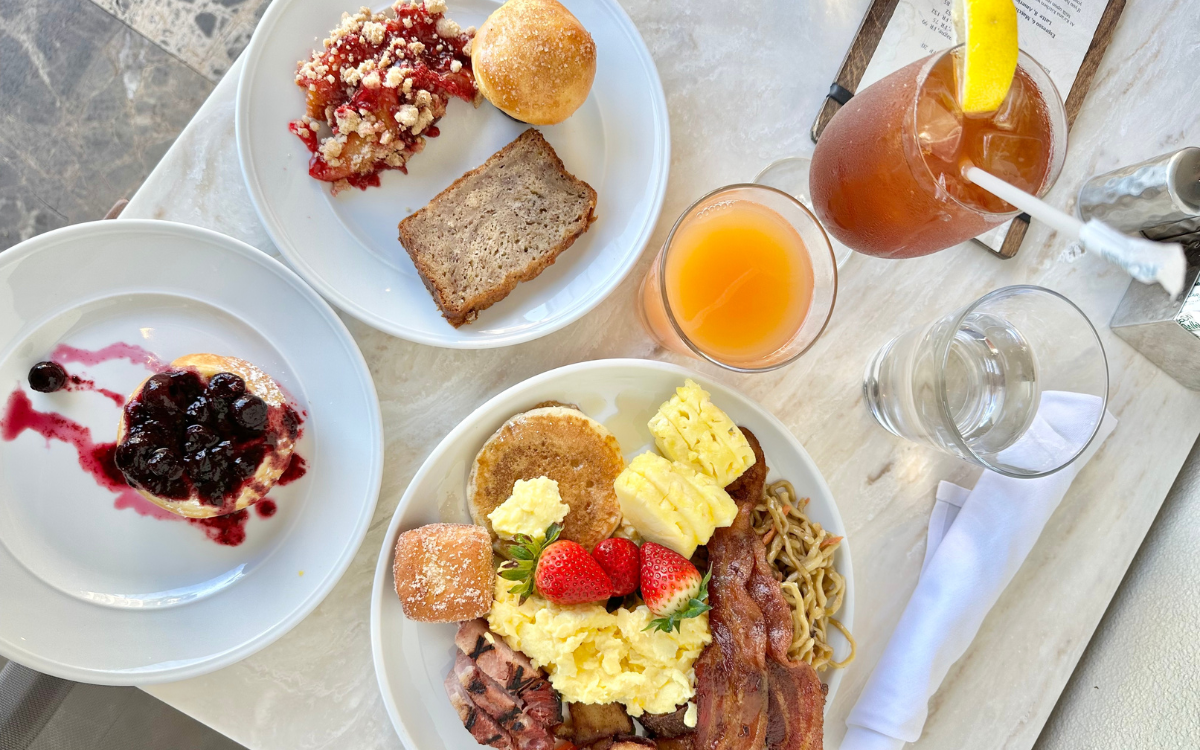 Ka'ana Kitchen at the Andaz Maui is probably my favorite breakfast buffet in Wailea. It's the average $50/person, but I think they have the best offerings, best quality, and best service. The restaurant also has a great view and even on a non-weekend/brunch day it's probably the place that feels the most like a special experience (even for $50/person some resorts just feel like they're shuttling a herd of guests through the buffet before they leave for their daily adventures).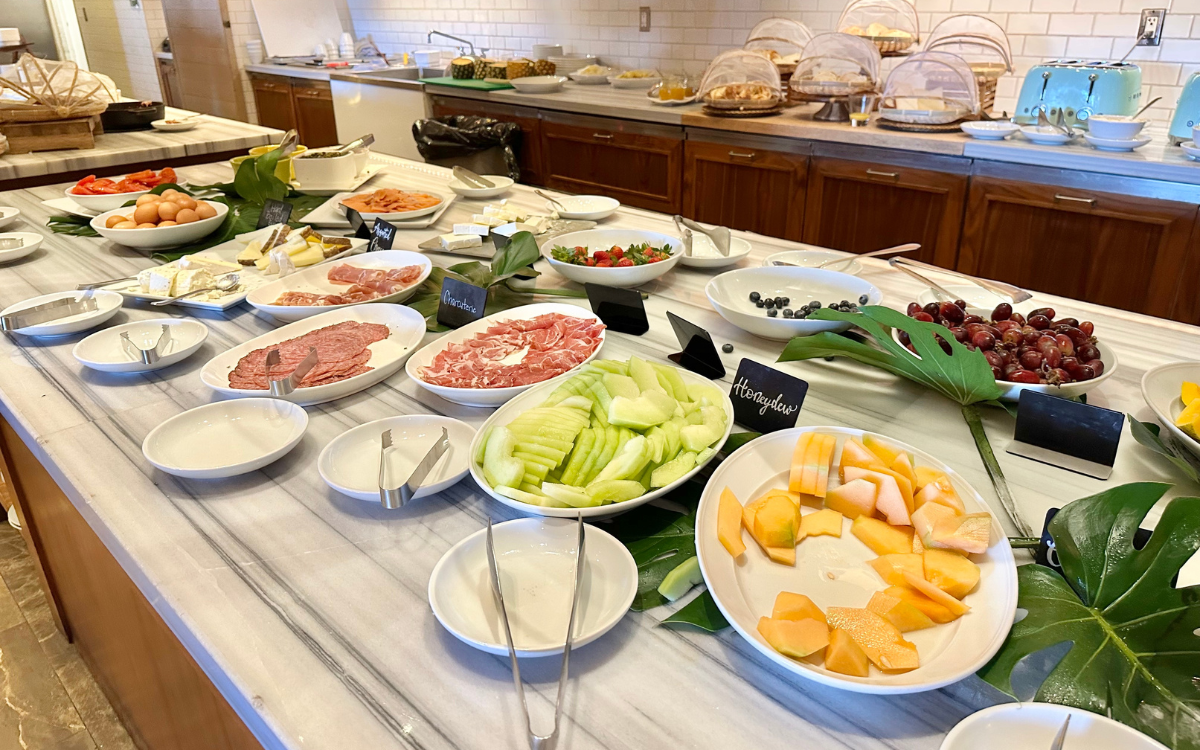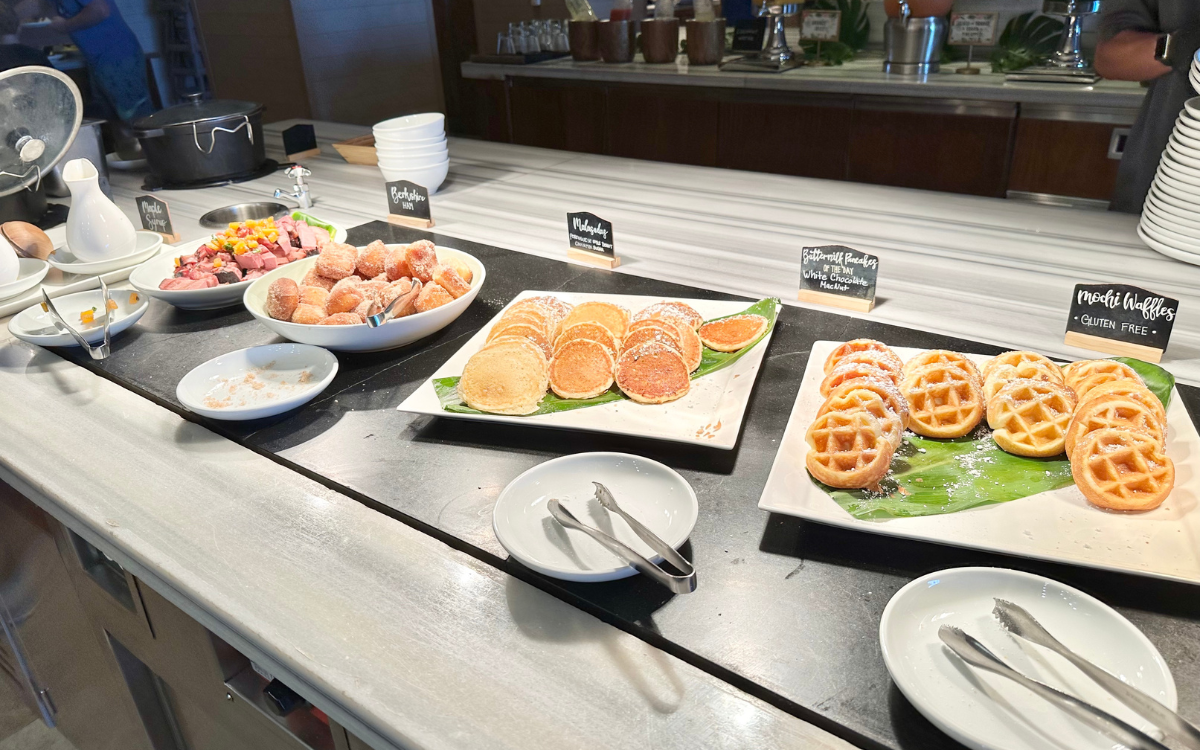 One thing I really like here is that omelet and made-to-order egg requests are handled through your server and brought to your table so you don't have to stand in line and wait for them to make it.
The whole concept of the restaurant is that you're actually in the kitchen (even at dinner) so a LOT of the food for the buffet is actually being made right next to the serving stations. Which means that you can usually grab extremely fresh waffles, pancakes, etc. They're also really good about swapping out dishes and bringing out fresh food so you never feel like you're getting the stale, crusty ends that are left in the pan.
They have everything you could possibly want here but I especially loved the desserts. A lot of them were unique and not the typical things that you see at a breakfast buffet. Example: Nutella brioche buns and homemade fruit cobbler.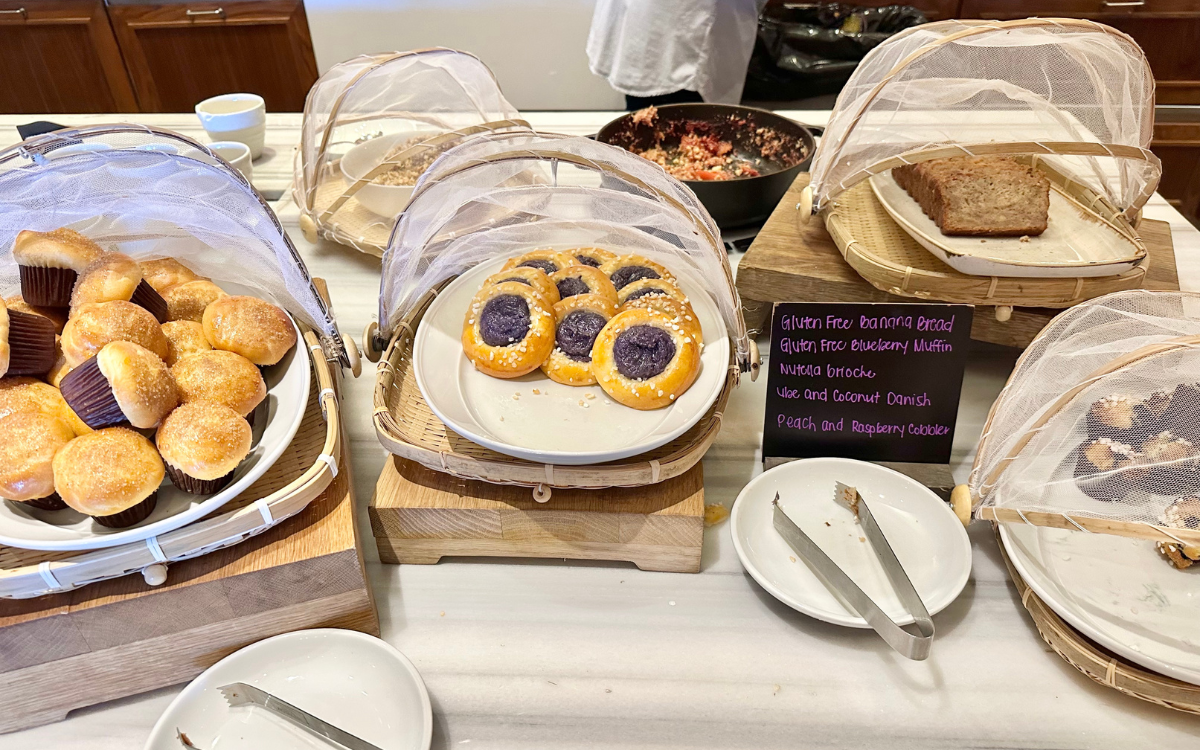 If you're just coming for oatmeal, yogurt, eggs, etc. the price is pretty excessive, but if you're ready to really eat and enjoy it, you won't be disappointed.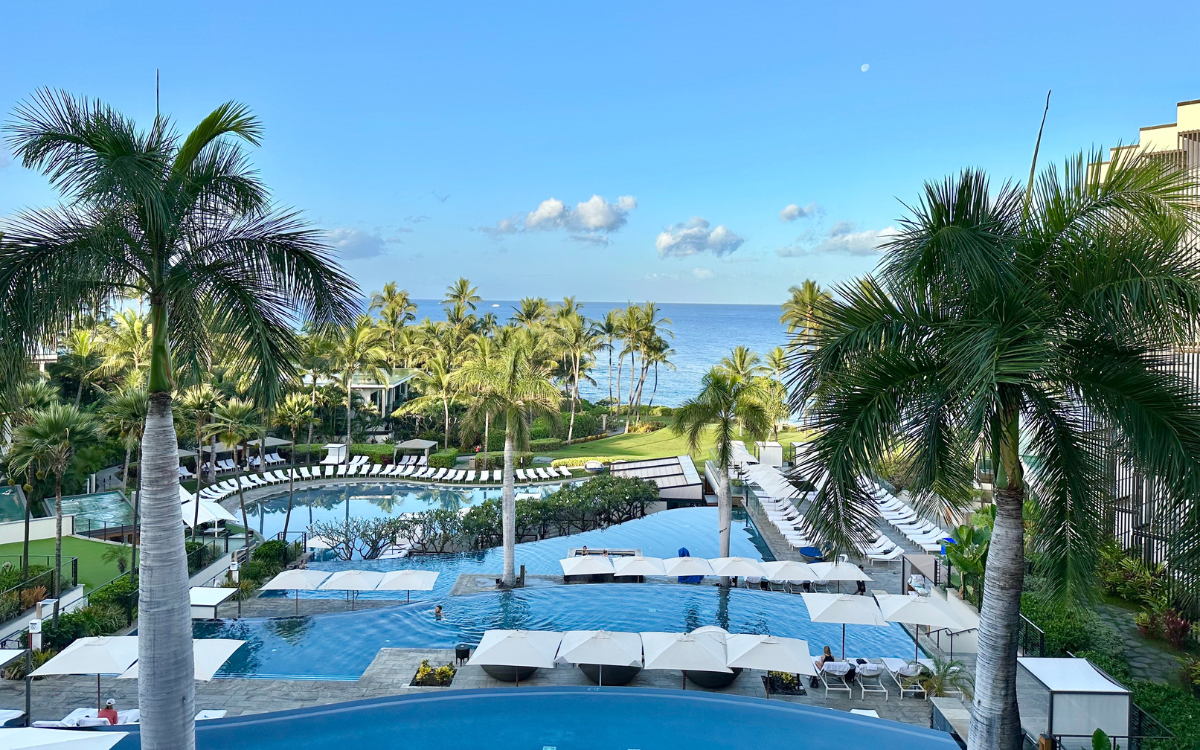 Kea Lani Restaurant (Fairmont Kea Lani)
I've been here a few times and it never disappoints. The food is top notch both in selection and quality. And they're clearly prepared for an international crowd…I always enjoy seeing miso soup, dumplings, and rice available for breakfast.
And I LOVE the new makeover they've given the dining room. It's very "Golden Girls" and I'm here for it.
One thing you need to know here…the omelet station is tucked around the corner and very easy to miss.
I was a bit surprised that the buffet here is a few dollars more per person than most other places in Wailea ($2-3), but it's within range and it pulls its weight. I approve.
Humble Market Kitchin (Wailea Beach Resort)
I hate to say it, but this is the one to avoid. It's a very average breakfast buffet (think mid tier Marriott in a city), it doesn't have a ton of variety and honestly most of the hot food seemed like it had been sitting in the heating dishes for hours. Which it probably had…there were noticeably fewer people eating here than everywhere else I've been in Wailea.
The view is great though!
If breakfast here is included in your rate (it's a Marriott but the restaurant is 3rd party so Bonvoy elites that get free breakfast perks don't get it here- they get it at the Starbucks), it's a decent options, but there's NO WAY I'm paying $50/person for this when I've seen what's next door ; )
DUO (Four Seasons)
I haven't been to DUO in a while so I'm due back for an update, but in the past it's always been very good. At $52/person it's on par with everywhere else, but they also have a really good ala carte menu here which surprisingly a lot of the other breakfast buffet restaurants don't have.
Great location on the pool deck!
'Ikena (Grand Wailea)
This is the only big resort breakfast buffet that I haven't been to so I guess I'm going to have to make it a priority!
I love the location right off the lobby with views overlooking the resort. The Monday – Saturday buffet is in the same price range as everywhere else in Wailea ($50/person), but I've got my eye on the Sunday Rose Brunch which looks extra swanky. $115/person gets you the regular full buffet, a glass of rose, a smoked carving station, fresh ceviche bar, oysters, snow crab, shrimp cocktail AND MORE.
It sounds excessive, but honestly, that's Wailea.
Casual Resort Grab & Go Options
When your wallet (and honestly, your stomach!) can't handle the buffet one more day, you've still got options! Most of these (probably with the exception of Whale's Tale) aren't places that you would go out of your way for if you're not staying there, but it's good to know your options:
Whale's Tale (Wailea Beach Resort)
This outdoor counter service spot is about as close to the water as you can get. They've got coffee drinks, acai bowls, smoothies, breakfast sandwiches, etc. and a lot of really cute seating options. All with a view! It's right on the Wailea Beach Walk so it's a really convenient spot if you want to take an early morning walk and stop to grab a bite.
Mokapu Market (Andaz)
The grab and go market at the Andaz is a full on coffee shop with pastries, sammies, etc. Plus a little mini mart of snacks.
Makana Market (Fairmont Kea Lani)
Grab and go market at the Fairmont Kea Lani. It's got a really convenient location near the pool so it's also a good option for lunch.
Kula Cafe (Grand Wailea)
The Grand Wailea's grab and go/quick service cafe also has a ton of seating and you can take stuff to go but it's pretty far from the pool/beach.
Beachwalk Cafe at the Four Seasons
I think the Four Seasons got the short end of the stick when it comes to grab and go/quick food options (but hey, that's probably the demographic) but what they've got is the Beachwalk Cafe. Aptly named because it's a little kiosk right off the beach. Grab coffee, drinks, ice cream, some snacks, pastries and sandwiches. Their breakfast (and lunch) sandwiches are actually really good.
Other Places You Should Know About
Island Gourmet Market
I want to call this the best kept secret in Wailea, but I don't know how you could call it a secret. It's attached to the Shops at Wailea (walkable from the Wailea Beach Resort) and it's the closest thing to a grocery store you'll find in Wailea. But besides stocking up on snacks, groceries, and prepared foods, they also have a grill/restaurant and they have really good food. If you want a big, greasy loco moco, this is your spot. They cook hot food made to order for breakfast, lunch and dinner.
Akamai Coffee
This is the local coffee shop in Wailea and you'll find it up the road in Wailea Village. If you like a long morning walk, it's a good destination.
Lappert's
If you're like me and you love a little ice cream nightcap when you're at the beach, then you're going to get very familiar with Lappert's. It's located in the Shops at Wailea so it's a nice place to walk around while you eat your ice cream. Besides their heavenly ice cream (they get you with the smell of those waffle cones), their coffee is really popular too.
Whalers General Store/ABC Store
Inside the Shops at Wailea you'll find a Whalers General Store (bottom level) and an ABC Store (upper level). Both are little markets (similar to Island Gourmet) and good places to stock up on snacks, drinks, and prepared foods.
Starbucks
There's a full-fledged Starbucks in the lobby of the Wailea Beach Resort. If you're walking along the Wailea Beach Walk (from the Grand Wailea, Four Seasons, Andaz, etc.) just follow the signs up through the resort to the lobby.
Restaurants I Like in Kihei
Wailea's more casual neighbor to the north has no shortage of spots to eat and that's one of the reasons I like staying in Wailea so much! When you (or your wallet) gets tired of resort dining, hop in the car and you can find absolutely ANYTHING in a 5-15 minute drive.
This is by no means an exhaustive list of places to eat in Kihei, but here are a few of my absolute favorites:
Kihei Caffe: This is my favorite spot for breakfast on the beach. It's a total dive but the food is GREAT and you can't beat the location. Go early or be prepared to wait in line. The pancakes are amazing and you can get them with a variety of toppings. This place wins for best breakfast on the beach. Cash only but they have an ATM inside.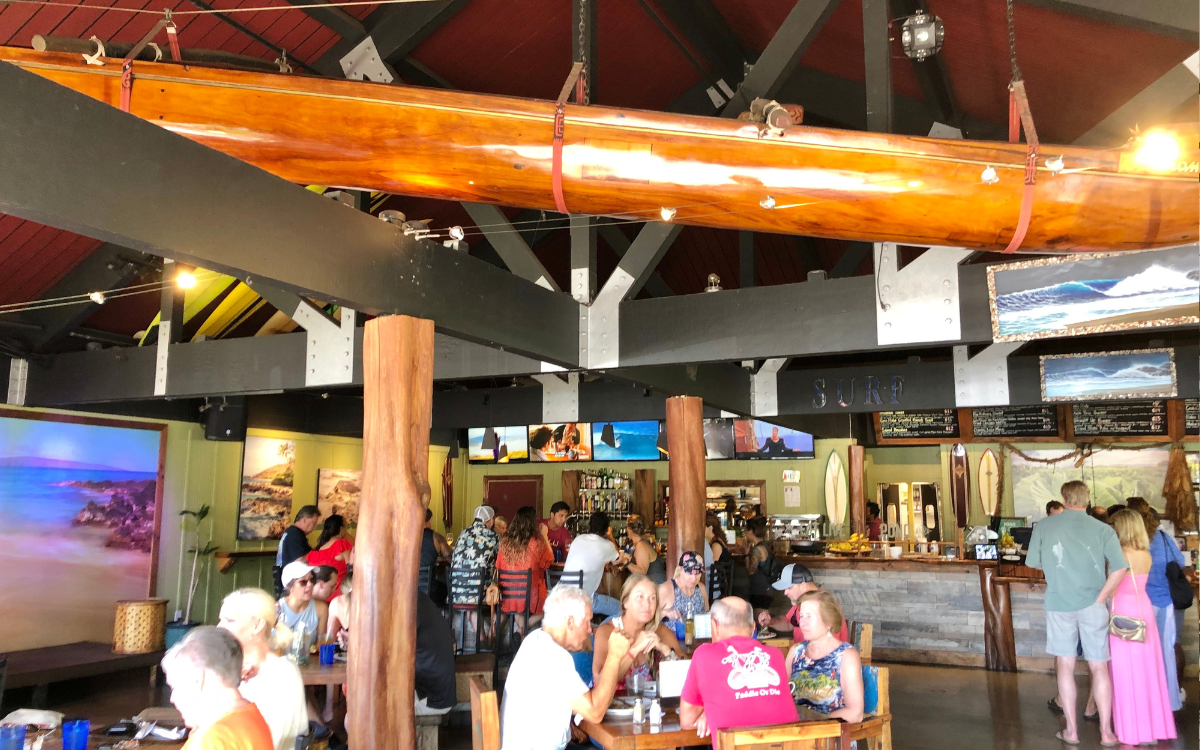 Nalu's South Shore Grill: Somewhat of a trendy spot, this place serves up breakfast, lunch, and dinner. Everything is counter service and moves quickly (even with a long line), but the fare is a bit higher end than local "dive" spots. It's located in the back of a strip mall, so no view but they've created a pretty lush atmosphere all the same.
Coconut's: Coconut's usually wins all of the "best fish tacos in Maui" award. They're super yummy and very unique. The restaurant is very low key. You order at the counter and seating is community style. My favorite part about Coconut's is that Wow Wow Lemonade is right next-door. Grab a handmade lemonade (made with local ingredients) before you head into Coconut's.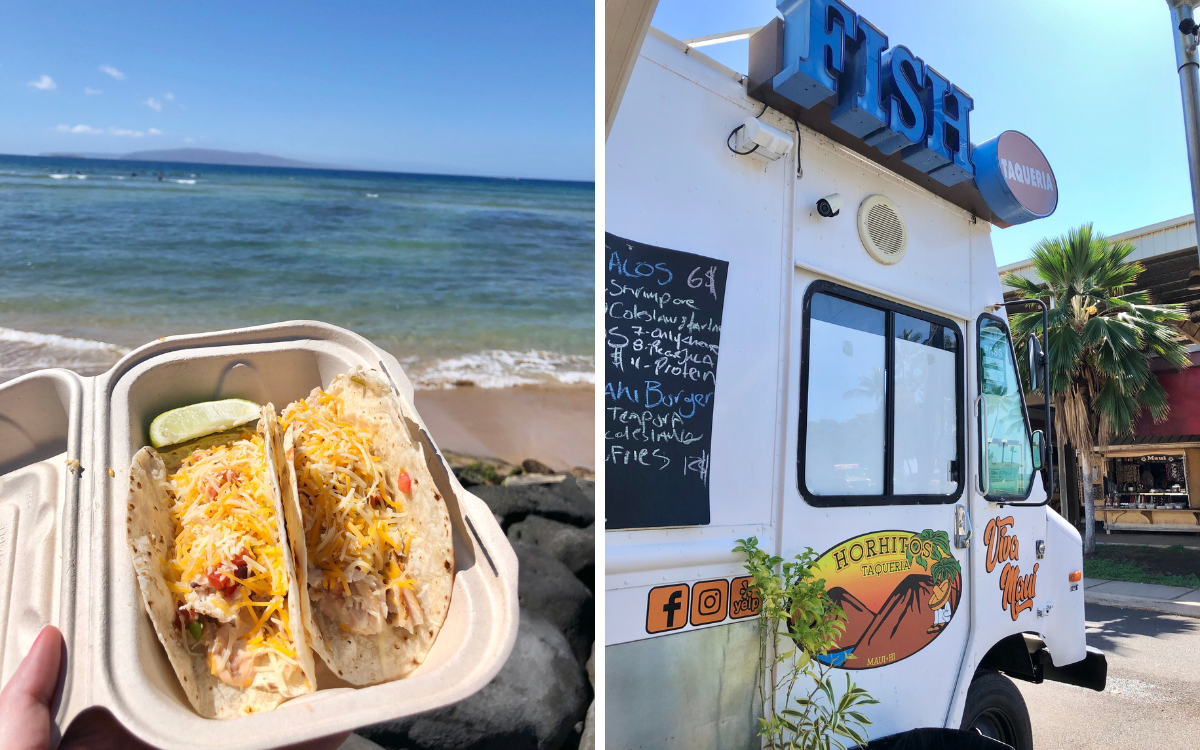 Horhito's Taqueria: My personal favorite fish tacos on the island can be found at this food truck across the street from Kalama Beach Park (next to the 77 gas station). I'm not going to say they're the best on the island (because I don't feel like I'm a distinguished fish taco connoisseur), but they make them with a chipotle mayo that I love plus soft flour tortillas are the only way to go.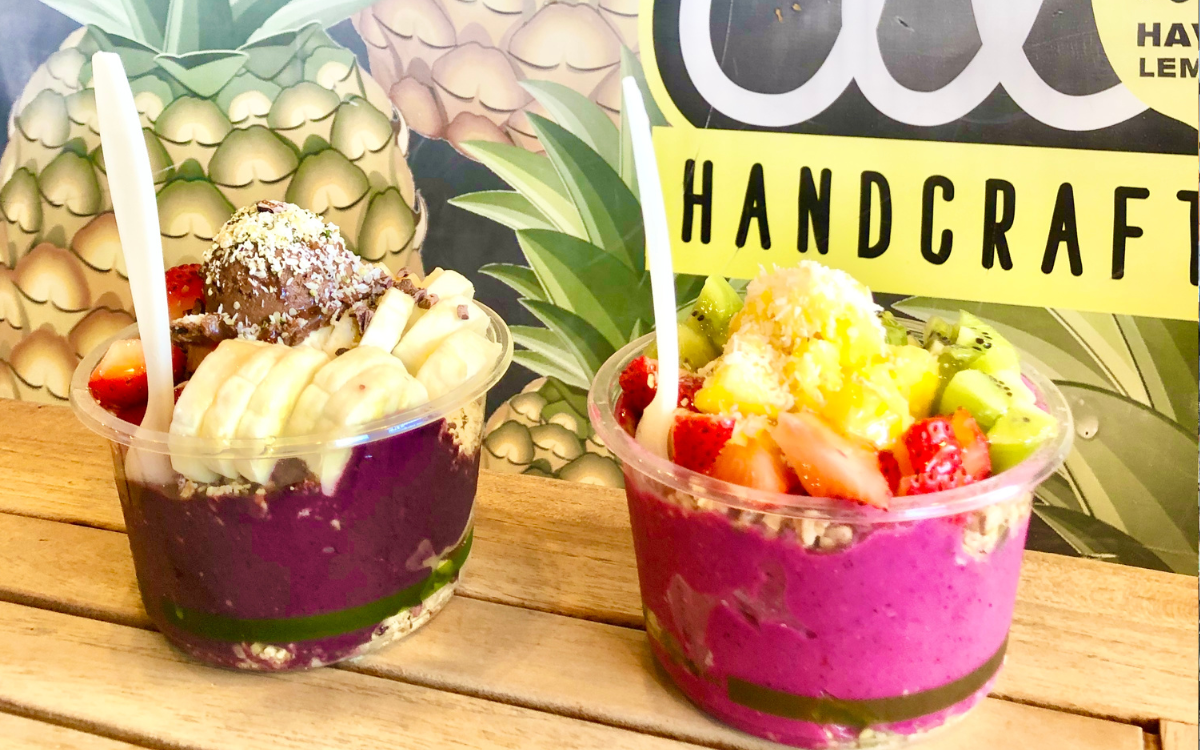 WowWow Lemonade: I cannot rave enough about this place! Locally made, fresh to order lemonade in a mason jar??? Yes please. But I think the real star here are the acai bowls. These are some of my favorite smoothie bowls I've had anywhere in Hawaii. They're made fresh (not frozen!) so they're very accommodating to both allergies and tastes.
Ululani's: You can't come to Hawaii without getting some famous local style shaved ice. Get it with ice cream on the bottom (trust me). Ululani's is a local favorite and they've got multiple locations so it's always super convenient.
Still Looking for a Place to Stay?
Here's one more really important thing you need to know before your Hawaii trip…
Reservations You Need to Make BEFORE Your Hawaii Trip
You've got your airfare, hotel, rental car and your big activities booked, so you should be good to go, right? Wrong!
Travel is BOOMING in Hawaii so a lot of state and national parks used the closure and reopening to institute reservation systems at some of the island's most popular spots to make things a little more sustainable.
That means that there are now over half a dozen sites (beaches, trailheads, etc.) that require advance reservations. And some sell out well before you arrive on the island so you really need to have some sort of a plan.
I recently saw somebody in a Hawaii travel group post in a panic that they didn't know they had to make reservations for things in advance…they thought they could just show up and "go with the flow." I was tempted to say, well, "as long as the flow doesn't take you somewhere that requires reservations, you can!" ; )
But I don't want YOU to be that person, so I've pulled together a list of all the places you need to reserve entry in advance (plus all the details on booking windows, price, links, etc.) and a handful of popular tourist hotspots that book out really far in advance too.
Haleakala National Park (Maui)
To visit Haleakala National Park for sunrise at the summit, you must make reservations in advance here.
Reservations are required to enter the park gates between 3AM and 7AM (sunrise hours).
Online reservations are $1 per reservation/vehicle PLUS you'll pay the park entrance fee of $30/vehicle when you arrive (National Park annual passes are also accepted at the gate).
The reservation booking window opens 60 days in advance at 7AM HST. There are also a limited number of tickets released two days before.
You can make one reservation every three days with the same account. So if you want to make reservations for back to back days (in case of weather/conditions), you'll need to do so with separate accounts (email addresses).
If you can't get reservations for sunrise, you can enter the park anytime after 7AM without reservations. The summit is spectacular during the day and you don't need reservations for sunset.
I strongly recommend creating an account before and making sure you're logged in at 7AM HST because it's not uncommon for reservations to sell out quickly.
Waianapanapa State Park (Maui)
To visit Maui's famous black sand beach at Waianapanapa State Park on the Road to Hana, you must make reservations in advance here.
Reservations are required to visit the beach and are distributed in windows from 7AM-10AM, 10AM-12:30PM, 12:30PM-3PM, and 3PM-6PM. And they are pretty strict about exiting by the end of your window time (you can arrive anytime within your window).
It's $5/person to enter plus $10/vehicle to park and those fees are paid when you book your time slot.
Reservations open up 30 days in advance.
Iao Valley State Park (Maui)
To visit the lush, green mountains and hike at Iao Valley State Park, you must make reservations in advance here.
Reservations are offered for 90 minute time slots beginning at 7AM and ending at 6PM. They ask that you arrive within the first 30 minutes of your time slot.
Entry is $5/person plus $10/vehicle to park.
Reservations open up 30 days in advance.
Diamond Head (Oahu)
To hike to the top of Waikiki's famous Diamond Head, you must make reservations in advance here.
Reservations are offered in two hour increments beginning at 6AM (6AM-8AM, 8AM-10AM, etc.) and ending at 6PM. If you're parking onsite, they ask that you arrive within the first 30 minutes of your reservation window.
Entry is $5/person plus $10/vehicle to park.
Reservations open up 30 days in advance.
Tip: I recommend booking one of the first two time slots because there isn't much shade on this hike and it gets pretty hot.
Hanauma Bay (Oahu)
To snorkel at Oahu's pristine Hanauma Bay, you must make reservations in advance here.
Entry times are staggered in 10 minute increments from 7AM to 1:20PM with roughly 1000 slots being assigned in advance every day.
Reservations can be made two days in advance and they open at 7AM HST. They're usually gone in minutes (if not seconds).
If you're unable to get an advanced reservation, you can try for a day of, walk in ticket. They open at 6:45AM and they only have a limited number available. Everyone in your group needs to be present when you purchase your tickets in person.
There are no reservations for parking and it's first come, first serve. $3/vehicle.
It's $25/person to snorkel at Hanauma Bay (12 and under, active military, and locals with HI ID are free).
The Hanauma Bay Nature Preserve is open Wednesday through Sunday (CLOSED MONDAY AND TUESDAY) from 6:45AM-4PM. Last entry is at 1:30PM, the beach is cleared at 3:15PM and you have to leave the facility by 4PM.
Jellyfish patterns can also affect whether or not the bay is open so double check the day before/day of.
USS Arizona at Pearl Harbor (Oahu)
If you want to take the boat tour at Pearl Harbor out to the USS Arizona, it's recommended to make advance reservations here.
Online reservations are guaranteed a specific boarding time to go out to the USS Arizona. If you're unable to get an advance reservation, you can wait standby when you arrive. The line could be short (15 minutes or so) or long (hours) and it just depends on the day (if they're having problems with the loading dock sometimes they don't take many from the standby line) and the time of day.
Reservations are supposed to open up 60 days in advance, but keep an eye on your exact dates, because lately they've actually been opening up about 57ish days in advance???
They also release a small batch of tickets the day before.
The boat ride out to the USS Arizona is free, but it's $1 to make the reservations online.
They recently started charging $7/vehicle for parking at Pearl Harbor.
Haena State Park / Kalalau Trail (Kauai)
If you want to hike Kauai's famous Kalalau Trail, you must make advance reservations here.
You've got three options here:
1) Parking & Entry: This is the most flexible option and also the most limited. THESE RESERVATIONS SELL OUT IN LESS THAN A MINUTE. There are three time slots available: 6:30AM-12:30PM, 12:30PM-5:30PM and 4:30PM to sunset. You can purchase multiple time slots if you want to stay longer. It's $10/timeslot (parking) plus $5/person and you have to reserve every person when you initially book. Everybody has to arrive in the same car and your ID needs to match the reservation.
2) Shuttle & Entry: If you can't get parking at the trailhead, there's also a shuttle option. Shuttle reservations are $35/person (16+), $25/person (ages 4-15), 3 and under can ride free. The shuttle runs every 20 minutes 6:20AM to 6:40PM.
3) Entry Only: If you're a Hawaiian resident (with HI ID) or someone WITH a Hawaiian resident, you can purchase entry only for $5/person with no advance reservations. Also, if you're walking or biking to the trailhead you can do this option. But there is NOWHERE to park in the area to walk in. So this really only works for those with bikes or who are staying close enough to walk. They will tow your car if you park outside the designated areas.
The reservation window opens 30 days in advance at 12AM HST. The parking & entry option usually sells out in a minute, but the shuttle availability will last longer.
There are a TON of FAQs here including the possibility of snagging a canceled reservation.
Other Things to Book in Advance
Hawaii is a busy place these days! Besides the state and national parks above, here's a handful of miscellaneous things you should make reservations for in advance (if they're on your radar):
Mama's Fish House (Maui): The iconic spot is the most popular restaurant in Hawaii and they've been opening reservations (and selling out) 4-6 months in advance. You can call and get on the waitlist for one day or you can set notifications on OpenTable to alert you for cancellations every day of your trip. Most people have pretty good success on OpenTable.
Old Lahaina Luau (Maui): Honestly, any luau you're planning to attend you should book early, but most people are usually shocked how far out the Old Lahaina Luau books out. Book it as soon as you know your dates (I think they open at the six month window). They also have a waitlist.
Kualoa Ranch UTV Tour (Oahu): Everybody loves Jurassic Park so getting to ride UTVs where they filmed the movies is very popular. The ranch offers a lot of different tours but the UTV tours usually book out a couple of months in advance.
Spa Reservations: If you're staying at a resort with a spa (or planning on visiting one), don't wait until you arrive to make your reservations. I'd make them at least a month in advance.
Tee Times: Same for golf, reserve your tee times well in advance.
Dining Reservations: Any "fancy" or resort restaurant is likely to be booked up these days so if you like having a nice dinner every night, make your plans in advance.
Want to read more? Don't miss some of my most popular (and favorite) posts about Maui: My Favorite Hotels on Maui | Wailea vs Ka'anapali | All of the Wailea Resorts Ranked | Maui Travel Tips | Things You Can ONLY Do on Maui | Where to Find Maui's Best Condos and Vacation Rentals | My Favorite Road to Hana Itinerary | Road to Hana Tips | Should You Drive the Backside of the Road to Hana? | 4 Day Maui Itinerary | Is Mama's Fish House Worth It? | Tips for Sunrise at Haleakala National Park | Things to Do Upcountry | Best Beaches in Wailea & Kihei | Best Restaurants in Wailea | Maui vs Kauai | Four Seasons Maui Review | Andaz Maui Review | Fairmont Kea Lani Review | Wailea Beach Resort Review | Four Seasons vs Andaz Maui | Andaz Maui vs Wailea Beach Resort
P.S. Thanks for sticking around and reading this whole post! If you have ANY questions about planning your trip to Hawaii, you can join my free Facebook group here. I'm there answering questions every day and there are 7500+ other friends who have a ton of Hawaii information to share!
Also, if you want to follow along on my travel adventures in real time, you can follow me on Instagram (@caitylincoln). My post captions are full of travel tips and I have a ton of story highlights and videos with great info. And please share my account with your friends that are headed to Hawaii! Your support really helps me keep this blog running!