Where to See Turtles on Maui (Psst…The Best Place Isn't the One You Keep Hearing About)
Seeing a turtle in the wild (an aquarium doesn't count!) is at the top of many people's Hawaii bucket lists and the good news is that if you're going to Maui, there are plenty of places where your chances for seeing a turtle are pretty high. Keep reading for tips on where to see turtles on Maui…
Rules about the Turtles
First things first…yes, it is VERY exciting to see a turtle. I've seen hundreds of them and it is no less special every time. But besides being incredibly important animals to Hawaii locals, they are a protected species meaning IT'S A FEDERAL OFFENSE TO TOUCH THEM. You're legally required to keep a MINIMUM 10 foot perimeter from them whether they're in the water or on the land (it's not uncommon to see them sunning themselves on beaches).
And if you're in the water you should stay even further away because they move fast and you have less control.
Some beaches (where visitors have become plentiful) set up fairly large perimeters around turtles so be sure to respect the perimeter and don't be one of those people that ducks under a rope because you're "technically allowed to be 10 feet away."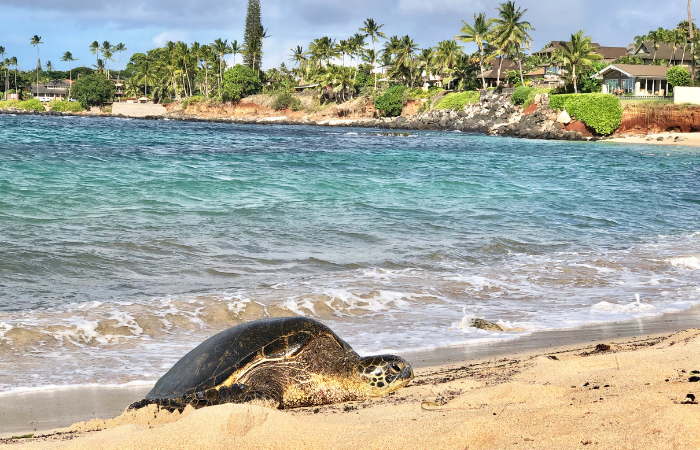 Especially since the state's reopening from the COVID closures (there's been an uptick in "idiot tourists"…you know the type and I'm sure it's not you), locals have grown increasingly sensitive to visitors not respecting these animals. It's not Mickey Mouse at Disneyland. It's super cool to see a turtle in the wild, but you don't line up to get your picture with one on the beach. They're resting…let them be. So always be aware of how close you are and make sure never to disturb them. This includes blocking their path if they're trying to come up to the beach or get back to the water and also being careful not to snorkel over the top of them (they do have to come up for air) if you see one in the water.
The good news is that the numbers for the Hawaiian Green Sea Turtles are GROWING because of their protected status and the respect that they get from 99.9% of locals and visitors.
Where to See Turtles on Maui
Snorkeling at Turtle Town on Maui
Most people want to see a turtle swimming in the water and the absolute best place is around Turtle Town in Makena (South Maui). There are two ways to get to Turtle Town:
By Boat
Turtle Town is close to shore, but still a little farther out than I'm personally comfortable swimming (especially alone) so my favorite way to go is by boat. My absolute favorite Molokini Snorkel Tour (Kai Kanani-read all about it here) also includes a stop at Turtle Town so that's my go to, but if you're a little more adventurous, you could also do this eco kayak tour.
From the Beach
Maluaka Beach and Makena Landing are the two closest spots on land to Turtle Town. It's not necessarily unsafe and a lot of people snorkel in this area on their own, but I would recommend staying a little closer to shore than you see the people snorkeling on the boats maybe unless you have a paddleboard. I'm also generally a fan of wearing a flotation belt when you're snorkeling (especially if you're not on a tour), and of course making sure there's somebody on the shore who is tracking where you are. If you want the best chance of seeing turtles, I would enter at Makena Landing. It's a boat ramp, but it's an a fairly protected area and there's often other snorkelers there.
Here are directions: drive south from Wailea (past the Fairmont Kea Lani) and Wailea Alanui Drive will turn into Makena Alanui Road. Take a right onto Makena Road just past the Makena Surf Resort and follow that road until you come to Makena Landing Beach Park. You'll know it when you see the boat ramp.
If you want to snorkel off of a nice sandy beach (maybe you're looking for a spot to set up for the day with the family), try Maluaka Beach.
If you're driving south through Wailea and Makena, turn right onto Makena road (you'll see signs for the landing) and continue on until you see a parking lot. The beach access is actually a few hundred feet past the parking lot. You'll want to snorkel along the rocks to the north of the sandy beach.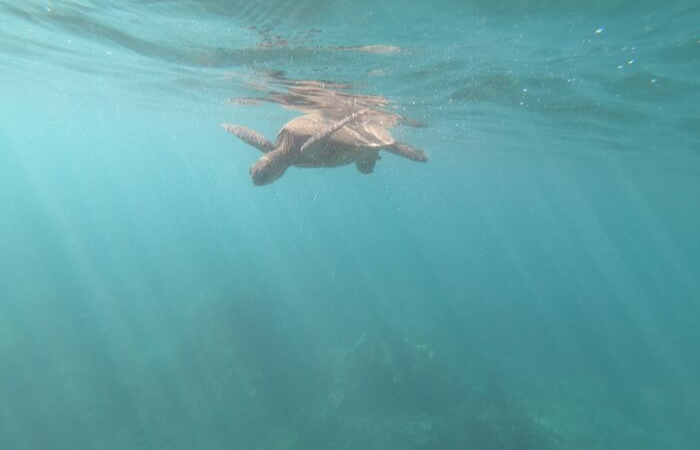 Other Beaches Where You Might Swim with Turtles
Turtles are pretty common everywhere in Hawaii, so you never know where you might see one, but they tend to pop up with some frequency around Black Rock at Ka'anapali, Napili Bay, and Kapalua Bay. These aren't necessarily beaches I would seek out JUST to find turtles, but they're also the three most popular beaches on the west side, so if you happen to be staying around there, keep your eyes peeled.
More Maui snorkeling posts: my favorite Molokini snorkel tour, the best snorkeling beaches on Maui, whale watching on Maui
Side Note: If you're looking for a rental car for your trip, I LOVE Discount Hawaii Car Rentals. They're seriously the only company I ever use. They'll give you the very best prices, you don't have to reserve with a credit card or pay until you show up, you can cancel and re-book anytime if you find a better rate, and they usually have a special that adds additional drivers for no fee. It's a no brainer. Click here to check rates for your trip.
Where to Find Turtles Resting on the Beach
If you're not a snorkeler, you have small children or elderly people in your group, or you're just hoping for a better look than a quick glimpse in the water, there are a couple of spots on the north shore where it's really common to see turtles resting on the beach.
Ho'okipa Beach
Ho'okipa Beach offers a unique way to see turtles…on land! Ho'okipa, on the north shore, is one of their rare "resting grounds" and turtles show up here like clock work every afternoon. Ho'okipa Beach is located on the north shore a couple of miles past Paia town. When you leave town, you'll pass Mama's Fishhouse (on your left) and the Ho'okipa overlook is about a mile past that (there's a small sign). The overlook offers great views of surfers but to see the turtles you'll need to drive down to the beach below. A conservation group sets up camp here every day to patrol how close people get to the turtles. They usually barricade off the end of the beach the turtles frequent (the end closest to the overlook) but there's a little ledge above that offers better views.
This is an extremely local beach (one of Maui's best surf spots) so just be really sensitive to your surroundings. It's a neighborhood spot, but it's become sooooo popular because of the turtles in recent years so it's an interesting vibe. Be on your best behavior (be friendly, polite, respectful, and aware that you're in someone's "backyard") and you won't have any problems.
And of course, keep your distance from the turtles.
On Another Note: If you're looking for a condo or vacation rental for your trip, I always book with Vrbo. They've got the largest selection of rentals you'll find anywhere and you can easily filter to find exactly what you're looking for. Need a specific number of bedrooms and bathrooms? Narrowed it down to a certain location? Want flexible cancellation terms? Need to stay under a fixed budget? Click here to search for Maui vacation rentals for your trip.
Kuau (Tavares) Bay
While Ho'okipa is the most popular spot to see turtles on Maui, my favorite is actually at Tavares Bay. Just east of Paia town, there's a small parking lot with a sign marked "Kuau Bay." You'll know you're in the right spot when you see the house with the blue tile roof. It's not as well known as Ho'okipa, but the water is usually calmer and there are a ton of turtles. It's a mix of local families (watching small children being nonplussed about a turtle because they've grown up with them is pretty cool) and visitors staying in Airbnbs nearby.
The turtles aren't monitored here like they are at Ho'okipa and there aren't nearly as many people so it feels like a more natural environment. Just remember to stay AT LEAST 10 feet away from them and don't be tempted to sneak in close just because there's nobody enforcing the rules.
Want to read more? Don't miss some of my most popular (and favorite) posts about Maui: My Favorite Hotels on Maui | Wailea vs Ka'anapali | All of the Wailea Resorts Ranked | Maui Travel Tips | Things You Can ONLY Do on Maui | Where to Find Maui's Best Condos and Vacation Rentals | My Favorite Road to Hana Itinerary | Road to Hana Tips | Should You Drive the Backside of the Road to Hana? | 10 Day Maui Itinerary | Best Snorkeling Beaches on Maui | Snorkeling Molokini Crater | Old Lahaina Luau Review | Is Mama's Fish House Worth It? | Tips for Sunrise at Haleakala National Park | Things to Do in Wailea | Things to Do on the North Shore | Things to Do Upcountry | Where to See Turtles on Maui | Whale Watching on Maui | Maui Pineapple Tour | Where to Stay in Hana | Where to Stay in Kihei | Where to Stay in Lahaina & Ka'anapali | Best Beaches in Wailea & Kihei | Fine Dining on Maui | Best Restaurants in Wailea | Best Restaurants in Lahaina | Grand Wailea Luau Review | Maui vs Kauai | Four Seasons Maui Review | Andaz Maui Review | Fairmont Kea Lani Review | Wailea Beach Resort Review | Four Seasons vs Andaz Maui | Andaz Maui vs Wailea Beach Resort | Best Breakfast in Wailea
P.S. Thanks for sticking around and reading this whole post! If you have ANY questions about planning your trip to Hawaii, you can join my free Facebook group here. I'm there answering questions every day and there are 7500+ other friends who have a ton of Hawaii information to share!
Also, if you want to follow along on my travel adventures in real time, you can follow me on Instagram (@caitylincoln). My post captions are full of travel tips and I have a ton of story highlights and videos with great info. And please share my account with your friends that are headed to Hawaii! Your support really helps me keep this blog running!