15 Things to Do on Kauai (Whether It's Your First Trip or You're an Island Expert)
What are the best things to do in Kauai?
Planning a trip to Kauai? You're going to love it! It's one of the most beautiful Hawaiian Islands, well known for its lush, green mountains. Remember Jurassic Park? Well, that's Kauai. With so much natural beauty (beaches! hiking! snorkeling!), you could stay busy for weeks exploring every part of this island, so I've narrowed this list down to 15 things to do in Kauai.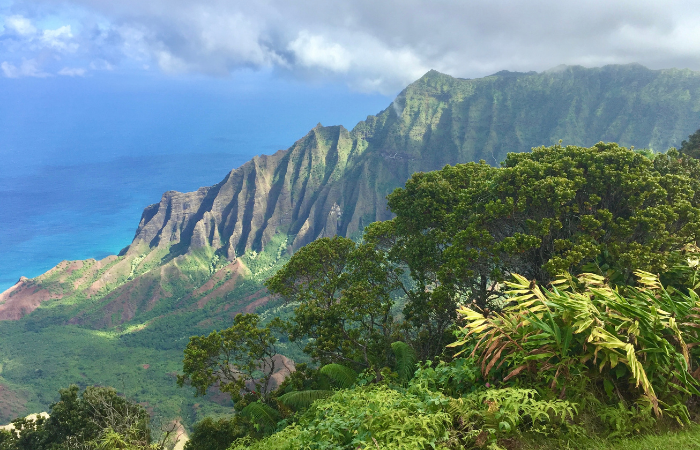 This post may contain some affiliate links, which means I'll make a little money on anything you choose to purchase. But of course, I only recommend my absolute favorites to you. Thank you for supporting the brands that make the Lincoln Travel Co possible.
This is by no means a comprehensive list of everything to do on Kauai, but it's a pretty good overview of some "don't miss" experiences! Also, I know different people like to vacation different ways so while a lot of things on this list you can do on your own (nothing is more fun than renting a car and taking off exploring!), I've also included options for people who gravitate more towards organized tours and excursions (there's a lot you miss when you're just driving around on your own : )
Without further adieu…here are 15 things to do in Kauai that you definitely shouldn't miss:
1.Take a boat ride down the Napali Coast. This is classic Hawaii…the Hawaii you see in movies, and it's not to be missed. This coastline full of soaring green, jagged cliffs lined with white sand beaches is a sight that many choose to see on a helicopter tour but it's best explored by ocean raft where you can zip in and out of sea caves and feel the ocean spray on your face. In the summer months, choose a tour that leaves out of Hanalei Bay on the North Shore for a shorter ride to the coast. Read about my experience with zipping down the Napali Coast in a Zodiac raft and reserve your own tour here. Or if you'd rather cruise on a catamaran, check out this tour.
2.See Waimea Canyon. Mark Twain called Waimea Canyon the "Grand Canyon of the Pacific" and it doesn't disappoint. It's worth the drive to the most remote part of the island to gaze out across the canyon. There are at least four overlooks at the top of the canyon and you need to see all of them. Each one offers a different vantage point, and one even has a lookout over Kalalau and the Napali Coast. Waimea State Park and Koke'e State Park both have some excellent hiking trails. If you want a moderate hike, try the Canyon Trail. At 3.4 miles round trip, it's the most popular hike in the area and will give you a great view of Waipoo Falls. It takes about 2.5 hours to complete. Park at the Puu Hinahina Lookout (around mile marker 13.5) and pick up the trailhead there. For a more challenging hike, try the Awaawapuhi Trail, which has spectacular cliff and ocean views. It's 6.2 miles round trip (3 hours) and the trail head can be found near mile marker 17. If you'd rather see the canyon with a guide, book this private tour.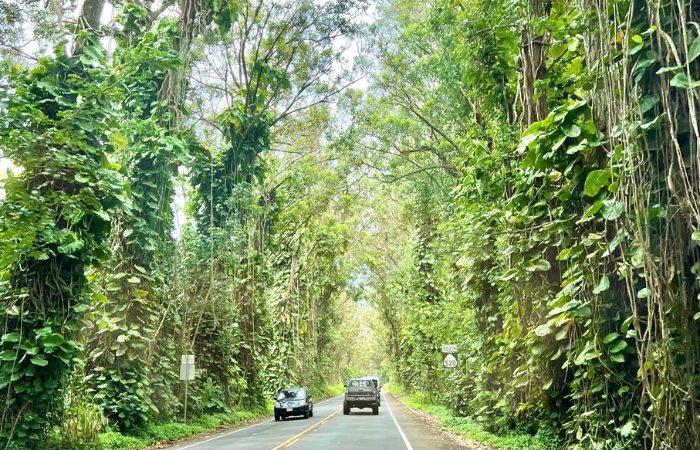 3.Hang out in Kauai's historic towns. Full of cute little shops and restaurants, Hanalei is a great surf town and in the winter months it draws surfers from all over the world. Grab a bite to eat, browse through a couple of shops and keep driving along the North Shore for great views. Hanapepe on the southwest side is a classic little beach town that was the inspiration behind Disney's Lilo and Stitch and really feels like a step back in time to old Hawaii. Close to the Poipu on the southside, don't miss the famous tree lined road to the cute well preserved town of Koloa where there's plenty of shopping and dining. And Historic downtown Kapa'a is the central hub of the coconut coast and feels like a charming beach side town.
4.Go beach hopping at the island's best. Kauai's north shore has some of the most beautiful beaches on the island. Start at Ke'e beach, which is the end of the road on the north shore, and check out some spectacular beaches including Ha'ena, Tunnels, (you'll need to reserve parking in advance for these spots here) and Hideaways. Also don't miss Poipu Beach on the sunny south shore. It's a favorite resting area for the endangered Hawaiian Monk Seals. There are only about 1000 seals left in Hawaii and after a big meal they're known to crawl up on to the beach and nap all day. It's illegal to approach them so just admire them from a distance and don't worry, they're fine…they're just sleeping! And if you're really up for an adventure, spend the day at Polihale Beach. Perhaps one of Kauai's most beautiful beaches, Polihale definitely has an off the grid feel. The seven mile stretch of sand is bordered by the Napali Coast and is a great spot to camp if you feel like roughing it in paradise. Find my full list of favorite Kauai beaches here.
5.Kayak the Wailua River to Fern Grotto. The Wailua River is the only navigable river in the state. Explore the river by kayak and hike to a hidden waterfall on this tour. Or take a boat trip up the river into the fern grotto, a popular wedding destination. The Smith family operates a fern grotto tour and a luau in the valley that's a great option.
6.Spot some waterfalls. There are plenty of waterfalls to see on Kauai that require a bit of a hike, but if you're not super active you'll also find a couple of drive up falls. Wailua Falls: the 80-foot waterfall just outside of Lihue is a popular spot. It's famous as the backdrop to the opening sequence of Fantasy Island. Driving north from Lihue (highway 56), turn left on Maalo road in Hanamaulu. About 3 miles down the road, it dead-ends in the parking lot and overlook. Also don't miss Opaekaa Falls. From highway 56, turn up Kuamoo road (580) and you'll see the lookout (and parking lot) on the right hand side of the road.
7.Take a helicopter tour. Kauai is practically made to be seen from the air. Some of the most spectacular parts of the island can only be seen from the air and a helicopter tour is sure to be one of the highlights of your trip. Read all about the flight I did with Blue Hawaiian and reserve your flight here.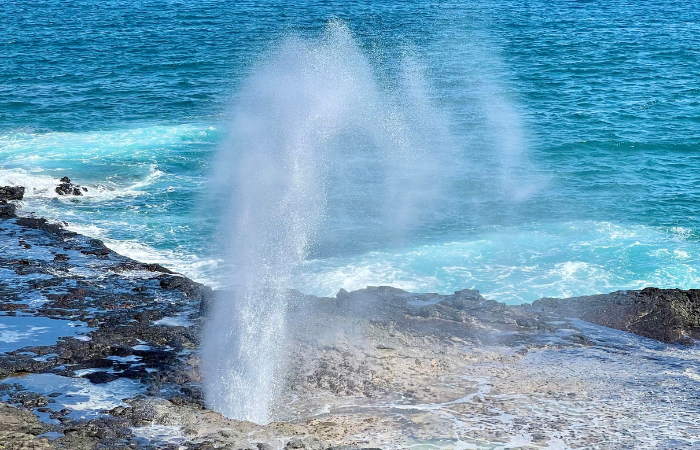 8.See Spouting Horn (Kauai's blowhole). It's a fairly simple natural phenomenon, but blowholes in the Hawaiian Islands always draw a crowd. The Spouting Horn blowhole on the south side of Kauai is close to the resort area of Poipu and easy to get to (you can drive right up) so it's a popular spot.
Side Note: If you're looking for a rental car for your trip, I LOVE Discount Hawaii Car Rentals. They're seriously the only company I ever use. They'll give you the very best prices, you don't have to reserve with a credit card or pay until you show up, you can cancel and re-book anytime if you find a better rate, and they usually have a special that adds additional drivers for no fee. It's a no brainer. Click here to check rates for your trip.
9.Hike the famous Kalalau Trail. Not for the faint of heart! This epic 11 mile trail (one-way!) along Kauai's famed Napali Coast lures hikers from all around the world. While the whole hike takes a lot of planning (camping permits are required), the first 2 mile leg of the hike to Hanakapi'ai beach is perfect for a day hike. This amazing view of the Napali Coast feels even better when you've hiked it with your own two feet. Read about the time I hiked the Kalalau Trail here and reserve your parking at the trailhead here.
10.Ride ATVs at Kipu Ranch. Kipu Ranch offers some great ATV tours of "undiscovered" Kauai. Their tours will take you through green pastures, tropical valleys, and waterfalls, all which have been the backdrops of films such as Jurassic Park and Indiana Jones. Book a tour at Kipu Ranch here.
11.Kayak Hanalei Bay. This picturesque bay on the north shore has to be one of the most beautiful spots on Kauai. Depending on the time of year, you can paddleboard or surf in Hanalei Bay (it's calmer in the summer months), but I like this tour that combines kayaking and snorkeling.
12.See the Princeville Botanical Gardens. Kauai is home to some truly spectacular botanical gardens, but the Princeville Botanical Gardens on the north shore are the best. Show up and stroll around on your own, or book this tour which includes a chocolate sampling.
13.Attend a luau. Have you really been to Hawaii if you haven't been to a luau? Check out this favorite Kauai luau, or read about what I think is the most charming luau in Hawaii (major Elvis vibes).
On Another Note: If you're looking for a condo or vacation rental for your trip, I always book with Vrbo. They've got the largest selection of rentals you'll find anywhere and you can easily filter to find exactly what you're looking for. Need a specific number of bedrooms and bathrooms? Narrowed it down to a certain location? Want flexible cancellation terms? Need to stay under a fixed budget? Click here to search for Kauai vacation rentals for your trip.
14.Visit Ni'ihau, the forbidden island. It's easy enough to visit the eight main Hawaiian Islands (Oahu, Maui, Kauai, the Big Island/Hawaii, Lanai, and Molokai), but there are two "other" islands that are pretty much inaccessible to visitors. Ni'ihau (nicknamed the Forbidden Island because it's closed to visitors) is just off the coast of Kauai. While you're not able to fully explore the island, this tour is the only one with permits to land at a beach on the island so if you're looking to cross off a major Hawaii bucket list item and visit Ni'ihau, you'll need to book the tour. It includes snorkeling and sightseeing part of the Napali Coast.
15.Go snorkeling. Most visitors to Hawaii want to do a little snorkeling. Tunnels, Kauai's famous north shore beach, has some of the best snorkeling you'll find on the island. It's hard to find and there's not much parking (there are two short access ways which look an awful lot like driveways) but you can park at Ha'ena beach (reserve parking here) and walk back to the east. If you'd like to go out on a boat with a guide, book this small group tour.
Still Looking for a Place to Stay?
Here's one more really important thing you need to know before your Hawaii trip…
Reservations You Need to Make BEFORE Your Hawaii Trip
You've got your airfare, hotel, rental car and your big activities booked, so you should be good to go, right? Wrong!
Travel is BOOMING in Hawaii so a lot of state and national parks used the closure and reopening to institute reservation systems at some of the island's most popular spots to make things a little more sustainable.
That means that there are now over half a dozen sites (beaches, trailheads, etc.) that require advance reservations. And some sell out well before you arrive on the island so you really need to have some sort of a plan.
I recently saw somebody in a Hawaii travel group post in a panic that they didn't know they had to make reservations for things in advance…they thought they could just show up and "go with the flow." I was tempted to say, well, "as long as the flow doesn't take you somewhere that requires reservations, you can!" ; )
But I don't want YOU to be that person, so I've pulled together a list of all the places you need to reserve entry in advance (plus all the details on booking windows, price, links, etc.) and a handful of popular tourist hotspots that book out really far in advance too.
Haleakala National Park (Maui)
To visit Haleakala National Park for sunrise at the summit, you must make reservations in advance here.
Reservations are required to enter the park gates between 3AM and 7AM (sunrise hours).
Online reservations are $1 per reservation/vehicle PLUS you'll pay the park entrance fee of $30/vehicle when you arrive (National Park annual passes are also accepted at the gate).
The reservation booking window opens 60 days in advance at 7AM HST. There are also a limited number of tickets released two days before.
You can make one reservation every three days with the same account. So if you want to make reservations for back to back days (in case of weather/conditions), you'll need to do so with separate accounts (email addresses).
If you can't get reservations for sunrise, you can enter the park anytime after 7AM without reservations. The summit is spectacular during the day and you don't need reservations for sunset.
I strongly recommend creating an account before and making sure you're logged in at 7AM HST because it's not uncommon for reservations to sell out quickly.
Waianapanapa State Park (Maui)
To visit Maui's famous black sand beach at Waianapanapa State Park on the Road to Hana, you must make reservations in advance here.
Reservations are required to visit the beach and are distributed in windows from 7AM-10AM, 10AM-12:30PM, 12:30PM-3PM, and 3PM-6PM. And they are pretty strict about exiting by the end of your window time (you can arrive anytime within your window).
It's $5/person to enter plus $10/vehicle to park and those fees are paid when you book your time slot.
Reservations open up 30 days in advance.
Iao Valley State Park (Maui)
To visit the lush, green mountains and hike at Iao Valley State Park, you must make reservations in advance here.
Reservations are offered for 90 minute time slots beginning at 7AM and ending at 6PM. They ask that you arrive within the first 30 minutes of your time slot.
Entry is $5/person plus $10/vehicle to park.
Reservations open up 30 days in advance.
Diamond Head (Oahu)
To hike to the top of Waikiki's famous Diamond Head, you must make reservations in advance here.
Reservations are offered in two hour increments beginning at 6AM (6AM-8AM, 8AM-10AM, etc.) and ending at 6PM. If you're parking onsite, they ask that you arrive within the first 30 minutes of your reservation window.
Entry is $5/person plus $10/vehicle to park.
Reservations open up 30 days in advance.
Tip: I recommend booking one of the first two time slots because there isn't much shade on this hike and it gets pretty hot.
Hanauma Bay (Oahu)
To snorkel at Oahu's pristine Hanauma Bay, you must make reservations in advance here.
Entry times are staggered in 10 minute increments from 7AM to 1:20PM with roughly 1000 slots being assigned in advance every day.
Reservations can be made two days in advance and they open at 7AM HST. They're usually gone in minutes (if not seconds).
If you're unable to get an advanced reservation, you can try for a day of, walk in ticket. They open at 6:45AM and they only have a limited number available. Everyone in your group needs to be present when you purchase your tickets in person.
There are no reservations for parking and it's first come, first serve. $3/vehicle.
It's $25/person to snorkel at Hanauma Bay (12 and under, active military, and locals with HI ID are free).
The Hanauma Bay Nature Preserve is open Wednesday through Sunday (CLOSED MONDAY AND TUESDAY) from 6:45AM-4PM. Last entry is at 1:30PM, the beach is cleared at 3:15PM and you have to leave the facility by 4PM.
Jellyfish patterns can also affect whether or not the bay is open so double check the day before/day of.
USS Arizona at Pearl Harbor (Oahu)
If you want to take the boat tour at Pearl Harbor out to the USS Arizona, it's recommended to make advance reservations here.
Online reservations are guaranteed a specific boarding time to go out to the USS Arizona. If you're unable to get an advance reservation, you can wait standby when you arrive. The line could be short (15 minutes or so) or long (hours) and it just depends on the day (if they're having problems with the loading dock sometimes they don't take many from the standby line) and the time of day.
Reservations are supposed to open up 60 days in advance, but keep an eye on your exact dates, because lately they've actually been opening up about 57ish days in advance???
They also release a small batch of tickets the day before.
The boat ride out to the USS Arizona is free, but it's $1 to make the reservations online.
They recently started charging $7/vehicle for parking at Pearl Harbor.
Haena State Park / Kalalau Trail (Kauai)
If you want to hike Kauai's famous Kalalau Trail, you must make advance reservations here.
You've got three options here:
1) Parking & Entry: This is the most flexible option and also the most limited. THESE RESERVATIONS SELL OUT IN LESS THAN A MINUTE. There are three time slots available: 6:30AM-12:30PM, 12:30PM-5:30PM and 4:30PM to sunset. You can purchase multiple time slots if you want to stay longer. It's $10/timeslot (parking) plus $5/person and you have to reserve every person when you initially book. Everybody has to arrive in the same car and your ID needs to match the reservation.
2) Shuttle & Entry: If you can't get parking at the trailhead, there's also a shuttle option. Shuttle reservations are $35/person (16+), $25/person (ages 4-15), 3 and under can ride free. The shuttle runs every 20 minutes 6:20AM to 6:40PM.
3) Entry Only: If you're a Hawaiian resident (with HI ID) or someone WITH a Hawaiian resident, you can purchase entry only for $5/person with no advance reservations. Also, if you're walking or biking to the trailhead you can do this option. But there is NOWHERE to park in the area to walk in. So this really only works for those with bikes or who are staying close enough to walk. They will tow your car if you park outside the designated areas.
The reservation window opens 30 days in advance at 12AM HST. The parking & entry option usually sells out in a minute, but the shuttle availability will last longer.
There are a TON of FAQs here including the possibility of snagging a canceled reservation.
Other Things to Book in Advance
Hawaii is a busy place these days! Besides the state and national parks above, here's a handful of miscellaneous things you should make reservations for in advance (if they're on your radar):
Mama's Fish House (Maui): The iconic spot is the most popular restaurant in Hawaii and they've been opening reservations (and selling out) 4-6 months in advance. You can call and get on the waitlist for one day or you can set notifications on OpenTable to alert you for cancellations every day of your trip. Most people have pretty good success on OpenTable.
Old Lahaina Luau (Maui): Honestly, any luau you're planning to attend you should book early, but most people are usually shocked how far out the Old Lahaina Luau books out. Book it as soon as you know your dates (I think they open at the six month window). They also have a waitlist.
Kualoa Ranch UTV Tour (Oahu): Everybody loves Jurassic Park so getting to ride UTVs where they filmed the movies is very popular. The ranch offers a lot of different tours but the UTV tours usually book out a couple of months in advance.
Spa Reservations: If you're staying at a resort with a spa (or planning on visiting one), don't wait until you arrive to make your reservations. I'd make them at least a month in advance.
Tee Times: Same for golf, reserve your tee times well in advance.
Dining Reservations: Any "fancy" or resort restaurant is likely to be booked up these days so if you like having a nice dinner every night, make your plans in advance.
Want to read more? Don't miss some of my most popular (and favorite) posts about Kauai: my personal Kauai favorites, a breakdown of where to stay on Kauai comparing Princeville vs Poipu, my favorite restaurants in Poipu, the best places to watch sunset on Kauai, 5 day Kauai itinerary, my review of the Grand Hyatt Kauai, everything you need to know about Napali Coast boat tours leaving from Port Allen (south side) and Hanalei (north shore), my best Kauai travel tips, all about hiking the Kalalau trail (Kauai's best hike), Maui vs Kauai, the best things to do on Kauai and more specifically in Hanalei and Poipu, whether you should see the Napali Coast via boat or helicopter, my best (and specific) condo recommendations on Kauai, everything you need to know about Kauai helicopter tours, Kauai's best north shore beaches, where to play tennis on Kauai, how many days you should spend on Kauai (plus other FAQs), the best spas on Kauai, and my review of the Smith Family Luau.
Sa
Save
P.S. Thanks for sticking around and reading this whole post! If you have ANY questions about planning your trip to Hawaii, you can join my free Facebook group here. I'm there answering questions every day and there are 7500+ other friends who have a ton of Hawaii information to share!
Also, if you want to follow along on my travel adventures in real time, you can follow me on Instagram (@caitylincoln). My post captions are full of travel tips and I have a ton of story highlights and videos with great info. And please share my account with your friends that are headed to Hawaii! Your support really helps me keep this blog running!