Morning or Afternoon? The Best Time of Day for Kauai Helicopter Tours & Other FAQs
Kauai was pretty much made to be seen from the air. Only 20% of the island is developed (including roads!) which means that most visitors only see a tiny fraction of its splendors. And boy does it have splendors.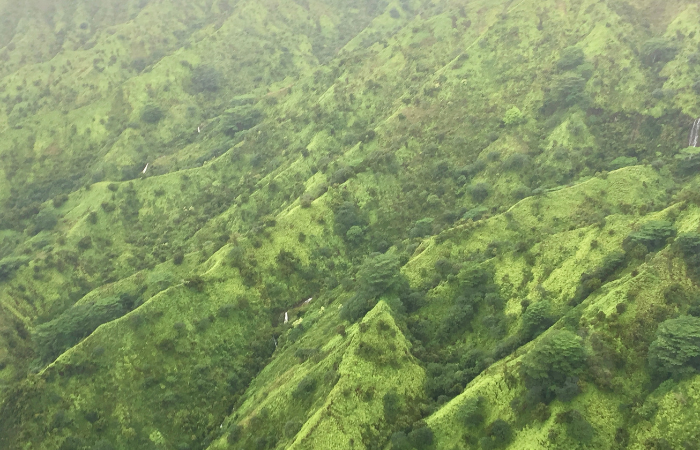 While every Hawaiian Island has absolutely stunning scenery, Kauai is overwhelming in the "jagged, majestic green mountains that look like the backdrop to every single Jurassic Park movie" department.
Sadly, many of its most beautiful sites are so remote and difficult to reach that they remain unseen by all but the most intrepid hikers. And that's why helicopter tours are more popular on Kauai than any other Hawaiian Islands.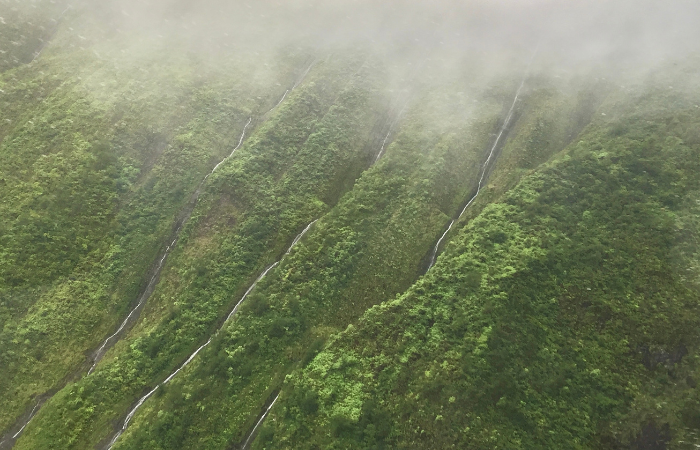 FAQs about Kauai Helicopter Tours
For most people, a helicopter ride is a once in a lifetime bucket list experience. Because it seems like such a "big deal" (and maybe because it's also so expensive), I get asked a lot of questions about tours. Here's a round up of frequently asked questions…
Is a Kauai helicopter tour "worth it"?
I had never been on a helicopter before (and haven't since), but it seemed like a real shame to miss out on a helicopter tour on Kauai. And I really just can't say enough good things about my helicopter flight on Kauai. And there aren't words to adequately describe the things I saw. All I can say is, if you're on the fence about doing a helicopter tour on your trip to Kauai, do it!!! I've done a lot of tours, excursions, and activities on Kauai, but this is one of the few that I would repeat (others were amazing, but once was enough).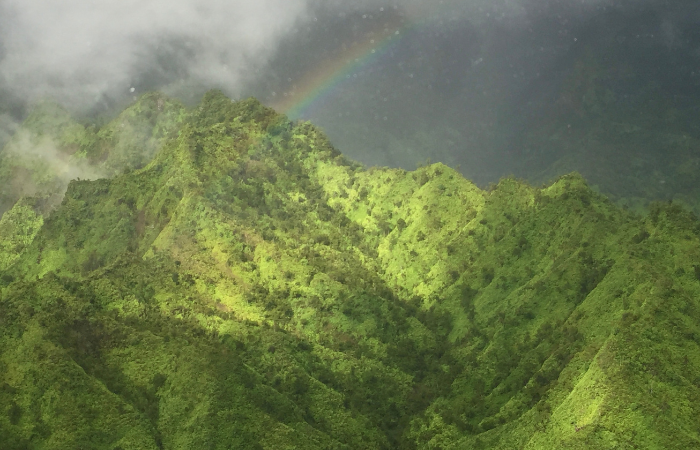 What's the best time of day for Kauai helicopter tours? Morning or afternoon?
If you're paying all of that money, you want to get it right. Generally, mornings are going to consistently provide the best flying conditions. Wind and weather pick up in the afternoon and while you can never quite predict the weather, mornings are usually the best bet.
However…the lighting during the afternoon is best along the Napali Coast. It's kind of a technicality because the Napali Coast is impressive any time of day, but here's how it works: the mountains along the Napali run north to south. The sun rises in the east so the sun is mostly behind the mountains during the morning hours leaving them somewhat shady. By late afternoon, the sun shines directly on the coast making all those crags and spires sparkle a bit more.
So is there really that big of a difference? Yes and no. I would say for the casual tourist, morning is totally fine. All of the boat tours of the Napali run during the morning as well and it's spectacular. If you're a super serious photographer tasked with getting the perfect shot (I'm a professional travel blogger and I wouldn't even call myself that) then late afternoon is probably best.
But just know you run a bigger risk of your flight getting canceled later in the day if weather develops (which could also happen in the morning).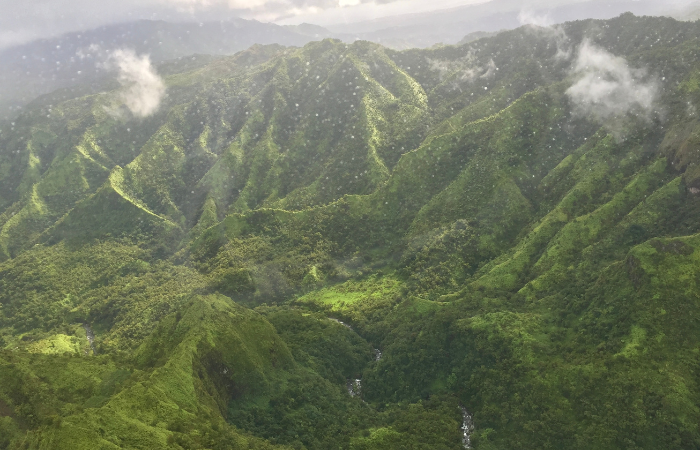 What to wear / bring on a helicopter tour?
It's a quick flight so you're not going to need much! There are lockers at most of the tour facilities to leave your belongings. You'll definitely want to wear dark clothing if you're doing a helicopter tour with doors on. This cuts down on the glare in your photos if photographing through windows. If it's a doors off tour it's not as important. But if you're on a doors off tour, you'll need a strap for your phone.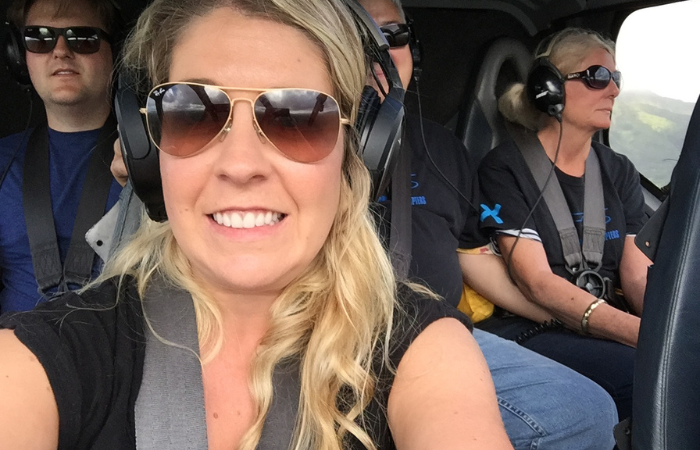 When is the best time to book your tour?
Helicopter tours are VERY popular on Kauai (more so than the other Hawaiian Islands) so book in advance. I also recommend booking it early on in your trip so if you have bad weather there's time to reschedule.
Are helicopter tours safe?
I'm not going to give you a yes or no on this one. I've done a tour with no problems and soooooo many tours are flown every day on Kauai, but there are records of accidents (usually because of ill maintained equipment or pilot inexperience regarding weather). You can review records from the National Transportation Safety Board here before you make your final decision regarding specific companies.
Side Note: If you're looking for a rental car for your trip, I LOVE Discount Hawaii Car Rentals. They're seriously the only company I ever use. They'll give you the very best prices, you don't have to reserve with a credit card or pay until you show up, you can cancel and re-book anytime if you find a better rate, and they usually have a special that adds additional drivers for no fee. It's a no brainer. Click here to check rates for your trip.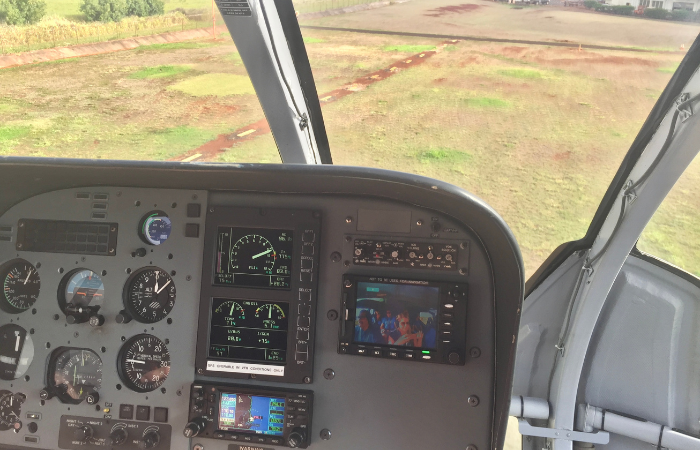 Which company has the cheapest helicopter tours?
I don't know, but seriously…don't pick a tour provider based on price. Seriously. There are a TON of companies that offer helicopter tours of Kauai, but I don't believe this is something you shop around to find the best deal. Helicopter and small airplane crashes aren't unheard of in Hawaii and it's usually a result of inexperienced pilots or ill maintained equipment. This is a time when paying more to go with a reputable company is a necessity.
What are the most popular/recommended tour companies?
While I'm not going to do a rundown on every helicopter company here and there may be some good ones I'm missing, here are my top three that I would feel comfortable with: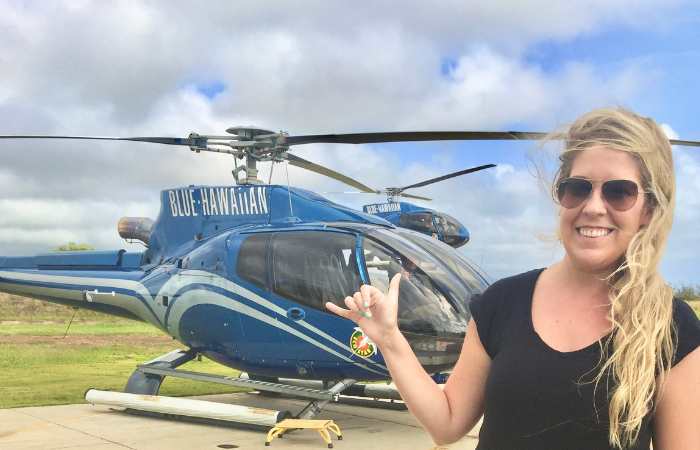 Blue Hawaiian: This is the company that I personally used. Blue Hawaiian is the granddaddy of all the tour operators. They fly on every major island, and their fleet is modern and impressive. I think they offer the most comfortable flight conditions available. They only fly doors ON flights. Their flights start at $339/person.
Jack Harter Helicopters: Jack Harter is the original Kauai helicopter company and they offer some pretty amazing options. Their star tour is a 60 minute flight in a Hughes 500 (which seats three in the front including the pilot and only two in the back) with the doors OFF. This flight starts at $359. In addition to feeling more adventurous, booking this flight also ensures that you will have a window seat. I would consider the front middle to still be a window seat since the window stretches out to your feet right in front of you. There's something about feeling the wind in your face as you're hovering over a waterfall, but if you're a nervous flier, I would probably stick to doors on.
Island Helicopters: Island Helicopters is the only company to offer a landing during their flight. If you're a fan of Jurassic Park, you'll love this tour. In addition to the traditional circle island tour, it includes a stop at Manawaiopuna Falls (well known from the opening scene in Jurassic Park). This tour is $373 and lasts 80 minutes (including the landing).
What will I See on a Kauai Helicopter Tour?
Here's a rundown of what I saw on my flight with Blue Hawaiian:
Once we were airborne, we flew over Nawiliwili Harbor and along the south side of the island. Our pilot (Bryan from Tennessee!) was great about pointing out places of interest and filling us in on the island's geography and other interesting facts. We got some good views of Poipu before flying over Hanapepe Valley and on to the first major site of the flight: Waimea Canyon.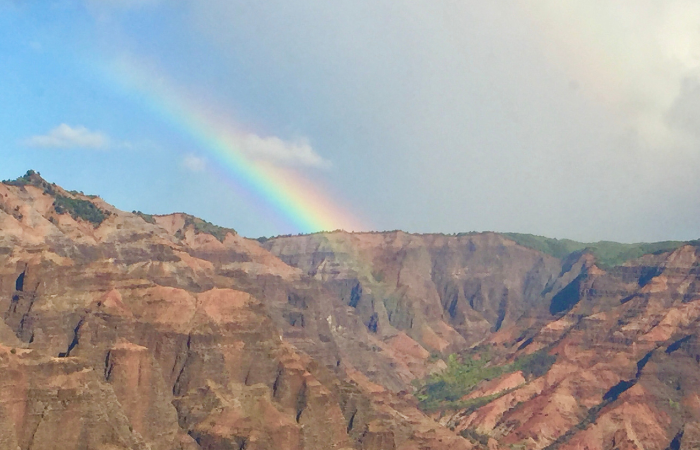 Waimea Canyon is a stunner from the roadside overlooks but from the air it was just spectacular. We flew down into the canyon, and up close to a waterfall but it was the rainbow(s) that stole the show here. It was a pretty special sight.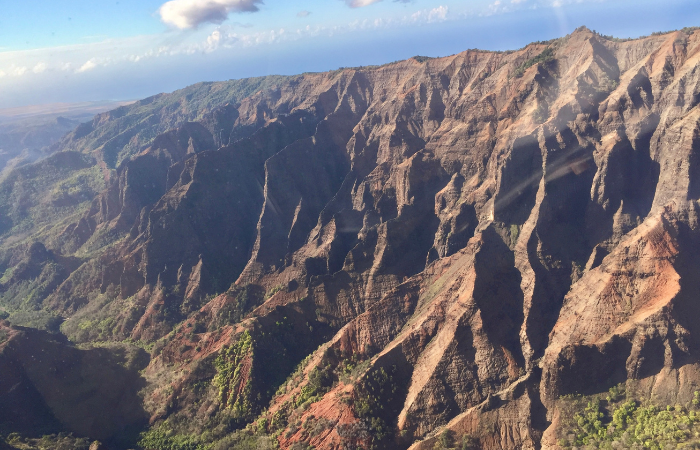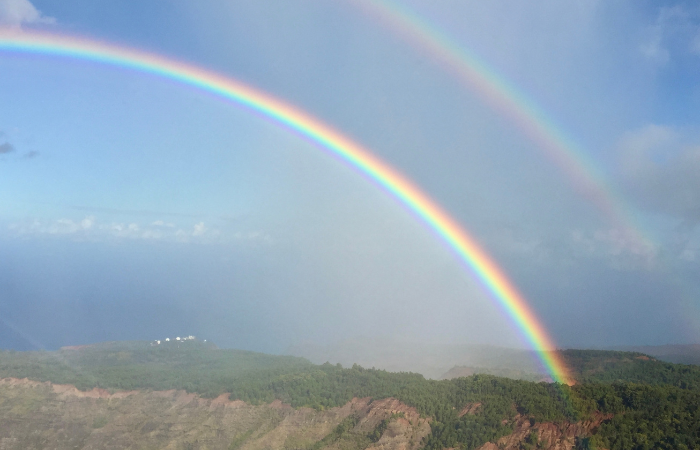 We flew over the edge of the canyon and came down over the Napali Coast (one of the big selling points of a helicopter ride over Kauai) and it was…raining! A lot. But it was still so amazing. Even in the rain, I was still blown away. We flew up the coast, oohing and awing, until we got to Ke'e beach and then followed the north shore into Hanalei Bay (we got a great view of Tunnels).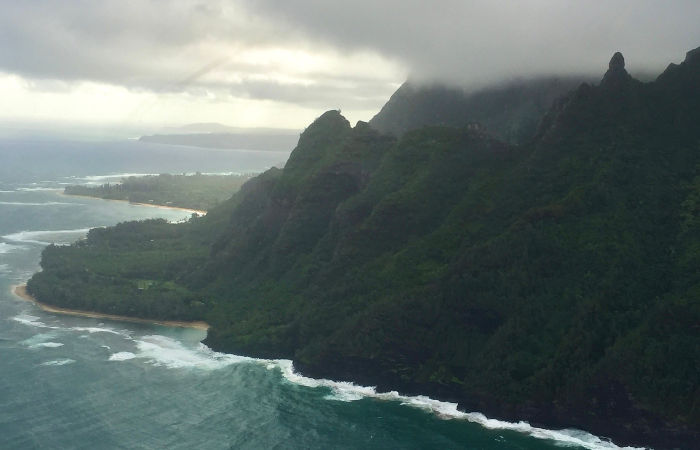 From here we flew into Hanalei Valley and then into Wai'ale'ale Crater (the birthplace of Kauai). This part of the flight was the real highlight for me. Hanalei Valley is so lush and green and getting to go into the crater (Bryan said only about 40% of flights get the right conditions to go in) was an otherworldly experience. The pictures just don't do this place justice. The clouds were hanging low, it was raining lightly, and it was still gorgeous. Our pilot told us that many people have an emotional reaction to seeing the crater and it's easy to see why. Our otherwise chatty flight grew silent as we flew through.
The crater was our last major site on the trip and from there we flew back across the island to Lihue. We had an uneventful landing (always a good thing!) and disembarked. On our way in, each group got to have their picture snapped in front of the helicopter.
Is it scary?
As someone who has mild to moderate anxiety and a decent fear of heights…I was a little nervous beforehand, I got a little psyched out once I was buckled in, but as soon as we were in the air I was completely fine.
I have no issues with motion sickness, but I was told that if you're prone to it then you should take meds before your flight.
On Another Note: If you're looking for a condo or vacation rental for your trip, I always book with Vrbo. They've got the largest selection of rentals you'll find anywhere and you can easily filter to find exactly what you're looking for. Need a specific number of bedrooms and bathrooms? Narrowed it down to a certain location? Want flexible cancellation terms? Need to stay under a fixed budget? Click here to search for Kauai vacation rentals for your trip.
How do they decide where everybody sits in the helicopter & what is the boarding process like?
Most companies leave out of the Lihue Heliport, which is right next to the airport. Blue Hawaiian's headquarters are in a nice building with a check-in desk, gift shop, restrooms, and safety briefing area. When you check in, they take your weight really discreetly (I didn't even know that's what they were doing!) and this is how they determine seating assignments.
About a half hour before our flight, we watched a safety video and got our personal flotation devices (a small pouch you wear strapped around your waist). This is also where we got our pilot's name and seat assignments (there were three helicopters leaving at our departure time).
Everything is assigned based on weight distribution. The helicopters that Blue Hawaiian uses seat three in the front (Including the pilot) and four in the back. I did the flight solo and was told that I wouldn't be put in a back middle seat but that if you're a couple one of you will for sure be in a middle seat.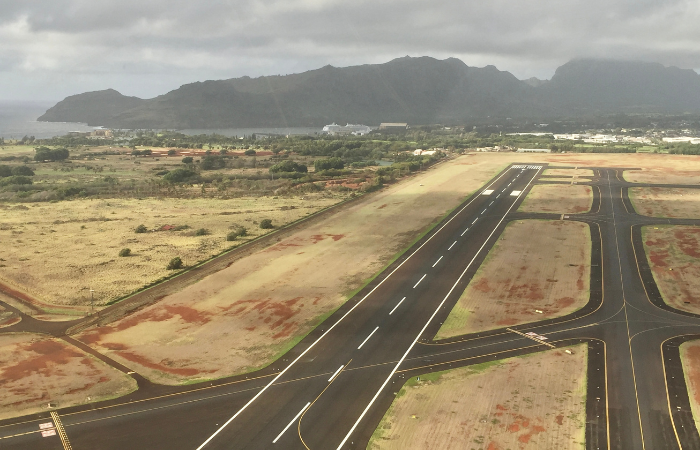 Next we went outside and waited on the lanai and watched the helicopters land from the previous tour, unload, and get refueled before we were loaded on. This flight was on an ecostar, which is known for being one of the more "comfortable" aircrafts you can fly on.
I was seat #1 which is front middle right next to the pilot (I would consider it a window seat) so I was the first one loaded. The flight crew led us out to the helipad one by one, buckled us in, and handed us our headsets. Once we were loaded, we could talk to the pilot through the headsets.
Want to read more? Don't miss some of my most popular (and favorite) posts about Kauai: my personal Kauai favorites, a breakdown of where to stay on Kauai comparing Princeville vs Poipu, my favorite restaurants in Poipu, the best places to watch sunset on Kauai, 5 day Kauai itinerary, my review of the Grand Hyatt Kauai, everything you need to know about Napali Coast boat tours leaving from Port Allen (south side) and Hanalei (north shore), my best Kauai travel tips, all about hiking the Kalalau trail (Kauai's best hike), Maui vs Kauai, the best things to do on Kauai and more specifically in Hanalei and Poipu, whether you should see the Napali Coast via boat or helicopter, my best (and specific) condo recommendations on Kauai, everything you need to know about Kauai helicopter tours, Kauai's best north shore beaches, where to play tennis on Kauai, how many days you should spend on Kauai (plus other FAQs), the best spas on Kauai, and my review of the Smith Family Luau.
Save
Save
Save
Save
Save
Save
P.S. Thanks for sticking around and reading this whole post! If you have ANY questions about planning your trip to Hawaii, you can join my free Facebook group here. I'm there answering questions every day and there are 7500+ other friends who have a ton of Hawaii information to share!
Also, if you want to follow along on my travel adventures in real time, you can follow me on Instagram (@caitylincoln). My post captions are full of travel tips and I have a ton of story highlights and videos with great info. And please share my account with your friends that are headed to Hawaii! Your support really helps me keep this blog running!