21 Things to Do in Poipu on Kauai's Sunny South Side
The south side of Kauai is thick with sandy and swimmable beaches, sunny weather, swaying palm trees, and everything your Hawaiian vacation dreams are made of. With plenty of resort and condo options, good food, and a plethora of activities, it's easy to see why Poipu has become the hub of tourism on Kauai.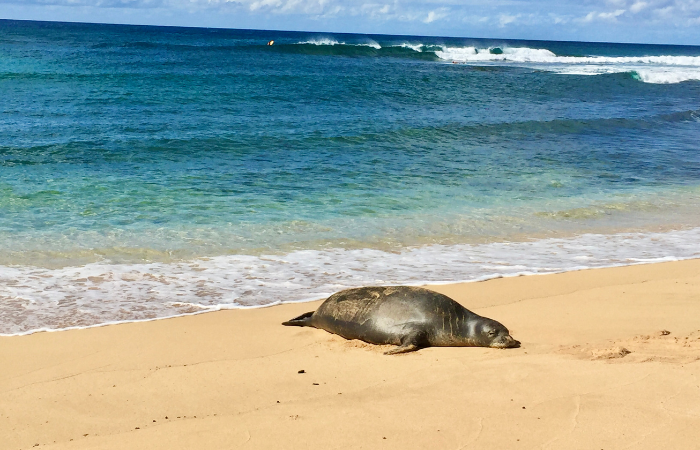 Things to Do in Poipu
After a few trips to Kauai, I've developed a pretty good list of things that I like to do there (on Kauai in general and on the south side specifically), so here's a little run down of some of my favorite things to do in Poipu:
See the Spouting Horn blowhole
There are several blowholes throughout the Hawaiian islands with varying degrees of both impressiveness and accessibility. I think this one is my favorite. You can drive right up, park your car, and walk over to the railing. It's a great viewing spot for kids, older folks, and people who aren't up for a major hike to view a natural wonder.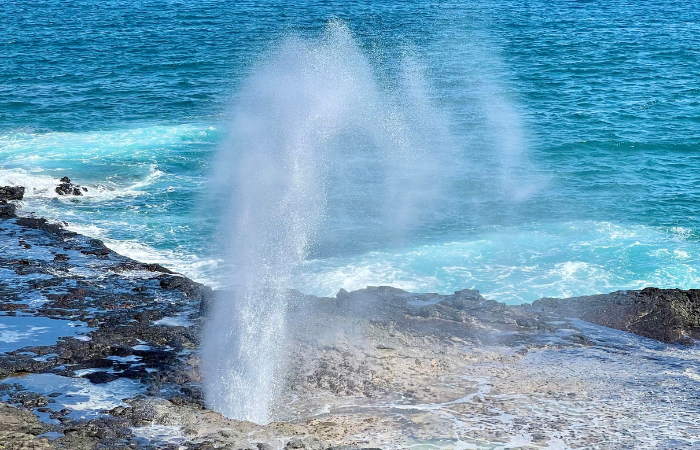 The blowhole here is very clearly fenced off, but in case you get any crazy ideas…you should never get anywhere near a blowhole. Many deaths have occured near blowholes in Hawaii. It's possible to get sucked in as well as swept into the ocean by the large waves. Keep a distance!
Poipu Beach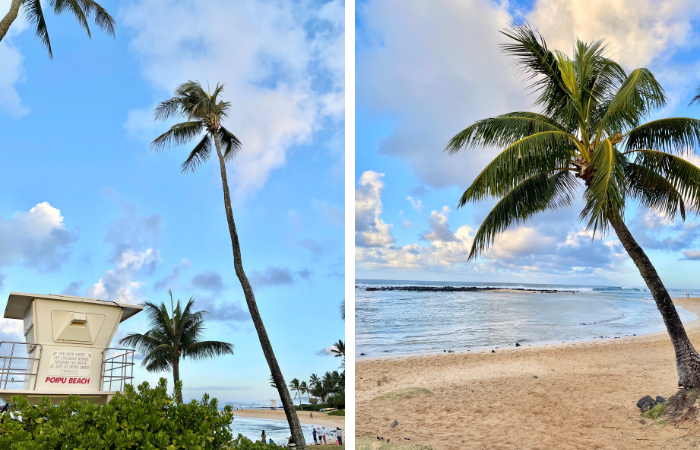 Poipu beach is the central beach hub in South Kauai. It's a beautiful golden beach with perfect facilities (plus food and beach rental places across the street). This is probably the best spot in south Kauai to spend a beach day, as it's so easily accessible, it has decent snorkeling, and it's a popular spot to see sea turtles and Hawaiian monk seals. That can make it more crowded though so if you're driving, get here early.
Have a nice sunset dinner
Having dinner at a nice place for sunset is pretty much my favorite vacation activity. On Kauai, the Beach House is indisputably the best place for a sunset dinner. Their mai tais are legendary and it always feels like a party around sunset.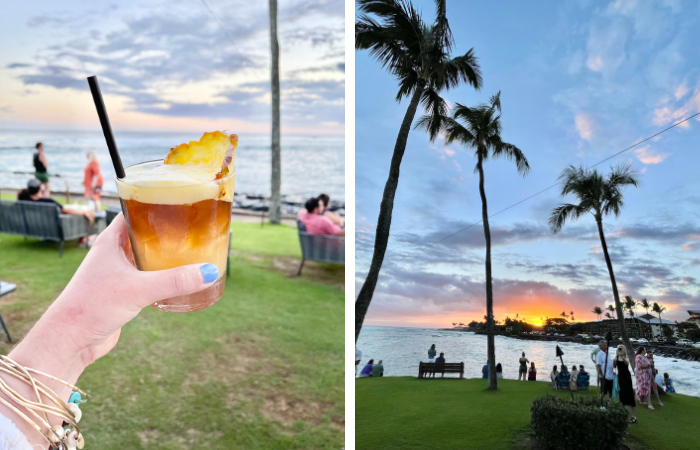 Merriman's and Eating House 1849 also have pretty good sunset views although not as dramatic.
And nothing ever comes close to the set up at Tidepools at the Grand Hyatt.
Read more about the best restaurants in Poipu (including full reviews of all of these places) here.
Stop by Warehouse 3540
If you like to shop and support local, this is a great one shop stop for shopping and food trucks.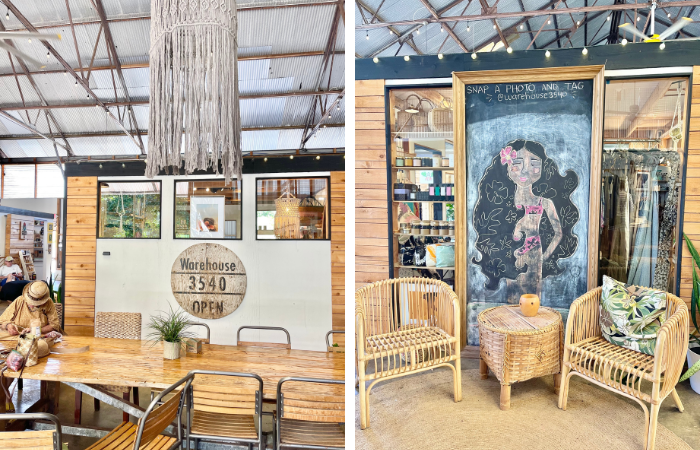 They're open 10AM-4PM which I realize doesn't mesh super well with a strict beach/pool schedule ; ) but if you're looking for a convenient time to squeeze a stop in and you're going to Port Allen for a boat tour (Captain Andy's anybody?), it's right on the way. We stopped here after we did a Napali Coast tour and the timing was perfect.
They're open Monday through Saturday, although most of the food trucks aren't open on Mondays.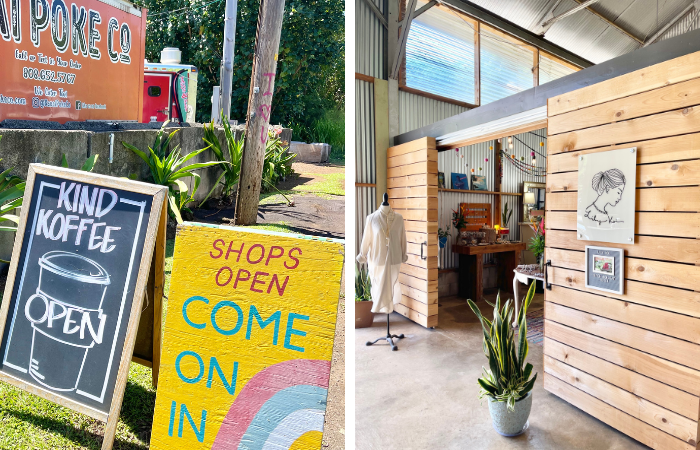 If you're on island for the second Saturday of the month, stop by for their night market from 5-8 which usually features even more vendors.
Drive through Koloa's tree tunnel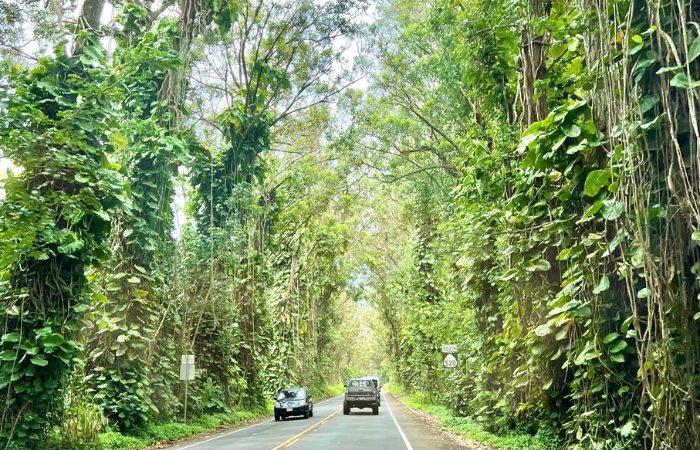 If you're driving from Lihue to Poipu, keep your eyes peeled for Kauai's famous tree tunnel just outside of Koloa.
***Want to save major $$$ on a fancy beach resort? My favorite travel hack is cashing in points to score free nights at some of the island's most high end resorts. My go to hotel brand is Marriott so I use this Marriott Bonvoy Boundless card to rack up points for a lot of my trips to Hawaii. If you pay for your monthly expenses on the card and are responsible about paying it off every month, the points add up really fast. Plus, if you sign up through my link, you'll get THREE bonus free nights to use. On Kauai, use your points at some of my favorite Marriott properties like the Koloa Landing Resort, Sheraton Kauai, and Westin Princeville Ocean Resort Villas.
Hike the Maha'ulepu Heritage Trail to Maha'ulepu Beach & Makauwahi Cave
This is my favorite hikes/beaches in south Kauai, and there are a few different ways you can do this. The full trail starts near Shipwreck Beach at the Grand Hyatt and goes to the west all the way past Maha'ulepu Beach (it's a long beach).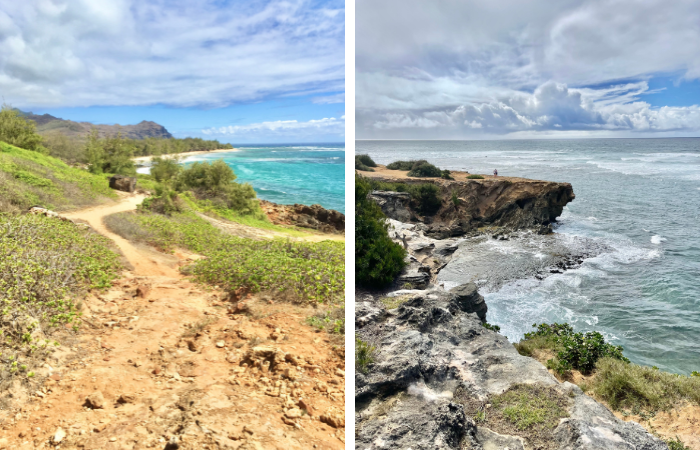 There's actually a pretty nice bit of trail that runs east of the Grand Hyatt too and there's a parking lot off Pe'e Road near Oluolu Road if you're not staying in the area.
The first time I came to this area, I drove most of the way to the beach, parked, and then hiked the last bit of the trail. It's still really something to see even without the big hike. If you go this route, Google maps "Mukauwahi Cave Trail Parking" is the location for the parking lot. You'll turn off Poipu Road east of the Grand Hyatt (it's the first "road" you'll come to) and drive about a mile and a half to two miles until you come to a gate with a guard shack. That's as far as you can drive. There's a decent sized area to park. From there it's just a short hike past the cave to the start of the beach, but the trail goes on past the beach if you're into it.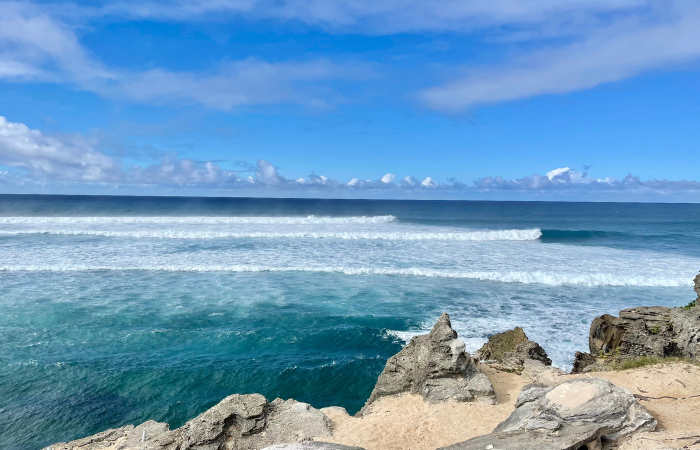 The trail takes you past Makauwahi Cave. The cave is usually open from 10AM to 4PM and they'll usually do guided tours. If you get cave related anxiety, don't worry. It's an open roofed cave so it doesn't feel like you're in a cave at all actually, just a really cool geological formation. And if you're only mildly interested, you can view it from above on the trail.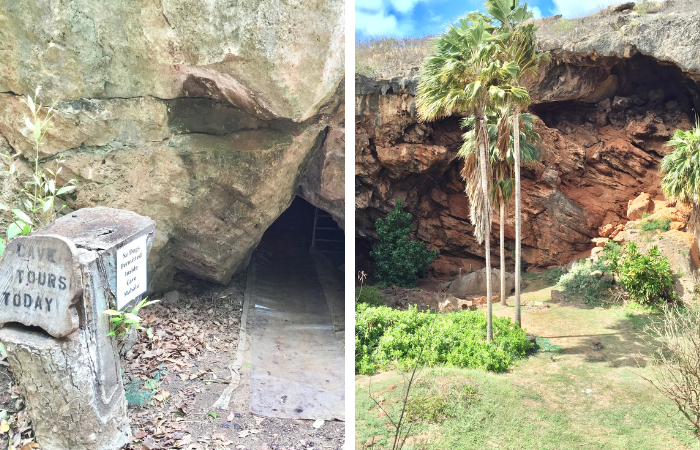 Now, if you're an avid hiker, you can park at Shipwreck Beach (there's a small lot just east of the Grand Hyatt plus overflow parking in a field up the street) and hike from there. You'll pick up the trail at the east end of Shipwreck Beach and work your way up on top of the cliffs. It's such a beautiful view along the top and even if you're not up for the full hike, you should at least go a little bit of the way.
Spot some Hawaiian monk seals and green sea turtles
Hawaiian monk seals are an endangered species so it's always a treat to see one resting on the beach. And I've seen them on Kauai more than any other island.
Since they're a protected species, they're usually quick to be spotted and volunteers will usually stake out an area around them so people know not to bother them. If you stumble upon one that's not being monitored, be sure to give it plenty of space so it's not bothered. I think the official rule is something like 10 feet, but that still seems way too close. Basically, you don't want to get so close that you alter its behavior. If it picks its head up to look at you, you're probaby too close ; ) I've seen them at Poipu Beach and most recently at Shipwreck Beach in front of the Grand Hyatt.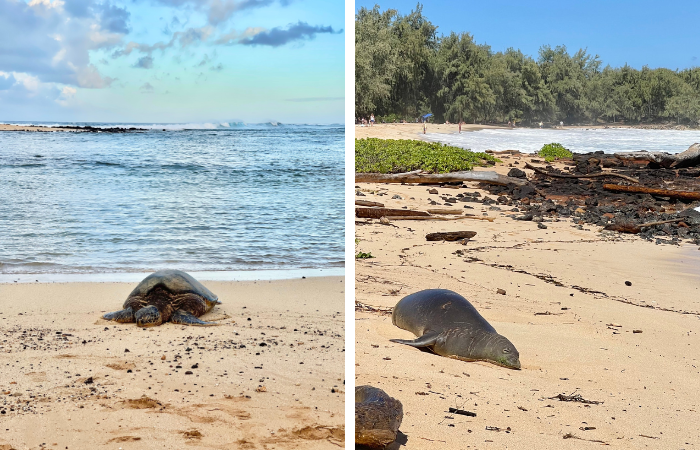 Turtles are more common to spot on Kauai's south shore beaches, but they're still protected as well so give them some room if you do find one. Again, no closer than 10 feet, but that's still really close. And if you see one in the water, give it even more space because they move pretty quickly and you can get too close in a hurry. And don't ever swim over the top of them (if you're in deep water). They're friendly critters, but if you get in their path it can actually affect them coming up for air.
Explore historic Koloa town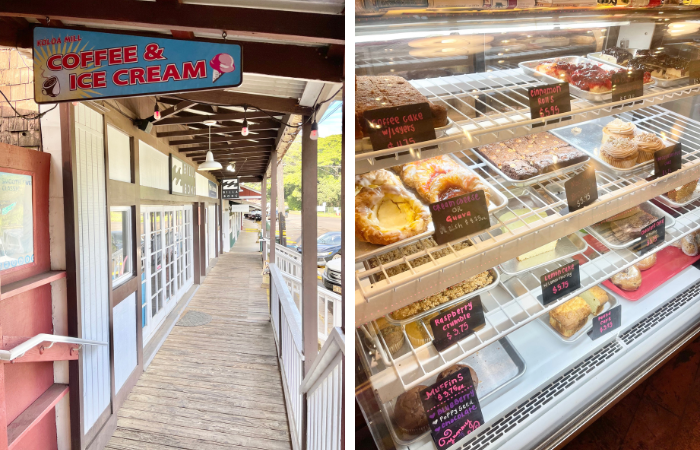 Koloa is a historic plantation town just a stone's throw from Poipu that's been decked out with some cute shops and restaurants. It feels pretty picturesque, like it might have 100 years ago. We stopped at the Koloa Mill Coffee and Ice Cream shop for coffee and breakfast on our way up to the north shore one morning and it was slow but very good. I've also had lunch at Pizzetta which I loved.
Side Note: If you're looking for a rental car for your trip, I LOVE Discount Hawaii Car Rentals. They're seriously the only company I ever use. They'll give you the very best prices, you don't have to reserve with a credit card or pay until you show up, you can cancel and re-book anytime if you find a better rate, and they usually have a special that adds additional drivers for no fee. It's a no brainer. Click here to check rates for your trip.
Do some shopping at the Shops at Kukui'ula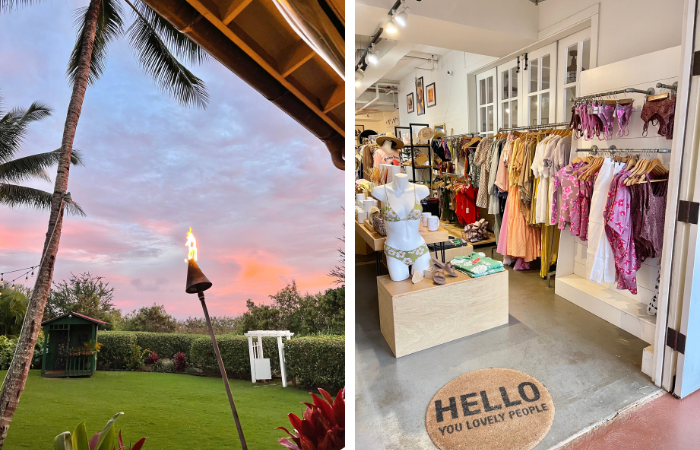 This is the "premier" shopping spot on Kauai and there are also quite a few restaurants here (Merriman's, Eating House 1849, and the Dolphin on the higher end plus Bubba Burgers and Savage Shrimp on the lower end) so I like to go an hour or so before dinner and do a little shopping. Salt + Sea is one of my favorite shops on Kauai. They've got the usual suspects like Reyn Spooner, Tommy Bahama, and Tori Richard plus a Lululemon where I can always find something I need. Malie Organics is a don't miss and there's a handful of galleries and surf shops.
Explore the Koloa Heritage Trail
With all of the sun, sand, and saltwater activities in Kauai, sometimes the cultural and historic offerings get overlooked. But Kauai is rich in culture and history, and the Koloa Heritage Trail is a great way to learn about the island's history.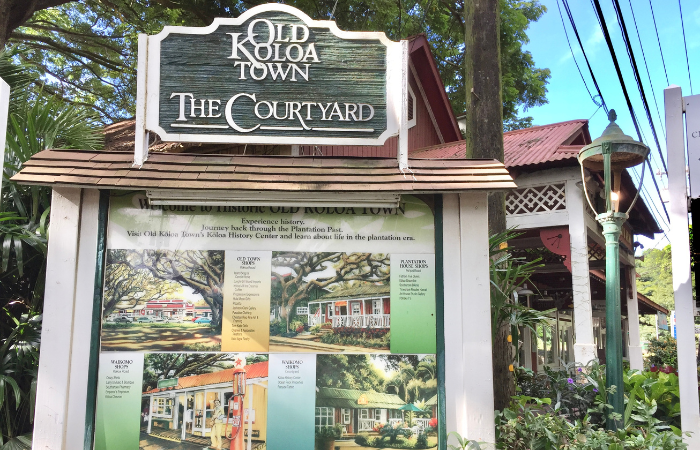 This PDF has a map and pretty extensive descriptions of every stop on the trail. Admittedly, I haven't done as many of these stops as I'd like, but I'm planning to carve out some time on my next trip to visit most of them.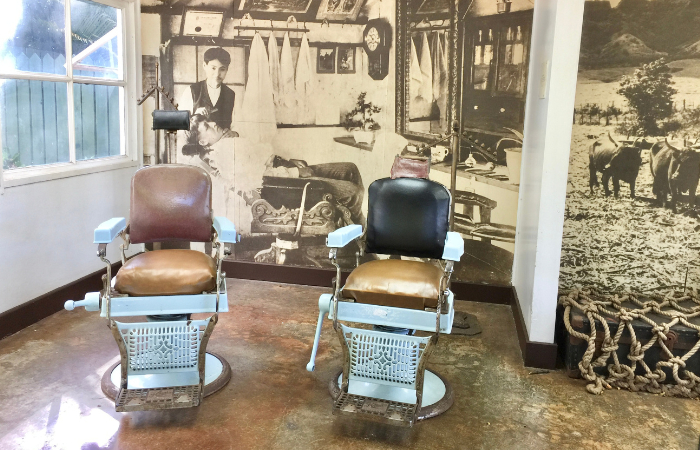 Parts of this can be done by bike or walking, or you could drive from area to area.
Visit historic Hanapepe town
This little town on the west side of Kauai is said to be the inspiration behind the town in Disney's Lilo & Stitch and it's easy to see why. It has plenty to offer visitors, but it still feels like a local town in a way that a lot of little towns that have been "made over" don't. The time to go is on Friday night for Art Night when the shops and restaurants are open later and there are a few more vendors.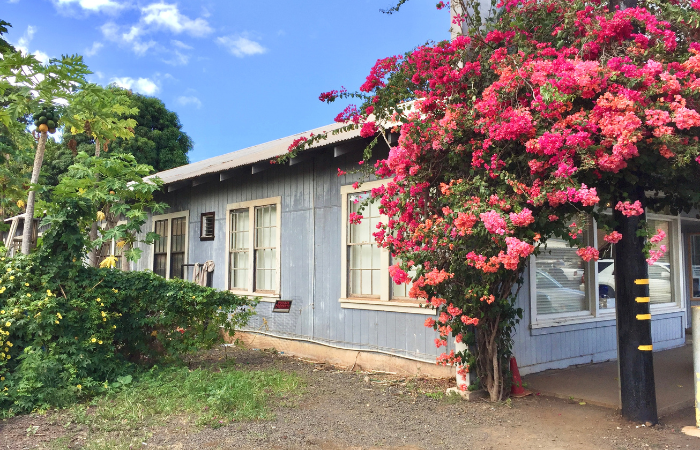 Don't miss the fun swinging bridge in town.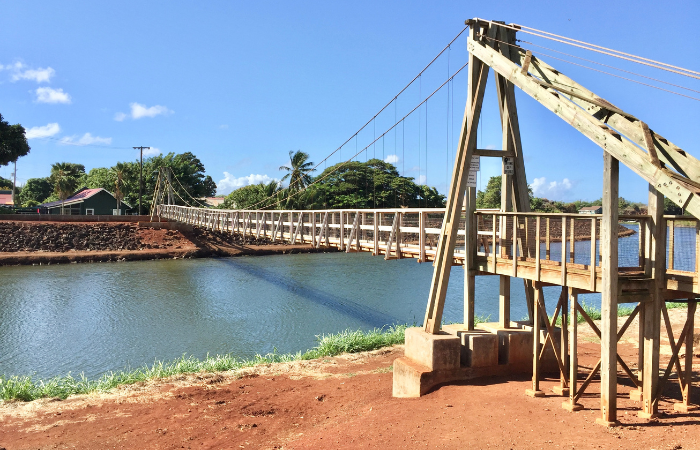 See the chickens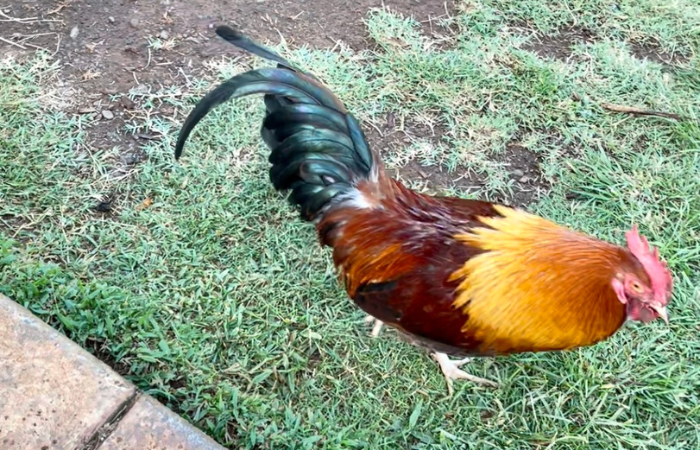 Having spent so much time in Hawaii, I tend to forget about the novelty of the chickens until I'm with somebody that's never been before. But yes, there are chickens EVERYWHERE on Kauai (even more so than the other islands). They roam the beaches, parking lots, etc. and some are better looking than others. Whenever I see "free range" chicken on a menu I always think about Hawaii chickens and laugh.
Stop by one of the botanical gardens
Kauai must have more botanic gardens than any other Hawaiian Island (maybe even them all combined!) and it's not surprising given how lush the island is.
The National Tropical Botanical Garden is a network of five botanical gardens that are committed to discovering, studying, and sharing the world's tropical plant species and while FOUR of those gardens are in Hawaii, THREE are on Kauai alone. And the Allerton Gardens and McBryde Gardens (two of the five) are right next to each other on Kauai's south shore.
Now, I have not personally been here yet, but after doing some research and reading reviews, here's the scoop: it appears that the only way to see the gardens is on a $60 2.5 hour tour. There's an option to tour both gardens, which is the tour I would probably opt for. You get on a shuttle at the visitor center and you're taken out to the gardens, so you're pretty committed. And as you might guess, a 2.5 hour tour of a garden is pretty extensive. So…if you are an adult that's very interested in learning about plants, gardens, Kauai, etc it's probably a really great experience. If you have children with you, or you're only casually interested and are mostly wanting a cool place to take Instagram pictures (hey, it's the world we live in), you (and the guides) will probably be much happier if you skip.
If you're a botanical garden fanatic (hi, hello that's kind of me) it's worth knowing that the third garden is in Hanalei on the north shore (Limahuli Garden & Preserve), the fourth garden in on Maui out in Hana (Kahanu Garden), and the fifth is in Coconut Grove, FL.
Find out more (and book tours) here.
Get sweaty at the Poipu Athletic Club
I accidentally stumbled upon the Poipu Athletic Club after waiting way too long for a cup of coffee next door at Little Fish Coffee. I was able to walk in and check things out and this place is seriously cool! If I lived on Kauai or spent much time there, I would definitely have a membership. Besides tennis and pickleball courts (which is what I went in to check out), this place has an enormous pool (complete with sand bottom and waterfall feature), soccer field, open air gym, volleyball, ping pong, pretty much every sport you can think of, etc.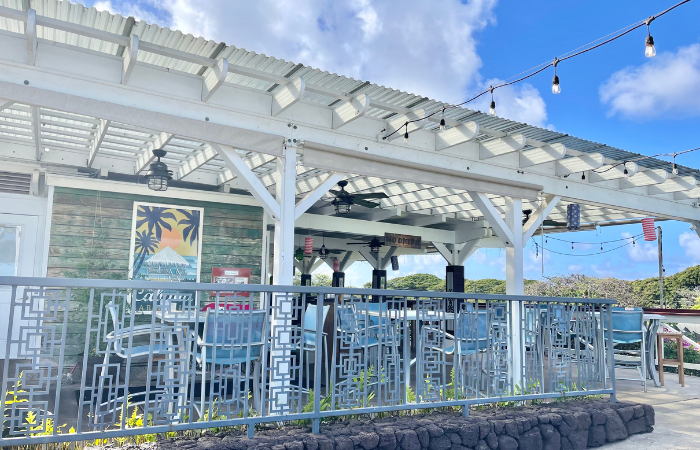 There's also a restaurant (the Cabana Bar & Grill) that's open to the public for lunch and dinner and they do live music in the evenings.
Membership is included with some resorts and condos in the area, but as a day guest you can also pay to come for activities like fitness classes and tennis drills.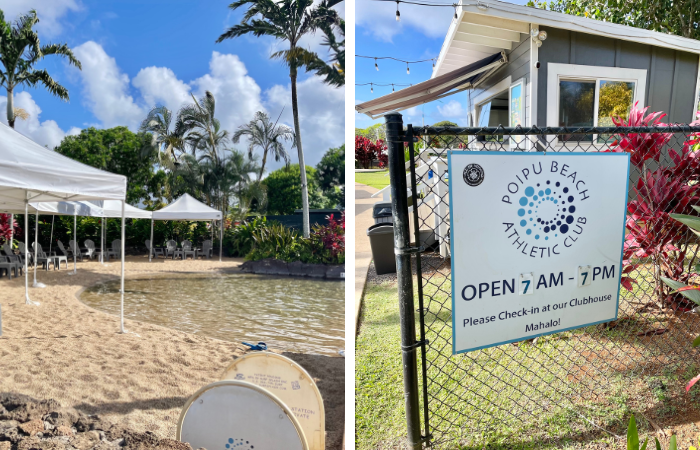 Find out more info here.
Play golf on some of Hawaii's finest courses
If you like your vacation with a little sport, you're in luck. There are two public courses in Poipu (Poipu Bay Golf Course and Kiahuna Golf Club) and one private club (the Club at Kukui'ula) plus the Kukuiolono Golf Club in nearby Kalaheo.
Poipu Bay Golf Course (next to the Grand Hyatt) stretches out along the ocean and was home to the PGA Grand Slam of Golf from 1994 to 2006.
Kiahuna Golf Club is a bit inland, but right in the middle of Poipu.
The Club at Kukui'ula is private, but guests at the Lodge at Kukui'ula are able to book tee times.
The Kukuiolono Golf Club has a small nine hole course plus mini golf, and it feels a bit like a hidden gem.
In terms of prestige, difficulty, and I'm sure price, I would probably rank the golf options in Poipu (from high to low) like this: Club at Kukui'ula, Poipu Bay Golf Course, Kiahuna Golf Club, Kukuiolono Golf Club.
Hit the tennis courts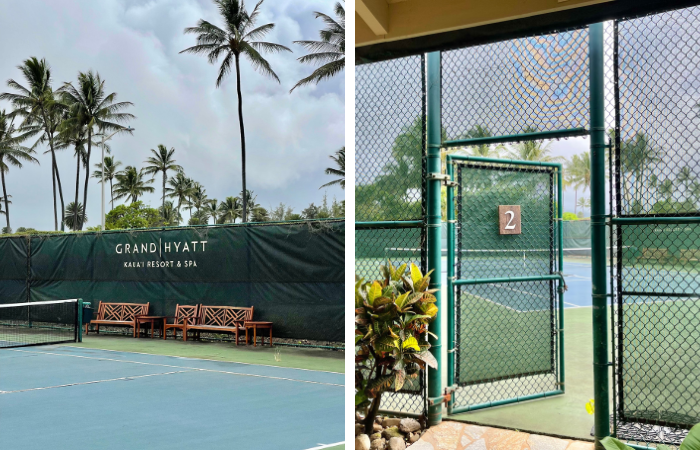 I already mentioned that I LOVE the facilities at the Poipu Athletic Club, and while Kauai isn't exactly a booming tennis destination, there are some good options. Read this post for everything you need to know about where to play tennis on Kauai.
Visit the Kauai Coffee Estate
I always assumed the biggest coffee plantation in Hawaii was probably on the Big Island (Kona coffee, you know), but it's actually on the south side of Kauai. They don't have a big, formal tour, but you can stop by and take a self guided tour through the orchard, sample the entire coffee line that's all grown on site, visit with knowledgeable guides, and of course, do some shopping.
Find out more here.
Visit the Kauai Culinary Market
On Wednesdays from 3:30-6, the Shops at Kukui'ula host the Kauai Culinary Market, which is a gourmet farmers market that features 25+ local farmers and vendors. They really do have something for everyone including prepared food (besides just produce), a chef demonstration, live music, and a beer and wine garden. Find out more here.
On Another Note: If you're looking for a condo or vacation rental for your trip, I always book with Vrbo. They've got the largest selection of rentals you'll find anywhere and you can easily filter to find exactly what you're looking for. Need a specific number of bedrooms and bathrooms? Narrowed it down to a certain location? Want flexible cancellation terms? Need to stay under a fixed budget? Click here to search for Kauai vacation rentals for your trip.
Listen to live music
Have you even been to Hawaii if you haven't listened to island style music (hula dancer optional) while sipping a mai tai?
The good news is you don't even have to go to a luau to make that happen!
The Grand Hyatt (Seaview Terrace), Poipu Beach Athletic Club (Cabana Bar & Grill), and Keoki's Paradise (Poipu Shopping Village) all have live music most evenings and the Shops at Kukui`ula have live music on Friday evenings.
Take a boat tour of the Napali Coast from Port Allen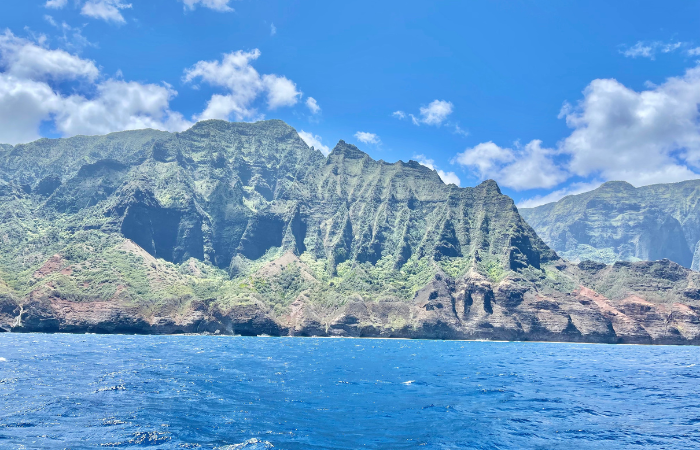 Just 20 minutes or so from Poipu on Kauai's south shore you'll find Port Allen where most of Kauai's big boat tours depart from. Captain Andy's and a slew of other outfitters run big catamaran tours (and sometimes smaller ocean rafts) up the Napali Coast. I prefer the tours that leave from Hanalei on the north shore, but if you're staying in Poipu (or visiting during the winter months), a boat tour from Port Allen is a good option. Read more about Kauai's most popular tour here.
Drive up to Waimea Canyon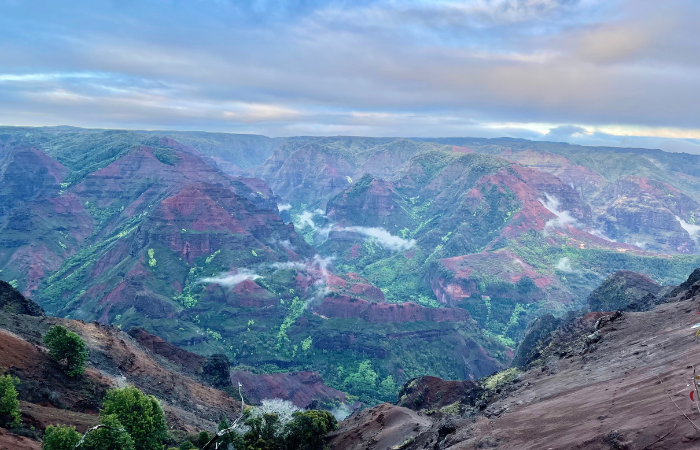 It's not right in Poipu, but it's 100% worth the drive up to see the Waimea Canyon. Besides the Napali Coast, it's the top natural wonder to see on Kauai. And it's as accessible or adventurous as you want to make it. Spend all day doing some intensive hiking, or drive right up to an overlook and take a look.
Still Looking for a Place to Stay?
Here's one more really important thing you need to know before your Hawaii trip…
Reservations You Need to Make BEFORE Your Hawaii Trip
You've got your airfare, hotel, rental car and your big activities booked, so you should be good to go, right? Wrong!
Travel is BOOMING in Hawaii so a lot of state and national parks used the closure and reopening to institute reservation systems at some of the island's most popular spots to make things a little more sustainable.
That means that there are now over half a dozen sites (beaches, trailheads, etc.) that require advance reservations. And some sell out well before you arrive on the island so you really need to have some sort of a plan.
I recently saw somebody in a Hawaii travel group post in a panic that they didn't know they had to make reservations for things in advance…they thought they could just show up and "go with the flow." I was tempted to say, well, "as long as the flow doesn't take you somewhere that requires reservations, you can!" ; )
But I don't want YOU to be that person, so I've pulled together a list of all the places you need to reserve entry in advance (plus all the details on booking windows, price, links, etc.) and a handful of popular tourist hotspots that book out really far in advance too.
Haleakala National Park (Maui)
To visit Haleakala National Park for sunrise at the summit, you must make reservations in advance here.
Reservations are required to enter the park gates between 3AM and 7AM (sunrise hours).
Online reservations are $1 per reservation/vehicle PLUS you'll pay the park entrance fee of $30/vehicle when you arrive (National Park annual passes are also accepted at the gate).
The reservation booking window opens 60 days in advance at 7AM HST. There are also a limited number of tickets released two days before.
You can make one reservation every three days with the same account. So if you want to make reservations for back to back days (in case of weather/conditions), you'll need to do so with separate accounts (email addresses).
If you can't get reservations for sunrise, you can enter the park anytime after 7AM without reservations. The summit is spectacular during the day and you don't need reservations for sunset.
I strongly recommend creating an account before and making sure you're logged in at 7AM HST because it's not uncommon for reservations to sell out quickly.
Waianapanapa State Park (Maui)
To visit Maui's famous black sand beach at Waianapanapa State Park on the Road to Hana, you must make reservations in advance here.
Reservations are required to visit the beach and are distributed in windows from 7AM-10AM, 10AM-12:30PM, 12:30PM-3PM, and 3PM-6PM. And they are pretty strict about exiting by the end of your window time (you can arrive anytime within your window).
It's $5/person to enter plus $10/vehicle to park and those fees are paid when you book your time slot.
Reservations open up 30 days in advance.
Iao Valley State Park (Maui)
To visit the lush, green mountains and hike at Iao Valley State Park, you must make reservations in advance here.
Reservations are offered for 90 minute time slots beginning at 7AM and ending at 6PM. They ask that you arrive within the first 30 minutes of your time slot.
Entry is $5/person plus $10/vehicle to park.
Reservations open up 30 days in advance.
Diamond Head (Oahu)
To hike to the top of Waikiki's famous Diamond Head, you must make reservations in advance here.
Reservations are offered in two hour increments beginning at 6AM (6AM-8AM, 8AM-10AM, etc.) and ending at 6PM. If you're parking onsite, they ask that you arrive within the first 30 minutes of your reservation window.
Entry is $5/person plus $10/vehicle to park.
Reservations open up 30 days in advance.
Tip: I recommend booking one of the first two time slots because there isn't much shade on this hike and it gets pretty hot.
Hanauma Bay (Oahu)
To snorkel at Oahu's pristine Hanauma Bay, you must make reservations in advance here.
Entry times are staggered in 10 minute increments from 7AM to 1:20PM with roughly 1000 slots being assigned in advance every day.
Reservations can be made two days in advance and they open at 7AM HST. They're usually gone in minutes (if not seconds).
If you're unable to get an advanced reservation, you can try for a day of, walk in ticket. They open at 6:45AM and they only have a limited number available. Everyone in your group needs to be present when you purchase your tickets in person.
There are no reservations for parking and it's first come, first serve. $3/vehicle.
It's $25/person to snorkel at Hanauma Bay (12 and under, active military, and locals with HI ID are free).
The Hanauma Bay Nature Preserve is open Wednesday through Sunday (CLOSED MONDAY AND TUESDAY) from 6:45AM-4PM. Last entry is at 1:30PM, the beach is cleared at 3:15PM and you have to leave the facility by 4PM.
Jellyfish patterns can also affect whether or not the bay is open so double check the day before/day of.
USS Arizona at Pearl Harbor (Oahu)
If you want to take the boat tour at Pearl Harbor out to the USS Arizona, it's recommended to make advance reservations here.
Online reservations are guaranteed a specific boarding time to go out to the USS Arizona. If you're unable to get an advance reservation, you can wait standby when you arrive. The line could be short (15 minutes or so) or long (hours) and it just depends on the day (if they're having problems with the loading dock sometimes they don't take many from the standby line) and the time of day.
Reservations are supposed to open up 60 days in advance, but keep an eye on your exact dates, because lately they've actually been opening up about 57ish days in advance???
They also release a small batch of tickets the day before.
The boat ride out to the USS Arizona is free, but it's $1 to make the reservations online.
They recently started charging $7/vehicle for parking at Pearl Harbor.
Haena State Park / Kalalau Trail (Kauai)
If you want to hike Kauai's famous Kalalau Trail, you must make advance reservations here.
You've got three options here:
1) Parking & Entry: This is the most flexible option and also the most limited. THESE RESERVATIONS SELL OUT IN LESS THAN A MINUTE. There are three time slots available: 6:30AM-12:30PM, 12:30PM-5:30PM and 4:30PM to sunset. You can purchase multiple time slots if you want to stay longer. It's $10/timeslot (parking) plus $5/person and you have to reserve every person when you initially book. Everybody has to arrive in the same car and your ID needs to match the reservation.
2) Shuttle & Entry: If you can't get parking at the trailhead, there's also a shuttle option. Shuttle reservations are $35/person (16+), $25/person (ages 4-15), 3 and under can ride free. The shuttle runs every 20 minutes 6:20AM to 6:40PM.
3) Entry Only: If you're a Hawaiian resident (with HI ID) or someone WITH a Hawaiian resident, you can purchase entry only for $5/person with no advance reservations. Also, if you're walking or biking to the trailhead you can do this option. But there is NOWHERE to park in the area to walk in. So this really only works for those with bikes or who are staying close enough to walk. They will tow your car if you park outside the designated areas.
The reservation window opens 30 days in advance at 12AM HST. The parking & entry option usually sells out in a minute, but the shuttle availability will last longer.
There are a TON of FAQs here including the possibility of snagging a canceled reservation.
Other Things to Book in Advance
Hawaii is a busy place these days! Besides the state and national parks above, here's a handful of miscellaneous things you should make reservations for in advance (if they're on your radar):
Mama's Fish House (Maui): The iconic spot is the most popular restaurant in Hawaii and they've been opening reservations (and selling out) 4-6 months in advance. You can call and get on the waitlist for one day or you can set notifications on OpenTable to alert you for cancellations every day of your trip. Most people have pretty good success on OpenTable.
Old Lahaina Luau (Maui): Honestly, any luau you're planning to attend you should book early, but most people are usually shocked how far out the Old Lahaina Luau books out. Book it as soon as you know your dates (I think they open at the six month window). They also have a waitlist.
Kualoa Ranch UTV Tour (Oahu): Everybody loves Jurassic Park so getting to ride UTVs where they filmed the movies is very popular. The ranch offers a lot of different tours but the UTV tours usually book out a couple of months in advance.
Spa Reservations: If you're staying at a resort with a spa (or planning on visiting one), don't wait until you arrive to make your reservations. I'd make them at least a month in advance.
Tee Times: Same for golf, reserve your tee times well in advance.
Dining Reservations: Any "fancy" or resort restaurant is likely to be booked up these days so if you like having a nice dinner every night, make your plans in advance.
Want to read more? Don't miss some of my most popular (and favorite) posts about Kauai: my personal Kauai favorites, a breakdown of where to stay on Kauai comparing Princeville vs Poipu, my favorite restaurants in Poipu, the best places to watch sunset on Kauai, 5 day Kauai itinerary, my review of the Grand Hyatt Kauai, everything you need to know about Napali Coast boat tours leaving from Port Allen (south side) and Hanalei (north shore), my best Kauai travel tips, all about hiking the Kalalau trail (Kauai's best hike), Maui vs Kauai, the best things to do on Kauai and more specifically in Hanalei and Poipu, whether you should see the Napali Coast via boat or helicopter, my best (and specific) condo recommendations on Kauai, everything you need to know about Kauai helicopter tours, Kauai's best north shore beaches, where to play tennis on Kauai, how many days you should spend on Kauai (plus other FAQs), the best spas on Kauai, and my review of the Smith Family Luau.
P.S. Thanks for sticking around and reading this whole post! If you have ANY questions about planning your trip to Hawaii, you can join my free Facebook group here. I'm there answering questions every day and there are 7500+ other friends who have a ton of Hawaii information to share!
Also, if you want to follow along on my travel adventures in real time, you can follow me on Instagram (@caitylincoln). My post captions are full of travel tips and I have a ton of story highlights and videos with great info. And please share my account with your friends that are headed to Hawaii! Your support really helps me keep this blog running!