The Most Popular Tour on Kauai: Captain Andy's Napali Coast Catamaran Snorkel Tour
In the past I've been pretty vocal that the Zodiac ocean rafts that leave from Hanalei (on Kauai's north shore) are the better way to see the famed Napali Coast. But the catamarans that leave from Port Allen (on Kauai's south side) are sooooooo recommended and Captain Andy's Napali Coast Catamaran Snorkel Tour is hands down the most popular tour on Kauai. So I decided that on my last trip to Kauai, I'd go sailing with Captain Andy's so I could really compare the two.
Well I won't leave you waiting long…the north shore boat tours are still my favorite way to see the Napali Coast, but the Captain Andy's cruise was really fun and there are definitely times where it's a better option.
Captain Andy's Napali Coast Catamaran Snorkel Tour
Here are the details from my trip with Captain Andy:
The excursion I did with Captain Andy's was the 5.5 hour cruise leaving from Port Allen on Kauai's south side. It took roughly 20 minutes from the Grand Hyatt to get to the dock.
Our cruise left at 8AM and returned at 1:30PM, but we were advised to check in by 7:15AM.
At the rendezvous point, there's plenty of parking and a huge shop with water, sunscreen, merch, bathrooms, etc. It's a big time operation, folks. And they have all of the amenities you would expect.
We scanned a QR code from a sign in the parking lot to "check in" and at 7:30 they texted or emailed out "boarding passes". The boarding passes were really just colors that sort everyone onto the right boats. There were 3 catamarans loading at the same time so it was a LOT of people milling about. Our color group followed a guide down to the dock where we left our shoes in a bin and boarded group by group.
For this tour, Captain Andy's sails huge catamarans with 3 crew members plus the Captain. We boarded quickly and then the captain gave one of the most extensive safety/procedure speeches I've ever heard on a boat trip.
We set sail right at 8AM. From Port Allen we sailed clockwise around the island. It took us ONE HOUR AND 15 MINUTES before we even reached the tail end (or beginning) of the Napali Coast, which is generally considered to be Polihale Beach. We mostly sailed past the dry, not super scenic part of Kauai (hey it can't all be Jurassic Park).
This is my biggest "beef" with boat trips that leave from the south…you spend a good chunk of your Napali Coast cruise not on the Napali Coast. In all, we spent almost 3 hours of the 5.5 hour cruise in transit. So on a 5.5 hour cruise, you're really only getting about 2.5 hours of time on the Napali Coast (including snorkeling) which isn't the main problem…it's all the travel time that's added in.
Anyways, by 9:30AM we reached a mooring near the beginning of the Napali Coast and had about 45 minutes of snorkeling time.
I'll level with you…snorkeling along the Napali is pretty abysmal in general. At every place I've ever been (3 different spots which is about all of them) the reef is pretty much all brown with minimal interesting coral formations, and fish are sparse.
This isn't a riff on Captain Andy's, it's just how it is. So my point is…for whatever company you're looking at for a boat ride down the Napali Coast…an excursion that offers snorkeling isn't necessarily a big value add unless you just want to get in the water.
I saw about three fish the whole time I was in the water until I headed back to the boat and somebody threw a couple of crackers right by me. That felt like being in an aquarium but don't count on that happening. And really, of the 40ish people on our boat, probably only a handful of us were nearby to see it when it happened.
After we got dried off and settled back onto the boat, we sailed on up the coast and it was BEAUTIFUL. No matter how many times I see it, I'm always amazed. My position on this is: if you come to Kauai and you don't see the Napali Coast, you haven't seen Kauai.
A tip: find a spot on the right side of the boat for the best views of the coast.
The main thing I didn't like about the catamaran cruise (that I didn't know before I did it) is that there's not NEARLY enough seating for everyone to have a good spot. There were probably 40-50 people on our boat and I ended up standing at the rail for the first couple of hours. About halfway through they let us sit on top of the catamaran which was a great view but hard to get up and down.
Side Note: If you're looking for a rental car for your trip, I LOVE Discount Hawaii Car Rentals. They're seriously the only company I ever use. They'll give you the very best prices, you don't have to reserve with a credit card or pay until you show up, you can cancel and re-book anytime if you find a better rate, and they usually have a special that adds additional drivers for no fee. It's a no brainer. Click here to check rates for your trip.
We sailed pretty slowly up to the Kalalau Valley (the real showpiece of the Napali Coast), and the crew was great about taking people's pictures in front of the railing with that magnificent backdrop.
Just north of the Kalalau, we turned around to head back, which is my other not so favorite part about the south side catamaran cruises—they can't do the whole thing and make it back to port in a timely manner which means that we didn't get to see almost half of the Napali Coast.
Whether or not this is a deal breaker for you is up to you. Nobody on the boat seemed to mind (or even know really what they were missing) and it did feel like we spent a good amount of time seeing the peaks around the Kalalau which is what most people expect to see. But if you're serious about seeing Kauai and the Napali Coast, just know that you won't actually see the whole thing on a catamaran that leaves from the south side.
Once we turned around (you'll want to move to the left side of the boat), they put up the sails and it was SMOOTH while we had lunch and they opened the bar. The food was honestly the best I've ever had on a snorkel boat tour (and I've had a lot) and the service from the crew was phenomenal the whole trip.
They serve everyone food and drinks the whole trip so you never have to go below deck and stand in a line to get what you want. And they were great about checking for refills, taking trash, etc. All of the beverages offered were canned (soda and beer) or wine…they didn't have mixed cocktails.
I also really thought the captain had a good balance between narrating what we were seeing, telling stories, and just letting us listen to some great Hawaiian music (on the way back it turned into more top 40 classics).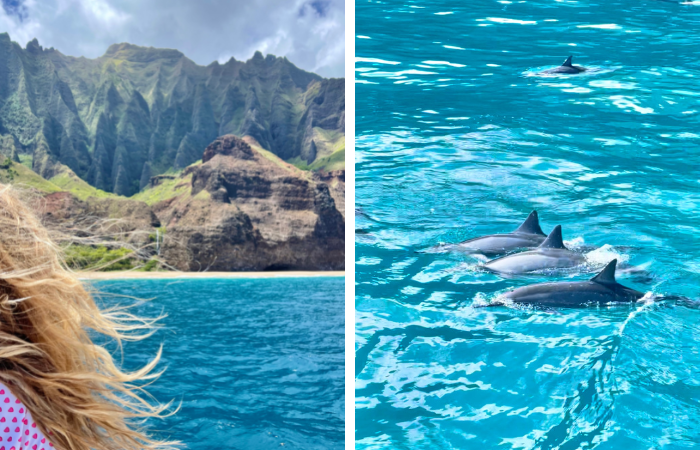 It was smooth sailing going back until we turned the point around Polihale (the beginning/end of the Napali Coast) and it became one of the roughest boat trips of my life.
We'd dried off from snorkeling but everyone up top was totally soaked by the time we made it back from the waves.
Also it seemed like a natural end to the tour (saw the coast, had lunch, drinks, etc), but then we had an hour and a half ride back to the port (in the aforementioned conditions). It just seemed super long.
It was a completely clear and flat day but the ride back was WILD. It wasn't scary and thankfully most people didn't seem to get sick, but I've heard people recommend the catamarans over the zodiacs because they're a more comfortable and relaxing experience but that definitely wasn't my experience. It felt active and we all got super jostled around for an hour plus but with most people not having a good place to sit or much to hold on to.
Going below deck would've at least given you a break from the waves, but I suspect if you're prone to motion sickness it would've been pretty bad down below plus since we were sitting up on top of the catamarans, it felt too tricky to get down with the big waves.
Now, it really wasn't scary at all (for me at least), but I do just want to let you know that you should at least expect and be prepared for some rough sailing and if that doesn't sound fun then you should prioritizing getting a seat on one of the bences towards the back of the boat (and underneath) on the way back.
On Another Note: If you're looking for a condo or vacation rental for your trip, I always book with Vrbo. They've got the largest selection of rentals you'll find anywhere and you can easily filter to find exactly what you're looking for. Need a specific number of bedrooms and bathrooms? Narrowed it down to a certain location? Want flexible cancellation terms? Need to stay under a fixed budget? Click here to search for Kauai vacation rentals for your trip.
So should you do a north shore boat tour or a south side catamaran tour?
Do a north shore zodiac tour if 1) you're going April to October-ish when they're offered 2) you can drive up to Hanalei early or you're staying in the area 3) you want the very best Napali Coast boat experience including see the whole things, going into the sea caves, etc. 4) you're okay with more of an adventure experience instead of a day cruise experience. Read more about the north shore boat tours here.
Do the south side catamaran tour if 1) you're staying in Poipu and can't handle driving up to Hanalei early 2) you're going with kids who want to snorkel, swim, jump off the boat, bounce on the trampolines 3) you're okay with seeing the highlights of the coast and don't need to see the whole thing 4) you want a more relaxing experience although that's debatable and be prepared for a rough ride either way
Now, there are quite a few options out of the Port Allen area including other companies (Blue Dolphin looks good) and other Napali versions that Captain Andy's offers (ocean rafts, no snorkeling, dinner cruises, etc.), but the trip I took with Captain Andy's was VERY recommendable.
You can find the exact trip that I've described here. It cost $185/adult and $165/child. And don't forget to take cash to tip the crew!
Want to read more? Don't miss some of my most popular (and favorite) posts about Kauai: my personal Kauai favorites, a breakdown of where to stay on Kauai comparing Princeville vs Poipu, my favorite restaurants in Poipu, the best places to watch sunset on Kauai, 5 day Kauai itinerary, my review of the Grand Hyatt Kauai, everything you need to know about Napali Coast boat tours leaving from Port Allen (south side) and Hanalei (north shore), my best Kauai travel tips, all about hiking the Kalalau trail (Kauai's best hike), Maui vs Kauai, the best things to do on Kauai and more specifically in Hanalei and Poipu, whether you should see the Napali Coast via boat or helicopter, my best (and specific) condo recommendations on Kauai, everything you need to know about Kauai helicopter tours, Kauai's best north shore beaches, where to play tennis on Kauai, how many days you should spend on Kauai (plus other FAQs), the best spas on Kauai, and my review of the Smith Family Luau.
P.S. Thanks for sticking around and reading this whole post! If you have ANY questions about planning your trip to Hawaii, you can join my free Facebook group here. I'm there answering questions every day and there are 7500+ other friends who have a ton of Hawaii information to share!
Also, if you want to follow along on my travel adventures in real time, you can follow me on Instagram (@caitylincoln). My post captions are full of travel tips and I have a ton of story highlights and videos with great info. And please share my account with your friends that are headed to Hawaii! Your support really helps me keep this blog running!