4 Day Maui Itinerary: A Whirl Wind Tour
This post was updated in November 2023 and takes into account the complete loss of historic Lahaina town.
Is this the "only 4 day Maui itinerary you'll ever need?" Who knows ; ) But if I was taking a friend to Maui to show them the absolute best of the island and we only had four days…this is what I would do.
4 Day Maui Itinerary Details
Here are the details and what you can expect with this itinerary:
First of all, it's laid out by me (someone who has spent a LOT of time on Maui – I used to live there) and it has really specific recommendations based on things I've personally done and what I like. Can you swap things out for something different? Of course!
I've sketched this itinerary out exactly how I would personally do this trip (including where I would stay) but where I can I'll give recommendations for other options to suit different budgets or styles.
Also, this itinerary is four full days (five nights) and it is PACKED. Not packed in a bad way, but it's not "here's one activity for the morning and now you can spend the rest of the day at the beach." I figure you don't need me to tell you that ; )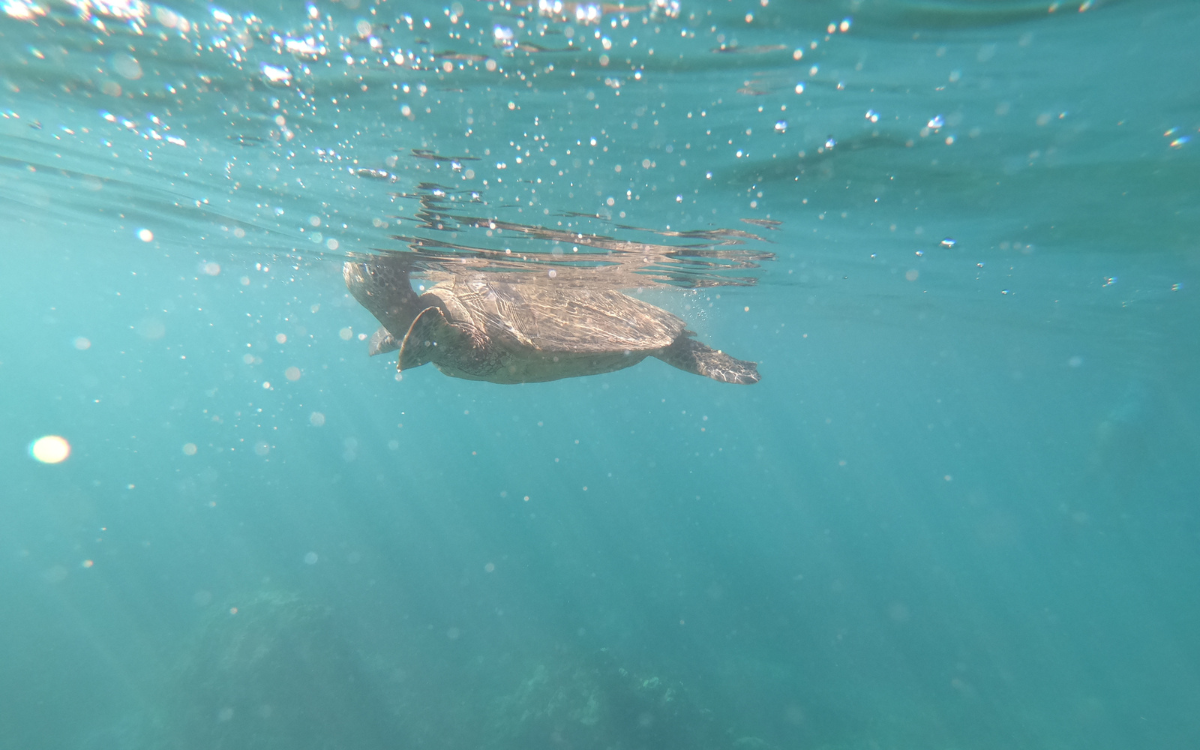 This is a whirlwind "see the whole island in four days" kind of itinerary.
So there are a couple of ways you could work this. If you're short on time and you only have four full days on Maui and you want to see the best of the island (you're more the exploring type than the lay on the beach type) this is the perfect itinerary to follow.
But if you have more than four days on the island and you're hoping to do a mix of exploring the island AND relaxing at the resort/beach/pool, then you could alternate days. Spend one day at the beach at your hotel then do a day of this itinerary and alternate from there. So if you have six full days you could do this full itinerary plus two days of just chilling at the beach. Sound good?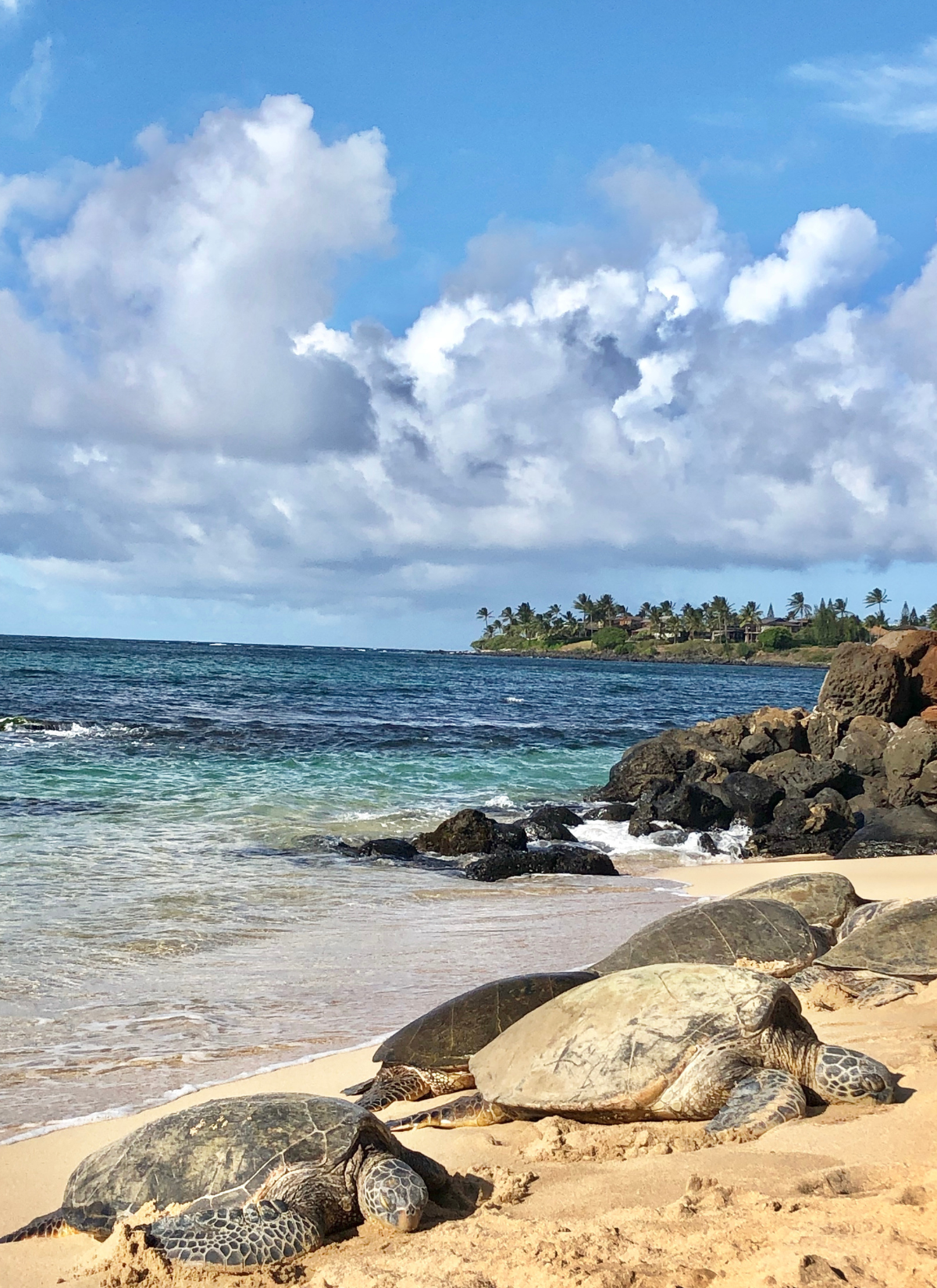 If you've just started your Maui trip planning, make sure to read through this post. It'll answer all your questions like when's the best time to visit, how many days to stay, which airport to fly into, what to pack, etc. >> Maui Travel Tips
Here's a quick "table of contents" for what's in this post:
When to Visit Maui
Where to Stay
Renting a Car
4 Day Maui Itinerary

Day 1: Haleakala Sunrise & Upcountry
Day 2: West Maui
Day 3: Road to Hana
Day 4: South Maui
When to Visit Maui
There's no bad time to visit Maui and the weather is pretty consistent all year long, but here are a few things I usually think about when I'm deciding when to go:
December through April is whale season with peak season being February
Christmas through New Years on Maui is BANANAS and I avoid traveling at that time of year at all costs. My personal rule of thumb is to be heading home by December 15th.
Mid August through September is when I find the best deals on hotels.
Since it's warm in Hawaii year round, it always feels really nice to visit when it's winter back home.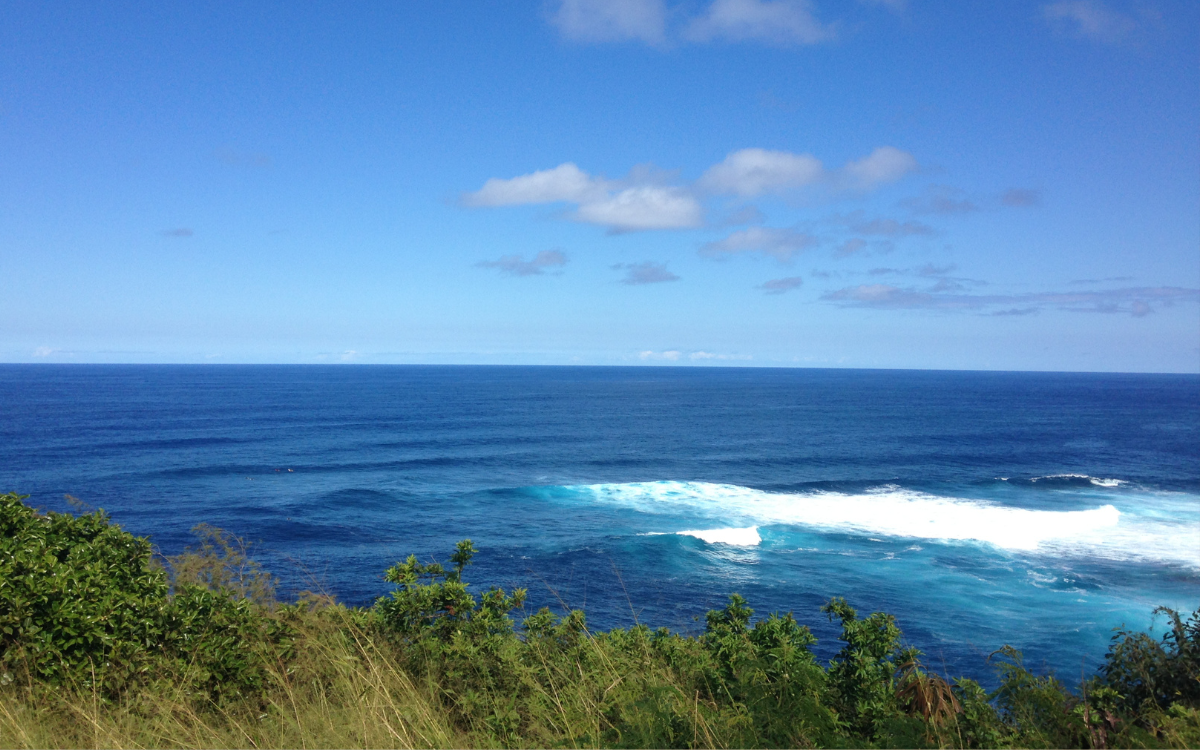 Where to Stay on Maui
I've written a LOT about this on my blog and there are two posts you're definitely going to want to read:
Where to Stay on Maui << Recommendations for all areas of Maui in all price ranges
Wailea vs Kaanapali << An extensive comparison between Maui's two most popular resort areas.
But to sum everything up, for this particular itinerary, I would choose to stay in South Maui in either Kihei or Wailea (depending on what the budget can handle).
Even though you'll be out exploring every day, I still think it's nice to have a nice place to come home and unwind. It is vacation after all!
In Wailea, I like the Wailea Beach Resort (Marriott) and Fairmont Kea Lani because they're both really nice, but usually quite a bit less $$ than the Four Seasons, Andaz, and Grand Wailea.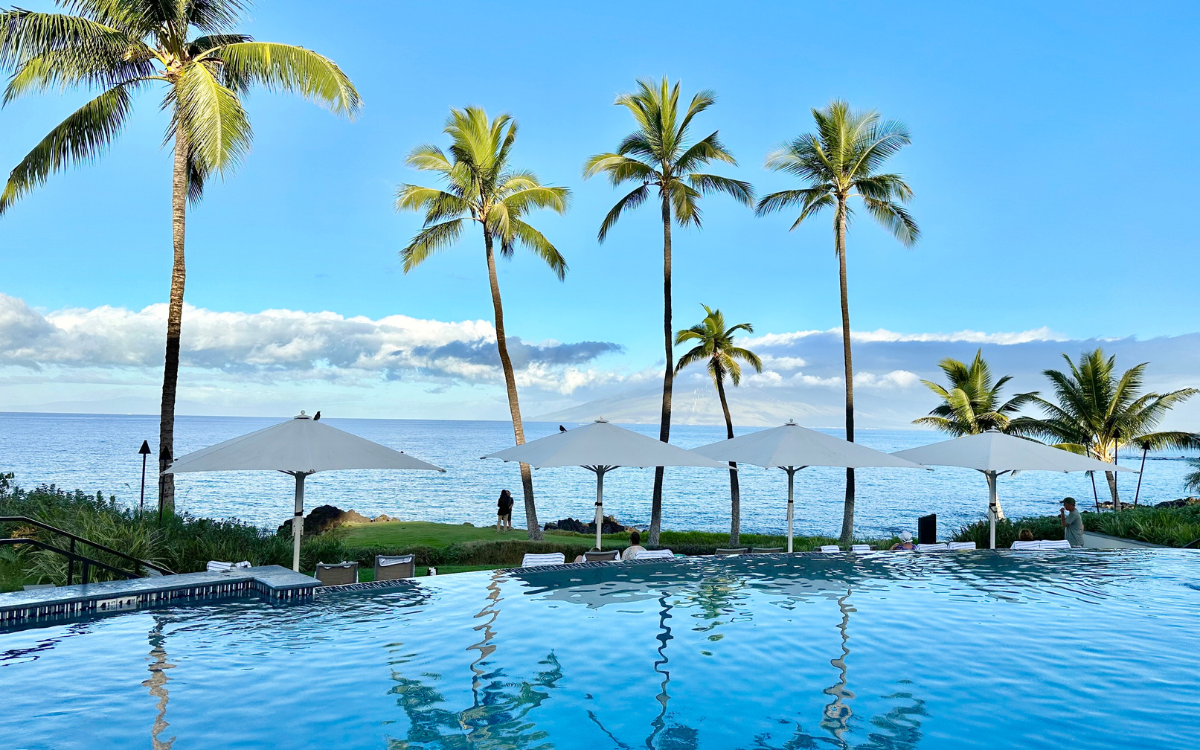 The Wailea Beach Resort has the major perk of being a Marriott and it's a super popular spot for point redemptions. Plus they've got an amazing oceanfront adults only infinity pool.
The Fairmont Kea Lani has by far the best rooms in Wailea. Every room in the hotel is a suite so you get way more space for your money plus most of them have ocean views.
For a more midrange option, I would check for specific units on Vrbo at Kihei Surfside Resort or Mana Kai Maui. Both have resort-like amenities and a great location at condo prices.
And if you're on a tight budget, these condo complexes in Kihei usually have plenty of bargains available: Royal Mauian, Kamaole Nalu Oceanfront, Hale Pau Hana, Aston at the Maui Banyan, Maui Parkshore, Kamaole Sands
***Want to save major $$$ on a fancy beach resort? My favorite travel hack is cashing in points to score free nights at some of the island's most high end resorts. My go to hotel brand is Marriott so I use this Marriott Bonvoy Boundless card to rack up points for a lot of my trips to Hawaii. If you pay for your monthly expenses on the card and are responsible about paying it off every month, the points add up really fast. Plus, if you sign up through my link, you'll get THREE bonus free nights to use. On Maui, use your points at some of my favorite Marriott properties like the Wailea Beach Resort, Ritz Carlton Kapalua, Westin Maui, and Sheraton Maui.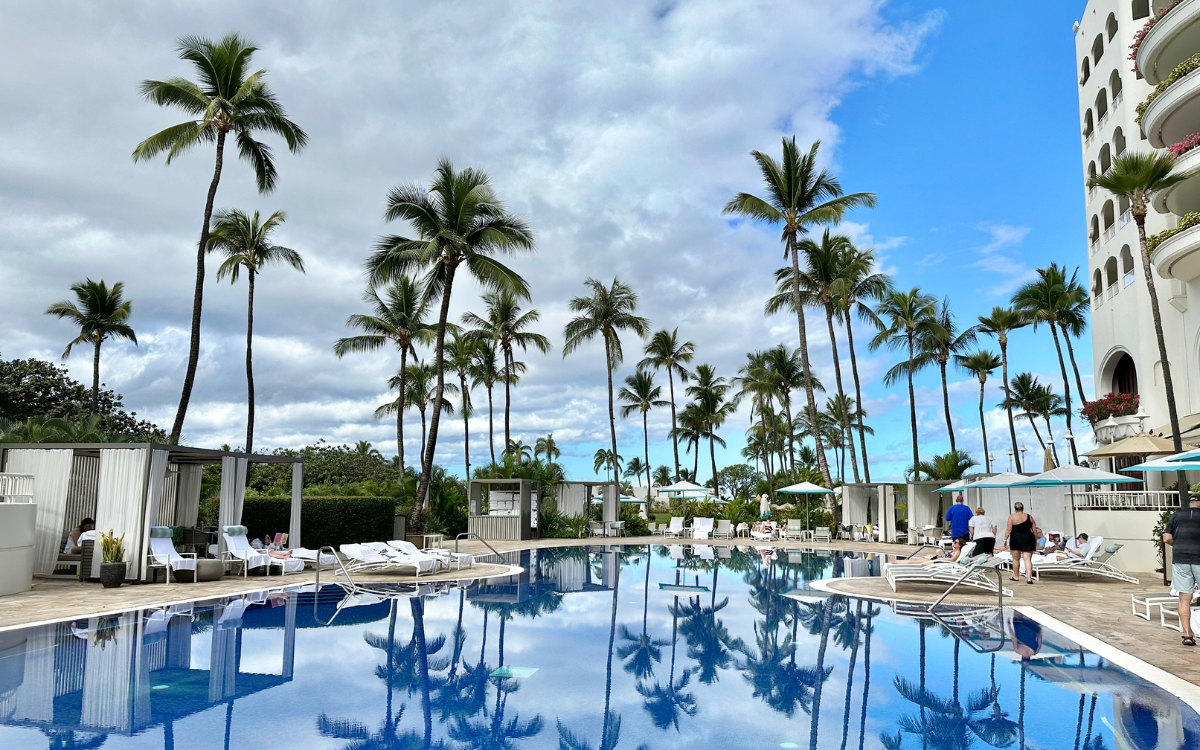 Renting a Car
You're definitely going to need a rental car for this trip, and I LOVE Discount Hawaii Car Rentals. They're seriously the only company I ever use. They'll give you the very best prices, you don't have to reserve with a credit card or pay until you show up, you can cancel and re-book anytime if you find a better rate, and they usually have a special that adds additional drivers for no fee. It's a no brainer. Click here to check rates for your trip.
4 Day Maui Itinerary
Okay, let's get this show on the road! Here's exactly how I would spend 4 days on Maui:
Arrival Day
Welcome to Maui! Most flights to Maui from the mainland arrive midday so you'll have plenty of time to grab your bags, pick up your rental car, and check into your hotel.
I love to start all of my Maui trips with a mai tai and dinner at Monkeypod and the one in Wailea is an old go to spot of mine. It's located in the Gateway shopping center in Wailea, the Monkeypod is low-key enough to handle casual attire but still feels kind of upscale.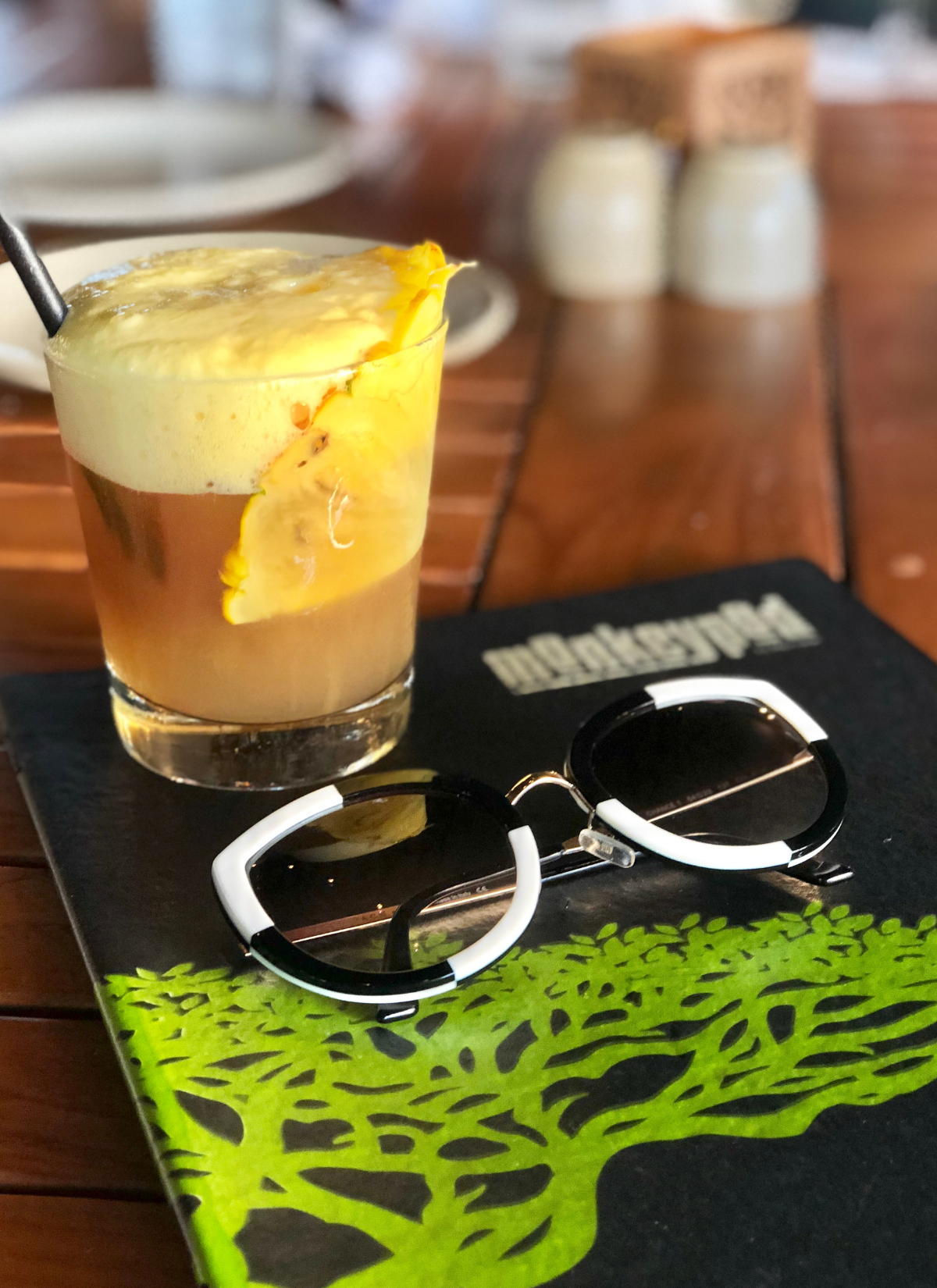 **If you're staying in South Maui, the Monkeypod in Wailea is super convenient and like I said it's how I like to start off each trip BUT there's also a Monkeypod in Whalers Village in Kaanapali in West Maui that actually has ocean/beach views and it's probably going to be my best recommendation for dinner on day 2, especially now that options are so limited after the fires in Lahaina. Since you probably aren't going to want to go to the same place twice (I mean, I would ; ) either pick another spot for dinner on your arrival night or take another recommendation for dinner on that day.
I also love getting fish tacos from Horhito's taco truck in Kihei and eating them across the street on the beach.
Nalu's South Shore Grill, Three's Bar and Grill, and Cafe O'Lei are all great spots for a nice but casual dinner in Kihei.
And I have more restaurant recommendations for Wailea in this post than you can possibly imagine.
I don't know about you, but on my travel day to Hawaii I'm always pretty wiped out and just try my best to make it to 7 or 8 PM at best haha.
So rest up because day 1 is going to start with a bang!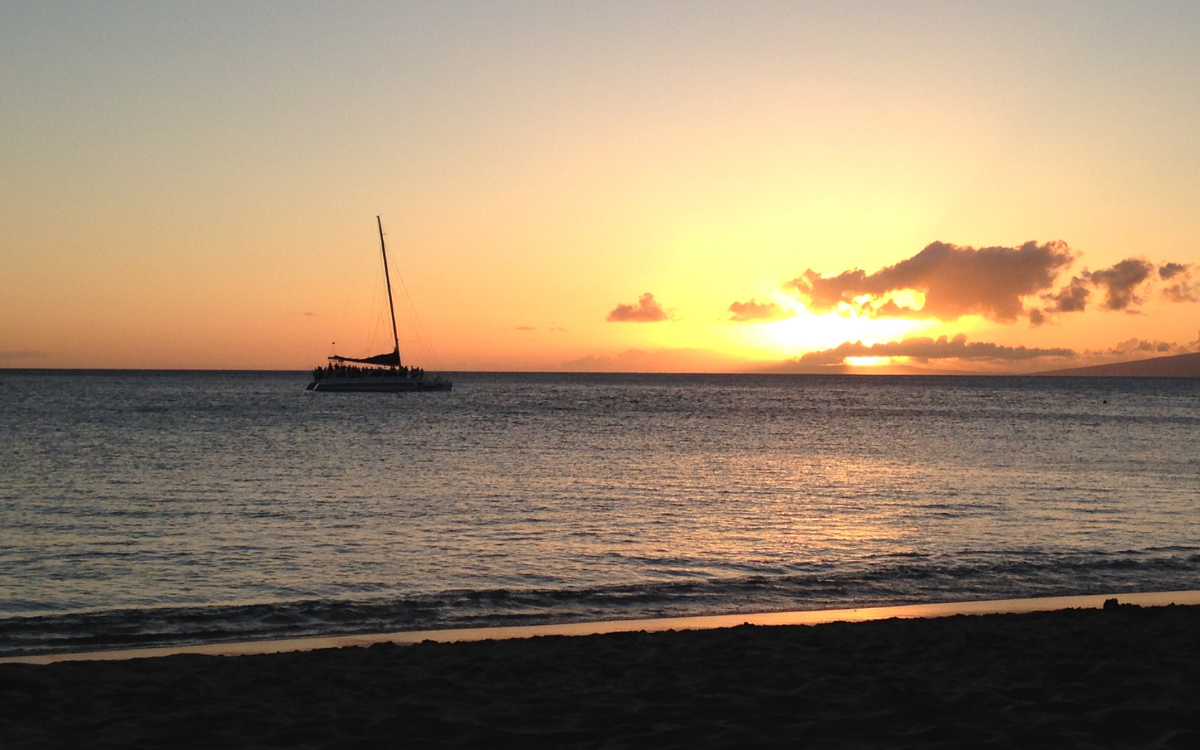 Day 1: Haleakala Sunrise & Upcountry Maui
One of Maui's top "do not miss" experiences is watching the sunrise from the summit of Haleakala. Haleakala (meaning "House of clouds") is Maui's dormant volcano. The summit has an elevation of 10,000 feet and watching the sunrise through the clouds is something you'll never forget!
This experience takes some planning though!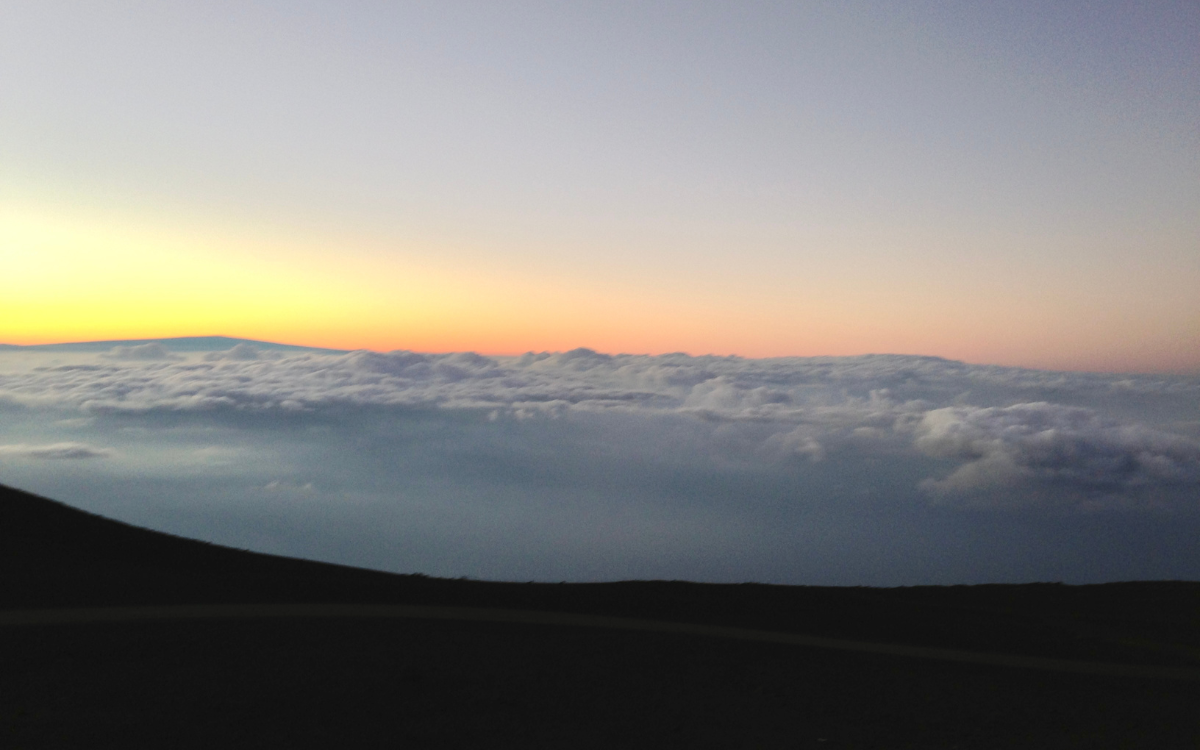 Sunrise at Haleakala
It can take up to two hours to reach the summit of Haleakala from Wailea (it's a little over 1.5 hours of driving time plus you usually have to wait in line at the park entrance to pay the entry fee) so it's going to be an early morning.
But this is why I recommend doing Haleakala on your first day in Maui. You won't be adjusted to the time change so a 3AM wake up call will feel much later for those traveling from the US mainland.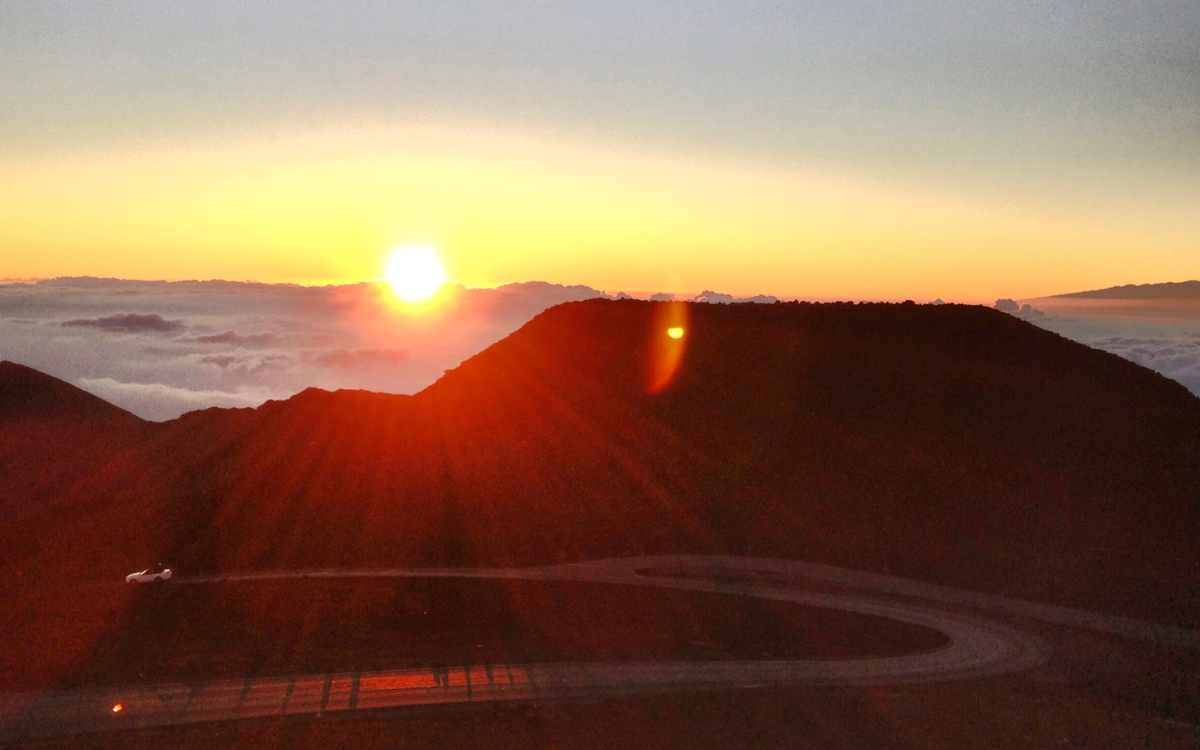 **Reservations are now required for a viewing spot at the summit (a parking spot really) so make sure you book in advance with the National Park Service. The booking window opens up 60 days in advance at 7AM HST. Plus a limited number of spots become available two days in advance. Sometimes reservations sell out really quickly so I recommend creating an account and being logged in and ready to go as soon as they become available.
Online reservations are $1 per reservation/vehicle PLUS you'll pay the park entrance fee of $30/vehicle when you arrive (National Park annual passes are also accepted at the gate).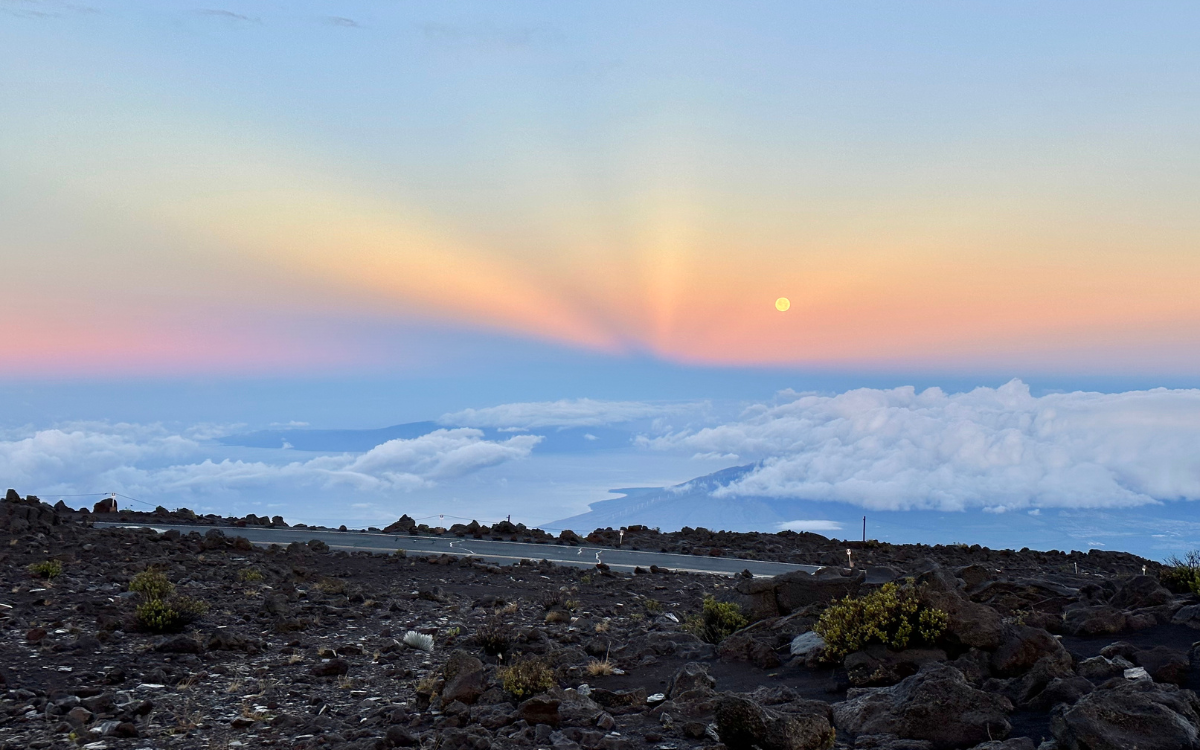 Look up the sunrise time and plan to be at the summit well before (like at least an hour before). You want to be up there when it's still pitch black (not at first light) and then factor in the time traveling from your resort to the summit.
Here are some tips for surviving the sunrise: Give yourself plenty of time for travel. Pack motion sickness medication if you're prone to it. The drive up is very winding. Take snacks and drink plenty of water. You'll be driving from sea level to 10,000 feet in about 25 miles. The change in altitude is no joke! Pack super warm clothes! It's usually 30-40 degrees at the summit for sunrise. You'll want long pants and layers on top. Pack a hat, scarf, and gloves and bring blankets (or beach towels) if you can!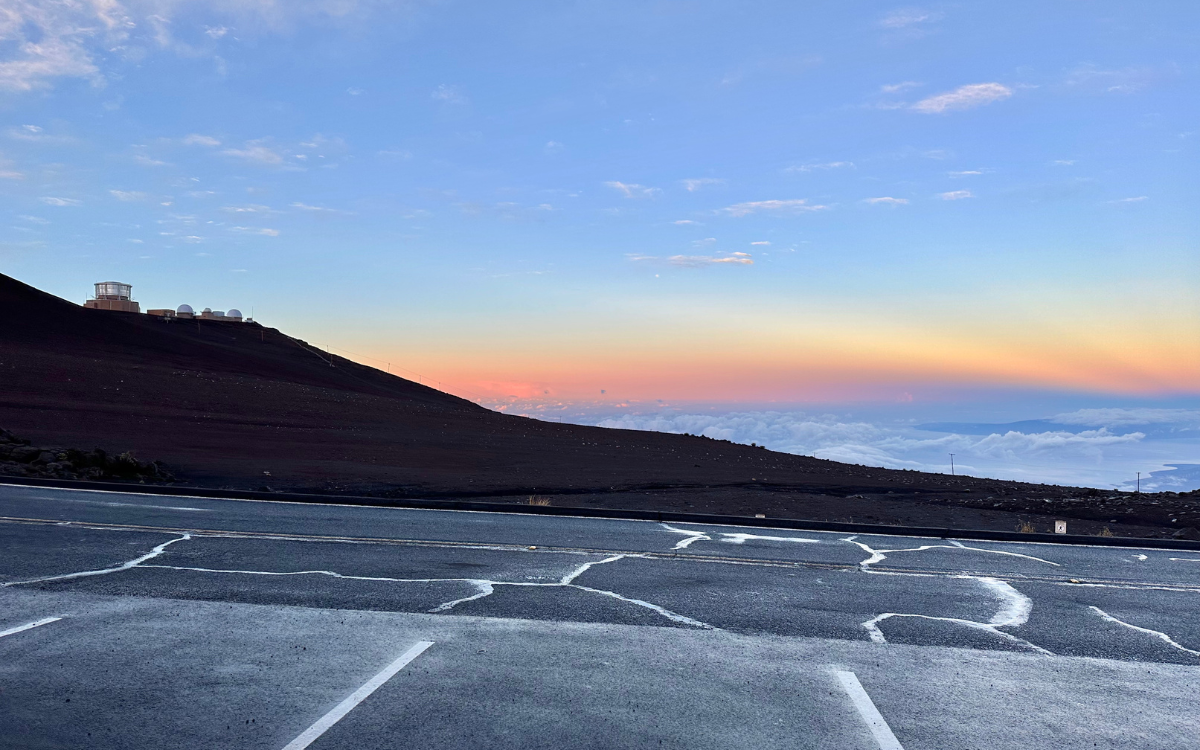 Read this post for absolutely everything you need to know about doing sunrise at Haleakala.
I fully acknowledge that this all probably sounds completely BONKERS, but I promise that it's worth it!
Breakfast at Grandma's
After an early wake up call and braving the cold, you've earned a GOOD breakfast. My favorite spot on the island for breakfast is Grandma's Coffee House in Keokea.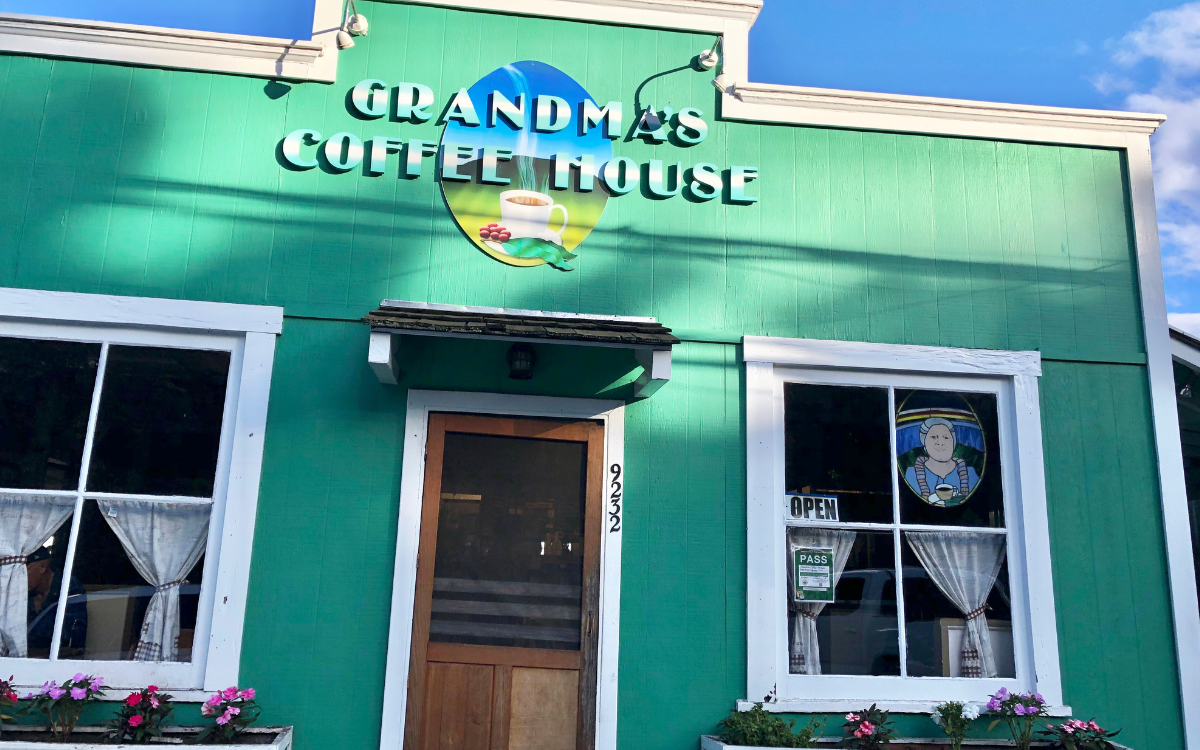 Their kalua pork eggs benedict is incredible plus they've got great waffles and EVERYTHING in the enormous dessert/pastry case is phenomenal.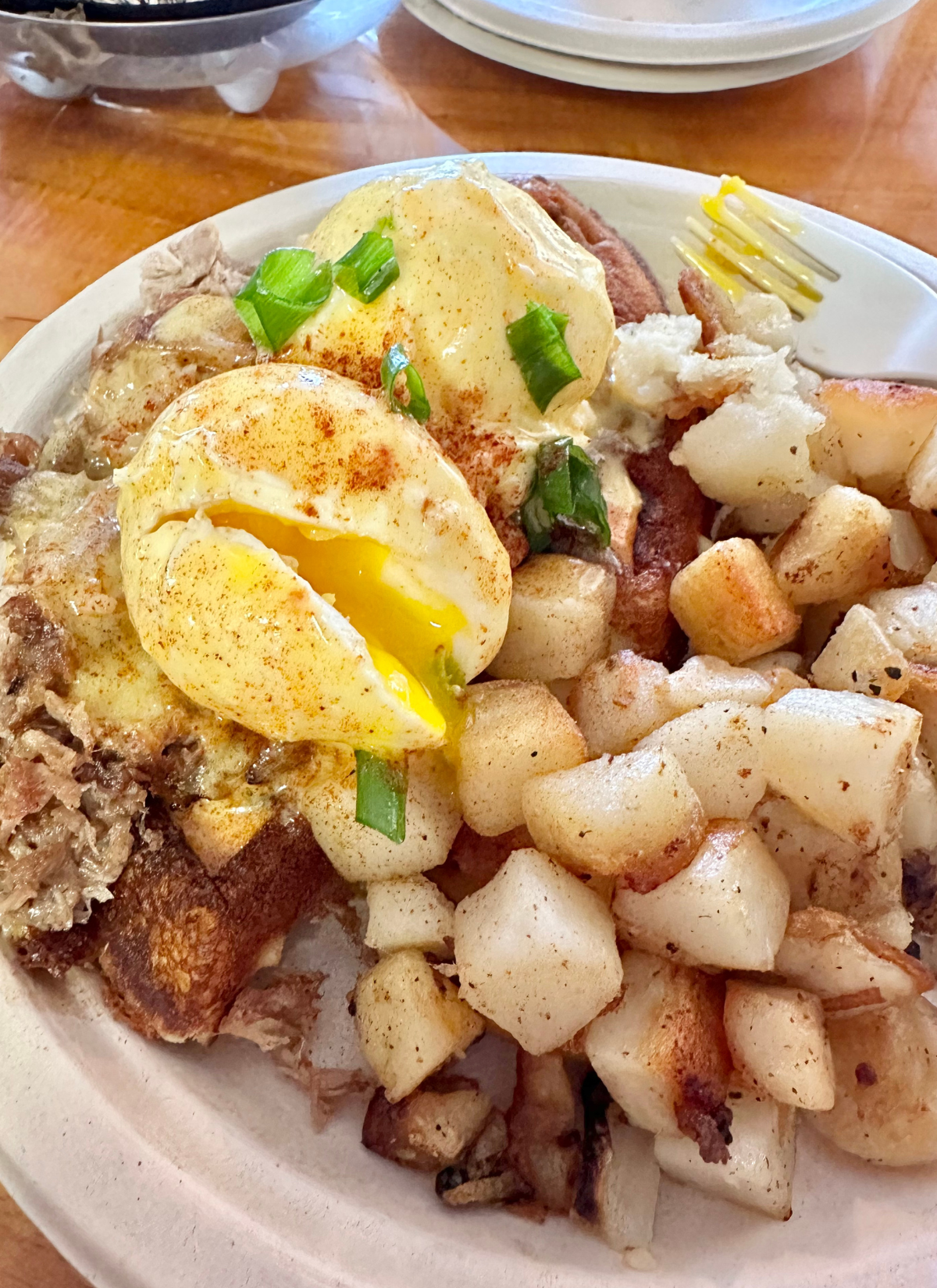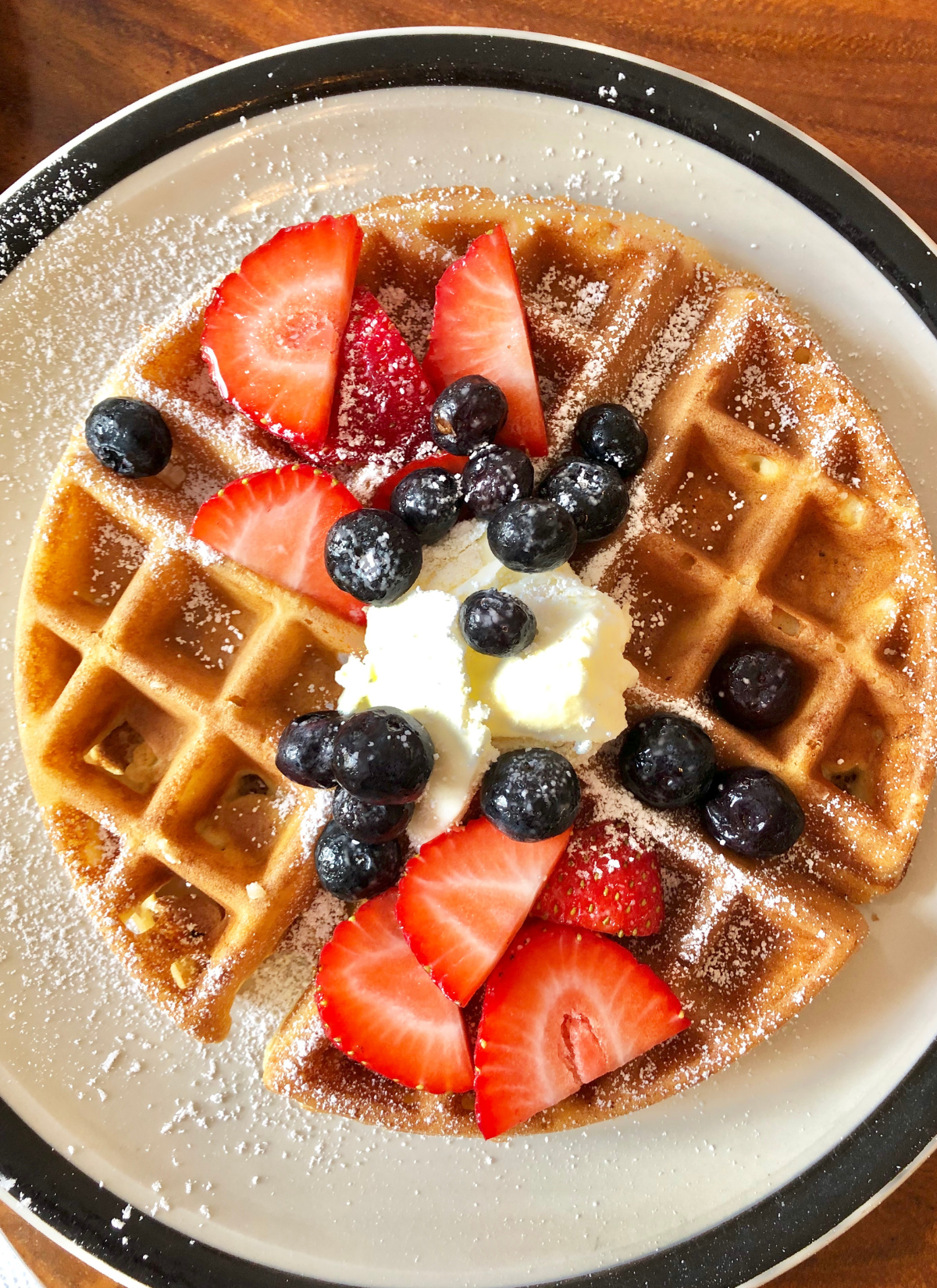 After breakfast, go across the street and take a walk (or drive) up Thompson Road.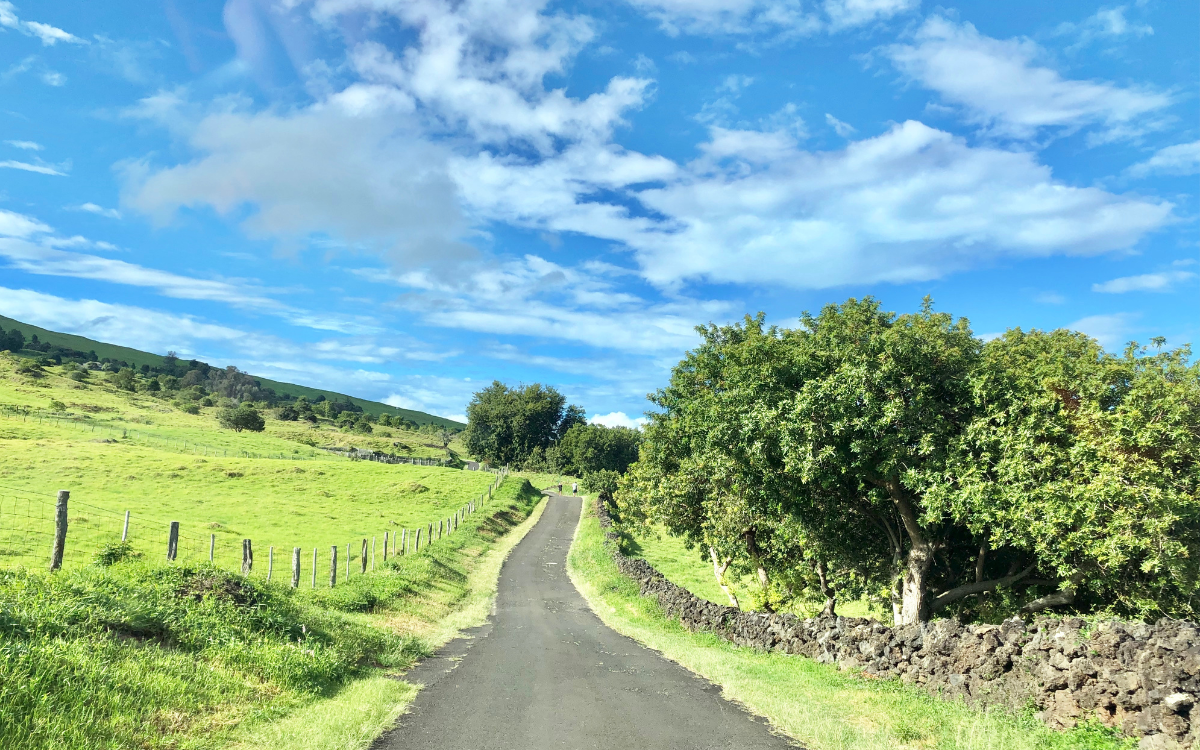 This is one of my favorite parts of Maui. If you didn't know you were in Hawaii and could look out and see the ocean, you'd probably think you were in Ireland or the Texas Hill Country.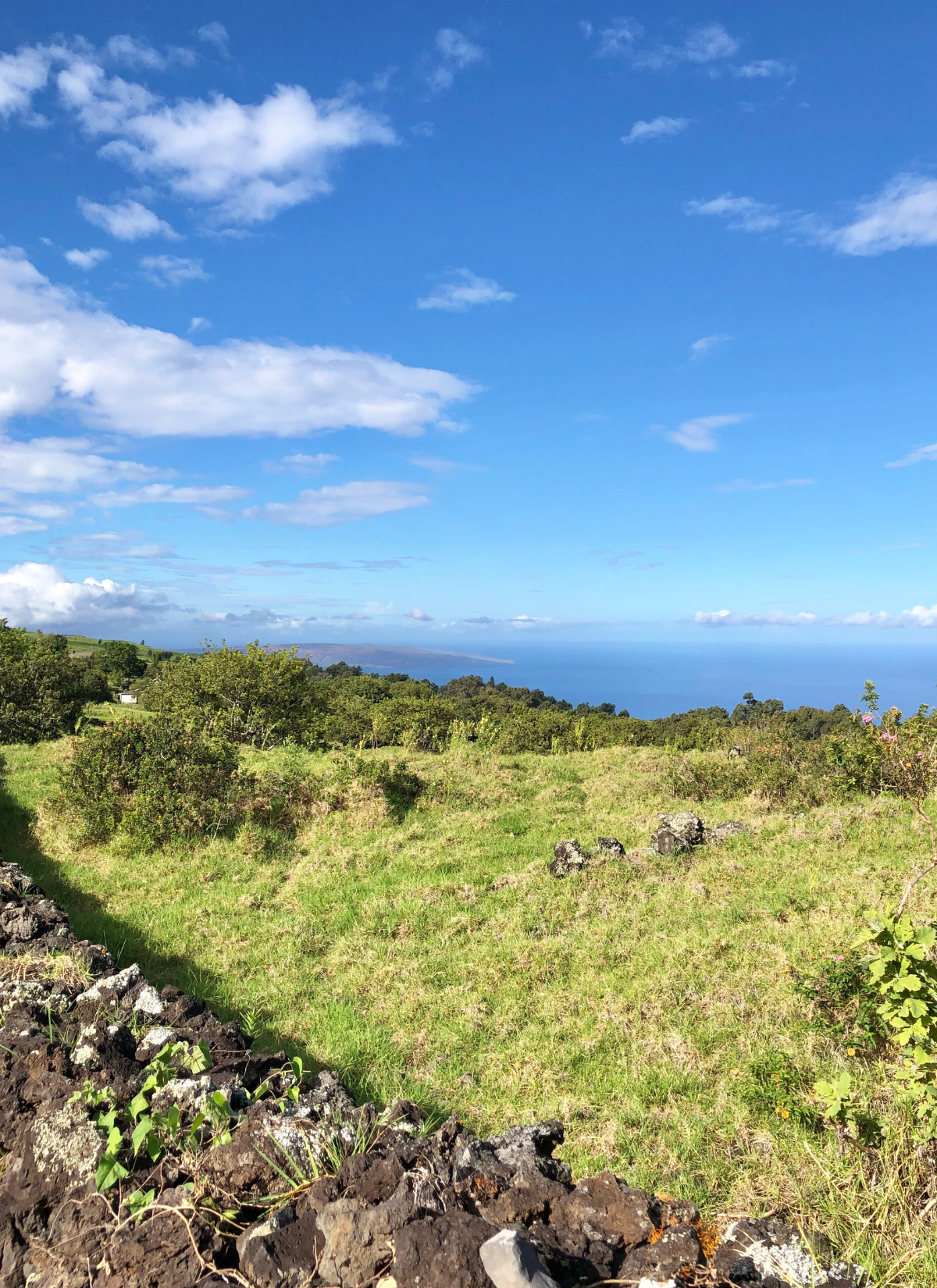 Makawao
Head back down the mountain towards Makawao and spend a bit strolling around this historic cowboy town.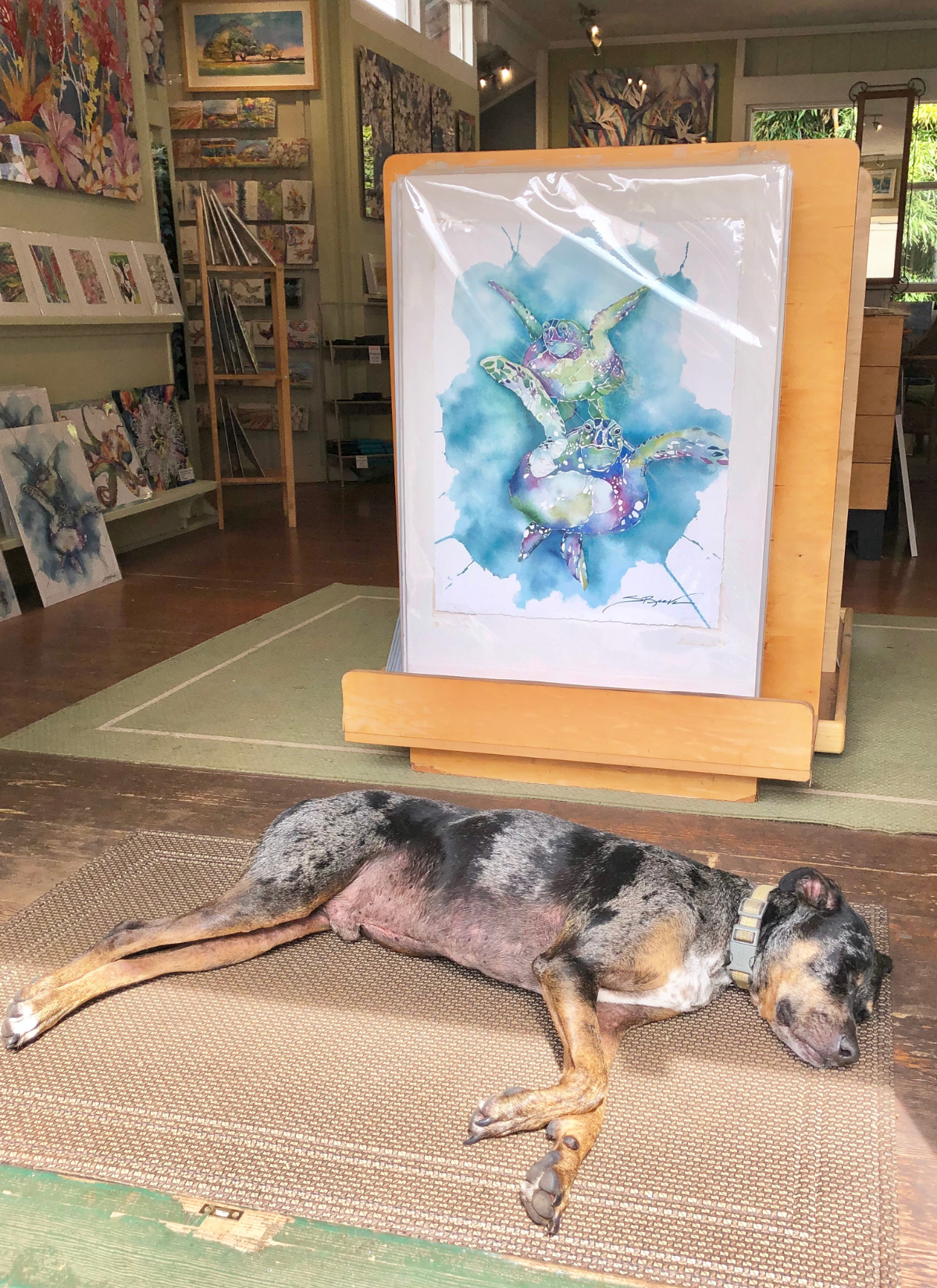 Makawao has some great boutiqes. I love Driftwood, Pink by Nature, Homme by Nature, and the Mercantile, and you'll definitely want to check out Haku Maui. You'll see her sign on the mainstreet, but it's hidden back a bit and it is the CUTEST lei shop. There's a few things to purchase, but if your trip coincides with one of her lei po'o workshops, then booking a spot is a must!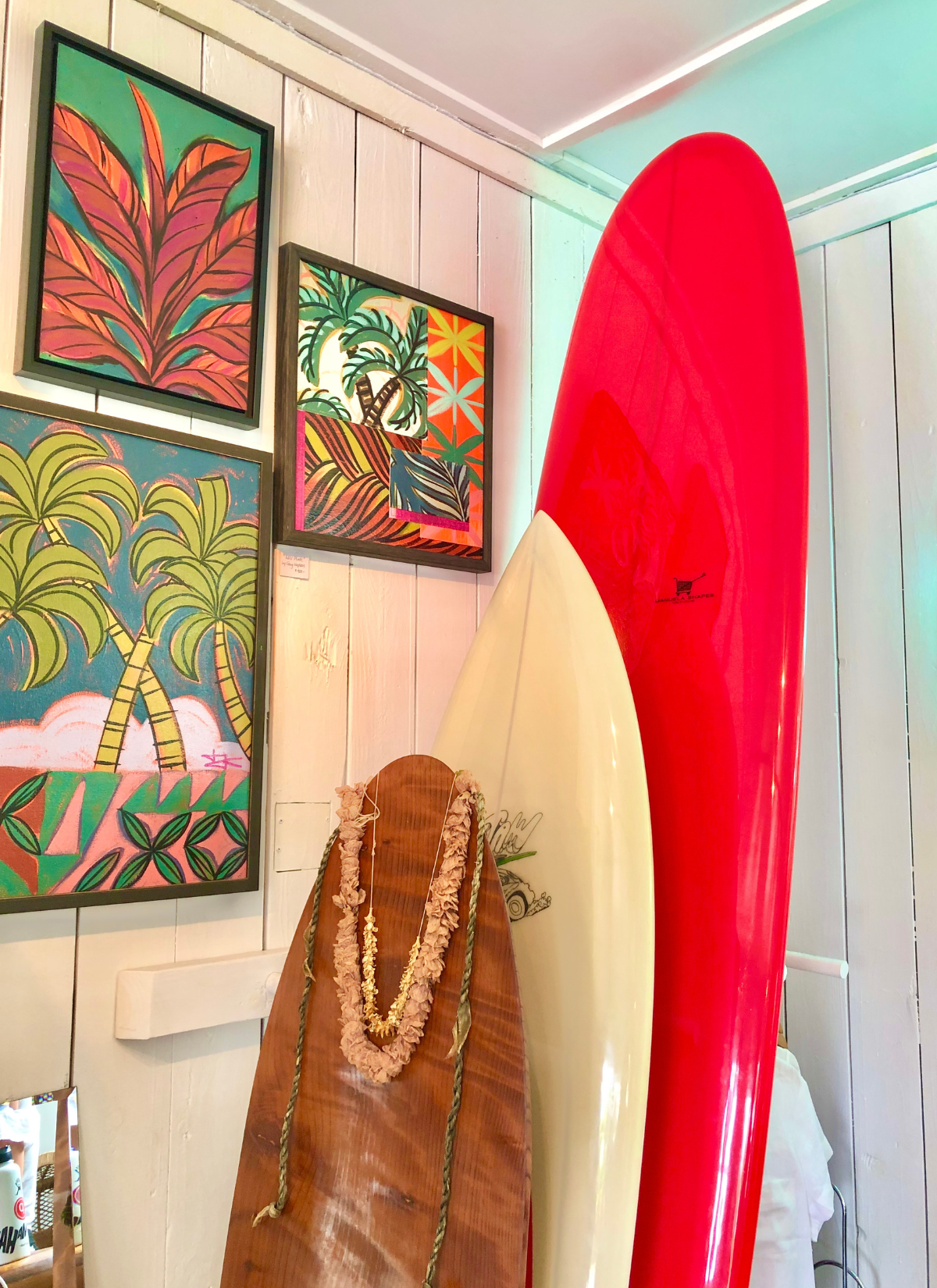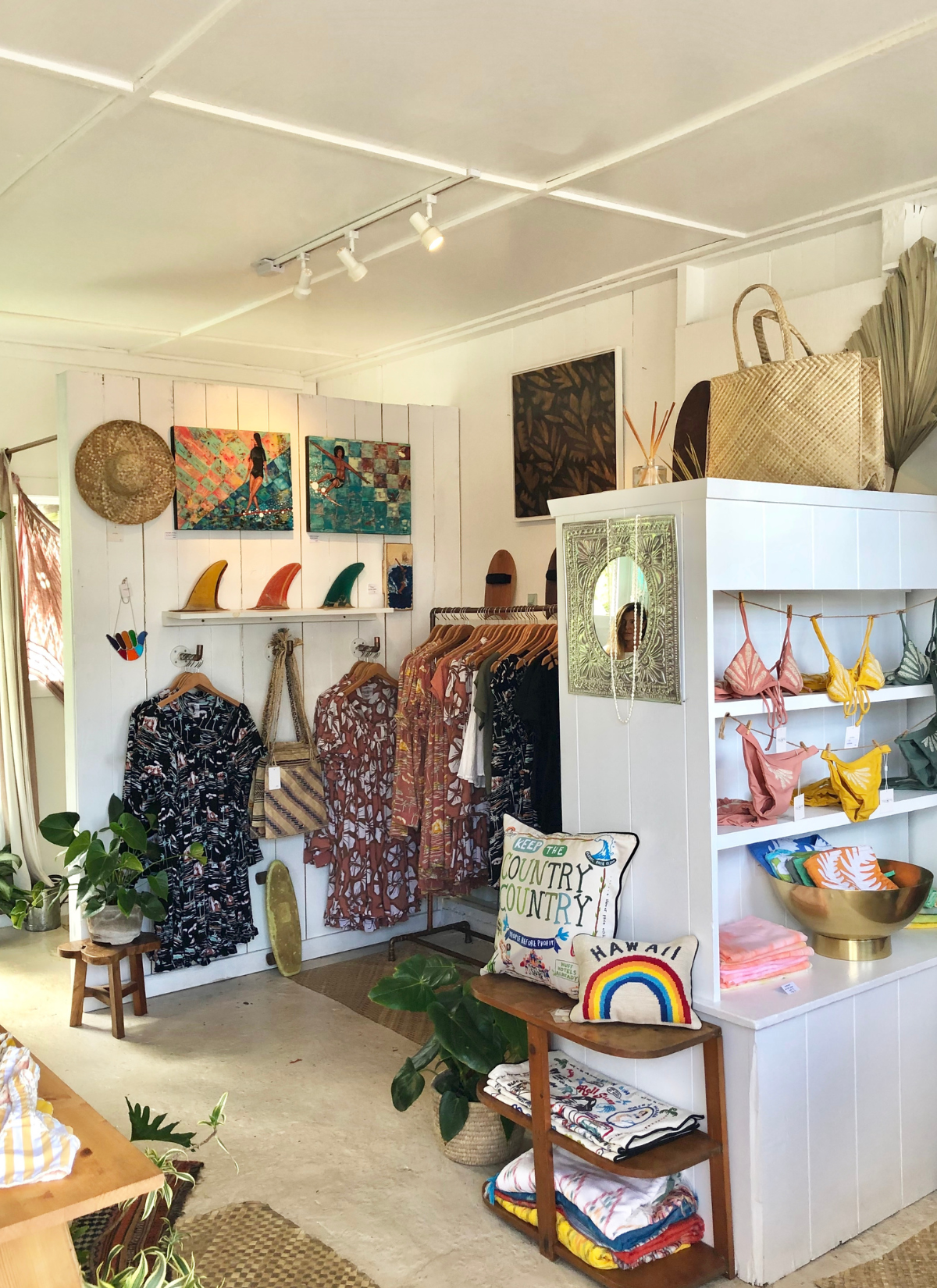 Paia
It's a quick drive down to Paia and there's plenty here to keep you busy.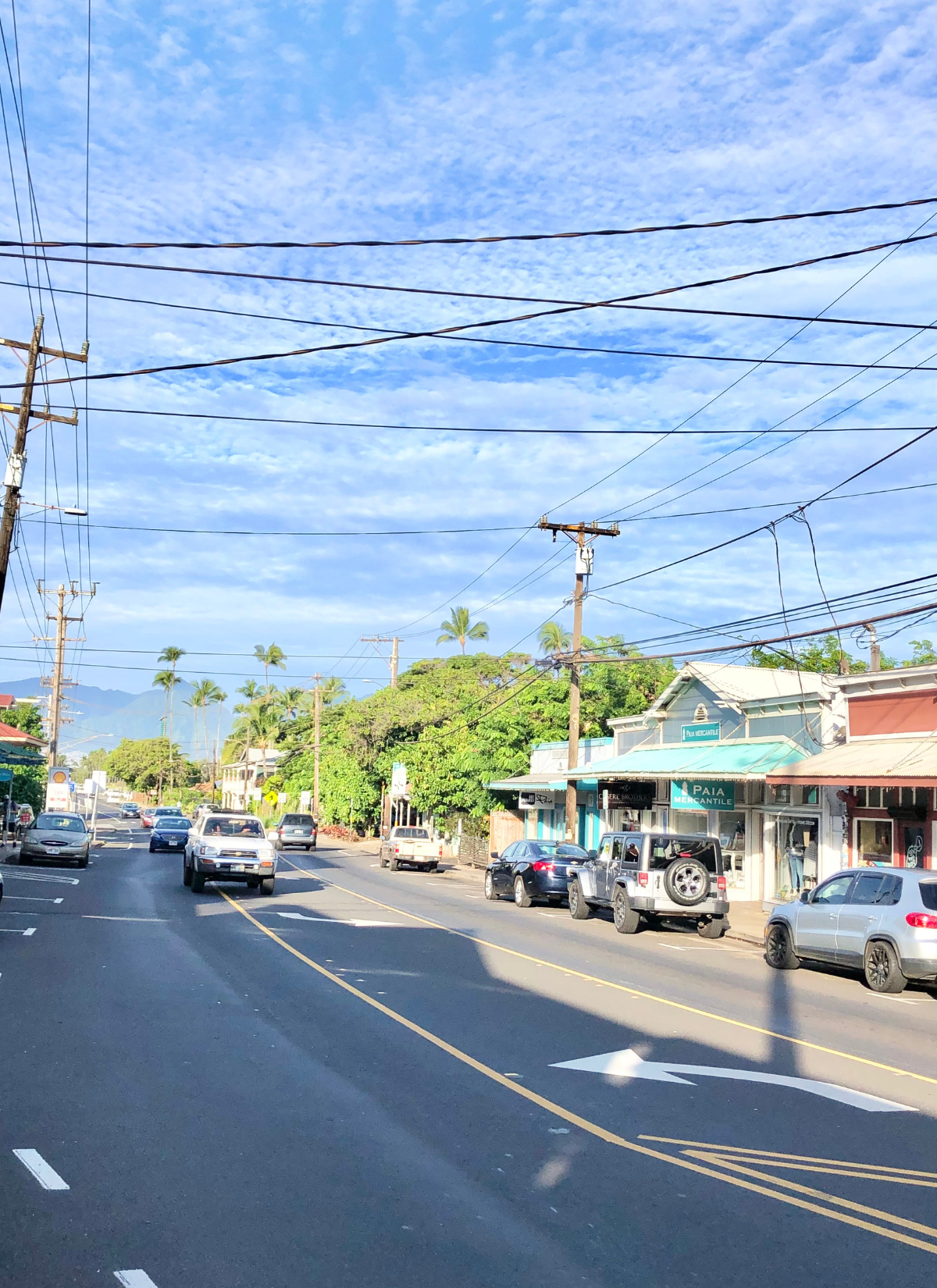 Paia has some of my favorite shopping places on Maui. I always go out of my way to visit Wings, Nuage Bleu, and Biasa Rose.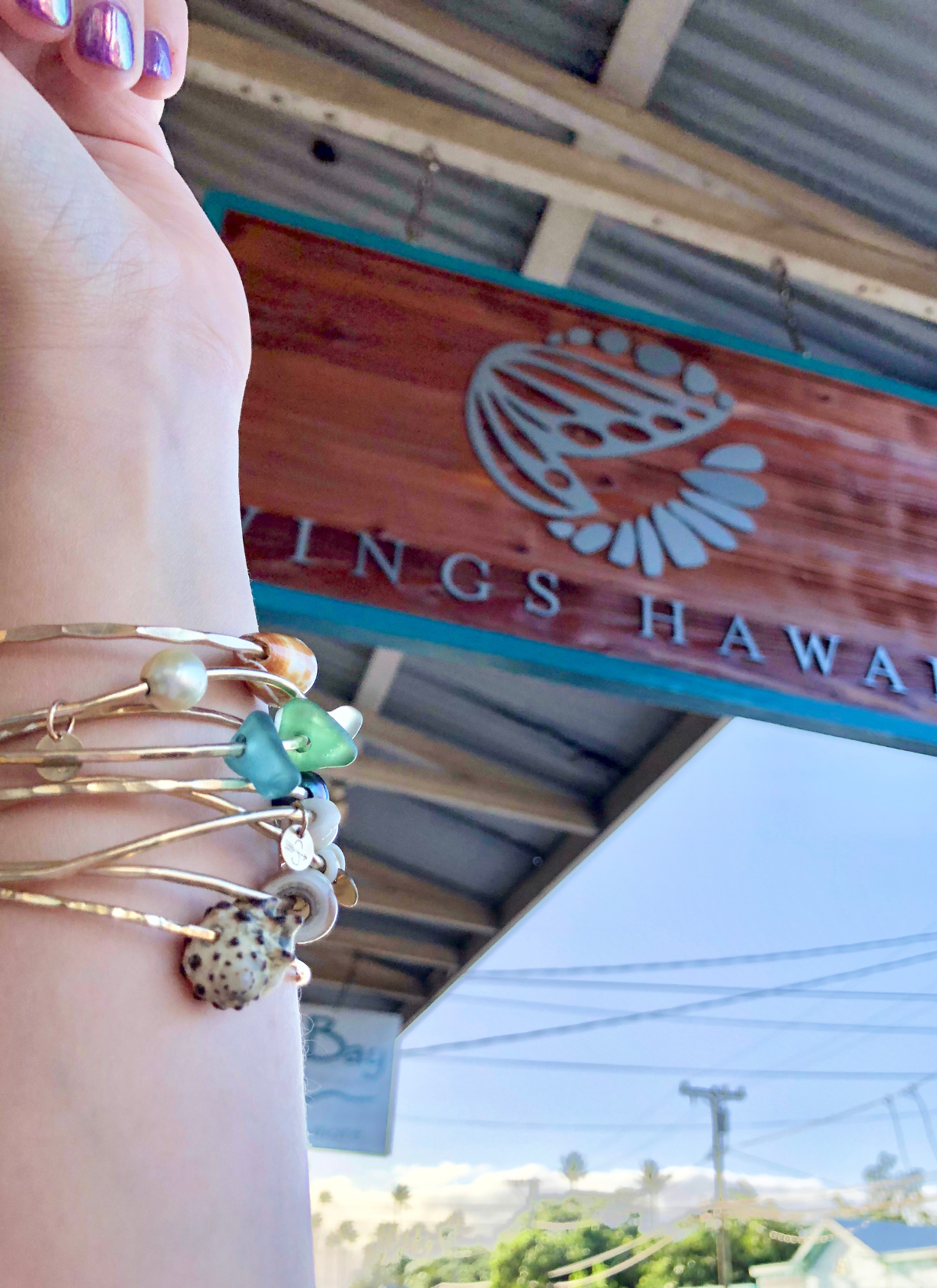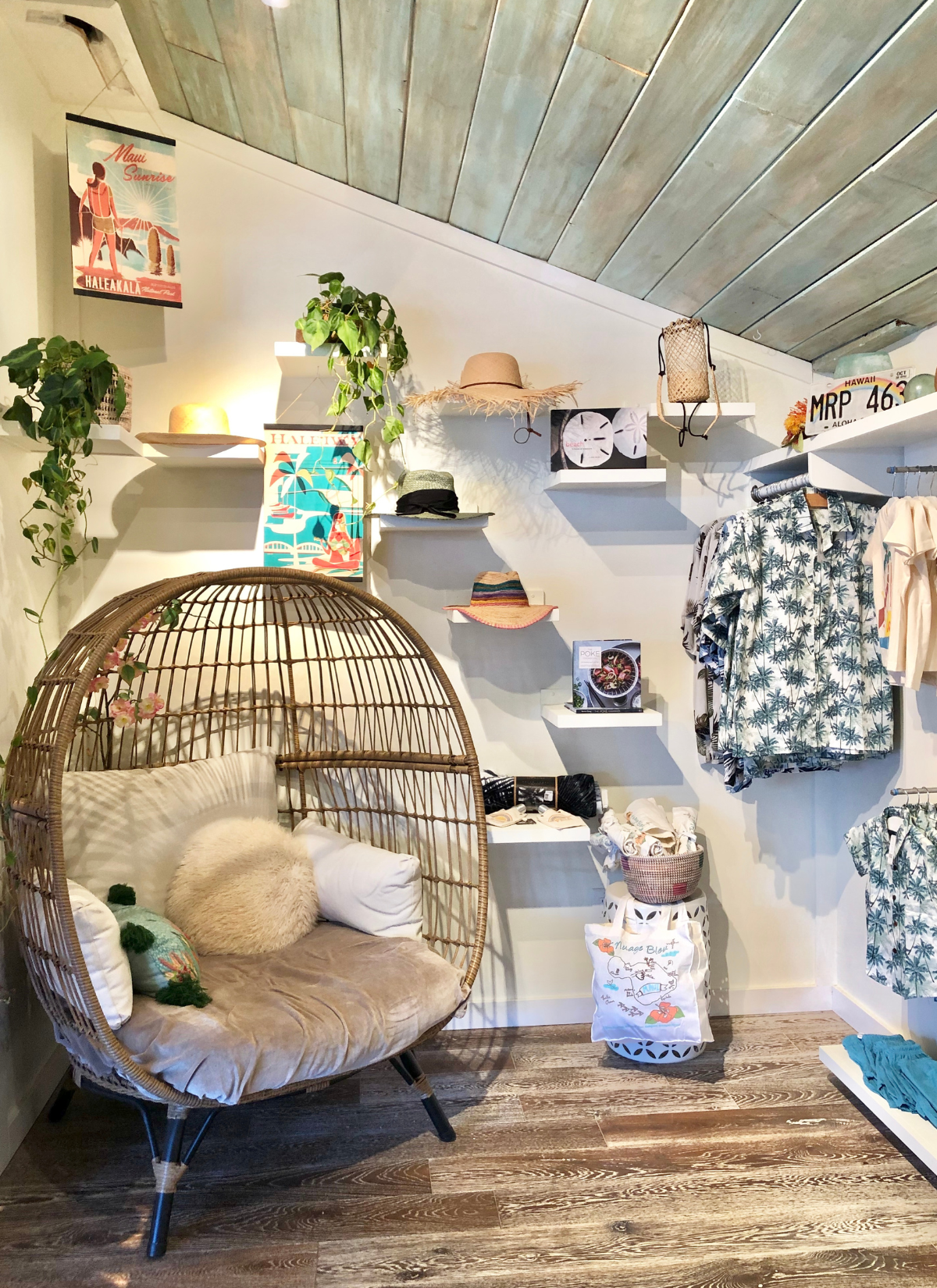 Don't miss the surfboard wall at Aloha Surf Hostel.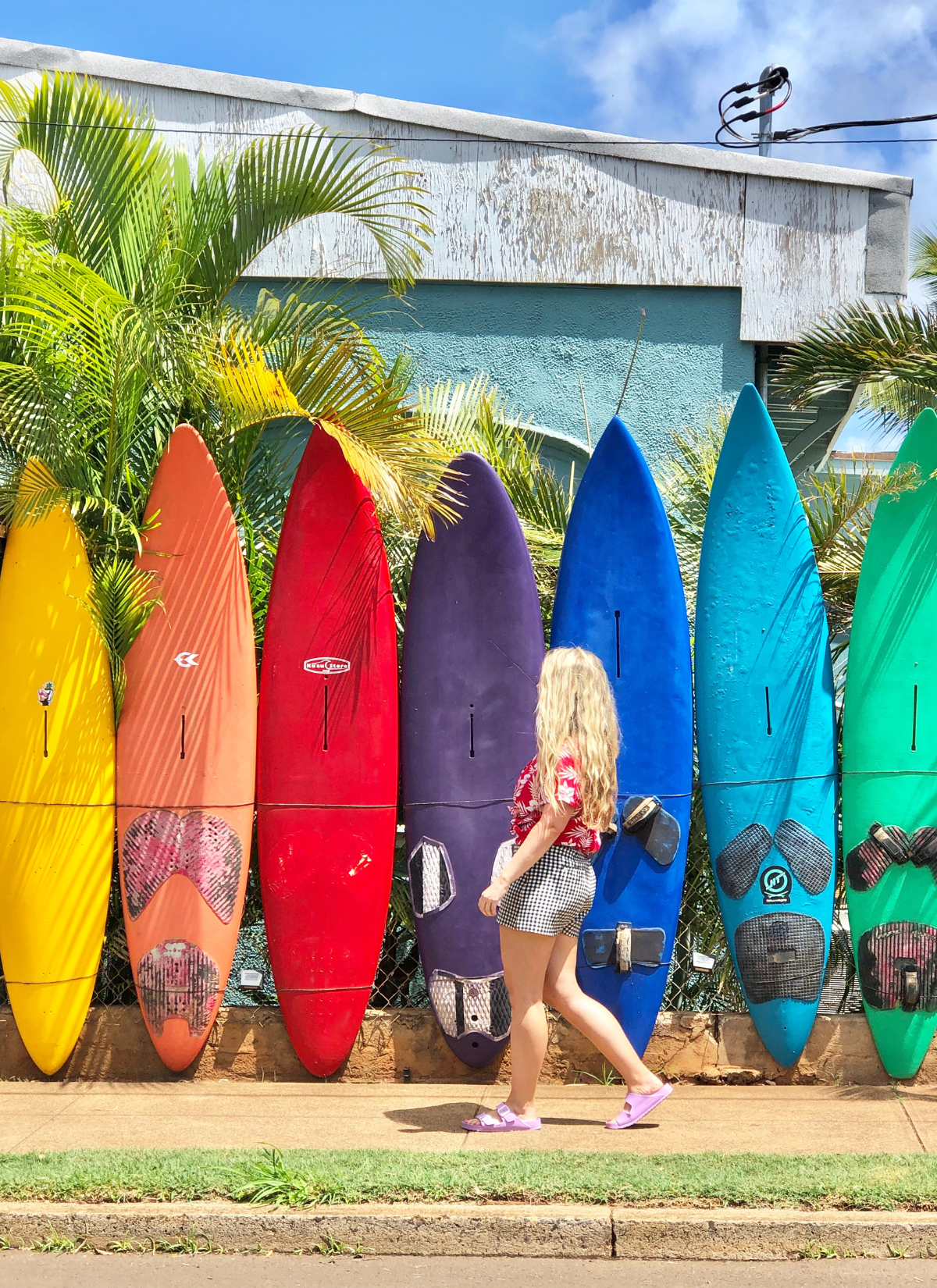 There are plenty of great restaurants in Paia if you've worked up an appetite. I always like to stop at Paia Bowls for an acai bowl and I like Cafe des Amis, Paia Flatbread, and Paia Fish Market too.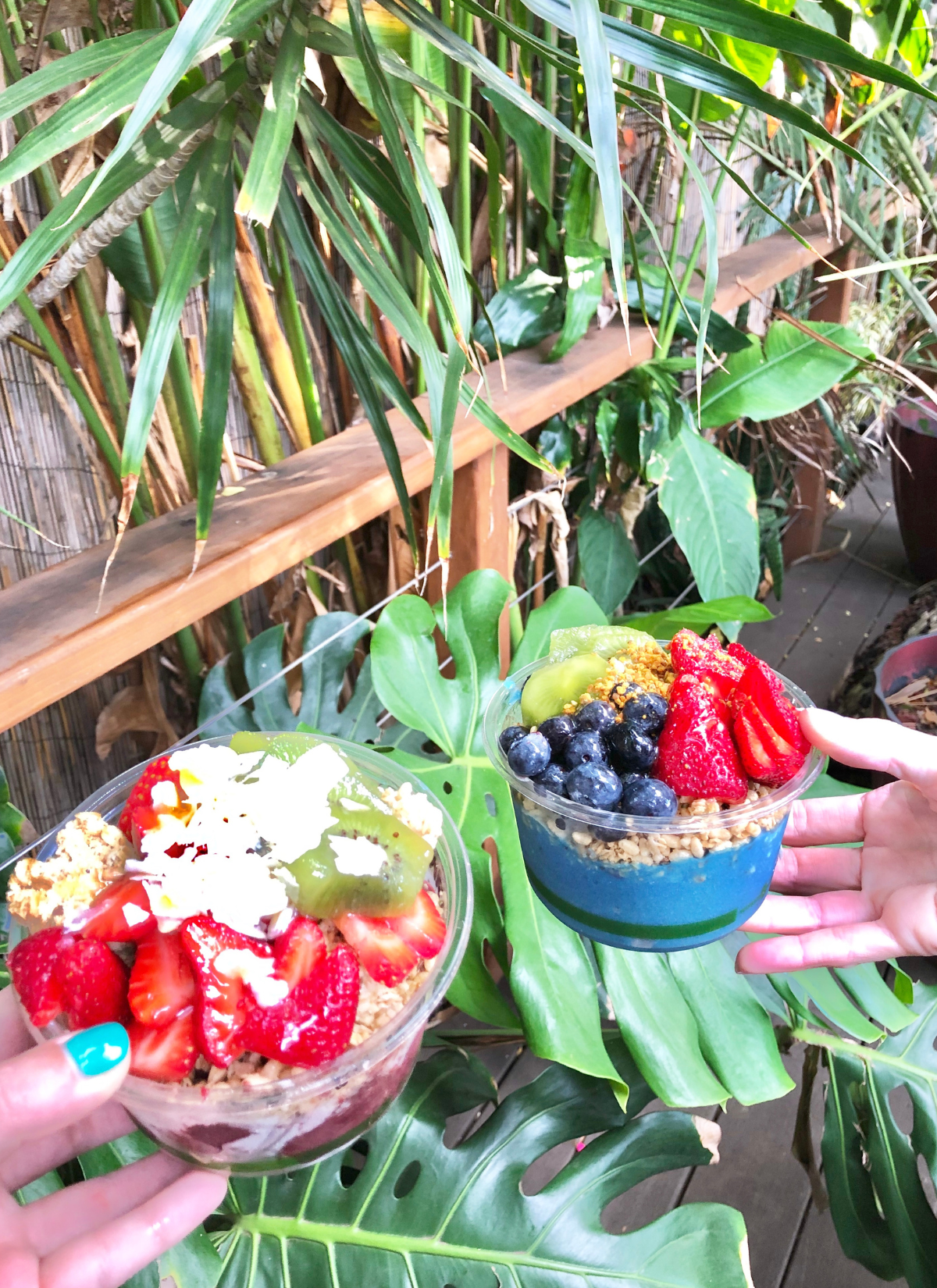 Take a stroll on Baldwin Beach and watch the wind surfers. The conditions aren't usually great here for swimming, but I think this is one of the most beautiful beaches on Maui.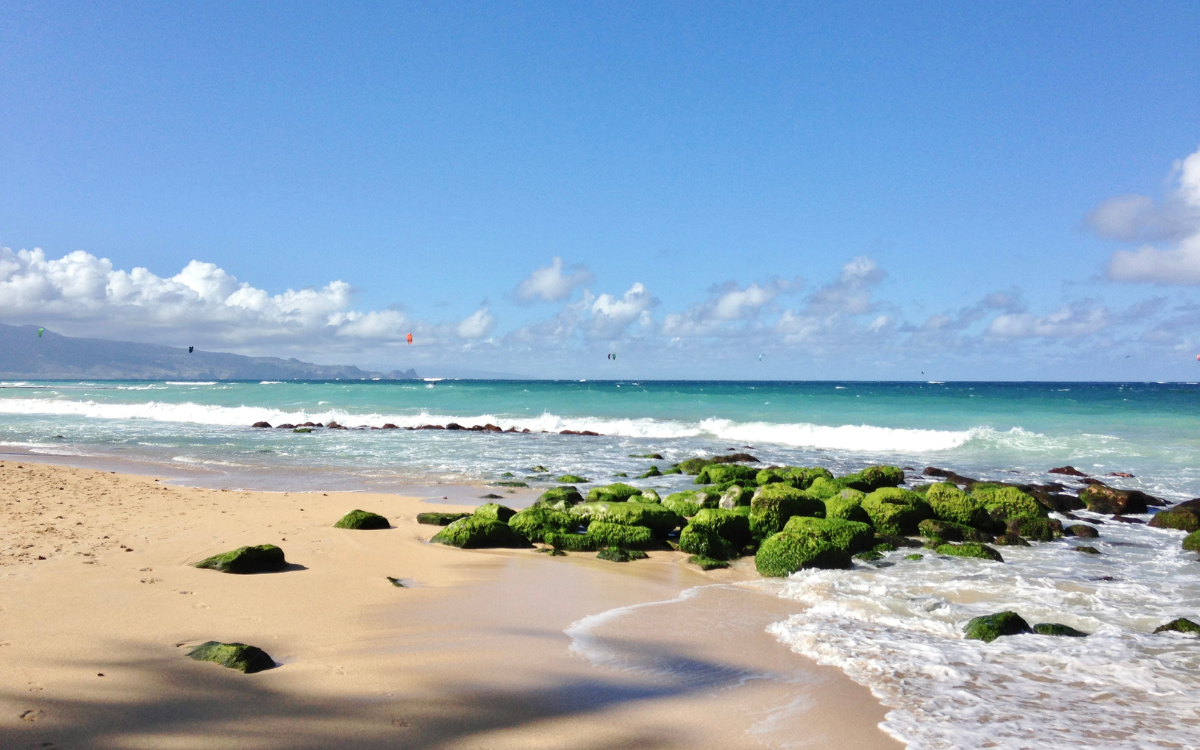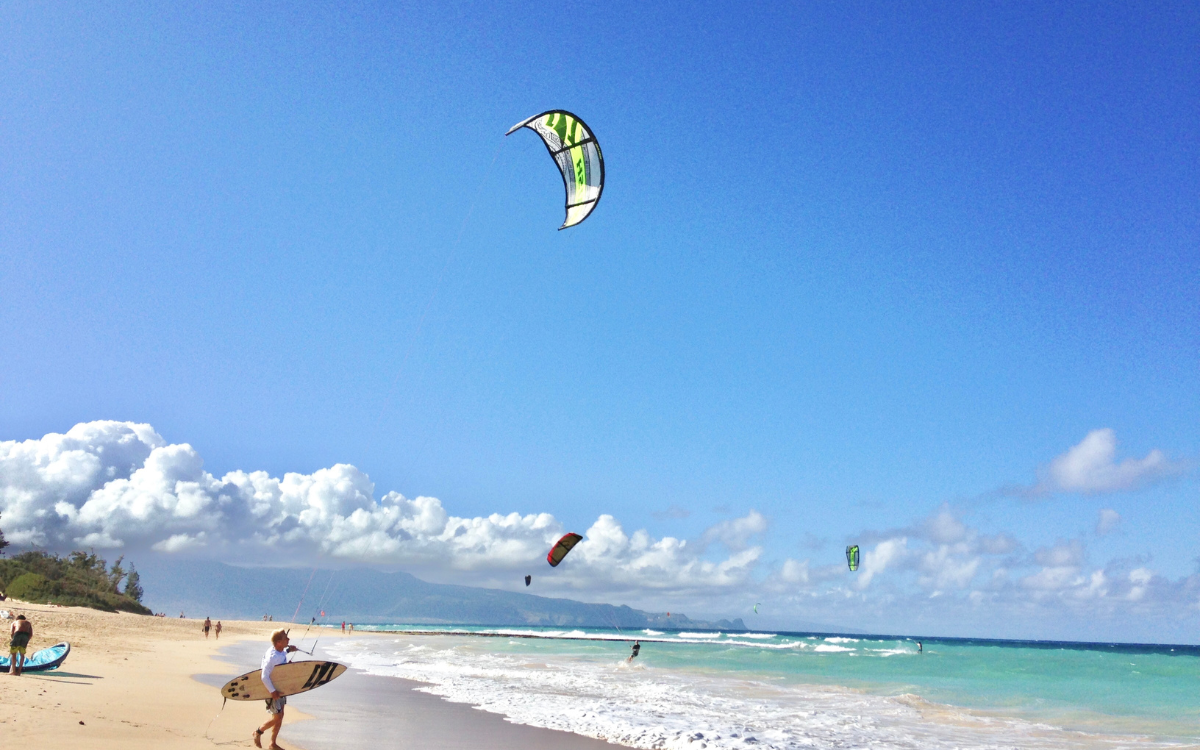 Turtles
And before you leave this part of the island, take a right on the Hana Highway (headed east) and pull into the small parking lot at Tavares (Kuau) Bay (you'll know you're in the right place when you see the house with the blue tile roof).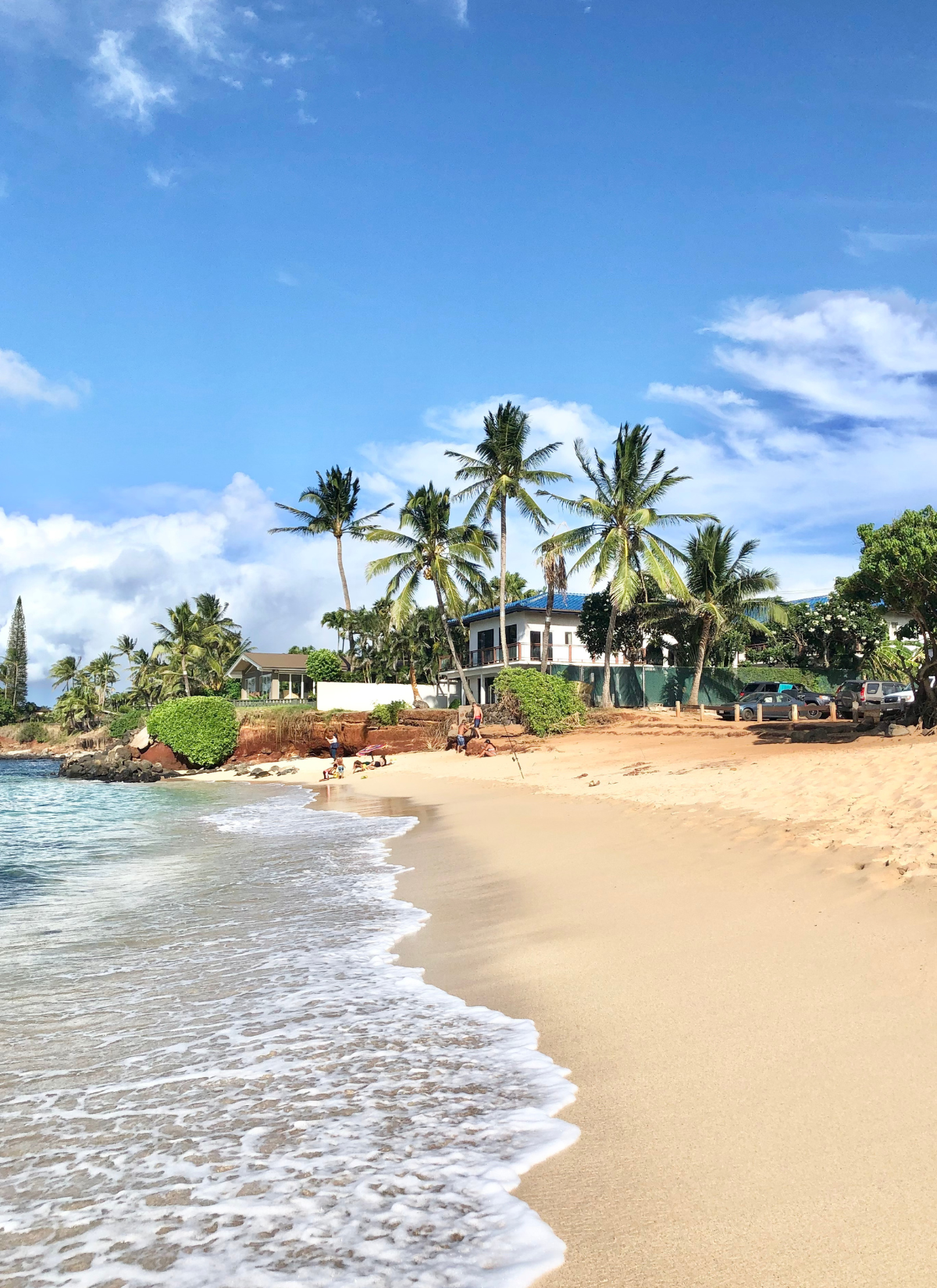 This is a GREAT spot to see turtles resting on the beach. Most people go farther down the road to Ho'okipa Beach and there are a LOT of turtles there, but there's also a ton of people and they basically keep that whole end of the beach roped off now.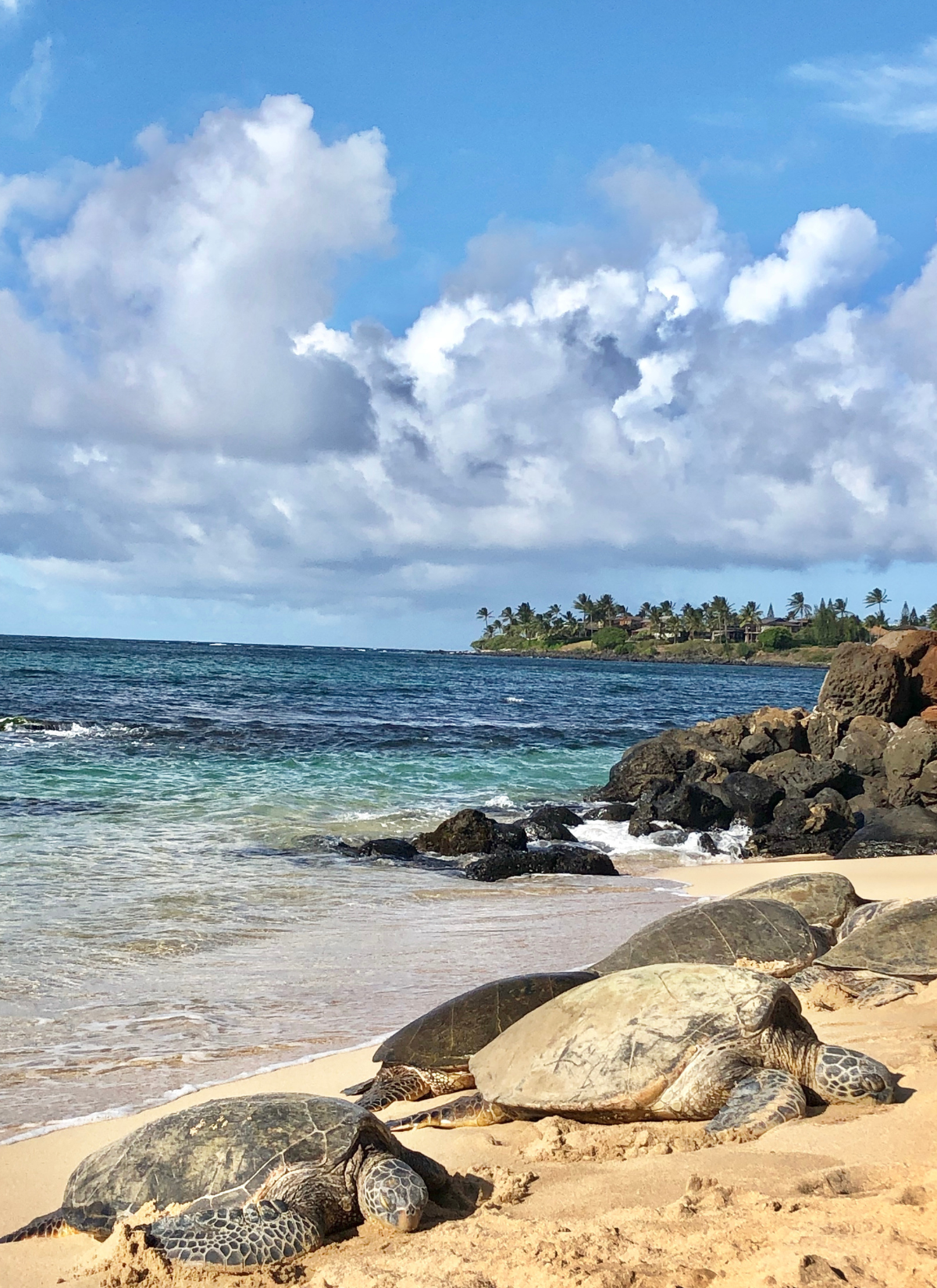 So here's the deal…you can usually see turtles up close at Tavares Bay but just because no one is monitoring them here doesn't mean you can get too close. Stay AT LEAST 10 feet away (required by law) and never get in between them and the water.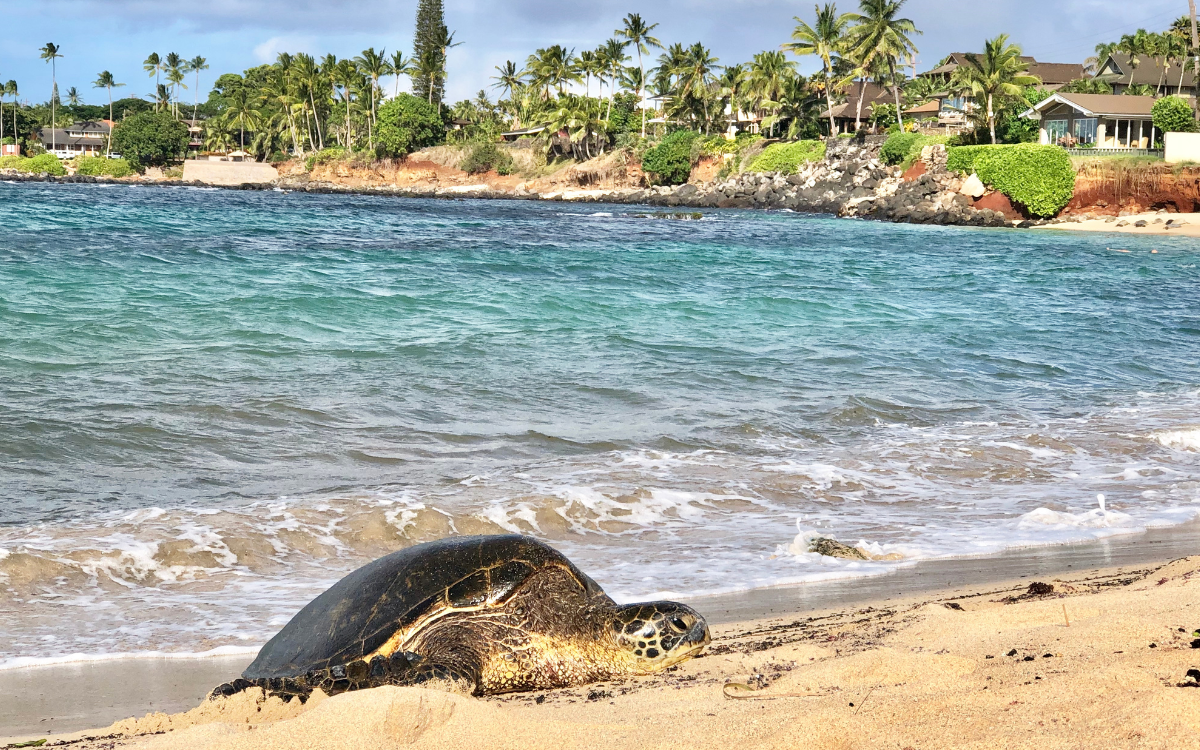 But they are so cool to see.
Back to South Maui to Rest
Since you've been up since the wee hours of the morning, you're probably exhausted by now! Head back to your hotel in south Maui for a mid afternoon nap and some downtime at the beach or pool.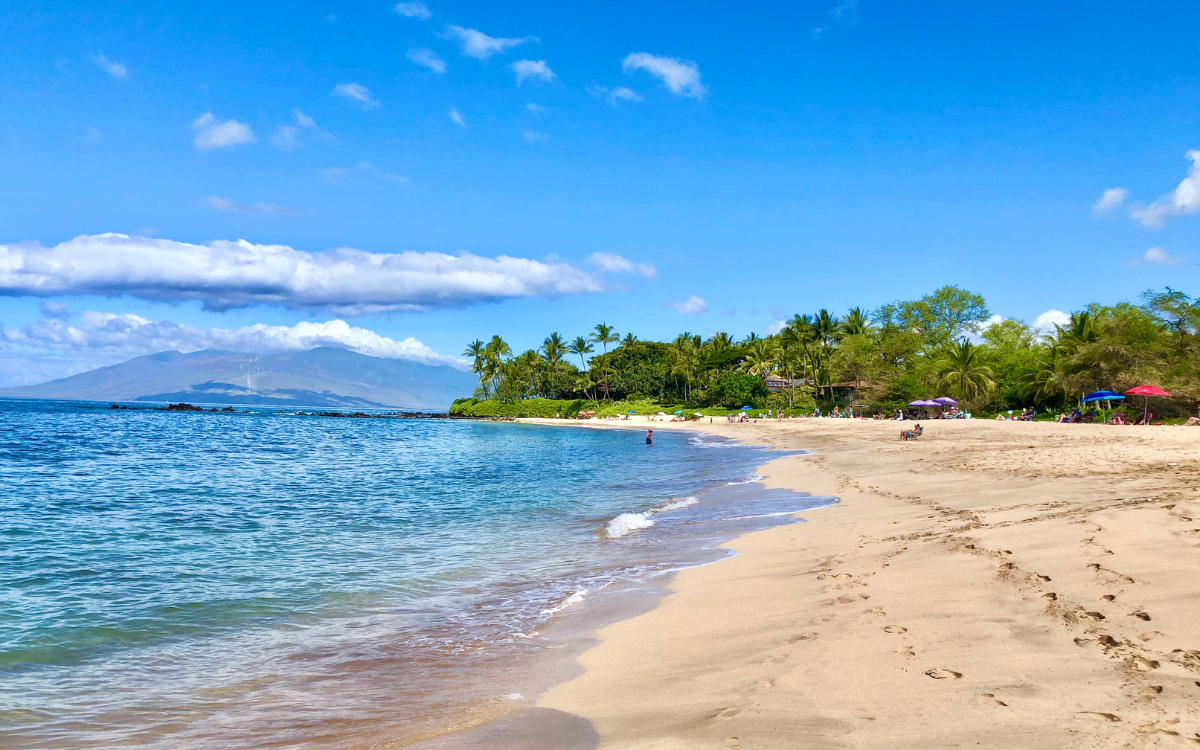 Dinner at Mama's Fish House
For dinner, I would recommend making reservations at Mama's Fish House. Yes, you'll have to drive back to the north shore, but this is still the best day to do it.
Mama's Fish House is more than just a restaurant, it's really more of an experience. There's nothing quite like it. Personally, I would skip the luau and spend the money here instead. You'll get a much better meal and an overall nicer experience.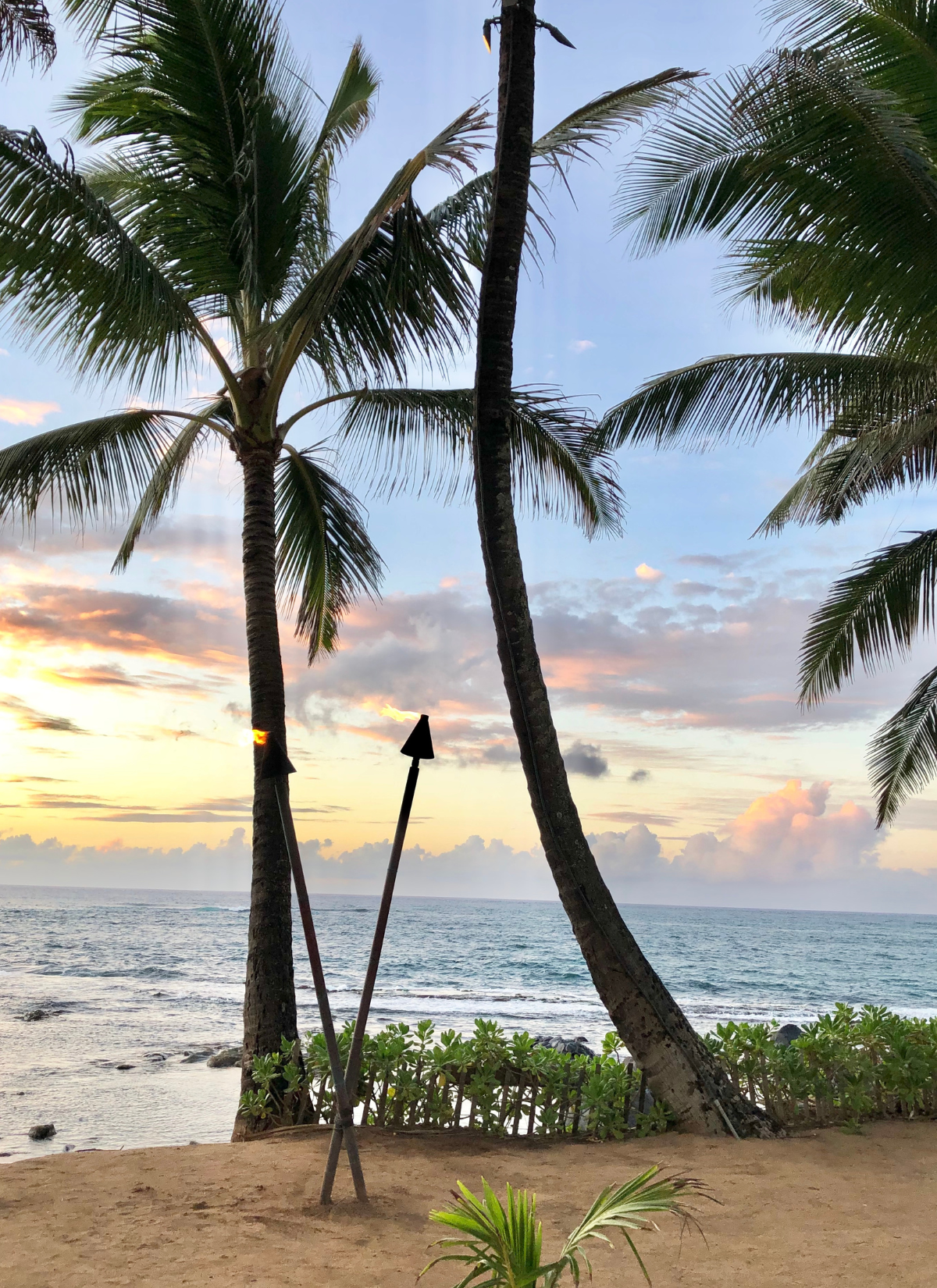 Mama's is SUPER popular though and regularly books out over six months in advance (they take reservations 18 months in advance). If you can't get a dinner reservation, you could do a lunch reservation instead and squeeze that in before you head back to south Maui.
Read my full review of Mama's Fish House here.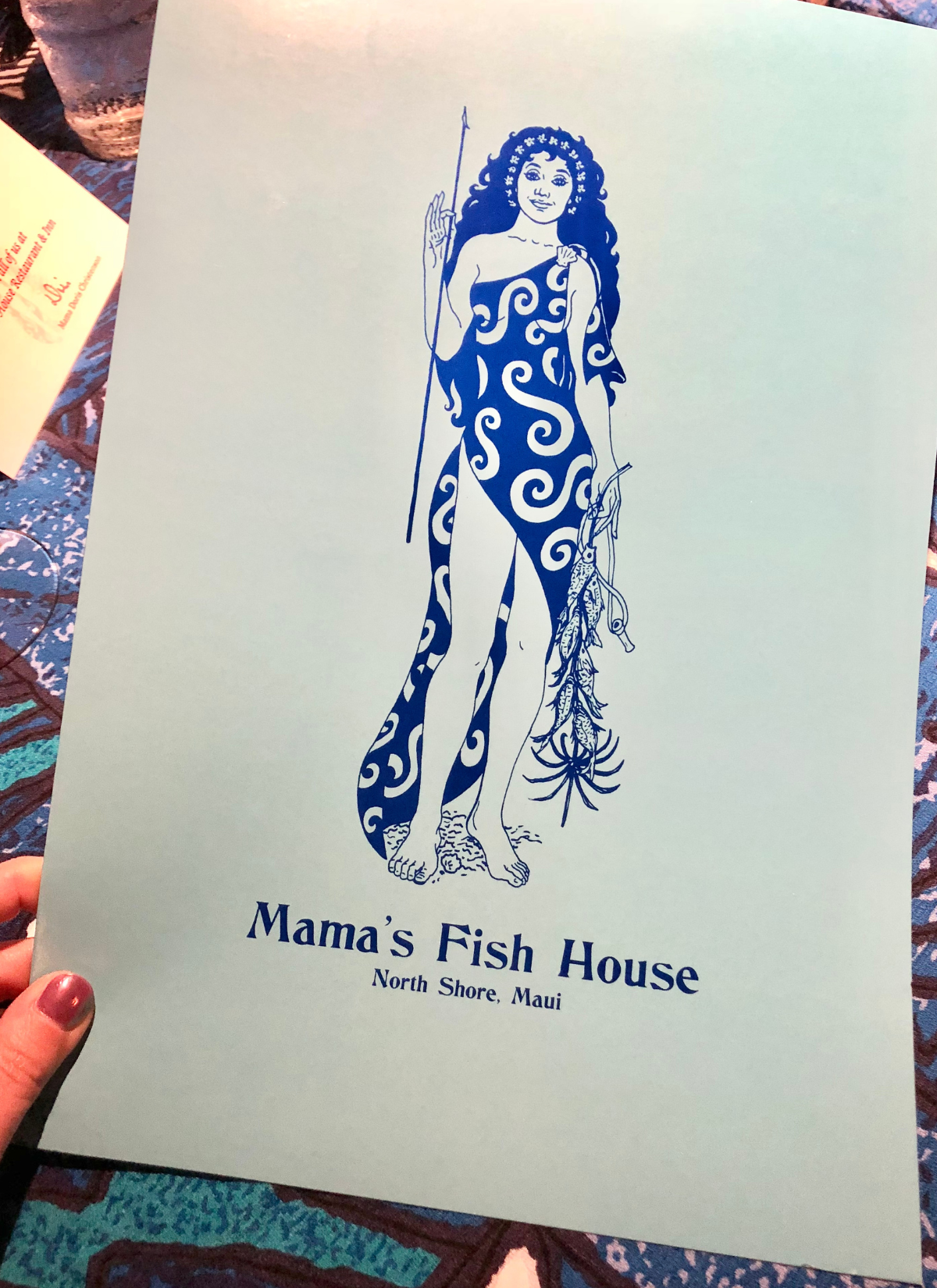 If you'd rather stay in Wailea, I LOVE the Restaurant at the Hotel Wailea for a true upscale, foodie experience.
And Gather on Maui is a great reimagined spot with sweeping views and regional Hawaiian cuisine.
Day 2: Beach Hopping in West Maui
Today's itinerary is probably what you're expecting from a Maui trip…lots of beaches and snorkeling!
Breakfast at the Gazebo & Napili Bay
Start your day off right with breakfast at the Gazebo on Napili Bay.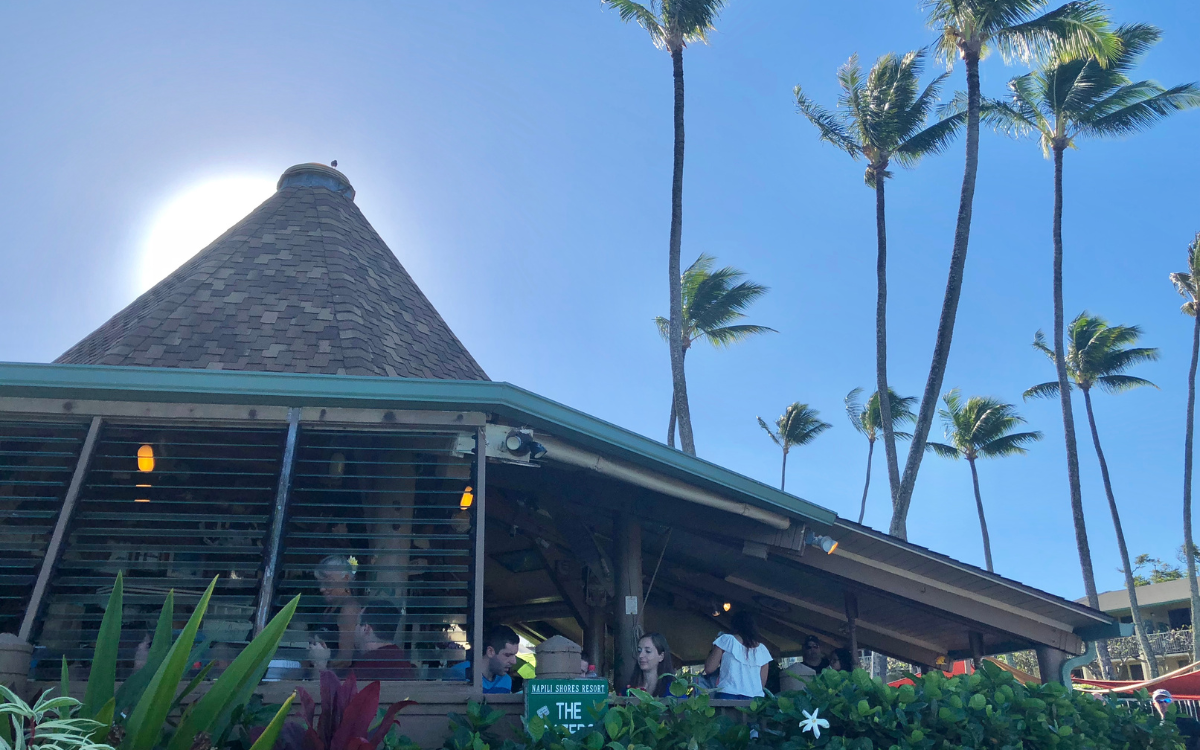 This tiny restaurant is one of the most popular breakfast spots on Maui. It's hidden away in a small resort (Napili Shores) but it's very popular.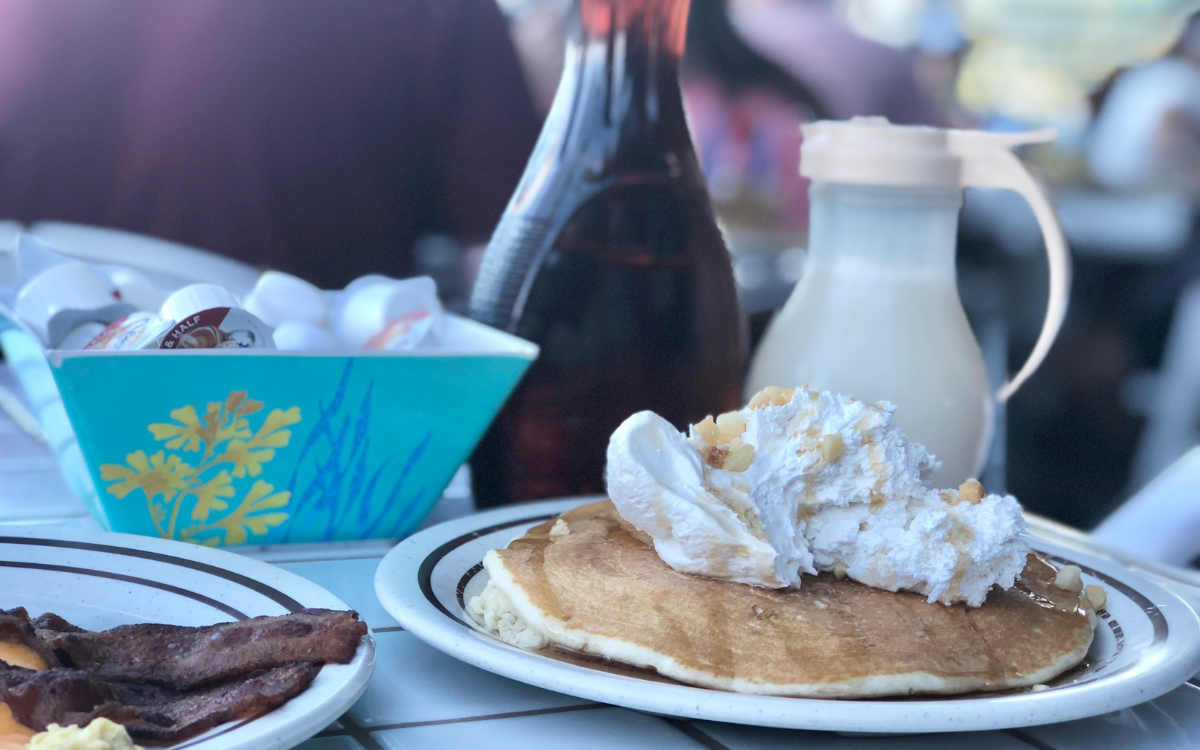 It's right on the water (gorgeous views!) and they're famous for the banana macadamia nut pancakes. Be prepared to wait in line but it's worth it! Parking at Napili beach is tricky (the shared parking lot with Kapalua Beach is your best bet) but the restaurant has parking too.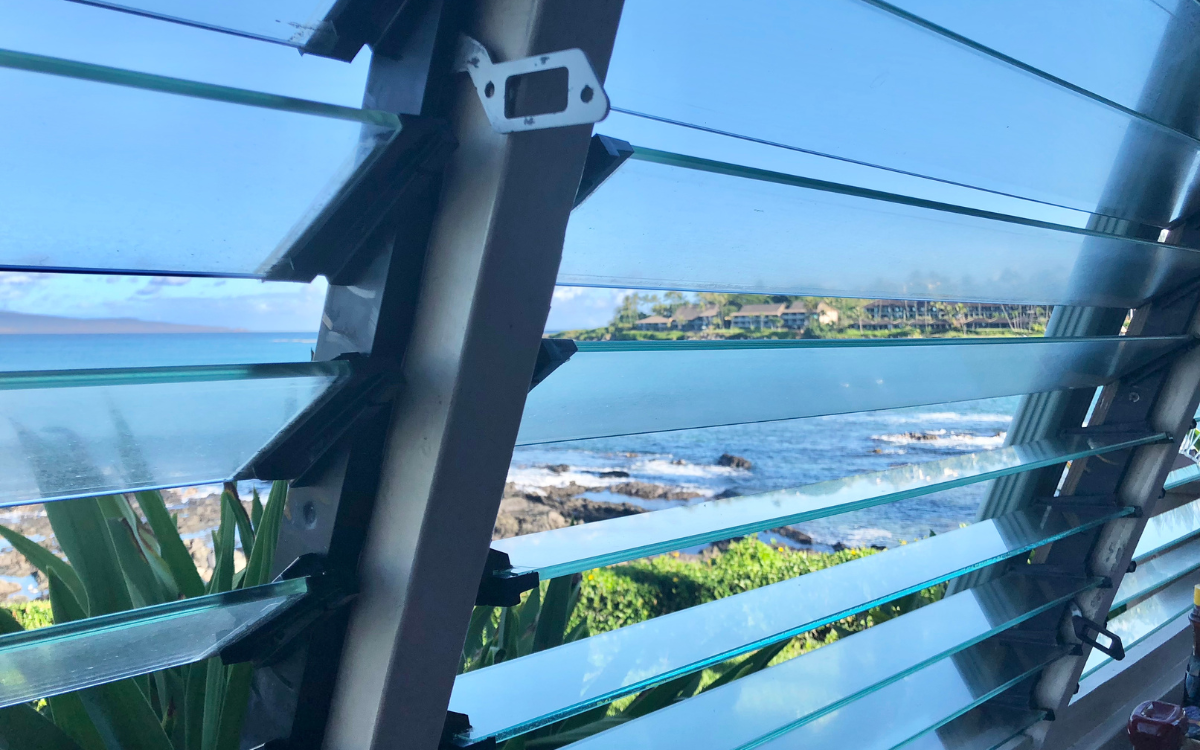 After breakfast take a stroll on the beach and watch for turtles (they usually frequent this area).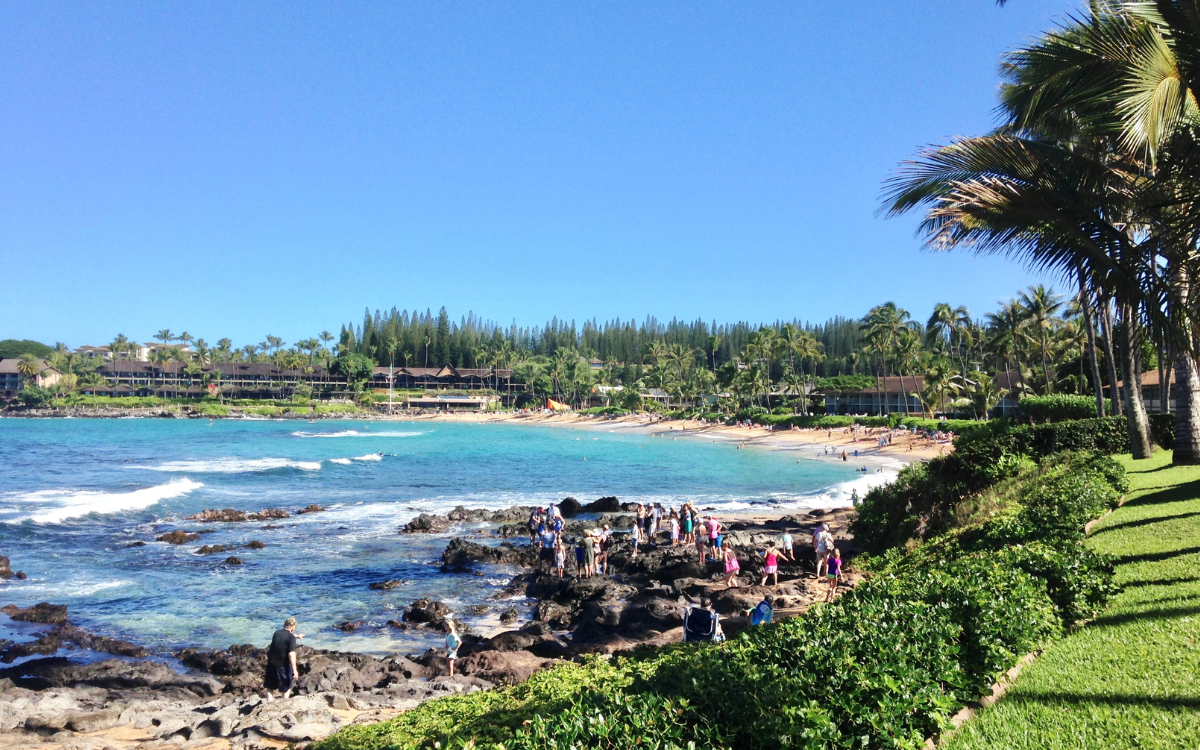 Kapalua
When you're ready to leave Napili, hop on over next door to Kapalua beach for a few hours of sun, sand, and relaxation.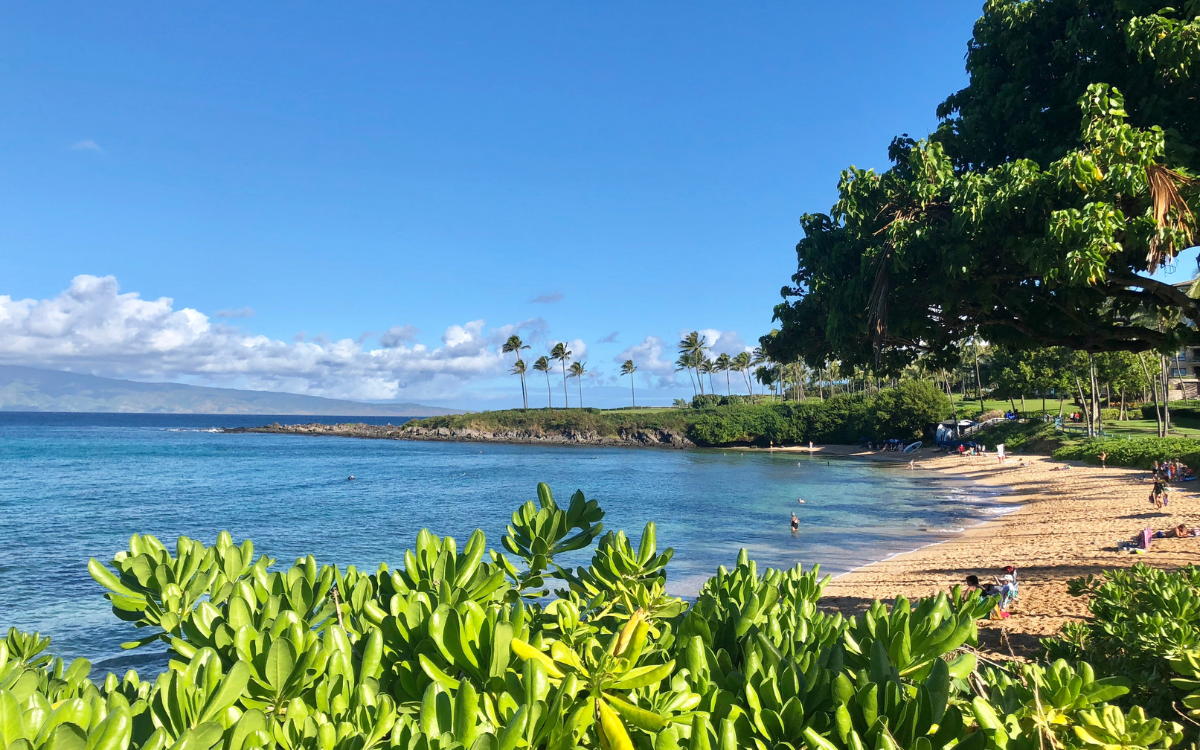 This is a great place to rent a paddle board (it's very calm and protected) and paddle around. The snorkeling is decent here. There are restrooms, showers, and picnic facilities here.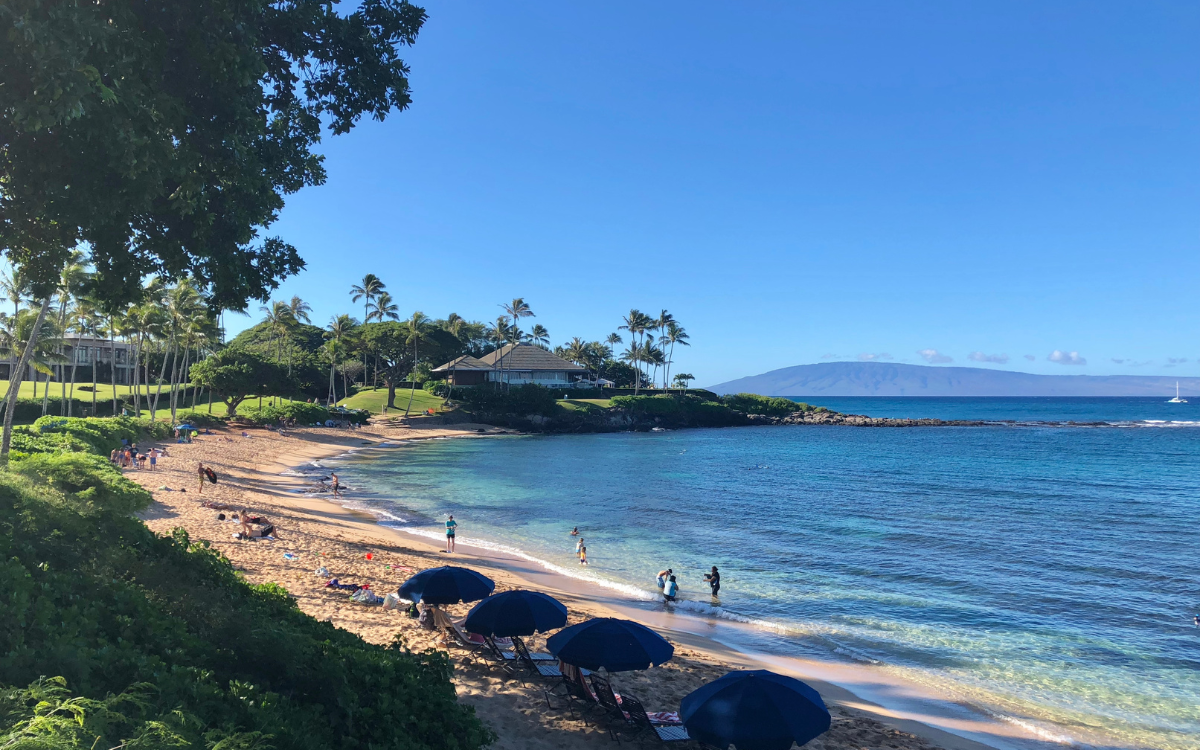 When you've had your fill of Kapalua (and who ever has??!), take a drive up north around the west side of the island.
Nakalele Blowhole
I would probably only drive as far as the Nakalele Blowhole because the road gets pretty dicey past that. It's a pretty short hike down to the blowhole, and even though it's not roped off, be sure to stay WAY back from it. You'd be surprised by how many people die around blowholes in Hawaii because they don't pay attention to the warnings. The surf can also be huge here and a rogue wave can come out of nowhere.
Snorkeling at Honolua Bay
On the way back towards Kapalua, you can stop to snorkel at Honolua Bay. This is one of the best snorkeling spots on Maui, but the shore is rocky so you'll probably want water shoes.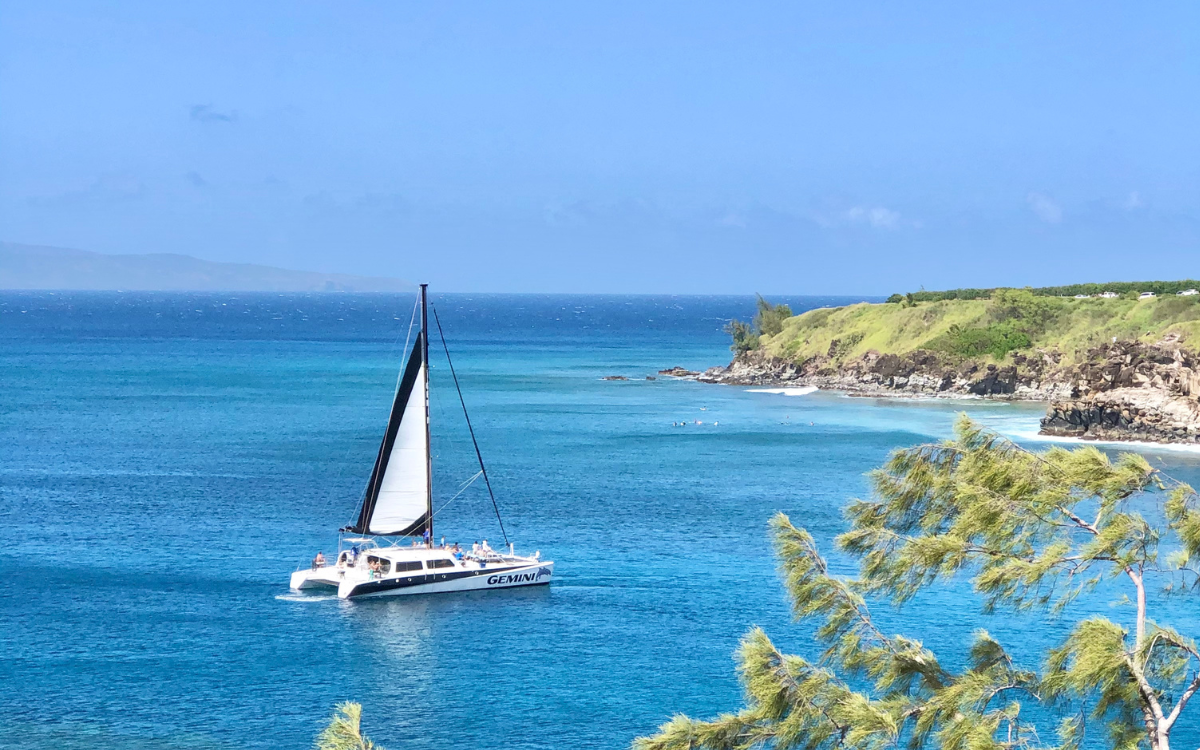 Kaanapali Beach
End the day driving down to Kaanapali Beach to check out all of the hustle and bustle.
There are some free parking spots in a few of the big garages here for public beach parking (at the Sheraton, Kaanapali Alli, Westin, Whalers Village, and Hyatt), but they're pretty limited so it may be hard to find a spot.
You can also pay to park at Whalers Village and they'll validate your parking with a minimum purchase.
Kaanapali beach is about 3 miles long and there's a beach walk that stretches from the Sheraton at one end to the Hyatt at the other. Black Rock (in front of the Sheraton) is one of Maui's most popular snorkeling spots so be sure to check it out while you're there.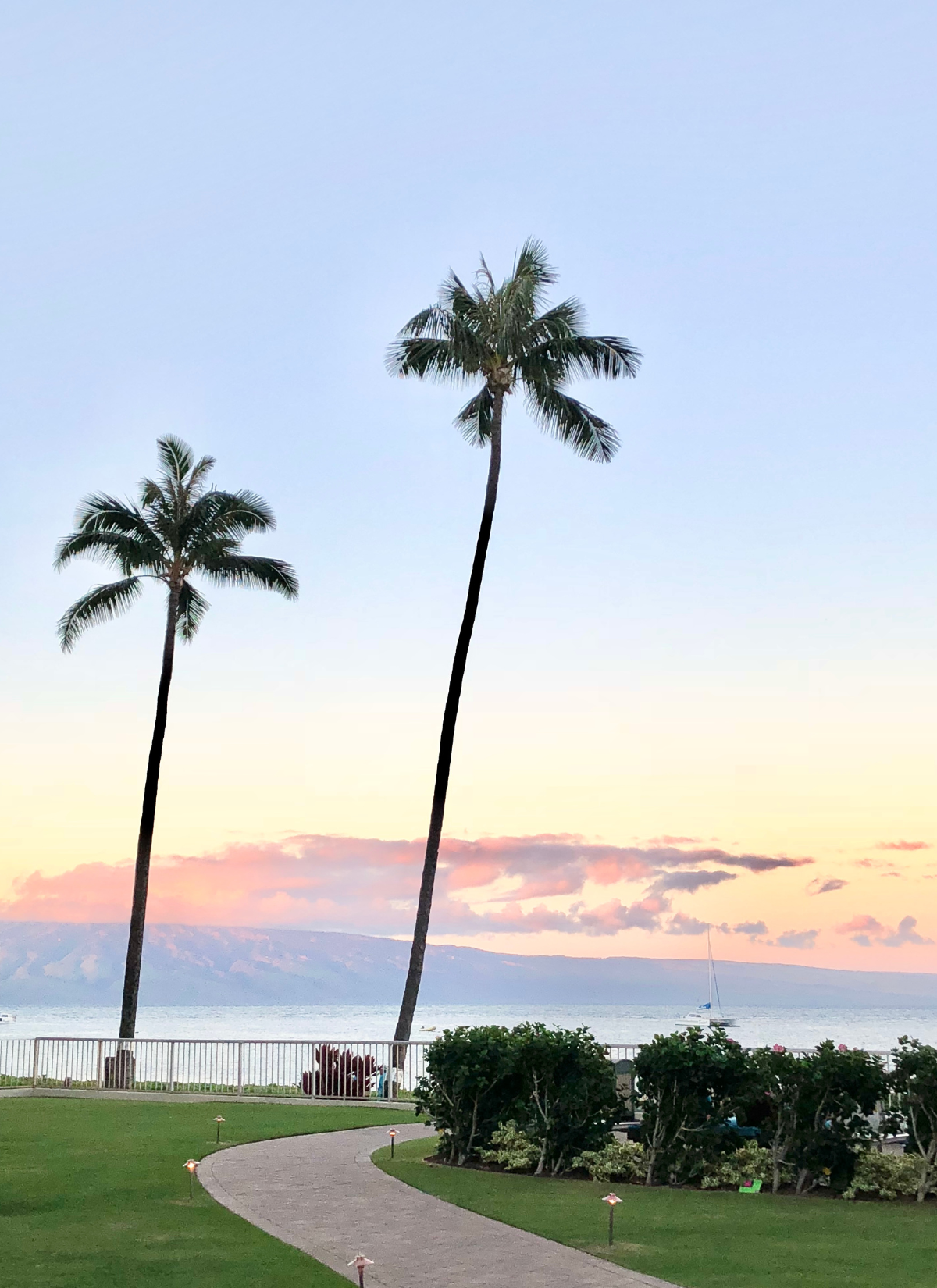 The Westin has flamingos and parrots on display but my favorites are the penguins at the Hyatt.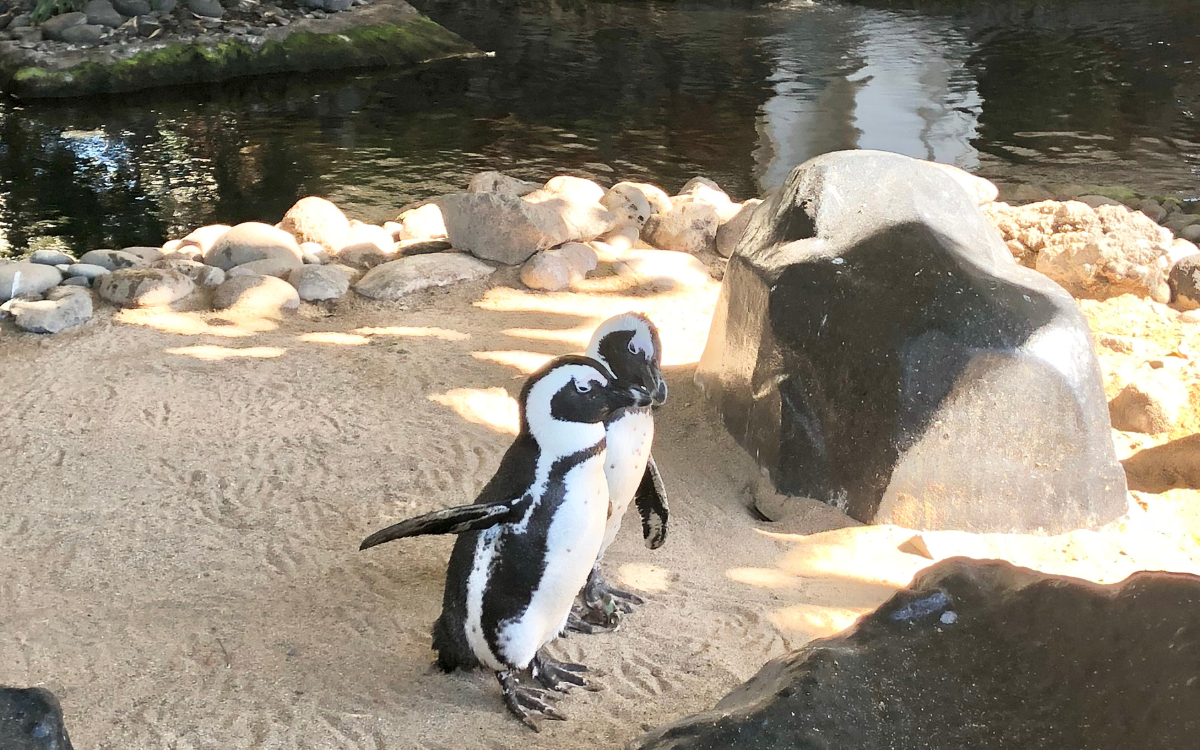 Dinner at Monkeypod in Whalers Village
Since Lahaina was almost completely destroyed by wildfires in August 2023, there aren't a ton of dining options up this way. My favorite is the Monkeypod in Whalers Village. I love the Monkeypod in general (there are several locations around Hawaii), but this one has amazing ocean views.
Plus I love to do a little shopping at Whalers Village.
On Another Note: If you're looking for a condo or vacation rental for your trip, I always book with Vrbo. They've got the largest selection of rentals you'll find anywhere and you can easily filter to find exactly what you're looking for. Need a specific number of bedrooms and bathrooms? Narrowed it down to a certain location? Want flexible cancellation terms? Need to stay under a fixed budget? Click here to search for Maui vacation rentals for your trip.
Day 3: Road to Hana
This will be the biggest day of your trip! You'll see the most spectacular side of Maui, and spend the day driving a breathtaking road, hiking through bamboo forests, and swimming in waterfall pools.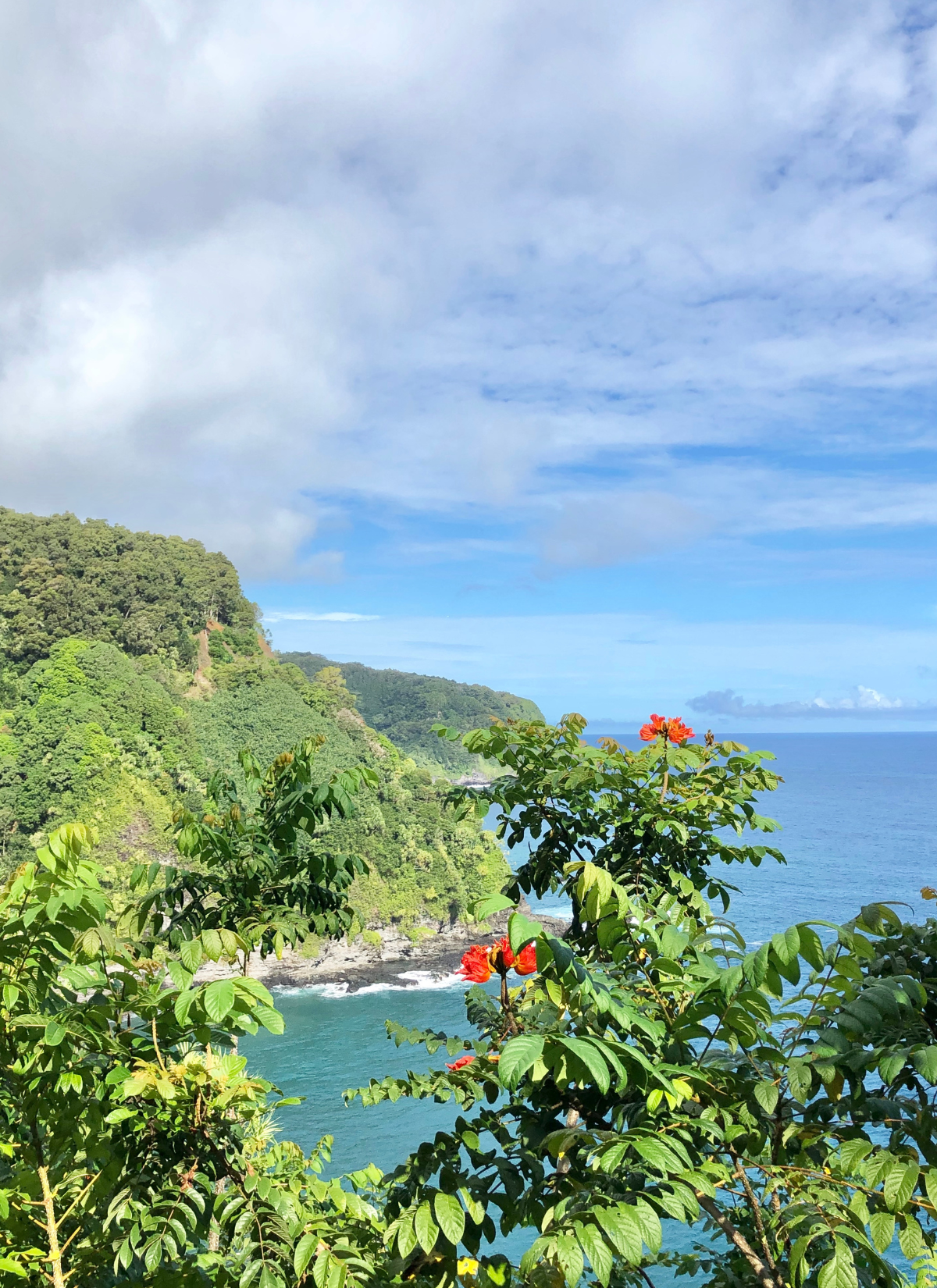 Road to Hana
You'll want to get an early start so you'll have plenty of time to explore and not be too rushed to get back before dark.
I recommend leaving Paia (on the north shore) no later than 8 or 8:30. If you arrive there early, try breakfast at Paia Bay Coffee or stop at the Kua Store (just outside of town) and put together a picnic for later. They have a good variety of snacks and ready to go items as well as sandwiches.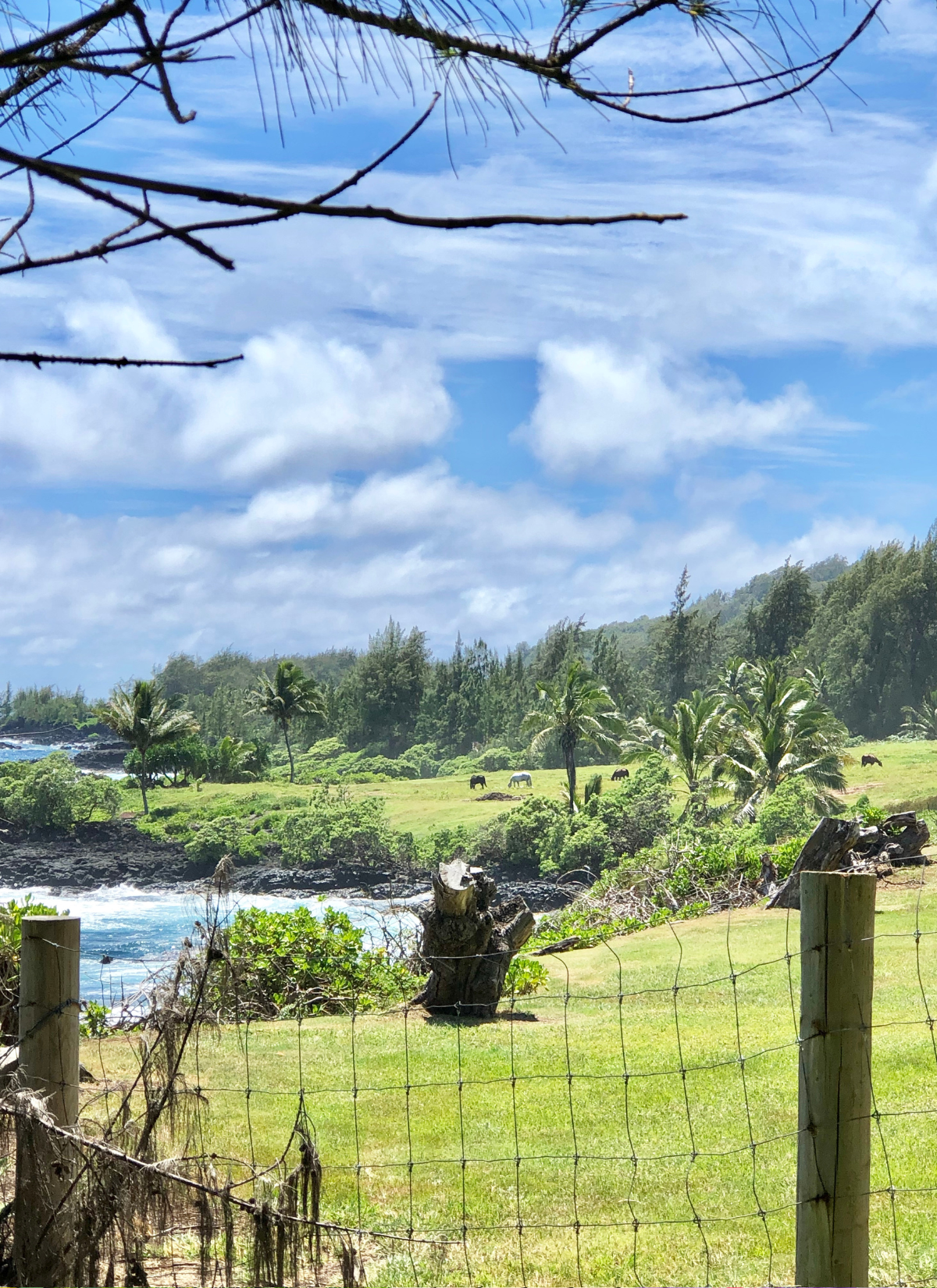 Bypass a few of the north shore stops that pull in the first wave of tourists (Ho'okipa Overlook and Twin Falls) and keep going…there's better stuff ahead!
Don't miss the rainbow eucalyptus trees between mile marker 6 and 7. Parking is a little tricky and if you want to get out and see them (instead of just doing a drive by), you'll need to park past them and walk back.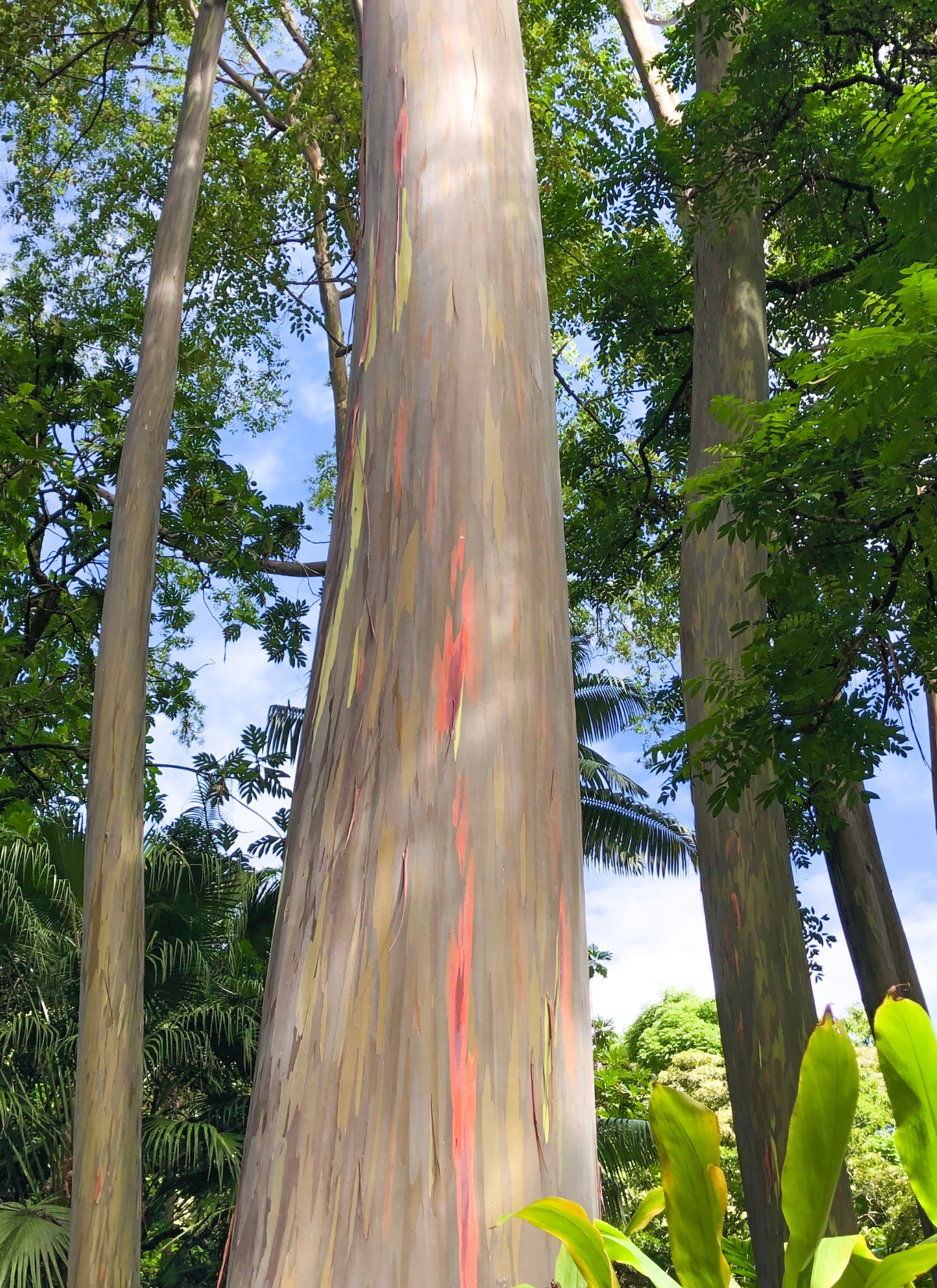 The Halfway to Hana roadside stand is a popular stop to stock up on banana bread!
The Upper Waikani Falls (Three Bears Falls) at mile marker 19.5 is one of my favorites. It's a "drive by waterfall" meaning you can see it from the road but you can also park past it and walk back for a longer look (although you're just walking down the road-it's not protected). You can also climb down under the bridge and make your way to the pool at the bottom but I would probably just settle for a look and keep going.
Black Sand Beach (Waianapanapa State Park)
As you near Hana, Waianapanapa (black sand beach) is the first "epic" stop you'll make. While there is a black sand beach (albeit a little more gray) in south Maui, this one is over the top dramatic. You'll find it around mile marker 32 (you can't miss the signs). There's a large parking lot. Don't miss the blowhole, sea cave, and overlook spots. And of course you've got to feel that sand between your toes.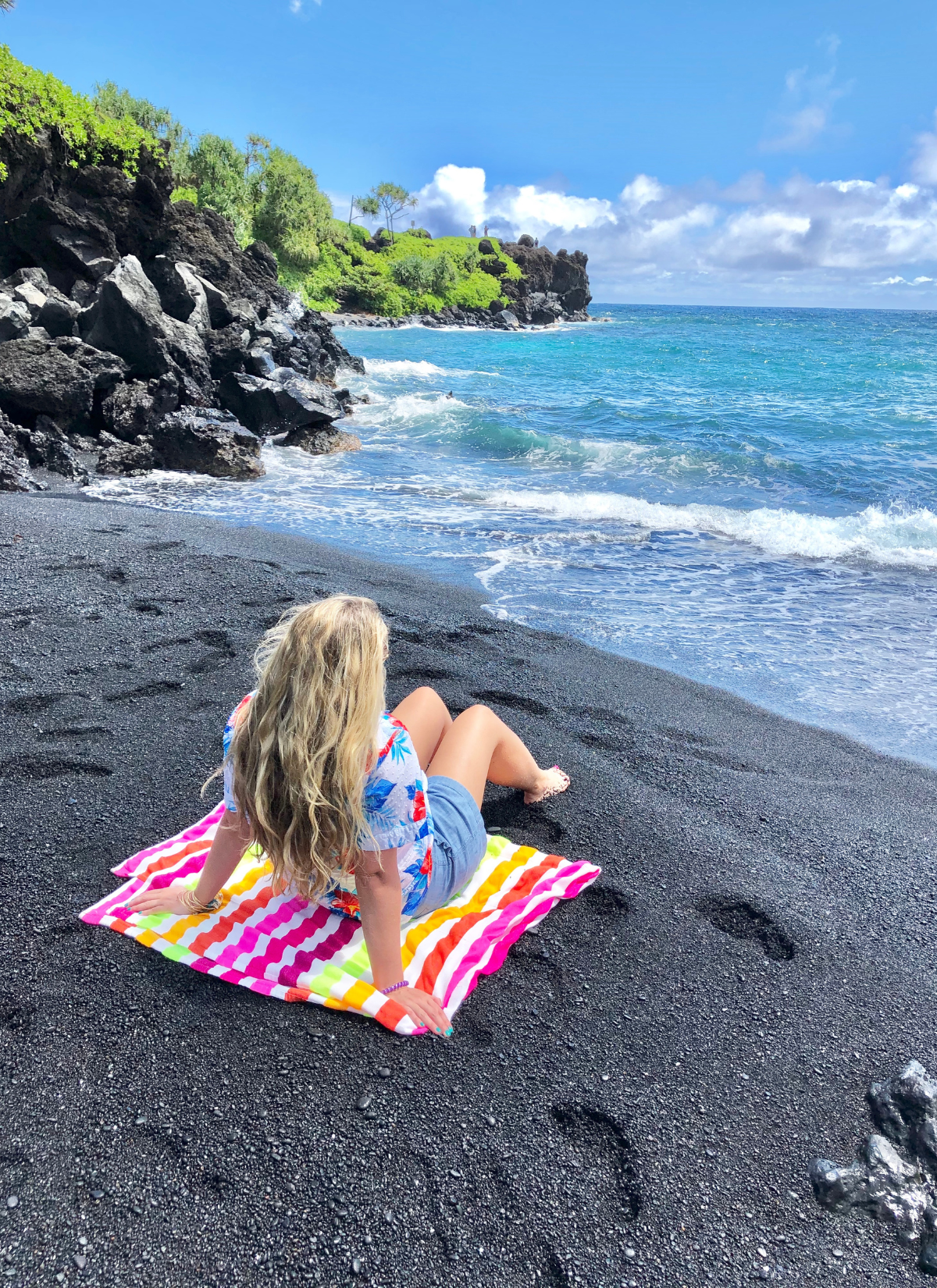 Update: Starting 3/1/21 reservations are required to visit the beach (in an effort to cut back on overcrowding in recent years). You can make reservations two weeks in advance here. $5/person entry fee.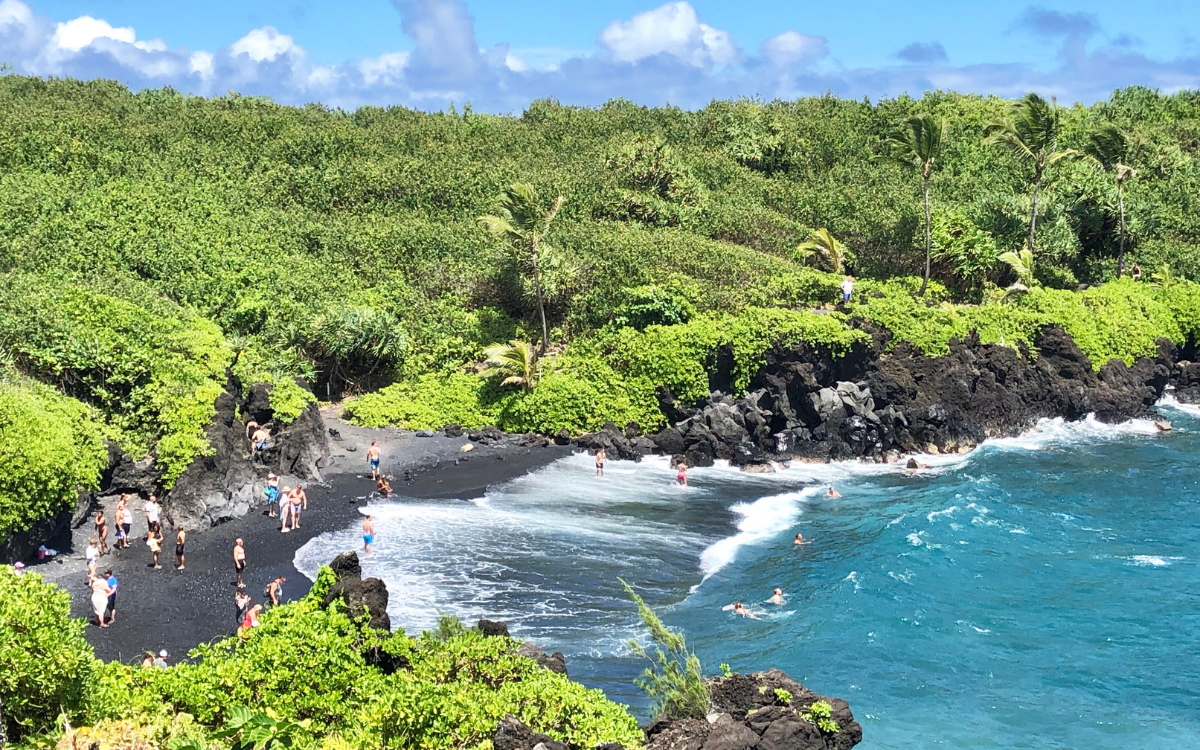 There's not much in Hana (you might find a gift shop or two-if they're open), but be sure to stop in Hasegawa's General Store for a cold drink. Also, if you didn't pack your lunch, I recommend Braddah's BBQ Hut food truck. You'll find it just past Hana "town."
Red Sand Beach (Kaihalulu Beach)
The red sand beach is probably my favorite stop on the Road to Hana. It's tricky to find and a bit of a hike but oh so worth it. As you're coming into Hana town, take a left on Hauoli road (you'll pass a church and some tennis courts) and then turn right when the road dead ends at the Hana Community Center. Park along this street and walk across the open lawn of the Community Center. You should be able to pick up a trail through the bushes (if this sounds downright crazy to you, you might be better off to wait for people who look like they know what they're doing to come along and follow them!).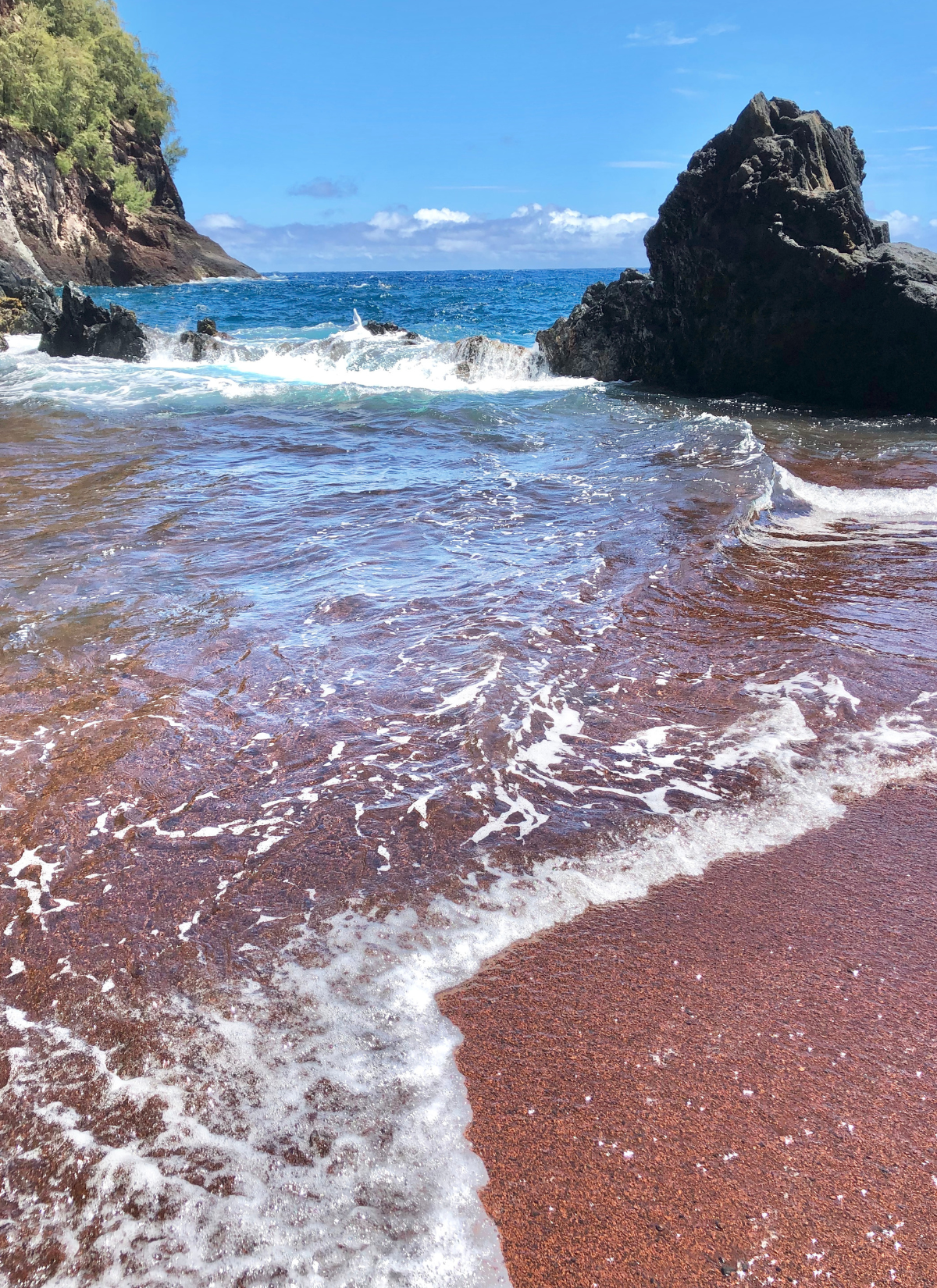 Whatever you decide to do, just remember that after your initial descent down to the trail, keep going to the left. There will be a narrow beach of rock and red sand below you and a lot of people stop here but keep going. You'll know it when you see it. You will be floored. This is a true highlight of Maui.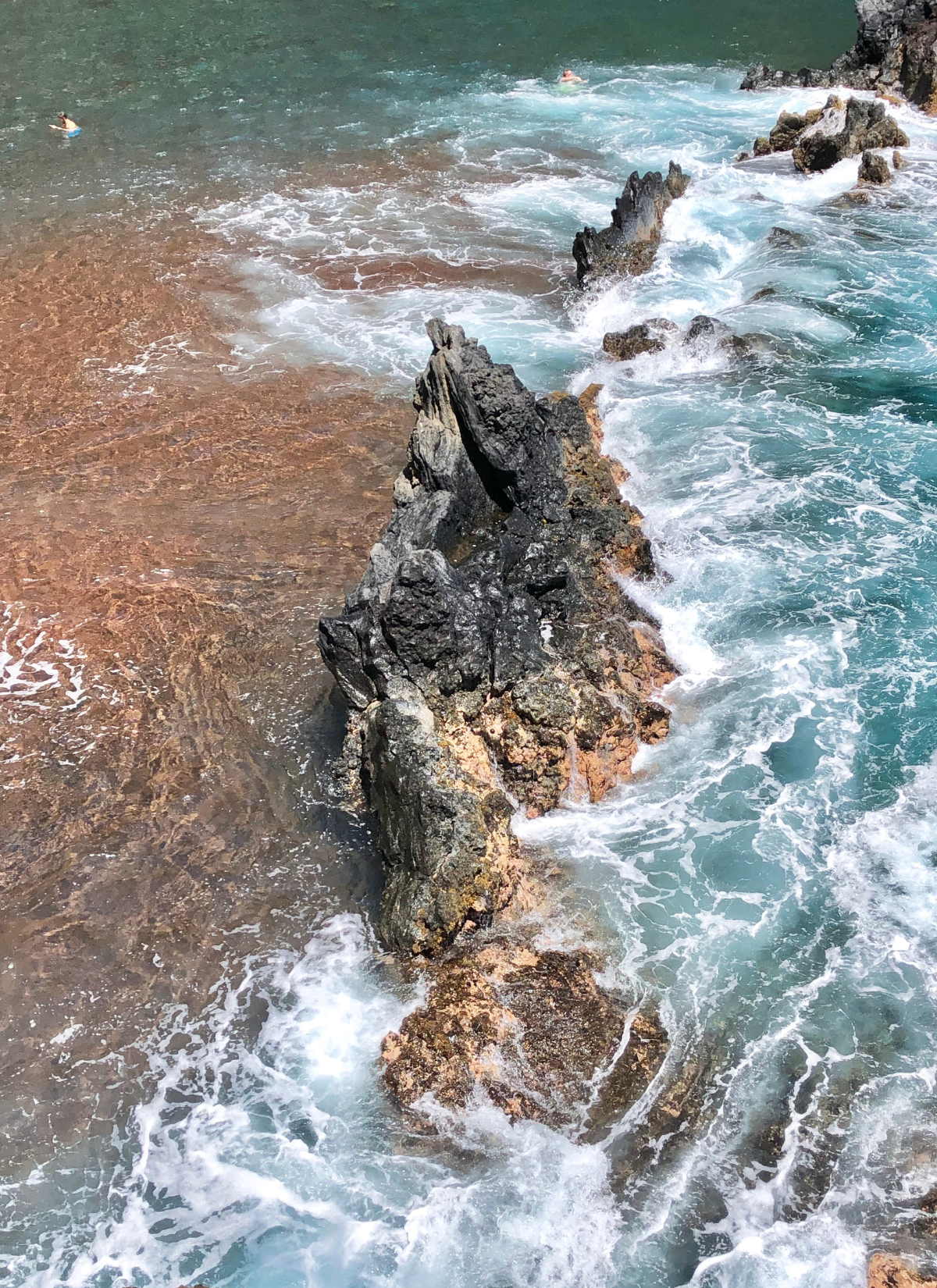 Pipiwai Trail at Kipahulu District in Haleakala National Park
The last big stop on the Road to Hana (and the point where many turn around) is the Kipahulu District of Haleakala National Park.
Kipahulu is about 10 miles past Hana town and the road gets interesting but it's all paved (the tour buses come back here y'all so it can't be that bad!).
The Kipahulu District (this is a separate entrance from where you went up to the summit on day 1 – but keep your receipt so you don't have to pay admission twice!) is home to the famous Seven Sacred Pools (Oheo Gulch) and the spectacular Pipiwai Trail.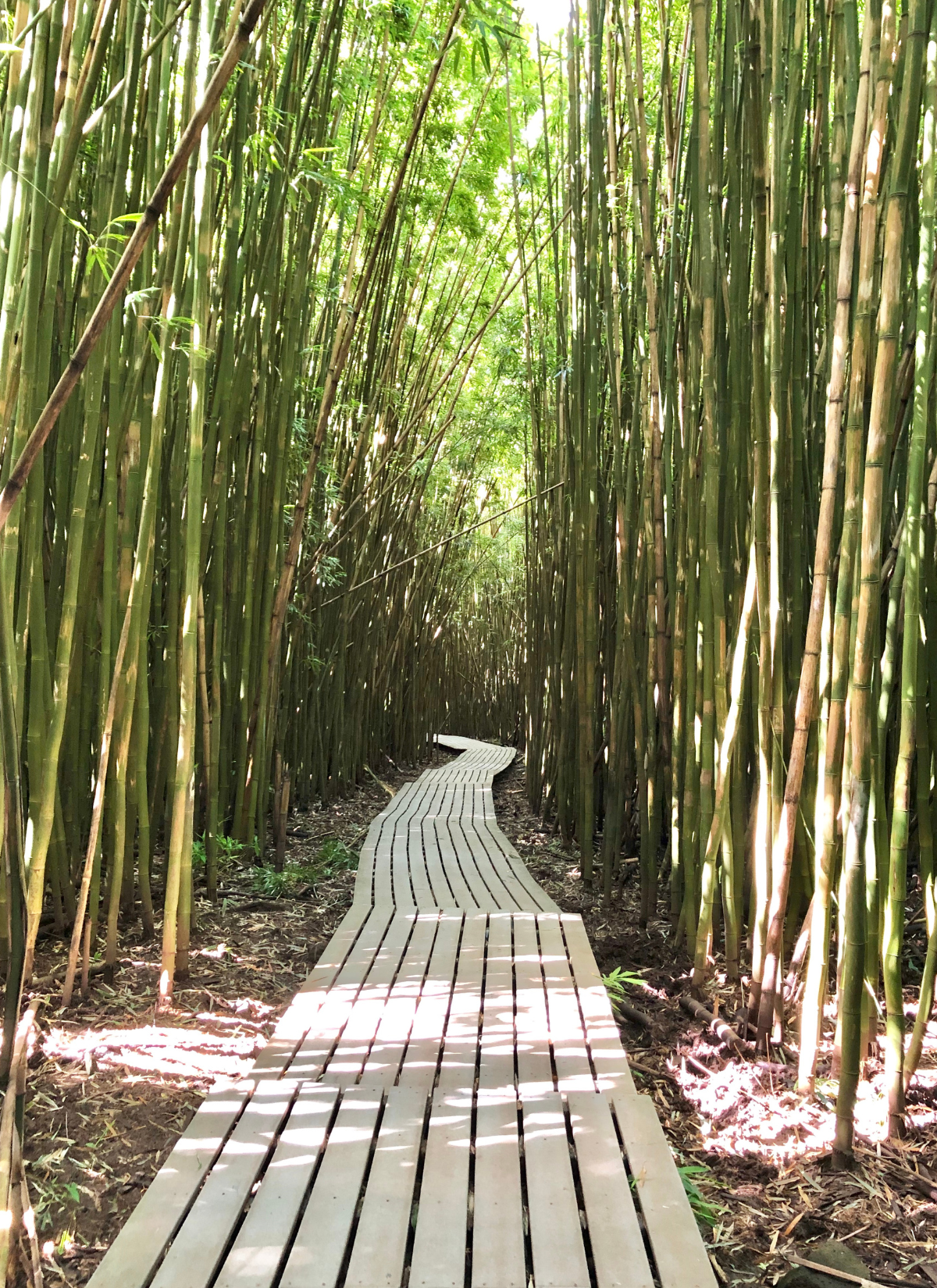 The Seven Sacred Pools are the most famous part of this part of the park and you used to be able to swim in them, but they've been closed for several years now. From the parking area, it's a short hike to get to the pools, but they're actually viewed better from the bridge up above.
The real reason to come here though is to hike the Pipiwai Trail. I think this is the absolute #1 "must do" on the Road to Hana and you've GOT to manage your day well enough so you have time for the hike once you get here.
You pick up the Pipiwai Trail across the road from where you park (you'll see signs). It's about four miles round-trip (it always seems farther!). The trail takes about 2-3 hours to hike and winds up through a bamboo forest and ends at the spectacular 400 ft tall Waimoku Falls.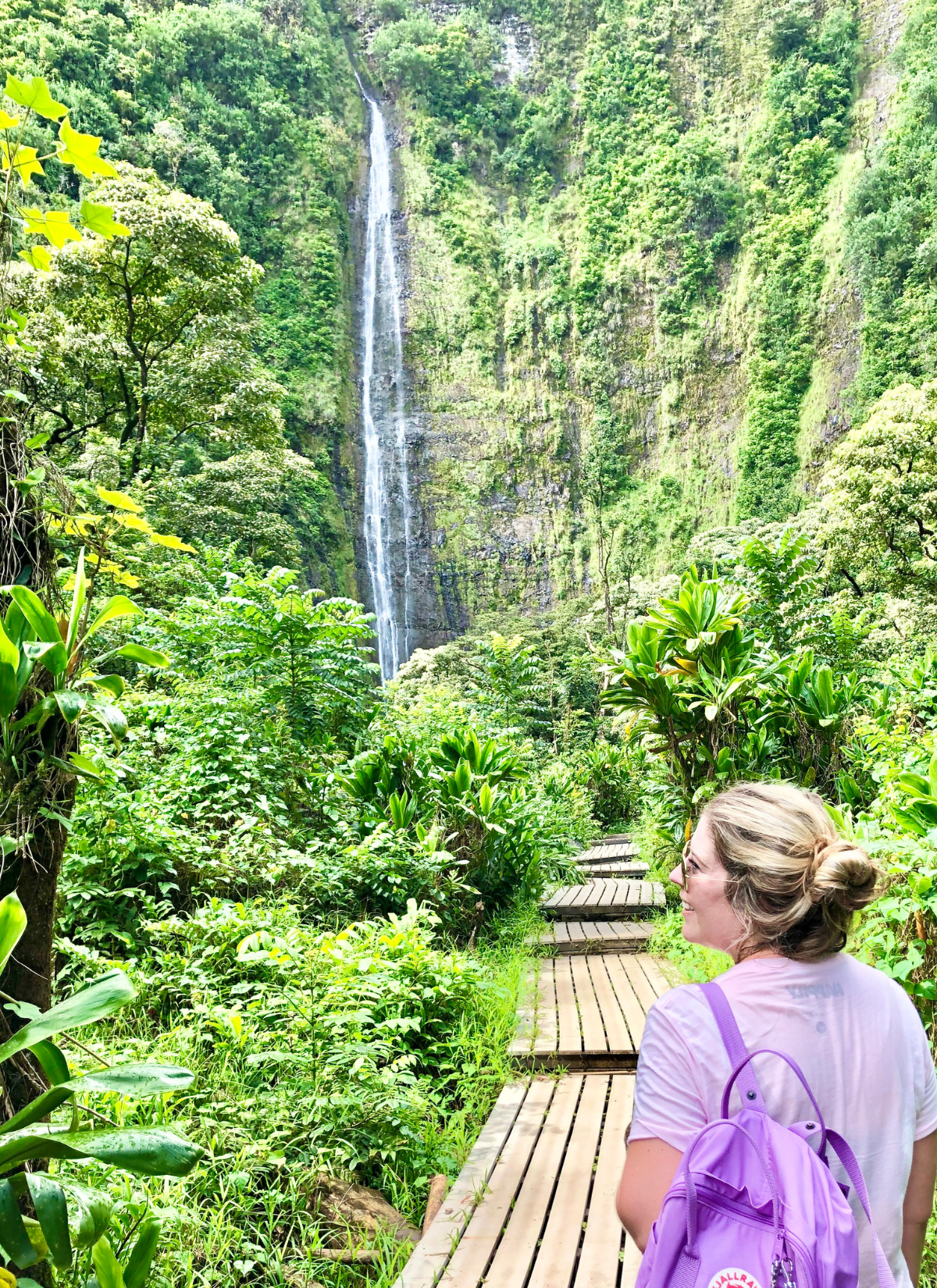 Once you're done at Kipahulu, I usually recommend continuing on the "backside" road that continues to loop clockwise around the island and end up upcountry instead of turning around and retracing your steps. Find more info about driving the backside of the Road to Hana here so you can decide if that's right for you.
Either way, plan to be back to "civilization" before dark as the road is narrow and winding.
Read this post for absolutely everything you need to know about driving the Road to Hana.
Depending on your timing, you could stop for dinner in either Paia or back in Kihei/Wailea at one of the places I've already recommended.
Day 4: South Maui
South Maui is home to an endless string of spectacular beaches with some beautiful drives and cliffside walks plus more luxury than you could possibly imagine.
Optional Molokini Snorkel / Whale Watching
*If you're visiting during whale season (December through April), you may want to consider doing a whale watching trip with the Pacific Whale Foundation out of Maalaea on this day.
If it's in the budget, I strongly recommend starting the day out early with Kai Kanani's Sunrise Snorkel Tour to Molokini and Turtle Town.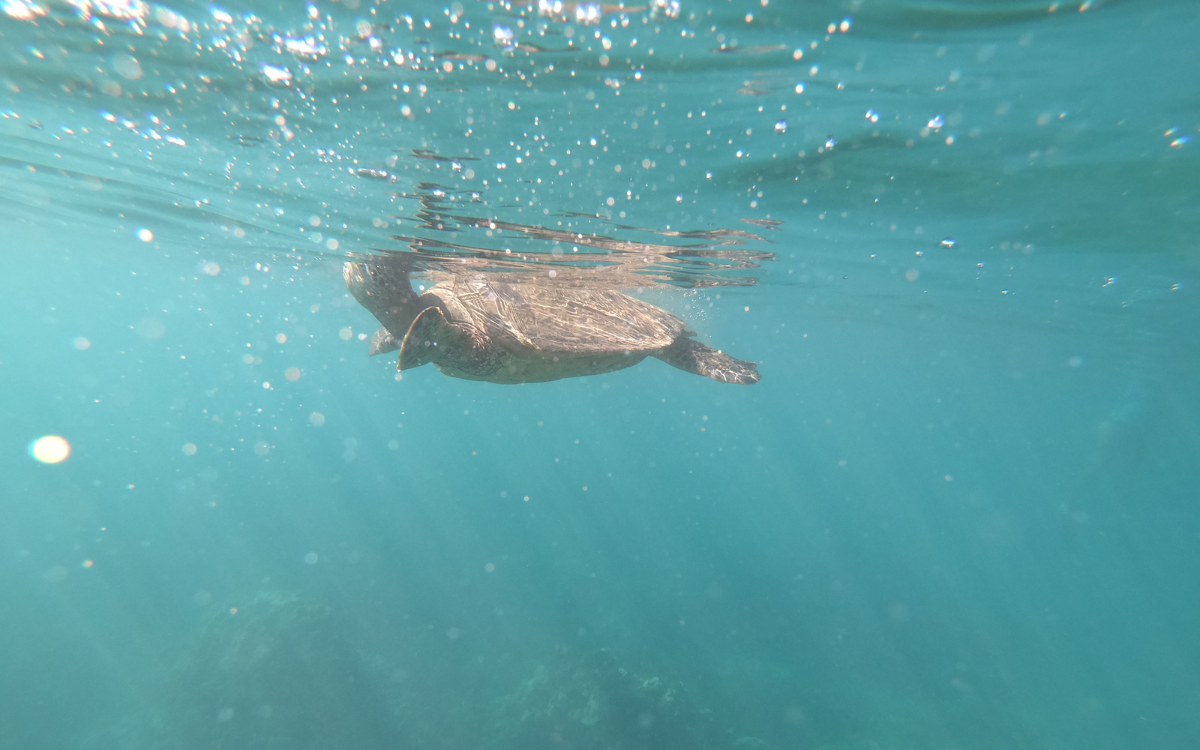 Besides getting to snorkel at Molokini (probably the best snorkeling in Hawaii), during whale season you'll kill two birds with one stone because they almost always see whales along the channel.
If you're not going during whale season (or the snorkel tour isn't in the budget), don't worry! There's still plenty of great snorkeling from the shore on Maui.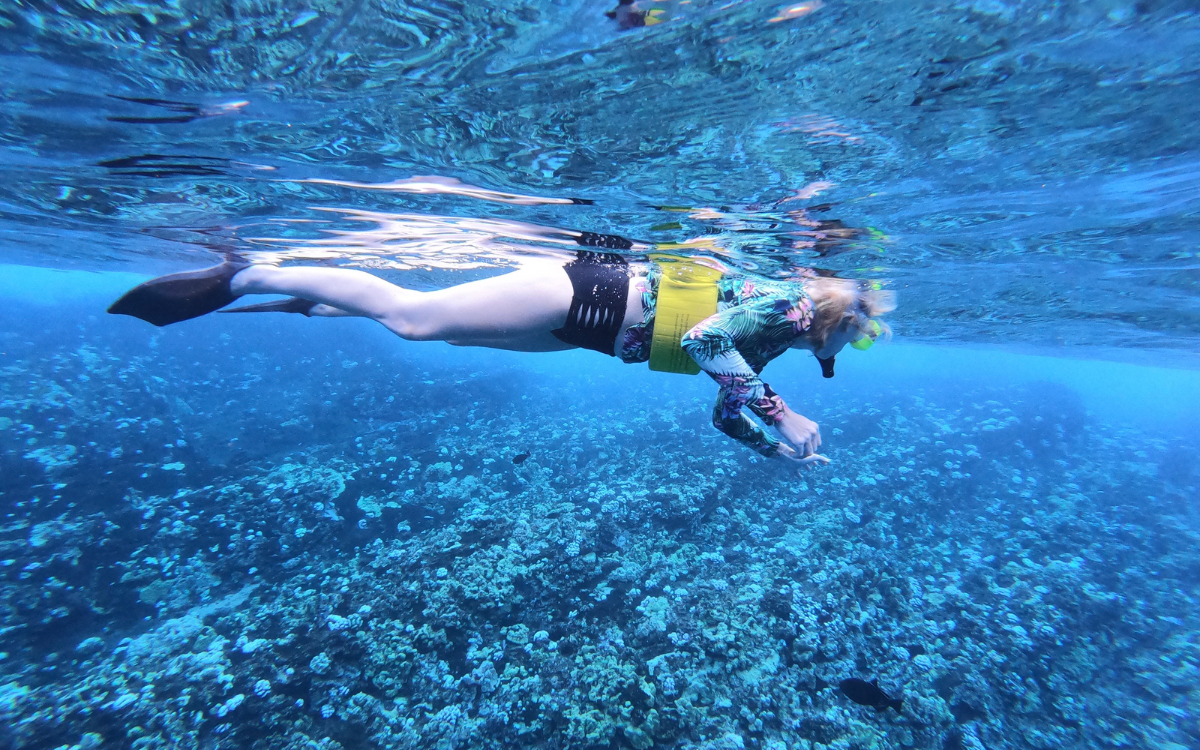 Breakfast at Kihei Caffe or Ka'ana Kitchen
I've got two options for breakfast depending on what you're in the mood for:
The Kihei Caffe is one of my favorite breakfast spots on Maui. It's a little dive right across the street from the beach that serves up huge portions. You may have to wait in line for a bit but it's so worth it! Cash only.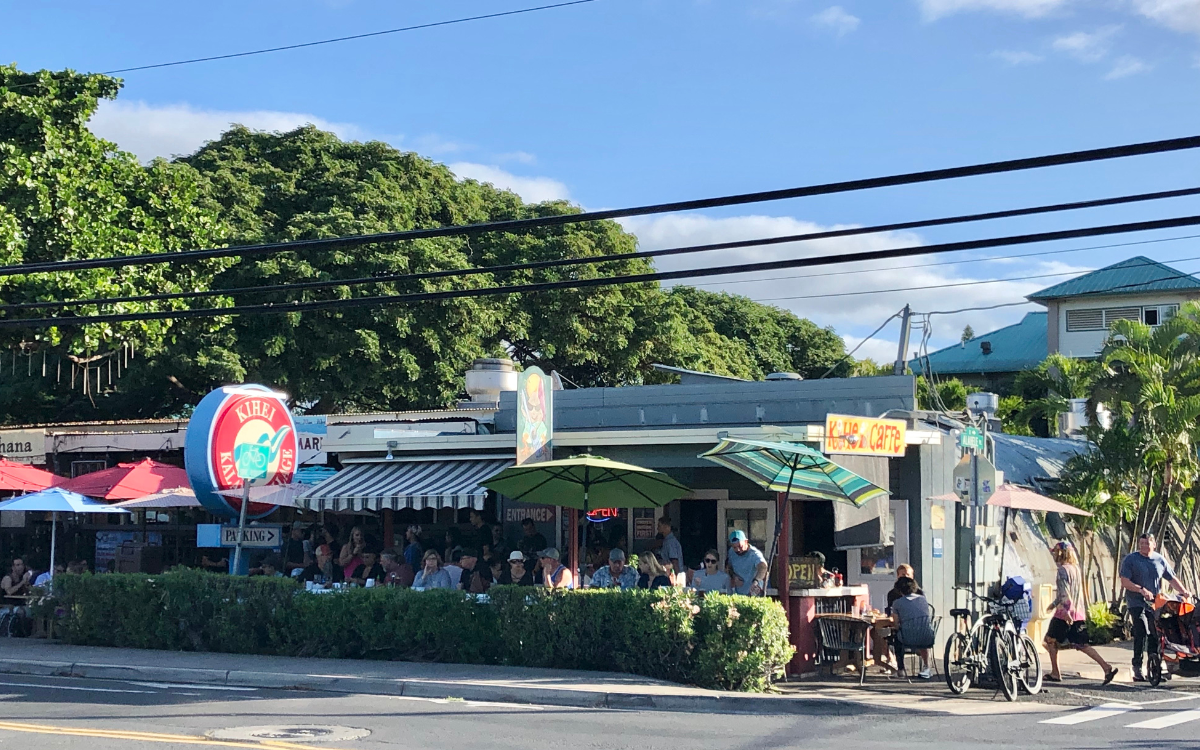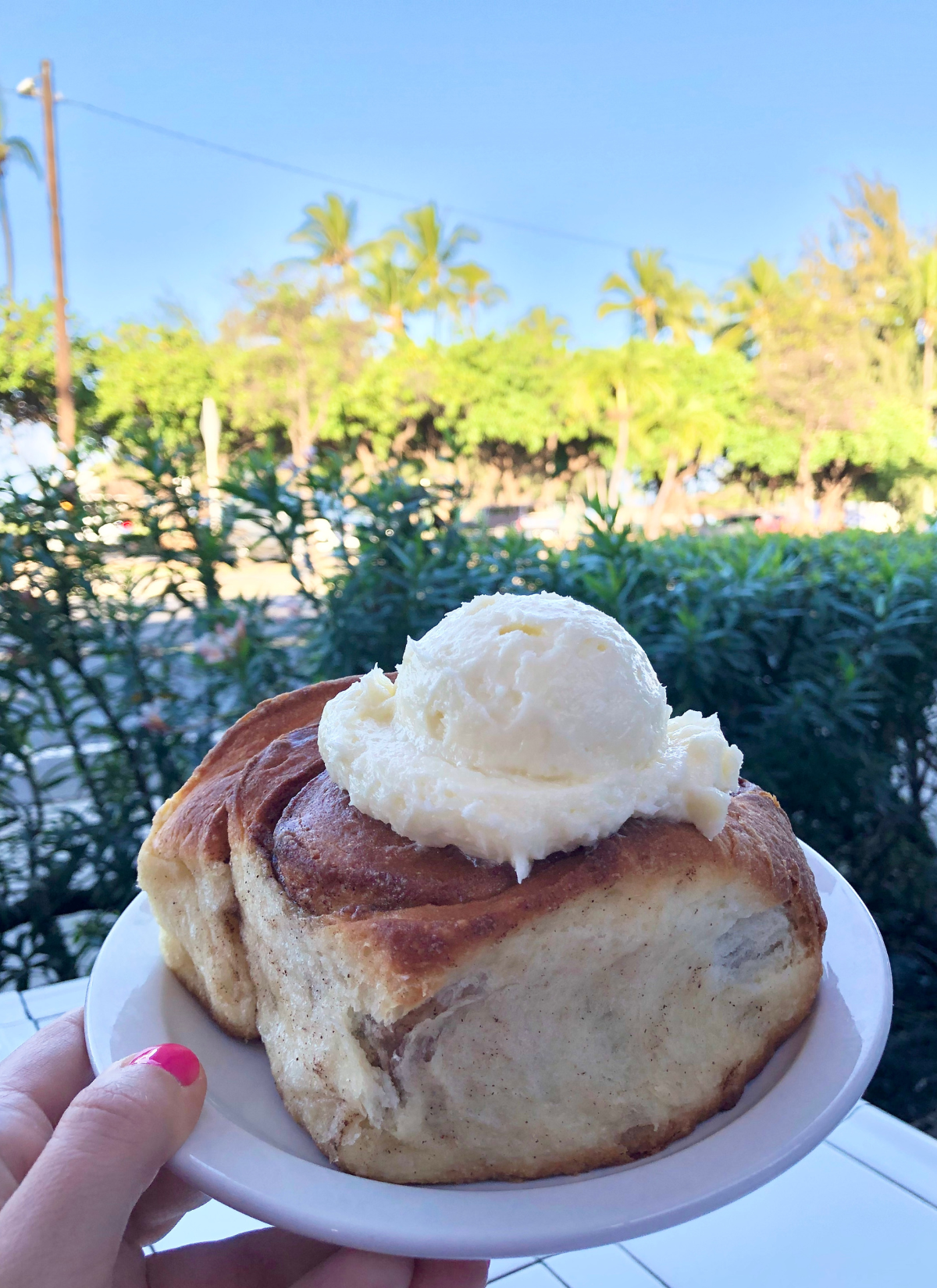 Your other option is to go for a more lavish spread at Ka'ana Kitchen at the Andaz. I've been to most of the breakfast buffets at the luxury resorts in Wailea, and this one is by far my favorite. It feels more like a special brunch experience than just your standard hotel breakfast buffet.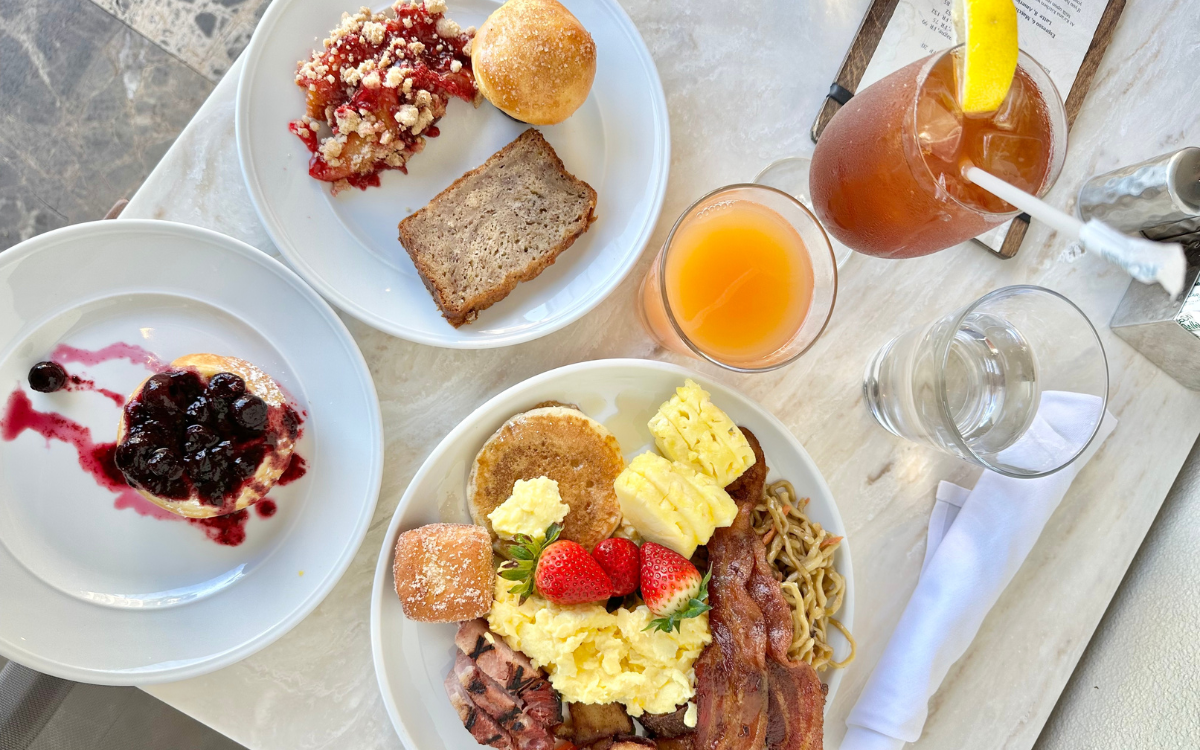 Eggs and omelets are made to order (and ordered from your table) and they've got all of your standard brunch offerings plus plenty of special dessert treats like homemade cobblers and nutella brioche buns. I love it!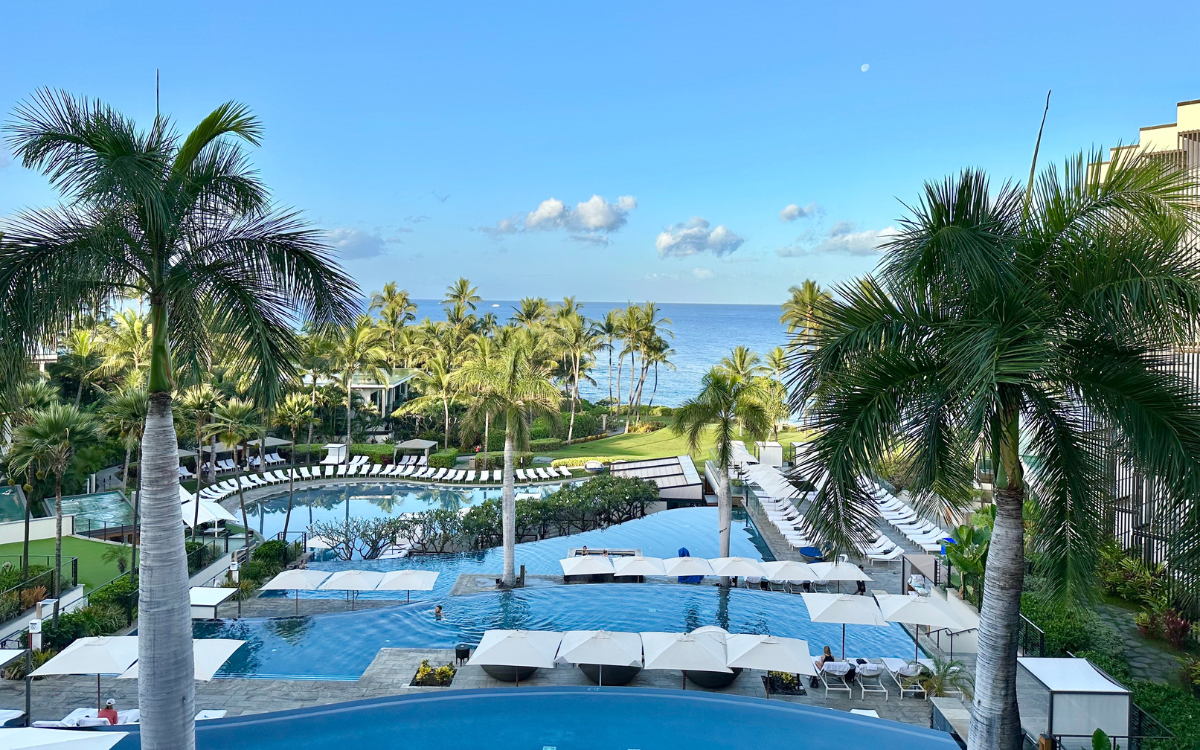 Wailea Beach Walk
One of my favorite things to do in this area is the beach walk that connects Polo, Wailea, and Ulua Beach. It's a BEAUTIFUL walk and a great way to see all of the different beaches and resorts.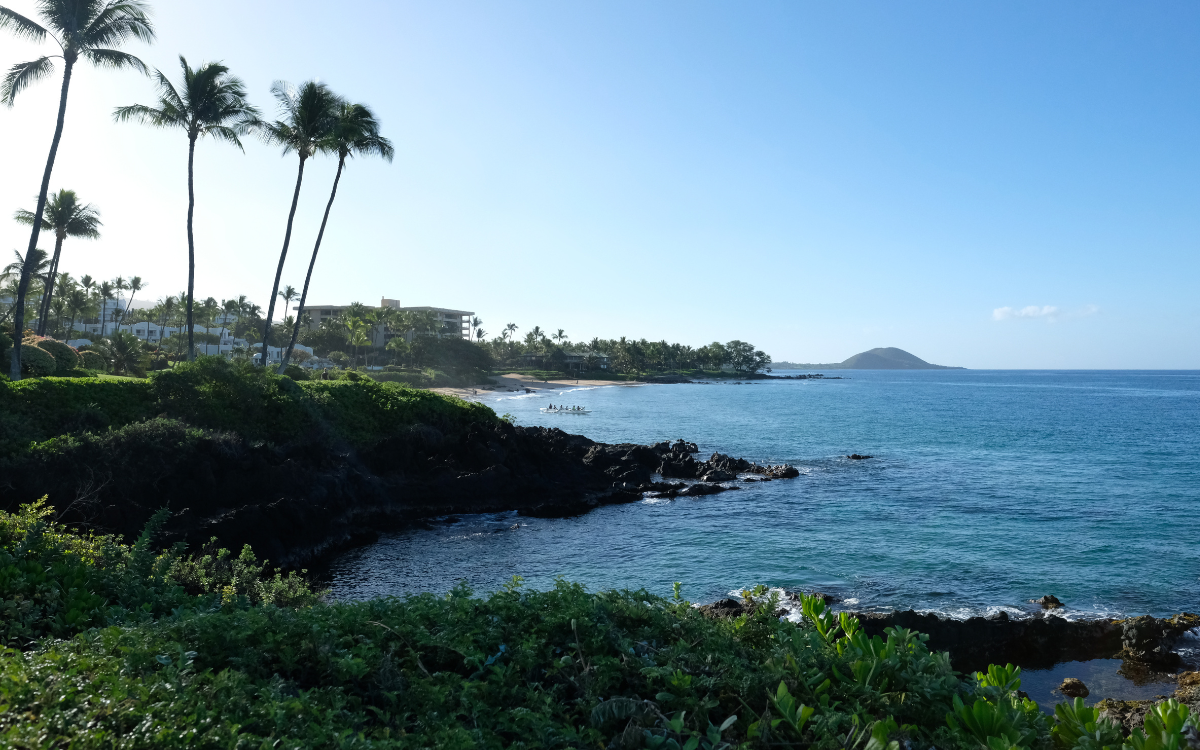 If you've had breakfast at the Andaz, you're already at the northern end of the beach walk. If you had breakfast at Kihei Caffe, you can park in the public beach parking lot for Ulua/Mokapu Beach and pick it up there. From Ulua Beach down to Polo Beach (Fairmont Kea Lani) and back it's about a 3 mile walk.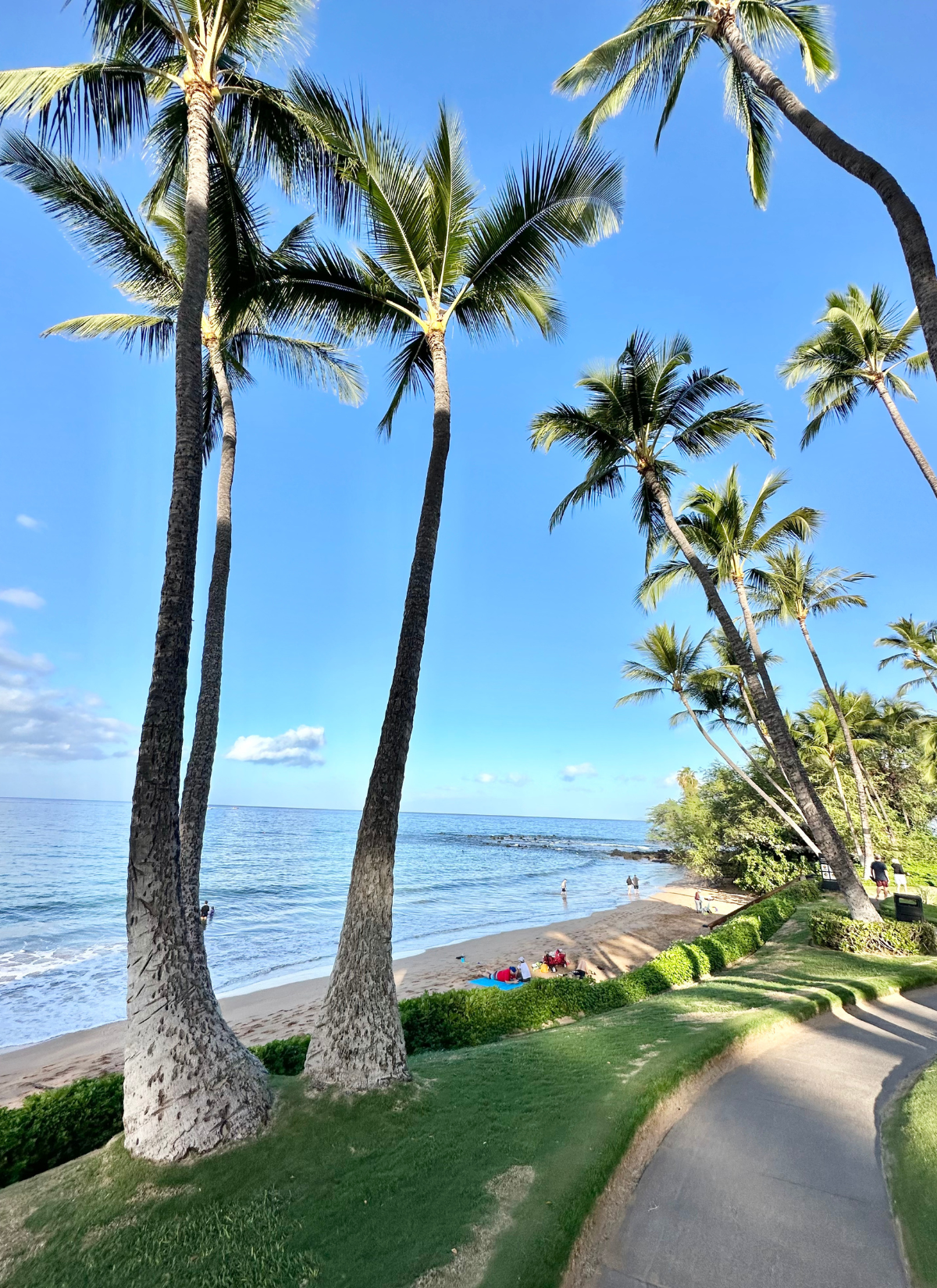 Ahihi-Kihau Nature Reserve & Le Perouse Bay
Drive down the road through Wailea and Makena as far as it goes. You'll end up at Le Perouse Bay and the drive there is just gorgeous (one of my favorites on Maui).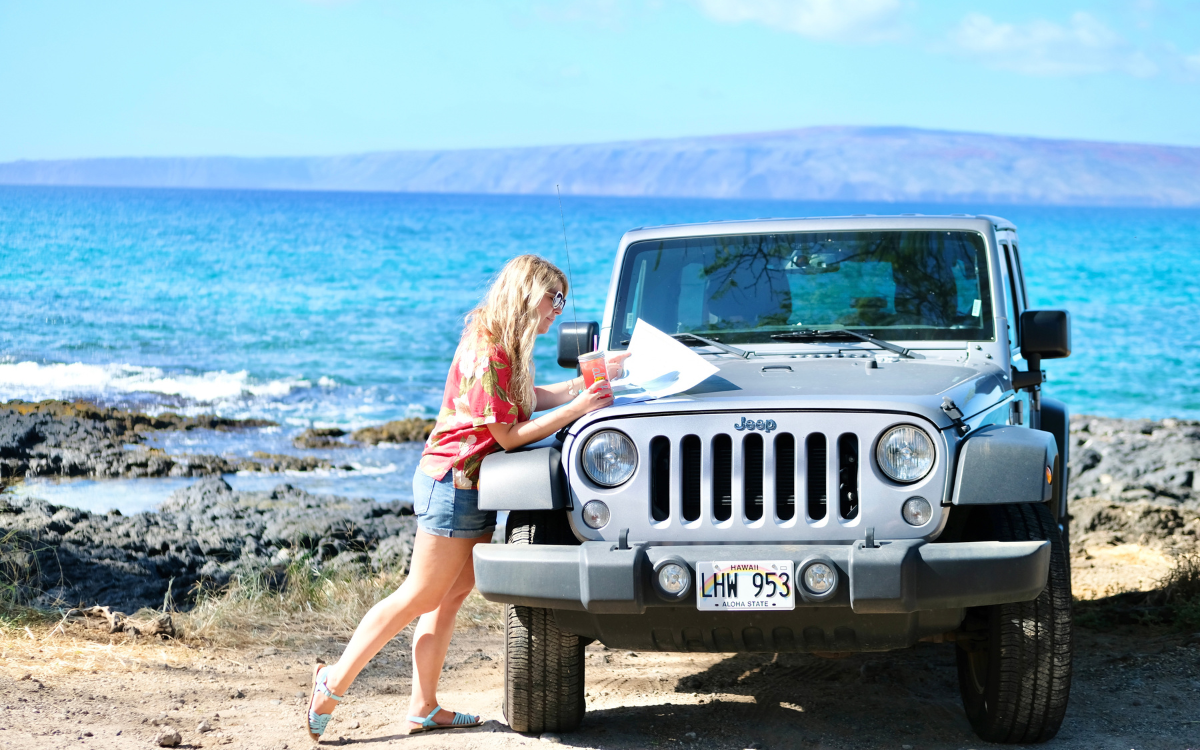 It'll take you through a lava bed, which is pretty cool, and a pod of spinner dolphins often frequents this bay so keep your eyes peeled!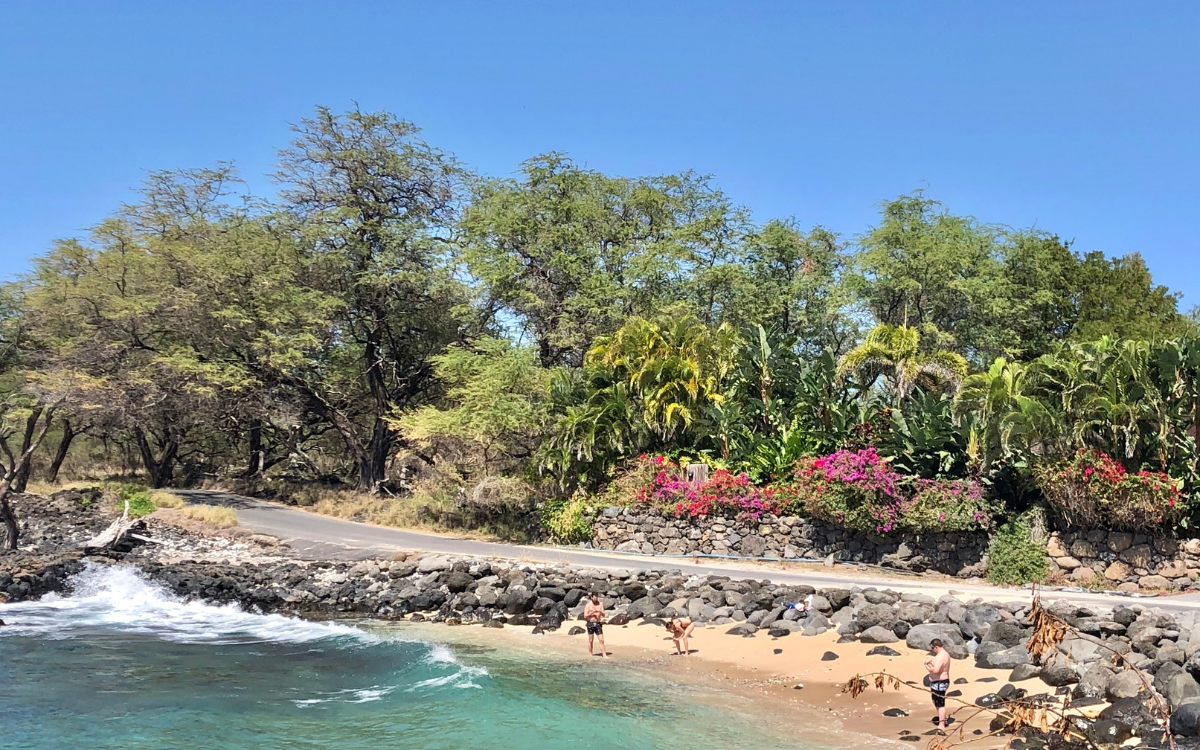 Pack your snorkel gear, because as you drive through the Ahihi-Kinau Nature Reserve, you'll see the most inviting snorkel spots just off the road.
Secret Beach & Big Beach
On your way back towards Wailea, stop at Secret Beach (a shoreline access sign marks the entrance through a rock wall lined path). It takes a little climbing but the tiny beach is so perfect. (If you come back here a couple of hours before sunset, you'll see soooo many weddings!).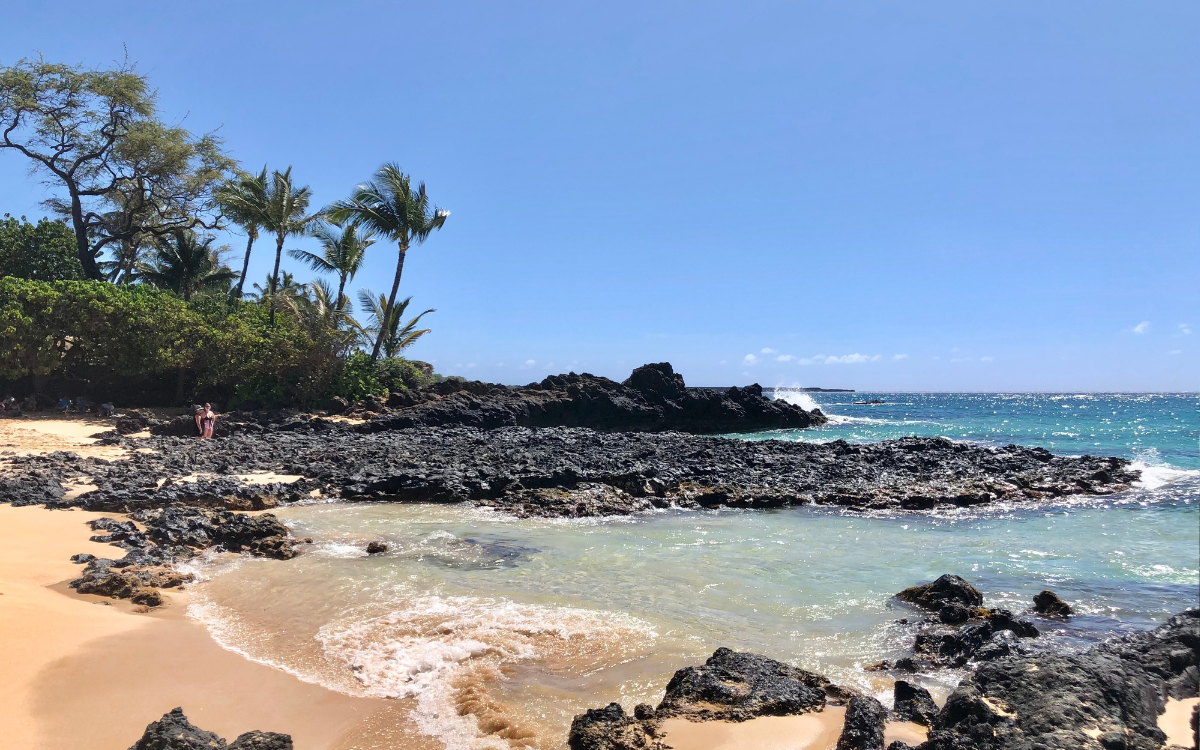 After you leave Secret Beach, set up camp on Big Beach for a while (also called Makena State Park). This beach is huge (as the name implies) and has three entrances (two with parking lots) and one where you'll park on the road and walk back through the trees. The waves are huge here and break right on the shore (the lifeguards will remind you often) so be careful when entering and exiting the water. There are very limited facilities here since it's a state park (only port-a-potties).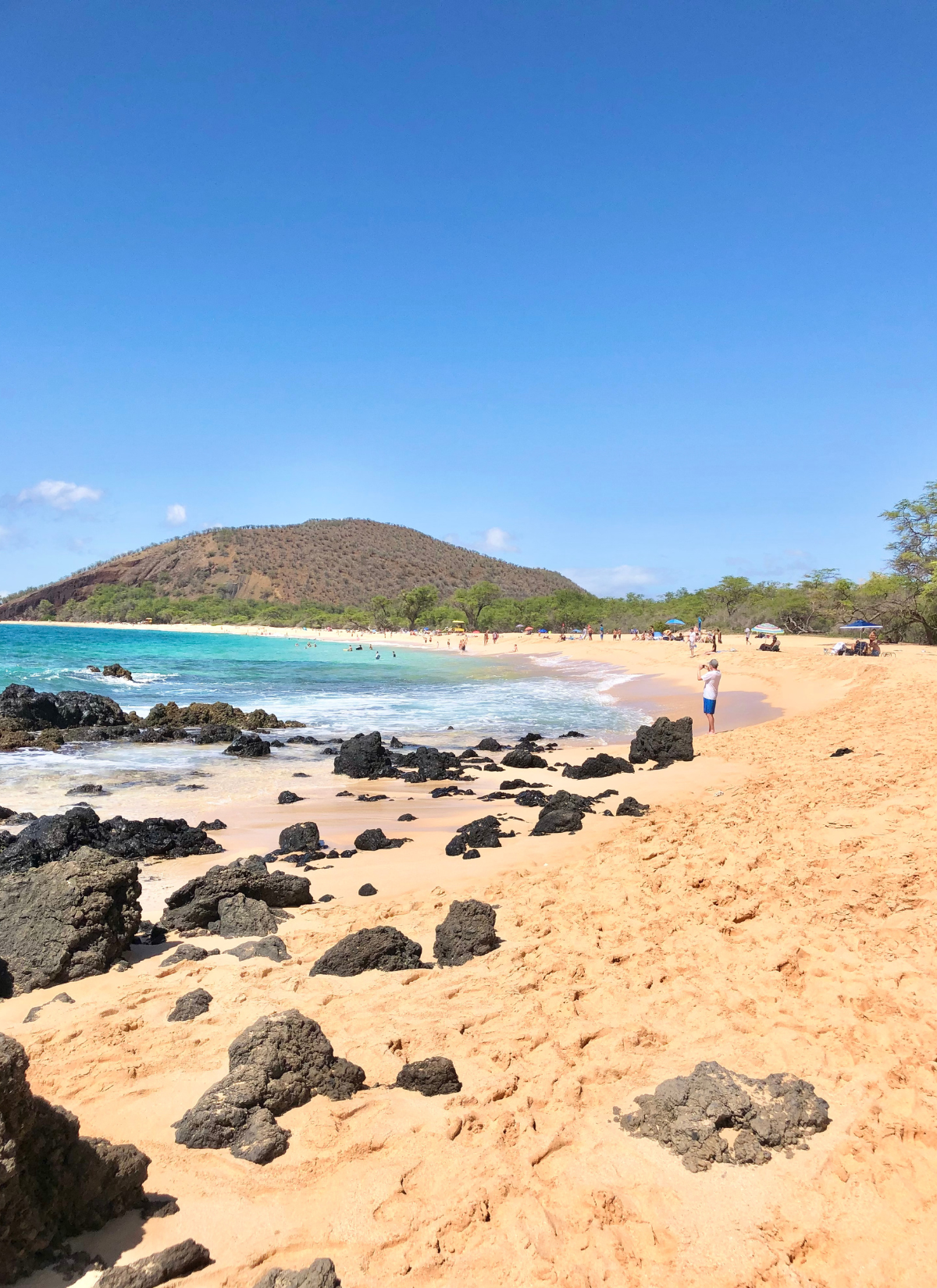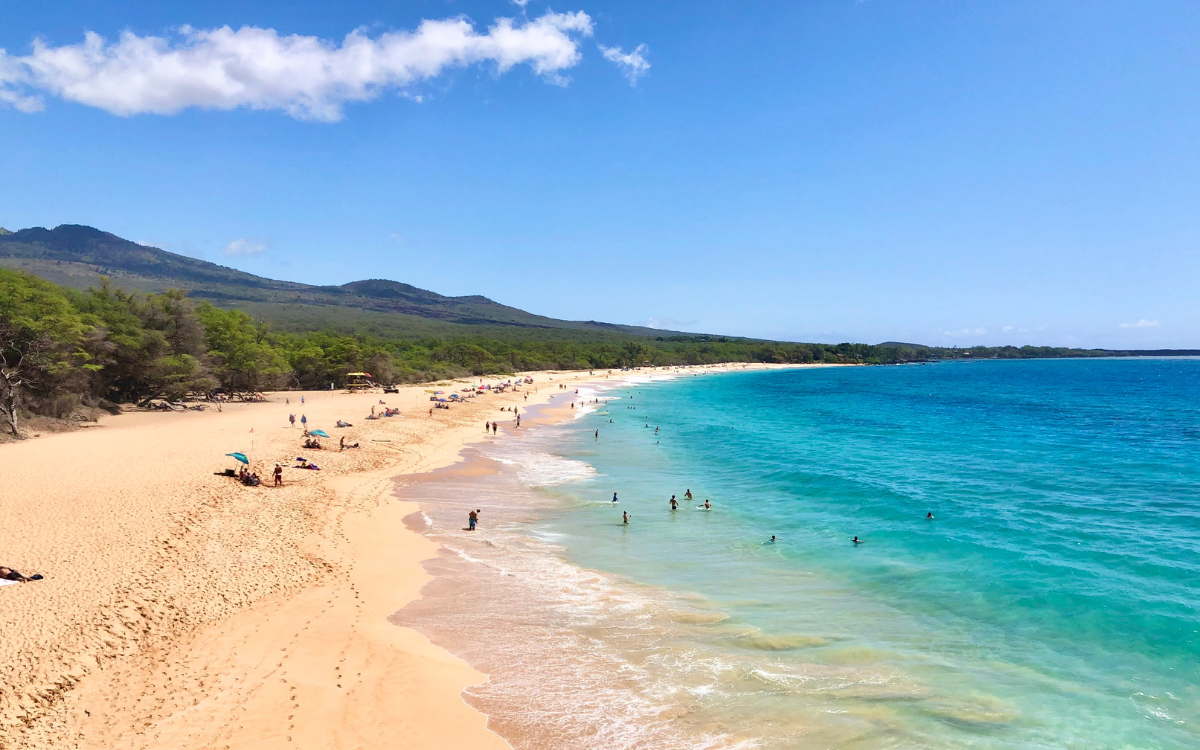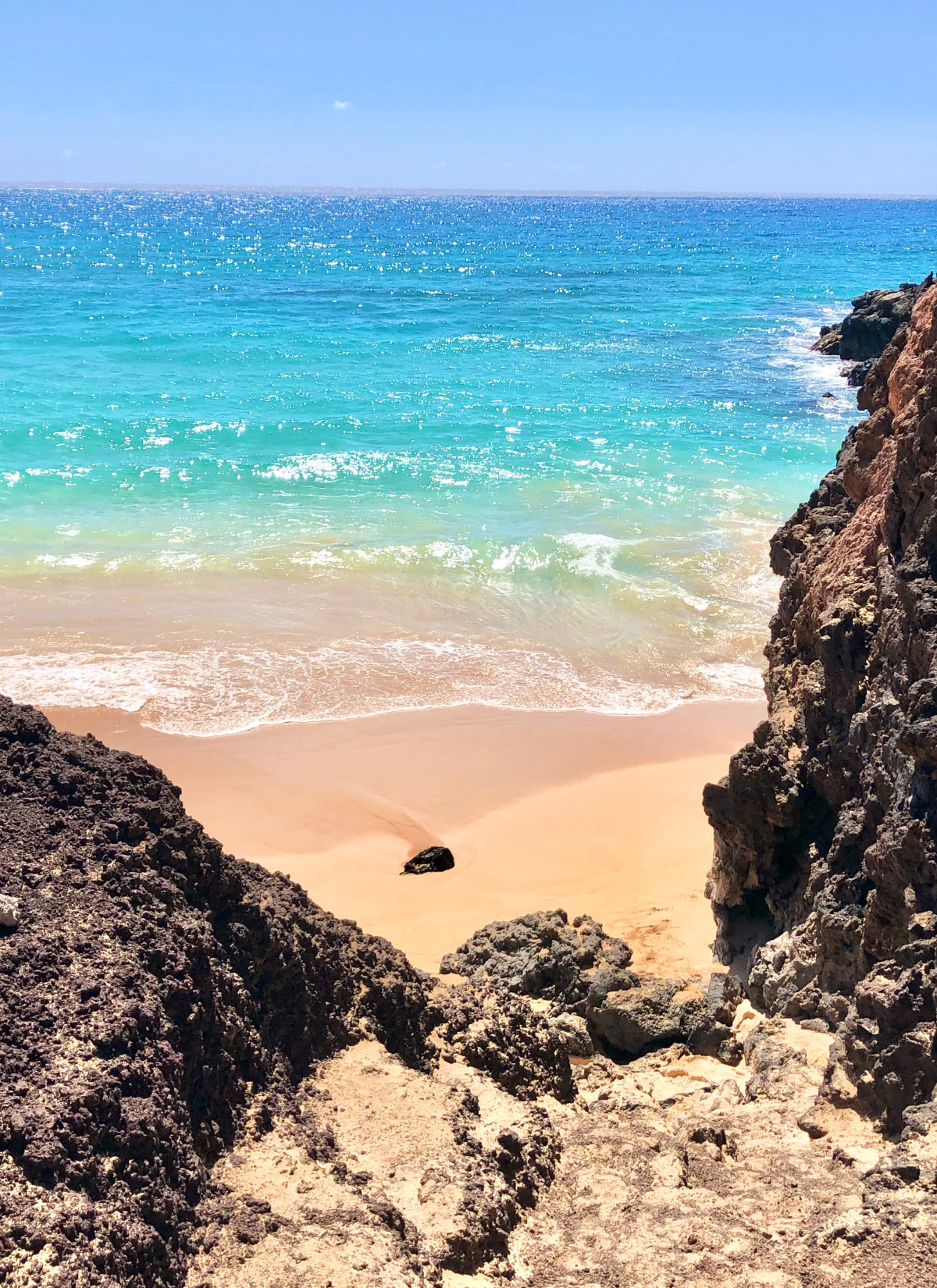 If you're hungry, there are usually a few food trucks around (either in the parking lot of the first entrance or out on the road).
Resort Hopping
Spend the late afternoon and happy hour doing a little resort hopping in Wailea. I love poking around luxury resorts (even when I'm not staying there) so if you're the same, definitely stop by the Four Seasons, Andaz, Wailea Beach Resort, Fairmont Kea Lani, and Grand Wailea.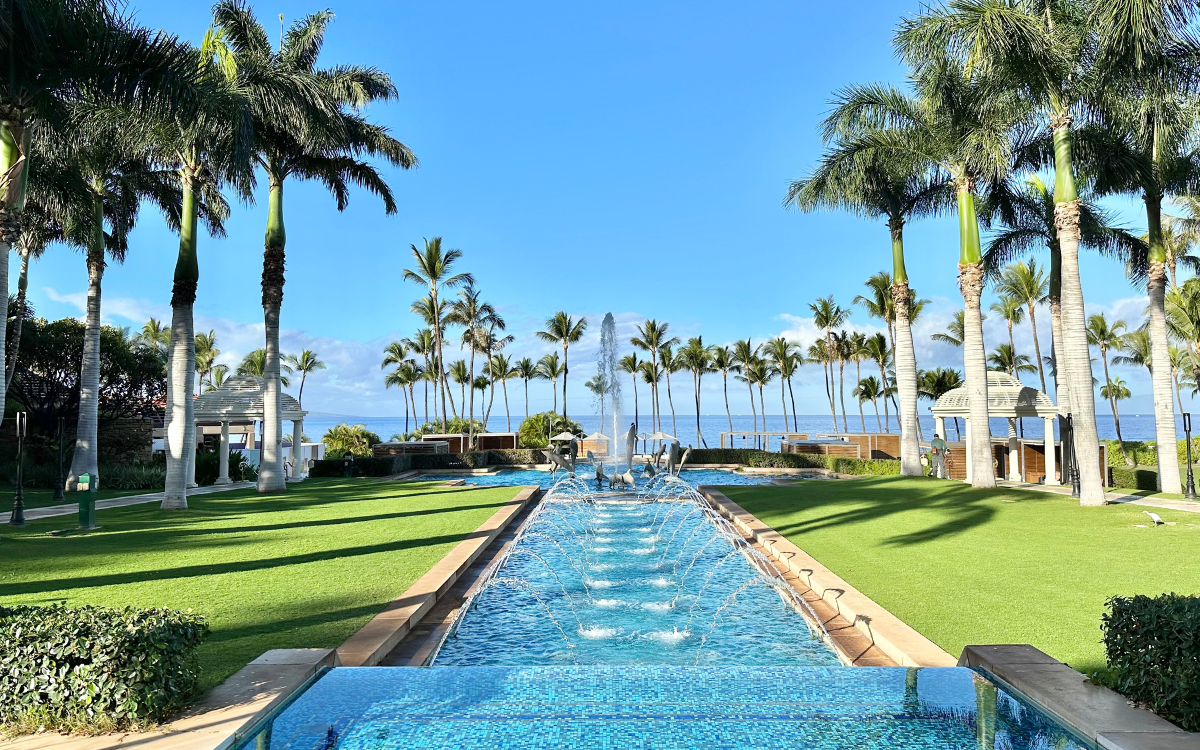 All of them have shops, jaw dropping lobbies, lush landscaping, and an all around swanky atmosphere. If you like photo ops, don't miss the large ALOHA letters at the front of the Wailea Beach Resort.
Before sunset (and after getting cleaned up) head to the Four Seasons for drinks at the lobby bar. It's one of my favorite spots on Maui and the resort is just gorgeous. And the staff is very gracious to visitors.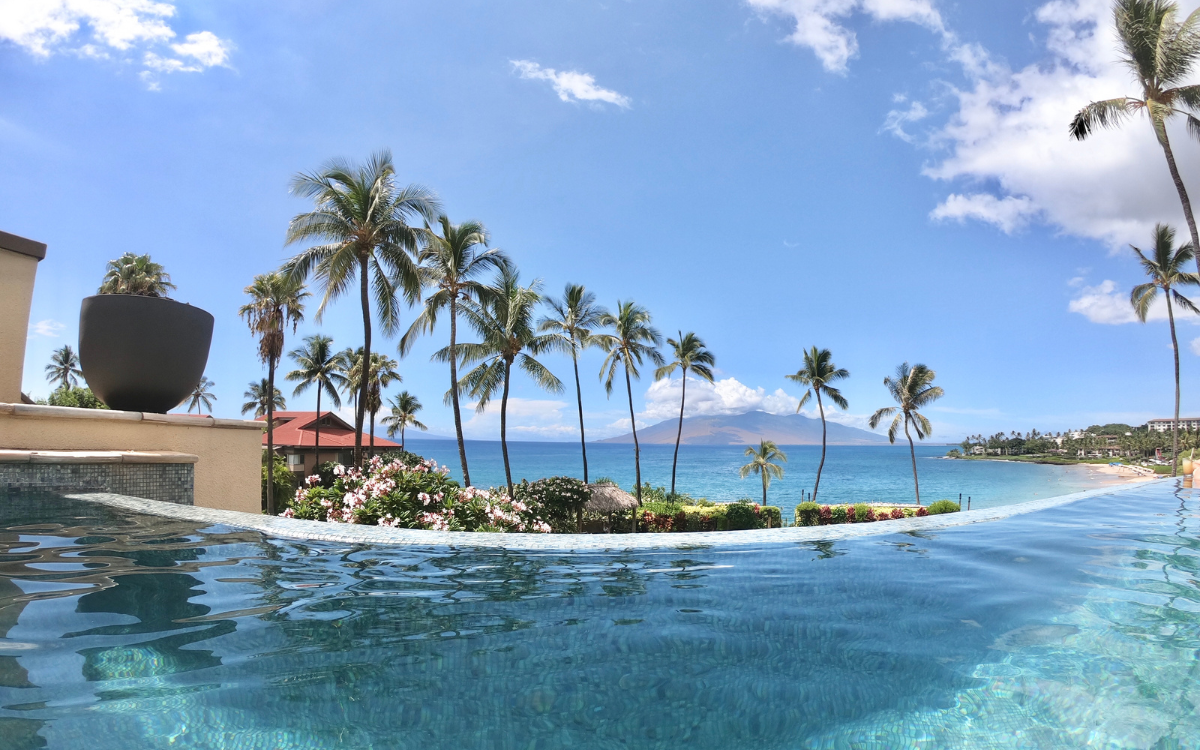 Or to cap this trip off with a bang, head up to the Restaurant at the Hotel Wailea for what I think is the best meal you'll find on Maui. Read more about the experience in this post.
Departure Day
I usually head home on an early morning flight, but if you have a later flight you could stop by Maui Tropical Plantation on the way to the airport or stop at Tin Roof Cafe for lunch before you fly out.
Still Looking for a Place to Stay?
Here's one more really important thing you need to know before your Hawaii trip…
Reservations You Need to Make BEFORE Your Hawaii Trip
You've got your airfare, hotel, rental car and your big activities booked, so you should be good to go, right? Wrong!
Travel is BOOMING in Hawaii so a lot of state and national parks used the closure and reopening to institute reservation systems at some of the island's most popular spots to make things a little more sustainable.
That means that there are now over half a dozen sites (beaches, trailheads, etc.) that require advance reservations. And some sell out well before you arrive on the island so you really need to have some sort of a plan.
I recently saw somebody in a Hawaii travel group post in a panic that they didn't know they had to make reservations for things in advance…they thought they could just show up and "go with the flow." I was tempted to say, well, "as long as the flow doesn't take you somewhere that requires reservations, you can!" ; )
But I don't want YOU to be that person, so I've pulled together a list of all the places you need to reserve entry in advance (plus all the details on booking windows, price, links, etc.) and a handful of popular tourist hotspots that book out really far in advance too.
Haleakala National Park (Maui)
To visit Haleakala National Park for sunrise at the summit, you must make reservations in advance here.
Reservations are required to enter the park gates between 3AM and 7AM (sunrise hours).
Online reservations are $1 per reservation/vehicle PLUS you'll pay the park entrance fee of $30/vehicle when you arrive (National Park annual passes are also accepted at the gate).
The reservation booking window opens 60 days in advance at 7AM HST. There are also a limited number of tickets released two days before.
You can make one reservation every three days with the same account. So if you want to make reservations for back to back days (in case of weather/conditions), you'll need to do so with separate accounts (email addresses).
If you can't get reservations for sunrise, you can enter the park anytime after 7AM without reservations. The summit is spectacular during the day and you don't need reservations for sunset.
I strongly recommend creating an account before and making sure you're logged in at 7AM HST because it's not uncommon for reservations to sell out quickly.
Waianapanapa State Park (Maui)
To visit Maui's famous black sand beach at Waianapanapa State Park on the Road to Hana, you must make reservations in advance here.
Reservations are required to visit the beach and are distributed in windows from 7AM-10AM, 10AM-12:30PM, 12:30PM-3PM, and 3PM-6PM. And they are pretty strict about exiting by the end of your window time (you can arrive anytime within your window).
It's $5/person to enter plus $10/vehicle to park and those fees are paid when you book your time slot.
Reservations open up 30 days in advance.
Iao Valley State Park (Maui)
To visit the lush, green mountains and hike at Iao Valley State Park, you must make reservations in advance here.
Reservations are offered for 90 minute time slots beginning at 7AM and ending at 6PM. They ask that you arrive within the first 30 minutes of your time slot.
Entry is $5/person plus $10/vehicle to park.
Reservations open up 30 days in advance.
Diamond Head (Oahu)
To hike to the top of Waikiki's famous Diamond Head, you must make reservations in advance here.
Reservations are offered in two hour increments beginning at 6AM (6AM-8AM, 8AM-10AM, etc.) and ending at 6PM. If you're parking onsite, they ask that you arrive within the first 30 minutes of your reservation window.
Entry is $5/person plus $10/vehicle to park.
Reservations open up 30 days in advance.
Tip: I recommend booking one of the first two time slots because there isn't much shade on this hike and it gets pretty hot.
Hanauma Bay (Oahu)
To snorkel at Oahu's pristine Hanauma Bay, you must make reservations in advance here.
Entry times are staggered in 10 minute increments from 7AM to 1:20PM with roughly 1000 slots being assigned in advance every day.
Reservations can be made two days in advance and they open at 7AM HST. They're usually gone in minutes (if not seconds).
If you're unable to get an advanced reservation, you can try for a day of, walk in ticket. They open at 6:45AM and they only have a limited number available. Everyone in your group needs to be present when you purchase your tickets in person.
There are no reservations for parking and it's first come, first serve. $3/vehicle.
It's $25/person to snorkel at Hanauma Bay (12 and under, active military, and locals with HI ID are free).
The Hanauma Bay Nature Preserve is open Wednesday through Sunday (CLOSED MONDAY AND TUESDAY) from 6:45AM-4PM. Last entry is at 1:30PM, the beach is cleared at 3:15PM and you have to leave the facility by 4PM.
Jellyfish patterns can also affect whether or not the bay is open so double check the day before/day of.
USS Arizona at Pearl Harbor (Oahu)
If you want to take the boat tour at Pearl Harbor out to the USS Arizona, it's recommended to make advance reservations here.
Online reservations are guaranteed a specific boarding time to go out to the USS Arizona. If you're unable to get an advance reservation, you can wait standby when you arrive. The line could be short (15 minutes or so) or long (hours) and it just depends on the day (if they're having problems with the loading dock sometimes they don't take many from the standby line) and the time of day.
Reservations are supposed to open up 60 days in advance, but keep an eye on your exact dates, because lately they've actually been opening up about 57ish days in advance???
They also release a small batch of tickets the day before.
The boat ride out to the USS Arizona is free, but it's $1 to make the reservations online.
They recently started charging $7/vehicle for parking at Pearl Harbor.
Haena State Park / Kalalau Trail (Kauai)
If you want to hike Kauai's famous Kalalau Trail, you must make advance reservations here.
You've got three options here:
1) Parking & Entry: This is the most flexible option and also the most limited. THESE RESERVATIONS SELL OUT IN LESS THAN A MINUTE. There are three time slots available: 6:30AM-12:30PM, 12:30PM-5:30PM and 4:30PM to sunset. You can purchase multiple time slots if you want to stay longer. It's $10/timeslot (parking) plus $5/person and you have to reserve every person when you initially book. Everybody has to arrive in the same car and your ID needs to match the reservation.
2) Shuttle & Entry: If you can't get parking at the trailhead, there's also a shuttle option. Shuttle reservations are $35/person (16+), $25/person (ages 4-15), 3 and under can ride free. The shuttle runs every 20 minutes 6:20AM to 6:40PM.
3) Entry Only: If you're a Hawaiian resident (with HI ID) or someone WITH a Hawaiian resident, you can purchase entry only for $5/person with no advance reservations. Also, if you're walking or biking to the trailhead you can do this option. But there is NOWHERE to park in the area to walk in. So this really only works for those with bikes or who are staying close enough to walk. They will tow your car if you park outside the designated areas.
The reservation window opens 30 days in advance at 12AM HST. The parking & entry option usually sells out in a minute, but the shuttle availability will last longer.
There are a TON of FAQs here including the possibility of snagging a canceled reservation.
Other Things to Book in Advance
Hawaii is a busy place these days! Besides the state and national parks above, here's a handful of miscellaneous things you should make reservations for in advance (if they're on your radar):
Mama's Fish House (Maui): The iconic spot is the most popular restaurant in Hawaii and they've been opening reservations (and selling out) 4-6 months in advance. You can call and get on the waitlist for one day or you can set notifications on OpenTable to alert you for cancellations every day of your trip. Most people have pretty good success on OpenTable.
Old Lahaina Luau (Maui): Honestly, any luau you're planning to attend you should book early, but most people are usually shocked how far out the Old Lahaina Luau books out. Book it as soon as you know your dates (I think they open at the six month window). They also have a waitlist.
Kualoa Ranch UTV Tour (Oahu): Everybody loves Jurassic Park so getting to ride UTVs where they filmed the movies is very popular. The ranch offers a lot of different tours but the UTV tours usually book out a couple of months in advance.
Spa Reservations: If you're staying at a resort with a spa (or planning on visiting one), don't wait until you arrive to make your reservations. I'd make them at least a month in advance.
Tee Times: Same for golf, reserve your tee times well in advance.
Dining Reservations: Any "fancy" or resort restaurant is likely to be booked up these days so if you like having a nice dinner every night, make your plans in advance.
Want to read more? Don't miss some of my most popular (and favorite) posts about Maui: My Favorite Hotels on Maui | Wailea vs Kaanapali | All of the Wailea Resorts Ranked | Maui Travel Tips | Things You Can ONLY Do on Maui | My Favorite Road to Hana Itinerary | Road to Hana Tips | Should You Drive the Backside of the Road to Hana? | 4 Day Maui Itinerary | Is Mama's Fish House Worth It? | Tips for Sunrise at Haleakala National Park | Things to Do Upcountry | Best Beaches in Wailea & Kihei | Best Restaurants in Wailea | Maui vs Kauai | Four Seasons Maui Review | Andaz Maui Review | Fairmont Kea Lani Review | Wailea Beach Resort Review | Four Seasons vs Andaz Maui | Andaz Maui vs Wailea Beach Resort
Save
Save
Save
Save
Save
Save
P.S. Thanks for sticking around and reading this whole post! If you have ANY questions about planning your trip to Hawaii, you can join my free Facebook group here. I'm there answering questions every day and there are 7500+ other friends who have a ton of Hawaii information to share!
Also, if you want to follow along on my travel adventures in real time, you can follow me on Instagram (@caitylincoln). My post captions are full of travel tips and I have a ton of story highlights and videos with great info. And please share my account with your friends that are headed to Hawaii! Your support really helps me keep this blog running!