Fairmont Kea Lani Maui (Wailea // Maui // Hawaii)
*This post was originally a review from a 2018 stay at the Fairmont Kea Lani, but the resort has undergone a lot of renovations since then so it's been updated as of February 2023 after another visit.
The Fairmont Kea Lani is a posh resort located on 22 beachfront acres in Wailea about 30 minutes from Kahului Airport. With a prime spot on Polo Beach at the start of the Wailea Beach Walk, three pools (including a water slide!), numerous restaurants, an award winning spa, and plenty of golf, tennis, shopping, and dining nearby, you'll be torn between reading and sleeping the day away in a beach lounger and taking advantage of all of the fun!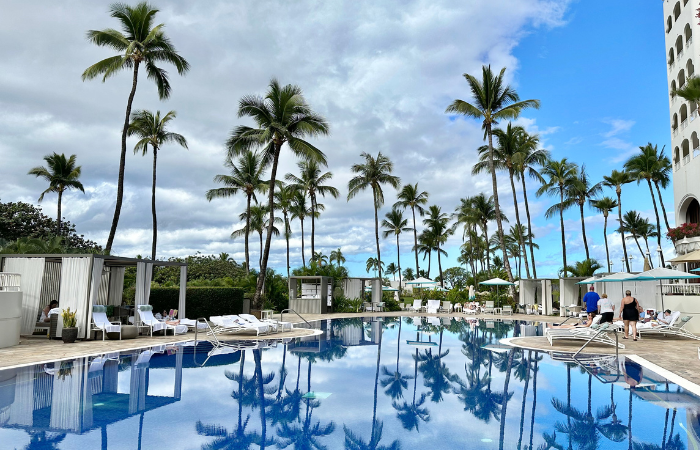 I received a discounted media rate during my stay at the Fairmont Kea Lani as well complimentary breakfast and cabana rental. But of course, I only recommend my absolute favorites to you. Thank you for supporting the brands that make the Lincoln Travel Co possible.
Fairmont Kea Lani Review

From the moment we pulled up, it was a first class experience. The portico and lobby are so grand and sweeping, and they perfectly frame the ocean in the distance. We got checked in very quickly, and our room was ready early so we went right up and they had our luggage delivered before we even finished looking around the suite!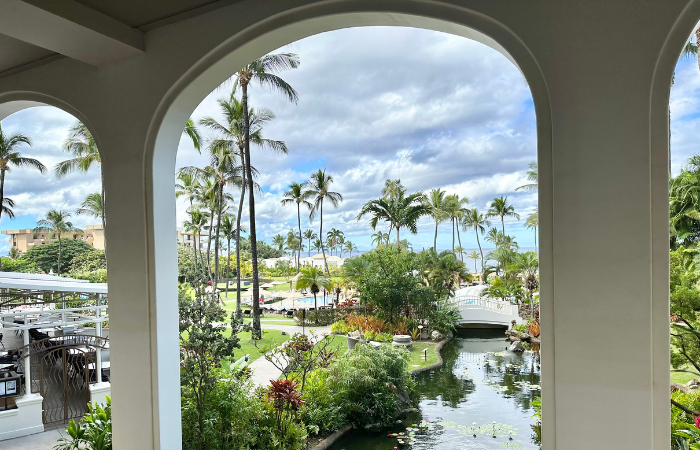 We also had a special delivery! Macarons and a bottle of sparkling wine from Maui Wine! Every time I've stayed at a Fairmont, we've gotten a special surprise, so when you check in make sure they know if you're celebrating something special. Also, you'll get text messages from the concierge checking in on you throughout your stay so don't be afraid to mention it to them as well! They really go out of their way to make each and every guest feel so special.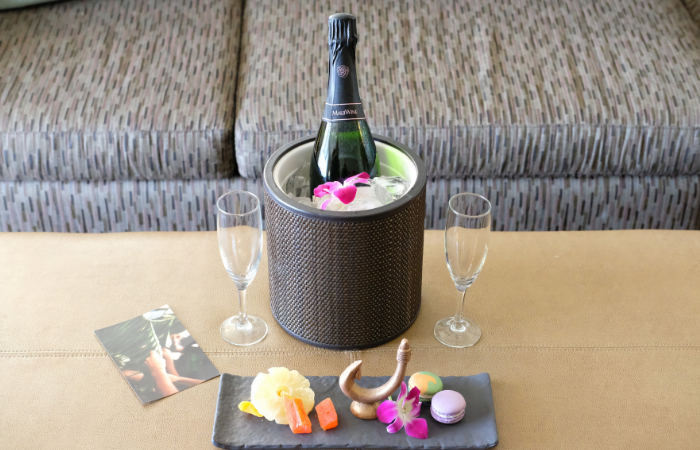 The Room
The Fairmont Kea Lani is Hawaii's only oceanfront all-suite and villa resort which makes it a perfect option for families or couples who want more room to spread out. Pricewise, it's on the lower end of the surrounding resorts in Wailea, but you practically get double the space!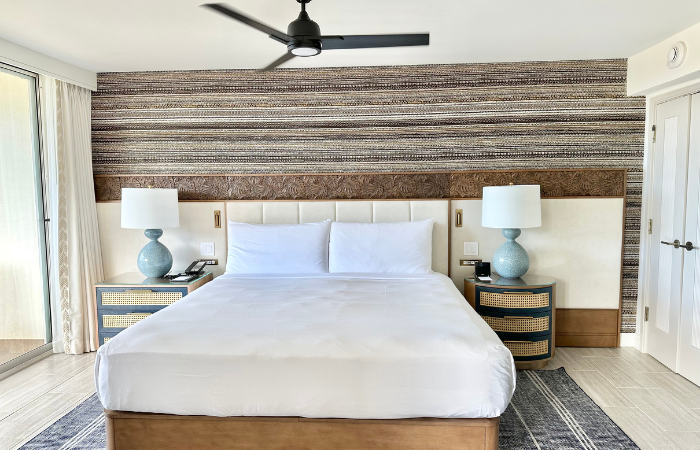 And as of February 2023 ALL of the suites and villas at the resort have been totally redone. And they are FABULOUS. I mean, it's really no contest, I think these are the best rooms of any resort in Wailea.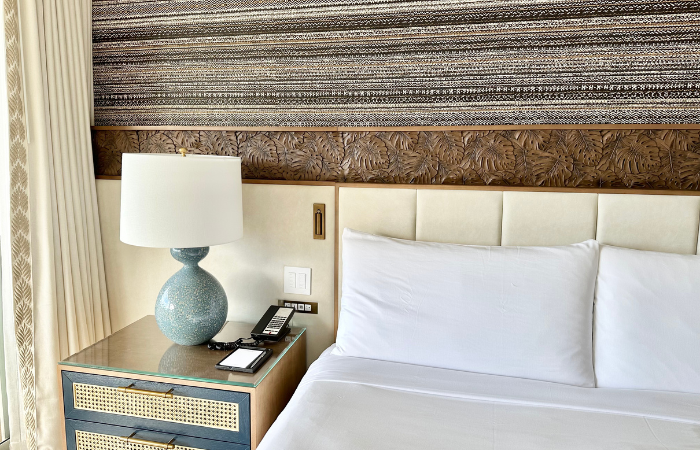 Since all of the rooms are suites, that means there's a separate living area with a pullout couch, television, and mini bar. Also, there are two different doors to the bathroom (through the bedroom and also through the living room) so if there's anyone sleeping on the couch, they won't have to go traipsing through the bedroom to get to the bathroom.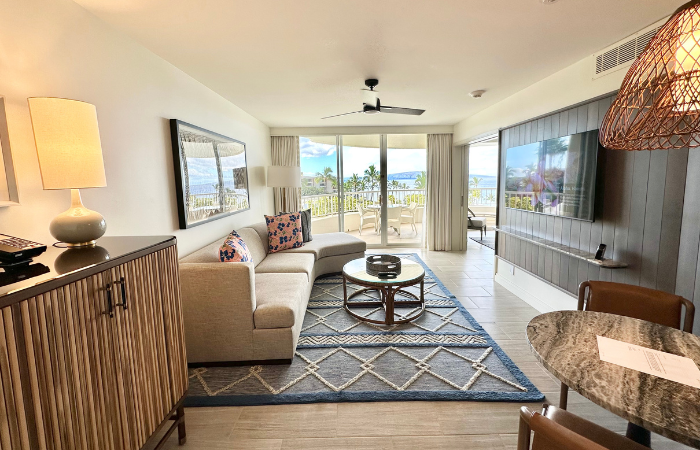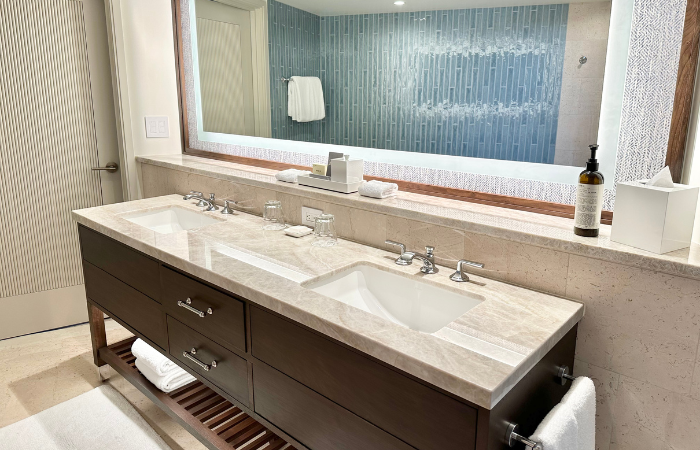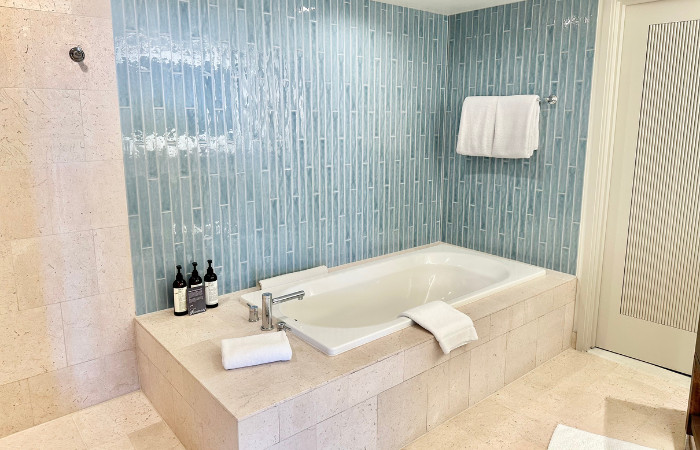 I was also blown away by the view from the balcony! We had a full on ocean view. While there are a few garden or mountain view rooms, it seems like the resort is laid out so that the majority of the rooms have ocean or partial ocean views. This is also a unique feature among the other resorts in Wailea.
I was recently able to tour one of the recently renovated villas, and if you're got the $$$ they are FABULOUS. Check out the pics: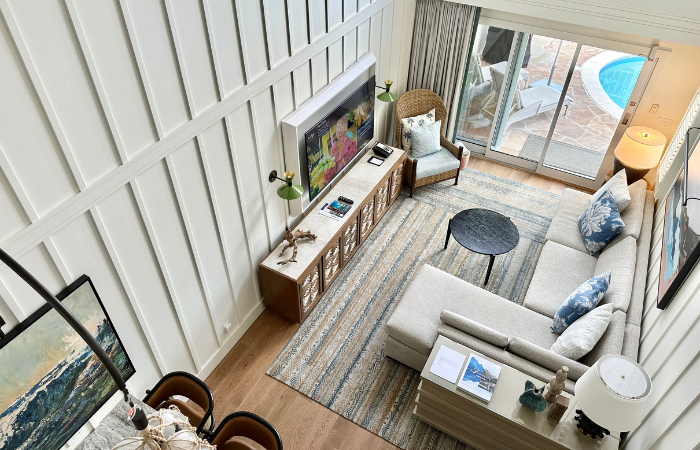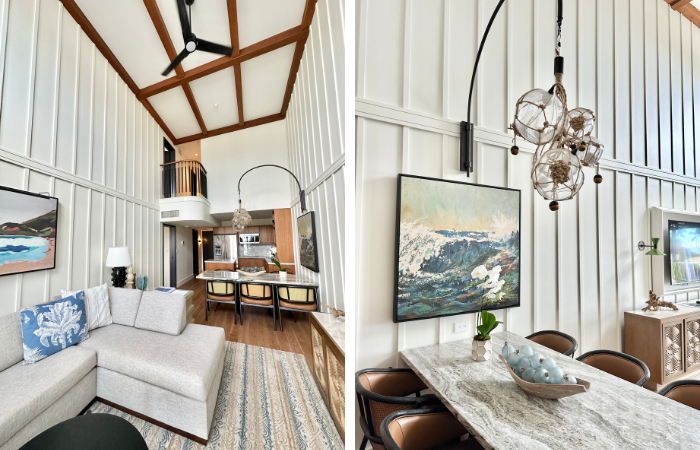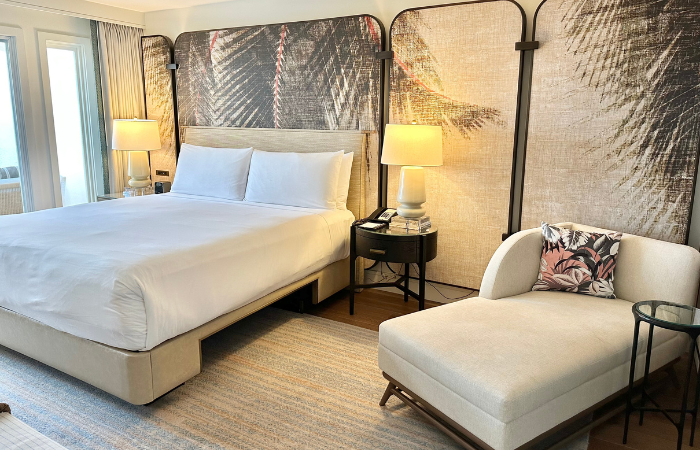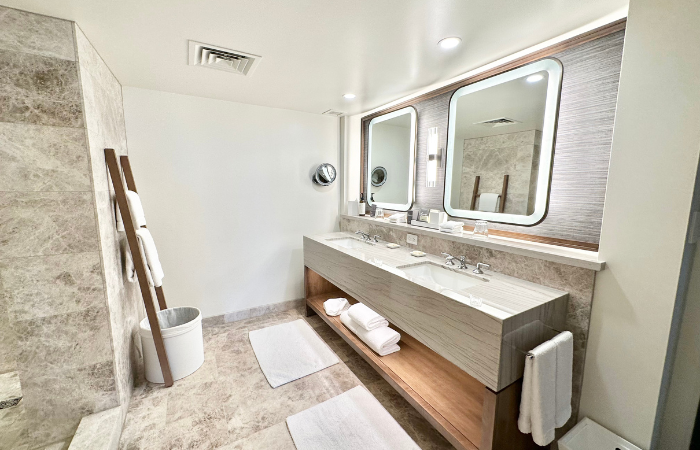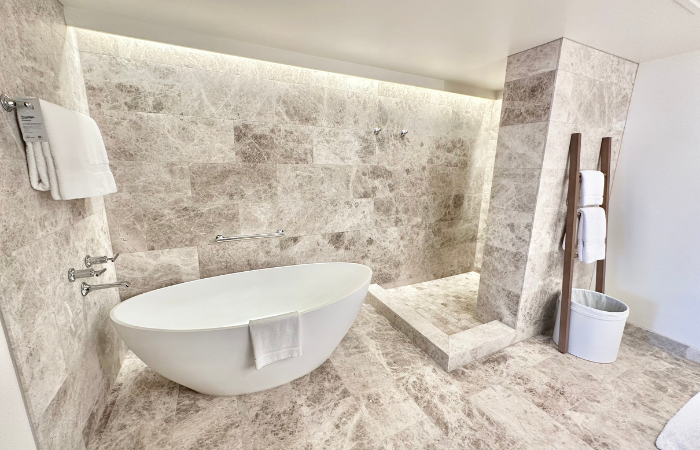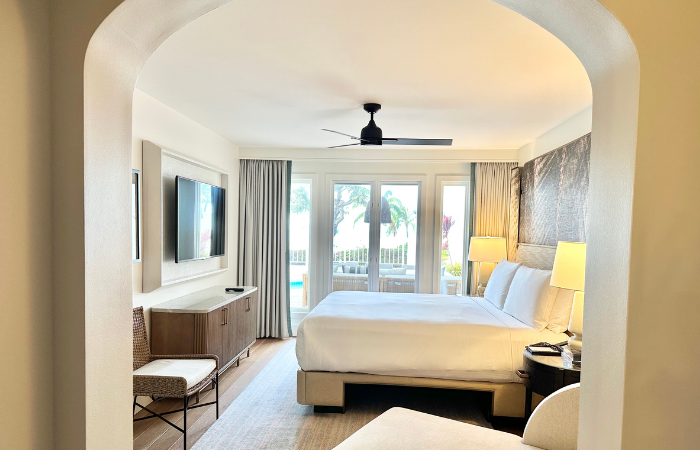 The Pool
There are three different pools at the Kea Lani including an adults only pool. And I spent time at all of them! Two are connected by waterslide (so fun!) plus there's a swim up bar.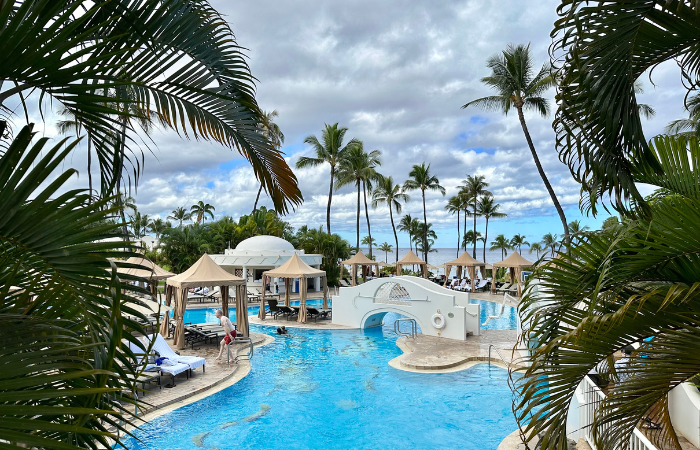 I also spent a full day at one of the cabanas at the adults only pool. They've since been completely refurbished (the blue cabanas are the old ones and the wooden ones are the new ones), but even before it was GLAMOROUS.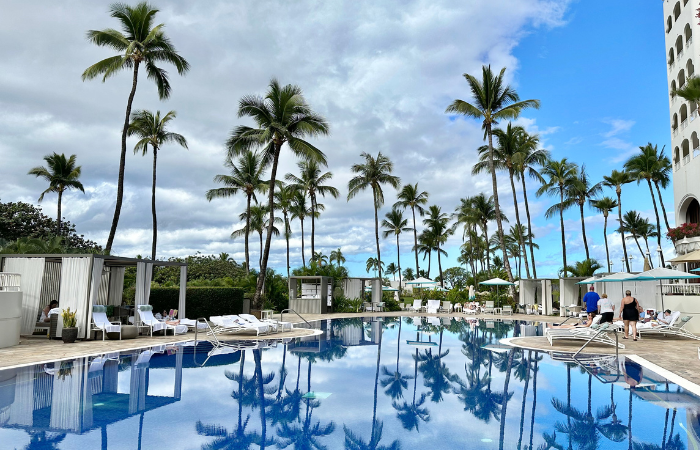 When I stayed here in 2018, the private cabanas cost $199 for the day and came with padded lounge chairs, a cooler with drinks (we chose water and guava juice but soda was also available), fresh pineapple, trail mix, and fruit platter, and mochi ice cream. We also had an attendant that checked in on us every so often and who we could order additional food and drinks from.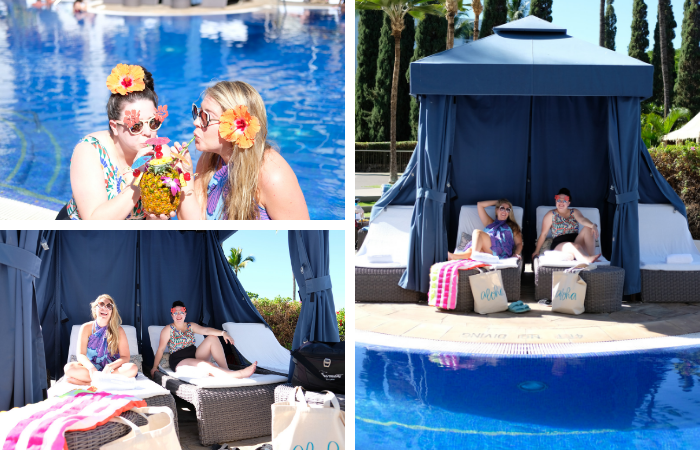 Current prices for the cabanas are:
$300/day for 4 people at the main pool
$400/day for 2 people at the adults only pool
$475/day for up to 8 people in a deluxe cabana at the main pool
And something to know…the resort currently allows non resort guests to book cabanas through ResortPass.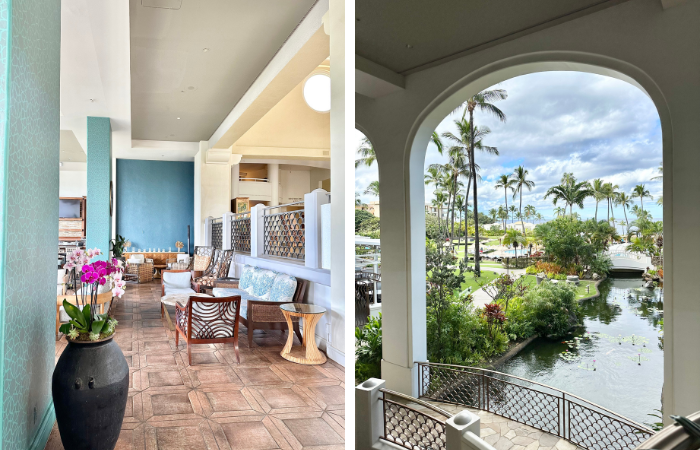 Side Note: If you're looking for a rental car for your trip, I LOVE Discount Hawaii Car Rentals. They're seriously the only company I ever use. They'll give you the very best prices, you don't have to reserve with a credit card or pay until you show up, you can cancel and re-book anytime if you find a better rate, and they usually have a special that adds additional drivers for no fee. It's a no brainer. Click here to check rates for your trip.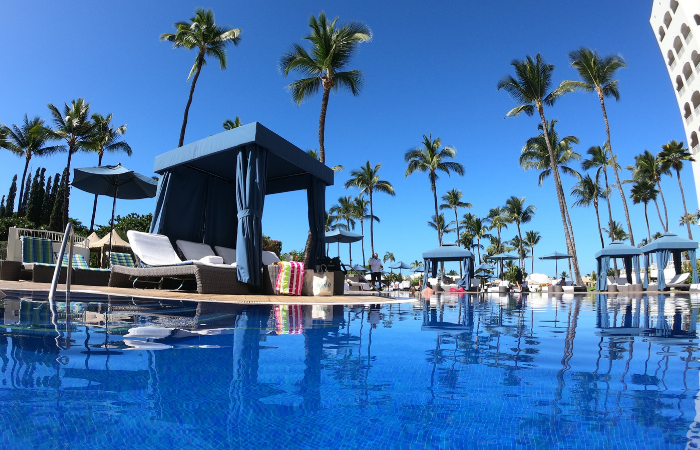 Overall, I would say the pool area at the Fairmont Kea Lani is good for a wide variety of guests. It's good for families but it's not the best family pool in Wailea (that would go to the Grand Wailea) and the adults only area is nice but it's also not the best in the area (try Four Seasons or Andaz instead) but it's solid on both fronts. So if your priority is 1) not just kid friendly but wildly appealing to kids, or 2) a posh adults only experience, then there's probably a better choice in the Wailea area, BUT if your travel party has a wider mix of ages (younger or older kids, young adults, grandparents, etc) then the Fairmont Kea Lani definitely has something for everyone.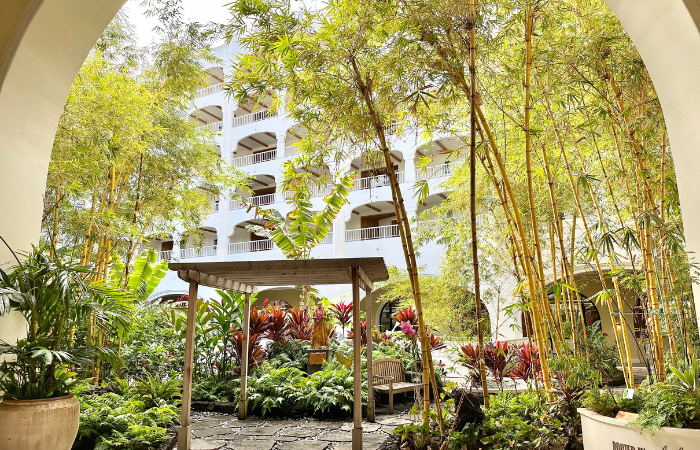 The Food
During our stay, the resort was undergoing some construction which impacted the dining options, but the Makana Market and Café was scheduled to open soon which will give guests the added option of quicker/more convenient food and sundries. It's the place you'll be able to grab something quick for breakfast or lunch/snacks if you're just hanging out at the beach or pool.
I've been back to visit since Makana Market was redone and it's a great place! Plenty of grab and go options plus hot sandwiches for breakfast and lunch and it's in a convenient location to the pool.
Ama is the pool bar (they also have casual seating) and it's a similar menu to what the poolside attendants offer. I had a great mahi mahi sandwich and we also tried out one of the cocktails of the day (each day they had a special one at a discounted price).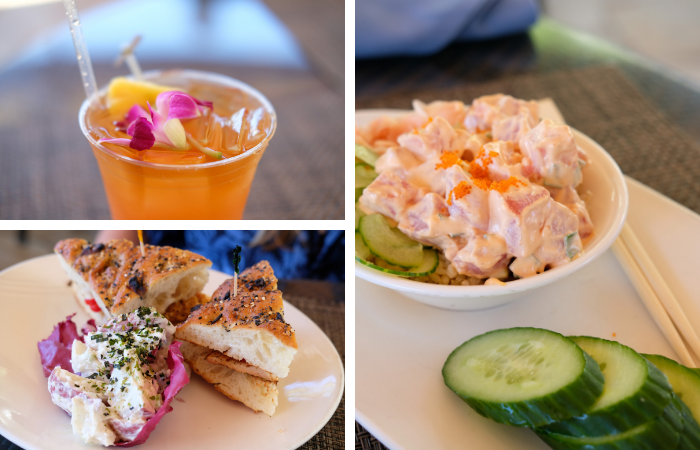 I've had breakfast at the Kea Lani Restaurant a few times now and it's an impressive breakfast buffet. Even compared to other resorts in Wailea. It has a good selection of American, Hawaiian, and Asian favorites. Besides an omelet station and choices of pancakes, waffles, French toast, breakfast meats, eggs, etc., there's a wide selection of local fruits and topping stations for chia pudding and oatmeal as well as a meat and cheese board with salmon.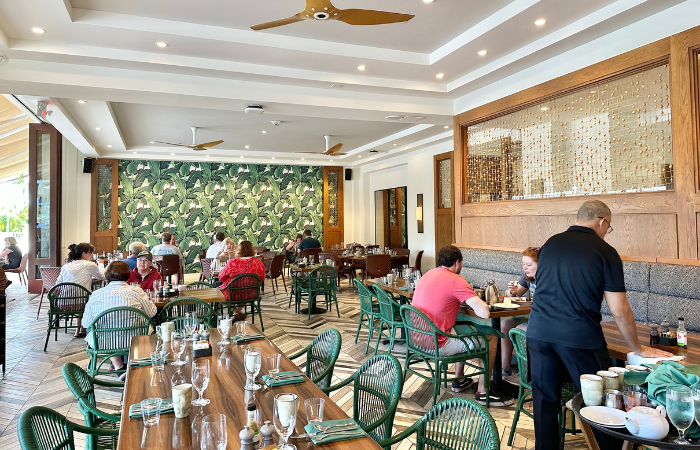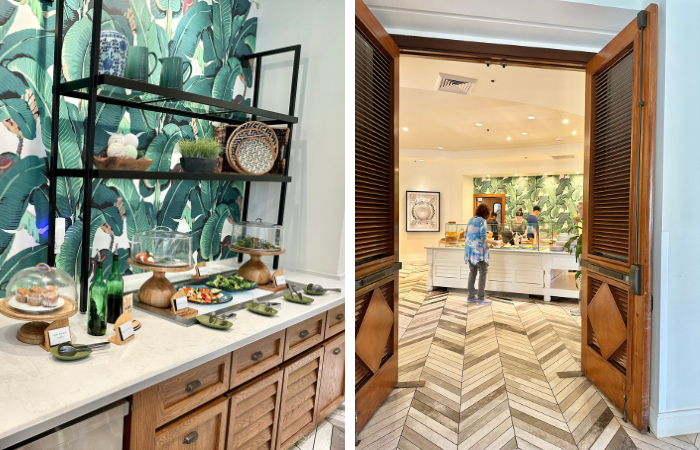 There were soooo many baked goods (the mango bread was some of my favorite) and in addition to POG juice (passionfruit, orange, and guava) they had fresh squeezed lillikoi nectar. There were so many Asian offerings that honestly weren't too appealing to me for breakfast (I did have wontons!), but it was pretty cool seeing what other cultures eat for breakfast.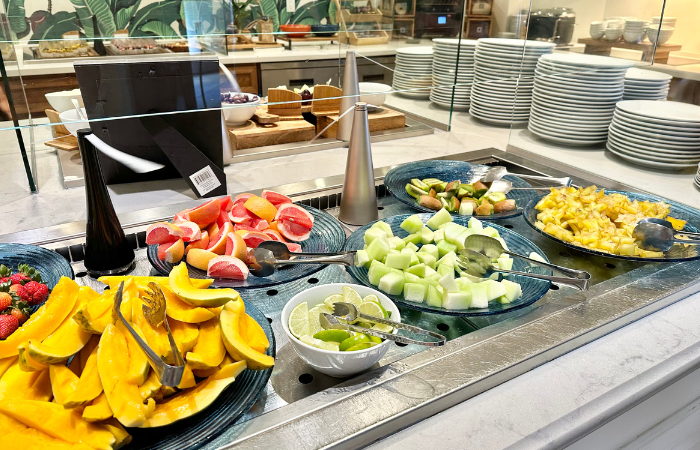 And I LOVE the renovations they've done here!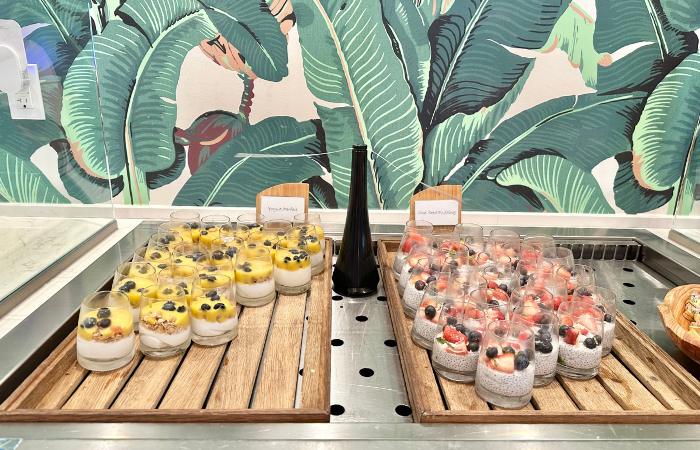 Besides the more casual options, there are also a couple of more upscale restaurants. I had dinner at Ko on my last trip to Maui and the food was VERY good. The menu blends flavors from the island's plantation days and my recommendation is to order a variety of pupus and entrees based on the servers recommendations and just trust that the flavors will all work out. The people I was with were a little skeptical about the menu (they were just unfamiliar with a lot of it) so I kind of took charge of ordering and everyone LOVED their food.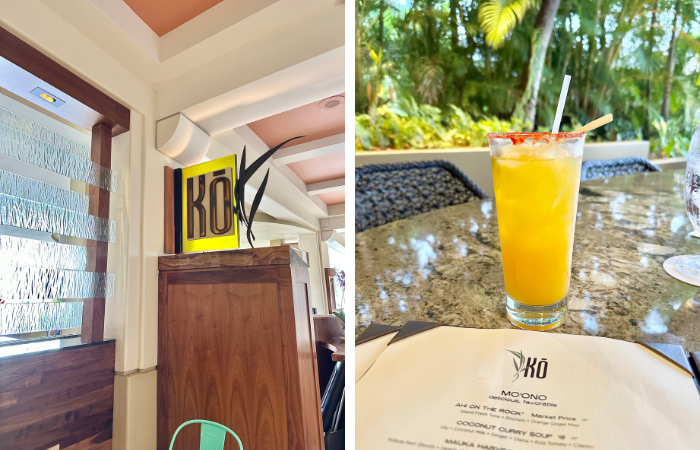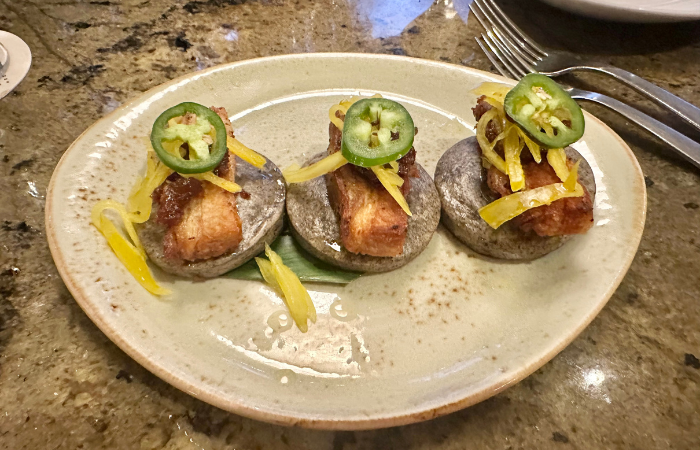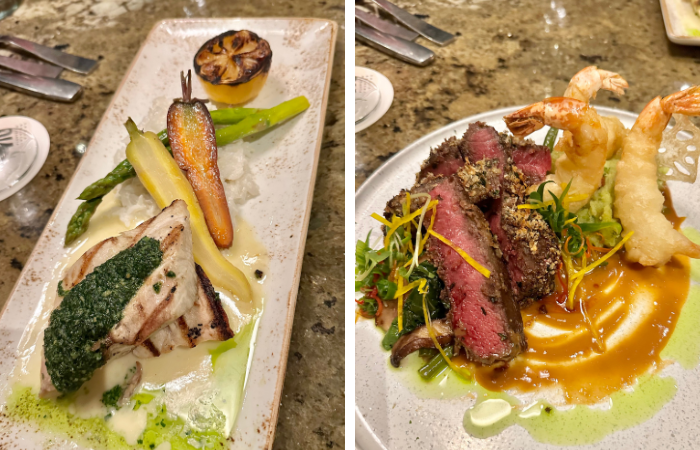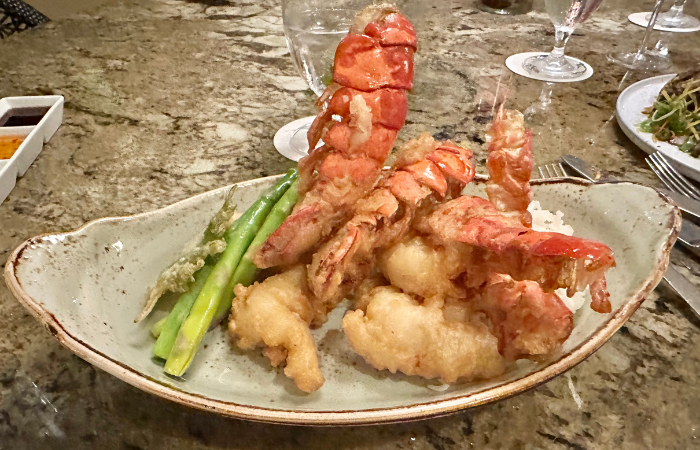 Also, the Fairmont Kea Lani is very food allergy friendly (two of my friends I was traveling with were gluten free). Make a note on your reservation if you're dining at Ko or Nick's and at the other restaurants inform your server when you're seated. They have provisions for cooking food separately as well as providing extra gluten free options (like pancakes, waffles, and French toast made to order at the Kea Lani Restaurant).
The Beach
The Fairmont sits on Polo Beach in Wailea. It's a beautiful beach but it can get a little windy (especially in the afternoon). The south end of the beach (go out to the beach and walk left) has some lava rock formations that form tidepools and are home to urchins, crabs, and other sea life when the tide goes out. I suggest wearing shoes so you can scamper around the rocks safely.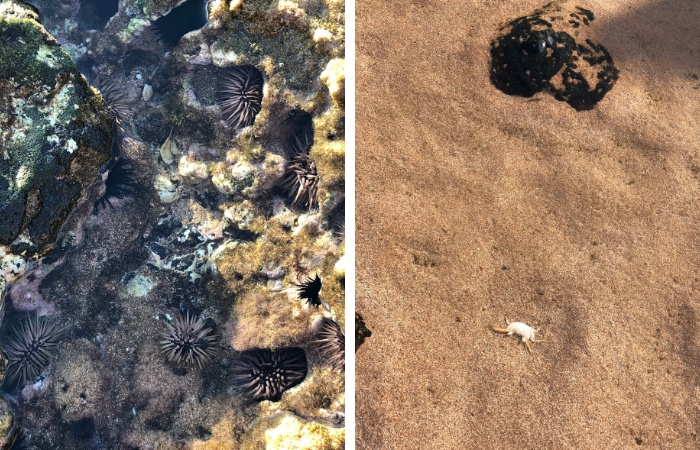 One of my favorite parts of staying in Wailea is the beachwalk. This 1.5 mile coastal trail starts at Polo Beach (where the Fairmont is located) and winds its way along the cliff past Wailea Beach (Four Seasons & Grand Wailea) and ends at Mokapu Beach (Andaz Maui). The trail is usually bustling with runners and walkers (especially in the morning) and it's a great way to see the most beautiful parts of Wailea.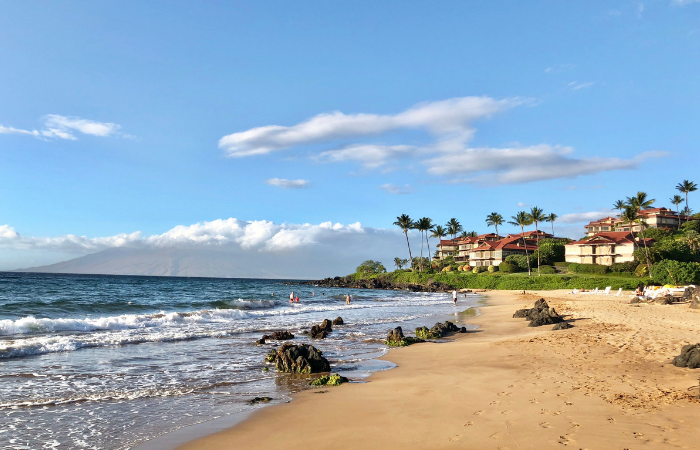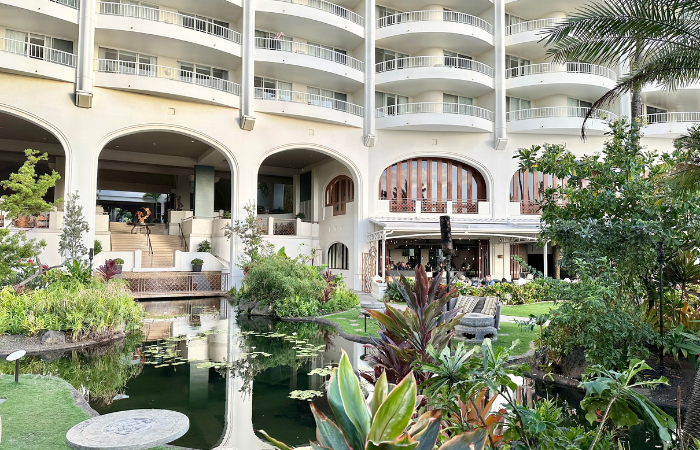 The Spa
I didn't get a treatment during this trip, but I did take a mini tour of the spa since it has recently won awards as one of the best spas in the world. It also has some very innovative treatments including a WaveMotion massage, which uses a special table that tilts, rotates, and rocks to create a weightless feeling. There are only five in the world so it truly is a unique experience! Overall, it doesn't have the most impressive facilities/grounds of any spa in Wailea (that would be Spa Grande at the Grand Wailea), but the treatments are supposed to be top notch (I have a friend who used to work there).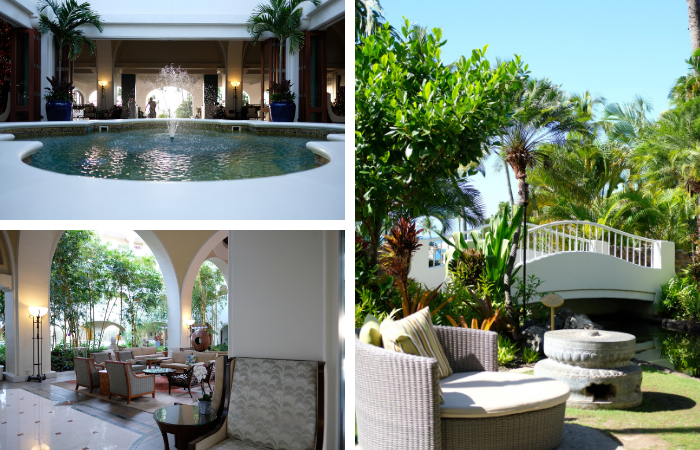 Extra Activities
Like most high end beach resorts this size in Hawaii, there are a lot of extra activities you can participate in (some free and some with additional fees). Offerings change all of the time and you should get a sheet with weekly offerings when you check it, but here's an idea of what is often available: fitness classes (including paddleboard yoga, barre, and bootcamp classes), fish feeding at the koi pond, nightly torch lighting ceremony, Hawaiian canoe experience, hula and ukulele lessons, mixology classes, Mermaid University (where kids ages 7-12 can participate in mermaid lore, learn to swim with a monofin, etc. Private sessions are available for an additional cost), Tiki Tuesday in the Luana Lounge, a resort tour that details the local flora and fauna, Hawaiian language lessons, a photography scavenger hunt, and MORE.
Book your stay at the Fairmont Kea Lani here.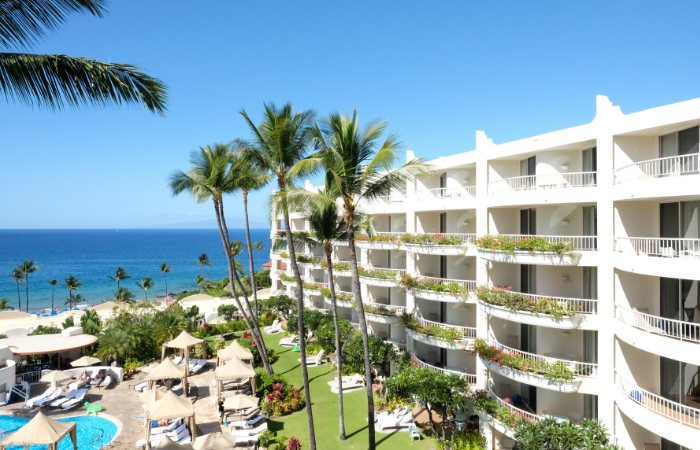 Special thanks to Cameron White for taking most of the beautiful photos featured in this post and to Nicole White for social media coverage during our stay!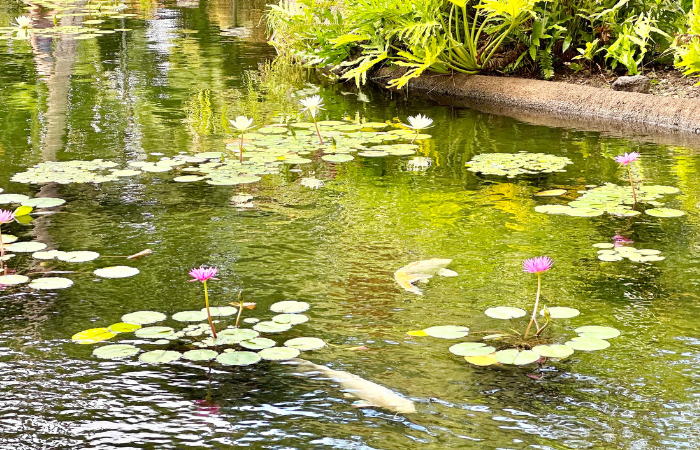 Still Looking for a Place to Stay?
Here's one more
really
important thing you need to know before your Hawaii trip…
Reservations You Need to Make BEFORE Your Hawaii Trip
You've got your airfare, hotel, rental car and your big activities booked, so you should be good to go, right? Wrong! Travel is BOOMING in Hawaii so a lot of state and national parks used the closure and reopening to institute reservation systems at some of the island's most popular spots to make things a little more sustainable. That means that there are now over half a dozen sites (beaches, trailheads, etc.) that require advance reservations. And some sell out
well
before you arrive on the island so you really need to have some sort of a plan. I recently saw somebody in a Hawaii travel group post in a panic that they didn't know they had to make reservations for things in advance…they thought they could just show up and "go with the flow." I was tempted to say, well, "as long as the flow doesn't take you somewhere that requires reservations, you can!" ; ) But I don't want YOU to be that person, so I've pulled together a list of all the places you need to reserve entry in advance (plus all the details on booking windows, price, links, etc.) and a handful of popular tourist hotspots that book out really far in advance too.
Haleakala National Park (Maui)
To visit Haleakala National Park for sunrise at the summit, you must make reservations in advance
here
. Reservations are required to enter the park gates between 3AM and 7AM (sunrise hours). Online reservations are $1 per reservation/vehicle PLUS you'll pay the park entrance fee of $30/vehicle when you arrive (National Park annual passes are also accepted at the gate). The reservation booking window opens 60 days in advance at 7AM HST. There are also a limited number of tickets released two days before. You can make one reservation every three days with the same account. So if you want to make reservations for back to back days (in case of weather/conditions), you'll need to do so with separate accounts (email addresses). If you can't get reservations for sunrise, you can enter the park anytime after 7AM without reservations. The summit is spectacular during the day and you don't need reservations for sunset. I strongly recommend creating an account before and making sure you're logged in at 7AM HST because it's not uncommon for reservations to sell out quickly.
Waianapanapa State Park (Maui)
To visit Maui's famous black sand beach at Waianapanapa State Park on the Road to Hana, you must make reservations in advance
here
. Reservations are required to visit the beach and are distributed in windows from 7AM-10AM, 10AM-12:30PM, 12:30PM-3PM, and 3PM-6PM. And they are pretty strict about exiting by the end of your window time (you can arrive anytime within your window). It's $5/person to enter plus $10/vehicle to park and those fees are paid when you book your time slot. Reservations open up 30 days in advance.
Iao Valley State Park (Maui)
To visit the lush, green mountains and hike at Iao Valley State Park, you must make reservations in advance
here
. Reservations are offered for 90 minute time slots beginning at 7AM and ending at 6PM. They ask that you arrive within the first 30 minutes of your time slot. Entry is $5/person plus $10/vehicle to park. Reservations open up 30 days in advance.
Diamond Head (Oahu)
To hike to the top of Waikiki's famous Diamond Head, you must make reservations in advance
here
. Reservations are offered in two hour increments beginning at 6AM (6AM-8AM, 8AM-10AM, etc.) and ending at 6PM. If you're parking onsite, they ask that you arrive within the first 30 minutes of your reservation window. Entry is $5/person plus $10/vehicle to park. Reservations open up 30 days in advance. Tip: I recommend booking one of the first two time slots because there isn't much shade on this hike and it gets pretty hot.
Hanauma Bay (Oahu)
To snorkel at Oahu's pristine Hanauma Bay, you must make reservations in advance
here
. Entry times are staggered in 10 minute increments from 7AM to 1:20PM with roughly 1000 slots being assigned in advance every day. Reservations can be made two days in advance and they open at 7AM HST. They're usually gone in minutes (if not seconds). If you're unable to get an advanced reservation, you can try for a day of, walk in ticket. They open at 6:45AM and they only have a limited number available. Everyone in your group needs to be present when you purchase your tickets in person. There are no reservations for parking and it's first come, first serve. $3/vehicle. It's $25/person to snorkel at Hanauma Bay (12 and under, active military, and locals with HI ID are free). The Hanauma Bay Nature Preserve is open Wednesday through Sunday (CLOSED MONDAY AND TUESDAY) from 6:45AM-4PM. Last entry is at 1:30PM, the beach is cleared at 3:15PM and you have to leave the facility by 4PM. Jellyfish patterns can also affect whether or not the bay is open so double check the day before/day of.
USS Arizona at Pearl Harbor (Oahu)
If you want to take the boat tour at Pearl Harbor out to the USS Arizona, it's recommended to make advance reservations
here
. Online reservations are guaranteed a specific boarding time to go out to the USS Arizona. If you're unable to get an advance reservation, you can wait standby when you arrive. The line could be short (15 minutes or so) or long (hours) and it just depends on the day (if they're having problems with the loading dock sometimes they don't take many from the standby line) and the time of day. Reservations are
supposed
to open up 60 days in advance, but keep an eye on your exact dates, because lately they've actually been opening up about 57ish days in advance??? They also release a small batch of tickets the day before. The boat ride out to the USS Arizona is free, but it's $1 to make the reservations online. They recently started charging $7/vehicle for parking at Pearl Harbor.
Haena State Park / Kalalau Trail (Kauai)
If you want to hike Kauai's famous Kalalau Trail, you must make advance reservations
here
. You've got three options here: 1) Parking & Entry: This is the most flexible option and also the most limited. THESE RESERVATIONS SELL OUT IN LESS THAN A MINUTE. There are three time slots available: 6:30AM-12:30PM, 12:30PM-5:30PM and 4:30PM to sunset. You can purchase multiple time slots if you want to stay longer. It's $10/timeslot (parking) plus $5/person and you have to reserve every person when you initially book. Everybody has to arrive in the same car and your ID needs to match the reservation. 2) Shuttle & Entry: If you can't get parking at the trailhead, there's also a shuttle option. Shuttle reservations are $35/person (16+), $25/person (ages 4-15), 3 and under can ride free. The shuttle runs every 20 minutes 6:20AM to 6:40PM. 3) Entry Only: If you're a Hawaiian resident (with HI ID) or someone WITH a Hawaiian resident, you can purchase entry only for $5/person with no advance reservations. Also, if you're walking or biking to the trailhead you can do this option. But there is NOWHERE to park in the area to walk in. So this really only works for those with bikes or who are staying close enough to walk. They will tow your car if you park outside the designated areas. The reservation window opens 30 days in advance at 12AM HST. The parking & entry option usually sells out in a minute, but the shuttle availability will last longer. There are a TON of FAQs
here
including the possibility of snagging a canceled reservation.
Other Things to Book in Advance
Hawaii is a busy place these days! Besides the state and national parks above, here's a handful of miscellaneous things you should make reservations for in advance (if they're on your radar):
Mama's Fish House (Maui): The iconic spot is the most popular restaurant in Hawaii and they've been opening reservations (and selling out) 4-6 months in advance. You can call and get on the waitlist for one day or you can set notifications on OpenTable to alert you for cancellations every day of your trip. Most people have pretty good success on OpenTable.
Old Lahaina Luau (Maui): Honestly, any luau you're planning to attend you should book early, but most people are usually shocked how far out the Old Lahaina Luau books out. Book it as soon as you know your dates (I think they open at the six month window). They also have a waitlist.
Kualoa Ranch UTV Tour (Oahu): Everybody loves Jurassic Park so getting to ride UTVs where they filmed the movies is very popular. The ranch offers a lot of different tours but the UTV tours usually book out a couple of months in advance.
Spa Reservations: If you're staying at a resort with a spa (or planning on visiting one), don't wait until you arrive to make your reservations. I'd make them at least a month in advance.
Tee Times: Same for golf, reserve your tee times well in advance.
Dining Reservations: Any "fancy" or resort restaurant is likely to be booked up these days so if you like having a nice dinner every night, make your plans in advance.
Want to read more? Don't miss some of my most popular (and favorite) posts about Maui: My Favorite Hotels on Maui | Wailea vs Ka'anapali | All of the Wailea Resorts Ranked | Maui Travel Tips | Things You Can ONLY Do on Maui | My Favorite Road to Hana Itinerary | Road to Hana Tips | Should You Drive the Backside of the Road to Hana? | 4 Day Maui Itinerary | Is Mama's Fish House Worth It? | Tips for Sunrise at Haleakala National Park | Things to Do Upcountry | Best Beaches in Wailea & Kihei | Best Restaurants in Wailea | Maui vs Kauai | Four Seasons Maui Review | Andaz Maui Review | Fairmont Kea Lani Review | Wailea Beach Resort Review | Four Seasons vs Andaz Maui | Andaz Maui vs Wailea Beach Resort
P.S. Thanks for sticking around and reading this whole post! If you have ANY questions about planning your trip to Hawaii, you can join my free Facebook group here. I'm there answering questions every day and there are 7500+ other friends who have a ton of Hawaii information to share!
Also, if you want to follow along on my travel adventures in real time, you can follow me on Instagram (@caitylincoln). My post captions are full of travel tips and I have a ton of story highlights and videos with great info. And please share my account with your friends that are headed to Hawaii! Your support really helps me keep this blog running!