Wailea vs Ka'anapali: The Best Area to Stay on Maui
I get a lot of questions about the best place to stay on Maui. If people have done any research at all about where to stay on Maui, they pretty quickly realize it comes down to deciding whether to stay on the west side or the south side.
West Maui (Ka'anapali, Lahaina, Kapalua, and Napili) and South Maui (Wailea, Kihei, and Makena) are the two areas that the majority of visitors to Maui choose to stay. So in this post I'm going to break down the pros and cons of both areas and let you know my favorite place to stay on Maui.

Wailea vs Ka'anapali: Which one is better?
Okay, if you ask this question in any Facebook group or forum, you're going to get some definitive answers. Most people definitely think there's a "best" place to stay between the two. Unfortunately, there's not usually much consensus. In my experience, most people just tend to recommend wherever they ended up staying. The area they stayed and the specific resort is usually the "best on the island." Not helpful plus if you've only stayed in one place how would you know.
People that have stayed in both Wailea and Ka'anapali usually have a preference between the two but will be quick to tell you that they're both great…it just depends what you're looking for.
IT'S A GOOD THING YOU HAVE ME. I've stayed everywhere, done it all, seen the good, the bad, and the ugly and I'm ready to share my opinions with you. Sooooo…Wailea vs Ka'anapali…which is better? Well, it depends. I wish there were a cut and dry answer for you here, but there's not. It's complicated and really does depend on what you like and what your budget is.
So let's get into the details…
West Maui (Lahaina, Ka'anapali, & Kapalua)
"West Maui" refers to the areas of Lahaina, Ka'anapali, Kapalua, and Napili. Some of these are towns/cities, some are bustling resort areas, and some are communities of older condos. Sometimes people just say "Lahaina" or "Lahaina side" referring to the entire west side of the island.
West Maui was originally developed in the 1960s and remains the most popular place to stay on Maui. The old whaling village of Lahaina anchors this area and the Ka'anapali resort area is home to the majority of dining and accommodation options on this side of the island. Drive time from the Kahului airport (OGG) to the Lahaina area is about 45 minutes.
Most people stay in West Maui, if for no other reason than it's where the majority of the resorts and condos are. West Maui is home to Maui's original resort areas, and it's still where most of the tourists flock today. West Maui is usually sunny and dry, making it perfect beach weather. Also, there's a wide range of accommodation options so whether you're looking to splurge on a beachfront resort or save on a condo, you can find it in West Maui.
There's also a lot of development, so if you're the type that likes to be in the middle of the action, West Maui is where it's going on. Lahaina (an old whaling village turned tourist hot spot) is where many choose to spend their evenings. Front Street is packed with shops and restaurants (many offering ocean views) and has a nice vibe that makes it a "hang out" spot for people in the evenings. The docks in Lahaina are also where a lot of the water excursions leave from (whale watching, glass bottomed boats, submarines, and ferries to Lanai) so if you're planning to do much of that, it's nice to be staying nearby.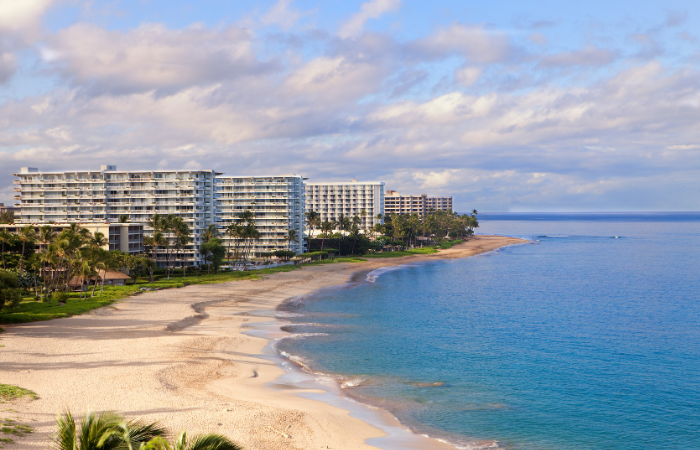 Maui's famous Ka'anapali Beach is also in West Maui (just north of Lahaina) and although it comes nowhere near it in terms of crowds, I would call it the Waikiki of Maui. Fronting it are the Sheraton, Westin, Marriott, and Hyatt to name a few. There's also an outdoor mall with plenty of shopping and dining right on the beach. The three-mile beachfront promenade makes it easy to get around and it seems like there's always something to do. Catamarans pull right up to the beach to take passengers out on snorkeling excursions and there's good snorkeling at the far north end at Black Rock.
If you're looking for something quieter, Napili Bay and Kapalua Bay to the north might float your boat. Napili Bay (a great beach) is surrounded by older condos and small inns or resorts that although they're showing their age are still pretty charming (and you can't beat the location)! For more of a luxury resort feel, try Kapalua (the name of a beach, but also a resort area). It's centered around golfing, but the Montage and the Ritz Carlton are some of the swankiest places around and although you're not far from Lahaina and Ka'anapali, you'll feel a world away. There are also a bunch of fancy-schmancy condos in Kapalua. The only thing I don't love about this area (the area north of Ka'anapali in general) is that it tends to be rainier that spots further south on the west side. The West Maui Mountains kind of make their own weather and there's a cloud line that settles in that can affect the Kapalua area more than other places. It's not major, but it's a little nuance to the area.
West Maui is actually one of the prettiest parts of Maui, with the West Maui Mountains rising up in the background offering some amazing hiking trails, it has some of the best beaches on the island (if you don't mind the crowds) and you're close to the famous Honolua Bay and all that's going on in Lahaina and Ka'anapali.
Alas, even though West Maui is pretty great, it's not perfect. I hinted before at the crowds, but to me, that's the biggest downside about the West side. Some of the most popular beaches (AKA the most beautiful) like Ka'anapali, Kapalua, and Napili can be crowded with limited parking. Also, while there's a lot to do on the West side, that means it's pretty built up. Which can be good and bad. Unfortunately, the bad can be tacky tourist shops and plenty of strip malls. All of that aside, a major consideration for me is how far the West side is from everything else. Doing Haleakala? It's a hike. Road to Hana? Same thing. Anything on the north shore or upcountry? You'll have to drive a ways. The good news…Maui is beautiful, so you may not mind the drive.
Read my complete Ka'anapali guide here.
***Want to get FREE flights to Hawaii? My favorite travel hack is cashing in points to score free flights to Hawaii. My go-to airline is Southwest (seriously, I ONLY fly Southwest) so I use this Southwest Rapid Rewards card to rack up points every time I fly. If you pay for your monthly expenses on the card and are responsible about paying it off every month, the points add up really fast. Plus, if you sign up through my link, you'll get 50,000 bonus points to use which depending on where you're flying from and when, that could be TWO FREE TICKETS TO HAWAII. If I could sign up twice, I would ; )
South Maui (Wailea & Kihei)
"South Maui" refers to the areas of Wailea, Kihei, and Makena. You've got a smattering of local and tourist town vibes, high end luxury resorts, and spots where you can get away from the crowds.
Well hello, South Maui! While not as popular or well known as the West side, the South shores of Maui are pretty darn great. This side of the island stays even drier and sunnier than the West side (hence why they've started building it up more). The beaches in South Maui are way less crowded and quite a bit more accessible than those on the West side (more parking and better marked). Most of the beaches in Kihei you can see from the road! I think South Maui has it all. Drive time from the Kahului airport (OGG) to the Kihei/Wailea area is about 20-30 minutes.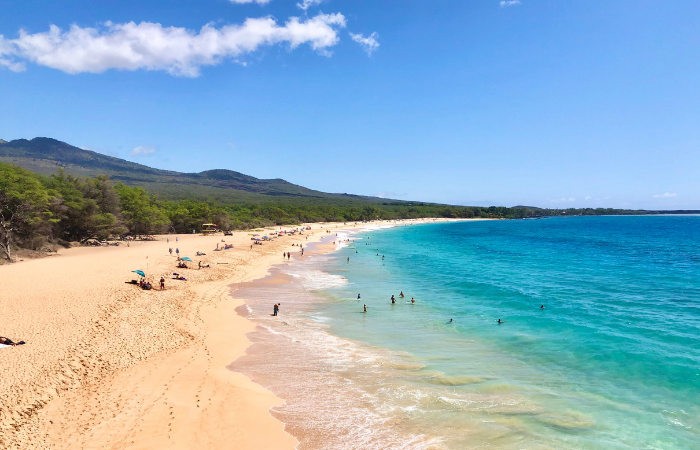 Kihei is a sizable beach town with plenty of places to eat and things to do (this is the hub of Maui surf lessons) and it's not very expensive. Most of your accommodation options in Kihei will be condos (some not super new) and while most aren't right on the beach, the steep price break can be worth a quick walk across the street to get to the beach.
Read my complete Kihei guide here.
If you can swing it, Wailea is THE place to stay. Wailea is a resort community just south of Kihei that includes several mega beachfront resorts, some nice condo complexes, good restaurants, an upscale outdoor mall, golf courses, tennis facilities, and pretty much everything you'd imagine a Hawaiian resort area would have. The whole area is super lush and manicured and looks like the Hawaii of your dreams. When I've driven people down to Wailea after seeing other parts of the island, they've said "now THIS is what I thought Maui would look like." To me, the epitome of luxury is staying at the Four Seasons in Wailea, and in my semi professional opinion, the best resorts in Maui are in Wailea.
Just like the West side, the South side isn't perfect. Kihei can feel a bit "spring breakish" to me. There are plenty of tacky shops, less than desirable eateries, and the beaches can definitely get crowded (especially Kam I, II, and III). Wailea is picturesque but expensive (unless you're in a condo off the beach) and there's honestly not a lot going on (a good and a bad thing). Everything is more upscale but there's less of it. There are a few companies that offer snorkeling excursions out of Kihei (one out of Makena) but otherwise you'll have to drive up to Ma'alaea Harbor. And although Haleakala looks super close (you can practically reach out and touch it) there's no road that connects with the elusive backside of the Road to Hana (it look so close on a map!!) so you still have to drive up through Kahului to get to the North Shore, Upcountry, and Road to Hana.
Read my complete Wailea guide here.
Where I Like to Stay on Maui
Everybody has different opinions and different things work for different people, but here's what I think (and this is what I tell my friends who are thinking about a trip to Maui):
Most people talk about the west side vs. the south side and which is better, but it's a bit more nuanced than that. For example, I prefer the south side because I like WAILEA, but if my budget prohibits that then I'd pick Ka'anapali on the west side before I'd stay in Kihei on the south side. So your choice between the south and west side may come down to exactly what place/area you can afford (if you're looking for a resort, they'll be cheaper on the west side, but if you're looking for a condo the deals in Kihei are hard to beat).
As a general rule, I dislike staying in Kihei unless my budget makes it by far the best option. I just find it to be crowded and not the vibe that I'm looking for on vacation, but so many people LOVE it so this really depends on what you're looking for. If I am staying in Kihei, I like the properties on the south side (Kihei Surfside Resort, Mana Kai Maui, and Hale Hui Kai) near Keawakapu Beach.
If you're looking at resorts and condos in the Ka'anapali Resort area (west Maui), be aware between the difference of the main Ka'anapali Beach (south of Black Rock), and North Ka'anapali Beach (the beach that stretches from Black Rock north to Honokowai Beach Park. Ka'anapali Beach is the main area of beach (about 1.5 miles) that runs from the Sheraton to the Hyatt. There's a beach walk and a high end outdoor shopping mall with some great restaurants that connect all of the resorts making it feel like more of a community. The properties along North Ka'anapali Beach are mostly condo-tels so there's generally fewer amenities and less going on. There is a beach walk along north Ka'anapali Beach and once you get to the Royal Lahaina Resort (the resort just north of Black Rock), there is a pathway around to the Sheraton and you then can walk on to Whalers Village. But depending on how far north you're staying, this could be quite a walk.
Manage your expectations if you're staying in an older condo on the West Side (especially around Honokowai, Kahana, and Napili Bay). They're a little older and shabbier (not necessarily in a bad way, but they can definitely be worn) than many expect. Also, a lot of complexes in that area on the water don't have a beach.
If you want specific recommendations for my favorite hotels (on both the south and west sides) read this post about where to stay on Maui.
To Split or Not to Split
I also get asked about this a lot too. If you've read through everything about south Maui and west Maui and you really still can't decide, a lot of people wonder about splitting their trip and staying on the south side part of the time and the west side for part of the time.
I don't usually recommend splitting your stay among different parts of the island (especially the south side and west side) for the sake of trying to save time driving to do activities. A lot of people ask if I would recommend staying on the west side to do the things over there and then moving to the south side so they're closer to Haleakala, Hana, and the north shore. But I don't. These two areas are both touristy, beachy areas so just pick one place and stay there the whole time even if it means an additional 30-minute drive going places. It'll be less of a hassle than moving. Besides, even if you're staying on the south side, it's still not that close to the east side of the island.
Here's when I do recommend a split stay: if you're wanting to experience a high-end luxury resort, but you can't swing the bill for your whole stay. If you have a week, and you want to do a fair bit of exploring the island, but also enjoy a stay at a luxury resort where you never leave the beach/pool, I would suggest splitting your stay 3 nights at affordable/central accommodations and 4 nights at a nice resort.
On my last trip to Maui, I stayed the first three nights at a rental in Paia (you could also stay at the Paia Inn) and did sunrise at Haleakala, toured Maui Wine and the upcountry, hung out on the north shore with some turtles, explored Paia and Makawao, drove to Hana, had dinner at Mama's Fish House, and swung by the Iao Valley before checking into the Four Seasons in Wailea for 3 nights and doing NOTHING.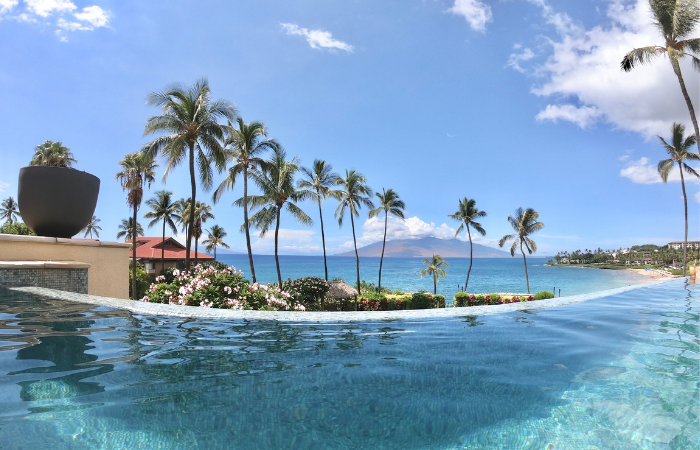 Doing your trip this way means you hit the ground running and go, go, go but it also means you don't have to pay for a full week at a luxury resort when you'll be out exploring. Something to think about!
Want to read more about where to stay on Maui? I've written a ton of posts that will help. I'd start with my 15 favorite resorts and hotels on Maui. Also, you're going to want to decide between staying on the south side or the west side so this post about Wailea vs Ka'anapali is golden. Read about my favorite luxury resorts, boutique hotels, honeymoon resorts, family friendly resorts, and condos (many under $100/night!). If you've narrowed down the area of the island you want to stay, but need help picking a specific hotel, read these posts about where to stay in Wailea, Kihei, Ka'anapali, Lahaina and Kapalua, and Hana. And if you just want more details (more! More! more!), read my reviews of staying at the Four Seasons and the Fairmont Kea Lani.
Want more posts about Maui? Don't miss some of my most popular (and favorite) posts about Maui: my Maui favorites, the best Maui itinerary, how many days to spend on Maui, Maui vs Kauai, where to see turtles on Maui, my favorite road to Hana itinerary, guide for sunrise at Haleakala National Park, how to bike down Maui's volcano, my review of the Maui Pineapple Tour, 20 of the best adventure activities on Maui, 5 Maui day trips, and the best things to do on a Maui honeymoon.
P.S. Thanks for sticking around and reading this whole post! If you have ANY questions about planning your trip to Hawaii, you can join my free Facebook group here. I'm there answering questions every day and there are 7500+ other friends who have a ton of Hawaii information to share!
Also, if you want to follow along on my travel adventures in real time, you can follow me on Instagram (@caitylincoln). My post captions are full of travel tips and I have a ton of story highlights and videos with great info. And please share my account with your friends that are headed to Hawaii! Your support really helps me keep this blog running!