13 Best Beaches in Wailea & Kihei: The Most Popular, Most Beautiful, Best for Snorkeling, Etc.
While all of the Hawaiian Islands have spectacular beaches, Maui is known for having the MOST. While beaches on some of the other islands are hard to find or don't have the best swimming conditions, Maui beaches are plentiful, very accessible, and overall very good for swimming, snorkeling, and boogie boarding.
The beaches on the south side of Maui are some of the island's most popular. This is the driest and hottest part of the island so beach going conditions are ideal and from Kihei through Wailea down to Makena, the sandy beaches are almost continuous. In this post I'm going to tell you my favorite beaches in Kihei and Wailea as well as Makena. I'll start with the Kihei beaches (the northernmost ones) and work my way south through Wailea and towards Makena.
Best Beaches in Kihei

Kamaole I, II, III
These three beaches in the heart of Kihei are some of the most popular on the island. There are no big resorts or hotels on these beaches but they're a stones throw from about a gazillion condos plus a lot of locals live in Kihei so that accounts for a lot of their popularity. They're all very accessible (you can see them from the road), have decent parking, have pretty good amenities, and they're right across the street from plenty of restaurants. The sand at all three is golden and the water is good for swimming. All three beaches have life guards.
Kam I has a small parking lot at the entrance as well as overflow parking in a dirt lot across the street next to the Texaco. The northern end of Kam I is also called Charlie Young Beach and it's a favorite with locals because it's usually less crowded than the main part of the beach (farther from the lifeguards, etc.). There's parking and a pathway down to Charlie Young Beach on Kaiau St. The best snorkeling around the Kam beaches is up at Charlie Young Beach around the rocks.
Kam II has the trickiest parking. It's mostly street parking so it's a beach that's more popular with people within walking distance.
Kam III has the most parking and best amenities of all three Kam beaches. In addition to restrooms and showers, there's a full playground and a huge lawn with plenty of shade that attracts a lot of locals. It can get crowded on the weekends and holidays, but it also has the most parking available.
While they're three distinct beaches, they're actually all connected. One of my favorite things is to start either at Kam I or Kam II and walk from beach to beach. Each beach is connected with a little path (you don't need to use the sidewalk up by the road) and there's a public right of way across the lawn at the Royal Mauian. It's a fun little scenic walk.
Keawakapu Beach
This long stretch of sand bridges Kihei and Wailea. The Mana Kai Resort (5 Palms Restaurant) sits at the north end of the beach and there's a public parking lot and access on Kilohana Drive (also a shower). It's a long beach and it's mostly fronted by houses so it never feels very crowded. This beach is perfect for sunset strolls. It also has some nice lava beds perfect for beach combing. The beach is so long that it actually connects to Mokapu (where the Andaz Maui sits) on the south end.
Side Note: If you're looking for a rental car for your trip, I LOVE Discount Hawaii Car Rentals. They're seriously the only company I ever use. They'll give you the very best prices, you don't have to reserve with a credit card or pay until you show up, you can cancel and re-book anytime if you find a better rate, and they usually have a special that adds additional drivers for no fee. It's a no brainer. Click here to check rates for your trip.
Best Beaches in Wailea

Ulua & Mokapu Beach
These two Wailea beaches share a parking lot and amenities and are pretty much connected. The snorkeling and diving here is great and there's plenty of room to spread out. This is also the start of the Wailea Beach Walk, a coastal trail that goes from here all the way south to Polo Beach. The Andaz Maui sits right on Mokapu Beach while the Wailea Elua Village (condos) sit on Ulua Beach. The public parking lot and beach access (where the restrooms/showers are) is off Wailea Alanui Drive between the Andaz and the Wailea Elua Village.

Wailea Beach
Home to some of the island' s most famous luxury beach resorts, Wailea is a laid back and lovely beach. The beach is wide, if not long, and the water is perfect for swimming and boogie boarding. The beach's resorts setup chairs and umbrellas for guests and sometimes there's an independent company renting out set ups for the day near the public entrance. The Four Seasons and the Grand Wailea both sit on Wailea Beach and while the Wailea Beach Resort (Marriott) isn't beachfront, they also have chair and umbrella set up on Wailea Beach. The public parking lot and beach access for Wailea Beach is between the Grand Wailea and Four Seasons. Once you turn off Wailea Alanui Drive and go down the hill, you'll see that there's a second overflow parking area down there closer to the Grand Wailea.

Polo Beach
One beach over from Wailea beach, and the end (or the beginning depending on how you look at it) of the Wailea Beach Walk, Polo beach is a nice wide cove beach. The sand is golden and the water is perfect for swimming but it tends to get windy in the afternoons. The Fairmont Kea Lani sits on Polo Beach along with some condos. To find the public parking lot (where you'll also find restrooms and showers) turn off of Wailea Alanui Drive just south of the Fairmont onto Kaukahi St. Drive down Kaukahi St until it ends and turn right into the parking lot.
White Rock
Officially called Palauea Beach, this is a lesser-known Wailea beach and more popular with locals since there are no resorts on it and therefore fewer crowds. The beach is gorgeous and perfect for swimming. To find it, turn just south of the Fairmont (same place as Polo Beach) but turn left at the end of Kaukahi St onto Makena Road. Drive a ways until you see cars parked on one side of the street and you've found it. You'll have to park on the side of the street and find a path between the houses to get to the beach. Wear shoes because the kiawe thorns are brutal on the path. There aren't any amenities here.
On Another Note: If you're looking for a condo or vacation rental for your trip, I always book with Vrbo. They've got the largest selection of rentals you'll find anywhere and you can easily filter to find exactly what you're looking for. Need a specific number of bedrooms and bathrooms? Narrowed it down to a certain location? Want flexible cancellation terms? Need to stay under a fixed budget? Click here to search for Maui vacation rentals for your trip.
Makena Landing
Drive south from Wailea (past the Fairmont Kea Lani) and Wailea Alanui Drive will turn into Makena Alanui Road. Take a right onto Makena Road just past the Makena Surf Resort and follow that road until you come to Makena Landing Beach Park. You'll know it when you see the boat ramp. This isn't really a beach, but it's a great snorkeling spot, especially if you're looking for turtles!
Maluaka Beach
Just south of Makena Landing (the boat ramp), this gorgeous beach is about as close as you'll get to the famed "Turtle Town" and still be on land. It's the same general snorkeling area (kind of off shore) as Makena Landing, but with this spot you get the bonus of being on a nice, sandy beach. There's mega construction going on in this area right now (they're turning the former Makena Beach and Golf Resort into some kind of vacation club owners resort). The road will dead end in a little circle drive where you can drop off and pick up at the beach, but the public parking is back up the road a little ways.
Big Beach
Also called Makena State Park, or sometimes Makena Beach, this is one of Maui's most beautiful beaches. It's a long stretch of golden/white sand with beautiful blue water. There's a strong shore break here (as the life guards will often remind you) so be careful when entering and exiting the water. At the far north end of Big Beach, there's a rock formation you can climb up (the views are amazing!) and over to get to Little Beach which has the reputation for being a nude beach/party beach with locals. Before you reach the main parking lot for the State Park (at the north end), there's a turn off for Oneuli Beach which is technically a black sand beach, but probably not the kind you're thinking of.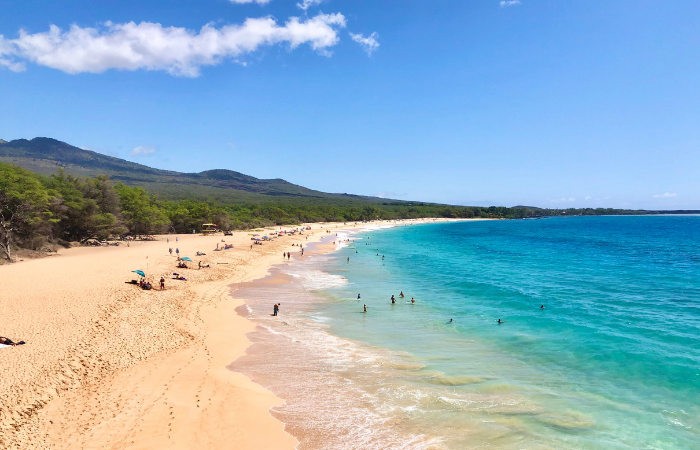 There are two parking lots at Makena State Park (and usually a few food trucks) and no restrooms or showers but there are porta-potties. In April 2021, entrance AND parking fees were introduced (although reservations are not required). $10/car to park plus $5/person (under 3 are free) to enter. Fees are paid at the pay station in the parking lot.
I understand the reasoning for charging for parking and entry to some of the state parks in Hawaii, and I also understand that you might be hesitant to pay to go to a beach when there is an abundance of free beaches in the area. Totally get it. But I will say that Big Beach is hands down the most beautiful beach on Maui and I think climbing up the rocks at the north end to see the overlook is a don't miss. But you decide.

Secret Beach
Also called Pa'ako Beach, Secret Cove, and Makena Cove, this is where 98.9% of the weddings on Maui happen. Just kidding, but it seems like it sometimes. This tiny postage stamp of a beach is the first "shoreline access" sign you'll see after you pass Big Beach. There's limited street parking in the area. It requires climbing down a little path to get to it, so it feels like a "secret" once you find it. Makena Cove is lovely (although very small) but the "secret beach" is actually around the corner to the right. You'll need water shoes to climb along the lava rocks to get there but once you do, you'll usually have it all to yourself. And from there you can keep making your way north and you'll connect to the south end of Big Beach.
Want to read more? Don't miss some of my most popular (and favorite) posts about Maui: my Maui favorites, the best Maui itinerary, how many days to spend on Maui, Maui vs Kauai, where to see turtles on Maui, my favorite road to Hana itinerary, guide for sunrise at Haleakala National Park, how to bike down Maui's volcano, my review of the Maui Pineapple Tour, 20 of the best adventure activities on Maui, 5 Maui day trips, and the best things to do on a Maui honeymoon.
More posts about where to stay on Maui: Trying to figure out where to stay on Maui? I've written a ton of posts that will help. I'd start with my 15 favorite resorts and hotels on Maui. Also, you're going to want to decide between staying on the south side or the west side so this post about Wailea vs Ka'anapali is golden. Read about my favorite luxury resorts, boutique hotels, honeymoon resorts, family friendly resorts, and condos (many under $100/night!). If you've narrowed down the area of the island you want to stay, but need help picking a specific hotel, read these posts about where to stay in Wailea, Kihei, Ka'anapali, Lahaina and Kapalua, and Hana. And if you just want more details (more! More! more!), read my reviews of staying at the Four Seasons and the Fairmont Kea Lani.
Save
Save
Save
Save
Save
Save
Save
Save
Save
Save
Save
Save
Save
Save
P.S. Thanks for sticking around and reading this whole post! If you have ANY questions about planning your trip to Hawaii, you can join my free Facebook group here. I'm there answering questions every day and there are 7500+ other friends who have a ton of Hawaii information to share!
Also, if you want to follow along on my travel adventures in real time, you can follow me on Instagram (@caitylincoln). My post captions are full of travel tips and I have a ton of story highlights and videos with great info. And please share my account with your friends that are headed to Hawaii! Your support really helps me keep this blog running!