15 Best Beaches in Wailea & Kihei (+ Snorkeling Spots & Other Things to Do in South Maui)
This post may contain some affiliate links, which means I'll make a little money on anything you choose to purchase. But of course, I only recommend my absolute favorites to you. Thank you for supporting the brands that make the Lincoln Travel Co possible.
**This post was updated November 2023.
If you're never been to Maui before, chances are Wailea is exactly what you think Maui will be like – manicured and lush, quiet and luxurious with gorgeous beaches and all the trappings of "vacationland."
Yes, some of the most posh beach resorts in Hawaii are strung like jewels along the coast here, but it's really all because of…the beaches.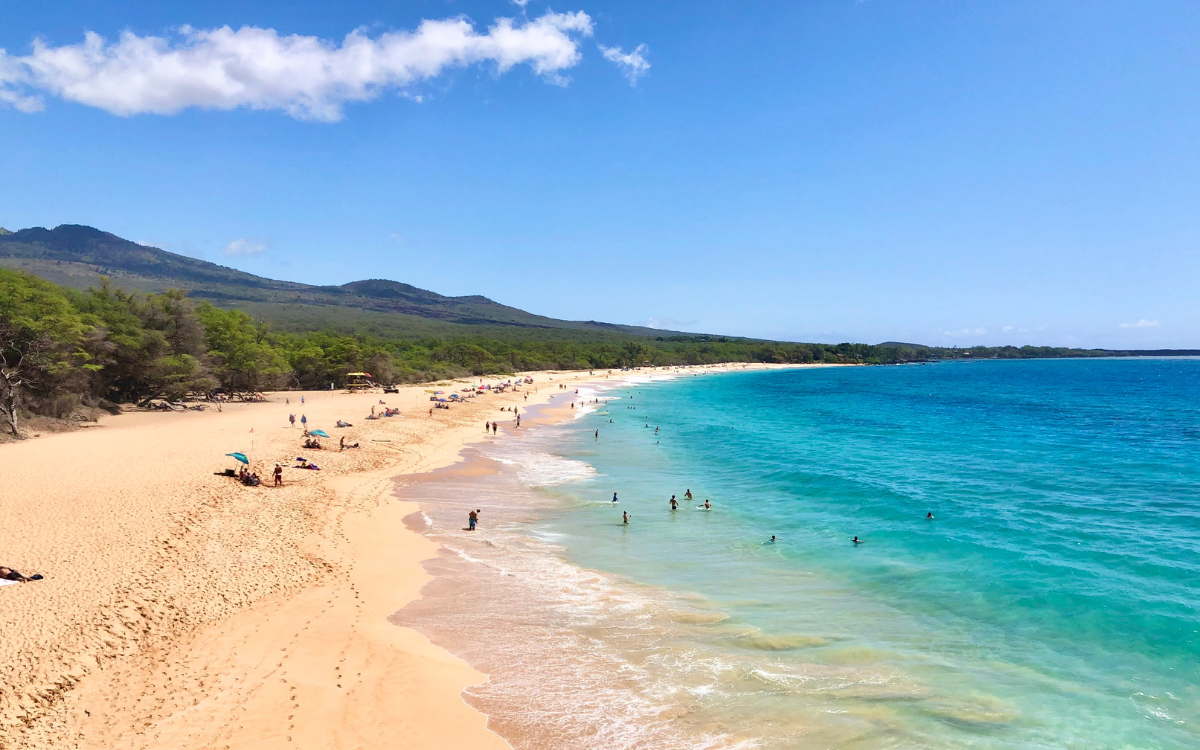 Best Beaches in Wailea & Kihei
While all of the Hawaiian Islands have spectacular beaches, Maui is known for having the MOST. Unlike other islands where a lot of the best beaches are hard to find or don't have the best swimming conditions, Maui beaches are plentiful, very accessible, and overall very good for swimming, snorkeling, and boogie boarding.
And the beaches on Maui's south side are some of the island's best. This is the driest and sunniest part of the island so beach going conditions are ideal and from Kihei through Wailea down to Makena, the sandy beaches are almost continuous.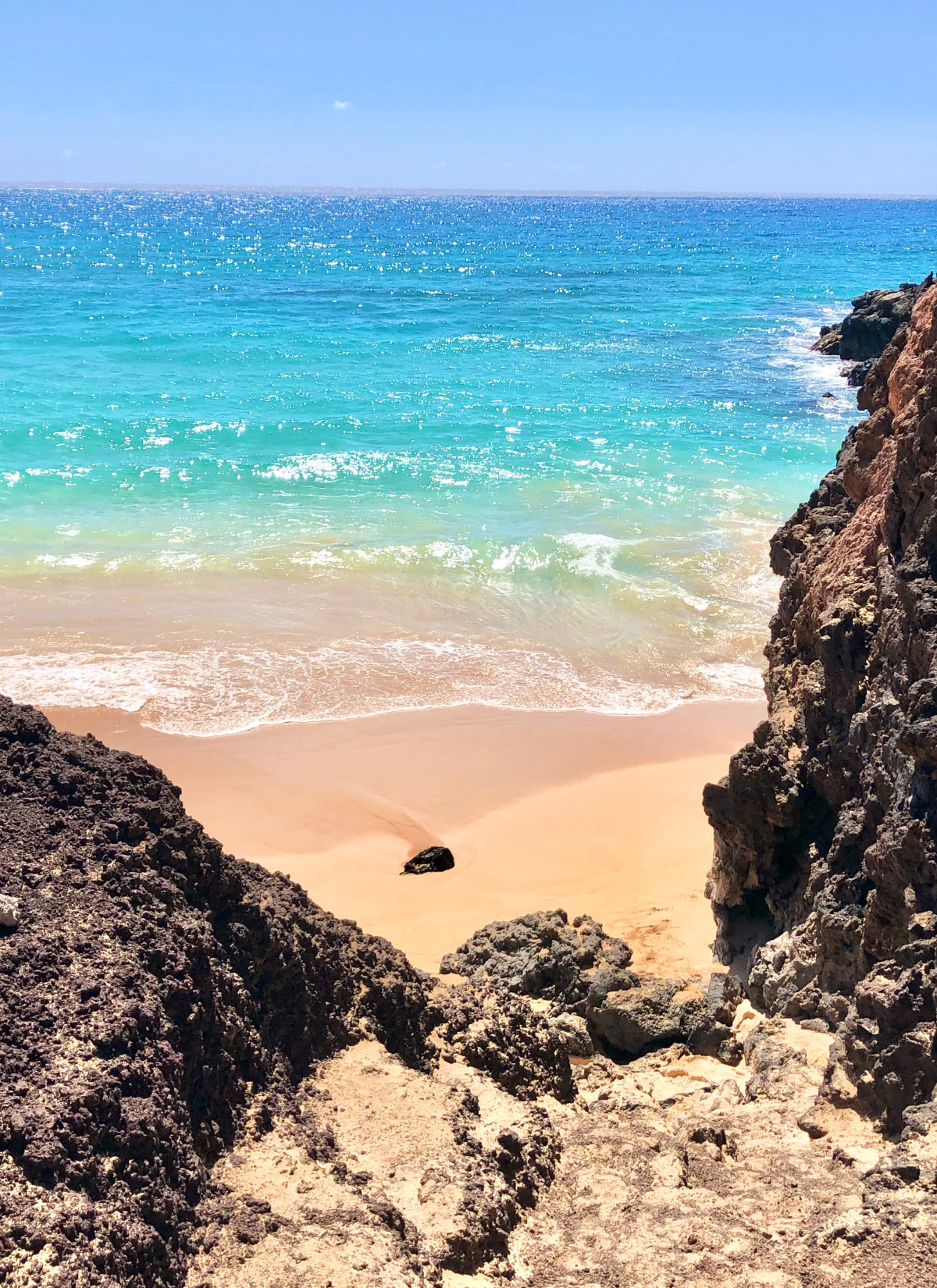 Throw in some pretty magnificent snorkeling spots, plenty of water activities, and everything other kind of activity and amenity you could possibly want on vacation, and you're never going to want to leave ; )
Here's the rundown of what you'll find in this post (in order):
Wailea beaches (including best snorkeling spots/walkable beaches/convenient parking, etc.)
Beaches & snorkeling spots south of Wailea (through Makena to the end of the road)
Kihei beaches
Where to get snorkeling gear (& rent stand up paddle boards, etc.)
Other things to do in Wailea & Kihei (mostly water activities)
More things to do in Wailea & Kihei (that don't involve the water)
Before I get into specific beaches, here's something to know: There are NO PRIVATE BEACHES IN HAWAII. Yep, even those gorgeous beaches flanked with swanky beach resorts are open to the public. If there are resorts (or homes) built in front of the beaches, they're required by law to provide a public access point to the beach. But that doesn't mean they're always super easy to find ; )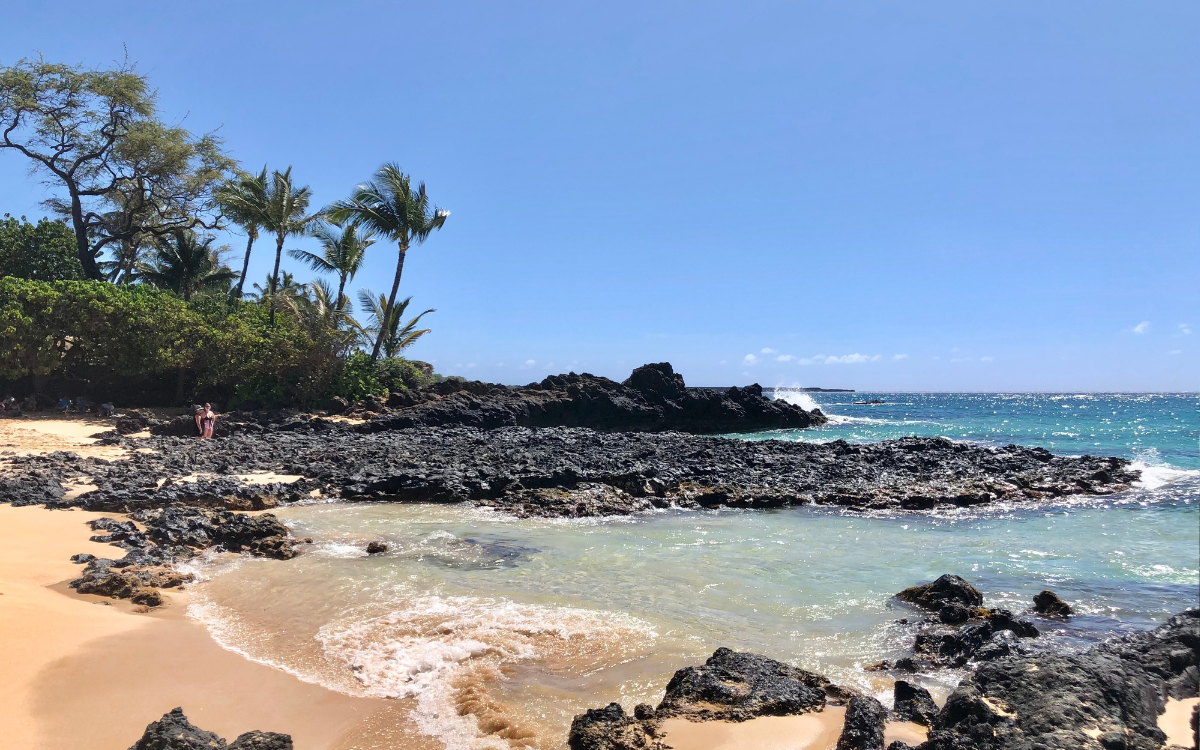 Best Beaches in Wailea
These beaches aren't ranked in any sort of "best to worst" order (like there's a worst!) but I'm going to start with the northernmost beach in Wailea and work south towards Makena and the end of the road.
Ulua & Mokapu Beach
Ulua Beach & Mokapu Beach sit at the north end of Wailea and of all of the "resort beaches" in Wailea, these are my favorites.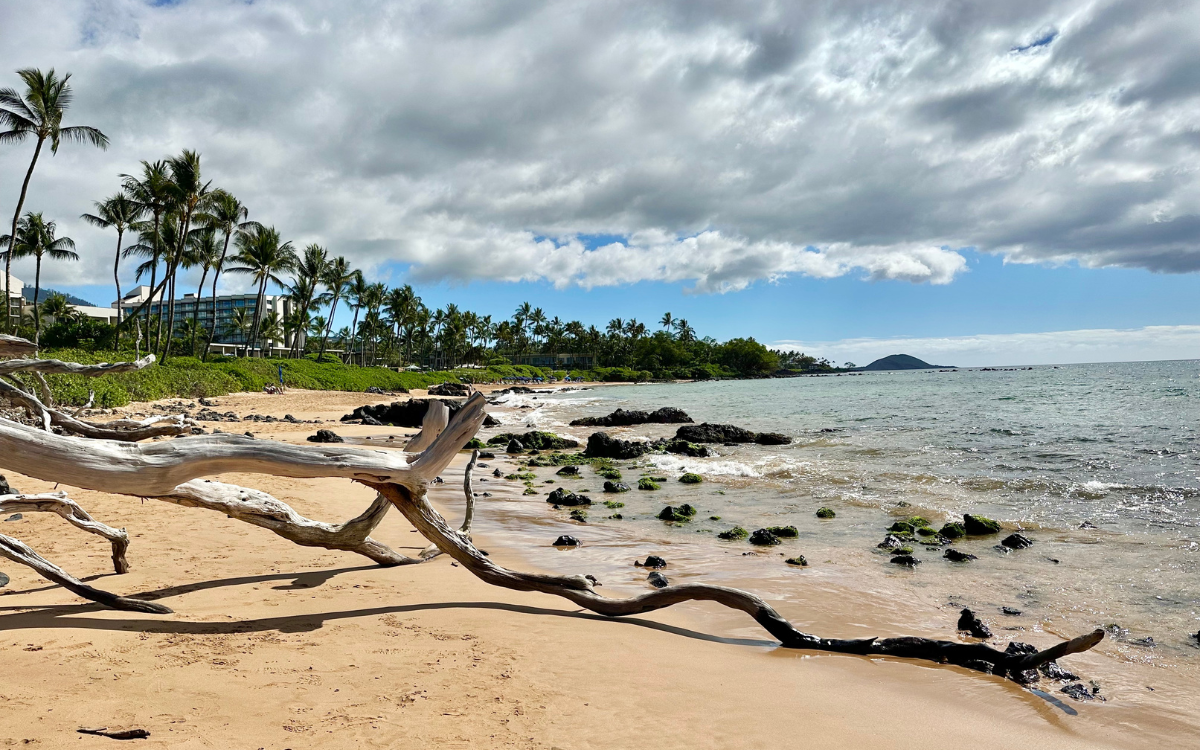 They're technically two beaches, but they share a parking lot and amenities and are pretty much connected.
The snorkeling and diving here is great (a lot of diving companies take people right out from the beach). Ulua Beach (the beach to the north in front of the Andaz) is one of my favorite places to snorkel in Wailea.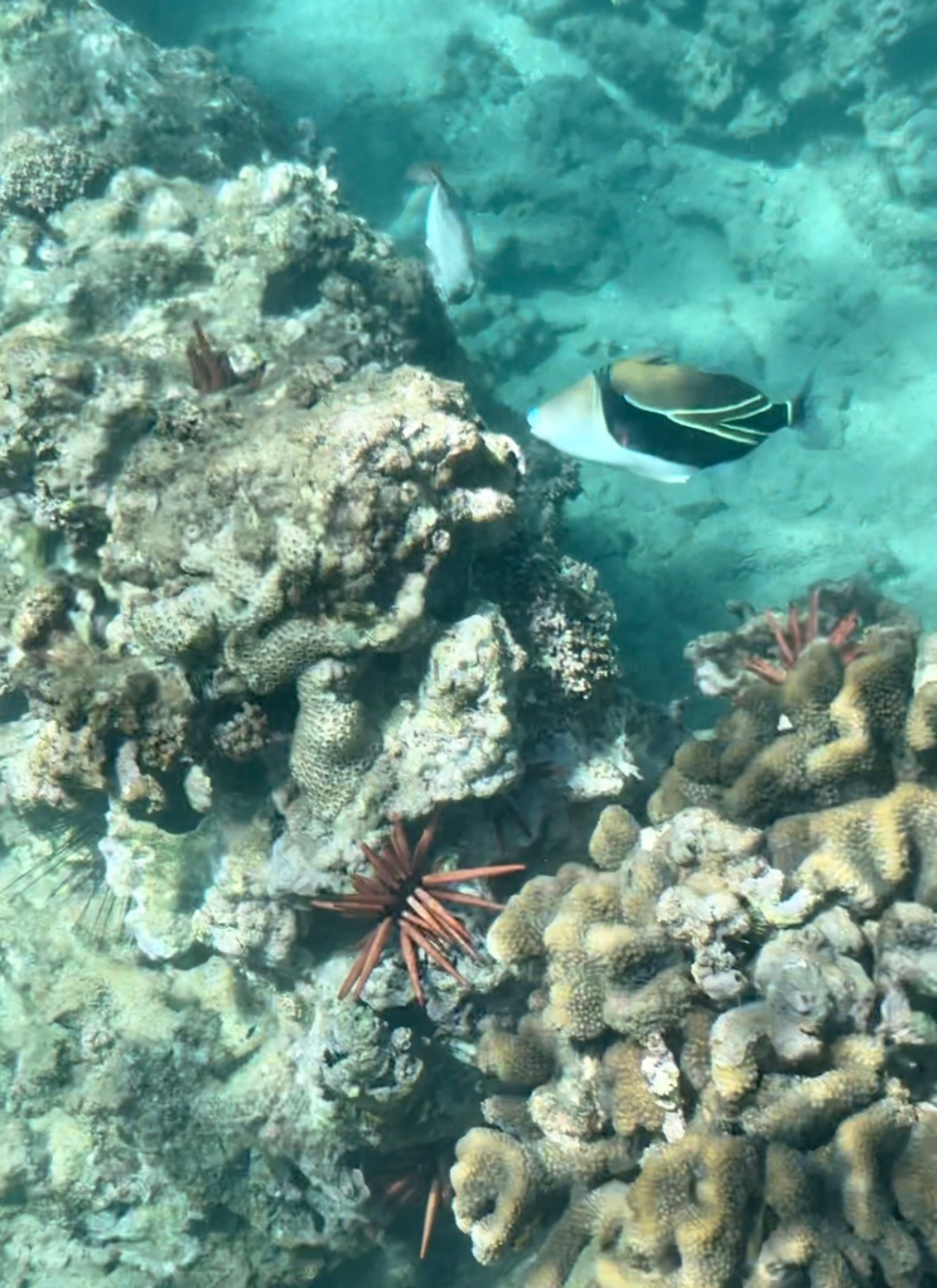 The reef is kind of protected and there are enough people from the resort taking advantage of the free snorkel gear that it always feels safe to me (I find safety in numbers in the ocean ; )
A good rule of thumb is to be finished snorkeling here by about 11 AM when it starts to get windy and the water gets choppy.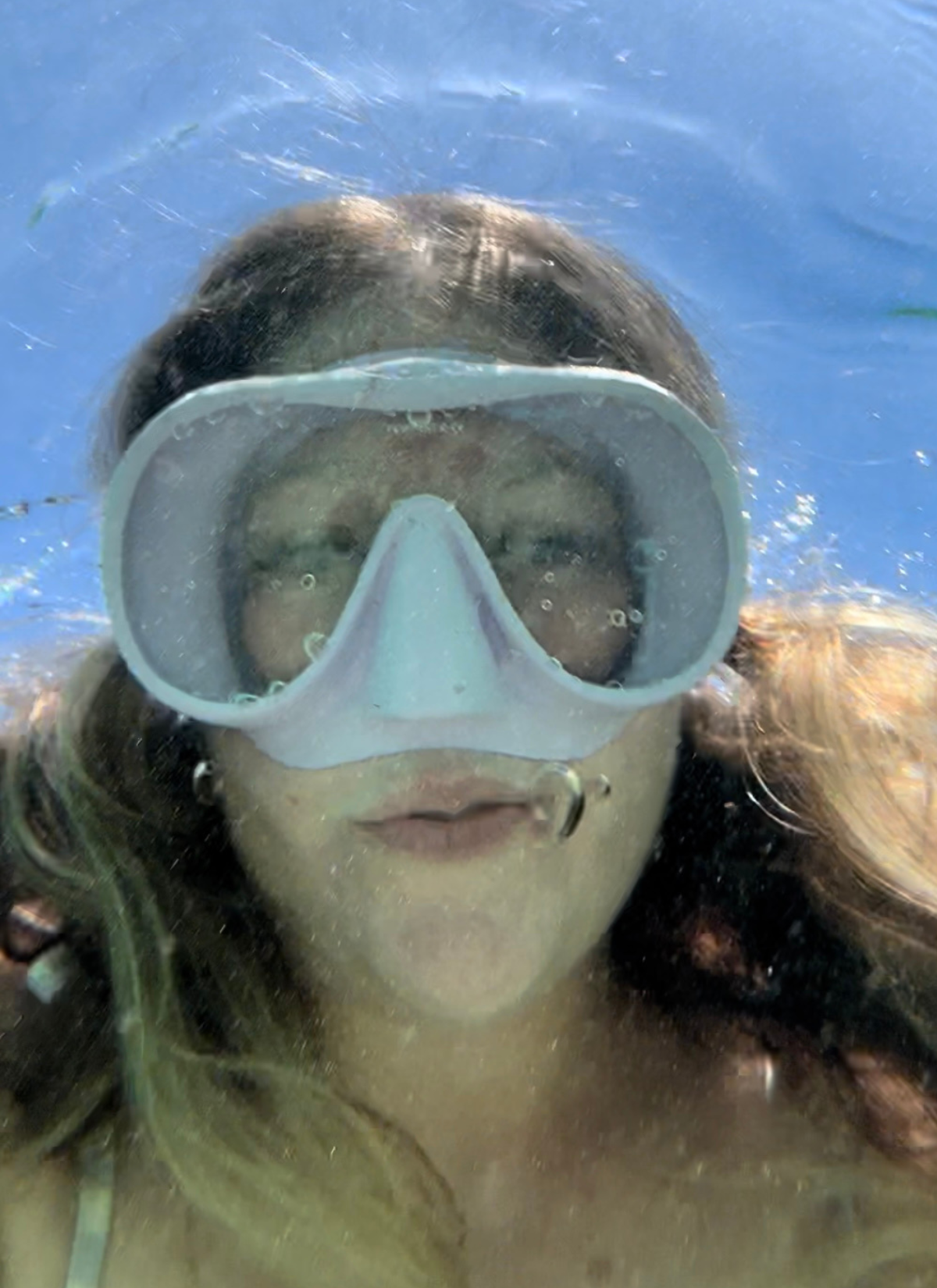 I also love this beach because it's pretty long and there's plenty of room to spread out. I think because the Andaz sits on Ulua Beach (the northern beach), most of the local beachgoers favor Mokapu Beach (the southern beach), but Ulua is actually a much longer beach and connects to Keawakapu Beach (you could walk all the way to Kihei on this beach!) and it's one of the best beaches in Hawaii if you like long walks on the beach.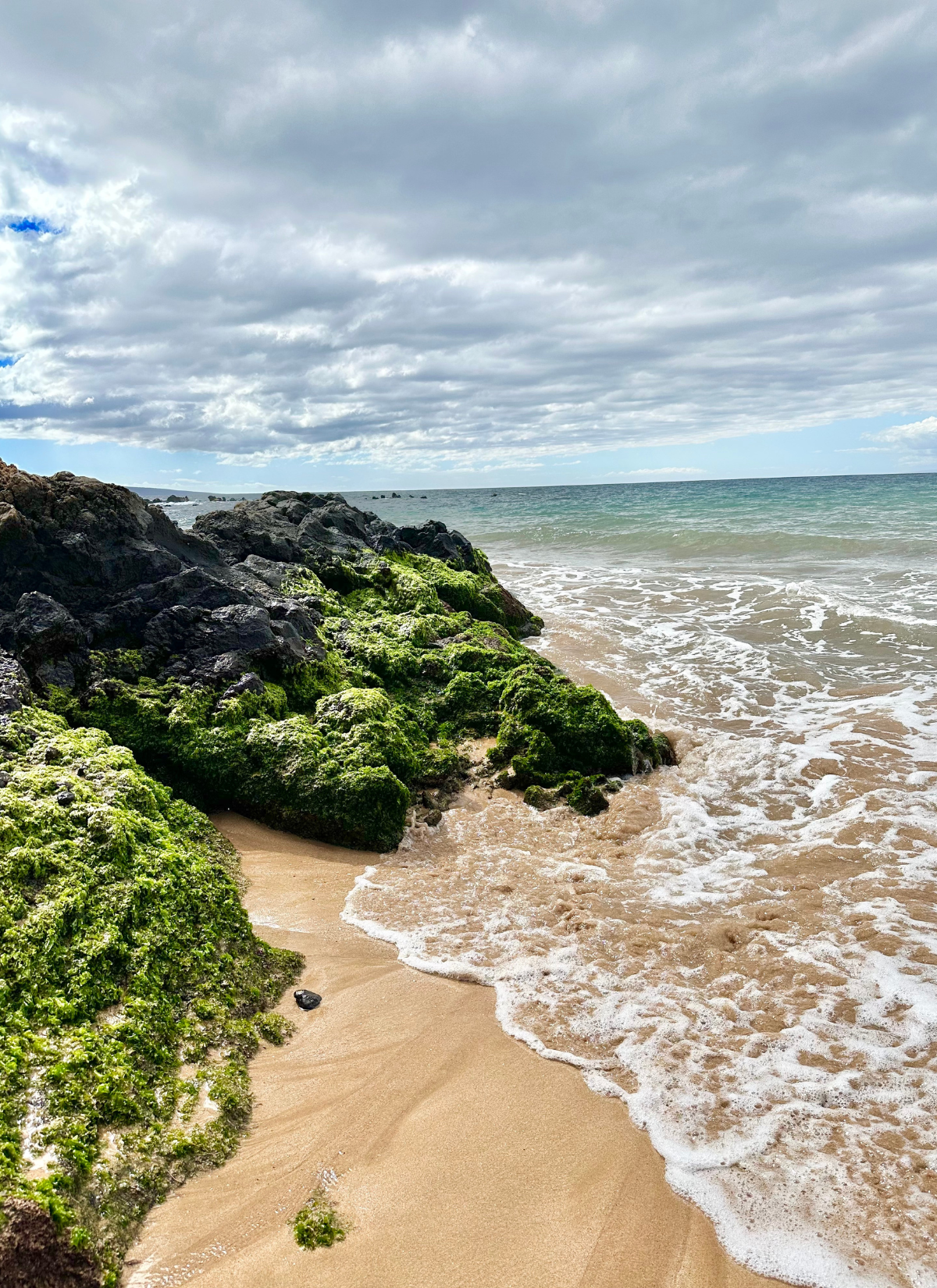 Ulua/Mokapu is also the northern edge of the Wailea Beach Walk. This coastal trail runs all the way from here south to Polo Beach. So another good option if you like to walk!
To find Ulua/Mokapu…the public parking lot and beach access (where the restrooms/showers are) is off Wailea Alanui Drive between the Andaz and the Wailea Elua Village. It's vaguely marked with an arrow on a black granite sign on the street but it's just south of the driveway for the Andaz.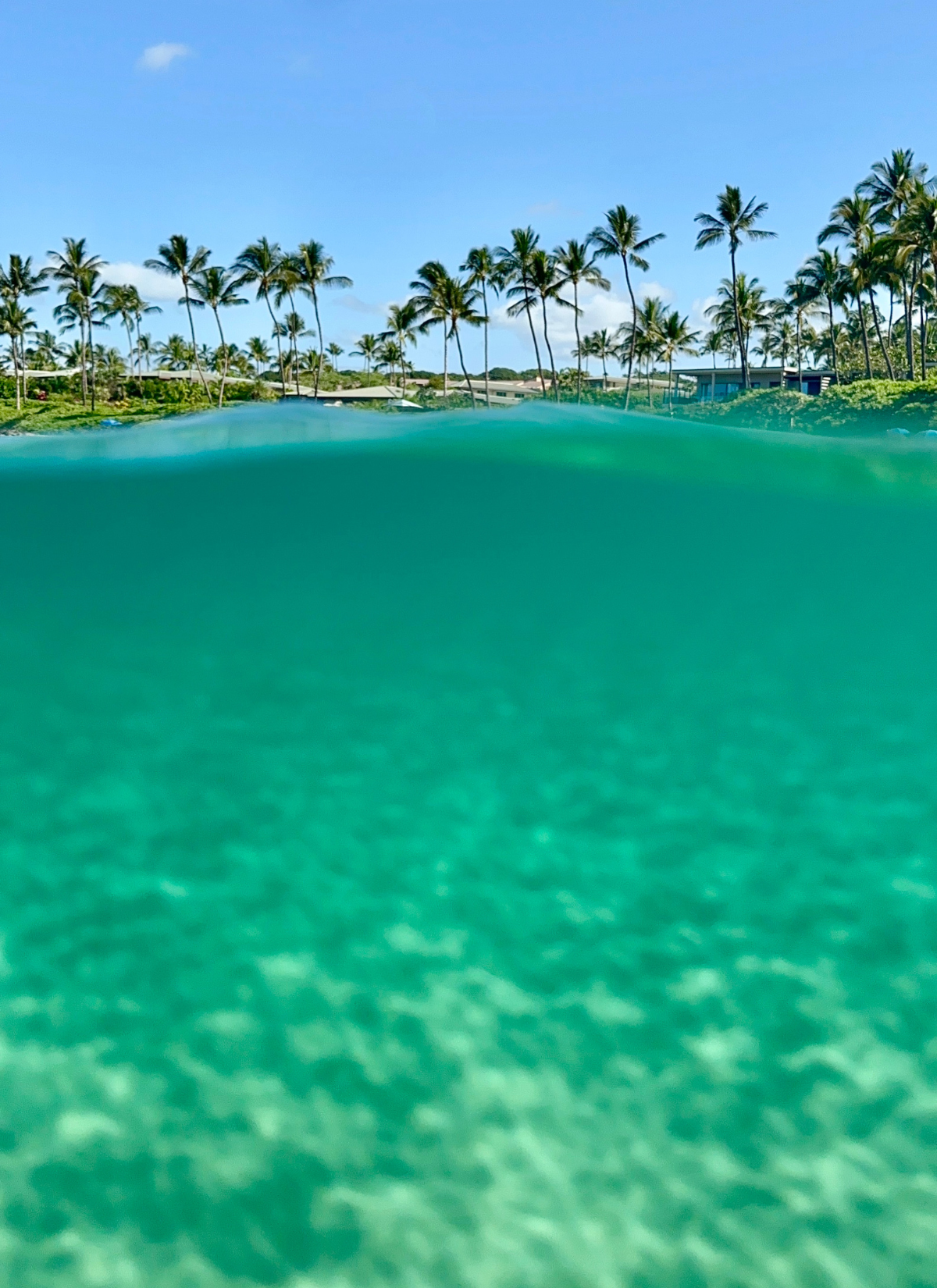 Wailea Beach
Home to some of the island' s most famous luxury beach resorts, Wailea is a laid back and lovely beach.
The beach is wide, if not long, and the water is perfect for swimming and boogie boarding.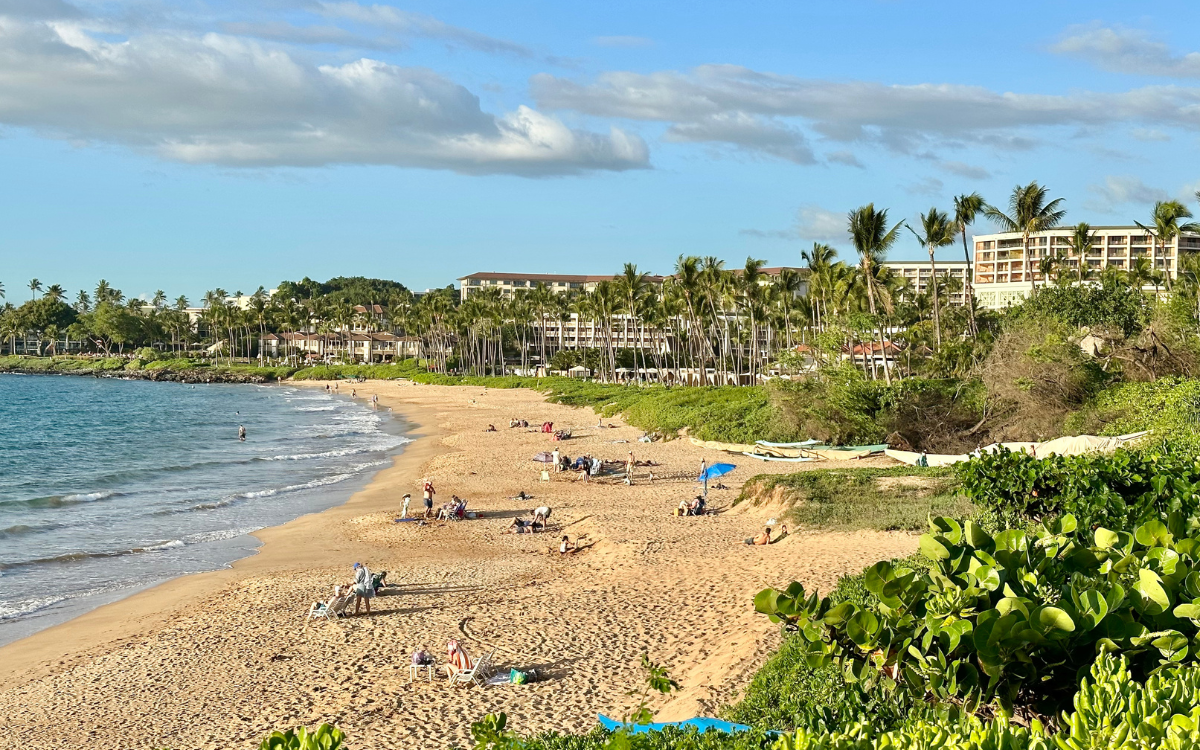 The Four Seasons and the Grand Wailea both sit on Wailea Beach and while the Wailea Beach Resort (Marriott) isn't beachfront, they also have chair and umbrella set up on Wailea Beach. Sometimes there's an independent company renting out set ups for the day near the public entrance.
If you're looking for a deserted beach, this isn't it but I personally never think it feels too crowded. There's also a LOT of public parking available.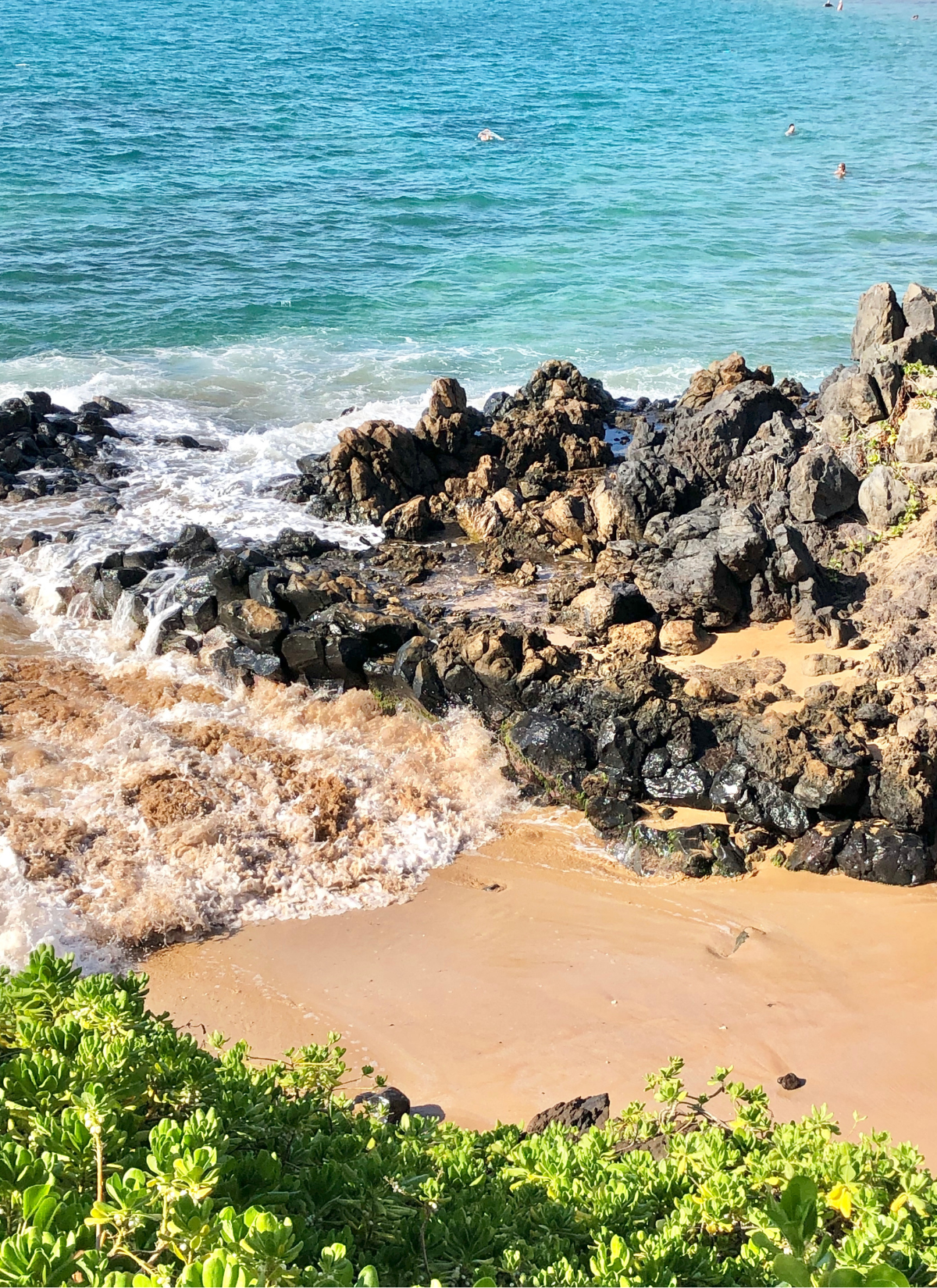 The public parking lot and beach access for Wailea Beach is between the Grand Wailea and Four Seasons. Once you turn off Wailea Alanui Drive and go down the hill, you'll see that there's a second overflow parking area down there closer to the Grand Wailea.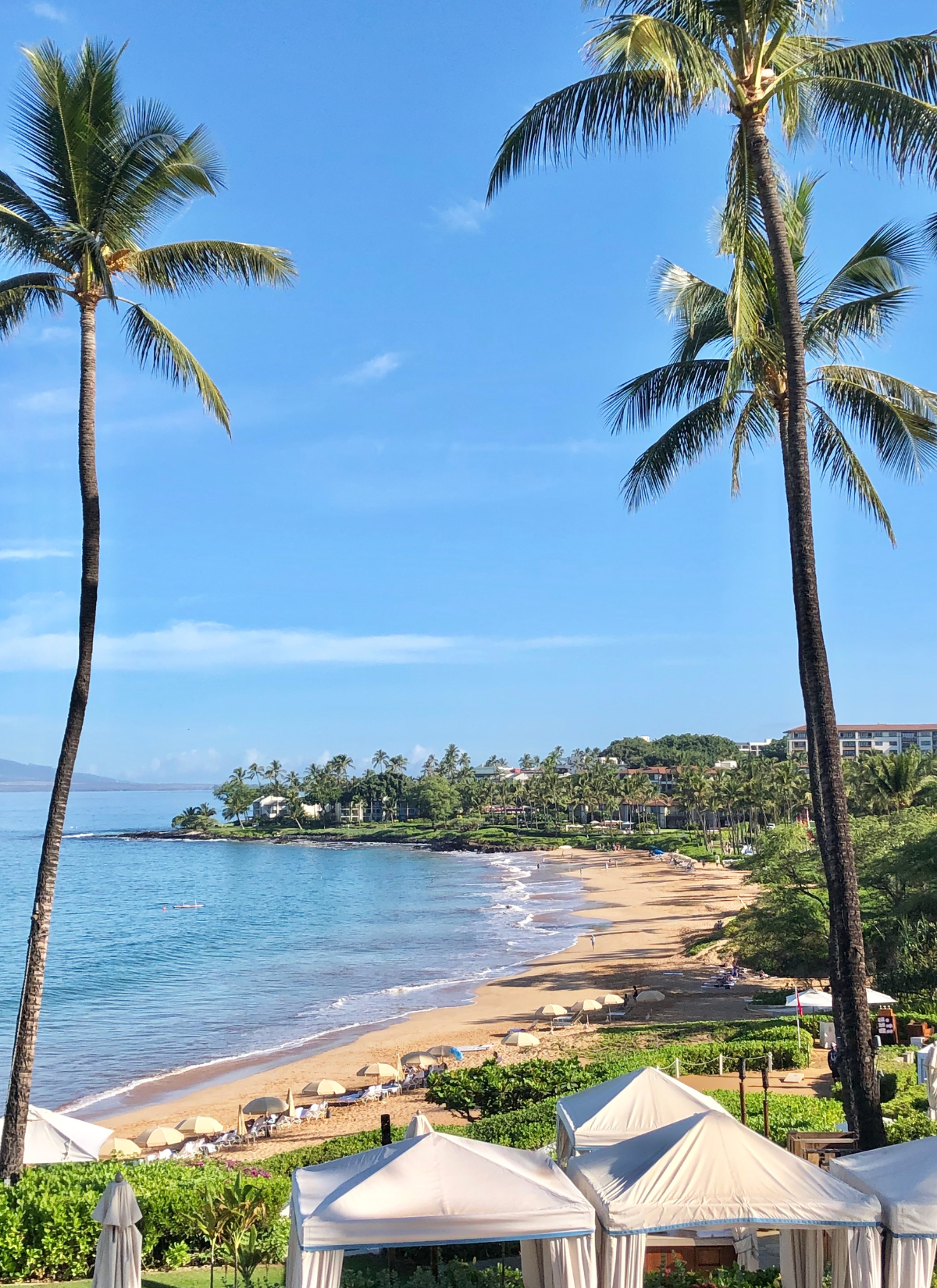 Polo Beach
One beach south from Wailea Beach, and the end (or the beginning depending on how you look at it) of the Wailea Beach Walk, Polo beach is a nice wide cove beach.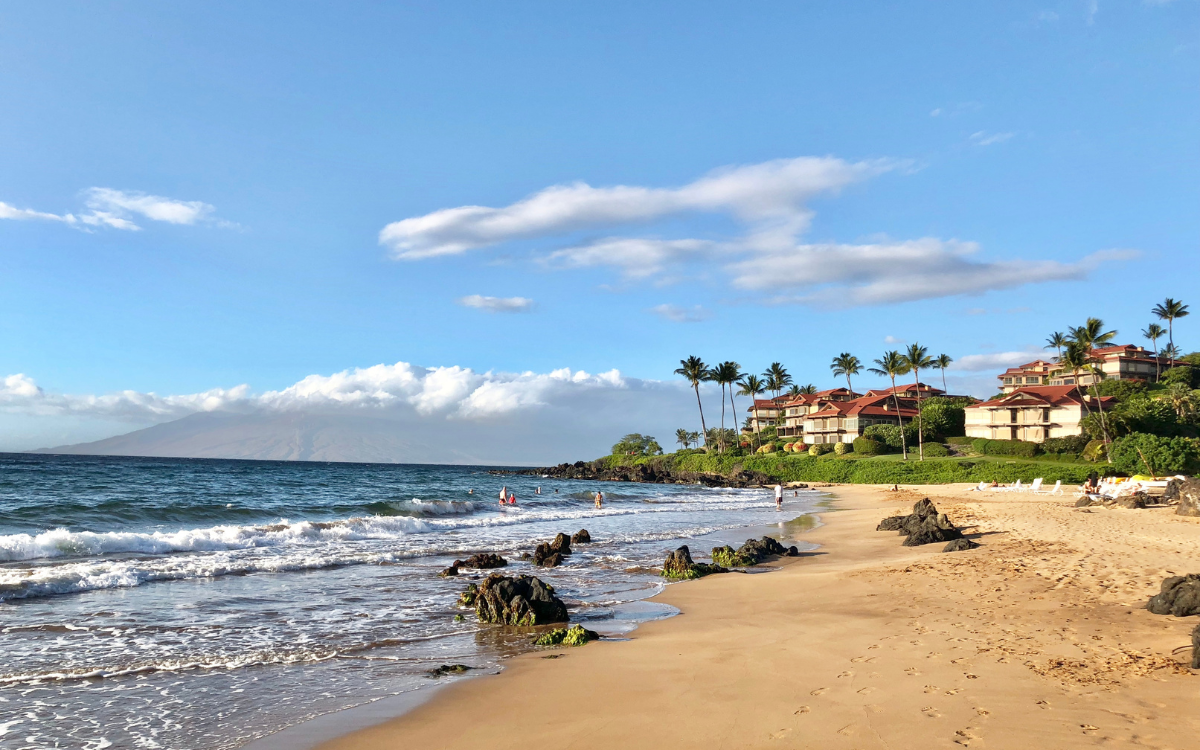 The sand is golden and the water is perfect for swimming but it tends to get windy in the afternoons.
The Fairmont Kea Lani sits on Polo Beach along with some condos.
To find the public parking lot (where you'll also find restrooms and showers) turn off of Wailea Alanui Drive just south of the Fairmont onto Kaukahi St. Drive down Kaukahi St until it ends and turn right into the parking lot.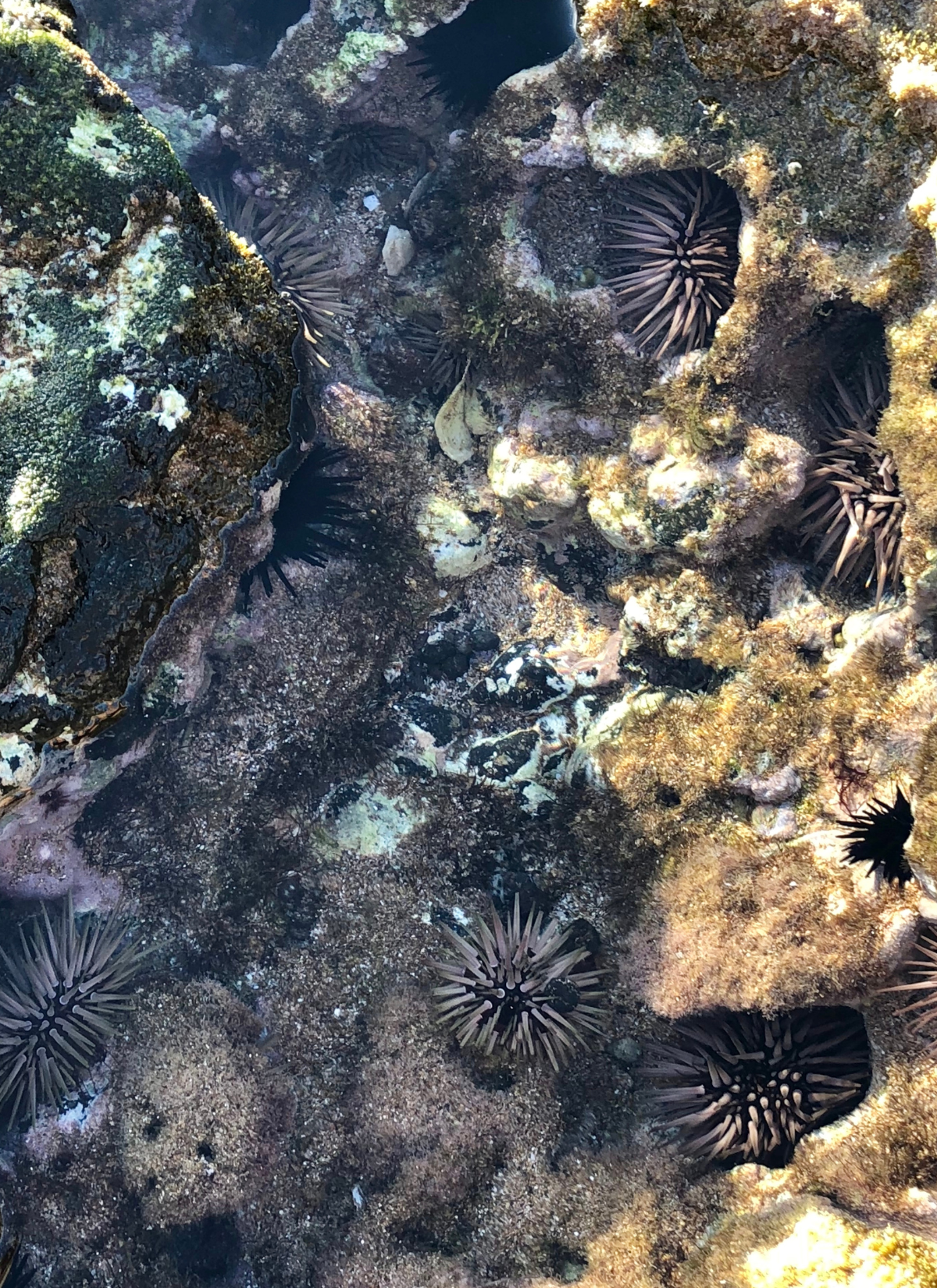 White Rock
Officially called Palauea Beach, this is a lesser-known Wailea beach more popular with locals since there are no resorts on it and therefore fewer crowds.
The beach is gorgeous and perfect for swimming.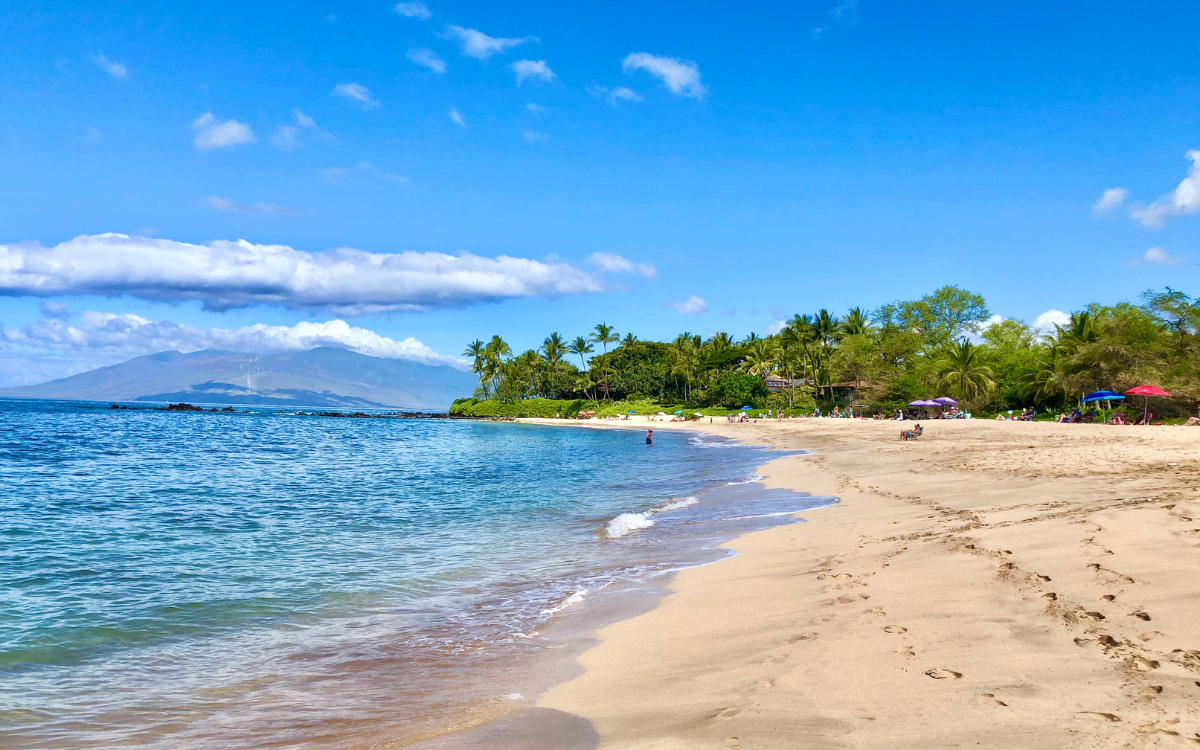 To find it, turn just south of the Fairmont (same place as Polo Beach) but turn left at the end of Kaukahi St onto Makena Road. Drive a ways until you see cars parked on one side of the street and you've found it. You'll have to park on the side of the street and find a path between the houses to get to the beach. Wear shoes because the kiawe thorns are brutal on the path. There aren't any amenities here.
For all of you whale spotters…one February I was laying out on this beach with a bunch of friends and several whales came up and started breaching right off shore! We felt the ground moving before we even spotted them!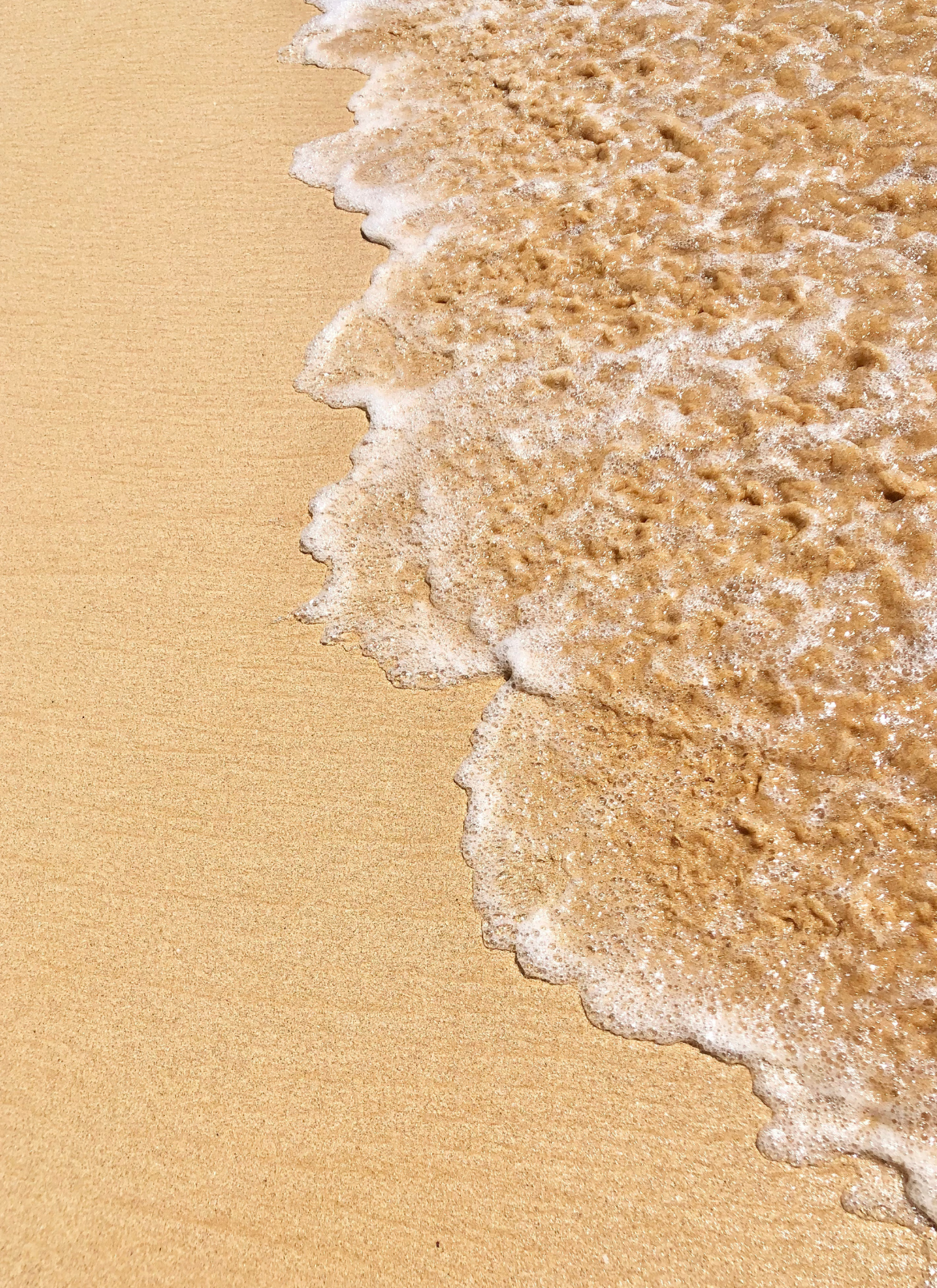 ***Want to save major $$$ on a fancy beach resort? My favorite travel hack is cashing in points to score free nights at some of the island's most high end resorts. My go to hotel brand is Marriott so I use this Marriott Bonvoy Boundless card to rack up points for a lot of my trips to Hawaii. If you pay for your monthly expenses on the card and are responsible about paying it off every month, the points add up really fast. Plus, if you sign up through my link, you'll get THREE bonus free nights to use. On Maui, use your points at some of my favorite Marriott properties like the Wailea Beach Resort, Ritz Carlton Kapalua, Westin Maui, and Sheraton Maui.
TURTLE TOWN
If you've done much research at all about snorkeling on Maui, you've probably heard about Turtle Town. There are some underground caves offshore in this area (plus a lot of algae that they feed on) that attract a large number of turtles so it's pretty reliable to spot them swimming in the area. A lot of the Molokini snorkel boats make a stop offshore in the area for snorkelers, but if you know where to go you can snorkel in the area from the beach too.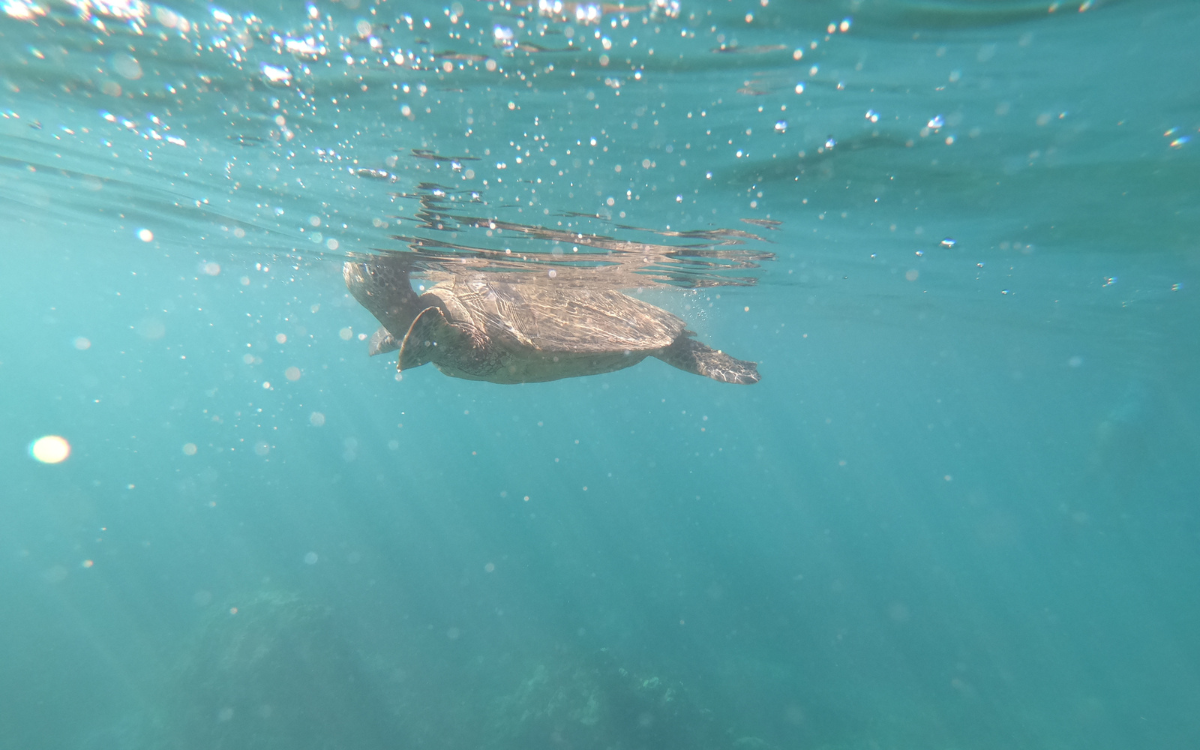 In general, "Turtle Town" is roughly the area of Makena Bay from Makena Landing Park (on the north end) to Maluaka Beach (on the south end). And the two best access points are at Makena Landing and Maluaka Beach.
The turtles swim around so there's always a good chance of spotting one wherever you are, but for the best odds you're going to want to swim out away from shore a bit.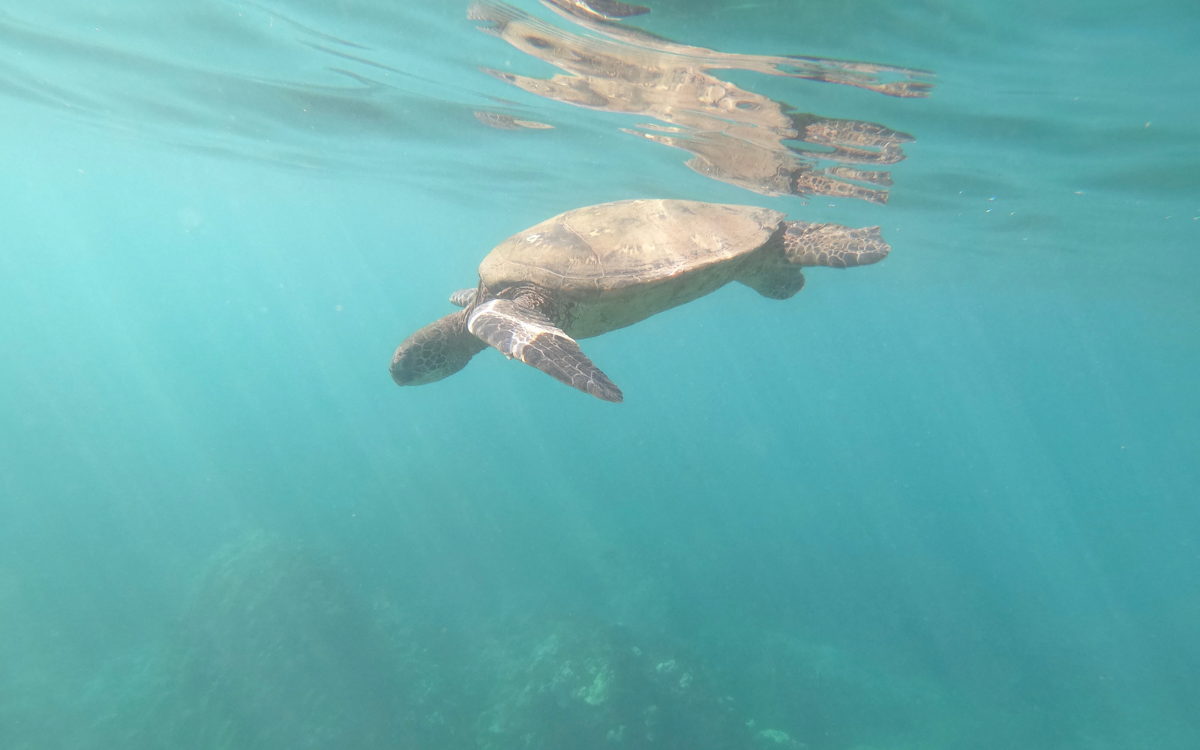 It's not necessarily unsafe and a lot of people snorkel in this area on their own, but I would recommend staying a little closer to shore than you see the people snorkeling on the boats maybe unless you have a paddleboard. I'm also generally a fan of wearing a flotation belt when you're snorkeling (especially if you're not on a tour), and of course making sure there's somebody on the shore who is tracking where you are.
If it were me, I would enter the water at Makena Landing and swim a bit south/away from the shore from there. It's a fairly protected area and there's often other snorkelers there. Also, you could sit and wait for a snorkel boat to pull up and swim over to check out what they're looking at.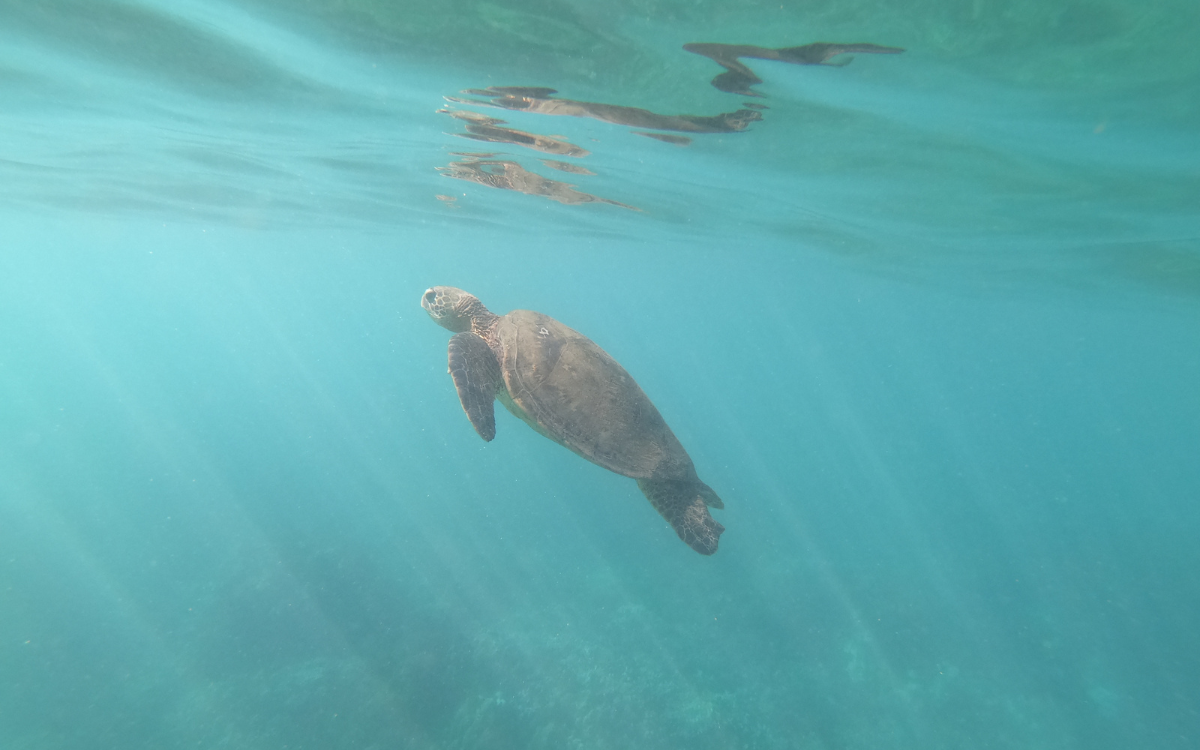 Here are directions for getting to both Makena Landing and Maluaka Beach:
Makena Landing
Drive south from Wailea (past the Fairmont Kea Lani) and Wailea Alanui Drive will turn into Makena Alanui Road. Take a right onto Makena Road just past the Makena Surf Resort and follow that road until you come to Makena Landing Beach Park. You'll know it when you see the boat ramp.
Maluaka Beach
If you're driving south, turn right onto Makena road (you'll see signs for the landing) and continue on until you see a parking lot on your left. The beach access is actually a few hundred feet past the parking lot on your right. There's a drop off area right at the beach so you can unload everything and then send someone back to park if you think it's too far to walk.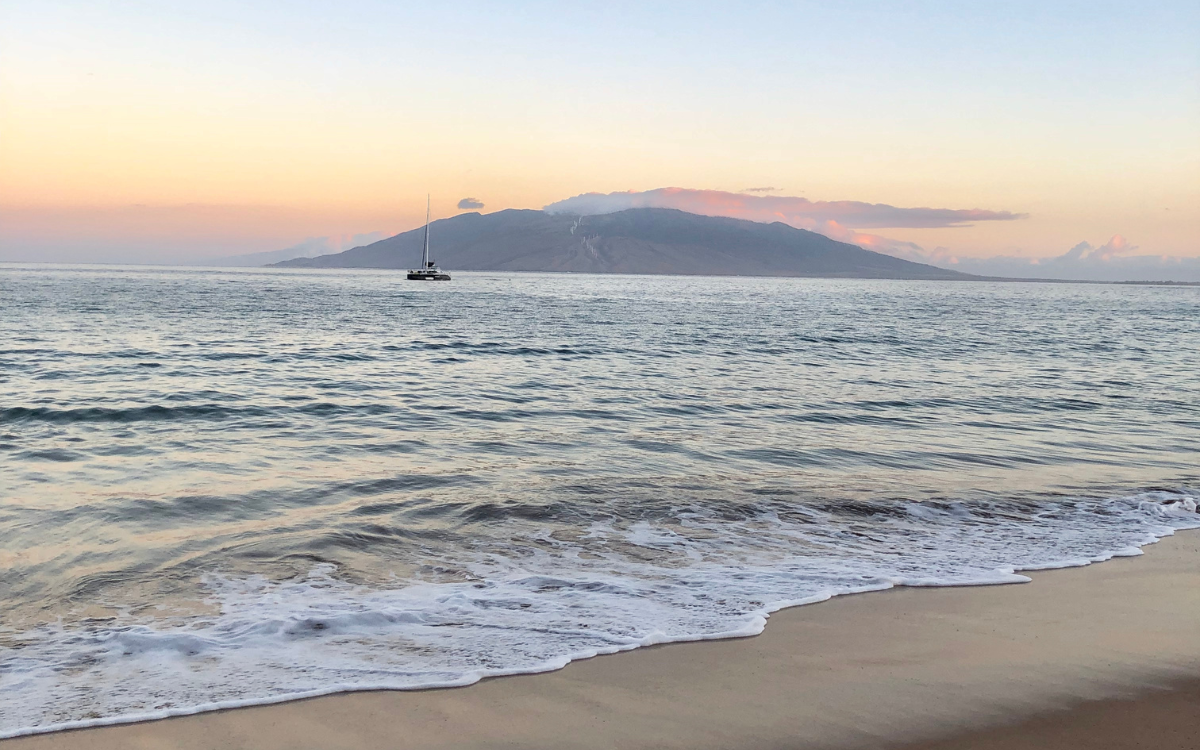 Once on the beach, enter the water and snorkel north towards the rocks and reefs.
Besides looking for turtles, Maluaka Beach is a gorgeous beach to spend the day. They've been doing a ton of construction in the area (they're turning the former Makena Beach and Golf Resort into some kind of vacation club owners resort), but if you want great snorkeling AND a fabulous sandy beach to hang out on, this is your spot.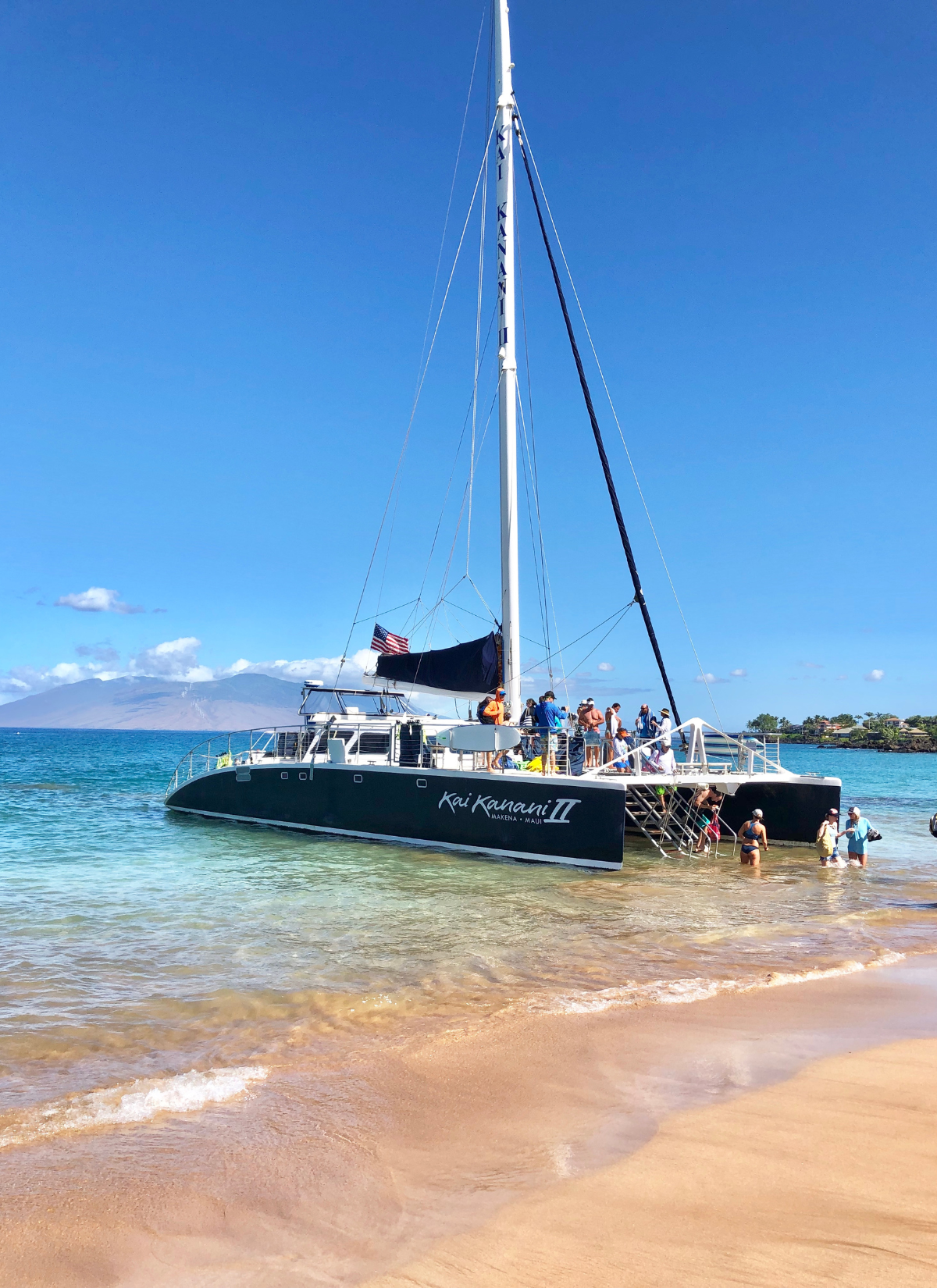 Big Beach
Also called Makena State Park, or sometimes Makena Beach, this is one of Maui's most beautiful beaches. It's a long stretch of golden/white sand with beautiful blue water. There's a strong shore break here (as the life guards will often remind you) so be careful when entering and exiting the water.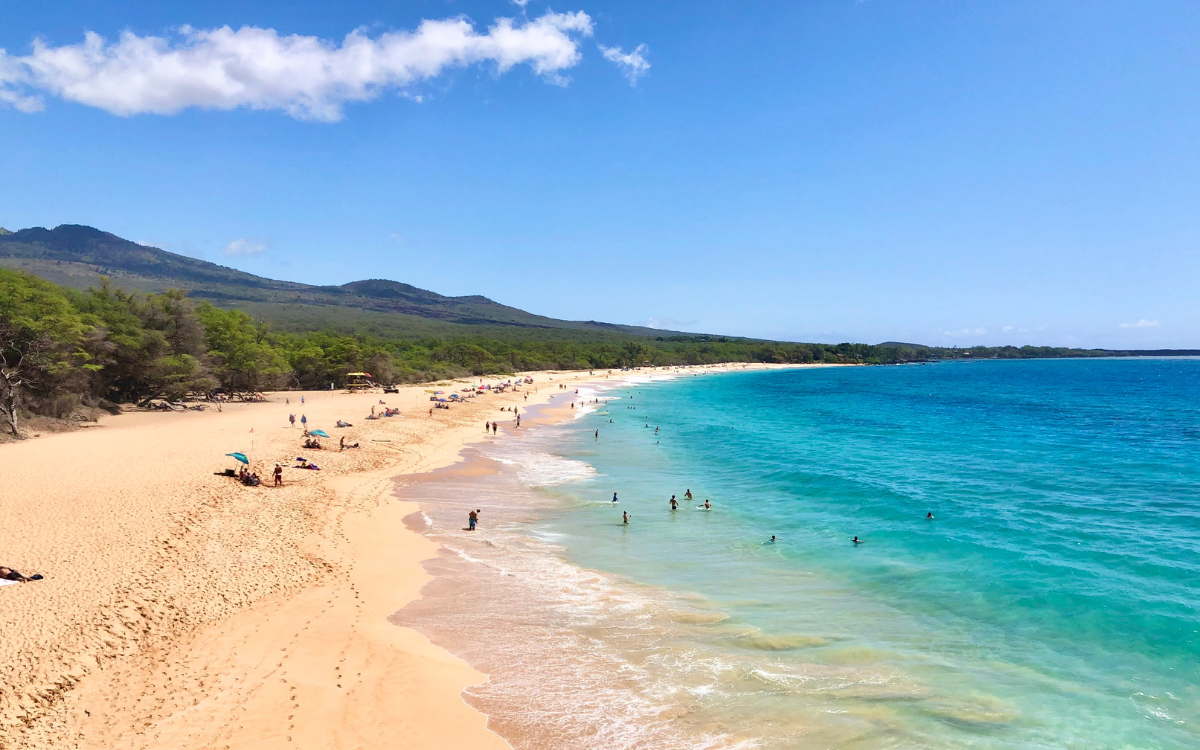 At the far north end of Big Beach, there's a rock formation you can climb up (the views are amazing!) and over to get to Little Beach which has the reputation for being a nude beach/party beach with locals.
Before you reach the main parking lot for the State Park (at the north end), there's a turn off for Oneuli Beach which is technically a black sand beach, but probably not the kind you're thinking of.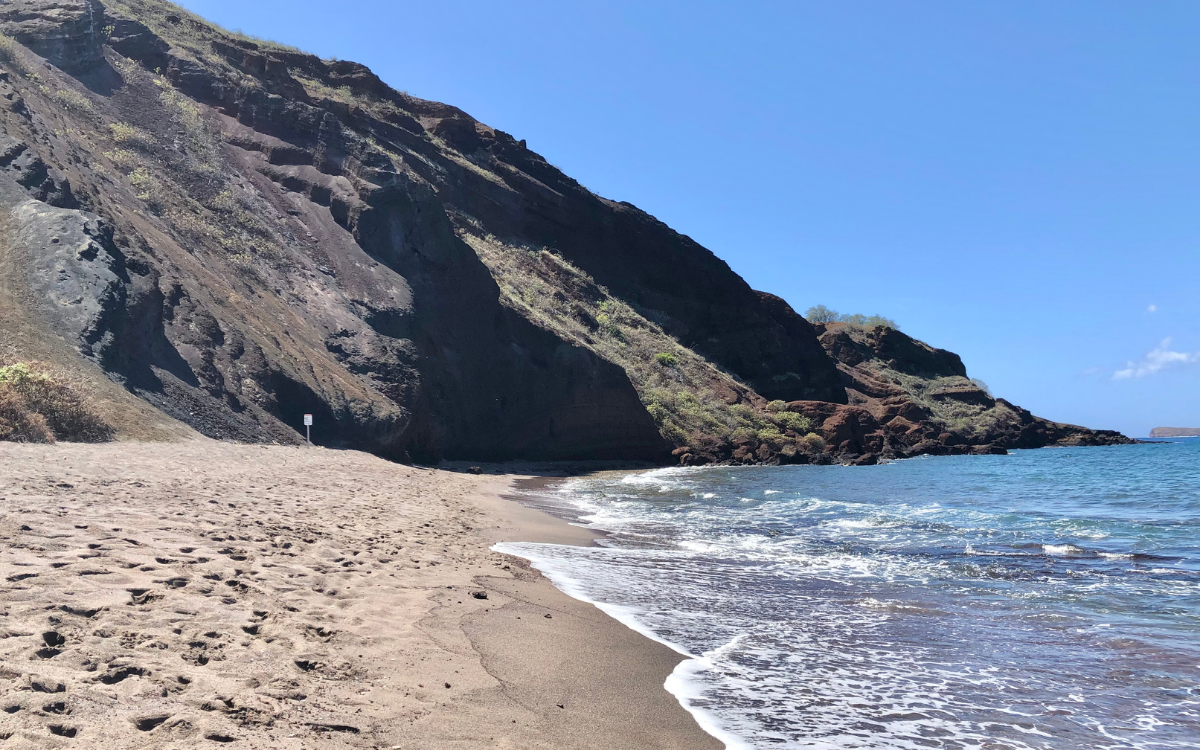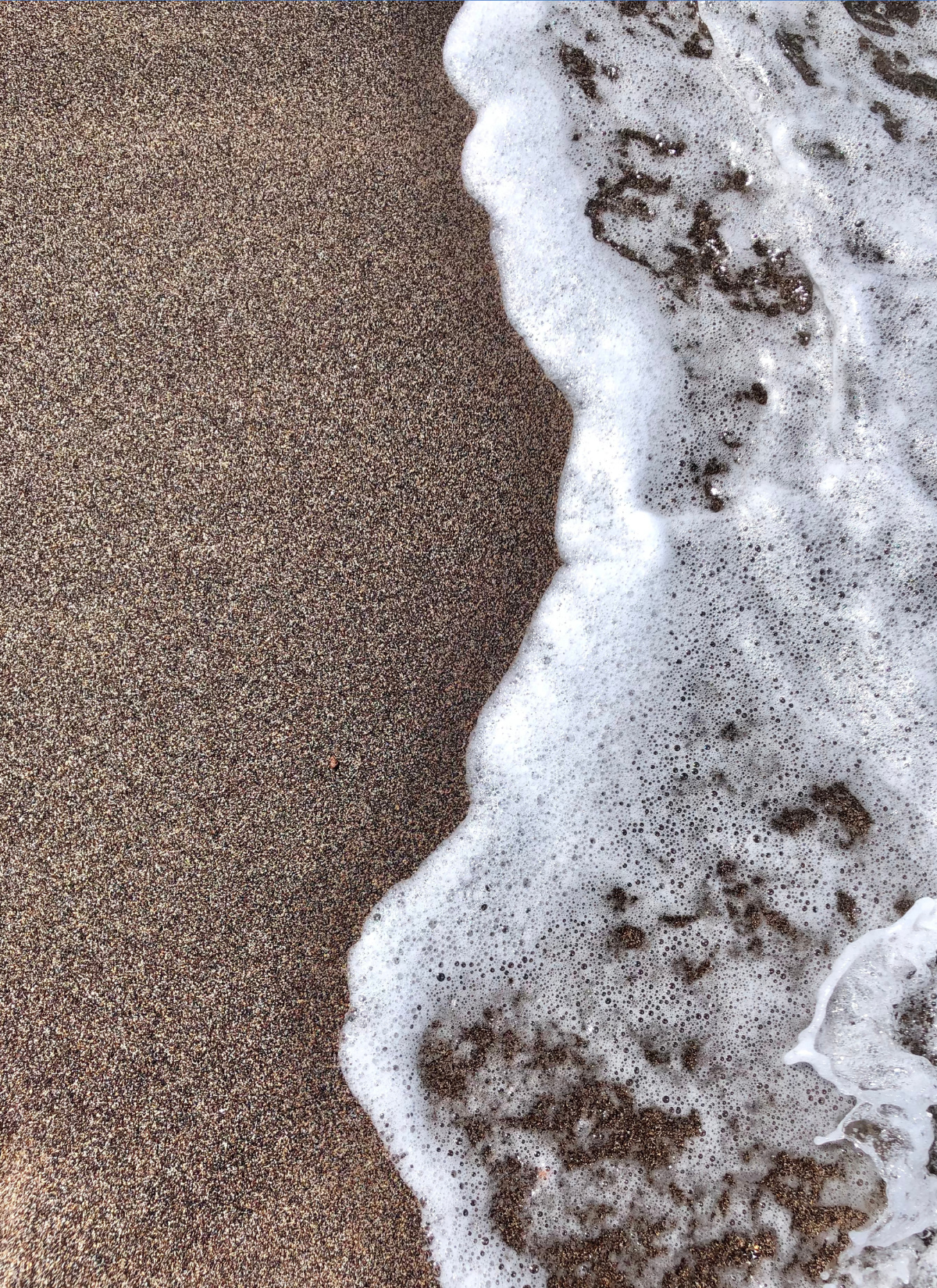 There are two parking lots at Makena State Park (and usually a few food trucks) and no restrooms or showers but there are porta-potties.
In April 2021, entrance AND parking fees were introduced (although reservations are not required). $10/car to park plus $5/person (under 3 are free) to enter. Fees are paid at the pay station in the parking lot.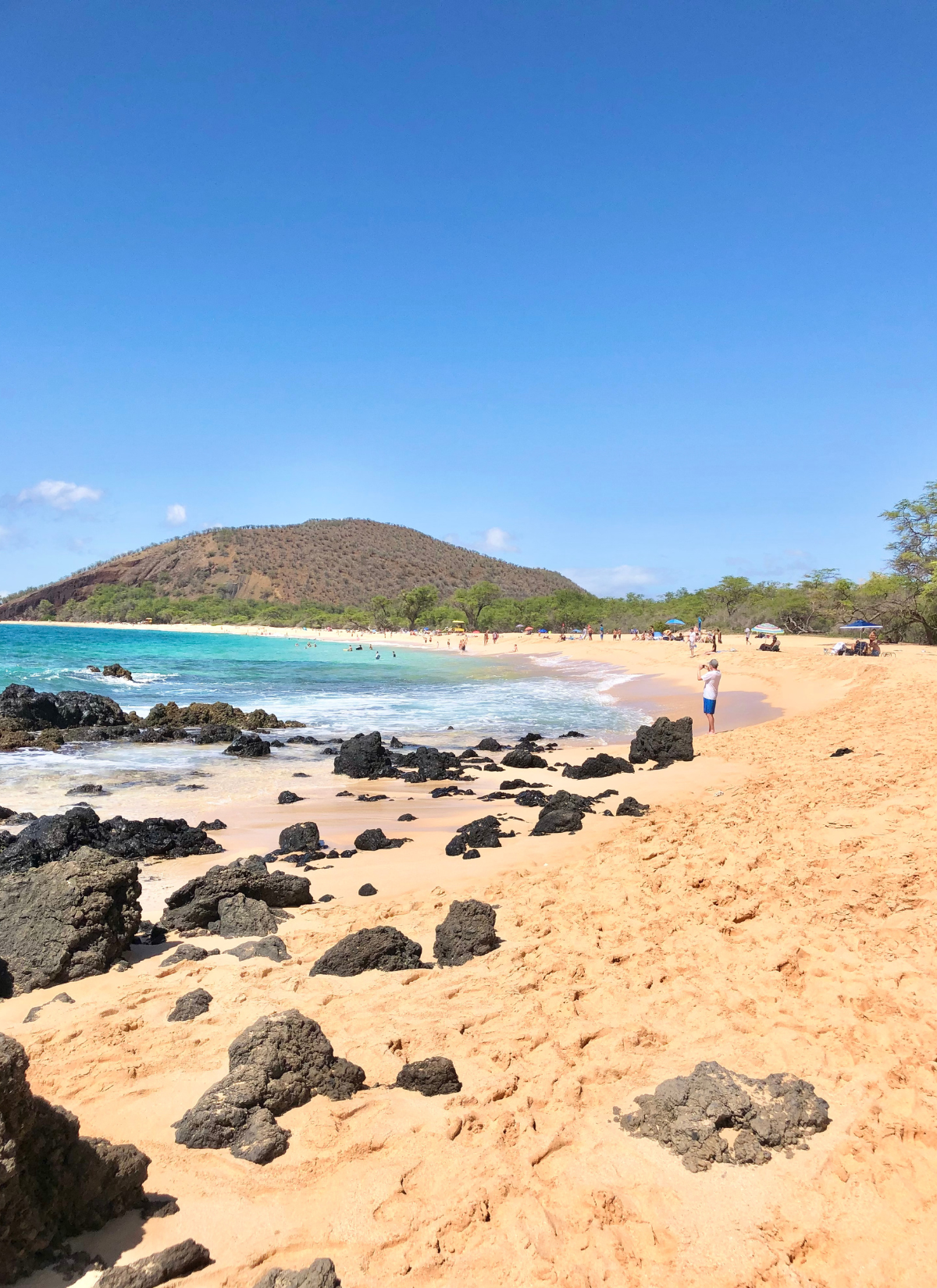 I understand the reasoning for charging for parking and entry to some of the state parks in Hawaii, and I also understand that you might be hesitant to pay to go to a beach when there is an abundance of free beaches in the area. Totally get it. But I will say that Big Beach is hands down the most beautiful beach on Maui and I think climbing up the rocks at the north end to see the overlook is a don't miss. But you decide.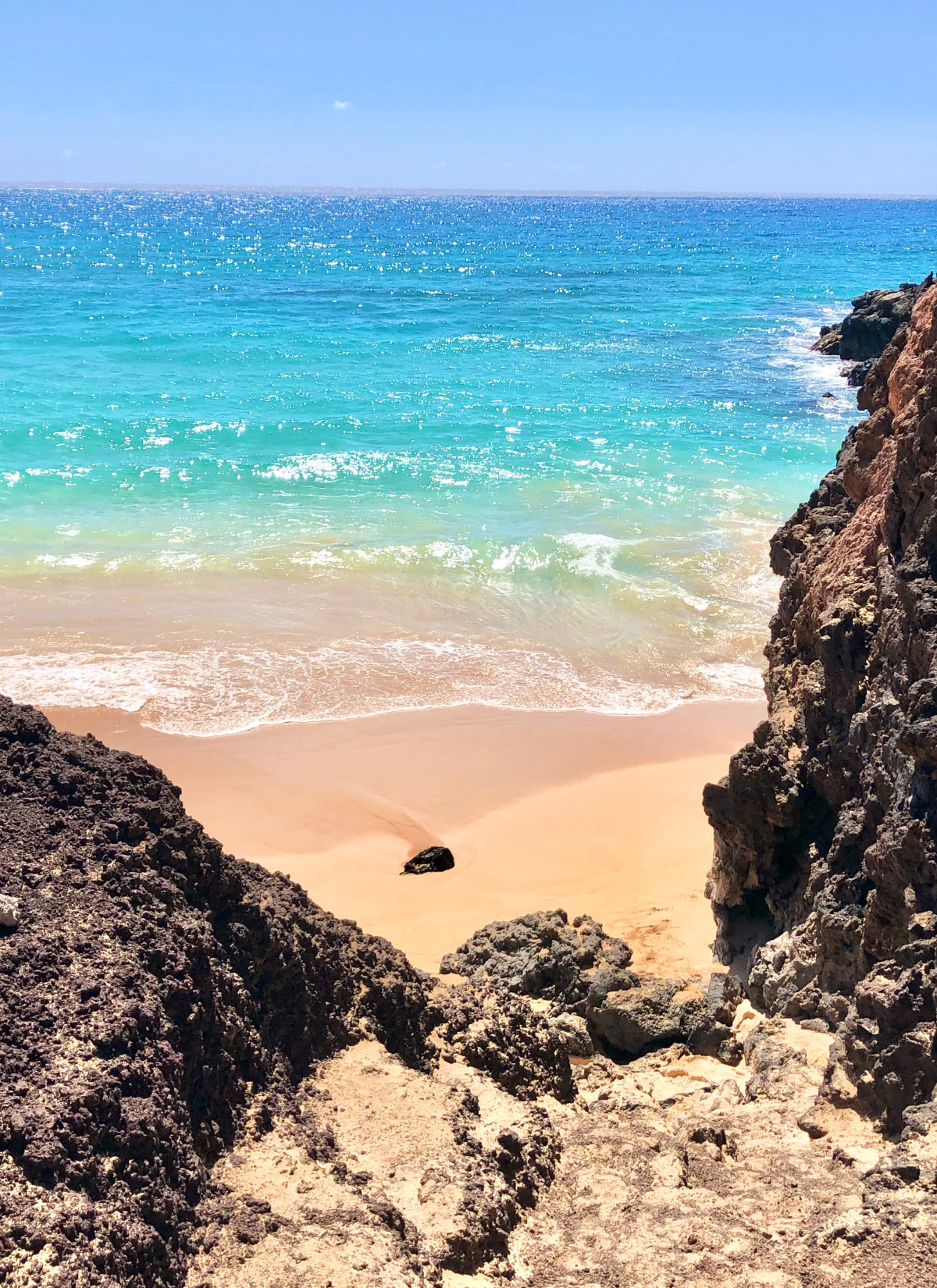 Secret Beach
Also called Pa'ako Beach, Secret Cove, and Makena Cove, this is where 98.9% of the weddings on Maui happen. Just kidding, but it seems like it sometimes.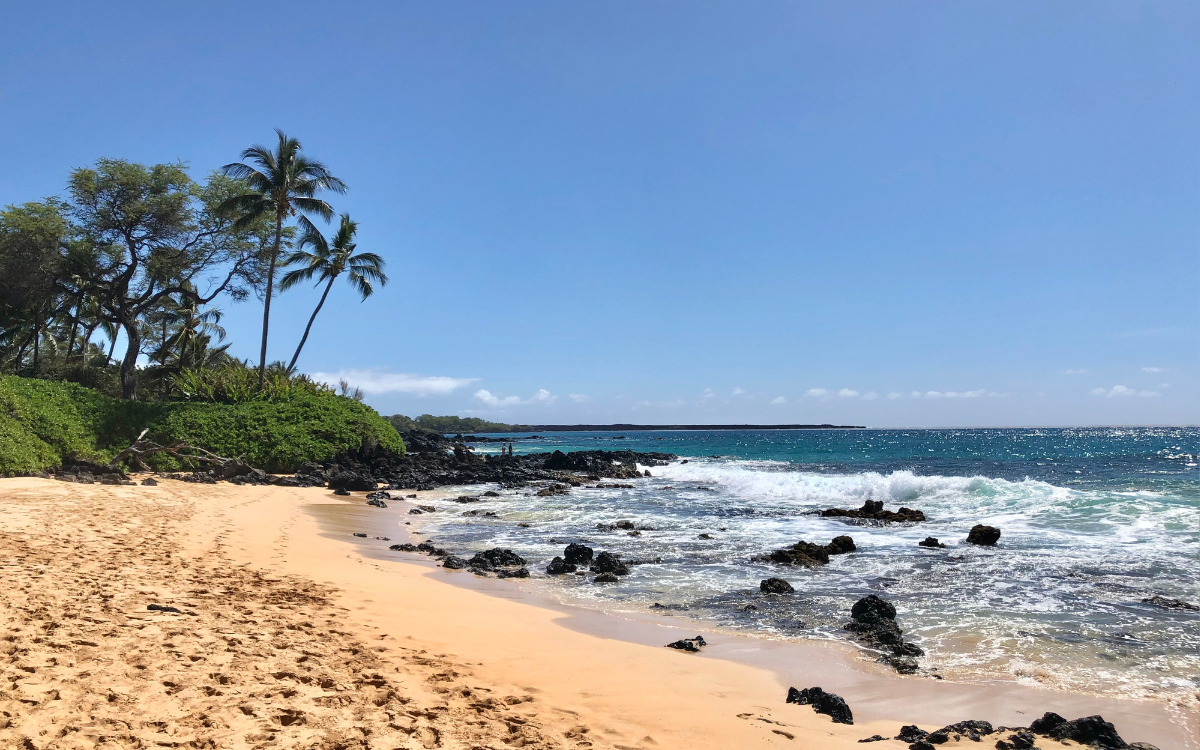 This tiny postage stamp of a beach is the first "shoreline access" sign you'll see after you pass Big Beach headed south. There's limited street parking in the area.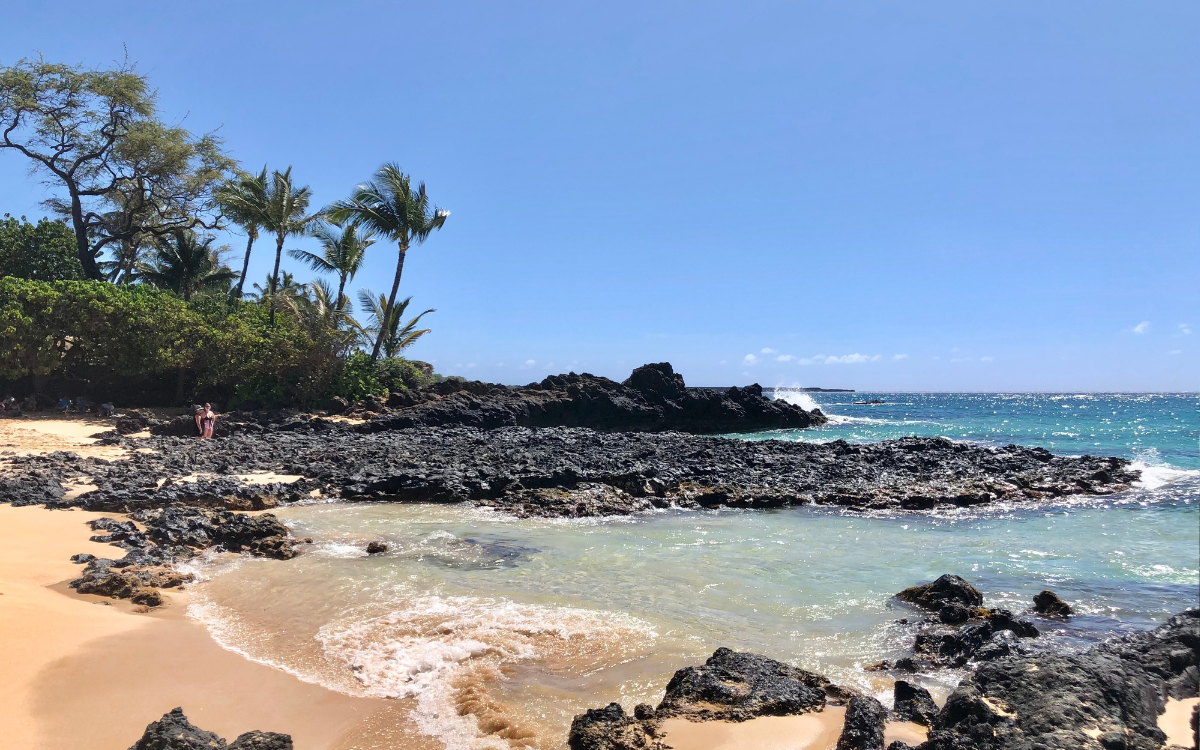 It requires climbing down a little path to get to it, so it feels like a "secret" once you find it. Makena Cove is lovely (although very small) but the "secret beach" is actually around the corner to the right. You'll need water shoes to climb along the lava rocks to get there but once you do, you'll usually have it all to yourself. And from there you can keep making your way north and you'll connect to the south end of Big Beach.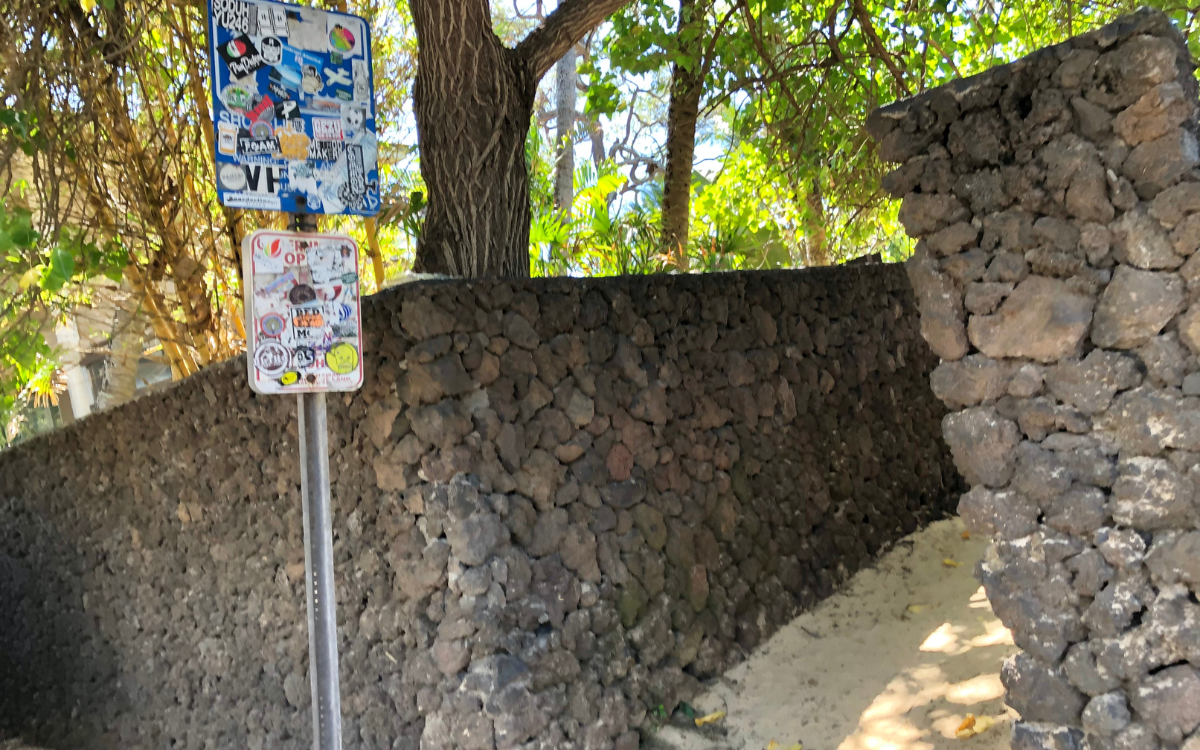 Ahihi Kinau Nature Reserve
This nature reserve is one of my favorite spots in Maui. If you drive south from Wailea through Makena, the road eventually opens up so that you're literally driving right by the water, passing the most inviting little coves with clear water, golden sand, and plenty of lava and coral formations.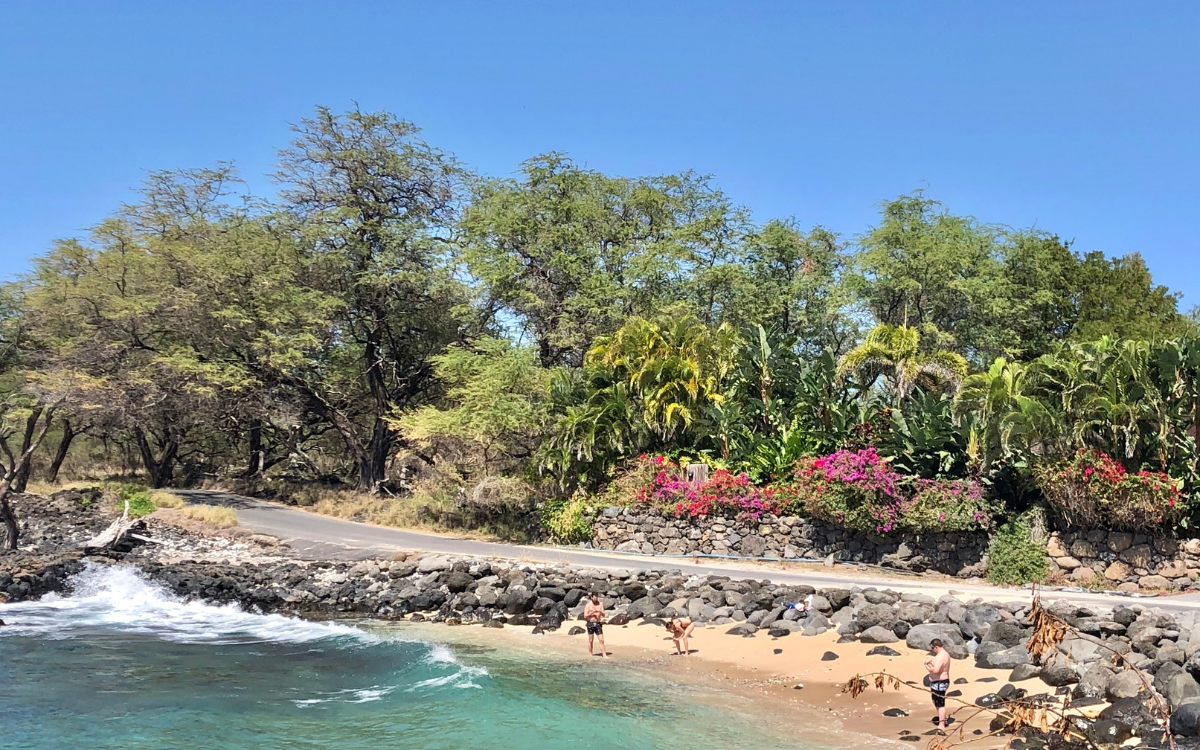 If you're an inexperienced snorkeler, or you have small children, this is an ideal spot to get in the water. It's super shallow and very protected from the ocean. It's more like swimming in a man made lagoon but tropical fish, and even the occasional sea turtle, are very prevalent here. The only tricky part is parking. You'll have to squeeze off the road somewhere (watch the signs!) but once you find a spot, you'll be snorkeling just a dozen or so feet from your car!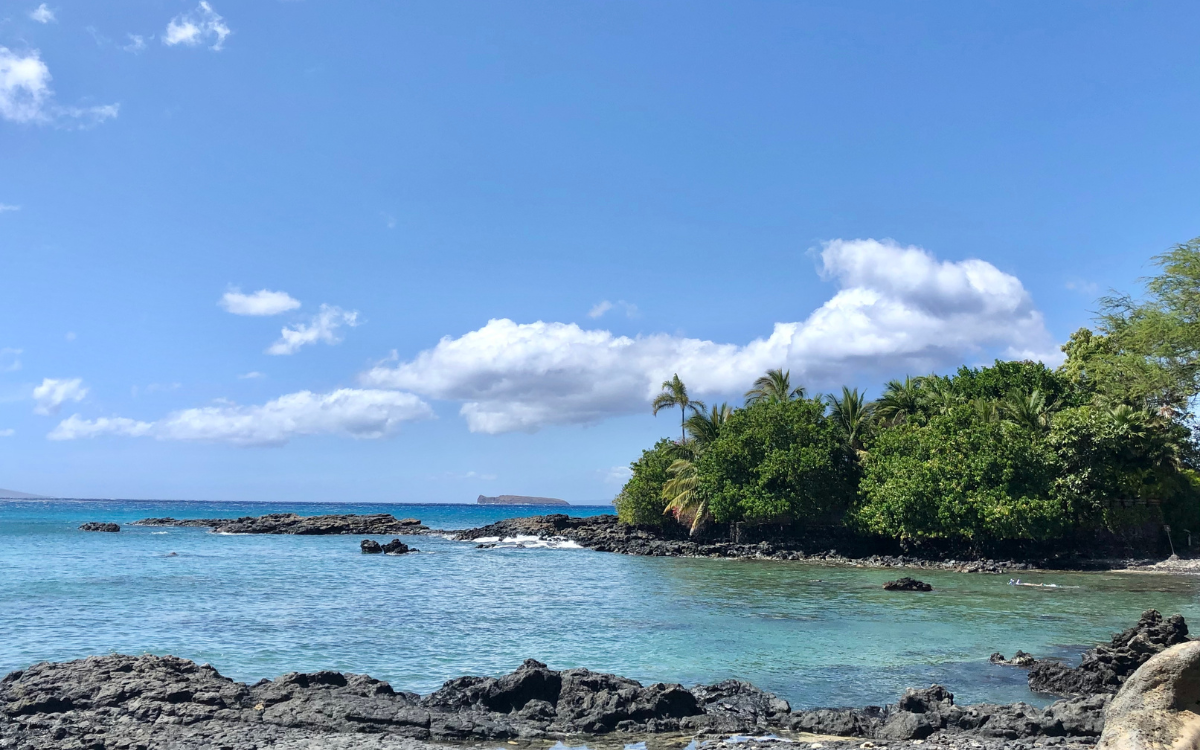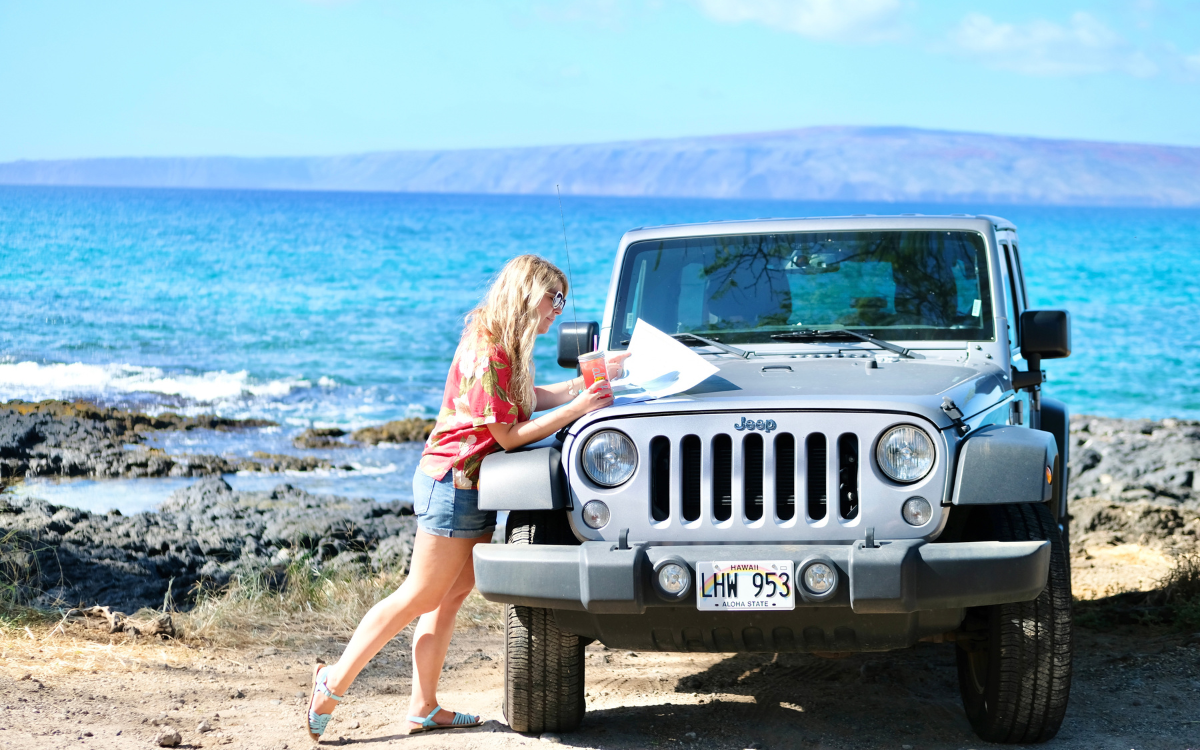 La Perouse Bay & Lava Fields
I love a good scenic drive, and the drive down to the end of the road through Makena is one of my favorite parts of Maui. You'll pass through some of Maui's most high dollar real estate (rumor has it Aerosmith's Steven Tyler has a place in Makena) where the road hugs the coast just feet from little coves and beaches before you drive through a lava field (from Maui's most recent volcanic eruption) and end at La Perouse Bay.
La Perouse Bay is usually a good spot to see spinner dolphins and you'll find some ancient Hawaiian archaeological sites including heiaui (a temple/altar). It's also the trailhead for the Hoapili Trail (the most accessible portion of the ancient King's Highway that circumnavigated the island).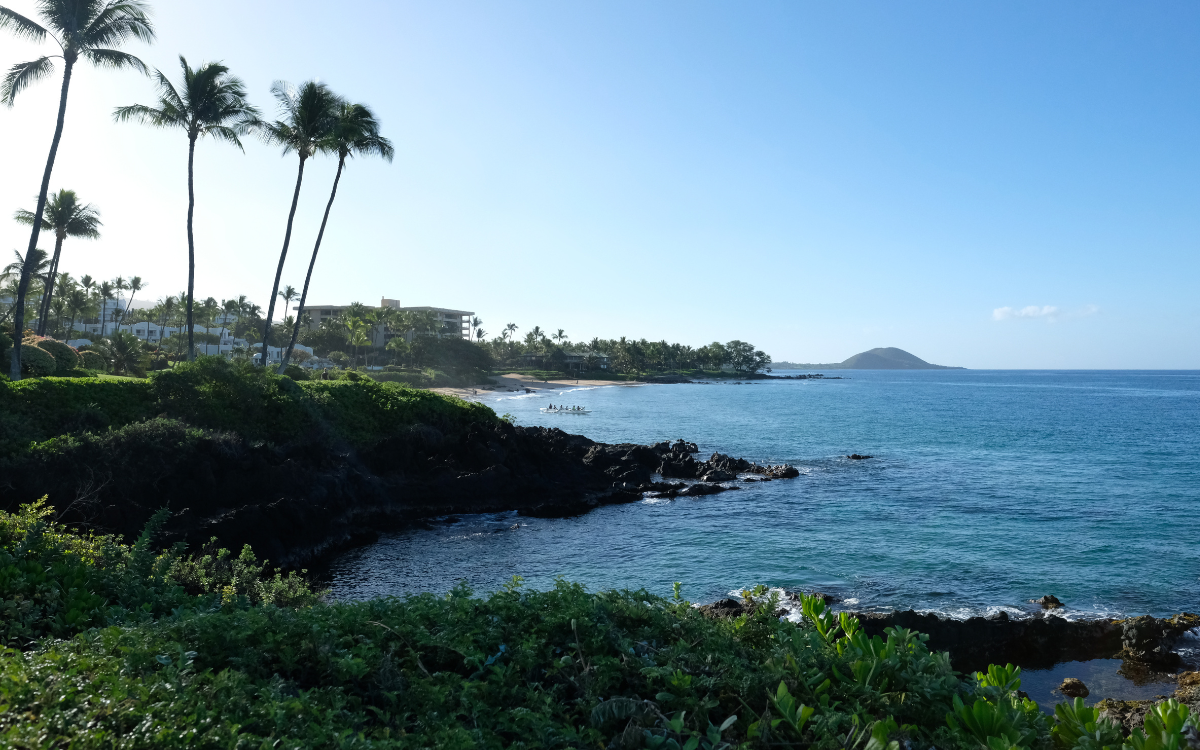 Side Note: If you're looking for a rental car for your trip, I LOVE Discount Hawaii Car Rentals. They're seriously the only company I ever use. They'll give you the very best prices, you don't have to reserve with a credit card or pay until you show up, you can cancel and re-book anytime if you find a better rate, and they usually have a special that adds additional drivers for no fee. It's a no brainer. Click here to check rates for your trip.
Best Beaches in Kihei
Kamaole I, II, III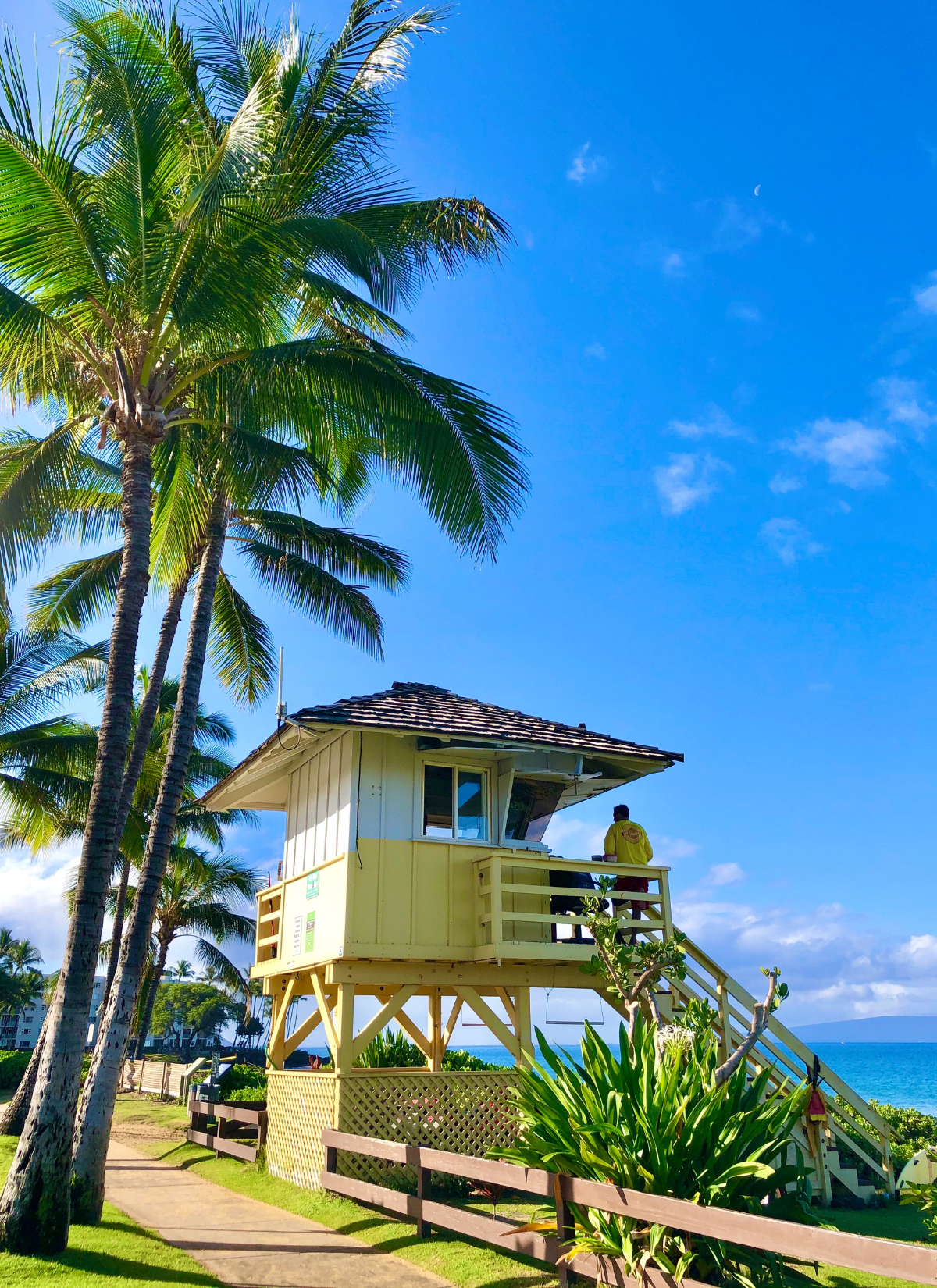 These three beaches in the heart of Kihei are some of the most popular on the island. There are no big resorts or hotels on these beaches but they're a stones throw from about a gazillion condos plus a lot of locals live in Kihei so that accounts for a lot of their popularity. They're all very accessible (you can see them from the road), have decent parking, have pretty good amenities, and they're right across the street from plenty of restaurants. The sand at all three is golden and the water is good for swimming. All three beaches have life guards.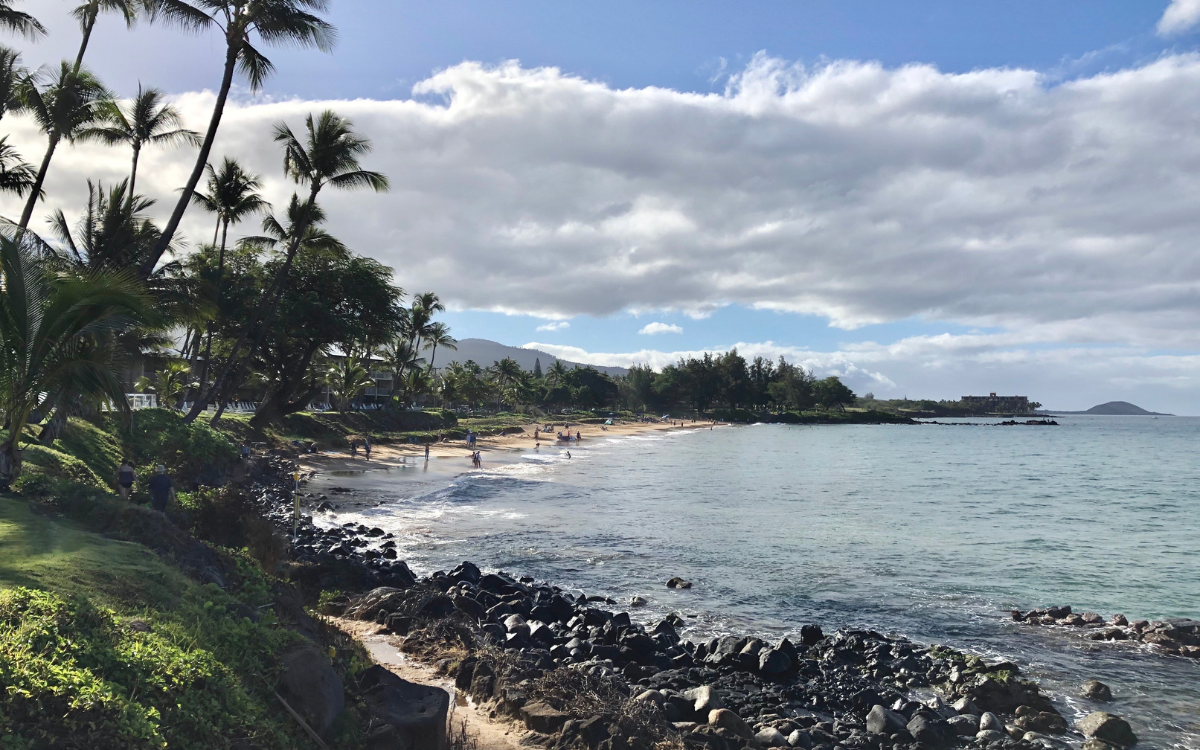 Kam I has a small parking lot at the entrance as well as overflow parking in a dirt lot across the street next to the Texaco. The northern end of Kam I is also called Charlie Young Beach and it's a favorite with locals because it's usually less crowded than the main part of the beach (farther from the lifeguards, etc.). There's parking and a pathway down to Charlie Young Beach on Kaiau St. The best snorkeling around the Kam beaches is up at Charlie Young Beach around the rocks.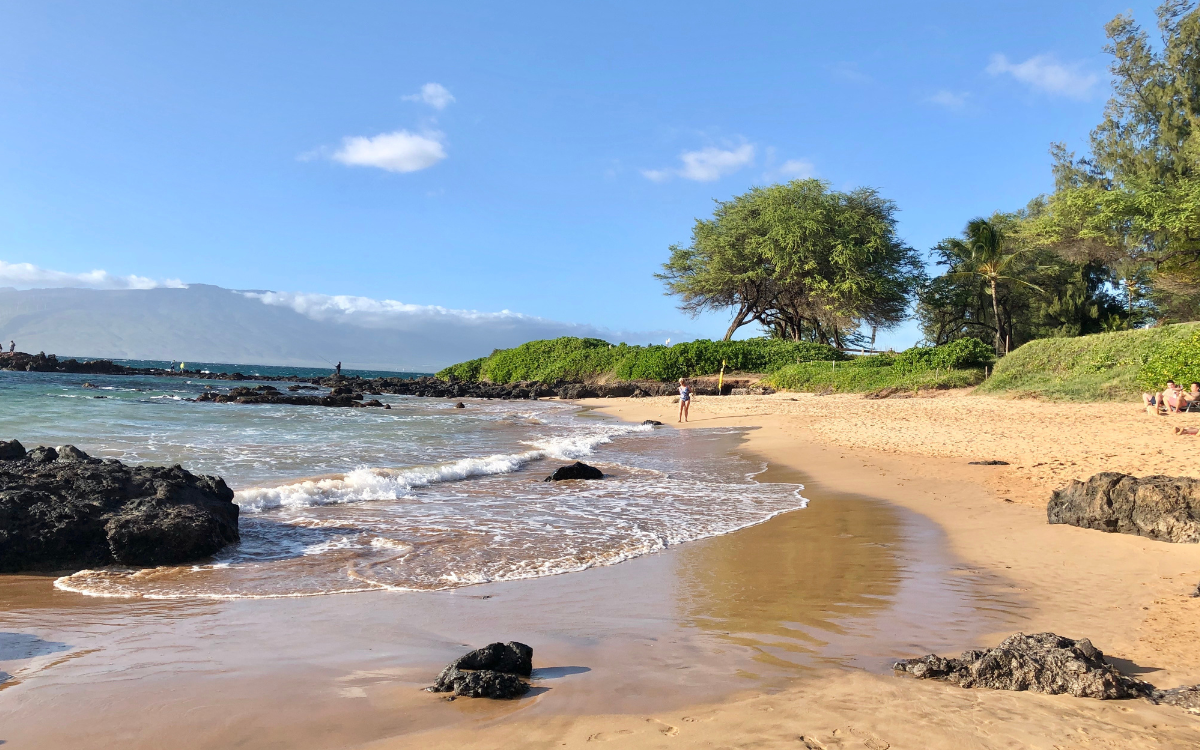 Kam II has the trickiest parking. It's mostly street parking so it's a beach that's more popular with people within walking distance.
Kam III has the most parking and best amenities of all three Kam beaches. In addition to restrooms and showers, there's a full playground and a huge lawn with plenty of shade that attracts a lot of locals. It can get crowded on the weekends and holidays, but it also has the most parking available.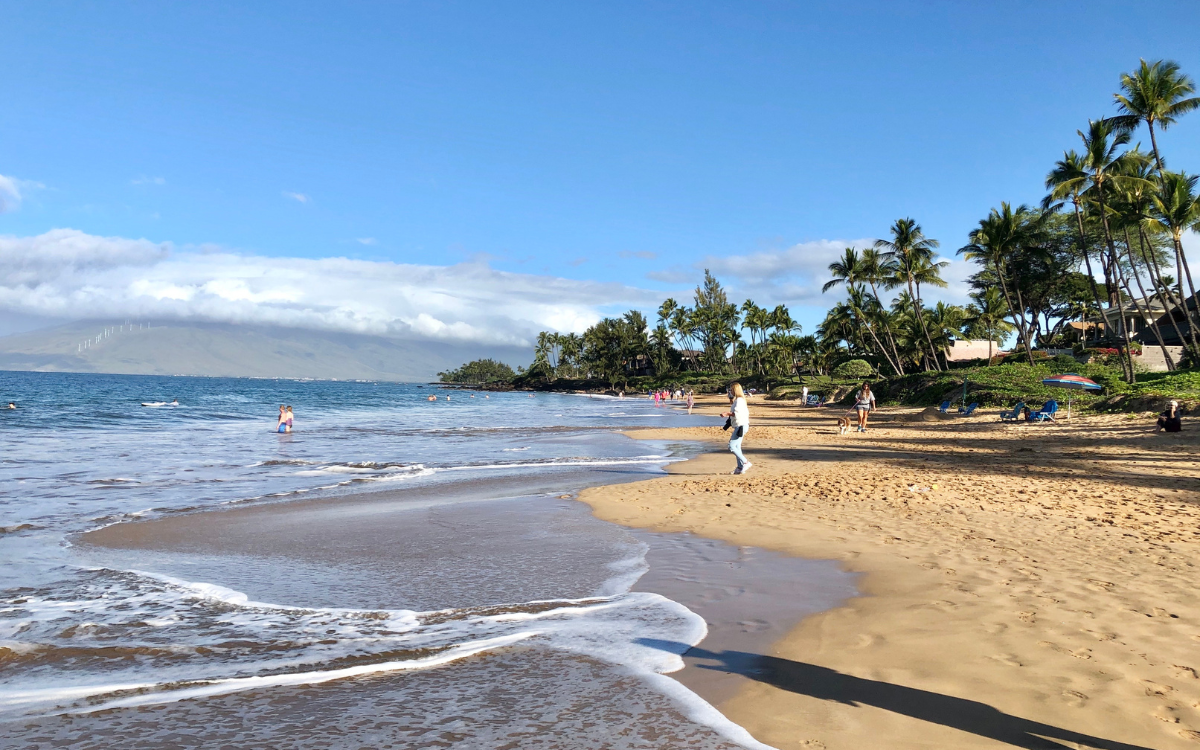 While they're three distinct beaches, they're actually all connected. One of my favorite things is to start either at Kam I or Kam II and walk from beach to beach. Each beach is connected with a little path (you don't need to use the sidewalk up by the road) and there's a public right of way across the lawn at the Royal Mauian. It's a fun little scenic walk.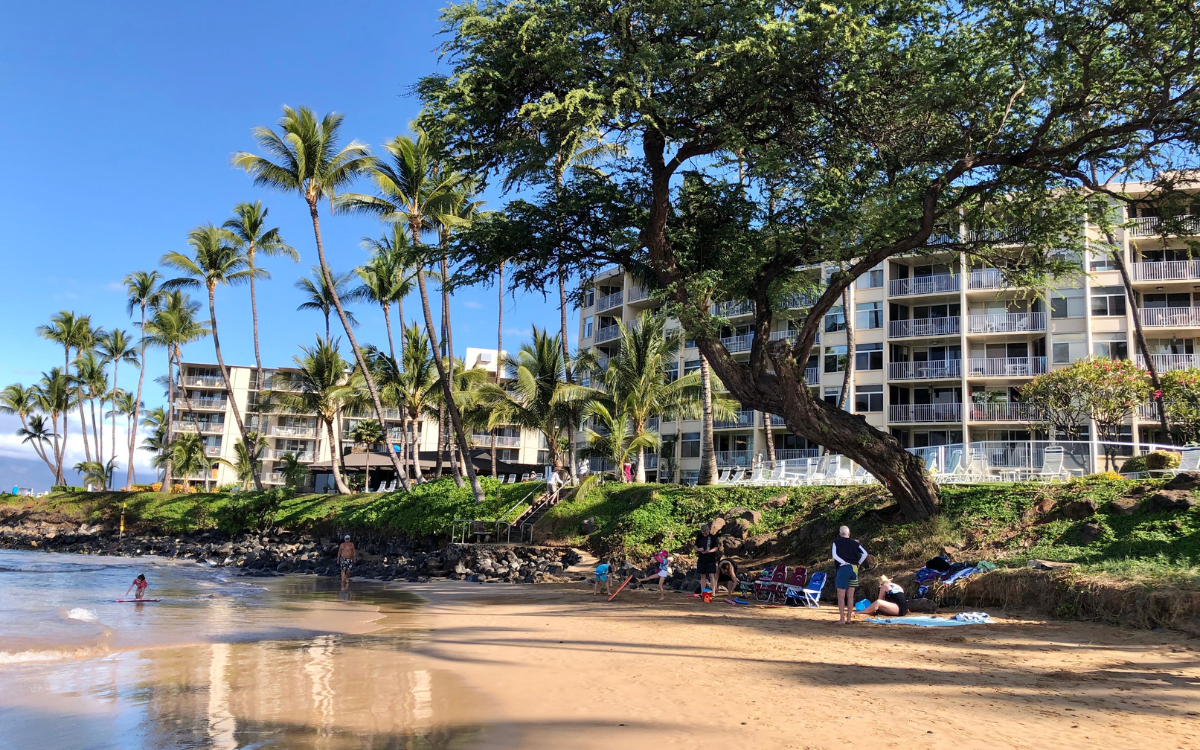 Keawakapu Beach
This long stretch of sand bridges Kihei and Wailea. The Mana Kai Resort (5 Palms Restaurant) sits at the north end of the beach and there's a public parking lot and access on Kilohana Drive (also a shower). It's a long beach and it's mostly fronted by houses so it never feels very crowded. This beach is perfect for sunset strolls. It also has some nice lava beds perfect for beach combing. The beach is so long that it actually connects to Mokapu (where the Andaz Maui sits) on the south end.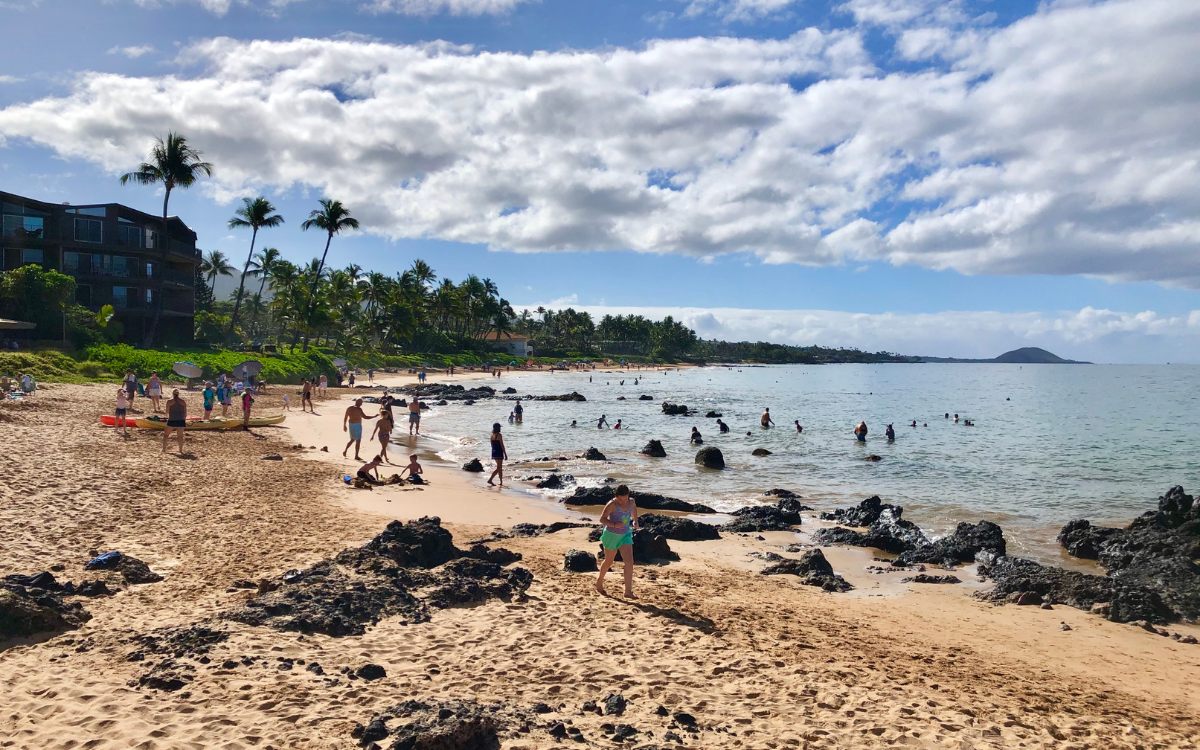 Where to Rent Snorkeling Gear/SUP, etc.
Snorkeling excursions will supply you with gear (mask, snorkel, and fins) but you'll need to bring sunscreen and a towel.
If you're interested in buying a set, Costco usually has pretty nice sets at a reasonable price. But if you buy a set, please take it back home with you. Snorkeling gear isn't the kind of thing that most visitors like to pass along. Leaving boogie boards, chairs, umbrellas, etc. is usually welcomed at condos and by people staying at resorts. But nobody wants your used snorkel gear so if you leave it behind there's a good chance it will end up in the landfill.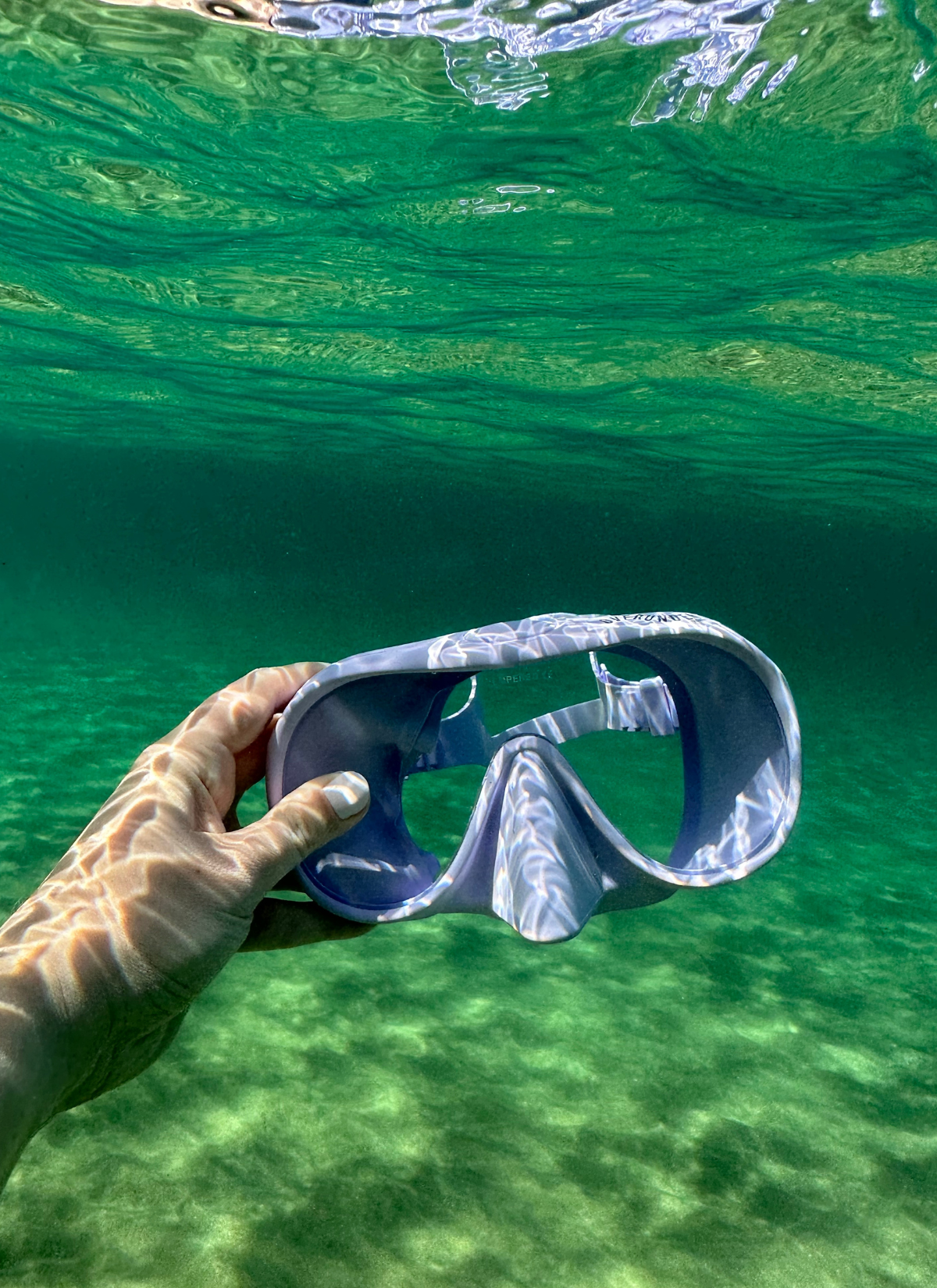 If you're looking to rent gear for the duration of your trip, try Boss Frog or Snorkel Bob's. They have several locations on the island and will include a mesh bag for your gear. Their rentals usually start as cheap as a couple of dollars a day, but they have more high end options too if you're a more experienced snorkeler/diver (better quality than what you can buy at Costco/Walmart/Target).
If you're staying at a resort, most will rent gear by the hour or half hour and some include an hour or two a day in their resort fee.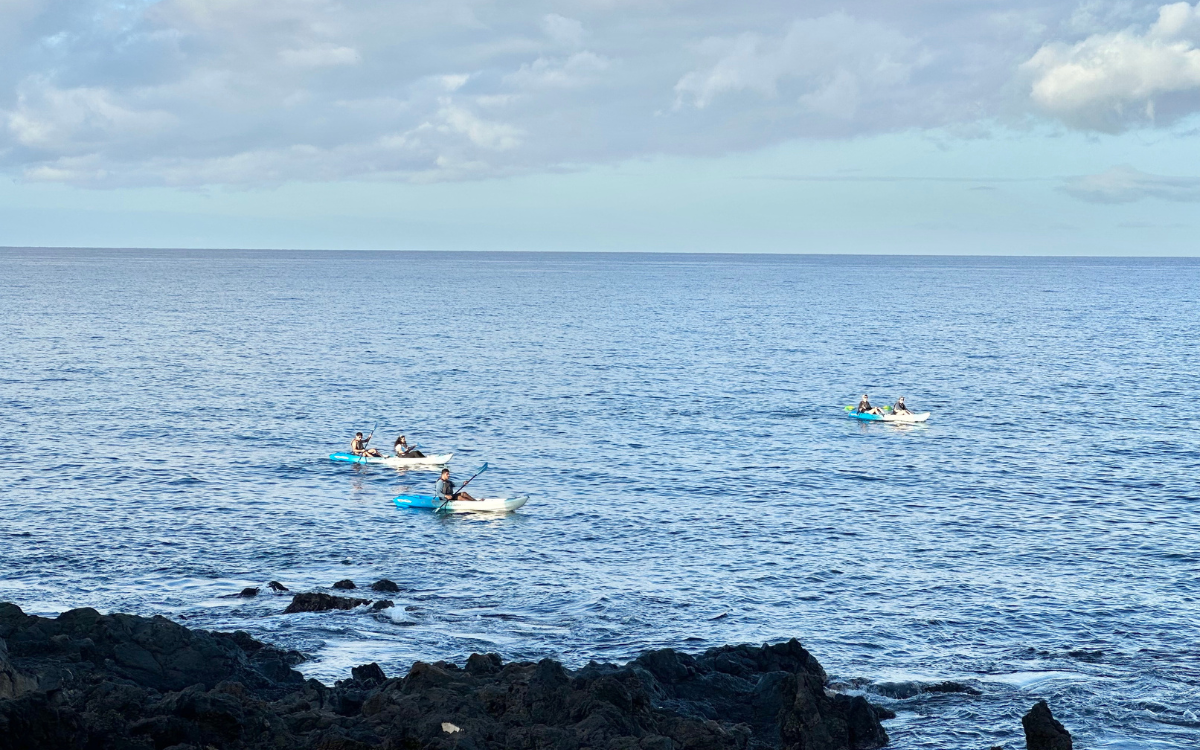 Each resort in Wailea has rentals for paddle boards and snorkel gear plus usually some different tour options to get you out and enjoying life on and under the water.
Most resorts also offer rides in outrigger canoes (sometimes they're complimentary for hotel guests if you sign up in advance).
And even if you're not staying at one of the resorts, you'll still be able to rent gear from the different vendors.
I'll drop some photos below from different vendors at the resorts along the beach walk.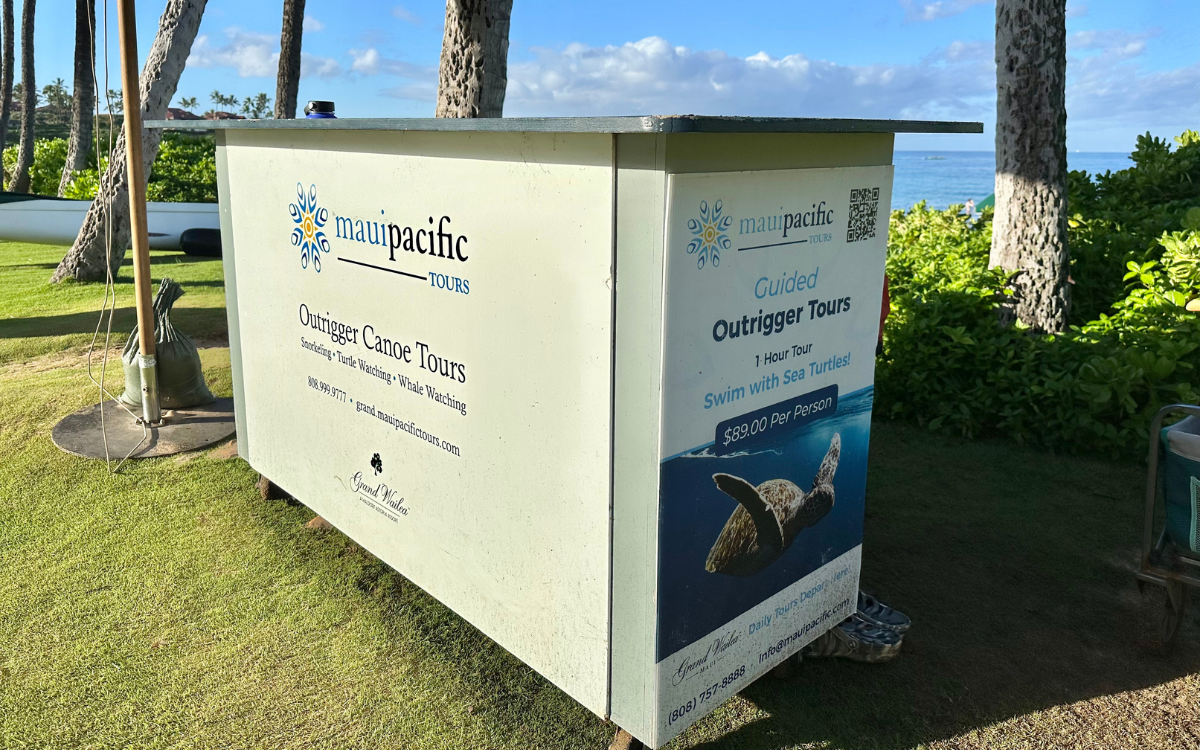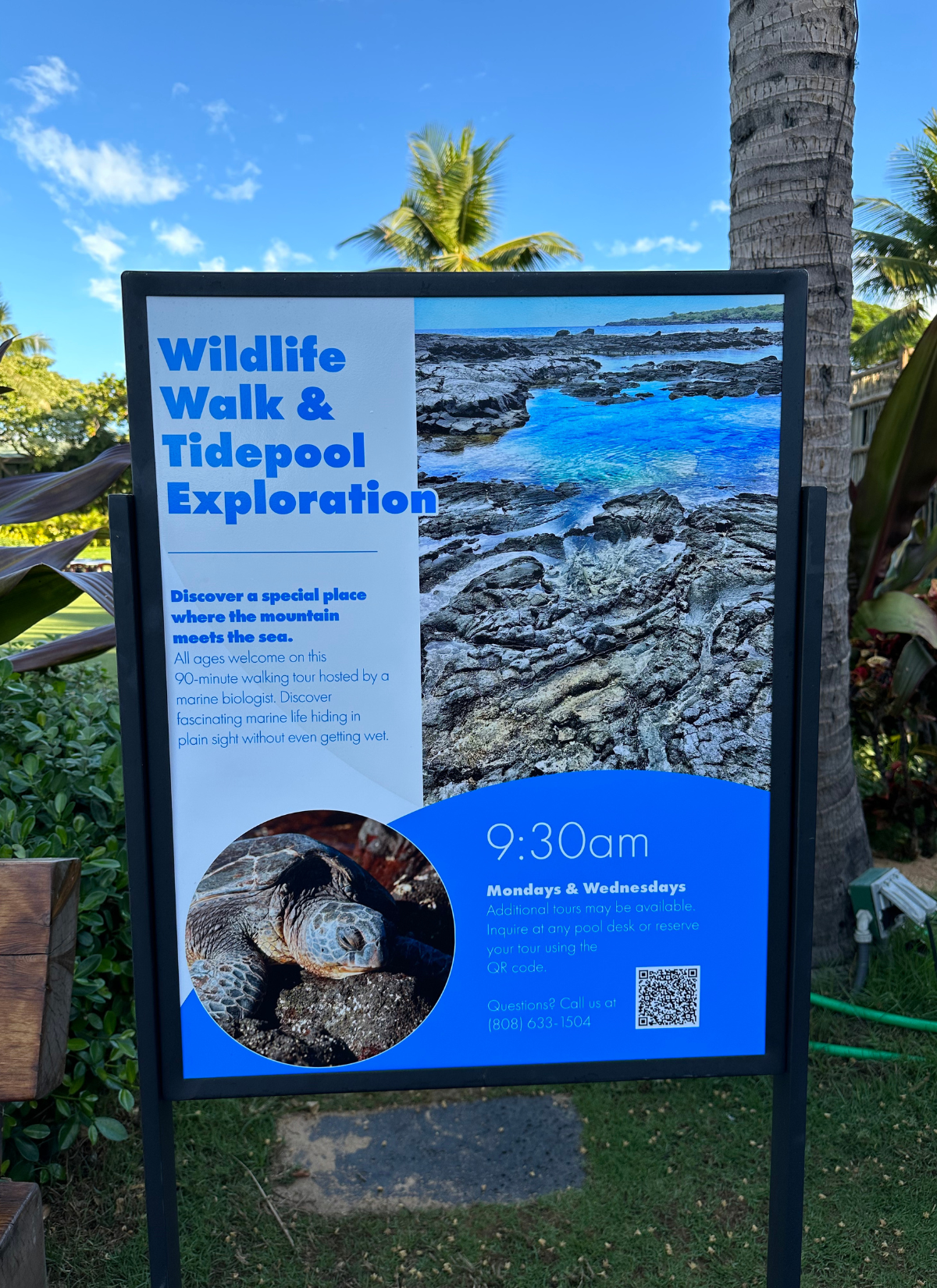 Other Things to Do in Wailea & Kihei
Molokini Snorkel Trip
Hands down one of the most popular things to do on Maui is going out on a snorkel tour to Molokini. This partially submerged volcanic crater has some of the best visibility for snorkeling and diving anywhere in Hawaii.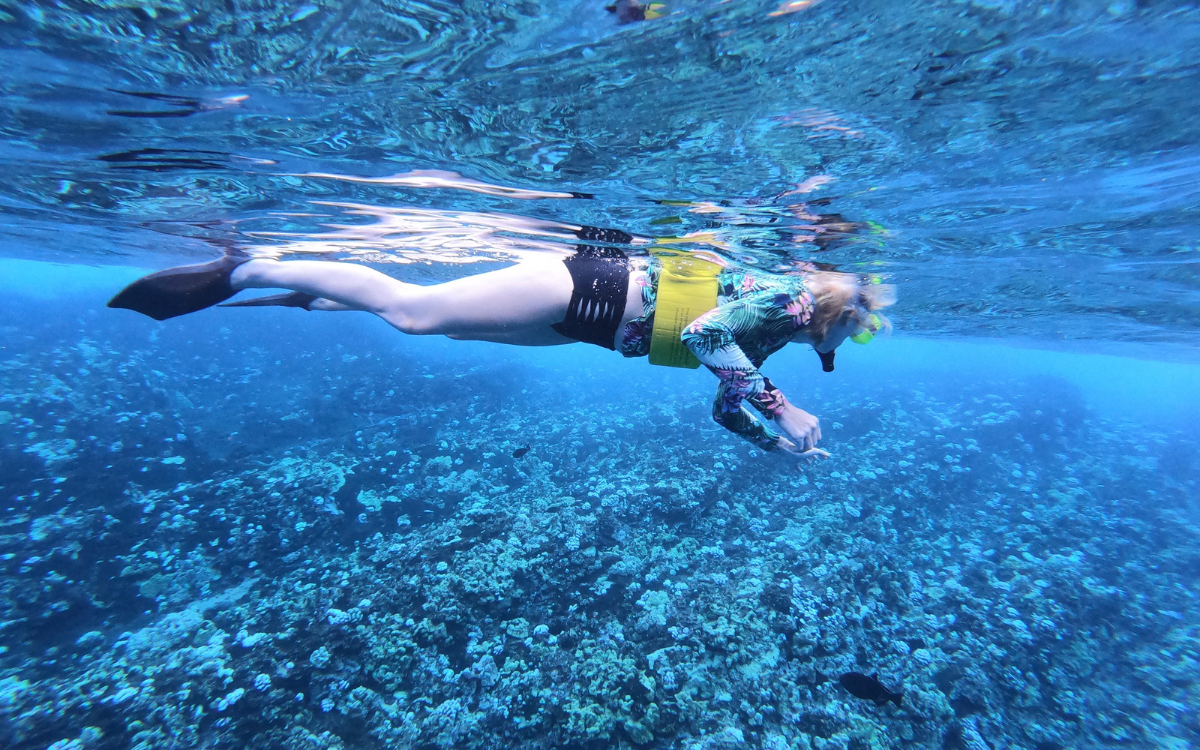 My personal favorite way to go is with Kai Kanani on their Sunrise Snorkel Tour.
It leaves from Maluaka Beach in Makena (just about 5 minutes from the resorts in Wailea) which is the closest launching spot on Maui to Molokini (this means it's a super quick ride compared to some of the companies that leave from much farther away).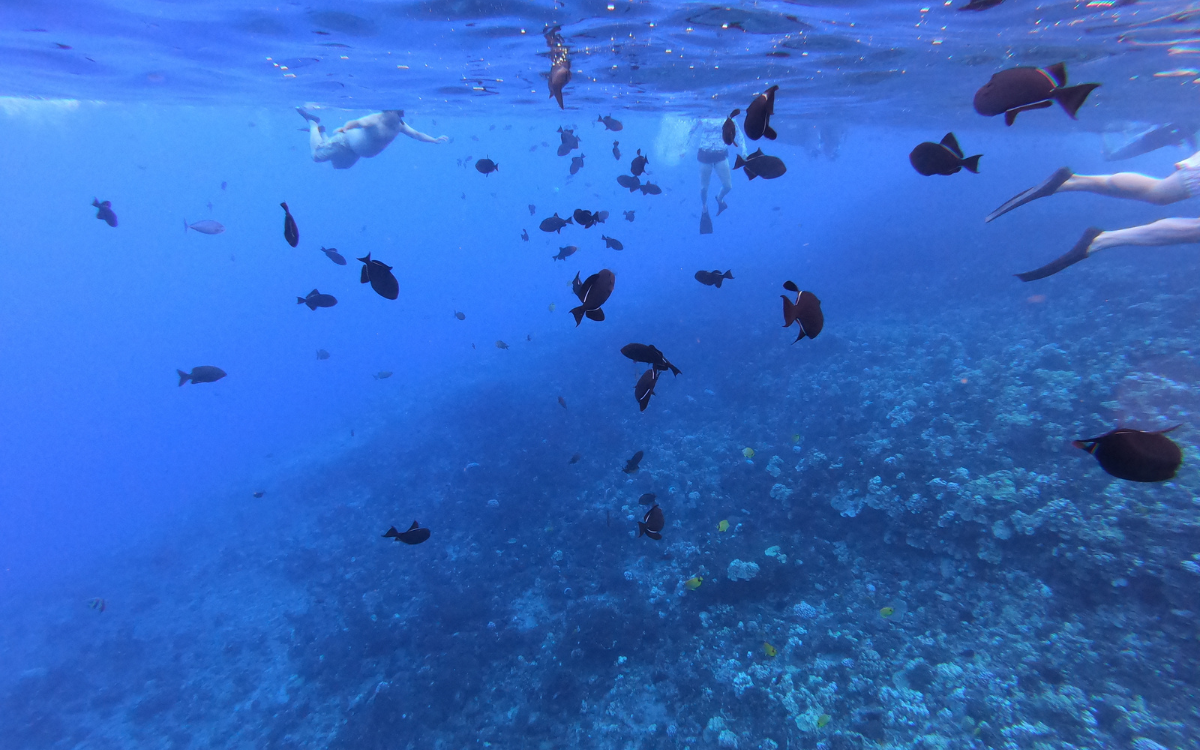 In addition to Molokini, Kai Kanani also makes a stop at Turtle Town so you can snorkel with the Hawaiian Green Sea Turtles!
I've written a lot about snorkeling Molokini with Kai Kanani in this post.
Kayak Eco Adventure
If you like adventure, book a kayak eco tour to Turtle Town with Maui Kayaks. They launch from Makena Landing and have at least two snorkeling spots. Besides turtles, they often spot dolphins, rays, octopuses, and whales in season! This is a great alternative if you don't want to go all the way out to Molokini, and you'd like to visit Turtle Town but aren't comfortable swimming out from the shore on your own.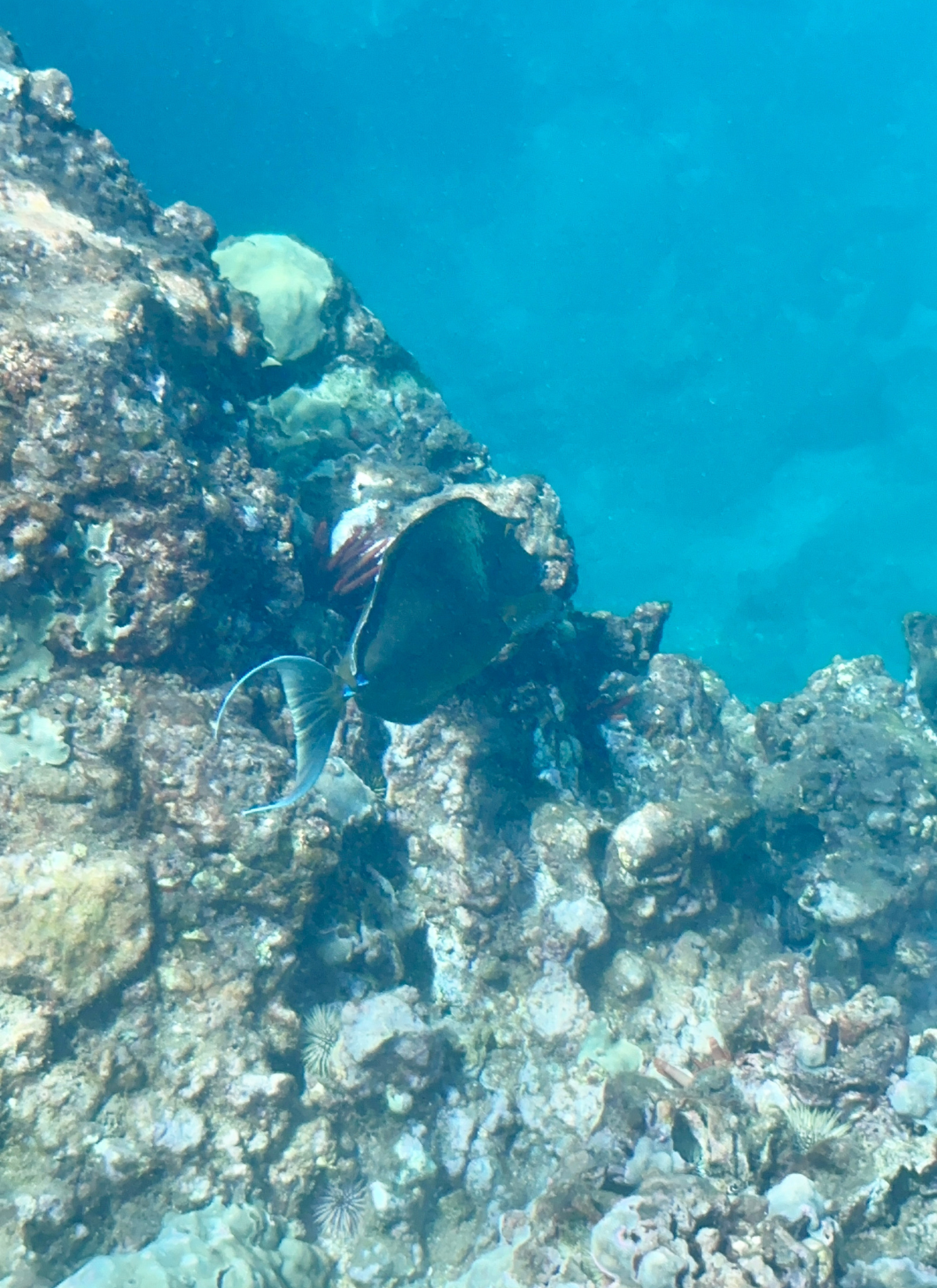 Snorkel Tours from Kihei Boat Ramp
Redline Rafting offers Molokini snorkel tours out of the boat ramp in Kihei. I said earlier that Kai Kanani is my favorite way to do Molokini, but if that's out of your price range, Redline's two hour Molokini snorkel is a good option. They have an early morning tour as well so you won't have to deal with the crowds.
Whale Watching from Ma'alaea Harbor
Most of the big tour operators on the island offer Molokini snorkel tours and whale watching trips (in season from December to April) from Ma'alaea, just north of Kihei. I think PacWhale Eco Adventures is the best.
Take Surf Lessons
Kihei is a hot spot for surf lessons on Maui. Most companies work out of Kalama Beach Park on the south side (at the Cove). Try Maui Waveriders or Big Kahuna Adventures and then hit up the Horhito's truck across the street for the best fish tacos of your life after.
On Another Note: If you're looking for a condo or vacation rental for your trip, I always book with Vrbo. They've got the largest selection of rentals you'll find anywhere and you can easily filter to find exactly what you're looking for. Need a specific number of bedrooms and bathrooms? Narrowed it down to a certain location? Want flexible cancellation terms? Need to stay under a fixed budget? Click here to search for Maui vacation rentals for your trip.
More Things to Do in Wailea & Kihei (That Don't Involve Water)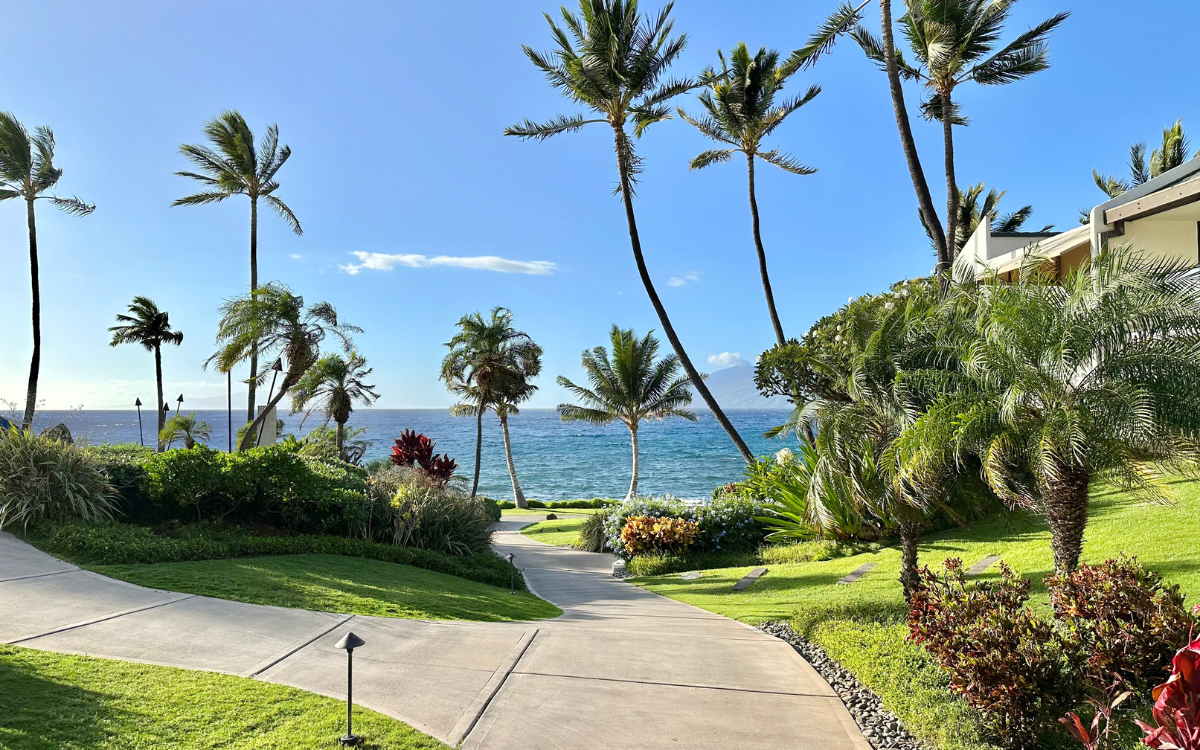 Wailea Beach Walk
Okay, this is one of my favorite parts about staying in Wailea.
This beachfront walkway between Polo beach (Fairmont Kea Lani) and Mokapu beach (Andaz) is 1.5 miles of beachfront and cliffside beauty. Whether you're a jogger or just a stroller (or using the path to hop from happy hour to happy hour), you'll definitely want to explore the trail.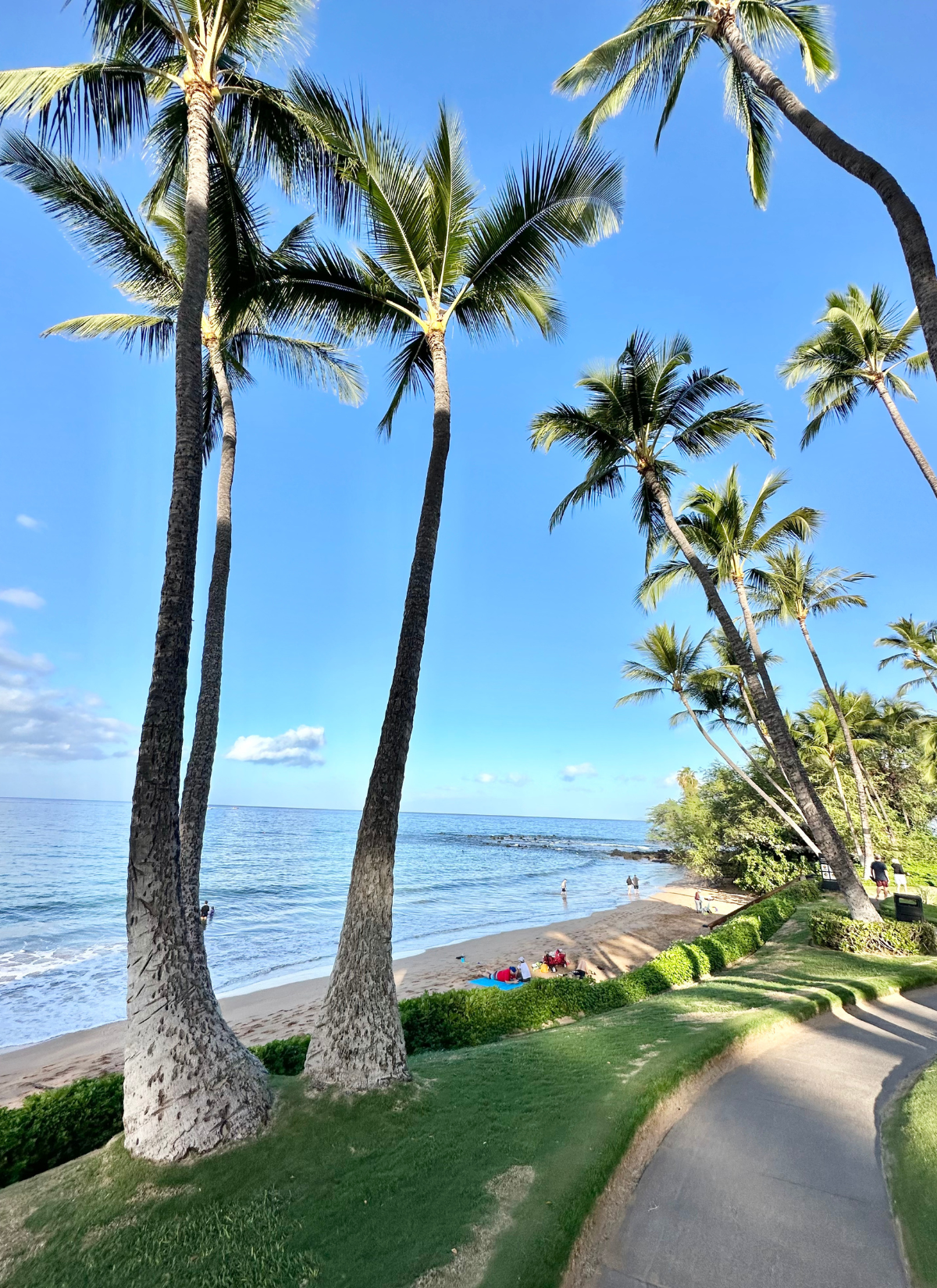 Go Resort Hopping
Whether you're staying at a resort in Wailea, or you just want to get the full "Wailea experience," everything here revolves around the resorts.
There are five major resorts in Wailea and they're all connected to the Wailea Beach Walk which means they're all easily accessible whether you're coming up from the beach, from the resort you're staying at, etc.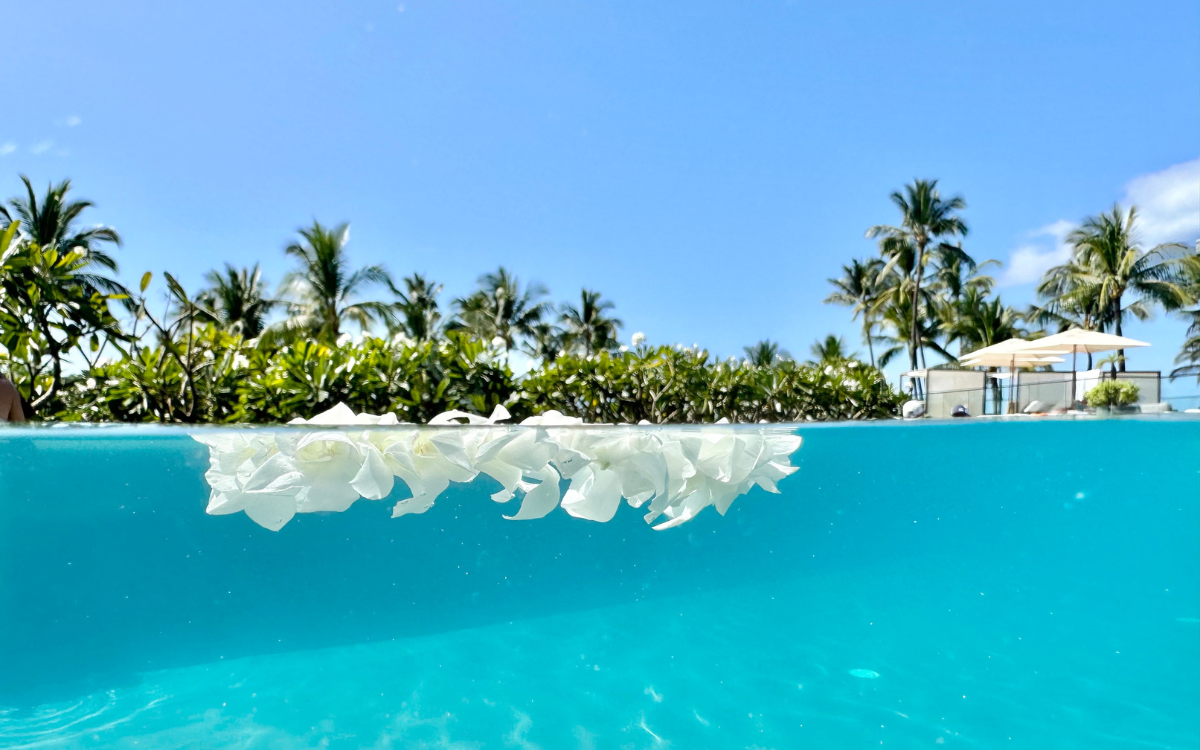 From north to south you've got the Andaz, Wailea Beach Resort, Grand Wailea, Four Seasons, and the Fairmont Kea Lani.
The Andaz sits on Mokapu Beach, the Wailea Beach Resort is in between Ulua and Wailea Beach, the Grand Wailea and the Four Seasons are on Wailea Beach, and the Fairmont Kea Lani is on Polo Beach.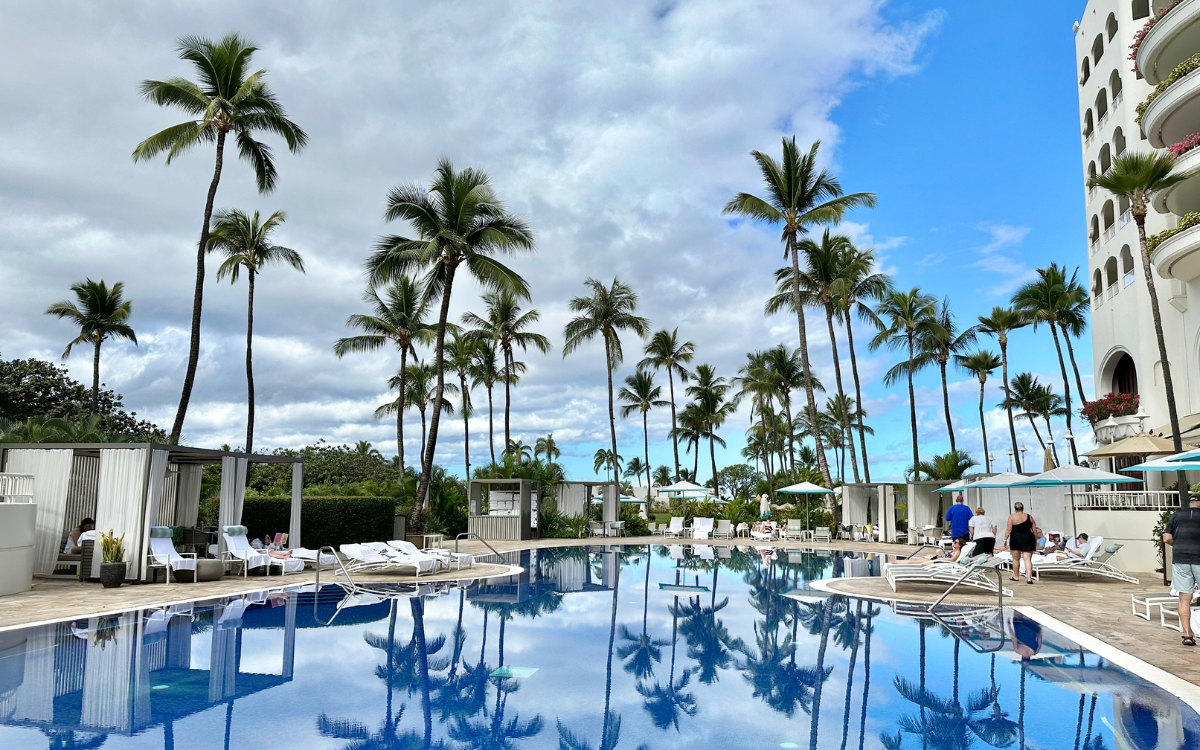 Besides each resort having valet or self parking (which they'll validate if you're having a meal, shopping, etc.) each of those beaches also has public parking. And you can pay by the hour to park at the Shops at Wailea (they'll also validate with a purchase).
All five resorts are places that are worth checking out. Generally speaking, Grand Wailea is the most jaw dropping and impressive. They've got several shops, a large lobby bar, plus a lowkey poolside bar/restaurant (Bistro Molokini).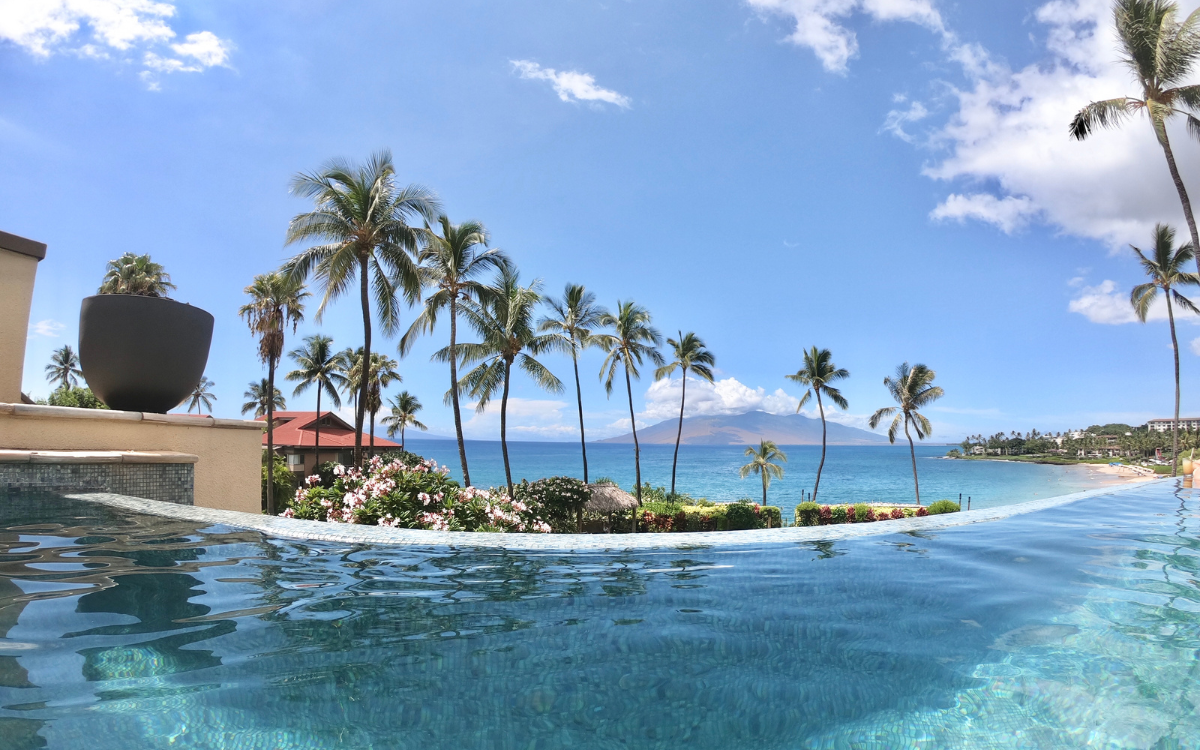 I think having a drink at the Lobby Bar at the Four Seasons is a must do Wailea experience. It's just so…civilized.
The Andaz is probably the most impressive property on Maui. It's modern and sleek and drinks or lunch at the Bumbye Beach Bar is a great way to see the place.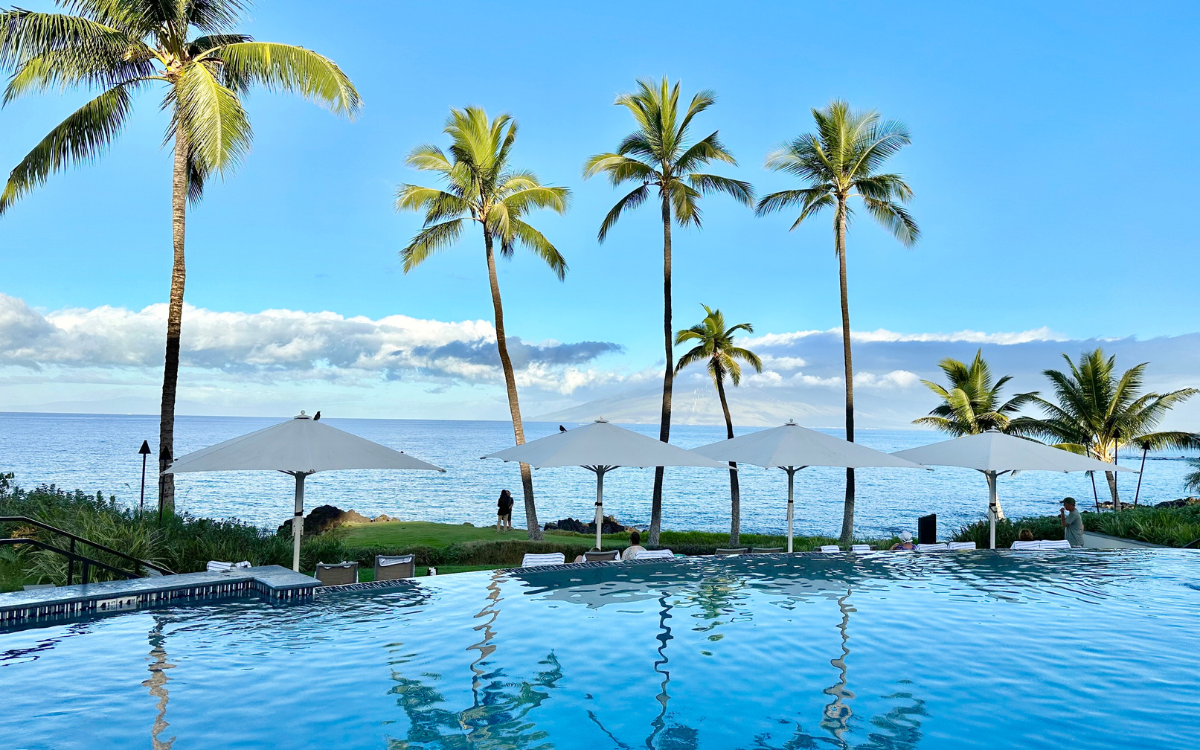 The Wailea Beach Resort is probably the most lowkey resort in Wailea, but they've got the best "Instagram setup." Their giant ALOHA sign is a big crowd pleaser (this is super close to the Shops at Wailea-if you're parked there you can walk down to the resort) and Kapa is a great place for a more affordable resort lunch/drink/casual sunset dinner.
The stretch of the Wailea Beach Walk between the Four Seasons and the Fairmont Kea Lani is probably the most dramatically beautiful part of the 1.5 miles so if you like beautiful scenery and cliffside views, you're not going to want to miss that.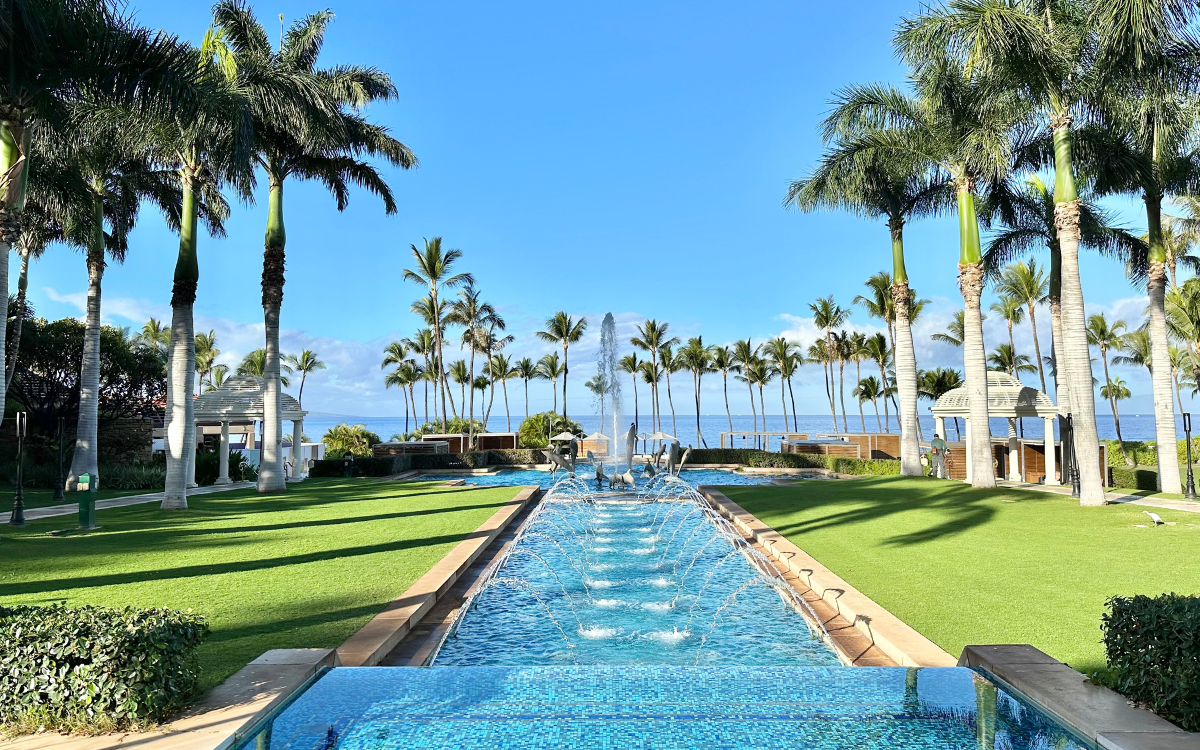 Watch Sunset
Wailea has a prime location for viewing the nightly sunset whether it's from a high end restaurant, the infinity pool, a spot along the beach walk, or with your feet in the sand.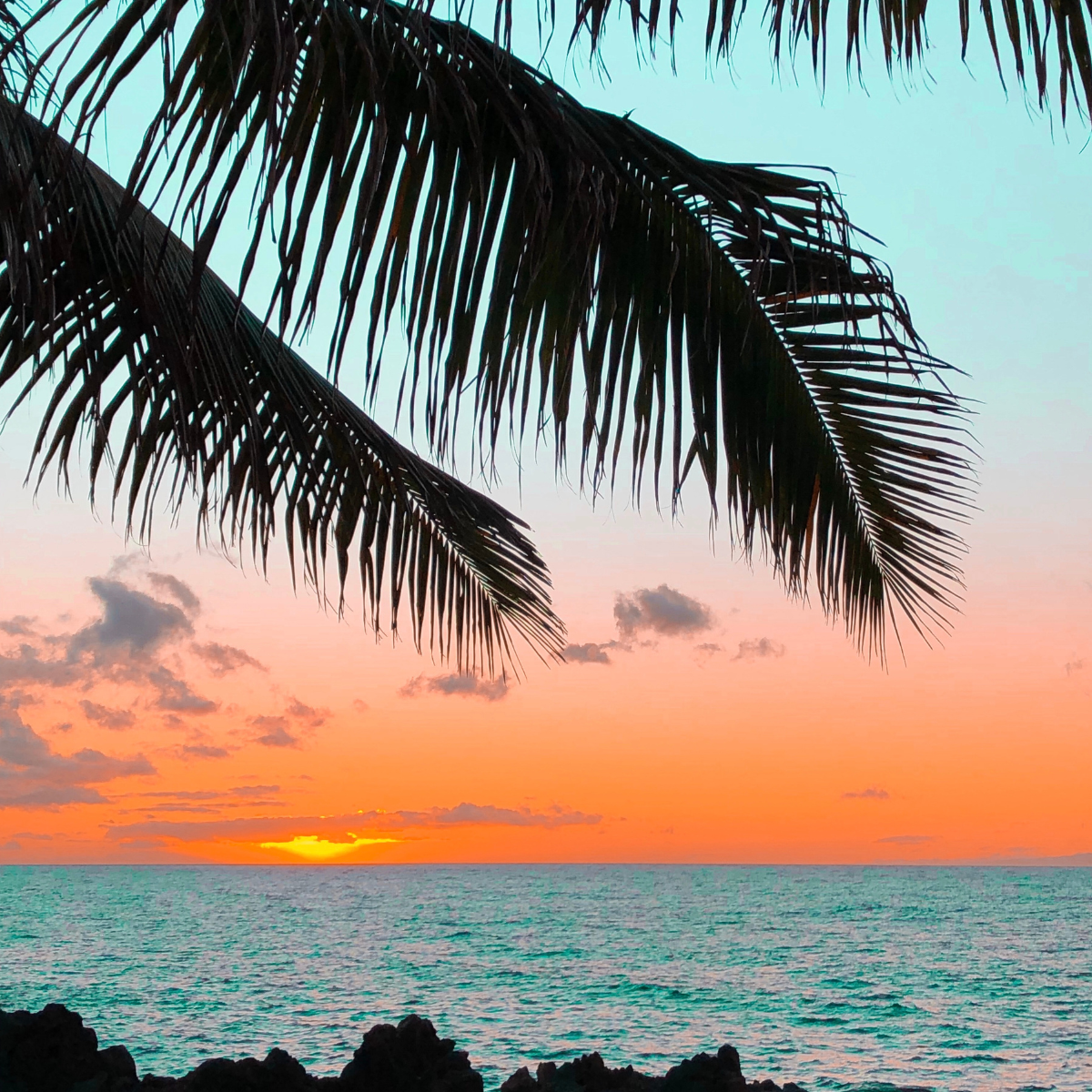 Tennis
The Four Seasons is the only resort in Wailea with courts and a tennis program (some of the condo complexes have a court or two) but it's open to non guests as well. Find their daily clinic schedule and rates for lessons and court time here.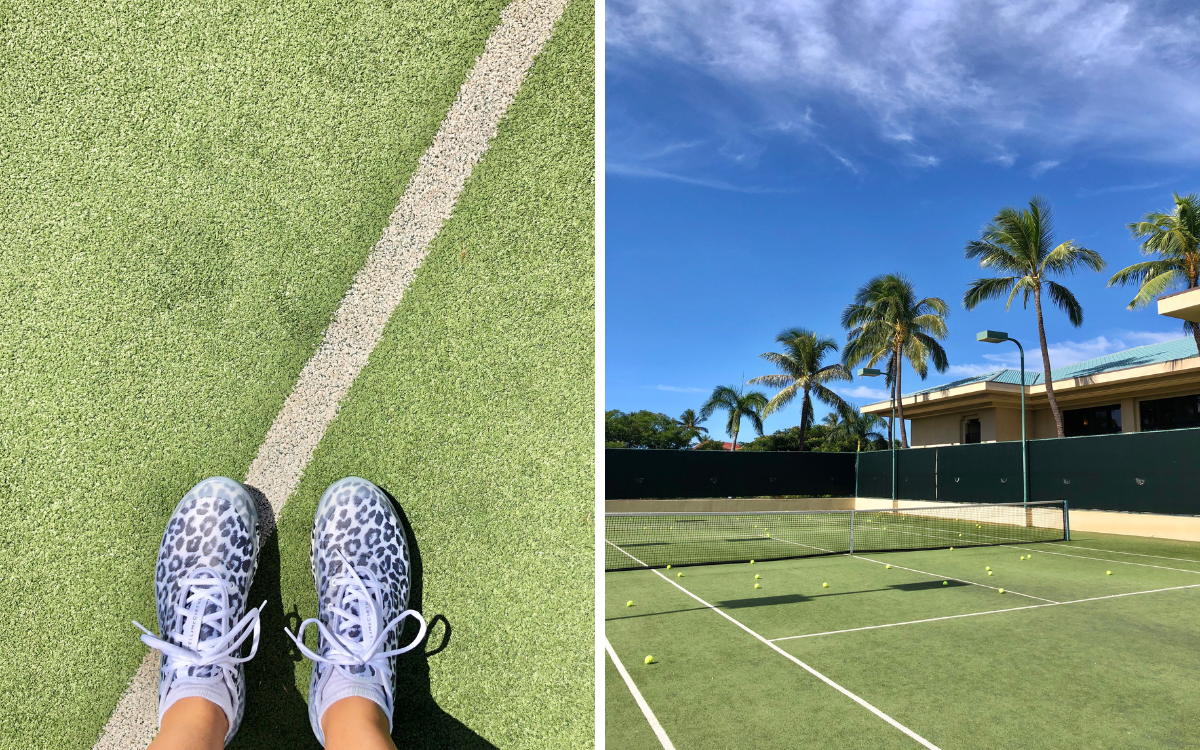 The Wailea Tennis Club also hosts clinics and lessons and has 11 hardcourts plus a pro shop.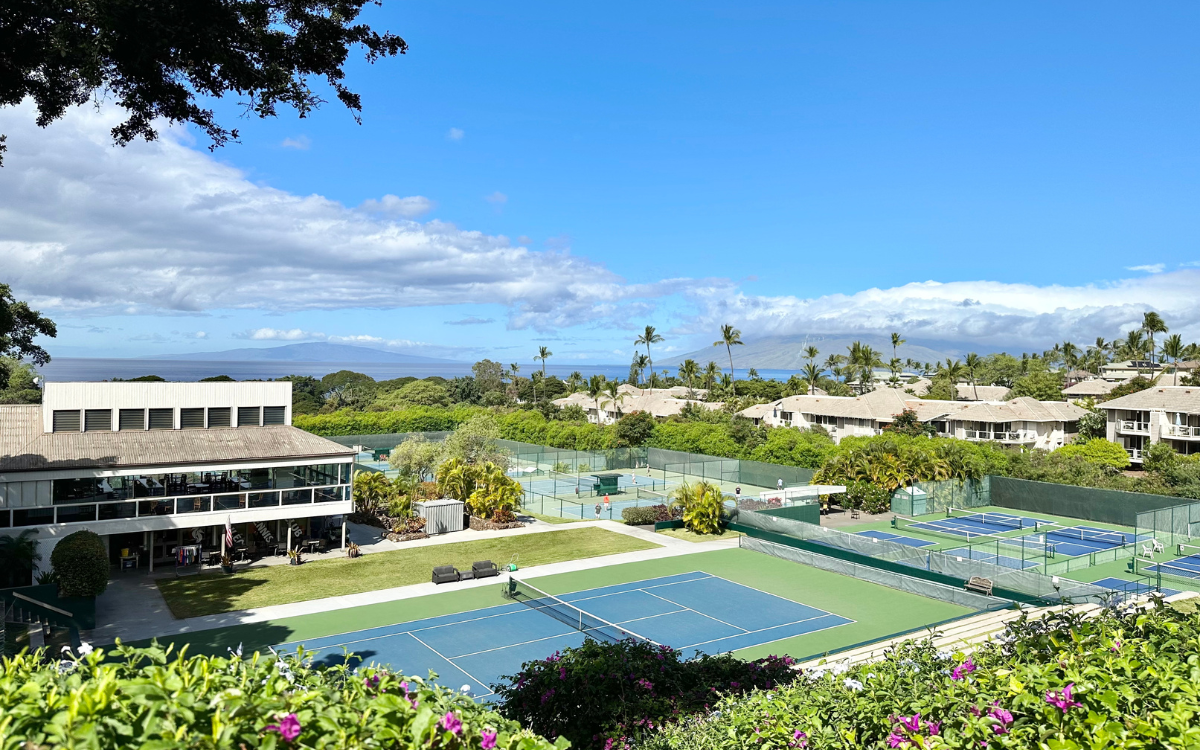 And it has such a dreamy setting! Find out more info here.
Golf
The Wailea Golf Club has three championship golf courses which is more than enough to keep even the most avid golfer busy on vacation.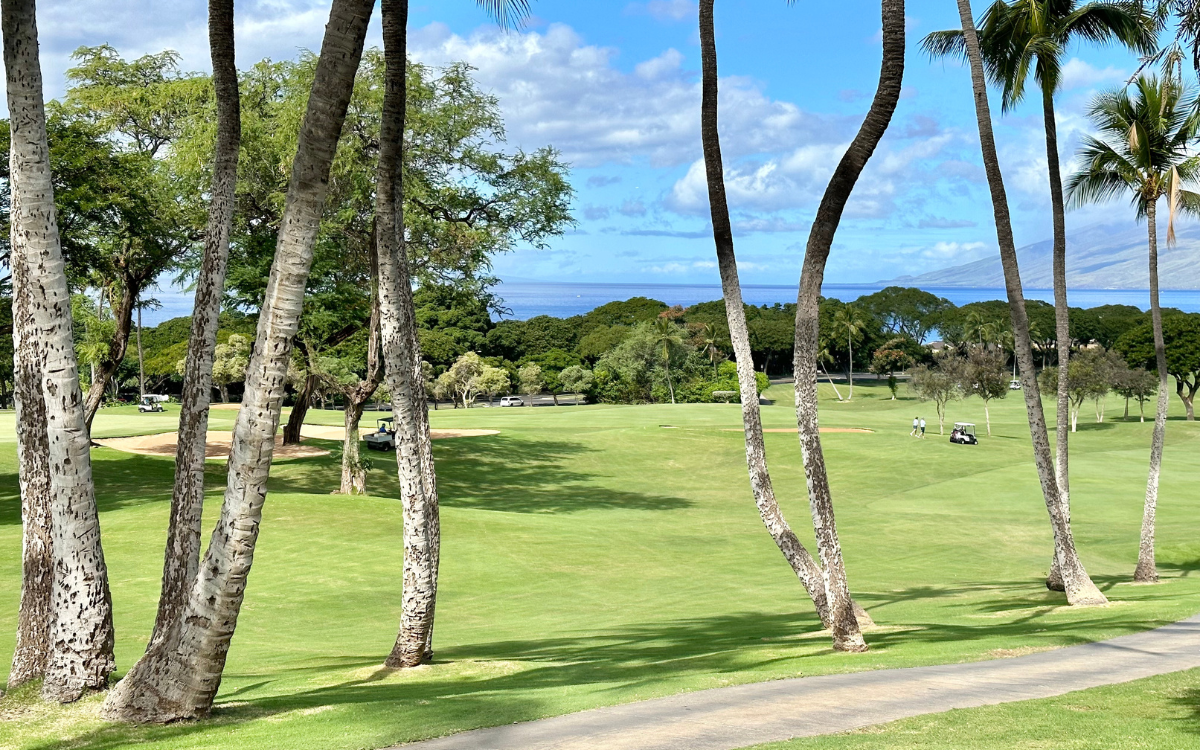 Hit the Shops
There's plenty of shopping in Wailea. The most obvious place to hit is the Shops at Wailea. This open air shopping mall has everything from high end luxury brands (Louis Vuitton, Gucci, etc.) to surf shops (Billabong, Roxy, etc.) and a few local shops as well.
The Lululemon has a Hawaii exclusive line, and I also love Whalers General Store and Island Gourmet Market for souvenirs, prepared food, and light groceries. Parking is paid (your ticket will be validated with a purchase) and the entrance to the shopping center is off the main road in Wailea, but if you want to walk there from your resort along the beach walk you can cut through the Wailea Beach Resort.
Besides the Shops at Wailea, I really like the Wailea Village where my FAVORITE Bikini Market is located.
But honestly, I think the best shopping is at the resorts. Every resort has at least one boutique (the Grand Wailea has several) and they have the best stuff.
Enjoy the Spa
With so many luxury resorts, you KNOW there have to be some cushy spas in Wailea. The Grand Wailea's Spa Grande is widely regarded as having the best overall spa facilities in the area. It's practically like its own resort but it's undergoing MAJOR renovations so I would hold off until 2024.
I wasn't personally too impressed with the spa at the Four Seasons (there wasn't anything wrong with it but it just didn't knock my socks off-but go check out the eucalyptus steam shower if you're staying there-you don't have to book a treatment).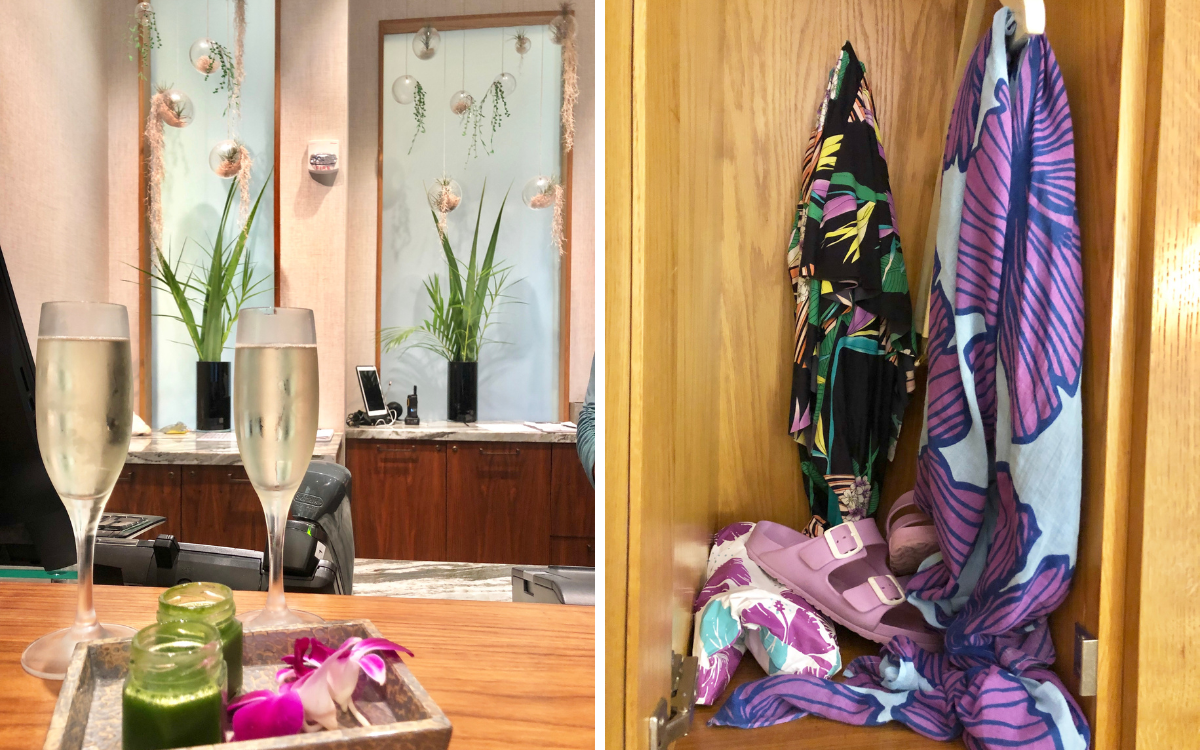 The Fairmont Kea Lani wins awards for best treatments (they have some truly unique options that you won't find very many places), but their facilities aren't over the top.
The spa at the Andaz seems to be recommended as the best mix of impressive facilities AND treatments.
Horseback riding
Makena Stables offers morning and sunset rides on Ulupalakua Ranch just above La Perouse Bay and the Ahii Nature Preserve.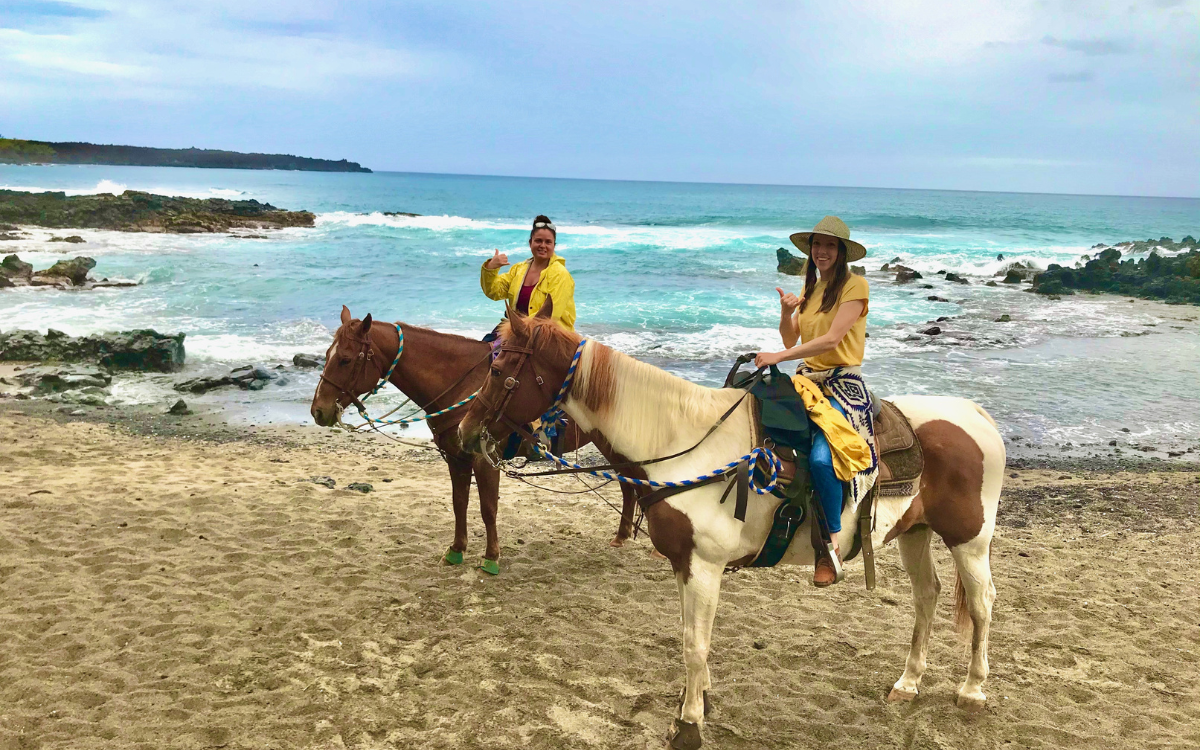 **They've recently stopped offering trail rides and it's unknown if they'll start again in the future. It's worth checking though because I think they have the best tour on Maui.
VIsit the Maui Ocean Center
Located just up the road from north Kihei in Ma'alaea, the Maui Ocean Center is a great spot if you have young kids, or you're looking for a good rainy day activity. It's a little pricey and if you have a decent aquarium near your hometown, it's probably not going to blow you away, but the shark tunnel is pretty cool.
Where to Eat in Wailea & Kihei
I've written a full post about my favorite restaurants and spots for happy hour, lunch, fancy dinners, luaus, etc in Wailea and Kihei HERE, but here are some cliffnotes on some of my don't miss places: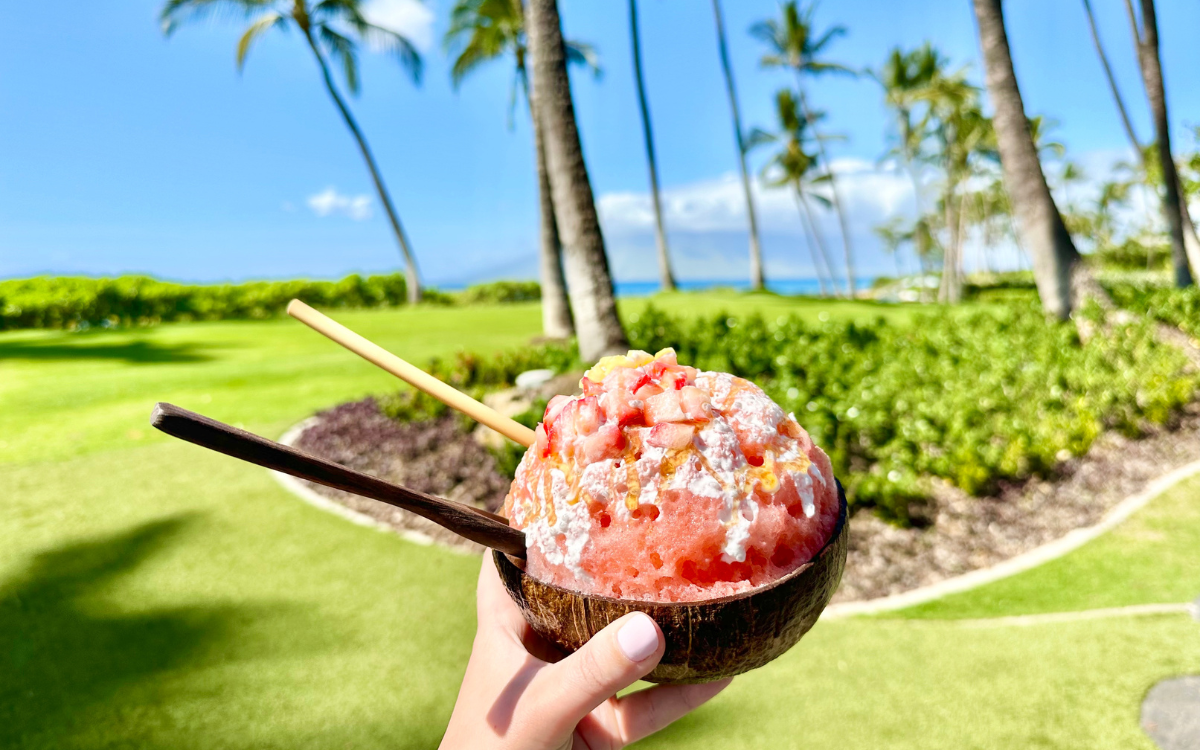 Monkeypod: Their mai tais are the best on the island plus their happy hours (there's usually an early one and a late one) are great for cheaper drinks and half priced appetizers and pizzas.
Waikomo Shave Ice: Their truck is usually parked at Ulua Beach on the lawn in front of the Andaz.
Restaurant at the Hotel Wailea: If you're going to do one fancy pants dinner in Wailea, this is hands down the best.
Horhitos Taco Truck: This was the first place I ate the first time I came to Maui and it's been a sentimental favorite ever since. But really…I think they're the best fish tacos on the island plus it's right across the street from the beach.
WowWow Lemonade: Go for their lemonades made from local fruit but stay for their acai bowls (I think they're the best on the island).
Kihei Caffe: Dives are the best kind of breakfast spots and I'll gladly stand in line for the pancakes or crab cake eggs benny here.
Still Looking for a Place to Stay?
Here's one more really important thing you need to know before your Hawaii trip…
Reservations You Need to Make BEFORE Your Hawaii Trip
You've got your airfare, hotel, rental car and your big activities booked, so you should be good to go, right? Wrong!
Travel is BOOMING in Hawaii so a lot of state and national parks used the closure and reopening to institute reservation systems at some of the island's most popular spots to make things a little more sustainable.
That means that there are now over half a dozen sites (beaches, trailheads, etc.) that require advance reservations. And some sell out well before you arrive on the island so you really need to have some sort of a plan.
I recently saw somebody in a Hawaii travel group post in a panic that they didn't know they had to make reservations for things in advance…they thought they could just show up and "go with the flow." I was tempted to say, well, "as long as the flow doesn't take you somewhere that requires reservations, you can!" ; )
But I don't want YOU to be that person, so I've pulled together a list of all the places you need to reserve entry in advance (plus all the details on booking windows, price, links, etc.) and a handful of popular tourist hotspots that book out really far in advance too.
Haleakala National Park (Maui)
To visit Haleakala National Park for sunrise at the summit, you must make reservations in advance here.
Reservations are required to enter the park gates between 3AM and 7AM (sunrise hours).
Online reservations are $1 per reservation/vehicle PLUS you'll pay the park entrance fee of $30/vehicle when you arrive (National Park annual passes are also accepted at the gate).
The reservation booking window opens 60 days in advance at 7AM HST. There are also a limited number of tickets released two days before.
You can make one reservation every three days with the same account. So if you want to make reservations for back to back days (in case of weather/conditions), you'll need to do so with separate accounts (email addresses).
If you can't get reservations for sunrise, you can enter the park anytime after 7AM without reservations. The summit is spectacular during the day and you don't need reservations for sunset.
I strongly recommend creating an account before and making sure you're logged in at 7AM HST because it's not uncommon for reservations to sell out quickly.
Waianapanapa State Park (Maui)
To visit Maui's famous black sand beach at Waianapanapa State Park on the Road to Hana, you must make reservations in advance here.
Reservations are required to visit the beach and are distributed in windows from 7AM-10AM, 10AM-12:30PM, 12:30PM-3PM, and 3PM-6PM. And they are pretty strict about exiting by the end of your window time (you can arrive anytime within your window).
It's $5/person to enter plus $10/vehicle to park and those fees are paid when you book your time slot.
Reservations open up 30 days in advance.
Iao Valley State Park (Maui)
To visit the lush, green mountains and hike at Iao Valley State Park, you must make reservations in advance here.
Reservations are offered for 90 minute time slots beginning at 7AM and ending at 6PM. They ask that you arrive within the first 30 minutes of your time slot.
Entry is $5/person plus $10/vehicle to park.
Reservations open up 30 days in advance.
Diamond Head (Oahu)
To hike to the top of Waikiki's famous Diamond Head, you must make reservations in advance here.
Reservations are offered in two hour increments beginning at 6AM (6AM-8AM, 8AM-10AM, etc.) and ending at 6PM. If you're parking onsite, they ask that you arrive within the first 30 minutes of your reservation window.
Entry is $5/person plus $10/vehicle to park.
Reservations open up 30 days in advance.
Tip: I recommend booking one of the first two time slots because there isn't much shade on this hike and it gets pretty hot.
Hanauma Bay (Oahu)
To snorkel at Oahu's pristine Hanauma Bay, you must make reservations in advance here.
Entry times are staggered in 10 minute increments from 7AM to 1:20PM with roughly 1000 slots being assigned in advance every day.
Reservations can be made two days in advance and they open at 7AM HST. They're usually gone in minutes (if not seconds).
If you're unable to get an advanced reservation, you can try for a day of, walk in ticket. They open at 6:45AM and they only have a limited number available. Everyone in your group needs to be present when you purchase your tickets in person.
There are no reservations for parking and it's first come, first serve. $3/vehicle.
It's $25/person to snorkel at Hanauma Bay (12 and under, active military, and locals with HI ID are free).
The Hanauma Bay Nature Preserve is open Wednesday through Sunday (CLOSED MONDAY AND TUESDAY) from 6:45AM-4PM. Last entry is at 1:30PM, the beach is cleared at 3:15PM and you have to leave the facility by 4PM.
Jellyfish patterns can also affect whether or not the bay is open so double check the day before/day of.
USS Arizona at Pearl Harbor (Oahu)
If you want to take the boat tour at Pearl Harbor out to the USS Arizona, it's recommended to make advance reservations here.
Online reservations are guaranteed a specific boarding time to go out to the USS Arizona. If you're unable to get an advance reservation, you can wait standby when you arrive. The line could be short (15 minutes or so) or long (hours) and it just depends on the day (if they're having problems with the loading dock sometimes they don't take many from the standby line) and the time of day.
Reservations are supposed to open up 60 days in advance, but keep an eye on your exact dates, because lately they've actually been opening up about 57ish days in advance???
They also release a small batch of tickets the day before.
The boat ride out to the USS Arizona is free, but it's $1 to make the reservations online.
They recently started charging $7/vehicle for parking at Pearl Harbor.
Haena State Park / Kalalau Trail (Kauai)
If you want to hike Kauai's famous Kalalau Trail, you must make advance reservations here.
You've got three options here:
1) Parking & Entry: This is the most flexible option and also the most limited. THESE RESERVATIONS SELL OUT IN LESS THAN A MINUTE. There are three time slots available: 6:30AM-12:30PM, 12:30PM-5:30PM and 4:30PM to sunset. You can purchase multiple time slots if you want to stay longer. It's $10/timeslot (parking) plus $5/person and you have to reserve every person when you initially book. Everybody has to arrive in the same car and your ID needs to match the reservation.
2) Shuttle & Entry: If you can't get parking at the trailhead, there's also a shuttle option. Shuttle reservations are $35/person (16+), $25/person (ages 4-15), 3 and under can ride free. The shuttle runs every 20 minutes 6:20AM to 6:40PM.
3) Entry Only: If you're a Hawaiian resident (with HI ID) or someone WITH a Hawaiian resident, you can purchase entry only for $5/person with no advance reservations. Also, if you're walking or biking to the trailhead you can do this option. But there is NOWHERE to park in the area to walk in. So this really only works for those with bikes or who are staying close enough to walk. They will tow your car if you park outside the designated areas.
The reservation window opens 30 days in advance at 12AM HST. The parking & entry option usually sells out in a minute, but the shuttle availability will last longer.
There are a TON of FAQs here including the possibility of snagging a canceled reservation.
Other Things to Book in Advance
Hawaii is a busy place these days! Besides the state and national parks above, here's a handful of miscellaneous things you should make reservations for in advance (if they're on your radar):
Mama's Fish House (Maui): The iconic spot is the most popular restaurant in Hawaii and they've been opening reservations (and selling out) 4-6 months in advance. You can call and get on the waitlist for one day or you can set notifications on OpenTable to alert you for cancellations every day of your trip. Most people have pretty good success on OpenTable.
Old Lahaina Luau (Maui): Honestly, any luau you're planning to attend you should book early, but most people are usually shocked how far out the Old Lahaina Luau books out. Book it as soon as you know your dates (I think they open at the six month window). They also have a waitlist.
Kualoa Ranch UTV Tour (Oahu): Everybody loves Jurassic Park so getting to ride UTVs where they filmed the movies is very popular. The ranch offers a lot of different tours but the UTV tours usually book out a couple of months in advance.
Spa Reservations: If you're staying at a resort with a spa (or planning on visiting one), don't wait until you arrive to make your reservations. I'd make them at least a month in advance.
Tee Times: Same for golf, reserve your tee times well in advance.
Dining Reservations: Any "fancy" or resort restaurant is likely to be booked up these days so if you like having a nice dinner every night, make your plans in advance.
Want to read more? Don't miss some of my most popular (and favorite) posts about Maui: My Favorite Hotels on Maui | Wailea vs Ka'anapali | All of the Wailea Resorts Ranked | Maui Travel Tips | Things You Can ONLY Do on Maui | Where to Find Maui's Best Condos and Vacation Rentals | My Favorite Road to Hana Itinerary | Road to Hana Tips | Should You Drive the Backside of the Road to Hana? | 10 Day Maui Itinerary | Is Mama's Fish House Worth It? | Tips for Sunrise at Haleakala National Park | Things to Do in Wailea | Things to Do Upcountry | Where to Stay in Kihei | Where to Stay in Lahaina & Ka'anapali | Best Beaches in Wailea & Kihei | Best Restaurants in Wailea | Maui vs Kauai | Four Seasons Maui Review | Andaz Maui Review | Fairmont Kea Lani Review | Wailea Beach Resort Review | Four Seasons vs Andaz Maui | Andaz Maui vs Wailea Beach Resort
Sav
P.S. Thanks for sticking around and reading this whole post! If you have ANY questions about planning your trip to Hawaii, you can join my free Facebook group here. I'm there answering questions every day and there are 7500+ other friends who have a ton of Hawaii information to share!
Also, if you want to follow along on my travel adventures in real time, you can follow me on Instagram (@caitylincoln). My post captions are full of travel tips and I have a ton of story highlights and videos with great info. And please share my account with your friends that are headed to Hawaii! Your support really helps me keep this blog running!