Wailea Beach Resort Review: Here's Why This Is Marriott's Most Aspirational Property in the US
This post may contain some affiliate links, which means I'll make a little money on anything you choose to purchase. But of course, I only recommend my absolute favorites to you. Thank you for supporting the brands that make the Lincoln Travel Co possible.
There are a couple things you should know about me…I'm always on the hunt for the perfect beach resort and Marriott Bonvoy is my hotel loyalty program of choice… so when I find a place that checks both boxes, I am ALL OVER IT.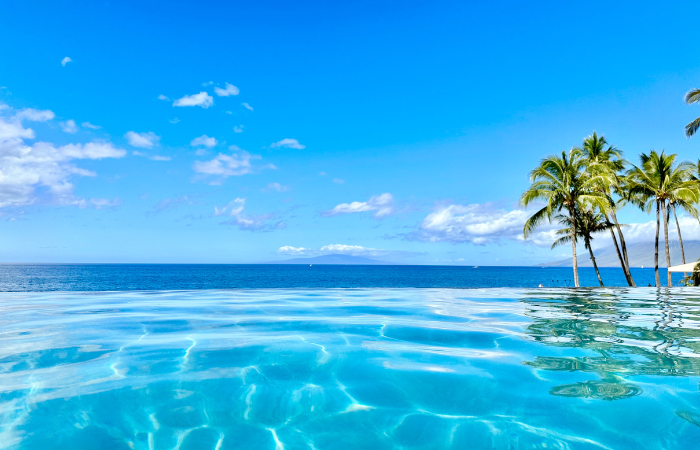 The Wailea Beach Resort on Maui is one of the most popular Marriott properties in the world right now (evidenced by how many people choose to redeem a good chunk of their loyalty rewards points here), and on my last trip to Maui I decided it was finally time to see why.
Wailea Beach Resort Review
So if you're a Marriott Bonvoy member trying to decide where to splurge and cash in your points, or you're just a traveler trying to find the best resort option in Maui, I've got everything you need to know…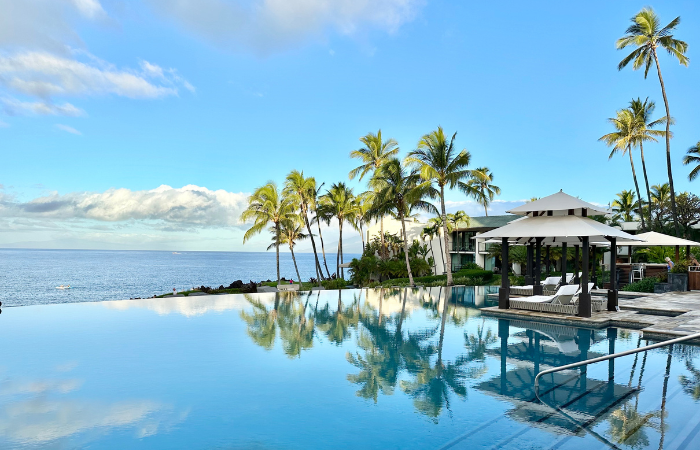 Location
For starters…this was my first time staying at the Wailea Beach Resort, but I'm no stranger to the area. I've spent a LOT of time at the beaches and the resorts in Wailea. I used to live on Maui plus now I've stayed at all the big resorts in Wailea.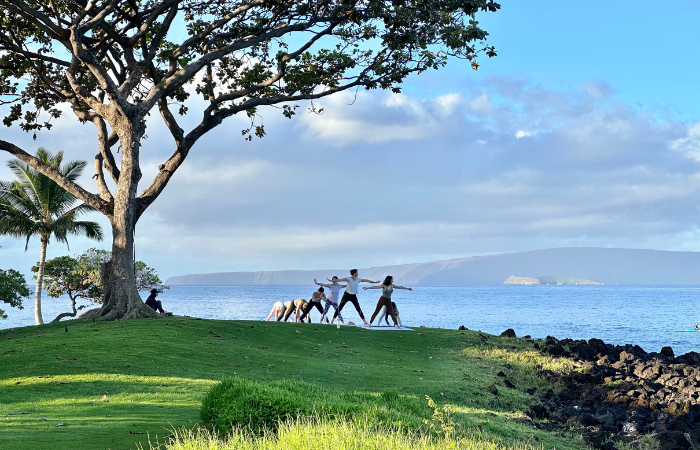 And there's a reason I've spent so much time here…I love it! Wailea may not be the "real Maui," but it does "resort life" better than anywhere else in Hawaii.
Wailea is a resort community on the south side of Maui just south of Kihei. It's by far the most luxe part of the island with all of the vacation amenities you could ever want but with fewer crowds than places on the west side.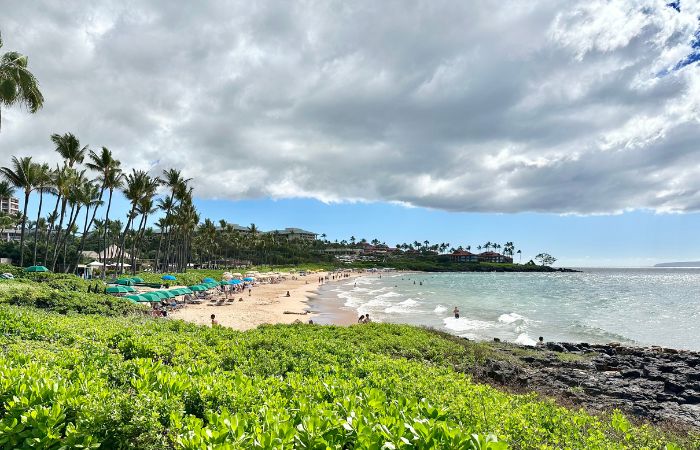 Now, specifically within Wailea…the Wailea Beach Resort sits right on the ocean in between Wailea Beach and Ulua Beach. The Grand Wailea and Four Seasons are just to the south (they all share beach service at Wailea Beach) and the Andaz is to the north. Plus the Shops at Wailea (plenty of shopping and restaurant options) are within walking distance. So it's basically right in the middle of everything…in a good way.
Lobby & Check In Experience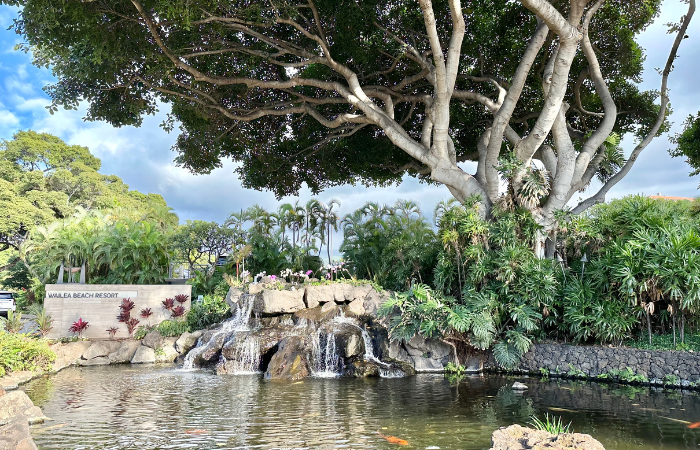 The Wailea Beach Resort starts off with a huge wow factor. I think the short drive from the main road in Wailea down to the resort is one of the most stunning entries to any place I've ever been. The road is lined with trees that create a sort of tunnel that's strung with lights. Pictures don't do it justice, but whether you're coming or going at night or during the day, it's such a great touch.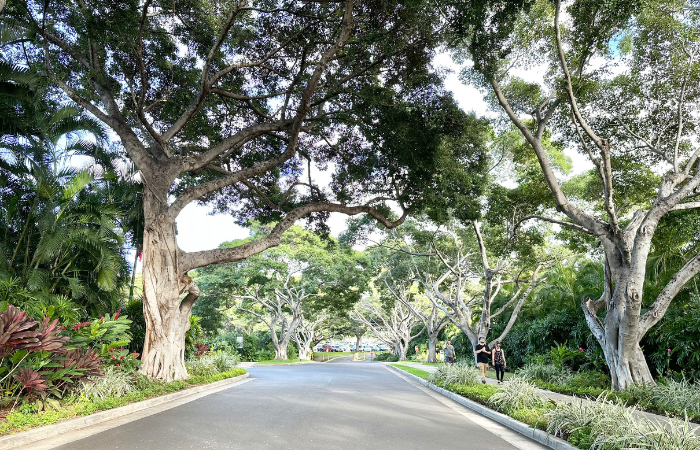 The resort is pretty open air and not as structured as other places, but that's part of its charm.
The valet were warm and friendly as soon as we arrived, helping us unload our bags and directing us where to park since we opted to self park (this is one of the few big resorts on Maui that offers self parking – for a fee of course – and I always like to do that when it's available. I just feel like I have more freedom to come and go).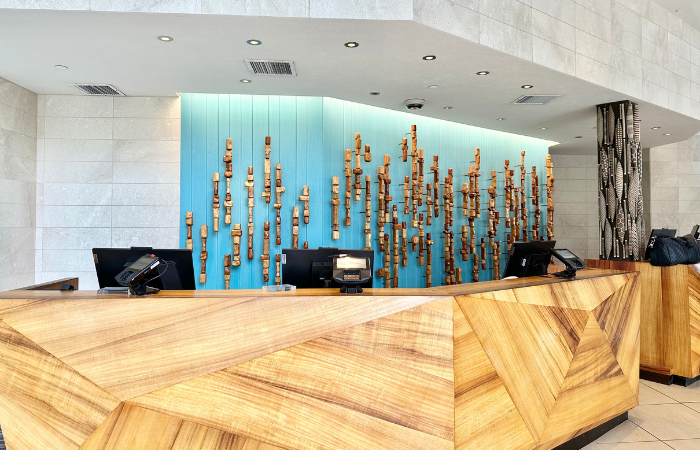 The front desk is pretty much right by the curb and it definitely always felt like one of the more congested places in the resort. We arrived about 4:30 so there were a lot of people waiting to check in plus all of the people waiting for their cars were milling about in the same area.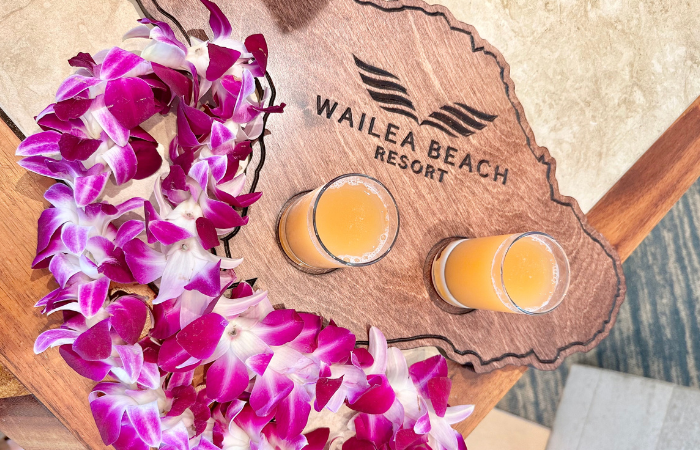 Check in was stellar once it was our turn though! We were greeted with fresh flower leis and POG juice while we got everything sorted out. Also, as a status perk (I was titanium at the time) there's a daily local chocolate that you can stop by and pick up at the front desk.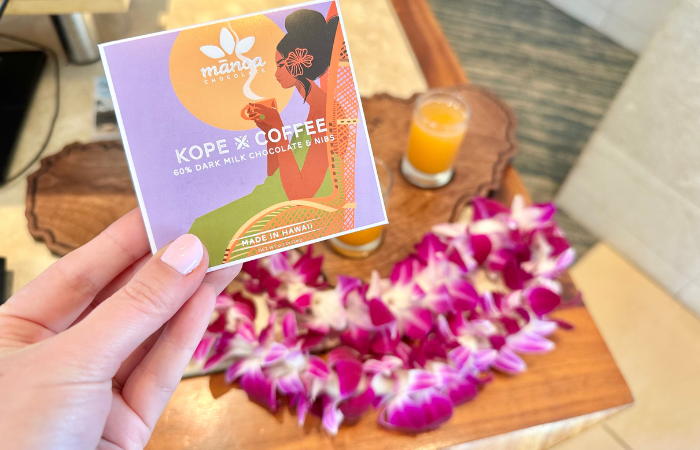 Our room was ready and waiting for us! Now here's one of my bigger complaints about the resort…it is not laid out in any sort of logical way. It's slightly terraced (the main level of the lobby is the highest) but not really centrally laid out so getting from the lobby to our room in building 7 (one of the buildings closest to Wailea Beach) involved a maze of walkways, elevators, stairs, and searching for just the right path on the map. Obviously, we adjusted to it the longer we were there, but it's definitely not my favorite layout.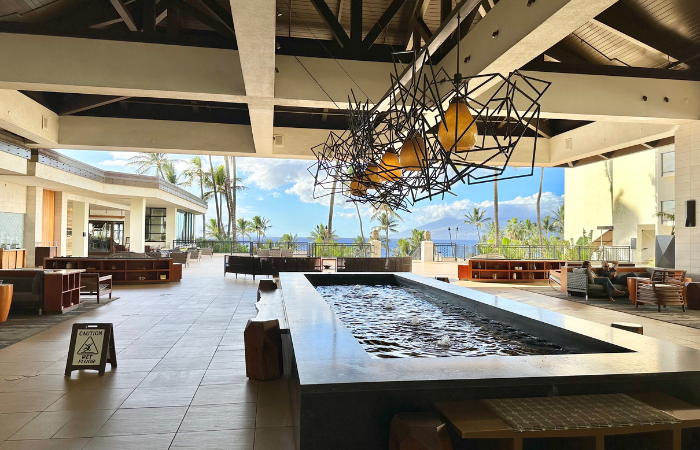 All this to say…DO NOT insist on taking your luggage yourself. The front desk arranged for a bellman to deliver it to our room and it made it a LOT easier not having to schlep bags around while we stumbled around.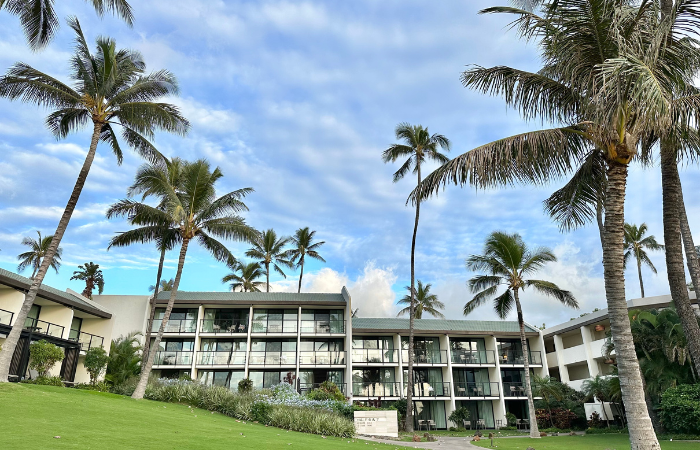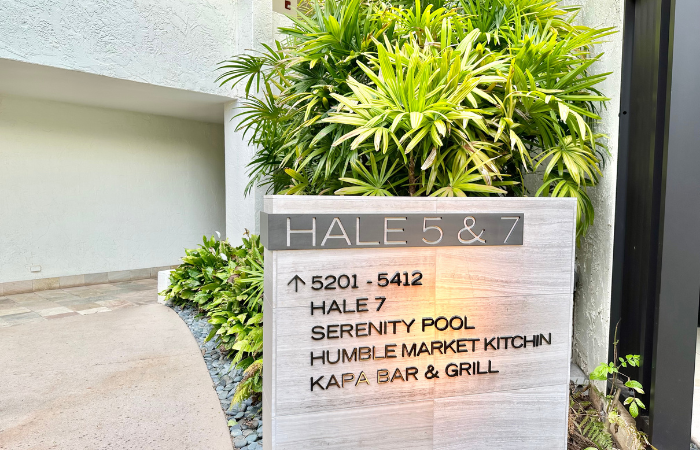 Rooms
Okay, this is my other "complaint." First…let me say…when I checked in the lady at the front desk apologized that they didn't have a room upgrade for me (higher status in the loyalty program is supposed to mean upgrades if they're available – but since this resort is sooooo popular they have a higher percentage than normal of members with high status staying here which means you're less likely to get a complimentary upgrade. Plus the resort is just at capacity most of the time) SOOOO when we walked into the room I kind of laughed because it sure seemed like an upgrade to me!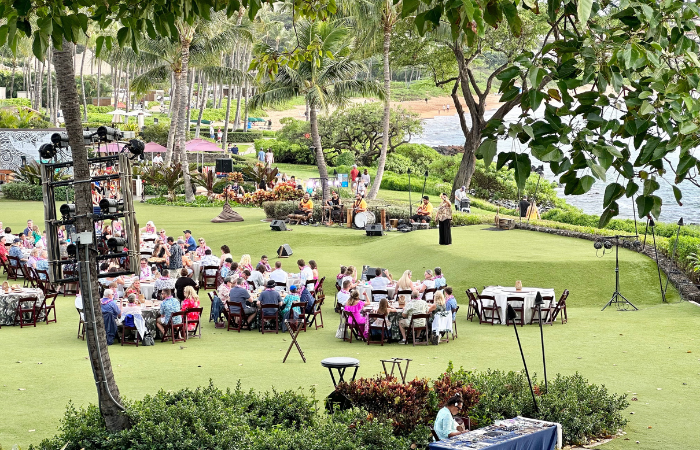 I'd just booked a standard garden view room, but our room overlooked the luau grounds with a prime view of Wailea Beach! I really couldn't have been happier with the view.
But back to the complaint…this isn't necessarily a direct complaint, but more of an observation by comparison. Like I said, I've stayed at all of the big beach resorts in Wailea now (Wailea Beach Resort, Grand Wailea, Four Seasons, Fairmont Kea Lani, Andaz) and I would rank the rooms at the Wailea Beach Resort at the bottom…by a long shot.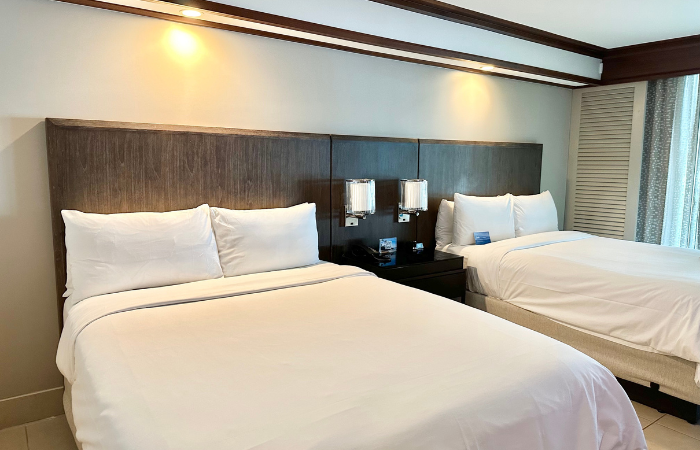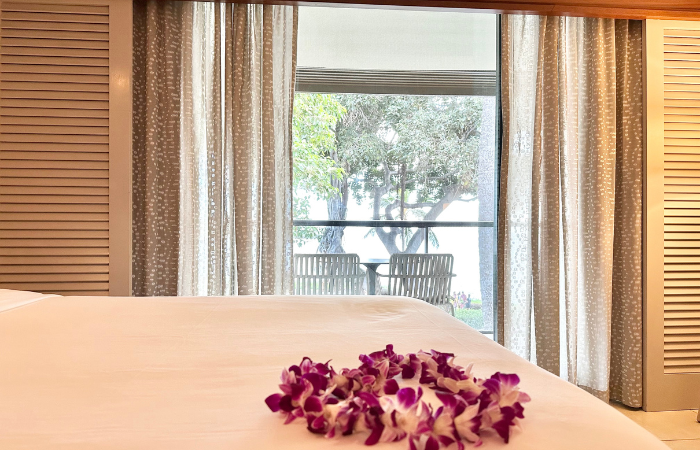 They weren't "bad" and there wasn't anything wrong with them (not dirty, worn, etc.) but they're just very subpar compared to everywhere else in the area. The main room is just pretty bare bones which is okay but the bathroom is what you'd expect from a low level airport Marriott. Again, not bad but in no way what you'd expect from a luxury beach resort. In Hawaii. That's going for $1000ish a night.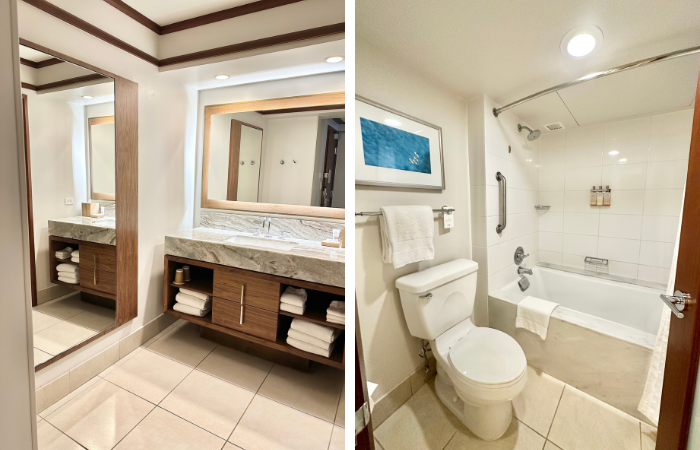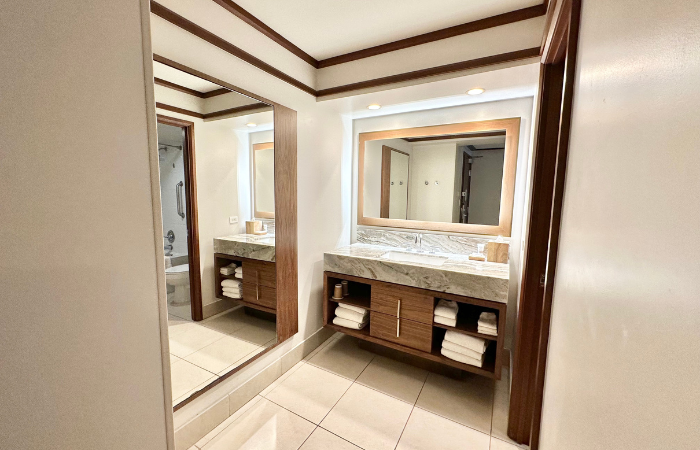 And I can't for the life of me figure out why hotels that cater to families can't put bedside tables with outlets on both sides of the beds. This isn't a resort specific problem (I see it sooooo many places) but if you've got two people sleeping in a queen size bed and they both want access to a nightstand and outlet, you're going to have to rearrange some chairs and bring a long charger cord.
Service
To sum it up…it's not the best but it's not the worst. The Wailea Beach Resort is in the unfortunate situation of being located within a stone's throw of some of the best beach resorts in Hawaii including the Four Seasons Maui, which pretty much sets the standard for what service at a resort should be like. Like anywhere in the world. And it just doesn't compete on that level…but it's also not designed to.
I'll touch on this more later, but while this is a very nice property in a phenomenal location, I wouldn't call it luxury (at least in comparison to other options in the area). All of the staff we encountered were very lovely and helpful, but when you need something you're probably going to have to go looking for it.
Food and drink service at the pools (at least at the adult's only pool) was always good.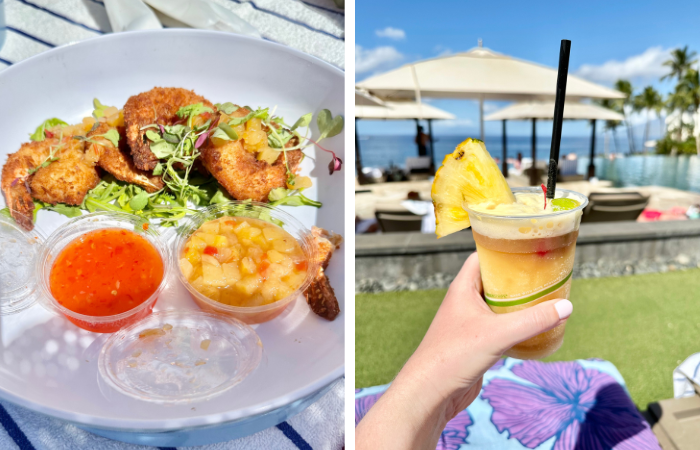 Honestly, being familiar with the whole area and the range of resort brands, the service here was exactly what I expected it to be…good but not the gold standard.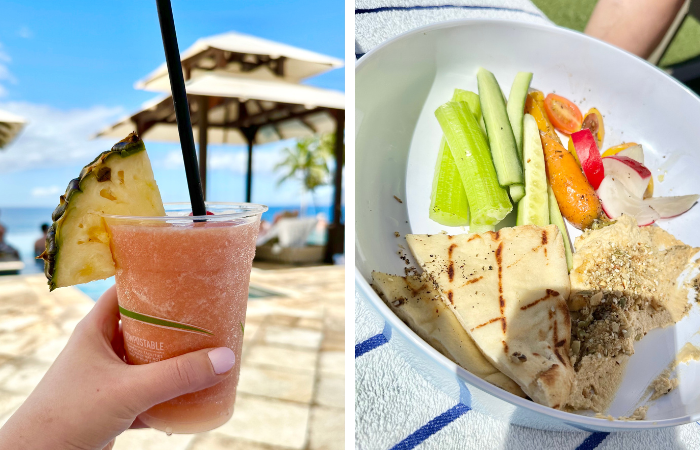 Dining
Dining here pretty much reflects the resort. It's decent but it's not going to knock your socks off.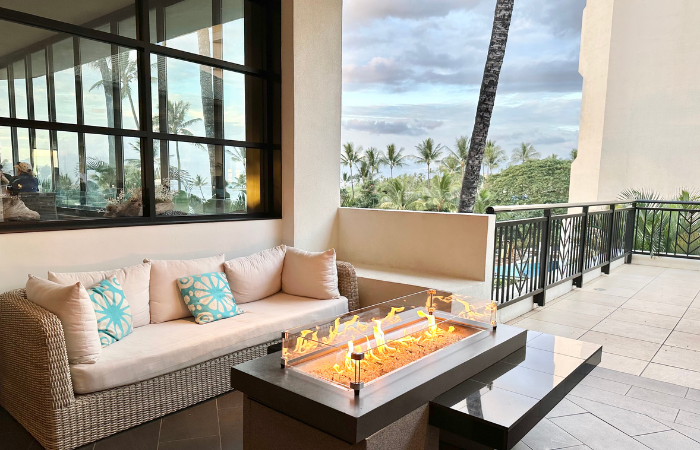 Our first night, we had dinner at Humble Market Kitchin and while the food was very good, we weren't overall too impressed with the whole experience. Service was mediocre at best, the atmosphere was loud and a bit generic, and the bill was expensive. Humble Market Kitchin has a really popular happy hour though so if you're ok with drinks and appetizers and sitting wherever you're able to find a spot, then it's a better deal.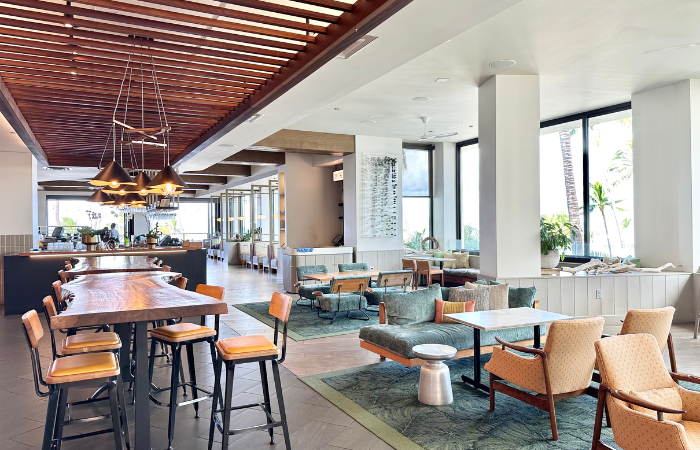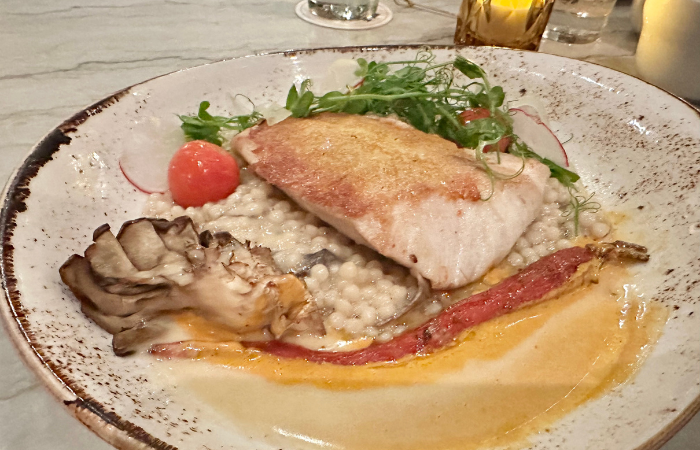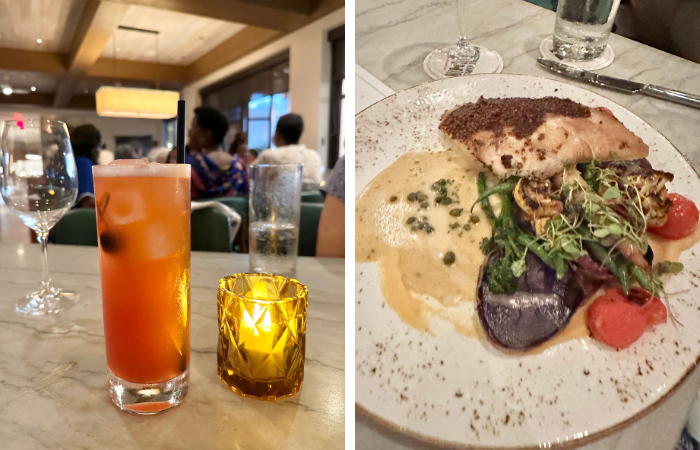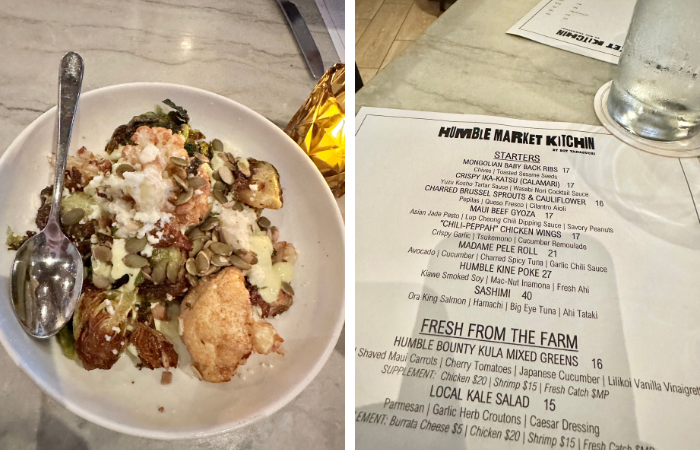 We also did the breakfast buffet at Humble Market and I wouldn't recommend it. I've done four or so buffets at different resorts in the area and it's by far the bottom of the barrel. If it's included in your room rate, it's definitely good enough to get the job done, but for $50/person the quality and variety were pretty lackluster.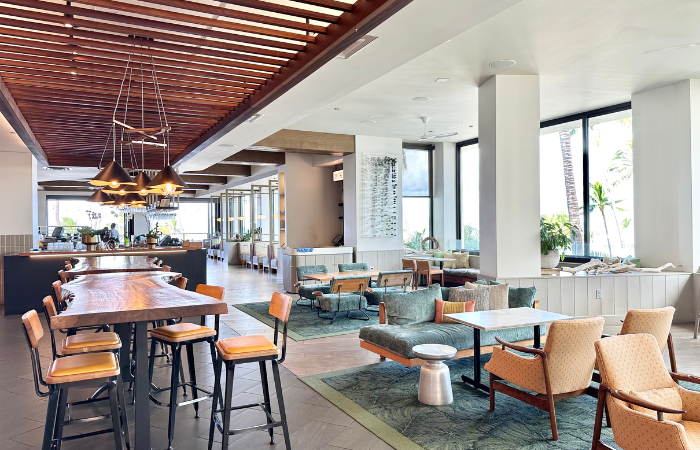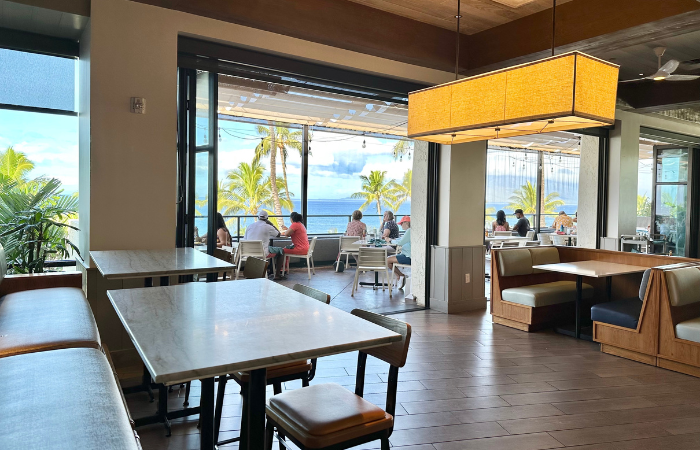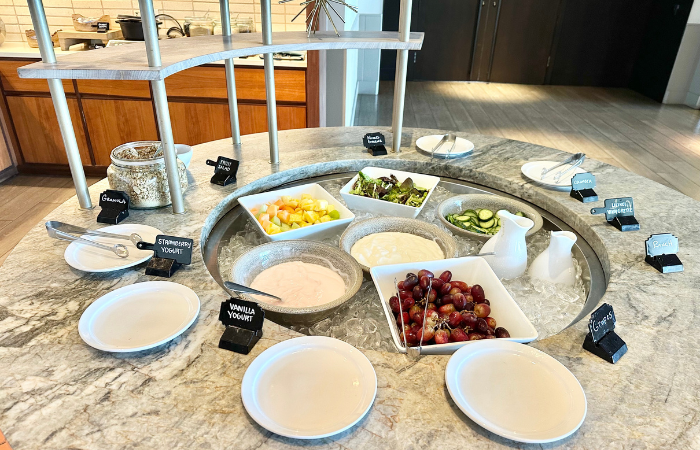 But enough of the negative…what the Wailea Beach Resort does well is the simpler side of things.
First of all, there's a full-fledged Starbucks in the lobby which I know is a major attraction for a lot of people. And side note…if your Marriott Bonvoy status gets you a breakfast option…this is where it's at. It's not in the main restaurant and there's not an option to pay a fee to upgrade to the full breakfast buffet. I opted for points instead, but I've heard you can get coffee, juice, and a pastry from Starbucks as your benefit.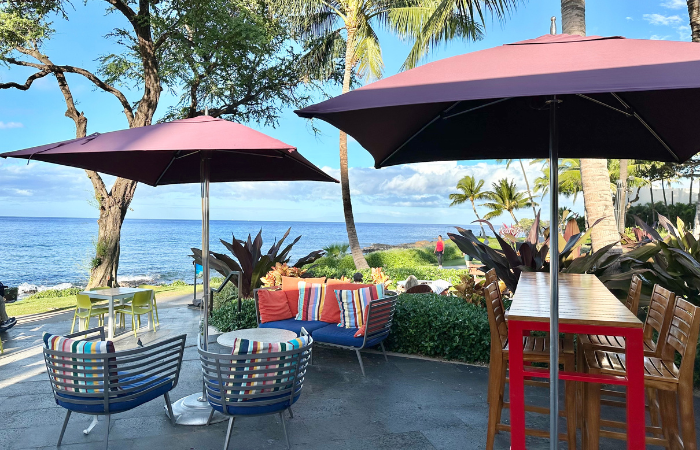 There's also Whale's Tale which is a little counter service/window option right on the beach with some pretty cute seating areas. Breakfast sandwiches, acai bowls, smoothies and juices, sandwiches, etc. It's open for breakfast and lunch. And there's a food truck by the Nalu Adventure Pool which I didn't get to try but I heard has great fish tacos.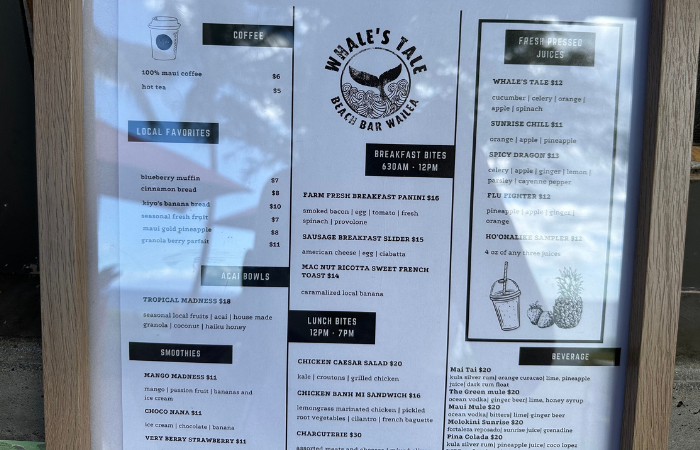 Also, the casual poolside restaurant KAPA is where I would go if you want a good view for lunch or dinner, good food options, but want to skip the prices at the fancier restaurants.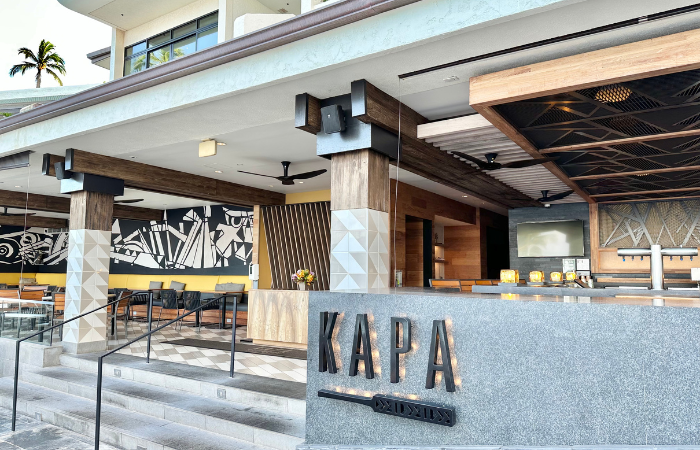 If you are looking for a fancy pants dinner (or just other options)…good news! You're within walking distance or a very short drive to a dozen plus REALLY GOOD restaurants. It's not really such a big deal that they're not in the resort itself.
Facilities & Amenities
I think the facilities and amenities here (let's call it the "hard product") is really where the Wailea Beach Resort shines.
It's all open air, done on a grand scale, and really takes advantage of its long stretch of oceanfront property.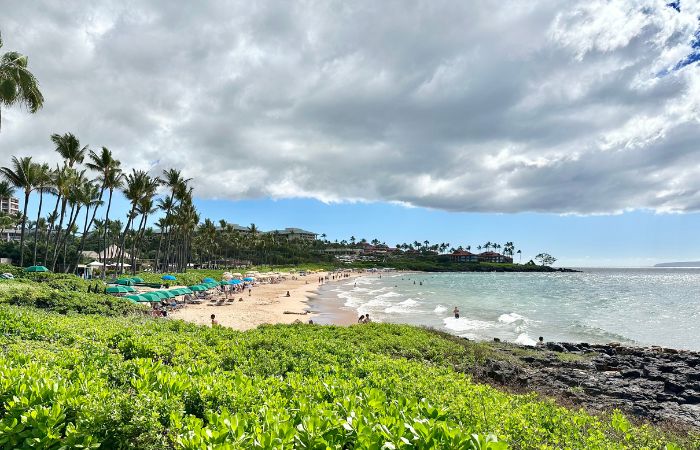 Let's start with the basics…this is a beach resort in Hawaii so you want to know about the beach, right? I see a lot of people on the Internet cautioning others that there's no beach here. Well, actually…there are two.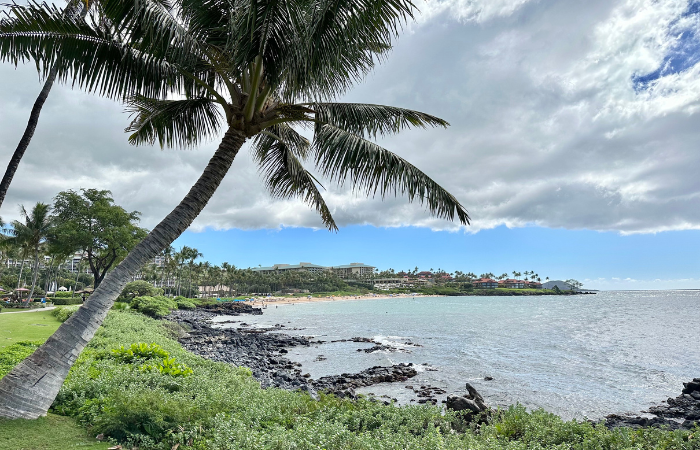 Yes, it's true that the Wailea Beach Resort isn't directly built in front of a beach. It's situated in between two of Wailea's best beaches. But I think this actually feels like a pro more than a con.
Here's what it means: If you're in a building on the south end of the property, you're less than a five minute walk from Wailea Beach (where the resort sets up chairs and umbrellas). If you're in a building on the north side of the property, you're within a five minute walk to Ulua Beach (no chair service but it connects to Mokapu and Keawakapu Beach which is perfect if you love long walks on the beach – hard to find in Hawaii). If you're in a building in the middle, you're less than a 10 minute stroll in either direction to the beach and the pathway in front of the resort (the Wailea Beach Walk) is BEAUTIFUL. Plus, no matter which end of the property you're at, you've got a better chance of a direct or partial ocean view just because the resort is laid out long and skinny to stretch along the coast.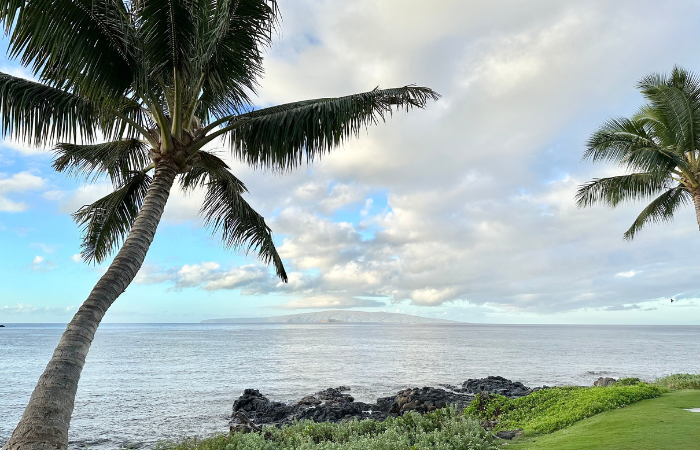 Basically, the Wailea Beach Resort has a lot of oceanfront real estate and they make good use of it.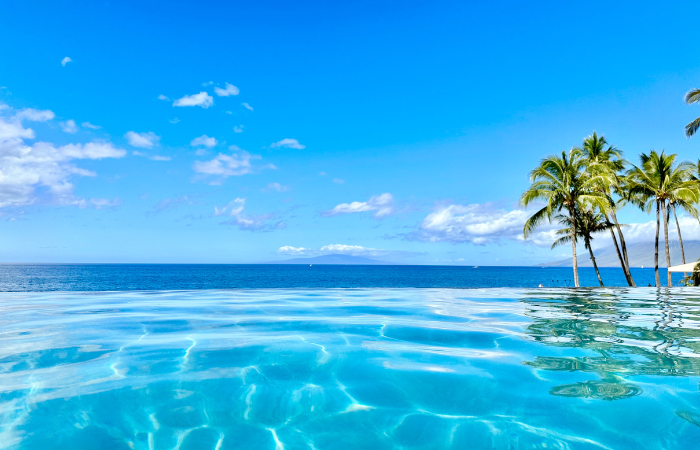 The best example of this are the pools. Personally, what I love almost more than anything at a beach resort is a good infinity pool. Being able to look out at the ocean or beach from the pool is pretty much my favorite thing. I don't like it when the pool area is tucked away back into a corner of the resort and you're just looking at a building.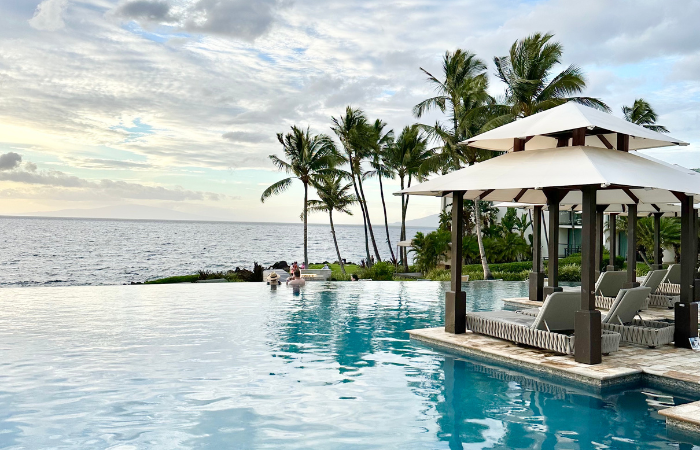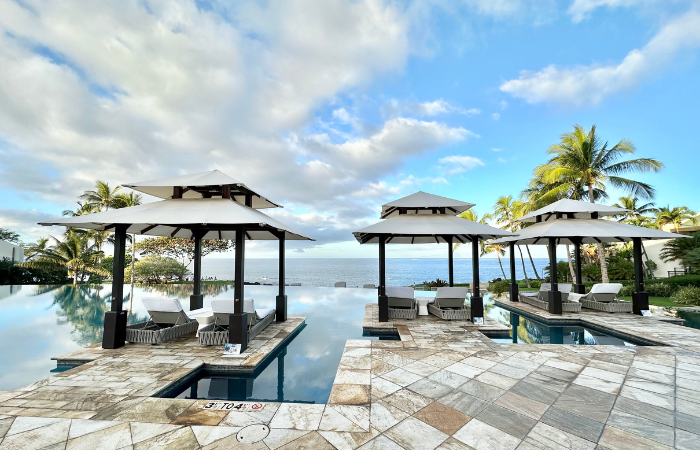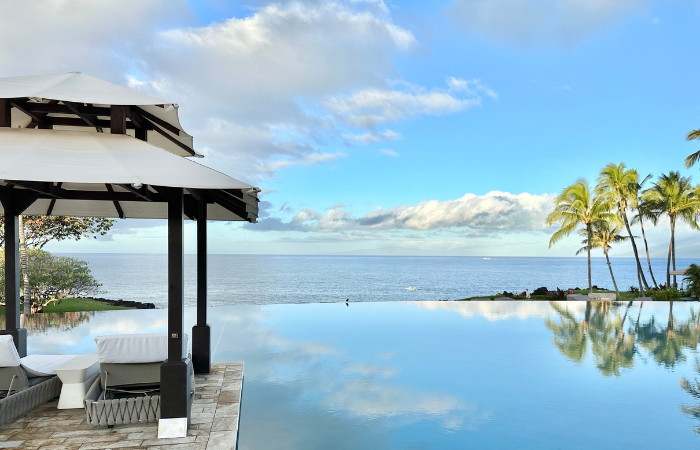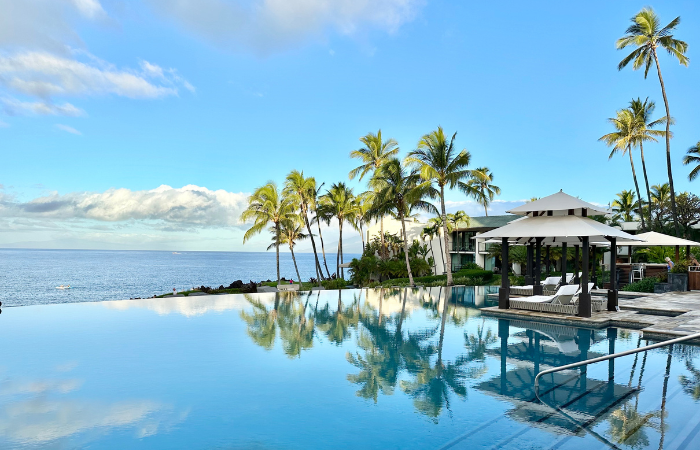 Well they got the memo here because they've got two oceanfront infinity pools plus a third pool that's got a pretty good vibe.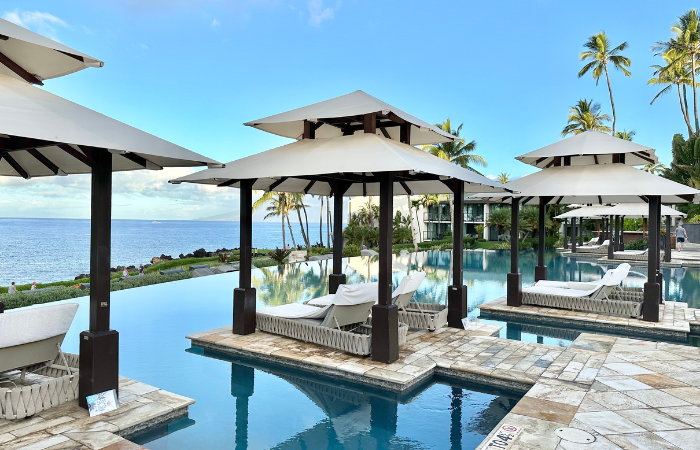 The adults only pool is a monster infinity pool with plenty of room to handle the crowd plus the seating at the pool is terraced so if you're not on the front line, you're not stuck looking at the back of somebody's chair. AND they have the dreamiest little cabanas on little islands out in the pool if you really want to splurge ($500-600/day).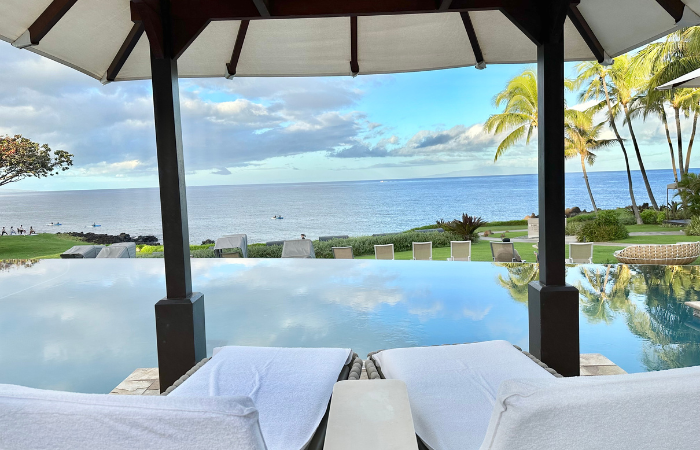 Off to the side of the adults only pool, the Opi Pools are a nice little complex of two stacked pools with a lot of seating options.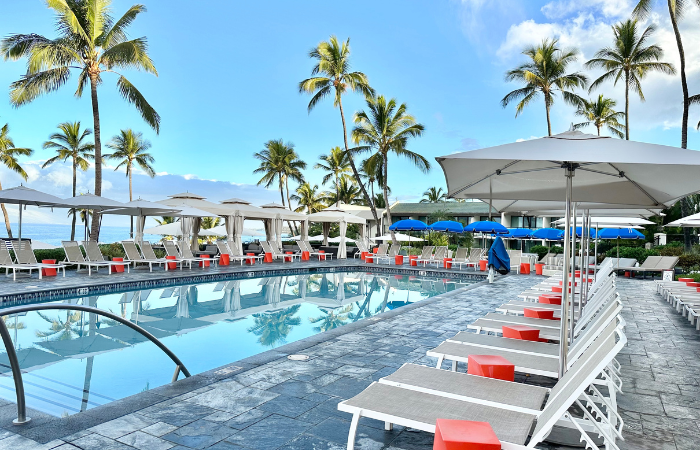 The pool on the upper deck isn't an infinity pool, but it's got pretty open views plus it's right by KAPA and I found it to be less crowded than the adults only pool with pretty good amenities.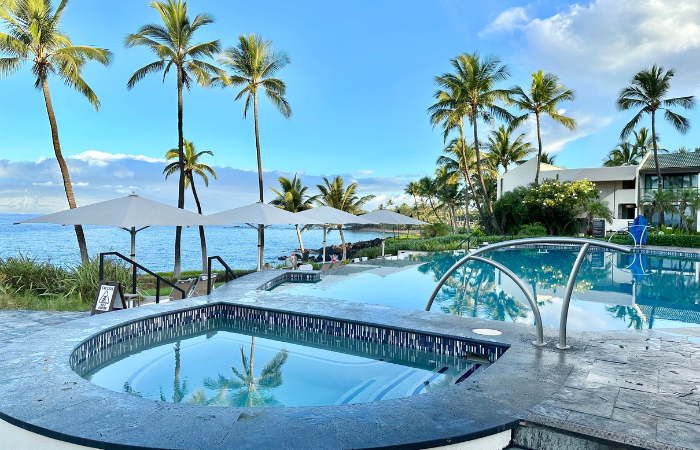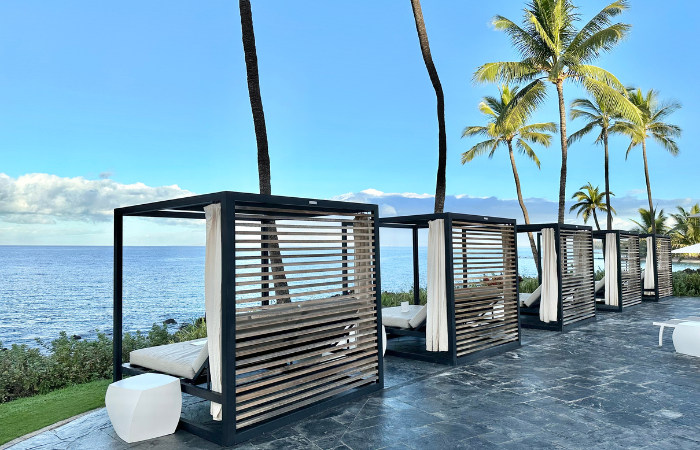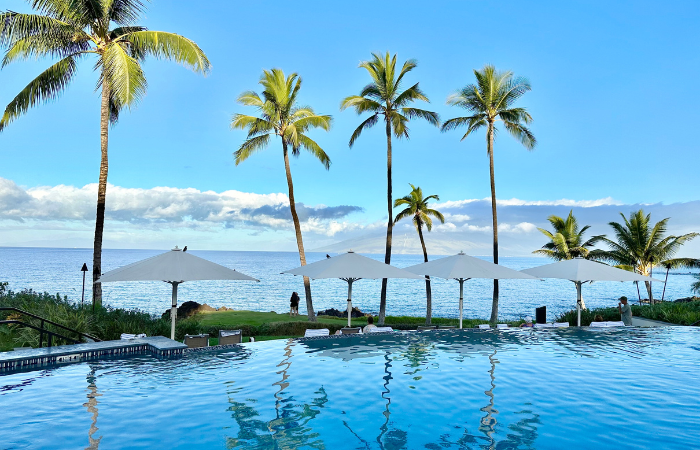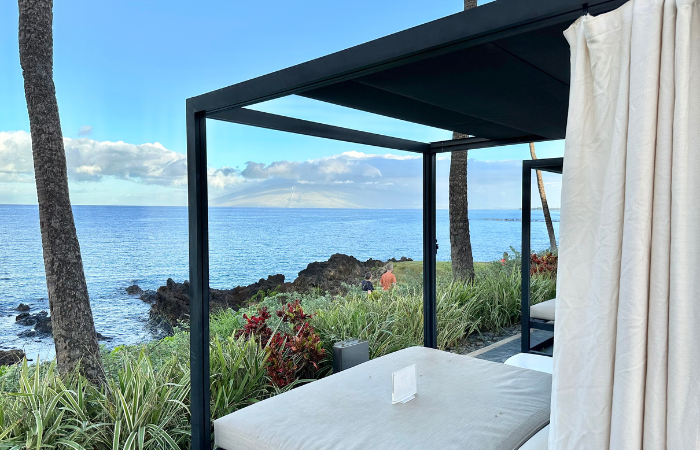 Below it is another pool that is an infinity pool WITH A HOT TUB and honestly I think this might be the best "hidden gem" spot at the resort.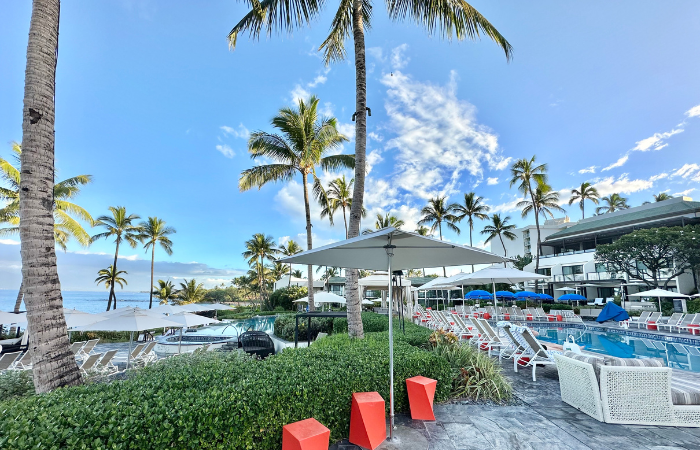 Just below that infinity pool there's a row of chairs and umbrellas lined up that have a perfect ocean view.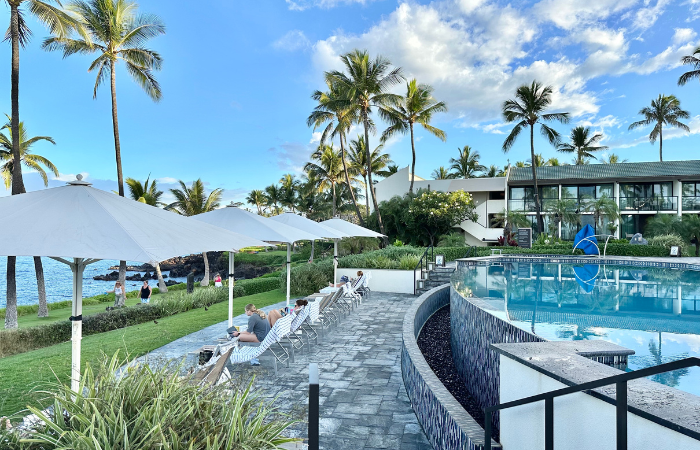 If you've got younger kids, you'll probably be camped out at the Nalu Adventure Pool. They've got TWO slides (one open and one closed) and they're the tallest/longest/fastest slides on Maui.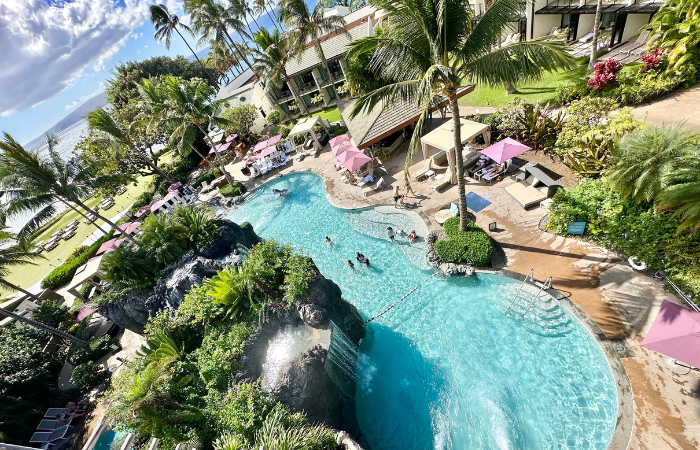 Plus there's a big waterfall feature and a couple of small slides and shallow water play areas.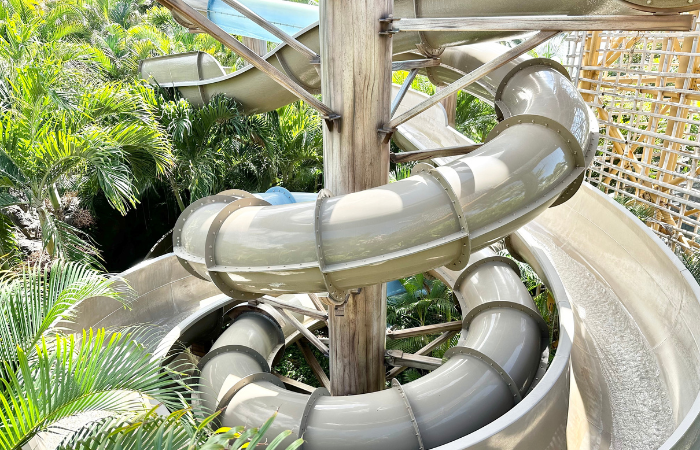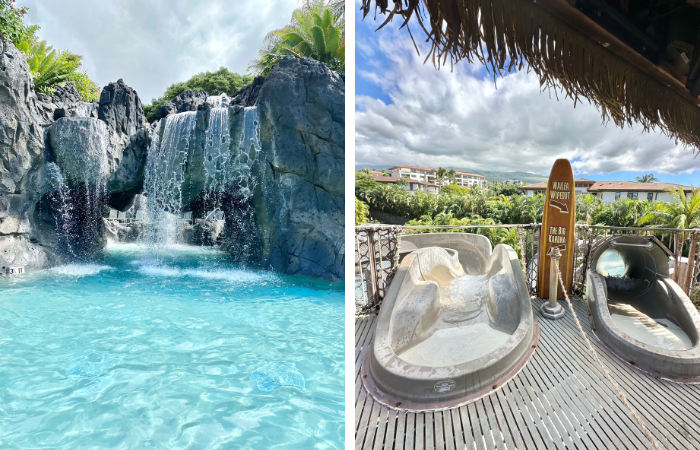 In terms of comparison…if you're got kids, the Grand Wailea is still the place to be, but this is a REALLY solid option. The only thing I don't love is that the Nalu Adventure Pool area is pretty far away from the other pools so it's hard to go back and forth so you've kind of got to commit to one or the other. I think bigger kids (who will love the slides) are probably going to think the rest of the pool is too "baby" and I saw a lot of families with 9-13 year olds that were camped out for the day at the Opi Pools but just walking over to the Nalu Adventure pool for a while so the kids could do the slides. It's not the perfect set up, but it works.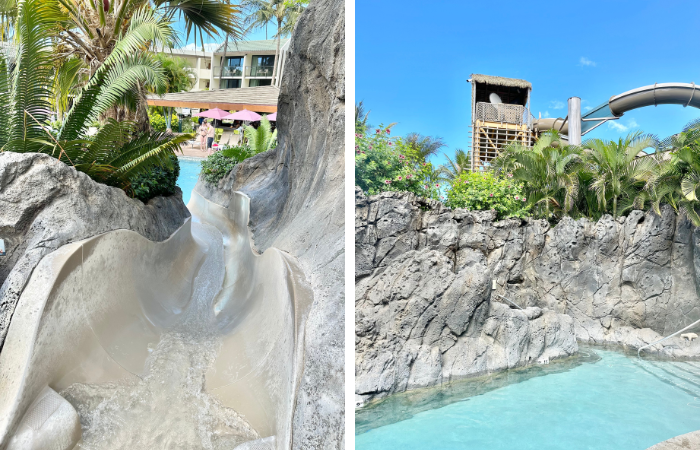 Other amenities…there's a spa onsite which I didn't get to try (it's a Mandara Spa) but after a lot of research and experiences other places I would say is probably not the best, but not a bad option if you're staying there.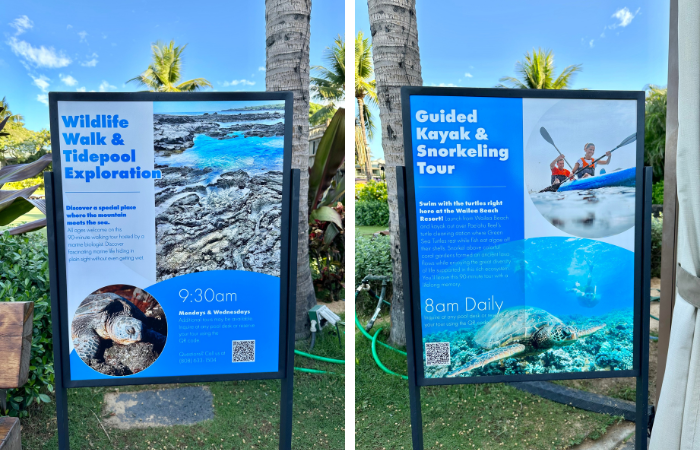 There are also a lot of ocean activities you can do. There's an activity stand next to the Whale's Tale where you can check out snorkel gear and they also do organized snorkel/kayak tours in the area
Style
The scope here is pretty grand, and besides the Andaz, the Wailea Beach Resort is probably the property with the most modern aesthetic. Things tend to be more sleek and trendy than traditional and the resort has really gone all in with the "Insta" aesthetic. Besides the swanky infinity pools and island cabanas, the front of the resort by the lobby has a lot of spots that are pretty much designed to be photographed.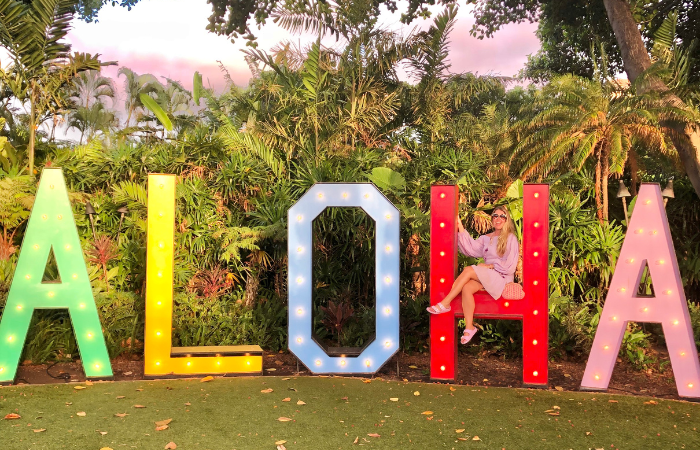 The big aloha sign, the swinging chairs, and the giant chess board are all equal parts entertaining and picture worthy.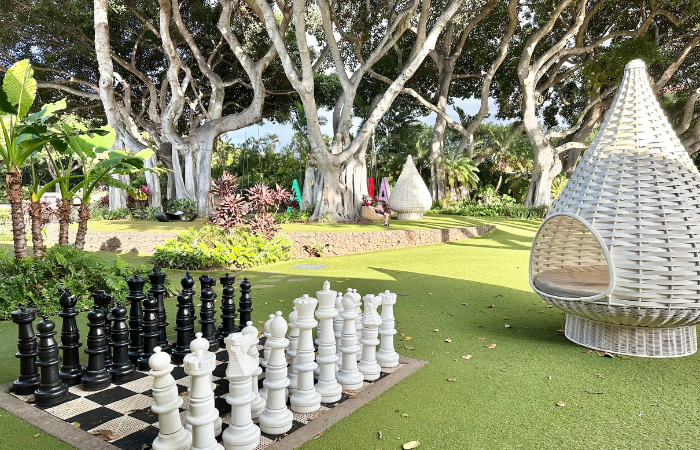 Value for the Money
This is where the Wailea Beach Resort is the biggest contender. On a stretch of Maui where you'll find some of the most elite beach resorts in Hawaii (maybe even the world!), the Wailea Beach Resort has two strong selling points:
1.It's often quite a bit cheaper than surrounding options (Four Seasons, Grand Wailea, Andaz) while still offering a good percentage of the experience/amenities.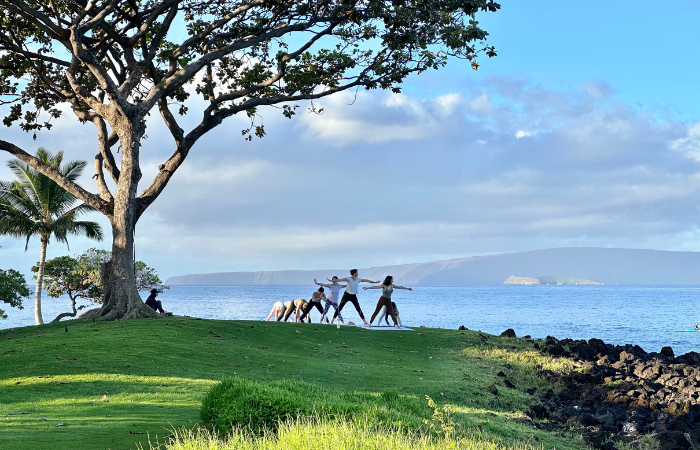 2.It's a Marriott property. I really don't think you can give this enough weight. If I'm ranking all of the Wailea resorts based on luxury, service, amenities, etc. I can come up with a lot of reasons why other resorts are better. But if you're a Marriott Bonvoy member with status/points…it's hard to pick somewhere other than the Wailea Beach Resort. Basically, it's plenty good enough if you're talking FREE nights redeemed through points at this level. And if you're paying cash for a week's stay…it's hard to walk away from the points that you'll earn from a stay like that. Almost enough for another small vacation.
Prices for resorts on Maui are THROUGH THE ROOF right now across the board, but basically. If the Wailea Beach Resort is priced in the same ballpark as the Four Seasons or the Andaz, I don't think it's a good value. Value wise…it should be about 30% less and that's usually where you see it.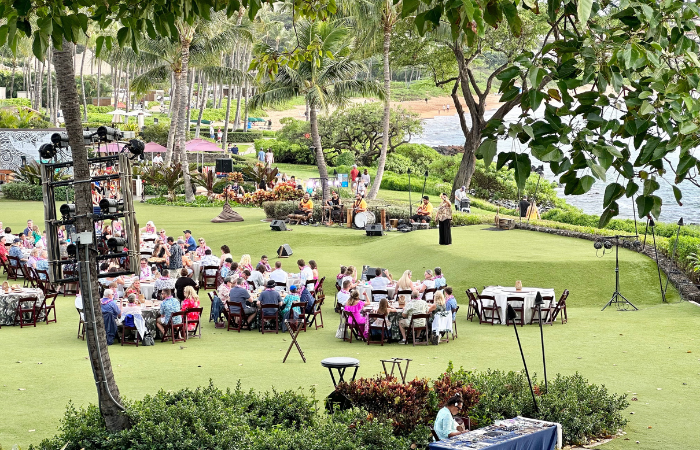 Overall
Sometimes when I get into the nitty gritty breakdowns between big beach resorts like this one and its competition, it's easy to get bogged down in the details of how I "rank" them and lose perspective…but here's the deal: this is a NICE place.
If a stay here is on the table, you're doing all right.
If you're the type to get information paralysis when you read too much, just stop here and book the thing!
If you revel in the details, here's the last bit of context I'll give you: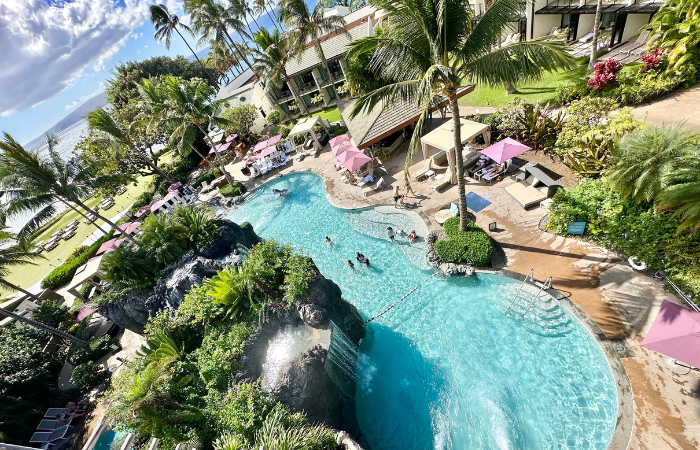 The Wailea Beach Resort is nice, but I wouldn't call it luxury. For a lot of people, it's by far the nicest place they'll ever stay. And others would find it lacking (when compared to other options in the area).
Is the Four Seasons or Andaz nicer in every way? Pretty much. Is either resort worth $500-1000 more per night? That's harder to say.
The Wailea Beach Resort definitely serves a specific market in the area and while it's not the top tier luxury market, here's a bit of what I've observed:
Families with pre teens and older kids: Besides the water slides there's also a great game room right off the lobby).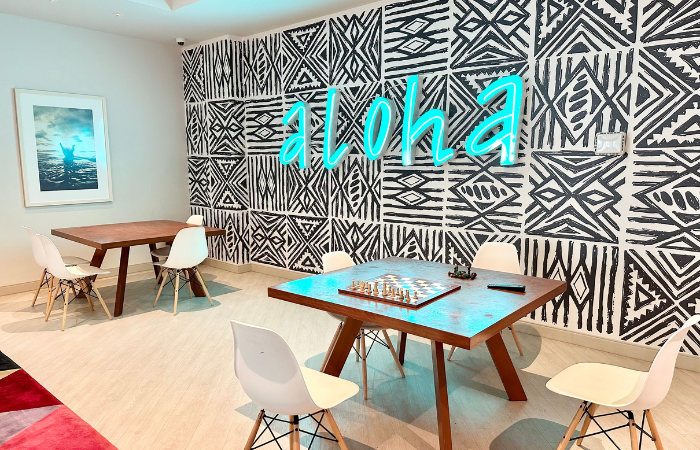 Convention attendees: So many people on our plane and around us at the pool were talking about how they were there for a convention at the Grand Wailea (next door), but they didn't want to pay the prices to stay there.
Marriott Bonvoy members: Anyone who tracks status with Marriott (that is sooooo many people) is going to pick this place over pretty much anywhere else on the island. It's one of Marriott's biggest aspirational properties in the US (i.e. business travelers who are banking points through work will cash in here for a family vacation) and (partially) because of that it's definitely the most attainable-feeling resort in Wailea.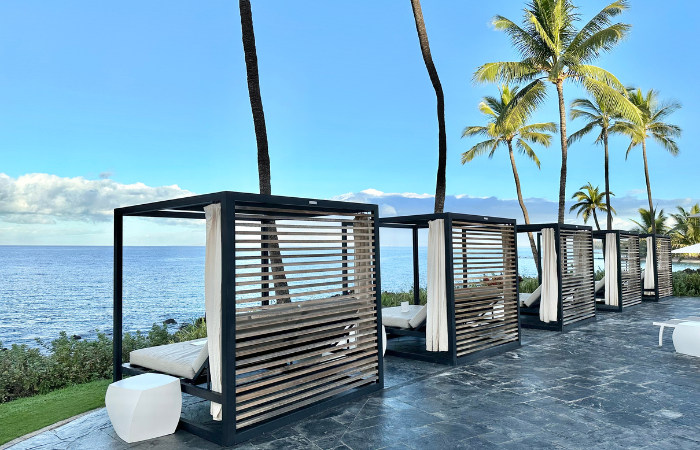 Where to Book
Here's my final note (and a big favor to ask): If you find my blog and info AT ALL helpful and I've convinced you about where to stay on your trip, the absolute best thing you can do to help me out is to click through the links in this post to book your stay. I make a small commission on your bookings and if you're going to book a hotel anyways, it's a WIN WIN. Thanks so much!
You can book the Wailea Beach Resort here.
Want to read more? Don't miss some of my most popular (and favorite) posts about Maui: My Favorite Hotels on Maui | Wailea vs Ka'anapali | All of the Wailea Resorts Ranked | Maui Travel Tips | Things You Can ONLY Do on Maui | Where to Find Maui's Best Condos and Vacation Rentals | My Favorite Road to Hana Itinerary | Road to Hana Tips | Should You Drive the Backside of the Road to Hana? | 10 Day Maui Itinerary | Best Snorkeling Beaches on Maui | Snorkeling Molokini Crater | Old Lahaina Luau Review | Is Mama's Fish House Worth It? | Tips for Sunrise at Haleakala National Park | Things to Do in Wailea | Things to Do on the North Shore | Things to Do Upcountry | Where to See Turtles on Maui | Whale Watching on Maui | Maui Pineapple Tour | Where to Stay in Hana | Where to Stay in Kihei | Where to Stay in Lahaina & Ka'anapali | Best Beaches in Wailea & Kihei | Fine Dining on Maui | Best Restaurants in Wailea | Best Restaurants in Lahaina | Grand Wailea Luau Review | Maui vs Kauai | Four Seasons Maui Review | Andaz Maui Review | Fairmont Kea Lani Review | Wailea Beach Resort Review | Four Seasons vs Andaz Maui | Andaz Maui vs Wailea Beach Resort | Best Breakfast in Wailea
P.S. Thanks for sticking around and reading this whole post! If you have ANY questions about planning your trip to Hawaii, you can join my free Facebook group here. I'm there answering questions every day and there are 7500+ other friends who have a ton of Hawaii information to share!
Also, if you want to follow along on my travel adventures in real time, you can follow me on Instagram (@caitylincoln). My post captions are full of travel tips and I have a ton of story highlights and videos with great info. And please share my account with your friends that are headed to Hawaii! Your support really helps me keep this blog running!