Four Seasons Maui vs Andaz: Who Wins Best Luxury Resort in Wailea?
This post may contain some affiliate links, which means I'll make a little money on anything you choose to purchase. But of course, I only recommend my absolute favorites to you. Thank you for supporting the brands that make the Lincoln Travel Co possible.
I've written a LOT about which beach resorts to pick in Hawaii…specifically on Maui, and even more specifically in Wailea. I've got a whole post ranking the big 6 here, but if you've already read that and you're trying to decide between the Four Seasons Maui and the Andaz, then this post is for you…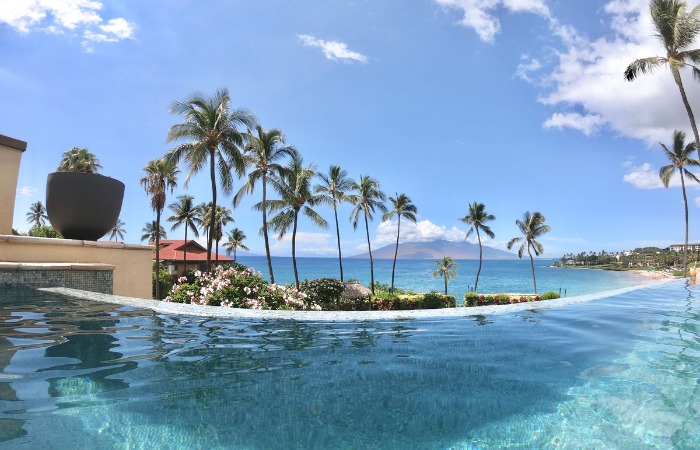 Four Seasons Maui vs Andaz
First things first, I like this matchup/comparison because these two resorts are in the same ballpark. It's as close to apples to apples as you're likely to get on Maui and that's because I would consider the Four Seasons and the Andaz to be the two TRUE luxury resorts in Wailea.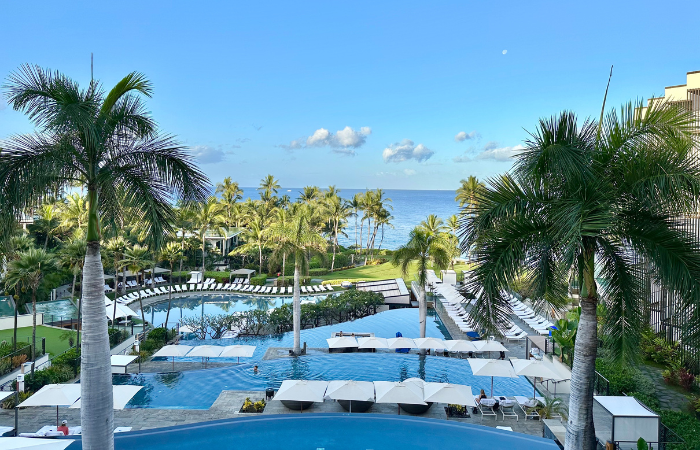 That is 100% not to say that the others (Grand Wailea, Fairmont Kea Lani, Wailea Beach Resort) aren't absolutely FABULOUS. But if you've stayed at true luxury hotels, you know that there's a standard of service and amenities that places like the Four Seasons, St Regis or Ritz Carlton are known for that not all high end resorts match.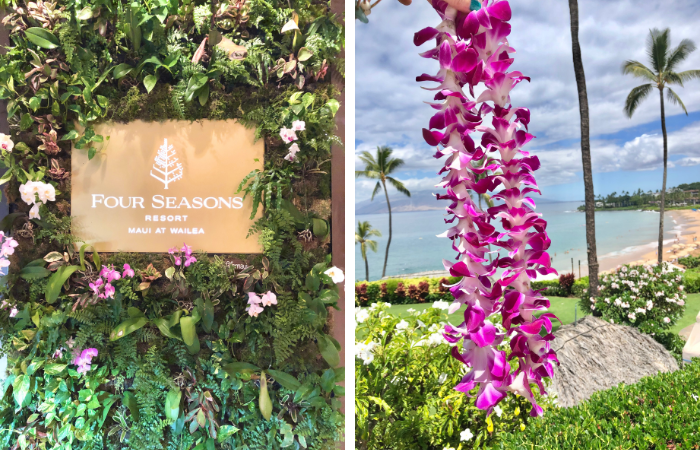 And it's not that they aren't as "nice" or the service isn't "as good." It's more that they're not even designed to compete with these types of properties.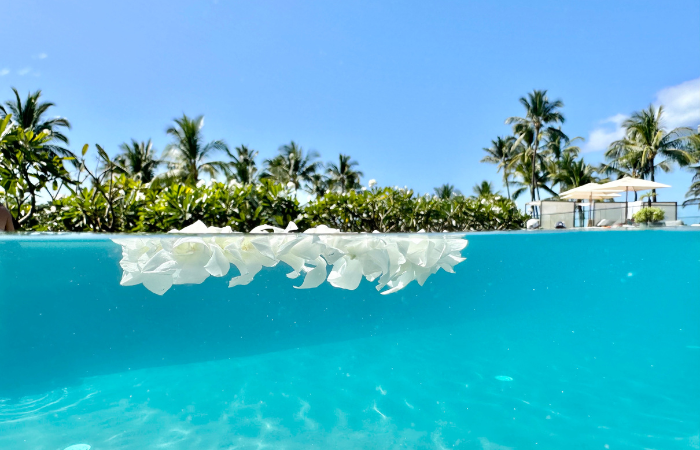 The best way I can think to explain it to you is with an example. At a high end resort, you might check in at a kiosk at the pool where they'll get you a wristband and hand you some towels and then you're off to pick your spot and set up for the day. And they'll probably have a waitstaff doing food and drink service that comes by your chairs somewhat frequently to see if you'd like to order something. Not a bad way to spend the day.
But, at a true luxury resort when you walk up to the pool deck, they'll often remember your name from the day before. They'll ask you what kind of setup you want (how many chairs, shade, sun, umbrella, location) and show you what's available because they're keeping inventory of who is where and if they've just left for lunch or if they've left for the day.
Then they'll follow you to your spot and set up your chairs with covers and lay your towels out and make sure the umbrella is tilted just right and get you water. Which they will then come around and fill up whenever it's running low.
And on top of food and beverage service, they'll have an attendant that brings little treats around every hour like a chilled towel (good heavens my favorite), a pineapple spear, a smoothie sample.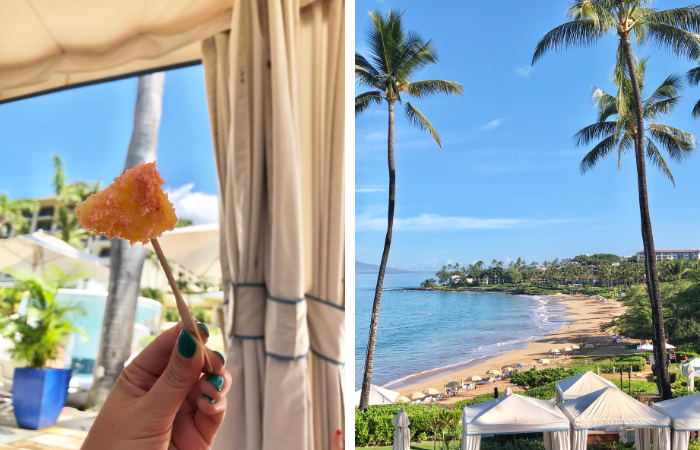 You get the picture. Both types of resorts are pretty awesome, but there's a difference in the type of service. While there are several resorts in Wailea that I absolutely adore and always feel lucky to stay at…I wouldn't necessarily put them in the "luxury" category.
But these two are.
Before we get started (I've got a big favor to ask): If you find my blog and info AT ALL helpful, the absolute best thing you can do to help me out is to click through the links in this post. I make a small commission on your bookings and if you're going to book a hotel anyways, it's a WIN WIN. Thanks so much!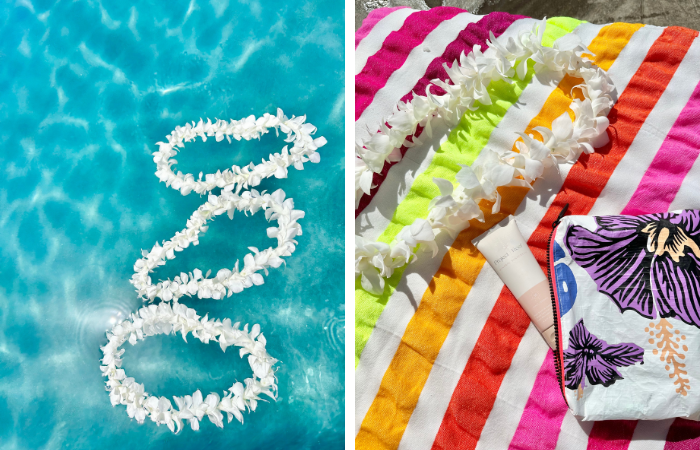 Four Seasons Maui vs Andaz…Which Is Better?
Both of these resorts are phenomenal beachfront properties with impressive pools, dining, spas, shopping, recreation, etc. I've stayed at both and I've written pretty extensive reviews:
So which is better?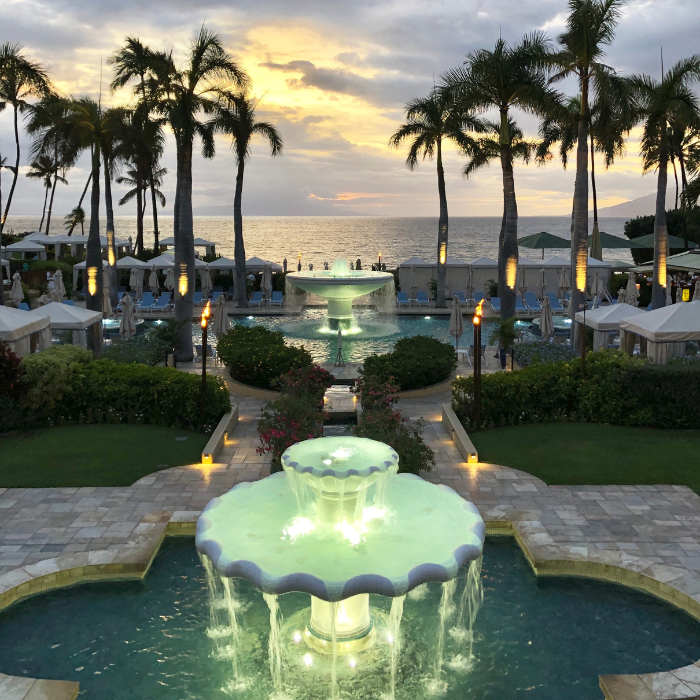 Service
I can without a doubt say that if service is what's important to you, nobody does it better than the Four Seasons. It's not surprising given their brand and that it's what they're known for, but I'm always impressed whether I'm staying on property or just visiting for dinner. They're a class act.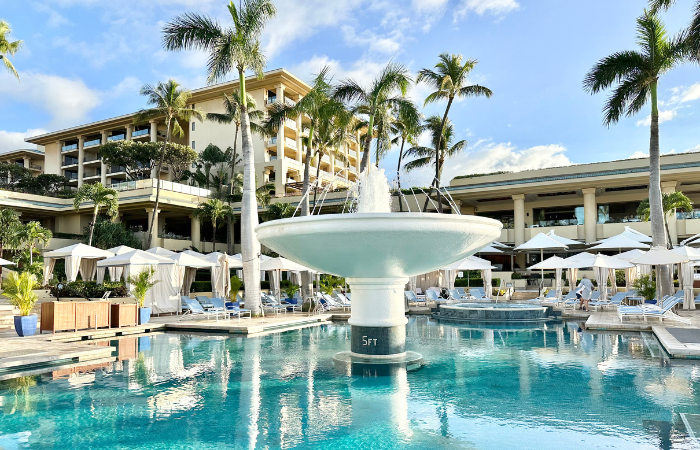 The scenario I described above about the pool attendants getting you set up at your chairs, adjusting the umbrellas, filling up your water glass when it runs low…that's the Four Seasons. I've seriously never seen anything like it.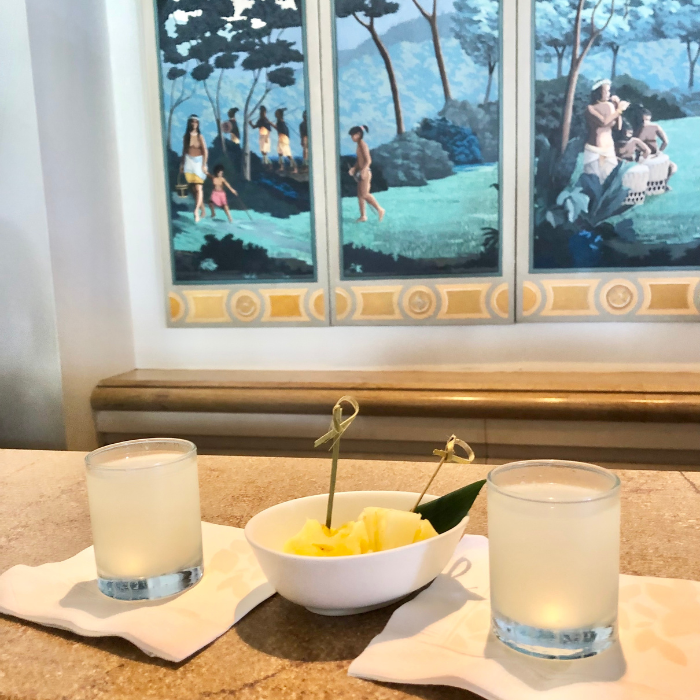 The service isn't quite on that level at the Andaz. It's not that the service is bad, it's just that they're not quite as over the top. If the Andaz is 10/10, the Four Seasons is 20/10.
Vibe/Style
This part is apples and oranges. The vibes and styles at these two places really couldn't be more different. The Four Seasons is very traditional while the Andaz is more modern, posh, and trendy.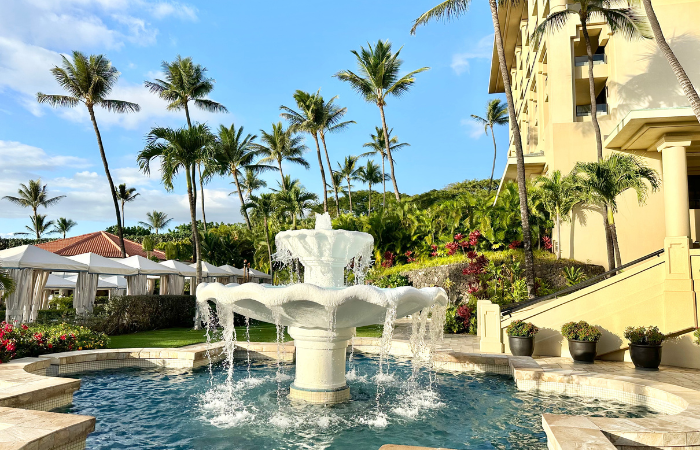 BOTH have that lowkey, welcoming aloha spirit.
Mostly this is just going to come down to your personal preference. Some people feel like the Andaz is a bit too sterile which I get, but it's really just what you like.
Rooms
Both resorts have large, luxurious rooms, but in keeping with the styles of the resorts, the Four Seasons guest rooms are more traditional and the Andaz rooms are more modern.
I think the rooms at the Four Seasons feel bigger and grander, but arguably more dated (in style not in terms of niceness or cleanliness). But the rooms at the Andaz could feel pretty bare bones if you don't like the aesthetic. Also the beds at the Andaz are pretty low to the ground.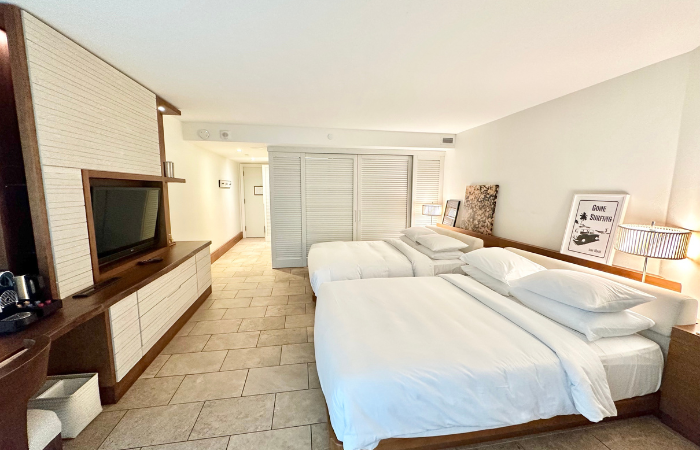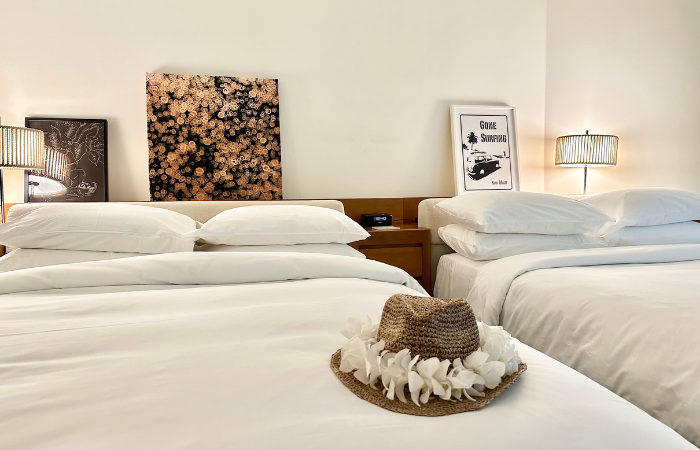 I LOVE the Malie bath products at the Andaz!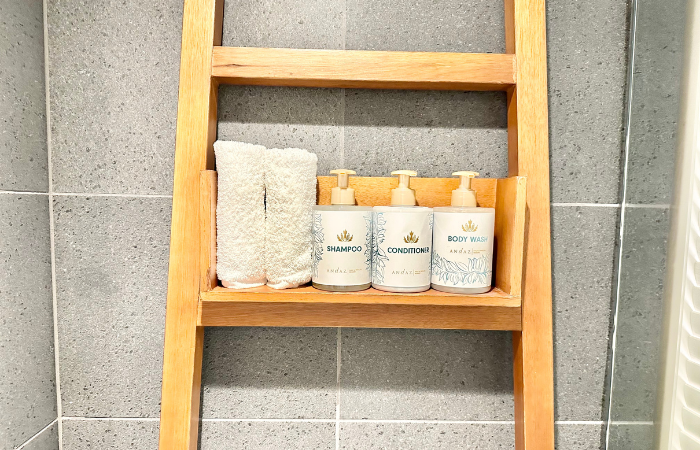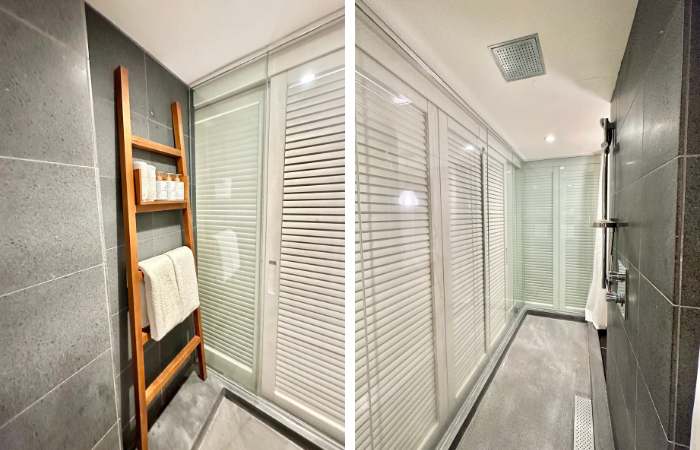 Side Note: If you're looking for a rental car for your trip, I LOVE Discount Hawaii Car Rentals. They're seriously the only company I ever use. They'll give you the very best prices, you don't have to reserve with a credit card or pay until you show up, you can cancel and re-book anytime if you find a better rate, and they usually have a special that adds additional drivers for no fee. It's a no brainer. Click here to check rates for your trip.
Pools
So, the adults only infinity pool (Serenity Pool) at the Four Seasons is my favorite place to be in Wailea. And Maui, And probably Hawaii. I've yet to see a resort pool that offers a better view (1 Hotel Hanalei Bay on Kauai excluded).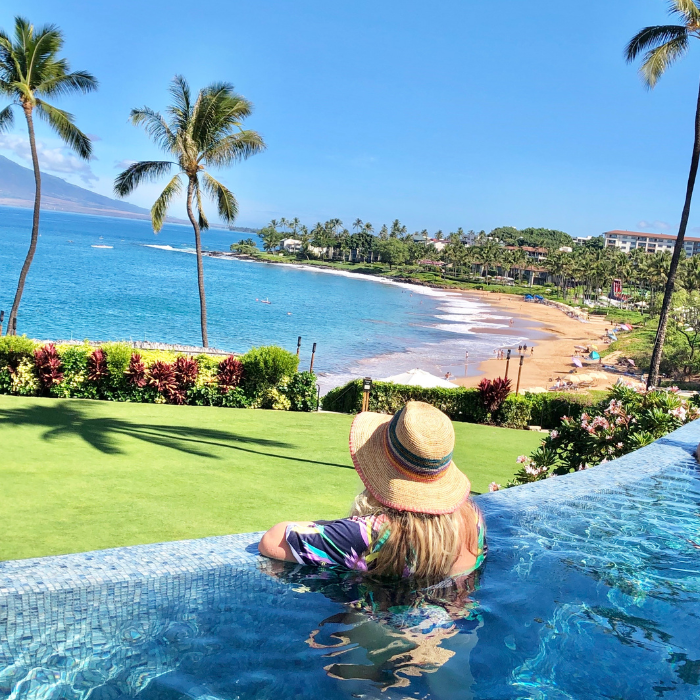 It does get crowded though and there usually aren't enough chairs for everybody that wants to be there (especially if you show up late morning/midday). They're good about keeping an eye on who's coming and going though and they have a waitlist that you can join and they'll text you when chairs open up (this isn't a place where people put towels down and disappear for half the day…they're watching ; )
Also, while the end of the pool has prime time views, it's kind of long and skinny so most of the seating at the pool isn't "front line" where you're going to have an unobstructed view of the ocean. A lot of the seating feels more tucked away (including the cabanas).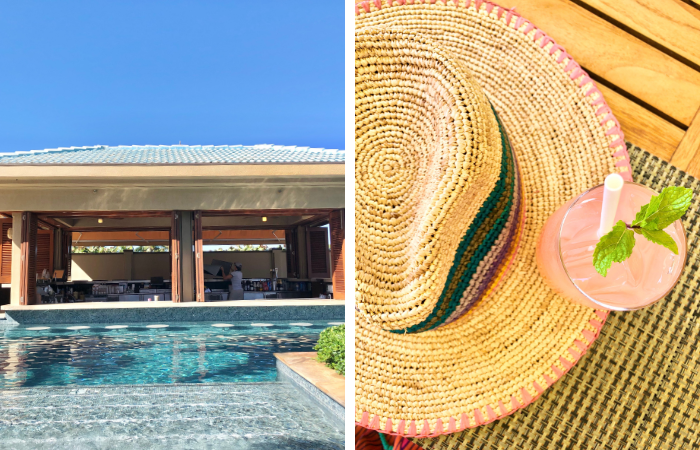 I don't think the main pool area or the small kids pool area are as great as they could be. They feel a little dated (in design/style).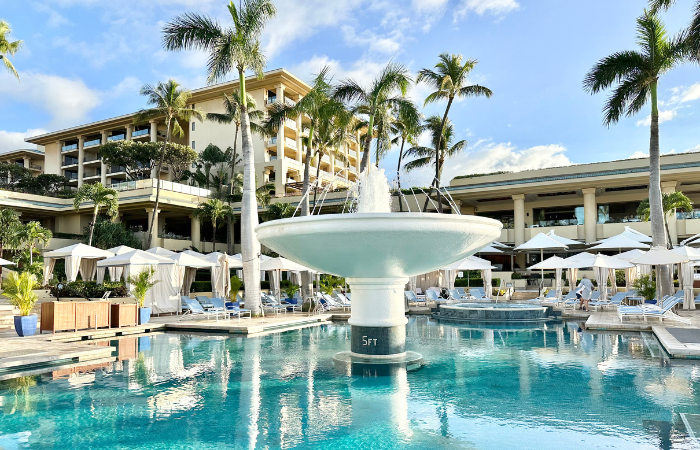 So for me, the adults only pool can't be beat, but the other pools at the Four Seasons are a little lackluster.
I think overall the Andaz has a better pool set up. The whole resort is terraced which I loved because you feel like no matter where you are you always have a good view. There are three terraced infinity pools in the main pool area plus a lagoon pool at the bottom.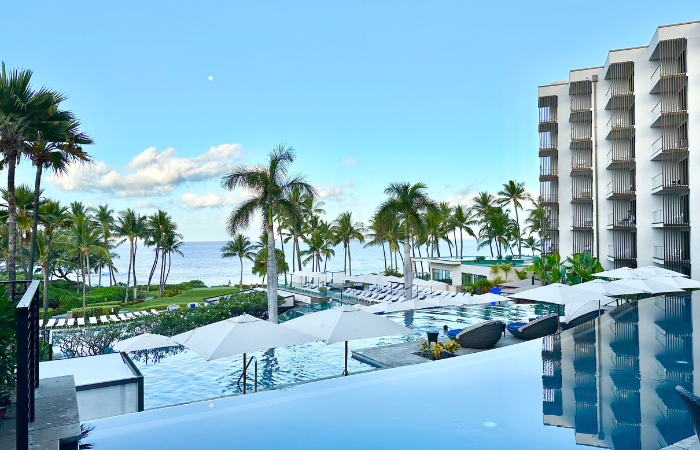 The top pool doesn't really have seating (there's a restaurant/lounge up there) and the water is FREEZING. The second two pools have pretty big decks although none of them have as good of views as the Four Seasons' serenity pool. Meaning…you can see out and see the ocean, but you're not looking right down at the beach. Also, the lowest infinity pool (which is my personal favorite because there's a hot tub attached and the water is the warmest) has a dumb row of trees planted in front of it which totally blocks the view. The middle infinity pool is probably the best spot to be for views.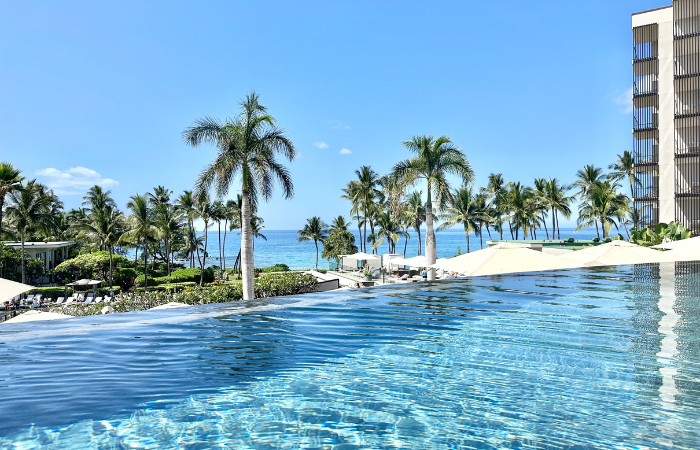 The lagoon pool at the bottom has a lot of seating and one side of it is zero entry which is great for kids and the location is perfect if you're wanting to go back and forth from the beach.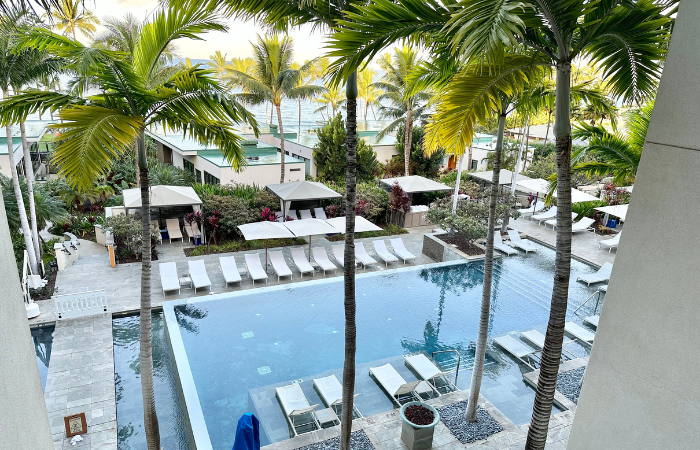 And there's an adults only pool over by the spa which doesn't have great views, but is very nice.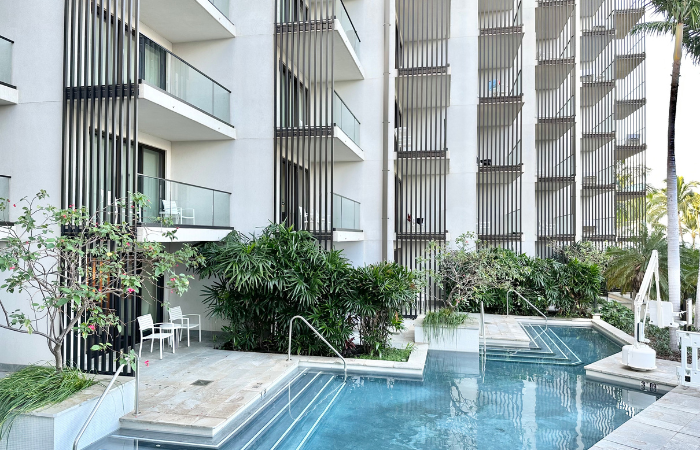 So for me, there's not a "perfect" pool at the Andaz like there is at the Four Seasons, but overall there are a lot more "very good" options at the Andaz.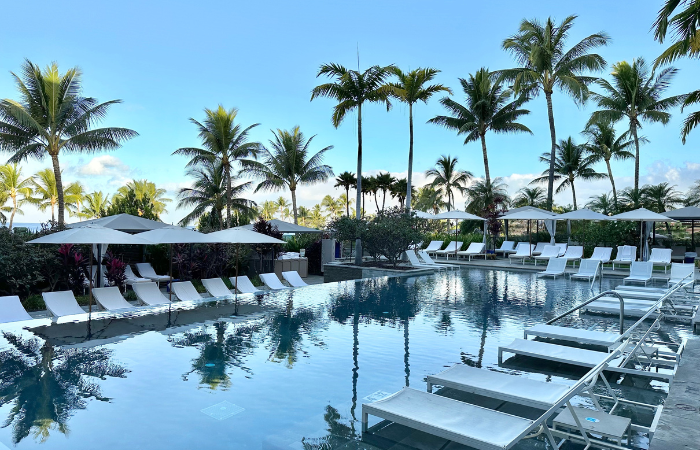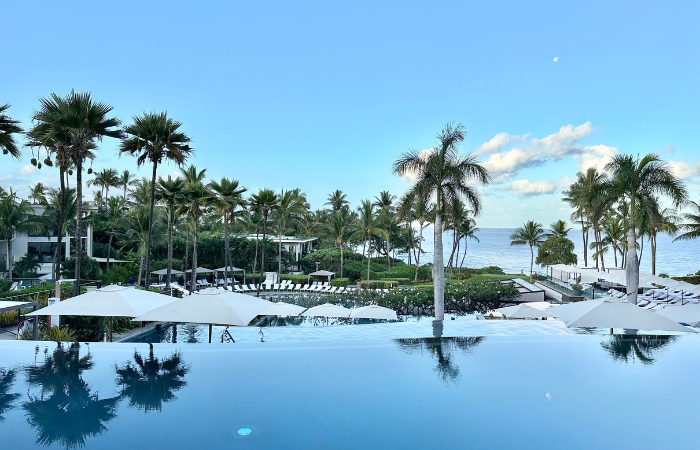 The Beach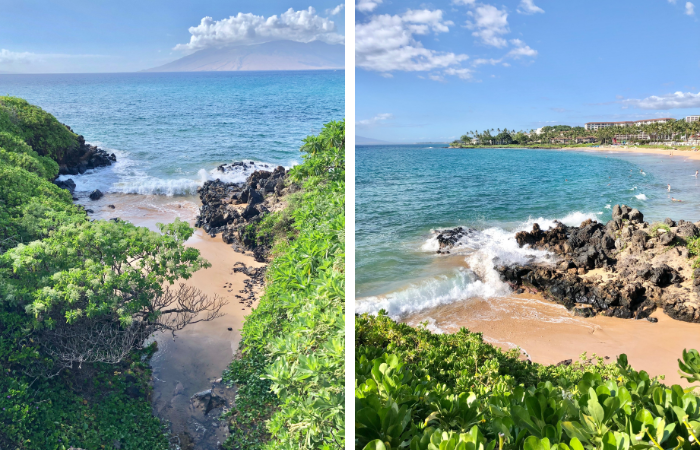 The Four Seasons is on Wailea Beach and the Andaz is on Mokapu Beach. Both are great, swimmable beaches, but Mokapu is a lot less crowded. Wailea Beach has chair set up for the Four Seasons, Grand Wailea, and Wailea Beach Resort PLUS public beach access whereas Mokapu only has chair set up for the Andaz and most of the people coming from the public access point tend to go to Ulua Beach next door.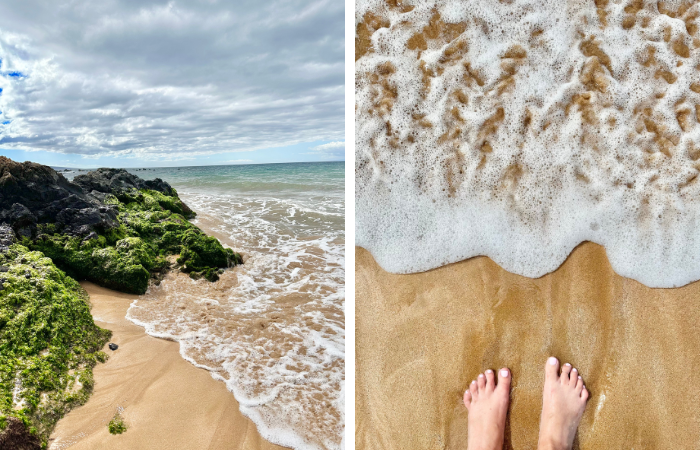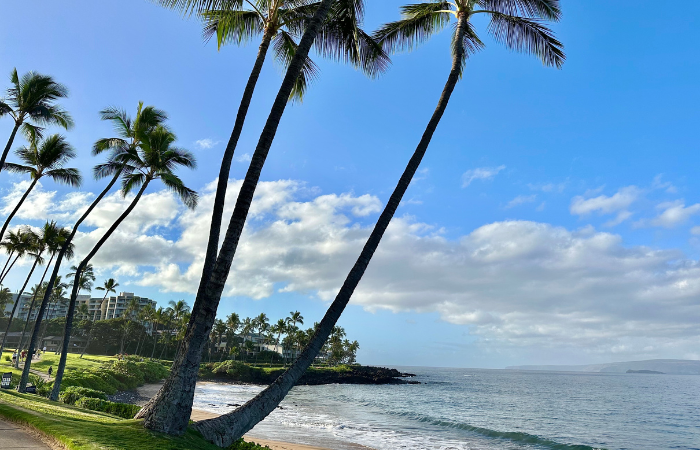 Besides being less crowded, Mokapu is one of my favorite beaches in Wailea because 1) It's a really long beach which is great for me because I like to go for walks on the beach. Mokapu is connected to Keawakapu Beach so you can walk for MILES which is kind of unusual in Hawaii. 2) There's pretty decent snorkeling right off the beach at the Andaz. It feels a little more protected than other beaches in Wailea, there's a lot of fish and sometimes turtles too. Resort guests get free snorkeling rentals too so it couldn't be easier.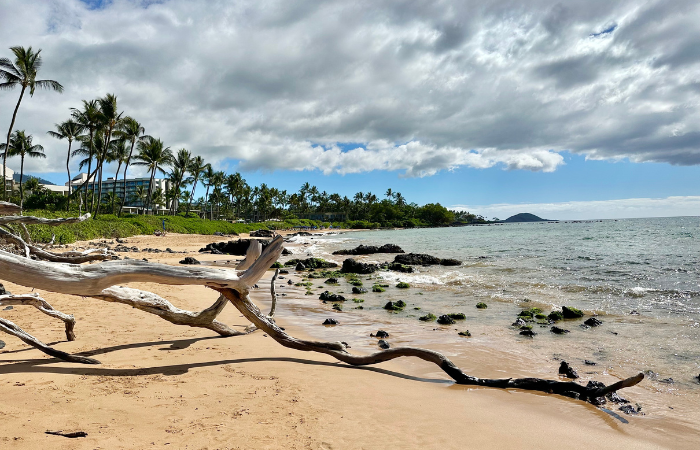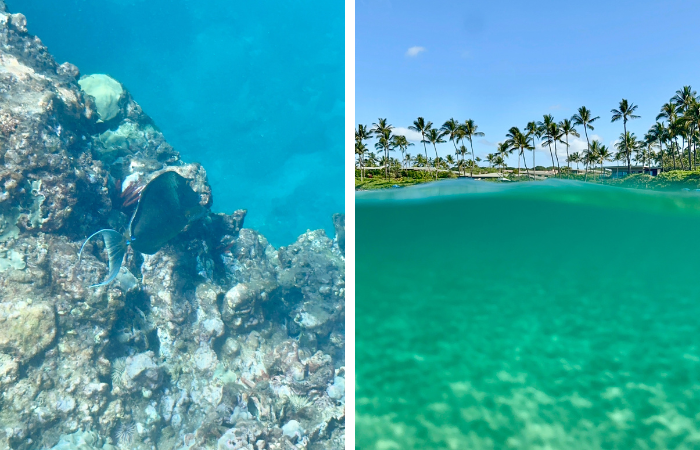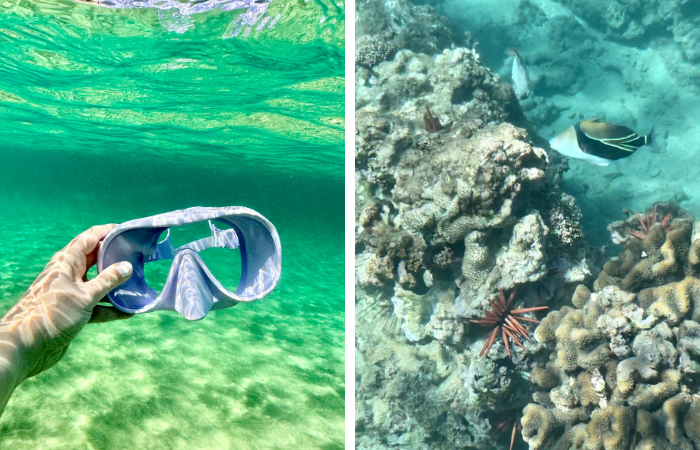 Don't go thinking that the beach at the Four Seasons is BAD though, because it isn't ; )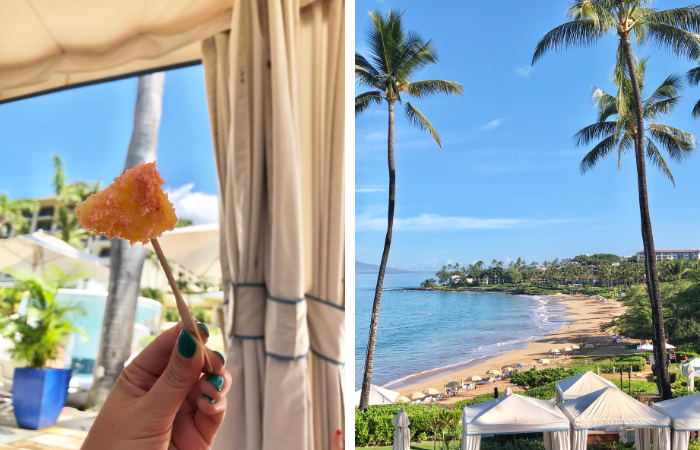 Both usually have decent waves for boogie boarding but are still swimmable.
Other Amenities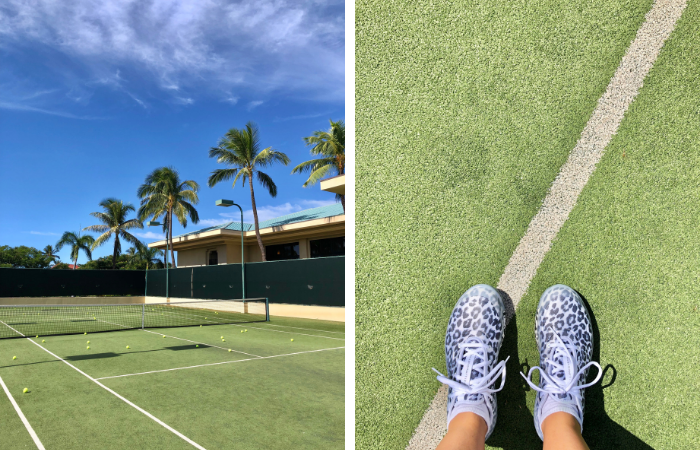 If you're a tennis person (or you're an interested beginner), the Four Seasons is the only resort in Wailea with a dedicated tennis program. They have two artificial turf courts on the roof of their parking garage and they run a good program that includes daily clinics and lessons in addition to court time. When I played there last, you didn't need to be a guest at the Four Seasons to play tennis there, but maybe double check that if you're planning to test it out. Otherwise, the Wailea Tennis Club is open to the public.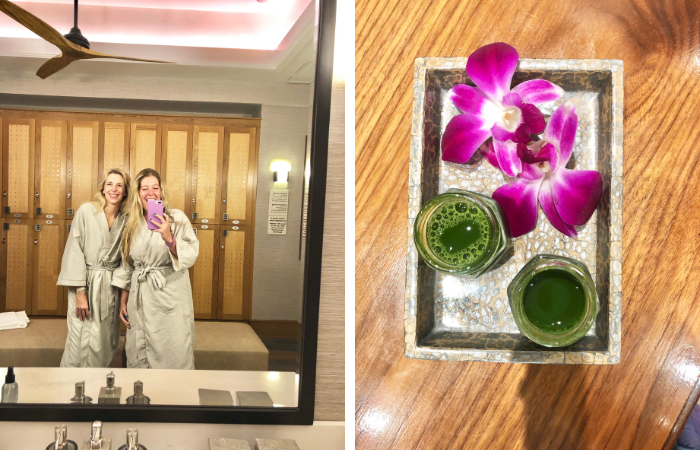 I wasn't terribly impressed with the spa at the Four Seasons (at the time I went they had offers on Groupon which I think tells you everything you need to know). The facility was fine but nothing special and the facial wasn't any better than what I get at home.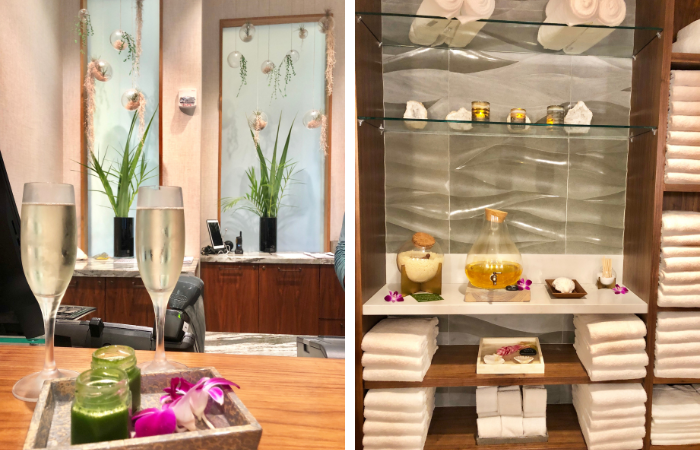 Pretty much everything was totally booked when I stayed at the Andaz so I didn't get to try it, but it looked super nice and I've heard they have good treatments.
Location
As far as location, the Four Seasons feels a little more in the middle of everything that's going on in Wailea and the Andaz is a bit more isolated down at the north end. Either may appeal to you and in the end it's not that big of a deal because Wailea is not that big.
They're also both on the Wailea Beach Walk (Andaz at the end and the Four Seasons in the middle) which is perfect for early morning walks when you're still acclimating to the time change.
Dining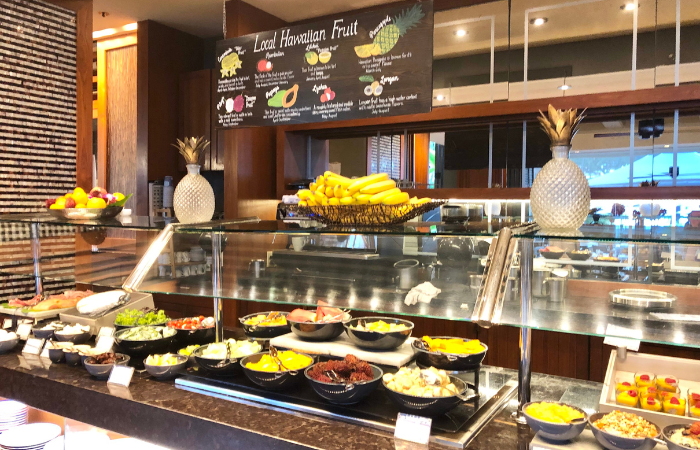 The Four Seasons has some of the best "high end" restaurants in Wailea and I love DUO and Ferraro's. Andaz has Morimoto which is supposed to be the best for sushi. Overall, I wouldn't pick one or the other based on restaurants because everything in Wailea is so convenient. But the Andaz has better options for grab and go breakfast if you're not wanting to do the full big sit down buffet.
Family Friendly
Also a factor to consider is whether you're traveling with kids.
The Four Seasons isn't really one of my top choices if you have older kids (let's say 6+) because there are other resorts in Wailea that have full on waterparks and water play areas (or at least a waterslide) and the Four Seasons pool doesn't have much to appeal to kids (a tiny toddler slide). BUT since the Four Seasons overall is a very family friendly chain, it still attracts a lot of families, whereas the Andaz tends to be much more adult oriented.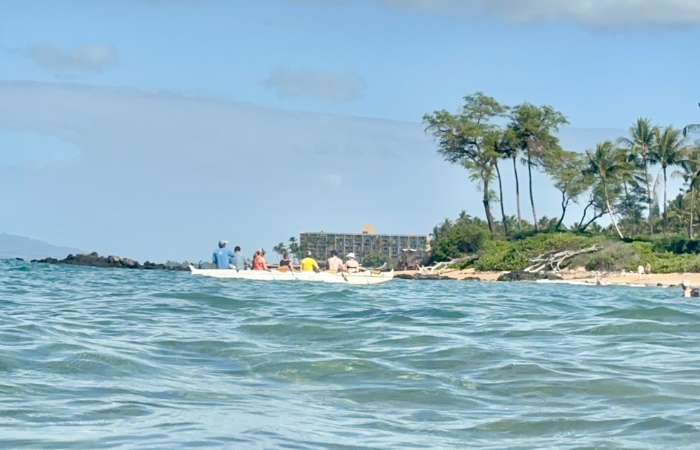 But if you have smaller kids (the Andaz doesn't have a waterslide either), I think the overall pool options at the Andaz are better. Their lagoon pool has zero entry and it's still very kid friendly.
The Four Seasons has a nice game room with a pool table, foosball, video game room, etc.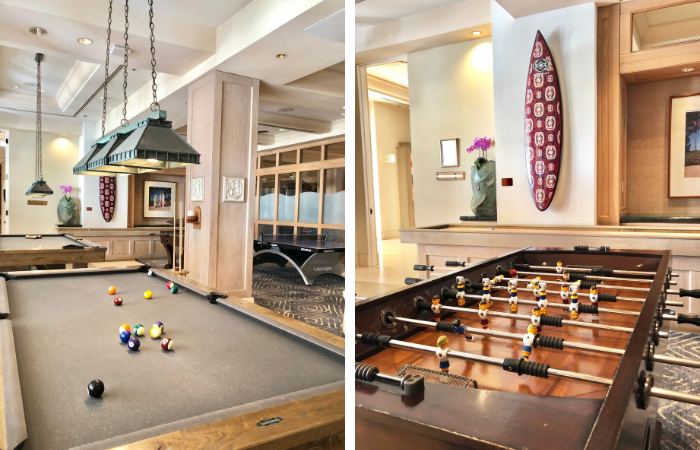 Price
In theory, the Four Seasons should probably be 20-30% more per night. But prices have been WACKY in Hawaii since the reopening so it's anybody's guess what prices will be like during your dates.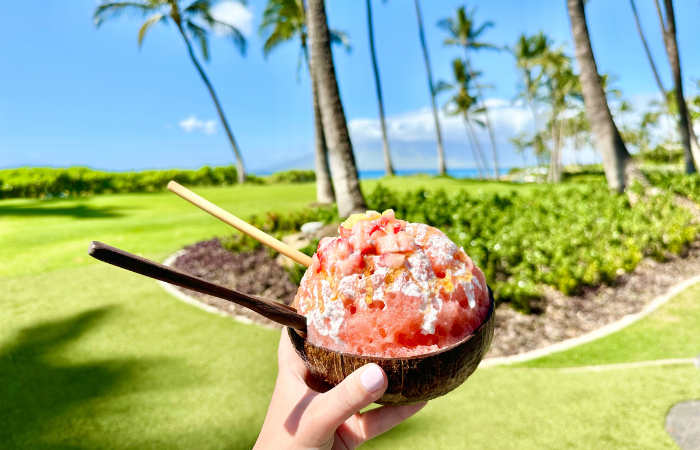 I know a lot of people consider the Andaz to be more "budget friendly" but honestly a lot of the time they're the same price and when they're not, it's not quite the split that it used to be.
The Four Seasons does exude more of a luxury vibe, but since prices are all over the place now it's not necessarily much more expensive.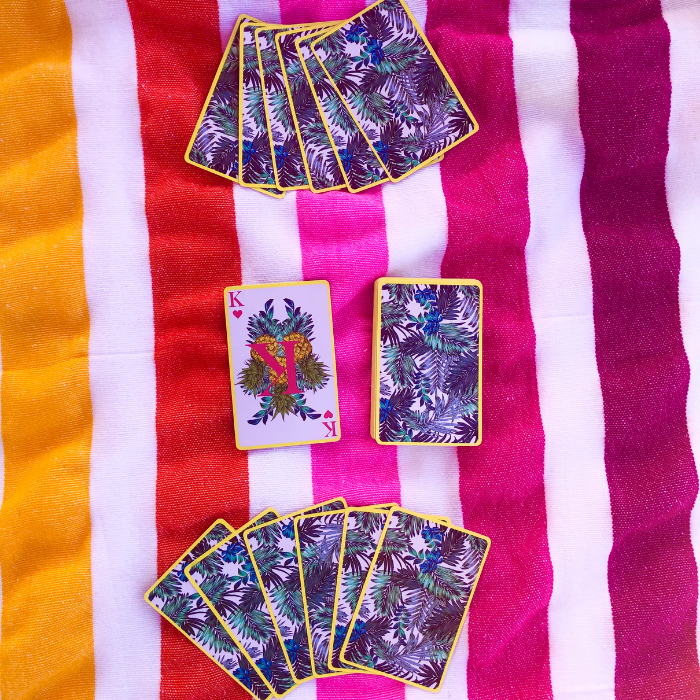 If the Andaz is significantly cheaper during your dates, that may be enough to sway you since these are both phenomenal options, but as it's usually not, I'd base the decision on other factors (that I've already laid out).
Loyalty/Status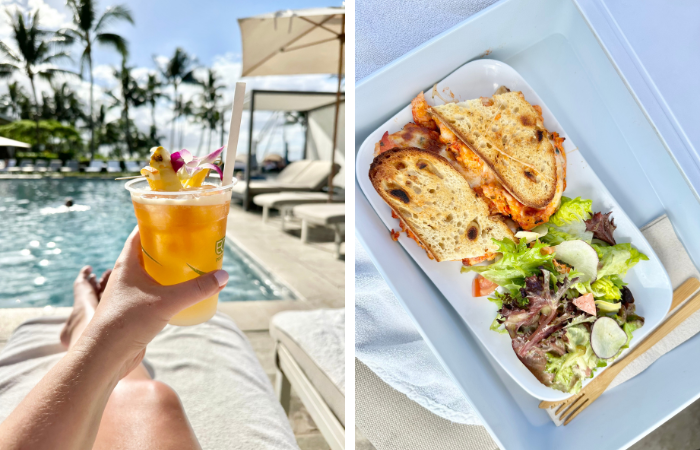 The last thing I'll mention is about hotel loyalty programs because I know that can be a BIG factor. The Andaz is owned by Hyatt and if you have status/points there that's pretty attractive.
The Four Seasons doesn't really have any sort of loyalty program. Although they're usually very generous with returning guests and even guests who have stayed at other properties.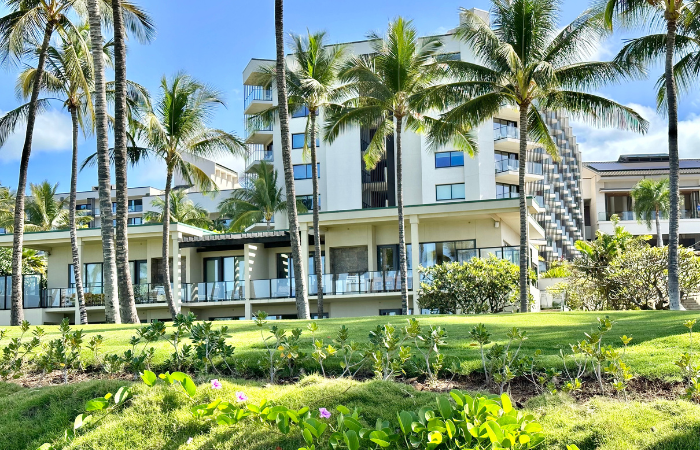 Want to read more? Don't miss some of my most popular (and favorite) posts about Maui: My Favorite Hotels on Maui | Wailea vs Ka'anapali | All of the Wailea Resorts Ranked | Maui Travel Tips | Things You Can ONLY Do on Maui | Where to Find Maui's Best Condos and Vacation Rentals | My Favorite Road to Hana Itinerary | Road to Hana Tips | Should You Drive the Backside of the Road to Hana? | 10 Day Maui Itinerary | Best Snorkeling Beaches on Maui | Snorkeling Molokini Crater | Old Lahaina Luau Review | Is Mama's Fish House Worth It? | Tips for Sunrise at Haleakala National Park | Things to Do in Wailea | Things to Do on the North Shore | Things to Do Upcountry | Where to See Turtles on Maui | Whale Watching on Maui | Maui Pineapple Tour | Where to Stay in Hana | Where to Stay in Kihei | Where to Stay in Lahaina & Ka'anapali | Best Beaches in Wailea & Kihei | Fine Dining on Maui | Best Restaurants in Wailea | Best Restaurants in Lahaina | Grand Wailea Luau Review | Maui vs Kauai | Four Seasons Maui Review | Andaz Maui Review | Fairmont Kea Lani Review | Wailea Beach Resort Review | Four Seasons vs Andaz Maui | Andaz Maui vs Wailea Beach Resort | Best Breakfast in Wailea
P.S. Thanks for sticking around and reading this whole post! If you have ANY questions about planning your trip to Hawaii, you can join my free Facebook group here. I'm there answering questions every day and there are 7500+ other friends who have a ton of Hawaii information to share!
Also, if you want to follow along on my travel adventures in real time, you can follow me on Instagram (@caitylincoln). My post captions are full of travel tips and I have a ton of story highlights and videos with great info. And please share my account with your friends that are headed to Hawaii! Your support really helps me keep this blog running!