A Breakdown of Maui's Best Vacation Rentals & Condo Complexes: By Area, Amenities, Etc.
Trying to find the perfect place to stay on Maui is tricky. And if you're trying to narrow down all of the different condo options, it can be downright mind boggling.
In this post, I'm breaking down 50+ condo complexes (also called condo-tels or condo resorts) on Maui by category so you can find a good place to stay. Most of these are beachfront with great locations and I've got extensive descriptions of each area so you can figure out what's most appealing to you.
This post may contain some affiliate links, which means I'll make a little money on anything you choose to purchase. But of course, I only recommend my absolute favorites to you. Thank you for supporting the brands that make the Lincoln Travel Co possible.
Besides describing each specific complex, the categories I'll cover are: resort condos, off beach but good locations, nice beachfront condo complexes, in betweeners, and beachfront bargains. This is going to cover the spectrum from lavish villa complexes that are probably thousands per night to across the street from the beach bargains under $100 per night! And absolutely everything in between.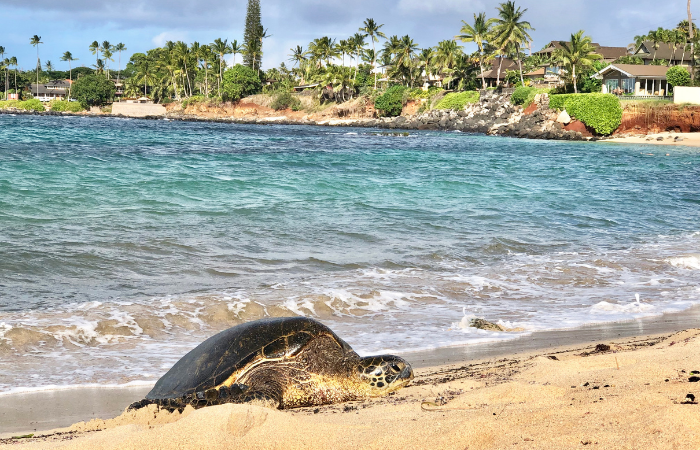 Maui Vacation Rentals & Condos
I think the best place to find (and book) Maui vacation rentals is Vrbo. They've been around forever and are probably the most reputable booking platform online (with owners and vacationers alike), which means that you'll find more quality properties listed on Vrbo than anywhere else online. I used to book more often with Airbnb, but I've begun to find that they often don't have what I'm looking for (especially when I want to book a condo/unit within a resort property).
Vrbo has an enormous amount of traditional vacation rental listings (condos in resort areas), but they also have so many options that are more "off the beaten path" in local areas. But overall, you're going to find properties listed by owners who take their rental business very seriously and are committed to providing you the best accommodations possible.
How does it work? By doing a simple search by island (or specific area), you'll be able to find a wide (price and type) range of accommodation. You can refine your search to fit certain criteria (part of the island, price, style, etc.) before you start weeding through specific properties.
The number of search results you'll find by island can be extremely overwhelming, so I would suggest putting as many filters as possible (especially price and number of bedrooms) and then viewing the results on a map so you can get an idea for where everything is located.
So all of the condo complexes I will be linking to are bookable within Vrbo.
Disclaimer: This is by no means an exhaustive list of every condo complex on Maui. There are soooooo many, and there likely are some that aren't on this list that are perfectly good places to stay at. I've compiled this list largely based on location, ratings and reviews, and an overall vibe of what I'm looking for in a place to stay.
Condo Resorts on Maui

Okay, arguably you could call any condo that has nice grounds, a pool, etc a condo-tel or a condo resort, but these places are like ACTUAL RESORTS. Not only do they have incredible pools (sometimes pool complexes), restaurants, and basically every amenity you could want…but these are also ran like hotels. The rooms are standard and maintained by the property. These aren't individual condo units that are subject to the taste/decor/upkeep of the owners, but these are more like timeshare properties. So you're going to get the most resort like experience staying at one of these:
Marriott's Maui Ocean Club: Right on the main part of Ka'anapali Beach, if you like a lot of do and to be in the middle of the action, this is your spot. It's very family friendly (i.e. LOTS of kids running around so either that's perfect for your situation or move along and look for another place ; ) This spectacular property offers all of the resort amenities with the layout of condos. Price is the only downside. Find specific condo units here.
Hyatt Residence Club: Similar to the Marriott, staying here will leave you feeling pampered like you're at a luxe beach resort, but with more space. The Hyatt is down at the far end of Ka'anapali Beach and while the resort and property are divine, the beach itself is a little narrow. Good news is that with so many pools and being right on the Ka'anapali Beach Walk, you may not mind. Find specific condo units here.
Westin Ka'anapali Ocean Villas: Located north of Black Rock on Ka'anapali Beach, this property is gorgeous, spacious, and exactly what you'd expect from a top notch beach resort. Here you'll get the resort experience with bigger accommodations. Find specific condo units here.
Westin Nanea Ocean Villas: This property is a bit newer than the Westin Ka'anapali Ocean Villas, but you can go back and forth between the two. It sits between the Westin Ka'anapali Ocean Villas and Honua Kai so this is a great little pocket to stay in if you like to be in the middle of what's going on. Find specific condo units here.
Honua Kai Resort: On North Ka'anapali Beach, this is my #1 pick if you want a full on resort experience with condo type accommodations. This high end beach resort has a tower of condo units, a great pool area, Duke's is on property, and it's a great location that's convenient to what's going on but also on the quieter side. Find specific condo units here.
The last two on this list aren't condos…they're more like resorts but with villas instead of larger buildings. And they're both located in Wailea in South Maui.
Ho'olei at the Grand Wailea: Again, these aren't exactly condos, but villas situated in a resort community attached to the Grand Wailea. It's not right on the beach (across the street), but you'll get access through the Grand. If you have the budget, and you're looking for primo accommodations, you'll love it here. Find specific units here.
Wailea Beach Villas: These are not your average condos. These are VILLAS. The accommodations are fabulous, the location is fabulous, but they're not a bargain. The price matches what you get. Find specific units here.
Off Beach Condos on Maui (but with Good Locations!)
Here's a roundup of some spots that I really like. None of these are on the beach (or the water), but they've got good locations in popular resort areas and are nicer than a lot of places that are right on the beach. Definitely worth checking out depending on what you're looking for:
Palms at Wailea: Great location in the super swanky resort area of Wailea. Not on the beach, it's only a short ways away and this property is new and NICE. Not only are the units quality, but the pool and common areas have a very luxe, resort-like feel. This is a serious contender for me. Find specific condo units here.
Wailea Grand Champion: Not terribly far from Wailea Beach, this is a large complex with several pools and probably where you'll find the best deal in Wailea. The Wailea Tennis Club is also onsite. Find specific condo units here.
Kapalua Bay Villas: The condos at Kapalua (up at the far end of West Maui) are pretty sprawling so your view will vary depending on your booking category, but some have great water views and there are multiple beaches in the Kapalua area so it never feels very crowded. Great pool area. Find specific condo units here.
Ka'anapali Maui at the Eldorado by Outrigger: Located in the Ka'anapali Resort area, this property looks out over the golf course, but it's still nearby the beach and your daily resort fee covers amenities such as a golf course shuttle, BBQs, and a private cabana area on the beach. Find specific condo units here.
Aina Nalu by Outrigger: Not located on the water, but just a block or two from Front Street, this updated property has a swanky feel and a nice pool. If you want close proximity to town, but don't care about being on the sand (or water for that matter), this is a great pick. Find specific condo units here.
Nice Beachfront Condos on Maui

This is what everybody wants, right? These places are all condo-tels or condo resorts and on the beach. They're all nice properties with a range of room types and pretty good amenities. Because these are condos, individual units will vary so do your research when filtering through search results.
Polo Beach Club: Sitting beachfront next to the Fairmont Kea Lani in Wailea, this complex has a great location in the less crowded area of Wailea. Find specific condo units here.
Wailea Ekahi: The location here is great. This is probably your best spot for beachfront condos at a bargain (within reason) in Wailea. Find specific condo units here.
The next option is located in North Kihei which is the least crowded part of Kihei (South Maui), but also the beaches can be windy (it's actually a popular windsurfing spot). There are several complexes in this area and generally I prefer the northern part of Kihei to the central part.
Sugar Beach Resort: This is the nicest property in this little cluster. The pool area is pretty big and nice. Find specific condo units here.
The next three spots are all in South Maui almost to Wailea. These are places that I realllly like and would be top of my list if I was looking for a good condo rental on Maui.
Kihei Surfside Resort: One of the nicest complexes in Kihei, it's not cramped, but it has a spacious oceanfront lawn and beautiful pool area. Find specific condo units here.
Mana Kai Maui: Another sprawling beachfront complex with a gorgeous pool. Find specific condo units here.
Hale Hui Kai: A nice complex situated on one of the best beaches on Maui. Find specific condo units here.
The next two spots are in the main Ka'anapali Beach area so location is divine. With both you'll get access to everything that people love about Ka'anapali without paying the high resort prices.
Aston Maui Ka'anapali Villas: Just north of Black Rock, this spacious resort has a great pool area and a fun little oceanfront restaurant. Find specific condo units here.
Ka'anapali Ali'i Resort: Sitting on a prime spot on Ka'anapali Beach next to the Westin, this is probably the best spot if you want a phenomenal location and great pool complex for a deal. Find specific condo units here.
Lahaina Shores Beach Resort: Just a short walk from the heart of Front Street and Lahaina Harbor, the Lahaina Shores Beach Resort is the only beachfront condo resort within walking distance to town. If you don't have a car and want to spend quite a bit of time in Lahaina, this is your best option. Find specific condo units here.
Side Note: If you're looking for a rental car for your trip, I LOVE Discount Hawaii Car Rentals. They're seriously the only company I ever use. They'll give you the very best prices, you don't have to reserve with a credit card or pay until you show up, you can cancel and re-book anytime if you find a better rate, and they usually have a special that adds additional drivers for no fee. It's a no brainer. Click here to check rates for your trip.
In Betweeners (Decent Maui Condos)

Ahhh…this is where the waters start to get murky. Just kidding, but while I feel comfortable recommending everything above on this list to pretty much everyone, from this point on things start to change based on what YOU are specifically looking for in a condo and condo complex. Is budget your driving factor? Are you okay with something on the water but not on the beach? Comfortable in an older condo? Think a nice pool is expendable when you have the ocean?
Everybody has different expectations about what is "nice" or what they're okay with so from here on out in this roundup, you may have to dig around a little to determine if a place seems right for you. But this is where you find the gems (and the price is right!)
The Whaler: Right next to Whalers Village (a super nice shopping and dining complex) on Ka'anapali Beach, the Whaler is a spot with potential. I have personally stayed here and the lobby and the grounds are top notch, and you can't beat the location. The pool is pretty much right on the beach, but it's pretty small and not super impressive (it's just a small concrete hole in the ground), and there's a pretty big variance in individual units. If you can find a nice unit (and like the price), and the pool situation isn't a huge deal, then this is a great spot. Find specific condo units here.
The next four spots on this list are all in Napili either on or pretty close to the beach. It's one of the best (and most favorite) beaches on Maui, but it's fairly small for the number of places on it. Most places are older, but it's a nice little cluster of places and there's a couple of really great restaurants right on the water. I wouldn't call it high end, but a lot of people LOVE Napili. The trick here is going to be finding an individual unit in a complex that suits your taste.
Napili Shores: A sizeable property, this is where you'll find the famous Gazebo restaurant. Find specific condo units here.
Napili Sunset: These quaint beachfront units have some of the best real estate on the beach. Find specific condo units here.
Napili Surf Beach Resort: Just a few steps from the beach, you can also lay around on the sprawling lawns by the sparkling pool area. Find specific condo units here.
Napili Bay Resort: Another small, out of the way complex with great beach access. Find specific condo units here.
The next four places are all located in North Kihei in the same pocket as the Sugar Beach Resort and others ("Nice Beachfront Condo Complexes"), but I'd say they're in a lower tier (not as nice pools or common areas, etc.), but still could be great options depending on the price.
Ma'alaea Surf Resort: Beachfront with good amenities including a pool. Find specific condo units here.
Kealia Resort: Beachfront with a beautiful lawn and pool. Find specific condo units here.
Kihei Beach Resort: A newer beachfront complex with a nice pool and lawn. Find specific condo units here.
Menehune Shores Condo: Further south than the properties above, this beachfront property is more isolated, which means fewer people. Find specific condo units here.
Beachfront Bargains on Maui

Okay you bargain hunters, now is your time to shine. Here are a LOT of options for beachfront condos at budget prices. Now remember, you get what you pay for so I would say these places in general aren't going to be as nice as the places I've mentioned so far, BUT depending on what you're looking for and what your expectations are, there are some real gems here.
Also, I can't stress this enough…do your research about the individual unit that you are reserving. In this complexes there is a spectrum of nicer places and not as nice places so make sure you know exactly what you're getting.
I'm going to list some options in Ka'anapali that are budget for that area, but overall you're going to find your absolute cheapest places in Central Kihei and the Honokowai/Kahana area (between Ka'anapali and Napili).
The next three options are in North Ka'anapali Beach.
Aston Ka'anapali Shores: Another good beachfront option…choose your unit carefully as some are a little dated. Find specific condo units here.
Aston Paki Maui: Right next to Honokowai Beach Park at the very north end of Ka'anapali, this is probably a good place to snag a deal. Find specific condo units here.
Ka'anapali Beach Club: This property has a LOT of units right on the beach with a large pool area. Find specific condo units here.
The next five options are all along the water in Honokowai and Kahana. The beach in this area comes and goes so pay attention to the exact location.
Hale Mahina Beach Resort: Nice condo complex on the sand with a pool with a view! Find specific condo units here.
Hale Kai Oceanfront: The beach in front can get narrow, but it's right on the water with a pool. Find specific condo units here.
Lokelani: Like many properties in this area, the beach is narrow and can disappear entirely with the tide, but there's a nice lawn to set out on with views over the ocean. Find specific condo units here.
Kahana Beach Resort: This tall condo tower has a pretty good (wide) beach, and nice pool area with a view. Find specific condo units here.
Royal Kahana Maui by Outrigger: This large condo complex sits on a decent stretch of town and has a sizeable pool area looking out on the ocean. Find specific condo units here.
The three complexes below are in Central Kihei situated on the water in between Kam I and Kam II (two of the most popular beaches in Kihei) and all have nice grounds and pools.
Royal Mauian: Find specific condo units here.
Kamaole Nalu Oceanfront: Find specific condo units here.
Hale Pau Hana: Find specific condo units here.
Across the Street from the Beach Bargains
And for you extreme budgeters, the absolute cheapest places to stay on the island are probably going to be condos in Kihei that are across the street from the beach. There are a TON of them, but here are three solid options. All three have nice grounds and nice pools, but Kamaole Sands is the biggest.
Aston at the Maui Banyan: Find specific condo units here.
Maui Parkshore: Find specific condo units here.
Kamaole Sands: Find specific condo units here.
DO THE RESEARCH
There are sooooo many condo rentals on Maui that it can be overwhelming, but don't just pick something before you do your research.
What should you look for in a vacation rental?
Consider what you need. What's important to you? Are you looking for a specific location near a certain beach or resort area? Do you need a full kitchen? Reliable Wi-Fi? A full house or just studio? Be clear about what you want before you start searching.
Read reviews. Before you even consider staying at a property, you should read up on what people who have stayed there have to say. Remember, you'll only hear the good points from the host but reviews usually give a much more honest story. And when I'm weeding through listings, I also put a lot of weight into the photographs provided. If the photos look professional, it probably means that the owner runs their vacation rental in a professional manner and that is an indication that it's a good place to stay.
Ask plenty of questions. When you're seriously considering staying at a specific property, you should correspond with the owner and ask them any questions you may have.
Count the extra costs. Be sure to factor in any security deposits, cleaning fees, and booking fees.
Know the cancellation policy. Each property and owner may have different terms so know what they are before you commit.
Want to read more? Don't miss some of my most popular (and favorite) posts about Maui: My Favorite Hotels on Maui | Wailea vs Ka'anapali | All of the Wailea Resorts Ranked | Maui Travel Tips | Things You Can ONLY Do on Maui | Where to Find Maui's Best Condos and Vacation Rentals | My Favorite Road to Hana Itinerary | Road to Hana Tips | Should You Drive the Backside of the Road to Hana? | 10 Day Maui Itinerary | Best Snorkeling Beaches on Maui | Snorkeling Molokini Crater | Old Lahaina Luau Review | Is Mama's Fish House Worth It? | Tips for Sunrise at Haleakala National Park | Things to Do in Wailea | Things to Do on the North Shore | Things to Do Upcountry | Where to See Turtles on Maui | Whale Watching on Maui | Maui Pineapple Tour | Where to Stay in Hana | Where to Stay in Kihei | Where to Stay in Lahaina & Ka'anapali | Best Beaches in Wailea & Kihei | Fine Dining on Maui | Best Restaurants in Wailea | Best Restaurants in Lahaina | Grand Wailea Luau Review | Maui vs Kauai | Four Seasons Maui Review | Andaz Maui Review | Fairmont Kea Lani Review | Wailea Beach Resort Review | Four Seasons vs Andaz Maui | Andaz Maui vs Wailea Beach Resort | Best Breakfast in Wailea
P.S. Thanks for sticking around and reading this whole post! If you have ANY questions about planning your trip to Hawaii, you can join my free Facebook group here. I'm there answering questions every day and there are 7500+ other friends who have a ton of Hawaii information to share!
Also, if you want to follow along on my travel adventures in real time, you can follow me on Instagram (@caitylincoln). My post captions are full of travel tips and I have a ton of story highlights and videos with great info. And please share my account with your friends that are headed to Hawaii! Your support really helps me keep this blog running!