Best Hotels in Wailea, Maui
There's a lot you can say about where to stay in Maui, which side of the island is best, which resorts are best for families, for honeymooners, for visitors on a budget, for luxury splurges, etc. and I've pretty much hashed it all out on this blog.
BUT…I'm going to go out on a limb and make a definitive statement here (at least in my opinion). If you can swing it, Wailea is THE place to stay on Maui.
If you're never been to Maui before, chances are it's exactly what you think Maui would be like – manicured and lush, quiet and luxurious with gorgeous beaches and world class resorts. It's definitely not "local," but it's the stuff Hawaii vacation dreams are made of. Of all the amazing resort areas in Hawaii, Wailea is by far my favorite.
Wailea is a resort community just south of Kihei in South Maui that includes several luxury and high end beachfront resorts, some nice condo complexes, good restaurants, an upscale outdoor mall, golf courses, tennis, and pretty much everything else you could ever want on vacation.
If you're just starting to plan, and you want more posts about where to stay on Maui, check out these posts: I'd start with my 15 favorite resorts and hotels on Maui. Also, you're going to want to decide between staying on the south side or the west side so this post about Wailea vs Ka'anapali is golden. Read about my favorite luxury resorts, boutique hotels, honeymoon resorts, family friendly resorts, and condos (many under $100/night!). If you've narrowed down the area of the island you want to stay, but need help picking a specific hotel, read these posts about where to stay in Wailea, Kihei, Ka'anapali, Lahaina and Kapalua, and Hana. And if you just want more details (more! More! more!), read my reviews of staying at the Four Seasons and the Fairmont Kea Lani.
Keep reading for the best hotels in Wailea:
This post may contain some affiliate links, which means I'll make a little money on anything you choose to purchase. But of course, I only recommend my absolute favorites to you. Thank you for supporting the brands that make Hulaland possible.
Here's your warning: This post is going to get super nitty gritty. Lots of details, lots of comparisons to break down the best true luxury resorts, the best high end resorts, my favorite boutique hotel plus options for amazing condo resorts in the area. And I'll net it all out so you can decide which place is best depending on if you're traveling with kids or it's a honeymoon/adults only trip. But let's be clear…there's not a BAD option when you're looking at resorts in Wailea ; )
Final Note (and a big favor to ask): If you find my blog and info AT ALL helpful, the absolute best thing you can do to help me out is to click through the links in this post to either book (direct with the hotel, Expedia, Hotels.com, Vrbo) or do your research (TripAdvisor). I make a small commission on your bookings (and sometimes clicks) and if you're going to book a hotel anyways, it's a WIN WIN. Thanks so much!
Best Hotels in Wailea
Luxury Resorts in Wailea
Okay, this is where the "nit picky" starts. Wailea is well known for its luxury resorts, but of the 6 or so resorts in Wailea, I would consider only two of them to be truly LUXURY resorts. That is 100% not to say that the others aren't absolutely FABULOUS. But if you're stayed at true luxury hotels, you know that there's a standard of service and amenities that places like the Four Seasons, St Regis or Ritz Carlton are known for that not all high end resorts match. And it's not that they aren't as "nice" or the service isn't "as good." It's more that they're not even designed to compete with these types of properties.
The best way I can think to explain it to you is with an example. At a high end resort, you might check in at a kiosk at the pool where they'll get you a wristband and hand you some towels and then you're off to pick your spot and set up for the day. And they'll probably have a waitstaff doing food and drink service that comes by your chairs somewhat frequently to see if you'd like to order something. Not a bad way to spend the day.
Well, at a luxury resort when you walk up to the podium, they'll often remember your name from the day before. They'll ask you what kind of setup you want (how many chairs, shade, sun, umbrella, location) and show you what's available because they're keeping inventory of who is where and if they've just left for lunch or if they've left for the day. Then they'll follow you to your spot and set up your chairs with covers and lay your towels out and make sure the umbrella is tilted just right and get you a water. Which they will then come around and fill up whenever it's running low. And on top of food and beverage service, they'll have an attendant that brings little treats around every hour like a chilled towel (good heavens my favorite), a pineapple spear, a smoothie sample. You get the picture.
Both types of resorts are pretty awesome, but there's a difference in the type of service. While there are several resorts in Wailea that I absolutely adore and always feel lucky to stay at…I wouldn't necessarily put them in the "luxury" category. I warned you this was going to get nit picky ; )
So on that note, here are the two resorts in Wailea that I would consider to be luxury resorts:
The Four Seasons Maui & the Andaz Maui
Both of these resorts are phenomenal beachfront properties with impressive pools, dining, spas, shopping, recreation, etc. Read my full review of my stay at the Four Seasons Maui here.
So which is better? I can without a doubt say that if service is what's important to you, nobody does it better than the Four Seasons. It's not surprising given their brand and that it's what they're known for, but I'm always impressed whether I'm staying on property or just visiting for dinner. They're a class act.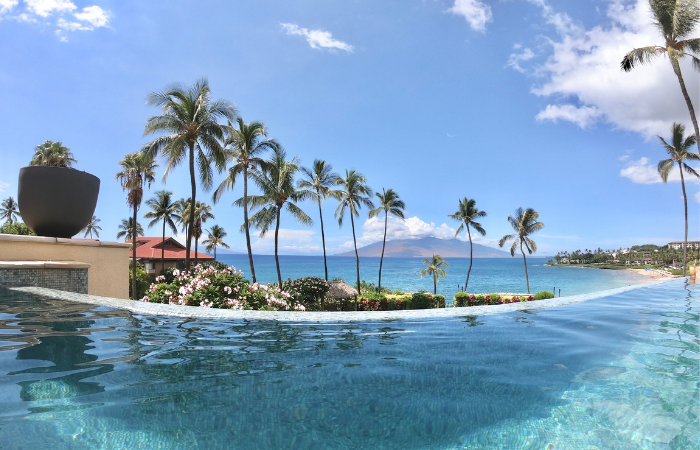 But. I would have to say that overall, the Andaz property has a more posh, modern feeling. It feels trendy and fashionable but in a way that still feels very lowkey and welcoming. While the Four Seasons adults only infinity pool (Serenity Pool) is my favorite place to be in Wailea, I think the pools at the Andaz are better overall than the main pool area of the Four Seasons (they've got a terraced pool situation going on so there's more ocean facing real estate).
Also a factor to consider is whether you're traveling with kids. The Four Seasons isn't really one of my top choices if you have older kids (let's say 6+) because there are other resorts in Wailea that have full on waterparks and water play areas (or at least a waterslide) and the Four Seasons pool doesn't have much to appeal to kids. BUT since the Four Seasons overall is a very family friendly chain, it still attracts a lot of families, whereas the Andaz tends to be much more adult oriented.
As far as location, the Four Seasons feels a little more in the middle of everything that's going on in Wailea and the Andaz is a bit more isolated down at the north end. Either may appeal to you and in the end it's not that big of a deal because Wailea is not that big.
The beach is great at both. The Four Seasons sits on Wailea Beach and the Andaz sits on Mokapu Beach. But the snorkeling/diving is much better at the beach in front of the Andaz.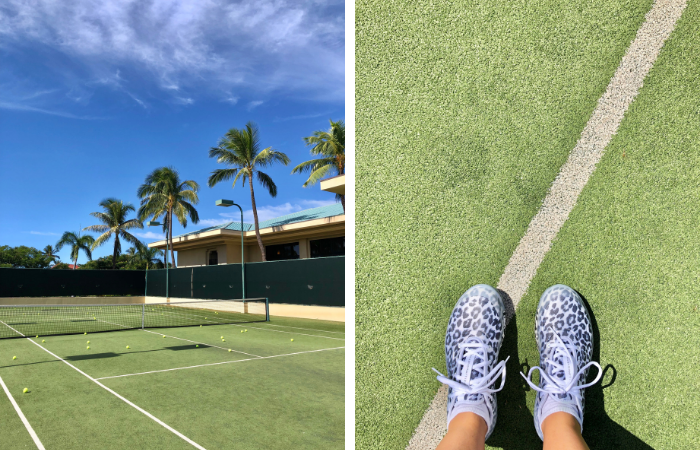 If you're a tennis person (or you're an interested beginner), the Four Seasons is the only resort in Wailea with a dedicated tennis program. They have two artificial turf courts on the roof of their parking garage and they run a good program that includes daily clinics and lessons in addition to court time. When I played there last, you didn't need to be a guest at the Four Seasons to play tennis there, but maybe double check that if you're planning to test it out. Otherwise, the Wailea Tennis Club is open to the public.
Another factor you might consider is hotel loyalty status. The Andaz is part of Hyatt so if you're a points tracker, that could be appealing.
Book the Four Seasons Maui here.
Book the Andaz Maui here.

Side Note: If you're looking for a rental car for your trip, I LOVE Discount Hawaii Car Rentals. They're seriously the only company I ever use. They'll give you the very best prices, you don't have to reserve with a credit card or pay until you show up, you can cancel and re-book anytime if you find a better rate, and they usually have a special that adds additional drivers for no fee. It's a no brainer. Click here to check rates for your trip.
High End Resorts in Wailea
So for starters…it's absolutely hilarious to be talking about these three resorts in a "substandard" way. They are AMAZING and it should be anybody's dream come true to stay at any of these three resorts. So in a tier just slightly below the luxury resorts, I've got three high end resorts for you in Wailea:
Grand Wailea, Fairmont Kea Lani & Wailea Beach Resort
Phewwww…what a lineup! The Grand Wailea is the most famous (let's call it the flagship) resort in Wailea partly because of its size and "grandeur" and partly because it was the first. Grand really is the best way to describe this resort. It's one of those places where your jaw is on the ground as you enter the lobby and walk around the property. The architecture, design, and layout is just over the top. It's got everything you could want in a resort, but its strong point is the pool area. It's practically its own waterpark and it's an absolute paradise for kids. There is just so much going on at this place. Aulani (the Disney resort) on Oahu is widely regarded as the best resort in Hawaii for kids, but when people ask me where to stay on another island that's similar…this is the place. I will be completely honest…I have a bit of a love/hate relationship with this resort. Now, I LOVE a big, comfy resort with a lot going on. And if you have kids, this is THE place to stay on Maui, but I've always found their service to be pretty lackluster.
Most of the employees are friendly and helpful when you directly cross paths with them, but this isn't the kind of place where they go out of their way to be friendly and helpful. And it's also one of the few "high end" properties where I've regularly had less than stellar experiences with staff members. From the valet to restaurants to shops to lobby concierge, I've had a few run-ins where it was pretty obvious that they don't really care whether you're there or not. Whatever, it is what it is, but when you're comparing this place to the Four Seasons next door or the Andaz or even the Fairmont, the customer services pales in comparison (but the price doesn't ; ) For me, this is the place to stay if you have kids 5+ and your trip is going to be all about them.
Another really solid family option is the Wailea Beach Resort. This Marriott property is one of the most popular Marriotts in the world and it's easy to see why. Besides the luxe, terraced ocean facing pool area, there's a separate pool area geared towards kids with multiple slides. There's a lot of family activities (game rooms, movie nights, etc.) and even though it's not right on the beach, they have chairs and umbrellas set up on Wailea Beach. This place is usually one of the better price performers in Wailea, but it also feels most like "resort-lite" to me. Don't get me wrong, it's a fabulous place, but you don't get out of the car and get that super impressive feeling. There's not really even much of a lobby and the property kind of meanders around. It is VERY Instagram friendly though (big aloha letters at the front, fun seating, etc.).
I think the Fairmont is a pretty good mix of the two. It has that "grand" Hawaii feel, but a much more gracious and service oriented vibe than the Grand Wailea. It's family friendly (all of the rooms are suites) and has a great pool area with a waterslide, but not an over the top waterpark setup so it doesn't attract as many kids as the other two resorts. Read my full review of the Fairmont Kea Lani here.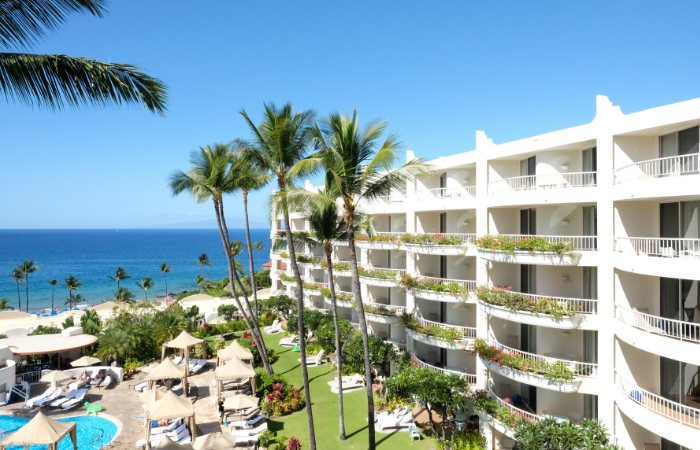 I'll put it this way…if your trip is all about the kids go with the Grand Wailea. If your trip is about the whole family, go with the Fairmont Kea Lani.
Book the Grand Wailea here.

Book the Fairmont Kea Lani here.
Book the Wailea Beach Resort here.

Boutique Resorts in Wailea
Hotel Wailea
While Wailea is fine, fine, fine…it definitely has a big time resort feel. But if you like a more intimate hotel experience without sacrificing the luxury, you are going to LOVE the Hotel Wailea. It's not right on the beach, but it's actually nestled into the foothills of Haleakala so along with a more peaceful respite, you also get VIEWS. It's the only adults only hotel on Maui (16+) so if you're honeymooning or just looking for a more intimate getaway, it's perfect.
And just because it's not on the beach doesn't mean it's short on amenities. Hop in a private luxury shuttle and you'll be at Wailea Beach where the hotel has chairs and umbrellas setup for guests. The pool area at the hotel is divine and the restaurant is regularly touted as one of the most romantic restaurants on Maui. If you want a more individualized experience at a more design-centric property, this is the spot for you.
Book the Hotel Wailea here.
Best Wailea Resorts
Okay, now for some more personalized recommendations based on your travel party/preferences:
Best Wailea Resort for Honeymoon or Adults Only Trip
Andaz, Hotel Wailea, or Four Seasons Maui. There's not a bad option on this list but it's probably going to come down to if you want to be on the beach or not.
Best Wailea Resort for Families
Grand Wailea, Wailea Beach Resort, or Fairmont Kea Lani. And probably in that order.
Best Wailea Resort on a (kinda) Budget
Wailea Beach Resort or Fairmont Kea Lani. Budget friendly in Wailea is relative, but these two properties are usually quite a bit cheaper than their luxury counterparts.
Don't Miss These Posts: Best Beaches in Wailea & Kihei, 5 Maui Day Trips, Where to Snorkel on Maui (and Find Sea Turtles), Where to Eat on Maui , Guide to the Road to Hana

Wailea Vacation Rentals & Condos
There are quite a few NICE beachfront (and non beachfront) condo properties/resorts in Wailea. You can rent individual units directly through Vrbo. Here are a few of my favorites:
Palms at Wailea: Not on the beach, it's only a short ways away and this property is new and NICE. Not only are the units quality, but the pool and common areas have a very luxe, resort-like feel. Find specific condo units here.
Polo Beach Club: Sitting beachfront next to the Fairmont Kea Lani, this complex has a great location in the less crowded area of Wailea. Find specific condo units here.
Wailea Beach Villas: These are not your average condos. These are VILLAS. The accommodations are fabulous, the location is fabulous, but they're not a bargain. The price matches what you get. Find specific condo units here.
Wailea Ekahi: The location here is great. This is probably your best spot for beachfront condos at a bargain (within reason) in Wailea. Find specific condo units here.
Wailea Grand Champion: Not beachfront, but a short walk to Wailea Beach, the Grand Champion is a large complex with several pools. Find specific condo units here.
Ho'olei at the Grand Wailea: Again, these aren't exactly condos, but villas situated in a resort community attached to the Grand Wailea. If you have the budget, and you're looking for primo accommodations, you'll love it here. Find specific condo units here.
Want to read more? Don't miss some of my most popular (and favorite) posts about Maui: my Maui favorites, the best Maui itinerary, how many days to spend on Maui, Maui vs Kauai, where to see turtles on Maui, my favorite road to Hana itinerary, guide for sunrise at Haleakala National Park, how to bike down Maui's volcano, my review of the Maui Pineapple Tour, 20 of the best adventure activities on Maui, 5 Maui day trips, and the best things to do on a Maui honeymoon.
P.S. Thanks for sticking around and reading this whole post! If you have ANY questions about planning your trip to Hawaii, you can join my free Facebook group here. I'm there answering questions every day and there are 7500+ other friends who have a ton of Hawaii information to share!
Also, if you want to follow along on my travel adventures in real time, you can follow me on Instagram (@caitylincoln). My post captions are full of travel tips and I have a ton of story highlights and videos with great info. And please share my account with your friends that are headed to Hawaii! Your support really helps me keep this blog running!