The Best Restaurants in Poipu, Kauai: My Personal Favorites for a Nice Meal
There are different types of vacations and different types of vacationers: sometimes you're looking for local hole in the wall restaurants where you can get a plate lunch for $10 and sometimes you're sticking closer to the resort for nice fish dinners with mai tais and sunset views. I do both, but if you're the second type, I've got just the list for you…
So whether or not you're putting together a reservation lineup with a great spot every night, or doing research to decide where to spend your one splurgy dinner, enjoy this list of the best restaurants in Poipu, Kauai:
Best Restaurants in Poipu, Kauai
***Pretty much all of these places require reservations and since Hawaii's reopening, dining is not like it used to be. It's hard to walk into most of these places and some are booked months in advance. And reservations you can get are usually before 5 or after 8. 8 PM seems to be the last seating at most restaurants with most of them being pretty much cleared out by 9:30. This is not an island for nightlife. Most restaurants use OpenTable for reservations, and if you can't find what you want you can set up alerts to notify you if there's been a cancellation. If you stay on it, you can usually find what you're looking for…especially as the dates get closer.
Tidepools
This has long since been Kauai's gold standard for a fancy schmancy romantic dinner. And it's not a secret. Reservations are usually booked out a couple of months in advance so plan ahead. On my last trip to Kauai, I was staying at the Grand Hyatt (where Tidepools is located) and could NOT get a reservation until a couple of days before.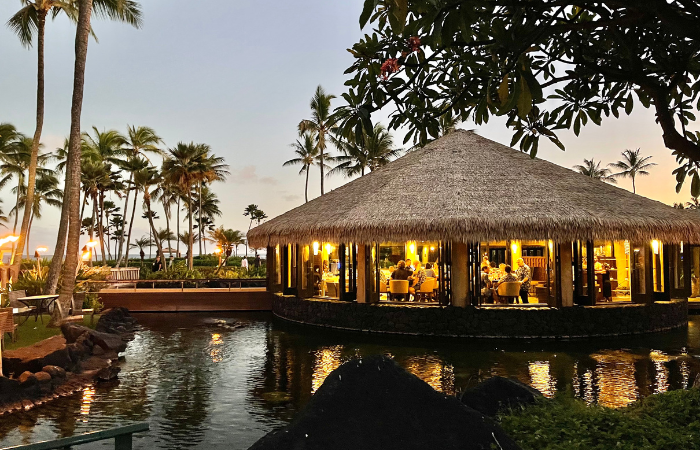 This restaurant is an experience and it's really all about the ambience. Not that the food isn't good, but the restaurant itself is so dramatic that it really steals the show. It's built to look like all of these thatched roof huts floating on top of a large koi pond. It's very grand and vibey and it's the kind of place where the food doesn't really even need to be that good, but it is.
I will be totally honest, I do think that we had better food at other places on this list, but it still felt like a really good meal and we were all very glad that we got a reservation.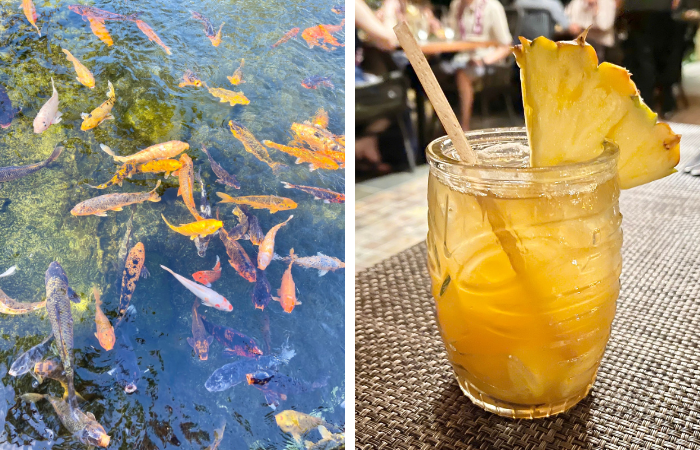 I had the pineapple julep which was a nice change from all of the rum based drinks. The caesar salad had anchovies on top (whatttt??) and was the kind that you had to cut up yourself. The garden greens seemed to look like the best option here salad-wise. This was the last dinner of our trip and we were all a little overdone with the big dinners, so we didn't do any appetizers and nothing really stood out.
Everyone in our party had the Hawaiian Catch and it ended up being a bit of a seafood sampler. The lobster was good, the scallops were good (better than we had elsewhere), the ahi wasn't as good as we had at the Dolphin and the shrimp and sweet potatoes were delicious.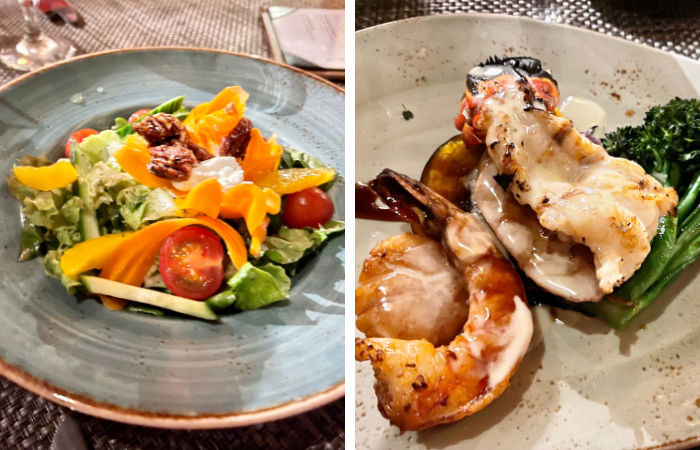 Overall, we had a really good experience, but I think I would only go back to take people who hadn't been there before. Also, our reservation was for 7:45 and sunset was at 7:15 so it was already pretty dark when we arrived. If you're booking in advance and you have a choice, definitely go with a time about 30 minutes before sunset.
And if you've got your heart set on a meal at Tidepools and absolutely cannot get a reservation, the concierge suggested trying to walk up when they open around 4:30 or after 8.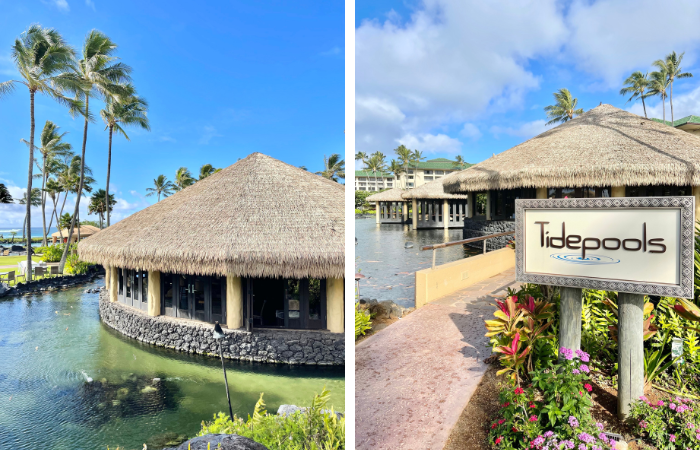 Tidepools gets thrown out as a comparable option to Mama's Fish House (Maui) on Kauai, and I get why people say that. It is very much an experience, the setting is great, and the food is high end, buuuuut it's not on Mama's level. But seriously nothing is. Food was decent, not as good but mostly the biggest difference is the service. It's not bad, but just feels like a normal restaurant you'll go to anywhere and if you've ever been to Mama's you know it's not like that at all.
Check out the Tidepools menu here.
Make reservations here.
***Want to save major $$$ on a fancy beach resort? My favorite travel hack is cashing in points to score free nights at some of the island's most high end resorts. My go to hotel brand is Marriott so I use this Marriott Bonvoy Boundless card to rack up points for a lot of my trips to Hawaii. If you pay for your monthly expenses on the card and are responsible about paying it off every month, the points add up really fast. Plus, if you sign up through my link, you'll get THREE bonus free nights to use. On Kauai, use your points at some of my favorite Marriott properties like the Koloa Landing Resort, Sheraton Kauai, and Westin Princeville Ocean Resort Villas.
Beach House
If Tidepools is the old school must do dinner spot on Kauai, the Beach House is the new one. The location is superb and since Hawaii Chef Peter Merriman took over, he's definitely instilled that Monkeypod "every night is a party" vibe into the place.
It sits right on the water at an angle so there's always a good sunset view and when the surf is going off on the south side, you'll have a front row seat to watch local surfers on one of the best breaks on Kauai.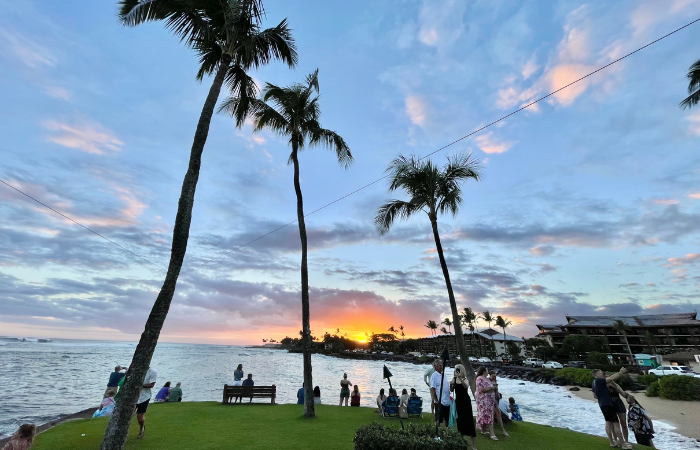 All of the tables at the restaurant are covered, but the restaurant is all opened up with couches and lounge chairs that spill over onto the lawn. This place does a ton of weddings and there's always a crowd milling around on the lawn around sunset.
If you've been to Merriman's or the Monkeypod on other islands, you know the menu. It's Hawaiian regional cuisine with local ingredients.
The lobster deviled eggs and the pork potstickers were both divine. The caesar was classic.
You must, must, must order the Monkeypod Mai Tai (here's a little secret…the Beach House makes a better Monkeypod Mai Tai than the Moneypod does ; )
We all had the macadamia nut crusted mahi mahi and it was really good, but I think next time I would try the fish and lobster pasta.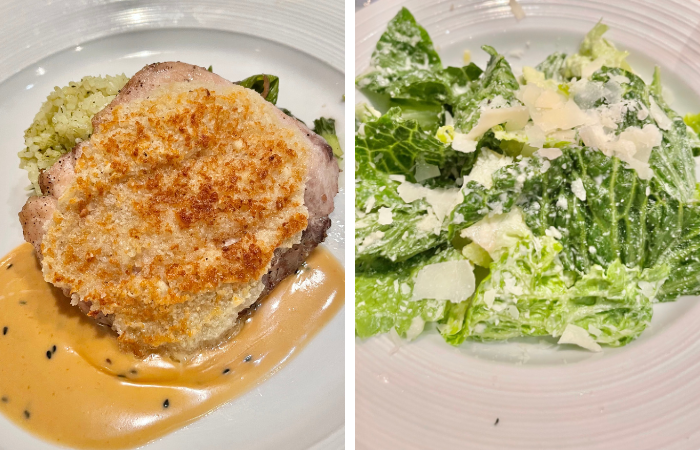 I was too full for dessert, but the menu looked super good. So maybe save some room!
Like most places, you need reservations for a table here (the lounge area outside is first come first serve) and the times around sunset book up in advance.
Also, there's not much parking in the immediate area, but they do have complimentary valet. But if your resort has a courtesy car shuttle in Poipu (the Grand Hyatt does), that's a good option too.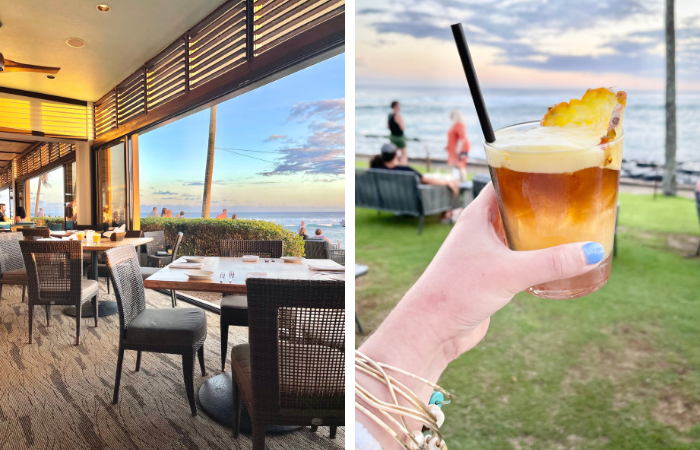 I will go back to the Beach House for sure and can see this being a spot that I hit every time I'm on Kauai, much like the Monkeypod on Maui and Oahu.
Check out the Beach House menu here.
Make reservations here.
Side Note: If you're looking for a rental car for your trip, I LOVE Discount Hawaii Car Rentals. They're seriously the only company I ever use. They'll give you the very best prices, you don't have to reserve with a credit card or pay until you show up, you can cancel and re-book anytime if you find a better rate, and they usually have a special that adds additional drivers for no fee. It's a no brainer. Click here to check rates for your trip.
Merriman's
With the same chef as the Beach House, we all noticed that the menu was pretty similar almost immediately. But this ended up being our favorite meal food-wise of the entire trip and was maybe our favorite overall (but you can't beat that Beach House atmosphere).
Located upstairs in the Shops at Kukui'ula, Merriman's has a subtle plantation style atmosphere with distant sunset and ocean views.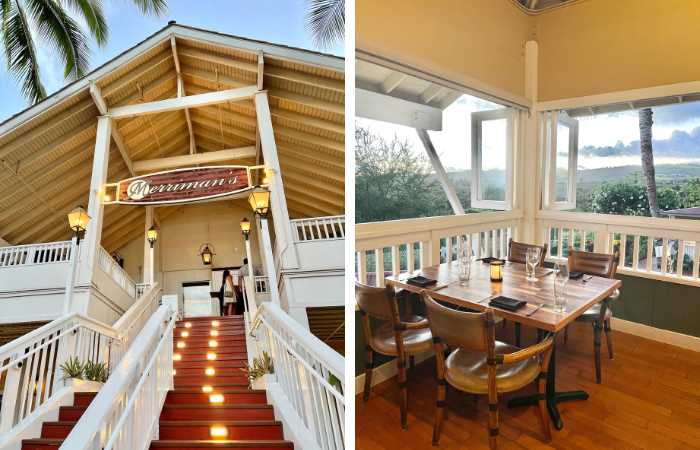 Yes, they have the famous Merriman's/Monkeypod Mai Tais, but I went with a Lillikoi Pop and it was a fun non alcoholic option.
Merriman's always does appetizers up right. The crab cakes were seriously amazing. Like, bring us another one!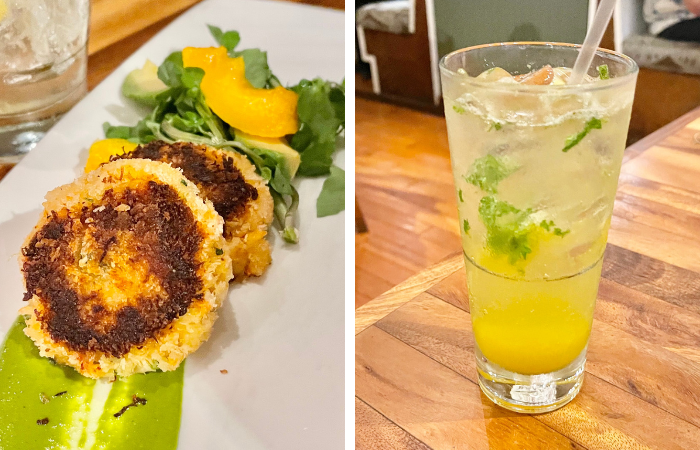 The caesar salad was a kale version, but pretty perfect.
I ended up having the kalua pork quesadillas with a side of truffle fries as my entree and was not disappointed.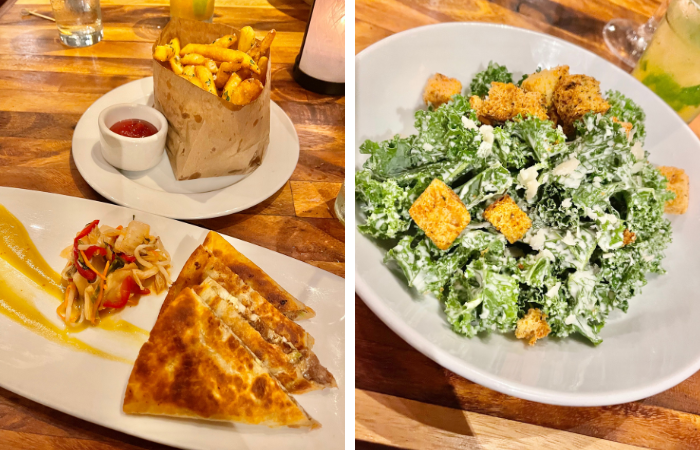 Somebody else at the table had the mac nut crusted mahi which we laughed about because it was the exact same item as they served at the Beach House (really though every high end restaurant in Kauai seems to have this on the menu), but it was hands down better than the one at the Beach House. The fish itself was phenomenal and the sides were more to my liking. The filets were also cooked super well.
And again, too full for dessert, but I'll save room for the pineapple bread pudding next time.
Check out the Merriman's menu here.
Make reservations here.
Eating House 1849
Hawaii's famous chef Roy Yamaguchi has put together a great concept that features Hawaiian regional cuisine with heavy Asian and European influences (the magical melting pot that came from Hawaii's immigrant plantation culture). It's located upstairs in the Kukui'ula Village Shopping Center in Poipu. Its upstairs location means great sunset views and the menu focuses on fresh local ingredients in a farm to table like atmosphere.
I'm due for another visit here as it's been awhile since my last meal, but it's always been a favorite. The pork and shrimp potstickers are a don't miss.
Check out the menu here.
Make reservations here. Parties of more than 2 will need to call the restaurant directly.
The Dolphin
This was the sleeper favorite of the trip. I really did not see it coming. I needed a final pick to round out our reservations for the week and wanted to stay in Poipu, so we ended up at the Dolphin. The original in Hanalei is a fish market and doesn't take reservations, but the one in Poipu is a little more polished.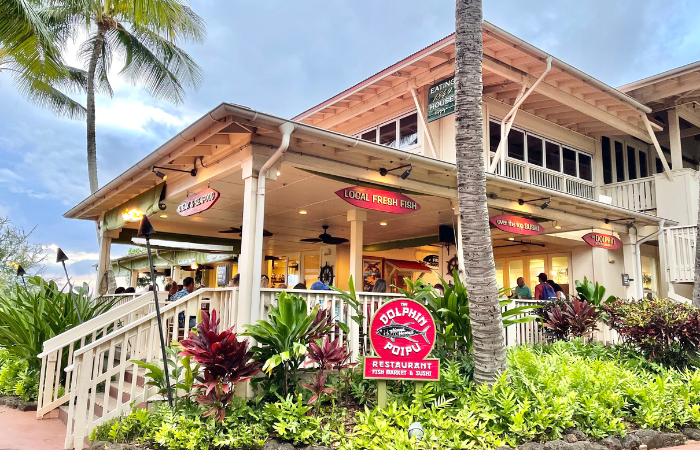 It's still really laid back and comfortable though. It's a very simple menu with mostly seafood (one chicken and beef option), but they do it up right. The focus is on the quality of the fish here (they do a lot of sushi too). Sides are simple and we didn't end up getting any appetizers, but I had their version of a mai tai and I didn't hate it.
I got the teriyaki ahi, which is the house specialty and it was honestly pretty life changing. I don't normally order a lot of ahi out, but now I'm wondering if I should start, or if I'll just be disappointed after having it here. Served with two scoops of rice and some corn, but the DISH OF MELTED BUTTER is essential.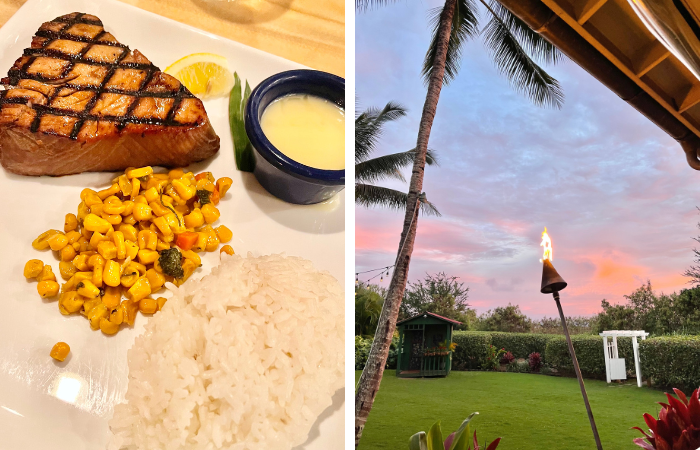 It's a casual spot, but you'll need reservations (they weren't taking any walkups when we went).
We skipped dessert here in favor of ice cream at Lappert's (which is a good option if you're dining anywhere in the Shops at Kukui'ula.
Check out the menu here.
Red Salt
I'd been wanting to check out the Koa Kea Hotel, so we did dinner at Red Salt on the first night of our trip. It's such a charming place and now I can't wait to go back and stay there. The service here was probably the best we had anywhere on our trip (from the valet to the hostess to our server). Part of the seating spills over into the lobby area and there's wall to wall windows looking out over the pool and ocean so it's all very bright and airy and on the modern side.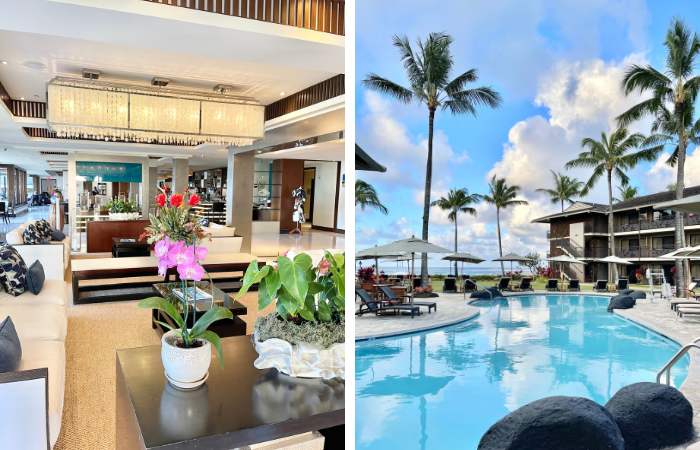 Most everything we had was on the rich end of the spectrum, but they had a lot of sushi and salads/fresh produce on the menu too.
We couldn't pass up the lobster corn dogs…I mean really?? They were super fun and tasty.
The brussel sprouts were crispy and delicious.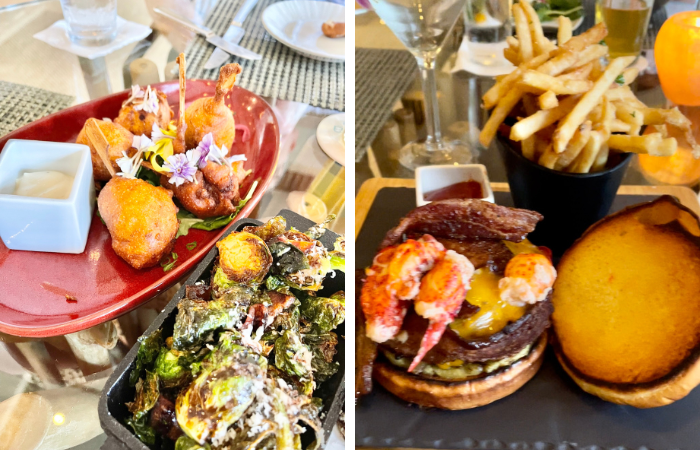 I went with the red salt burger and I swear four people could've shared it. Between the wagyu beef, the lobster, the pineapple, and the bacon it was pretty insane. But soooo good.
The lobster risotto was also amazing.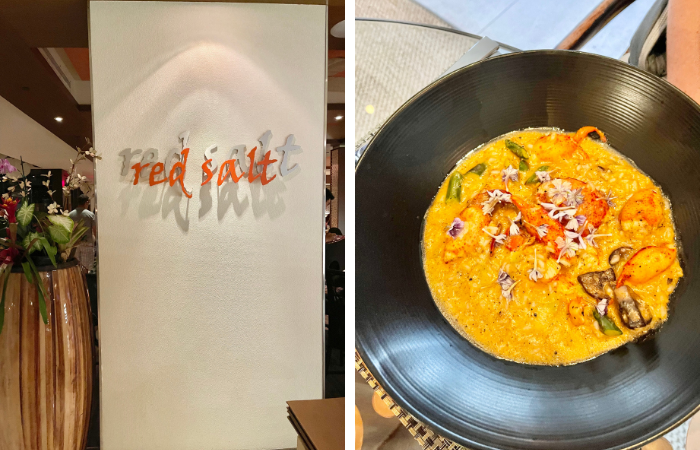 This was also the only restaurant we ate at that acknowledged the "special occasion" note I made on our reservations. My cousin was graduating from college and the server brought her out the passionfruit cheesecake!
Check out the menu here.
Make a reservation here.
On Another Note: If you're looking for a condo or vacation rental for your trip, I always book with Vrbo. They've got the largest selection of rentals you'll find anywhere and you can easily filter to find exactly what you're looking for. Need a specific number of bedrooms and bathrooms? Narrowed it down to a certain location? Want flexible cancellation terms? Need to stay under a fixed budget? Click here to search for Kauai vacation rentals for your trip.
Pizzeta
This is another spot that's due for a follow up visit, but last time I ate here I was super impressed. It's located in historic Koloa town (which is a very cute area), and it was an unexpected hit for me.
I'll never turn down Italian, but I didn't expect this place to be soooo good! Their drink menu was fantastic (I loved the lilikoi cosmo) and they have great lunch specials. Everything I had was fantastic. This place does Italian with an island spin.
Other Good Dinner Spots on the Island
These places aren't in Poipu, but they're the same type of places I've covered in this post so they're worth mentioning…
Lava Lava Beach Club
Lava Lava Beach Club is one of my all time favorite places in Hawaii. There's also one on the Big Island in Waikoloa. The one on Kauai is located at the Kauai Shores (a great budget hotel if you're looking for one!) and often has live music in the evenings. The bar and interior of the restaurant is covered with tables, couches, and fire pits spreading out onto the beach.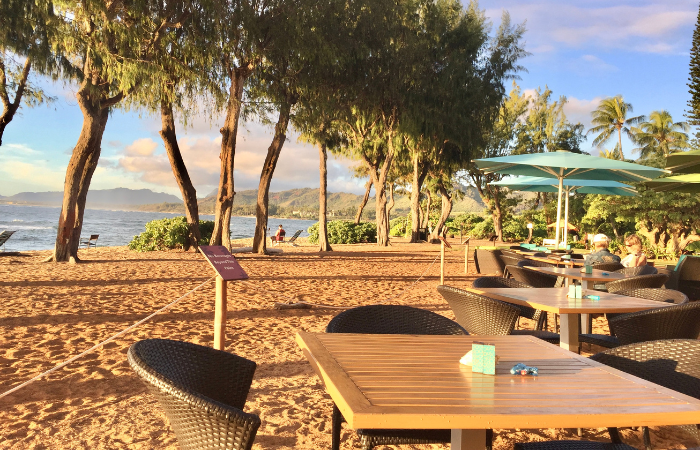 Check out the Lava Lava Beach Club menu here.
Hukilau Lanai
This place has been on my list for the last several trips, but I keep missing it. Priority for next time! Fresh fish and other locally sourced favorites, poolside at the Kauai Coast Resort. They do a fun happy hour from 3-5 everyday and there's usually live music.
Check out the Hukilau Lanai menu here.
Here's one more really important thing you need to know before your Hawaii trip…
Reservations You Need to Make BEFORE Your Hawaii Trip
You've got your airfare, hotel, rental car and your big activities booked, so you should be good to go, right? Wrong!
Travel is BOOMING in Hawaii so a lot of state and national parks used the closure and reopening to institute reservation systems at some of the island's most popular spots to make things a little more sustainable.
That means that there are now over half a dozen sites (beaches, trailheads, etc.) that require advance reservations. And some sell out well before you arrive on the island so you really need to have some sort of a plan.
I recently saw somebody in a Hawaii travel group post in a panic that they didn't know they had to make reservations for things in advance…they thought they could just show up and "go with the flow." I was tempted to say, well, "as long as the flow doesn't take you somewhere that requires reservations, you can!" ; )
But I don't want YOU to be that person, so I've pulled together a list of all the places you need to reserve entry in advance (plus all the details on booking windows, price, links, etc.) and a handful of popular tourist hotspots that book out really far in advance too.
Haleakala National Park (Maui)
To visit Haleakala National Park for sunrise at the summit, you must make reservations in advance here.
Reservations are required to enter the park gates between 3AM and 7AM (sunrise hours).
Online reservations are $1 per reservation/vehicle PLUS you'll pay the park entrance fee of $30/vehicle when you arrive (National Park annual passes are also accepted at the gate).
The reservation booking window opens 60 days in advance at 7AM HST. There are also a limited number of tickets released two days before.
You can make one reservation every three days with the same account. So if you want to make reservations for back to back days (in case of weather/conditions), you'll need to do so with separate accounts (email addresses).
If you can't get reservations for sunrise, you can enter the park anytime after 7AM without reservations. The summit is spectacular during the day and you don't need reservations for sunset.
I strongly recommend creating an account before and making sure you're logged in at 7AM HST because it's not uncommon for reservations to sell out quickly.
Waianapanapa State Park (Maui)
To visit Maui's famous black sand beach at Waianapanapa State Park on the Road to Hana, you must make reservations in advance here.
Reservations are required to visit the beach and are distributed in windows from 7AM-10AM, 10AM-12:30PM, 12:30PM-3PM, and 3PM-6PM. And they are pretty strict about exiting by the end of your window time (you can arrive anytime within your window).
It's $5/person to enter plus $10/vehicle to park and those fees are paid when you book your time slot.
Reservations open up 30 days in advance.
Iao Valley State Park (Maui)
To visit the lush, green mountains and hike at Iao Valley State Park, you must make reservations in advance here.
Reservations are offered for 90 minute time slots beginning at 7AM and ending at 6PM. They ask that you arrive within the first 30 minutes of your time slot.
Entry is $5/person plus $10/vehicle to park.
Reservations open up 30 days in advance.
Diamond Head (Oahu)
To hike to the top of Waikiki's famous Diamond Head, you must make reservations in advance here.
Reservations are offered in two hour increments beginning at 6AM (6AM-8AM, 8AM-10AM, etc.) and ending at 6PM. If you're parking onsite, they ask that you arrive within the first 30 minutes of your reservation window.
Entry is $5/person plus $10/vehicle to park.
Reservations open up 30 days in advance.
Tip: I recommend booking one of the first two time slots because there isn't much shade on this hike and it gets pretty hot.
Hanauma Bay (Oahu)
To snorkel at Oahu's pristine Hanauma Bay, you must make reservations in advance here.
Entry times are staggered in 10 minute increments from 7AM to 1:20PM with roughly 1000 slots being assigned in advance every day.
Reservations can be made two days in advance and they open at 7AM HST. They're usually gone in minutes (if not seconds).
If you're unable to get an advanced reservation, you can try for a day of, walk in ticket. They open at 6:45AM and they only have a limited number available. Everyone in your group needs to be present when you purchase your tickets in person.
There are no reservations for parking and it's first come, first serve. $3/vehicle.
It's $25/person to snorkel at Hanauma Bay (12 and under, active military, and locals with HI ID are free).
The Hanauma Bay Nature Preserve is open Wednesday through Sunday (CLOSED MONDAY AND TUESDAY) from 6:45AM-4PM. Last entry is at 1:30PM, the beach is cleared at 3:15PM and you have to leave the facility by 4PM.
Jellyfish patterns can also affect whether or not the bay is open so double check the day before/day of.
USS Arizona at Pearl Harbor (Oahu)
If you want to take the boat tour at Pearl Harbor out to the USS Arizona, it's recommended to make advance reservations here.
Online reservations are guaranteed a specific boarding time to go out to the USS Arizona. If you're unable to get an advance reservation, you can wait standby when you arrive. The line could be short (15 minutes or so) or long (hours) and it just depends on the day (if they're having problems with the loading dock sometimes they don't take many from the standby line) and the time of day.
Reservations are supposed to open up 60 days in advance, but keep an eye on your exact dates, because lately they've actually been opening up about 57ish days in advance???
They also release a small batch of tickets the day before.
The boat ride out to the USS Arizona is free, but it's $1 to make the reservations online.
They recently started charging $7/vehicle for parking at Pearl Harbor.
Haena State Park / Kalalau Trail (Kauai)
If you want to hike Kauai's famous Kalalau Trail, you must make advance reservations here.
You've got three options here:
1) Parking & Entry: This is the most flexible option and also the most limited. THESE RESERVATIONS SELL OUT IN LESS THAN A MINUTE. There are three time slots available: 6:30AM-12:30PM, 12:30PM-5:30PM and 4:30PM to sunset. You can purchase multiple time slots if you want to stay longer. It's $10/timeslot (parking) plus $5/person and you have to reserve every person when you initially book. Everybody has to arrive in the same car and your ID needs to match the reservation.
2) Shuttle & Entry: If you can't get parking at the trailhead, there's also a shuttle option. Shuttle reservations are $35/person (16+), $25/person (ages 4-15), 3 and under can ride free. The shuttle runs every 20 minutes 6:20AM to 6:40PM.
3) Entry Only: If you're a Hawaiian resident (with HI ID) or someone WITH a Hawaiian resident, you can purchase entry only for $5/person with no advance reservations. Also, if you're walking or biking to the trailhead you can do this option. But there is NOWHERE to park in the area to walk in. So this really only works for those with bikes or who are staying close enough to walk. They will tow your car if you park outside the designated areas.
The reservation window opens 30 days in advance at 12AM HST. The parking & entry option usually sells out in a minute, but the shuttle availability will last longer.
There are a TON of FAQs here including the possibility of snagging a canceled reservation.
Other Things to Book in Advance
Hawaii is a busy place these days! Besides the state and national parks above, here's a handful of miscellaneous things you should make reservations for in advance (if they're on your radar):
Mama's Fish House (Maui): The iconic spot is the most popular restaurant in Hawaii and they've been opening reservations (and selling out) 4-6 months in advance. You can call and get on the waitlist for one day or you can set notifications on OpenTable to alert you for cancellations every day of your trip. Most people have pretty good success on OpenTable.
Old Lahaina Luau (Maui): Honestly, any luau you're planning to attend you should book early, but most people are usually shocked how far out the Old Lahaina Luau books out. Book it as soon as you know your dates (I think they open at the six month window). They also have a waitlist.
Kualoa Ranch UTV Tour (Oahu): Everybody loves Jurassic Park so getting to ride UTVs where they filmed the movies is very popular. The ranch offers a lot of different tours but the UTV tours usually book out a couple of months in advance.
Spa Reservations: If you're staying at a resort with a spa (or planning on visiting one), don't wait until you arrive to make your reservations. I'd make them at least a month in advance.
Tee Times: Same for golf, reserve your tee times well in advance.
Dining Reservations: Any "fancy" or resort restaurant is likely to be booked up these days so if you like having a nice dinner every night, make your plans in advance.
Want to read more? Don't miss some of my most popular (and favorite) posts about Kauai: my personal Kauai favorites, a breakdown of where to stay on Kauai comparing Princeville vs Poipu, my favorite restaurants in Poipu, the best places to watch sunset on Kauai, 5 day Kauai itinerary, my review of the Grand Hyatt Kauai, everything you need to know about Napali Coast boat tours leaving from Port Allen (south side) and Hanalei (north shore), my best Kauai travel tips, all about hiking the Kalalau trail (Kauai's best hike), Maui vs Kauai, the best things to do on Kauai and more specifically in Hanalei and Poipu, whether you should see the Napali Coast via boat or helicopter, my best (and specific) condo recommendations on Kauai, everything you need to know about Kauai helicopter tours, Kauai's best north shore beaches, where to play tennis on Kauai, how many days you should spend on Kauai (plus other FAQs), the best spas on Kauai, and my review of the Smith Family Luau.
Save
Save
Save
Save
Save
P.S. Thanks for sticking around and reading this whole post! If you have ANY questions about planning your trip to Hawaii, you can join my free Facebook group here. I'm there answering questions every day and there are 7500+ other friends who have a ton of Hawaii information to share!
Also, if you want to follow along on my travel adventures in real time, you can follow me on Instagram (@caitylincoln). My post captions are full of travel tips and I have a ton of story highlights and videos with great info. And please share my account with your friends that are headed to Hawaii! Your support really helps me keep this blog running!