4 Day Kauai Itinerary: An Adventure Packed Vacation (Based on the North Shore)
If you're planning a trip to Kauai and you've already got your airfare, hotel, and rental car booked then you're ahead of the game! But if you still need help planning how to spend your days, then you're in the right spot.
Specifically…I've put together a 4 day itinerary for Kauai that covers most of the must sees plus a few of my favorite things.
The details…this is four full days not including travel days (so perfect for a five night trip) and I've laid it out to work best if you're staying in Princeville (on the north shore of the island) so if you're staying in Poipu on the south side then you may want to layout your days differently.
*If four days doesn't work for you, check out my 5 day itinerary or my 3 day itinerary.
4 Day Kauai Itinerary
If you're coming from the mainland (or internationally), then most flights to Kauai arrive by mid afternoon. I usually like to take the first day and just get acclimated (rental car, check in, get some groceries, etc.), hang around the resort pool and beach, and have a sunset dinner before early to bed, but if you're island hopping and can arrive early enough, then you could just scoot into day one on your arrival day.
Day 1: North Shore Adventure…snorkeling & Hanalei
Since you're staying on the north shore, I would spend the first day really exploring this part of the island. There is sooooo much to do up here and things tend more towards adventure and exploring instead or resort life so pack up a backpack and a cooler and get with it!
Here are some north shore highlights:
Snorkel at Tunnels. Tunnels is definitely the best snorkeling spot on Kauai, but it's kind of a rugged adventure. You'll need to bring your own snorkel gear with you (bring from home, buy, or rent from a surf shop) and there's no lifeguards so you'll want to be extra cautious. Parking is also an…adventure. The beach access is pretty hidden, but it's about a mile before you come to the parking lot for Ha'ena Beach (not the paid, reservations required lot, but the smaller one with the picnic tables).
There are two direct road/pathway entrances with minimal parking. There's no lot and there are plenty of "no parking" signs on the street. That's how you know you're near. If you're having trouble finding it, you can park at Ha'ena Beach and then walk down the beach about a mile to the right.
Find Hideaways Beach. One of the north shore's best beaches is pretty hidden (hence the name) and requires quite an adventure to find. It's in Princeville (make the turn into the resort area and then go about two miles through Princeville and then turn right into a tiny little parking lot just before you reach the (former) St. Regis' guard shack (soon to be 1 Hotel Hanalei Bay). Just outside the parking lot, you'll see a small pathway between the two fences. You'll need good shoes to do this little trail (not flip flops!). There's a pretty sketchy staircase you have to navigate before you get to the series of rope handles that will lead you to the hidden beach. Don't miss this one!
Queen's Bath. If you've done much research about top things to do in Kauai, you've like heard of Queen's Bath. It's a sinkhole in the lava along the coast in the Princeville area that creates a natural swimming pool during calm days. Unfortunately, during high surf times (which can be unpredictable), it can be extremely dangerous. Numerous deaths have occurred here, however it doesn't stop people from attempting it. I can't recommend swimming in the pool under any conditions, BUT if you'd like to see it, the hike down to the pools is very pretty.
In the Princeville resort area, there's a small parking lot on Punahele Road. If there's no parking available, you can pay to park at the golf course up the road. It's a short (but often muddy and slippery) hike down where you'll even pass a waterfall. I'd stay well away from the pools as even in calm weather, rogue waves can come out of nowhere. When I'm entering any area near the ocean, I like to hang back and watch the conditions for 15-20 minutes before deciding what a safe distance is. During high surf advisories, the trailhead will often be gated. Of course, many people will climb around the gates, but know that if you choose to do so you're officially breaking the law and may be subject to fines.
Hang out in Hanalei town. Hanalei is probably the most picturesque spot in all of Hawaii. This north shore surf town has it all going on…a stunning beach with the most spectacular backdrop you can imagine, all kinds of water sports (big waves surfing during the winter), and plenty of shops and restaurants.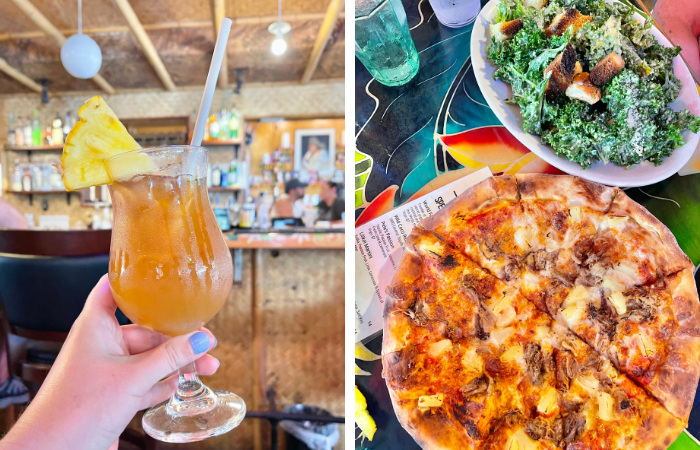 Have drinks at the Tahiti Nui…it's a Kauai institution. Order the mai tai. You're welcome. The pizza is also pretty good too. If you want a "nicer" meal, make dinner reservations at Bar Acuda. It's tapas style and a big hit with the locals and tourists. Or my personal favorite is the Dolphin. Their teriyaki ahi will change your life.
For more north shore ideas, read this post about things to do and this post about the best beaches in the area.
Side Note: If you're looking for a rental car for your trip, I LOVE Discount Hawaii Car Rentals. They're seriously the only company I ever use. They'll give you the very best prices, you don't have to reserve with a credit card or pay until you show up, you can cancel and re-book anytime if you find a better rate, and they usually have a special that adds additional drivers for no fee. It's a no brainer. Click here to check rates for your trip.
Day 2: Napali Coast Boat Tour
Seeing the Napali Coast is the #1 thing to do on Kauai and since you're staying on the north shore, you're in a prime position to see it in my favorite way.
Assuming it's summer (roughly mid April to mid October), some tour companies run Napali Coast boat tours out of Hanalei on smaller ocean rafts (Zodiacs) instead of the big catamarans that leave from the south side year round (weather permitting).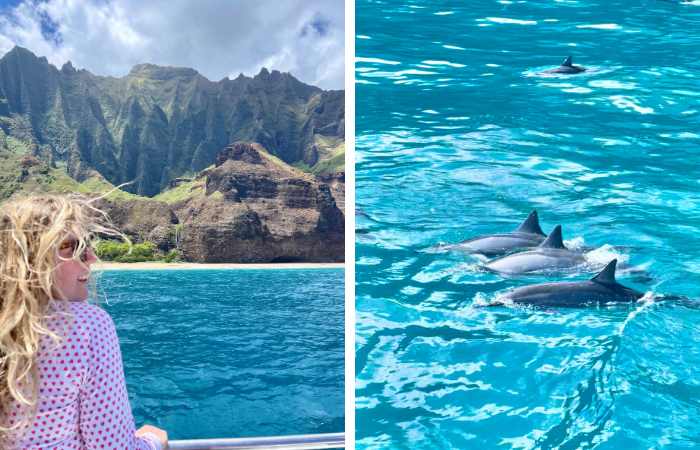 There are several reasons I like the smaller boats that leave from the north shore over the catamarans that leave from Port Allen (read my whole post about it here), but it mostly boils down to: 1) the tours that leave from Hanalei are on the Napali Coast almost IMMEDIATELY after the boat pulls out of the bay (the ones in Port Allen have to sail for almost 1.5 hours before they reach it and then another 1.5 hours to go back) so you've got stellar scenery you're entire trip instead of only in the middle. 2) the smaller ocean rafts are able to sip in and out of sea caves and get up a lot closer to the island. 3) there's just a lot less people on your tour.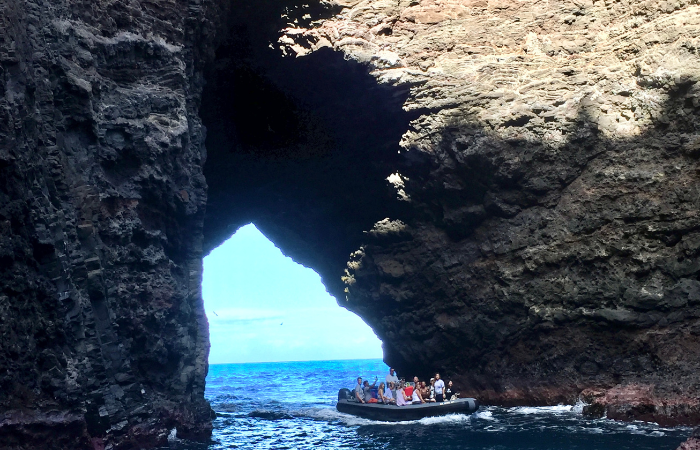 I will warn you…the boat tours that leave from Hanalei are more expensive than the ones from Port Allen, but it's mostly because 1) there are fewer companies and they have a shorter season and, 2) they offer a more adventurous and immersive experience. Plus if you're staying on the north shore, it's a long drive to Port Allen to make an early cruise.
You should be back in Hanalei around noon which leaves the whole afternoon to hang out at the beach or your resort.
Day 3: Waimea Canyon + Poipu
Plan for a big day trip down to the south side of the island.
I would get an early start and drive all the way to Waimea Canyon. Stop for breakfast in Hanapepe town (said to be the inspiration behind Disney's Lilo and Stitch) at either Midnight Bear Breads or Little Fish Coffee.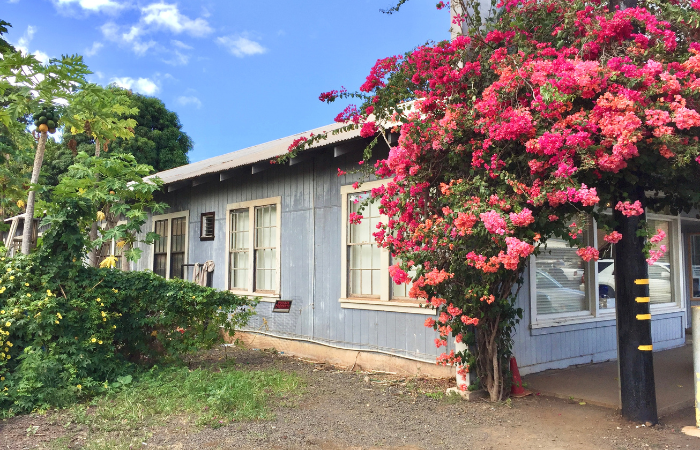 There's also a wooden swinging bridge across the river that you're not going to want to miss. But be respectful and stay out of people's yards!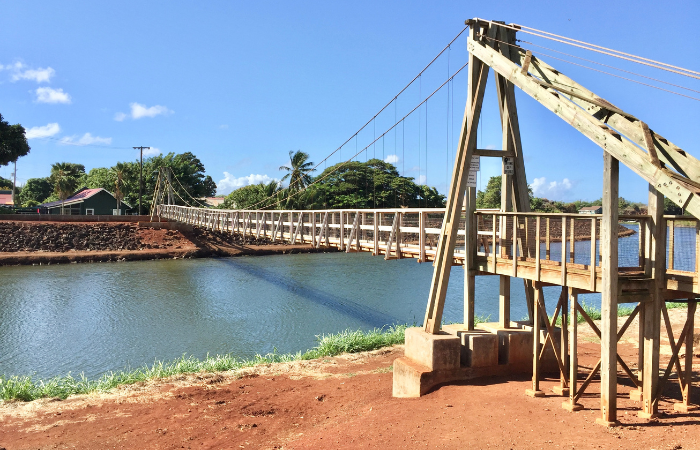 After you leave Hanapepe, continue on to Waimea and drive up to the canyon (once you get to Waimea town it's still quite a drive up to the top).
There are at least four overlooks at the top of the canyon (some in Kokee State Park) and you'll want to see all of them. Each one offers a different vantage point, and one even has a lookout over Kalalau and the Napali Coast.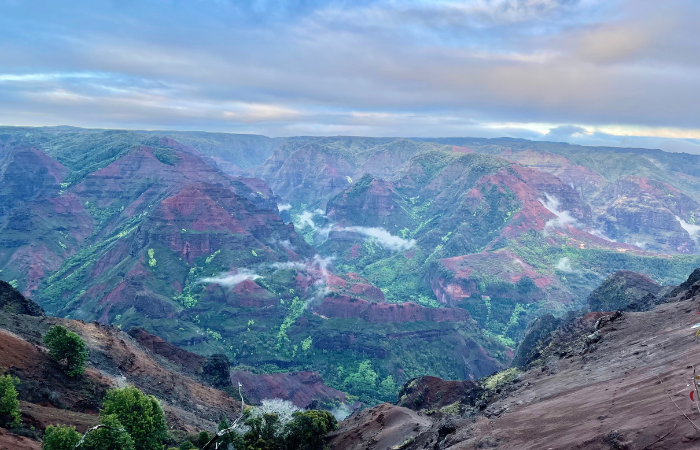 If you're into hiking…Waimea State Park and Koke'e State Park both have some excellent hiking trails. If you want a moderate hike, try the Canyon Trail. At 3.4 miles round trip, it's the most popular hike in the area and will give you a great view of Waipoo Falls. It takes about 2.5 hours to complete. Park at the Puu Hinahina Lookout (around mile marker 13.5) and pick up the trailhead there. For a more challenging hike, try the Awaawapuhi Trail, which has spectacular cliff and ocean views. It's 6.2 miles round trip (3 hours) and the trail head can be found near mile marker 17.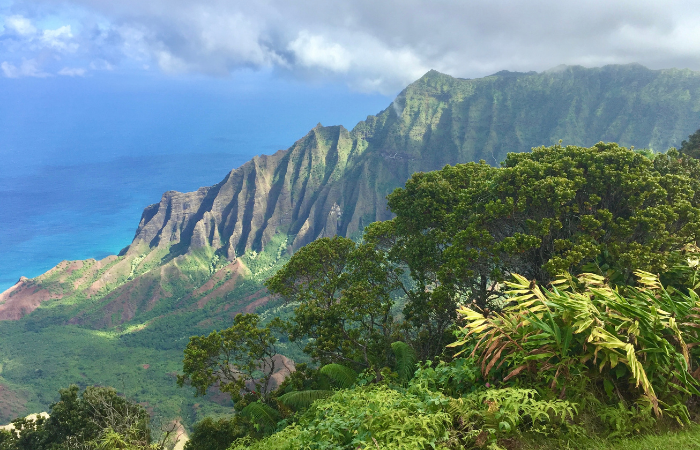 If you're looking for food in Waimea after, Puka Dogs is supposed to be crazy good (I don't eat hotdogs) and Jo Jo's is always thrown up as one of the best shave ice spots on the island.
When you're done in Waimea, head on back towards Poipu. Depending on how you are on time, here are some of my favorite things to do in the area: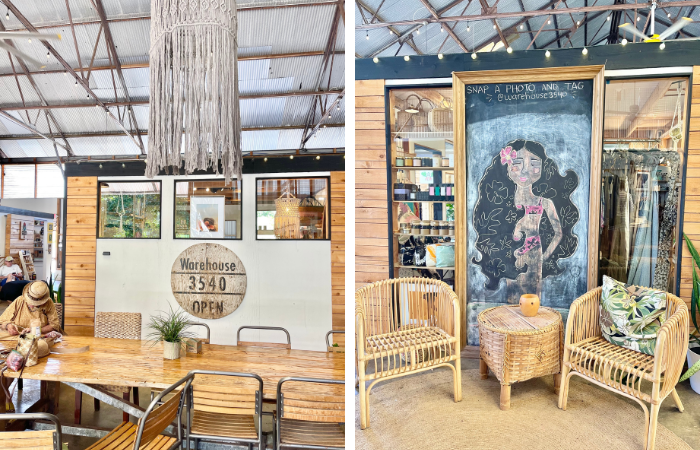 Warehouse 3540: If you like to shop and support local, this is a great one shop stop for shopping and food trucks.They're open 10AM-4PM, Monday through Saturday, although most of the food trucks aren't open on Mondays.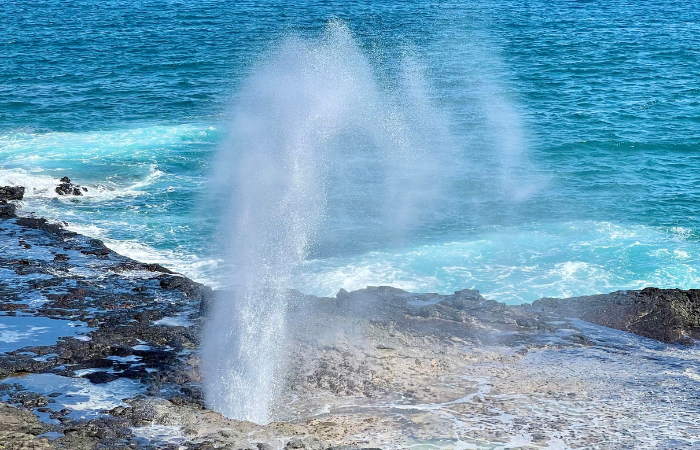 Spouting Horn: I think this is the best blowhole in Hawaii. It's so much more accessible than most…you can drive right up, park, and see it from the railing…and it's not usually super crowded.
Historic Koloa Town: You can easily spend an hour or two walking around and shopping in this old plantation town (there's a historical center) and of course shaved ice, ice cream, and a coffee shop. Also don't miss the famous tree tunnel near Koloa! You'll drive through it coming from Lihue on your way to Poipu.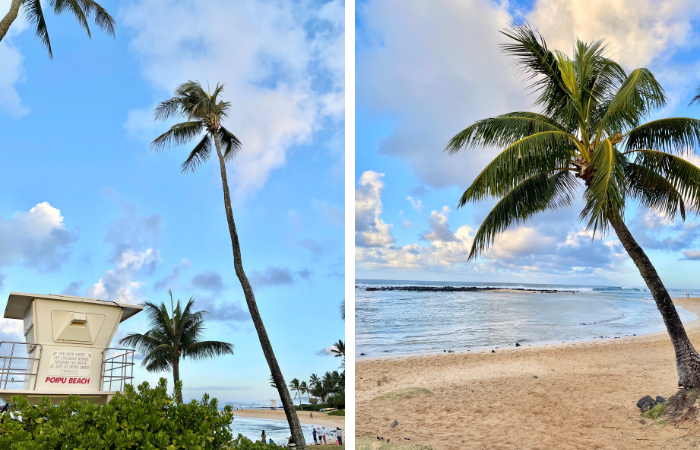 Poipu Beach: This is one of the most popular beaches on Kauai. It's almost always warm and sunny, there's good snorkeling, and it's not unusual to see Hawaiian monk seals and turtles sunning themselves in the sand. You can rent chairs, umbrellas, and snorkels at a shop across the street. There are good facilities here (showers, restrooms, lifeguards, picnic tables, etc.).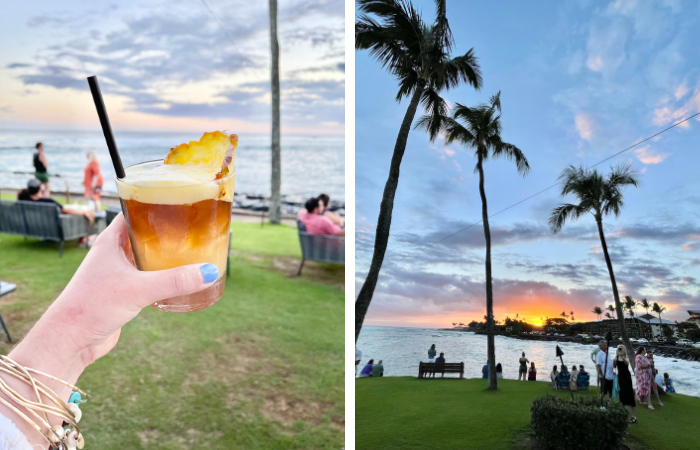 Sunset Dinner at the Beach House: My favorite dinner spot on Kauai also just so happens to one of the best places to watch sunset (the most fun places at least ; ) Make reservations at the Beach House about an hour before sunset well in advance because it gets BUSY. Don't miss the Monkeypod mai tais, lobster deviled eggs, pork dumplings, and macnut crusted mahi mahi.
Read more about everything to do in Poipu plus my favorite restaurants in Poipu (including a full review of the Beach House).
On Another Note: If you're looking for a condo or vacation rental for your trip, I always book with Vrbo. They've got the largest selection of rentals you'll find anywhere and you can easily filter to find exactly what you're looking for. Need a specific number of bedrooms and bathrooms? Narrowed it down to a certain location? Want flexible cancellation terms? Need to stay under a fixed budget? Click here to search for Kauai vacation rentals for your trip.
Day 4: Hike the Kalalau Trail
I saved the biggest adventure for last. You've got to do at least one hike on Kauai (it's arguably the best Hawaiian island for hiking) and this is the one to do.
The entire hike is 22 miles round trip (and requires an overnight camping permit), but the first two miles (four miles round trip) is amazing and an absolute must.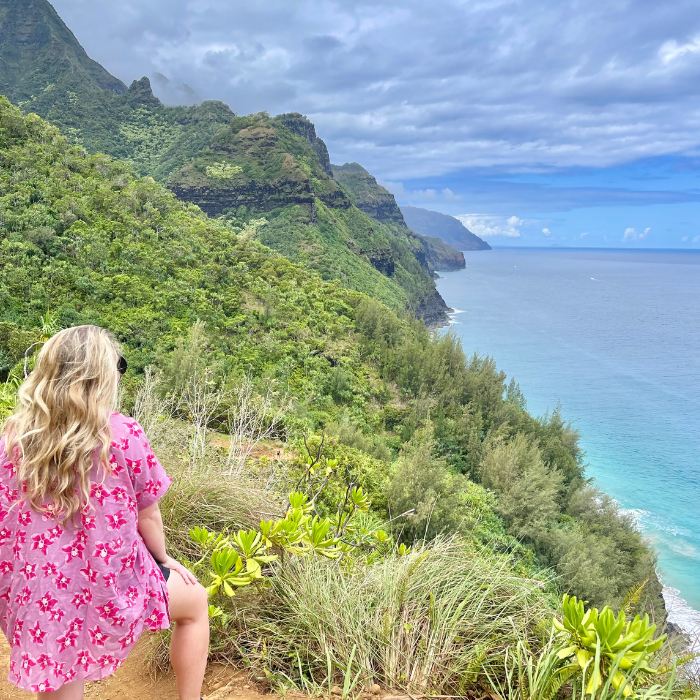 Plan at least 3 hours for this hike if you're fit and hiking pretty much non stop (longer if you're going to stop and spend much time at the beach at the halfway turnaround point).
The trail head is located at Ke'e beach in Ha'ena State Park, which is as far as you can go on the north shore (heading west). It's about 30 minutes past Hanalei.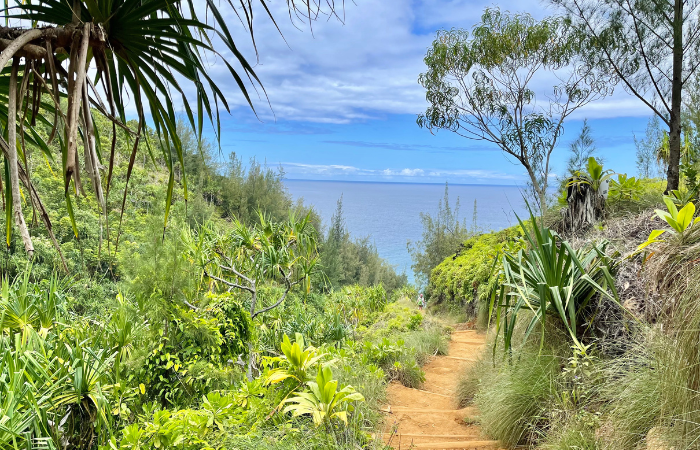 If you're up for a longer hike, once you reach Hanakapiai beach (the point where you have to turn around), hike two miles up through a bamboo forest to reach Hanakapiai falls. This will double your hike time and distance (5-6 hours and 8 miles). Also, do NOT get in the water at Hanakapiai beach! It's pretty dangerous and many deaths have occurred there. Just admire from a distance.
Read more about hiking the Kalalau Trail here.
But here's what you absolutely HAVE to know…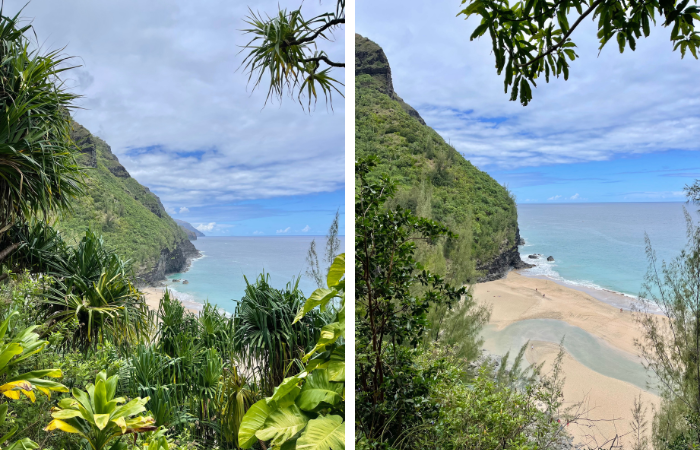 *In an effort to control crowds at Haena State Park (Ke'e Beach and the Kalalau Trailhead) parking reservations are now required. You can make them online 30 days in advance, or you can pay for a reservation on the shuttle leaving from Princeville. Reservations sell out VERY quickly and the shuttle is quite a bit more expensive so you have to really be on it if you want to make this happen.
Ke'e Beach (at the bottom of the Kalalau Trailhead) is the perfect place for a swim, some snorkeling, and picnic lunch whether or not you hike the Kalalau (but you'll still need parking reservations to come here). I suggest grabbing a lunch to go at Hanalei Gourmet and throwing it in a cooler for after (or during) your hike. Ke'e is very protected and one of the few good swimming spots on the north shore. It's also an excellent snorkeling spot for beginners. It's practically a swimming pool.
If you get an early start on this hike, you could have the whole afternoon open to revisit your favorite spots on the north shore or hang around your resort pool or beach.
If you'd like to squeeze in a farewell luau, I really like the Smith Family Luau, but I've also been wanting to try the Kilohana Plantation Luau.
Want to read more? Don't miss some of my most popular (and favorite) posts about Kauai: my personal Kauai favorites, a breakdown of where to stay on Kauai comparing Princeville vs Poipu, my favorite restaurants in Poipu, the best places to watch sunset on Kauai, 5 day Kauai itinerary, my review of the Grand Hyatt Kauai, everything you need to know about Napali Coast boat tours leaving from Port Allen (south side) and Hanalei (north shore), my best Kauai travel tips, all about hiking the Kalalau trail (Kauai's best hike), Maui vs Kauai, the best things to do on Kauai and more specifically in Hanalei and Poipu, whether you should see the Napali Coast via boat or helicopter, my best (and specific) condo recommendations on Kauai, everything you need to know about Kauai helicopter tours, Kauai's best north shore beaches, where to play tennis on Kauai, how many days you should spend on Kauai (plus other FAQs), the best spas on Kauai, and my review of the Smith Family Luau.
P.S. Thanks for sticking around and reading this whole post! If you have ANY questions about planning your trip to Hawaii, you can join my free Facebook group here. I'm there answering questions every day and there are 7500+ other friends who have a ton of Hawaii information to share!
Also, if you want to follow along on my travel adventures in real time, you can follow me on Instagram (@caitylincoln). My post captions are full of travel tips and I have a ton of story highlights and videos with great info. And please share my account with your friends that are headed to Hawaii! Your support really helps me keep this blog running!