The Kalalau Trail: The Best Hike on Kauai, Hands Down
If there's a holy grail of all hikes in Hawaii, it's got to be the Kalalau Trail on Kauai. This 11-mile trek takes hikers into the heart of the Napali Coast, which is typically only seen by boat or by helicopter.
But don't freak out about that 11 miles! It's an in and out trail (meaning as far as you hike down the coast, you have to turn around and hike back) but there are a lot of options for turning around points besides hiking the entire trail.
I'll also level with you…I am so not a hiker. I'm an active person, but my idea of fun is not hiking. There has to be a BIG payoff for me to hike, even in Kauai. So I am not out here just hiking every possible trail there is on Kauai for fun. But this one is SPECIAL.
So if you've only got time in your schedule for one hike, or you're not super active but willing to make one big "push" then the Kalalau Trail is the one it needs to be. It's the best hike on Kauai, which pretty much makes it the best hike in Hawaii, but makes it arguably one of the best hikes in the world ; )
Okay, the details…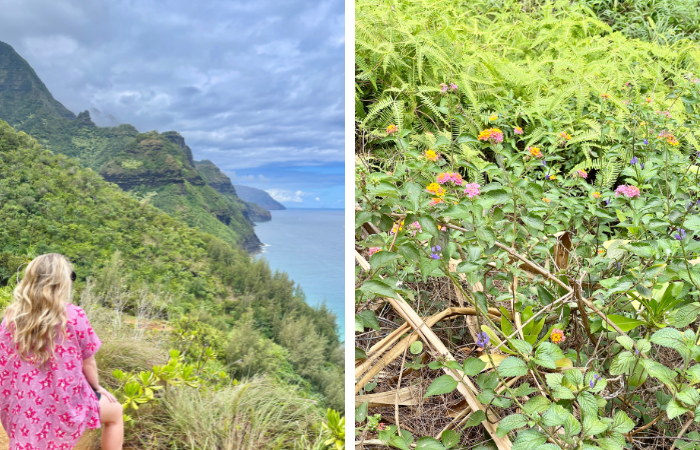 Hiking the Kalalau Trail: The Best Hike on Kauai
The trail starts at Ke'e Beach, which is as far as the road goes past Hanalei. From Hanalei, it's still about 30 minutes west. From Poipu, it's about an hour and 45 minute drive (with no traffic).
The full Kalalau Trail stretches 11 miles along the Napali Coast from Ke'e Beach to Kalalau Beach. To go all the way to Kalalau, you'll need a permit to camp overnight in the valley since it's impossible to do the full hike on a day trip (22 miles round trip). If you're up for doing the full hike and camp, plan it way far in advance as permits are hard to come by.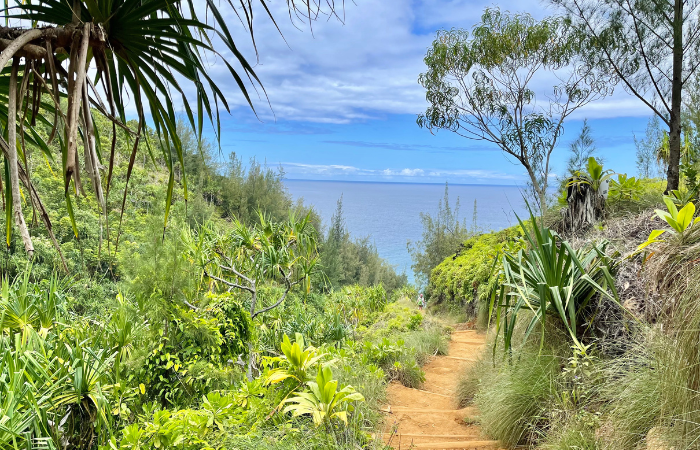 If you didn't come quite so prepared for a 22-mile hike and the thought of it makes you want to reach for the nearest bag of donuts, don't worry-you can still catch those ah-mazing views!
The first two miles of the Kalalau Trail are open to day hikers. Don't be scared off by harrowing tales of overnight hikers who had to cross 18" ledges with a sheer drop off into the ocean below…the first two miles of Kalalau, while strenuous, are very doable.
Most day hikers will hike to Hanakapiai Beach (2 miles in) but don't forget you've got to turn around and go back the way you came so it's really 4 miles.
If that's not doable, you'll come to the first lookout down the Napali Coast about half a mile into the hike making for a challenging, but very doable one mile hike.
Unless you have a physical limitation (knee problems, etc.), I strongly strongly strongly recommend powering through and doing the four mile round trip hike to Hanakapiai Beach and back.
I've hiked this stretch a few times now and I won't lie…time always fades the pain for me haha. After a few days I'm usually left remembering the epic views and adventure of it all and minimizing how hard it actually was.
Well this last time I hiked it, I vowed I would remember exactly what it felt like when I was on the hike. I'm not going to lie…it's TOUGH. But a doable tough.
There is a lot of elevation gain coming both ways and the trail is mostly rocky and uneven.
But you will pass ALL KINDS of people doing this hike. Locals who sprint through it barefoot, pro hikers with all the gear, parents trying to keep up with their kids, and older folks who are determined and willing to go slow to take part. I've personally hiked it with multiple "active seniors" who powered through just fine (although maybe they didn't feel like it at the time ; )
Right before you reach Hanakapiai Beach, there's a pretty big stream you'll have to cross. It always makes me nervous hopping across slippery rocks, so I like to wear shoes where I can just wade through the water.
Plan some time to sit and take a rest at the beach, but admire the water from a distance. This is NOT a swimming beach and almost 100 people have lost their lives here. The waves are rough, the currents are strong, and a rogue wave can come out of nowhere so stay away from the water!! Even when it looks calm.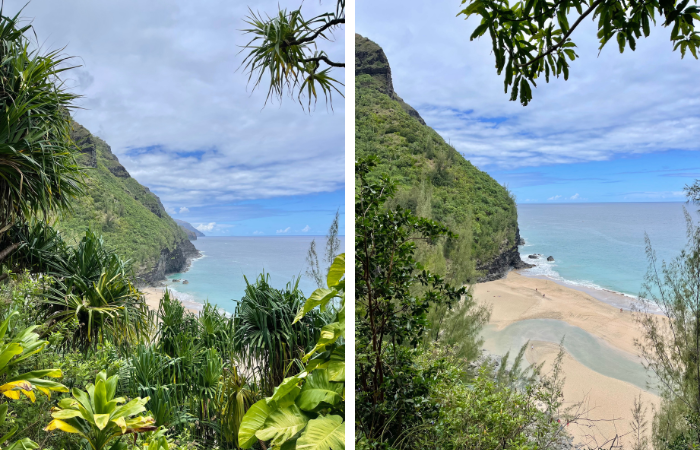 From the beach it's about a mile up the valley to Hanakapiai Falls (this is an offshoot of the Kalalau Trail, not a continuation). I've read that the trail can be tricky to stick to and is pretty strenuous. I haven't done that bit yet, and honestly I don't know if I ever will. But if you want to extend the hike to 6 miles to see the waterfall, more power to you!
The first ½ mile or so of the return was probably the toughest for me. It's a pretty quick ascent back up from the beach and I was huffing and puffing! It's hotter in the day and psychologically, it's just less exciting when you know you're just retracing your steps.
Side Note: If you're looking for a rental car for your trip, I LOVE Discount Hawaii Car Rentals. They're seriously the only company I ever use. They'll give you the very best prices, you don't have to reserve with a credit card or pay until you show up, you can cancel and re-book anytime if you find a better rate, and they usually have a special that adds additional drivers for no fee. It's a no brainer. Click here to check rates for your trip.
Things to Know Before You Hike the Kalalau
YOU HAVE TO HAVE RESERVATIONS FOR PARKING AND HIKING. This is new. In an effort to control crowds at Haena State Park (Ke'e Beach and the Kalalau Trailhead) after the historic flooding of April 2018, parking reservations are now required. You can make them online 30 days in advance at midnight Hawaiian Standard Time. And they usually sell out in less than a minute.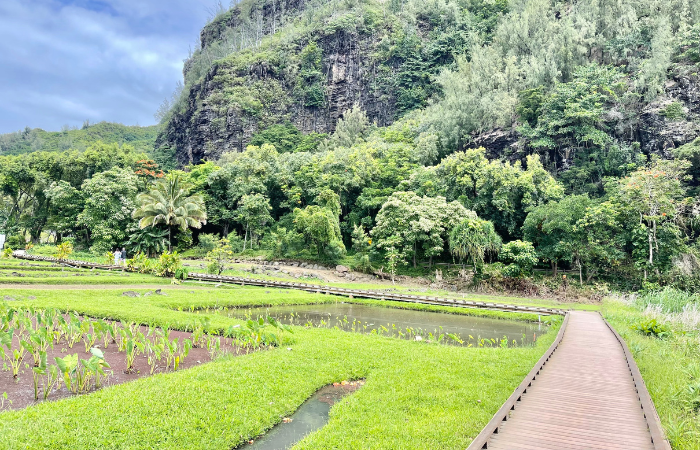 There are three different time slots (7AM-12PM, 12PM-4PM, 4PM-7PM). You can reserve multiple time slots if you want to stay all day or you think you'll get there later (if you're driving from Poipu). For four adults, it cost $40 for all of us to reserve the first two slots of the day. And we ended up needing them. We got started about 10AM and wrapped up about 1:30PM.
If parking reservations sell out, there is a shuttle options, although I'm going to level with you…it's not ideal. During busy seasons, the shuttle still sells out in advance (as I'm writing this it's booked out a solid two weeks with only limited times available) and it's $35/person. It leaves from Hanalei about every 30 minutes. Here's more info on the shuttle.
It's better than not being able to go at all, but I highly recommend being on top of the drop times for the parking permits and snagging one of those. Also, you'll need to register every person in your party and they do check your IDs when you arrive.
There are facilities at Ke'e Beach where you can use the restroom and fill up on water before you start. There's an info station at the trailhead and an attendant making sure hikers have permits.
Take plenty of water with you! I usually drink two bottles of water on the hike and then fillup in the parking lot headed back to the car.
On Another Note: If you're looking for a condo or vacation rental for your trip, I always book with Vrbo. They've got the largest selection of rentals you'll find anywhere and you can easily filter to find exactly what you're looking for. Need a specific number of bedrooms and bathrooms? Narrowed it down to a certain location? Want flexible cancellation terms? Need to stay under a fixed budget? Click here to search for Kauai vacation rentals for your trip.
This 4-mile hike takes most people 3-4 hours to complete so plan accordingly.
Parts of the trail can get pretty muddy and slippery (plus there's the stream crossing at the end) so I like to wear Tevas or Keens that strap onto your feet but can easily be washed off. But if you're a fast hiker, or need extra stability then wearing actual athletic/hiking shoes can be an advantage. The last time I hiked this, we went a lot faster on the final descent then I usually do and my ankles were pretty sore.
The first viewing point of the Napali Coast you come to (half a mile in) is always pretty crowded with people. It's a great spot, but there are many more spots where the view opens up later in the trail for photos.
Want to read more? Don't miss some of my most popular (and favorite) posts about Kauai: my personal Kauai favorites, a breakdown of where to stay on Kauai comparing Princeville vs Poipu, my favorite restaurants in Poipu, the best places to watch sunset on Kauai, 5 day Kauai itinerary, my review of the Grand Hyatt Kauai, everything you need to know about Napali Coast boat tours leaving from Port Allen (south side) and Hanalei (north shore), my best Kauai travel tips, all about hiking the Kalalau trail (Kauai's best hike), Maui vs Kauai, the best things to do on Kauai and more specifically in Hanalei and Poipu, whether you should see the Napali Coast via boat or helicopter, my best (and specific) condo recommendations on Kauai, everything you need to know about Kauai helicopter tours, Kauai's best north shore beaches, where to play tennis on Kauai, how many days you should spend on Kauai (plus other FAQs), the best spas on Kauai, and my review of the Smith Family Luau.
Save
Save
Save
Save
Save
Save
P.S. Thanks for sticking around and reading this whole post! If you have ANY questions about planning your trip to Hawaii, you can join my free Facebook group here. I'm there answering questions every day and there are 7500+ other friends who have a ton of Hawaii information to share!
Also, if you want to follow along on my travel adventures in real time, you can follow me on Instagram (@caitylincoln). My post captions are full of travel tips and I have a ton of story highlights and videos with great info. And please share my account with your friends that are headed to Hawaii! Your support really helps me keep this blog running!