So you've got your airfare booked, hotel picked out, and rental car reserved. You're all ready right? Not so fast. While it has glorious beaches, most people don't go to Kauai just to lie on the beach and work on their tan. I mean, it's too far and too expensive to just laze around the whole time. You want to get out there and experience the best things to do in Kauai.
So that means you'll want to plan out some sort of daily itinerary so you'll be able to see everything you want to see. Surprisingly, many people find this to be the trickiest part of planning their vacation. How much can you do in a day? What are the "don't miss" spots and what's overrated? Do you need to do organized tours or can you see everything on your own?
In this post, I'm going to break down everything you need to know so you can plan the perfect Kauai itinerary (plus show you some of my favorite ways to spend a day on Kauai).
Island Breakdown
First up, you need to know a little bit about how Kauai is laid out. Kauai isn't a very big island (it's the smallest of the four main islands), but there's pretty much only one road that runs around the island so it feels pretty broken up. It's divided into four areas:
North shore:
The north shore is the most epic part of Kauai. It's lush and filled with jagged green peaks. You'll find countless waterfalls and some of the island's best hiking and beaches. It also rains a lot.
South shore: The south shore is dry and sunny and full of glorious beaches. The south has a nicely developed resort area (Po'ipu) and many people are drawn here because of the sunshine.
East side: The east side (also called the "Coconut Coast") is a great home base for exploring Kauai. You'll find easily accessible beaches, plenty of waterfalls and a lot of hiking trails.
West side: Kauai's west side is pretty dry and desolate but home to Waimea Canyon and a lot of amazing trails.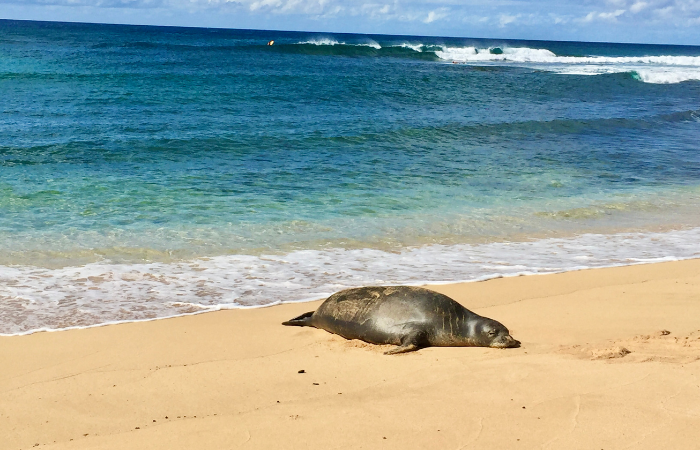 RELATED: Not very familiar with Kauai? Read up on the lay of the is(land) and where to stay plus my favorite condos, luxury resorts, and boutique hotels.
Before I get into what I would suggest for a Kauai itinerary, I'll address a few common questions I get:
Kauai FAQs
How many days on Kauai? I rarely ever suggest spending less than one full week on any one Hawaiian island and Kauai is no exception. If you're wanting to explore the island and still feel like you've had a relaxing vacation, you'll want at least 6 full days. And of course, more is always better ; )
Stay in one place or move around the island? Kauai isn't a very big island, but there's really only one road around and if you're traveling from the south side to the north shore, it can take a while. So a lot of people wonder if it's smarter to stay in two different places to save time driving around. Generally, I don't think it is. I don't think saving 30 minutes in the car is worth the time it takes to pack up and switch places to stay. But here's when I do recommend splitting your stay: if you want to stay at a nice beach resort for a little R&R, but it's not in the budget to spend your entire vacation there. Spend the first part of your vacation staying in a centrally located condo (or cheaper accommodation) and doing the bulk of your exploring and activities and then spend the last few days of your vacation at a luxe beach resort. It's a good way to save money and also not feel guilty about spending $$$ on a resort while you're out exploring the island.
What about visiting multiple islands in one trip? Go for it! I still recommend at least one week per island, but there are some exceptions. If there's something you REALLY want to see or do (i.e. Pearl Harbor, the volcano, etc) you could justify spending only a couple days on that island in addition to another island, but usually when people try to spend 3-4 days per island and hop around a lot they end up seeing more of the airports or just the super touristy parts of each island.
South Shore vs North Shore? I've done a deep dive into that question here, but they're very different. The north shore is lush, green, and a little more "local" feeling. But there aren't as many resorts and hotels and it rains a LOT (especially in the winter). The south side is a lot more tourist friendly (more resorts, swimmable beaches, sunshine, etc.) but isn't quite as pretty. Most people stay on the south side and make day trips up to the north shore when the weather looks good.
Side Note: If you're looking for a rental car for your trip, I LOVE Discount Hawaii Car Rentals. They're seriously the only company I ever use. They'll give you the very best prices, you don't have to reserve with a credit card or pay until you show up, you can cancel and re-book anytime if you find a better rate, and they usually have a special that adds additional drivers for no fee. It's a no brainer. Click here to check rates for your trip.
What are the "must dos" on Kauai?
I could give you a list of 100 things you absolutely don't want to miss on Kauai (and believe me I have on this blog), but I'm going to keep it short and sweet here. You can go to ANY Hawaiian island and find beautiful beaches and fun adventures like snorkeling, surfing, paddleboarding, horseback riding, tennis, golf, zipling, etc. There are a lot of things that while 100% amazing (and worth your time and money), but you'll find some version of it on every island. So here I'm going to lay out some things that are unique to Kauai. This should help you out whether you're spending 7+ days on Kauai or you've only got 3-4 days.
Napali Coast Boat Tour: During the summer months (April to October), you HAVE to take a Napali Coast boat tour that leaves out of Hanalei. This is classic Hawaii…the Hawaii you see in movies, and it's not to be missed. This coastline full of soaring green, jagged cliffs lined with white sand beaches is a sight that many choose to see on a helicopter tour but it's best explored by ocean raft where you can zip in and out of sea caves and feel the ocean spray on your face. Read more about Napali Coast boat tours here.
Hiking Kalalau Trail: This famed trail along the Napali Coast is 22 miles round trip and requires a permit, but the first two miles (four round trip) are open to day hikers. The trailhead is at Ke'e beach at the end of the road on the north shore (reservations for parking and entry are required). Even if you're not an avid hiker, you really need to try this one. Read more about hiking the Kalalau Trail here.
Helicopter Tour: This is my #1 don't miss thing on Kauai. It's expensive, but there are parts of Kauai that you won't be able to see any other way. Skip helicopter tours on Maui and Oahu but don't miss it here! Read more about helicopter tours on Kauai here.
Waimea Canyon: Second only to the Napali Coast, the Waimea Canyon is Kauai's biggest attraction. Called the "Grand Canyon of the Pacific," it's pretty stunning. There are a handful of overlooks each offering a different perspective of the canyon. Don't miss the Kalalau overlook. This is a great glimpse of the Napali Coast.
How to Plan the Best Kauai Itinerary
So let's talk about planning YOUR perfect itinerary…
Know your vacation style. How you like to vacation will have a huge impact on how you plan your trip and how much you'll be able to see and do. So what exactly is a "vacation style?" Well, simply put, it's how you like to spend your vacation!
Are you the type that's up with the sun and out about adventuring all day only to return to your room to shower and sleep? Are you the type who enjoys spending the majority of your time hanging out at your beach resort? Or do you like a bit of both?
Everyone has a different idea of vacation so the first thing you'll have to do is decide which suits you best. Are you always on the go, do you spend most of your time beach bumming, or do you do a combo of both? Part of your decision will be based on your personality and likely part will be based on where you're staying.
For me personally, when I'm staying in a condo or budget hotel, I'm more likely to be out and about everyday, but when I'm staying at a nice beach resort, I'm more inclined to spend time lounging by the pool or on the beach. If you're the type who's always on the go, you'll be able to see a lot of the island. If you want beach time too, I recommend renting beach gear (chairs, umbrella, snorkels, cooler, etc.) for the length of your stay and throwing them in the car so you'll have them wherever you end up. If you're staying at a nice beach resort, I would suggest planning a different activity each morning and spending each afternoon at the resort. You may need to set aside an entire day for certain adventures like going up to the north shore to hike the Kalalau Trail or do a boat tour down the Napali Coast. Or you may decide to split your trip up like I mentioned earlier and do the bulk of your exploring while you're staying in a condo or vacation rental and then move to a nice beach resort when you're ready to just relax.
RELATED: 15 Things to Do on Kauai
Come up with a game plan, but don't overplan! If I could only give you one piece of advice about planning your trip to Hawaii, this would be it. I know…it costs a lot of money to get to Hawaii (and it's so far away). For a lot of people, it's a once in a lifetime trip and of course you want to see absolutely EVERYTHING. But trying to cram it all into one trip will likely leave you feeling like you spent your whole trip in the car (or in airports) and now need a rest from your vacation upon returning home.
Here's how I always lay out my trips:
As I'm researching my destination (yes, I do a LOT of research), I keep a running list of things I want to do, places I want to visit, restaurants I want to eat at, shops I want to go to, etc. From my main list, I break it down into three categories:
A "don't miss" list: This could be anything from seeing the Waimea Canyon to doing a helicopter tour. These are the things that you ABSOLUTELY have to see/do or you'll return home heartbroken. Okay, that's a little dramatic, but you get my point.
A "nice to see" list: These are things that you really want to see and experience, but they might be a little more minor. For example, seeing the Spouting Horn blowhole or snorkeling at Tunnels. These are just examples, obviously, what might be a "nice to see" for somebody may be a "don't miss" for you.
An "if there's time" list: I think you can guess what this list is for. Things that you'd like to see or do if there's time, but won't be upset about if you miss.
As you lay out each day, plan ONE thing from your "don't miss" list each day. Combine it with one or two things from your "nice to see" list, and a smattering of things from your "if there's time" list. Prioritize your "don't miss" item every day (whether it's doing it first thing or making sure you have a reservation for it) and fill in the rest of the day with things from the other categories.
Get familiar with Google Maps. Once you have your lists of activities and things to do, the best way to sort them into days is by their location on the island. My favorite way to start sorting activities and sites into days is by using a Google Maps. Plot all of your locations on a Google Map and then you'll be able to see which ones are near each other and start planning your days that way. Of course, this can also be done on a paper map, but on a Google Map, you can create layers for different days or different types of activities and sites and organize things that way.
While generally speaking, focusing your day on only one part of the island is the most efficient strategy, there are some times when this doesn't make sense. The major scenario where this doesn't work is when you're staying at a nice beach resort that you want to spend a lot of time at. In this case, I would plan a morning's worth of activities on one part of the island, return to your resort for an afternoon of playing on the beach or at the pool, and then don't be afraid to venture back out somewhere for dinner.
Be flexible. I think this tip is the secret to making a good vacation great! It's so simple, yet key to really having the best experience in Hawaii. I think that a good plan is essential, but you have to know when it's time to go to plan B. Or do something else entirely.
The major thing you'll have to be flexible about on Kauai is the weather. While the temperature is always pretty balmy, a good rainstorm can change your plans pretty quick! A word of warning: it's not unusual for a 10-14 day forecast to predict rain everyday in Hawaii so don't panic and think your trip is going to be a total wash! It'll likely just be quick storms that roll in and roll out. But for days where the local forecast truly is predicting rain, you might have to mix things up! One good thing about the Hawaiian Islands is that they're pretty large so except in the case of a major storm system, the weather will likely be different on different sides of the island. Check the weather forecast the night before (or morning of) and you may decide to rearrange your days based on the weather. Obviously this may not work if you have activities or tours booked, but otherwise, don't be afraid to swap out days in your itinerary to go chasing the sunshine!
The Best Kauai Itinerary
Okay, let's get to some recommendations…instead of putting together an entire 6+ day itinerary, I'm going to lay out a bunch of different daily itineraries so you can pick and choose what interests you and put together your own weekly itinerary (or however many days you have to spend). These days aren't listed in any particular order and you could probably even combine some of them if you're short on days. However I do suggest planning any tours/excursions (boat tours, luaus, helicopter tours, etc) that could be impacted by weather early or in the middle of your trip so you have plenty of time if you need to reschedule.
Arrival Day
Most flights from the US mainland arrive midday which is great because you'll have plenty of time to get situated and have a good dinner, but I wouldn't make any big plans (air travel is so unreliable these days!).
If you're planning to stop for groceries or supplies, Costco (Target coming soon!) and grocery stores are right near the airport. Kauai isn't a very big island so it won't take you very long to get where you're staying once you leave Lihue.
Plan to check in, get settled, and spend whatever time is left in the day at the pool or beach near where you're staying. For a nice welcome dinner, I LOVE Lava Lava Beach Club. Otherwise, check out this post for places to eat on Kauai.
Day 1: Napali Coast
Seeing the Napali Coast is probably the #1 highlight of any trip to Kauai and you're going to see it in style today!
Have an early breakfast near where you're staying or in Hanalei. If you're staying on the north shore, this is your "hood." From the east side, allow 45 minutes to get to Hanalei, and from the south side allow up to 1 ½ hours.
Book a raft tour leaving out of Hanalei (instead of a catamaran tour leaving out of Port Allen in the south). The smaller ocean rafts are able to zip in and out of sea caves, plus departing from Hanalei gets you to the Napali Coast WAY quicker than leaving from the south. FYI…boats only leave out of Hanalei in the summer (April to October), otherwise Port Allen is your only choice. There are several tour companies that run tours out of Hanalei. They usually leave in the morning and include lunch. I've personally sailed with Holoholo and they're great.
Hang out in Hanalei town. After your boat tour is the perfect time to stroll around town checking out the shops. If you want an amazing acai bowl (local favorite!) stop by Aloha Juice Bar. Don't forget to walk down to the beach and out onto the Hanalei Pier. It's one of the prettiest backdrops in Kauai and a great place to take photos.
Find Hideaways beach. One of the north shore's best beaches is pretty hidden (hence the name) and requires quite an adventure to find. It's in Princeville (make the turn into the resort area where you see the sign for the St. Regis off the main road). You'll go about two miles through Princeville and then turn right into a tiny little parking lot just before you reach the St. Regis' guard shack. Just outside the parking lot, you'll see a small pathway between the two fences. You'll need good shoes to do this little trail (not flip flops!). There's a pretty sketchy staircase you have to navigate before you get to the series of rope handles that will lead you to the hidden beach. Don't miss this one!
Explore the north shore. Depending on how long you stay in Hanalei and at Hideaways, your day may be close to over. If you still have daylight, go back and explore anything on the north shore that caught your eye. There are some great overlooks (the one overlooking the Hanalei Valley is amazing), and you may want to check out Lumahai Beach (from the musical South Pacific).
Have dinner in Hanalei or back near wherever you're staying.
Read my full post about booking a Napali Coast boat tour here.
Day 2: South Side
Find Maha'ulepu beach. This is my favorite "adventure" beach in south Kauai, meaning getting here is half the fun. It's a hidden little spot and it takes a little trek to get to so it's likely you'll have it all to itself. To access Maha'ulepu, go down Poipu road past the Hyatt (the road will turn to dirt) and park at a little pullout right before you get to the stables. Take the dirt road to the left and it's a short hike down to the beach. There's also a trail to Makauwahi Cave. Many days it's open for tours, but if it isn't you can still view it from above (it's an open roofed cave).
When you're done at Maha'ulepu beach, check out Spouting Horn. This blowhole located just past Po'ipu beach is a popular spot with the tour buses so it's good to see it earlier in the day (plus it gets hot in the afternoon!). There's a great lookout and plenty of vendors set up shop too.
Explore historic Koloa town. Depending on where you're staying, this may be backtracking a little but midmorning is a better time to visit Koloa as more of the shops will be open. You can easily spend an hour or two walking around the town (there's a historical center) and of course shaved ice, ice cream, and a coffee shop. You likely drove through when you came to the south side, but don't miss the famous tree tunnel near Koloa!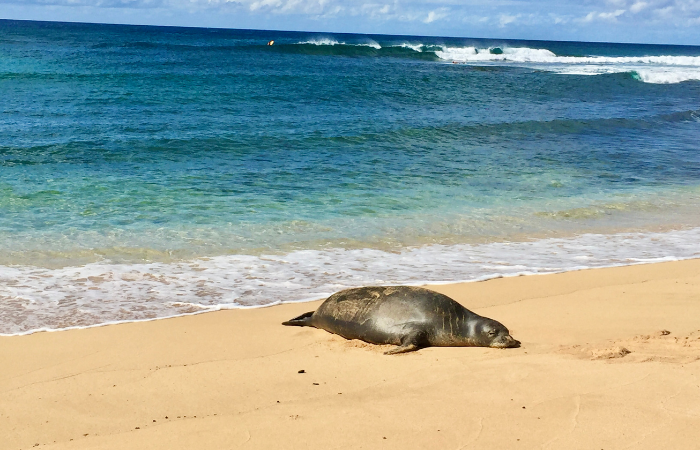 Spend some time at Po'ipu beach. This is one of my favorite beaches on Kauai. It's almost always warm and sunny, there's good snorkeling, and I pretty much always see Hawaiian Monk Seals when I'm there. If you don't already have beach gear, you can rent chairs, umbrellas, and snorkels at a shop across the street. There are good facilities here (showers, restrooms, lifeguards, picnic tables, etc.).
Have a sunset dinner. My favorite spot is the Beach House. Be sure to make reservations.
Day 3: Waimea Canyon + the West Side
Get ready to see canyons and cowboy towns on the west side of Kauai! If you're staying on the north shore, getting to the west side will be a big day trip (plan on 2 hours to reach the canyon), but it's much closer to the south side.
Have breakfast at Kalaheo Café. You'll drive through this little town on the way out to Waimea and it's the perfect place to stop for breakfast. Fuel up because there isn't much once you get to the canyon.
See Waimea Canyon. There are at least four overlooks at the top of the canyon and you need to see all of them. Each one offers a different vantage point, and one even has a lookout over Kalalau and the Napali Coast.
Take a hike. Waimea State Park and Koke'e State Park both have some excellent hiking trails. If you want a moderate hike, try the Canyon Trail. At 3.4 miles round trip, it's the most popular hike in the area and will give you a great view of Waipoo Falls. It takes about 2.5 hours to complete. Park at the Puu Hinahina Lookout (around mile marker 13.5) and pick up the trailhead there. For a more challenging hike, try the Awaawapuhi Trail, which has spectacular cliff and ocean views. It's 6.2 miles round trip (3 hours) and the trail head can be found near mile marker 17.
Have lunch in Waimea. After all that hiking, you'll have worked up an appetite. Stop in Waimea and chow down at Puka Dogs (killer hotdogs), Island Taco, or Shrimp Station. All are very low key and perfectly acceptable for "post hike attire." Jo Jo's is also a favorite shaved ice spot.
Stop in Hanapepe town. On your way back east, stop in historic Hanapepe town for a bit of shopping. This is the town that inspired Disney's Lilo and Stitch. There's a wooden swinging bridge across the river that's pretty neat.
From Waimea, it's about another half hour out to Polihale Beach. It's an isolated beach on Kauai's west side just south of the Napali Coast. It's the longest beach in Kauai (17 miles of white sand) and it's perfect for long walks, beach combing, and watching the sunset. There are restrooms and showers, but other than that you'll need to bring everything with you. It gets HOT and there's very little shade so bring an umbrella with you and plenty of water. I'd stop at a store in Waimea and fill up a cooler with drinks and snacks (and maybe even dinner if you're planning to stay for sunset).
Day 4: Beach Day & Helicopter Tour
Beach bumming is what you came to Kauai for right? Take this day to relax and soak up some rays.
Have breakfast near where you're staying and head to the beach! If you're staying at a resort or hotel, take advantage of the amenities where you're staying. If you're staying in a vacation rental, I suggest renting chairs and an umbrella to make your beach time more comfortable. On the south side, Po'ipu beach is amazing. On the east side, you'll love Lydgate. On the north shore, Ha'ena State Park is a favorite.
Beaching makes you hungry! Pretty much wherever you are on the island, you'll be near a Bubba's Burgers (local chain). You've got to try it at least once.
Take a helicopter tour. I think a helicopter tour is the absolute #1 thing you CANNOT miss on Kauai. An afternoon tour will give you the best light on the Napali Coast (it's a little shadowy in the morning), and I suggest booking this early on in your trip in case bad weather means they'll need to reschedule. Most tours only last an hour so this won't take up much time from your day, but it will likely be the highlight of your trip! Read all about helicopter tours on Kauai here.
Have dinner at Lava Lava Beach Club at the Kauai Shores Hotel. Right on the beach, this restaurant features toes in the sand dining and plenty of couches and fire pits for hanging out. Come for drinks and live entertainment and stay for food. I recommend showing up before sunset so you can soak up some of the beauty.
Day 5: North Shore Adventure
*In an effort to control crowds at Haena State Park (Ke'e Beach and the Kalalau Trailhead) after the historic flooding of April 2018, parking reservations are now required. You can make them online in advance, or you can pay for a reservation on the shuttle leaving from Princeville ($11 roundtrip). Reservations can be made up to two weeks in advance (highly recommend as they book up quickly) but must be made at least a day before.
** The north shore of Kauai was still recovering from record breaking flooding in April 2018 when they got hammered again in March 2021 so check before you go to see what the road condition is because the situation can change quickly.
Hike the Kalalau trail. This is the best hike in Kauai! The entire hike is 22 miles round trip but that required a permit (and camping over night). But the first two miles (four miles round trip) is amazing and an absolute must. Plan 3 hours for this hike.
The trail head is located at Ke'e beach, which is as far as you can go on the north shore (heading west).
If you're up for a longer hike, once you reach Hanakapiai beach (the point where you have to turn around), hike two miles up through a bamboo forest to reach Hanakapiai falls. This will double your hike time and distance (5-6 hours and 8 miles). Also, do NOT get in the water at Hanakapiai beach! It's pretty dangerous and many deaths have occurred there. Just admire from a distance.
Read more about hiking the Kalalau Trail here.
Ke'e beach (where you parked) is the perfect place for a swim, some snorkeling, and picnic lunch. I suggest grabbing a lunch to go at Hanalei Gourmet when you're in town for breakfast (they open at 8) and throwing it in a cooler for after (or during) your hike. Ke'e is very protected and one of the few good swimming spots on the north shore. It's also an excellent snorkeling spot for beginners. It's practically a swimming pool.
Snorkel at Tunnels. Tunnels is probably the best snorkeling spot in Hawaii. Bring your own gear because there's nowhere to rent nearby (you can rent some in Hanalei if you don't have your own). This spot is pretty hidden, but it's a little ways down from Ha'ena State Park (another parking spot). There are two direct road/pathway entrances with minimal parking. There's no lot and there are plenty of "no parking" signs on the street. That's how you know you're near. If you're having trouble finding it, just find the Haena State Park entrance and then walk down the beach to the right.
If you've done much research about top things to do in Kauai, you've like heard of Queen's Bath. It's a sinkhole in the lava along the coast in the Princeville area that creates a natural swimming pool during calm days. Unfortunately, during high surf times (which can be unpredictable), it can be extremely dangerous. Numerous deaths have occurred here, however it doesn't stop people from attempting it. I can't recommend swimming in the pool under any conditions, BUT if you'd like to see it, the hike down to the pools is very pretty. In the Princeville resort area, there's a small parking lot on Punahele Road. If there's no parking available, you can pay to park at the golf course up the road. It's a short (but often muddy and slippery) hike down where you'll even pass a waterfall. I'd stay well away from the pools as even in calm weather, rogue waves can come out of nowhere. When I'm entering any area near the ocean, I like to hang back and watch the conditions for 15-20 minutes before deciding what a safe distance is. During high surf advisories, the trailhead will often be gated. Of course, many people will climb around the gates, but know that if you choose to do so you're officially breaking the law and may be subject to fines.
Have dinner in Hanalei. Have drinks at the Tahiti Nui…it's a Kauai institution. Order the mai tai. You're welcome. Make dinner reservations at Bar Acuda. It's tapas style and a big hit with the locals and tourists.
This is a BIG DAY. I've crammed a lot into this "adventure day" so you may want to split it into two days or tack on a thing or two to the Napali Coast day. Read my full guide to Kauai's north shore here.
Day 6: Waterfalls Galore
You can't go to Hawaii without seeing a waterfall. You'll see plenty of them today!
Have breakfast in Kapa'a at Art Café Hemingway. It's right on the water and is the perfect place to fuel up for your morning of chasing waterfalls.
Start off with Opaekaa Falls. From highway 56, turn up Kuamoo road (580) and you'll see the lookout (and parking lot) on the right hand side of the road.
Next head to Wailua Falls. These are the falls featured in the opening credits of Fantasy Island. It's very easy to find and just outside of Lihue. Driving north from Lihue (highway 56), turn left on Maalo road in Hanamaulu. About 3 miles down the road, it dead-ends in the parking lot and overlook.
Hike to Ho'opi'i Falls. You'll have to work to get to this waterfall, but that's what makes it so fun! It's just about 2 miles round trip. To get to the trailhead, turn left off highway 56 to Kawaihau road (between Kapa'a and Anahola) and then take a left on Kapahi road. This is a residential street so be respectful of speed limits and street signs. You'll probably see cars parked along the left side of the road as you near the end. There's an old public dirt road that looks more like a trail. This will take you back into the jungle where you'll follow the river downstream. You'll actually find two falls on this trail. The second one is more impressive.
Grab lunch near Kapa'a. Try Bubba's Burgers or Nom Kauai (Hawaiian and southern fusion) or Kikuchi's (a food truck that blends Hawaiian style with southern BBQ).
Head back to your resort or condo and hit the beach for the afternoon!
Day 7: Coconut Coast & Luau
Hike the Sleeping Giant. As an alternative hike (of if you just want to hike more instead of chilling on the beach), try Sleeping Giant on the east side. The trailhead to Sleeping Giant is located 8 miles north of Lihue on Haleilio Road. It's just under four miles round trip to the top where you'll have great views of the eastern part of the island (Kapa'a) as well as the interior (Wailua River and Mt Waialeale if it's visible). This hike can be super muddy if it has rained recently so plan accordingly. I usually hike in a pair of Keen's that I can rinse off.
Rent bikes by the ocean. You can rent bikes from Coconut Coasters and bike the 4-5 mile Oceanside bike path in Kapa'a.
Kayak the Wailua River to Secret Falls. There are tours for this, but I recommend just renting a kayak and doing it on your own. You can rent kayaks at the Kamokila Hawaiian Village and paddle to Secret Falls and also the Fern Grotto. Renting and launching here considerably shortens the trip than if you rent at the mouth of the river. Bring bug spray!
Smith Family Luau & the Fern Grotto. If you're hoping to see a luau on your trip, I highly recommend Smith's Family Luau in Wailua. They usually only run 3-4 nights a week so you'll have to plan accordingly. If you're interested in taking a boat tour up the river to the Fern Grotto, book the last cruise of the day (usually around 3:30). The marina is right next to the luau grounds and it dovetails nicely.
Save
Save
Save
Save
Save
Save
Save
Save