Things to Do in Hanalei, Kauai North Shore
The north shore of Kauai is probably the dreamiest place in the Hawaiian Islands. Lush and tropical, this is the stuff your Jurassic Park dreams are made of. It's less developed than the more tourist-centric south shore of Kauai and has more of a local feel giving many the impression of visiting the "real Hawaii." The only bad thing you can say about the north shore of Kauai is how much it rains. It rains. A lot. That's why it's so tropical and beautiful. But it can make it unpredictable. Generally it rains more in the winter so if you're visiting during the summer months you'll have the best chance for some sunny days. If you're staying on the south or east side of Kauai (more reliable sunshine year round) and looking to do a day trip to the north shore, keep an eye on the forecast and be flexible with your plans.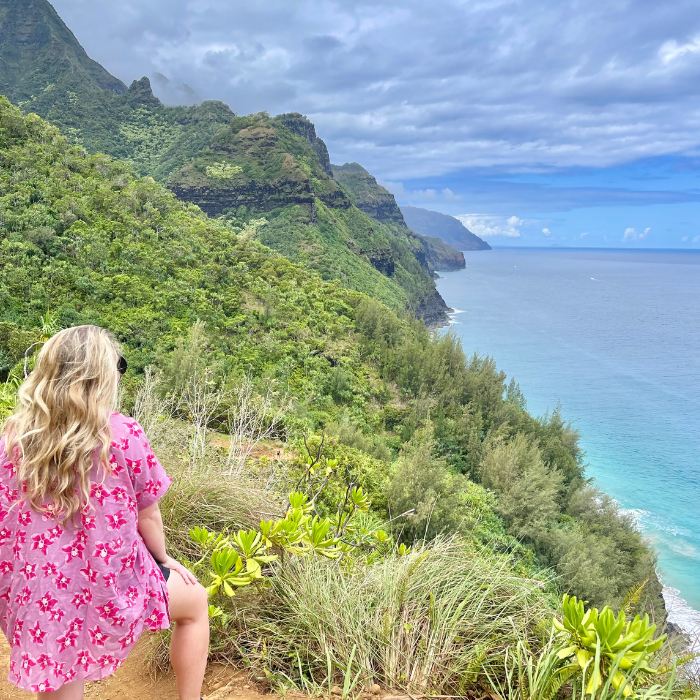 The north shore of Kauai consists of the resort area of Princeville, the town of Hanalei, and a mostly undeveloped stretch of gorgeous beaches and mountains.
This post may contain some affiliate links, which means I'll make a little money on anything you choose to purchase. But of course, I only recommend my absolute favorites to you. Thank you for supporting the brands that make the Lincoln Travel Co possible.
Parking/Shuttle Info: The stretch of north shore from Hanalei west towards Ke'e Beach (the end of the road) has become so popular in recent years that the state has taken measures to alleviate the traffic and parking situation. You now need a reservation to park (and walk in) at Ha'ena State Park (Ke'e Beach, the Kalalau trailhead, and Ha'ena Beach/Tunnels). You can make reservations 14 days in advance here. If you can't get a reservation, there's also a shuttle you can ride from Princeville.
Things to Do in Hanalei & Princeville
Napali Coast Boat Tour: This is probably my #1 favorite thing to do in Kauai. Book a raft tour leaving out of Hanalei (instead of a catamaran tour leaving out of Port Allen in the south). The smaller ocean rafts are able to zip in and out of sea caves, plus departing from Hanalei gets you to the Napali Coast WAY quicker than leaving from the south. FYI…boats only leave out of Hanalei in the summer (April to October), otherwise Port Allen is your only choice. There are several tour companies that run tours out of Hanalei. They usually leave in the morning and include lunch. Read more about Napali Coast boat tours here.
Hang out in Hanalei town: Hanalei just might be the most picturesque town in Hawaii. Stroll around and check out the shops. If you want an amazing acai bowl (local favorite!) stop by Aloha Juice Bar. Don't forget to walk down to the beach and out onto the Hanalei Pier. It's one of the prettiest backdrops in Kauai and a great place to take photos.
Find Hideaways beach: One of the north shore's best beaches is pretty hidden (hence the name) and requires quite an adventure to find. It's in Princeville (make the turn into the resort area where you see the sign for the St. Regis off the main road). You'll go about two miles through Princeville and then turn right into a tiny little parking lot just before you reach the St. Regis' guard shack. Just outside the parking lot, you'll see a small pathway between the two fences. You'll need good shoes to do this little trail (not flip flops!). There's a pretty sketchy staircase you have to navigate before you get to the series of rope handles that will lead you to the hidden beach. Don't miss this one!
Side Note: If you're looking for a rental car for your trip, I LOVE Discount Hawaii Car Rentals. They're seriously the only company I ever use. They'll give you the very best prices, you don't have to reserve with a credit card or pay until you show up, you can cancel and re-book anytime if you find a better rate, and they usually have a special that adds additional drivers for no fee. It's a no brainer. Click here to check rates for your trip.
Hike the Kalalau trail. This is the best hike in Kauai! The entire hike is 22 miles round trip but that required a permit (and camping over night). But the first two miles (four miles round trip) is amazing and an absolute must. Plan 3 hours for this hike. The trail head is located at Ke'e beach (don't forget to make parking reservations!), which is as far as you can go on the north shore (heading west).If you're up for a longer hike, once you reach Hanakapiai beach (the point where you have to turn around), hike two miles up through a bamboo forest to reach Hanakapiai falls. This will double your hike time and distance (5-6 hours and 8 miles). Also, do NOT get in the water at Hanakapiai beach! It's pretty dangerous and many deaths have occurred there. Just admire from a distance. Read more about hiking the Kalalau Trail here.
Ke'e Beach: Ke'e is very protected and one of the few good swimming spots on the north shore. It's also an excellent snorkeling spot for beginners. It's practically a swimming pool. If you take the road past Hanalei as far as it goes, you'll end up at Ke'e beach (don't forget to make parking reservations!), one of the loveliest on Kauai. Ke'e is great snorkeling for beginners if you bring your own gear.
Snorkel at Tunnels: Tunnels is probably the best snorkeling spot in Hawaii. Bring your own gear because there's nowhere to rent nearby (you can rent some in Hanalei if you don't have your own). This spot is pretty hidden, but it's a little ways down from Ha'ena State Park (make parking reservations). There are two direct road/pathway entrances with minimal parking. There's no lot and there are plenty of "no parking" signs on the street. That's how you know you're near. If you're having trouble finding it, just find the Haena State Park entrance and then walk down the beach to the right.
Queen's Bath: If you've done much research about top things to do in Kauai, you've like heard of Queen's Bath. It's a sinkhole in the lava along the coast in the Princeville area that creates a natural swimming pool during calm days. Unfortunately, during high surf times (which can be unpredictable), it can be extremely dangerous. Numerous deaths have occurred here, however it doesn't stop people from attempting it. I can't recommend swimming in the pool under any conditions, BUT if you'd like to see it, the hike down to the pools is very pretty. In the Princeville resort area, there's a small parking lot on Punahele Road. If there's no parking available, you can pay to park at the golf course up the road. It's a short (but often muddy and slippery) hike down where you'll even pass a waterfall. I'd stay well away from the pools as even in calm weather, rogue waves can come out of nowhere. When I'm entering any area near the ocean, I like to hang back and watch the conditions for 15-20 minutes before deciding what a safe distance is. During high surf advisories, the trailhead will often be gated. Of course, many people will climb around the gates, but know that if you choose to do so you're officially breaking the law and may be subject to fines.
On Another Note: If you're looking for a condo or vacation rental for your trip, I always book with Vrbo. They've got the largest selection of rentals you'll find anywhere and you can easily filter to find exactly what you're looking for. Need a specific number of bedrooms and bathrooms? Narrowed it down to a certain location? Want flexible cancellation terms? Need to stay under a fixed budget? Click here to search for Kauai vacation rentals for your trip.
Where to Stay in Hanalei & Princeville
1 Hotel Hanalei Bay: Previously the St Regis (and the Princeville Resort before that), this property overlooking Hanalei Bay on Kauai's north shore is undergoing extensive renovations (which it honestly needed). It's expected to reopen by winter of 2022 as the 1 Hotel Hanalei Bay. I'm excited to see what they do with the property because it's been in need of some help for a while. What I can tell is…the pool here boasts what I think it is the BEST view of any resort in Hawaii hands down. From your chair you can gaze across Hanalei Bay at those majestic green mountains Kauai is famous for. If this renovation turns out well, I think this is going to be one of the top places to stay anywhere in Hawaii. Pricing starts at $405/night. Book your stay at the 1 Hotel Hanalei Bay here.
***Want to save major $$$ on a fancy beach resort? My favorite travel hack is cashing in points to score free nights at some of the island's most high end resorts. My go to hotel brand is Marriott so I use this Marriott Bonvoy Boundless card to rack up points for a lot of my trips to Hawaii. If you pay for your monthly expenses on the card and are responsible about paying it off every month, the points add up really fast. Plus, if you sign up through my link, you'll get THREE bonus free nights to use. On Kauai, use your points at some of my favorite Marriott properties like the Koloa Landing Resort, Sheraton Kauai, and Westin Princeville Ocean Resort Villas.
Hanalei & Princeville Restaurants
Bar Acuda: This tapas restaurant in Hanalei is a favorite spot on the north shore and serves up both traditional small plates and unique combinations inspired by the island. Reservations are recommended.
Hanalei Dolphin: This low-key spot not only serves up fresh fish dishes but also has some of the island's best sushi. This Hanalei restaurant is a favorite with visitors and locals alike.
Tahiti Nui: This iconic tiki bar is a Hanalei institution. It claims to be the oldest tiki bar in Hawaii and its mai tais are legendary. Stop by during the day for drinks (it's always 5 'o' clock in Hawaii) or grab a pizza (they're really good).
Tiki Iniki: This tiki bar in Princeville has a fun happy hour.
Hanalei Gourmet: Hanalei Gourmet is a great local lunch and dinner spot. Fresh and tasty grub in a laid back atmosphere is the name of the game here. There's often live music and there's also a gourmet deli. A good place to pick up a picnic lunch if you're headed to the beach.
Aloha Juice Bar: Stop by this little food truck/stand in Hanalei for an amazing acai bowl or smoothie.
Wake Up Café: Hanalei's best local breakfast joint. Don't miss the macadamia nut cinnamon rolls.
Hanalei Bread Company: This yummy coffee shop has the best homemade breads, bagels, and pastries. They also have some breakfast options and sandwiches. They open at 7 so if you're catching a 7:30 Napali Coast boat tour out of Hanalei at 7:30, this is the perfect place to swing by for a quick morning snack.
Hanalei Taro & Juice Co: Stop by this local food truck to try taro in many forms. You can get traditional poi as well as taro smoothies, hummus, burgers, etc.
Wishing Well Shave Ice: The best spot for shave ice on the north shore.
Kilauea Fish Market: In addition to fresh fish, this small eatery offers lunch plates featuring the daily catch.
Kilauea Bakery and Pau Hana Pizza: Stop by for coffee and baked goods in the morning as well as smoothies and pizza.
Still Looking for a Place to Stay?
Here's one more really important thing you need to know before your Hawaii trip…
Reservations You Need to Make BEFORE Your Hawaii Trip
You've got your airfare, hotel, rental car and your big activities booked, so you should be good to go, right? Wrong!
Travel is BOOMING in Hawaii so a lot of state and national parks used the closure and reopening to institute reservation systems at some of the island's most popular spots to make things a little more sustainable.
That means that there are now over half a dozen sites (beaches, trailheads, etc.) that require advance reservations. And some sell out well before you arrive on the island so you really need to have some sort of a plan.
I recently saw somebody in a Hawaii travel group post in a panic that they didn't know they had to make reservations for things in advance…they thought they could just show up and "go with the flow." I was tempted to say, well, "as long as the flow doesn't take you somewhere that requires reservations, you can!" ; )
But I don't want YOU to be that person, so I've pulled together a list of all the places you need to reserve entry in advance (plus all the details on booking windows, price, links, etc.) and a handful of popular tourist hotspots that book out really far in advance too.
Haleakala National Park (Maui)
To visit Haleakala National Park for sunrise at the summit, you must make reservations in advance here.
Reservations are required to enter the park gates between 3AM and 7AM (sunrise hours).
Online reservations are $1 per reservation/vehicle PLUS you'll pay the park entrance fee of $30/vehicle when you arrive (National Park annual passes are also accepted at the gate).
The reservation booking window opens 60 days in advance at 7AM HST. There are also a limited number of tickets released two days before.
You can make one reservation every three days with the same account. So if you want to make reservations for back to back days (in case of weather/conditions), you'll need to do so with separate accounts (email addresses).
If you can't get reservations for sunrise, you can enter the park anytime after 7AM without reservations. The summit is spectacular during the day and you don't need reservations for sunset.
I strongly recommend creating an account before and making sure you're logged in at 7AM HST because it's not uncommon for reservations to sell out quickly.
Waianapanapa State Park (Maui)
To visit Maui's famous black sand beach at Waianapanapa State Park on the Road to Hana, you must make reservations in advance here.
Reservations are required to visit the beach and are distributed in windows from 7AM-10AM, 10AM-12:30PM, 12:30PM-3PM, and 3PM-6PM. And they are pretty strict about exiting by the end of your window time (you can arrive anytime within your window).
It's $5/person to enter plus $10/vehicle to park and those fees are paid when you book your time slot.
Reservations open up 30 days in advance.
Iao Valley State Park (Maui)
To visit the lush, green mountains and hike at Iao Valley State Park, you must make reservations in advance here.
Reservations are offered for 90 minute time slots beginning at 7AM and ending at 6PM. They ask that you arrive within the first 30 minutes of your time slot.
Entry is $5/person plus $10/vehicle to park.
Reservations open up 30 days in advance.
Diamond Head (Oahu)
To hike to the top of Waikiki's famous Diamond Head, you must make reservations in advance here.
Reservations are offered in two hour increments beginning at 6AM (6AM-8AM, 8AM-10AM, etc.) and ending at 6PM. If you're parking onsite, they ask that you arrive within the first 30 minutes of your reservation window.
Entry is $5/person plus $10/vehicle to park.
Reservations open up 30 days in advance.
Tip: I recommend booking one of the first two time slots because there isn't much shade on this hike and it gets pretty hot.
Hanauma Bay (Oahu)
To snorkel at Oahu's pristine Hanauma Bay, you must make reservations in advance here.
Entry times are staggered in 10 minute increments from 7AM to 1:20PM with roughly 1000 slots being assigned in advance every day.
Reservations can be made two days in advance and they open at 7AM HST. They're usually gone in minutes (if not seconds).
If you're unable to get an advanced reservation, you can try for a day of, walk in ticket. They open at 6:45AM and they only have a limited number available. Everyone in your group needs to be present when you purchase your tickets in person.
There are no reservations for parking and it's first come, first serve. $3/vehicle.
It's $25/person to snorkel at Hanauma Bay (12 and under, active military, and locals with HI ID are free).
The Hanauma Bay Nature Preserve is open Wednesday through Sunday (CLOSED MONDAY AND TUESDAY) from 6:45AM-4PM. Last entry is at 1:30PM, the beach is cleared at 3:15PM and you have to leave the facility by 4PM.
Jellyfish patterns can also affect whether or not the bay is open so double check the day before/day of.
USS Arizona at Pearl Harbor (Oahu)
If you want to take the boat tour at Pearl Harbor out to the USS Arizona, it's recommended to make advance reservations here.
Online reservations are guaranteed a specific boarding time to go out to the USS Arizona. If you're unable to get an advance reservation, you can wait standby when you arrive. The line could be short (15 minutes or so) or long (hours) and it just depends on the day (if they're having problems with the loading dock sometimes they don't take many from the standby line) and the time of day.
Reservations are supposed to open up 60 days in advance, but keep an eye on your exact dates, because lately they've actually been opening up about 57ish days in advance???
They also release a small batch of tickets the day before.
The boat ride out to the USS Arizona is free, but it's $1 to make the reservations online.
They recently started charging $7/vehicle for parking at Pearl Harbor.
Haena State Park / Kalalau Trail (Kauai)
If you want to hike Kauai's famous Kalalau Trail, you must make advance reservations here.
You've got three options here:
1) Parking & Entry: This is the most flexible option and also the most limited. THESE RESERVATIONS SELL OUT IN LESS THAN A MINUTE. There are three time slots available: 6:30AM-12:30PM, 12:30PM-5:30PM and 4:30PM to sunset. You can purchase multiple time slots if you want to stay longer. It's $10/timeslot (parking) plus $5/person and you have to reserve every person when you initially book. Everybody has to arrive in the same car and your ID needs to match the reservation.
2) Shuttle & Entry: If you can't get parking at the trailhead, there's also a shuttle option. Shuttle reservations are $35/person (16+), $25/person (ages 4-15), 3 and under can ride free. The shuttle runs every 20 minutes 6:20AM to 6:40PM.
3) Entry Only: If you're a Hawaiian resident (with HI ID) or someone WITH a Hawaiian resident, you can purchase entry only for $5/person with no advance reservations. Also, if you're walking or biking to the trailhead you can do this option. But there is NOWHERE to park in the area to walk in. So this really only works for those with bikes or who are staying close enough to walk. They will tow your car if you park outside the designated areas.
The reservation window opens 30 days in advance at 12AM HST. The parking & entry option usually sells out in a minute, but the shuttle availability will last longer.
There are a TON of FAQs here including the possibility of snagging a canceled reservation.
Other Things to Book in Advance
Hawaii is a busy place these days! Besides the state and national parks above, here's a handful of miscellaneous things you should make reservations for in advance (if they're on your radar):
Mama's Fish House (Maui): The iconic spot is the most popular restaurant in Hawaii and they've been opening reservations (and selling out) 4-6 months in advance. You can call and get on the waitlist for one day or you can set notifications on OpenTable to alert you for cancellations every day of your trip. Most people have pretty good success on OpenTable.
Old Lahaina Luau (Maui): Honestly, any luau you're planning to attend you should book early, but most people are usually shocked how far out the Old Lahaina Luau books out. Book it as soon as you know your dates (I think they open at the six month window). They also have a waitlist.
Kualoa Ranch UTV Tour (Oahu): Everybody loves Jurassic Park so getting to ride UTVs where they filmed the movies is very popular. The ranch offers a lot of different tours but the UTV tours usually book out a couple of months in advance.
Spa Reservations: If you're staying at a resort with a spa (or planning on visiting one), don't wait until you arrive to make your reservations. I'd make them at least a month in advance.
Tee Times: Same for golf, reserve your tee times well in advance.
Dining Reservations: Any "fancy" or resort restaurant is likely to be booked up these days so if you like having a nice dinner every night, make your plans in advance.
Want to read more? Don't miss some of my most popular (and favorite) posts about Kauai: my personal Kauai favorites, a breakdown of where to stay on Kauai comparing Princeville vs Poipu, my favorite restaurants in Poipu, the best places to watch sunset on Kauai, 5 day Kauai itinerary, my review of the Grand Hyatt Kauai, everything you need to know about Napali Coast boat tours leaving from Port Allen (south side) and Hanalei (north shore), my best Kauai travel tips, all about hiking the Kalalau trail (Kauai's best hike), Maui vs Kauai, the best things to do on Kauai and more specifically in Hanalei and Poipu, whether you should see the Napali Coast via boat or helicopter, my best (and specific) condo recommendations on Kauai, everything you need to know about Kauai helicopter tours, Kauai's best north shore beaches, where to play tennis on Kauai, how many days you should spend on Kauai (plus other FAQs), the best spas on Kauai, and my review of the Smith Family Luau.
P.S. Thanks for sticking around and reading this whole post! If you have ANY questions about planning your trip to Hawaii, you can join my free Facebook group here. I'm there answering questions every day and there are 7500+ other friends who have a ton of Hawaii information to share!
Also, if you want to follow along on my travel adventures in real time, you can follow me on Instagram (@caitylincoln). My post captions are full of travel tips and I have a ton of story highlights and videos with great info. And please share my account with your friends that are headed to Hawaii! Your support really helps me keep this blog running!