Sunsets on Kauai: 5 Places to Watch Sunset That'll Knock Your Socks Off
Is there anything more picturesque sounding than a good Hawaiian sunset? I think not. Well, while Kauai is quite magical, it's not actually possible to see the sunset from everywhere on the island and I do get asked this question a lot so I thought I'd do a little breakdown of where you'll find the best sunsets depending on the time of year plus a few tried and true specific places you're going to want to check out.
Where to See Sunset on Kauai
Let's go back to science class…remember…the sun sets in the west. So in general, the west side of the island gets the best straight on views of sunsets.
But of course, as the earth rotates throughout the year, things shift a bit so besides the west side of the island, the rest of it changes a bit.
In general, spots along the north shore get a better direct view of sunset during the summer months (roughly April through October) and spots on the south side get a better direct view during the winter months (roughly November through March).
That "direct view" is only as important as it is to you. That means more or less you'll see the sun dipping into the ocean. But even if you're on the south side during the summer months (when sunset is better from the north shore), you're still going to see a really good sunset…it's just most likely going to be setting behind trees, houses, a mountain, etc. Honestly, it's still usually a better sunset than you'll see most places.
So no matter what time of year you're visiting, you should do just find in the sunset department from most spots on the south side and north shore. It just depends on how much effort you want to go to see the "perfect" sunset in relation to where you're staying on the island and what time of year.
The Best Sunset Experiences on Kauai
From reading the above directions, you should be able to find a nice beach to watch the sunset from, but if you want something a little more…special…here are 5 sunset experiences on Kauai.
Sunset at Polihale Beach
Kauai's most noteworthy sunset adventure is just that…an adventure not for the faint of heart, and it's mostly because of how remote it is. It's not the kind of place you're going to pop over real quick in between getting cleaned up from a day at the beach and heading out to dinner. It'll take a good half day and some planning, but it's definitely the best spot to catch sunset on Kauai.
Polihale Beach is as far as you can possibly go around the west side of Kauai by car and besides being one of the few western facing accessible beaches on Kauai, it's also the start of the island's famed Napali Coast so it's just a picturesque spot in general.
So what's the big deal? Well, it's remote. It's about an hour and a half drive from Poipu and the last 30 minutes or so you're not likely to see too many people. Not many people besides locals venture out here and even not too many of them.
From the end of the main road (highway 50), you'll drive about 5 miles down a pretty rough dirt road to get to the end of the beach. 4WD is advisable, and depending on how much it's rained lately, maintenance, etc the road's passability can vary. If you're driving a high clearance 4WD vehicle (say, a Jeep), you should be fine to make it down to the area where the facilities are.
But here's what you don't want to do…drive on the beach! Because the beach is so remote (not super monitored), plus the kind of place where you need to pack it all in and out, a lot of locals drive on the beach out here and set up camp. But unless you 1) are driving a jacked up Tacoma and 2) have other friends on the island with jacked up Tacomas, tow straps, and a willingness to drive out to Polihale to tow you out, you should not be driving on the sand. It's a recipe for disaster.
So you'll want to drive all the way to the end of the road where there's a place to park on a packed surface plus restrooms, showers, picnic tables, etc. And even from there it's quite a trek to carry all of your stuff down to the beach. It's a wide beach and it's very exposed to the elements so you'll need to bring your own shade (umbrellas, tent, etc.). You'll need to pack in everything actually. Water (bring plenty of it), food, etc.
So while it's not undoable, it's definitely an adventure that's going to take some planning. Also, it's not a great spot for swimming, so be careful.
Side Note: If you're looking for a rental car for your trip, I LOVE Discount Hawaii Car Rentals. They're seriously the only company I ever use. They'll give you the very best prices, you don't have to reserve with a credit card or pay until you show up, you can cancel and re-book anytime if you find a better rate, and they usually have a special that adds additional drivers for no fee. It's a no brainer. Click here to check rates for your trip.
Mai Tais at The Beach House in Poipu
If you like your sunset viewings with a few more amenities…you're going to love this spot. I think having a sunset mai tai before dinner at the Beach House is a don't miss on Kauai.
This restaurant in Poipu is perfectly poised for sunset viewing (it's on a bit of land that juts out into the ocean just a bit at an angle that makes for good sunset all year long).
Besides the restaurant's prime sunset viewing location, it's got a fun vibe. Hawaii famous Chef Peter Merriman took on the Beach House several years ago and he's turned it into one of Kauai's culinary gems.
Known around Hawaii for places like Merriman's and the Monkeypod, the Beach House mimics that same farm to table, local and fresh ingredients based menu in a refined but casual setting that manages to feel like a party every night. Throw in the nightly sunset and it's the place to be on the island. If you're going for dinner, make reservations around sunset times well in advance.
Check out the Beach House menu here.
Make reservations here.
Hanalei Bay Pier
Want a more casual, but still accessible sunset experience? Head to the north shore and camp out on the Hanalei Bay Pier. Hanalei Bay just might be the most magical place in all of Hawaii and seeing it at sunset is extra special.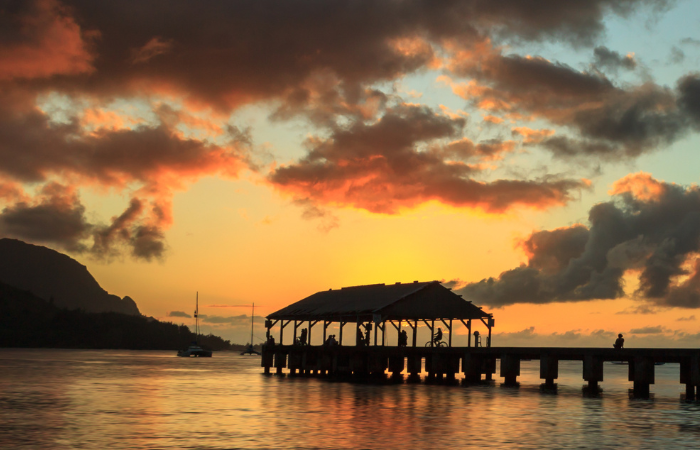 After the sun sets, you can head into Hanalei for a low key dinner. The Tahiti Nui is one of the most famous places on the island (it feels like a local dive bar-don't miss the mai tai), but if you're a seafood lover, you've got to try the teriyaki ahi at the Dolphin. I'd say it's life changing ; ) The Bar Acuda is also really well liked.
Princeville Makai Golf Club Sunset Cart Tour
This tour just popped up on my radar a few weeks ago and now it's top of my list next time I'm on Kauai. I love a good tour, and this one sounds so unique!
Start off at the Makai Grill for drinks and dinner before hopping on a golf cart to cruise around the Princeville Makai course, regularly named one of the most beautiful golf courses in the world. The tour is limited to 12 carts per night so you'll get plenty of time with your guide as you learn about local culture, flora and fauna, and see some of the course's most beautiful holes.
The grand finale is a stop at the course's legendary 7th hole, which offers one of the best sunset views on the island.
If you love a unique sunset experience, this is for you. If you love a good guided tour, double whammy. And if you're also into golf, it's a no brainer! Can't wait to do this on my next trip.
Book your tour here.
On Another Note: If you're looking for a condo or vacation rental for your trip, I always book with Vrbo. They've got the largest selection of rentals you'll find anywhere and you can easily filter to find exactly what you're looking for. Need a specific number of bedrooms and bathrooms? Narrowed it down to a certain location? Want flexible cancellation terms? Need to stay under a fixed budget? Click here to search for Kauai vacation rentals for your trip.
Kalalau Lookout at Waimea Canyon
For a VERY dramatic sunset view that's still pretty accessible, head to the Kalalau Lookout at Waimea Canyon.
I haven't been up here at sunset (yet), but since it's a western facing view, it's got to be spectacular. I mean, it's spectacular any time of day, but at sunset it's probably even better.
Plan for at least an hour drive from Poipu up to the canyon lookouts, but once you get there it's easy to park and just walk over to the lookout. No hiking required.
If you want to have dinner in Waimea after, your options are a little limited. Try Wrangler's Steakhouse…pretty much everything else closes by 4 (Porky's is worth a stop if you're driving through earlier). Or drive back through Hanapepe and stop at Japanese Grandma's Cafe.
Want to read more? Don't miss some of my most popular (and favorite) posts about Kauai: my personal Kauai favorites, a breakdown of where to stay on Kauai comparing Princeville vs Poipu, my favorite restaurants in Poipu, the best places to watch sunset on Kauai, 5 day Kauai itinerary, my review of the Grand Hyatt Kauai, everything you need to know about Napali Coast boat tours leaving from Port Allen (south side) and Hanalei (north shore), my best Kauai travel tips, all about hiking the Kalalau trail (Kauai's best hike), Maui vs Kauai, the best things to do on Kauai and more specifically in Hanalei and Poipu, whether you should see the Napali Coast via boat or helicopter, my best (and specific) condo recommendations on Kauai, everything you need to know about Kauai helicopter tours, Kauai's best north shore beaches, where to play tennis on Kauai, how many days you should spend on Kauai (plus other FAQs), the best spas on Kauai, and my review of the Smith Family Luau.
P.S. Thanks for sticking around and reading this whole post! If you have ANY questions about planning your trip to Hawaii, you can join my free Facebook group here. I'm there answering questions every day and there are 7500+ other friends who have a ton of Hawaii information to share!
Also, if you want to follow along on my travel adventures in real time, you can follow me on Instagram (@caitylincoln). My post captions are full of travel tips and I have a ton of story highlights and videos with great info. And please share my account with your friends that are headed to Hawaii! Your support really helps me keep this blog running!