Where to Stay in Hana, Maui
The legendary journey through Maui's most remote jungles has become one of the island's most buzzed about "things to do" and it's easy to see why. Lush vegetation, roadside waterfalls, hidden pools, deep gorges, stunning ocean views, and a narrow winding road that's become one of the most famous drives in the world. "The Road to Hana."
While this is arguably the most beautiful part of Maui, not many people stay here.
Most people visiting Maui will drive the Road to Hana and spend the day climbing in and out of their jeep to check out whatever roadside attractions they come across before whizzing through Hana town and doing a 180 to make it back to Ka'anapali or Wailea for dinner.
If that sounds a little stressful, or you really want to see and experience the jungles around Hana more thoroughly (hey, who isn't into waterfalls, bamboo forests, rainbow eucalyptus trees, and black and red sand beaches??) then you might want to consider staying in Hana so you're able to break all of the adventuring up over a few days. Keep reading to find out where to stay in Hana:
This post may contain some affiliate links, which means I'll make a little money on anything you choose to purchase. But of course, I only recommend my absolute favorites to you. Thank you for supporting the brands that make Hulaland possible.
Spending the Night in Hana
Okay, now that I've convinced you to spend the night in Hana, let me throw you a curveball ; ) Is it actually a good idea??
I actually don't recommend staying overnight in Hana to 99% of visitors. With some good planning…for most people, a day trip is plenty of time to experience this part of the island.
Yes, there is enough to do (hiking, swimming, adventuring, etc.) that you could for sure fill up two days with activities, but it becomes kind of a logistical headache.
Here's why I don't usually recommend spending the night in Hana (this is for ONE night, not for people who want to spend several days):
What are you going to do with your luggage? DO NOT leave anything in your car at any stop along the road to Hana that you don't mind never seeing again (and paying for damage to your car). Even if it's locked in your trunk. Petty theft is common in Hawaii and thieves know that cars parked at the side of the road in certain spots mean their owners are away hiking and swimming and not likely to be back quickly. Break ins happen in SECONDS. Also, rental cars are easy to spot.
So you would have to drive straight to your place in Hana to drop off your luggage (which means you can't stop at all on your way there) which kind of defeats the purpose of staying the night so you can see and do more along the road.
Now, there is a work around for this depending on your budget. If you're staying somewhere on Maui for the full week (or more), you could just book a duplicate night at a place in Hana and then you wouldn't need to move your luggage. For example, let's say you're staying at a condo in Kihei for 10 nights. You book your Kihei stay for all 10 nights and then the night you want to stay in Hana you book ON TOP OF that reservation. So for that one night you'll actually have two hotel rooms (you'll be paying for two rooms). You'll be able to leave all of your luggage and stuff at the place in Kihei and just pack an overnight bag/backpack that you'd be able to take on hikes with you while you're in Hana.
Most people don't want to pay for two hotel rooms, but it's by far the most stress free way to be able to spend the night in Hana without worrying about whether your stuff will get stolen while you're off swimming under a waterfall.
Besides the luggage issue, there's also the time issue. Unless you have 10+ full days on Maui, there is just soooo much else to see and do on Maui (besides just spending time relaxing at the beach/pool and having an actual vacation) that I don't think an overnight in Hana is necessary.
The exception to all of this may be if you're coming to Maui primarily to hike. A lot of the great hikes on Maui are on this side of the island, so if you're wanting to hit a bunch of them (more than you can do in a day) and don't mind spending a good part of your trip out in the jungle, then that may be the way to go.
Here's another option if you're worried you'll be short on time, but don't want to spend the night in Hana: spend a separate day doing activities and seeing the sites on the north shore. A lot of people that are staying in West Maui (and sometimes even South Maui) will save things like Paia town and stops along the north shore for the Road to Hana day which is trying to cram a LOT into one day. But getting to the north shore from Lahaina or Kihei/Wailea really isn't that far (30-45 minutes) so you could see Paia, see the turtles at Ho'okipa or Tavares Bay, and even do Twin Falls on a different day than the day you drive all the way to Hana. It would be easily combinable with a day doing Haleakala National Park or other stops upcountry. Read about my favorite things to do on the north shore, things to do upcountry, and Haleakala.
Want to read more posts about Hana? Check out: MY favorite Road to Hana itinerary, tips for driving the Road to Hana, and should you drive the backside of the Road to Hana?
Side Note: If you're looking for a rental car for your trip, I LOVE Discount Hawaii Car Rentals. They're seriously the only company I ever use. They'll give you the very best prices, you don't have to reserve with a credit card or pay until you show up, you can cancel and re-book anytime if you find a better rate, and they usually have a special that adds additional drivers for no fee. It's a no brainer. Click here to check rates for your trip.
Where to Stay in Hana
Okay, now that we've gotten through all of that…Hana really is a nice place to stay! If you're on the adventurous side and like to spend a lot of time hiking and swimming, or if you're just looking to spend some time off the grid in the "real Hawaii" where it's not as touristy, developed, or crowded, then you will love staying in Hana.
As you might expect, there aren't many places to stay around Hana.
There are pretty much three options: 1) The Hana-Maui Resort (previously the Travaasa and recently acquired by Hyatt), 2) the Hana Kai Maui, or 3) a vacation rental.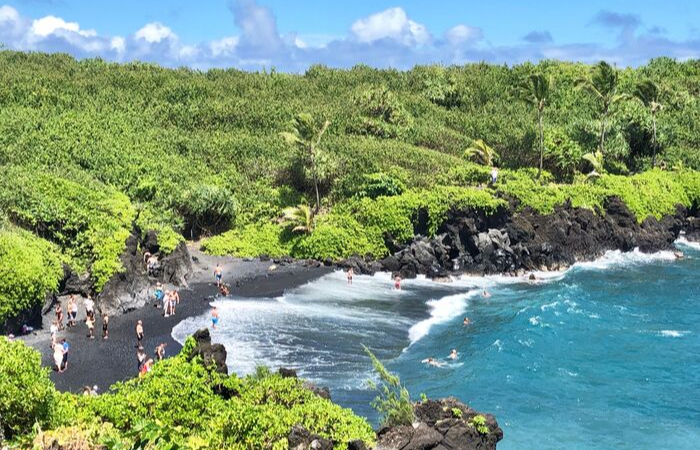 Hana-Maui Resort
For vacationers wanting to get off the grid and truly escape for a while, you'll definitely want to check into the only resort in Hana. Overlooking Hana Bay, the Hana-Maui Resort is a boutique hotel that was recently acquired by Hyatt and is expected to undergo extensive renovations in the next few years.
The Hana-Maui Resort delivers rustic luxury and all-inclusive packages in the middle of Maui's lush, secluded east coast. Rooms feel off the grid with no televisions or internet (although they're available in the bungalows).
Unwind at the spa with Hawaiian inspired treatments, go horseback riding on the beach, or go for a hike on one of the trails that lead to waterfalls. They say Hana is "where time stands still," and it's easy to see why when you're overlooking the wild ocean from the resort's pool.
From recent reviews, it seems like the Hana-Maui Resort maybe isn't quite as luxurious as it once was (probably why it's slated for renovations) and while everything people are griping about is somewhat minor, when you're paying luxury resort prices everything is magnified. If you can find this place in the $300-400ish/night range then I'd go for it. But that's hard to find these days.
But definitely keep your eye on the renovation schedule because once it's updated, this is going to be a real destination resort.
Where to Book the Hana-Maui Resort: Book directly with Hyatt, read reviews and price compare on TripAdvisor, book with Expedia, book with Hotels.com.
Hana Kai Maui
The Hana Kai Maui is a group of oceanfront condos, but it's run like a small hotel. If the Hana-Maui Resort isn't in your budget, this is the next best option. Book directly with the Hana Kai here.
Hana Vacation Rentals
Besides those two places, everything else in Hana is going to be a vacation rental. I always book my rentals with Vrbo because I think they have the most options. Find the best options for your budget and travel party here.
Want more info on where to stay on Maui? I've written a ton of posts that will help. I'd start with my 15 favorite resorts and hotels on Maui. Also, you're going to want to decide between staying on the south side or the west side so this post about Wailea vs Ka'anapali is golden. Read about my favorite luxury resorts, boutique hotels, honeymoon resorts, family friendly resorts, and condos (many under $100/night!). If you've narrowed down the area of the island you want to stay, but need help picking a specific hotel, read these posts about where to stay in Wailea, Kihei, Ka'anapali, Lahaina and Kapalua, and Hana. And if you just want more details (more! More! more!), read my reviews of staying at the Four Seasons and the Fairmont Kea Lani.
P.S. Want to read more? Don't miss some of my most popular (and favorite) posts about Maui: my Maui favorites, the best Maui itinerary, how many days to spend on Maui, Maui vs Kauai, where to see turtles on Maui, my favorite road to Hana itinerary, guide for sunrise at Haleakala National Park, how to bike down Maui's volcano, my review of the Maui Pineapple Tour, 20 of the best adventure activities on Maui, 5 Maui day trips, and the best things to do on a Maui honeymoon.