While there is no shortage of things to do on Maui, most people go there with one thing in mind…beaches! Maui has some beautiful beaches and it would take you weeks to explore all of them! So I'm breaking down Maui's best and most popular beaches (plus some lesser known ones) so you can pick and choose which ones sound best to you. Also, keep in mind that all beaches in Hawaii are public so even if a beach is lined with fancy schmancy beach resorts, they're required to provide a public access point and some parking so nothing is off limits to you! So here's your guide to Maui's best beaches:
This post may contain some affiliate links, which means I'll make a little money on anything you choose to purchase. But of course, I only recommend my absolute favorites to you. Thank you for supporting the brands that make Hulaland possible.
West Side
Maui's west side is where most of the tourists end up because it's home to so many of Maui's resort areas (Lahaina, Ka'anapali, Napili, and Kapalua). Some of Maui's prettiest beaches are on this side of the island and you'll find a good mix of resort beaches and local beaches. I'll start with the northern most beaches and work my way down:
DT Fleming Beach: This beach was named America's best beach in 2003. It's a popular spot for surfers and body boarders in the winter so it gets a lot of local traffic but it's also the main beach for the Ritz Carlton Kapalua. There's a lifeguard stand (watch out for big waves and rip currents!) and plenty of good amenities (showers, restrooms, a parking lot, picnic tables, etc.). This is a beautiful beach to check out but probably not where you're going to frolic in the water. If you want to stay on DT Fleming beach, check out the Ritz Carlton Kapalua.
Kapalua Beach: Named America's best beach in 1991, Kapalua is definitely one of Maui's treasures. It's a bay so the snorkeling is decent (two reefs protect the bay) and the conditions are usually perfect for paddleboarding. There's a gear rental stand at the far end of the beach that will hook you up. During whale season, it's not uncommon to spot whales breeching in the distance in the channel between Maui and Molokai. There's a parking lot at Kapalua but it's not very big and fill sup fast so unless you get there early, you'll end up having to park on the street and walk. Kapalua has restrooms and outdoor shower.
Napili Beach: Just south of Kapalua is another one of Maui's most popular beaches. Napili is also a protected bay with great snorkeling (it's a sea turtle hang out). The crescent shaped beach slopes down to the calm turquoise waters, making it an excellent swimming beach. The downside to Napili is how crowded it can get (it's just a narrow strip of san) and its lack of parking. On the plus side, there are plenty of restaurants there (the most popular being the gazebo).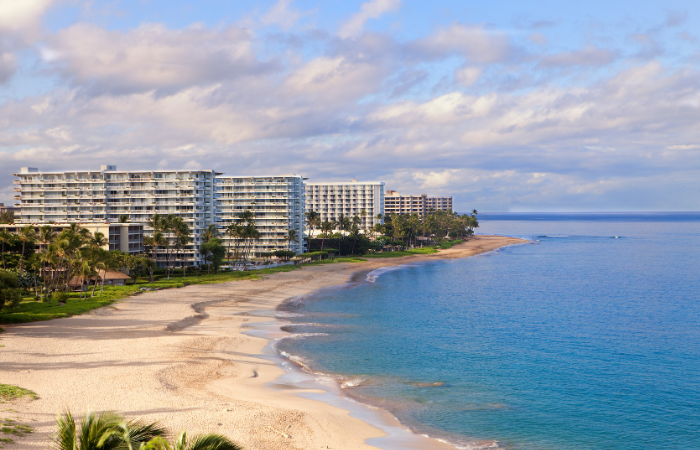 Ka'anapali Beach: Ka'anapali is Maui's main resort area and quite a hopping beach! It's about 3 miles long and features a beachfront promenade perfect for strolling. The big attraction at Ka'anapali is Black Rock, which is famous for its snorkeling and the brave who jump off of it into the ocean. The Whaler's Village is an upscale outdoor mall that sits right on the beach. You'll find plenty of shopping and dining there. Ka'anapali is a shore break (the waves break shallow right on the sand) so be careful when entering and exiting the water. There is one public parking lot on Ka'anapali (it's actually in a separate section of the Sheraton's parking garage). It has its own entrance off the street but there are only a few parking spots (literally about six) so it's very hard to snag one. You can park for the day at the Sheraton ($20) or at the Whaler's Village (they validate parking with a minimum purchase). If you want to stay on Ka'anapali Beach, try the Westin.
RELATED: Trying to figure out where to stay on Maui? I've got you covered: read up on where to stay on Maui (breakdown of the island plus specific hotel recommendations), 50+ best condo rentals on Maui (many under $100/night!), 10 best luxury resorts in Hawaii, 12 favorite boutique hotels in Hawaii, area specific guides (including where to stay, eat, and things to do) for Wailea, Ka'anapali, Kihei, the north shore, upcountry, and Hana, plus my reviews of staying at the Four Seasons Maui and the Fairmont Kea Lani.
Launiupoko Beach: Located south of Lahaina, Launiupoko is more of a local's beach mostly because it's a great surf spot. There's a decent parking lot but on busy days you may have to park across the street. The facilities here are good (showers, bathrooms, picnic tables, etc.) and there's a protected little cove that's a perfect place for the kids to play.
Olowalu Beach: You'll find Olowalu right across from Leoda's Pie Shop (south of Lahaina), but this whole stretch has great beaches that you can see right from the road. The snorkeling is amazing in this area but you won't find many amenities. You can pull your car right up to the beach though which is convenient and you'll have the beautiful West Maui Mountains directly behind you.
North Shore
The north shore beaches are some of the prettiest on the island (white sand, blue water, epic views) but the conditions aren't always the best. It can be very windy on the north shore and is often rainier than the south and west sides. But if you're heading to the north shore, don't miss these lovely beaches:
Baldwin Beach: This is the major beach on the north shore and sits right in front of Paia town. There is plenty of parking and picnic tables. There are also lifeguards on duty. The beach itself is beautiful but pretty rugged and not good for swimming. This is a major spot for kite surfing, which is fun to watch. If you want to stay on Baldwin Beach (and be right in the middle of the north shore), try the Paia Inn.
RELATED: Maui vs Kauai
Maui Travel Tips: What to Know Before You Go
How to Survive the Long Flight to Hawaii
The Ultimate Hawaii Packing List
Baby Beach: The far west end of Baldwin beach is protected by a reef which has created a natural swimming pool of sorts. This area is known as Baby Beach. ON a nice day (sun is out, no wind) this spot is packed with locals with small children. While it's possible to park at the main lot of Baldwin beach and walk down to Baby beach, it's quite a hike! This beach is better accessed through the neighborhood. If you're heading into Paia from Kahului, it's the last "shoreline access" sign you'll see before you come to Paia. It's not marked coming the other direction. There are no amenities at Baby beach.
Ho'okipa Beach: This is Maui's main "big surf" spot. East of Paia town, the overlook at Ho'okipa is many people's first stop on the Road to Hana. Pull in at the overlook to watch the surfers, but pull down to the beach to see the big attraction here-the sea turtles! The east end of Ho'okipa is a resting ground for the little guys and towards the end of the day, you'll usually see about 20 or so on the beach. Ho'okipa isn't a good beach for swimming but the rocks/reef create some tide pools, which can be a good place for kids to play.
Hana
Most people don't go to Hana for the beaches, and if you're just driving there and back in the same day (the Road to Hana), there isn't much time to lay around but there are a couple of beaches in Maui that are MUST sees. If you want to hang around a bit in Hana, check out the Traavasa.
Wai'anapanapa (Black Sand Beach): Update: Starting 3/1/21 reservations are required to visit the beach (in an effort to cut back on overcrowding in recent years). You can make reservations two weeks in advance here. $5/person entry fee. Most people coming to Hawaii want to see a black sand beach because they're pretty rare (made when lava reaches the ocean). You won't find any on Kauai or Oahu because the islands are too old, but Maui's stunner is right near Hana (there's one in Makena but it isn't very dazzling). Stop by and walk down to the beach, but it's not really a place to hang out and it's not a good swimming spot. There's also a blowhole nearby.
Red Sand Beach: This is probably my favorite beach on Maui and definitely not to be missed. They don't make beaches any more dramatic than this. It's not easy to find even though it's located right outside of Hana town. As you're coming into Hana town, take a left on Hauoli road (you'll pass a church and some tennis courts) and then turn right when the road dead ends at the Hana Community Center. Park along this street and walk across the open lawn of the Community Center. You should be able to pick up a trail through the bushes (if this sounds downright crazy to you, you might be better off to wait for people who look like they know what they're doing to come along and follow them!). Whatever you decide to do, just remember that after your initial descent down to the trail, keep going to the left. There will be a narrow beach of rock and red sand below you and a lot of people stop here but keep going. You'll know it when you see it. You will be floored. This is a true highlight of Maui. I don't find this hike to be particularly dangerous, but it does get steep in places and you 100% want to be wearing shoes that are strapped onto your feet.
Hamoa Beach: While not a must see, if you're looking for a nice beach to relax on, this is a good spot. It's also a good surf spot and plenty of fun for boogie boarders.
South Side
Maui's southern beaches are some of the island's most popular. This is the driest and hottest part of the island so beach going conditions are ideal. South Maui is made up of Kihei, Wailea, and Makena. I'll start with Kihei beaches and work my way south to Makena.
Kamaole I, II, III: These three beaches in the heart of Kihei are some of the most crowded on the island. There's no resorts or hotels on these beaches but they're a stones throw from about a gazillion condos so they're pretty popular. The sand is golden, the water is perfect for swimming, and they have all the amenities you could want in a beach. You'll also find tons of places to eat in the area.
Keawakapu Beach: Part in Kihei, part in Wailea, this long stretch of beach is pretty sweet. There are a few condos that front it and some nice looking beach houses, but it never feels very crowded. There's a small parking lot across the street form the public entrance (it's not market well, just a pathway between some houses) and a shower but that's it. This beach is perfect for sunset strolls. It also has some nice lava beds perfect for beach combing.
RELATED: 15 Things to Do on Maui
15 Things to Do on a Maui Honeymoon
Top 20 Adventure Activities on Maui
Side Note: If you're looking for a rental car for your trip, I LOVE Discount Hawaii Car Rentals. They're seriously the only company I ever use. They'll give you the very best prices, you don't have to reserve with a credit card or pay until you show up, you can cancel and re-book anytime if you find a better rate, and they usually have a special that adds additional drivers for no fee. It's a no brainer. Click here to check rates for your trip.
Ulua/Mokapu Beach: These two Wailea beaches share a parking lot and amenities and are pretty much connected. The snorkeling and diving here is great and there's plenty of room to spread out. If you want to stay on Ulua, try the Andaz Maui. This is also the start of a beach walk trail that goes from here to Polo Beach. To find the public parking lot (where the amenities are), turn in near the Marriot.
Wailea Beach: Home to some of the island' s most famous luxury beach resorts, Wailea is a laid back and lovely beach. The beach is wide, if not long, and the water is perfect for swimming and boogie boarding. The beach's resorts set up chairs and umbrellas for guests but sometimes there's na independent company renting out set ups for the day near the public entrance. If you want to stay on Wailea beach, that would either be at the Four Seasons or the Grand Wailea. You'll find the turn in for the public parking lot between the two resorts.
Polo Beach: One beach over from Wailea beach, and the end (or the beginning depending on how you look at it) of the Wailea beach walk, Polo beach is a nice wide cove beach. The sand is golden and the water is perfect for swimming. To find the public parking lot (where you'll also find restrooms and showers) turn in just past the Fairmont and you'll find the lot at the end of the street to the right. If you want to stay right on Polo Beach, check out the Fairmont Kea Lani.
White Rock: This is a lesser-known Wailea beach and more popular with locals since there's no resorts on it and therefore fewer crowds. The beach is gorgeous and perfect for swimming. To find it, turn in just past the Fairmont (same place as Polo Beach) but turn left at the end of that street. Drive a ways until you see cars lining the streets and you've found it. You'll have to park on the side of the street and find a path between the houses to get to the beach. There aren't any amenities here.
Maluaka Beach: This beauty in Makena is about as close as you'll get to the famed "Turtle Town" and still be on land. From the main road through Wailea and Makena, you'll turn off around Makena Landing and drive south until you find a small lot (where the beach's facilities are). From here, you'll still have to walk a bit to get to the beach (south of the lot) but there's also a drop off if you need it. The beach here is gorgeous but the snorkeling is the main draw. The Makena Beach Resort is the only resort on the beach but it's currently undergoing extensive renovations.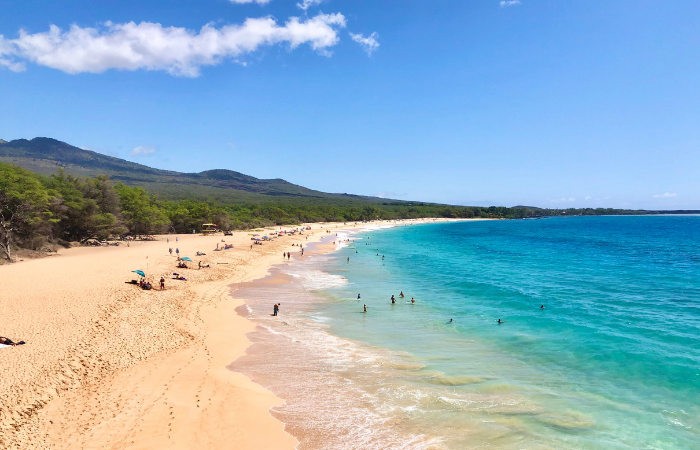 Big Beach: Also called Makena state Park, or sometimes Makena Beach, this is one of Maui's most beautiful beaches. It's a long stretch of golden/white sand with beautiful blue water. There's a strong shore break here (as the life guards will often remind you) so be careful when entering and exiting the water. There are two parking lots here (and usually a few food trucks) and no restrooms or showers but there are porta-potties.
Secret Beach: Also called Makena Cove, this is where 98.9% of the weddings on Maui happen. Just kidding, but it seems like it sometimes. This tiny postage stamp of a beach is the first "shoreline access" sign you'll see after you pass Big Beach. It requires climbing down a little path to get to it, so it feels like a "secret" once you find it. Makena Cove is lovely (although very small) but the "secret beach" is actually around the corner to the right. You'll need water shoes to climb along the lava rocks to get there but once you do, you'll usually have it all to yourself.
I think these are the best of the best on Maui. That's three weeks worth of beaches if you hit up one each day my friend! That sounds like one rough vacation : )
Restaurant Recommendations:
11 Best Fine Dining Restaurants on Maui
23 Favorite Restaurants on Maui
Mama's Fish House: Is It Worth It?
Thanks for sticking around and reading this whole post! It's always my goal to provide a TON of value to YOU. To that end, lately I've been packing my Instagram (@hula.land) FULL of content and adventures that you might want to check out. A lot of my post captions are like mini blog posts with travel info, I've got IGTV review videos for luaus and excursions, and helpful story highlights like grocery store prices and hotel reviews. Not to mention that my feed is pretty much the ultimate tropical eye candy! You can follow me here and share my account with your friends! Your support really helps me to keep this blog running!
Also, if you have ANY questions about planning your trip to Hawaii, you can join my free Facebook group here. I'm in there answering questions every day and there are 5000+ other friends who have a ton of Hawaii information to share!
Save
Save
Save
Save
Save
Save
Save
Save
Save
Save
Save
Save
Save
Save