Best Snorkeling in Maui (+ Where to Find Sea Turtles)
When planning a trip to Maui, most visitors have some sort of agenda or bucket list of must do items, and I think it's safe to say that for many, snorkeling in Maui is high on the list. The volcanic island is home to some pretty stellar reefs boasting out of this world coral formations and gorgeous colorful aquatic life. If you're coming to Maui and looking for the best snorkeling in Maui, excursions, or places to find sea turtles, this is the guide for you!
This post may contain some affiliate links, which means I'll make a little money on anything you choose to purchase. But of course, I only recommend my absolute favorites to you. Thank you for supporting the brands that make Hulaland possible.
Best Snorkeling Spots on Maui by Boat
Molokini Crater: A volcanic islet located off Maui's south shore, Molokini is the most popular snorkeling spot on Maui and on many visitors' bucket list. Molokini's crescent shape keeps its interior clam and protected making near perfect conditions for snorkelers. Its interior is literally wall-to-wall colorful coral formations that begin just below the water's surface and slope to the shallow ocean floor. It's not hard to find a snorkeling excursion to take you to Molokini so it's not unusual for a half dozen catamarans to be anchored in the crescent at any given time. While years of fish feeding in the crater has depleted the natural population, there's still plenty to see and recommend about it to make it some of Maui's best snorkeling. Read more about my experience snorkeling Molokini here.
Turtle Town: As its name suggests, Turtle Town is home to not only some awesome coral formations but a large population of sea turtles. Its exact location is debatable but is generally considered to be between Nahuna Point and the black sand beach in Makena, south Maui. The actual "turtle town" is an underwater sea cave in this area which is best reached by boat. Most Maui snorkeling excursions will include stops at Molokini and Turtle Town so you're almost guaranteed a chance to see a "honu" (Hawaiian Green Sea Turtle).
Coral Gardens: Coral Gardens is another popular stop for snorkeling excursions leaving out of West Maui. Located off the coast between Maalaea and Lahaina, Coral Gardens doesn't get as crowded as some other destinations but it's top notch for wondrous coral formations, epic fish spotting, and clear waters.
RELATED: Trying to figure out where to stay on Maui? I've got you covered: read up on where to stay on Maui (breakdown of the island plus specific hotel recommendations), 50+ best condo rentals on Maui (many under $100/night!), 10 best luxury resorts in Hawaii, 12 favorite boutique hotels in Hawaii, area specific guides (including where to stay, eat, and things to do) for Wailea, Ka'anapali, Kihei, the north shore, upcountry, and Hana, plus my reviews of staying at the Four Seasons Maui and the Fairmont Kea Lani.
Honolua Bay: During the summer months, Honolua Bay (north of Kapalua in West Maui) has some of the best snorkeling in Maui (during the winter, it's one of Maui's most legendary surf spots). While the bay is accessible from the shore (more on that below), a lot of snorkeling excursions leaving out of West Maui (especially those that operate from Ka'anapali Beach) will include stops here. If you do come here on a boat, be sure to at least drive back by and check out the bay from the overlook up above. It really is so gorgeous!
Best Snorkeling Beaches
Maluaka Beach: If you're dead set on experiencing "Turtle Town" but you're not going out on a boat, the best place to access the area is from the shore of Maluaka Beach. This is the beach that the Makena Beach Resort sits on and it's often overlooked because it's not accessed from the main road through Wailea and Makena. If you're driving south, turn right onto Makena road (you'll see signs for the landing) and continue on until you see a parking lot. The beach access is actually a few hundred feet past the parking lot. Once on the beach, enter the water and snorkel south towards the rocks and reefs. If you're not comfortable snorkeling that far from the beach, consider renting a paddle board at the Makena Beach Resort and paddling over.
Napili Bay: Napili Bay is a great place for beginner snorkelers. Entering from the sandy beach, the reefs start in relatively shallow water and it's not uncommon to spot sea turtles here. This is actually a great place to spot turtles without even getting in the water. If you stand on the rocks, you can watch them surface. These rock formations also create great tide pools for exploring during low tide.
Black Rock at Ka'anapali Beach: Ka'anapali Beach (West Maui) is home to many of the island's big beach resorts so what's better than walking out your front door and snorkeling? The far north end of the beach (in front of the Sheraton) is home to Black Rock (Maui's famed rock that people often jump off of into the water). While the waves can get pretty big at Ka'anapali Beach, they're usually much smaller down at Black Rock and even if they look intimidating, once you swim out past the break it's usually quite calm. Also, keep an eye out as it's not uncommon to spot sea turtles in this area.
RELATED: The BEST Maui Itinerary
Ahihi Kinau Nature Reserve: This nature reserve is one of my favorite spots in Maui. If you drive south from Wailea through Makena, the road eventually opens up so that you're literally driving right by the water, passing the most inviting little coves with clear water, golden sand, and plenty of lava and coral formations. If you're an inexperienced snorkeler, or you have small children, this is an ideal spot to get in the water. It's super shallow and very protected from the ocean. It's more like swimming in a manmade lagoon but tropical fish, and even the occasional sea turtle, are very prevalent here. The only tricky part is parking. You'll have to squeeze off the road somewhere (watch the signs!) but once you find a spot, you'll be snorkeling just a dozen or so feet from your car!
Ulua Beach: Ulua is a great place to snorkel when the conditions are right. The reef is great and you can expect to see plenty of tropical fish (it's a very popular scuba spot), but the best part about snorkeling at Ulua is the beach! Once you find it (located between the Marriot and Andaz in Wailea), there's plenty of parking, not many crowds, and a BEAUTIFUL stretch of beach. If you're traveling with a party that's split between snorkelers and non-snorkelers, this is a good spot.
Olowalu: Olowalu is a general area south of Lahaina (where Leoda's Pie Shop is located!) where there's a great stretch of snorkeling spots right off the highway. Once you come out of the tunnel and you're headed towards Lahaina you'll find almost one continuous stretch of beaches right next to the road. Pull off anywhere you see a few cars parked, as it's likely a good spot. The water is very calm, warm, and shallow and it's a great spot for beginner snorkelers. It's also super convenient.
Kapalua Bay: Right next to Napili Bay, Kapalua is also a great spot for snorkeling. It's very protected with relatively calm waters. While there's a good reef and plenty to see, a big draw of Kapalua is that it's an all around great beach. If you have non-snorkelers in tow, they won't be board. There's also a beach stand where you can rent gear, or even try paddleboarding lessons.
Honolua Bay: I mentioned Honolua Bay among the best Maui snorkeling spots reached by boat, but you can also reach it by land. It's north of Kapalua and the entrance is just past the overlook. You'll park somewhere along the highway and then hike down to the beach through the most amazing forest. Honolua Bay is pure Maui, meaning it has a rugged magic to it. And many wild chickens. Once you make it down to the beach (all rocks), you'll have to swim quite a ways to get to the best snorkeling (to the left and right sides of the bay). If there's a catamaran anchored in the bay, that will give you an indication of where the snorkeling is good.
Where to Find Sea Turtles on Land
Ho'okipa Beach. Ho'okipa Beach offers a unique way to see turtles…on land! Ho'okipa, on the north shore, is one of their rare "resting grounds" and turtles show up here like clock work every afternoon. Ho'okipa Beach is located on the north shore a couple of miles past Paia town. When you leave town, you'll pass Mama's Fishhouse (on your left) and the Ho'okipa overlook is about a mile past that (there's a small sign). The overlook offers great views of surfers but to see the turtles you'll need to drive down to the beach below. A conservation group sets up camp here every day to patrol how close people get to the turtles. They usually barricade off the end of the beach the turtles frequent (the end closest to the overlook) but there's a little ledge above that offers better views.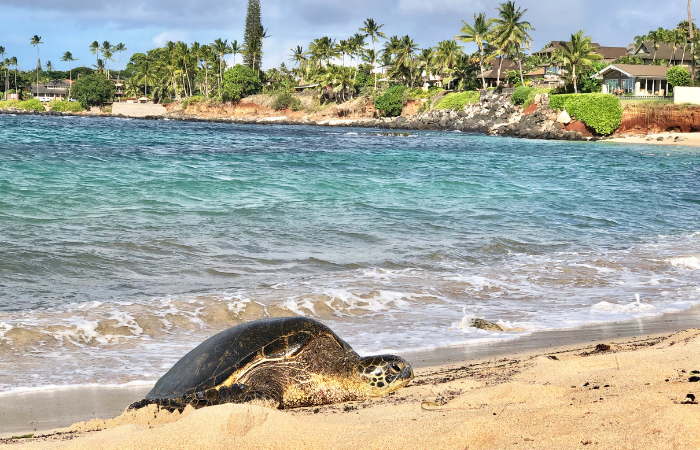 Kuau (Tavares) Bay: Just east of Paia town, there's a small parking lot with a sign marked "Kuau Bay." You'll know you're in the right spot when you see the house with the blue tile roof. It's not as well known as Ho'okipa, but the water is usually calmer and there are a ton of turtles. Just remember to stay at least 10 feet away from them.
RELATED: 15 Things to Do on Maui
Top 20 Adventure Activities on Maui
15 Things to Do on a Maui Honeymoon
Guide for Sunrise at Haleakala National Park
Snorkeling Gear
Snorkeling excursions will supply you with gear (mask, snorkel, and fins) but you'll need to bring sunscreen and a towel.
If you're interested in buying a set, Costco using has pretty nice sets at a reasonable price.
If you're looking to rent gear for the duration of your trip, try Boss Frog's or Snorkel Bob's. They have several locations on the island and will include a mesh bag for your gear. Their rentals usually start as cheap as a couple of dollars a day.
If you're staying at a resort, most will rent gear by the hour or half hour. This is a good option if you're staying at a beach where the snorkeling is good like the Andaz Maui or Sheraton.
Side Note: If you're looking for a rental car for your trip, I LOVE Discount Hawaii Car Rentals. They're seriously the only company I ever use. They'll give you the very best prices, you don't have to reserve with a credit card or pay until you show up, you can cancel and re-book anytime if you find a better rate, and they usually have a special that adds additional drivers for no fee. It's a no brainer. Click here to check rates for your trip.
Snorkeling Tour Options
There are a TON of companies that organize snorkeling tours around Maui & Molokini (some will even take you over to Lanai for the day), but here are some of the most popular ones broken down by area.
South Maui/Makena: If you're staying in Wailea or Makena, the Kai Kanani is the only catamaran that picks up from this area. They pick up from the beach in front of the Makena Beach Resort. I've personally done their tour to Molokini and Turtle Town and it was great. We went during whale season so we also got a great show there as well. I highly recommend this one if you're staying in the area. Read my full review here.
Ma'alaea Harbor: Some of the biggest outfits on the island operate their Molokini and Turtle Town tours out of Ma'alaea since it's a lot closer than traveling from the west side. The Pacific Whale Foundation has a great tour to Molokini that includes a stop at Turtle Town.
Lahaina: Most of the tour operators out of Lahaina are doing whale-watching trips, but this is where you catch the snorkel boat to Lanai. The Pacific Whale Foundation runs a 5-6 hour snorkeling trip to Lanai. You'll find much less crowded snorkeling conditions over there than most places on Maui.
Ka'anapali Beach: If you're staying on Ka'anapali Beach, you can't beat the convenience of booking with one of the catamarans that pulls up right to the beach. Most of the snorkel tours from Ka'anapali will take you north for snorkeling through West Maui's protected coves (including Honolua Bay in the summer months). Book with Sea Maui for a fun day of snorkeling including lunch and drinks.
RELATED: Maui vs Kauai
Maui Travel Tips: What to Know Before You Go
How to Survive the Long Flight to Hawaii
The Ultimate Hawaii Packing List
Save
Save
Save
Save
Save
Save
Save
Save
Save
Save
Save
Save
Save