8 Easy Hikes on Oahu That Are Not Illegal or "Extremely Dangerous" ; )
Oahu has plenty of famous, jaw dropping hikes. While Kauai usually gets the buzz for being the hiker's paradise, most of those epic drone shots you see plastered on social media by YouTubers and influencers are actually on Oahu.
Well, here's the deal, like more than half of them are flat out illegal or genuinely described as "extremely dangerous" by people that have hiked them. I was reading a post about hiking on Oahu by some big time travel influencers and I kid you not, they described half of the hikes on their list as either illegal or very dangerous.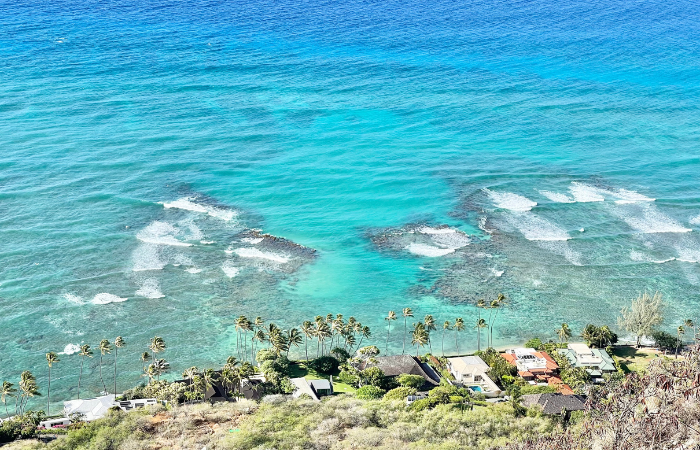 Well, I specialize in a different niche of hikes…I like to call them "breathtakingly beautiful but very low risk of death" hikes ; )
Easy Hikes on Oahu
So I've labeled this post "easy" hikes, but what exactly does that mean? Well I'll be honest…when you're in the middle of some of these hikes you might be thinking "this is NOT easy" but in general they're all either very well marked and maintained trails (some completely paved), or at least fairly short distances. Most of the hikes on this list are under two miles which I think makes them "easy" even if they feel challenging for a bit.
Here we go!
Diamond Head
Diamond Head is probably the most iconic hike on Oahu, and that's partially because of how accessible it is but mostly because of the views.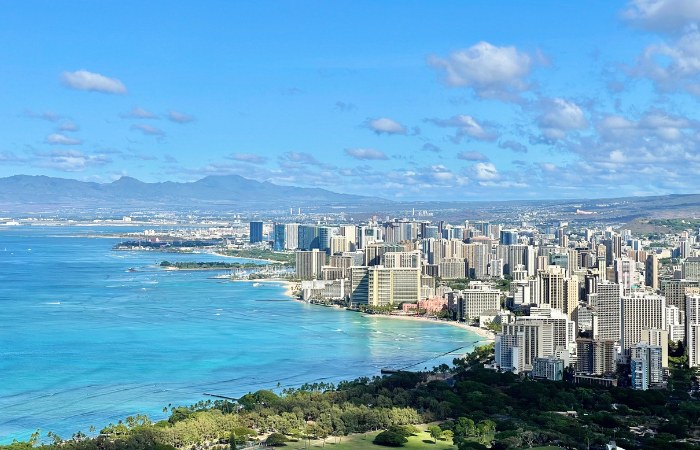 It's a fairly mild hike for such a big payoff. Yes, it's all uphill, but it only takes 30-40 minutes to climb to the top and once you do, you'll have fabulous views of Waikiki and Honolulu.
The entire trail is very well marked, maintained and well traveled so there's no big "risk" factor.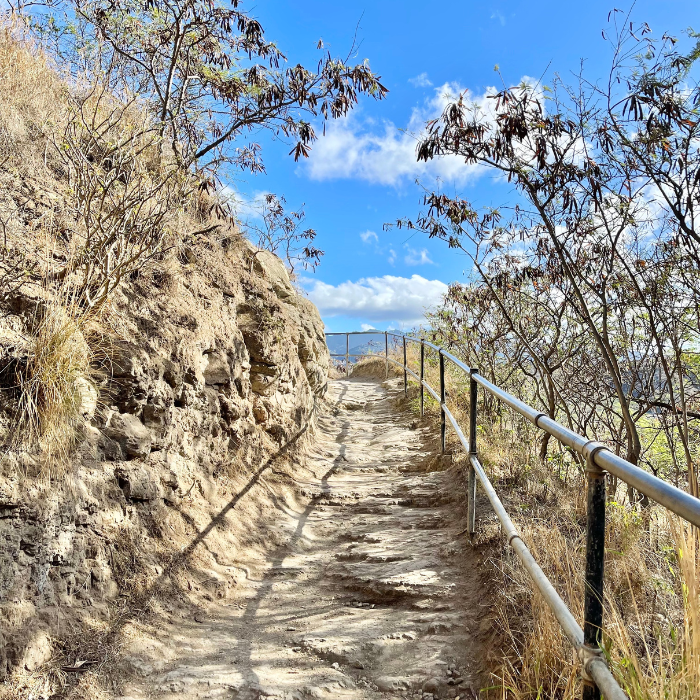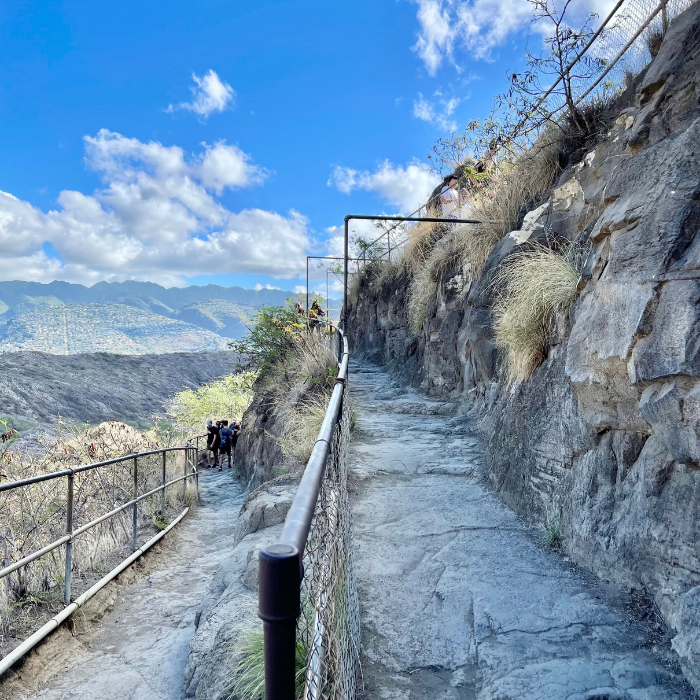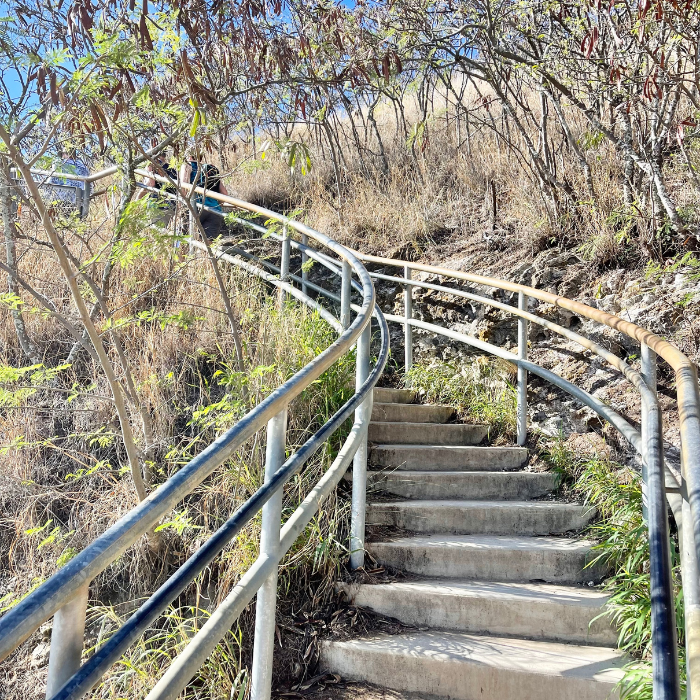 The most dramatic part of the hike is the tunnel you have to walk through once you get towards the top (maybe 30 seconds or so) and then…the stairs.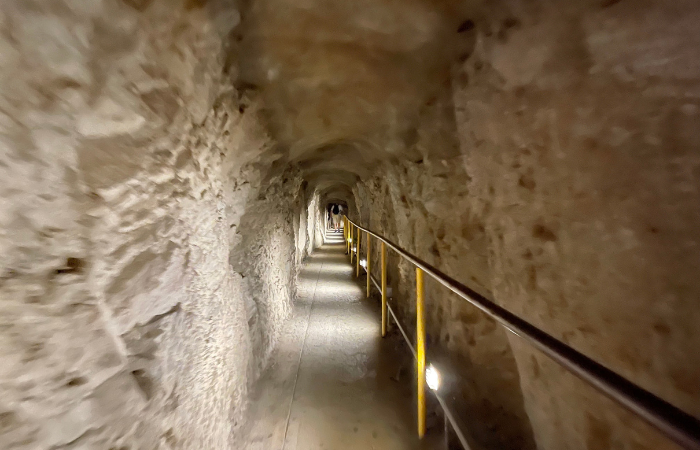 Once you come out of the tunnel, you've got two options. Turn right and you'll go up the largest staircase you've ever seen ; )
There's a sign suggesting that you go left instead. If you go left, you still have to climb some stairs, but they're more broken up so it seems easier. Either way you go, it's a loop.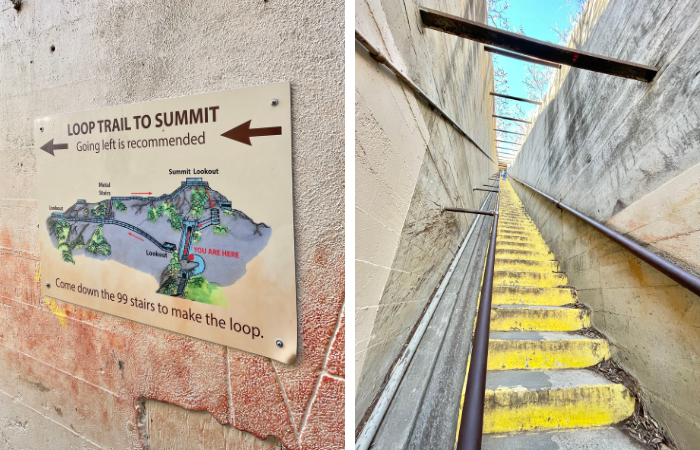 The first time I hiked Diamond Head, we went to the left and then once we were at the top we just retraced our steps back down (most people do this).
But if you want to do the full "loop" and come DOWN that massive staircase you saw when you came out of the tunnel, then once you're at the very top, you climb into the pillbox (concrete bunker) and go down the metal spiral staircase to get to it.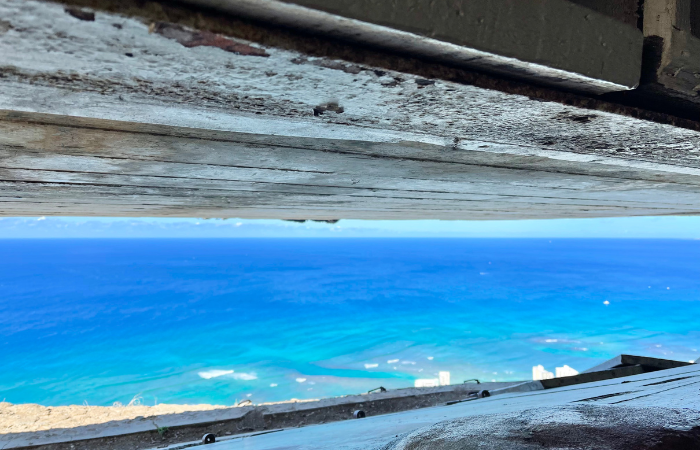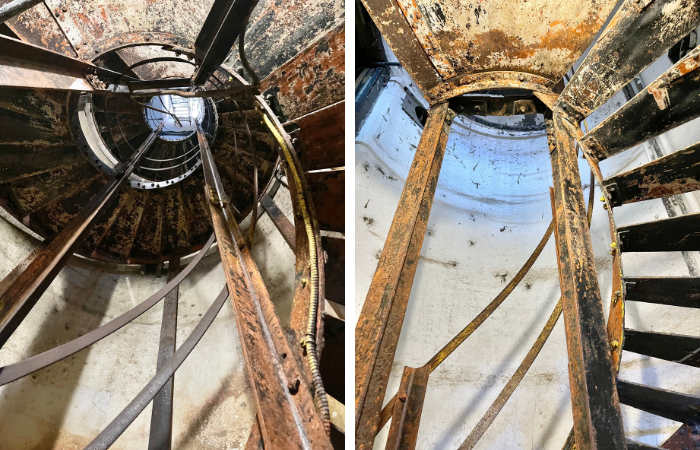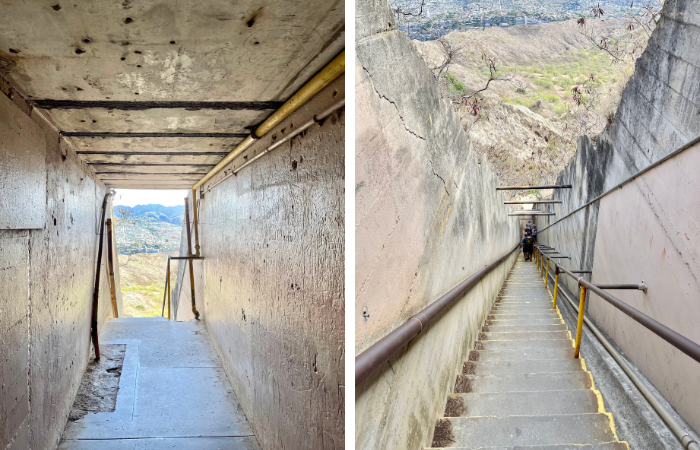 Either way works.
So here are the logistics…
Increasing popularity has triggered a new reservation system, so you'll need to plan this one in advance.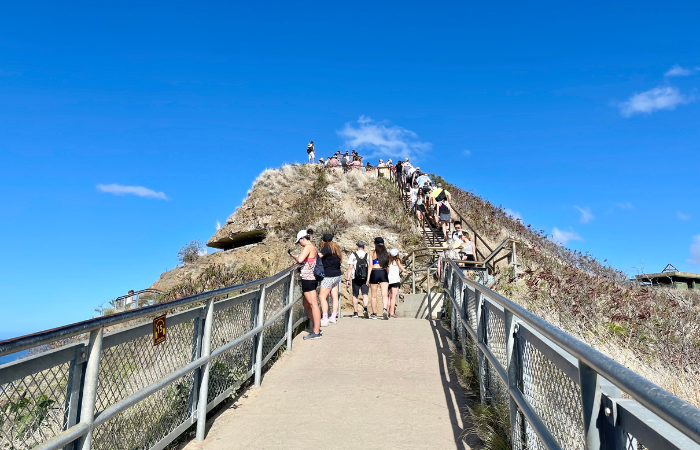 Reservations can be made 30 days in advance here for either just entry or parking and entry.
If you're booking the entry and parking options (what I would recommend if you have a car), reservations are made in 2 hour increments starting at 6AM (6AM-8AM, 8AM-10AM, 10AM-12PM, etc.) and you're asked to arrive within the first 30 minutes of your time slot.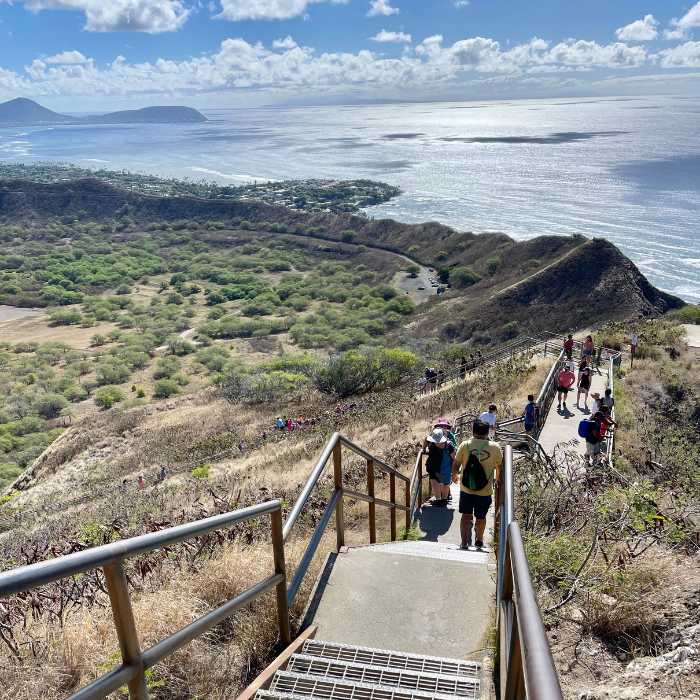 If you're just booking entry, reservations are made in hour increments starting at 6AM.
Entry is $5/person (whether you park, Uber, or hike in) plus $10/car for parking.
If you take the bus/trolley or park in the free spots, you're going to have to walk pretty far before you get to the actual trailhead. But I believe Uber/Lyft drops you off right at the parking area.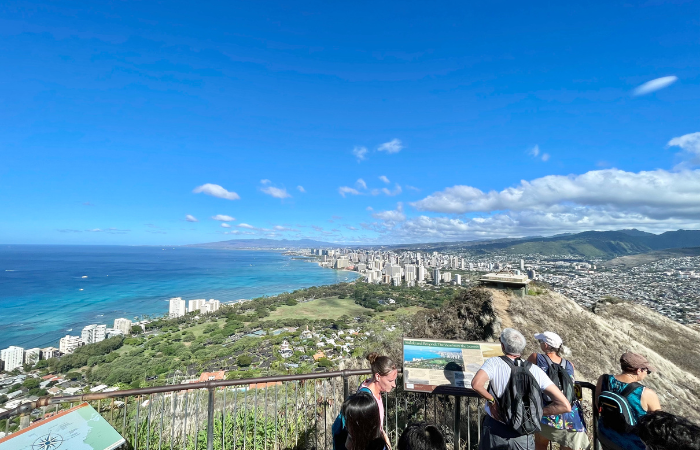 Either way, you still need reservations.
I highly recommend booking an early time slot as there is NO SHADE on this hike.
And if you're a hesitant hiker and need a little incentive to push you over the edge, here it is…Diamond Head has a line of EXCLUSIVE HELLO KITTY MERCHANDISE. So hike Diamond Head and then you can buy an array of swag with Hello Kitty on it that says "I hiked Diamond Head." What could be more fun?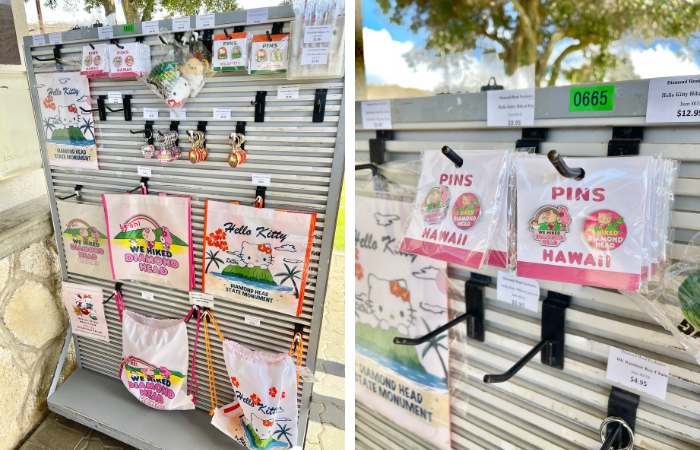 Lanikai Pillbox Hike
There are so many great hikes on Oahu, but I think this is my favorite!
It's fairly short, but it's got a good pay off.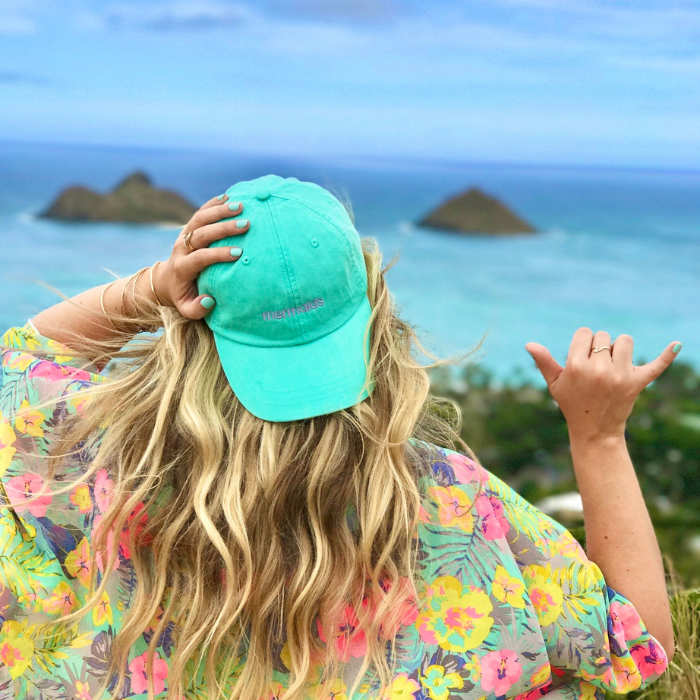 You'll find the trailhead on Kaelepulu Drive in Lanikai. All of the parking is on the road and it's super limited. Be sure to respect the signs of where you're allowed to be and where you're not and don't go traipsing through people's yards. Because of limited parking, you're going to want to get an early start on this one.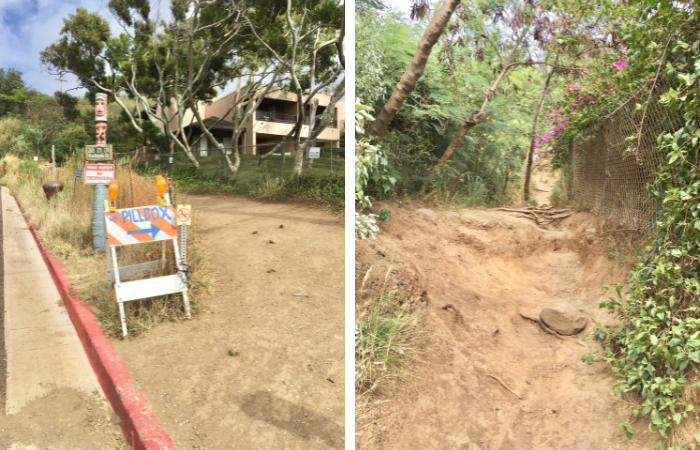 Because the view faces east, some people like to go for sunrise, but you'll definitely need headlamps if you go that route.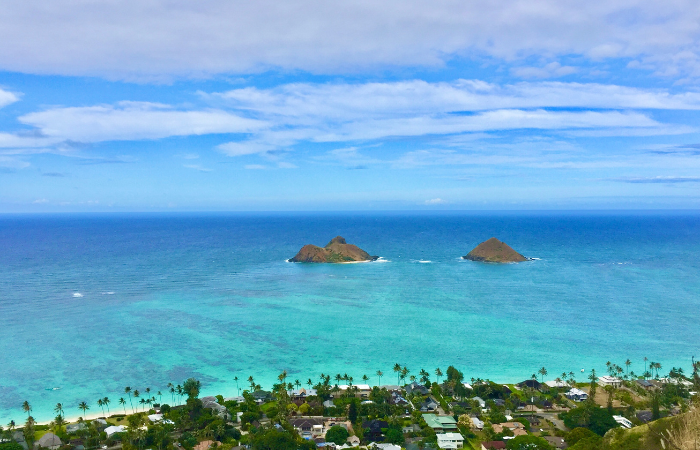 This hike only took me about an hour up and back, but you really have to scramble in some places. The first part is by far the steepest. Most people stop when they reach the first pillbox, but you can keep going if you want to see them all.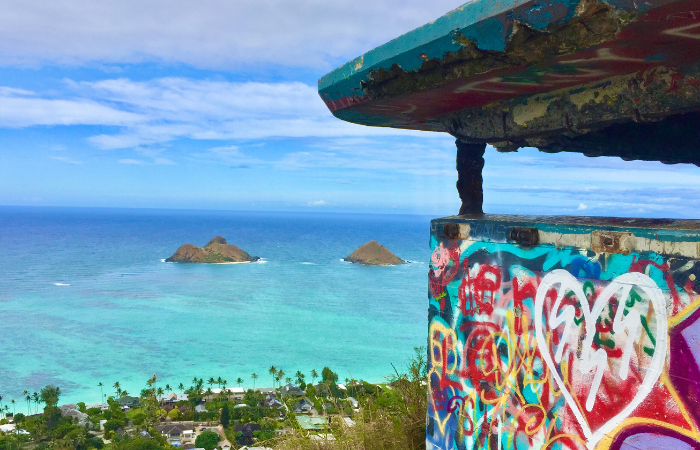 I wouldn't say this is a "hard" hike at all, but the trail is a lot less defined and cleared than Diamond Head so you have to do a bit of negotiating.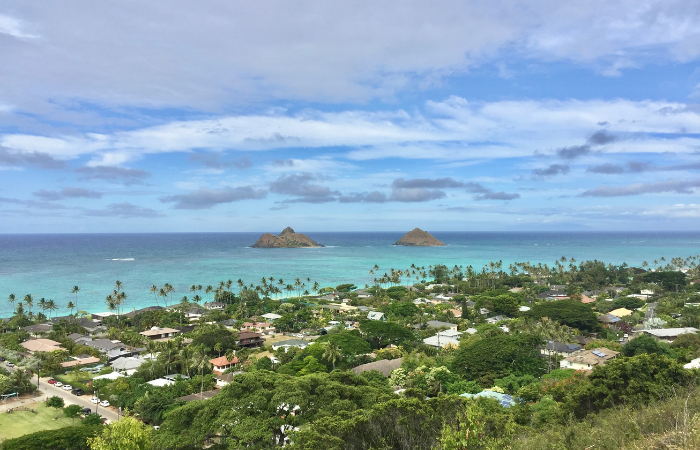 Side Note: If you're looking for a rental car for your trip, I LOVE Discount Hawaii Car Rentals. They're seriously the only company I ever use. They'll give you the very best prices, you don't have to reserve with a credit card or pay until you show up, you can cancel and re-book anytime if you find a better rate, and they usually have a special that adds additional drivers for no fee. It's a no brainer. Click here to check rates for your trip.
Makapu'u Point and Trail
This is a great easy/beginner hike with a big payoff of great views at the top. Located on the southeastern side of the island, this is a great hike to pair with snorkeling at Hanauma Bay or the Halona Blowhole or even a drive up the windward coast past Kailua and Kaneohe.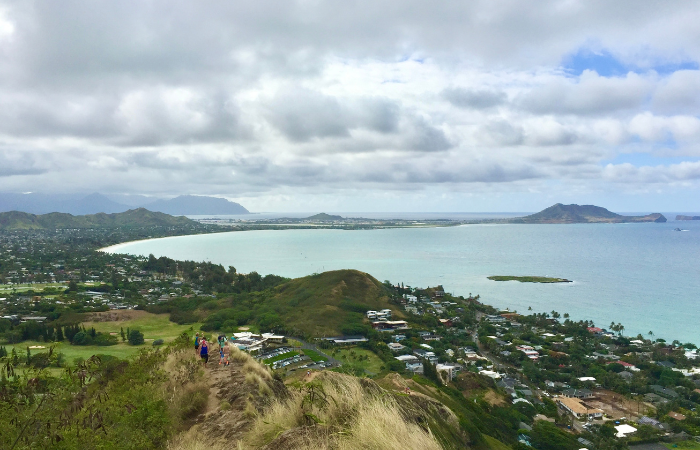 After you pass Sandy Beach Park and come around the point, you'll see a turn off to the right with cars parked along it and a small parking lot at the bottom (if you come to the Sea Life Park you've gone too far).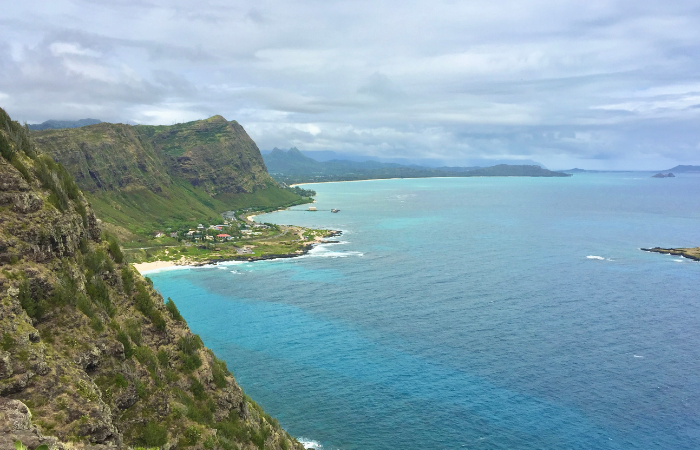 It's a mile hike (at a decent incline) to get to the top where you can see a lighthouse plus epic views of the windward coast, but it's entirely paved.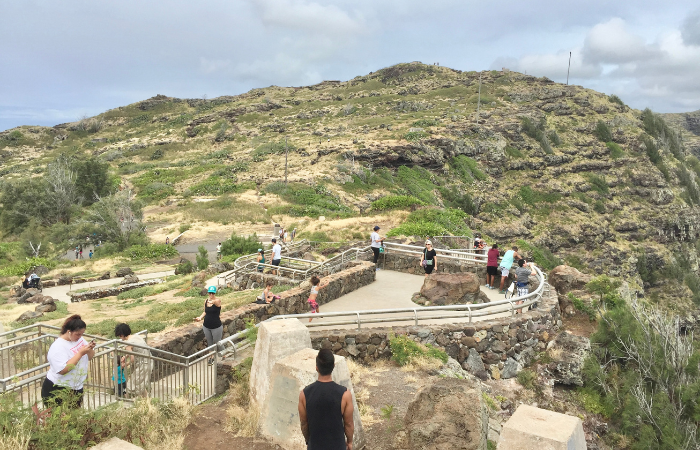 I did this in flip-flops, although I wouldn't really recommend it. It's an easy enough hike, but a pretty good incline going up.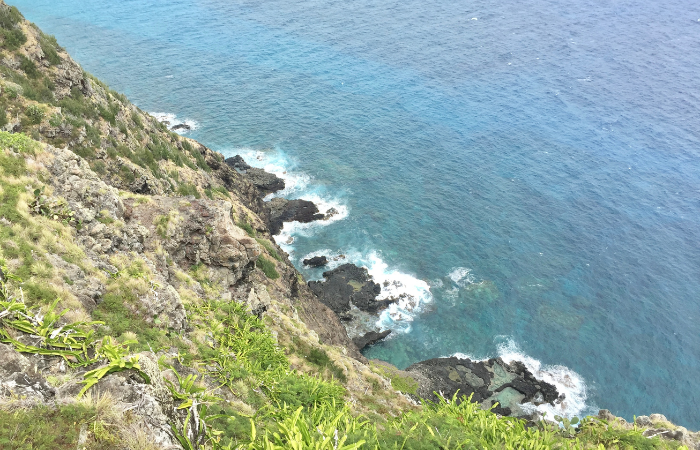 The hike only takes about an hour, but bring plenty of water because there's not really any shade.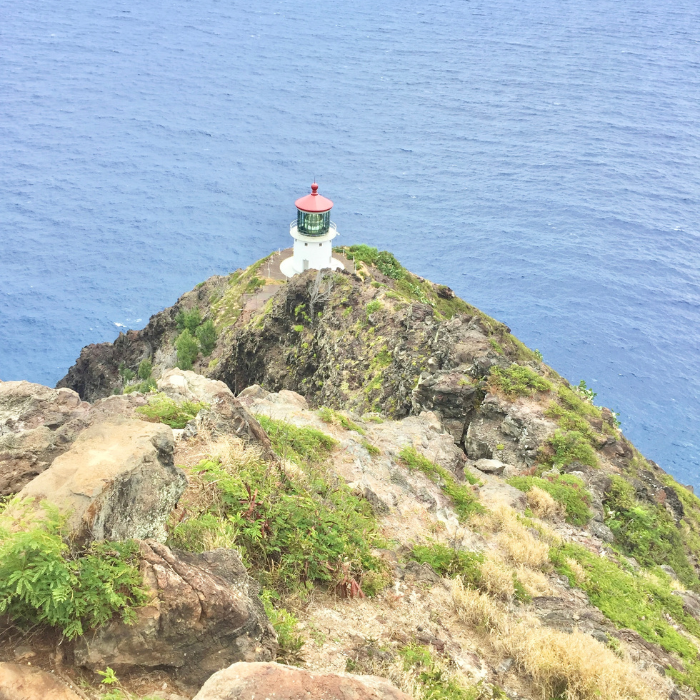 Manoa Falls
This is a popular hike because it's quick (1.6 miles round trip), pretty flat, and rewarding (hello waterfall!). This may be your easiest chance for waterfall gazing.
Unlike a lot of the shorter hikes on this list that are pretty wide open or arid before leading to ocean views, the trail to Manoa Falls is through a lush, tropical rainforest.
Also, I would classify this one as more of a "walk" than a hike which makes it great for kids, older people or those who can't or don't want to push for a strenuous hike.
Besides the beautiful scenery along the trail, you'll be rewarded with views of the 100 foot Manoa Falls at the end. This isn't a place that you can swim underneath a waterfall though, this one breaks over rocks.
And just remember…how impressive the waterfall is depends on the amount of recent rainfall.
Koko Head Crater
Sometimes overshadowed by Diamond Head, the hike up this extinct volcanic crater is still pretty popular, but it's waaaaay more strenuous than Diamond Head.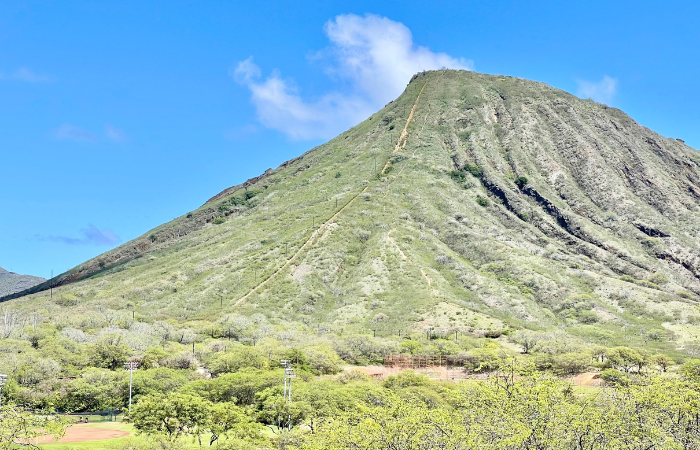 I have included it on this list of "easy" hikes though because the trailhead is pretty easily accessed and it's a relatively straightforward (and not terribly long) hike.
But here's the deal…it's 1000 steps up railroad ties straight to the top. Talk about a leg burner!
Ehukai Pillbox
The Lanikai Pillbox hike gets most of the attention, but there are actually several pillbox hikes on the island
The pillboxes are old bunkers left over from WWII and since they were all used as lookouts, they've all got pretty amazing views.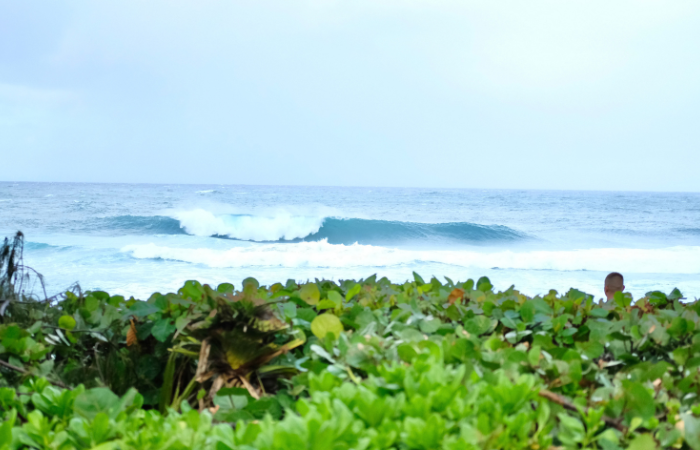 If you're staying on the north shore (or just exploring for the day), you'll want to check out the Ehukai Pillbox.
It's a pretty quick scramble to the top, but you'll be rewarded with GREAT views of the ocean and when the Banzai Pipeline is going off in the winter, it's a prime view.
Maili Pillbox Hike
If you're staying in Ko Olina (Aulani, the Four Seasons, Marriott Beach Club, etc.) this hike isn't too far away.
Besides beautiful ocean views, what sits this one apart is that the pillbox was painted PINK to celebrate Breast Cancer Awareness Month several years ago.
Kaena Point Trail
This is probably one of the less traveled options on this list, but if you're spending time on the west side, then you may want to check it out.
It's at the absolute end of the road on the west side, and the trail is dry, rugged, and pretty isolated.
There just aren't too many people that make it out there. It's mostly because the road doesn't connect around the island.
The trail goes about 2.5 miles out and it offers great views of the coast, but it's very arid so bring plenty of water. The tide pools below may look enticing, but it's just so isolated that I recommend staying out of the water. If anything should happen, there's just no one around to help.
Still Looking for a Place to Stay?
Here's one more really important thing you need to know before your Hawaii trip…
Reservations You Need to Make BEFORE Your Hawaii Trip
You've got your airfare, hotel, rental car and your big activities booked, so you should be good to go, right? Wrong!
Travel is BOOMING in Hawaii so a lot of state and national parks used the closure and reopening to institute reservation systems at some of the island's most popular spots to make things a little more sustainable.
That means that there are now over half a dozen sites (beaches, trailheads, etc.) that require advance reservations. And some sell out well before you arrive on the island so you really need to have some sort of a plan.
I recently saw somebody in a Hawaii travel group post in a panic that they didn't know they had to make reservations for things in advance…they thought they could just show up and "go with the flow." I was tempted to say, well, "as long as the flow doesn't take you somewhere that requires reservations, you can!" ; )
But I don't want YOU to be that person, so I've pulled together a list of all the places you need to reserve entry in advance (plus all the details on booking windows, price, links, etc.) and a handful of popular tourist hotspots that book out really far in advance too.
Haleakala National Park (Maui)
To visit Haleakala National Park for sunrise at the summit, you must make reservations in advance here.
Reservations are required to enter the park gates between 3AM and 7AM (sunrise hours).
Online reservations are $1 per reservation/vehicle PLUS you'll pay the park entrance fee of $30/vehicle when you arrive (National Park annual passes are also accepted at the gate).
The reservation booking window opens 60 days in advance at 7AM HST. There are also a limited number of tickets released two days before.
You can make one reservation every three days with the same account. So if you want to make reservations for back to back days (in case of weather/conditions), you'll need to do so with separate accounts (email addresses).
If you can't get reservations for sunrise, you can enter the park anytime after 7AM without reservations. The summit is spectacular during the day and you don't need reservations for sunset.
I strongly recommend creating an account before and making sure you're logged in at 7AM HST because it's not uncommon for reservations to sell out quickly.
Waianapanapa State Park (Maui)
To visit Maui's famous black sand beach at Waianapanapa State Park on the Road to Hana, you must make reservations in advance here.
Reservations are required to visit the beach and are distributed in windows from 7AM-10AM, 10AM-12:30PM, 12:30PM-3PM, and 3PM-6PM. And they are pretty strict about exiting by the end of your window time (you can arrive anytime within your window).
It's $5/person to enter plus $10/vehicle to park and those fees are paid when you book your time slot.
Reservations open up 30 days in advance.
Iao Valley State Park (Maui)
To visit the lush, green mountains and hike at Iao Valley State Park, you must make reservations in advance here.
Reservations are offered for 90 minute time slots beginning at 7AM and ending at 6PM. They ask that you arrive within the first 30 minutes of your time slot.
Entry is $5/person plus $10/vehicle to park.
Reservations open up 30 days in advance.
Diamond Head (Oahu)
To hike to the top of Waikiki's famous Diamond Head, you must make reservations in advance here.
Reservations are offered in two hour increments beginning at 6AM (6AM-8AM, 8AM-10AM, etc.) and ending at 6PM. If you're parking onsite, they ask that you arrive within the first 30 minutes of your reservation window.
Entry is $5/person plus $10/vehicle to park.
Reservations open up 30 days in advance.
Tip: I recommend booking one of the first two time slots because there isn't much shade on this hike and it gets pretty hot.
Hanauma Bay (Oahu)
To snorkel at Oahu's pristine Hanauma Bay, you must make reservations in advance here.
Entry times are staggered in 10 minute increments from 7AM to 1:20PM with roughly 1000 slots being assigned in advance every day.
Reservations can be made two days in advance and they open at 7AM HST. They're usually gone in minutes (if not seconds).
If you're unable to get an advanced reservation, you can try for a day of, walk in ticket. They open at 6:45AM and they only have a limited number available. Everyone in your group needs to be present when you purchase your tickets in person.
There are no reservations for parking and it's first come, first serve. $3/vehicle.
It's $25/person to snorkel at Hanauma Bay (12 and under, active military, and locals with HI ID are free).
The Hanauma Bay Nature Preserve is open Wednesday through Sunday (CLOSED MONDAY AND TUESDAY) from 6:45AM-4PM. Last entry is at 1:30PM, the beach is cleared at 3:15PM and you have to leave the facility by 4PM.
Jellyfish patterns can also affect whether or not the bay is open so double check the day before/day of.
USS Arizona at Pearl Harbor (Oahu)
If you want to take the boat tour at Pearl Harbor out to the USS Arizona, it's recommended to make advance reservations here.
Online reservations are guaranteed a specific boarding time to go out to the USS Arizona. If you're unable to get an advance reservation, you can wait standby when you arrive. The line could be short (15 minutes or so) or long (hours) and it just depends on the day (if they're having problems with the loading dock sometimes they don't take many from the standby line) and the time of day.
Reservations are supposed to open up 60 days in advance, but keep an eye on your exact dates, because lately they've actually been opening up about 57ish days in advance???
They also release a small batch of tickets the day before.
The boat ride out to the USS Arizona is free, but it's $1 to make the reservations online.
They recently started charging $7/vehicle for parking at Pearl Harbor.
Haena State Park / Kalalau Trail (Kauai)
If you want to hike Kauai's famous Kalalau Trail, you must make advance reservations here.
You've got three options here:
1) Parking & Entry: This is the most flexible option and also the most limited. THESE RESERVATIONS SELL OUT IN LESS THAN A MINUTE. There are three time slots available: 6:30AM-12:30PM, 12:30PM-5:30PM and 4:30PM to sunset. You can purchase multiple time slots if you want to stay longer. It's $10/timeslot (parking) plus $5/person and you have to reserve every person when you initially book. Everybody has to arrive in the same car and your ID needs to match the reservation.
2) Shuttle & Entry: If you can't get parking at the trailhead, there's also a shuttle option. Shuttle reservations are $35/person (16+), $25/person (ages 4-15), 3 and under can ride free. The shuttle runs every 20 minutes 6:20AM to 6:40PM.
3) Entry Only: If you're a Hawaiian resident (with HI ID) or someone WITH a Hawaiian resident, you can purchase entry only for $5/person with no advance reservations. Also, if you're walking or biking to the trailhead you can do this option. But there is NOWHERE to park in the area to walk in. So this really only works for those with bikes or who are staying close enough to walk. They will tow your car if you park outside the designated areas.
The reservation window opens 30 days in advance at 12AM HST. The parking & entry option usually sells out in a minute, but the shuttle availability will last longer.
There are a TON of FAQs here including the possibility of snagging a canceled reservation.
Other Things to Book in Advance
Hawaii is a busy place these days! Besides the state and national parks above, here's a handful of miscellaneous things you should make reservations for in advance (if they're on your radar):
Mama's Fish House (Maui): The iconic spot is the most popular restaurant in Hawaii and they've been opening reservations (and selling out) 4-6 months in advance. You can call and get on the waitlist for one day or you can set notifications on OpenTable to alert you for cancellations every day of your trip. Most people have pretty good success on OpenTable.
Old Lahaina Luau (Maui): Honestly, any luau you're planning to attend you should book early, but most people are usually shocked how far out the Old Lahaina Luau books out. Book it as soon as you know your dates (I think they open at the six month window). They also have a waitlist.
Kualoa Ranch UTV Tour (Oahu): Everybody loves Jurassic Park so getting to ride UTVs where they filmed the movies is very popular. The ranch offers a lot of different tours but the UTV tours usually book out a couple of months in advance.
Spa Reservations: If you're staying at a resort with a spa (or planning on visiting one), don't wait until you arrive to make your reservations. I'd make them at least a month in advance.
Tee Times: Same for golf, reserve your tee times well in advance.
Dining Reservations: Any "fancy" or resort restaurant is likely to be booked up these days so if you like having a nice dinner every night, make your plans in advance.
Want to read more? Don't miss some of my most popular (and favorite) posts about Oahu:
If you're trying to figure out where to stay, you're going to want to look at my favorite boutique resort in Waikiki and the lowdown on where to stay on Oahu besides Waikiki. Plus I've got the scoop on how to avoid illegal vacation rentals and a roundup of where to stay in Ko Olina and reviews of the Laylow and Disney's Aulani Resort. And a LOT more on Aulani like is Aulani worth it?, tips for staying at Aulani, how many days to spend, and the best things to eat and drink at Aulani.
If you're researching luaus on Oahu, I've written quite a bit. First, I've got a full breakdown of the best luaus (and the worst) on Oahu. Then I've got complete reviews of Paradise Cove, the Polynesian Cultural Center, and Aulani's Ka Wa'a Luau. And if you've narrowed it down to the top two most popular on the island and still can't decide, here's Paradise Cove vs Polynesian Cultural Center.
If you're trying to put together an itinerary full of the best things to do, take a look at my best 5 day itinerary, and roundups of the best things to do in Waikiki, "secret" things to do on Oahu, plus my favorite things to do in Kailua and the windward coast, in Ko Olina, and on the north shore. And if you're looking for food recommendations, I've got the best restaurants in Ko Olina and where locals eat in Waikiki.
And last but not least, some of my favorite things on Oahu like Jurassic Park at Kualoa Ranch, Shangri La and the Honolulu Museum of Art, tips for visiting Pearl Harbor, easy hikes on Oahu, and the best spas on Oahu. And everything you need to know BEFORE you go to Oahu.
P.S. Thanks for sticking around and reading this whole post! If you have ANY questions about planning your trip to Hawaii, you can join my free Facebook group here. I'm there answering questions every day and there are 7500+ other friends who have a ton of Hawaii information to share!
Also, if you want to follow along on my travel adventures in real time, you can follow me on Instagram (@caitylincoln). My post captions are full of travel tips and I have a ton of story highlights and videos with great info. And please share my account with your friends that are headed to Hawaii! Your support really helps me keep this blog running!