How Many Days to Spend in Maui? (& Other FAQs)
Here's a little FAQ roundup of questions I get asked pretty often about how to plan your time on Maui:
How many days to spend in Maui?
Well, you've only got however many days you've got, but if you're wanting the best overall vacation, I wouldn't suggest less than one week (probably 6 full days, but you could do a lot in 5 full days too).
If you're short on time (doing a quick long weekend getaway from the west coast), you can still have a great trip just as long as your expectations are more about resting and relaxing. And if you've got weeks to spend, you'll find plenty on Maui to keep you busy.
But in general, if you're wanting to explore the island and still feel like you've had a relaxing vacation, you'll want at least 6 full days. I also don't recommend splitting up a one week vacation between two different islands. Just stick to one and really experience it.
Stay in one place or move around the island?
Maui isn't exactly a tiny island and when people start mapping out the popular things to do on the island, a lot of people wonder if it's smarter to stay in two different places to save time driving around. Generally, I don't think it is.
Most people are talking about splitting the time between staying on the west side (Lahaina, Ka'anapali, Kapalua) and the south side (Kihei, Wailea) and I don't think saving 30 minutes in the car is worth the time it takes to pack up and switch places to stay.
Here's when I do recommend splitting your stay: if you want to stay at a nice beach resort for a little R&R, but it's not in the budget to spend your entire vacation there. One of my favorite ways to split a trip to Maui is by spending the first 3-4 nights in a vacation rental near Paia and spending those days doing sunrise at Haleakala, road to Hana, and exploring the north shore and upcountry and then moving to a resort in Wailea or Ka'anapali for 3-4 nights and doing ABSOLUTELY NOTHING. It's a good way to save money and also not feel guilty about spending $$$ on a resort while you're out exploring the island.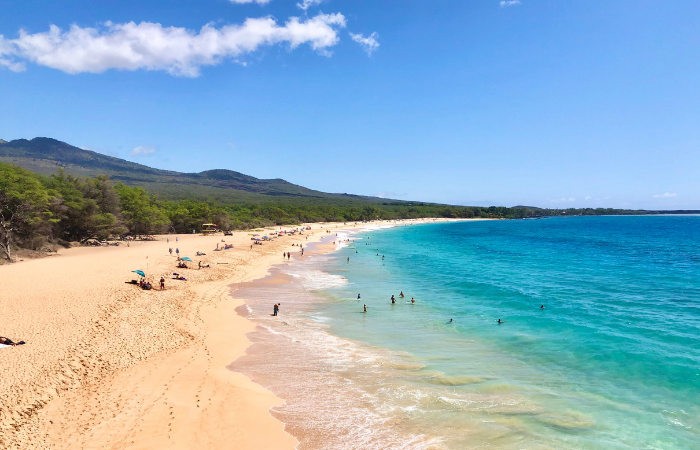 Side Note: If you're looking for a rental car for your trip, I LOVE Discount Hawaii Car Rentals. They're seriously the only company I ever use. They'll give you the very best prices, you don't have to reserve with a credit card or pay until you show up, you can cancel and re-book anytime if you find a better rate, and they usually have a special that adds additional drivers for no fee. It's a no brainer. Click here to check rates for your trip.
Spend the night in Hana?
An extension of the last question…more and more people are wondering if they should split the epic adventure of driving to Hana into two days by spending the night in Hana. Generally, my answer is still no. Mostly this comes down to what are you going to do with your luggage? You can't leave anything in your car at any stop along the road to Hana that you don't mind never seeing again. Even if it's locked in your trunk. Petty theft is common in Hawaii and thieves know that cars parked at the side of the road in certain spots mean their owners are away hiking and swimming and not likely to be back quickly. Break ins happen in SECONDS. Also, rental cars are easy to spot. So either you have to drive straight to your place in Hana to drop off your luggage (which means you can't stop at all on your way there), or you have to book a double night while you're in Hana and leave your luggage at your hotel/condo on the other side of the island and just take an overnight bag (that you'll have to carry with you on your hikes).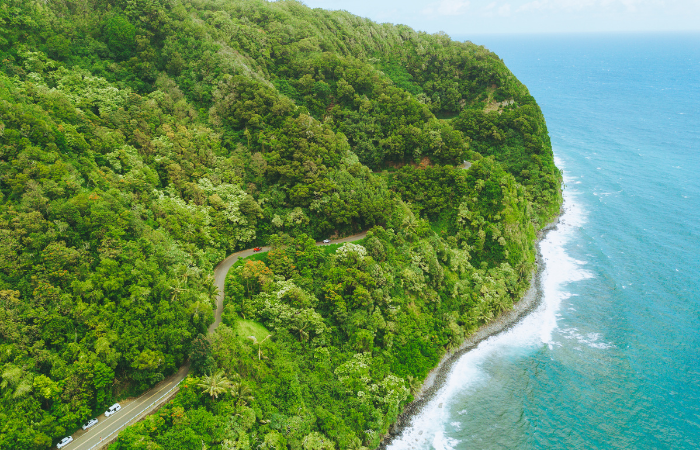 Also, unless you have 10+ full days on Maui, there is just soooo much else to see and do on Maui that I don't think an overnight in Hana is necessary.
My exception: if you're 1) willing to double book accommodations and just travel with a backpack (leave everything in your other hotel room), 2) staying more than a week on Maui, and 3) a super avid hiker.
I've got a whole post about where to stay in Hana (including more info on whether or not it's a good idea) here.
What about visiting multiple islands in one trip?
Go for it! I still recommend at least one week per island, but there are some exceptions. If there's something you REALLY want to see or do (i.e. Pearl Harbor, the volcano, etc) you could justify spending only a couple days on that island in addition to another island, but usually when people try to spend 3-4 days per island and hop around a lot they end up seeing more of the airports or just the super touristy parts of each island. Read more about which Hawaiian island you should visit here.
On Another Note: If you're looking for a condo or vacation rental for your trip, I always book with Vrbo. They've got the largest selection of rentals you'll find anywhere and you can easily filter to find exactly what you're looking for. Need a specific number of bedrooms and bathrooms? Narrowed it down to a certain location? Want flexible cancellation terms? Need to stay under a fixed budget? Click here to search for Maui vacation rentals for your trip.
South Maui or West Maui?
I've done a deep dive into that question here, but basically one side isn't necessarily better than the other…it just depends on what you prefer and also what you'll find in your budget.
Want to read more about where to stay on Maui? I've written a ton of posts that will help. I'd start with my 15 favorite resorts and hotels on Maui. Also, you're going to want to decide between staying on the south side or the west side so this post about Wailea vs Ka'anapali is golden. Read about my favorite luxury resorts, boutique hotels, honeymoon resorts, family friendly resorts, and condos (many under $100/night!). If you've narrowed down the area of the island you want to stay, but need help picking a specific hotel, read these posts about where to stay in Wailea, Kihei, Ka'anapali, Lahaina and Kapalua, and Hana. And if you just want more details (more! More! more!), read my reviews of staying at the Four Seasons and the Fairmont Kea Lani.
P.S. Thanks for sticking around and reading this whole post! If you have ANY questions about planning your trip to Hawaii, you can join my free Facebook group here. I'm there answering questions every day and there are 7500+ other friends who have a ton of Hawaii information to share!
Also, if you want to follow along on my travel adventures in real time, you can follow me on Instagram (@caitylincoln). My post captions are full of travel tips and I have a ton of story highlights and videos with great info. And please share my account with your friends that are headed to Hawaii! Your support really helps me keep this blog running!