Maui's Road to Hana is one of the most famous (or infamous) drives in the world and in my opinion is the #1 don't miss thing to do on Maui.
What makes this drive so special? The Road to Hana is over 50 miles along Maui's rugged north shore and east side with 600+ tight turns and about 50 one-lane bridges. Sound fun? It is! While it has the reputation among many as being a hair raisingly dangerous adventure, driving the Road to Hana is certainly a once in a lifetime adventure but not nearly as treacherous as many make it out to be.
I've driven the Road to Hana at least a half dozen times. I've done it by myself, with a car full (including a baby in a car seat!), in a Jeep, in a sedan, and even in a full sized pickup. I've even done the backside of the Road to Hana (the road past Hana) many times! I'm pulling together everything I've learned driving the Road to Hana from the very best stops to make to tips about what to expect. So…here we go!
What to Expect
I've already mentioned the 600+ sharp turns and 50+ single lane bridges so you probably already have a pretty harrowing image in your head right? Don't worry, it's really not so bad! The entire road from Paia to Hana (and even beyond) is entirely paved and two lanes. The bridges are not two lanes, however there's an understood rule of letting 6-7 cars on either side pass at a time. In general, while the road is very winding, it's relatively flat and there are very few drop offs (and there are guard rails protecting the few you will find).
What you can expect along the Road to Hana is plenty of beauty. You'll see colorful, lush vegetation, wide sweeping views and so many waterfalls. Perhaps the most important thing to understand about driving the Road to Hana is that it's about the journey, not the destination. Hana itself isn't much to speak of. It's a quiet little town with a gas station, a general store, and not much else. So this drive is less about "hurry up and get to Hana" and more about enjoying the adventure.
Now, on to the good stuff.
RELATED: Not very familiar with Maui? Read up on the lay of the is(land) and where to stay plus my favorite beach resorts, budget hotels, Airbnbs, honeymoon resorts, family friendly resorts, luxury resorts, and boutique hotels plus my area specific guides (including where to stay, eat, and things to do) for Wailea and Ka'anapali.
Stops on the Road to Hana
North shore spots: The Road to Hana officially begins in Paia (a cute little town on the north shore), but don't plan on spending much time at any spots in the Paia/Haiku area on the day you do the Road to Hana. This includes exploring Paia town, stopping at Ho'okipa overlook, or hiking to Twill Falls. These are all things you should do, but do them on another day. Getting to the north shore from Kihei or Lahaina isn't all that far. You'll need the FULL day to see all of the highlights on the eastern side of the island. So grab breakfast in Paia, pick up a picnic lunch, fill up your gas tank, and hit the road!
Rainbow eucalyptus trees: Between mile marker 6 and 7, you'll find a grove of rainbow eucalyptus trees. I love these guys! Parking is a little tricky and if you want to get out and see them (instead of just doing a drive by), you'll need to park past them and walk back.
Bamboo forest trail: Around this same spot (mile marker 6 & 7), you'll come across a bamboo forest. If you're driving to Hana, you'll see little trail heads (holes in the bamboo) along the right hand side of the road. If you're planning to hike the Pipiwai Trail (a don't miss for me), skip this stop as there's a bamboo forest there as well.
Waikamoi Ridge Trail: Just past mile marker 9, the first "trail" on the Road to Hana stops quite a few drivers (there's also a bathroom here), but I say skip it as it's just a short hike through the forest with no waterfalls or open views.
Wish you had a go to resource for the best spots in Hawaii? I'm talking snorkeling spots, trailheads, hidden beaches, local restaurants, and more! Sign up for my newsletter to access to my library of Hawaii Google Maps. I'll also send you the latest and greatest Hawaii news, brand new things to do, special weekly deals and more. You don't want to miss out on this! So sign up below!
Keanae Peninsula: This peninsula (you'll take a left to drive down to the water between mile marker 16 and 17) is home to some quaint little towns (villages really). The view at the bottom is so lovely. Stop at Aunty Sandy's roadside stand for some fresh fruit or banana bread. If you don't drive down to the water, the view from the top is still pretty spectacular.
Halfway to Hana: This roadside stand is a popular one because it's, well, halfway to Hana! Great banana bread.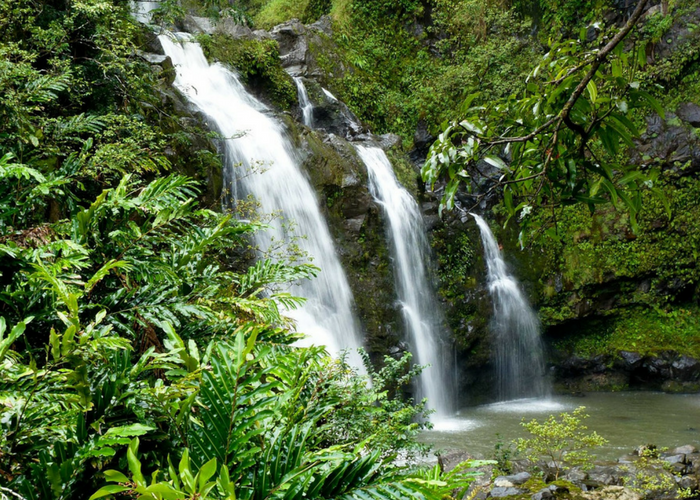 Upper Waikani Falls (Three Bears Falls): These falls at mile marker 19.5 are some of my favorites. It's a "drive by waterfall" meaning you can see it from the road but you can also park past it and walk back for a longer look (although you're just walking down the road-it's not protected). You can also climb down under the bridge and make your way to the pool at the bottom but I would probably just settle for a look and keep going.
Waianapanapu (black sand beach): As you near Hana, this is the first "epic" stop you'll make. While there is a black sand beach (albeit a little more grey) in south Maui, this one is over the top dramatic. You'll find it around mile marker 32 (you can't miss the signs). There's a large parking lot. Don't miss the blowhole, sea cave, and overlook spots. And of course you've got to feel that sand between your toes. This spot gets crowded so the earlier the better.
Hana Town: You've made it! There's not much in Hana (you might find a gift shop or two-if they're open), but be sure to stop in Hasegawa's General Store for a cold drink. Also, if you didn't pack your lunch, I recommend the Braddah's BBQ Hut food truck. You'll find it just past Hana "town." Be prepared for a line of locals and tourists alike.
Red sand beach: Accessed from right in the middle of town, for me, this is THE highlight of the Road to Hana. It's tricky to find and a bit of a hike but oh so worth it. As you're coming into Hana town, take a left on Hauoli road (you'll pass a church and some tennis courts) and then turn right when the road dead ends at the Hana Community Center. Park along this street and walk across the open lawn of the Community Center. You should be able to pick up a trail through the bushes (if this sounds downright crazy to you, you might be better off to wait for people who look like they know what they're doing to come along and follow them!). Whatever you decide to do, just remember that after your initial descent down to the trail, keep going to the left. There will be a narrow beach of rock and red sand below you and a lot of people stop here but keep going. You'll know it when you see it. You will be floored. This is a true highlight of Maui, and you could be lucky enough to have it all to yourself!
RELATED: 15 Things to Do on Maui
Hamoa Beach: This lovely swimmable beach just outside of Hana is the perfect place to picnic.
Wailua Falls: As you leave Hana and head to Oheo Gulch (Seven Sacred Pools), you'll pass Maui's most photographed waterfall. You can't miss it as it's right by the side of the road. And there's plenty of parking here. Watch out for crowds as it's a popular stop with the tour buses.
Kipahulu: Part of Haleakala National Park (you'll pay $20 per vehicle to get in but keep your receipt because you can also use it at Haleakala summit), Kipahulu is home to the famous Seven Sacred Pools (Oheo Gulch) and the spectacular Pipiwai Trail. Kipahulu is about 10 miles past Hana town and the road gets interesting but it's all paved (the tour buses come back here y'all so it can't be that bad!). The Seven Sacred Pools are great for swimming (you'll want water shoes), but they can get crowded. You pick up the Pipiwai across the road from where you park (you'll see signs). About four miles round-trip (it always seems farther!), the trail takes about 2-3 hours to hike and winds up through a bamboo forest and ends at the spectacular 400 foot Waimoku Falls. The trail is a truly stunning experience but requires good time management on the front end of the day to make it here and still have time for the full hike.
This is where most people turn back on the Road to Hana and if you continue on, you'll officially be on the "backside" of the Road to Hana.
Should I Drive the Backside of the Road to Hana?
I get asked this question all. the. time. Apparently there's still a lot of hype out there about how terrible and scary this road is. I think it mostly stems from rental car companies not wanting to provide coverage to drivers on this remote side of the island-it's a long way to Kahului folks!
The 4-5 miles just past Kipahulu are the worst, but it's not unlike the last few miles leading up to Kipahulu on the other side. The roads are narrow and winding and there are quite a few blind corners (with signs saying to honk as you approach), but the road also isn't very high up in these portions as it follows pretty close to the shore.
Once you pass this portion, it clears up nicely into paved roads with wide open views. The backside road is very different from the front raod and definitely worth experiencing. It's also quicker to come back this way instead of backtracking. Once you leave the national park, it's less than an hour and a half drive to Kula (back to civilization).
I say if you're brave enough to get to Hana and Kipahulu, you might as well go the whole way around! Just keep your eyes on the road as far as you can see and be mindful of cars coming the other direction as I find it easier to pull over in places and wait for them to meet you instead of negating a pass in a tight spot. The entire Road to Hana is paved excepts for a few gravel patches past Kipahulu, but none of it requires four wheel drive or an SUV.
RELATED: Need a packing list for Maui? Find my best packing advice here.
Should I drive it myself or take a guided tour?
Since this whole post is about DRIVING the road to Hana, I think you can guess my opinion. While tours can be lovely, it's my opinion that you'll miss out on some of the best sites on that side of the island if you're on a tour bus. Namely, you won't make it to the red sand beach or get to hike the Pipiwai Trail. And as you can gather, I don't consider it a dangerous road to drive. So rent a car from Hawaii Discount Car Rental (that's an affiliate link which means if you make a booking, I might make a little money), and strike out on your own adventure.
If you want to do the drive yourself, but still have a bit of a tour guide, I strongly suggest downloading the Shaka Guide GPS App. This app will narrate your drive turn by turn, let you know when picture worthy vistas are just ahead, guide you to the best hidden waterfalls, and provide a lot of information about the island.
Tips for Driving the Road to Hana
Start as early as possible. I wouldn't want to be leaving Paia any later than 8 or 8:30. Pick up a picnic lunch from a company in Paia or stop at the Kua Store to get your own.
Make sure you have a full tank of gas when you leave Paia. There's a gas station in Hana but you'll pay an arm and a leg for gas.
Take cash if you want to stop at any of the roadside stands.
Take motion sickness medicine beforehand if you're prone to it.
Smaller cars (shorter length) are preferable to bigger cars for negotiating tight spots (this pretty much goes for anywhere in Hawaii).
Drive slow, there's no need to rush. Let locals pass. They're be driving much faster than you. Don't try to keep up.
You'll have limited cell service, and no cell service on the backside.
Dress for hiking, not going to the beach. You'll want sturdy shoes but probably ones you don't mind getting wet.
Pack sunscreen and bug spray.
Plan your stops in advance and budget your time so you'll get to see it all and get back before dark.
Feeling a little overwhelmed with trying to plan the perfect Maui itinerary? I've got just the thing for you!
Maui Bound! I've put together the BEST Maui itineraries you'll find anywhere! These are the itineraries I use on my trips to Maui (plus a few tweaks because hindsight is 20/20 right?) and they're perfect for first time and repeat visitors who want to see the very best of Maui.
Check it out here.
I've included everything from the best snorkeling spots, beaches, and excursions and it's all broken down by each part of the island so you won't waste any time backtracking.
So what exactly do you get? With Maui Bound, you'll get FOUR six day itineraries: 1) classic Maui itinerary, 2) Maui honeymoon itinerary, 3) Maui for adventure seekers itinerary, and 4) Maui foodie itinerary. I'm not just talking about a bullet point list of to dos. Each itinerary comes with 10-15 pages of commentary explaining why I recommend doing certain things (plus various options to suit your interests). Each itinerary also comes with its own Google Map (broken down by day). You'll also get an itinerary template that you can use to make your own, along with extensive tips on creating your own itinerary, a huge list of things to do on Maui, and directions for making your own Google Maps.
This is basically vacation in a box, friend! Just add a bit of salt water and you're in for the trip of a lifetime.
Click here to grab the Maui Bound itinerary bundle.
Love this post? Pin it for later!
Save
Save
Save
Save
Save
Save
Save
Save