This post may contain some affiliate links, which means I'll make a little money on anything you choose to purchase. But of course, I only recommend my absolute favorites to you. Thank you for supporting the brands that make Hulaland possible.
While Maui may be known as the honeymooner's isle, I think it's actually the best island for families as well. All of those gorgeous (and safely swimmable) beaches mean plenty of fantastic beach resorts. Maui lacks the hustle and bustle (i.e. one million people crammed onto a tiny island) of Oahu but has PLENTY to keep you and your kiddos busy. Read on for my 5 favorite Maui family friendly resorts:
RELATED: Not very familiar with Maui? Read up on the lay of the (is)land here.
I feel like this post needs a disclaimer up front: pretty much anywhere you go in Hawaii (especially Maui) is going to be kid friendly. Maui is not a stuffy destination. The most posh and expensive hotel on the island (hello, Four Seasons) caters to children quite amazingly and unless you're at the adults only pool (many resorts have them) or at an adults only hotel (Hotel Wailea is the only one that comes to mind), you'll always find kids boogie boarding in the waves, bobbing around in the pool, and having dinner with their families. That being said, this list includes resorts that may appeal to children especially due to their pools or kids clubs, and parents due to their locations and convenience factors.
Westin Maui Resort & Spa: This is my number one hotel recommendation for families visiting Maui (especially if you want to be on the west side). It's located right on Ka'anapali Beach (which is great for swimming and snorkeling) next door to the Whaler's Village, which has a lot of shopping and dining options. There are also snorkel catamarans that pick up right on the beach. The resort has a huge "aquatic complex" with five pools (one for adults only) and a great waterslide. There are parrots and flamingos on the grounds and there's a kid's club as well. Pricing starts at $250/night. Click here to check pricing and availability during your stay.
Grand Wailea: This is my other number one hotel recommendation for families visiting Maui ; ) This is your best south side option. While this is a world class resort for anyone (gorgeous open air lobby, plenty of shops, dynamite spa, amazing dining, and one of the island's best beaches), it's especially great for families. The Grand Wailea has one of the best pool complexes on Maui (probably anywhere really). The nine different pools include tons of water slides (they actually just opened a new "lava slide", a rope swing area, a rapid river, water elevator, hot tubs, a swim up bar, and an adults only pool. The Grand Wailea also has a kids club, a teen club, a gaming lounge, and a ton of cultural activities to participate in. Pricing starts at $350/night. Click here to check pricing and availability during your stay.
Side Note: If you're looking for a rental car for your trip, I LOVE Discount Hawaii Car Rentals. They're seriously the only company I ever use. They'll give you the very best prices, you don't have to reserve with a credit card or pay until you show up, you can cancel and re-book anytime if you find a better rate, and they usually have a special that adds additional drivers for no fee. It's a no brainer. Click here to check rates for your trip.
Sheraton Maui: Most Sheraton resorts are pretty family friendly and this one is no different. It's located on Ka'anapali Beach (just a few doors down from the Westin) right in front of Black Rock (one of Maui's most popular snorkeling spots). It has a nice pool area and several dining options. You can also walk down the bike path to the Whaler's Village for shopping and dining. Pricing starts at $240/night. Click here to check pricing and availability during your stay.
Hyatt Regency Maui Resort: This recently renovated resort also sits on Ka'anapali Beach (the opposite end of the Sheraton) and has a lovely pool area and kids club. The real selling point of this resort though are the penguins! Seven African black-footed penguins have taken up residence in the hotel's atrium lobby and they're a sight to see! They have feedings every day. Stop by and check them out if you're in the Ka'anapali area. Pricing starts at $250/night. Click here to check pricing and availability during your stay.
Wailea Beach Marriott: Marriott's around the world are known for being family friendly, but the one in Wailea (south Maui) is something special. Sitting between Ulua and Wailea Beach, the Marriott has some super swanky pools including four pretty big waterslides as well as a few shorter slides for the keiki. There's no kids club but there are some specialty designed spaces for parents and kids to hang out together including a family game center, arts and craft area, and game center. Pricing starts at $350/night. Click here to check pricing and availability during your stay.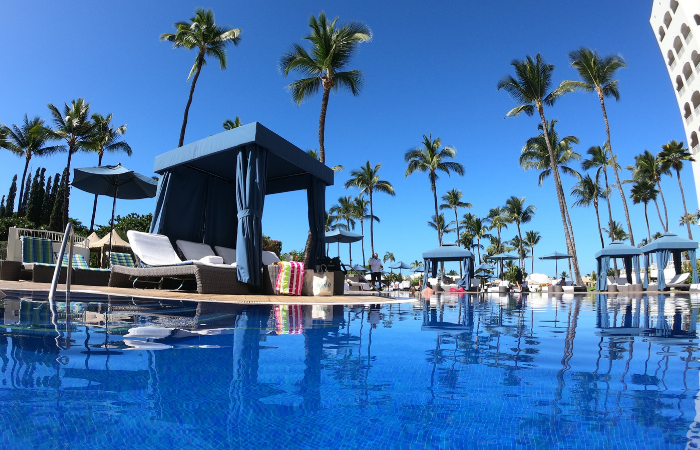 Fairmont Kea Lani: The Fairmont Kea Lani is the only resort on Maui that is exclusively suites so you'll get quite a bit of space for a pretty penny which is great for traveling with kids. It's located on beautiful Polo Beach, which is connected to Wailea beach and Ulua beach via a walkway and they've got three different pools plus an awesome waterslide. Read all about my stay at the Fairmont Kea Lani here. Pricing starts at $299/night. Click here to check pricing and availability.
RELATED: 16 Maui Beach Resorts
Best Honeymoon Resorts on Maui
Top 10 Luxury Resorts in Hawaii
12 Favorite Boutique Hotels in Hawaii
Thanks for sticking around and reading this whole post! It's always my goal to provide a TON of value to YOU. To that end, lately I've been packing my Instagram (@hula.land) FULL of content and adventures that you might want to check out. A lot of my post captions are like mini blog posts with travel info, I've got IGTV review videos for luaus and excursions, and helpful story highlights like grocery store prices and hotel reviews. Not to mention that my feed is pretty much the ultimate tropical eye candy! You can follow me here and share my account with your friends! Your support really helps me to keep this blog running!
Also, if you have ANY questions about planning your trip to Hawaii, you can join my free Facebook group here. I'm in there answering questions every day and there are 5000+ other friends who have a ton of Hawaii information to share!
Feeling a little overwhelmed with trying to plan the perfect Hawaii itinerary? I've got just the thing for you!
Hawaii Bound! I've put together the BEST Hawaii itineraries you'll find anywhere! These are the itineraries I use on my trips to Hawaii (plus a few tweaks because hindsight is 20/20 right?) and they're perfect for first time and repeat visitors who want to see the very best of each of the Hawaiian Islands.
Check it out here.
I've included everything from the best snorkeling spots, beaches, and excursions and it's all broken down by each part of the island so you won't waste any time backtracking.
So what exactly do you get? With Hawaii Bound, you'll get 10-15 different DAILY itineraries for each of the four main islands (Maui, Oahu, Kauai and the Big Island).
These aren't week long itineraries, but daily itineraries so you can pick and choose what works best for your trip. If you're the go-go-go type, then pick 6 different daily itineraries and string them together into one adventure packed trip. If you're staying at a nice beach resort and wanting to take advantage of the amenities, then pick 2-3 daily itineraries and spend the rest of the week chilling at the resort/beach. If you're going on an island hopping extravaganza trip, use the daily itineraries to figure out how many days to spend on each island and what to do!
This is basically vacation in a box, friend! Just add a bit of salt water and you're in for the trip of a lifetime.
Click here to grab the Hawaii Bound itinerary bundle.
P.S. Love this post? Pin it for later!