The Best Maui Honeymoon Resorts
Maui is hands down the most popular Hawaiian island with honeymooners.
Before I let you in on my favorite Maui honeymoon resorts, here's my biggest tip for planning the best honeymoon…pick the right time of year to go.
This post may contain some affiliate links, which means I'll make a little money on anything you choose to purchase. But of course, I only recommend my absolute favorites to you. Thank you for supporting the brands that make Hulaland possible.
Hawaii is an extremely family friendly vacation destination so when kids are out of school, expect even the swankiest resorts to have a pool full of kids. While a lot of places have adults only pools, kids are always around everywhere else you go, so if you're looking for a quieter time to go, pick spring or fall (or at least avoid the summer and winter holidays).
I'm not telling you this to make you think Hawaii isn't the perfect honeymoon destination (it is), but many people mistakenly believe that by staying at a super expensive beach resort they'll limit the kids (noise) around, but that's not necessarily the case. When you go has more to do with it than where you stay.
My Favorite Maui Honeymoon Resorts
As far as favorite Maui resorts for honeymooners, my recommendations tend towards luxury.
I think overall, the best resorts are in Wailea. There's more of a cluster of them which means you can take advantage of amenities beyond just your resort (more area dining, shopping, spas, golf, tennis, etc.) plus I find it to be generally sunnier and closer to attractions like Haleakala, the north shore, road to Hana, etc.
But there are a couple of resorts in Kapalua that are pretty swanky too.
Read my full post about Wailea vs Ka'anapali (Kapalua) here.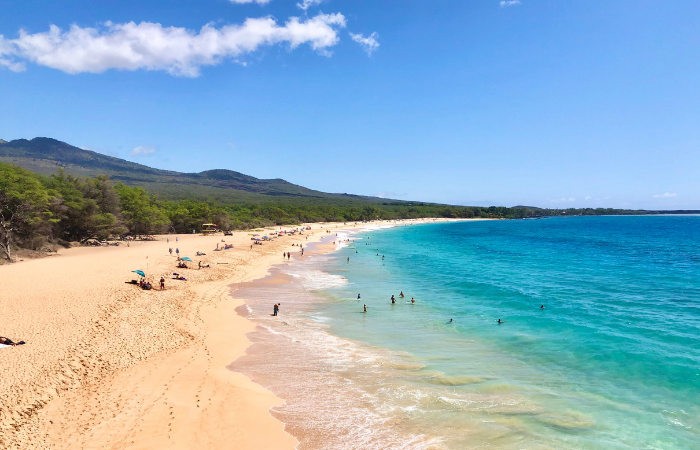 Before I fill you in on my personal recommendations I'll just say…there are a LOT of great places to stay on Maui for a honeymoon in every budget and in many different locations. These are just my very tippy top picks.
Read my full list of my top 15 favorite resorts on Maui (including all the places I'll be recommending in this post) with more detailed resort descriptions.
Final Note (and a big favor to ask): If you find my blog and info AT ALL helpful, the absolute best thing you can do to help me out is to book through my links. I make a small commission on your bookings and if you're going to book a hotel anyways, it's a WIN WIN. Thanks so much!

My Favorite Wailea Honeymoon Resorts
Okay, before I get into the specifics of each resort recommendation…there are some things that I love about the Wailea area for a honeymoon/luxury vacation IN GENERAL that will apply to all of these resorts.
1) Wailea is quieter and less crowded than other resort areas on the island.
2) It's pretty upscale and very well maintained.
3) LOVE LOVE LOVE the Wailea beach walk which stretches from Polo Beach (Fairmont Kea Lani) to Mokapu Beach (Andaz) passing the Four Seasons, Grand Wailea, and Wailea Beach Resort as well as a smattering of condo complexes. So perfect for morning walks, sunset strolls, hopping from happy hour to happy hour, and the views are just spectacular.
4) The Shops at Wailea has good shopping (it's been recently remodeled), and good restaurant options including a Whalers Village (souvenirs/snacks/light groceries) and an Island Gourmet Market (groceries, prepared food, souvenirs).
5) Excellent golf and tennis facilities.
6) You can catch the Kai Kanani's Molokini Sunrise Snorkel Tour at nearby Maluaka Beach.
7) Close to Kihei for added restaurant options, but feels very separate from Kihei in terms of "vibe."
8) Closer drive to the north shore, upcountry, road to Hana than places on the west side.
9) A collection of super swanky resorts all near each other mean extra amenities (restaurants, lounges, spas, luaus, golf, tennis, shops, etc.) besides just the resort where you're staying.
So besides those general amenities of staying in the Wailea area, here's what I love about each resort SPECIFICALLY (with a focus on honeymoons/luxury vacations):

Four Seasons Maui
The service alone is just above and beyond anything you can imagine. I've never stayed anywhere that approached the level of service at the Four Seasons Maui (everywhere really but especially at the pool). If you've never stayed someplace like this (i.e. if you usually stay at places where you check in to get wristbands or grab your towels from a cubby by the pool), it's hard to explain it. But if you have stayed at places where service is top notch, you'll love it.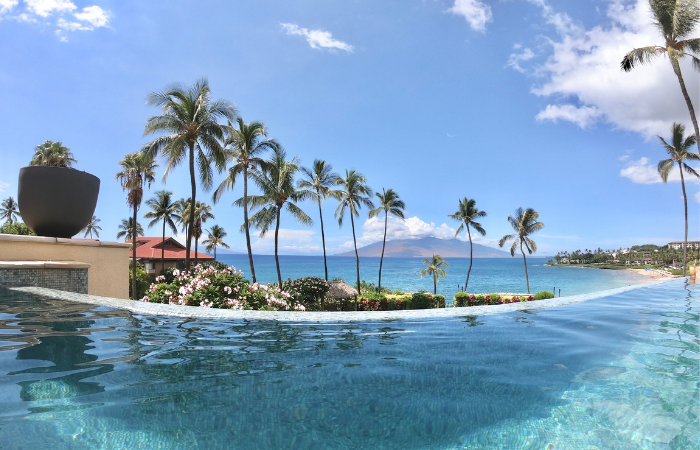 While the Four Seasons is very family friendly (not just Maui, but the chain in general), the resort has an adults only Serenity Pool overlooking the ocean that's kind of THE place to be. The infinity pool is phenomenal, the swim up bar is fun, and there's plenty of shady and plush seating scattered around the pool deck. I love a pool with a view and this is definitely the best in Maui.
It's also very well managed. There's an attendant that you check in with and they know exactly which seats are available (and they have a good flow for managing who's left the pool for the day and removing their towels so the seats are available and who has just left for lunch, the spa, a walk on the beach, etc.) and if there aren't any seats available they have a list and they'll text you when they have something open up. It's part of the attention to service and the guest experience that I was talking about earlier.
Read my full review of the Four Seasons Maui here.
Book your stay at the Four Seasons Maui here.

Side Note: If you're looking for a rental car for your trip, I LOVE Discount Hawaii Car Rentals. They're seriously the only company I ever use. They'll give you the very best prices, you don't have to reserve with a credit card or pay until you show up, you can cancel and re-book anytime if you find a better rate, and they usually have a special that adds additional drivers for no fee. It's a no brainer. Click here to check rates for your trip.
Andaz Maui
Because the resort sits on Mokapu Beach at the far north end of the Wailea beach walk, it tends to get less foot traffic than most of the other resorts in Wailea.
If you like modern and minimalist, the Andaz probably has the best design, layout, and overall most swanky vibe of all of the resorts in Wailea.
Also, while the Andaz isn't "not" family friendly, it has less amenities to attract families than any of the other Wailea area resorts so it tends to have fewer children. Overall, it probably has the most "adult" vibe of all of the Wailea Resorts (besides Hotel Wailea which is adults only).
Book your stay at the Andaz Maui here.

Hotel Wailea
If having a quiet, intimate, romantic hideaway is the top priority for your honeymoon, the Hotel Wailea is easily my #1 recommendation. It's the only "adults only" (16+) hotel in Hawaii so that right there eliminates a lot of noise, but it's also not right on the beach. It's tucked away on the slopes of Haleakala just above Wailea (spectacular views!) so it literally feels very removed from whatever hustle and bustle exists in Wailea.
It's a small boutique property so the hotel itself never feels crowded, you'll always have personalized service, and it's just designed and laid out in a very intimate way. The pool area is gorgeous and the restaurant is regularly voted as one of the most romantic on Maui.
And it's not THAT isolated. You can hop in the complimentary luxury shuttle and be beachside at Wailea Beach in about 2 minutes where the hotel provides chair and umbrella service.
Book your stay at the Hotel Wailea here.

Wailea Beach Resort
After undergoing an extensive remodel in 2016, this property is almost unrecognizable. It's very lowkey and laid back but in a very luxurious way. It has a lot of modern amenities and the main pool area (terraced infinity pools overlooking the ocean) is lovely.
It's not quite on the same level as the Four Seasons or the Andaz, but it's often priced quite a bit lower as well and it's part of the Marriott Bonvoy family.
It's a very family friendly resort (there's a large pool/play area that targets kids), but it's overall less chaotic than nearby resorts like the Grand Wailea and it's pretty spread out so it's possible to find a quiet place. I like this resort if you're wanting some sleek luxury but can't go all out with the price tag.
Book your stay at the Wailea Beach Resort here.

Want to read more? Don't miss some of my most popular (and favorite) posts about Maui: my Maui favorites, the best Maui itinerary, how many days to spend on Maui, Maui vs Kauai, where to see turtles on Maui, my favorite road to Hana itinerary, guide for sunrise at Haleakala National Park, how to bike down Maui's volcano, my review of the Maui Pineapple Tour, 20 of the best adventure activities on Maui, 5 Maui day trips, and the best things to do on a Maui honeymoon.
My Favorite Kapalua Honeymoon Resorts
While the west side of Maui definitely draws more crowds than the south side, most people gravitate towards Lahaina and Ka'anapali. The Kapalua Resort area is situated at the far north end of west Maui and it feels very removed from the hustle and bustle of the more crowded resort areas to the south.
The two big resorts up here are pretty isolated which can be a good thing or a bad thing. You're fairly limited to what's at your actual resort unless you want to get in the car and go for a drive.
The other thing I don't love about Kapalua is that it can be a little cloudier or rainier than spots even just a few miles south (like Ka'anapali). Where it is in relation to the West Maui Mountains means it gets a bit more cloud cover. But it's definitely a nuanced difference…it's not super dramatic like it's raining all the time.
Montage Kapalua
Quite possibly Maui's most luxurious resort, the Montage is a sprawling property, but it manages to feel quiet and secluded (like, you might feel like you're the only ones there). It has a really small number of rooms compared to the size of the property (like 50 or so) and they're mostly one and two bedroom units.
Book your stay at the Montage Kapalua here.

Ritz Carlton Kapalua
The Ritz Carlton Kapalua exudes luxury (just like you'd expect) and it has just about everything you'd want at a Maui beach resort: a sprawling pool area, multiple restaurants, a top notch spa, etc. If you're hoping to spend some time golfing or playing tennis on your vacation, Kapalua is a strong draw. With multiple courses, it usually hosts a PGA tournament every January and there's also a world class tennis facility in Kapalua.
Book your stay at the Ritz Carlton Kapalua here.

Want to read more about where to stay on Maui? I've written a ton of posts that will help. I'd start with my 15 favorite resorts and hotels on Maui. Also, you're going to want to decide between staying on the south side or the west side so this post about Wailea vs Ka'anapali is golden. Read about my favorite luxury resorts, boutique hotels, honeymoon resorts, family friendly resorts, and condos (many under $100/night!). If you've narrowed down the area of the island you want to stay, but need help picking a specific hotel, read these posts about where to stay in Wailea, Kihei, Ka'anapali, Lahaina and Kapalua, and Hana. And if you just want more details (more! More! more!), read my reviews of staying at the Four Seasons and the Fairmont Kea Lani.
P.S. Thanks for sticking around and reading this whole post! If you have ANY questions about planning your trip to Hawaii, you can join my free Facebook group here. I'm there answering questions every day and there are 7500+ other friends who have a ton of Hawaii information to share!
Also, if you want to follow along on my travel adventures in real time, you can follow me on Instagram (@caitylincoln). My post captions are full of travel tips and I have a ton of story highlights and videos with great info. And please share my account with your friends that are headed to Hawaii! Your support really helps me keep this blog running!