If You Love "Cabana Life"…Here Are the 16 Best Luxury Resorts in Hawaii
If you're after a true luxury vacation, you can't beat Hawaii. It's always warm, the breeze is always blowing through the palm trees, and it's never hard to find a mai tai. But mostly, no matter what island you're on you'll be able to find a true 5-star luxury resort.
Maui, Oahu, Kauai, the Big Island, and Lanai all have great luxury options.
Whether it's an award winning spa, poolside amenities, luxe guestrooms, or world class dining you're after, here are 16 of the best luxury resorts in Hawaii:
This post may contain some affiliate links, which means I'll make a little money on anything you choose to purchase. But of course, I only recommend my absolute favorites to you. Thank you for supporting the brands that make the Lincoln Travel Co possible.
Side Note: If you find my blog and info AT ALL helpful, the absolute best thing you can do to help me out is to click through the links in this post to book your reservations. I make a small commission on your bookings and if you're going to book a hotel anyways, it's a WIN WIN. Thanks so much!
Best Luxury Resorts in Hawaii
Maui
Maui is the island that's most easily associated with luxury. It's built up with amenities, but not overly crowded. The beaches are gorgeous and some of the best (certainly most swimmable) in Hawaii. You'll find dozens and dozens of fantastic beach resorts lining the island's golden sands, but if you're after true luxury…
This is hands down my pick for best luxury resort on Maui. It's beachfront in Wailea (my favorite part of Maui) and not only does it have every amenity you'd want but the service is truly off the charts. The adults only infinity pool is a gem. It's the only resort in Wailea with a tennis program (a big bonus for me). There's a handful of destination worthy restaurants on site. Plus it sits on the Wailea beach walk and is pretty much walking distance to everything you'd want in Wailea. And like most Four Seasons, the resort (and the staff because the staff 100% makes the experience here) manages to be spectacularly comfortable without ever feeling stuffy.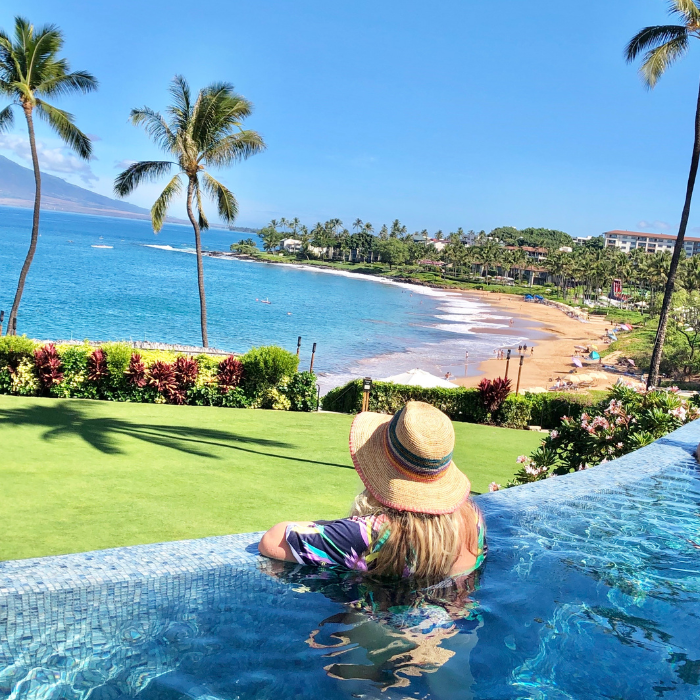 I've done a full review of my stay at the Four Seasons Maui here. Check pricing and read reviews here.
The Ritz exudes luxury and a big bonus for this property is how secluded it is. Nestled in the private resort/golf community of Kapalua on west Maui, you'll feel worlds away from the crowds in nearby Ka'anapali and Lahaina. Kapalua is a golfer's paradise, but the Ritz also boasts a spa, six restaurants, and a gorgeous pool. Beach access is at D.T. Fleming beach which tends to be a lot quieter than other beaches in the area.
Check pricing and read reviews here.
Sitting directly on Mokapu Beach in Wailea, the Andaz features three beachfront cascading infinity pools, a lagoon pool, and an adult-only tranquility pool. The Awili Spa is one of the best in Wailea (don't miss the apothecary experience where you get to take home a customized lotion created from local ingredients. Popular restaurants Morimoto Maui and Ka'aa Kitchen feature farm fresh menus.
Check pricing and read reviews here.
The Montage Kapalua strikes the perfect balance between being a boutique experience with huge luxury resort amenities. The residential-style accommodations set along Namalu Bay in secluded West Maui make it the perfect destination for families, couples, friends, everybody.. Their one- to four-bedroom accommodations come with a private lanai, a spa tab, gourmet kitchen and an expansive living room.
Check pricing and read reviews here.
Kauai
Kauai is where you go when you want to get off the grid and be surrounded by natural beauty. But if your idea of "off the grid" still includes turn down service, I've got you covered. 100% honest opinion: I think Kauai has the worst (it's totally relative) luxury options of all the islands, but you've got a couple of good spots.
Previously the St Regis Princeville which was previously the Princeville Resort, this property has long been the standard for luxury on Kauai. But, it has honestly needed some love for a while so I've very excitedly got my eye on the property as it's undergoing an extensive renovation and is expected to open fall 2022.
When it reopens as the One Hotel Hanalei Bay, it's main concept is going to be helping guests reconnect with nature. The renderings and concept art shared so far show that the resort will be full of green touches – gardens, reclaimed materials and more. Everything looks very organic.
They'll also have personalized programs for fitness and nutrition, horseback rides, waterfall picnics, and luaus all available onsite. And as a guest of the resort, you'll get some really cool benefits at the legendary Princeville Makai Golf Club, which is listed in the "Top 5 Great Golf Settings" of America.
Check pricing and read reviews here.
The Grand Hyatt is pretty much everything a Hawaiian beach resort should be. Jaw droppingly grand (the name doesn't lie), open air with a calm and tranquil atmosphere, and luxurious but casual. LIke the kind of place where you can traipse through the lobby in your swimsuit but they also offer turndown service. It's an oasis for sure, and if you're looking for the most opulent oceanfront getaway on the south side (Poipu) of Kauai, this is it.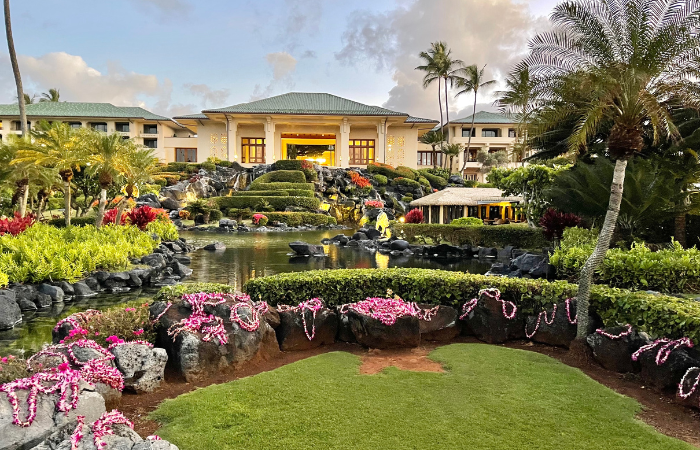 I will say that while it's luxurious for sure, it definitely has a family friendly vibe so just something to be aware of if you're planning a couples trip and that is a factor.
Check pricing and read reviews here.
Side Note: If you're looking for a rental car for your trip, I LOVE Discount Hawaii Car Rentals. They're seriously the only company I ever use. They'll give you the very best prices, you don't have to reserve with a credit card or pay until you show up, you can cancel and re-book anytime if you find a better rate, and they usually have a special that adds additional drivers for no fee. It's a no brainer. Click here to check rates for your trip.
Oahu
Most people go to Oahu for the endless number of "things to do," high end shopping, and endless nightlife options. And with over one million people on this island it always feels a bit crowded, however, you can still find some true luxury properties.
This is my #1 choice for the best luxury resort on Oahu and it's in large part because of the location. Even the nicest place in Waikiki is still in Waikiki ; ) But the Four Seasons Oahu is located in the upscale resort area of Ko'olina on the secluded west side of the island.
It sits on one of Ko'olina's protected white sand lagoons and has several spectacular pools including an adults only infinity pool. The Four Seasons Oahu also has a great tennis program onsite and golfing options nearby in Ko'olina as well as a marina where you can catch snorkeling/whale watching charters. Feeling too swanky to sit in traffic on your way to and from the airport in Honolulu? Catch a quick helicopter ride from the HELIPAD ON THE ROOF. Yep, it's that kind of place.
Check pricing and read reviews here.
If you're going to stay in Waikiki, this is the best option. Halekulani (the "House befitting Heaven") is a historic oceanfront property that dates back to 1917. It's recently undergone an EXTENSIVE renovation during COVID and it's pretty top notch.
The first luxury spa in Waikiki, the Spa Halekulani is committed to restoring the harmonious balance of mind, body and spirit. You'll also love the heated pool with the signature 1.2 million piece glass tile orchid mosaic. The resort also offers daily, complimentary introductory surfing and stand up paddle board lessons. And don't miss the famous "House Without a Key" restaurant which features some of the best views of Diamond Head you'll find anywhere.
Check pricing and read reviews here.
Originally named for the green sea turtles that inhabited the area, the Turtle Bay Resort sits on Oahu's famous north shore. Known for being the home of some of the world's best big wave surfing, the north shore feels a lot like the "country" when compared to bustling Waikiki. Turtle Bay just reopened after an extensive renovation and it could not be more lovely.
Check pricing and read reviews here.
Ritz-Carlton Waikiki Residences
This island retreat in Waikiki offers modern residential-style suites with living rooms, kitchenettes, and oceanfront lanais. You'll love taking a dip at one of Waikiki's highest infinity pools where you can check out the view over the ocean and Fort DeRussy park. Also for families it's fun to celebrate the "Low Tide" ritual at the Family Pool with locally-made ice creams.
Big Island
I feel like the Big Island often gets overshadowed by Maui, but surprisingly it boasts some of Hawaii's best luxury resorts…
This is probably my #1 pick for best luxury resort anywhere in Hawaii.
This resort is hands down the most luxurious and lavish resort in all of Hawaii. First of all, it's huge. You could easily spend your whole trip just hopping between all the pools, lounges, and restaurants. This is a great luxury resort for honeymooners obviously, but it's surprisingly popular with families as the amenities (including the kids club) are everything you could possibly ever want.
And while it's over the top spectacular, it's really lowkey and casual. The ambience and concept of the resort is very natural and organic taking advantage of the black lava rock setting of the Kona side of the island and it overall has a very understated vibe while still managing to knock your socks off. Don't miss the King's Pond which is home to over 3000 tropical fish and the brand new infinity pool that overlooks it.
Check pricing and read reviews here.
This 5-star resort on the Kohala Coast has everything you'd ever want from a luxury beach resort and it's usually not too hard to find a decent price. The spa, pools, and beach activities are top notch and don't miss dinner at Brown's Beach House (regularly voted one of the most romantic spots in Hawaii). I absolutely loved my stay at the Fairmont! Read all about it here.
Check pricing and read reviews here.
Originally the most expensive hotel ever built in 1965 by Laurance Rockefeller, this resort sits on the beaches of Kauna'oa Bay. Over 55 years later even after multiple extensive renovations (including a recent one that's left the property looking incredible), the resort pays homage to its origin with a retro charm.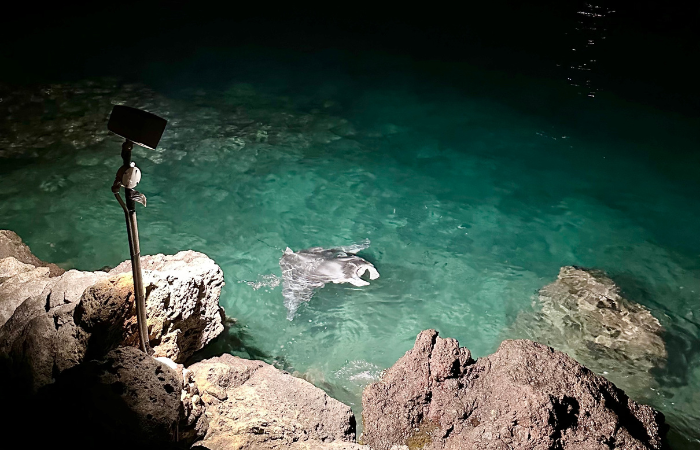 And there's plenty to do besides the beach and pool! Play a round of golf, attend the weekly clambake, soak in some cultural traditions at the luau, and maybe relax with a Balinese and Hawaiian-inspired therapy at the Mauna Kea Spa by Mandara. Art exhibits feature pieces from Asia, Oceania, and the Pacific Rim and the resort hosts weekly tours for art enthusiasts. Also tick an item off your bucket list by joining a nighttime escapade on a glow-canoe or go on a manta snorkel outing.
Book directly with the Mauna Kea here.
This newly renovated hotel on the Big Island's Kohala Coast really brings the aloha spirit. Featuring a subtle and laid back brand of luxury, you'll love lounging by the pool sipping mai tais at HāBar, eating tacos at the Surf Shack or celebrating a special occasion at the Canoe House. Also don't miss the Auberge Spa which offers a unique and sustainable farm-to-spa experience.
Check pricing and read reviews here.
Lanai
Lanai might be the smallest island, but it's home to TWO Four Seasons resorts and it's basically like a private island for the rich and famous.
On the Southeastern coast of the island on beautiful Hulopoe beach, this five-diamond resort is quite possibly the most luxurious resort in Hawaii. With most suites offering ocean views and a truly incredible pool area, the resort feels over the top luxe but also very private.
Besides reveling in the indulgence of the resort, there's a lot to do! Perched on lava-outcroppings, the Jack Nicklaus-envisioned Manele Golf Course is a haven for avid golfers. The resort also has its own archery and shooting range, a yoga studio with aerial hammocks, and five onsite restaurants. Off-roading adventures also await, so rent a Jeep or ATV and hit the dusty roads, or saddle up and ride through valley trails.
Check pricing and read reviews here.
Sensei Lanai, a Four Seasons Resort
This adults-only wellness enclave is known for its customized experience. It includes spa treatments in private hales, fitness courses, health consultations, and more. The rooms are a subtle nod to Hawaii, with luxurious suites that have private lanais.
Founded on the teachings of Dr. David Agus, the Sensei Way ideology aims at attaining balance of the mind and body through three paths: nourishment, movement and rest. To explore this, there are a multitude of amenities like the onsen soaking tubs, lakeside yoga, and an 18-hole putting green. Snack at the Koele Garden Bar with family and friends, and later, dine in the lap of nature at Sensei by Nobu. An added plus is that Lanai Air's roundtrip airfare from Honolulu is also included.
Check pricing and read reviews here.
P.S. Thanks for sticking around and reading this whole post! If you have ANY questions about planning your trip to Hawaii, you can join my free Facebook group here. I'm there answering questions every day and there are 7500+ other friends who have a ton of Hawaii information to share!
Also, if you want to follow along on my travel adventures in real time, you can follow me on Instagram (@caitylincoln). My post captions are full of travel tips and I have a ton of story highlights and videos with great info. And please share my account with your friends that are headed to Hawaii! Your support really helps me keep this blog running!