28 Things to Do in Waikiki & Honolulu: For Adventurers, Foodies, Culture Lovers & MORE
This post may contain some affiliate links, which means I'll make a little money on anything you choose to purchase. But of course, I only recommend my absolute favorites to you. Thank you for supporting the brands that make the Lincoln Travel Co possible.
White sand beaches, swaying palm trees, plentiful mai tais, live music, views of Diamond Head in the distance…Waikiki is the picture perfect postcard that most visitors dream of.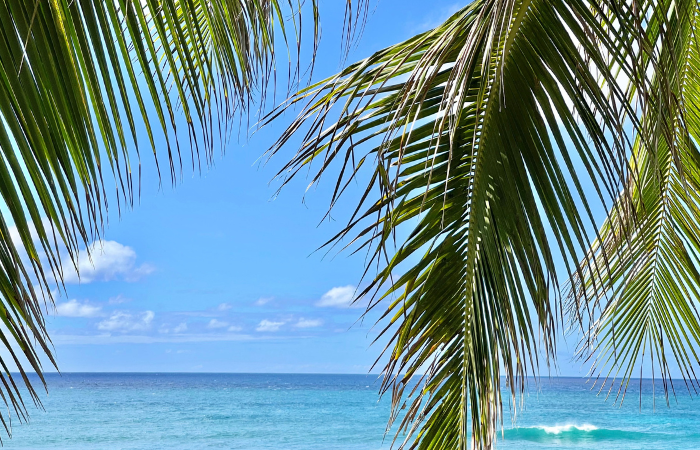 If you've grown up with Hawaii 5-0 (or pretty much any movie or tv set in Hawaii in the last 70 years), what's familiar to you about Hawaii is likely Waikiki.
Waikiki is the hub of tourism in Hawaii and for good reason, it's easily one of the most recognizable, iconic, and beautiful beaches in the world.
If this is your first visit to Hawaii, here's what you need to know:
Waikiki is a tourist resort area/neighborhood in the city of Honolulu (the capital of Hawaii). The island is Oahu. It's not the "Big Island" that you'll hear referenced (it's actually one of the smaller islands), but it is the main island in the Hawaiian island chain. Major international airport, major city, major population, major tourist draw.
Okay, there are sooooo many things to do in Waikiki and Honolulu, so let's get to it.
Things to Do in Waikiki
This list of things to do includes things both in Waikiki (the more walkable area from all of the hotels and resorts) and Honolulu (the city at large-which may require driving or taking the bus/trolley or an Uber/Lyft ride).
CLASSIC WAIKIKI EXPERIENCES
Waikiki Beach
This is why you came to Hawaii, right? Even though it's crowded, hitting the beach is THE most popular thing to do in Waikiki.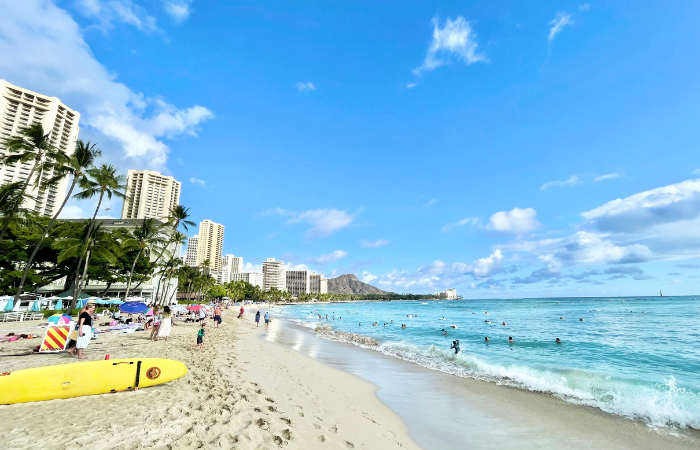 If you're staying somewhere beachfront, you're all set. If you're walking to the beach from your hotel, then you'll need to find a public entrance. The hotels that line the beach are required to provide public access points (there's one near the Outrigger if you're staying at that end of Waikiki).
Kuhio Beach is probably the most popular stretch of Waikiki Beach though. It's wide open (there's no hotels built right on the beach-they're across the street), the conditions are perfect for swimming and sunbathing, and there are also all kind of vendors renting chairs and umbrellas, surfboards, etc.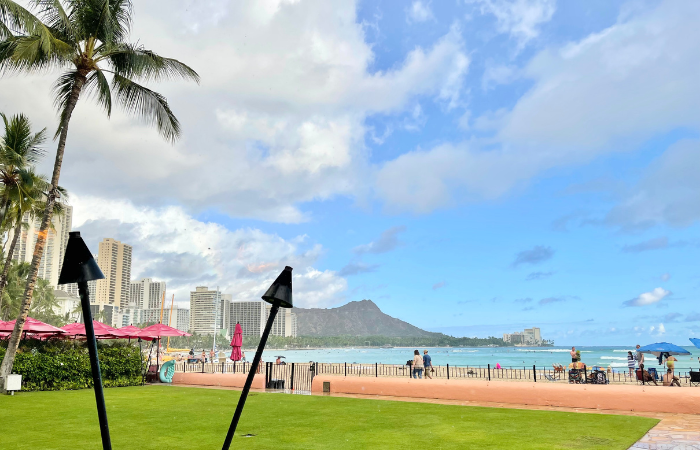 Also, don't miss the famous bronze statue of Duke Kahanamoku (Olympic Champion and the "father of surfing").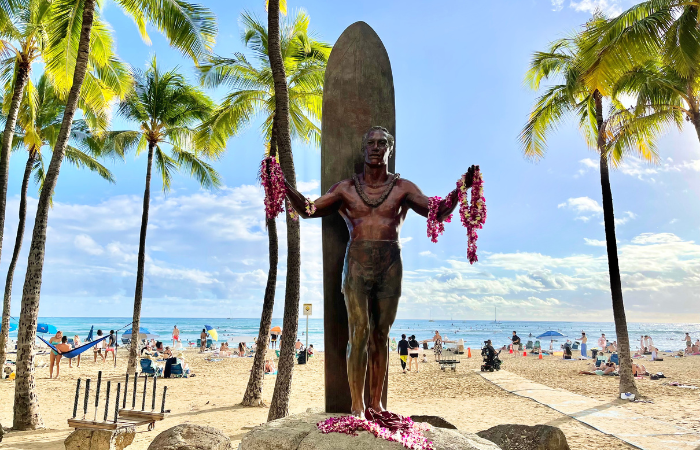 Mai Tais at Sunset
While it's not directly west facing, you can usually still catch a pretty good sunset show at Waikiki. You can watch from the beach for free, but having a sunset mai tai at one of the beach bars that line Waikiki is a must do.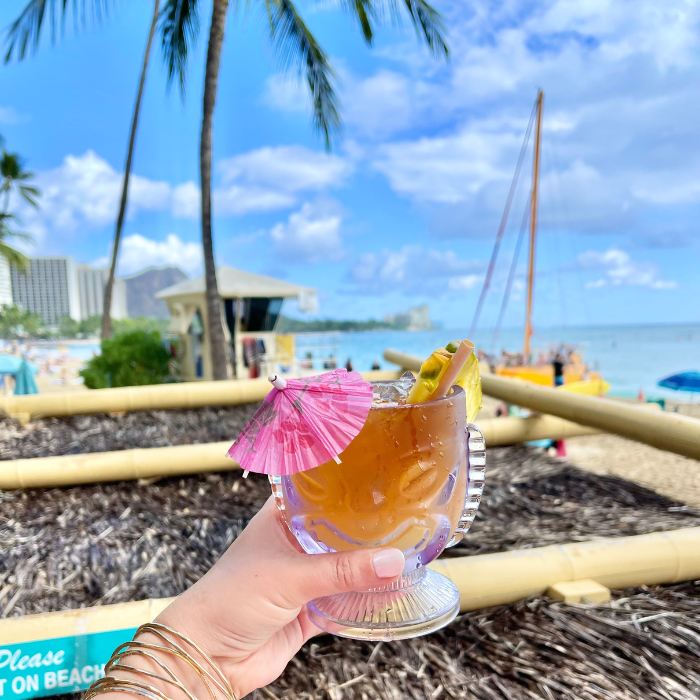 Duke's (at the Outrigger) is THE place to go for sunset drinks/dinner in Waikiki, but House without a Key (at the Halekulani) and Mai Tai Bar (at the Royal Hawaiian) are also pretty noteworthy. When the Monkeypod (hands down the best mai tais in Hawaii) finally opens in Waikiki, I think that's going to be the spot to beat.
Friday Fireworks
Every Friday night, the Hilton Hawaiian Village Resort shoots off fireworks in the skies over Waikiki. Watch from the lagoon in front of the Hilton or anywhere in Waikiki really.
Kuhio Beach Hula Show
Every Wednesday and Saturday from 6:30PM-7:30PM (6PM-7PM November through January) at the Kuhio Beach Hula Mound, there's a FREE hula show that rivals the ones that you'll see at the island's best luaus.
Seating is first come, first serve and you can bring mats, beach towels, chairs, etc. Since it's free, a good show, and right on the beach in Waikiki, it draws a big crowd. Go early to stake out a good seat.
Go Resort Hopping
Some of the Waikiki resorts have a pretty storied history. Even if you're not staying there, it's worth stopping by both the Royal Hawaiian and the Moana Surfrider. Go for drinks, shopping, dinner, a tour, or just a look around.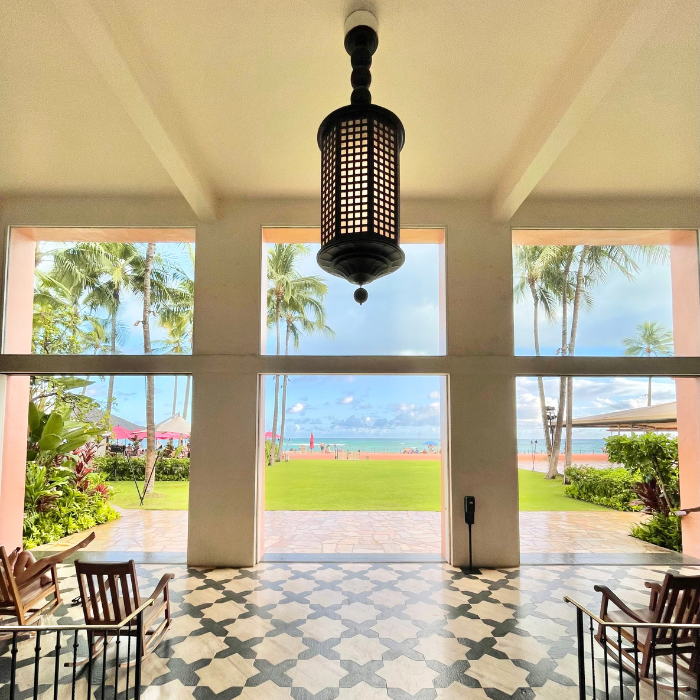 Complimentary walking tours covering the history of the hotel are offered on Tuesday, Thursday, and Friday at 1PM at the Royal Hawaiian and on Monday and Wednesday at 11AM at the Moana Surfrider.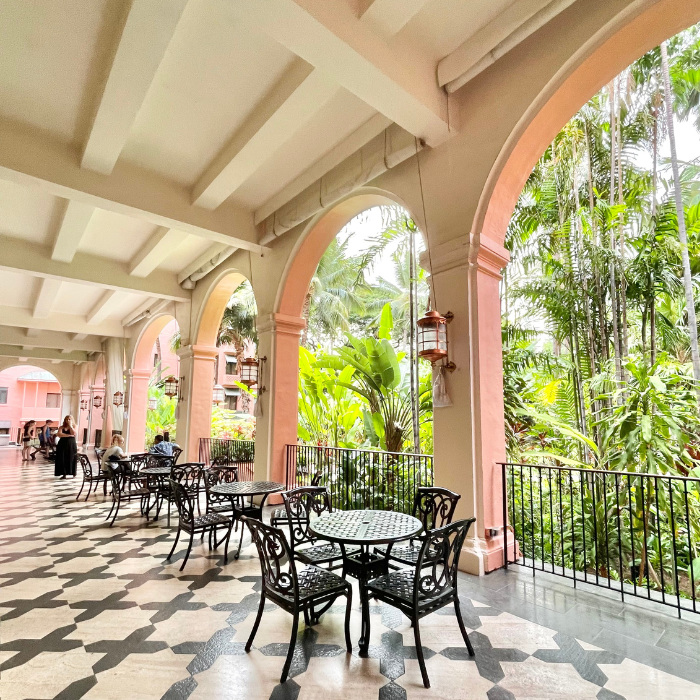 Aloha Swap Meet
This isn't a personal favorite of mine, but I wanted to include it because it is sooooo popular with tourists. The swap meet/flea market held on Wednesday, Saturday, and Sunday at Aloha Stadium is a popular place to do souvenir shopping. Admission is $2/person.
What people like about it: I think the style with all of the vendors makes people think it's more of an "experience" than doing souvenir shopping in Waikiki shops (ABC Stores, etc.). Prices are generally the cheapest you'll find anywhere on the island. Think 4 t-shirts for $20, etc.
What I don't love about it: It's not actually a flea market. Yes, there are some vendors and artists selling locally made goods, but the vast majority of booths are selling the same mass produced, made in China stuff. If you look at enough places, you'll start seeing the same things at a lot of the booths.
It's 20 minutes from Waikiki so you'll have to drive, take the bus or Uber which either costs you time or money. And I think there are better ways to spend a day on Oahu. You'll come out ahead on money by just popping into an ABC Store or Walmart in the evening in Waikiki and buying pretty much the same stuff. Or better yet, buy local from actual artists!
Shopping
And of course, we have Waikiki's most popular pastime…shopping! Many first time visitors are surprised by Waikiki's big city feel (I've heard it called "NYC on the beach.") The main drag in Waikiki (Kalakaua Avenue) is where you'll find every major (and high end) retailer you can think of including quite a few outdoor shopping complexes.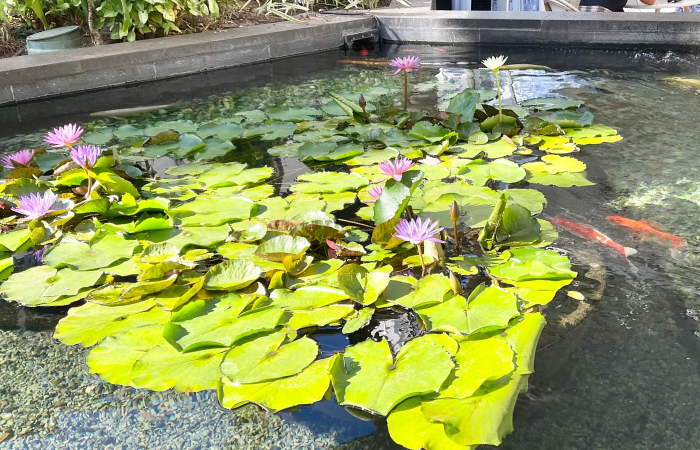 Also, don't miss the Ala Moana Center. It's the most decadent shopping destination on Oahu and an attraction in itself. Even if you're not in the market for designer/luxury brands, it's a sight to see. And surprisingly, the food court is a world class international destination.
***Want to save major $$$ on a fancy beach resort? My favorite travel hack is cashing in points to score free nights at some of the island's most high end resorts. My go to hotel brand is Marriott so I use this Marriott Bonvoy Boundless card to rack up points for a lot of my trips to Hawaii. If you pay for your monthly expenses on the card and are responsible about paying it off every month, the points add up really fast. Plus, if you sign up through my link, you'll get THREE bonus free nights to use. On Oahu, use your points at some of my favorite Marriott properties like the Royal Hawaiian, Moana Surfrider, Sheraton Waikiki, and the Laylow.
FOR THE ADVENTURERS
Hike Diamond Head
This is probably the most iconic thing to do in Waikiki. It's a fairly mild hike for such a big payoff, but it is all uphill and there are a ton of stairs right at the end.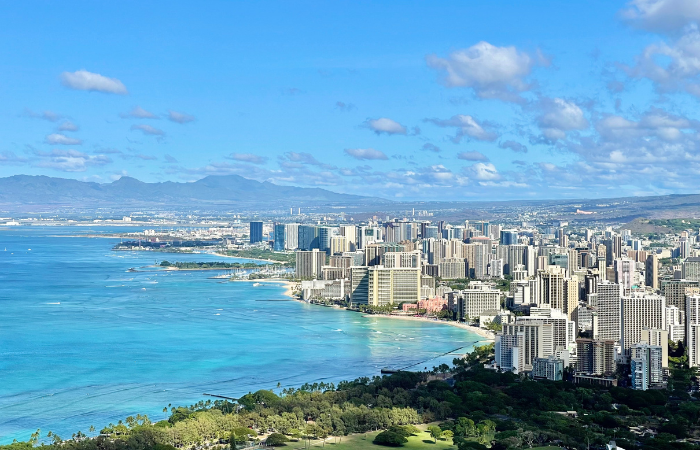 It only takes about 30 minutes to get to the top, but once you do you'll have a fabulous view of Waikiki and Honolulu.
Increasing popularity has triggered a new reservation system, so you'll need to plan this one in advance.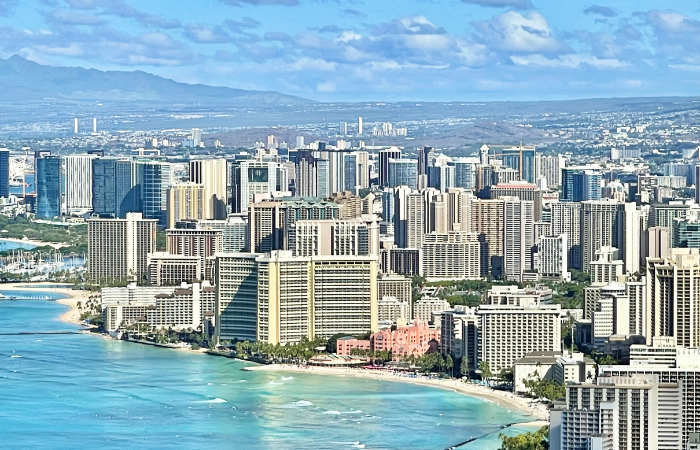 Reservations can be made 30 days in advance here for either just entry or parking and entry. If you're booking the entry and parking options (what I would recommend if you have a car), reservations are made in 2 hour increments starting at 6AM (6AM-8AM, 8AM-10AM, 10AM-12PM, etc.) and you're asked to arrive within the first 30 minutes of your time slot. If you're just booking entry, reservations are made in hour increments starting at 6AM.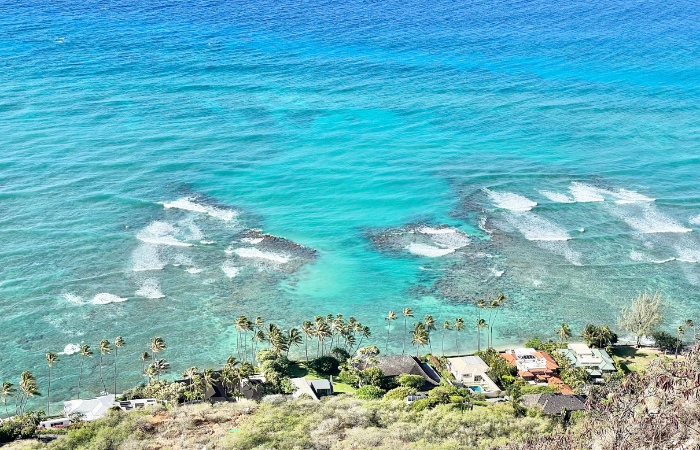 Entry is $5/person (whether you park, Uber, or hike in) plus $10/car for parking.
I highly recommend booking an early time slot as there is NO SHADE on this hike.
Surf Lessons on Waikiki Beach
Taking surf lessons on Waikiki is such a classic thing to do (did anybody else watch Gidget Goes Hawaiian growing up?), and it's actually a great place to learn. There are dozens of surf schools along Waikiki and I'd generally recommend just booking whatever's close to your hotel, but if you're staying off the beach and walking over, check out Waikiki Beach Services.
Outrigger Canoe Ride
Besides surfing, this is the most culturally significant water sport in Hawaii. Dozens of companies will offer one or two wave rides right off Waikiki Beach.
Hike to Manoa Falls & Visit Lyon Arboretum
A popular hike because it's quick (1.6 miles round trip) and rewarding (hello waterfall!), this may be your easiest chance for waterfall gazing. Also, while you're in the area…part of the University of Hawaii Manoa Campus, the Lyon Arboretum is situated in a lush rainforest setting in Manoa Valley. It's worth a trip if you're a nature lover. The arboretum is closed on Sundays and there is a suggested $5/person donation.
FOR THE HISTORY & CULTURE LOVERS
Pearl Harbor
For most people, if there's one "not to be missed experience" on Oahu, visiting Pearl Harbor is it. It's educational, it's moving, it's insightful. And there's surprisingly a lot to see and do here.
Most people associate Pearl Harbor with the USS Arizona Memorial, but it's so much more than just that.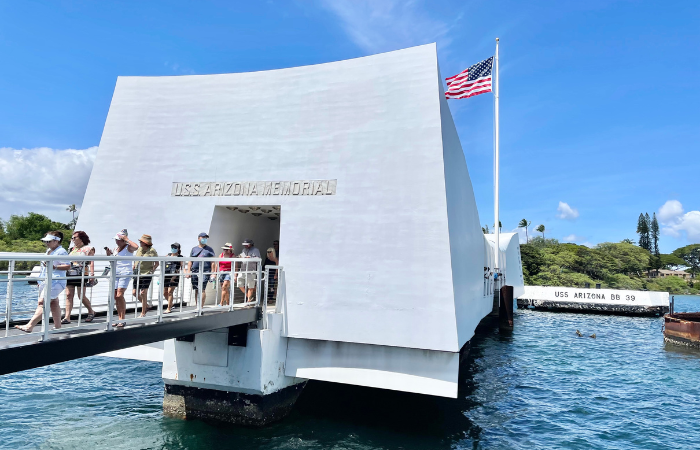 Here's the lay of the land: You'll park at the Pearl Harbor Visitors Center and enter for free (no bags allowed so make sure you just bring the essentials). The Visitors Center is kind of the main hub and it's where you'll find information, ticket booths, audio guides, the gift shop, a few small memorials and two museums. The first museum fills you in on what life and the political climate were like in Hawaii in 1941. The second museum covers the events of December 7, 1941.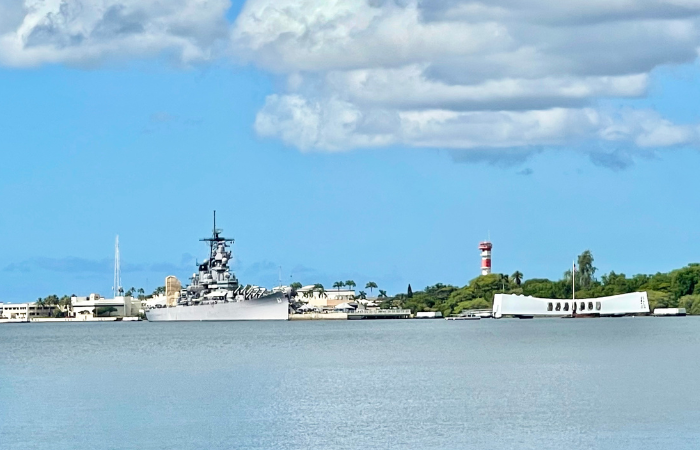 At the Visitors Center, you can board a boat operated by the Navy to go out to the USS Arizona Memorial. Ideally, you'll want to book your tickets for this in advance. Tickets are free (there's a $1 service charge when booked online), but they're limited and sell out quickly. Tickets are released 8 weeks in advance at 3PM HST. If you miss that booking window, your only option is to show up the day of and wait in the standby line. On the day I visited, people who made standby for my tour time said they waited about an hour. I've heard of people waiting only 20 minutes and as long as 3 hours.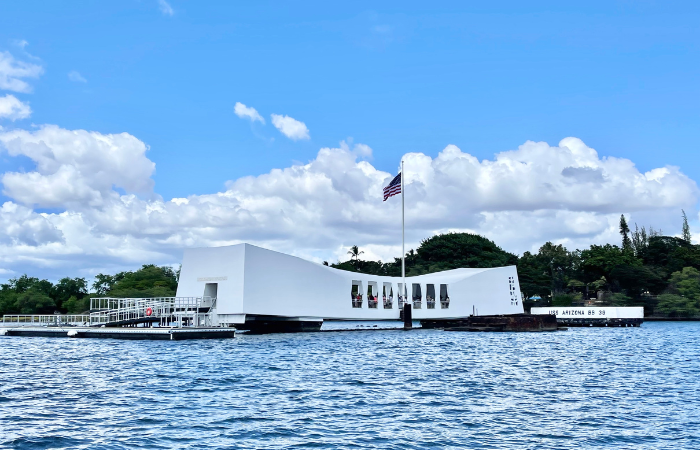 Reserve tickets here in advance to visit the USS Arizona Memorial.
Also at the Pearl Harbor Visitors Center, you can purchase tickets to the Pacific Fleet Submarine Museum (which includes access to the USS Bowfin) for $22/adult.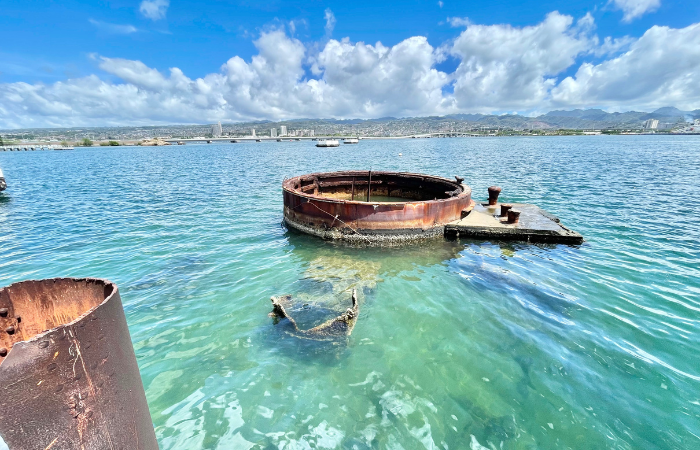 From the Visitors Center, you can hop on a (free) shuttle that takes you over to Ford Island (an active military base so you can only go on the shuttle) where you can buy tickets for:
The USS Missouri (the battleship where the treaty to end WWII was signed) for $35/adult.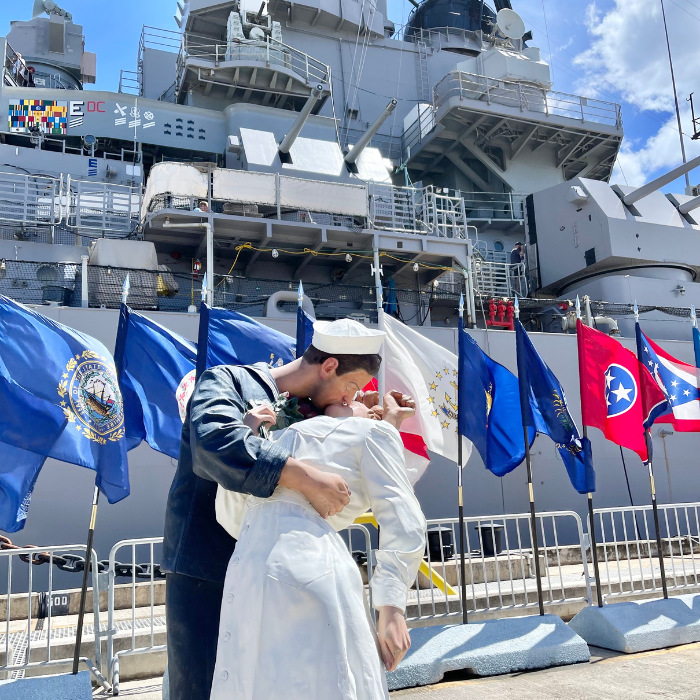 Pearl Harbor Aviation Museum (including an upgrade option for the Top of the Tower tour where you can access an original air traffic control tower) for $26/adult.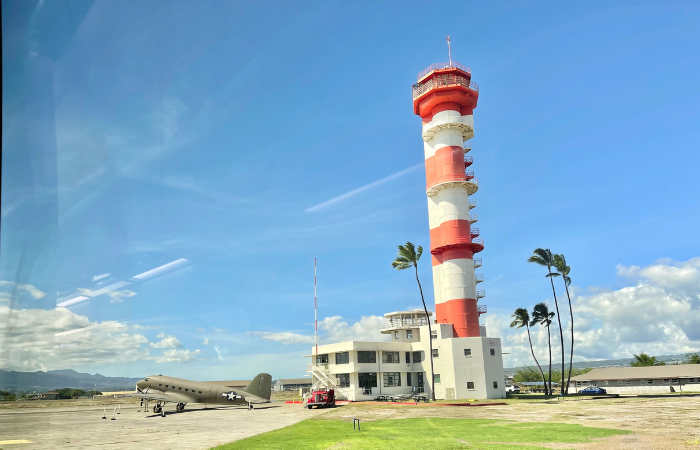 So that's four separate "things" you can tour. You can buy a Pearl Harbor Passport for $90/adult which includes admission to everything EXCEPT the USS Arizona, which you'll either have to reserve separately or wait in line once you arrive.
It's a lot. Really, more than I think you can do in one day. I would recommend going through the two small museums at the Visitors Center, taking the boat out to the USS Arizona, and then picking ONE extra thing to do.
Iolani Palace
Built in 1882, Iolani Palace was the home of the last monarchs of Hawaii until the overthrow of the kingdom in 1893. The palace had electricity before the White House and it's the only official royal residence in the United States.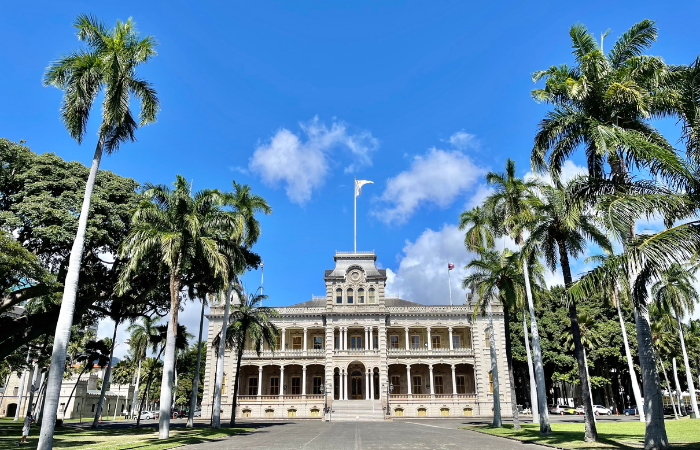 For anyone who is interested in royalty, architecture, and historic places, it's really something to see. But more than that, it's important. I highly recommend booking a guided tour with a docent to learn the history of the Hawaiian monarchy and how it was overthrown.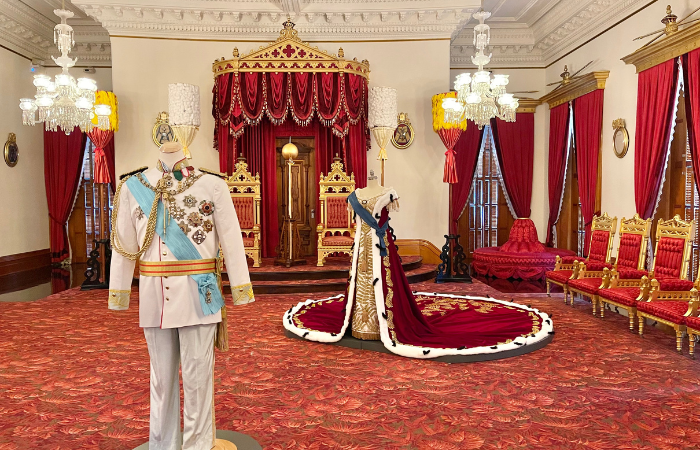 It's a sad story (and one that's surprisingly unknown to most Americans), and standing in the rooms where it happened, listening to the stories, makes it seem much more real and recent.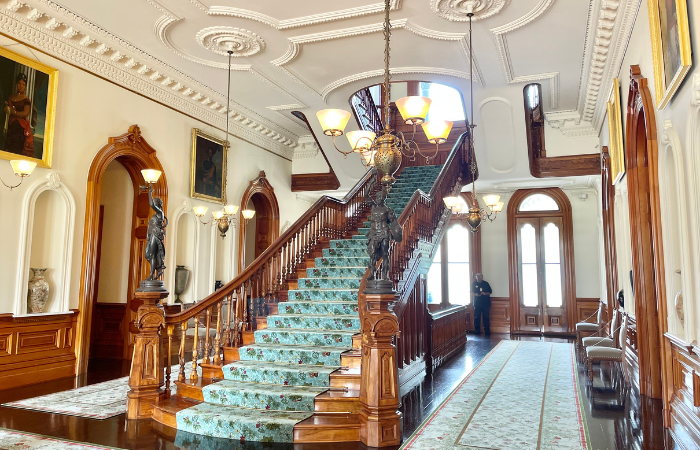 In my opinion, taking a vacation to Hawaii to enjoy the island's natural beauty, but not taking the time to understand what happened here and how it became part of the United States is a mistake.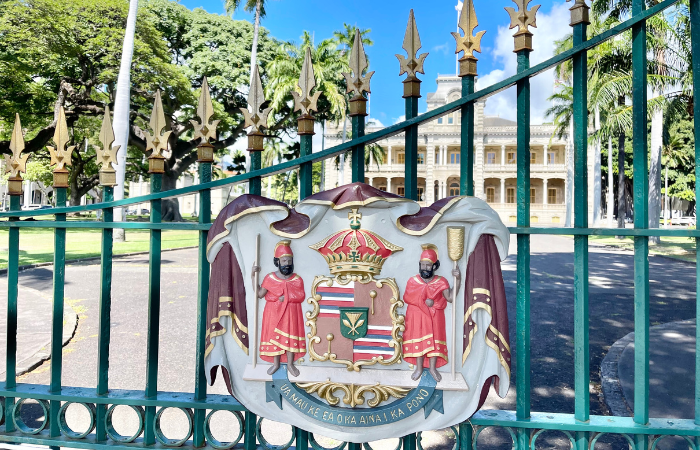 Docent led tours are $30/adult and are held on Wednesday, Thursday, and Saturday. There are also self led audio tours available for $25/adult on Tuesday, Wednesday, Friday, and Saturday. The palace is closed on Sunday and Monday.
Bishop Museum
The Bishop Museum is one of Oahu's best kept secrets. Well, maybe not a secret, but I definitely think it's overlooked in favor of more tropical adventure activities. But this museum is world class and a true don't miss if you're at all interested in Hawaiian (and Polynesian) history and culture.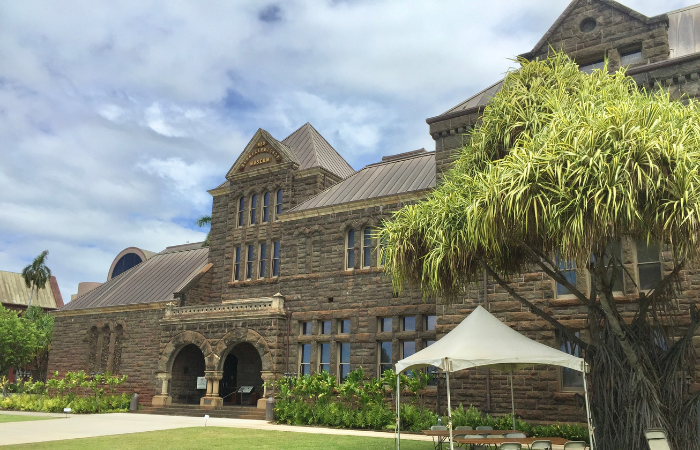 The Hawaiian and Polynesian Halls are Smithsonian quality exhibits plus the Planetarium's presentations about Wayfaring are really popular.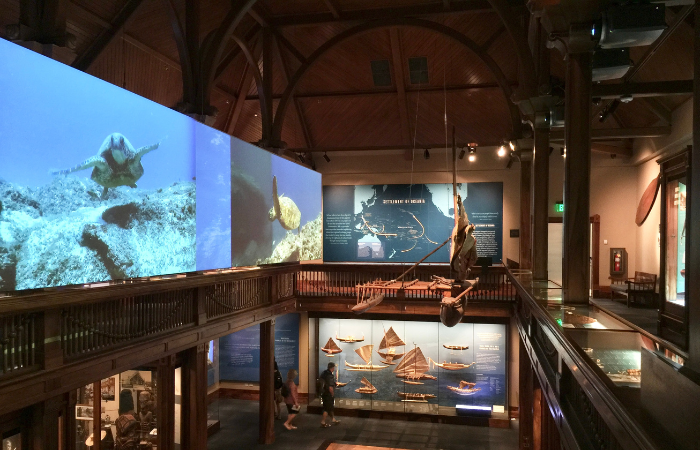 Admission is $26.95 ($18.95 for youths) on weekdays and $28.95 ($20.95 for youths) on weekends.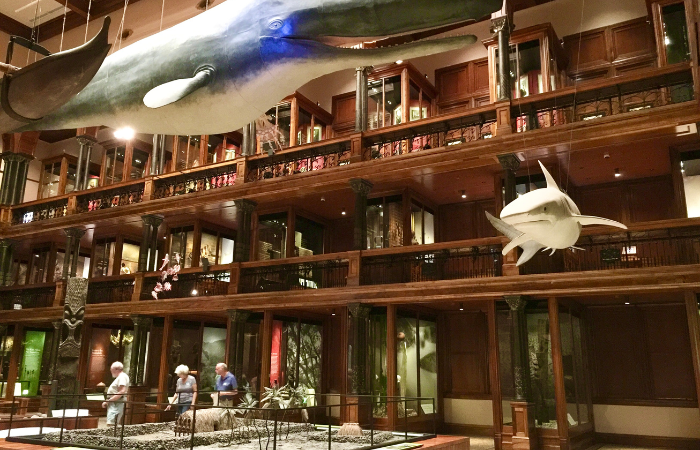 Side Note: If you're looking for a rental car for your trip, I LOVE Discount Hawaii Car Rentals. They're seriously the only company I ever use. They'll give you the very best prices, you don't have to reserve with a credit card or pay until you show up, you can cancel and re-book anytime if you find a better rate, and they usually have a special that adds additional drivers for no fee. It's a no brainer. Click here to check rates for your trip.
Honolulu Museum of Art
You may not think "art museum" when you think Hawaii, but this museum has a surprisingly diverse collection.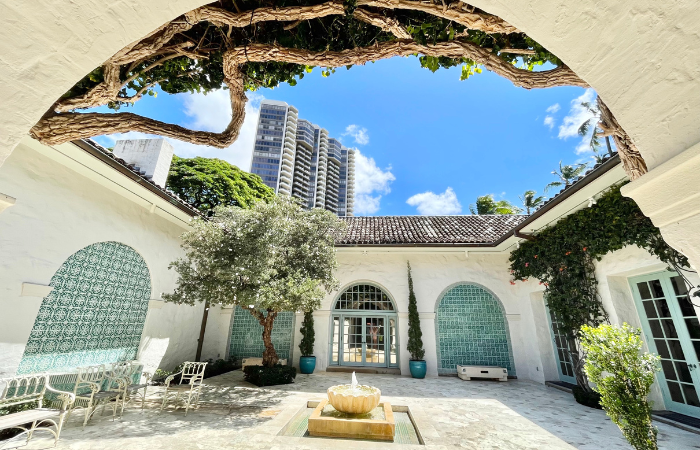 Besides a nice European Impressionist collection and plenty of Asian and Hawaiian art, my favorite part is the Georgia O'Keefe collection. She's most known for her work in the American Southwest, but in 1939 she traveled to Hawaii with the Hawaii Pineapple Company (later the Dole Company) to work on a magazine advertising campaign.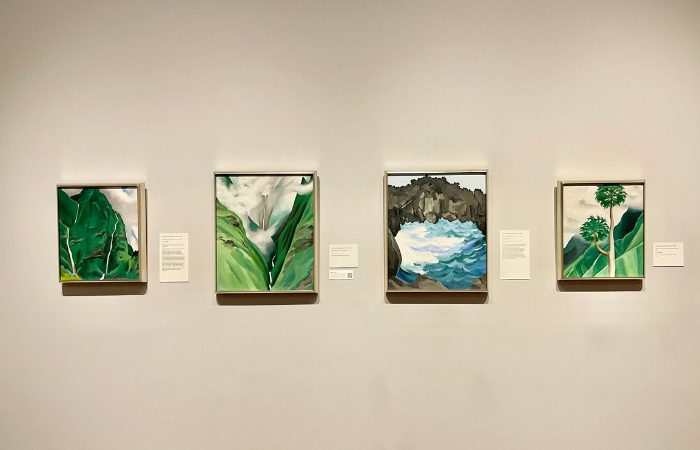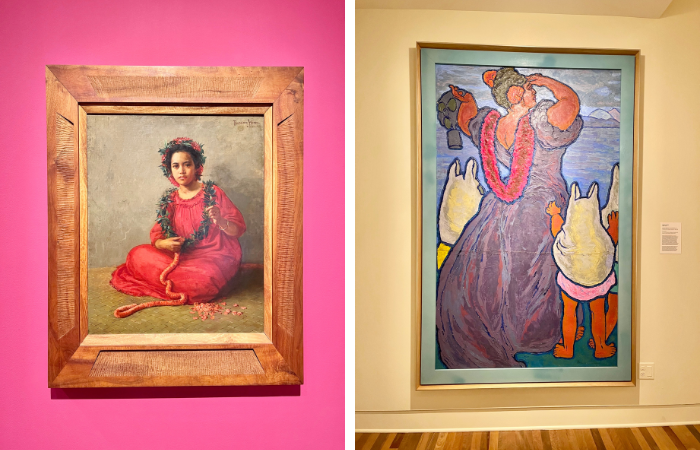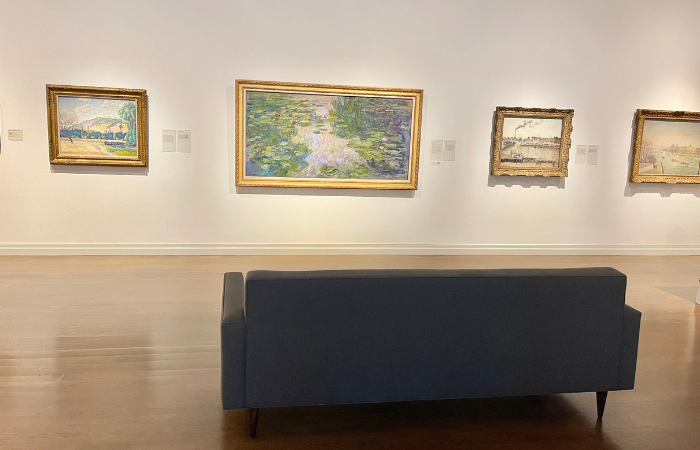 Admission is $20/adult. 18 and under are free. If you're a real art/museum enthusiast, it's a really nice place to spend a few hours. But my favorite way to do the HoMA is combined with a tour of Shangri La. More on that below.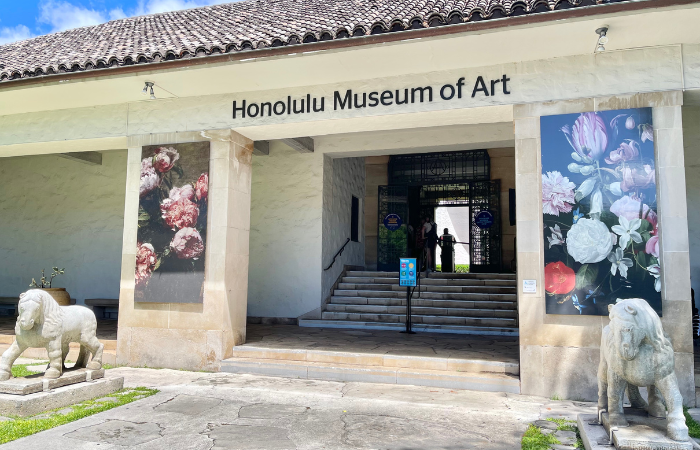 Shangri La
This may be the most unexpected surprise on Oahu.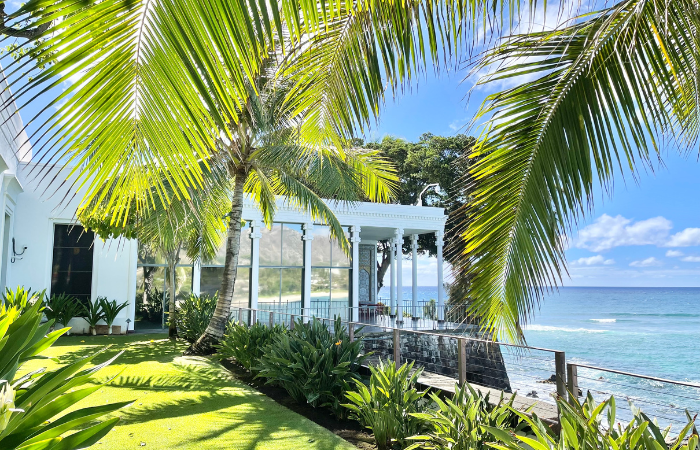 Previously Doris Duke's (heiress to American Tobacco, famous socialite, and avid art collector) Honolulu home, it now houses her extensive collection of Islamic art.
The property can only be explored via a guided tour from the Honolulu Museum of Art, and if you have ANY appreciation for art, culture, and beautiful homes then I think this is a must do.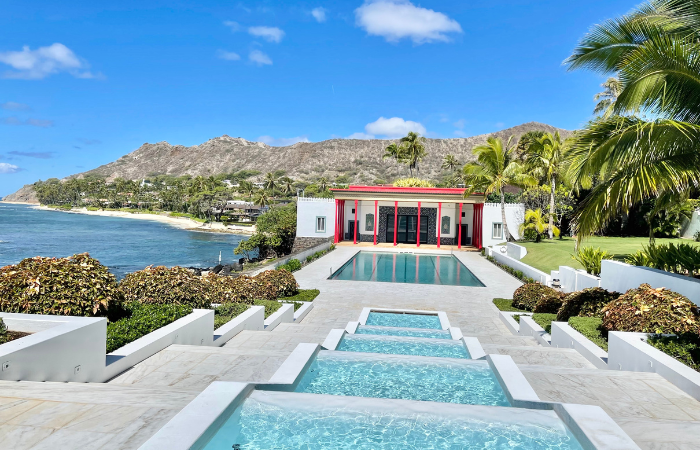 Tours are offered Thursday through Saturday and you'll want to book them in advance as they usually sell out pretty quickly.
All tours begin at the Honolulu Museum of Art and then you're shuttled over to Shangri La where you have a little over an hour to explore the home and property before you're shuttled back to the museum.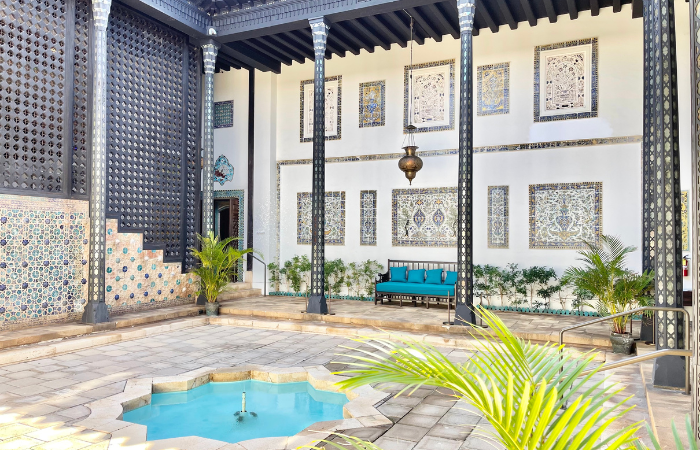 I did the 9AM tour (which I highly recommend because there's no a/c at Shangri La) and here's how the timeline went:
Arrived at the Honolulu Museum of Art (parking is $5 behind the Honolulu Museum of Art SCHOOL) about 8:45 and we gathered on benches under the overhang until we were checked in and given our badges/stickers. (Note: the museum doesn't open until 10AM so you can't go inside to go to the restroom before you leave for Shangri La, and there isn't really anywhere in the area so go before you leave your hotel).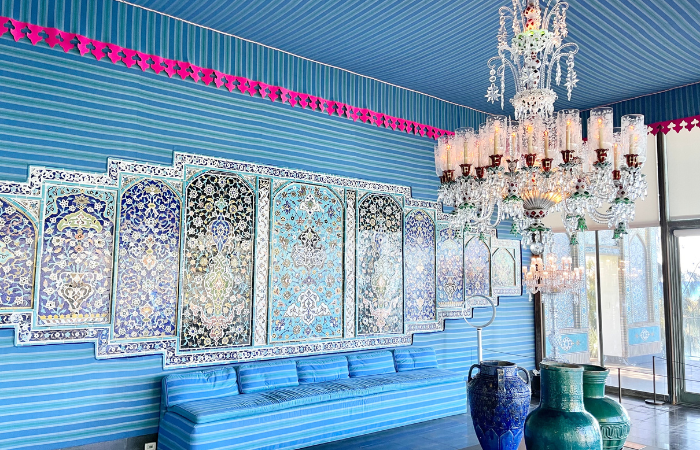 About 9:15 we boarded our shuttle and headed over to Shangri La. The home is located in a compact residential area near Diamond Head and you can only go in and out on the shuttle.
We arrived about 9:35 and were greeted by the staff. There are restrooms at Shangri La and they passed out fans.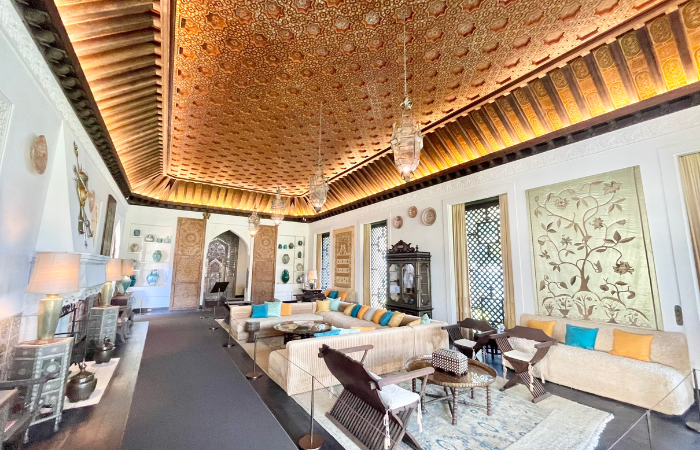 We had a little over an hour to walk around the property at our leisure. It's not a guided tour, but the docents position themselves in different places and give little talks as people come and go from different rooms, but you're free to come and go as you please.
After we were finished looking around, we enjoyed water and ice cream sandwiches before loading back on the shuttle and heading back to HoMA. We arrived back at HoMA by 11:10.
Once we were back at the museum, we spent an hour or so walking through the exhibits. Admission to the art museum is included in the tour price.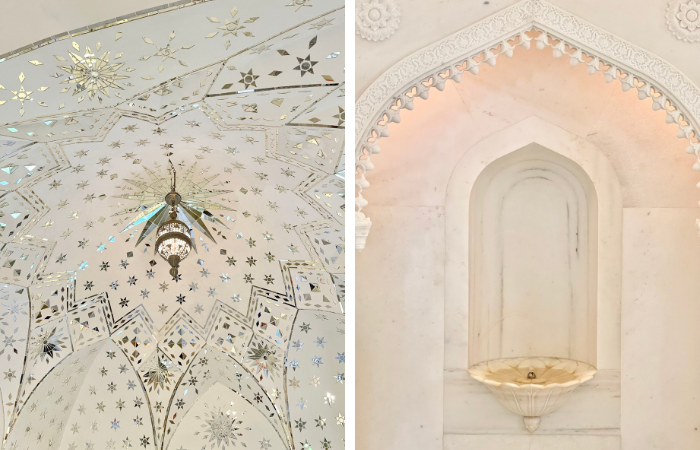 Reserve tours in advance here.
Royal Hawaiian Band Concerts
Weather permitting, the Royal Hawaiian Band performs every Friday from 12-1 on the lawn of the Iolani Palace. Chairs are set up and a huge banyan tree provides nice shade.
Kawaiaha'o Church
Thought to be the oldest church in Hawaii, the "Westminster Abbey of the Pacific" holds services on Sundays in English and Hawaiian.
Punchbowl
The National Memorial Cemetery of the Pacific (nicknamed the Punchbowl) which was built in 1948 to serve as a final resting place for members of the US Armed Forces who lost their lives in WWII lays in the dormant volcano Pouwaina, which means "hill of sacrifice."
Aloha Tower
Located in Honolulu Harbor, built in 1926 as a beacon to welcome visitors to Hawaii (who came almost entirely by boat), the 10th floor observation deck offers great views of Honolulu and the water.
Hawaii Army Museum
Open Tuesday-Saturday from 9-5, the Hawaii Army Museum is home to artifacts from ancient Hawaiian armies to more modern campaigns.
On Another Note: If you're looking for a condo or vacation rental for your trip, I always book with Vrbo. They've got the largest selection of rentals you'll find anywhere and you can easily filter to find exactly what you're looking for. Need a specific number of bedrooms and bathrooms? Narrowed it down to a certain location? Want flexible cancellation terms? Need to stay under a fixed budget? Click here to search for Oahu vacation rentals for your trip.
FOR THE FOODIES
Chinatown
Spend a few hours exploring Chinatown's markets, lei shops, and bar and restaurant scene. Don't miss the Pig and the Lady.
Honolulu Fish Auction
The Honolulu Fish Auction is the only tuna auction in the United States and quite an experience. It's free and open to the public, but you'll have to arrive early to see the show (6AM-8AM is preferred) and it's chilly inside so bring a jacket! Even though you can technically go on your own, I would highly recommend a tour for this one.
For more food recommendations in Honolulu and Waikiki, check out this post.
FAMILY FRIENDLY FAVORITES
Magic Island
This small man made peninsula next to Ala Moana Beach Park has a nice protected lagoon to swim in. It's also a great spot to watch the Friday night fireworks from.
Waikiki Aquarium
The Waikiki Aquarium is a great place to get an up close look at local marine life, especially if you have kids. Admission is $12/adult and $5/child.
Honolulu Zoo
If you're looking for a way to entertain the kids, the Honolulu Zoo has a pretty good collection of animals. Admission is $14/adult and $6/child.
Nutridge Luau
I haven't made it to this luau myself yet, but I've been hearing GREAT things about it. Particularly how perfect it is if you have kids. They only host small groups and they provide a pretty authentic experience.
Tantalus Lookout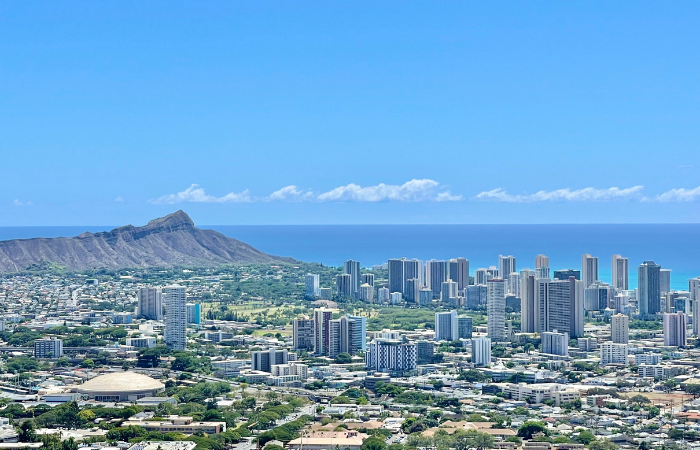 If you want amazing views of Waikiki and Diamond Head, but you're not up for a hike, drive up to the Tantalus Lookout for incredible (and easy) views.
Still Looking for a Place to Stay?
Here's one more really important thing you need to know before your Hawaii trip…
Reservations You Need to Make BEFORE Your Hawaii Trip
You've got your airfare, hotel, rental car and your big activities booked, so you should be good to go, right? Wrong!
Travel is BOOMING in Hawaii so a lot of state and national parks used the closure and reopening to institute reservation systems at some of the island's most popular spots to make things a little more sustainable.
That means that there are now over half a dozen sites (beaches, trailheads, etc.) that require advance reservations. And some sell out well before you arrive on the island so you really need to have some sort of a plan.
I recently saw somebody in a Hawaii travel group post in a panic that they didn't know they had to make reservations for things in advance…they thought they could just show up and "go with the flow." I was tempted to say, well, "as long as the flow doesn't take you somewhere that requires reservations, you can!" ; )
But I don't want YOU to be that person, so I've pulled together a list of all the places you need to reserve entry in advance (plus all the details on booking windows, price, links, etc.) and a handful of popular tourist hotspots that book out really far in advance too.
Haleakala National Park (Maui)
To visit Haleakala National Park for sunrise at the summit, you must make reservations in advance here.
Reservations are required to enter the park gates between 3AM and 7AM (sunrise hours).
Online reservations are $1 per reservation/vehicle PLUS you'll pay the park entrance fee of $30/vehicle when you arrive (National Park annual passes are also accepted at the gate).
The reservation booking window opens 60 days in advance at 7AM HST. There are also a limited number of tickets released two days before.
You can make one reservation every three days with the same account. So if you want to make reservations for back to back days (in case of weather/conditions), you'll need to do so with separate accounts (email addresses).
If you can't get reservations for sunrise, you can enter the park anytime after 7AM without reservations. The summit is spectacular during the day and you don't need reservations for sunset.
I strongly recommend creating an account before and making sure you're logged in at 7AM HST because it's not uncommon for reservations to sell out quickly.
Waianapanapa State Park (Maui)
To visit Maui's famous black sand beach at Waianapanapa State Park on the Road to Hana, you must make reservations in advance here.
Reservations are required to visit the beach and are distributed in windows from 7AM-10AM, 10AM-12:30PM, 12:30PM-3PM, and 3PM-6PM. And they are pretty strict about exiting by the end of your window time (you can arrive anytime within your window).
It's $5/person to enter plus $10/vehicle to park and those fees are paid when you book your time slot.
Reservations open up 30 days in advance.
Iao Valley State Park (Maui)
To visit the lush, green mountains and hike at Iao Valley State Park, you must make reservations in advance here.
Reservations are offered for 90 minute time slots beginning at 7AM and ending at 6PM. They ask that you arrive within the first 30 minutes of your time slot.
Entry is $5/person plus $10/vehicle to park.
Reservations open up 30 days in advance.
Diamond Head (Oahu)
To hike to the top of Waikiki's famous Diamond Head, you must make reservations in advance here.
Reservations are offered in two hour increments beginning at 6AM (6AM-8AM, 8AM-10AM, etc.) and ending at 6PM. If you're parking onsite, they ask that you arrive within the first 30 minutes of your reservation window.
Entry is $5/person plus $10/vehicle to park.
Reservations open up 30 days in advance.
Tip: I recommend booking one of the first two time slots because there isn't much shade on this hike and it gets pretty hot.
Hanauma Bay (Oahu)
To snorkel at Oahu's pristine Hanauma Bay, you must make reservations in advance here.
Entry times are staggered in 10 minute increments from 7AM to 1:20PM with roughly 1000 slots being assigned in advance every day.
Reservations can be made two days in advance and they open at 7AM HST. They're usually gone in minutes (if not seconds).
If you're unable to get an advanced reservation, you can try for a day of, walk in ticket. They open at 6:45AM and they only have a limited number available. Everyone in your group needs to be present when you purchase your tickets in person.
There are no reservations for parking and it's first come, first serve. $3/vehicle.
It's $25/person to snorkel at Hanauma Bay (12 and under, active military, and locals with HI ID are free).
The Hanauma Bay Nature Preserve is open Wednesday through Sunday (CLOSED MONDAY AND TUESDAY) from 6:45AM-4PM. Last entry is at 1:30PM, the beach is cleared at 3:15PM and you have to leave the facility by 4PM.
Jellyfish patterns can also affect whether or not the bay is open so double check the day before/day of.
USS Arizona at Pearl Harbor (Oahu)
If you want to take the boat tour at Pearl Harbor out to the USS Arizona, it's recommended to make advance reservations here.
Online reservations are guaranteed a specific boarding time to go out to the USS Arizona. If you're unable to get an advance reservation, you can wait standby when you arrive. The line could be short (15 minutes or so) or long (hours) and it just depends on the day (if they're having problems with the loading dock sometimes they don't take many from the standby line) and the time of day.
Reservations are supposed to open up 60 days in advance, but keep an eye on your exact dates, because lately they've actually been opening up about 57ish days in advance???
They also release a small batch of tickets the day before.
The boat ride out to the USS Arizona is free, but it's $1 to make the reservations online.
They recently started charging $7/vehicle for parking at Pearl Harbor.
Haena State Park / Kalalau Trail (Kauai)
If you want to hike Kauai's famous Kalalau Trail, you must make advance reservations here.
You've got three options here:
1) Parking & Entry: This is the most flexible option and also the most limited. THESE RESERVATIONS SELL OUT IN LESS THAN A MINUTE. There are three time slots available: 6:30AM-12:30PM, 12:30PM-5:30PM and 4:30PM to sunset. You can purchase multiple time slots if you want to stay longer. It's $10/timeslot (parking) plus $5/person and you have to reserve every person when you initially book. Everybody has to arrive in the same car and your ID needs to match the reservation.
2) Shuttle & Entry: If you can't get parking at the trailhead, there's also a shuttle option. Shuttle reservations are $35/person (16+), $25/person (ages 4-15), 3 and under can ride free. The shuttle runs every 20 minutes 6:20AM to 6:40PM.
3) Entry Only: If you're a Hawaiian resident (with HI ID) or someone WITH a Hawaiian resident, you can purchase entry only for $5/person with no advance reservations. Also, if you're walking or biking to the trailhead you can do this option. But there is NOWHERE to park in the area to walk in. So this really only works for those with bikes or who are staying close enough to walk. They will tow your car if you park outside the designated areas.
The reservation window opens 30 days in advance at 12AM HST. The parking & entry option usually sells out in a minute, but the shuttle availability will last longer.
There are a TON of FAQs here including the possibility of snagging a canceled reservation.
Other Things to Book in Advance
Hawaii is a busy place these days! Besides the state and national parks above, here's a handful of miscellaneous things you should make reservations for in advance (if they're on your radar):
Mama's Fish House (Maui): The iconic spot is the most popular restaurant in Hawaii and they've been opening reservations (and selling out) 4-6 months in advance. You can call and get on the waitlist for one day or you can set notifications on OpenTable to alert you for cancellations every day of your trip. Most people have pretty good success on OpenTable.
Old Lahaina Luau (Maui): Honestly, any luau you're planning to attend you should book early, but most people are usually shocked how far out the Old Lahaina Luau books out. Book it as soon as you know your dates (I think they open at the six month window). They also have a waitlist.
Kualoa Ranch UTV Tour (Oahu): Everybody loves Jurassic Park so getting to ride UTVs where they filmed the movies is very popular. The ranch offers a lot of different tours but the UTV tours usually book out a couple of months in advance.
Spa Reservations: If you're staying at a resort with a spa (or planning on visiting one), don't wait until you arrive to make your reservations. I'd make them at least a month in advance.
Tee Times: Same for golf, reserve your tee times well in advance.
Dining Reservations: Any "fancy" or resort restaurant is likely to be booked up these days so if you like having a nice dinner every night, make your plans in advance.
Want to read more? Don't miss some of my most popular (and favorite) posts about Oahu:
If you're trying to figure out where to stay, you're going to want to look at my favorite boutique resort in Waikiki and the lowdown on where to stay on Oahu besides Waikiki. Plus I've got the scoop on how to avoid illegal vacation rentals and a roundup of where to stay in Ko Olina and reviews of the Laylow and Disney's Aulani Resort. And a LOT more on Aulani like is Aulani worth it?, tips for staying at Aulani, how many days to spend, and the best things to eat and drink at Aulani.
If you're researching luaus on Oahu, I've written quite a bit. First, I've got a full breakdown of the best luaus (and the worst) on Oahu. Then I've got complete reviews of Paradise Cove, the Polynesian Cultural Center, and Aulani's Ka Wa'a Luau. And if you've narrowed it down to the top two most popular on the island and still can't decide, here's Paradise Cove vs Polynesian Cultural Center.
If you're trying to put together an itinerary full of the best things to do, take a look at my best 5 day itinerary, and roundups of the best things to do in Waikiki, "secret" things to do on Oahu, plus my favorite things to do in Kailua and the windward coast, in Ko Olina, and on the north shore. And if you're looking for food recommendations, I've got the best restaurants in Ko Olina and where locals eat in Waikiki.
And last but not least, some of my favorite things on Oahu like Jurassic Park at Kualoa Ranch, Shangri La and the Honolulu Museum of Art, tips for visiting Pearl Harbor, easy hikes on Oahu, and the best spas on Oahu. And everything you need to know BEFORE you go to Oahu.
Save
Save
Save
Save
P.S. Thanks for sticking around and reading this whole post! If you have ANY questions about planning your trip to Hawaii, you can join my free Facebook group here. I'm there answering questions every day and there are 7500+ other friends who have a ton of Hawaii information to share!
Also, if you want to follow along on my travel adventures in real time, you can follow me on Instagram (@caitylincoln). My post captions are full of travel tips and I have a ton of story highlights and videos with great info. And please share my account with your friends that are headed to Hawaii! Your support really helps me keep this blog running!