Tips for Visiting Pearl Harbor: How to Book USS Arizona Tickets, How Long You Need & More
For most people, if there's one "not to be missed experience" on Oahu, visiting Pearl Harbor is it. It's educational, it's moving, it's insightful. And there's surprisingly a LOT to see and do here.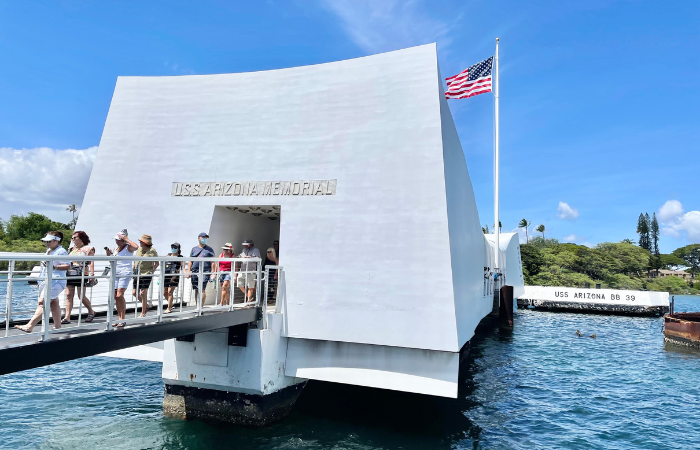 Before I go on, let's start with this…this isn't a post where I'm going to try to convince you that Pearl Harbor is worth visiting and tell you all the reasons why you should spend some of your vacation time there. I actually get very few questions about whether Pearl Harbor is a "must see" on Oahu.
And here's why…most people fall into one of two camps: 1) It's one of the major reasons they're going to Hawaii or they at least couldn't imagine going to Hawaii and NOT visiting Pearl Harbor or 2) People who wouldn't really even think twice about spending one of their vacation days doing something other than tropical island activities.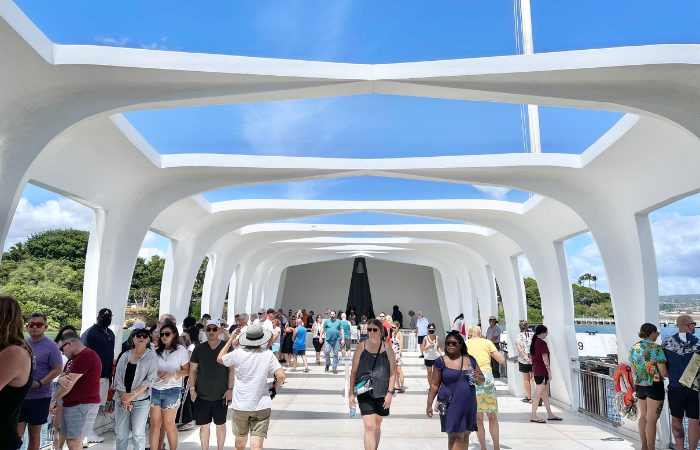 Neither is really wrong, but you pretty much know who you are.
On my first trip to Oahu, I was there less than 48 hours and we spent part of it at Pearl Harbor. On the other hand, I have MANY friends who have been on multiple weeklong vacations to Oahu and never been to Pearl Harbor. We're both happy : )
So obviously, this post is for those of you who are planning to visit Pearl Harbor.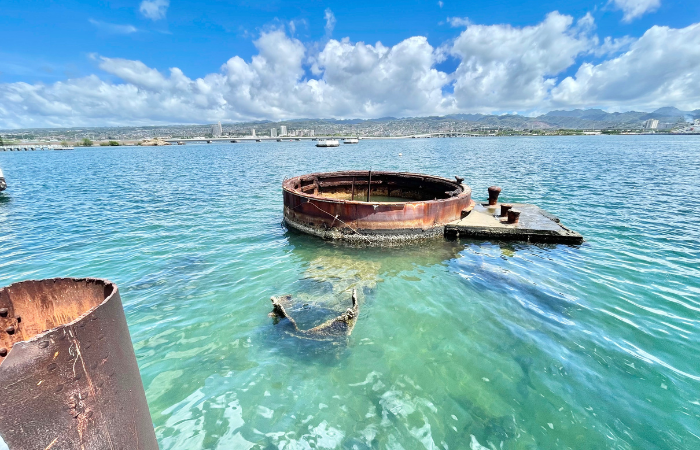 Tips for Visiting Pearl Harbor
Most people associate Pearl Harbor with the USS Arizona Memorial, and while it's definitely the most noteworthy thing to see, there is so much more than just that.
Here's the lay of the land…
You'll park at the Pearl Harbor Visitors Center and enter for free. There are no bags allowed so make sure you just bring the essentials.
The Visitors Center is kind of the main hub and it's where you'll find information, ticket booths, audio guides, the gift shop, a few small memorials and two museums.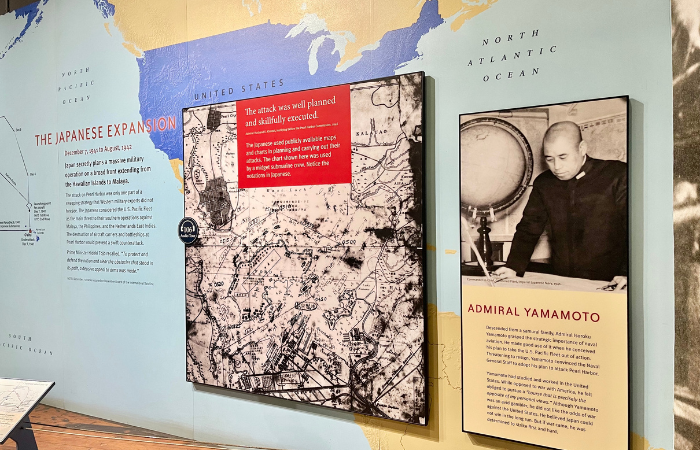 The first museum fills you in on what life and the political climate were like in Hawaii in 1941.
The second museum covers the events of December 7, 1941.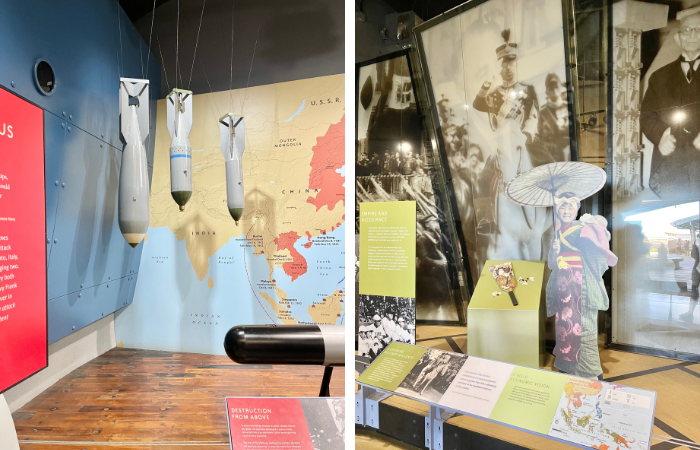 At the Visitors Center, you can board a boat operated by the Navy to go out to the USS Arizona Memorial.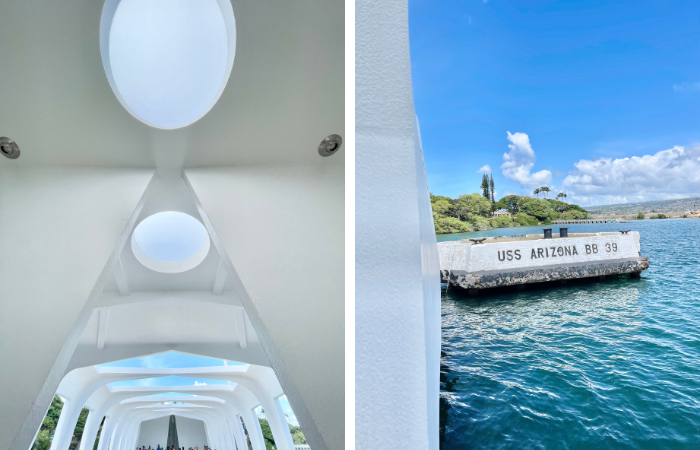 Ideally, you'll want to book your tickets for this in advance. Tickets are free (there's a $1 service charge when booked online), but they're limited and sell out quickly. Tickets are released 8 weeks in advance at 3PM HST. If you miss that booking window, your only option is to show up the day of and wait in the standby line. On the day I visited, people who made standby for my tour time said they waited about an hour. I've heard of people waiting only 20 minutes and as long as 3 hours.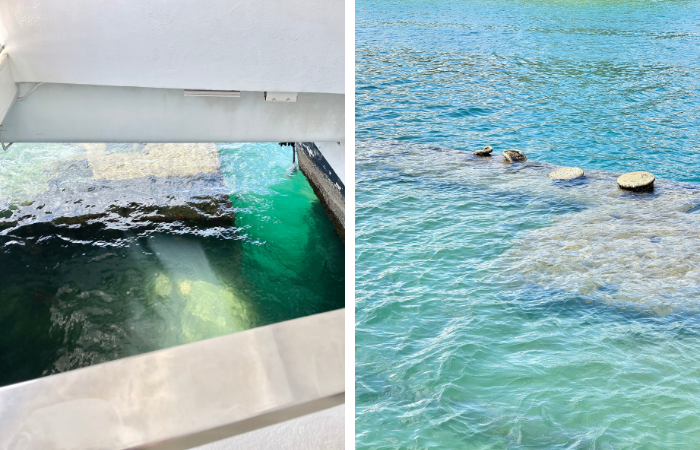 NOTE: This is a change in procedure from how tickets used to be distributed. You don't show up in person and get tickets anymore. And, at least right now, they're also not releasing more tickets the day before to the online reservation system. Pay attention to the current rules because sometimes things change quickly and also if they're having problems with the dock (it's a thing), they change up how they do things.
Reserve tickets here in advance to visit the USS Arizona Memorial.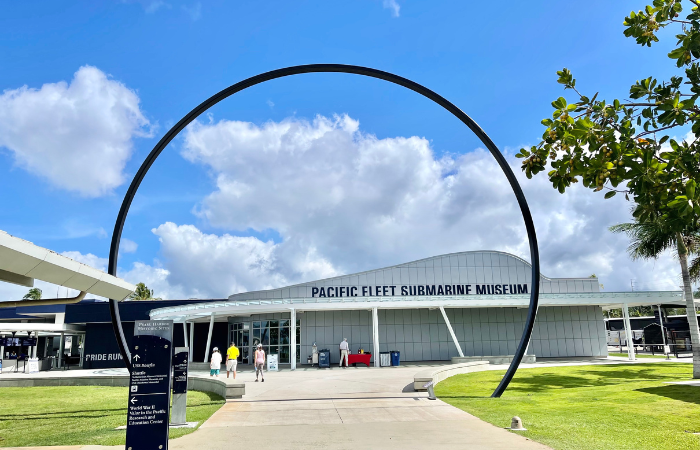 Also at the Pearl Harbor Visitors Center, you can purchase tickets to the Pacific Fleet Submarine Museum (which includes access to the USS Bowfin) for $22/adult.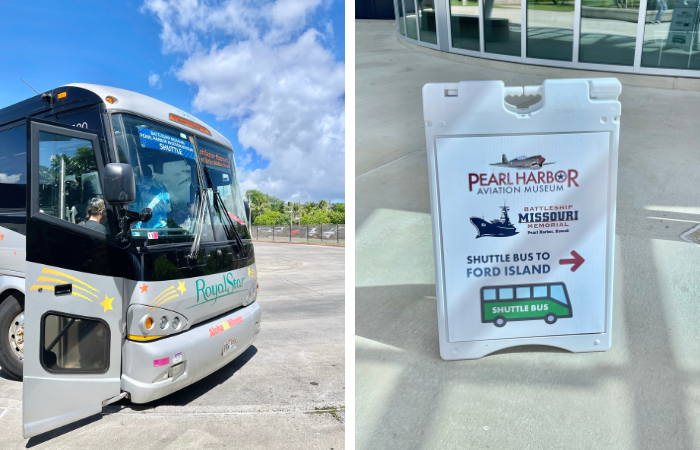 From the Visitors Center, you can hop on a (free) shuttle that takes you over to Ford Island (an active military base so you can only go on the shuttle) where you can buy tickets for: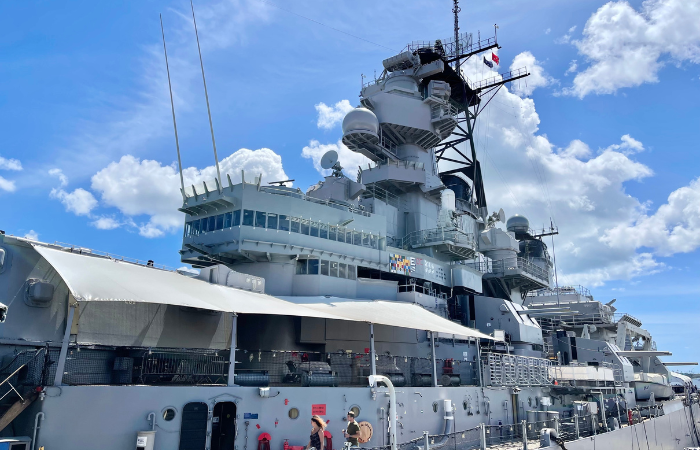 The USS Missouri (the battleship where the treaty to end WWII was signed) for $35/adult.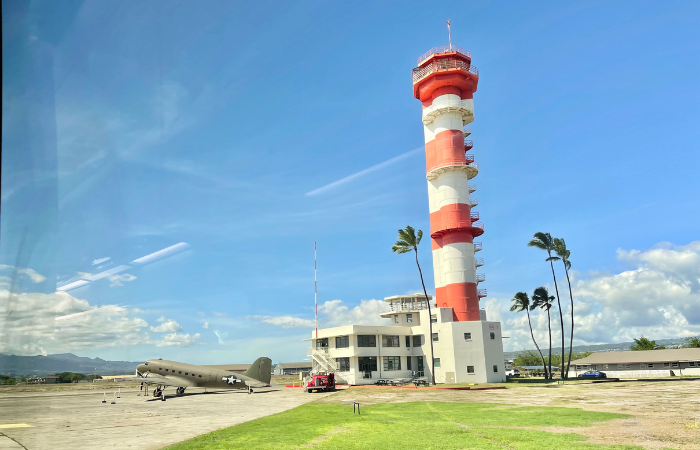 Pearl Harbor Aviation Museum (including an upgrade option for the Top of the Tower tour where you can access an original air traffic control tower) for $26/adult.
So that's four separate "things" you can tour. You can buy a Pearl Harbor Passport for $90/adult which includes admission to everything EXCEPT the USS Arizona, which you'll either have to reserve separately or wait in line once you arrive.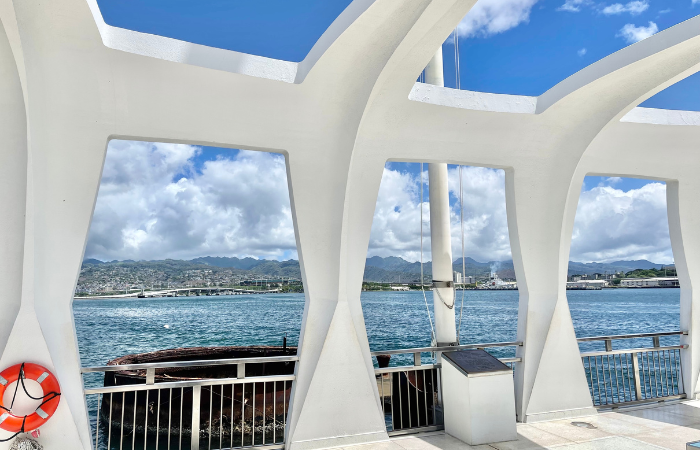 It's a lot. Really, more than I think you can do in one day.
Unless you are EXTREMELY DEDICATED tourists (who regularly do things like 12 hours in a Disney theme park), I think if you want to see everything you should break it into two days.
I am a "history person" with a pretty high tolerance for museums/tours and after we did the Visitors Center, the USS Arizona and went out to the USS Missouri, I was DONE.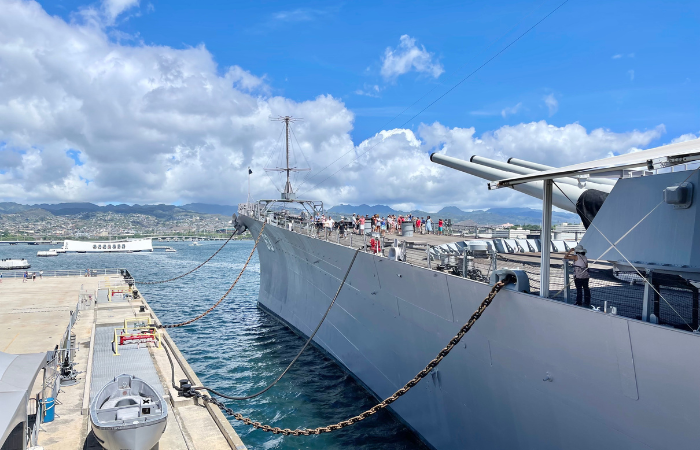 So I would recommend going through the two small museums at the Visitors Center, taking the boat out to the USS Arizona, and then picking ONE extra thing to do.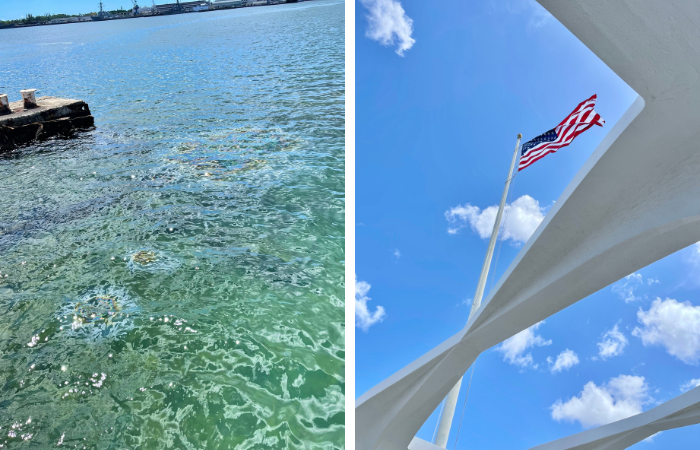 As far as which you should pick between the Bowfin, the Missouri, and the Aviation Museum, I think it mostly depends on your interests. They're all "worth doing" and high quality experiences. If you made me choose, I think I would go with the USS Missouri because it really packs a punch. You pretty much get to walk all over every inch of that ship.
In my mind, the USS Missouri and the USS Bowfin are kind of similar (they're both WWII era watercraft) so I wouldn't feel the need to do them both. However, the submarine museum is at the Visitors Center and you don't need to ride the shuttle so it would simplify the logistics.
You do NOT want to be out on Ford Island at the USS Missouri or the Pearl Harbor Aviation Museum and mismanage your time and miss your time slot for the boat to the USS Arizona.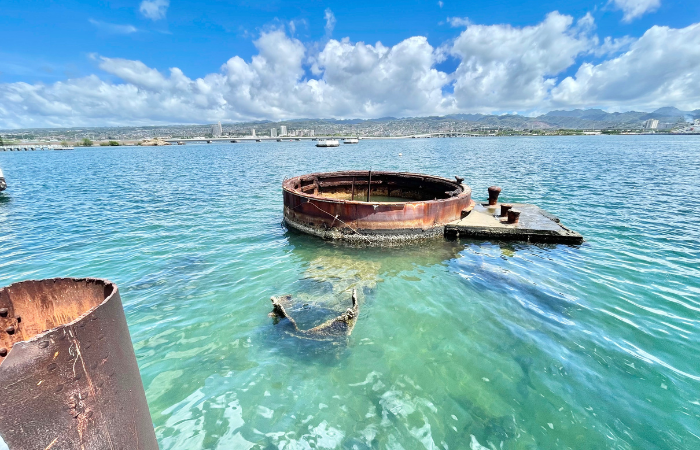 I think your choice may come down to if you're more interested in boats or planes. If it's boats, go with the USS Missouri. If it's planes, go with the Pearl Harbor Aviation Museum and add on the option to go up in the air traffic control tower.
Side Note: If you're looking for a rental car for your trip, I LOVE Discount Hawaii Car Rentals. They're seriously the only company I ever use. They'll give you the very best prices, you don't have to reserve with a credit card or pay until you show up, you can cancel and re-book anytime if you find a better rate, and they usually have a special that adds additional drivers for no fee. It's a no brainer. Click here to check rates for your trip.
More Tips about Visiting Pearl Harbor
There are lockers you can rent to store bags near the entrance. While I NEVER recommend leaving bags in your car anywhere (especially Hawaii), the parking lot isn't isolated and there's a lot of activity, add in the component of the military base, and it doesn't make it a place where your car is super likely to get broken into. But gain, never leave anything in plain sight. There are also conflicting reports about if clear bags are sometimes allowed inside.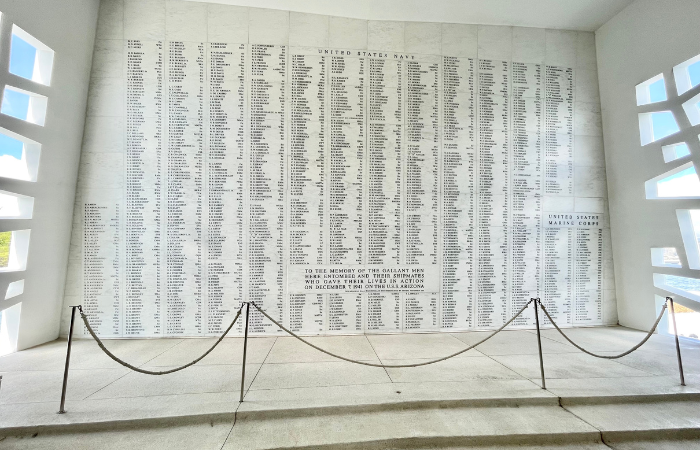 If you're thinking about booking a tour to Pearl Harbor, check double check and triple check that it actually includes access to the USS Arizona, because since they changed up the policy about how the USS Arizona tickets are distributed, most tour companies don't have access like they used to.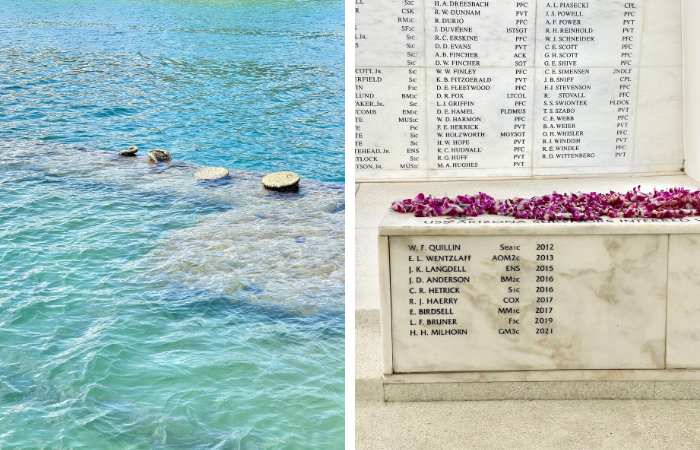 If you're an avid National Parks visitor, don't forget to bring your passport to collect your stamp. The stamps are outside near the ticket counters not in the gift shop and when I was last there they didn't have any scraps of paper to use if you forgot your passport.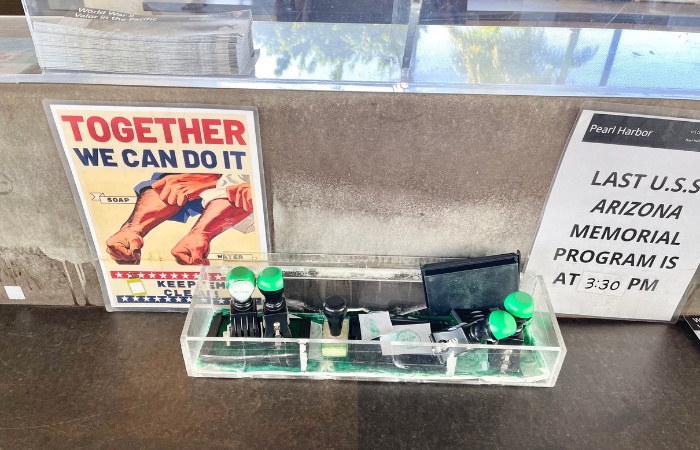 If you're planning to spend a good part of the day at Pearl Harbor, food options are a little limited. At the Visitors Center there's a snack stand that serves basically whatever you could find at a gas station. Drinks, chips, candy, premade sandwiches, etc. And there's usually a hot dog stand near the submarine museum. But that's it.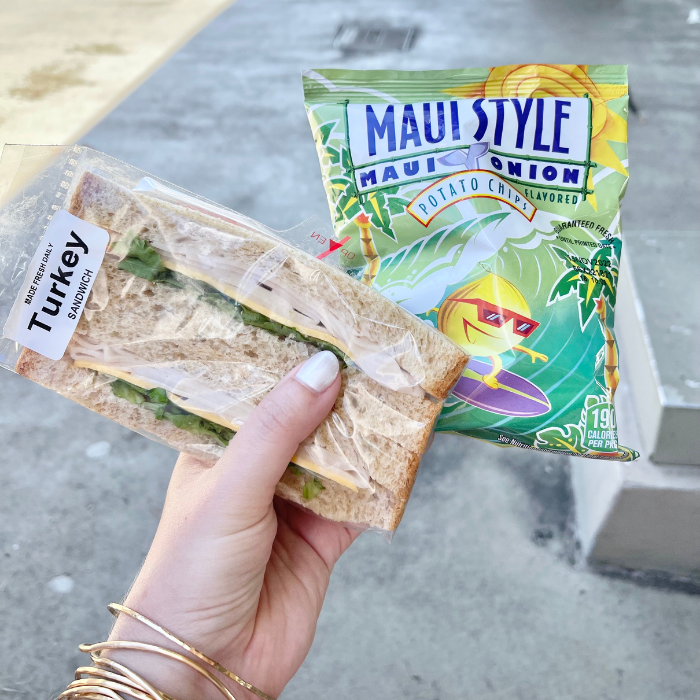 There were a lot more options at the USS Missouri, including some food trucks and stands.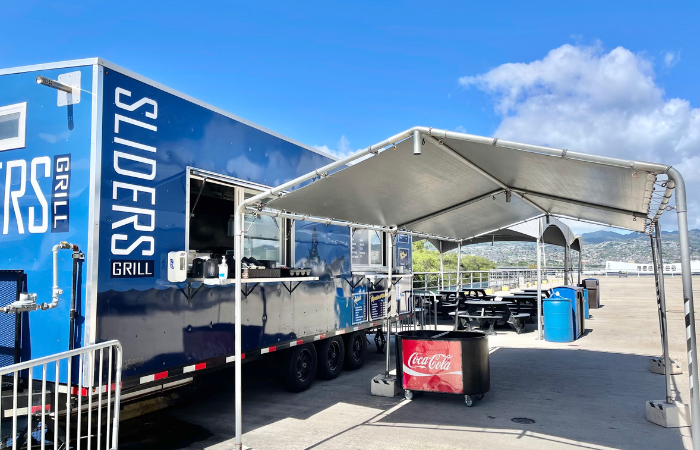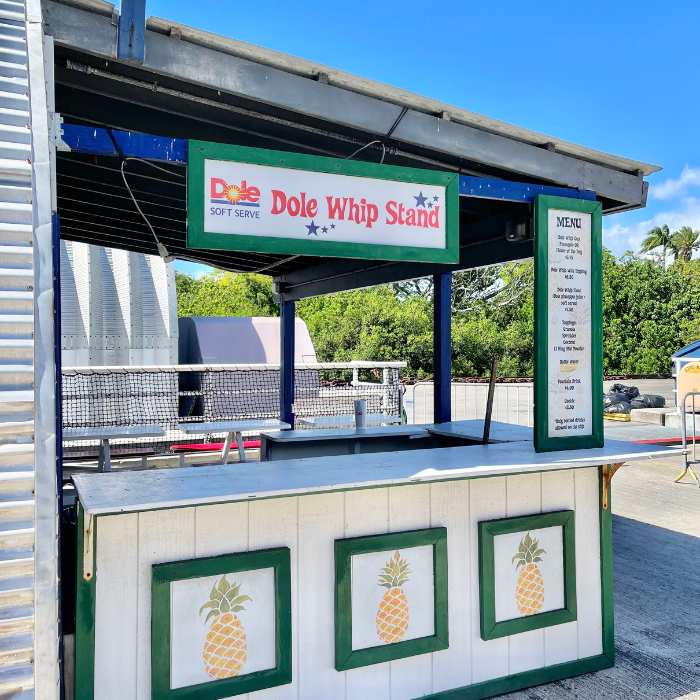 If you want a sit down restaurant (if you're going to be there all day, you may want a break), you can walk over to Restaurant 604 at the marina. The food is pretty hearty and they have great views.
If you're only going for half a day, have a big breakfast before you go and then I would plan to have lunch at Aiea Bowl when you leave. It's a great local spot not too far away.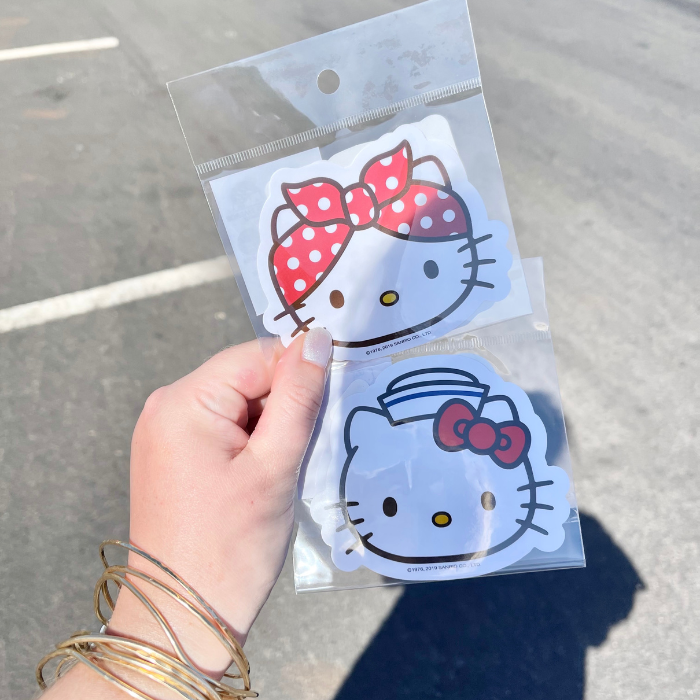 Okay, I've saved the most valuable information for last. Pearl Harbor now has OFFICIALLY LICENSED HELLO KITTY MERCHANDISE. Don't sleep on this! Kitty as Rosie the Riveter! Kitty in a sailor hat! Also a peace crane design. There is some generic Hawaii Hello Kitty merchandise that ABC Stores have a license for, but other than that Pearl Harbor and Diamond Head are the only spots that offer exclusive Hawaii Hello Kitty merch.
***Want to save major $$$ on a fancy beach resort? My favorite travel hack is cashing in points to score free nights at some of the island's most high end resorts. My go to hotel brand is Marriott so I use this Marriott Bonvoy Boundless card to rack up points for a lot of my trips to Hawaii. If you pay for your monthly expenses on the card and are responsible about paying it off every month, the points add up really fast. Plus, if you sign up through my link, you'll get THREE bonus free nights to use. On Oahu, use your points at some of my favorite Marriott properties like the Royal Hawaiian, Moana Surfrider, Sheraton Waikiki, and the Laylow.
Pictures from the USS Missouri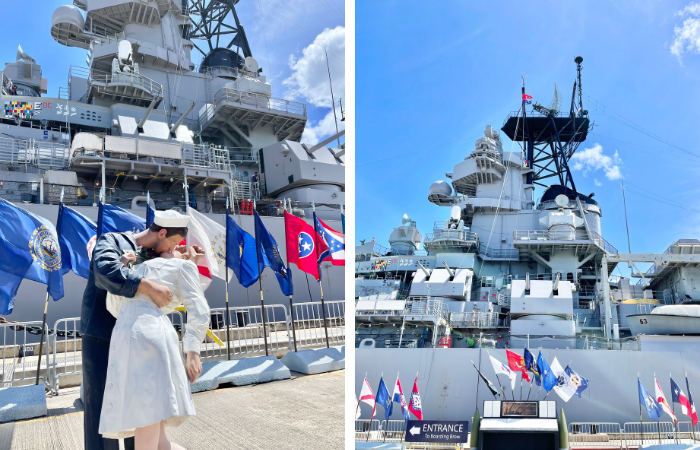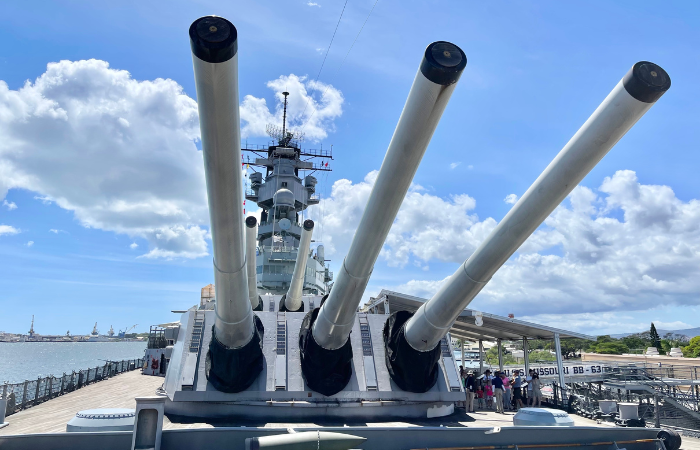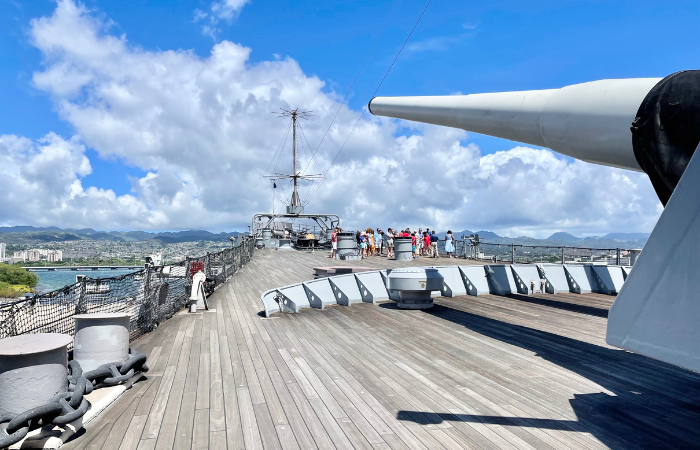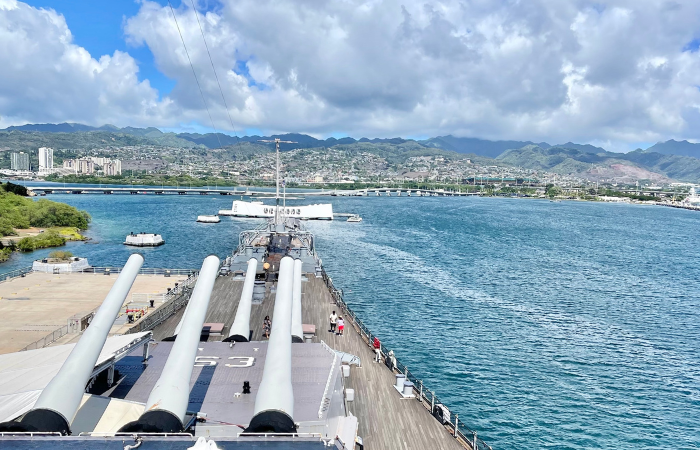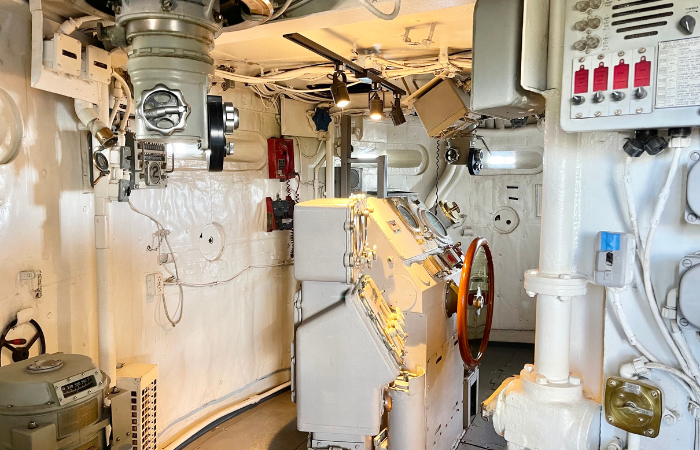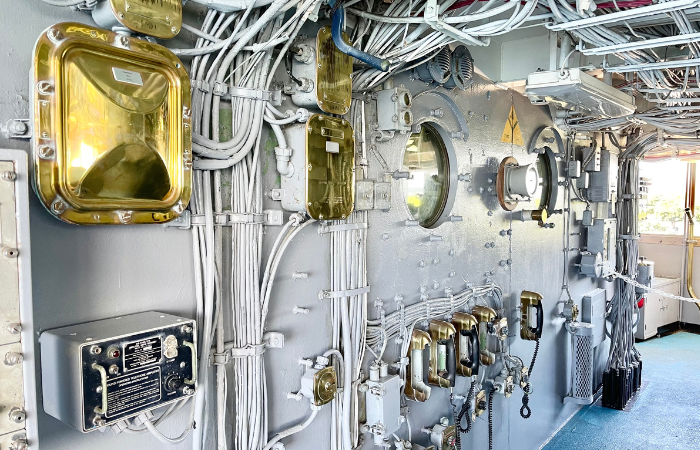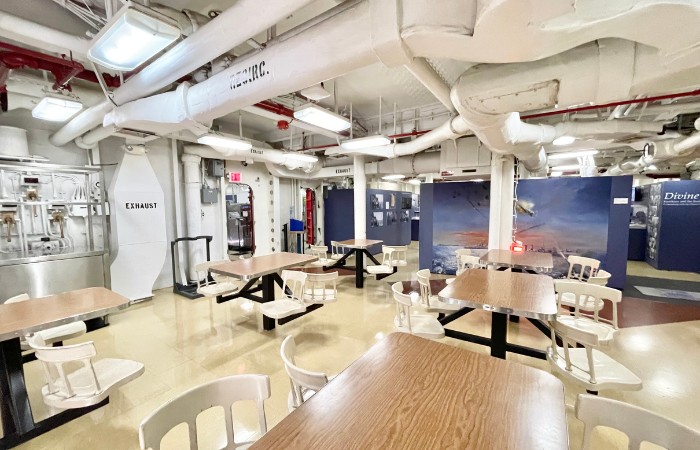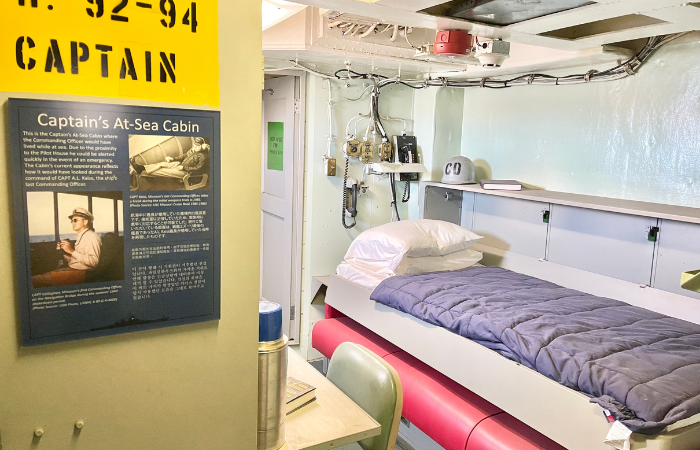 Still Looking for a Place to Stay?
Here's one more really important thing you need to know before your Hawaii trip…
Reservations You Need to Make BEFORE Your Hawaii Trip
You've got your airfare, hotel, rental car and your big activities booked, so you should be good to go, right? Wrong!
Travel is BOOMING in Hawaii so a lot of state and national parks used the closure and reopening to institute reservation systems at some of the island's most popular spots to make things a little more sustainable.
That means that there are now over half a dozen sites (beaches, trailheads, etc.) that require advance reservations. And some sell out well before you arrive on the island so you really need to have some sort of a plan.
I recently saw somebody in a Hawaii travel group post in a panic that they didn't know they had to make reservations for things in advance…they thought they could just show up and "go with the flow." I was tempted to say, well, "as long as the flow doesn't take you somewhere that requires reservations, you can!" ; )
But I don't want YOU to be that person, so I've pulled together a list of all the places you need to reserve entry in advance (plus all the details on booking windows, price, links, etc.) and a handful of popular tourist hotspots that book out really far in advance too.
Haleakala National Park (Maui)
To visit Haleakala National Park for sunrise at the summit, you must make reservations in advance here.
Reservations are required to enter the park gates between 3AM and 7AM (sunrise hours).
Online reservations are $1 per reservation/vehicle PLUS you'll pay the park entrance fee of $30/vehicle when you arrive (National Park annual passes are also accepted at the gate).
The reservation booking window opens 60 days in advance at 7AM HST. There are also a limited number of tickets released two days before.
You can make one reservation every three days with the same account. So if you want to make reservations for back to back days (in case of weather/conditions), you'll need to do so with separate accounts (email addresses).
If you can't get reservations for sunrise, you can enter the park anytime after 7AM without reservations. The summit is spectacular during the day and you don't need reservations for sunset.
I strongly recommend creating an account before and making sure you're logged in at 7AM HST because it's not uncommon for reservations to sell out quickly.
Waianapanapa State Park (Maui)
To visit Maui's famous black sand beach at Waianapanapa State Park on the Road to Hana, you must make reservations in advance here.
Reservations are required to visit the beach and are distributed in windows from 7AM-10AM, 10AM-12:30PM, 12:30PM-3PM, and 3PM-6PM. And they are pretty strict about exiting by the end of your window time (you can arrive anytime within your window).
It's $5/person to enter plus $10/vehicle to park and those fees are paid when you book your time slot.
Reservations open up 30 days in advance.
Iao Valley State Park (Maui)
To visit the lush, green mountains and hike at Iao Valley State Park, you must make reservations in advance here.
Reservations are offered for 90 minute time slots beginning at 7AM and ending at 6PM. They ask that you arrive within the first 30 minutes of your time slot.
Entry is $5/person plus $10/vehicle to park.
Reservations open up 30 days in advance.
Diamond Head (Oahu)
To hike to the top of Waikiki's famous Diamond Head, you must make reservations in advance here.
Reservations are offered in two hour increments beginning at 6AM (6AM-8AM, 8AM-10AM, etc.) and ending at 6PM. If you're parking onsite, they ask that you arrive within the first 30 minutes of your reservation window.
Entry is $5/person plus $10/vehicle to park.
Reservations open up 30 days in advance.
Tip: I recommend booking one of the first two time slots because there isn't much shade on this hike and it gets pretty hot.
Hanauma Bay (Oahu)
To snorkel at Oahu's pristine Hanauma Bay, you must make reservations in advance here.
Entry times are staggered in 10 minute increments from 7AM to 1:20PM with roughly 1000 slots being assigned in advance every day.
Reservations can be made two days in advance and they open at 7AM HST. They're usually gone in minutes (if not seconds).
If you're unable to get an advanced reservation, you can try for a day of, walk in ticket. They open at 6:45AM and they only have a limited number available. Everyone in your group needs to be present when you purchase your tickets in person.
There are no reservations for parking and it's first come, first serve. $3/vehicle.
It's $25/person to snorkel at Hanauma Bay (12 and under, active military, and locals with HI ID are free).
The Hanauma Bay Nature Preserve is open Wednesday through Sunday (CLOSED MONDAY AND TUESDAY) from 6:45AM-4PM. Last entry is at 1:30PM, the beach is cleared at 3:15PM and you have to leave the facility by 4PM.
Jellyfish patterns can also affect whether or not the bay is open so double check the day before/day of.
USS Arizona at Pearl Harbor (Oahu)
If you want to take the boat tour at Pearl Harbor out to the USS Arizona, it's recommended to make advance reservations here.
Online reservations are guaranteed a specific boarding time to go out to the USS Arizona. If you're unable to get an advance reservation, you can wait standby when you arrive. The line could be short (15 minutes or so) or long (hours) and it just depends on the day (if they're having problems with the loading dock sometimes they don't take many from the standby line) and the time of day.
Reservations are supposed to open up 60 days in advance, but keep an eye on your exact dates, because lately they've actually been opening up about 57ish days in advance???
They also release a small batch of tickets the day before.
The boat ride out to the USS Arizona is free, but it's $1 to make the reservations online.
They recently started charging $7/vehicle for parking at Pearl Harbor.
Haena State Park / Kalalau Trail (Kauai)
If you want to hike Kauai's famous Kalalau Trail, you must make advance reservations here.
You've got three options here:
1) Parking & Entry: This is the most flexible option and also the most limited. THESE RESERVATIONS SELL OUT IN LESS THAN A MINUTE. There are three time slots available: 6:30AM-12:30PM, 12:30PM-5:30PM and 4:30PM to sunset. You can purchase multiple time slots if you want to stay longer. It's $10/timeslot (parking) plus $5/person and you have to reserve every person when you initially book. Everybody has to arrive in the same car and your ID needs to match the reservation.
2) Shuttle & Entry: If you can't get parking at the trailhead, there's also a shuttle option. Shuttle reservations are $35/person (16+), $25/person (ages 4-15), 3 and under can ride free. The shuttle runs every 20 minutes 6:20AM to 6:40PM.
3) Entry Only: If you're a Hawaiian resident (with HI ID) or someone WITH a Hawaiian resident, you can purchase entry only for $5/person with no advance reservations. Also, if you're walking or biking to the trailhead you can do this option. But there is NOWHERE to park in the area to walk in. So this really only works for those with bikes or who are staying close enough to walk. They will tow your car if you park outside the designated areas.
The reservation window opens 30 days in advance at 12AM HST. The parking & entry option usually sells out in a minute, but the shuttle availability will last longer.
There are a TON of FAQs here including the possibility of snagging a canceled reservation.
Other Things to Book in Advance
Hawaii is a busy place these days! Besides the state and national parks above, here's a handful of miscellaneous things you should make reservations for in advance (if they're on your radar):
Mama's Fish House (Maui): The iconic spot is the most popular restaurant in Hawaii and they've been opening reservations (and selling out) 4-6 months in advance. You can call and get on the waitlist for one day or you can set notifications on OpenTable to alert you for cancellations every day of your trip. Most people have pretty good success on OpenTable.
Old Lahaina Luau (Maui): Honestly, any luau you're planning to attend you should book early, but most people are usually shocked how far out the Old Lahaina Luau books out. Book it as soon as you know your dates (I think they open at the six month window). They also have a waitlist.
Kualoa Ranch UTV Tour (Oahu): Everybody loves Jurassic Park so getting to ride UTVs where they filmed the movies is very popular. The ranch offers a lot of different tours but the UTV tours usually book out a couple of months in advance.
Spa Reservations: If you're staying at a resort with a spa (or planning on visiting one), don't wait until you arrive to make your reservations. I'd make them at least a month in advance.
Tee Times: Same for golf, reserve your tee times well in advance.
Dining Reservations: Any "fancy" or resort restaurant is likely to be booked up these days so if you like having a nice dinner every night, make your plans in advance.
Want to read more? Don't miss some of my most popular (and favorite) posts about Oahu:
If you're trying to figure out where to stay, you're going to want to look at my favorite boutique resort in Waikiki and the lowdown on where to stay on Oahu besides Waikiki. Plus I've got the scoop on how to avoid illegal vacation rentals and a roundup of where to stay in Ko Olina and reviews of the Laylow and Disney's Aulani Resort. And a LOT more on Aulani like is Aulani worth it?, tips for staying at Aulani, how many days to spend, and the best things to eat and drink at Aulani.
If you're researching luaus on Oahu, I've written quite a bit. First, I've got a full breakdown of the best luaus (and the worst) on Oahu. Then I've got complete reviews of Paradise Cove, the Polynesian Cultural Center, and Aulani's Ka Wa'a Luau. And if you've narrowed it down to the top two most popular on the island and still can't decide, here's Paradise Cove vs Polynesian Cultural Center.
If you're trying to put together an itinerary full of the best things to do, take a look at my best 5 day itinerary, and roundups of the best things to do in Waikiki, "secret" things to do on Oahu, plus my favorite things to do in Kailua and the windward coast, in Ko Olina, and on the north shore. And if you're looking for food recommendations, I've got the best restaurants in Ko Olina and where locals eat in Waikiki.
And last but not least, some of my favorite things on Oahu like Jurassic Park at Kualoa Ranch, Shangri La and the Honolulu Museum of Art, tips for visiting Pearl Harbor, easy hikes on Oahu, and the best spas on Oahu. And everything you need to know BEFORE you go to Oahu.
P.S. Thanks for sticking around and reading this whole post! If you have ANY questions about planning your trip to Hawaii, you can join my free Facebook group here. I'm there answering questions every day and there are 7500+ other friends who have a ton of Hawaii information to share!
Also, if you want to follow along on my travel adventures in real time, you can follow me on Instagram (@caitylincoln). My post captions are full of travel tips and I have a ton of story highlights and videos with great info. And please share my account with your friends that are headed to Hawaii! Your support really helps me keep this blog running!