Jurassic Park Hawaii: Let's See Those Dinos at Kualoa Ranch on Oahu
This post may contain some affiliate links, which means I'll make a little money on anything you choose to purchase. But of course, I only recommend my absolute favorites to you. Thank you for supporting the brands that make the Lincoln Travel Co possible.
Welcome to…Jurassic Park. Duh duh DUH duh duh, duh duh DUH duh duh…you can practically hear the music, right?
If you've grown up watching those dino movies or you've seen, well…any movie ever set in a tropical jungle, you know Kualoa Ranch.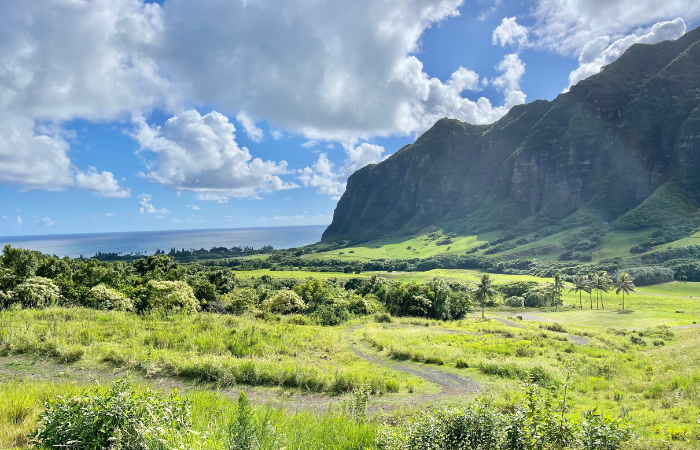 This jaw dropping piece of property on Oahu's windward coast is where Hollywood goes when they need a cinematic paradise. Jurassic Park, Kong, Jumanji, George of the Jungle, Godzilla, Pearl Harbor, Fifty First Dates, Lost, Hawaii 5-0…all filmed at Kualoa Ranch.
But it's not just a place that movie stars and film crews get to see. Kualoa Ranch is one of the most popular tourist attractions on Oahu.
The ranch is a STUNNING piece of property, and the owners work it hard. They offer soooooo many tours and adventures to give visitors the chance to experience the wild beauty of the jungle and mountains.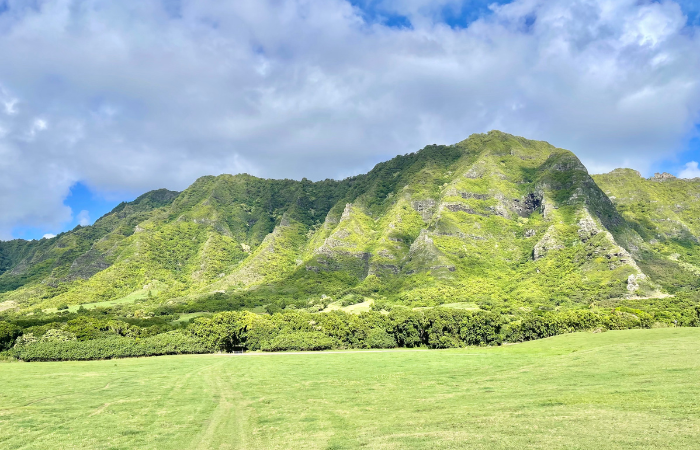 Movie set tours! Ziplining! ATVs! Horseback riding! A secret beach! And options for people who are interested in learning more about the island's flora, fauna, and culture.
Jurassic Park Hawaii
But I think the best tour on the ranch is the one that put them on the map…the Jurassic Adventure Tour.
Let's face it…no matter how many movies and tv shows they film at the ranch, Jurassic Park and the Jurassic World franchise is their crowning showpiece.
IT'S ALL ABOUT THE DINOS!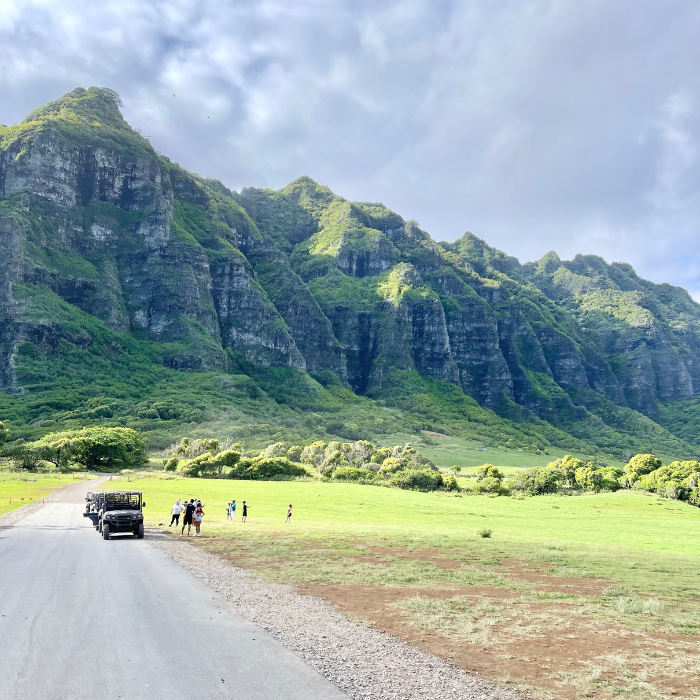 Here's the deal, there are over a dozen different tour options at Kualoa that cater to different ages, budgets, or interests, but overall, the two I would recommend the most are the Jurassic Adventure Tour and the UTV Raptor Tour.
I've done both (more about the UTV/ATV tour later), but if you want the best overall experience at Kualoa Ranch (see the most of the property in a fun way), I would probably pick the Jurassic Adventure tour.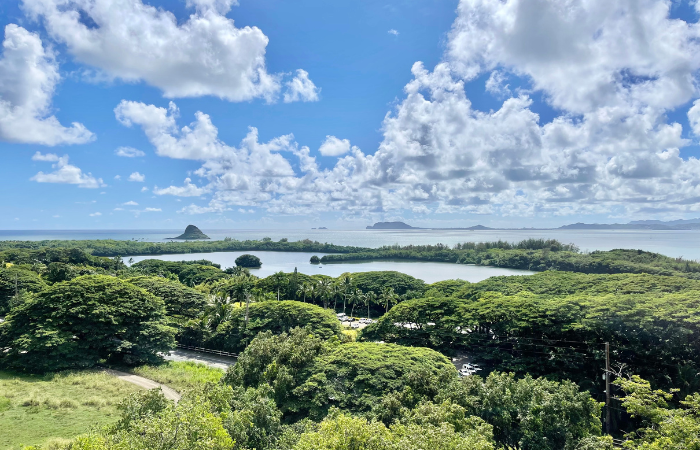 Jurassic Adventure Tour
The 2.5 hour mega tour takes you to more places on Kualoa Ranch than any other tour and you're riding in a custom open air truck which is pretty comfortable, but also still feels exciting.
The Jurassic Adventure Tour is waaaaay more extensive than the 90 minute Hollywood Movie Sites tour and even though it focuses mostly on the Jurassic Park films, they still talk about and show you so many other movie sites as you drive by.
Even if you're not a major Jurassic Park fan (I've only seen one of the old ones and one of the new ones), this is a GREAT tour.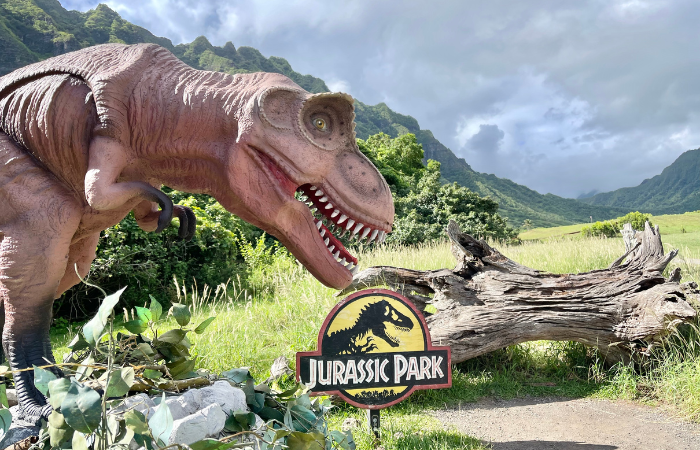 When you stop at certain locations, your tour guide will show you clips on an ipad so you know what scenes they're talking about and honestly even if you just kind of know the "idea" of Jurassic Park, you're going to love this tour. It's just so BEAUTIFUL.
Side Note: If you're looking for a rental car for your trip, I LOVE Discount Hawaii Car Rentals. They're seriously the only company I ever use. They'll give you the very best prices, you don't have to reserve with a credit card or pay until you show up, you can cancel and re-book anytime if you find a better rate, and they usually have a special that adds additional drivers for no fee. It's a no brainer. Click here to check rates for your trip.
Keep reading for photos and an idea of what to expect from the tour:
I booked the 8:20AM Jurassic Adventure Tour and was instructed to check in at the ticket office by 7:30AM. Honestly, that's a little excessive but you CANNOT be late or they will leave without you.
It's about a 45 minute drive from Waikiki to Kualoa (without traffic or accidents) and once you arrive it's a pretty big complex so you'll have to navigate your way to the specific spot where your tour loads. There are restrooms at the ranch where you load up, but not out in the valleys where the tour is so you'll want to go before you load up into the truck.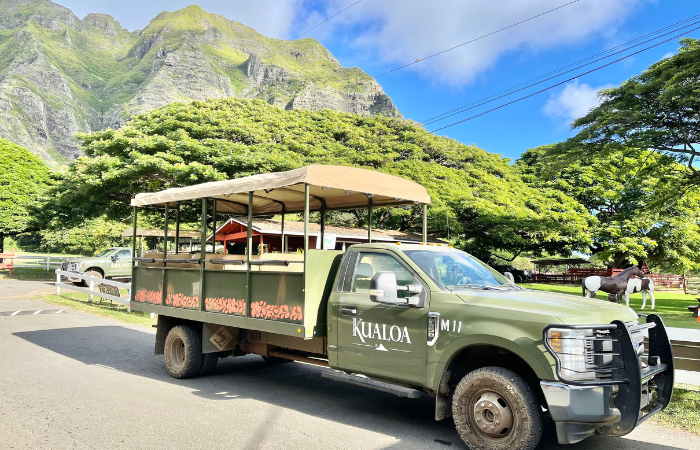 Our tour left almost exactly at 8:20. There were about a dozen people on our tour and the truck was rigged with speakers so we could hear our tour guide from the cab of the truck while we were driving.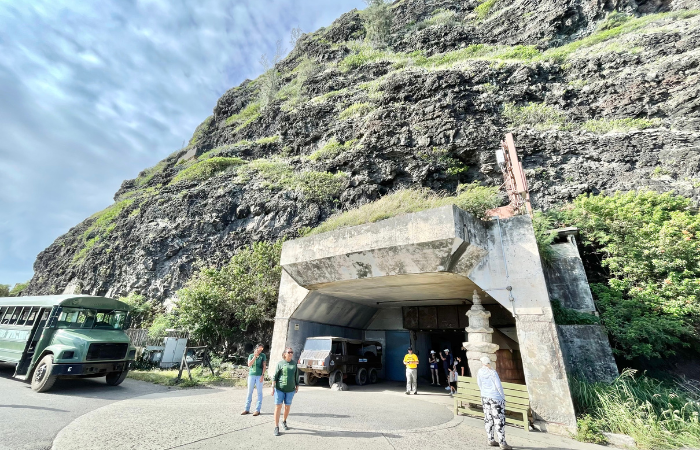 After about 10 minutes, we came to our first stop. They've converted this old WWII bunker (the military moved onto the ranch after Pearl Harbor was attacked and built some bunkers and lookouts) into a mini movie museum with little exhibits about all of the movies and shows they've filmed there.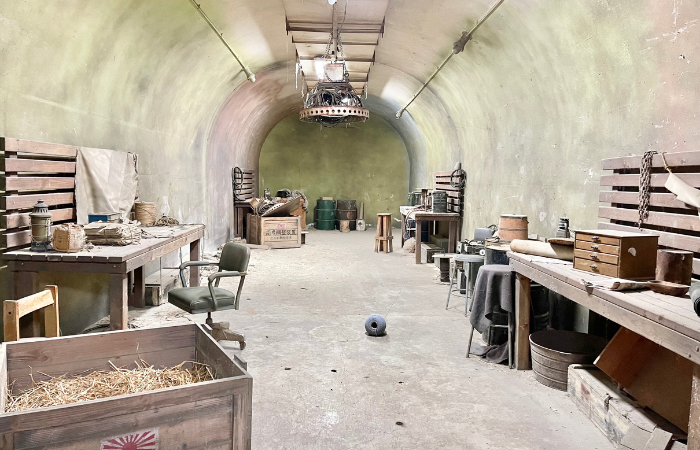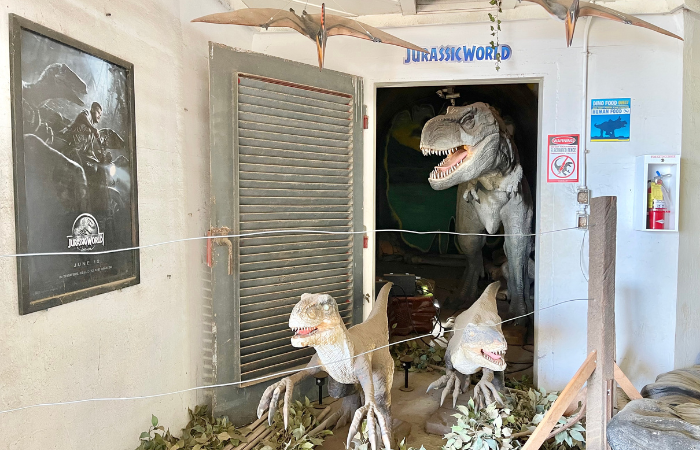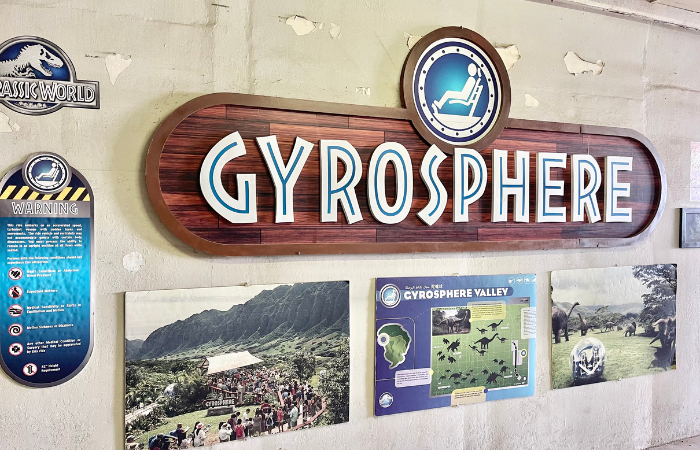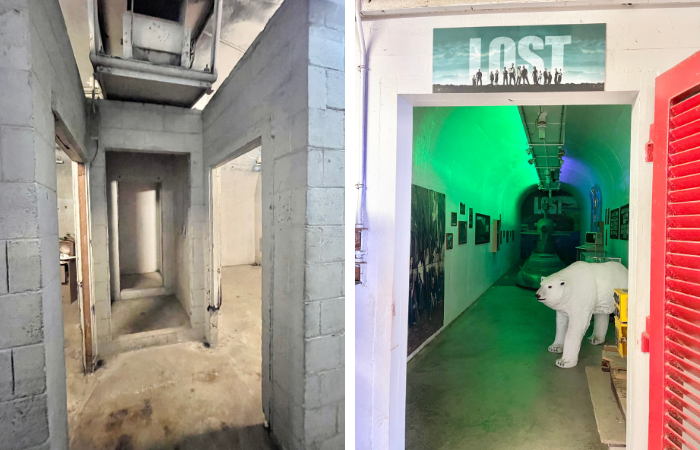 It's a little cheesy, but it's a good overview of everything they've filmed at the ranch. Plus history buffs will love getting to go inside an actual WWII bunker. We had about 15 minutes at the bunker.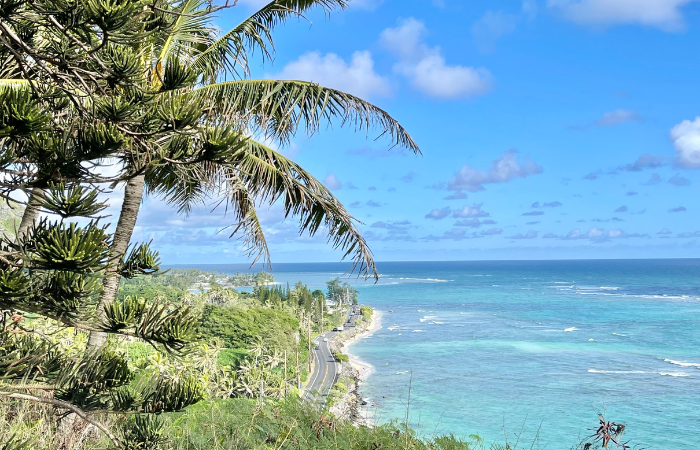 Don't miss the view from outside! It's one of the best views of the ocean you'll get on the whole tour.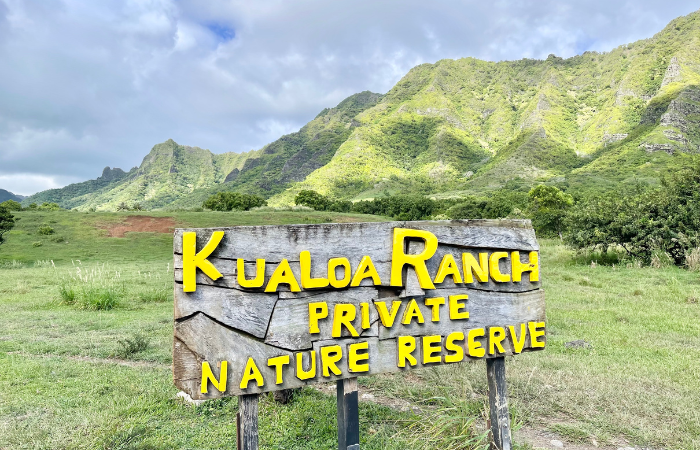 From here we drove deeper into the Ka'a'awa Valley (sometimes called Jurassic Valley) and stopped at the spot where they actually filmed the only scene from the original Jurassic Park movie. Paleontologist Alan Grant and the kids hid behind this log in the iconic "Gallimimus flocking scene."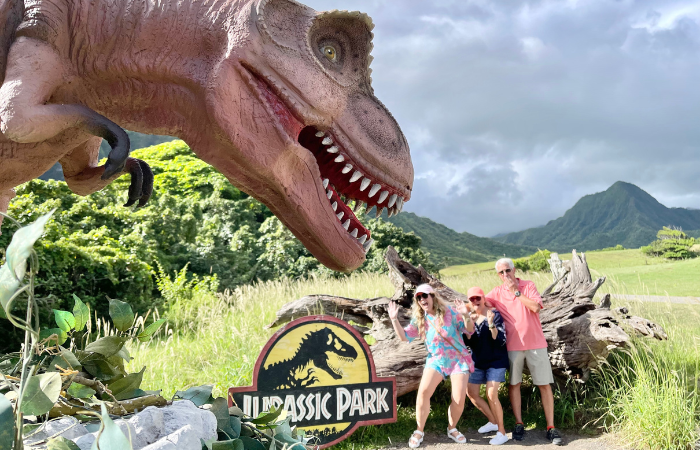 It's also the spot where you'll get your iconic "the dino is attacking" tour photo taken.
We stayed long enough to watch the movie clips and for everyone to take all of the photos then wanted before we loaded back up in the truck and headed deeper into the valley.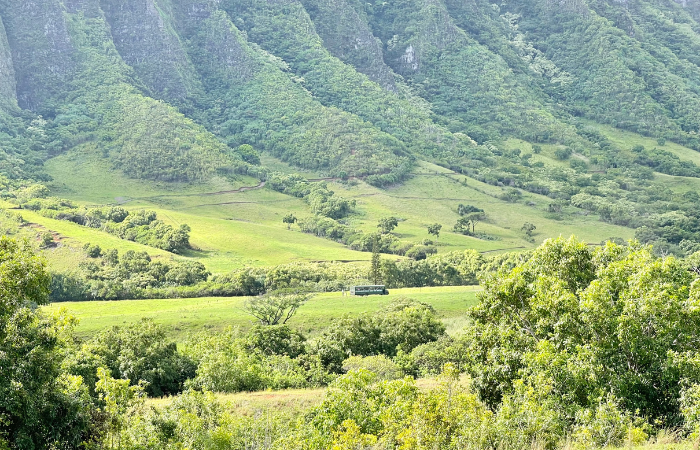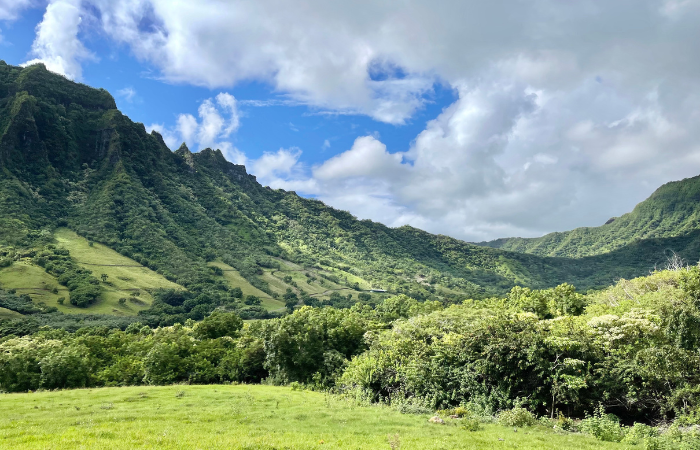 It just keeps getting more and more beautiful!
The next stop was the platform where they filmed the Gyrosphere scene. The structure is still there and our tour guide explained where they laid the coaster track and what was actually built and what was CGI.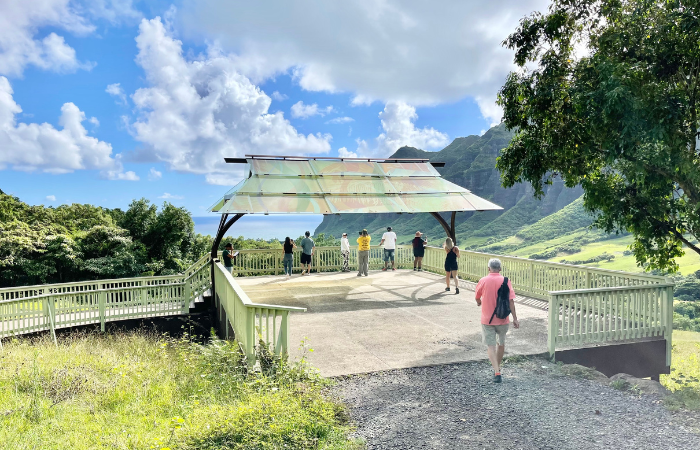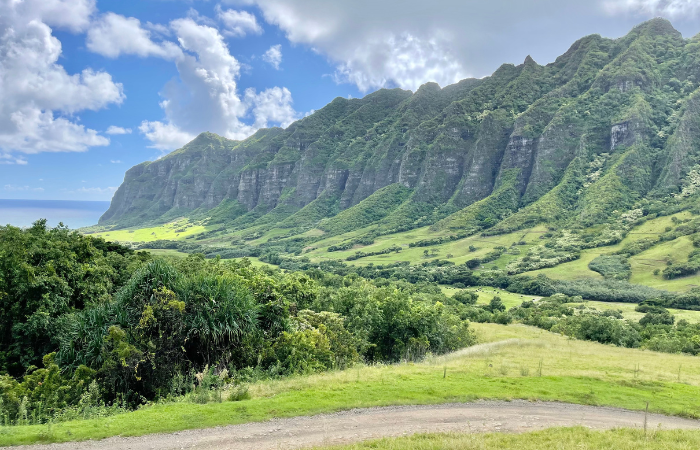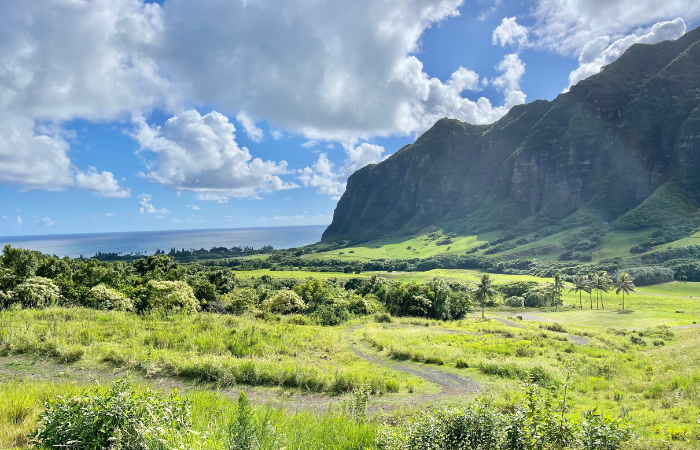 It was neat to see the clips from the movie (I had actually seen that movie), but honestly the view was just sublime. And I'll say it again, the movie part is fun, but this tour is worth it just to see the views.
We left the Gyrosphere platform and drove back down into the valley and past another set from one of the movies. We didn't stop at this one (it's one of the stops of the UTV tour and I expect they keep some of the stops separate to encourage repeat visits), but slowed down to take a look as we drove past.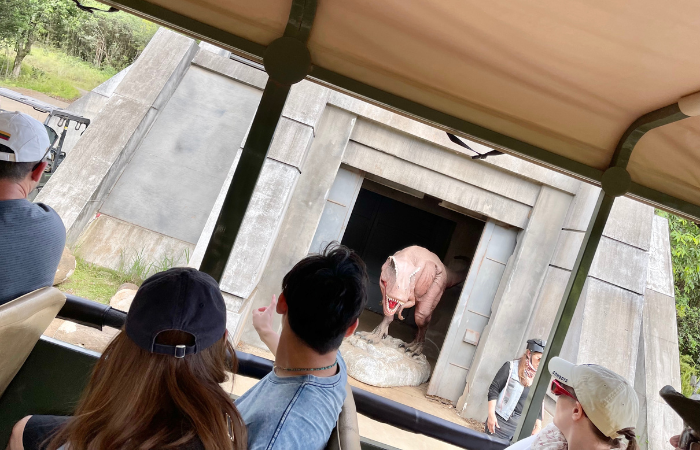 We stopped at a set that honestly looked pretty similar not too far away. A lot of them blended together, but I think they said this set ended up not being used in any scenes in any of the movies (and they always scour the deleted scenes too), but I do think some sort of dinos came running down the slope nearby in another scene.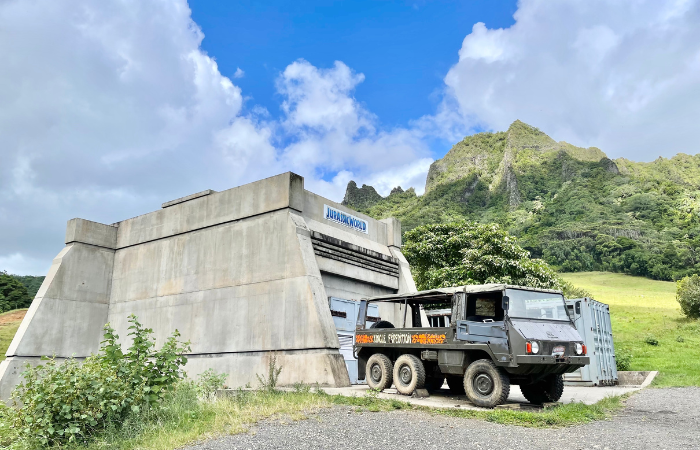 Anyways, this stop has one of the original Pinzgauer trucks that used to run until Chris Pratt convinced them to let him drive it, and…now it's just a set prop ; )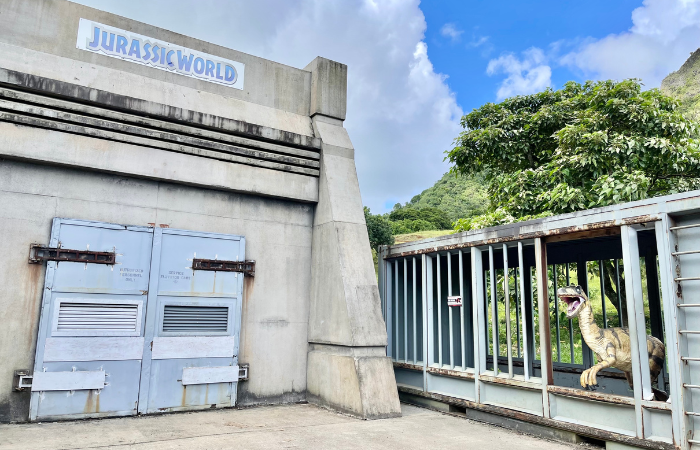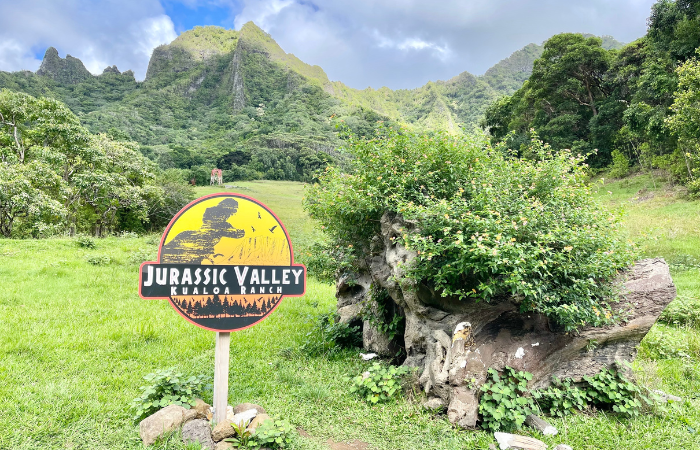 At this point we were pretty far back in the valley and started to backtrack towards the front to go back through Kualoa Valley into Hakipu'u Valley.
I was excited about this part, because I hadn't been on a tour to this part of the ranch yet.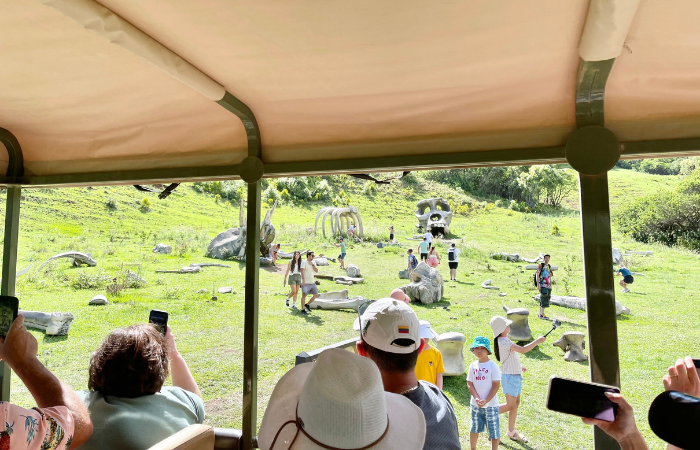 On the way, we saw the sites where they have the "bones" from Kong and the "footprints" from Godzilla. Those are stops on the Hollywood Movie Sites Tour and the UTV Raptor Tour.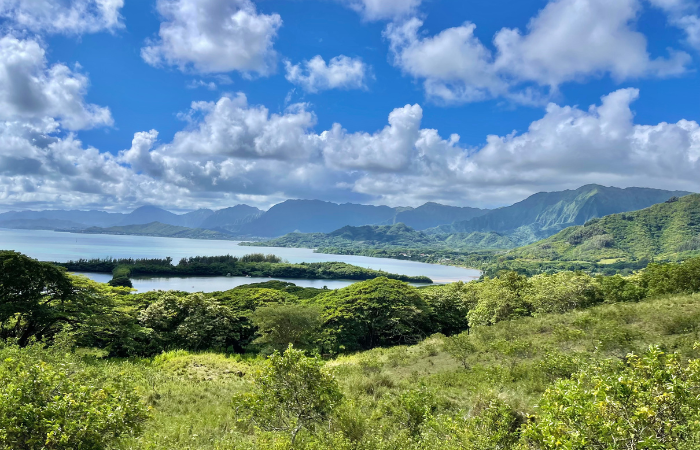 The drive up into the Hakipu'u Valley had great views of Mokoli'i Island (Chinaman's Hat), the fishponds, and down the coast. The fishponds are where they filmed the scene where the Mosasaurus jumps out of the water (with a lot of CGI of course ; )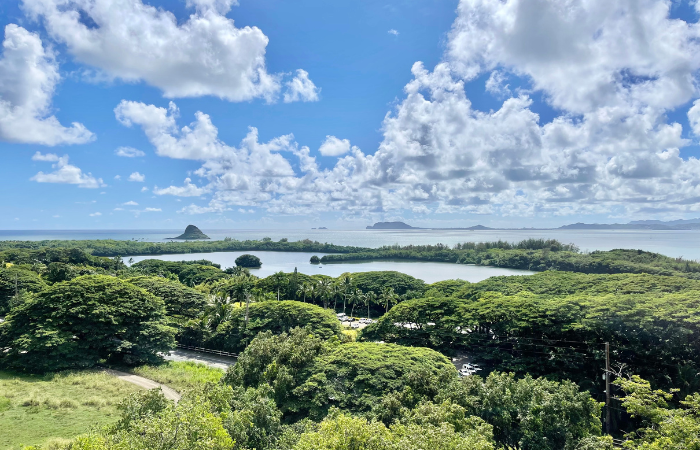 They save the best stop of the tour for last, y'all! Way back in the Hakipu'u Valley is where the Indominus Rex paddock from the first Jurassic World movie was built, claw marks and all.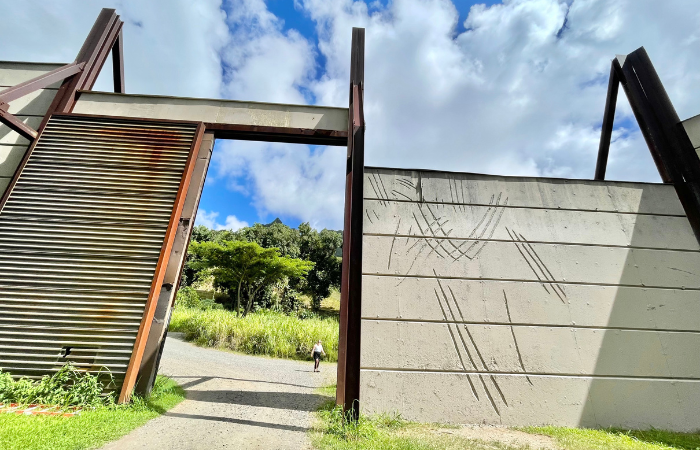 It's a hollow set, but you can walk up and look around the viewing area and there are a couple of raptor cages out front. We spent 20 minutes or so here and watched a couple different clips.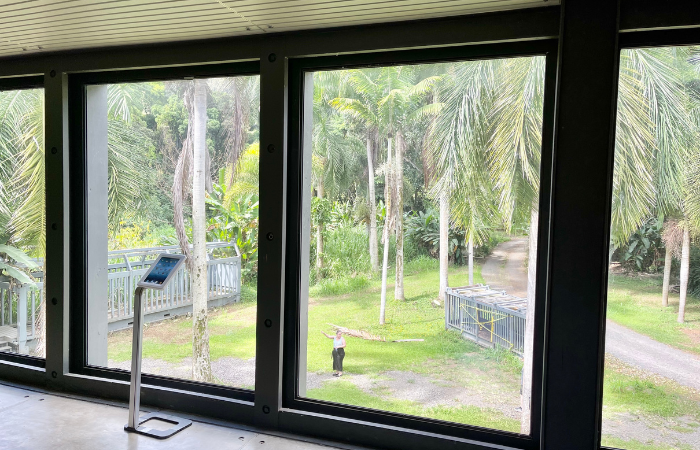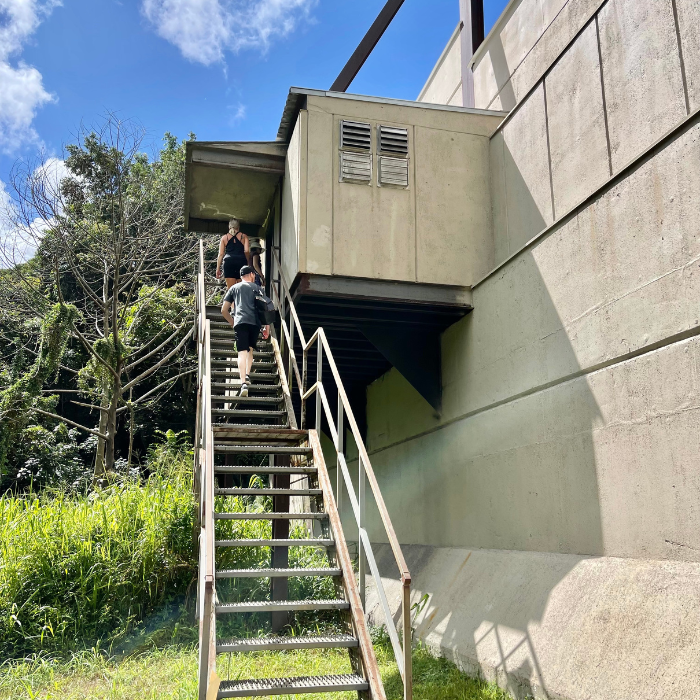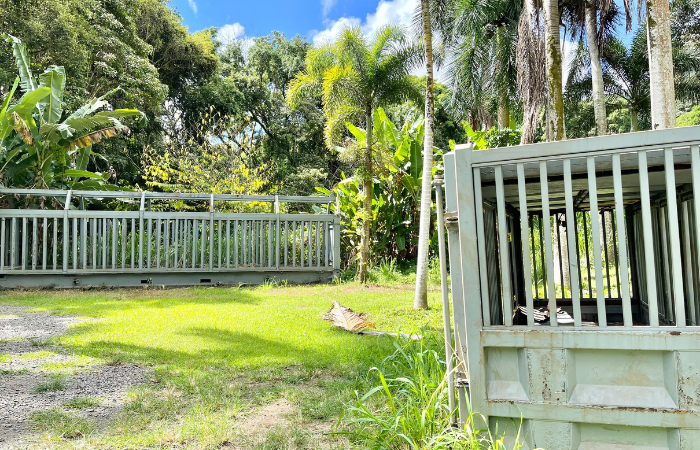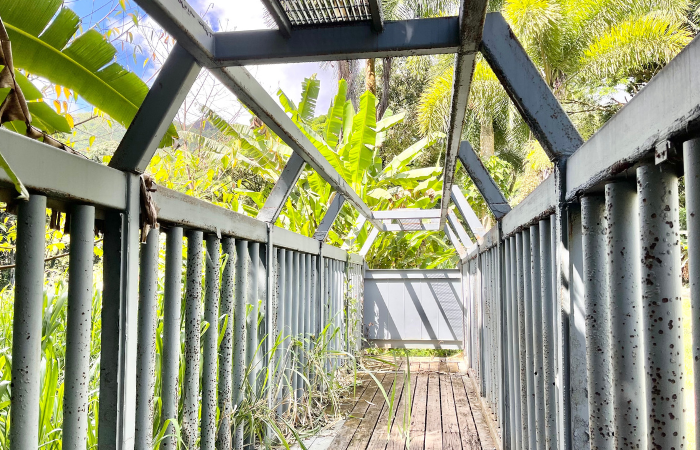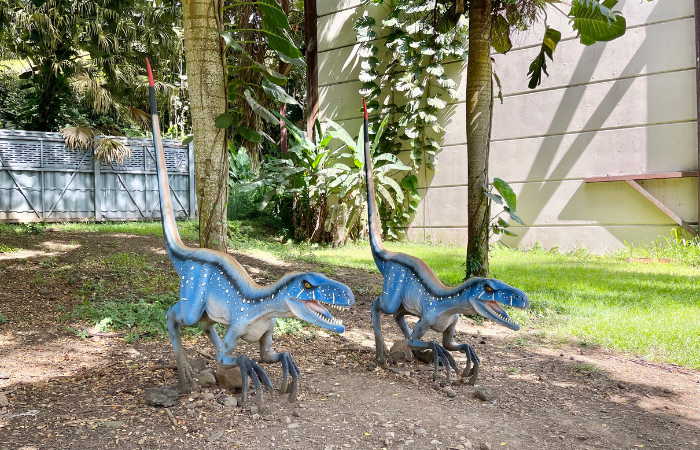 And from there we headed back to the front of the ranch to end our tour. We unloaded at about 10:55 which took us just about 2.5 hours.
Honestly, it never felt like a long tour, but it felt like we got to see a LOT. Even not including all of the stops we made where we got out of the truck, we saw so many things while we were driving.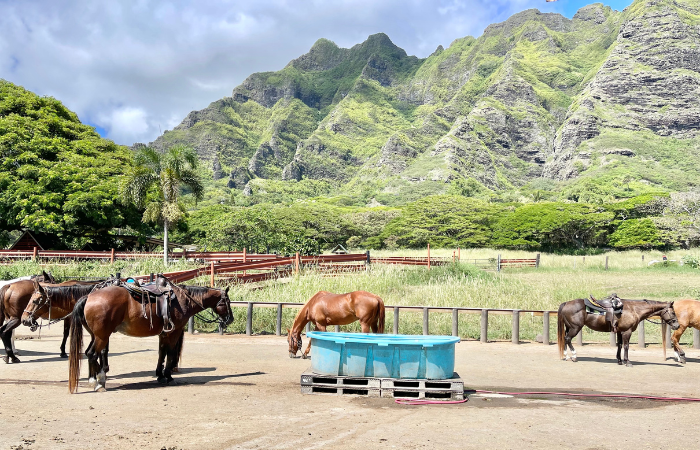 If you're going to spend the day going all the way out to the ranch, I don't think I'd be happy with one of the shorter tours, although I'm sure some people make a day of it and combine things like the movie sites tour with ziplining or horseback riding.
Things to Know about the Jurassic Adventure Tour
Use the restroom before you leave the ranch.
You can take bags, water, etc with you in the truck.
You don't need to wear a special kind of shoes (I wore sandals), but it was pretty hot even early in the morning and you do spend time in the sun so dress accordingly.
The roads get dusty if it hasn't rained. It wasn't too bad since we were only in one vehicle (not too many other vehicles kicking up dust) but I probably wouldn't wear white clothes.
Take cash to tip your tour guide!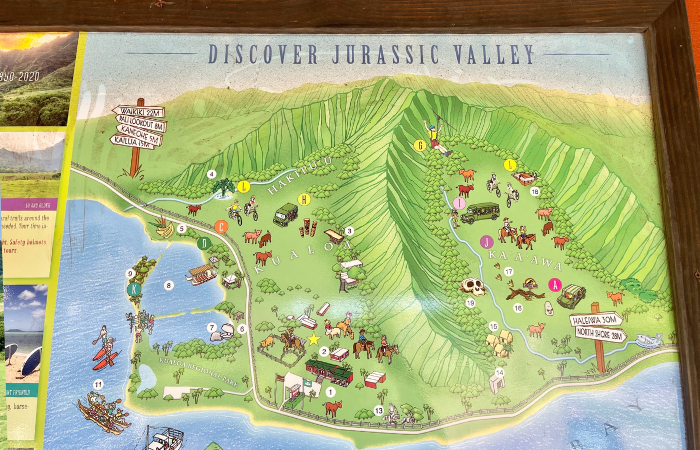 Kualoa Ranch UTV Raptor Tour
The UTV Raptor Tour is the most popular tour they offer on the ranch and it books out pretty far in advance.
I haven't done the current UTV Raptor Tour, but I did a previous version in 2017. There are a couple of big differences: 1) They now use six seater UTVs instead of single rider ATVs which makes it more accessible for kids, but only one person at a time in your group is going to get to drive. 2) They now only offer the tour as a two hour option. I think they got a lot of feedback about the previous one hour option not being enough time.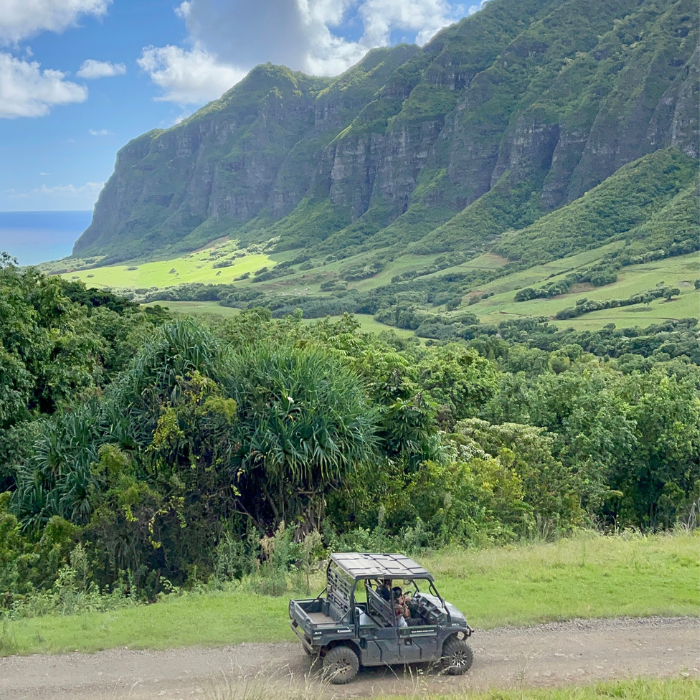 So even though the current tour is a little different than the one I did last, here's a travelogue I wrote about it after my trip (I know the current tour includes stops at the Kong site and at least one Jurassic World set):
A few weeks before my trip, I was lucky enough to snag a spot for two on the one-hour ATV tour so I snapped it up! Our tour was scheduled at 1 PM and it rained off and on all morning but by the time our tour rolled around, we had blue skies.
We checked in for our tour about 15 minutes early, watched a safety briefing, and then loaded up onto our bikes. There were probably about 30 people on the one-hour tour with three separate guides. Our group of about 10 or so followed our guide around a small trail loop so they could make sure everyone was comfortable riding the ATV. They took an action photo of everyone as we rode by and then we were off!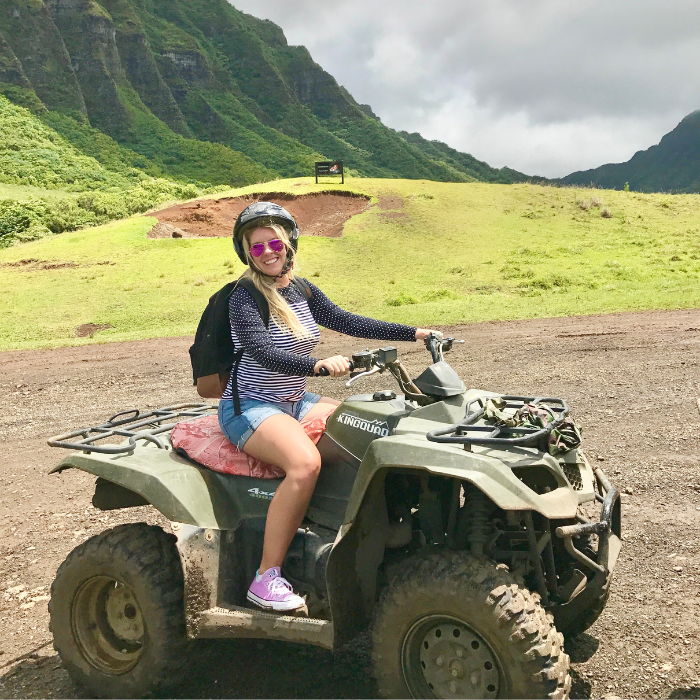 We rode down dirt roads past an old WWII bunker, and saw some incredible ocean views before we rode into the first valley. Since we were on the shorter tour (only one hour), this was our only stop. We climbed to the top of a hill and could see several of Godzilla's "footprints." We probably spent 10-15 minutes at this spot and it was the only place we were allowed to take pictures (you can't take pics while you're driving the ATVs).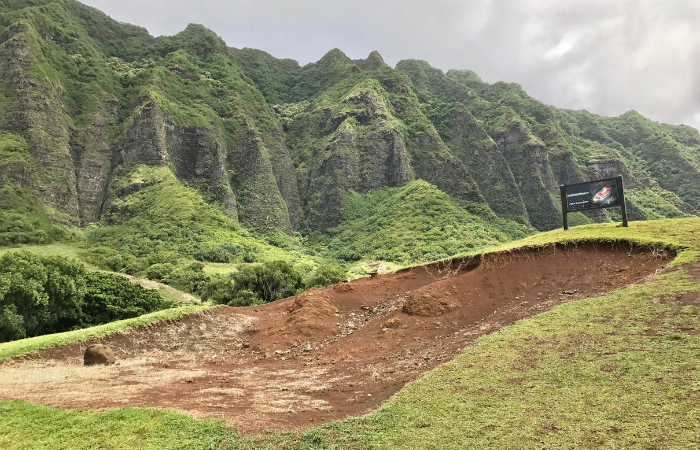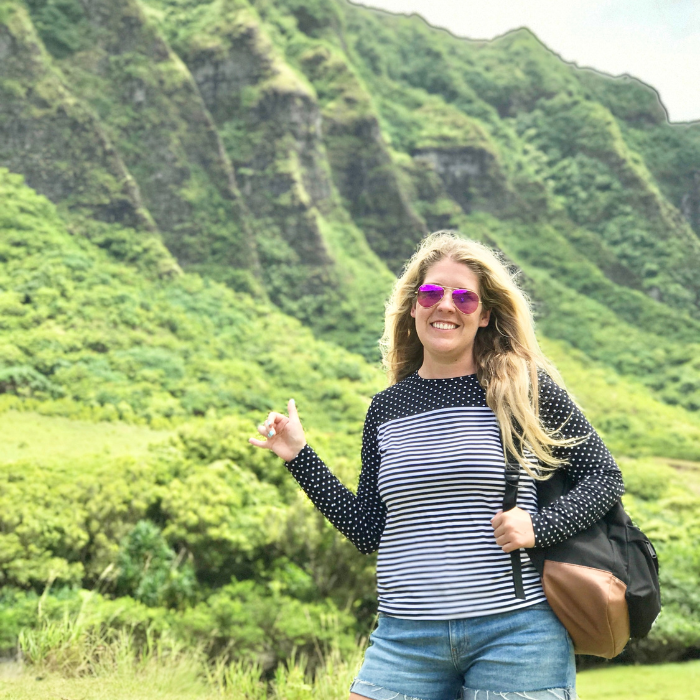 After we left there, we continued on past some movie sites (there were signs posted so you knew what was filmed where as you rode by) and saw a giant Kong skull that was left over from filming Skull Island.
At this point, we started retracing our path and riding back towards the ranch. We did do quite a bit of fun little side trails though and since it had been raining, we had quite a bit of mud to slosh around in.
When we got back to the ranch, we parked the ATVs in a line, returned all of our gear, and we were done. Honestly, the one-hour tour was not nearly long enough! I felt like I was just getting settled and then it was over.
On Another Note: If you're looking for a condo or vacation rental for your trip, I always book with Vrbo. They've got the largest selection of rentals you'll find anywhere and you can easily filter to find exactly what you're looking for. Need a specific number of bedrooms and bathrooms? Narrowed it down to a certain location? Want flexible cancellation terms? Need to stay under a fixed budget? Click here to search for Oahu vacation rentals for your trip.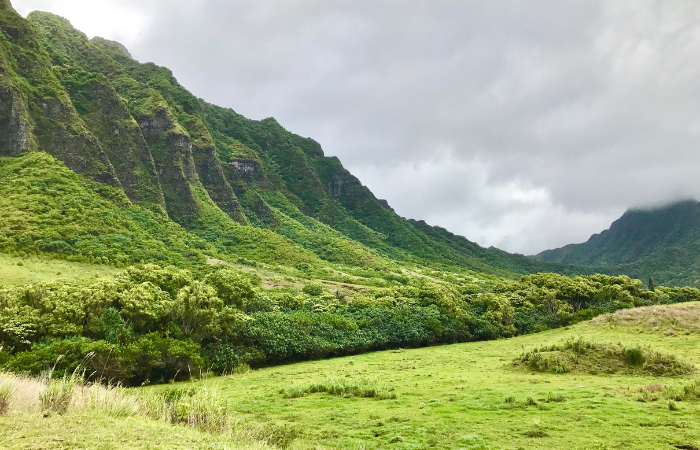 Things to Know about the Raptor UTV Tour
This is the most popular tour at Kualoa Ranch and it sells out fast so make sure you book in advance.
The Tours go rain or shine, but if it's raining, they have ponchos for you.
Helmets and glasses are required and provided (but you can wear your sunglasses instead). They also provide shower caps that you can wear under your helmet.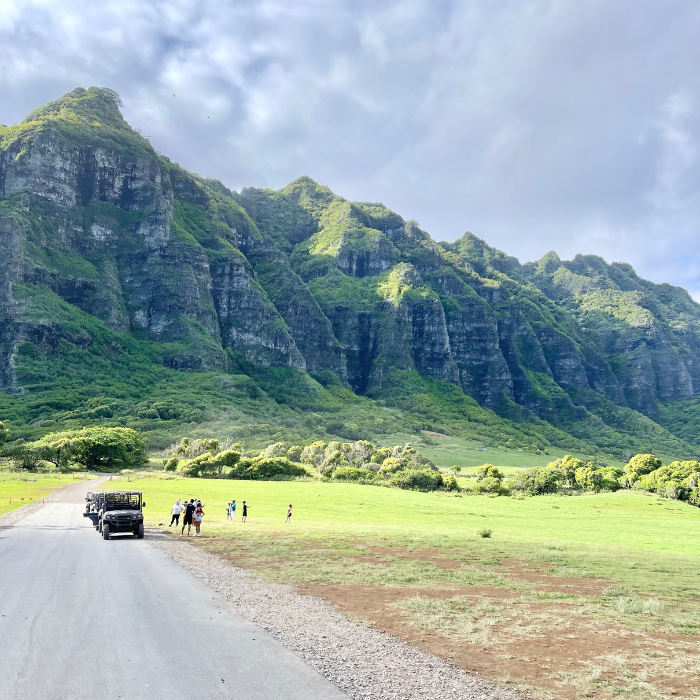 You have to wear closed toe shoes but other than that, shorts and tee shirts are fine.
If it's been raining, it will be muddy. If it hasn't been raining, it will be dusty. And you're riding in a line of vehicles kicking up mud/dust so dress to get dirty. If it is dusty, try to get a spot closer to the front of the line.
You can take a backpack.
This tour (while fun!) is for beginners so don't worry if you've never driven UTVs before. It's a fun adventure, and you'll see incredible sites, but if you're an experienced rider, just know that this is highly organized light trail riding, not super extreme.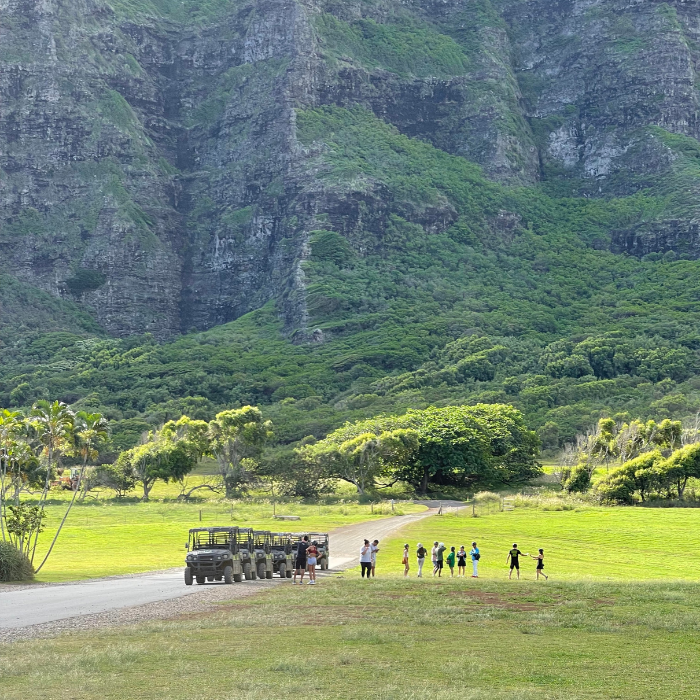 You have to be 21 years old to drive, and 5 years old to ride. Each UTV seats six and there's a minimum of two people to book. If you have a party of 3-6, you will all be put in the same UTV and only one of you can drive. If you have a party with several adults who want to drive, you might want to consider booking your tours separately (for the same tour time) if you want to ride in separate UTVs. But you still have to have at least 2 in a vehicle.
There's an option to book your tour with a guide. They'll drive you, which may sound like less fun, but you also get a narrated tour.
The tour is 2 hours, but that includes training and safety instruction.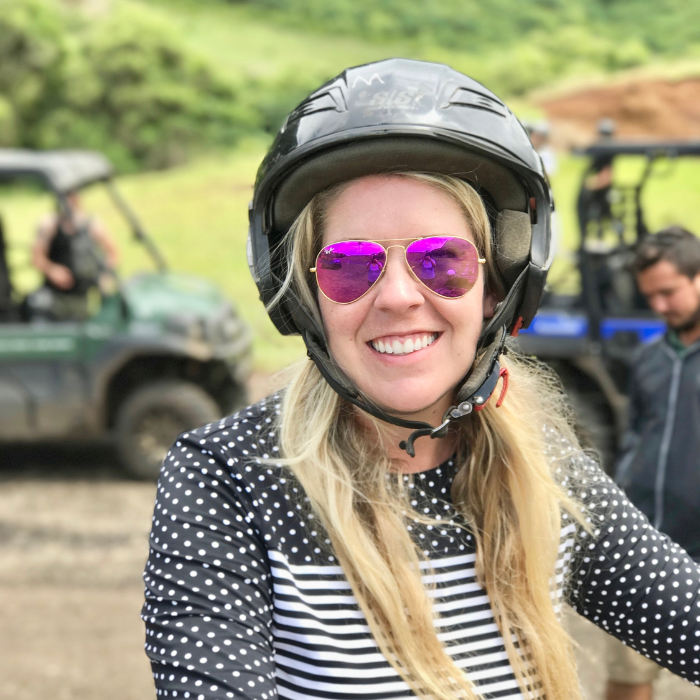 Where to Book Kualoa Ranch Tours
I get asked this question all of the time…there must be a lot of third party vendors out there, but it's always best to book directly with the ranch. They have the best prices and if you need to cancel or reschedule, or something happens at the ranch, you're dealing directly with them.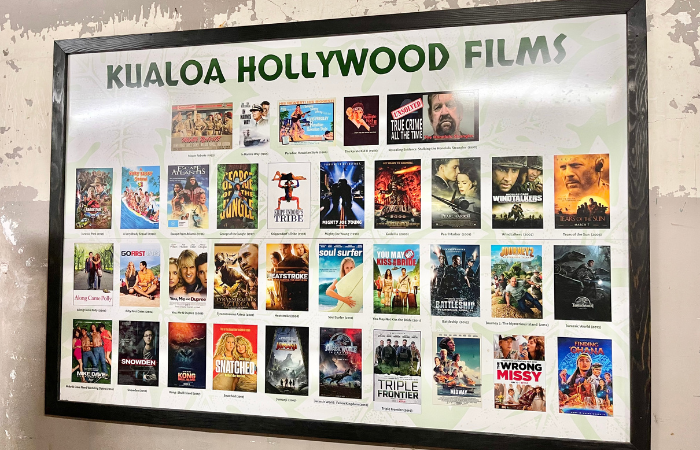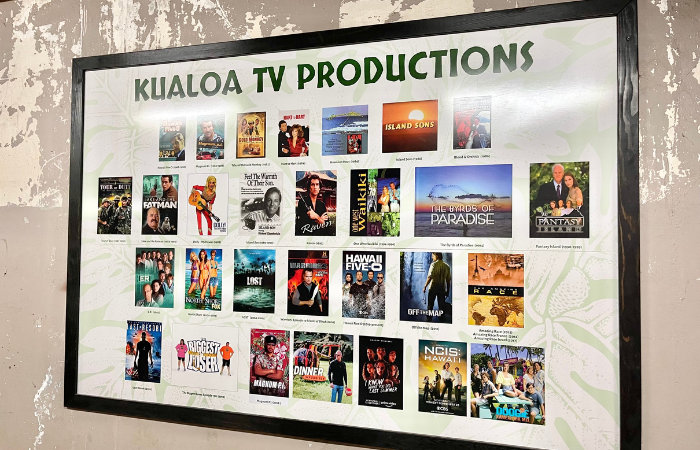 Still Looking for a Place to Stay?
Here's one more really important thing you need to know before your Hawaii trip…
Reservations You Need to Make BEFORE Your Hawaii Trip
You've got your airfare, hotel, rental car and your big activities booked, so you should be good to go, right? Wrong!
Travel is BOOMING in Hawaii so a lot of state and national parks used the closure and reopening to institute reservation systems at some of the island's most popular spots to make things a little more sustainable.
That means that there are now over half a dozen sites (beaches, trailheads, etc.) that require advance reservations. And some sell out well before you arrive on the island so you really need to have some sort of a plan.
I recently saw somebody in a Hawaii travel group post in a panic that they didn't know they had to make reservations for things in advance…they thought they could just show up and "go with the flow." I was tempted to say, well, "as long as the flow doesn't take you somewhere that requires reservations, you can!" ; )
But I don't want YOU to be that person, so I've pulled together a list of all the places you need to reserve entry in advance (plus all the details on booking windows, price, links, etc.) and a handful of popular tourist hotspots that book out really far in advance too.
Haleakala National Park (Maui)
To visit Haleakala National Park for sunrise at the summit, you must make reservations in advance here.
Reservations are required to enter the park gates between 3AM and 7AM (sunrise hours).
Online reservations are $1 per reservation/vehicle PLUS you'll pay the park entrance fee of $30/vehicle when you arrive (National Park annual passes are also accepted at the gate).
The reservation booking window opens 60 days in advance at 7AM HST. There are also a limited number of tickets released two days before.
You can make one reservation every three days with the same account. So if you want to make reservations for back to back days (in case of weather/conditions), you'll need to do so with separate accounts (email addresses).
If you can't get reservations for sunrise, you can enter the park anytime after 7AM without reservations. The summit is spectacular during the day and you don't need reservations for sunset.
I strongly recommend creating an account before and making sure you're logged in at 7AM HST because it's not uncommon for reservations to sell out quickly.
Waianapanapa State Park (Maui)
To visit Maui's famous black sand beach at Waianapanapa State Park on the Road to Hana, you must make reservations in advance here.
Reservations are required to visit the beach and are distributed in windows from 7AM-10AM, 10AM-12:30PM, 12:30PM-3PM, and 3PM-6PM. And they are pretty strict about exiting by the end of your window time (you can arrive anytime within your window).
It's $5/person to enter plus $10/vehicle to park and those fees are paid when you book your time slot.
Reservations open up 30 days in advance.
Iao Valley State Park (Maui)
To visit the lush, green mountains and hike at Iao Valley State Park, you must make reservations in advance here.
Reservations are offered for 90 minute time slots beginning at 7AM and ending at 6PM. They ask that you arrive within the first 30 minutes of your time slot.
Entry is $5/person plus $10/vehicle to park.
Reservations open up 30 days in advance.
Diamond Head (Oahu)
To hike to the top of Waikiki's famous Diamond Head, you must make reservations in advance here.
Reservations are offered in two hour increments beginning at 6AM (6AM-8AM, 8AM-10AM, etc.) and ending at 6PM. If you're parking onsite, they ask that you arrive within the first 30 minutes of your reservation window.
Entry is $5/person plus $10/vehicle to park.
Reservations open up 30 days in advance.
Tip: I recommend booking one of the first two time slots because there isn't much shade on this hike and it gets pretty hot.
Hanauma Bay (Oahu)
To snorkel at Oahu's pristine Hanauma Bay, you must make reservations in advance here.
Entry times are staggered in 10 minute increments from 7AM to 1:20PM with roughly 1000 slots being assigned in advance every day.
Reservations can be made two days in advance and they open at 7AM HST. They're usually gone in minutes (if not seconds).
If you're unable to get an advanced reservation, you can try for a day of, walk in ticket. They open at 6:45AM and they only have a limited number available. Everyone in your group needs to be present when you purchase your tickets in person.
There are no reservations for parking and it's first come, first serve. $3/vehicle.
It's $25/person to snorkel at Hanauma Bay (12 and under, active military, and locals with HI ID are free).
The Hanauma Bay Nature Preserve is open Wednesday through Sunday (CLOSED MONDAY AND TUESDAY) from 6:45AM-4PM. Last entry is at 1:30PM, the beach is cleared at 3:15PM and you have to leave the facility by 4PM.
Jellyfish patterns can also affect whether or not the bay is open so double check the day before/day of.
USS Arizona at Pearl Harbor (Oahu)
If you want to take the boat tour at Pearl Harbor out to the USS Arizona, it's recommended to make advance reservations here.
Online reservations are guaranteed a specific boarding time to go out to the USS Arizona. If you're unable to get an advance reservation, you can wait standby when you arrive. The line could be short (15 minutes or so) or long (hours) and it just depends on the day (if they're having problems with the loading dock sometimes they don't take many from the standby line) and the time of day.
Reservations are supposed to open up 60 days in advance, but keep an eye on your exact dates, because lately they've actually been opening up about 57ish days in advance???
They also release a small batch of tickets the day before.
The boat ride out to the USS Arizona is free, but it's $1 to make the reservations online.
They recently started charging $7/vehicle for parking at Pearl Harbor.
Haena State Park / Kalalau Trail (Kauai)
If you want to hike Kauai's famous Kalalau Trail, you must make advance reservations here.
You've got three options here:
1) Parking & Entry: This is the most flexible option and also the most limited. THESE RESERVATIONS SELL OUT IN LESS THAN A MINUTE. There are three time slots available: 6:30AM-12:30PM, 12:30PM-5:30PM and 4:30PM to sunset. You can purchase multiple time slots if you want to stay longer. It's $10/timeslot (parking) plus $5/person and you have to reserve every person when you initially book. Everybody has to arrive in the same car and your ID needs to match the reservation.
2) Shuttle & Entry: If you can't get parking at the trailhead, there's also a shuttle option. Shuttle reservations are $35/person (16+), $25/person (ages 4-15), 3 and under can ride free. The shuttle runs every 20 minutes 6:20AM to 6:40PM.
3) Entry Only: If you're a Hawaiian resident (with HI ID) or someone WITH a Hawaiian resident, you can purchase entry only for $5/person with no advance reservations. Also, if you're walking or biking to the trailhead you can do this option. But there is NOWHERE to park in the area to walk in. So this really only works for those with bikes or who are staying close enough to walk. They will tow your car if you park outside the designated areas.
The reservation window opens 30 days in advance at 12AM HST. The parking & entry option usually sells out in a minute, but the shuttle availability will last longer.
There are a TON of FAQs here including the possibility of snagging a canceled reservation.
Other Things to Book in Advance
Hawaii is a busy place these days! Besides the state and national parks above, here's a handful of miscellaneous things you should make reservations for in advance (if they're on your radar):
Mama's Fish House (Maui): The iconic spot is the most popular restaurant in Hawaii and they've been opening reservations (and selling out) 4-6 months in advance. You can call and get on the waitlist for one day or you can set notifications on OpenTable to alert you for cancellations every day of your trip. Most people have pretty good success on OpenTable.
Old Lahaina Luau (Maui): Honestly, any luau you're planning to attend you should book early, but most people are usually shocked how far out the Old Lahaina Luau books out. Book it as soon as you know your dates (I think they open at the six month window). They also have a waitlist.
Kualoa Ranch UTV Tour (Oahu): Everybody loves Jurassic Park so getting to ride UTVs where they filmed the movies is very popular. The ranch offers a lot of different tours but the UTV tours usually book out a couple of months in advance.
Spa Reservations: If you're staying at a resort with a spa (or planning on visiting one), don't wait until you arrive to make your reservations. I'd make them at least a month in advance.
Tee Times: Same for golf, reserve your tee times well in advance.
Dining Reservations: Any "fancy" or resort restaurant is likely to be booked up these days so if you like having a nice dinner every night, make your plans in advance.
Want to read more? Don't miss some of my most popular (and favorite) posts about Oahu:
If you're trying to figure out where to stay, you're going to want to look at my favorite boutique resort in Waikiki and the lowdown on where to stay on Oahu besides Waikiki. Plus I've got the scoop on how to avoid illegal vacation rentals and a roundup of where to stay in Ko Olina and reviews of the Laylow and Disney's Aulani Resort. And a LOT more on Aulani like is Aulani worth it?, tips for staying at Aulani, how many days to spend, and the best things to eat and drink at Aulani.
If you're researching luaus on Oahu, I've written quite a bit. First, I've got a full breakdown of the best luaus (and the worst) on Oahu. Then I've got complete reviews of Paradise Cove, the Polynesian Cultural Center, and Aulani's Ka Wa'a Luau. And if you've narrowed it down to the top two most popular on the island and still can't decide, here's Paradise Cove vs Polynesian Cultural Center.
If you're trying to put together an itinerary full of the best things to do, take a look at my best 5 day itinerary, and roundups of the best things to do in Waikiki, "secret" things to do on Oahu, plus my favorite things to do in Kailua and the windward coast, in Ko Olina, and on the north shore. And if you're looking for food recommendations, I've got the best restaurants in Ko Olina and where locals eat in Waikiki.
And last but not least, some of my favorite things on Oahu like Jurassic Park at Kualoa Ranch, Shangri La and the Honolulu Museum of Art, tips for visiting Pearl Harbor, easy hikes on Oahu, and the best spas on Oahu. And everything you need to know BEFORE you go to Oahu.
Save
Save
Save
P.S. Thanks for sticking around and reading this whole post! If you have ANY questions about planning your trip to Hawaii, you can join my free Facebook group here. I'm there answering questions every day and there are 7500+ other friends who have a ton of Hawaii information to share!
Also, if you want to follow along on my travel adventures in real time, you can follow me on Instagram (@caitylincoln). My post captions are full of travel tips and I have a ton of story highlights and videos with great info. And please share my account with your friends that are headed to Hawaii! Your support really helps me keep this blog running!