Things to Do in Ko Olina: Oahu's Quiet Resort Paradise Has Plenty to Keep You Busy
This post may contain some affiliate links, which means I'll make a little money on anything you choose to purchase. But of course, I only recommend my absolute favorites to you. Thank you for supporting the brands that make the Lincoln Travel Co possible.
Ko Olina is a high end resort area on Oahu's west side that's honestly kind of known for not having too much to do. But in a good way. This is miles and miles away from Waikiki and frankly, more in line with what a lot of people are looking for in a Hawaiian vacation than the hustle and bustle of the city.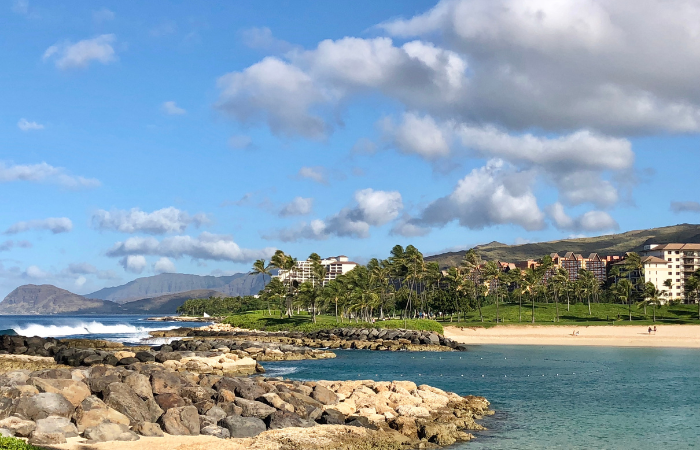 But there's not NOTHING to do. There's plenty to keep you busy when you want a little break from book.
Things to Do in Ko Olina
Beach Lagoons
This is why everyone comes to Hawaii, right? Crowds (well that's a relative term compared to Waikiki) are drawn to sleepy Ko Olina because it has some of the island's best swimmable beaches.
Yes, these are man made beaches, but they don't feel like little rinky dink sandboxes. The four protected lagoons are wide and spacious and give you all the pros of the beach without any of the cons: soft sand and gentle lapping waves without dangerous swimming conditions and unwelcome critters.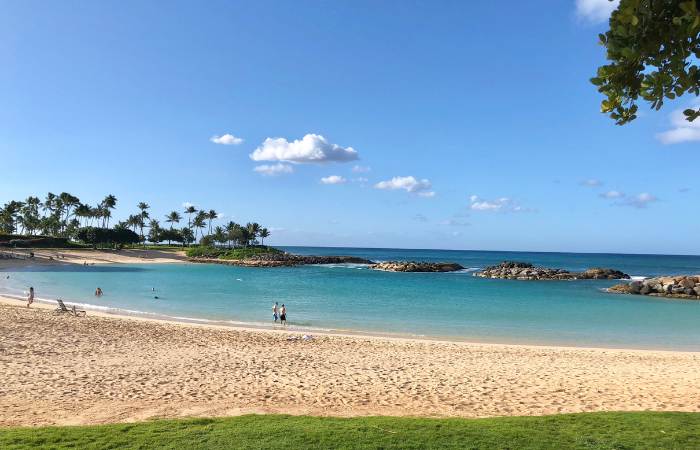 Lagoon number one (closest to the marina) has the most public parking and there's no resort on it so it may be less crowded, however crowds pick up on the weekends. The family friendly conditions at the lagoons make them popular with locals. FYI no umbrellas or sunshades are allowed on the beaches, but there are usually plenty of shady spots to be found on the lawns that fringe the beaches.
Look for Turtles at Paradise Cove
While the four main lagoons in Ko Olina are manmade and built in a way that protects them from the open ocean, the cove in front of the Paradise Cove Luau (just north of the Four Seasons) is a natural cove/reef/beach and so it's your best bet to find turtles and do a little snorkeling.
Watch Sunset
Its westward facing location makes Ko Olina one of the best places on Oahu to watch the sunset. Find a spot on one of the lawns near the lagoons or at one of the oceanfront resort restaurants to see if you can catch the famous green flash.
5 Mile Walking Trail
I love a good walking trail, and the one that winds through Ko Olina is a GREAT spot to get your morning exercise. It's also the most scenic path to take if you're walking from one resort to another for dinner.
Ko Olina Star Gazing Experience
I haven't done this here yet, but I've star at other places in Hawaii and it's always amazing. You can sign up for this tour to do some stargazing near the Four Seasons. If you're staying at Aulani, they usually have a complimentary star gazing session set up for resort guests (ask about it in the Pau Hana room).
Paradise Cove Luau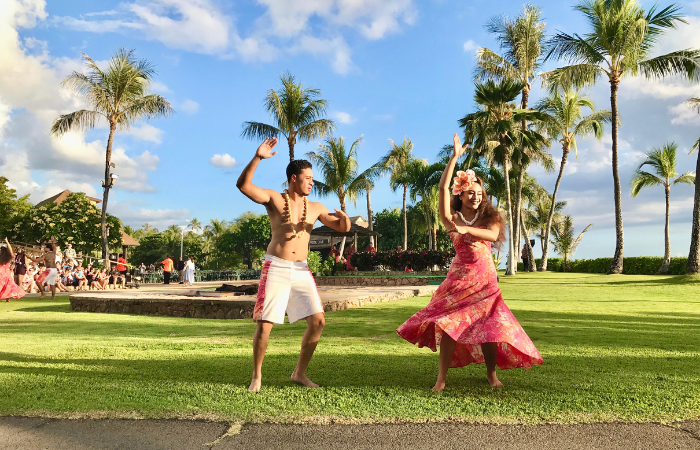 Usually rated as the number one luau on Oahu, the Paradise Cove Luau is within easy walking distance if you're staying in Ko zolina. It's a great luau for kids, it's right on the beach, and they put on a great show. Make reservations in advance. Read my full review here. Plus my post breaking down the best (and worst) luaus in Oahu here.
Ka Wa'a Luau
This newer luau at Aulani doesn't draw the crowds that Paradise Cove Luau does so it feels a bit more intimate. It's not on the beach, but there are numerous cultural activities to enjoy before the show starts. It's targeted more towards younger children and families (Moana, Mickey, and Minnie all make short appearances throughout the night), but it's also the best luau food I've ever had and honestly, probably my favorite overall luau experience. Read my full review here.
Golf
The course at the Ko Olina Golf Club has been named in the top 75 resort courses in the US by Golf Digest, so if you're a golfer, you definitely don't want to miss this one!
Tennis
The Four Seasons has a phenomenal rooftop tennis facility that's open to non resort guests. It's actually the only tennis facility in the area. Book a lesson with a pro, attend a daily clinic, or just reserve a court for a friendly match.
Snorkel Trip
Book a snorkeling trip out of the Ko Olina Marina where you're almost guaranteed to spot dolphins and even whales in season. In addition to the dolphins, the boat will also make stops at known natural turtle cleaning stations (the algae eating fish clean the turtle's shells).
Water Sports
Each resort in Ko Olina has rentals for paddle boards, kayaks, snorkel gear, etc. so you can get out and enjoy life on and under the water in the lagoons.
Ride the Sugar Cane Train
The Hawaiian Railway Society Cane Train runs right through Ko'olina, but you'll have to drive over to Ewa to catch it. The 90-minute ride takes you from Ewa to Kahe Beach Park and back on Saturday and Sunday for $15. You'll hear stories about the old sugar cane trains and plantations as well as see points of interest along the west side of the island.
Things to Do in Waianae and West Oahu
Located on the west side of Oahu, the Ko Olina Resort is really close to an area of Oahu that most visitors don't get around to exploring. Read on for some fun things to do in Waianae and West Oahu (just north of Ko Olina). Note: you will need a car to get around the west side.
Snorkeling with Turtles at Makua Beach and Electric Beach
These are two of the best spots for spotting turtles in the wild. Makua Beach is lovely with a beautiful background of lush green mountains.
Electric Beach (officially called Kahe Point) isn't so lovely above the surface. It's called Electric Beach because it's located next to a power plant. But the snorkeling/sea life is phenomenal here. Take your own gear and monitor conditions before you get in the water. If it looks rough, don't go out.
You'll come to Electric Beach (Kahe Beach Park) first, just a short ways from Ko Olina. Continuing north from the Mermaid Caves you'll come to Makua Beach.
These beaches are less frequented by tourists than other beaches. The entire west side is less frequented actually. These are "local" beaches and while it's perfectly safe and starting to attract more "adventurous tourists," just be mindful of your surroundings and be extra respectful.
Mermaid Caves
In between Makua Beach and Electric Beach is where you'll find the famous Mermaid Caves. They're becoming a popular spot for a lot of adventurers, but I don't necessarily recommend going down into the cave. If you're there at low tide on a calm day and there are plenty of other people around, you might be tempted. But it makes me nervous going down into a wet cave (i.e. at high tide it's underwater). You'll find it at Nanakuli Beach Park.
You'll want water shoes as you have to cross lava rock to get to the opening. Once you find the opening, you jump down into the sand below. The trick is getting back out. You have to be able to pull yourself back up through the opening. Like I said, only attempt if the conditions are just right and there are others around that could help out in case of an emergency. It's quite a site to see though.
Kaena Point Trail
If you're a real adventurer, keep on going until you come to the end of the road. The Kaena Point Trail is dry, rugged, and pretty isolated. There just aren't too many people that make it out there. It's mostly because the road doesn't connect around the island.
The trail goes about 2.5 miles out and it offers great views of the coast, but it's very arid so bring plenty of water. The tide pools below may look enticing, but it's just so isolated that I recommend staying out of the water. If anything should happen, there's just no one around to help.
Maili Pillbox Hike
There are several other popular pillbox hikes around the island (my favorite is the Lanikai one), but this one on the west side is home to the insta-famous PINK pillbox.
Want to read more? Don't miss some of my most popular (and favorite) posts about Oahu:
If you're trying to figure out where to stay, you're going to want to look at my favorite boutique resort in Waikiki and the lowdown on where to stay on Oahu besides Waikiki. Plus I've got the scoop on how to avoid illegal vacation rentals and a roundup of where to stay in Ko Olina and reviews of the Laylow and Disney's Aulani Resort. And a LOT more on Aulani like is Aulani worth it?, tips for staying at Aulani, how many days to spend, and the best things to eat and drink at Aulani.
If you're researching luaus on Oahu, I've written quite a bit. First, I've got a full breakdown of the best luaus (and the worst) on Oahu. Then I've got complete reviews of Paradise Cove, the Polynesian Cultural Center, and Aulani's Ka Wa'a Luau. And if you've narrowed it down to the top two most popular on the island and still can't decide, here's Paradise Cove vs Polynesian Cultural Center.
If you're trying to put together an itinerary full of the best things to do, take a look at my best 5 day itinerary, and roundups of the best things to do in Waikiki, "secret" things to do on Oahu, plus my favorite things to do in Kailua and the windward coast, in Ko Olina, and on the north shore. And if you're looking for food recommendations, I've got the best restaurants in Ko Olina and where locals eat in Waikiki.
And last but not least, some of my favorite things on Oahu like Jurassic Park at Kualoa Ranch, Shangri La and the Honolulu Museum of Art, tips for visiting Pearl Harbor, easy hikes on Oahu, and the best spas on Oahu. And everything you need to know BEFORE you go to Oahu.
P.S. Thanks for sticking around and reading this whole post! If you have ANY questions about planning your trip to Hawaii, you can join my free Facebook group here. I'm there answering questions every day and there are 7500+ other friends who have a ton of Hawaii information to share!
Also, if you want to follow along on my travel adventures in real time, you can follow me on Instagram (@caitylincoln). My post captions are full of travel tips and I have a ton of story highlights and videos with great info. And please share my account with your friends that are headed to Hawaii! Your support really helps me keep this blog running!